Good Sunday morning. Situational awareness: Per NYT's Alexandra Alter: "James B. Comey ... is writing a book about his experience in public service, including his tumultuous and brief tenure in the Trump administration .... meeting with editors and publishers in New York ... represented by Keith Urbahn and Matt Latimer, partners at the literary agency Javelin."
https://www.axios.com/newsletters/axios-am-bd072400-7e41-4184-a89d-3c863d378eb3.html?chunk=0#story0
1 big thing: Trump's "wall of Russia"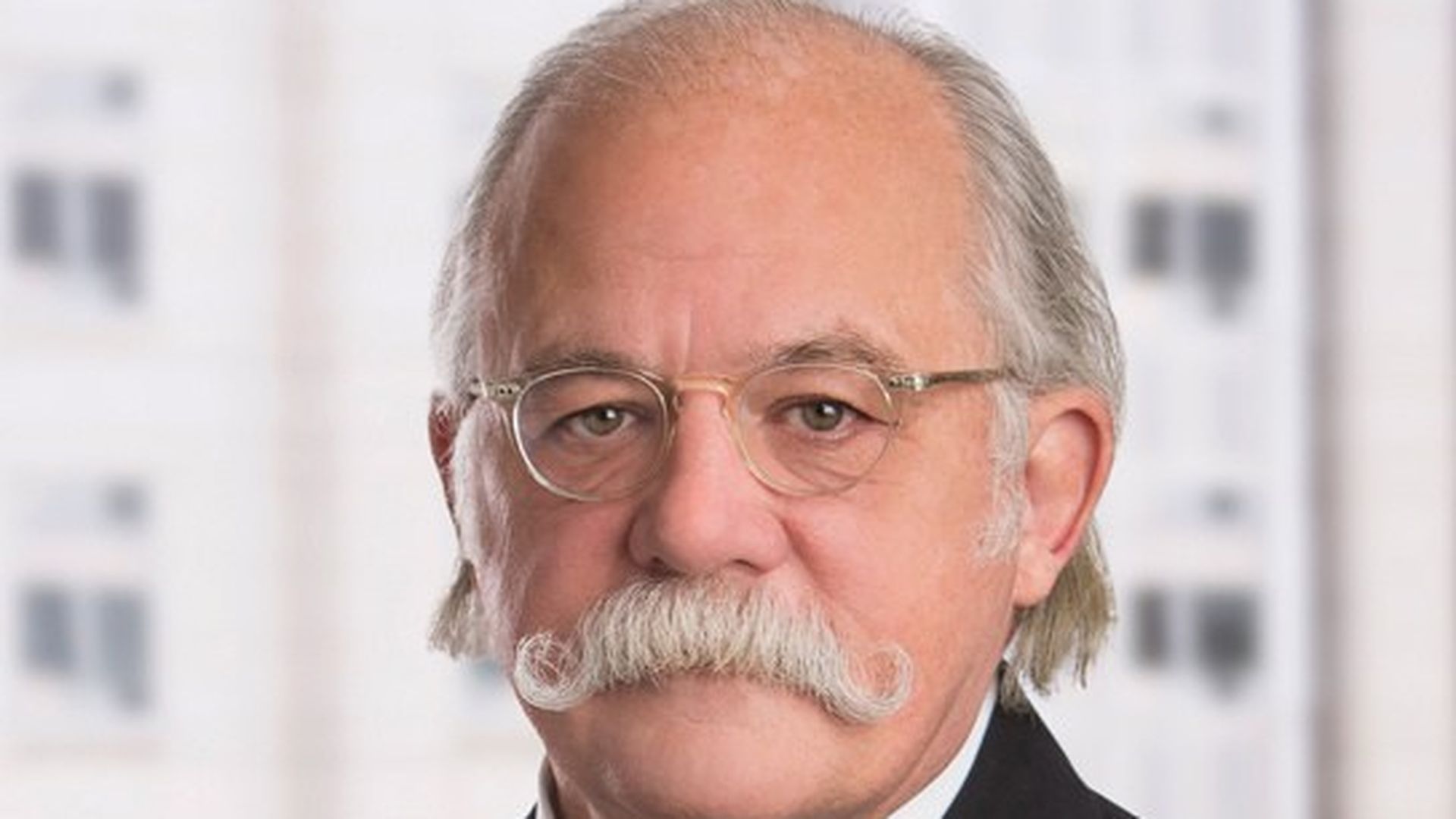 Trump family shakes up legal team to confront growing legal woes ...
The "Hunger Games" that have afflicted Trump's staff have lately begun to infect the various Russia-related legal teams — backbiting, second-guessing, lack of trust.
Trump loyalists think help is on the way. The White House yesterday announced the appointment of the mustachioed Ty Cobb, a respected Washington lawyer specializing in white-collar defense, to President Trump's government staff as "Special Counsel."
We're told Cobb is "fully empowered." Jay Sekulow, the outside Trump lawyer who's doing all five Sunday shows today, will stay. Marc Kasowitz, an outside Trump lawyer whose bad press empowered his internal critics, will likely be diminished or leave the team, according to people close to POTUS.
There's much hope inside that Ty can help partition the investigation from the rest of White House work — and that he can have a beneficial effect on minimizing POTUS distractions and ill-advised tweets, etc. But few on the inside know him, or have been briefed on specifics of the role he's being asked to play.
From his Hogan Lovells law-firm bio: "Bet-the-company litigation calls for a unique combination of skills, experience, and track record. Ty Cobb ... has been widely recognized as one of the premier white collar, Securities and Exchange Commission (SEC) enforcement, and congressional investigations lawyers in the world.
"Clients managing crises, allegations of corruption, and other critical matters turn to Ty ... Ty's wide-ranging enforcement, bribery, and corruption practice has taken him to more than 35 countries and 44 states."
Friends of Trump describe Cobb, who's said to be related to the baseball Hall of Famer, as "adult supervision," both internal and external.
"It hasn't been clear who internally has been in charge," said one Trump confidant. "This brings some struture and grown-up leadership on this issue."
Insiders say Cobb will serve as a Grand Central for congressional and other Russia probes, and will set guardrails for who can and can't talk to each other about the matter internally. Everything will have the ultimate aim of protecting the President.
Cobb's role will be the eye in the sky — the quarterback. One Trump veteran calls Cobb "the official wall of Russia."
The problem is that the President doesn't want to be protected: He has resisted earlier efforts to insulate him from potential landmines, including defending Don Jr.
Scoop: Look for Don Jr. to retain new advisers soon.
Be smart: Trump has carried a self-jeopardizing gene that's perplexed partners throughout his career. If Cobb can provide a clear path, it'll take pressure off Trump from thinking he has to do it all himself — which is when he gets in trouble.
https://www.axios.com/newsletters/axios-am-bd072400-7e41-4184-a89d-3c863d378eb3.html?chunk=1#story1
For history ...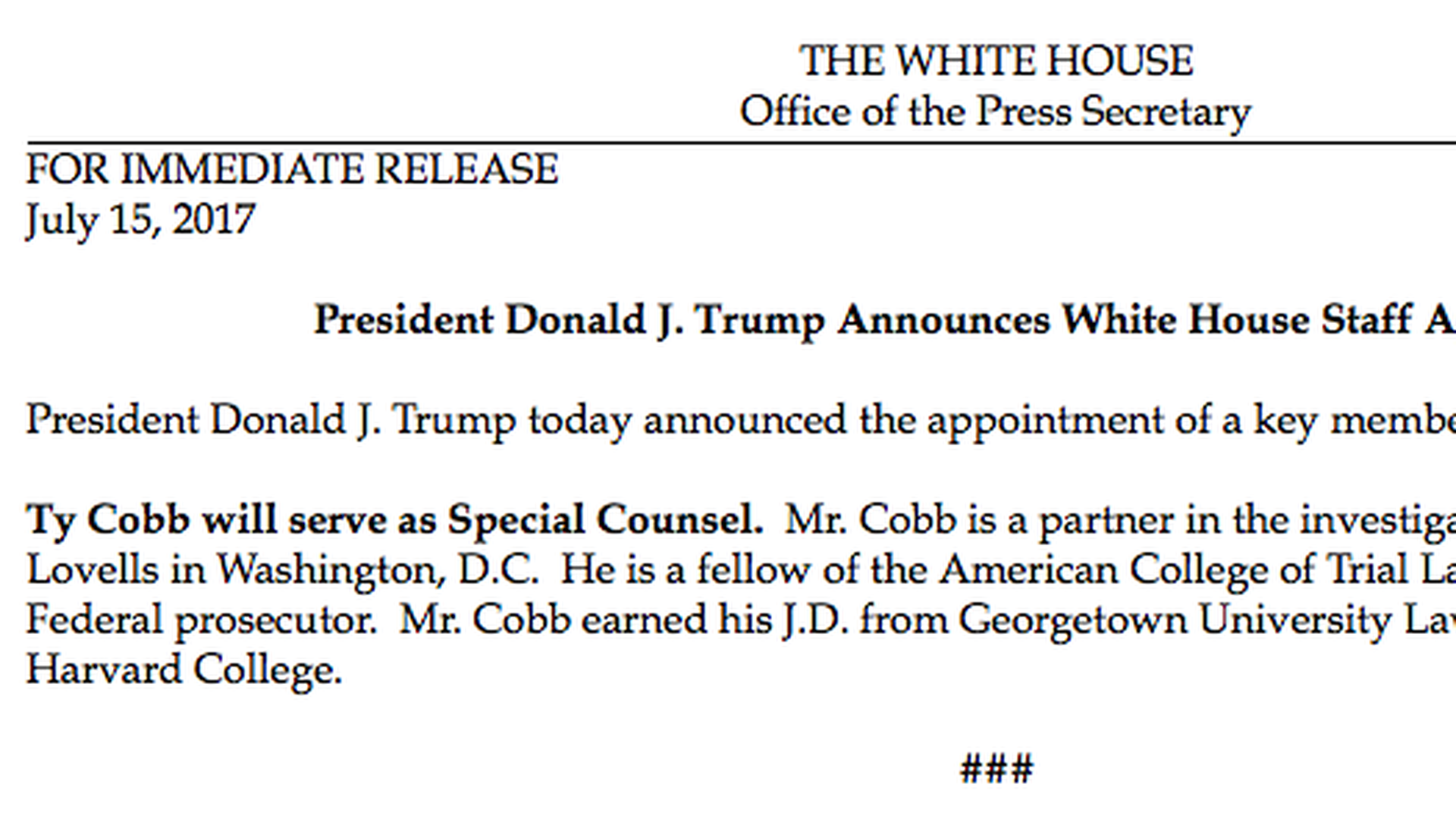 The announcement is unusual — and potentially historic — enough that we wanted to show it to you.
https://www.axios.com/newsletters/axios-am-bd072400-7e41-4184-a89d-3c863d378eb3.html?chunk=2#story2
2. If you click only 1 thing: Valley's culture crisis
https://www.axios.com/newsletters/axios-am-bd072400-7e41-4184-a89d-3c863d378eb3.html?chunk=3#story3
3. "How do we make sure things are great?"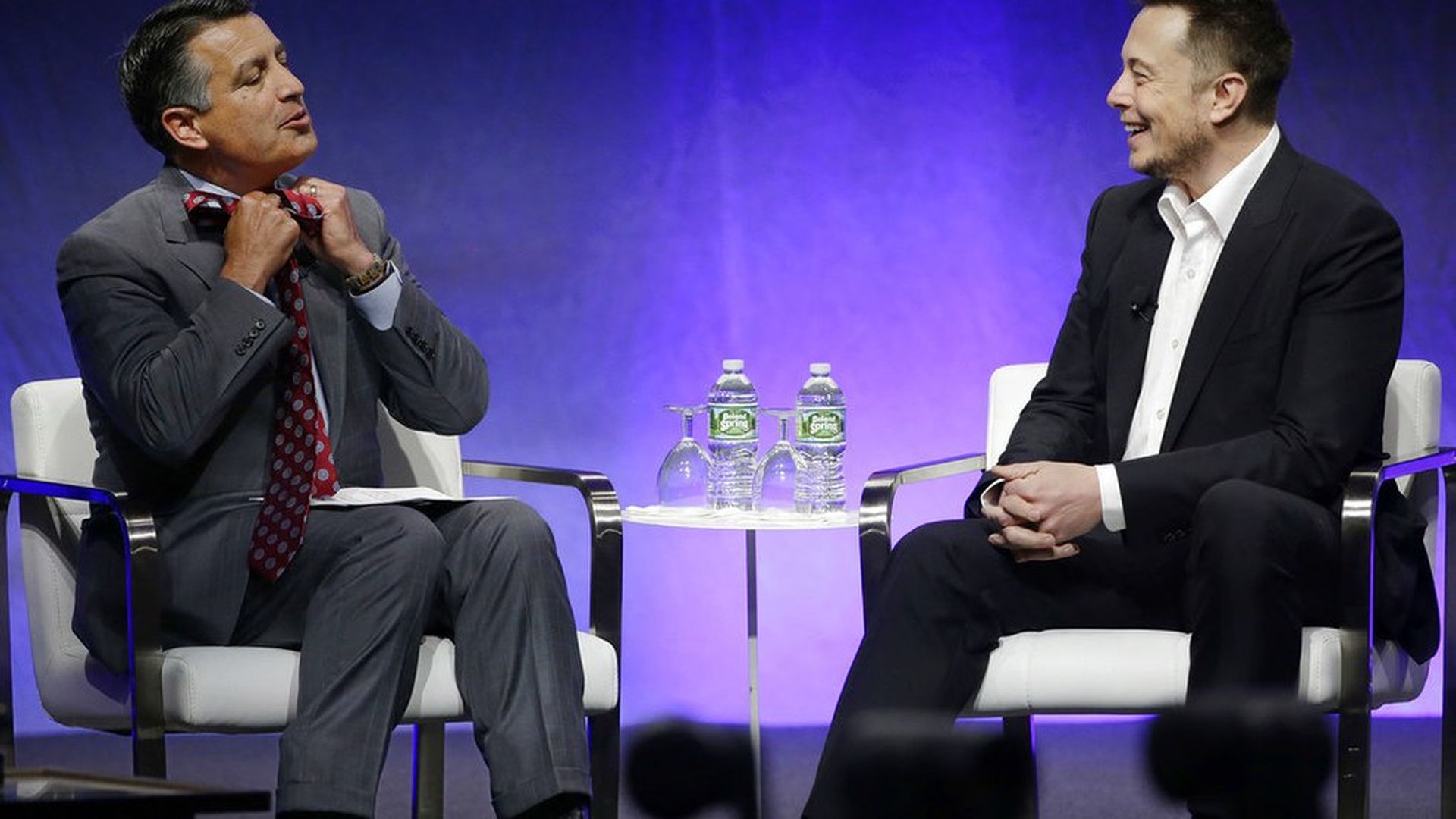 Tesla and SpaceX CEO Elon Musk predicted that within 10 years, nearly all new cars made in the U.S. will be autonomous, and half of those will be fully electric vehicles, Axios chief tech correspondent Ina Fried reports from National Governors Association meeting in Providence, R.I.:
Musk said that within 20 years, driving a car will be like having a horse (i.e. rare and totally optional): "There will not be a steering wheel." See other highlights.
P.S. N.Y. Times front page, "Governors See A Trump Void And Go Global," by Alex Burns: "Leadership at the state level has taken on an increasingly global dimension, as governors assert themselves in areas where they view Mr. Trump as abandoning the typical priorities of the federal government."
https://www.axios.com/newsletters/axios-am-bd072400-7e41-4184-a89d-3c863d378eb3.html?chunk=4#story4
Bonus: Paragraph du jour
Maureen Dowd: "In the immortal words of the villainous Ramsay Bolton on Game of Thrones: 'If you think this has a happy ending, you haven't been paying attention.'"
https://www.axios.com/newsletters/axios-am-bd072400-7e41-4184-a89d-3c863d378eb3.html?chunk=5#story5
4. New overnight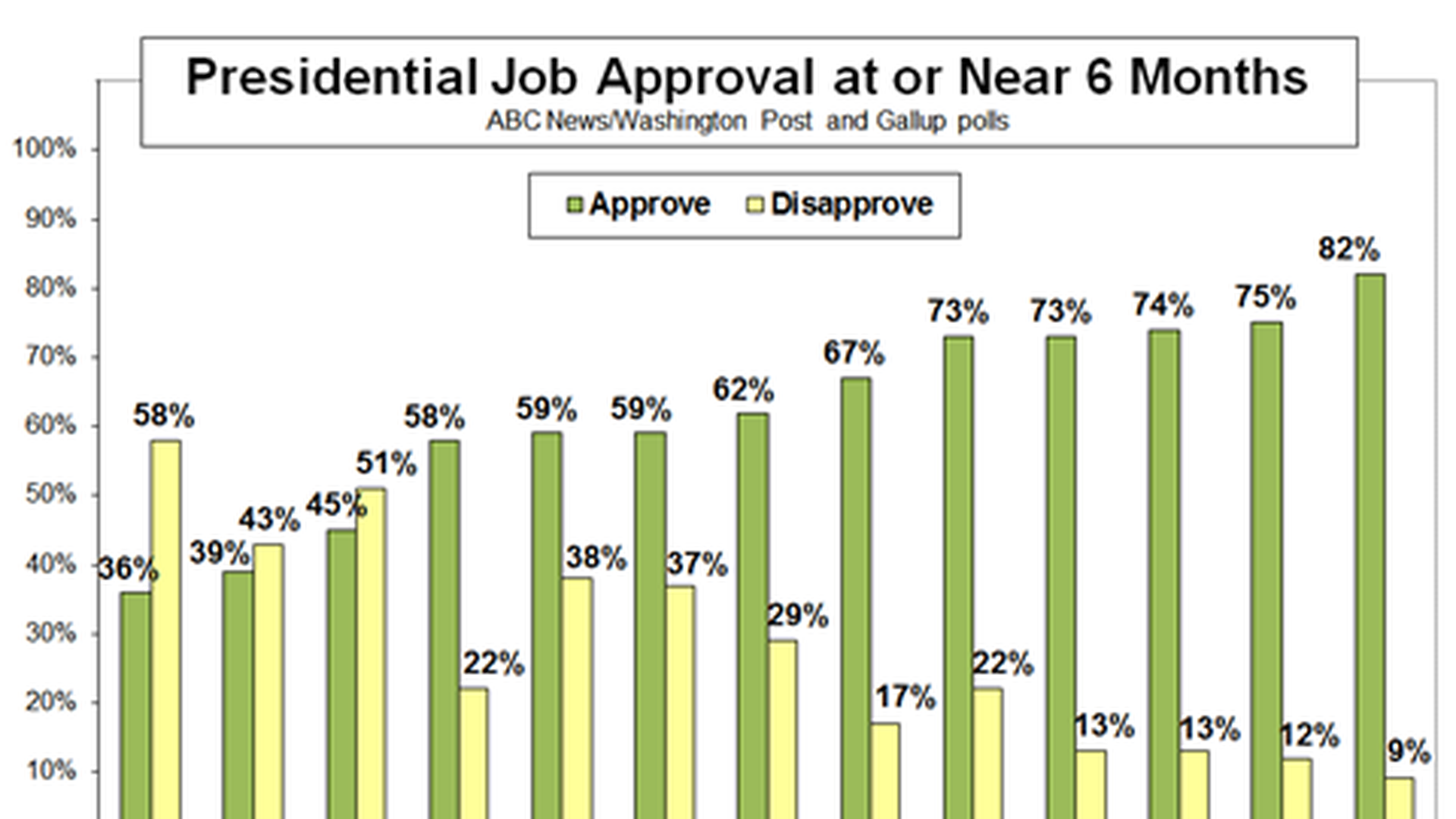 An ABC News/Washington Post poll gives Trump the lowest six-month (coming up Thursday!) approval rating of any president in polls dating back 70 years. He has 36% approval, down 6 points from his 100-day mark, itself a low. The previous six-month low was Gerald Ford, at 39% in February 1975.
63% in the poll, produced for ABC News by Langer Research Associates, say the Trump Tower Russia meeting was inappropriate.
60% think Russia tried to influence the campaign.
38% say he's making significant progress toward his goals; 55% think not.
Two-thirds don't trust him to negotiate with other world leaders.
About half say U.S. world leadership is weaker under Trump; 27% say it's stronger.
WashPost lead story, "Trump's approval rating takes hit," by Scott Clement and Dan Balz: "The president's strongest assets continue to be the healthy economy and a view among many Americans that the Democrats do not have a coherent message or program in opposition."
https://www.axios.com/newsletters/axios-am-bd072400-7e41-4184-a89d-3c863d378eb3.html?chunk=6#story6
5. Very Allen Drury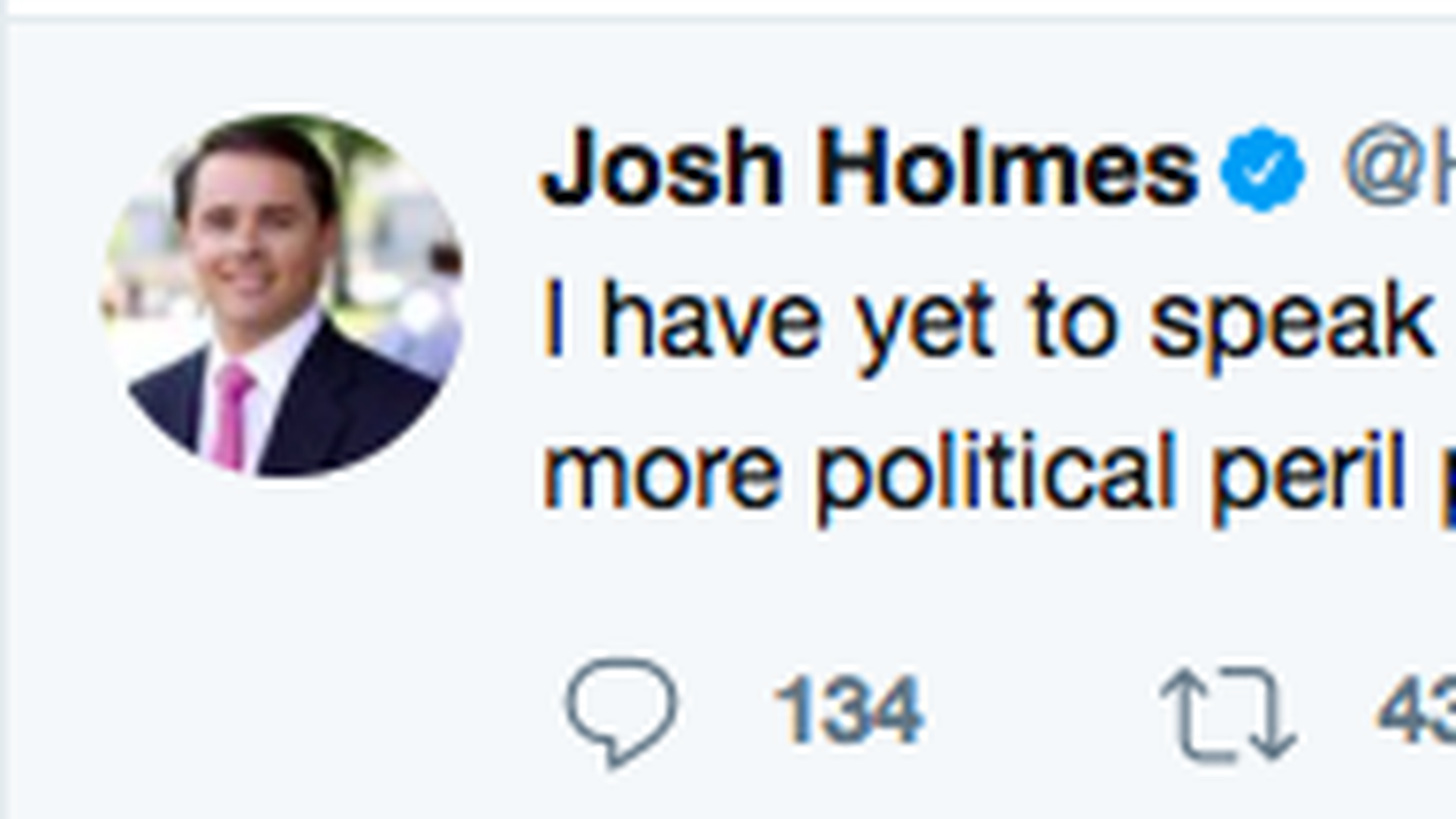 Just before 10:30 last night, Senate Republican Leader Mitch McConnell postponed this week's health-care votes. With no Republicans to spare, 80-year-old Sen. John McCain will remain in Arizona this week after a procedure at Mayo Clinic Hospital in Phoenix to remove a blood clot from above his left eye.
Arizona Republic: "Mayo Clinic surgeons took out the 5-centimeter blood clot during 'a minimally invasive craniotomy with an eyebrow incision,' according to a hospital statement released by McCain's office. The surgery followed a routine annual physical."
P.S. Why Republicans may be lucky, in the long run, that this is sinking ... L.A. Times front page, "GOP bills erase protections for sick Americans: Millions who have preexisting conditions would essentially lose coverage, analysts say," by Noam Levey:
"Both the House GOP bill that passed in May and the revised Senate GOP bill [allow] health insurers to once again sell skimpier plans and charge more to people with preexisting health conditions."
"At the same time, the ... bills dramatically scale back financial aid to low- and moderate-income consumers, and slash funding for Medicaid, [which helps] millions of sick and poor Americans gain coverage."
Why it matters: "That combination — looser insurance requirements and less financial assistance for patients — will once again put health plans out of reach for millions of sick Americans, according to numerous analyses."
https://www.axios.com/newsletters/axios-am-bd072400-7e41-4184-a89d-3c863d378eb3.html?chunk=7#story7
6. If North Korea attacked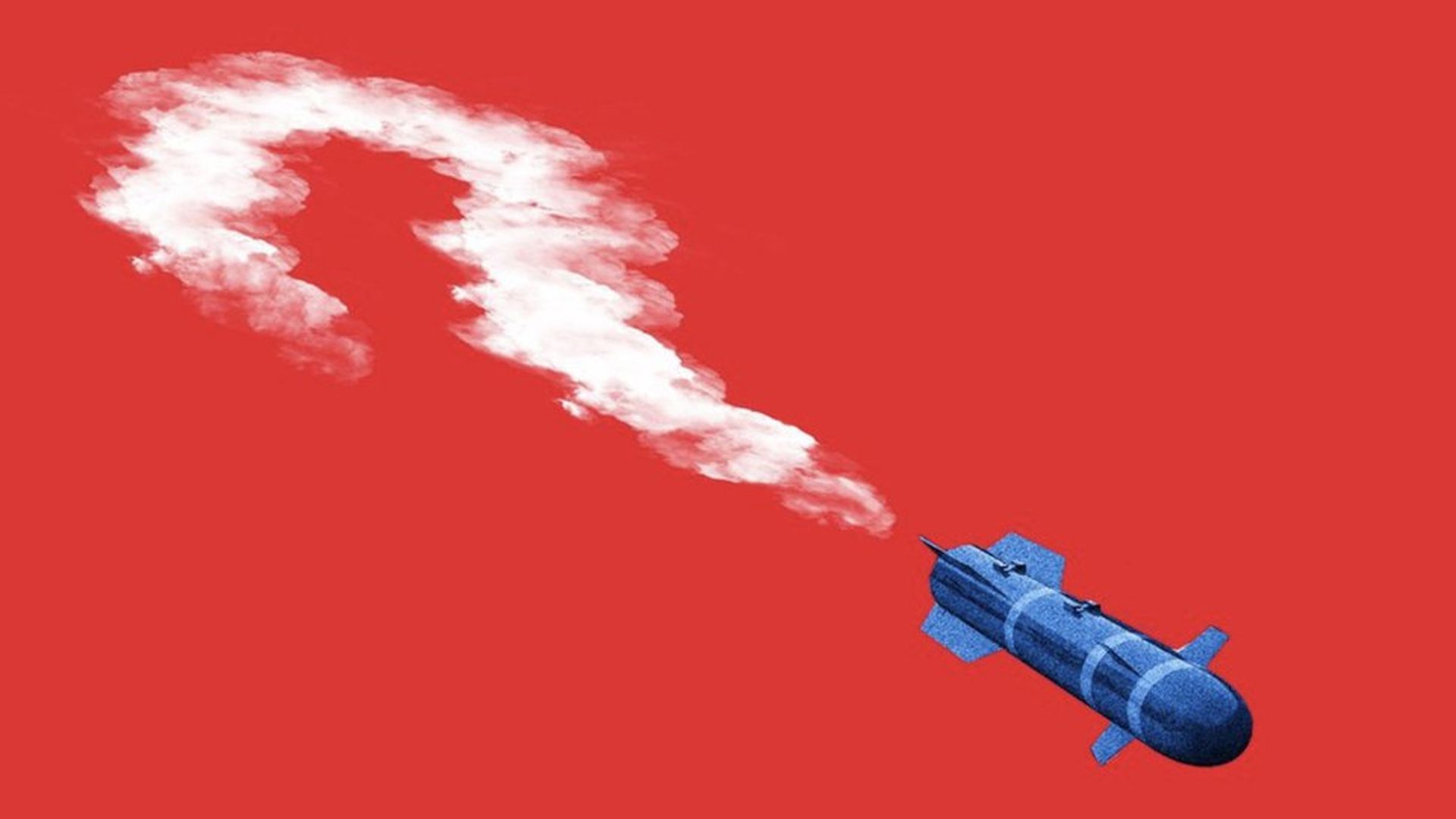 Axios' Shannon Vavra dug into how effective U.S. missile defense would be against a North Korean attack.
Bruce Bennett, senior international defense researcher at RAND Corporation, says the U.S. "just can't be sure we could stop" it.
One hope is that the U.S. would be able to stop a nuclear warhead before it's on its trajectory, or disable it through a cyber attack. But that's not foolproof, either.
https://www.axios.com/newsletters/axios-am-bd072400-7e41-4184-a89d-3c863d378eb3.html?chunk=8#story8
7. Numbers of the day
Sobering 2-column lead story of the N.Y. Times, "Iran Dominates in Iraq After U.S. Opened Door," by Tim Arango in Baghdad (online headline: "Iran Dominates in Iraq After U.S. 'Handed the Country Over'''): "When the United States invaded Iraq 14 years ago to topple Saddam Hussein, it saw Iraq as a potential cornerstone of a democratic and Western-facing Middle East, and vast amounts of blood and treasure — about 4,500 American lives lost, more than $1 trillion spent — were poured into the cause."N.Y. Times Quote of the Day ... Nijat Al-Taie, a Sunni provincial official in Iraq and a critic of Iran: "Iran is smarter than America. They achieved their goals on the ground. America didn't protect Iraq. They just toppled the regime and handed the country over to Iran."
https://www.axios.com/newsletters/axios-am-bd072400-7e41-4184-a89d-3c863d378eb3.html?chunk=9#story9
8. "Lloyd 3.0"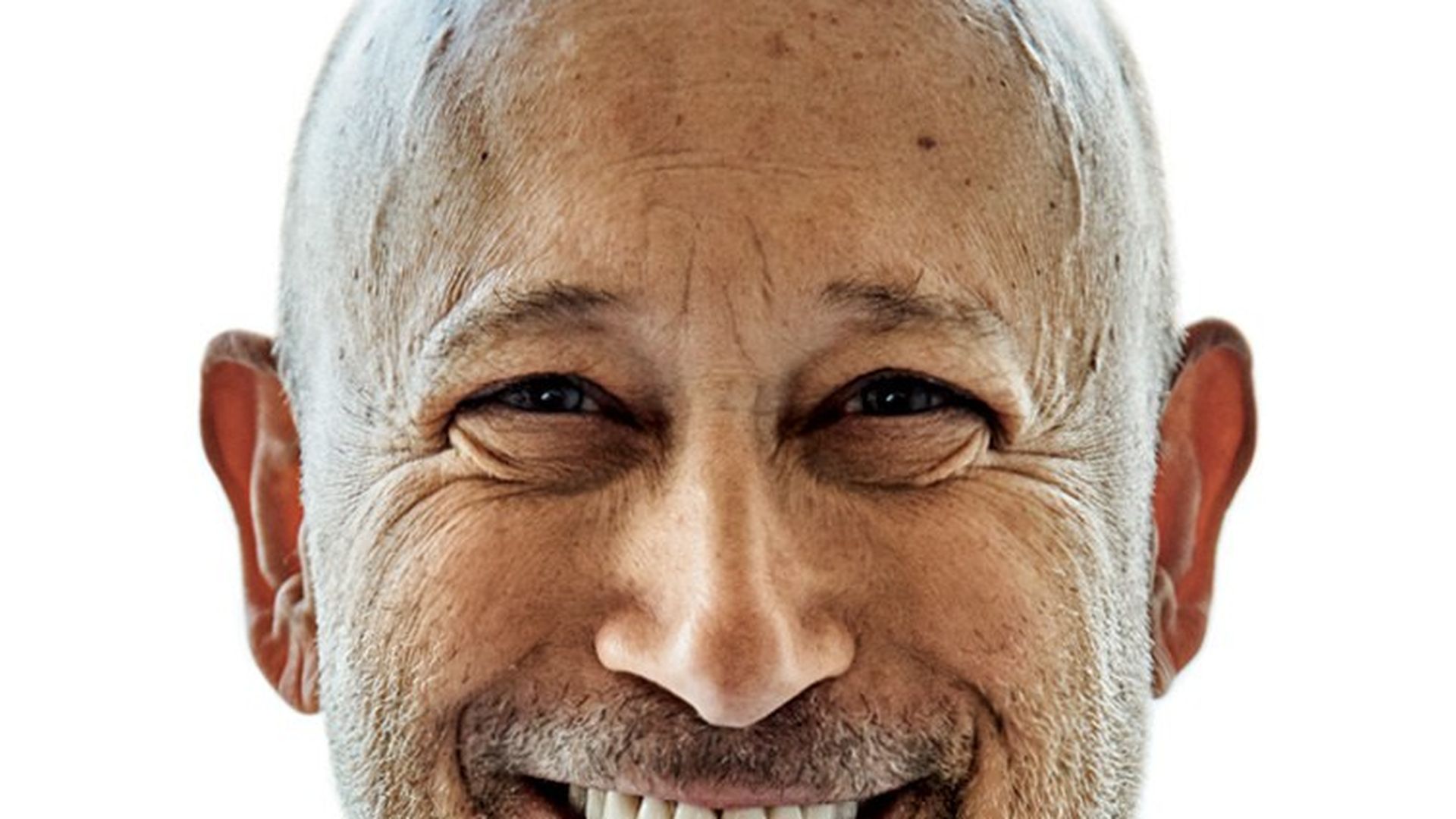 Dakin Campbell in Bloomberg Businessweek, on Goldman Sachs Group CEO Lloyd Blankfein's "strategic retooling as he begins his 12th year as the bank's leader":
"He's one of just two big-bank CEOs — JPMorgan Chase & Co.'s Jamie Dimon is the other — to have kept his job through the financial crisis."
"If the first act of Blankfein's career ended with the crisis, and the second covered its aftermath, the third began a year and a half ago with his recovery from lymphoma and his decision to stick around."
"Blankfein's decision ... led to questioning by some investors and analysts about whether he can rejuvenate a business that has struggled to show revenue growth for the past five years and where trading market share has stayed flat as rivals gained ground."
"Goldman Sachs still boasts some of the industry's best returns after surviving and prospering during a maelstrom that upended rivals."
"His biggest accomplishment may be what he's done for the firm's reputation in the years since ... For six months in 2009, Goldman Sachs couldn't catch a break."
https://www.axios.com/newsletters/axios-am-bd072400-7e41-4184-a89d-3c863d378eb3.html?chunk=10#story10
9. Motor City becomes Murder City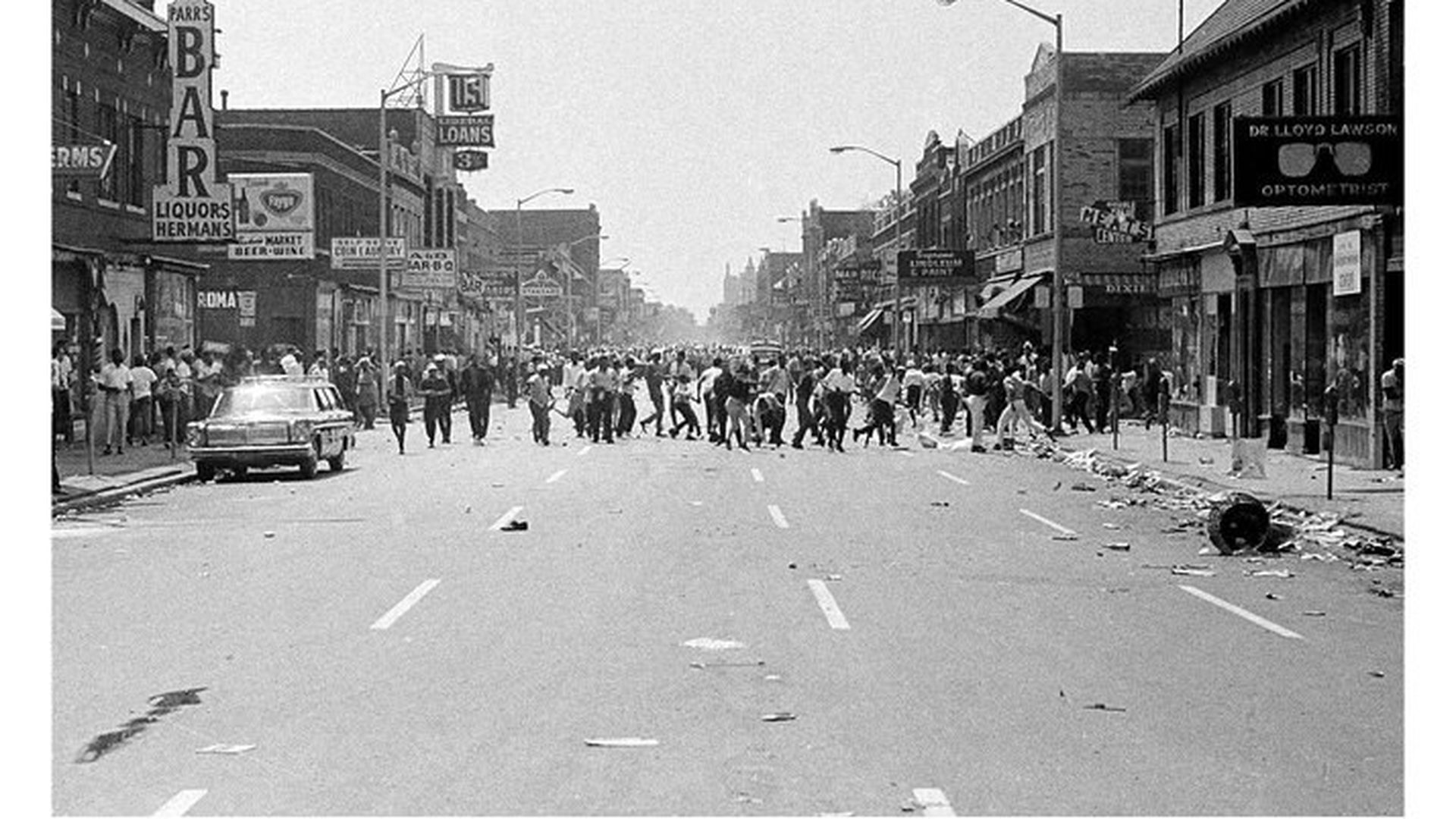 "Detroit at crossroads: 50 years after riots devastated city," by AP's Corey Williams:
"Five days of violence [in July 1967] would leave 33 blacks and 10 whites dead, and more than 1,400 buildings burned. More than 7,000 people were arrested."
"A decline that had already begun would accelerate; Detroit was the nation's fourth biggest city in 1960, but would rank 21st by 2016. The middle class fled, and a proud city fell into poverty, crime and hopelessness."
"There are signs of rebirth in Detroit. But the men and women who lived through the riots are getting older, and most doubt they will live to see Detroit reclaim its former glory, when its very name was synonymous with American know-how and industry.
"Detroit's [riots] started after a July 23 police raid on an illegal after-hours club — a 'blind pig.'"
"The raid ... was just the spark. Many in the community blamed frustrations blacks felt toward the mostly white police, and city policies that pushed families into aging and over-crowded neighborhoods.
"AP Was There": Read dispatches from the time.
https://www.axios.com/newsletters/axios-am-bd072400-7e41-4184-a89d-3c863d378eb3.html?chunk=11#story11
10. 1 summer thing
"Cruise tourists overwhelm Europe's ancient resorts," by BBC's Kevin Connolly in Dubrovnik, Croatia ("a perfectly preserved historical miniature, carved from honey-coloured stone set in a sea of postcard blue"):
"Ancient cities around the shores of the Mediterranean and Adriatic are on the front line, their stone streets squeezed full of summer visitors as budget airlines and giant cruise ships unload ever-growing armies."
"The overall effect is Disneylandish — a sense that you meet no one but other tourists or ice-cream sellers, tour guides, waiters, reception clerks and buskers who are there to keep the tourist wheels turning."
"[T]ravellers from traditional sources like the UK, Germany and the USA are increasingly being joined by the new middle classes of countries like Russia, China and India."
"Add to that the issue of security, which means that many tourists feel safer in Europe than they do in alternative destinations like Tunisia, Turkey or Egypt."