Axios AM
September 12, 2017
Good Tuesday morning. Situational awareness: More than 40 heads of state are now expected at the Bloomberg Global Business Forum on Sept. 20 at The Plaza hotel in New York. Henry Kissinger will moderate a discussion on Russia with Sergey Lavrov, Russia's Foreign Minister. Mike Bloomberg and Bill Clinton kick off the forum.
1 big thing: Mueller haunts West Wing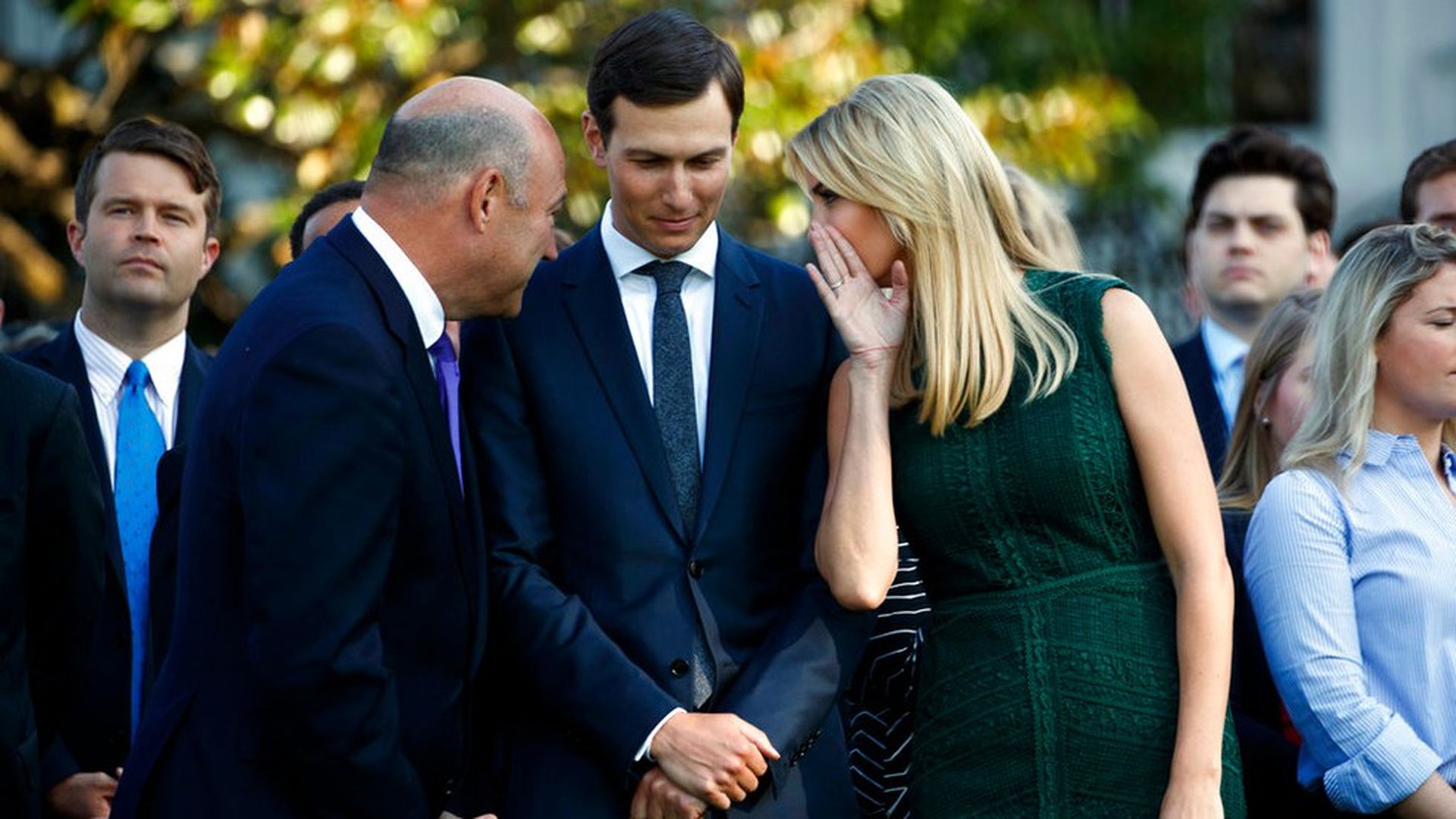 Steve Bannon provoked lots of chatter for telling Charlie Rose on "60 Minutes" that President Trump's firing of FBI Director James Comey may have been the worst mistake in "modern political history."
What's intriguing is the reason he said it: the belief of some close White House allies that special counsel Bob Mueller, whose appointment was triggered by Comey's ouster, could use events surrounding the firing to make an obstruction of justice case against Trump.
There's a good reason that Vice President Pence has hired a lawyer, Bannon freaked out about the decision, and Mueller plans to interview a slew of current and former West Wing aides: They were with Trump during those frantic days, and know what he was saying and what was on his mind.
White House aides with legal exposure to these events have quickly reached four conclusions, according to conservations with Jonathan Swan and me:
Mueller is burrowing in hard on the obstruction of justice angle.
The "angry, meandering" draft White House justification for firing Comey — which was never released, but obtained by Mueller — could be used as evidence of Trump's unvarnished thinking when venting to staff.
Legal fees, with white-collar attorneys charging $1,000 an hour, get cripplingly expensive pretty quick. Watch for outside legal defense funds to pop up quickly.
The investigation's financial dimensions are worrisome. The focus on Michael Cohen, a Trump lawyer and confidant whose business dealings are intertwined with the president's, has been particularly troubling for those in Trump's close orbit. Cohen dealt with some colorful characters. And when plans for the Trump Tower in Moscow are fully picked apart, other questionable Russian characters may be drawn in.
Republicans close to the White House say every sign by Mueller — from his hiring of Mafia and money-laundering experts to his aggressive pursuit of witnesses and evidence — is that he's going for the kill.
The Wall Street Journal reports on the front page today that outside Trump lawyers "earlier this summer concluded that Jared Kushner should step down ... because of possible legal complications ... and aired concerns about him to the president." Kushner has since defended himself on Capitol Hill.
Be smart: Trump allies fret that the White House is ill-prepared for the public showdown with Mueller that will eventually come, and should be making legal, political and constitutional arguments for the president's right to fire Comey. Statements by Trump lawyers tend to rattle, rather than reassure, White House allies.
Trump associates tell me Trump mused about firing Mueller. But now, one associate said, the damage would be as horrendous as "firing the Pope."
P.S. Russian politician Vyacheslav Nikonov, a member of the Duma (ruling assembly), said on live TV that U.S. "intelligence missed it when Russian intelligence stole the president of the United States."
Hillary Clinton, out today with "What Happened," tells USA Today's Susan Page she's "convinced" Trump associates colluded with Russia: "There certainly was communication and there certainly was an understanding of some sort."
Go deeper: Russia revelations spark demands for new media regulations," by Axios' Sara Fischer.
2. Tech braces for "The Big One"
Franklin Foer — former editor of the New Republic, now with The Atlantic — is out today with a book on the dark side of Silicon Valley, "World Without Mind: The Existential Threat of Big Tech":
"[T]he Big One, the inevitable mega-hack that will rumble society to its core[,] ... might be an exposed cache of intimate information that disrupts marital relations en masse ... It might disrupt our financial system, so that fortunes disappear in an unrecoverable flash. Or it might trigger an actual explosion of infrastructure that kills."
"The tech companies can see the Big One coming ... Their companies have created devices and code that enable omnipresent surveillance; their pack-rat servers hoard personal data."
"The best analogy is the financial crisis of 2008. There was nothing that the banks could do to gain political traction in the face of the catastrophe that they unleashed. When the Big One arrives, the tech companies will be vulnerable to the regulation that they have skillfully avoided."
"Just as the financial crisis triggered the creation of Elizabeth Warren's Consumer Financial Protection Bureau — the rare launch of a new agency — the Big One has the potential for creating a sizable regulatory infrastructure."
"Silicon Valley routinely trashes cultural and economic gatekeepers — while its own companies are the most imposing gatekeepers in human history."
Frank's big 💡: "We have deluded ourselves into caring more deeply about convenience and efficiency than about the things that last. Compared to the sustaining nourishment of the contemplative life and the deep commitment to text, many of the promiscuous pleasures of the Web are vanishing."
P.S. "Social Finance, an online lender that is one of the more prominent financial technology start-ups, said ... its co-founder and chief executive Mike Cagney planned to step down by the end of the year," per N.Y. Times front page.
Why it happened: "The resignation follows a lawsuit over claims of sexual harassment at the San Francisco-based start-up, which is known as SoFi."
Cagney may also "have been overaggressive in expanding SoFi's business, skirting risk and compliance controls."
3. Irma leaves desperation in Caribbean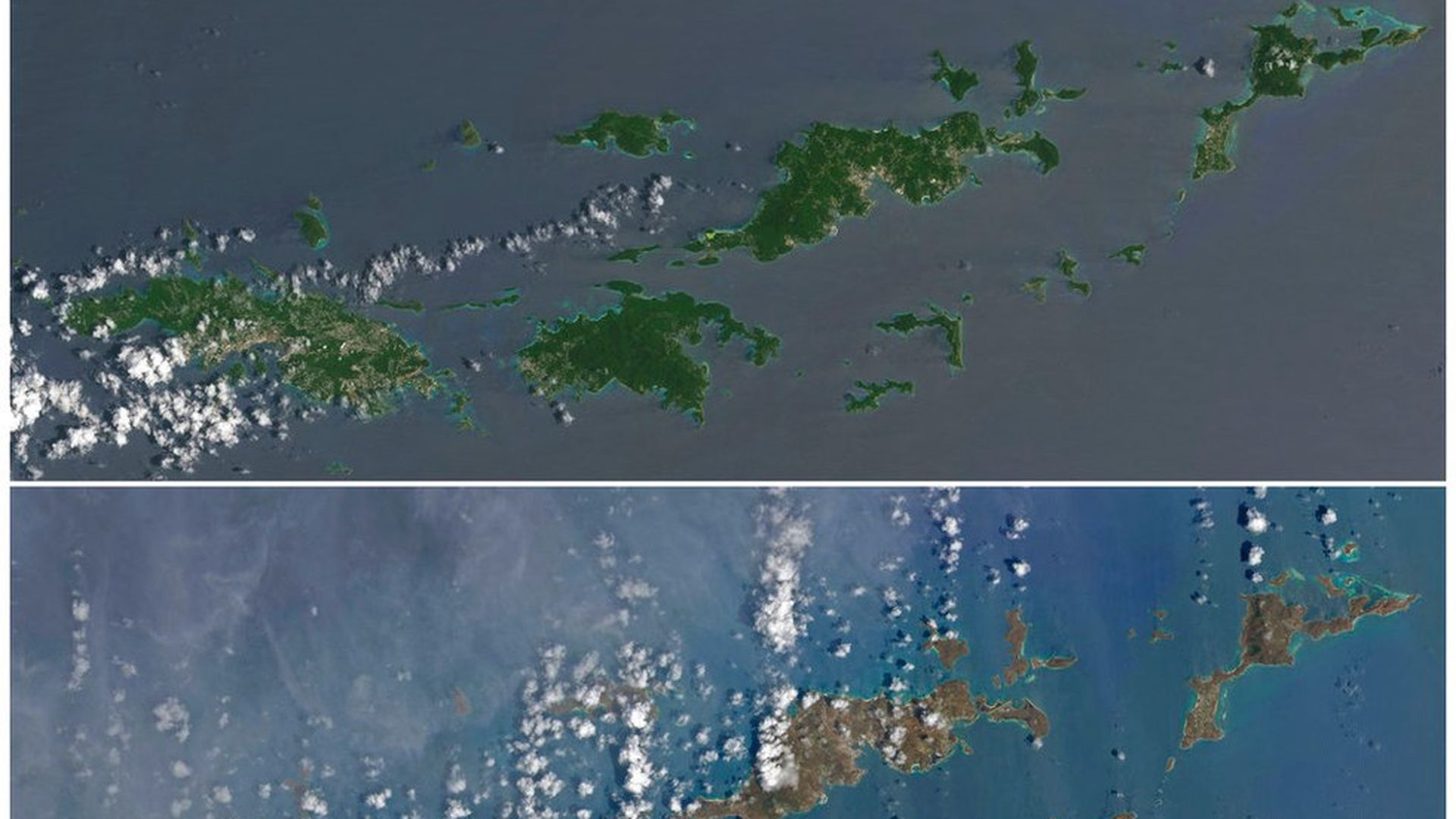 Lingo ... N.Y. Times columnist David Leonhardt, "Irma, and the Rise of Extreme Rain": "Extreme rainstorms are up more than a third since the early 1980s."
"The main reason these storms seem to be more frequent is global warming."
"Gabriel Vecchi, a Princeton researcher, compares warmer air to a bigger bucket: It can carry more water from oceans and then dump that water on land."
Tampa Bay Times banner: 'WE'RE LUCKY."
"$150 Billion Misfire: How Forecasters Got Irma Damage Wrong," by Bloomberg's Brian Sullivan: "By one estimate, the total cost dropped to about $50 billion Monday from $200 billion over the weekend."
"Bermuda High kept Irma from becoming the costliest U.S. storm ... Westward shift and weakening checked 'astronomical' damage."
Chuck Watson, a disaster modeler with Enki Research: "With Irma, little wobbles made a huge difference."
"The company's most recent estimate is for $49.5 billion in Irma costs for Florida ... Andrew's were an inflation-adjusted $47.8 billion ... Harvey ... could end up between $65 billion to $75 billion."
"The top spots at the moment are held by 2005's Hurricane Katrina, at $160 billion, and 2012's Superstorm Sandy, at $70.2 billion."
Miami Herald: "More than 62 percent of the state — an estimated 13 million Floridians — remained without power as of 6 p.m. ... Of 10.5 million customers statewide, 6.5 million were still out."
Go deeper ... "Satellite images capture Hurricane Irma's devastation in Caribbean."
Bonus: What POTUS is reading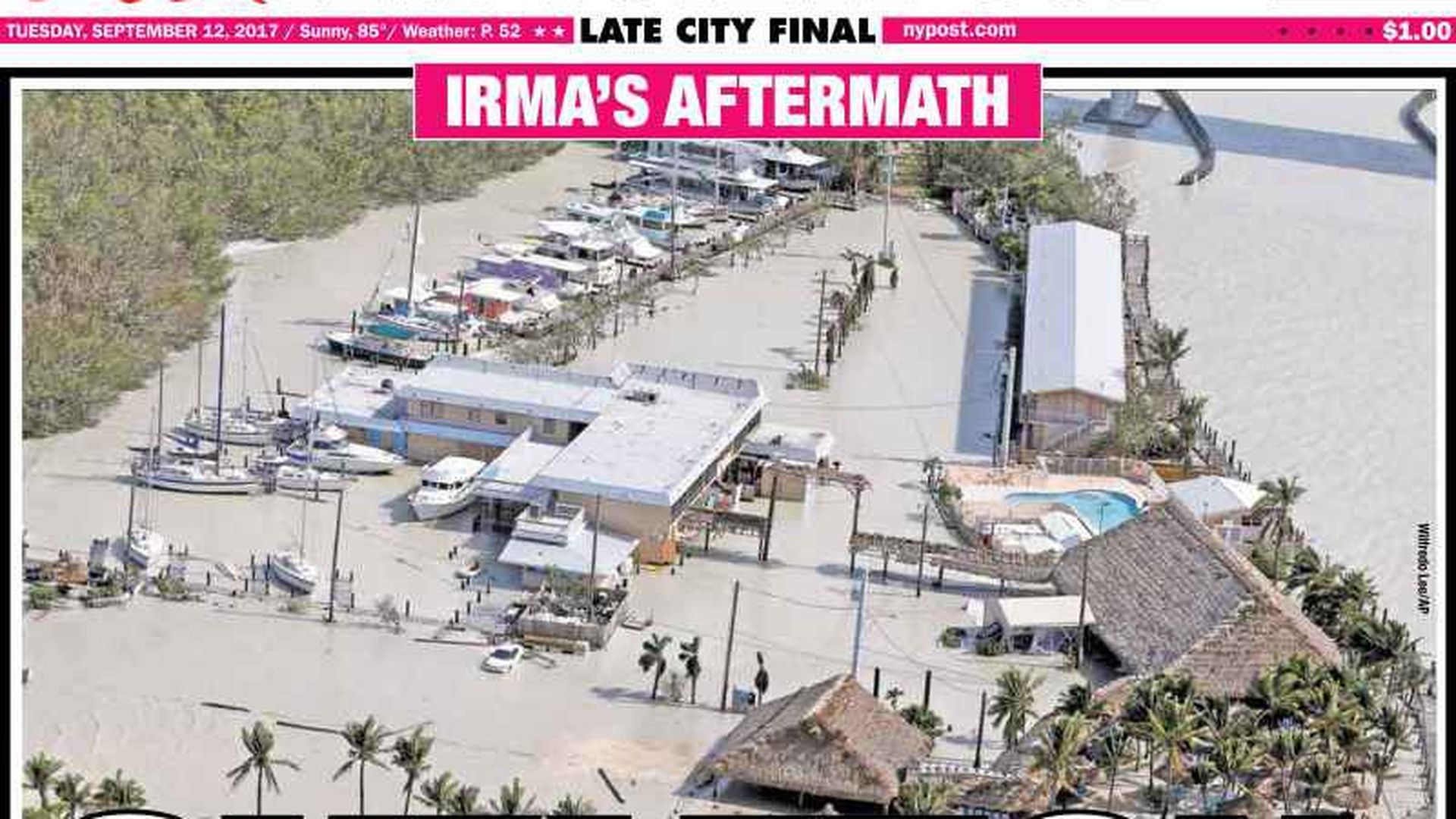 4. iPhone X day
Apple's debut of 10th anniversary iPhones (plus announcements on Apple Watch, Apple TV and more) will stream live at 1 p.m. ET from the Steve Jobs Theater at the new Apple Park campus in Cupertino, Calif.
Ina Fried — Axios chief tech correspondent, and author of our morning Login newsletter — has this sneak peek:
Count on three new iPhones (incremental updates to the iPhone 7 and 7 Plus, along with a high-end model with edge-to-edge screen, facial recognition and wireless charging capabilities).
The new iPhone (priced at a reported $1,000) is expected to push the company in new direction: It uses a new screen technology and a different form of biometrics for securing the device and purchases, and is a gateway into augmented reality.
One leaked use of Face ID is to create animated emojis that mirror facial expressions.
Apple is also expected to introduce a cellular-equipped Apple Watch and an updated version of the Apple TV set-top box.
P.S. "Google Plots to Conquer Self-Driving Cars — by Making Peace With Detroit," per Wall Street Journal front page:
"As the head of Waymo, Alphabet's autonomous vehicle unit, John Krafcik is charged with schooling Silicon Valley in the ways of the Motor City."
5. Something's missing at federal offices
"Nine months after Donald Trump's inauguration, pictures of the president and Vice President Pence are missing from thousands of federal courthouses, laboratories, military installations, ports of entry, office suites and hallways, and from U.S. embassies abroad," the WashPost's Lisa Rein writes on the front page:
"On the walls are empty picture hooks left when workers took down official portraits of President Barack Obama and Vice President Joe Biden on Jan. 20."
"The Government Publishing Office says it has yet to receive the images from the White House."
"[T]he White House says the president and vice president have not yet decided when they will sit for the type of high-quality official photographs usually churned out by the modern GPO, continuing a portrait tradition that began after the Civil War."
Be smart: It's Day 236. For an administration that has been slow to staff up and get the hang of governing, this is a symbol that could stick.
6. Stat du jour
"A government backlog of 700,000 security clearance reviews has led agencies like the Defense Department to inadvertently issue interim passes to criminals — even rapists and killers — fueling calls for better and faster vetting of people with access to the nation's secrets," AP's Deb Riechmann writes:
"It takes ... nine to 10 months for 'top-secret' clearance."
How it happened: "The backlog grew significantly after the government stopped doing business with a contractor that suffered a data breach in 2014. That depleted ... investigations by 60 percent."
7. What we don't know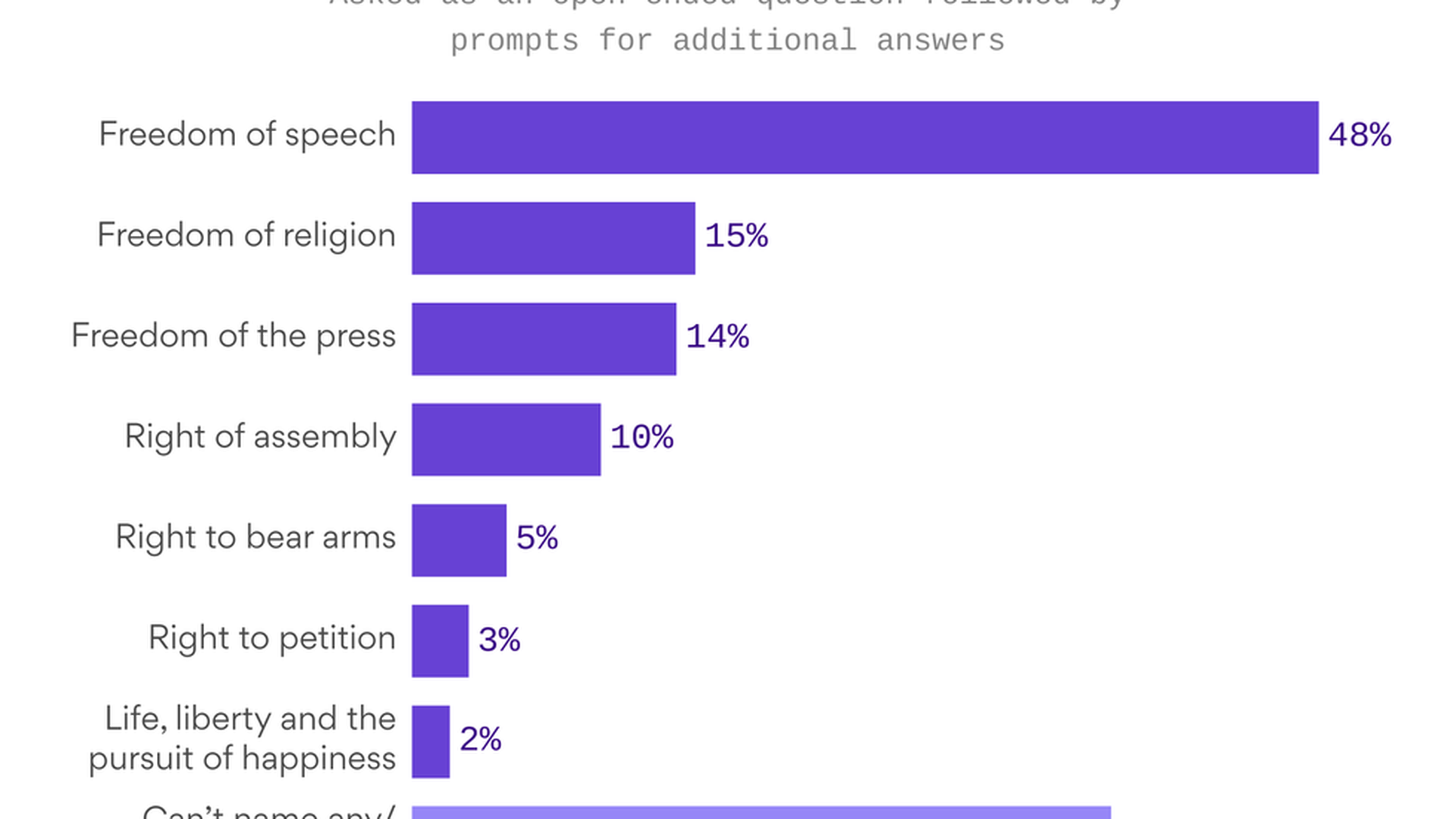 "More than half of Americans (53%) incorrectly think it is accurate to say that immigrants who are here illegally do not have any rights under the U.S. Constitution," according to the Annenberg Constitution Day Civics Survey, by the Annenberg Public Policy Center at the University of Pennsylvania.
37% of the 1,013 adults surveyed (37%) can't name any of the rights guaranteed under the First Amendment.Why it matters, from Kathleen Hall Jamieson, the center's director: "Protecting the rights guaranteed by the Constitution presupposes that we know what they are."
8. "These people are unchained"
NBC News correspondent Katy Tur is out today with a 2016 memoir, "Unbelievable: My Front-Row Seat to the Craziest Campaign in American History."
In a WashPost review scheduled for Sunday's Outlook section, Carlos Lozada says she "chronicles the Trump campaign — and the indignities of reporting while female":
During his campaign events, Trump often called out the news media, but he delighted in singling out Tur, publicly deriding her as "little Katy" and a "third-rate reporter." Part of the animosity was in response to Tur's (accurate) reporting about his behavior at rallies ...
Trump went so far as to kiss her — an unwelcome and uninvited act — just before he appeared on MSNBC's "Morning Joe."
"Before I know what's happening, his hands are on my shoulders and his lips are on my cheek," Tur writes. "My eyes widen. My body freezes. My heart stops." Her immediate reaction is telling. "F—. I hope the cameras didn't see that. My bosses are never going to take me seriously."
Trump chastises Tur at the end of a July 2015 interview, telling her, "You'll never be president!" ("Neither will you," she thinks to herself.)
9. Boehner breaks public silence
Former Speaker John Boehner, who has mostly kept a public silence on policy since leaving office, responds to our reporting that President Trump is still considering withdrawing from a trade agreement with South Korea that Boehner helped guide to passage in 2011:
"Withdrawing from the South Korea-US Trade Agreement [KORUS] would undermine America's strategic objectives in the Pacific region and undercut our own workers and employers."
P.S. "Trump is weighing a strategy that could allow more aggressive U.S. responses to Iran's forces, its Shi'ite Muslim proxies in Iraq and Syria, and its support for militant groups," according to Reuters.
"Defense Secretary Jim Mattis, Secretary of State Rex Tillerson, national security adviser H.R. McMaster and other top officials ... presented [the plan] to Trump at a National Security Council meeting on Friday."
10. 1 fun thing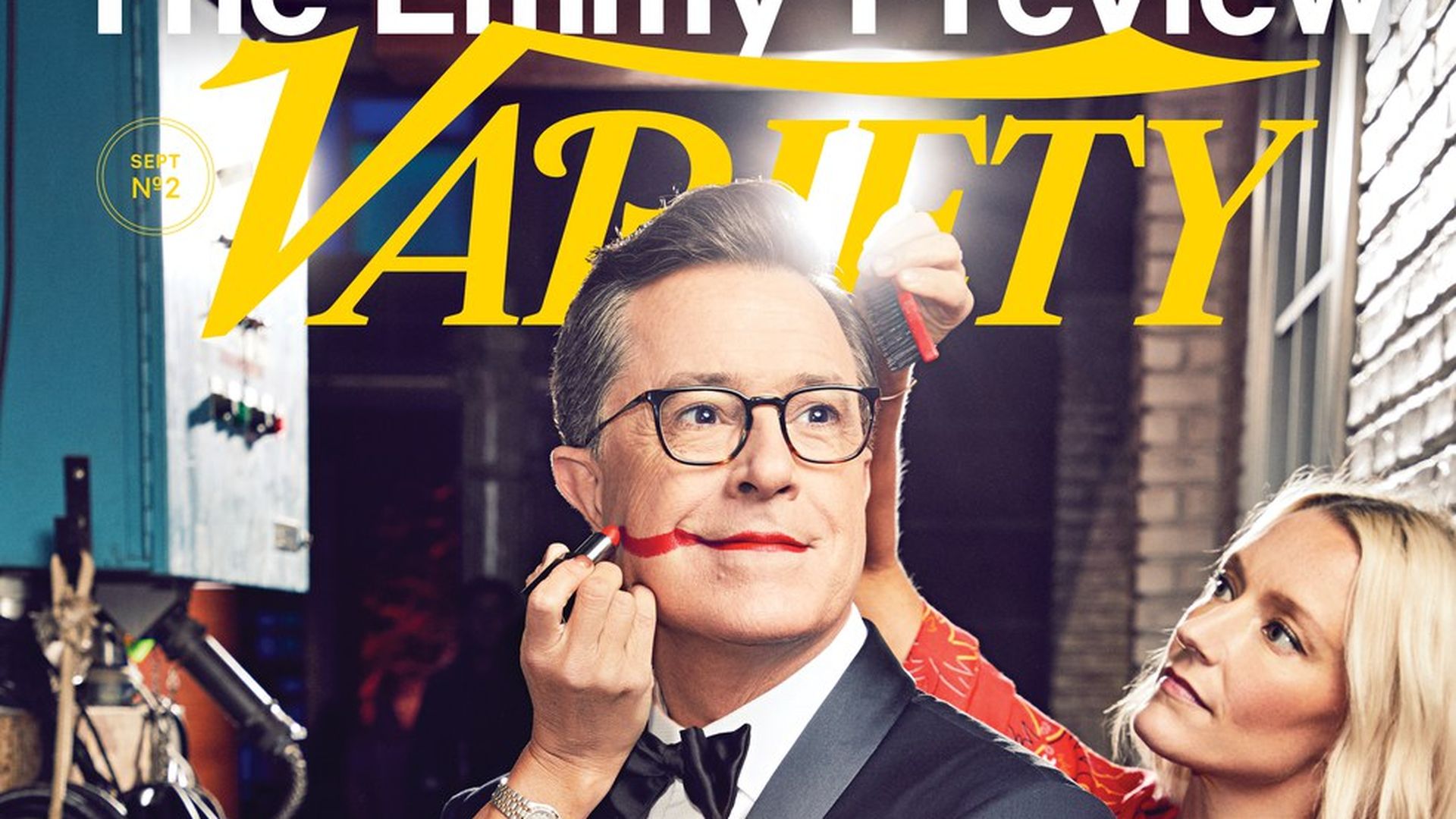 Variety cover coming at 9 a.m. ET ... Stephen Colbert, host of Sunday's Emmy Awards, interviewed by Brian Steinberg:
"In May, when former FBI Director James Comey was fired, ... Colbert had already delivered his monologue, only to be told of the breaking news after he was done, recalls Chris Licht, the late-night show's executive producer. Colbert immediately taped a new version. 'My heart is thumping. My pulse is racing,' Colbert told the crowd. 'We'll have more on this tomorrow, when they scramble to cover the whole thing up.'
"The biggest story of the year is not 'Westworld.' It's not 'The Handmaid's Tale.' It's not Milo Ventimiglia's luscious abs. That's not what we cared about ... The biggest TV star of the year is Donald Trump."
"I feel like I went on a bender last night ... But all I did was watch the President of the United States, and then watch CNN to see who would burst into tears first, Van Jones or David Gergen."
On Trump: "Comedy will not stop him ... The democratic process — that's it. The democratic process will stop this guy. It's the only way. That's it."
"He rattles off a list of potential guests he'd like to have on: Neil DeGrasse Tyson, Brian Greene, George Saunders, Jake Tapper, John Dickerson, Al Franken. The segments, he says, could 'expand the palette of what is acceptable in late night.' He's hopeful that his viewers will embrace discussions with people who energize him personally."
P.S. Another Olympics in U.S.?
"It's a longshot, but there's talk in Salt Lake City, and even some in Denver, of a bid for the 2026 Winter Games, which take place two years before the Summer Olympics return to Los Angeles," per AP's Eddie Pells:
"On Wednesday, the International Olympic Committee will award the 2024 Summer Games to Paris and 2028 to Los Angeles."
"One of the few declared candidates for 2026 — Innsbruck, Austria ... — has a referendum scheduled for Oct. 15 ... Calgary and Sion, Switzerland, have also shown interest in hosting. Salt Lake City and Denver are officially on the sideline, though after Wednesday, things could heat up."
"The 2026 Games are next on the docket — and the only Olympics through 2028 still in search of a host."