https://www.axios.com/newsletters/axios-am-bb143245-3248-4a48-8414-cf8b33cbd647.html?chunk=0#story0
1 big thing: Self-inflicted wounds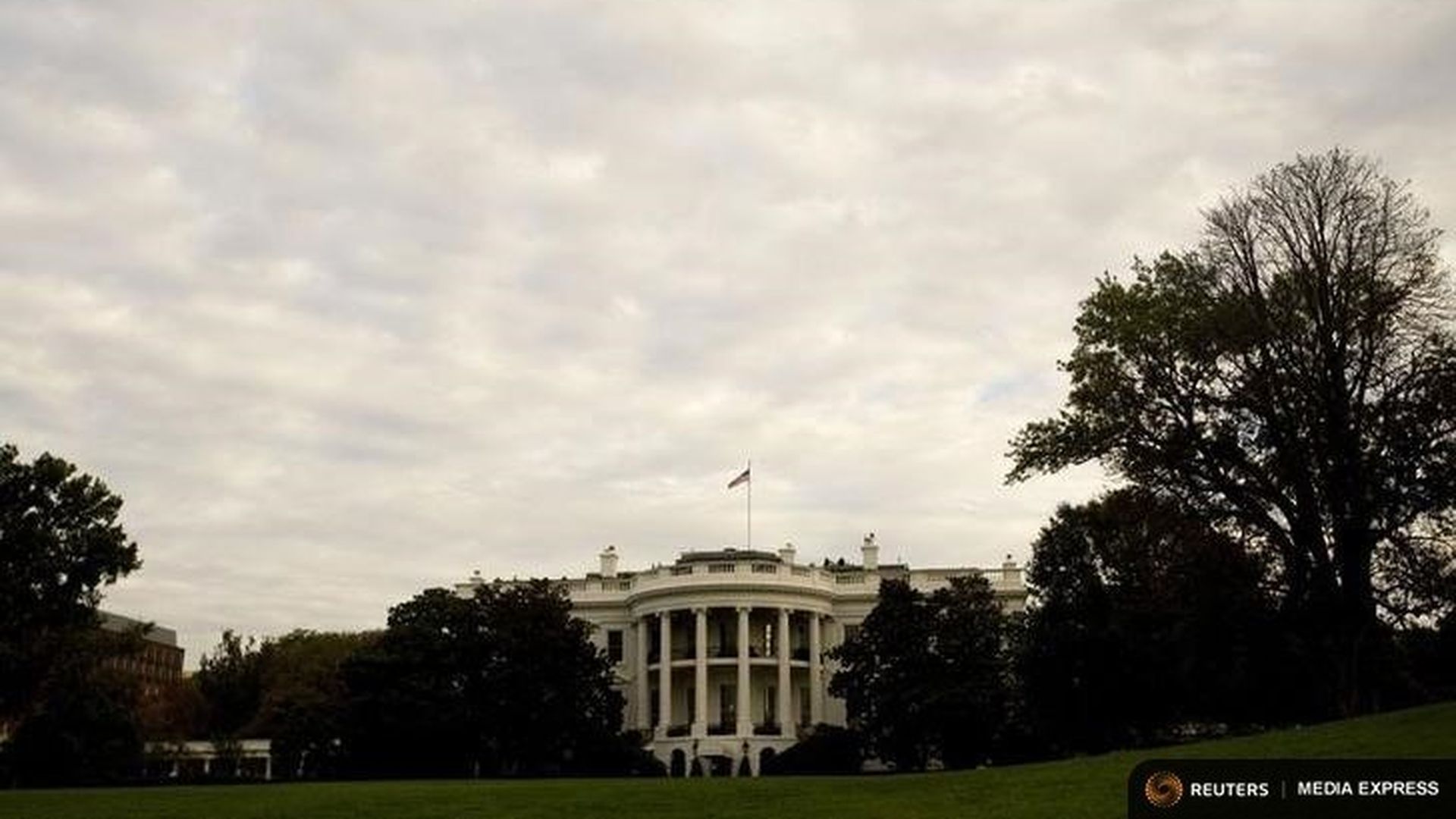 A day after word that White House Chief of Staff Reince Priebus asked the FBI to talk to the media to clarify reports about Trump campaign aides' contact with Russians, another doozy — one that's likely to increase congressional interest, and perhaps lead to an independent, 9/11-style commission:
Today's WashPost lead story, "Key officials were asked to rebut Russia report: White House arranged calls to media," by Greg Miller and Adam Entous: "The Trump administration has enlisted senior members of the intelligence community and Congress in efforts to counter news stories about Trump associates' ties to Russia ... Acting at the behest of the White House, the officials made calls to news organizations last week."
Presidential historian Michael Beschloss to MSNBC's Rachel Maddow, on parallels from history: "The obvious example — and I hope this does not turn out to be this — but Richard Nixon was driven out of office because he tried to stop the investigation of the Watergate ... What the Post story is suggesting tonight is that there was an effort to enlist big members of Congress and also big members of the intelligence community to call reporters and say, essentially ... 'There's not much to the story.'"
More Beschloss: "It's not too bright, because for reporters to get calls from intelligence officials, and high officials in Congress who're supposed to be investigating this, the natural question that they would ask — and they obviously did — was: 'Who got you to do this? Was it the White House?' ... It's like if they did not want a 9/11 commission, they are going to be perhaps compelled to do it by essentially their own actions. ... Amazing to watch — what a story."
On the spot, once again ... FBI Director Jim Comey! AP Justice Department reporter Eric Tucker: "Comey is facing new political pressure as White House officials are encouraging him to follow their lead by publicly recounting private FBI conversations ... It's an unusual position for a crime-fighting organization with a vaunted reputation for independence and political neutrality."
Also this morning, another arena of tension between Trump officials and their own bureaucracy:
Wall Street Journal lead story, "Trump Rejects Report on Travel Ban: Tension with career staff rises," by Shane Harris: "An intelligence report by the Department of Homeland Security contradicts the White House's assertion that immigrants from seven Muslim-majority countries pose a particular risk of being terrorists."
A senior administration official: "The president asked for an intelligence assessment. This is not the intelligence assessment the president asked for."
"The official said intelligence is already available on the countries included in Mr. Trump's ban and just needs to be compiled."
https://www.axios.com/newsletters/axios-am-bb143245-3248-4a48-8414-cf8b33cbd647.html?chunk=1#story1
2. "Enemies" locked out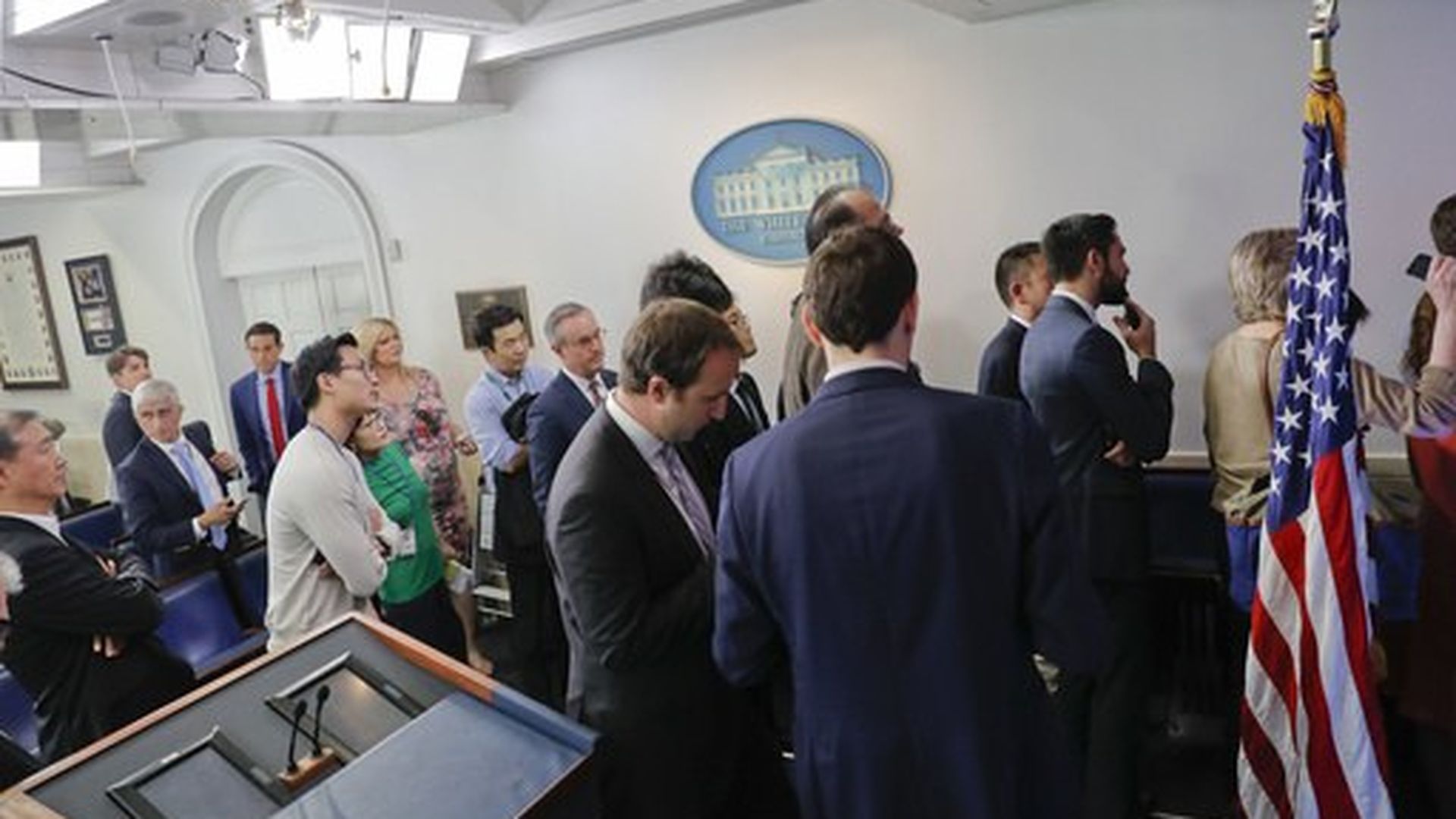 At the Conservative Political Action Conference — a Woodstock for Young Republicans, on the Potomac in suburban Maryland — Trump drew repeated applause and laughter as he went on-camera with the "enemy of the people" shot at the press that he had tweeted. (Some top Republicans had been optimistic that POTUS would abandon the language after he saw how it had been interpreted as having overtones of Lenin and Stalin.)
"I called the fake news 'the enemy of the people' — and they are. They are the enemy of the people. Because they have no sources, they just make them up when there are none. ... They are very dishonest people. ... They shouldn't be allowed to use sources unless they use somebody's name."
"[M]any of you, you're not part of the story ... If you are part of the story, you know what they're saying is true or not."
The reaction:
Axios' Jonathan Swan points out: "Trump was one of the Manhattan media's most notorious anonymous sources throughout his career as a real estate showman."
WashPost's Phil Rucker tweets: "Trump says reporters shouldn't be allowed to use anonymous sources -- about an hour after his aides [Priebus and Spicer] held anonymous briefing with press."
Three hours later, Sean Spicer held an invitation-only, off-camera briefing with several conservative outlets included, and several mainstream outlets barred — a move that the White House Correspondents' Association said it was "protesting strongly," and which longtime journalists called unprecedented.
This led to headlines around the world that made the Trump administration sound like a repressive regime: WashPost page A1, "White House slams door on several reporters ... CNN, New York Times, other media barred" ... Lead story of Guardian homepage in U.S.: "Guardian, New York Times and CNN denied access to briefing" ... Top of BBC News homepage: "Media groups condemn briefing bar."
The White House posted a transcript of the 40-minute gaggle. Pressed on the exclusions, Spicer said: "I think that we have shown an abundance of accessibility. We've brought more reporters into this process. ... [W]e've actually gone above and beyond with making ourselves, our team and our briefing room, more accessible than probably any prior administration. So I think you can take that to the bank."
On yesterday's attendees, Spicer said: "We started with the pool and then we expanded it. So I get it. ... We do what we can to be accessible. And if there's a problem with that, I understand it. But we do what we can to accommodate the press. I think we've gone above and beyond when it comes to accessibility and openness and getting folks to -- our officials, our team."
The reaction:
Mood music ... In late afternoon, Axios broke the news that Bloomberg, host of the premier afterparty for the White House Correspondents' Association Dinner, won't hold the event after this year's April 29 dinner, but will still support the scholarship dinner.
Bloomberg told us: "We surveyed some of the past attendees and didn't get as much interest in a party this year as we've had in the past."
https://www.axios.com/newsletters/axios-am-bb143245-3248-4a48-8414-cf8b33cbd647.html?chunk=2#story2
3. Out in a little place called America ...
"Americans Haven't Been This Optimistic About the Job Market in Over 30 Years," by Bloomberg's Jordan Yadoo: "Thirty-five percent of U.S. consumers surveyed by the University of Michigan this month expect unemployment to further decline during the year ahead."
That's the largest share "since March 1984 — a time when unemployment was a full three percentage points higher than the current rate of 4.8 percent."
Chaser ... "Record-setting stock rally faces test in Trump speech," by Reuters' Lewis Krauskopf: "[S]ome investors worry that his first major address to Congress [on Tuesday] risks dousing it if his plans look slow to execute or are overly vague."
https://www.axios.com/newsletters/axios-am-bb143245-3248-4a48-8414-cf8b33cbd647.html?chunk=3#story3
4. Defining Trumpism: party of American worker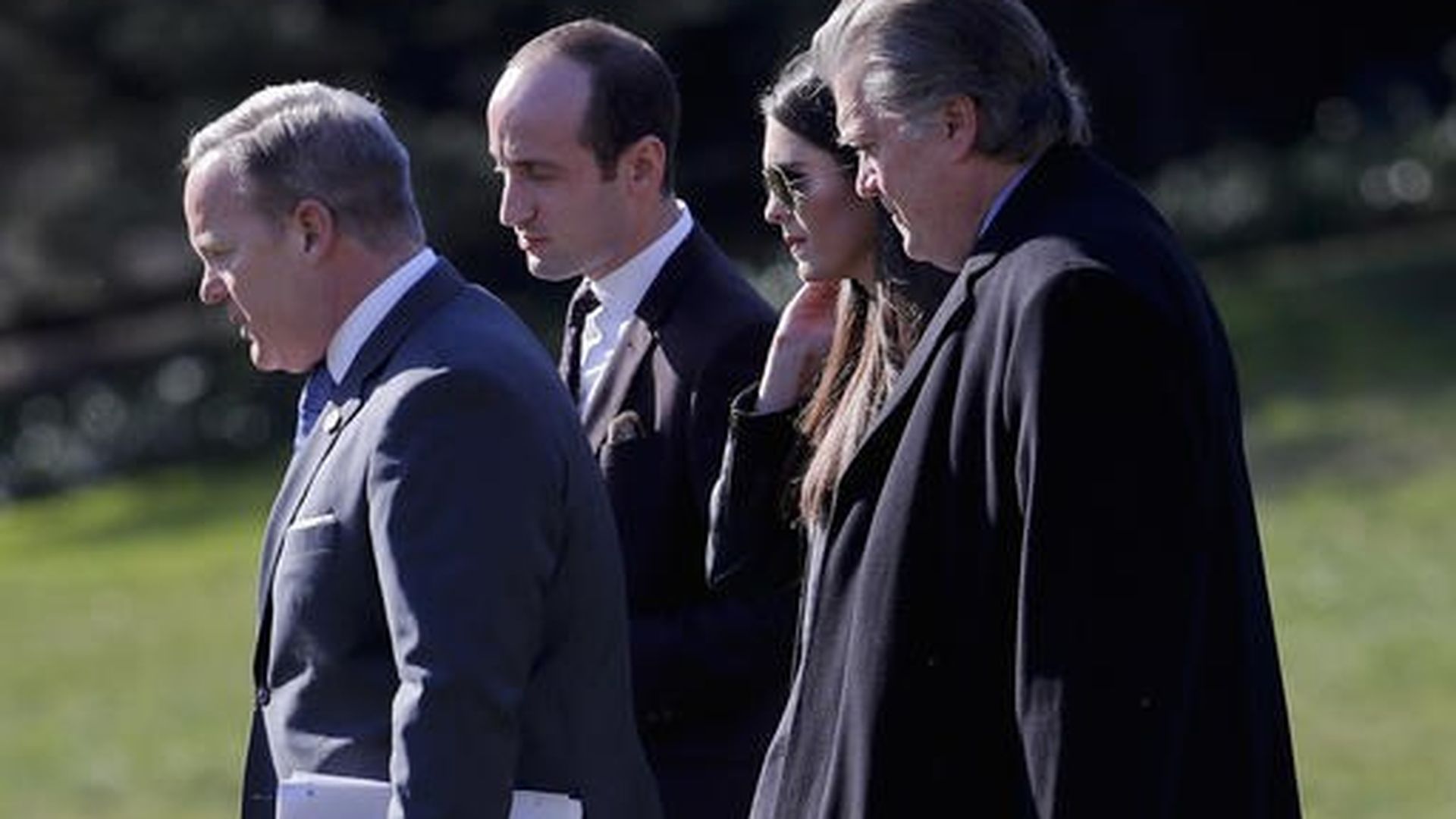 I liked the CPAC take from the Boston Globe's Tyler Pager, who leads the paper: "Attempting to put a defining framework on his tumultuous first month in office, ... Trump ... articulated a new vision for the Republican Party as a populist defender of the working class that will challenge elites at home and abroad.
Trump said: "The GOP will be, from now on, the party also of the American worker. (Applause.) You know, we haven't been, as a group, given credit for this, but if you look at how much bigger our party has gotten during this cycle."
Trump also signaled more welfare reform: "It's time for all Americans to get off of welfare and get back to work. You're going to love it! You're going to love it. You are going to love it. (Applause.)"
Advice for Trump from Peggy Noonan in her Wall Street Journal column, arguing that Washington still "seems a little lost" after the Quake of '16: "This president doesn't argue [for things], he only announces. He asserts. Previous presidents in their early speeches were always making the case for a certain advancement. Not to do so is a waste of the biggest mic in the world."
Worth the click ... CPAC attendee wearing a "Make America Great Again" yarmulke. Photo by Reuters' Joshua Roberts
Spotted at CPAC ... Ken Bone! In red sweater, appearing as Chief People Officer for Victory Holdings, a Florida-based political software company. Photo by Reuters' Joshua Roberts
https://www.axios.com/newsletters/axios-am-bb143245-3248-4a48-8414-cf8b33cbd647.html?chunk=4#story4
5. The wilderness: Postgaming 2016
Matt Bennett of the centrist Democratic group Third Way emailed us to say: "I know you like lists of ten, but we have three big reasons why demography didn't translate into destiny for Democrats" in 2016.
The big idea: "Democrats cannot simply rely on demographic change to deliver inevitable victories."
The report is called "Why Demography Does Not Equal Destiny" (14-minute read; by Lanae Ericsson Hatalsky and Jim Kessler), and Matt says it "drives a stake through the heart of the theory that we believe has helped take the party off-course":
1. "Demographic change isn't evenly dispersed: Power in our political system is based on place, not national polls. The 'Rising American Electorate' is concentrated in cities, on coasts, and in the Southwest."
2. "Voters ... don't behave like demographic robots: Independents swung 35 points (favoring Dems by 17 in 2006, then Republicans by 18 in 2010) in subsequent midterms. 403 counties flipped from Obama to Trump."
3. "Even in the Rising American Electorate, most voters aren't liberal: 54% of Democratic voters in 2016 were conservative or moderate. 40% of Millennials are moderate and another 28% are conservative (68% total). 36% of Latinos are moderate and another 32% are conservative (68% total). ... The demographics of our country are changing, but that doesn't mean the ideology is changing with it."
Why it matters: "Democrats are in a huge hole and doubling down on demography as destiny won't help us dig out of it."
https://www.axios.com/newsletters/axios-am-bb143245-3248-4a48-8414-cf8b33cbd647.html?chunk=5#story5
6. Can you hear me NOW?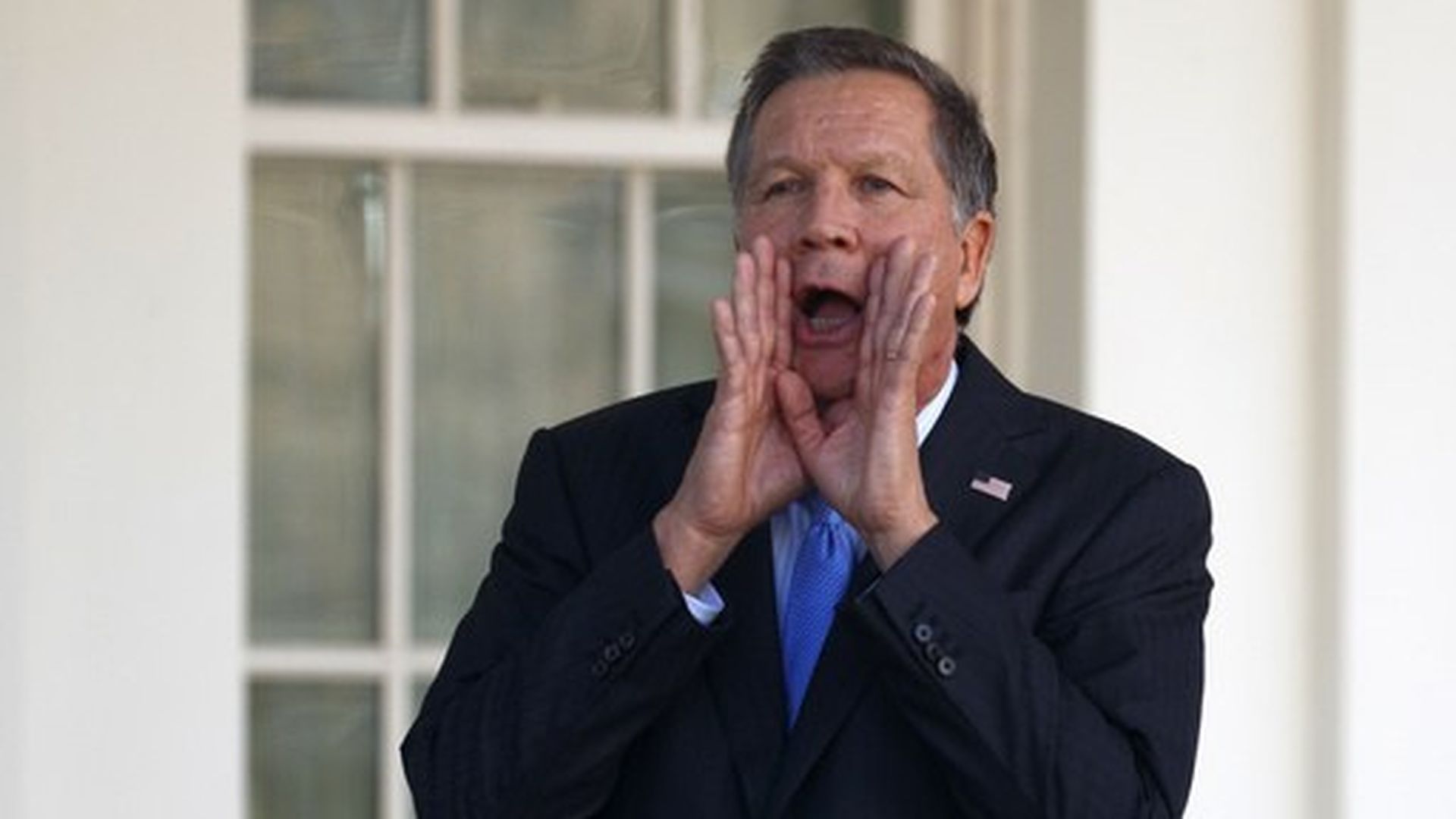 Ohio Gov. John Katich, one of Trump's last-men-standing primary opponents, responds to reporters as he arrives at the White House yesterday for a closed-press, Oval Office meeting with the president."
Spicer: "This is something that they wanted to get together after the election and catch up, and discuss sort of the issues and agenda that the President is implementing, and hopefully how some of these things -- I think coal will probably come up."
https://www.axios.com/newsletters/axios-am-bb143245-3248-4a48-8414-cf8b33cbd647.html?chunk=6#story6
7. Feds send message with de Blasio interrogation
N.Y. Post, "Blas on the hot seat": "Hard-charging US Attorney Preet Bharara sent a message to Mayor de Blasio Friday — trotting out the same prosecutors who took down [Albany twin titans] Sheldon Silver and Dean Skelos to interrogate Hizzoner about his campaign fund-raising activities."
"Andrew Goldstein, chief of the public corruption unit, and his deputy Tatiana Martins were among at least four assistant US attorneys to question de Blasio at the Midtown office of his lawyer, Barry Berke."
"The contingent arrived around 9:18 a.m. and spent about 4¹/₂ hours inside before the meeting broke up at about 1:50 p.m."
"The feds have been probing the mayor over whether he and his advisers exchanged favors to donors for contributions to his 2013 campaign and his now-shuttered nonprofit, the Campaign for One New York."
"De Blasio spent the better part of two workdays this week preparing for the interrogation with his lawyer."
"On Friday, he was scheduled to head out of town for two days to attend the Democratic National Committee meeting in Atlanta."
https://www.axios.com/newsletters/axios-am-bb143245-3248-4a48-8414-cf8b33cbd647.html?chunk=7#story7
8. Sports page + Talk of tech = NBA goes VR
"The NBA gets high-tech with VR, drones and futuristic dreams," by TechCrunch's Lucas Matney: At All-Star festivities in New Orleans last weekend, "basketball aficionados from across the globe were able to don high-tech goggles to live-stream stereoscopic virtual reality of a highly paid athlete receiving a bounce pass from a custom-designed drone to perform a highly technical slam dunk."
"VR live-streaming rights belong to NextVR [which] produces cool sporting event and concert content with nifty cameras ... NextVR signed a deal with the NBA in October of last year to stream one NBA game per week for the remainder of the 2016-2017 season."
"Download some of the All-Star content here."
"Before All-Star weekend, the league hosted the 18th annual NBA Technology Summit, where dozens of Silicon Valley leaders from companies like Snap, Instagram, YouTube and Twitter all descended to discuss how tech think about sports entertainment and what more it could be doing."
https://www.axios.com/newsletters/axios-am-bb143245-3248-4a48-8414-cf8b33cbd647.html?chunk=8#story8
9. Mansion slated to be the largest in NYC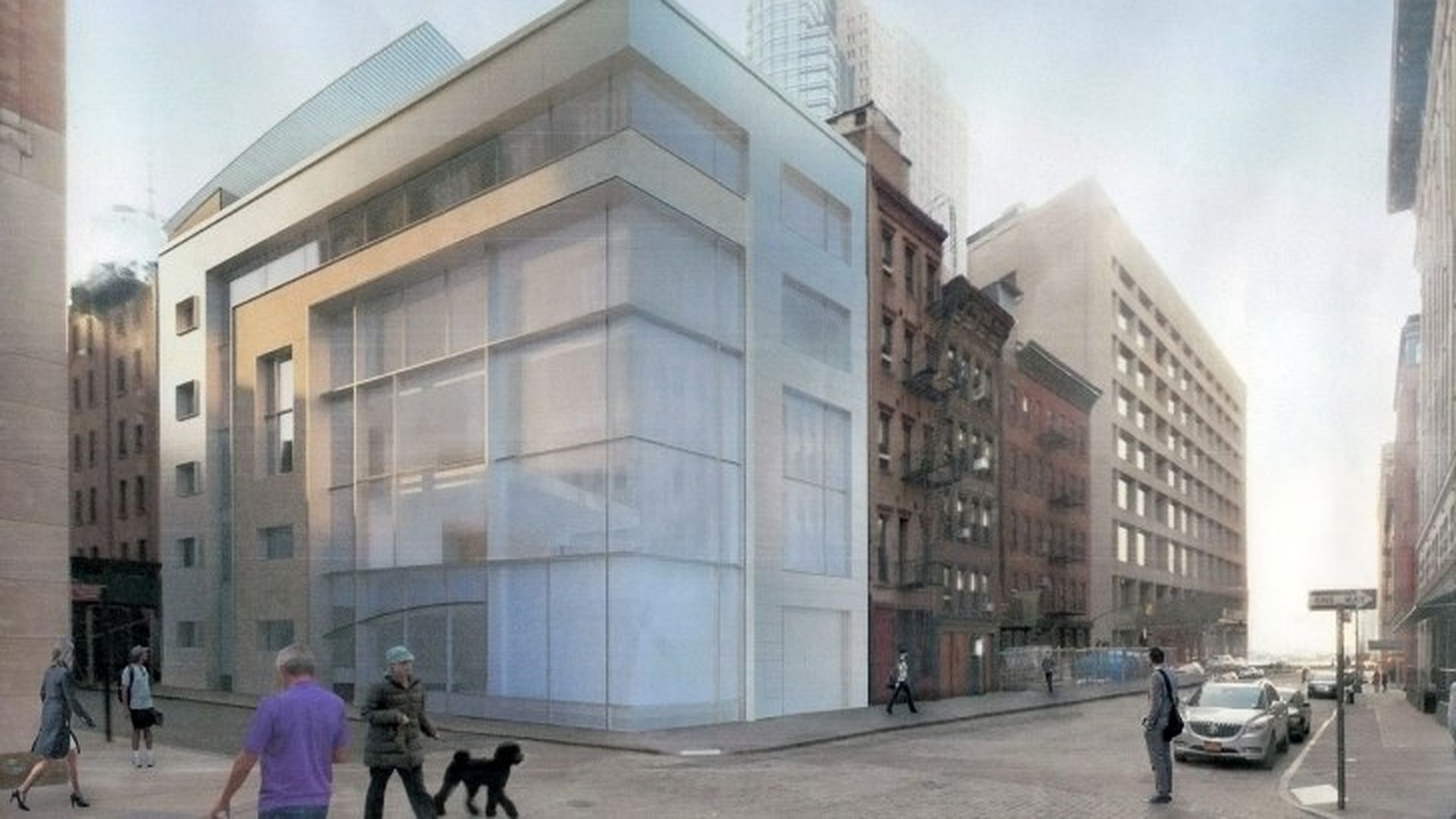 N.Y. Post's Jennifer Gould Keil: The single-family, five-story mansion in northern Tribeca "is about to hit the market for $35 million and it will cost another $15 million to develop ... At 70 feet tall, 50 feet wide and 100 feet deep — with its own four-car garage and 82-foot-long swimming pool — it will be the biggest suburban-style mansion the city has ever seen."
"The mystery seller bought the building for $13.3 million ... in 2014."
Deets from The Tribeca Trib: "At ... nearly 20,000 square feet (including the basement), the ... home at 11 Hubert St. [approved by the city's Landmarks Preservation Commission] would rise ... at the corner of Collister Street."
"Clad in metal, glass and limestone, it would be two stories taller and far showier than the plain stucco, mixed-use structure that it will be built upon."
"The floor plans call for 11 bathrooms, five bedrooms (including two guest rooms), a dog room, separate prep and catering kitchens, wine closet and two bars, screening room, his-and-her studies, fully landscaped courtyard, 5,000-square-foot sports and fitness center in the basement, and a garage."
"The roof would be topped by a curvy trellis of solar panels."
https://www.axios.com/newsletters/axios-am-bb143245-3248-4a48-8414-cf8b33cbd647.html?chunk=9#story9
10. 1 fun thing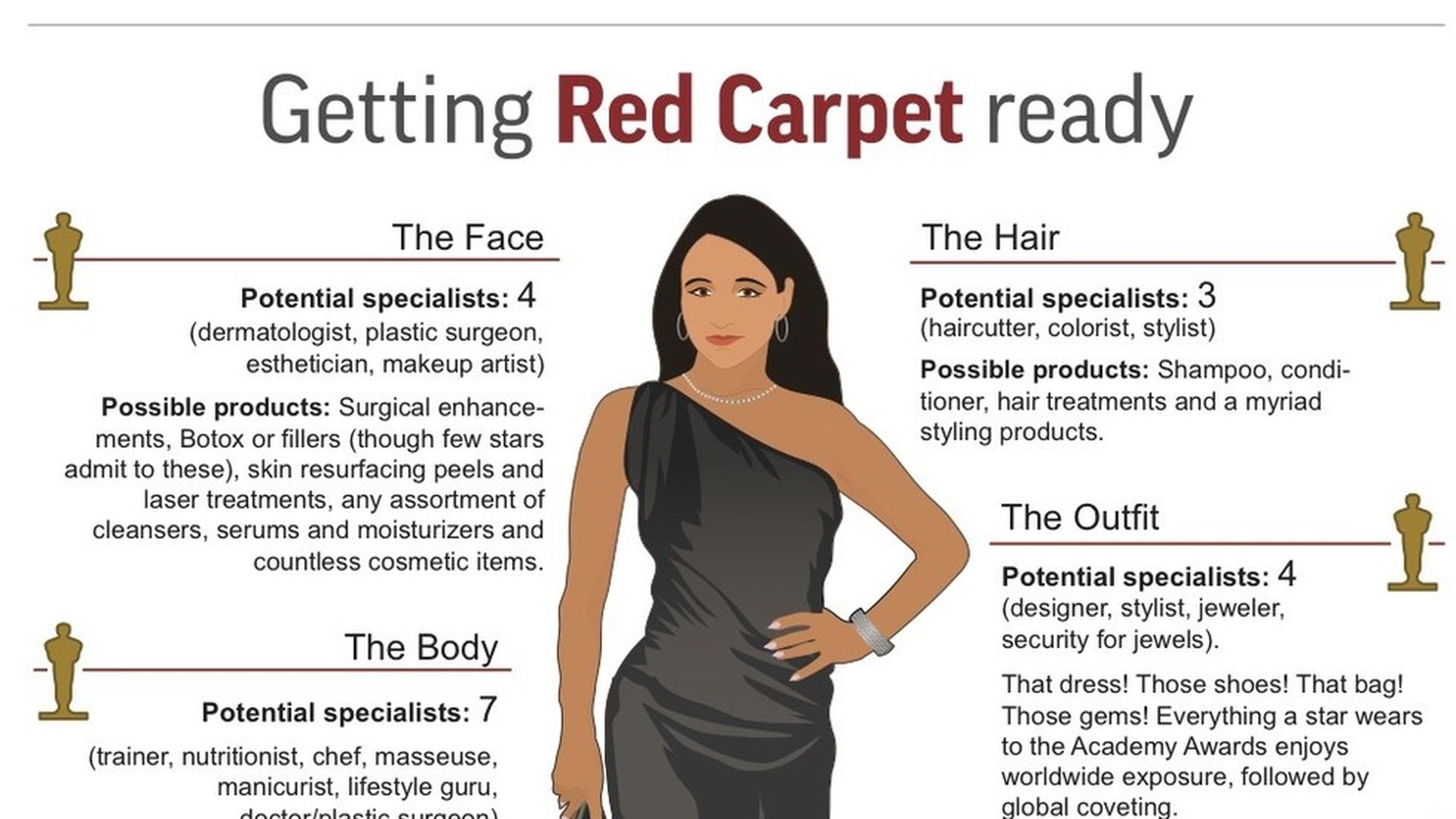 "How stars spend a month getting ready for Oscars' red carpet," by AP's Sandy Cohen in L.A. (Academy Awards are tomorrow night):
"Most stars borrow designer gowns, which are only available in 'sample size,' somewhere between 2 and 4 ... 'If you don't want to pay for it, you have to fit into it.'"
"Hence the scramble to slim down. ... [F]itness and nutrition specialists ... say they need about four weeks to achieve optimum results."
"Enrollment in meal-delivery services spikes during awards season, said Danielle DuBoise, co-founder of Sakara, which delivers ready-to-eat, organic vegetarian meals to such clients as Chrissy Teigen and Gwyneth Paltrow. The company's four-week program is designed to yield the plant-based diet's maximum beauty benefits: a leaner shape, vibrant skin and hair and the energy to power through the busy season."
"Stars ... need about a month of lead time if Botox or fillers are part of their beauty plan, said ... a facial plastic surgeon in Beverly Hills [who] estimates that 'probably 60 or 70 percent' of men and women rely on injections."