Axios AM
September 01, 2017
Good Friday morning, and welcome to September. If you're blessed to be flood-free, enjoy Getaway Day — and do something for those for whom there's no getting away.
1 big thing: Dems begin lining up 2020 staff
A quiet but consequential battle for staff and cash has begun among ambitious Democrats with their eyes on the 2020 presidential race. The party is likely to start with a bigger field — perhaps much bigger — than the unwieldy Republican batch that produced Donald Trump as the nominee.
Our conversations with well-wired Democrats produced a list of three dozen names that range from possible to plausible to probable. Other potential candidates seem certain to emerge, based on who looks strong after the 2018 midterms.
Several have begun to actively talk to potential staff members, and a few more have put out feelers, according to Democrats familiar with the conversations.
It's of course unlikely that whoever we're buzzing about 1,159 days before the election ("Bullish on Bullock!") will be the correct answer.
Breaking the potential candidates into formal tiers at this point would be silly. But here are groupings that emerged with our conversations with veterans of past Democratic presidential campaigns, as well as younger operatives likely to be involved in the 2020 campaign:
Watched most closely: Sen. Elizabeth Warren (Mass.), Sen. Bernie Sanders (Vt.), Sen. Cory Booker (N.J.), Sen. Kirsten Gillibrand (N.Y.), Sen. Kamala Harris (Calif.), New York Gov. Andrew Cuomo.
The classics: Joe Biden, John Kerry, Al Gore, former Maryland Gov. Martin O'Malley.
Outsiders: New Orleans Mayor Mitch Landrieu, Los Angeles Mayor Eric Garcetti, Washington Gov. Jay Inslee, Colorado Gov. Hickenlooper
Has begun seeking staff: Montana Gov. Steve Bullock, Sen. Chris Murphy (Conn.), Rep. Tim Ryan (Ohio).
Many in Obamaworld like: former Massachusetts Gov. Deval Patrick, Rep. Seth Moulton (Mass.), former Missouri SecState Jason Kander.
Many in Clintonworld like: Virginia Gov. Terry McAuliffe, former Ag Secretary and Iowa Gov. Tom Vilsack, former HUD Secretary Julian Castro.
Possible if wins reelection: Sen. Sherrod Brown (Ohio).
Wants to be mentioned: Sen. Amy Klobuchar (Minn.).
Wild cards: Sen. Al Franken (Minn.), Rhode Island Gov. Gina Raimondo, New York Mayor Bill de Blasio, Rep. John Delaney (Md.).
Non-politicians: Facebook COO Sheryl Sandberg, Mark Cuban, The Rock, Starbucks Executive Chairman Howard Schultz, Disney CEO Bob Iger, Oprah, George Clooney.
Someone Trump would have no idea what to do with, and who'd win women with authenticity and Southern charm: Sally Yates, the acting attorney general fired by Trump.
Be smart: A huge challenge for Democrats is that the energy, action and money are on the left (the Warren-Sanders wing). But winning in 2020 will require winning over working-class, more centrist voters who helped put Trump in office. Anybody who doesn't spend their weekdays in Washington is likely to have an advantage, so watch the governors and others who can run as outsiders against the incumbent GOP.
Who'd we miss? In Axios AM, we'll periodically update this list and refine the categories. If you know someone who has begun working it, or have an idea about a candidate who'd be strong, shoot me a note at [email protected]. We'll share the most worthy thoughts in AM.
2. Harrowing Harvey stories emerge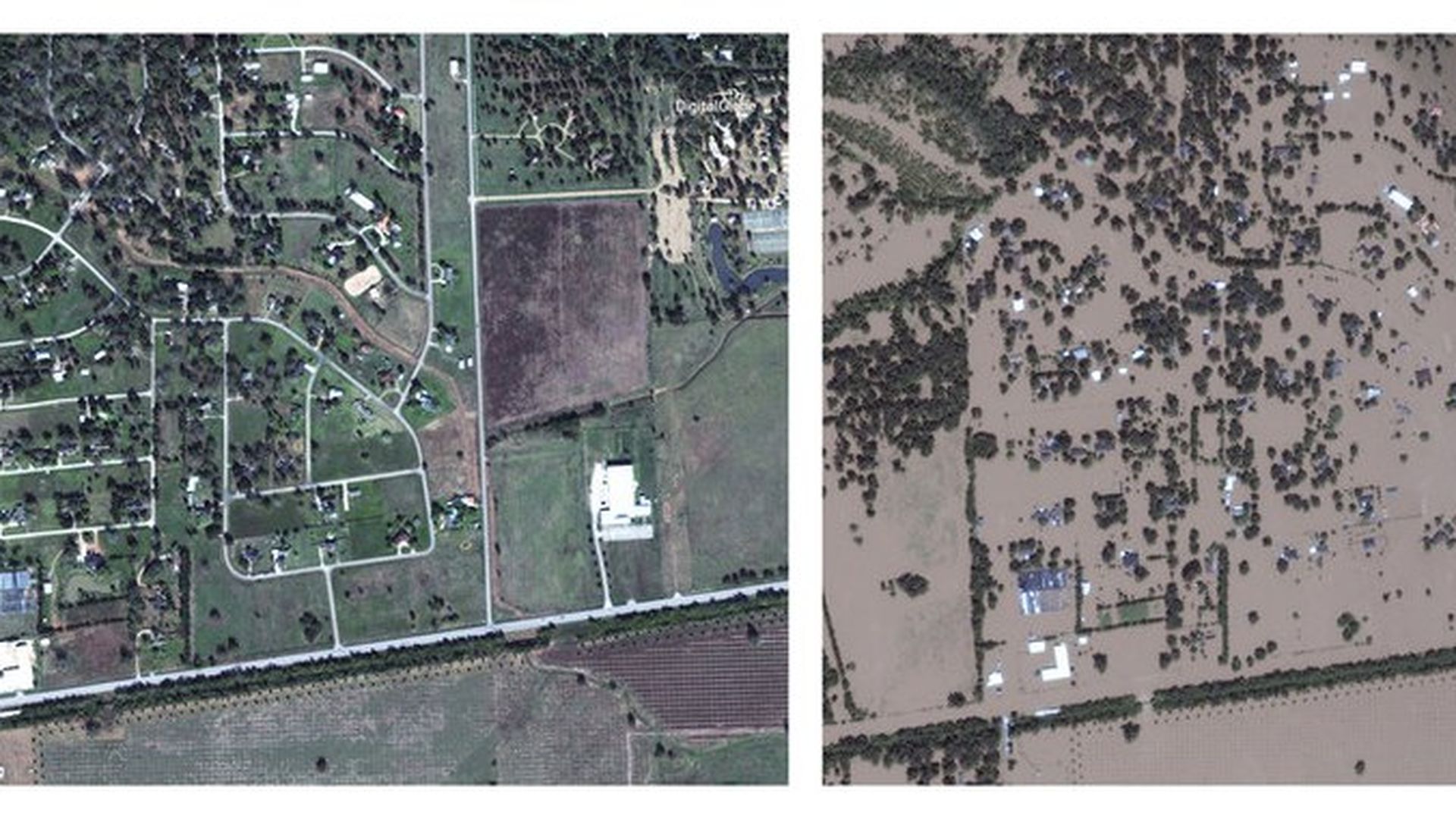 "Don't touch me: I"m dying": "One man used his last words to save a friend's life, warning him away from a live electrical wire. Another died checking on his uncle. Several others were last seen helping people out of floodwaters. They're among Harvey victims who lost their lives trying to save other people." (AP)
3. Beyond Houston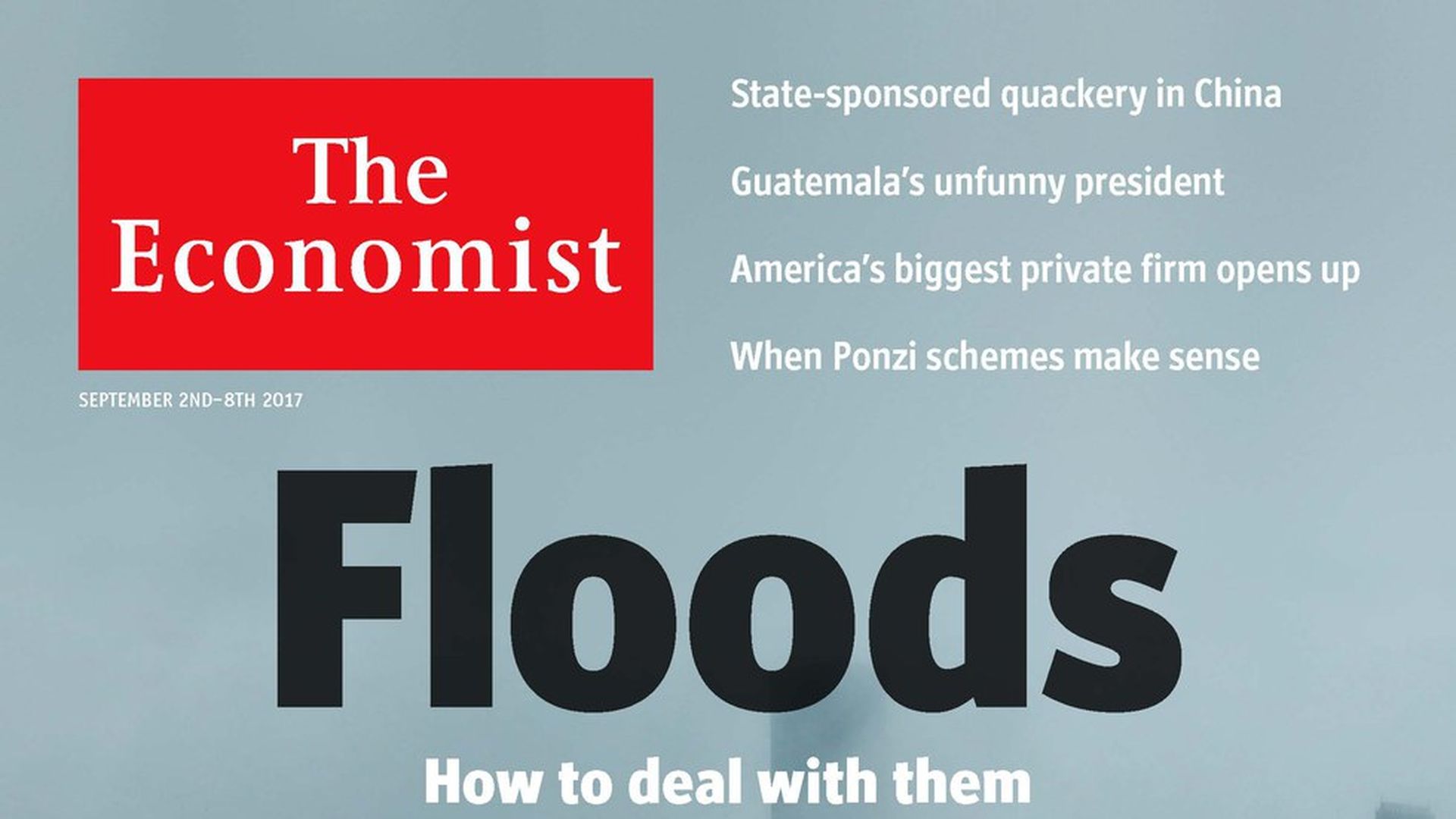 "How government policy exacerbates hurricanes like Harvey: As if global warming were not enough of a threat, poor planning and unwise subsidies make floods worse" — cover editorial of The Economist:
"The fate of America's fourth-largest city holds the world's attention, but it is hardly alone. In India, Bangladesh and Nepal, at least 1,200 people have died and millions have been left homeless by this year's monsoon floods. Last month torrential rains caused a mudslide in Sierra Leone that killed over 1,000."
"Around the world, governments are grappling with the threat from floods. This will ultimately be about dealing with climate change. Just as important, is correcting short-sighted government policy and the perverse incentives that make flooding worse."
"The overwhelming good news is that storms and flooding have caused far fewer deaths in recent decades, thanks to better warning systems and the construction of levees, ditches and shelters."
Why it matters: "All this is a test of government, of foresight and the ability to withstand the lobbying of homeowners and developers. But politicians and officials who fail the test need to realise that, sooner or later, they will wake up to a Hurricane Harvey of their own."
N.Y. Times Quote of the Day ... Porfirio Villarreal of Houston's Health Department, on the hazards of the water enveloping the city: "There's no need to test it. It's contaminated. There's millions of contaminants."
Bonus pic 1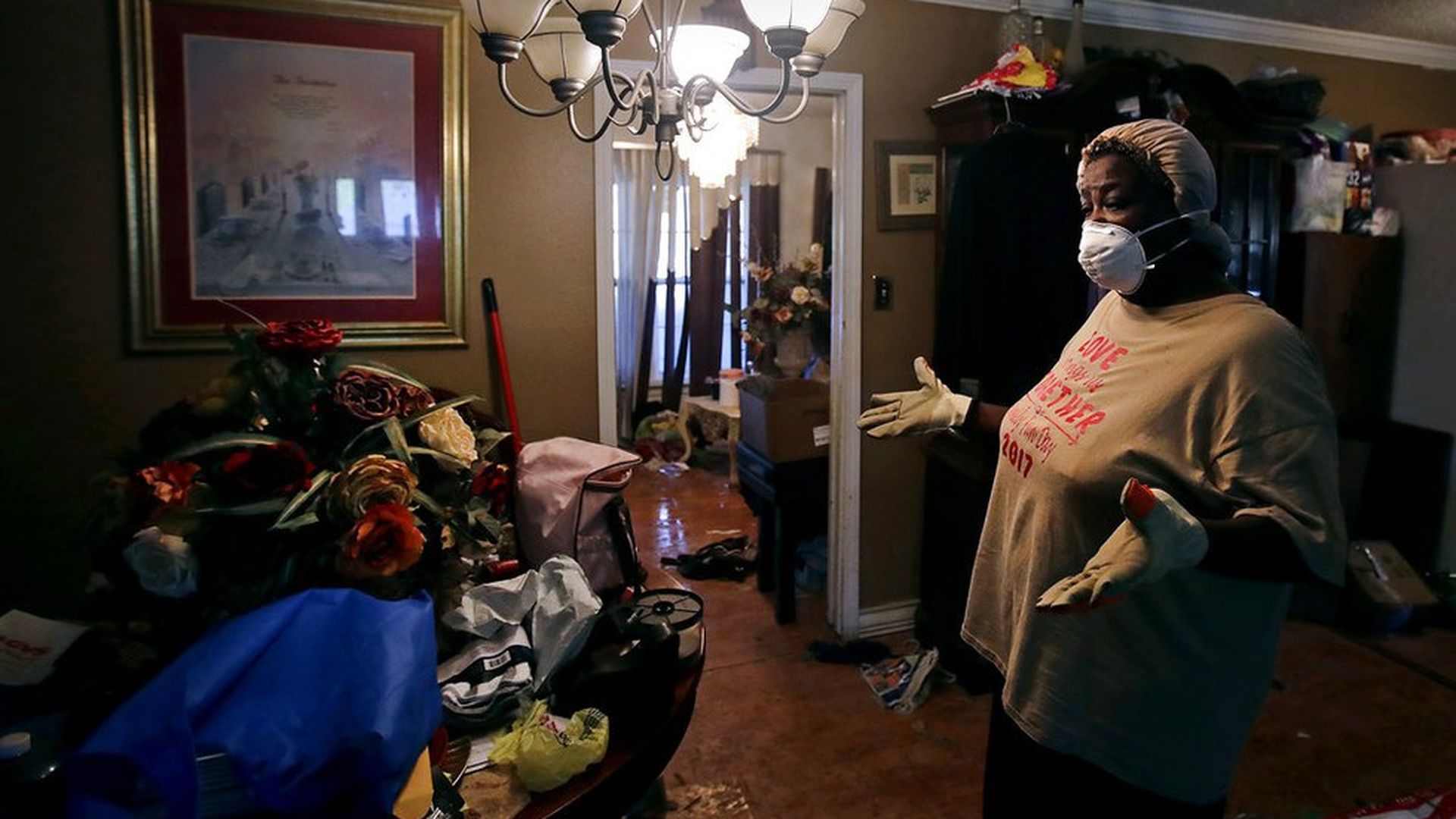 Lois Rose looks over belongings while salvaging items from her flood-damaged house in Houston yesterday.
Bonus pic 2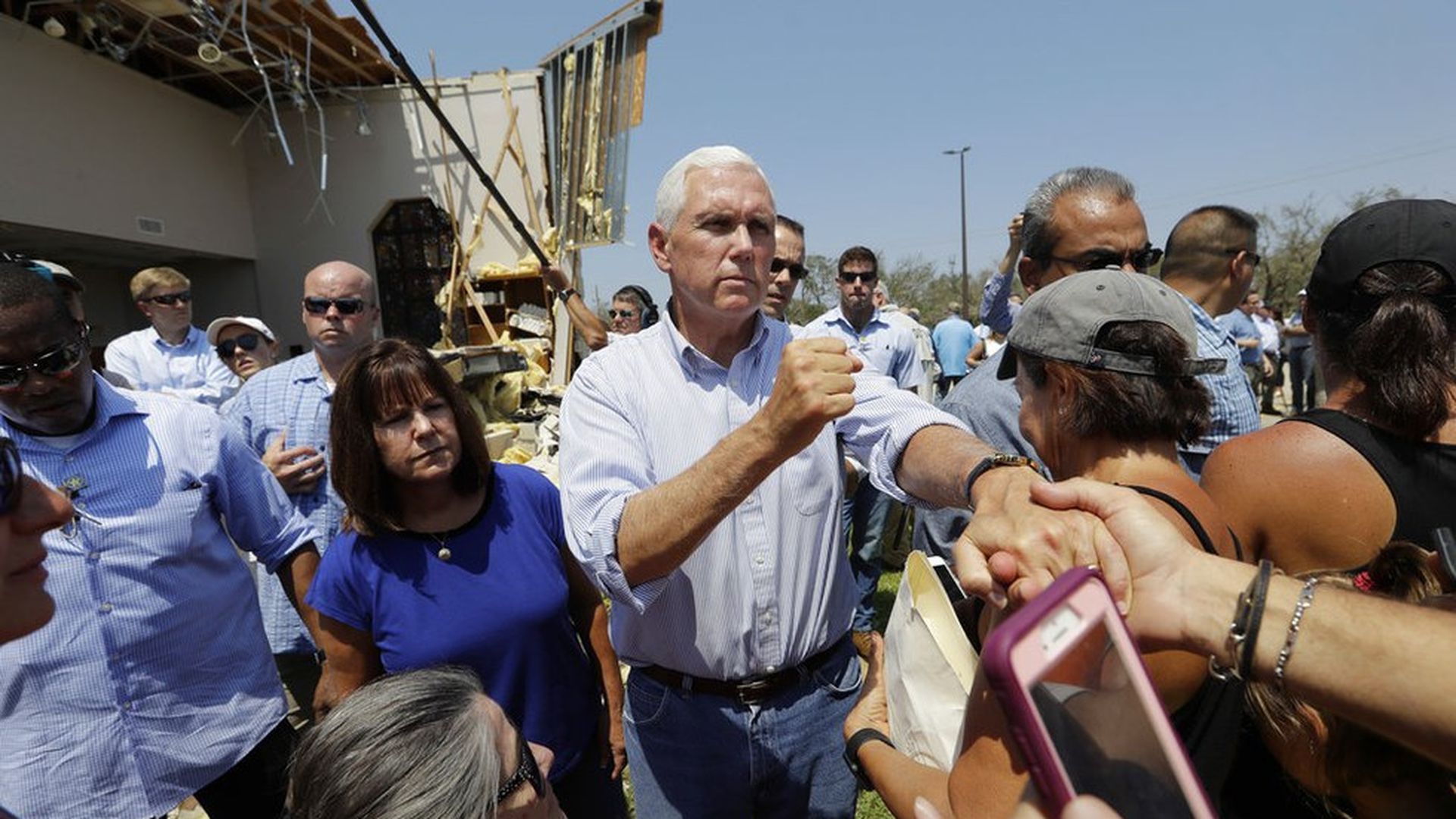 Vice President Pence and his wife, Karen, greet residents affected by Harvey yesterday in Rockport, Texas.
4. The talk of tech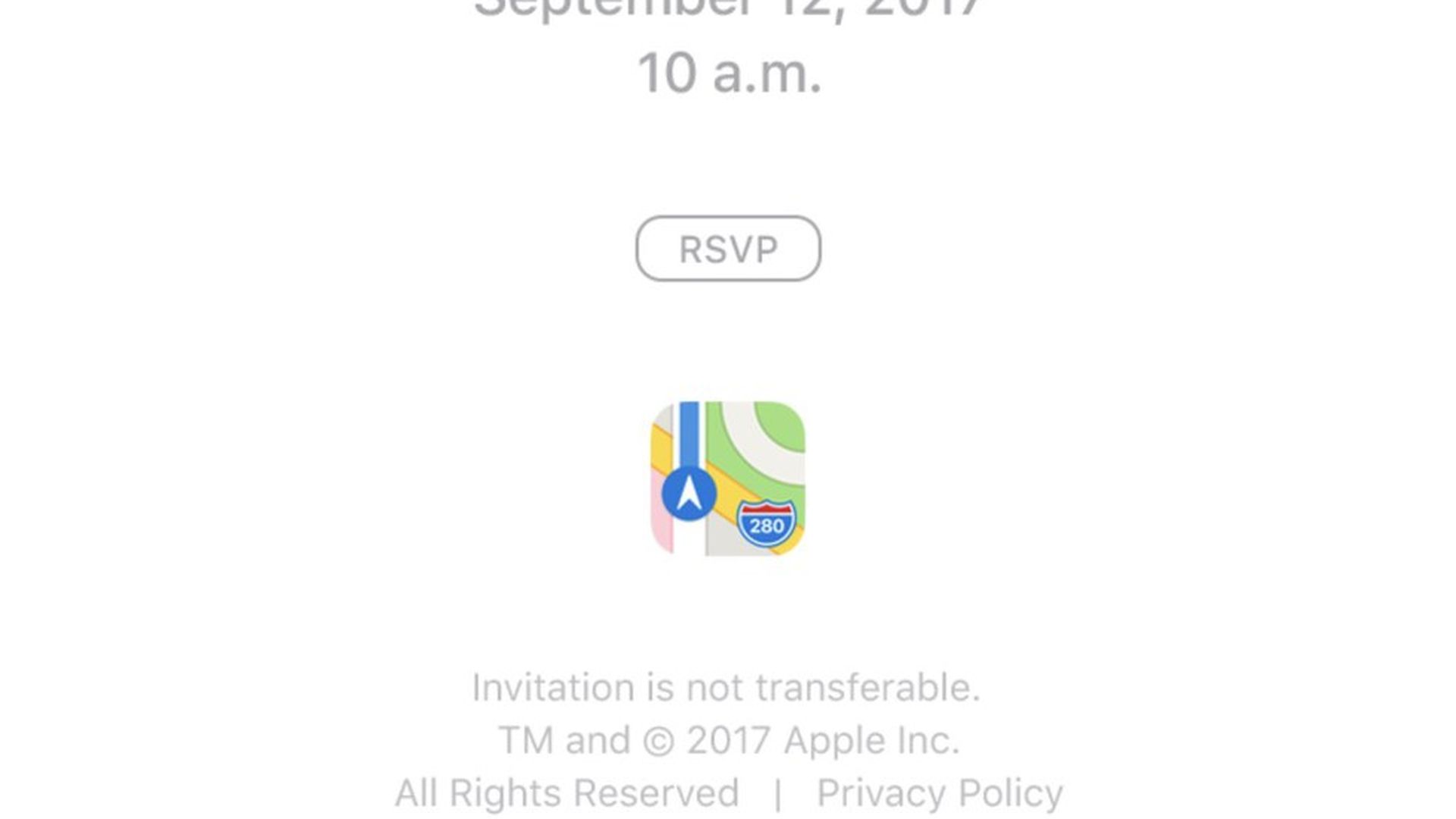 Apple sent invitations to reporters yesterday for a Sept. 12 event that's expected to include the unveiling of new iPhones, AP reports:
As usual, the famously secretive Apple didn't say what's on tap.
Anticipation centers on an iPhone 8, with a sleeker and even bigger screen to celebrate the device's 10th anniversary. Apple will also likely announce upgrades to last year's iPhone 7 and iPhone 7 Plus.
It's Apple's first event at the Steve Jobs Theater at its new headquarters in Cupertino, California.
Apple's invitation, with a multi-hued version of the company's logo, hinted that something colorful is in store.
That suggests Apple's new phone will feature a screen with organic light-emitting diode, or OLED, which will display more vivid colors. Rival phones from Samsung already use OLED.
The company is also expected to show off an upgrade to its Apple TV streaming box that can handle ultra-high definition, or 4K, video.
5. Lessons for the next act on health care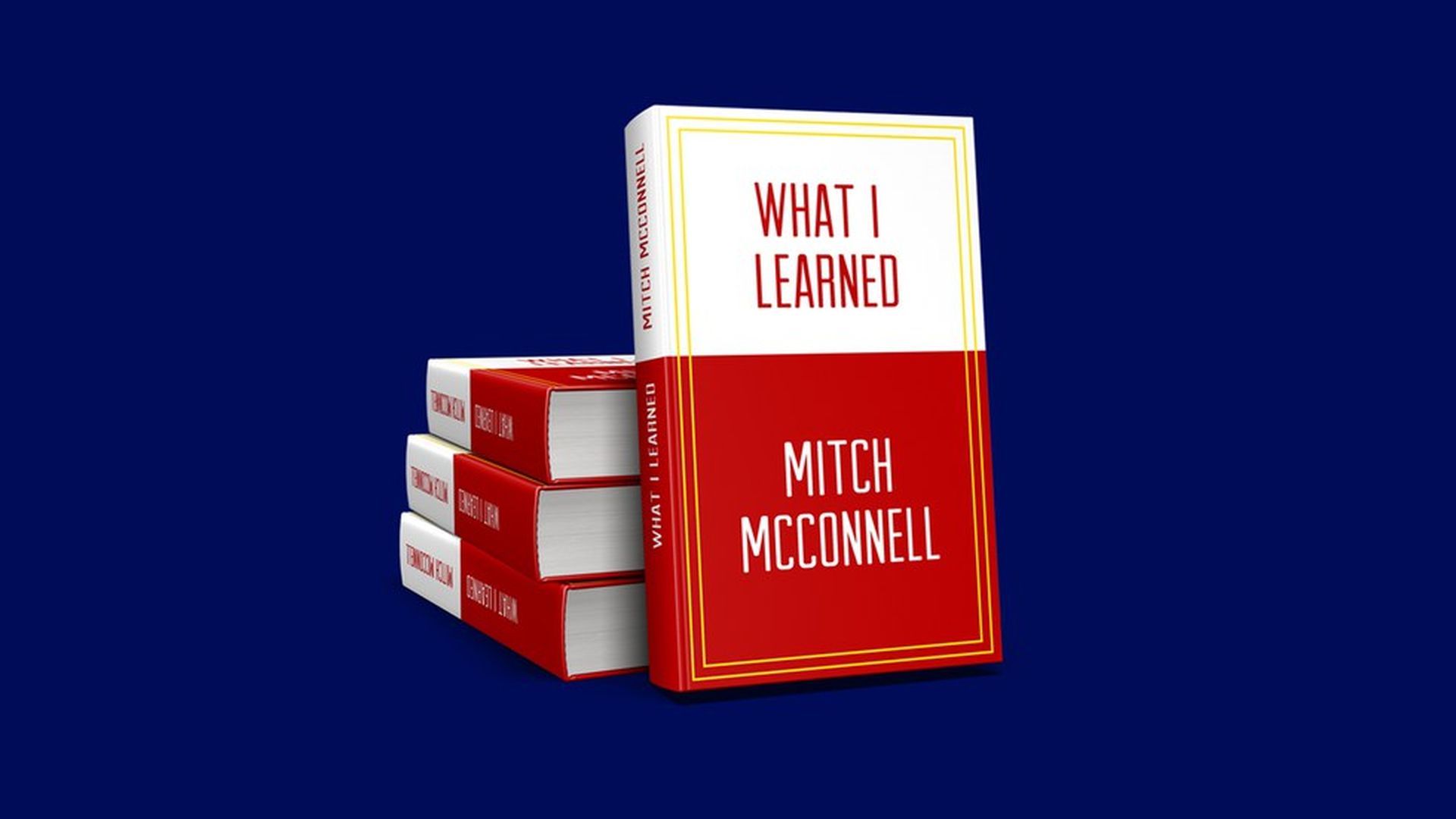 Looking ahead to the return of Congress on Tuesday, Axios health-care editor David Nather breaks down the lessons learned:
Do it step by step.
The details matter.
If one party owns it, it doesn't last.
Ditch the talking points.
Don't overpraise.
You can change the ACA, but you're not going to get rid of it.
6. Today's most surprising story
"Trump chafes at criticism, restrictions," per WashPost's Phil Rucker and Ashley Parker, atop column 1:
"The president continues to call business friends and outside advisers, including former chief strategist Stephen K. Bannon, from his personal phone when [Chief of Staff John] Kelly is not around."
7. Mueller's muscle
"Mueller has teamed up with the ... IRS' Criminal Investigations unit, [which focuses] on financial crime, including tax evasion and money laundering," per the Daily Beast's Betsy Woodruff. "And it goes without saying that the IRS has access to Trump's tax returns."
"Trump Attorneys Argue To End Obstruction Probe" — Wall Street Journal A1: "One memo submitted to Mr. Mueller by the president's legal team in June laid out the case that Mr. Trump has the inherent authority under the constitution to hire and fire as he sees fit."
8. Poll du jour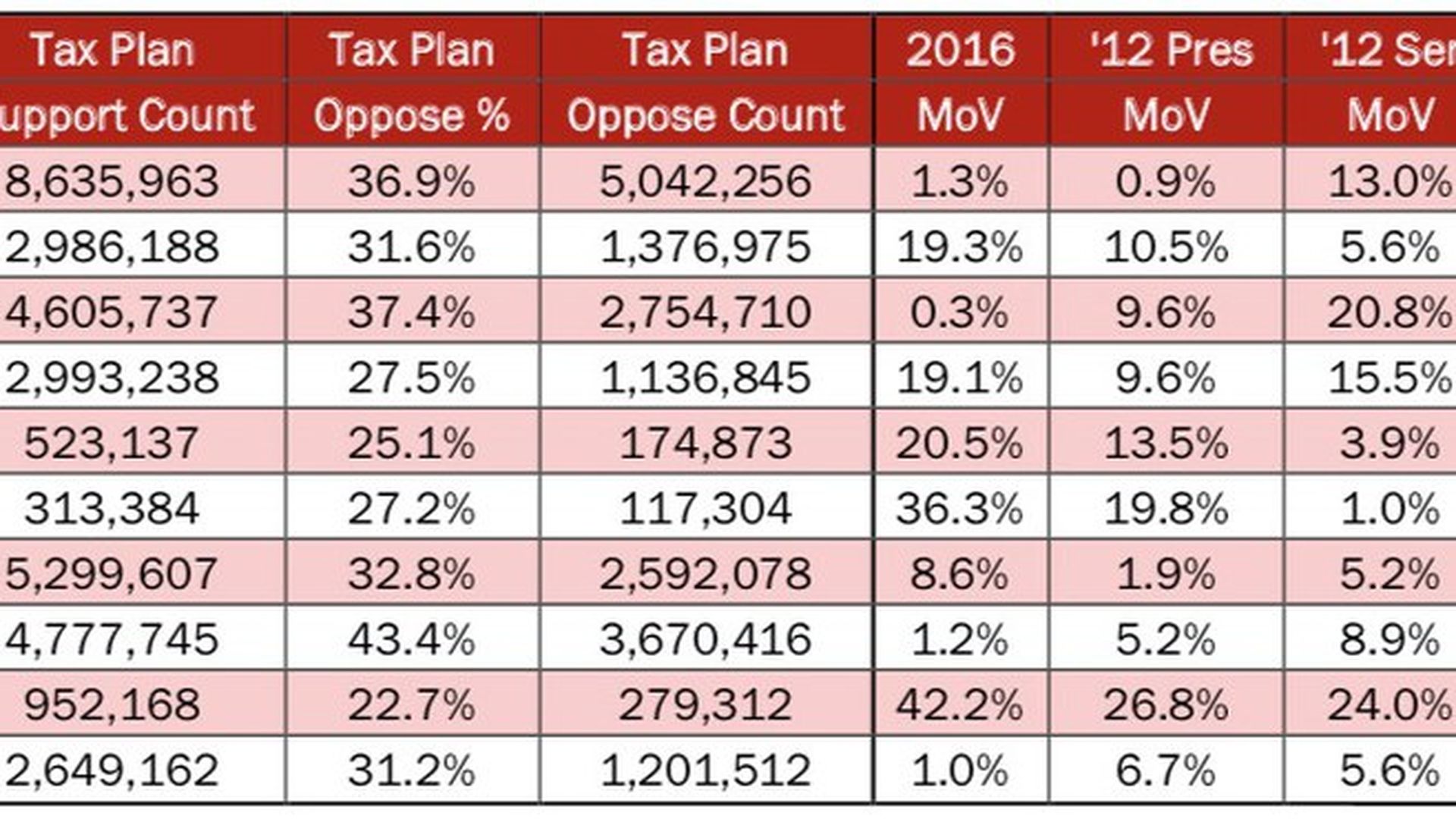 Republican firms "Definers Public Affairs and WPA Intelligence partnered to gauge voter sentiment on [tax reform] based on scores from our national model applied to voters in 10 states that President Trump won in 2016 and are held by a Democratic Senator up for re-election in 2018."
"7,277 responses were collected via Interactive Voice Response (IVR) calls. Responses were then matched to a consumer data enhanced voter file which contains data on vote history, voter demography, socio-economics, political behavior, and consumer behavior."
9. Power centers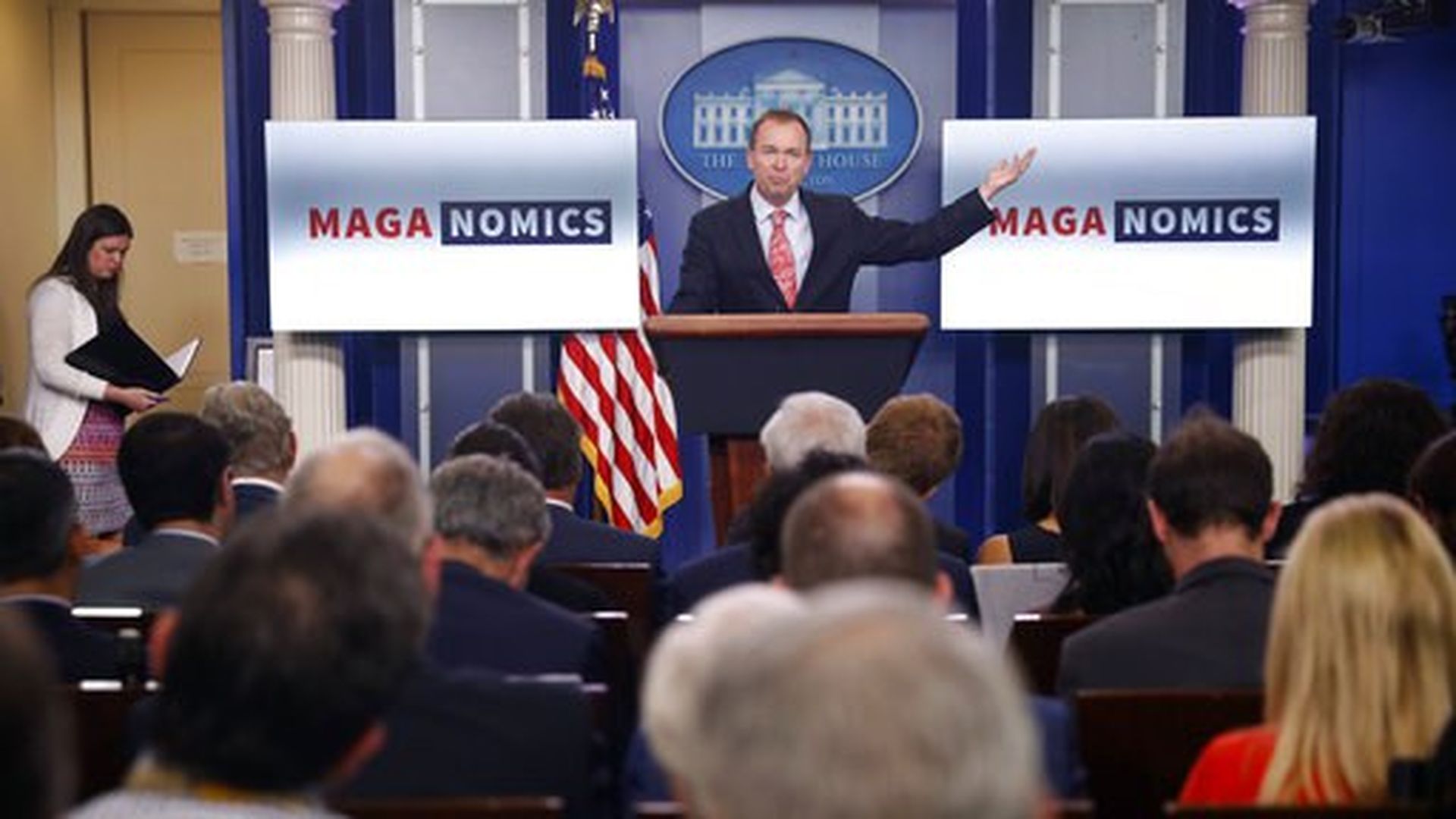 "Mick the Knife: The ... player in Trump's government ... most committed to slashing it to the bone. Meet [White House budget director] Mick Mulvaney, who proudly calls himself a "right-wing nutjob" and is quietly ... trying to dismantle the federal bureaucracy," by Politico's Michael Grunwald:
"Republicans have said for years that government should only take people's money to provide absolutely vital services, but Mulvaney truly believes it — and as the head of the powerful Office of Management and Budget, he's got the perfect job to try to act on it. For all the focus on race, the Russia scandal and the president's latest tweets, this administration's lasting impact on American lives will likely depend much more on how often Mulvaney can push his conservative ideas into national policy."
Why he matters: "He ... has juice with the president, which is one reason Trump's agenda has been much more rigidly conservative and partisan than many expected from an ideologically gelatinous former Democrat who ran as a flexible deal-maker."
He cheerfully points out: "I don't think anyone in this administration is more of a right-wing conservative than I am."
10. 1 pricey thing
"Rams could have the most expensive seat in America" — L.A. Times front-pager by Nathan Fenno and Sam Farmer:
"The $2.6-billion stadium Rams owner Stan Kroenke is building in Inglewood will be the world's costliest venue with a ticket pricing plan that would offer the most expensive seats in NFL history."
"[T]he highest priced personal seat licenses for Rams games could range from $175,000 to $225,000 per seat. It would far eclipse the $150,000 PSLs offered by the Dallas Cowboys at AT&T Stadium."
"The license only entitles the owner to purchase a Rams season ticket after paying the one-time fee, which in a first for the NFL will be refundable — without interest — after 50 years. The buyer must then purchase a game ticket with the best club seats tentatively priced between $350 and $400 a game."
"The lowest-priced licenses require a deposit of $500 with tickets at $50 a game. The cheaper licenses are expected to make up a significant portion of the seats."
"Virtually all of the stadium's 70,240 seats (about 5,000 are for suites) will require seat licenses, although licenses won't be required for standing-room tickets."