Axios AM
August 20, 2017
Good Sunday morning, and happy Eclipse Eve. President Trump's inauguration was 7 months ago today; 41 more months in this term.
1 big thing: Why they stay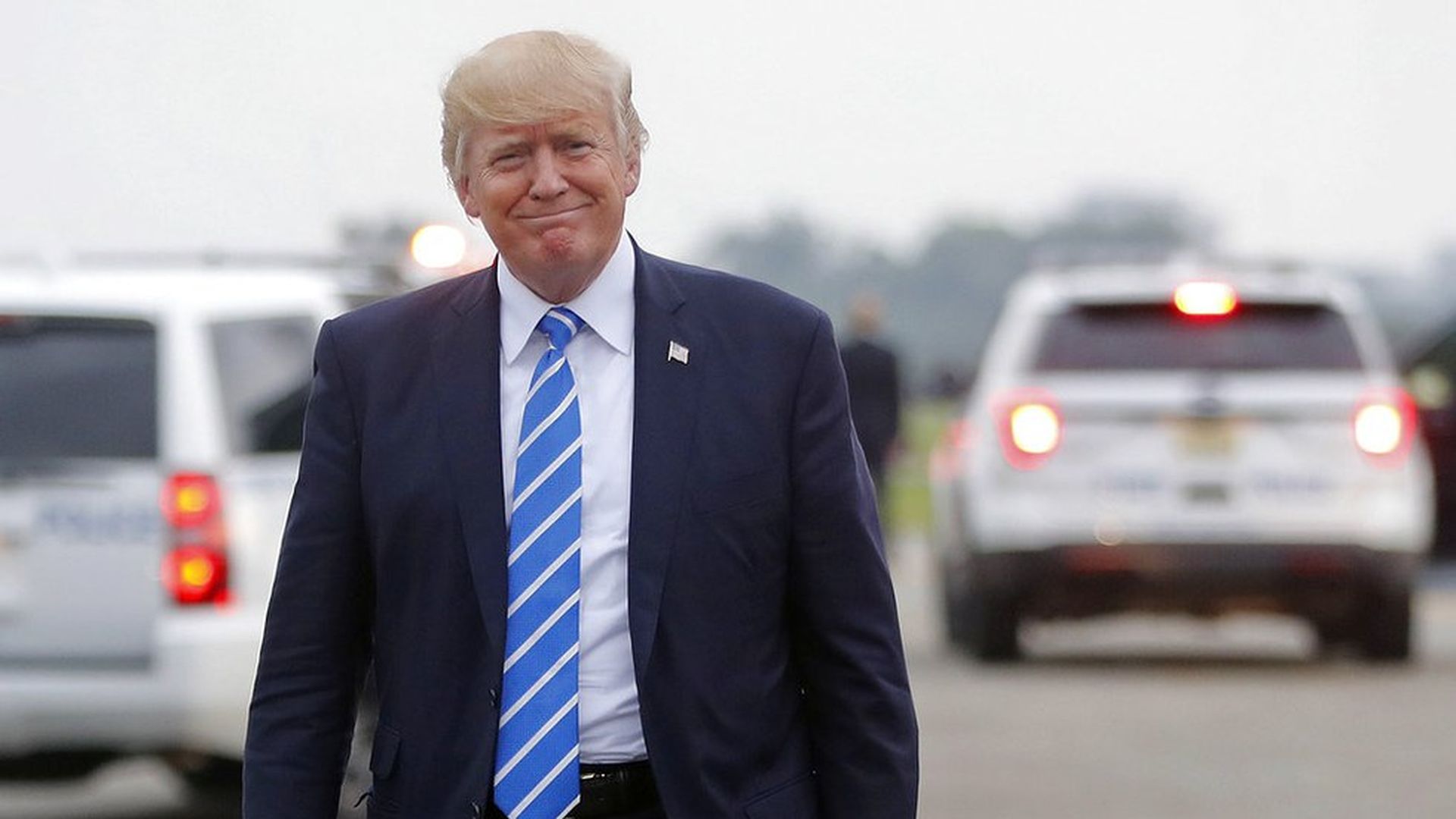 There's lots of punditry about why people like Gary Cohn, Rex Tillerson, Dina Powell, Steve Mnuchin and many others don't quit the Trump White House in protest over Charlottesville.
New Yorker Editor David Remnick writes "The Divider," the lead item of the forthcoming "Talk of the Town" section: "This latest outrage has disheartened Trump's circle somewhat; business executives, generals and security officials, advisers, and even family members have semaphored their private despair."
Treasury Secretary Mnuchin yesterday posted a passionate response to Yale '85 classmates who had published an open letter calling on him to resign:
"[A]s someone who is Jewish, I believe I understand the long history of violence and hatred against the Jews (and other minorities)."
"I feel compelled to let you know that the President in no way, shape or form, believes that neo-Nazi and other hate groups who endorse violence are equivalent to groups that demonstrate in peaceful and lawful ways."
"I don't believe the allegations against the President are accurate, and I believe that having highly talented men and women in our country surrounding the President in his administration should be reassuring to you."
So why do the others stay? We talked to a half dozen senior administration officials, who range from dismayed but certain to stay, to disgusted and likely soon to leave. They all work closely with Trump and his senior team so, of course, wouldn't talk on the record. Instead, they agreed to let us distill their thinking/rationale:
"You have no idea how much crazy stuff we kill": The most common response centers on the urgent importance of having smart, sane people around Trump to fight his worst impulses. If they weren't there, they say, we would have a trade war with China, massive deportations, and a government shutdown to force construction of a Southern wall.
"General Mattis needs us": Many talk about their reluctance to bolt on their friends and colleagues who are fighting the good fight to force better Trump behavior/decisions. They rightly point out that together, they have learned how to ignore Trump's rhetoric and, at times, collectively steer him to more conventional policy responses.
"Trump's not as evil as portrayed": All of them talk up the president as more reasonable off Twitter and TV than on it. This gives them hope (though almost all increasingly say it's fleeting hope) he will listen to his better angels, or at least the pleas of Ivanka.
"We like the power": Well, no one comes out and say it this blatantly. But working in the White House, even this one, is intoxicating and ego-stroking. They have enormous say over regulations and rules, invites and implementation, government jobs and access to the Oval. They also know they are one step away from an even bigger job in government, so it's hard to just walk away.
One White House aide had a memorable response after I asked the question: "It puts Trump's tortured staff in a bigger jam: How do they look their African American friends in the eye, and rationalize their support of Trump?"
The aide gave me permission to share the thinking, which synthesizes what we hear from many administration officials:
I have absolutely no difficulty looking anyone in the eye. Here's why:
Will I have the same, incredible opportunities to make a true difference somewhere else? No.
If I leave, who will take my spot? Someone with my heart for making things better for ALL Americans? Maybe, maybe not. Huge value to country in good people serving right now.
The Presidency is bigger than the person. And the WH has expansive influence on execution of broad range of administrative authorities.
Be careful: This White House and key federal agencies are starving for well-intentioned talent. The possibility of a catastrophic crisis, abroad or at home, is real. Rookies or boot-lickers are not what we need in those moments.
2. "The Moral Voice of Corporate America"
The cover story of the N.Y. Times Business section quotes Darren Walker, president of the Ford Foundation and a board member at PepsiCo., as calling the forthright engagement of executives in the debate ignited by Charlottesville "a seminal moment in the history of business in America."
From the article, "Executive Powers," by David Gelles: "After Nazi-saluting white supremacists rioted ... and President Trump dithered in his response, a chorus of business leaders rose up this past week to condemn hate groups and espouse tolerance and inclusion. And as lawmakers in Texas tried to restrict the rights of transgender people to use public bathrooms, corporate executives joined activists to kill the bill."
Why it matters: "These and other actions are part of a broad recasting of the voice of business in the nation's political and social dialogue, a transformation that has gained momentum in recent years as the country has engaged in fraught debates over everything from climate change to health care."
A related piece runs atop the WashPost Business front, "Trump pulls off a rare feat: Inspiring C-suite moral courage," by Steve Mufson: "In earlier generations, businesses have been slow to join in defending rights, from segregated lunch counters in the United States in the 1950s to multinationals ... that kept doing business in apartheid South Africa through the mid- to late 1980s."
"So the businessman in chief has managed a rare achievement by rattling the members of America's business elite who have been hoping Trump would bring tax cuts and regulatory relief."
3. Tweet du jour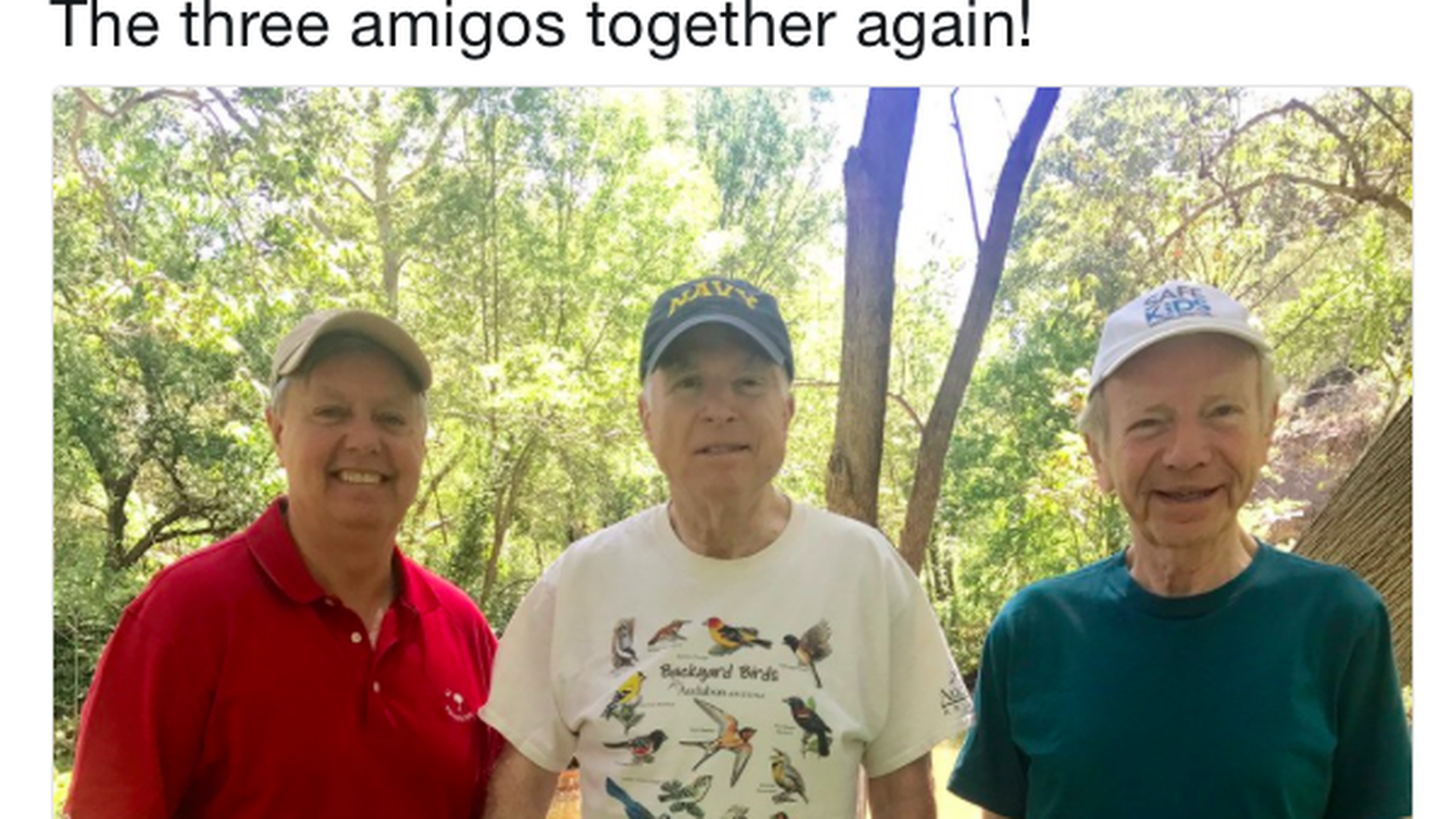 @SenJohnMcCain tweets: "Having a great weekend in Cornville #Arizona with @JoeLieberman @MeghanMcCain & @LindseyGrahamSC."
Meghan, his daughter and a panelist on Fox News' "Outnumbered," tweeted Friday: "My father completed first round radiation/chemo. His resilience & strength is incredible. Fight goes on, here's to small wins."
4. 213 days of The Trump Show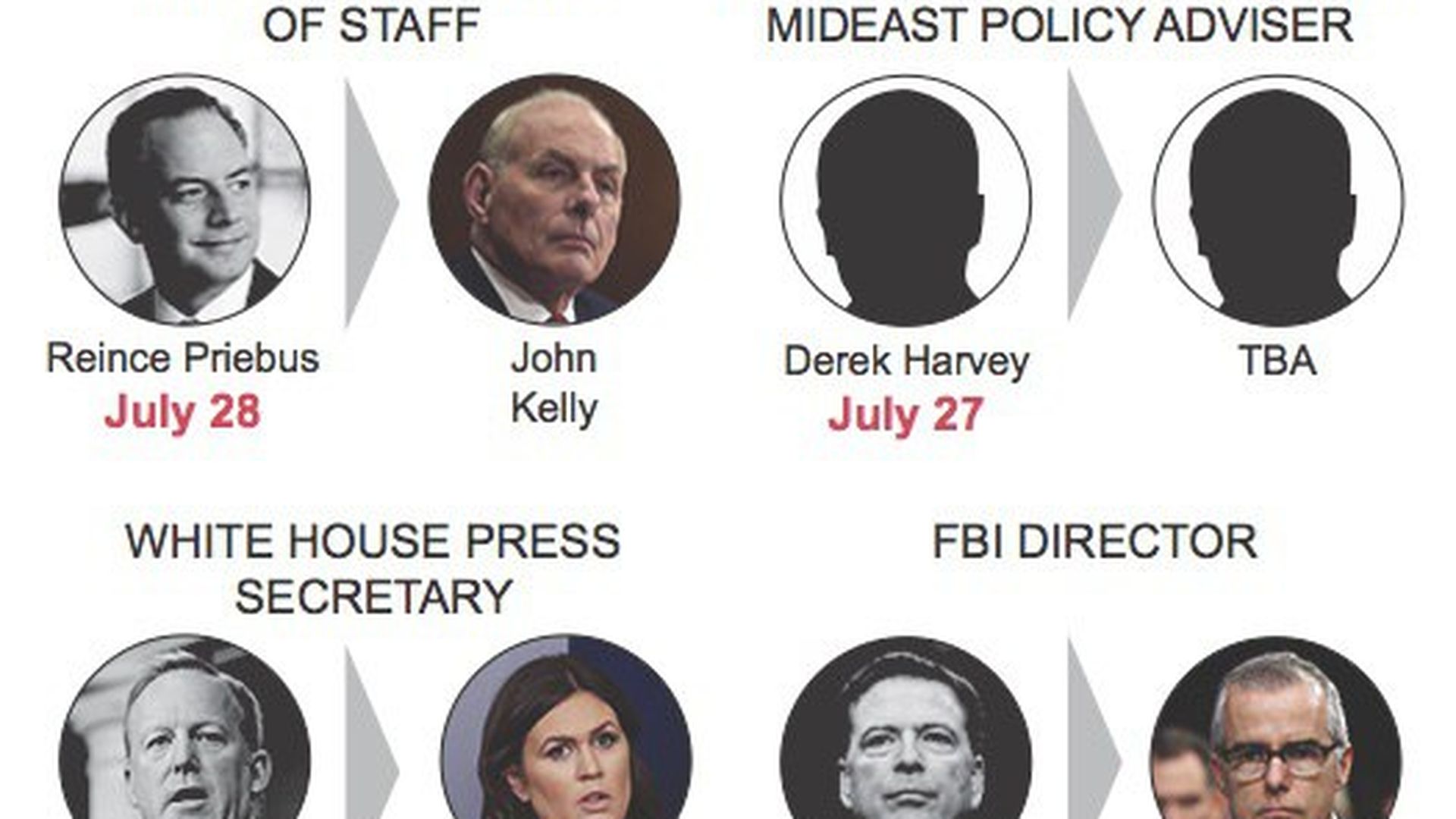 5. Tens of thousands rally in Boston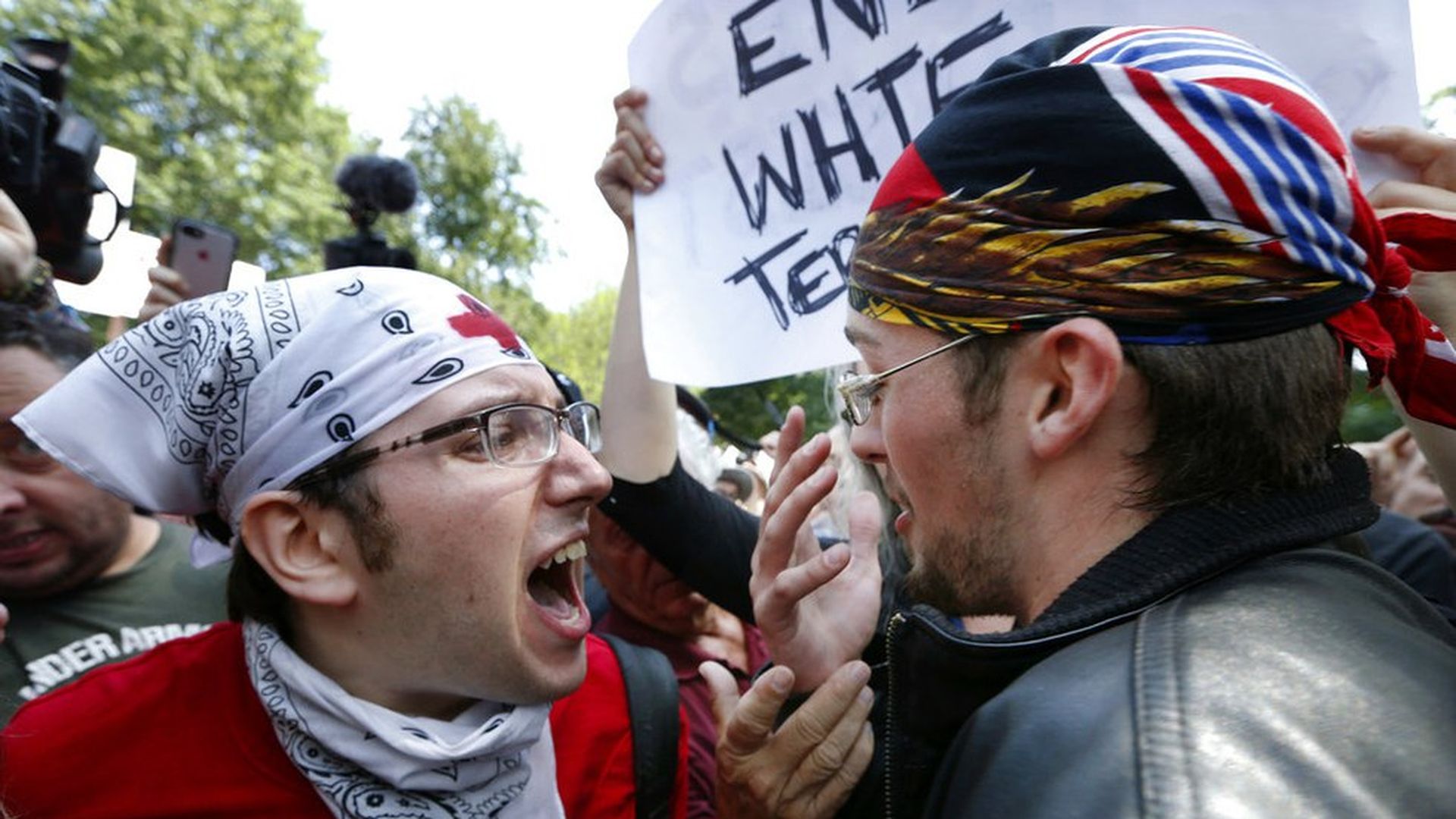 "A city with a fraught racial past turned out tens of thousands of protesters Saturday for an overwhelming denunciation of racism, anti-Semitism, and religious bigotry, in a demonstration that was largely peaceful though punctuated with scuffles and some edgy nose-to-nose encounters among demonstrators," the Boston Globe's Mark Arsenault writes in the paper's lead story:
"On a hot, humid day, sweaty throngs on Boston Common chanted — sometimes angrily, often profanely — against Nazis, racism, the Ku Klux Klan, and fascists. They held signs calling for peace, waved the rainbow flag of the gay rights movement, and held placards honoring Heather Heyer."
"Two young men — one in a Trump hat and the other wearing a Trump banner like a cape — who tried to make their way through the crowd were swarmed by dozens of counterprotesters screaming, 'Nazis, go home!' The cluster of people surrounding the men moved with them as they walked."
"A short time later, another young man holding a 'Trump 2020' sign, was similarly swarmed."
Trump tweets: "Looks like many anti-police agitators in Boston. Police are looking tough and smart! Thank you. ... Great job by all law enforcement officers and Boston Mayor @Marty_Walsh."
An hour later, he added: "Our great country has been divided for decades. Sometimes you need protest in order to heal, & we will heal, & be stronger than ever before! .... I want to applaud the many protestors in Boston who are speaking out against bigotry and hate. Our country will soon come together as one!"
6. The conversation
In a Facebook post, "The Next Charlottesville," Sen. Ben Sasse (R-Neb.) predicts more violence: "I doubt that Donald Trump will be able to calm and comfort the nation in that moment."
Groundhog Day: On the N.Y. Times front page, at the fold, "Trump's Tumultuous Week? To Supporters, It Went Well." The online headline: "A Deal Breaker for Trump's Supporters? Nope. Not This Time, Either." The Times article runs on page 1 of today's Houston Chronicle as: "To Trump supporters, he's doing fine."
Maureen Dowd is serious today, recounting her brother's memory of the time in 1947 that their dad took him to confront a scrawny, mouthy KKK leader who was harassing Jewish neighbors: "I have something to do and I want you to see it."
Dowd says of Trump: "There will be a lot of pain while this president is in office and the clock will turn back on many things. But we will come out stronger, once this last shriek of white supremacy and grievance and fear of the future is out of the system."
Garrett Graff, author of "Raven Rock: The Story of the U.S. Government's Secret Plan to Save Itself," in WashPost Outlook, "The president probably wouldn't fire nuclear weapons": "[T]he dirty secret of the Cold War: The entire point of building nuclear weapons is to ensure that you never have to use them."
7. Fascinating back story
Carl Icahn's resignation Friday from an unpaid post as Trump's adviser on deregulation was because he knew The New Yorker was about to drop a deep piece of reporting about him, according to AP:
"[T]he magazine points out potential conflicts and even possible criminal law violations involving obscure rules that require oil refineries to blend ethanol into gasoline."
And Icahn resigned after the White House had already disavowed him to The New Yorker. "[T]here was never a formal appointment."
Here's the juicy New Yorker piece, "Trump's Favorite Tycoon ... Carl Icahn's Failed Raid on Washington," by staff writer Patrick Radden Keefe:
"Icahn is worth more than the Trump family and all the members of the Cabinet combined — and, with no constraint on his license to counsel the President on regulations that might help his businesses, he was poised to become much richer."
"In conversations with me, financiers who have worked with Icahn described his appointment as a kind of corporate raid on Washington. One said, 'It's the cheapest takeover Carl's ever done.'"
"In our conversations, Icahn was unfailingly polite about President Trump. But it struck me that it must vex him that Trump — the lesser intellect, the lesser businessman, the little-brother tagalong — may now be too busy to take his phone calls."
This is a great sentence: "Trump may want to govern like a businessman. But Washington is a club like any other, with some codes and protocols that even the brashest arrivistes cannot ignore."
8. Snapshots of Rs, Ds
"GOP doubts and anxieties about Trump burst into the open," by AP's Julie Pace and Bill Barrow: "In interviews with Associated Press reporters across nine states, 25 Republican politicians, party officials, advisers and donors expressed worries about whether Trump has the self-discipline and capability to govern successfully."
Mike Murphy: "Most party regulars have gone from an initial feeling of guarded optimism that Trump would be able to stumble along while Mitch and Ryan do the big lifting and pass our Republican agenda, to a current feeling of deep frustration and despair."
Dems ... "Trump remarks could sidetrack Democrats from other issues," by AP's Bill Barrow in Atlanta: "The party has been looking to answer Trump's populism by crafting its own middle-class brand, yet Democratic leaders across multiple states now are pushing to take down Old South monuments, ... and three rank-and-file House Democrats want to pursue a congressional censure of the president."
Bannon to The American Prospect: "I want them to talk about racism every day. If the left is focused on race and identity, and we go with economic nationalism, we can crush the Democrats."
9. A national moment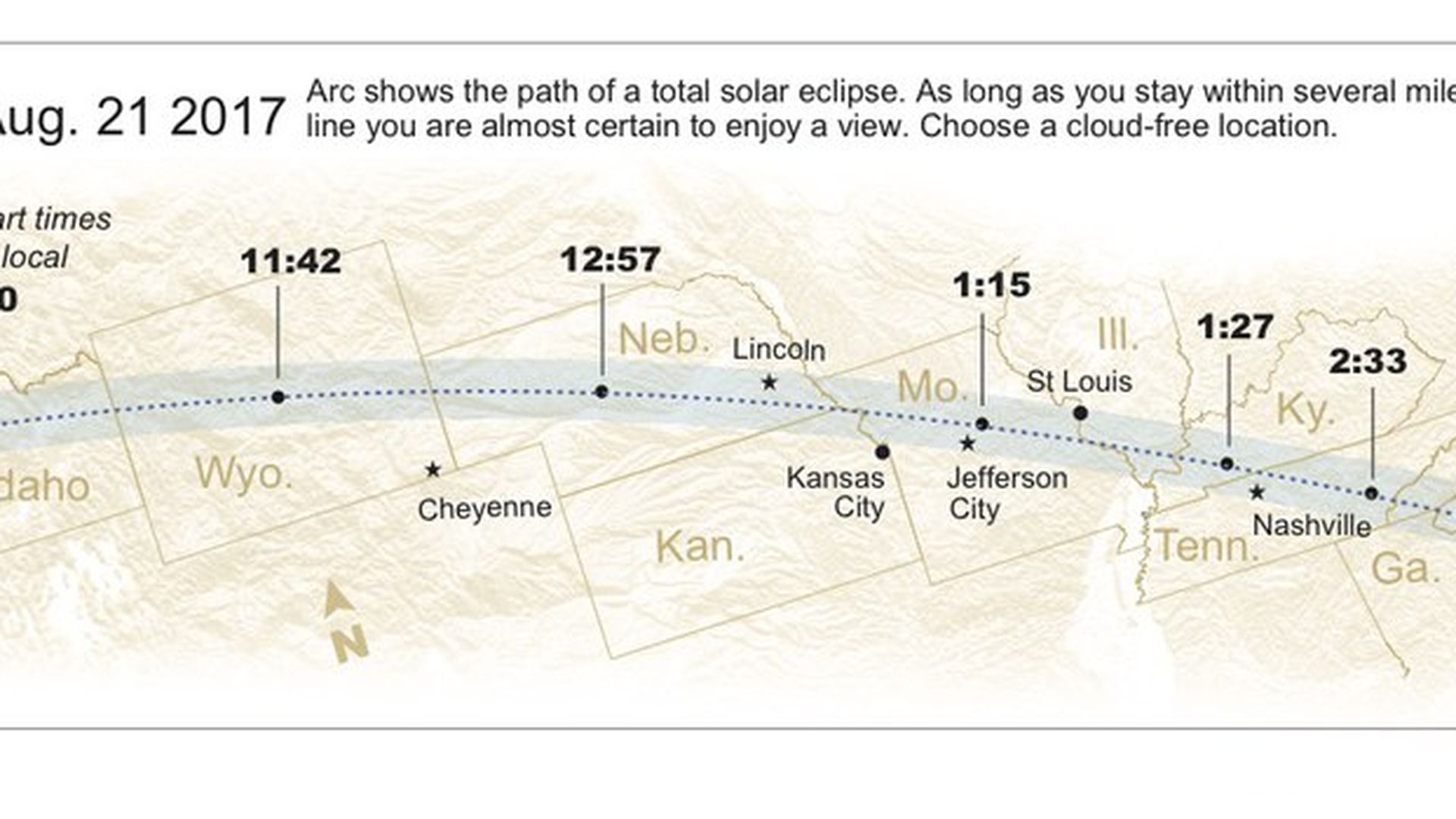 Tomorrow's viewing options for the first total solar eclipse visible from the U.S. mainland since 1979 (38 years ago), via AP:
NASA will offer hours of coverage online and on NASA Television beginning at noon. It plans livestreaming of the eclipse beginning at 1 p.m. with images from satellites, research aircraft, high-altitude balloons and specially modified telescopes.
CNN coverage will include reporting from Oregon, Missouri, Tennessee and South Carolina. CNN also plans two hours of livestreaming, 360-degree coverage accessible in virtual reality through Oculus headsets beginning at 1 p.m.
David Muir will anchor ABC 's two hours of live coverage, with correspondents reporting from viewing parties across the country. NBC's Lester Holt hosts special reports at 1 and 2 p.m., featuring correspondents reporting from Oregon, Illinois, Wyoming and South Carolina. Shepard Smith will break into typical broadcasting on Fox News Channel from noon to 4 p.m. to update viewers on the eclipse.
From a CBS release: Cover features anchor Anthony Mason, plus "CBS News space consultant Bill Harwood and CBS News correspondent Adriana Diaz in Carbondale, Ill., the closest city to the point of greatest duration of the eclipse; CBS News correspondents David Begnaud in Nashville, Tenn.; Jeff Glor in Jackson Hole, Wyo.; Mark Strassmann in Charleston, S.C.; and Jamie Yuccas in Madras, Ore."
The Science Channel will broadcast live coverage from Madras, Oregon, from noon to 4 p.m., with commentary from educators and astronomers from the Lowell Observatory.
The Weather Channel starts live coverage at 6 a.m., with dispatches all day from seven locations.
The PBS science series NOVA plans a quick-turnaround, hourlong eclipse documentary at 9 p.m.
10. 🎶 1 lit jam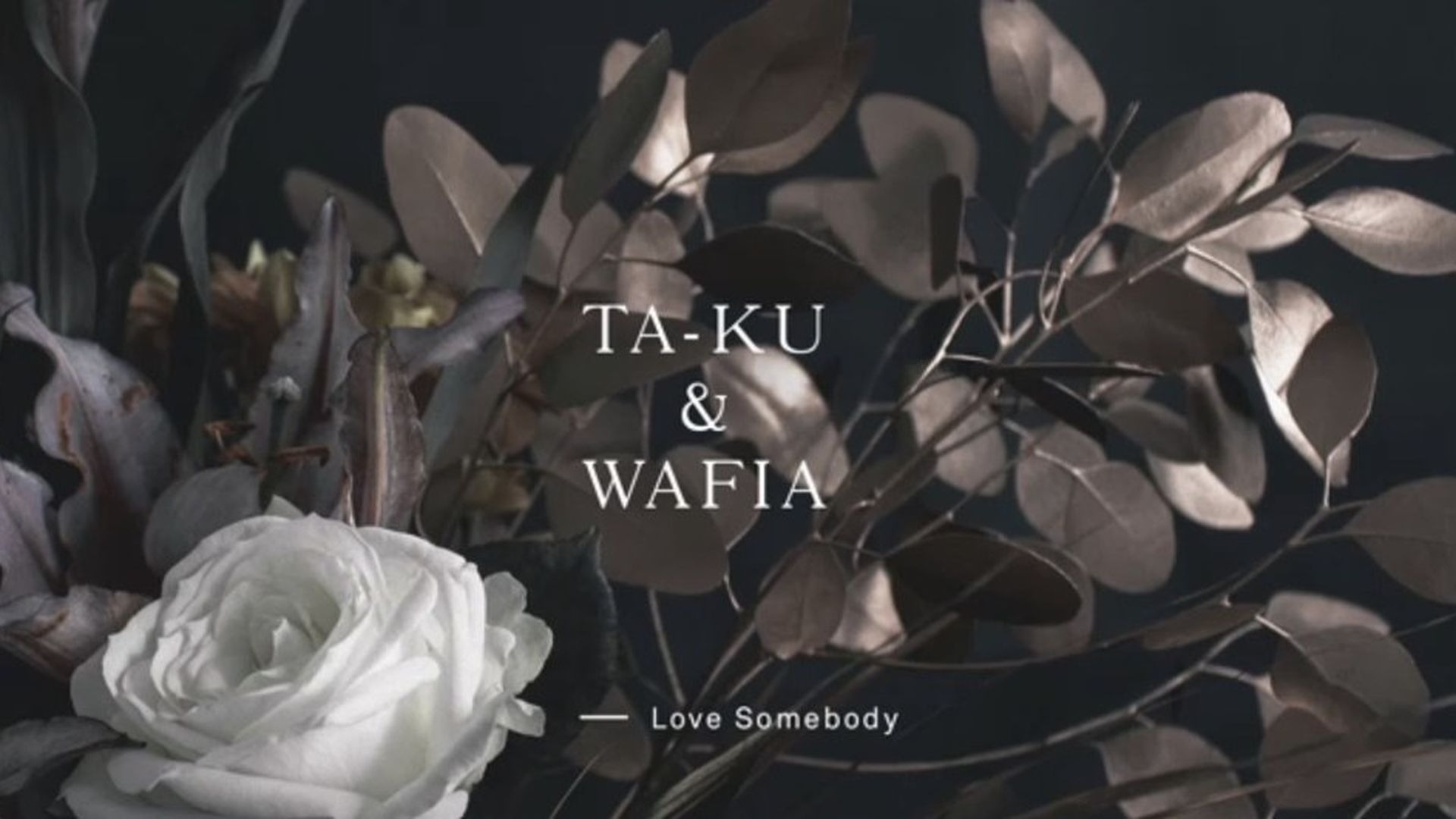 Axios senior marketing associate Noa Gutterman nominates "Love Somebody," by Ta-ku and Wafia:
"'Love Somebody' is the perfect transition song from summer to fall - it has the best combination of a dreamy beat and soulful lyrics. I love listening to this song while I commute to work or when I'm cooking dinner. I've been obsessed with Ta-Ku & Wafia since I stumbled upon their NPR Tiny Desk Concert, and their collaborative EP (m)edian is consistently at the top of my queue!"