Axios AM
July 12, 2018
Good Thursday morning ...
Situational awareness: "Government reopens probe of Emmett Till slaying" (AP)
"The federal government has reopened its investigation into the slaying of Emmett Till, the black teenager whose brutal killing in Mississippi shocked the world and helped inspire the civil rights movement more than 60 years ago."
1 big thing ... Scoop: Trump wants tough new Air Force One paint job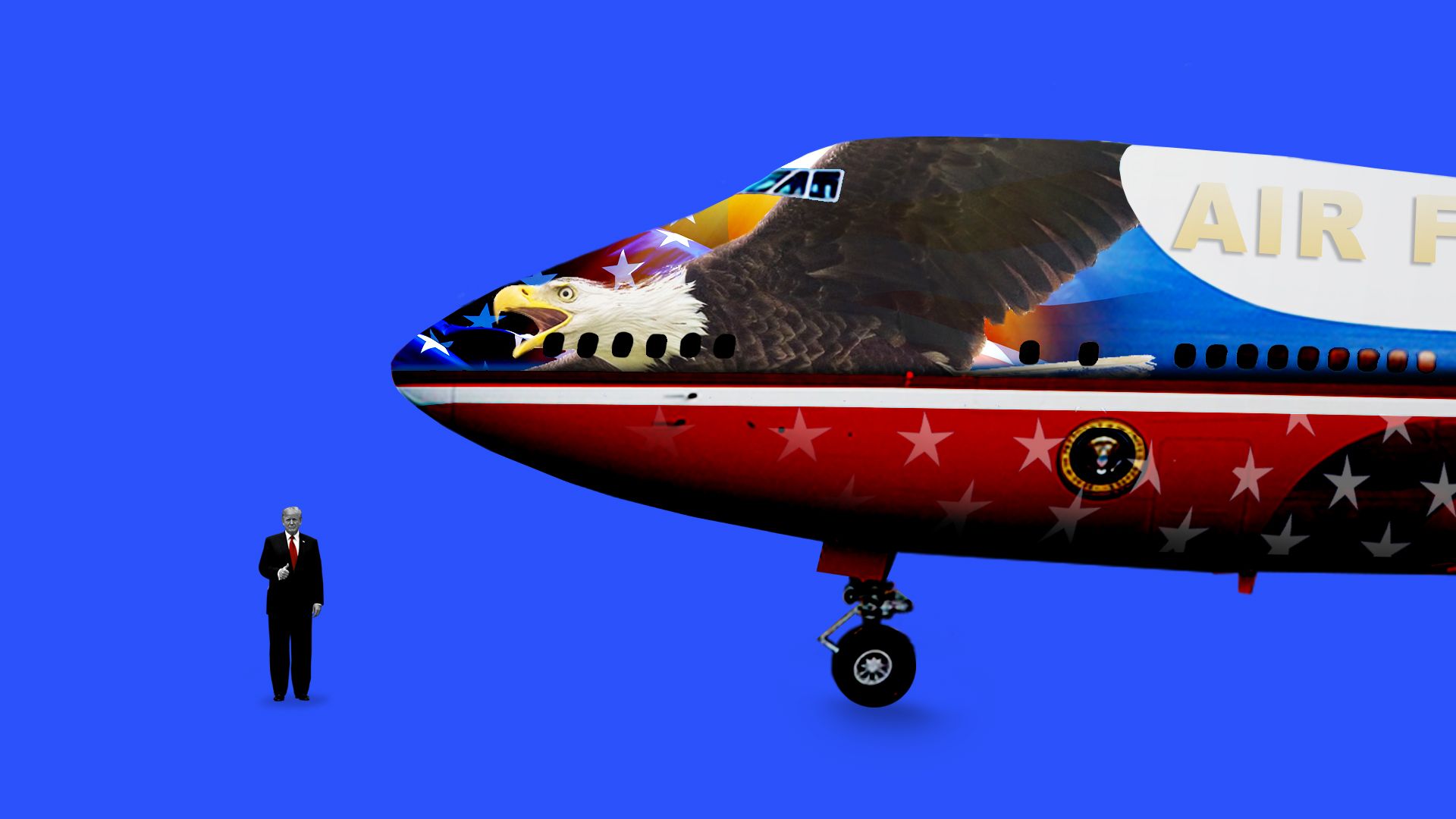 ✈️ President Trump wants to update the paint job on the next version of Air Force One, ditching the iconic robin's-egg blue (which he calls a "Jackie Kennedy color") for a bolder, "more American" look.
Trump rarely gets into the weeds of government negotiations. But he sat down in the Oval Office with Boeing CEO Dennis Muilenburg in February to personally hammer out the $4 billion deal for a pair of replacement 747s for use as Air Force One (the call sign for whatever Air Force plane the president is on).
Axios has learned that Trump had one specification for the plane that could cause tension with the Air Force and surprise around the world:
Trump wants to change the plane's signature blue-and-white look that goes back 55 years, to a redesign of the presidential aircraft by President John F. Kennedy and First Lady Jackie Kennedy in the early 1960s.
We're told that Trump wants a color scheme that "looks more American" and isn't a "Jackie Kennedy color." He doesn't think the current blue (technically "luminous ultramarine") represents the USA.
The president's preferred design is believed to include red, white and blue.
"He can do it," said a source familiar with the negotiations, when asked about whether Trump can make the change:
But the change could cause friction with the Air Force. We're told some top officers like the current look, which they point out is "known around the world."
Another upgrade: Trump is quite proud of his personal Boeing 757, which he used as his campaign plane:
We're told he wants the presidential bed aboard Air Force One to be larger and more comfortable — more like the executive livery package on his personal plane than the current, couch-like sleeping configuration aboard Air Force One.
Trump may only get to enjoy his dream ride if he's reelected: The new 747s are very unlikely to be in presidential service before Jan. 20, 2021. Two planes still need to be converted from commercial aircraft into flying White Houses.
When I told presidential historian Michael Beschloss about Trump's plans, he replied: "Why would anyone want to discard an Air Force One design that evokes more than a half-century of American history?"
"Every time you see that blue trim and the words 'UNITED STATES OF AMERICA' spelled out in that same typeface as an early version of the Declaration of Independence, it brings back JFK landing in Germany to speak at the Berlin Wall, Richard Nixon flying to China, Ronald Reagan stepping off the plane to see Gorbachev in Iceland and a thousand other scenes of Presidents in our past."
"JFK and Jackie Kennedy approved that timeless design (created pro bono by the premier mid-20th century industrial designer Raymond Loewy) to replace an earlier version of Air Force One that had simply said 'MILITARY AIR TRANSPORT SERVICE' and which made conspicuous use of the color orange, which Kennedy rightfully found 'gaudy.'"
"It was JFK who chose what Loewy called the 'luminous ultramarine blue' that has appeared on every version of Air Force One (and some other Presidential aircraft) from 1962 on."
"Anyone who doubts how strongly Americans feel about the way Air Force One looks should go to the Reagan Library in California and see how many people go there to look at the plane that Ronald Reagan flew on while he was President."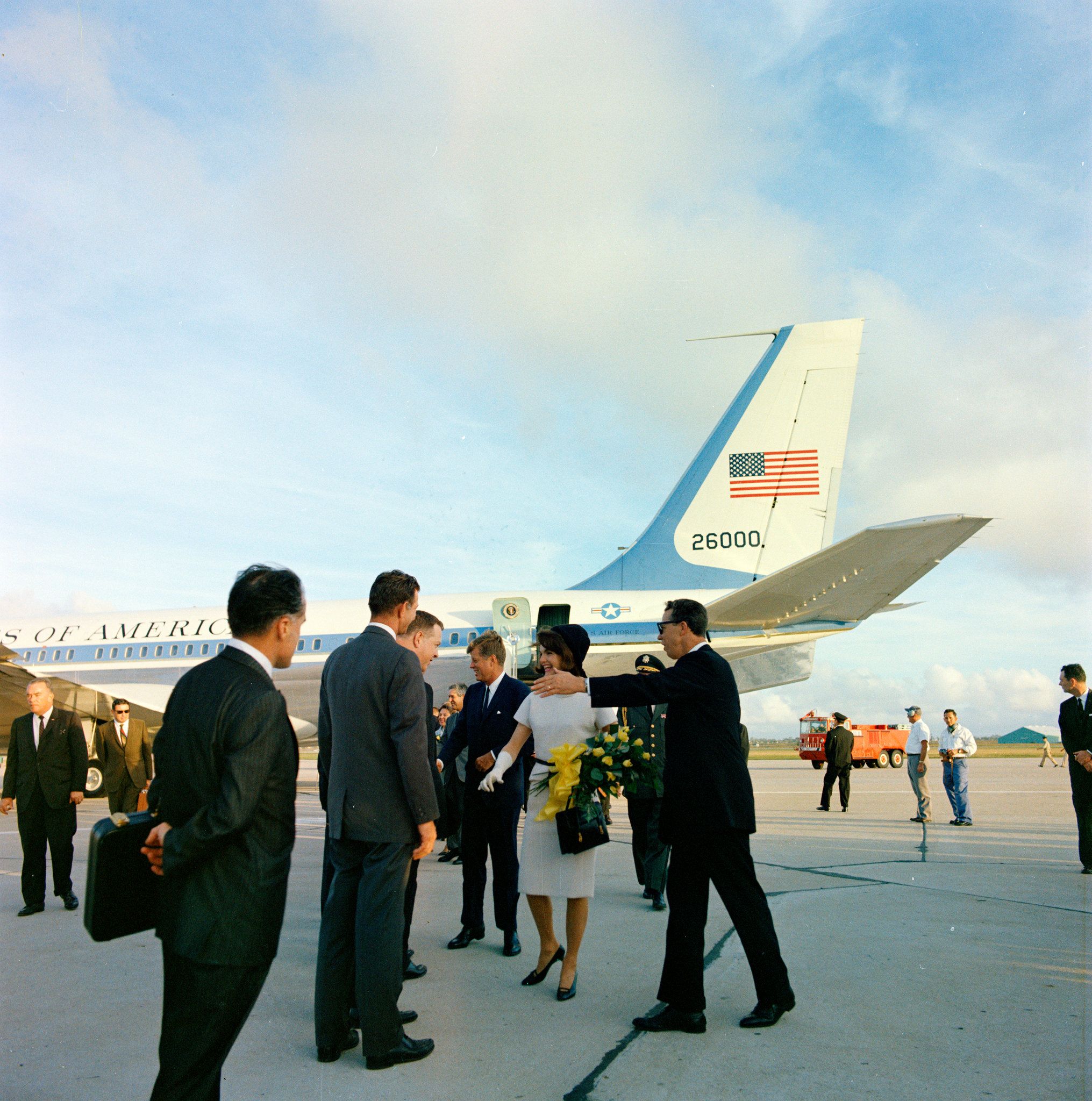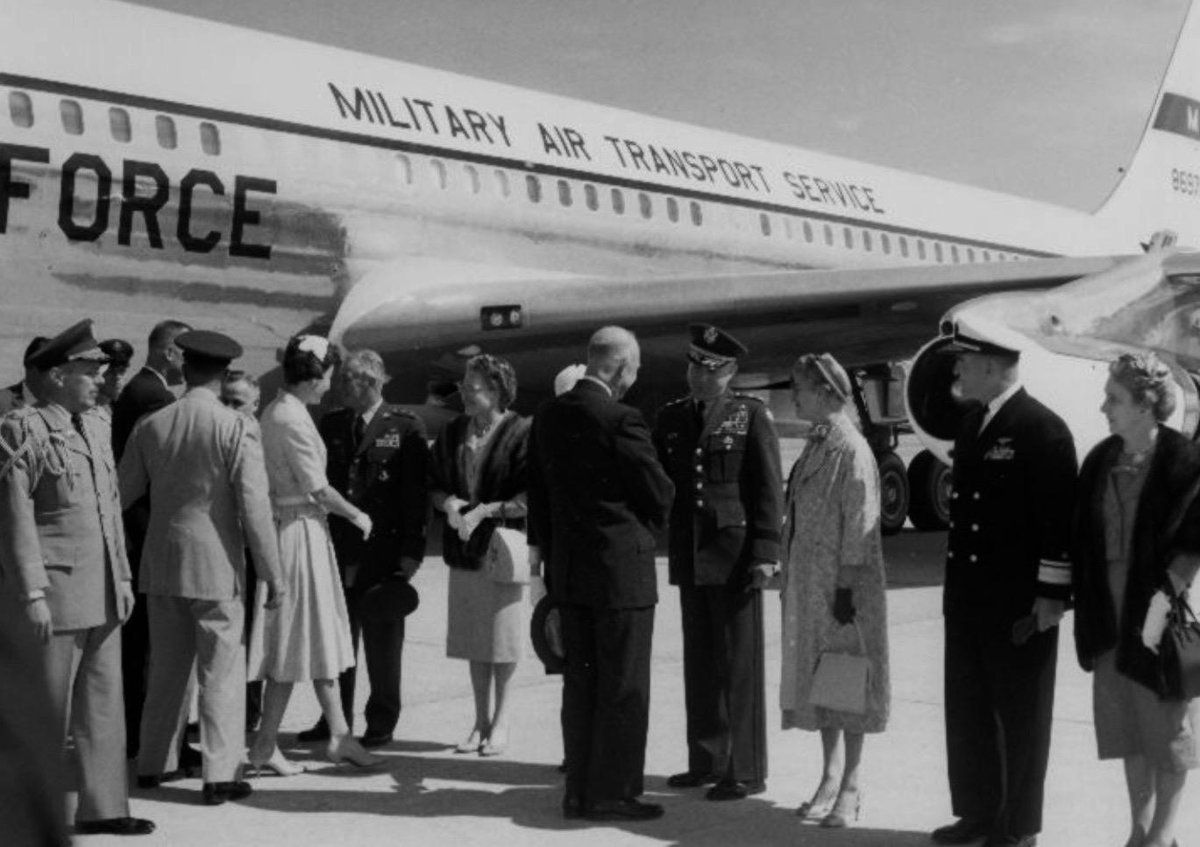 2. Trump rattles NATO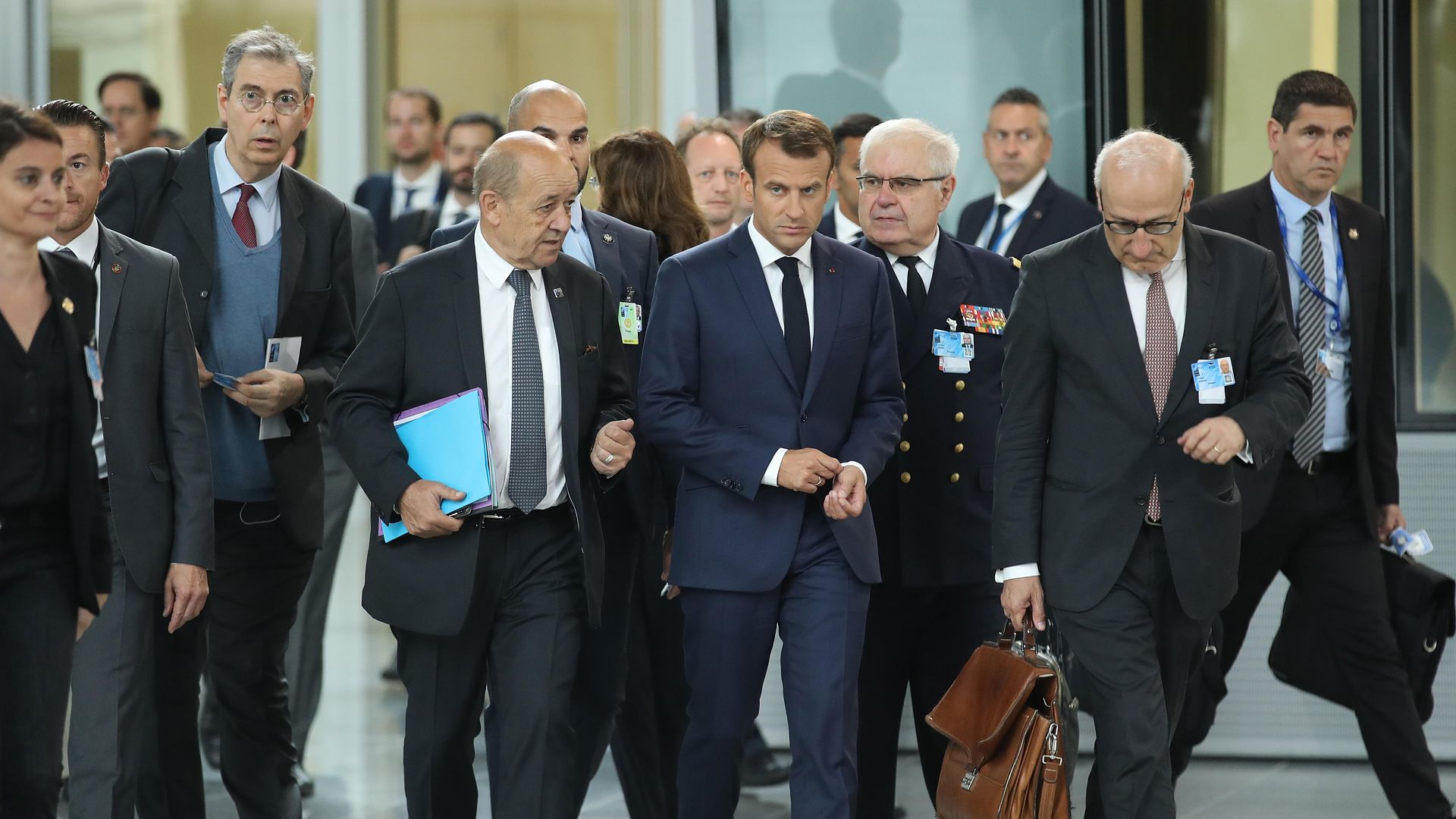 🚨 Bulletin ... AP: "2 officials at NATO summit say the alliance is in emergency session amid Trump demands for increased defense spending."
Also from AP: "German Chancellor Angela Merkel says there was 'clear commitment to NATO' by all in alliance's emergency session."
"President says US can go it alone if allies don't meet spending target," via Politico Europe's David Herszenhorn and Lili Bayer:
"Trump warned of 'grave consequences' if allies do not immediately meet higher spending targets, derailing a morning meeting of NATO leaders with the leaders of Georgia and Ukraine on the second day of a NATO leaders' summit on Thursday."
"Some officials urged caution in interpreting Trump's remarks, but say allies clearly heard a threat."
N.Y. Times Quote of the Day ... Heiko Maas, Germany's foreign minister, responding on Twitter to accusations by President Trump that Germany was "captive to Russia" because of energy dependency:
"We are no captives — neither of Russia nor of the United States."
How it's playing ... CNN: "NATO leaders reeling after Trump attack" ... "NBC Nightly News": "Attacking our allies" ... ABC "World News Tonight": "President: 'What good is NATO?'" ... "CBS Evening News": "Attacking allies" ... Fox News: "Trump blasts German-Russian pipeline project."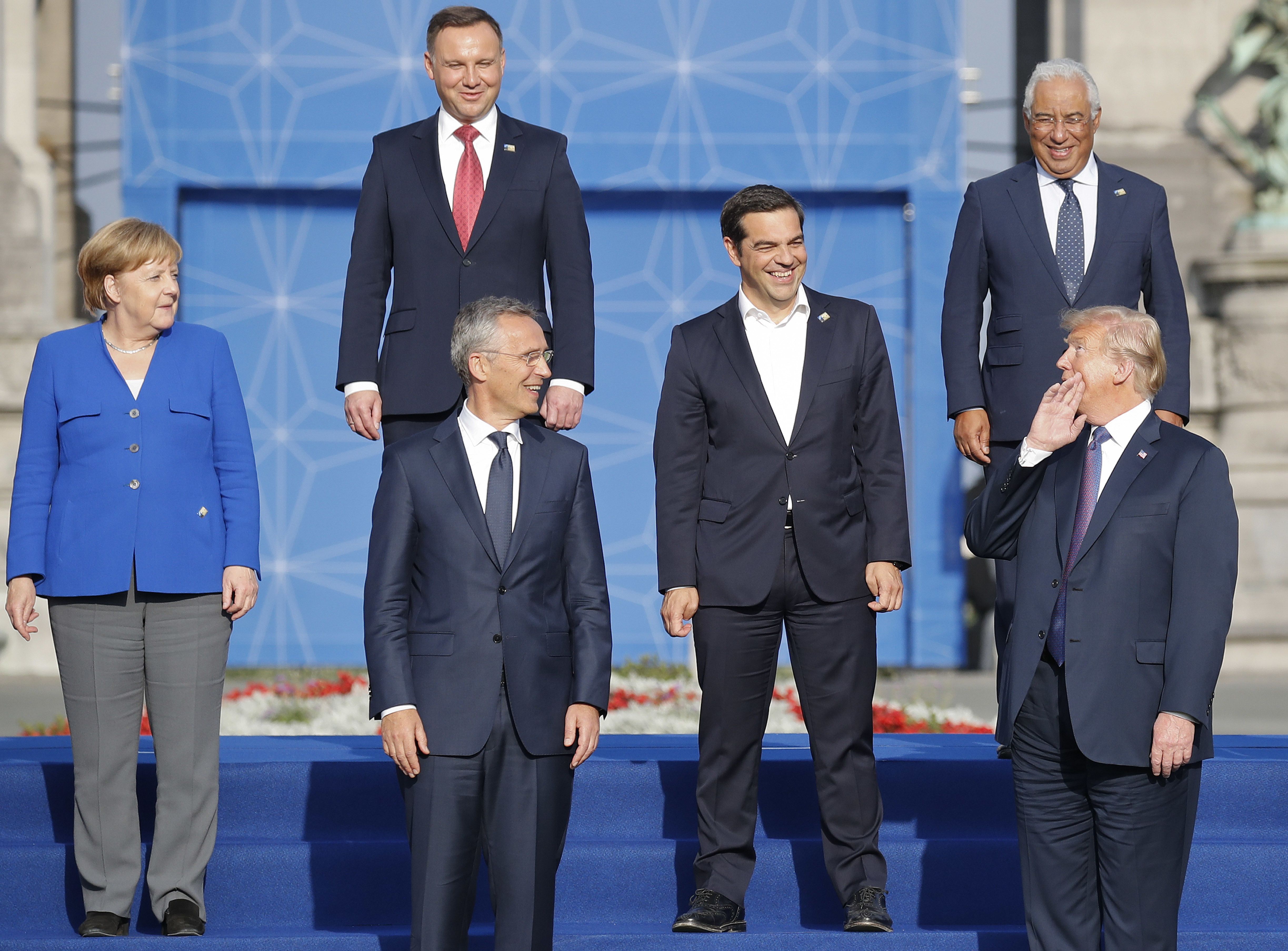 3. Thought for boarding a plane: Invisible burdens
"Ask Yourself This: What Burdens Is That Other Person Carrying?" ... "Sketch Guy" column for the N.Y. Times by Carl Richards, a certified financial planner and author of "The Behavior Gap":
"I was in the airport when I found out that the mother of one of my best friends had just died quite suddenly. ... I called my friend. ... He answered. He was crushed. We cried."
"His mom was one of the few people who always saw past my stupid behavior in high school. She always loved and accepted me, despite my being quite unlovable at the time."
"Life. Is. Heavy. And then I boarded a plane. I thought about everyone else on the plane. I wondered if the airline employee scanning my boarding pass could see that I had been crying. Were my eyes red? Swollen? I wondered if there would be room for my bag in the overhead bin."
"Did they have a sick child, or a friend in the hospital? Were they on that plane in a race against time? What about the person who had been yelling at the gate agent?"
Why it matters: "What burdens are all the people on this plane carrying? And how would I treat them differently if I knew?"
4. Stat du jour
"This month marks the fifth anniversary of the #BlackLivesMatter hashtag, ... coined following the acquittal of George Zimmerman in the shooting death of unarmed black teenager Trayvon Martin," per Pew Research Center:
"#BlackLivesMatter has become an archetypal example of modern protests and political engagement on social media."
"[T]he hashtag has been used nearly 30 million times on Twitter — an average of 17,002 times per day," periodically spiking in response to news.
5. Court nominations during midterms
There have been five other cases since 1950 when seats have opened within 150 days of a midterm election, Axios' Kerrie Vila writes:
In three of them, the nomination process was completed before the election (David Souter, Antonin Scalia, Arthur Goldberg). In the remaining two instances, both under President Eisenhower, the nomination was delayed until after the election (Potter Stewart, John Marshall Harlan II).
6. Musk's "one foot in hell"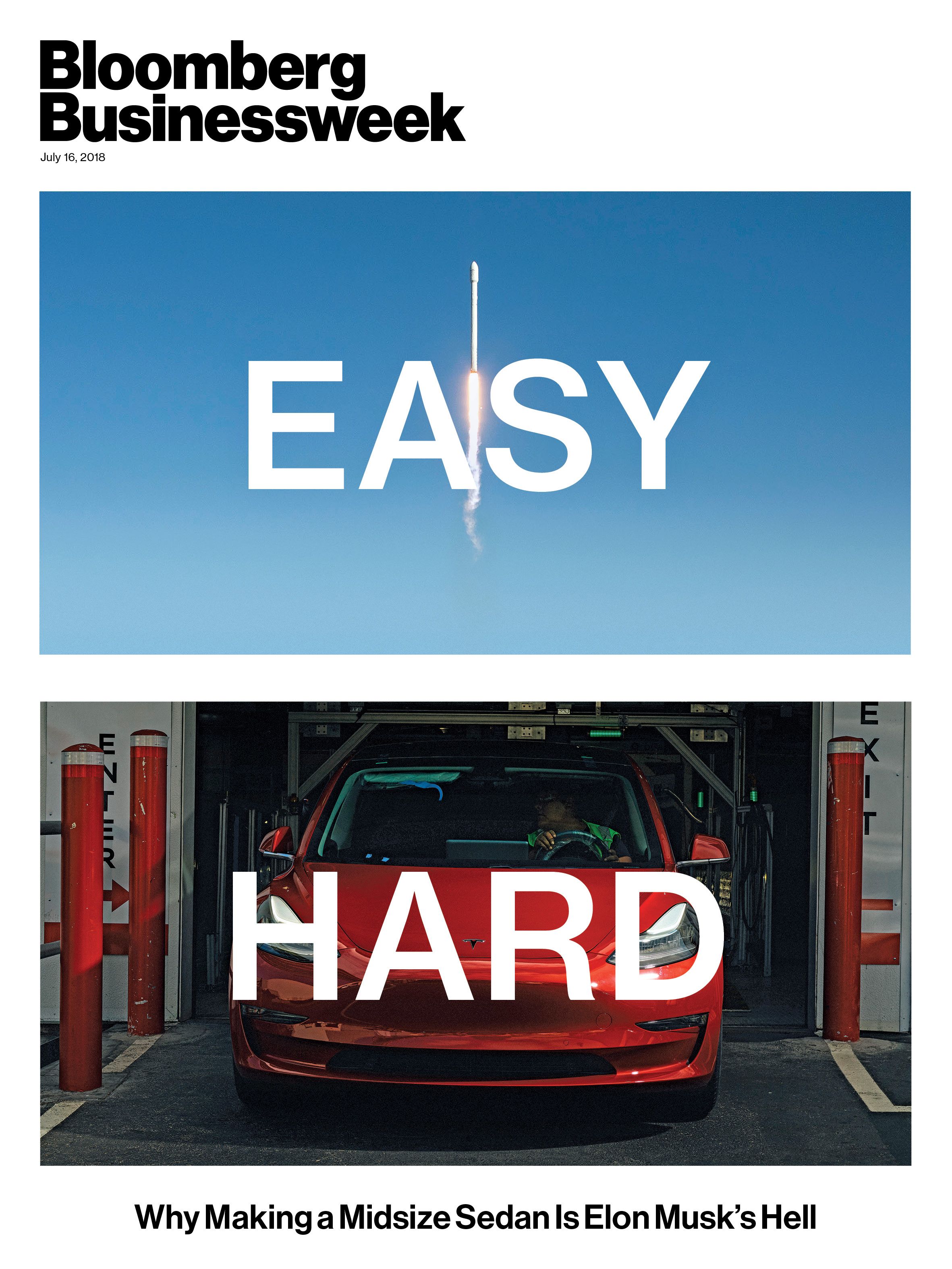 "The story of Tesla's sprint to release the Model 3 … is a case study in brilliant design and unbelievable hubris," Bloomberg Businessweek's Tom Randall, Josh Eidelson, Dana Hull, and John Lippert write:
"The prize for Musk is enormous: If he gets the Model 3 right, he will remake a trillion-dollar industry and do more to reduce carbon emissions than any person on the planet. But it may turn out that mass-producing cars is the one challenge that simply defies him."
"Musk projected confidence during an interview with Businessweek on July 8. 'The past year has been very difficult, but I feel like the coming year is going to be really quite good,' he says. He still has 'one foot in hell.' He says manufacturing hell will be over in a month."
Why it matters: "He set out to teach the world that consumers would pay for zero-emissions cars in huge numbers. Whatever happens to Tesla, he's succeeded in that. Tesla is, as Musk says, 'a real car company.'"
Corporate culture: "To battle exhaustion, employees drink copious amounts of Red Bull, sometimes provided free by Tesla. New employees develop what's known as the 'Tesla stare.' 'They come in vibrant, energized,' says Mikey Catura, a Tesla production associate. 'And then a couple weeks go by, and you'll see them walking out of the building just staring out into space like zombies.'"
7. "This is a fight that has been won before and will be won again"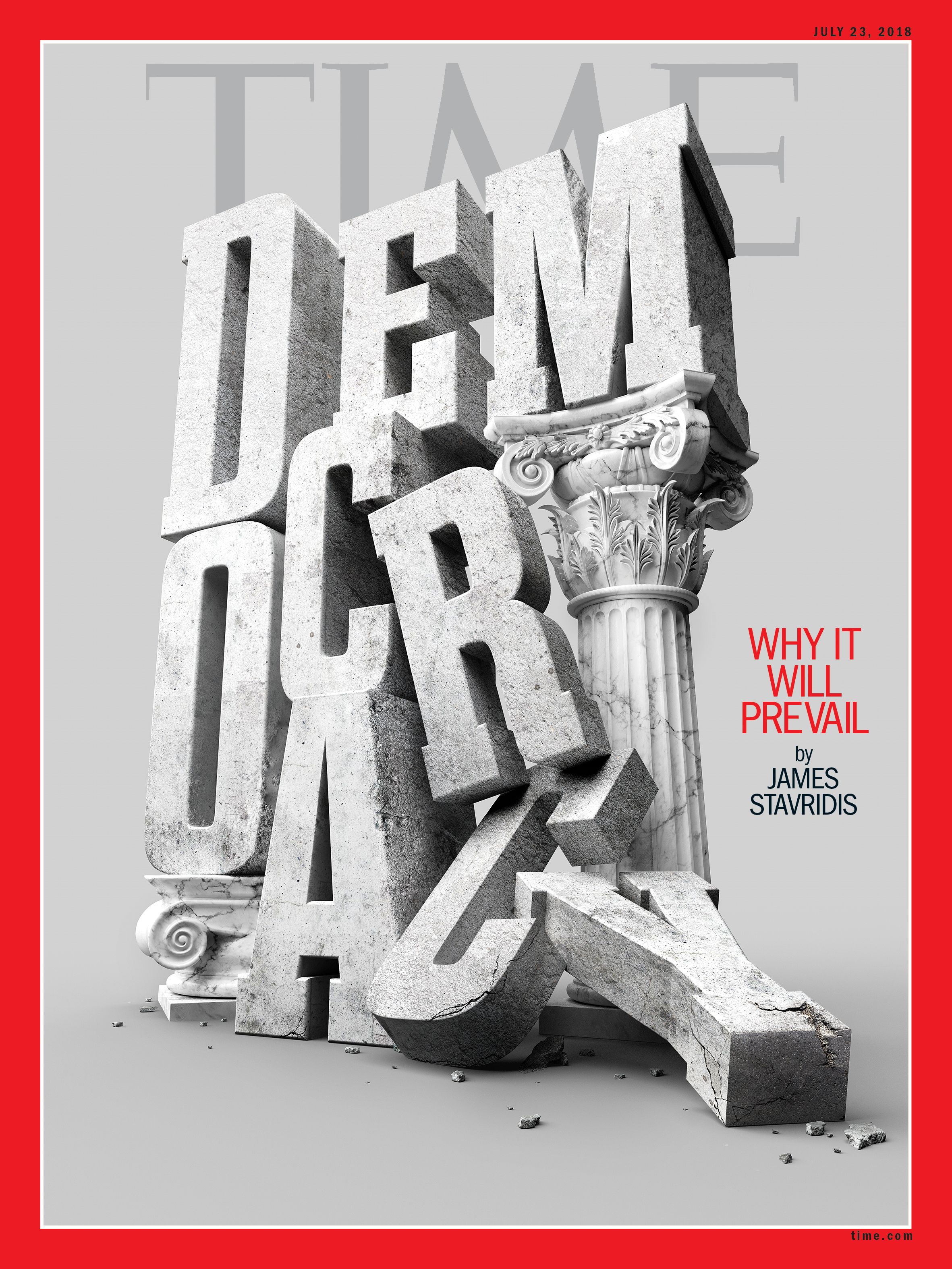 Retired four-star Admiral James Stavridis, former NATO Supreme Allied Commander, writes for TIME:
"Strongmen are rising in part because elected governments are struggling to address new challenges: global migration, technological advances, transnational terrorism, international economic unrest. ... How the remaining members of the free world will respond to this challenge is one of the great questions of the moment." 
"Political life here has problems, to be sure: money in politics, gerrymandering, rising partisanship and a President who calls the media an 'enemy of the people.'"
But, but, but: "The media remain strong and determined to tell the truth, and the courts remain rigorously independent. ... Accountability remains a core driver in the national debate."
On defending democracy in the 21st century: "This is a fight that has been won before and will be won again, even without much help from the White House. ... We can enhance our chances of winning by empowering women, boosting programs that fight economic inequality and teaching our children the critical thinking skills they need to separate truth from lies."
8. Tracking power
Steve Schmidt, a former top Republican operative who recently renounced the party, leaves Edelman, the global communications marketing firm, after nearly eight years to pursue private commentary and strategic-advice projects.
President and CEO Richard Edelman: "Steve has been involved in countless high stakes crisis situations and has provided excellent strategic advice to CEOs and some of the biggest companies in the world."
Schmidt tells his former Edelman colleagues: "We stand at a moment where all the progress towards a more just world and nation stands at risk. It is a dangerous hour. ... I am excited by the opportunity to write, think and comment on the events of the day, and to try and defend ideals and ideas that are worthy of defending and have been purchased at great cost."
And two big corporate departures:
🍕 "After a day in which he admitted to using a racial slur on a May conference call that led to a massive fallout, John Schnatter has now resigned from the company he built. Papa John's International, Inc. announced Schnatter has resigned as chairman." (Louisville Courier Journal)
🍩 "Dunkin' Brands Group CEO Nigel Travis is retiring and will be replaced by David Hoffmann. Travis, 68, has been CEO for almost a decade. ... Hoffmann, 50, will take over ... immediately." (AP)
9. eSports come to broadcast TV
"As the popularity of eSports explodes, thanks partly to games like Fortnite and Dota, mainstream television networks have taken interest," CNBC's Chloe Aiello reports:
In eSports, "spectators watch professional video gamers compete."
"Disney's ESPN has signed a deal with Activision Blizzard for live TV coverage of the Overwatch League, an eSports league. The deal is the biggest yet for video game developer Blizzard Entertainment."
"Overwatch coverage [began] with the playoffs [yesterday], across both Disney XD and ESPN networks and will finish with the Grand Finals live from Barclays Center in Brooklyn, New York, July 27–28."
"A recap of highlights will air on ABC on July 29. All coverage also will be available for ESPN and Disney network subscribers to stream live on the ESPN App and DisneyNOW."
Why it matters: "The Grand Finals will mark the first broadcast of an eSports championship on Disney's flagship TV network, ABC, and the first time live competitive gaming will air on ESPN in primetime."
10. ⚽️ 1 kick thing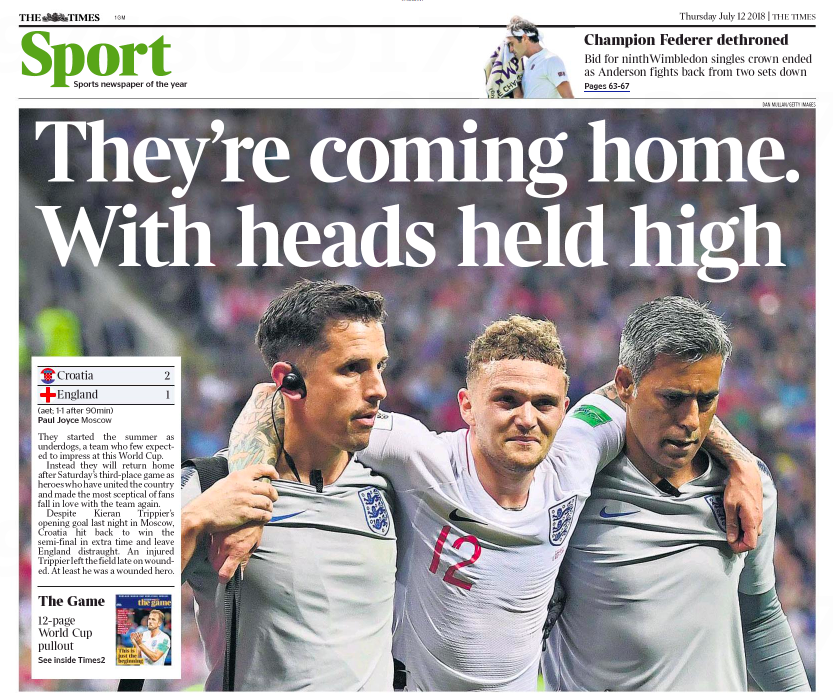 Why it matters — Vox: "More than 1 billion people watched the final in 2014, and it's expected that even more will watch this bout between a heavyweight team and a capable Cinderella squad."
"It'll be a drama-filled game: France and Croatia will prove a tense match with superstars on either side."
"For France, a young team full of bright young stars — especially Kylian Mbappe — may realize their talent in the most impressive way."
"For Croatia, a group of world-class professionals will try to win it the title for the first time in their first-ever final."
Third place game — Belgium v. England: Saint Petersburg Stadium, St. Petersburg, Saturday at 10 a.m. ET.
World Cup final — France v. Croatia: Luzhniki Stadium, Moscow, Sunday at 11 a.m. ET.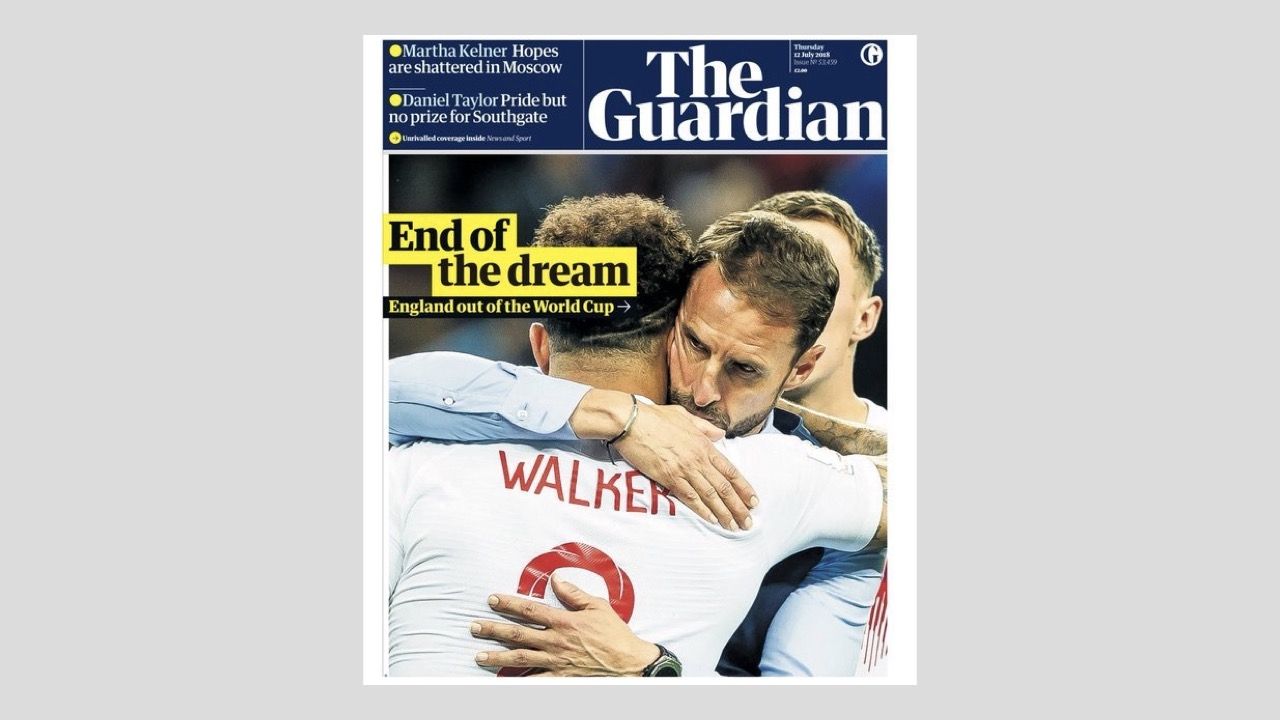 Thanks for reading. We'll have updates all day on Axios.