Situational awareness: FBI, Justice Department open civil-rights investigation after car rams counter-demonstrators opposing white-nationalist rally in Charlottesville, Va., yesterday ... 32-year-old woman killed, dozens injured ... Driver, James Alex Fields Jr., 20, recently moved to Ohio from Kentucky, charged with second-degree murder ... Day's death toll rose to 3 when state police chopper crashed in woods, killing two troopers onboard ... Virginia Gov. Terry McAuliffe will visit two Charlottesville churches.
https://www.axios.com/newsletters/axios-am-b52b0115-6a4d-4316-a18e-e805b0a861e2.html?chunk=0#story0
1 big thing: "Many sides"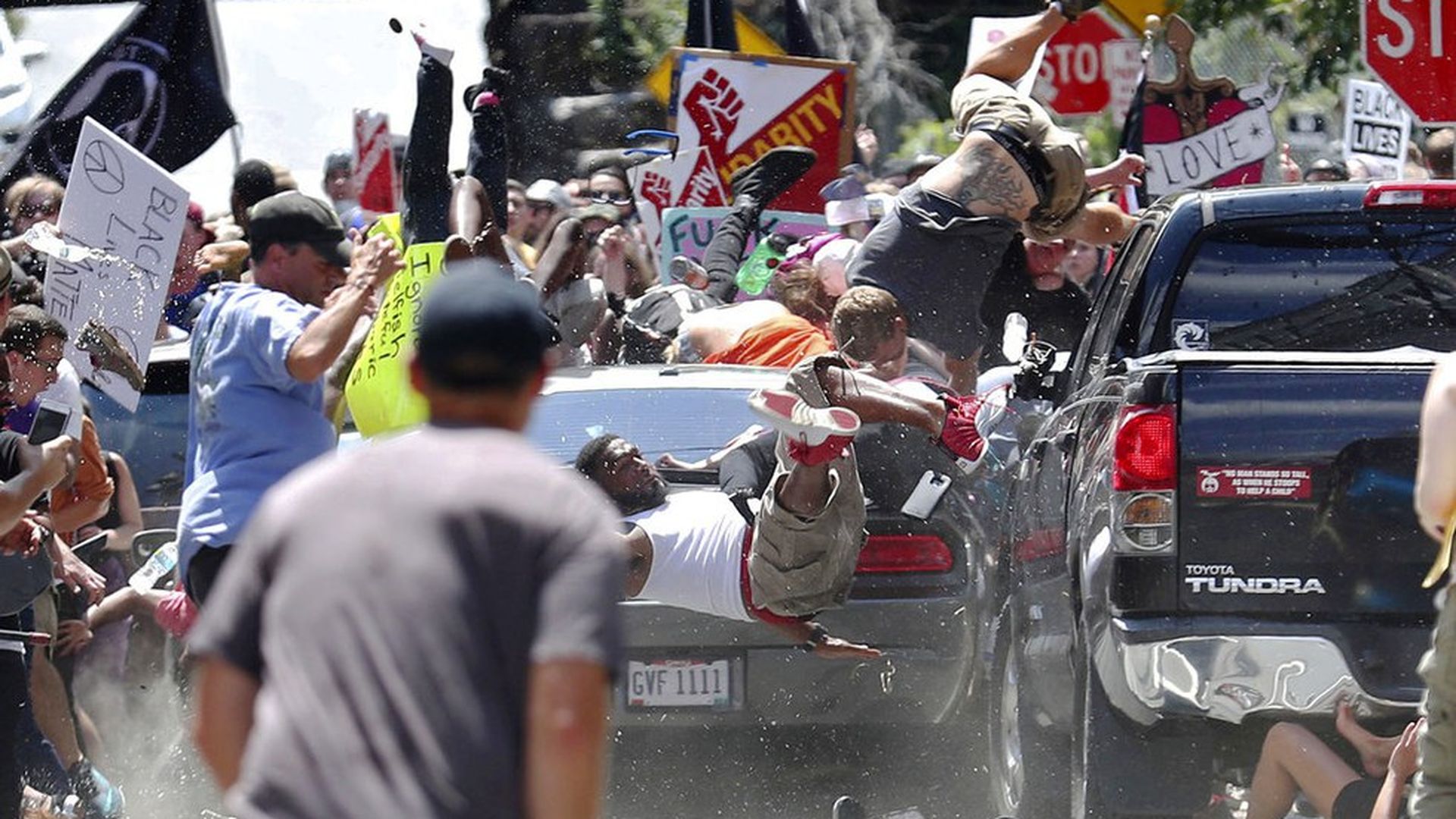 The layup untaken? Unforced error? Worst moment of his days as president?
However you look at it, President Trump's suggestion that "many sides" were responsible for the racist carnage in Charlottesville, Va., produced an instant backlash even from some top Republicans:
At 3:33 p.m., Trump said in televised remarks from his golf club in New Jersey: "[W]e're closely following the terrible events unfolding in Charlottesville, Virginia. We condemn in the strongest possible terms this egregious display of hatred, bigotry and violence, on many sides. On many sides."
Then he added defensively: "It's been going on for a long time in our country. Not Donald Trump, not Barack Obama. This has been going on for a long, long time."
Former Vice President Biden had the most succinct reaction: "There is only one side. #charlottesville."
Sen. Marco Rubio (R-Fla.), who lost to Trump in the primaries, tweeted: "Very important for the nation to hear @potus describe events in #Charlottesville for what they are, a terror attack by #whitesupremacists."
Sen. Cory Gardner, chairman of the National Republican Senatorial Committee: "Mr. President - we must call evil by its name. These were white supremacists and this was domestic terrorism."
Sen. Ted Cruz (R-Texas), who wants to run again, called it a "grotesque act of domestic terrorism."
When NBC's Hallie Jackson asked what Trump meant by "many sides," a White House official replied: "The President was condemning hatred, bigotry and violence from all sources and all sides. There was violence between protesters and counter protesters."
The N.Y. Times' Glenn Thrush and Maggie Haberman note in a story on p. A14 headlined, "Critics Slam Trump's Tepid Condemnation of Violence on 'Many Sides' in Virginia": "Trump is rarely reluctant to express his opinion, but he is often seized by caution when addressing the violence and vitriol of white nationalists, neo-Nazis and alt-right activists, some of whom are his supporters."
Be smart: Being a leader is taking your people where they don't want to go, or don't know they want to go. Being president is about rising to the occasion, not shrinking to your base. Large swaths of Trump's base don't think like this. The vast majority of conservative Americans aren't racists. Trump does them a disservice by creating that impression, and by coddling or fearing the few who resist loving one another.
https://www.axios.com/newsletters/axios-am-b52b0115-6a4d-4316-a18e-e805b0a861e2.html?chunk=1#story1
2. Being there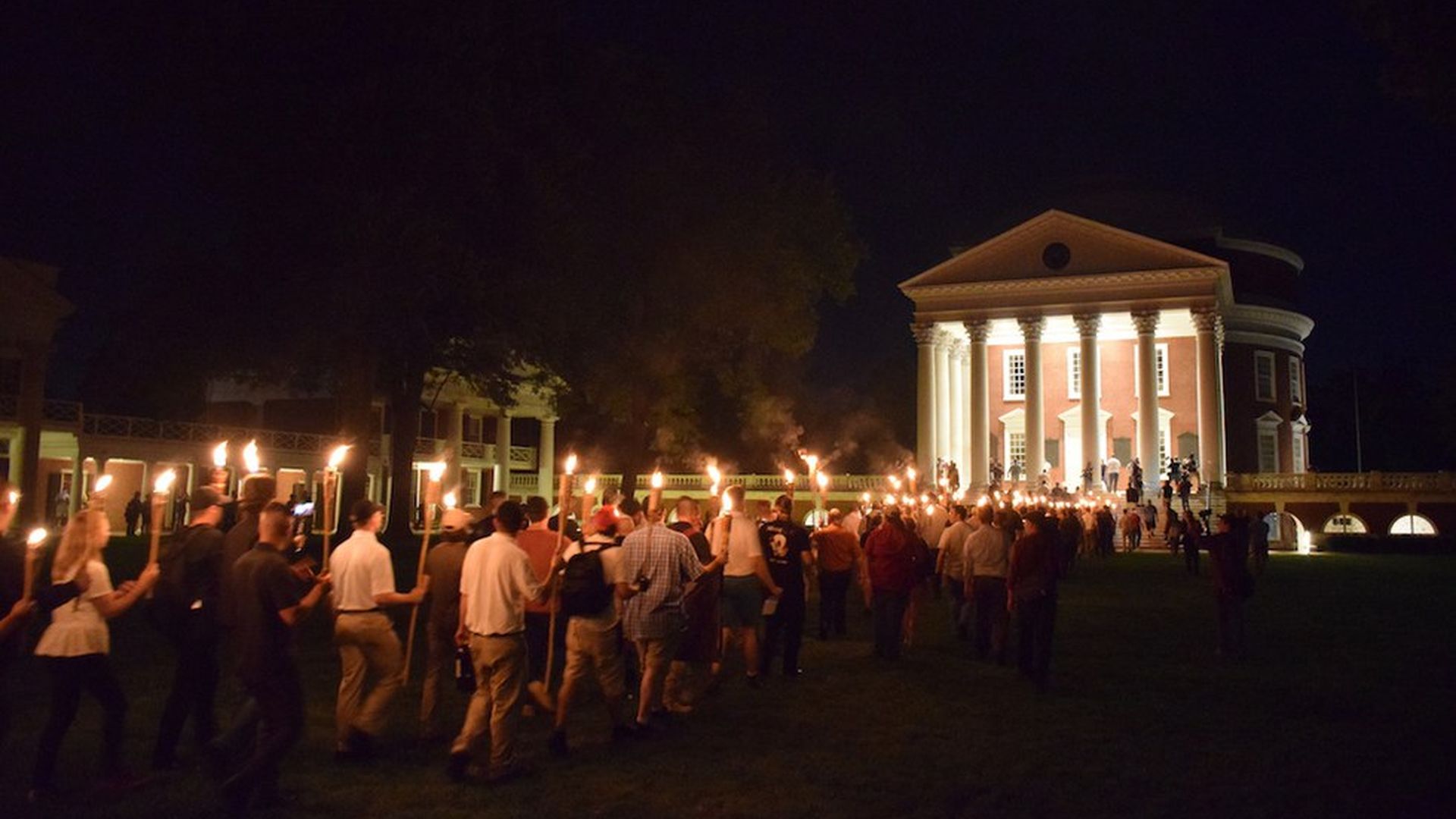 Hawes Spencer — a buddy of mine since we were editors of rival college newspapers in Virginia, eons ago — has lived in Charlottesville for 28 years, and covered Friday night's torchlight march by white nationalists, up U.Va.'s sacred Lawn to Mr. Jefferson's rotunda. They were protesting plans by the city of Charlottesville to remove a statue of Confederate Gen. Robert E. Lee.
Hawes, who was filing for the N.Y. Times and Richmond public radio station WCVE, tells me that the chants included "Jew will not replace us" and "Jews will not replace us." Hawes was in the melee all day yesterday, and last night I asked him what it was like:
"The entirety of Downtown Charlottesville looked like a war zone. Protesters maced each other, threw water bottles and urine balloons — some of which hit reporters — and generally beat the crap out of each other with flagpoles.
"With many armed militia present, we thought bullets might be a problem. But as it turned out, it was just like European terrorism: a car aimed at pedestrians.
"Some of the photographers were braver than I and just dove right in to the middle of these constant melees. A month ago, my two oldest teens showed up for the KKK rally out of curiosity. Thankfully, they took a hike up a mountain today!"
https://www.axios.com/newsletters/axios-am-b52b0115-6a4d-4316-a18e-e805b0a861e2.html?chunk=2#story2
3. It's not just Charlottesville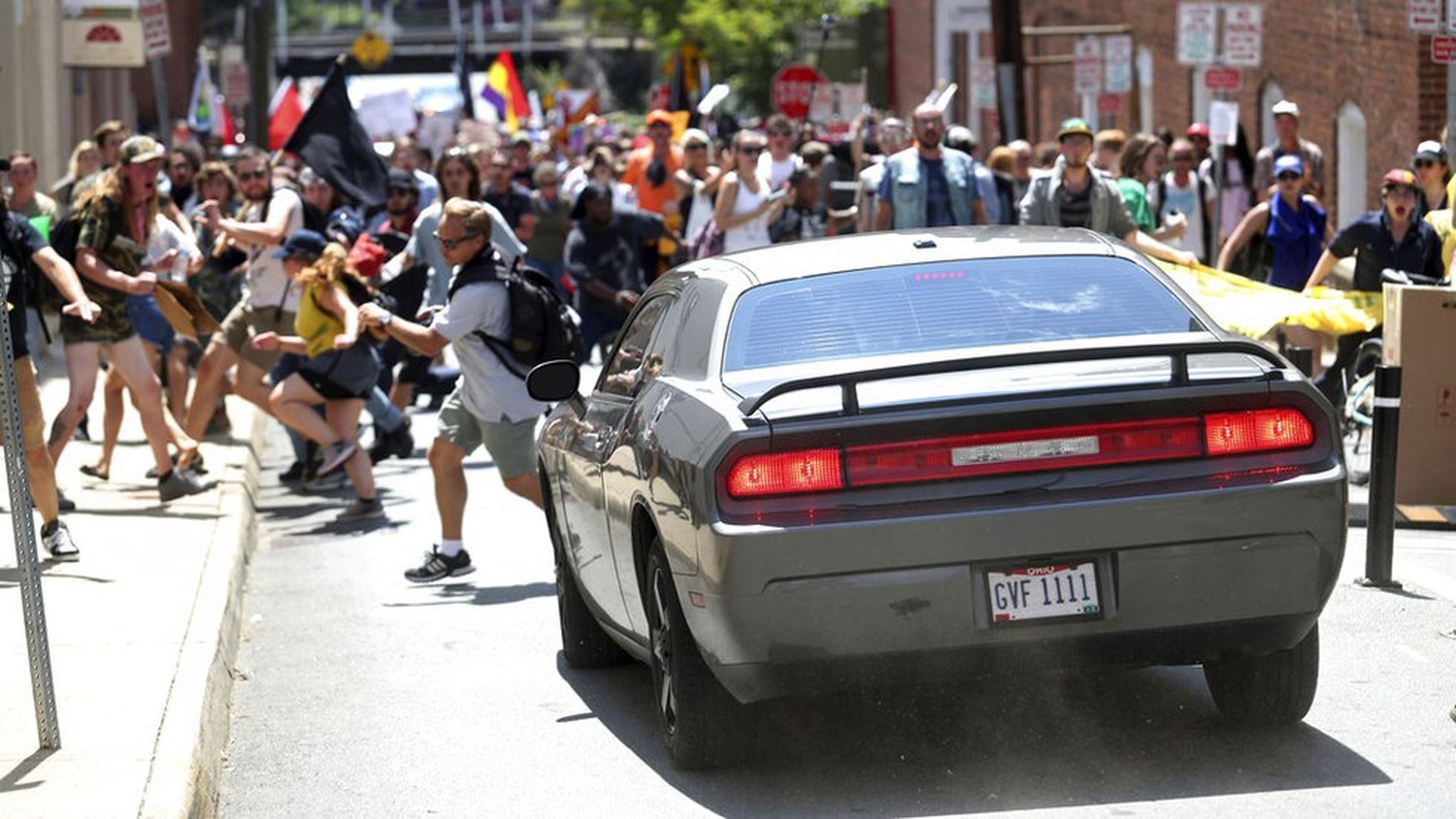 I skipped this story for Saturday's AM because when I saw the headline, I thought these were fringe dopes who weren't worthy of your time and attention. Turns out, we're going to spend a lot of time trying to understand this strata ...
"Secessionists push for South to break away from US again," by AP's Jay Reeves in Birmingham, Ala.
"As 21st century activists seek to topple monuments to the 19th century Confederate rebellion, ... [t]he idea of a break-away Southern nation persists."
"Secession ... has been discussed on and off for years by the far right in states including Texas, particularly when Barack Obama was president."
"Online, many Southern nationalists seem animated by drives to remove Confederate memorials, as happened in New Orleans and is planned in Charlottesville."
Let 'em leave? Chuck Thompson, who wrote a 2012 book, "Better Off Without 'Em: A Northern Manifesto for Southern Secession," points out that the South has been at odds with the rest of the nation for generations over issues including education, race, politics, shared history and religion.
https://www.axios.com/newsletters/axios-am-b52b0115-6a4d-4316-a18e-e805b0a861e2.html?chunk=3#story3
4. If you read only 1 thing: Advice for both parties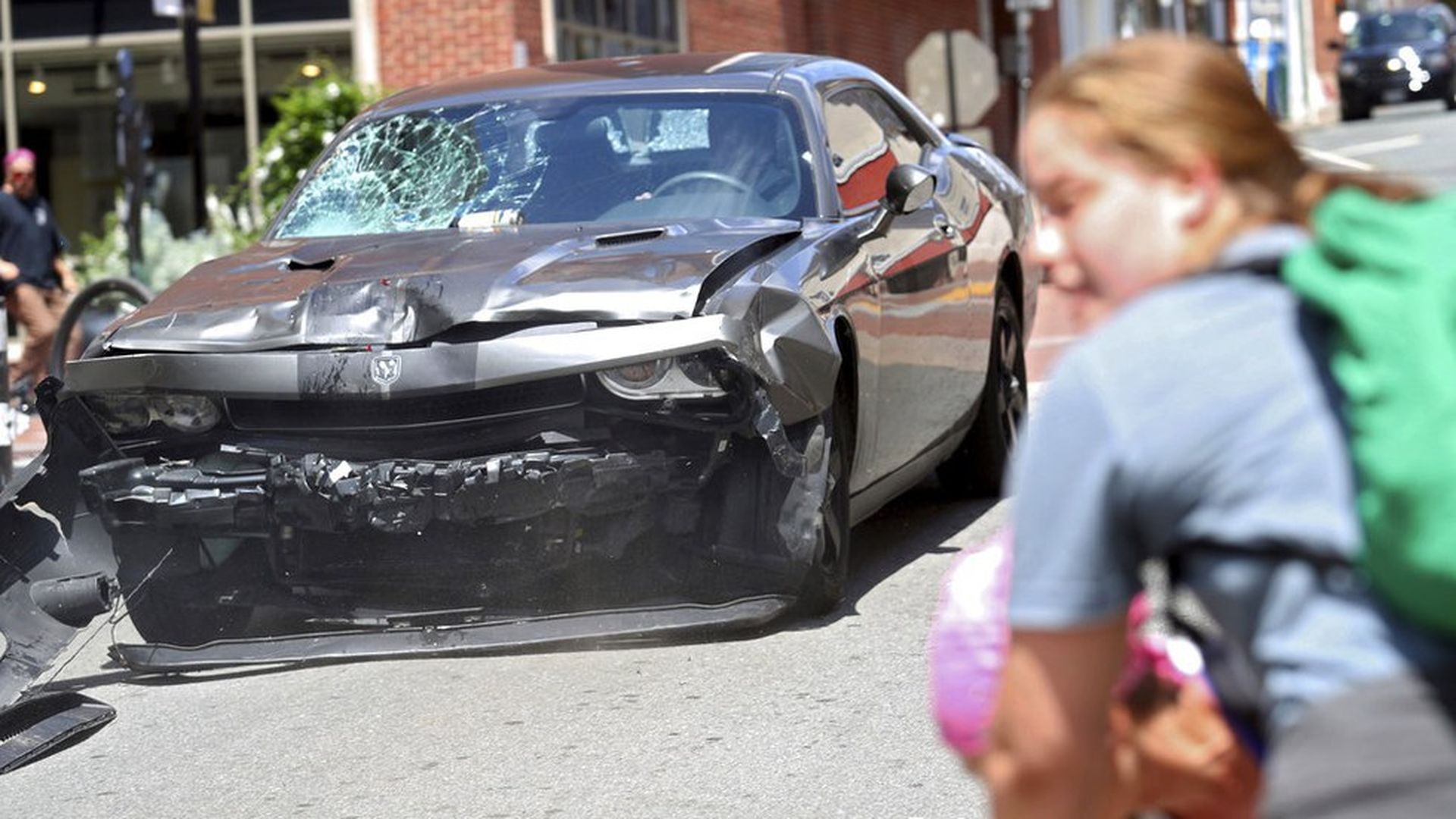 TIME's David Von Drehle — who lives in Missouri, a much better perch than the bubbles for writing about America — has a WashPost column, "Reclaiming 'a language of hope," with sound advice for both parties:
"It's shocking, really, how darkly pessimistic our politics have become. From the president's 'American carnage' inaugural address to the apocalyptic fevers of the alt-right, the Republican Party is captive to the sort of rhetoric that drives people to fill bunkers with freeze-dried goulash and homemade bullets."
"The Democrats ... are in thrall to a fashionable gloom in which America's past is only a litany of sins, its present a horror of injustices and its future an uninhabitable hothouse."
Will Marshall is a Democrat [whose 1980s] New Democrat movement found its face in Bill Clinton, whose upbeat centrism made him the first member of his party to win multiple terms since Franklin D. Roosevelt. Barack Obama went to school on Clinton's rhetoric of optimistic pragmatism."
"On Wednesday, Marshall launched his latest rescue project, called New Democracy and aimed at making the party competitive again in the vast countryside between the coasts."
Marshall: "The deep pessimism that hangs like a pall over America is an anomaly ... There is a huge vacuum for Democrats to reclaim a language of hope and progress."
Von Drehle: "Republicans might want to move in the same direction. The Americans I meet are tired of whining and blame games."
https://www.axios.com/newsletters/axios-am-b52b0115-6a4d-4316-a18e-e805b0a861e2.html?chunk=4#story4
5. Accelerant for a great national debate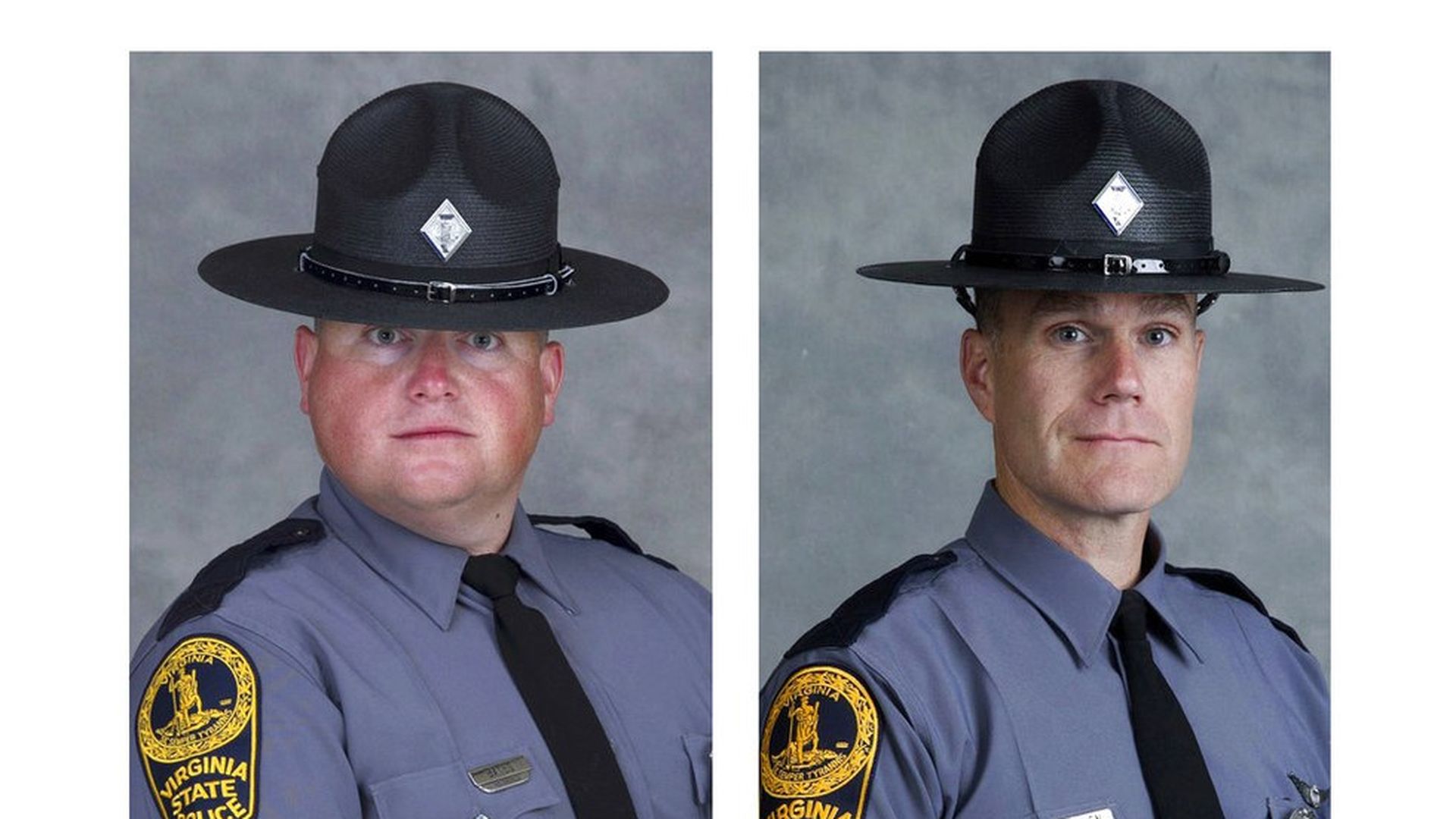 New context now for this Hollywood Reporter story from Thursday: "HBO and Amazon's dueling Civil War alt-history dramas have brought an age-old debate about art back to the cultural forefront: Who is 'allowed' to tell certain stories, particularly those about marginalized communities?"
"The current conversation was sparked by HBO's July 19 announcement that its most successful showrunners, Game of Thrones' David Benioff and D.B. Weiss, would make Confederate, a drama that imagines a modern-day Confederacy with an intact slavery industry."
"Amazon revealed the details of Black America, its long-in-the-works drama with producer Will Packer and Boondocks creator Aaron McGruder."
https://www.axios.com/newsletters/axios-am-b52b0115-6a4d-4316-a18e-e805b0a861e2.html?chunk=5#story5
6. Charlottesville crowd creates own economy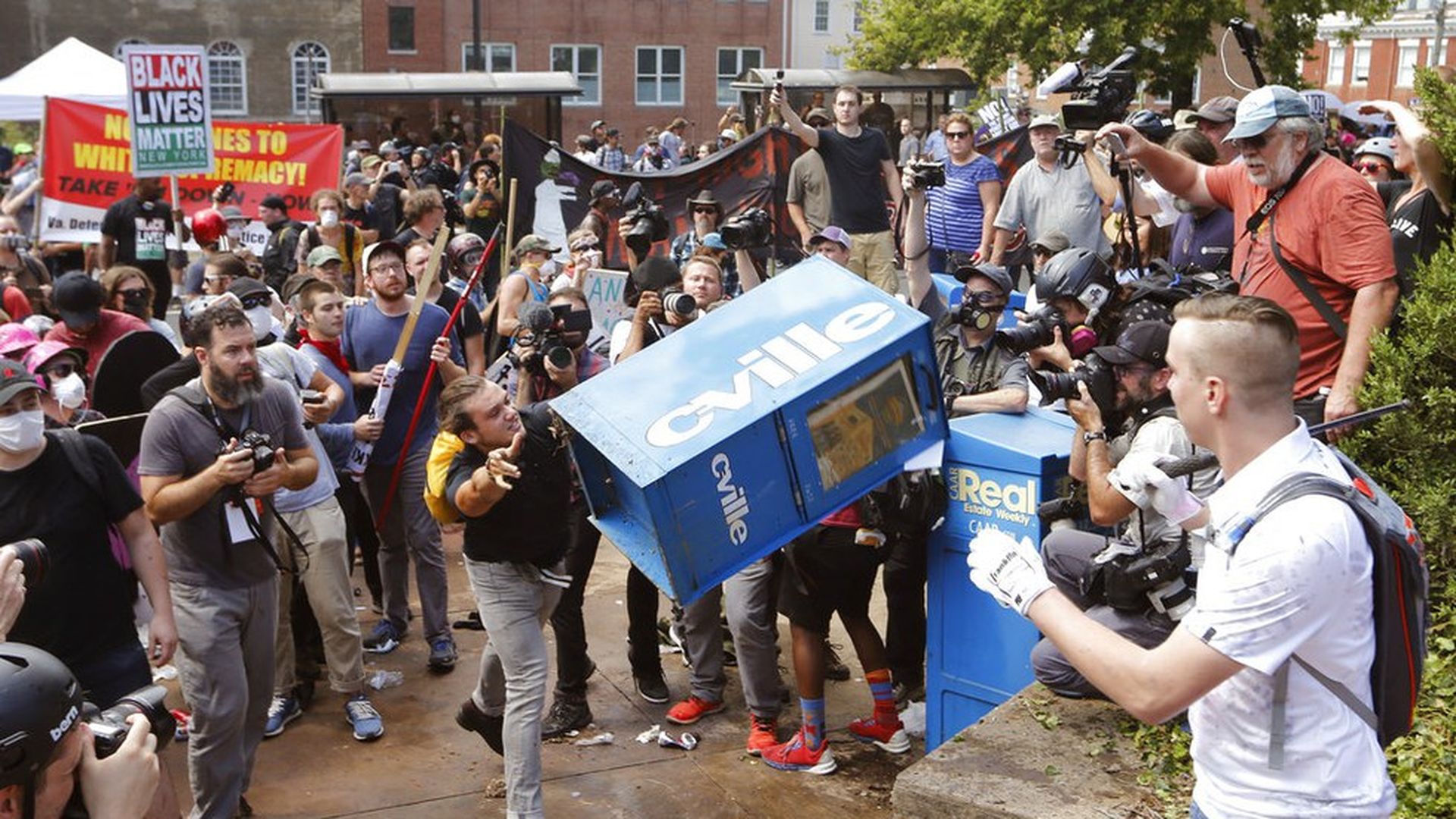 "Squeezed out by Silicon Valley,the far right is creating its own corporate world" ... The L.A. Times had a prescient story ahead of the rally, that's now at the top of today's front page, "Web haven for far right: Ostracized by Silicon Valley, neo-Nazis and others create their own corporate space," by Matt Pearce:
"For weeks, neo-Nazis, white nationalists and other far-right figures [organized for the] 'Unite the Right' demonstration in Charlottesville ... expected to be one of the largest rallies of its kind in at least a decade."
"But days before the rally, ... Airbnb started suspending the accounts of rally attendees who had rented houses in the area. ... The ... company requires customers to 'accept people regardless of their race, religion, national origin, ethnicity,' among other things — a deal breaker for white nationalists, who have been banned by other popular companies for similar reasons. It was a blow for the organizers."
"This wasn't the first time the far-right had to find someone willing to provide services for its members. Increasingly, the group's solution is to provide its own.Over the last two years, a crop of start-ups has begun offering social media platforms and financial services catering to right-wing Internet users."
https://www.axios.com/newsletters/axios-am-b52b0115-6a4d-4316-a18e-e805b0a861e2.html?chunk=6#story6
7. Scoop: Bannon on thin ice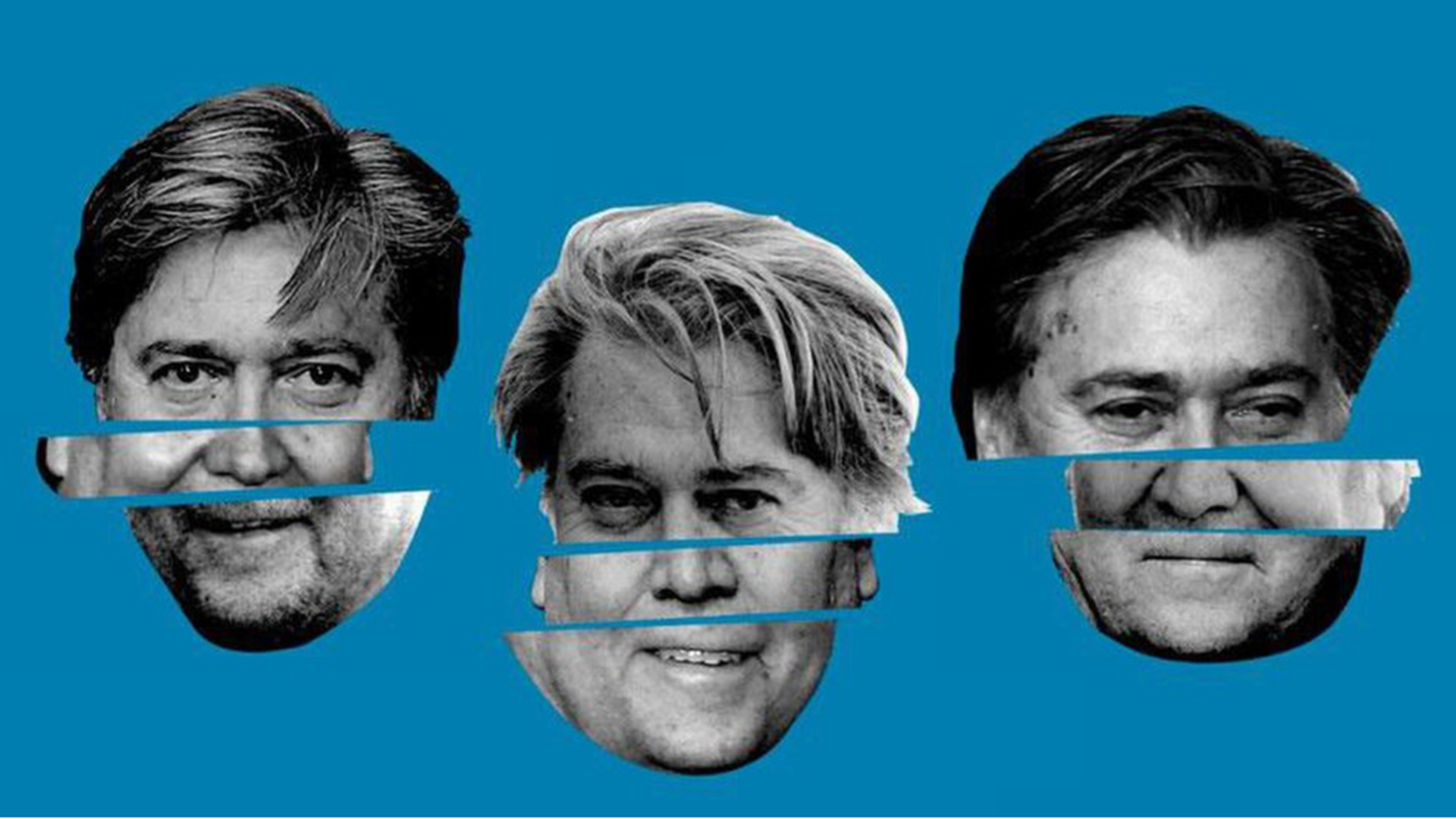 President Trump has told close associates that he believes Steve Bannon is behind damaging leaks about White House colleagues, putting the chief strategist's job in fresh jeopardy, sources close to the president tell Axios' Jonathan Swan:
Trump is fed up with what he sees as self-promotion by Bannon.
Key West Wing colleagues believe Bannon is an instigator of leaks targeting National Security Adviser H.R. McMaster. The stories have been driven by Breitbart News, where Bannon was executive chairman before joining Trump's presidential campaign as chief executive in August. On Thursday, Trump backed McMaster as "our friend."
Sources close to Trump say he was irritated about Bannon's extensive cooperation with a book by Bloomberg Businessweek's Josh Green, "Devil's Bargain," with a cover that gave Bannon equal billing with Trump.
Why it matters: POTUS has been frustrated with Bannon in the past, but he never had as easy a vehicle for getting rid of him. Kelly is expected to make West Wing changes, anyway. As one top aide said: "Kelly can do the dirty work."
https://www.axios.com/newsletters/axios-am-b52b0115-6a4d-4316-a18e-e805b0a861e2.html?chunk=7#story7
8. Trump's "vacation"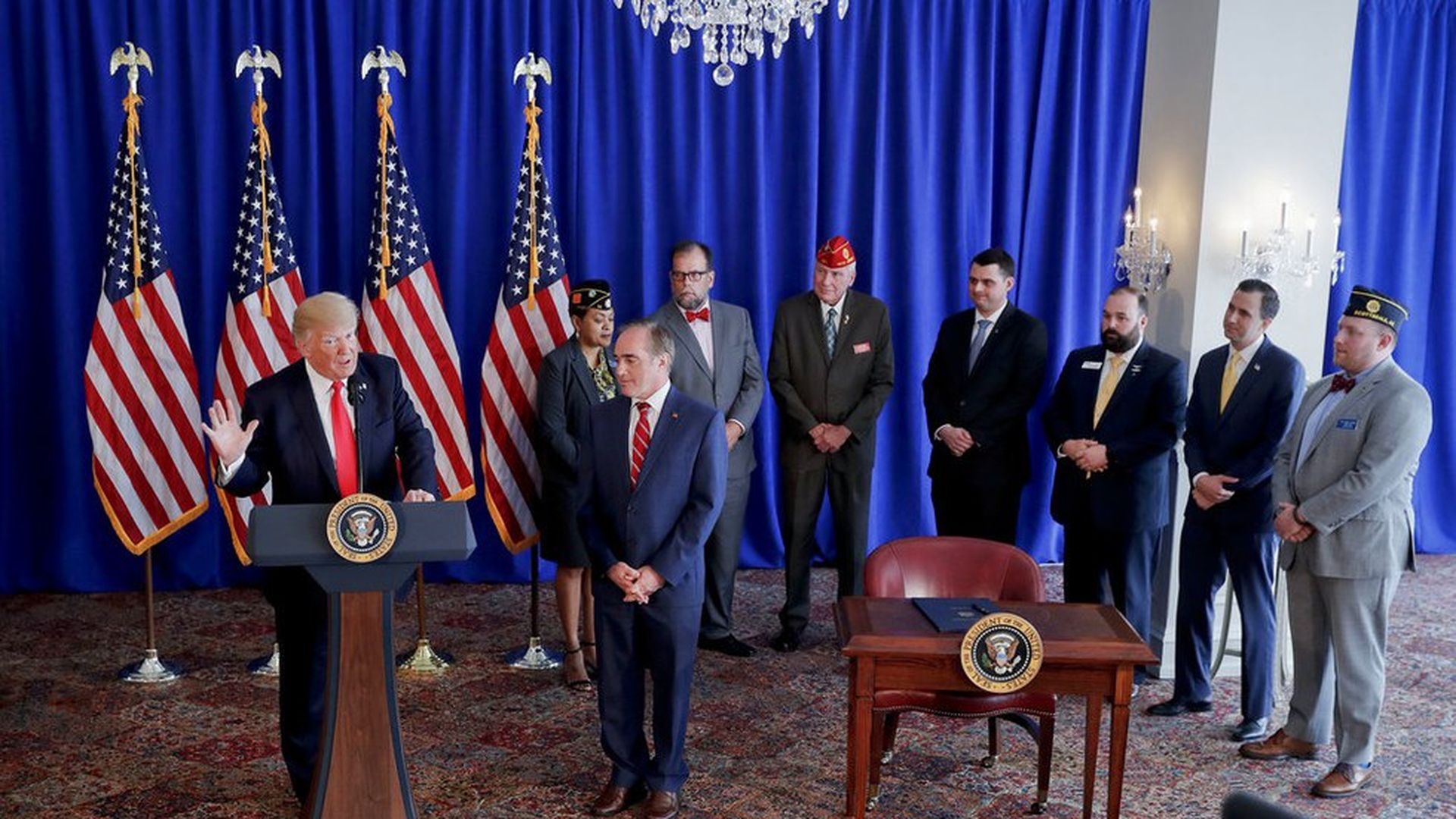 Looks like Week 2 of the 17-day presidential "vacation" will be as relaxing as the first.
We're told Trump is putting off for a day his plans to return to his home in Trump Tower for the first time since the inauguration, and return to D.C. to appear on-camera tomorrow as he signs an "executive memorandum" calling for a White House investigation of China trade practices.
We're told that his week, he'll host an infrastructure discussion at Trump Tower, hold a tax-reform event, and visit an opioid clinic in New Jersey.
Not exactly the days of George H.W. Bush taking out the cigarette boat in Kennebunkport, Maine ... or Bill Clinton strolling around the Black Dog on Martha's Vineyard ... or George W. Bush chopping brush in Crawford, Texas ... or Barack Obama largely disappearing on Martha's Vineyard.
https://www.axios.com/newsletters/axios-am-b52b0115-6a4d-4316-a18e-e805b0a861e2.html?chunk=8#story8
9. Priebus as Rosetta Stone?
"Mueller ... is in talks with the West Wing about interviewing current and former senior administration officials, including the recently ousted White House chief of staff, Reince Priebus," the N.Y. Times reports on page 1:
"Mueller has asked the White House about specific meetings, who attended them and whether there are any notes, transcripts ... Mueller wants to ask the officials about ... Trump's decision in May to fire ... Comey."
"Mueller has expressed interest in speaking with other administration officials, including members of the communications team."
"Trump's allies are particularly concerned about Mr. Mueller's interest in talking to Mr. Priebus ... Trump's confidants ... say Mr. Trump was never fully convinced that Mr. Priebus would be loyal."
"Priebus can potentially answer many questions Mr. Mueller has about what occurred during the campaign and in the White House. Mr. Priebus appears on the calendar of Mr. Manafort on the same day in June 2016 that Mr. Manafort and other campaign officials ... attended a meeting with Russians."
"Comey met with Mr. Priebus at the White House on Feb. 8 — a week before Mr. Comey said Mr. Trump cornered him in the Oval Office ... Comey told Mr. Priebus about a Justice Department policy that largely bars discussions between White House officials and the F.B.I. about continuing investigations."
https://www.axios.com/newsletters/axios-am-b52b0115-6a4d-4316-a18e-e805b0a861e2.html?chunk=9#story9
10. 🎶 1 lit jam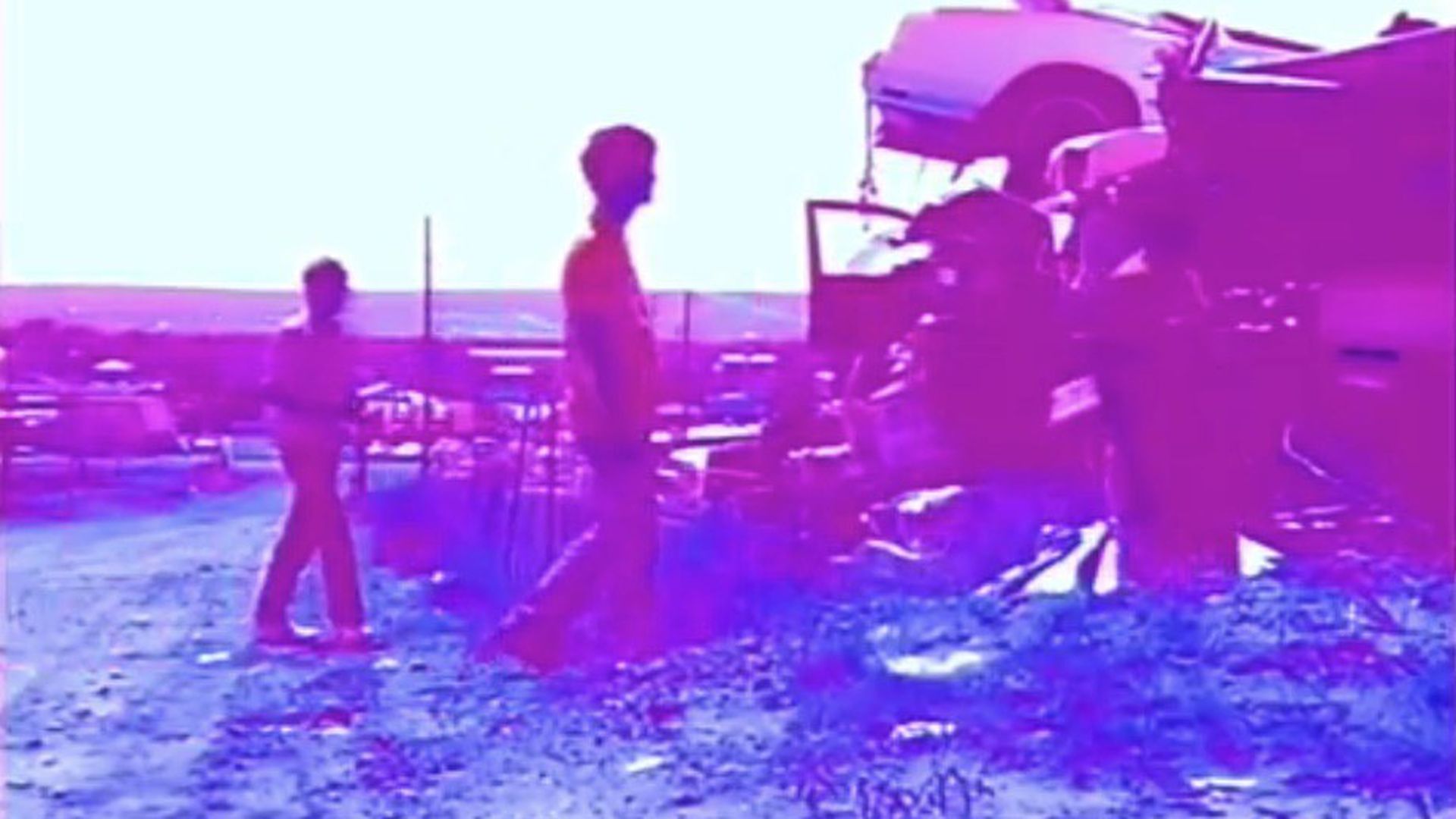 Bob Herman, Axios' Midwest-based health-care business reporter, picks "New Slang" by The Shins:
"I have the music knowledge of a fruit bat. A handful of bands and artists, like The Shins, serve as my mainstays. The Shins released a new album earlier this year called Heartworms (do people still listen to entire albums?), and it's worth checking out. But the simple, mellow tones of this classic Shins song epitomize a tranquil summer evening."