Axios AM
September 14, 2018
💨 Good Friday morning ...
1 big thing: Jeff Bezos' secrets for life, business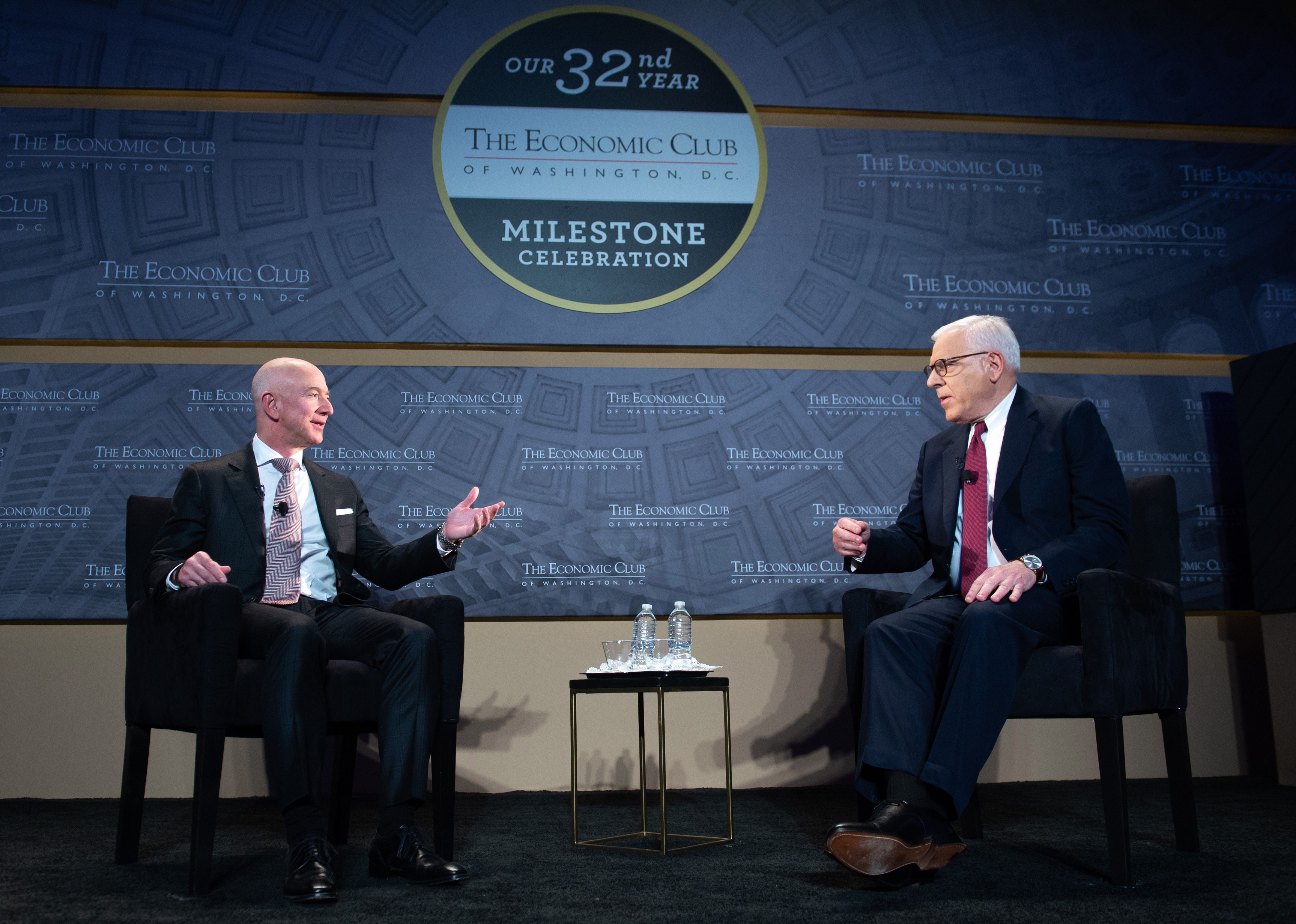 Jeff Bezos gave a master class on life and business onstage in Washington last night, with this keeper advice: "All of my best decisions in business and in life have been made with heart, intuition, guts, ... not analysis."
"If you can make a decision with analysis, you should do so. But it turns out in life that your most important decisions are always made with instinct and intuition."
"Everything I have ever done has started small," Bezos added, drawing laughter at the 32nd anniversary dinner of the Economic Club of Washington, D.C.:
"Amazon [now with 500,000 employees] ... started with five people."
"It's hard to remember for you guys, but for me it's like yesterday I was driving the packages to the post office myself, and hoping one day we could afford a forklift."
Amazon's president, CEO and chairman was interviewed at the Washington Hilton for 70 minutes by David Rubenstein, co-founder and co-executive chairman of The Carlyle Group (one of the world's largest private equity firms), and president of the Economic Club.
After a long answer, Rubenstein joked: "I'm not used to cutting off the richest man in the world."
Bezos, 54, owns The Washington Post, where today he'll cut the ribbon on a newsroom expansion to accommodate 850 journalists and 350 engineers. He drew applause with his defense of the press:
"What the president should say is, 'This is right. This is good. I'm glad I'm being scrutinized.' And that would be so secure and confident."
"But it's really dangerous to demonize the media. ... It's dangerous to say that they're the enemy of the people."
Turning to business best practices, Bezos said he sets his first meeting at 10 a.m.:
"I go to bed early and I get up early. I like to putter in the morning. So I like to read the newspaper. I like to have coffee. I like have breakfast with my kids before they go to school."
"I do my high-IQ meetings before lunch. Like anything that's going to be really mentally challenging, that's a 10 o'clock meeting. And by 5 p.m., I'm like, 'I can't think about that today. Let's try this again tomorrow at 10 a.m.'"
Bezos said he gets eight hours of sleep:
"I prioritize it. ... I think better. I have more energy. My mood is better."
"As a senior executive, you get paid to make a small number of high-quality decisions. Your job is not to make thousands of decisions every day."
"Is that really worth it if the quality of those decisions might be lower because you're tired or grouchy?"
"All of our senior executives operate the same way I do. They work in the future, they live in the future."
"Right now, I'm working on a quarter that's going to reveal itself in 2021 sometime."
"If I make, like, three good decisions a day, that's enough."
"Warren Buffett says he's good if he makes three good decisions a year." [Laughter].
2. Bezos' $2 billion charity expands his influence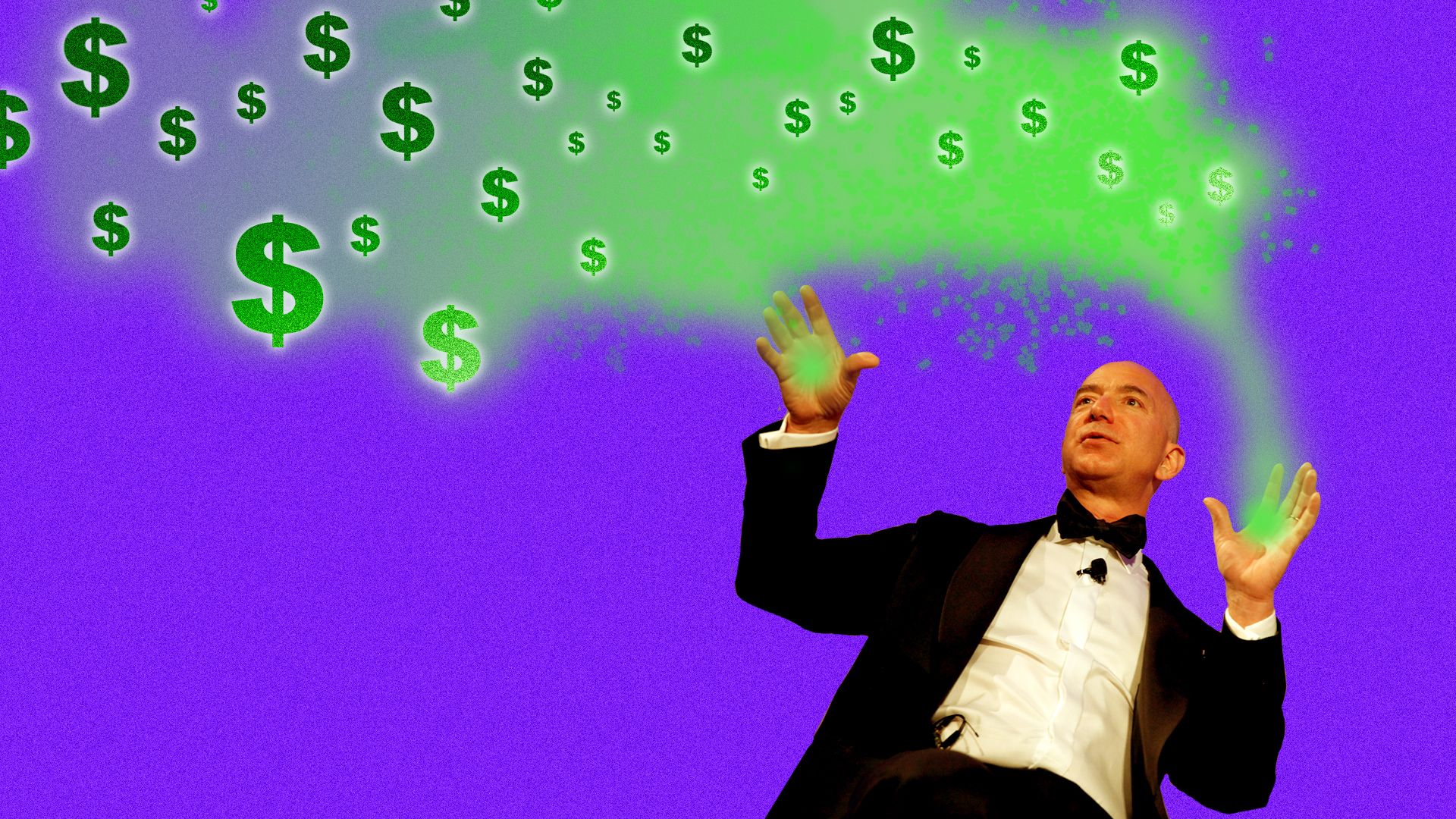 Jeff Bezos and his wife, novelist MacKenzie Bezos, said yesterday that their new Bezos Day One Fund will spend $2 billion on a) nonprofit organizations working on homelessness and b) creating a network of free, Montessori-inspired preschools for low-income areas.
Why it matters, from Axios' David McCabe: A new class of tech elites is using ambitious philanthropic strategies to transform money into influence.
These efforts combine charity with Silicon Valley methods and mindset:
Bezos said his project's network of preschools will treat children like "the customer."
Mark Zuckerberg and his wife, physician Priscilla Chan, have built a significant technology team within their philanthropic initiative.
And these gifts influence big social debates:
The Chan Zuckerberg Initiative's missions include curing, preventing or managing "all diseases by the end of this century."
Laurene Powell Jobs' Emerson Collective invests in a range of public policy issues, including immigration and education. (The Emerson Collective is an investor in Axios.)
3. China may hold out longer than Trump thinks
"President Trump insisted [yesterday] that he was 'under no pressure to make a deal with China,' signaling a readiness to escalate his trade war," the WashPost's David Lynch writes:
"But the president's expectation that financial hardship will prompt Chinese President Xi Jinping to cave in a fresh round of diplomatic talks is misplaced, analysts said."
"Though China has slowed from the double-digit growth rates it recorded earlier this decade, its economy grew by an annual rate of 6.7 percent in the second quarter." (The U.S. was 4.2%.)
Be smart: "[R]epeated crowing about China's financial woes is contributing to a nationalist backlash that may prolong the dispute, with the Chinese concluding that Trump is seeking more than just a level playing field for trade."
4. Florence will pose fatal threat for days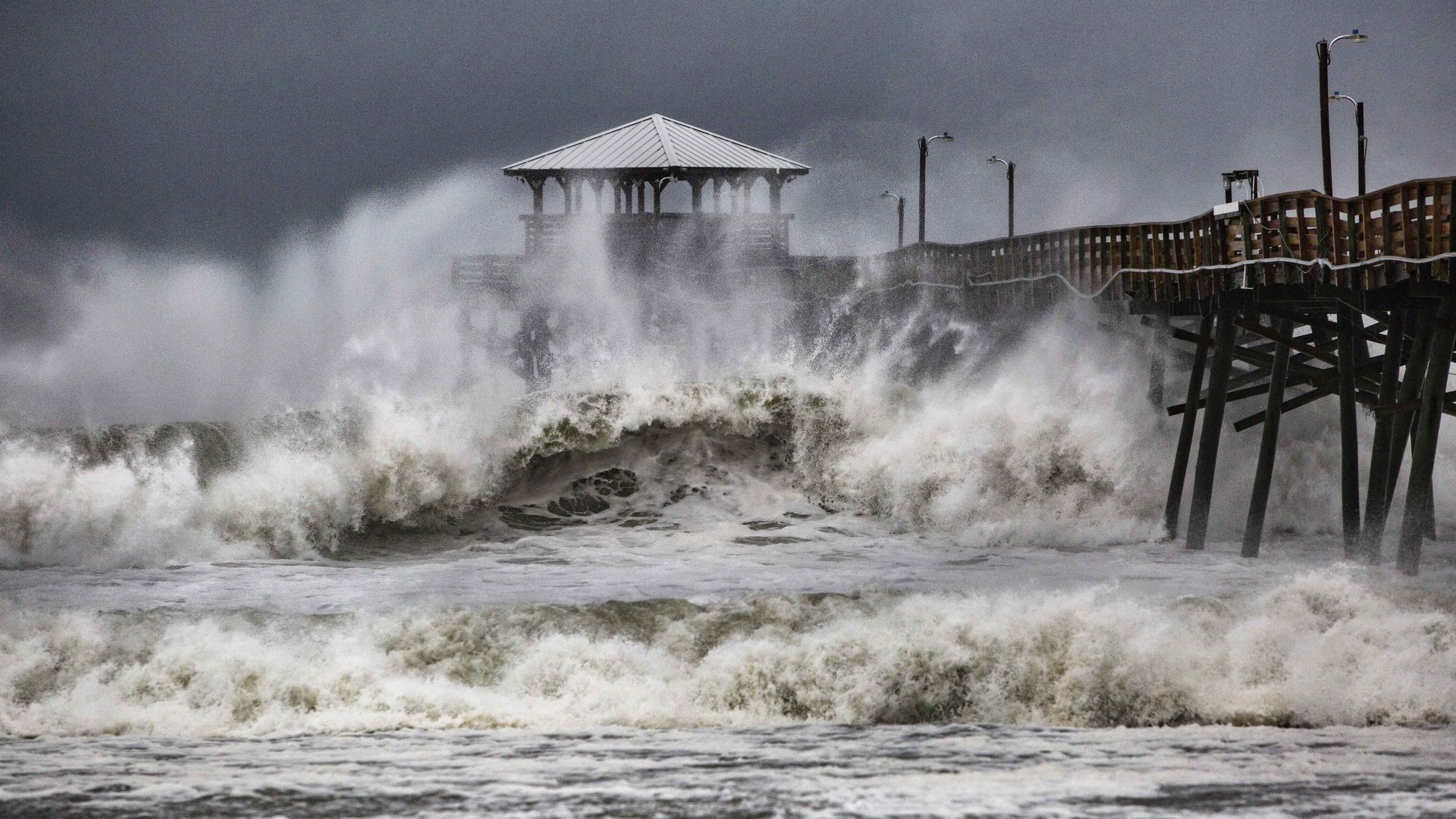 Hurricane Florence, now Category 1, is making landfall in North Carolina with a life-threatening storm surge that pushed water inland for miles, and screaming winds that destroyed buildings in its path. AP reports.
Axios science editor Andrew Freedman:
Parts of the coast that have seen 112 mph wind gusts will continue to experience that loud, frightening roar this morning
This is a landmark event for he N.C. coast in terms of surge. I'm particularly
concerned about the inland waterways, where water is piling up with
nowhere to go, such as near New Bern, N.C. Models show more than 9 feet
of inundation is likely there.
Be smart, from Houston meteorologist Matt Lanza, who knows what slow-moving hurricanes can do:
"A little over a year ago, many of us sat transfixed as a hurricane slammed on the brakes approaching landfall in the Texas Coastal Bend. Here we are again. Last year Texas, this year the Carolinas."
5. Mueller has novel P.R. strategy: silence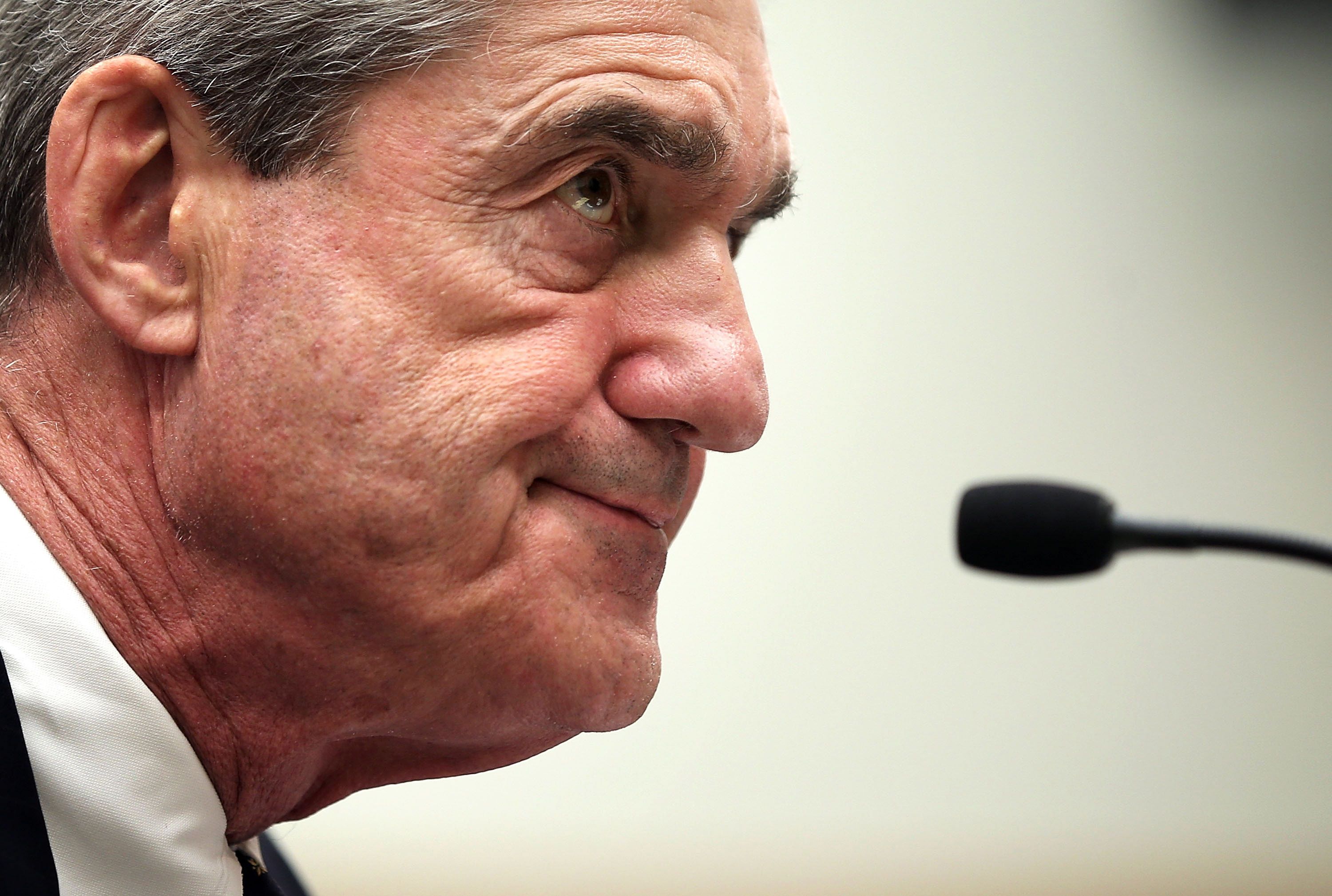 "Since his appointment 16 months ago as special counsel, Robert S. Mueller III has granted no interviews and held no news conferences," the N.Y. Times' Michael Grynbaum points out:
"[S]pecial counsels must follow Justice Department guidelines that restrict them from sharing details about pending investigations, making leaks a potential criminal matter."
"Mueller, 74, has special reason to be cautious, given a political climate where the subtlest remark can be blown into a scandal."
"Sean Hannity of Fox News made the 'Mueller Crime Family' a mantra for his nearly four million nightly viewers, the biggest audience in cable news."
Through all the attacks by Trump, Rudy and the right, "Mueller has held his tongue, save for a single statement on the day he was appointed: 'I accept this responsibility and will discharge it to the best of my ability.'"
Be smart: It's working. CNN reported this week: "Mueller's approval rating for handling the Russia investigation stands at 50% in a new CNN Poll conducted by SSRS. That outpaces ... Trump's approval rating on the matter by 20 points."
6. Abusive moguls helped shape culture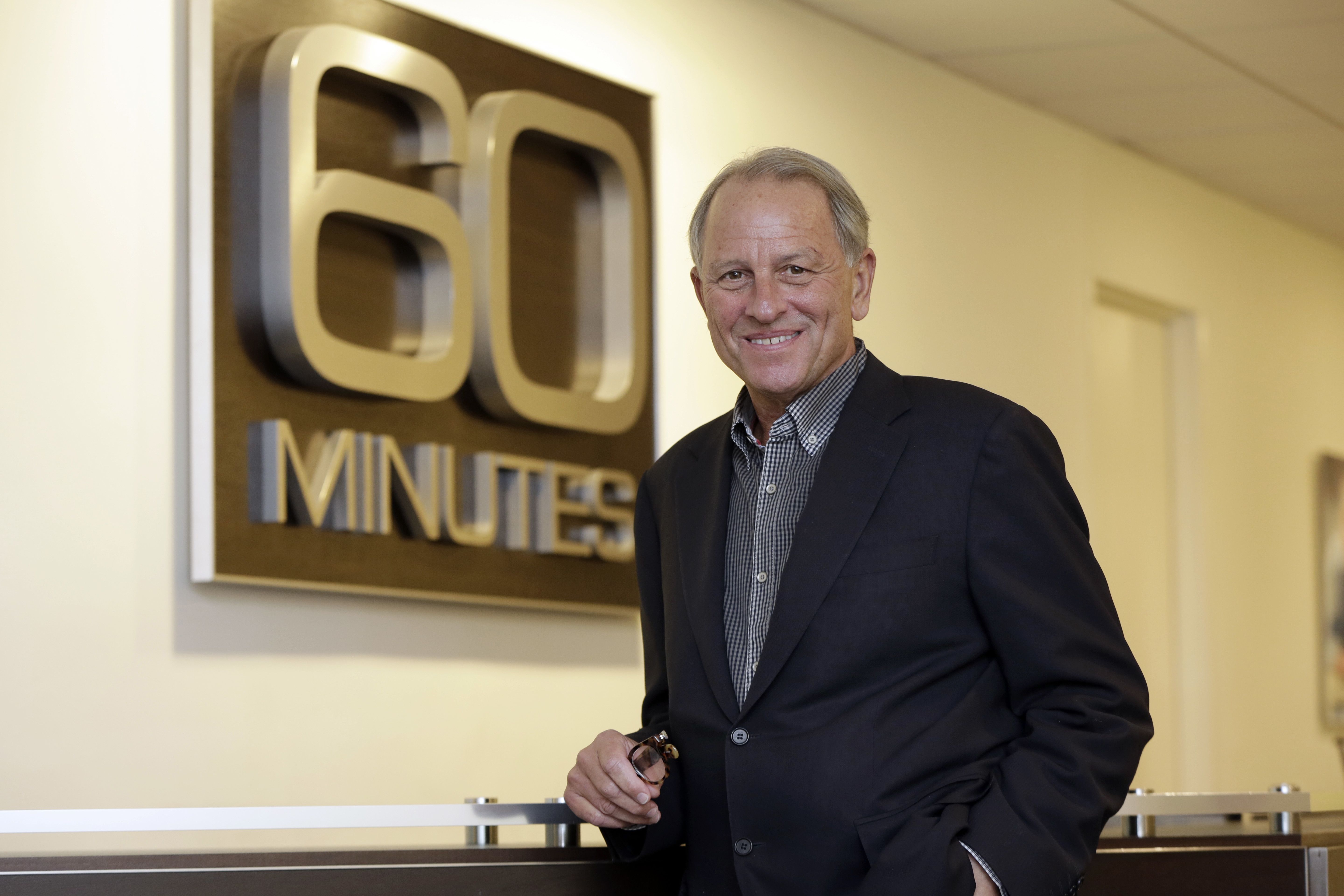 Big picture on #MeToo era ... The damage of a misogynistic culture extends "well beyond the primary victims whose careers ... were irrevocably derailed," WashPost media columnist Margaret Sullivan writes on the Style front ('Media men, and how the world sees women"):
"Such a culture spreads far and wide, reaching its tentacles into the society at large, influencing even such monumentally consequential things as who occupies the Oval Office and appoints the Supreme Court justices."
"It's impossible to know how different America would be if power-happy and misogynistic men hadn't been running the show in so many influential media organizations."
"[T]he myth of feminists as silly bra-burners dominated women's-movement coverage for years."
Be smart: "A media figure doesn't have to show up for a business meeting in an open bathrobe to do harm, though that strange practice has turned out to be something of a leitmotif."
7. Zuckerberg: "Facebook is better prepared"
Facebook will expand its fact-checking operation to vet photos and videos, Axios' Sara Fischer writes:
Why it matters: Advances in technology are making it easier to manipulate videos to make it appear that someone did or said something they did not. These "deepfakes" are the next frontier of misinformation.
Facebook: "[W]e're also continuing to invest in more technology and partnerships so that we can stay ahead of new types of misinformation in the future."
Mark Zuckerberg writes in a 3,200-word Facebook post, "Preparing for Elections":
"In 2016, we were not prepared for the coordinated information operations we now regularly face. But we have learned a lot since then and have developed sophisticated systems that combine technology and people to prevent election interference on our services."
"One of the important lessons I've learned is that when you build services that connect billions of people across countries and cultures, you're going to see all of the good humanity is capable of, and you're also going to see people try to abuse those services in every way possible."
8. The big takeaway from 2018 primaries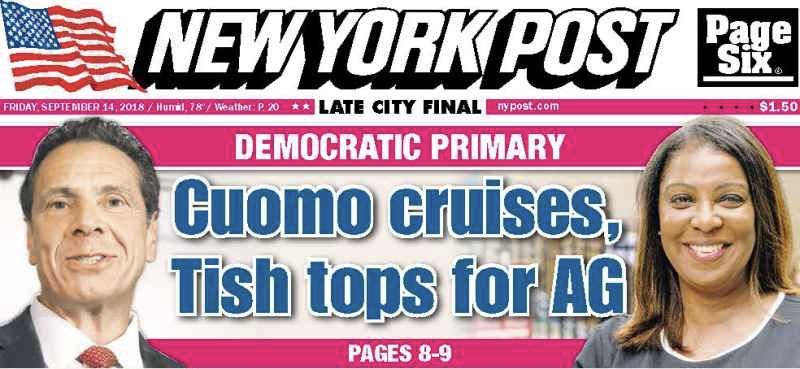 Yesterday's elections in New York ended the primary season with this big takeaway, AP's Bill Barrow writes: The political left has exploded since Trump's election.
"An avowed democratic socialist [Julia Salazar] upset a [state] House Democratic leader [Sen. Martin Dilan] in New York. A self-styled progressive knocked off a former congressman in a Nebraska swing district. An unabashed liberal won the Democratic nomination for governor in Georgia and is a serious contender for the fall race."
"Single-payer health insurance advocates came out on top and are aiming for House seats from West Virginia to California and in governor's races in Maryland and Florida."
Be smart ... Matt Bennett, co-founder of the centrist Third Way, emails:
With New York Gov. Andrew Cuomo's romp last night (32-point win over Cynthia Nixon), following big wins by Rhode Island Gov. Gina Raimondo and Sen. Tom Carper of Delaware, "one would think the storyline about how the far-left has been ascendant in Democratic primaries would fade. But, somehow, it hasn't, despite a mountain of evidence."
"The DCCC is 39 out of 41 in primaries (95% win rate)."
"[W]hile here have been some high-profile exceptions like [Alexandria] Ocasio-Cortez and [Ayanna] Pressley in Massachusetts, they are exceptions."
"The rule has been moderate Dems winning tough races and in position to win back the majority."
9. Firms pledge to tackle climate change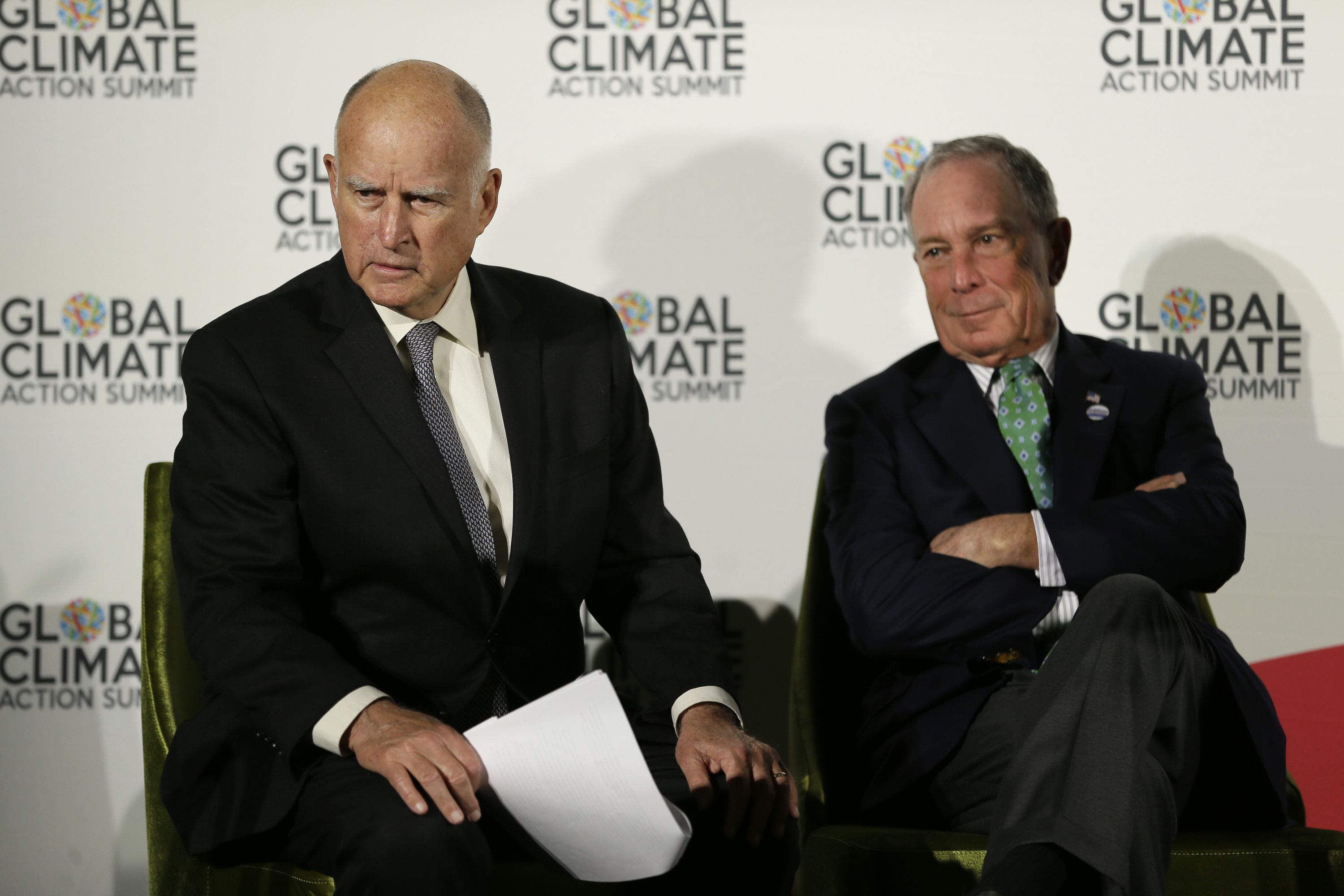 At California Gov. Jerry Brown's global climate summit in San Francisco this week, "some of the world's biggest companies are in the spotlight as partners in tackling global warming," the L.A. Times' Tony Barboza writes:
"The private sector has emerged as a growing player in the alliance of cities, states and other institutions pledging to uphold emissions cuts of the Paris climate agreement, which has been disavowed by President Trump."
"Industry giants such as McDonald's, Walmart and Levi Strauss & Co. are rallying behind climate action, announcing plans to expand their use of renewable energy and establish science-based targets to reduce greenhouse gases to help the nation reach its goals under the Paris pact."
10. 1 car thing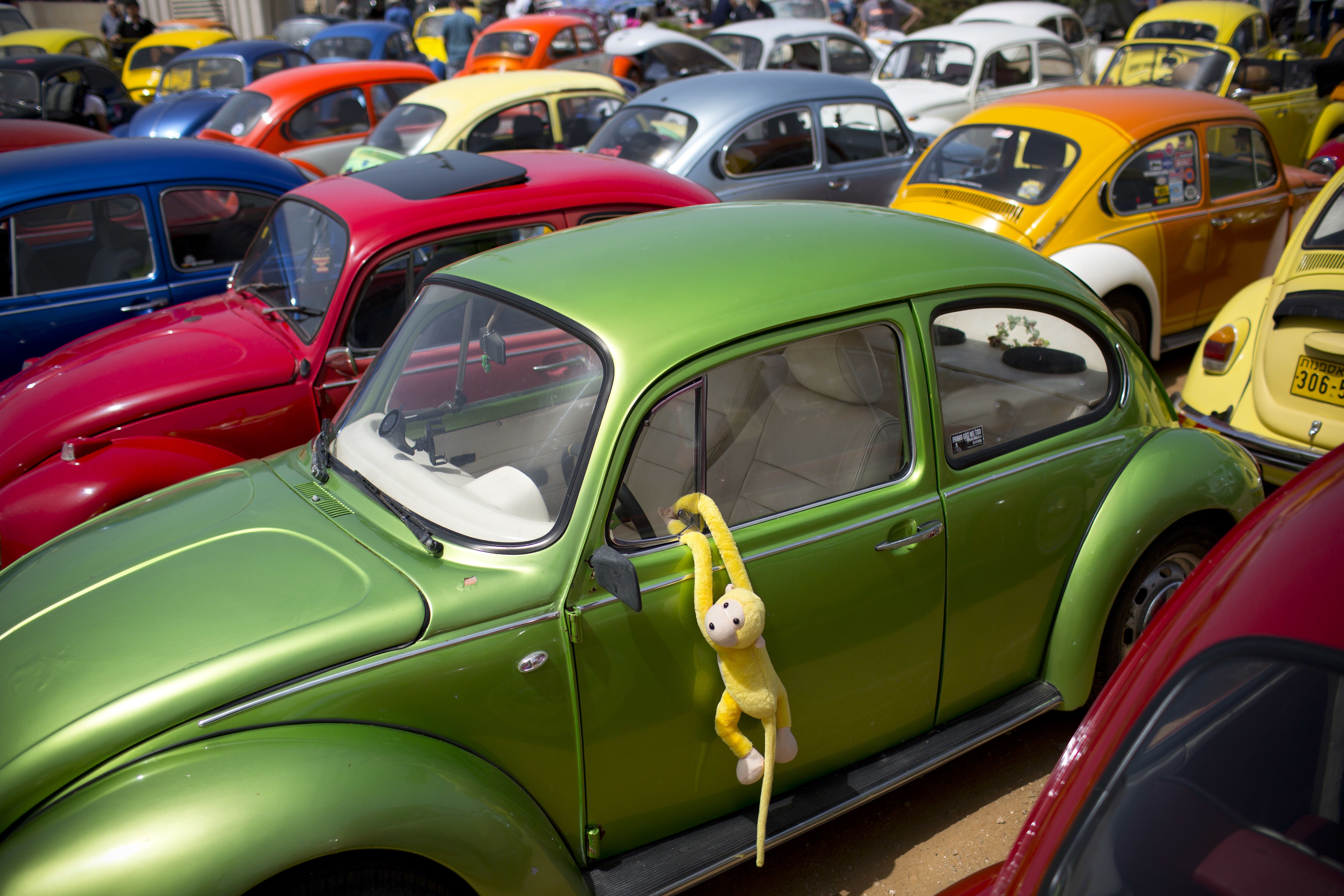 "VW to stop making iconic Beetle next summer," AP reports:
"After selling it on and off in the U.S. for nearly seven decades, Volkswagen has decided to squash its iconic Beetle."
"The company's American unit announced ... it would end global production of the third-generation bulbous bug in July."
"The last of the original bugs was produced in Puebla, Mexico, in 2003."
A revamped version sold 29,000 in 2012, "rising to just over 46,000 in 2013 but tailing off after that. Last year VW sold only 15,166."
P.S. "The company plans to roll out an electric version of the old Bus in 2022 called the I.D. Buzz."
Thanks for reading. See you all weekend on Axios.com.