Good Saturday morning! Tonight's the night phones fall back ... You know you've had a long week when you wake up and authoritatively command the Amazon speaker: "Axios, play classic rock!"
https://www.axios.com/newsletters/axios-am-b4c516e5-33bb-4813-9652-66b14ec91b53.html?chunk=0#story0
1 big thing: The "last Republican"?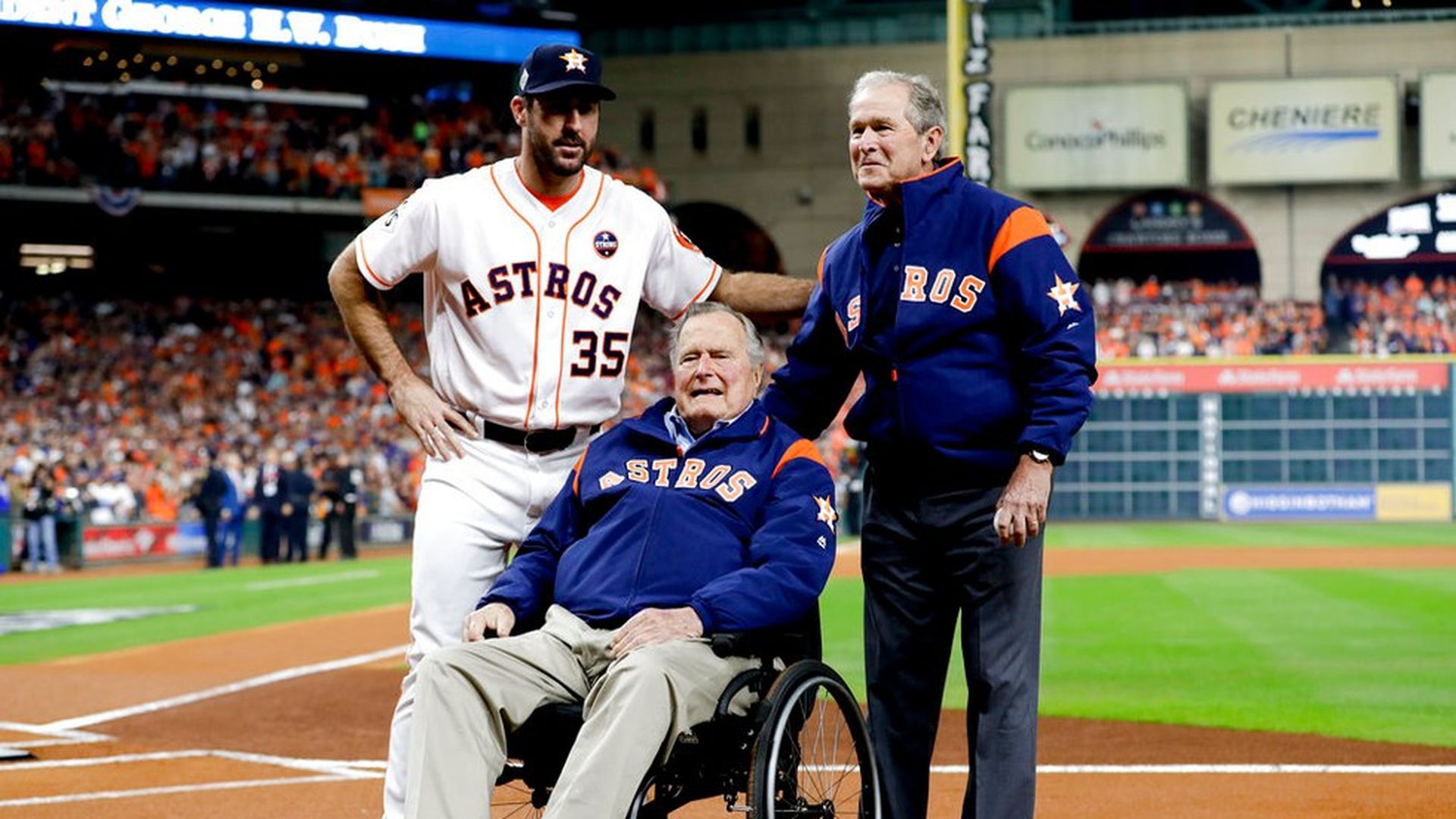 In May 2016, former President George H.W. Bush told Mark Updegrove, author of a forthcoming book about the two presidents Bush, when asked about Donald Trump: "I don't like him ... I don't know much about him, but I know he's a blowhard. And I'm not too excited about him being a leader."
And former President George W. Bush said: "This guy doesn't know what it means to be president."
Updegrove, a historian and former director of the LBJ Presidential Library in Austin, will be out Nov. 14 with "The Last Republicans: Inside the Extraordinary Relationship Between George H.W. Bush and George W. Bush." Early copies of the HarperCollins book are circulating:
The N.Y. Times' Peter Baker writes after talking to Updegrove: Both Bushes "worry that Mr. Trump has blown up a Republican Party that they spent two lifetimes building, a party that was once committed to removing boundaries to trade and immigration, promoting democracy and civil society and asserting a robust American leadership role in the world."
During last year's campaign, former President George W. Bush inspired the title, with its double meaning, when he told Updegrove: "I'm worried that I will be the last Republican president."
Updegrove told Peter: "At the time, I think he was concerned that Hillary Clinton would win ... But if you look at his values and those shared by his father and Ronald Reagan, they are very much in contrast to the values of the Republican Party today, in particular the platform that Donald Trump ran on."
Per CNN: "George H.W. Bush confirmed that he voted for Democratic nominee Hillary Clinton. George W. Bush told Updegrove he left the top of the ballot blank. 'I voted "None of the Above" for president, and Republican down ballot in 2016.'"
Be smart: George W. Bush is probably right that he was "the last Republican president," as his family sees the party. The "Republican Party" is now multiple ideological parties, awkwardly — and probably not sustainably — scrunched under one inadequate label.
The Dems, by the way, have the same phenomenon, as you'll see in the next item.
https://www.axios.com/newsletters/axios-am-b4c516e5-33bb-4813-9652-66b14ec91b53.html?chunk=1#story1
2. Hot doc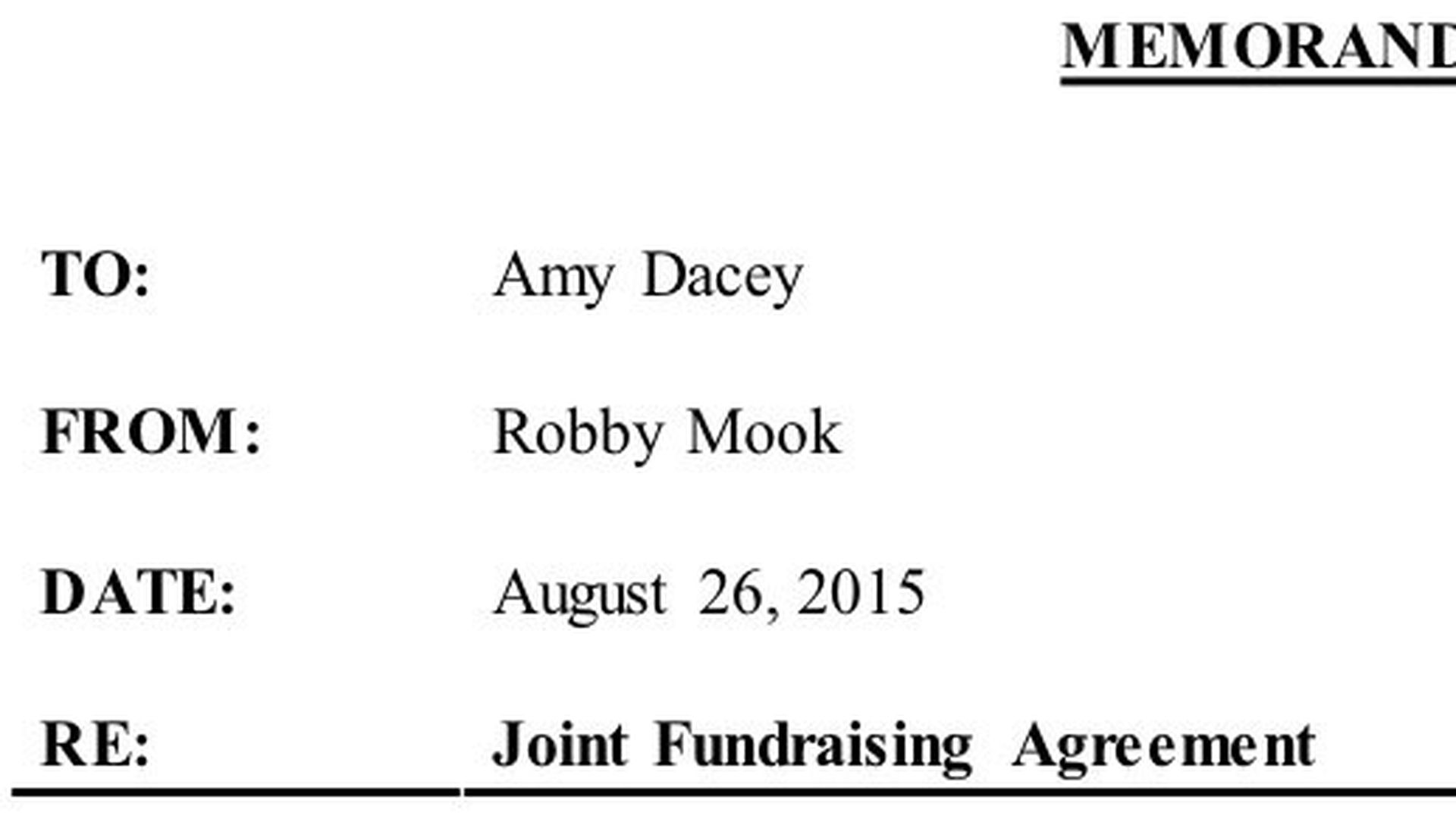 NBC's Alex Seitz-Wald posts a PDF of the Hillary-DNC agreement that caused an explosion of Dem-on-Dem fingerpointing after Donna Brazile exposed it in her book, "Hacks," out next Tuesday:
"The Democratic National Committee struck a deal with Hillary Clinton in 2015 that gave her campaign input on some party hiring and spending decisions, but required they be related only to preparations for the general election ... It also left the door open for other candidates to make similar arrangements."
Be smart: We're told by top Democrats that the revelation of the agreement, which left Bernie bros feeling vindicated and has given a handy new target to TrumpFox, means that no such agreements will be viable in 2020. The dynamics probably preclude it anyway — hard to see a clear-the-field frontrunner.
Brian Fallon, fomer Hillary campaign spokesman, told me, speaking for himself: "The agreement was not a secret, and the vote in the 2016 primary was certainly not rigged. But going forward, it may make sense to take another look at these joint fundraising agreements to ensure that the funds are properly set aside for use during the general election only, and to avoid any appearance issues."
https://www.axios.com/newsletters/axios-am-b4c516e5-33bb-4813-9652-66b14ec91b53.html?chunk=2#story2
3. Trump threatens Dems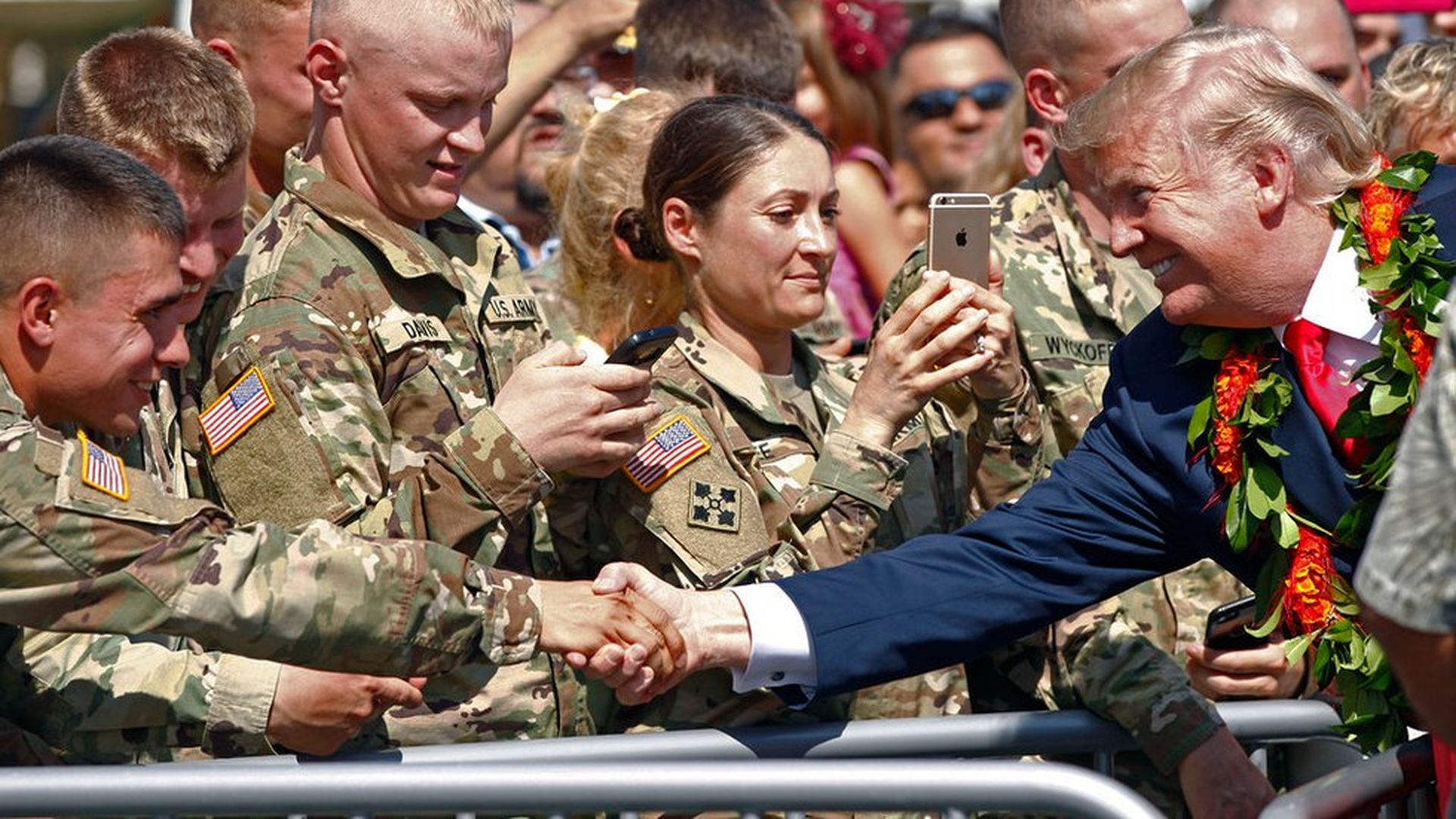 Five days before the anniversary of the election, Trump tweets: "Everybody is asking why the Justice Department (and FBI) isn't looking into all of the dishonesty going on with Crooked Hillary & the Dems ... New Donna B book says she paid for and stole the Dem Primary. What about the deleted E-mails, Uranium, Podesta, the Server, plus, plus."
More Trump: "People are angry. At some point the Justice Department, and the FBI, must do what is right and proper. The American public deserves it! ... The real story on Collusion is in Donna B's new book. Crooked Hillary bought the DNC & then stole the Democratic Primary from Crazy Bernie!"
"Pocahontas [Sen. Elizabeth Warren] just stated that the Democrats, lead by the legendary Crooked Hillary Clinton, rigged the Primaries! Lets go FBI & Justice Dept."
Why it matters ... N.Y. Times' Peter Baker: "The repeated assaults on law enforcement cross lines that presidents have largely observed since the Watergate era, raising questions about the separation of politics and the law. But as extraordinary as Mr. Trump's broadsides are, perhaps more striking is that investigators and prosecutors are so far ignoring the head of the executive branch in which they serve."
WashPost: "Friday's public pressure marks the latest attempt by Trump to use his presidential megaphone to direct the criminal justice process."
How it's supposed to work: "The Justice Department is a part of the executive branch; the attorney general is nominated by the president, as is the FBI director. So it is normal for the White House to direct the department and bureau on broad policy goals. But ... the Justice Department traditionally enjoys a measure of independence, especially when it comes to individual criminal investigations."
https://www.axios.com/newsletters/axios-am-b4c516e5-33bb-4813-9652-66b14ec91b53.html?chunk=3#story3
4. Pic du jour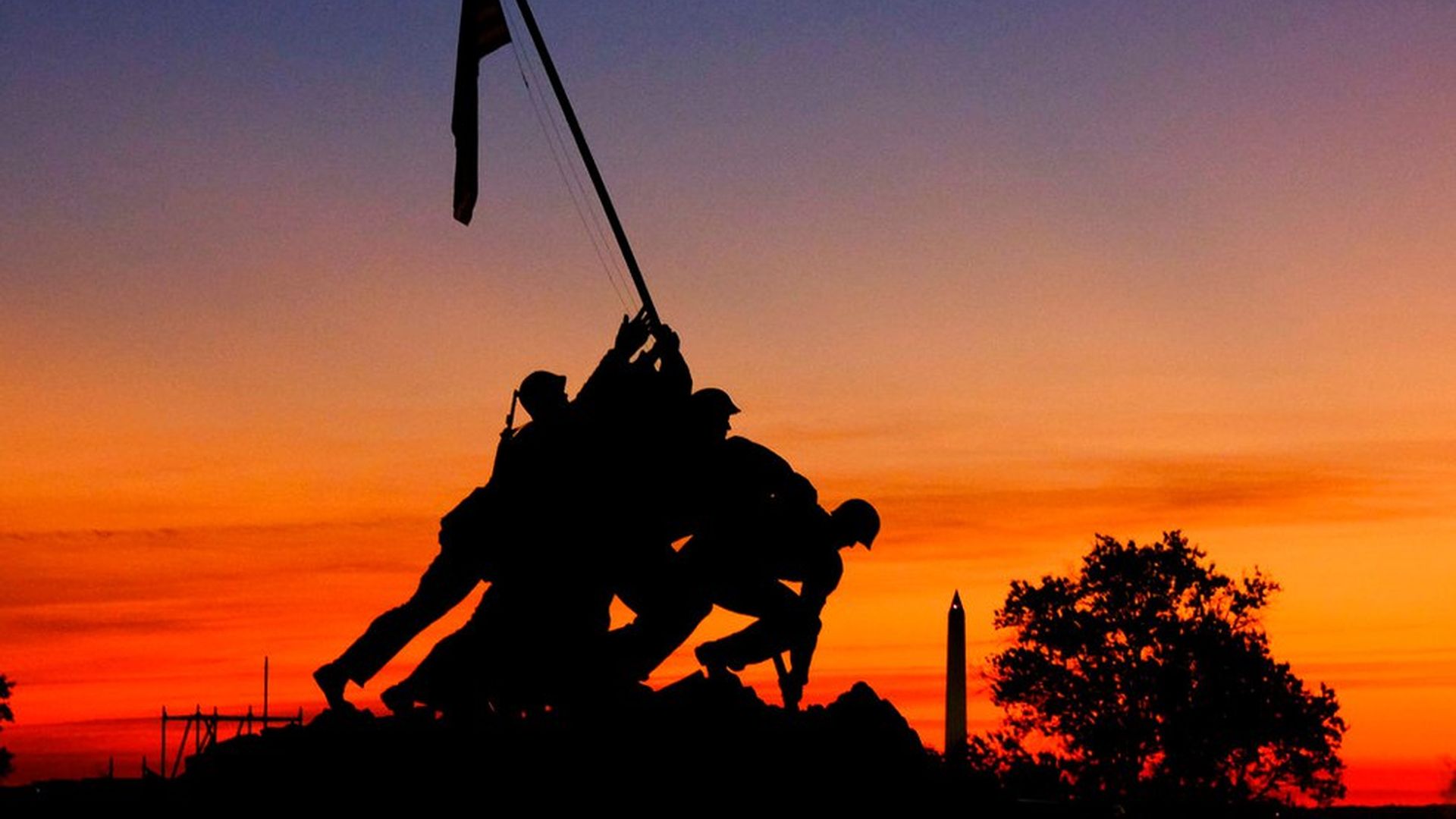 The rising sun turns the sky red and orange behind the U.S. Marine Corps War Memorial in Arlington, Va., yesterday.
https://www.axios.com/newsletters/axios-am-b4c516e5-33bb-4813-9652-66b14ec91b53.html?chunk=4#story4
5. 1 pig thing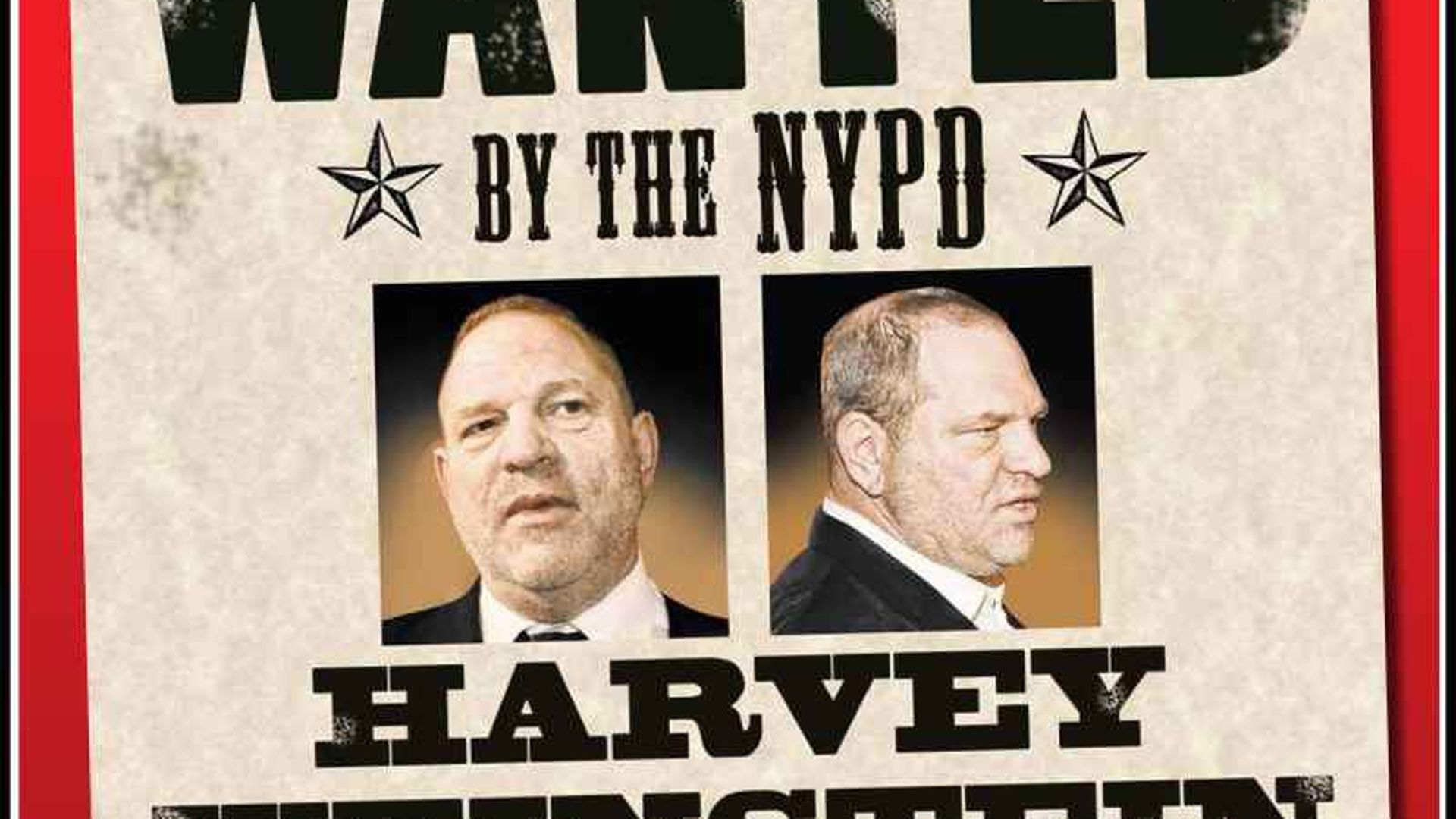 https://www.axios.com/newsletters/axios-am-b4c516e5-33bb-4813-9652-66b14ec91b53.html?chunk=5#story5
6. The other story that matters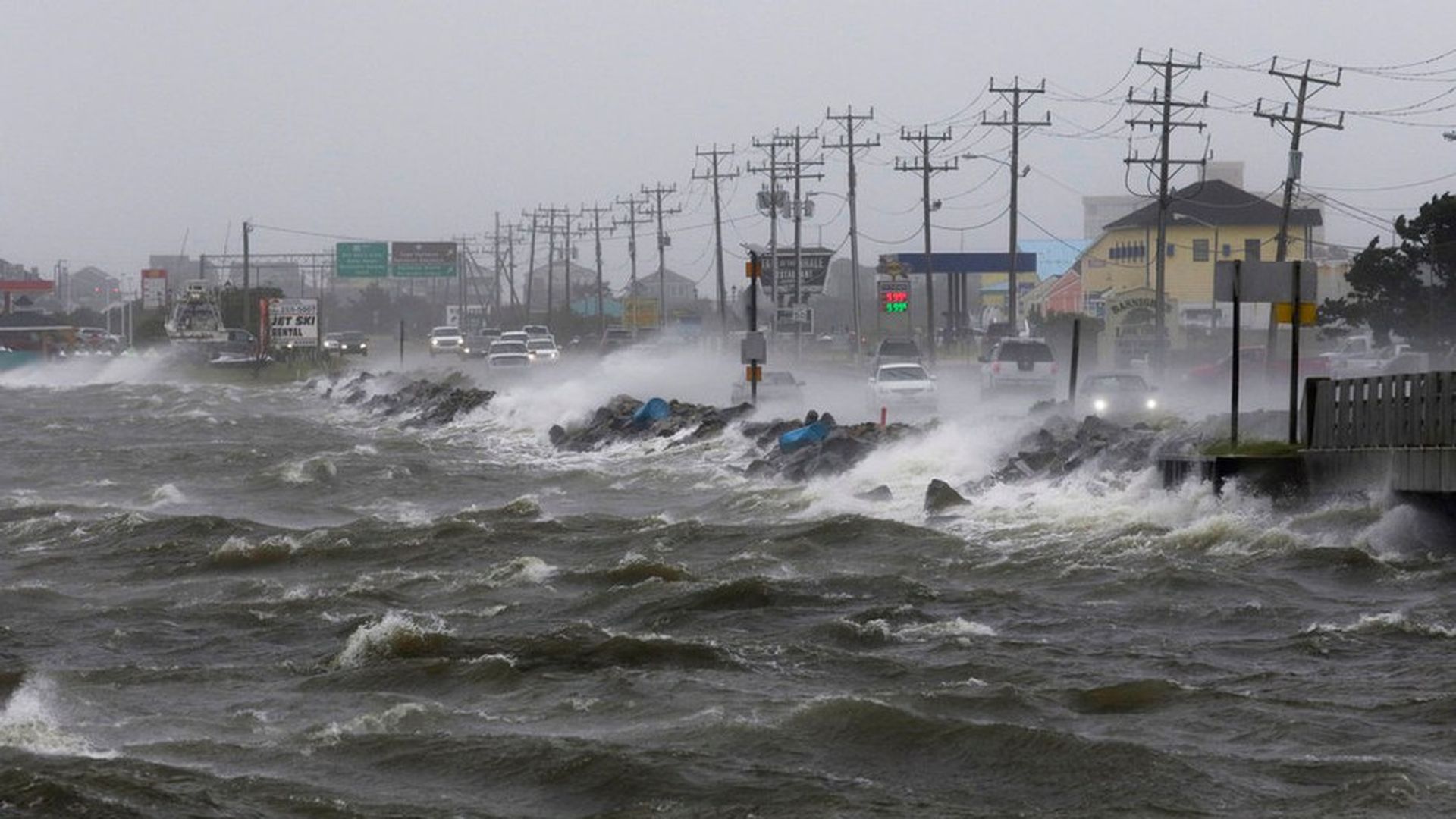 "Trump Administration Issues Report Confirming Global Warming," by Bloomberg's Joe Ryan:
Backstory: "Study began under President Obama and is mandated by Congress ... Scientists were concerned White House would alter findings."
What happened: "The Trump Administration released a sweeping federal climate report concluding that the Earth is warming at an alarming rate due to human activity."
Why it matters: "The report comes as the Trump administration has aggressively promoted fossil fuels and moved to dismantle federal programs to fight climate change."
N.Y. Times Quote of the Day ... Philip B. Duffy, president of the Woods Hole Research Center, on the release of a report from 13 federal agencies that says humans are the main cause of global warming, a stance contradicting much of the Trump administration's position:
"It begs the question, where are members of the administration getting their information from? They're obviously not getting it from their own scientists."
Go deeper: See the report.
https://www.axios.com/newsletters/axios-am-b4c516e5-33bb-4813-9652-66b14ec91b53.html?chunk=6#story6
7. Stat du jour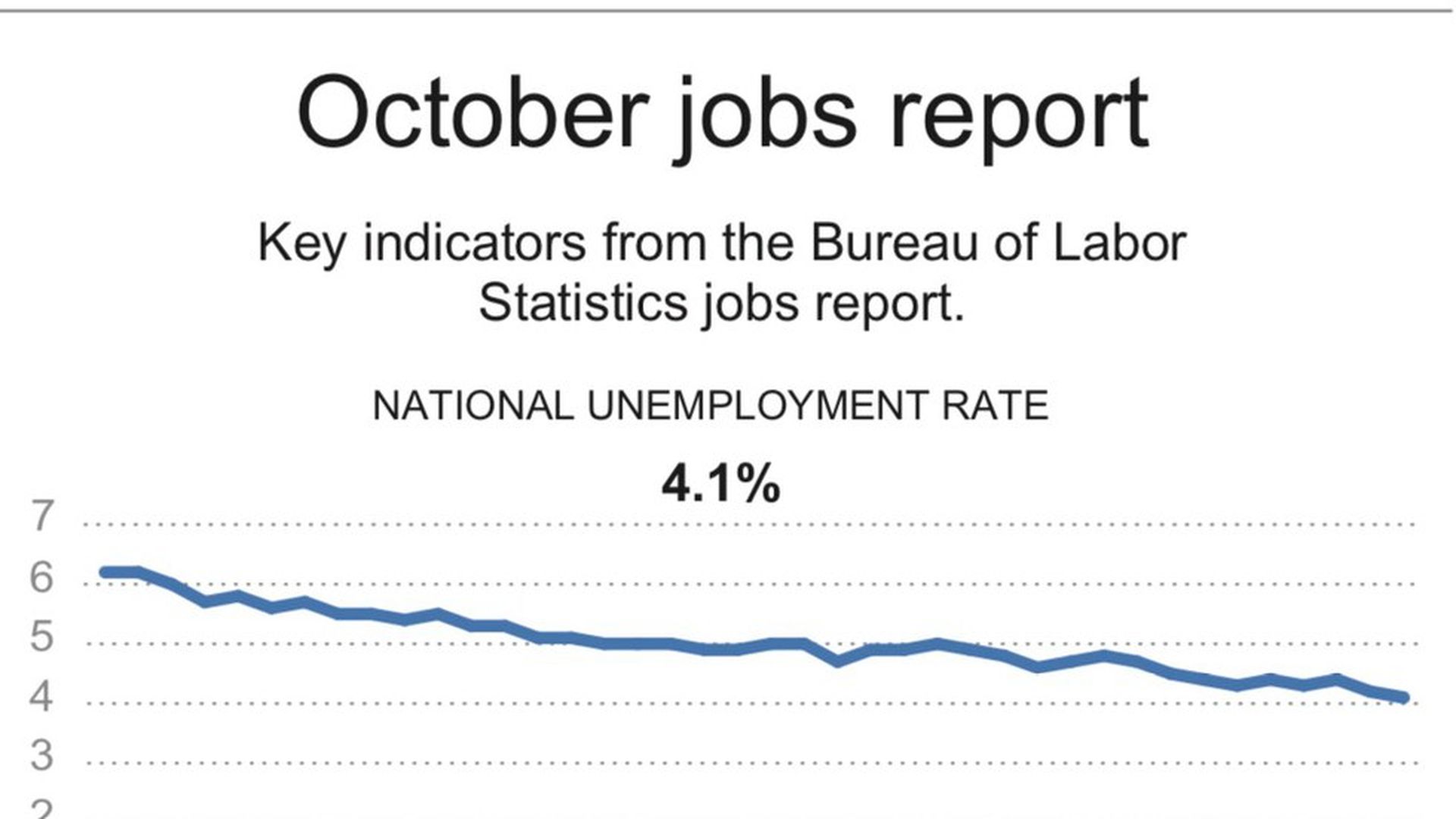 Wall Street Journal lead story: "[T]he unemployment rate fell 0.1 percentage point to 4.1% in October, its lowest level since December 2000, the height of a technology bubble."
"A broader measure of unemployment that includes Americans stuck in part-time jobs or too discouraged to look for work fell to 7.9% in October. The last time it was lower was in 2001."
Why it matters: "It's all a sign that new hires are rapidly become harder to find, a challenge aggravated by the aging workforce and retirement of many workers."
https://www.axios.com/newsletters/axios-am-b4c516e5-33bb-4813-9652-66b14ec91b53.html?chunk=7#story7
8. Tech's rough week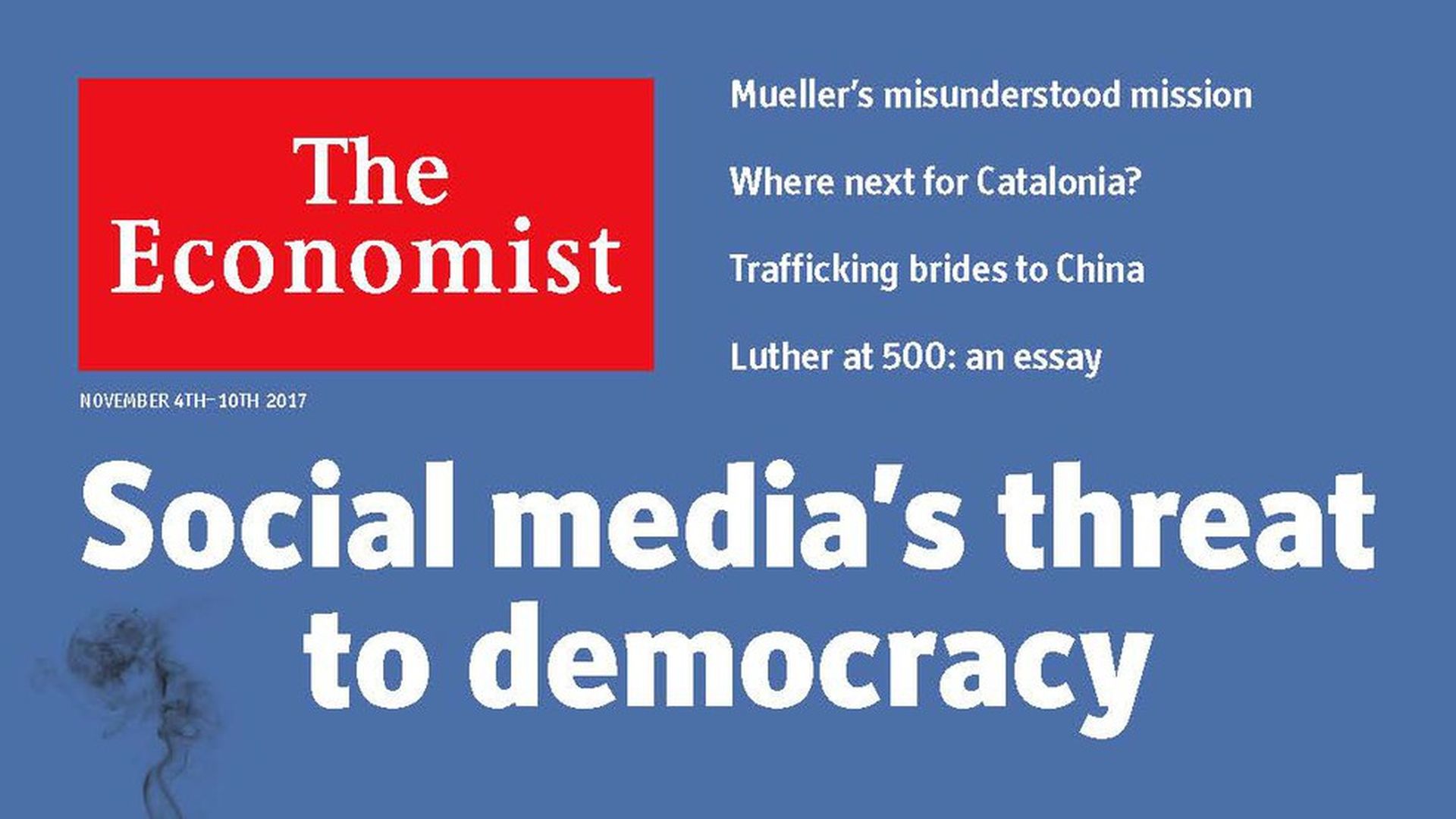 "Scandal, outrage and politics ... Facebook, Google and Twitter were supposed to save politics as good information drove out prejudice and falsehood. Something has gone very wrong" — The Economist's cover editorial:
The big picture: "From South Africa to Spain, politics is getting uglier. Part of the reason is that, by spreading untruth and outrage, corroding voters' judgment and aggravating partisanship."
Why it matters: "The use of social media does not cause division so much as amplify it. The financial crisis of 2007-08 stoked popular anger at a wealthy elite that had left everyone else behind. The culture wars have split voters by identity rather than class."
"[W]hereas Fox News is familiar, social-media platforms are new and still poorly understood. ... They make their money by putting photos, personal posts, news stories and ads in front of you. Because they can measure how you react, they know just how to get under your skin."
What's next: "The social-media companies should adjust their sites to make clearer if a post comes from a friend or a trusted source. ... Social media are being abused. But, with a will, society can harness them and revive that early dream of enlightenment."
https://www.axios.com/newsletters/axios-am-b4c516e5-33bb-4813-9652-66b14ec91b53.html?chunk=8#story8
9. 1 history thing: 100 years since Russian Revolution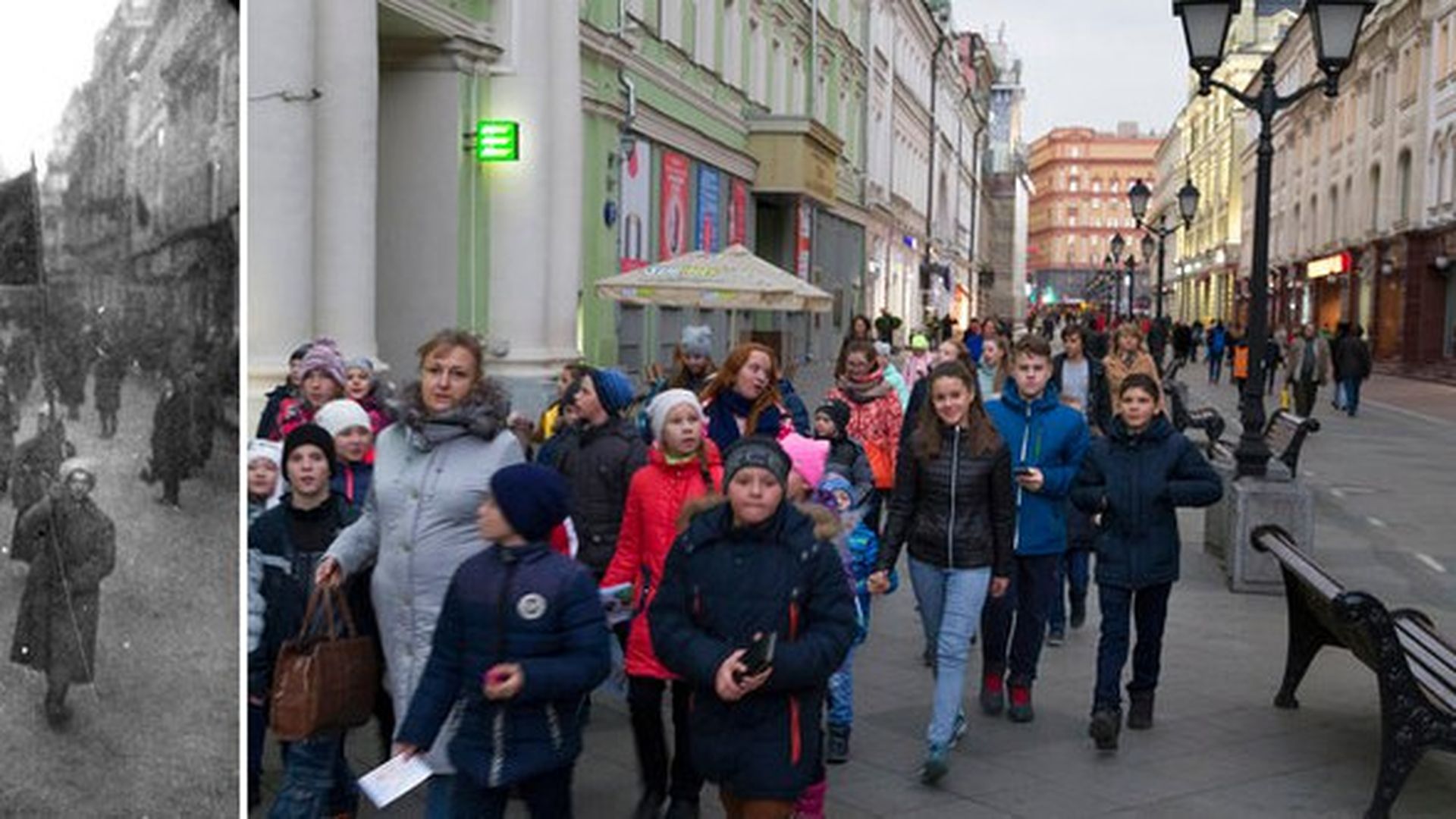 These photos show Nikolskaya street in downtown Moscow, photographed in October 1917 and in October 2017:
At left, armed soldiers march along Nikolskaya street towards the Kremlin, carrying a banner reading "Communism."
At right, school pupils walk along Nikolskaya street towards the Kremlin for a tour of Red Square.
See 6 more "Then and now" pics of Moscow and St. Petersburg, from AP.
https://www.axios.com/newsletters/axios-am-b4c516e5-33bb-4813-9652-66b14ec91b53.html?chunk=9#story9
10. 1 film thing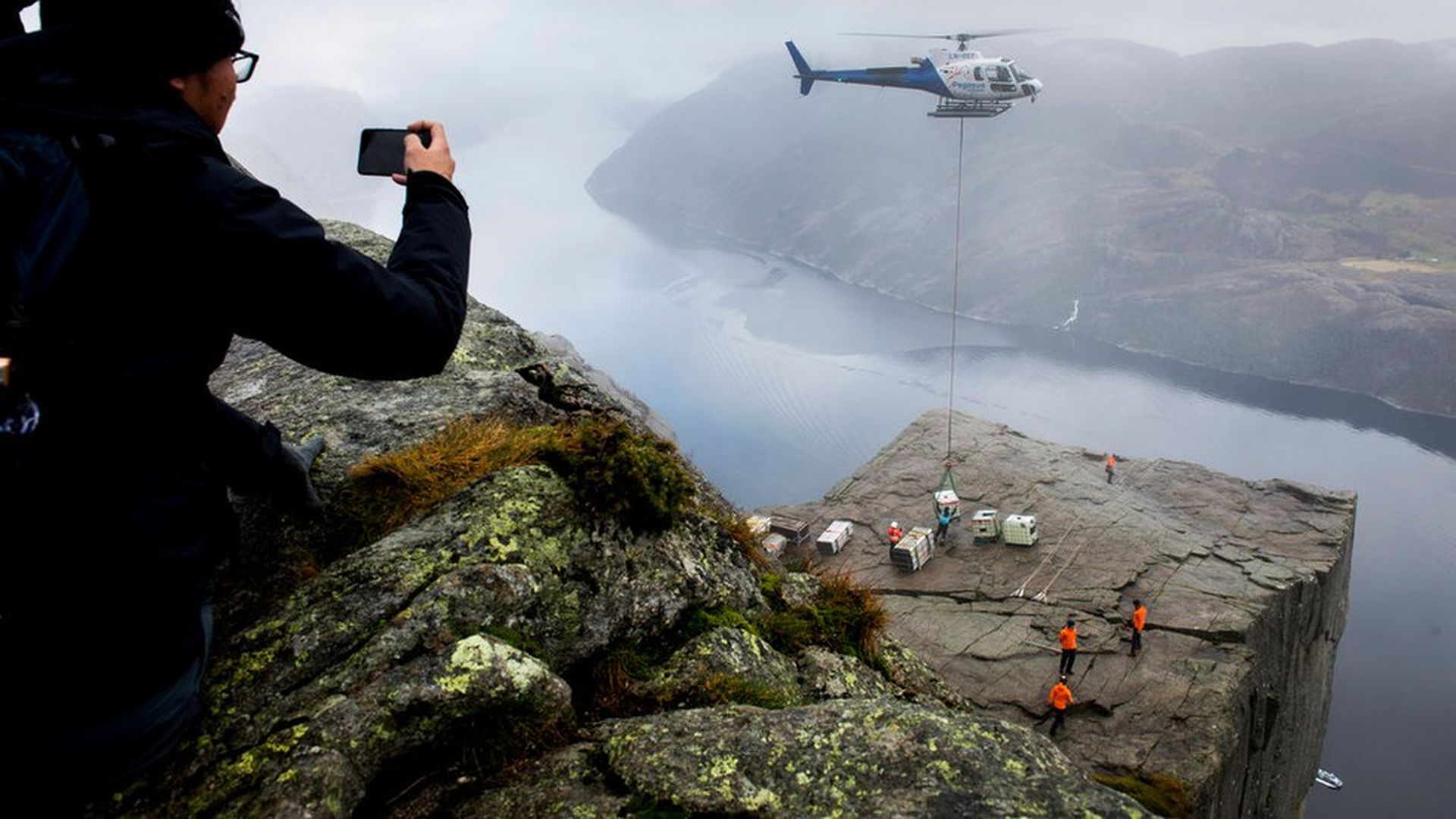 "Technical equipment to shoot 'Mission: Impossible 6' is being helicoptered into southern Norway's ... Preikestolen (Pulpit Rock), a plateau and spectacular viewpoint over Norway's mountainous landscape that sits ... nearly 2,000 feet ... above the Lysefjord," AP reports from Copenhagen:
"Tom Cruise, who broke his ankle while performing a stunt for the film during a London shoot, is expected to be on the Norway set." Cameras are to roll Tuesday through Thursday at Pulpit Rock.
"The Stavanger Aftenblad newspaper said [today] that an airplane with filming gear has landed at a nearby airport and a helicopter was seen hoisting containers onto Pulpit Rock.
"The film is scheduled to open in July 2018."