Axios AM
October 28, 2019
Good Monday morning. Today's Smart Brevity count: 1,412 words ... 5 minutes.
1 big thing: Baghdadi raid depended on ties Trump scoffs at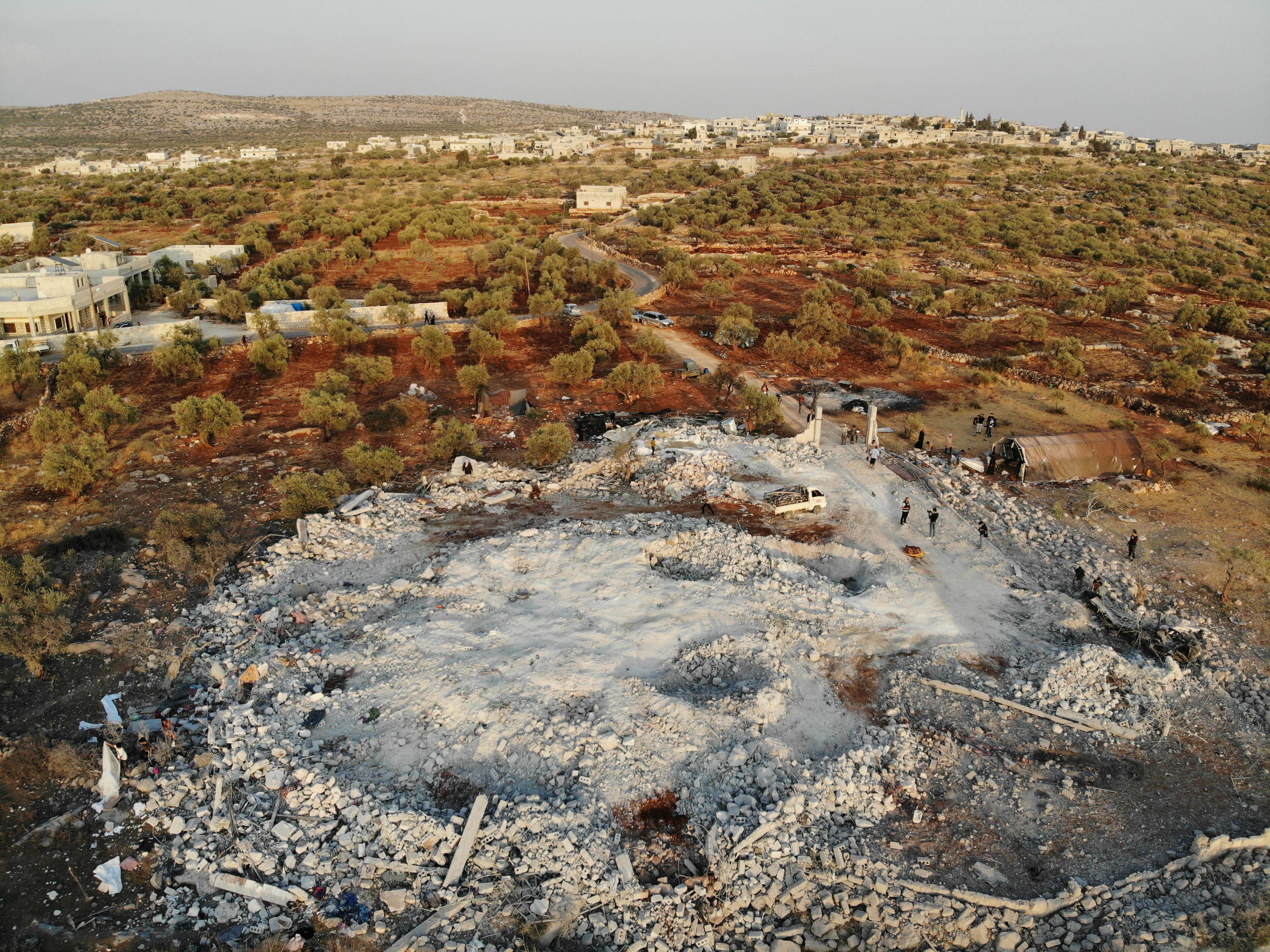 To kill Abu Bakr al-Baghdadi — arguably the most important national security accomplishment of the Trump presidency, along with wiping out ISIS' caliphate — the U.S. relied on many tools President Trump has spurned, Axios' Jonathan Swan writes.
The raid's planners needed a U.S. ground presence in Iraq, where the mission launched and returned.
They depended on intelligence from Kurdish partners on the ground.
And they needed America's engagement on the ground in Syria for intel and situational awareness.
Why it matters: Trump has said President George W. Bush's Middle East invasion was the greatest mistake in American history. Trump says he wants to end endless wars, and bring troops home from Syria. But events keep pulling him back.
The N.Y. Times reports that Trump's abrupt order three weeks ago for the U.S. withdrawal from Syria "disrupted the meticulous planning underway and forced Pentagon officials to speed up the plan for the risky night raid before their ability to control troops, spies and reconnaissance aircraft disappeared."
The bottom line: Trump chose the option that took out the leader of ISIS, who inspired thousands of terrorists in dozens of countries.
In an interview with Swan that aired last night on "Axios on HBO," Iraqi President Barham Salih — long known as a pro-American leader — warned that the U.S. withdrawal from Syria could increase the danger of an ISIS resurgence.
The nearly hour-long interview was conducted last Monday, in one of Saddam Hussein's old palaces.
Salih says he is no longer sure he can rely on the U.S. as an ally — and may be ready to "recalibrate" Iraq's relationship with other countries, including Iran and Russia.
Salih also said he was "worried" about war breaking out between the U.S. and Iran — and said Iraq can't afford to pick sides in such a war.
Brett McGurk — who served under President George W. Bush as senior director for Iraq and Afghanistan, and Presidents Obama and Trump as special envoy for the Global Coalition to Defeat ISIS — writes for WaPo:
"Trump deserves full credit for approving the operation that led to Baghdadi's demise. It's a shame the information that led to the raid apparently did not come to him before the tragic decision to abruptly pull U.S. Special Forces from much of northeastern Syria."
🥊 "Because everything we already know about the raid reinforces just how valuable, unique and hard-fought the small and sustainable American presence there had been."
What's next ... David E. Sanger writes in the N.Y. Times: "[W]hile the raid achieved its goal, it did little to resolve the question of whether Mr. Trump's instinct for disengagement will create room for new strains of violent radicalism that he and his successors will be forced to clean up."
2. Two photos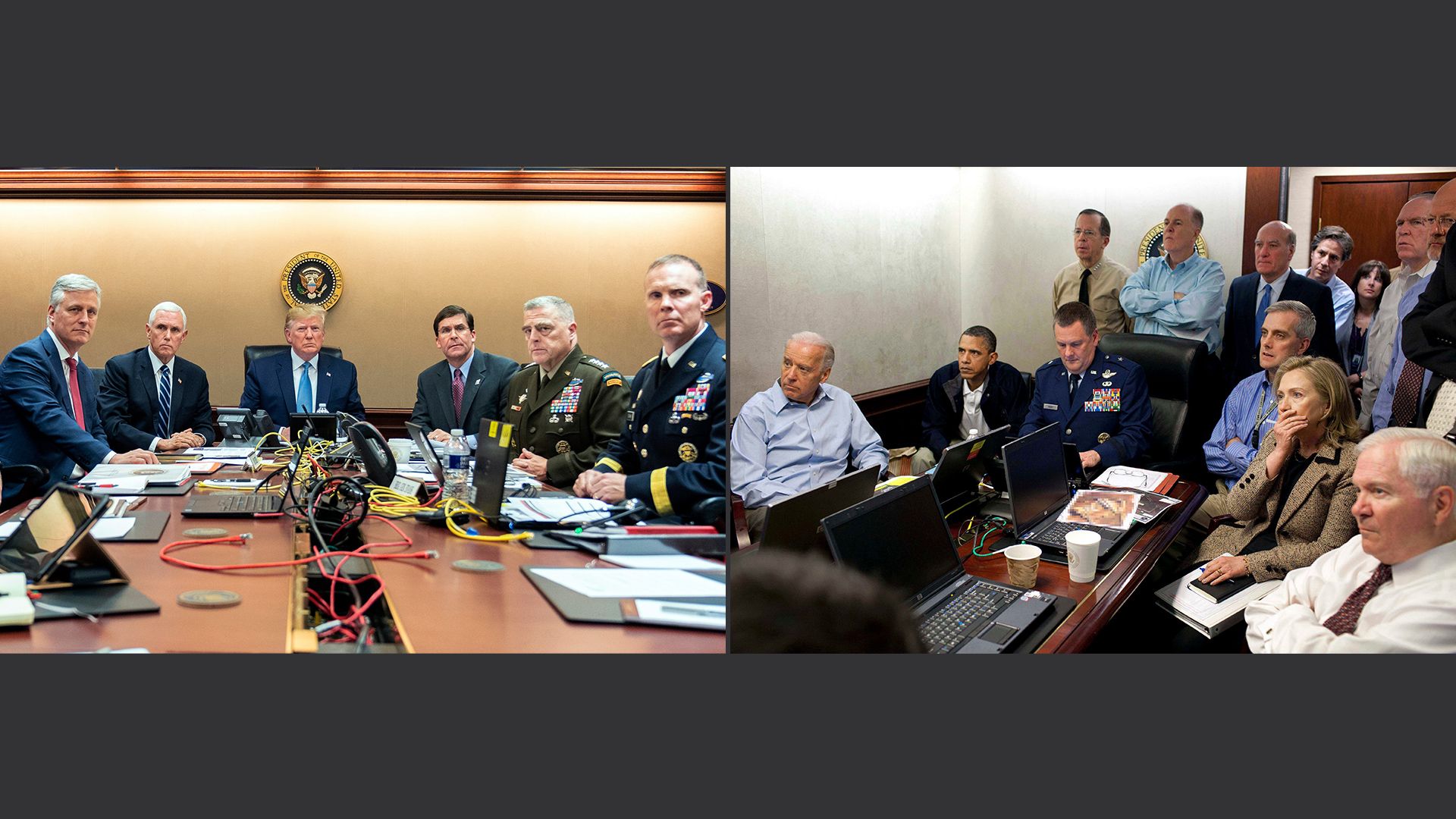 Photos taken in the White House Situation Room during the killings of ISIS leader Abu Bakr al-Baghdadi on Saturday and Osama bin Laden eight years earlier capture the vastly different styles of two American presidents, AP's Aamer Madhani writes.
Saturday's photo shows six men, all in dark suits or military uniform, posing for the camera and staring straight forward with stern expressions. Also shown are national security adviser Robert O'Brien; Vice President Pence; Defense Secretary Mark Esper; Gen. Mark Milley, chairman of the Joint Chiefs of Staff; and Brig. Gen. Marcus Evans, the Pentagon's deputy director for special operations and counterterrorism.
In the unposed scene from May 2011, crackles with suspense: 13 faces are fully or partially visible in the crowded tableau. Obama, wearing a polo shirt and light coat, is perched on a folding chair, slightly off center.
Why it matters: The Trump photo, with the president in the center and looking severe, is more formal and captures the current president's interest in conveying the power and grandeur of his office.
It also reflects the tight circle of advisers from whom he solicits advice.
3. How the raid went down: "As though you were watching a movie"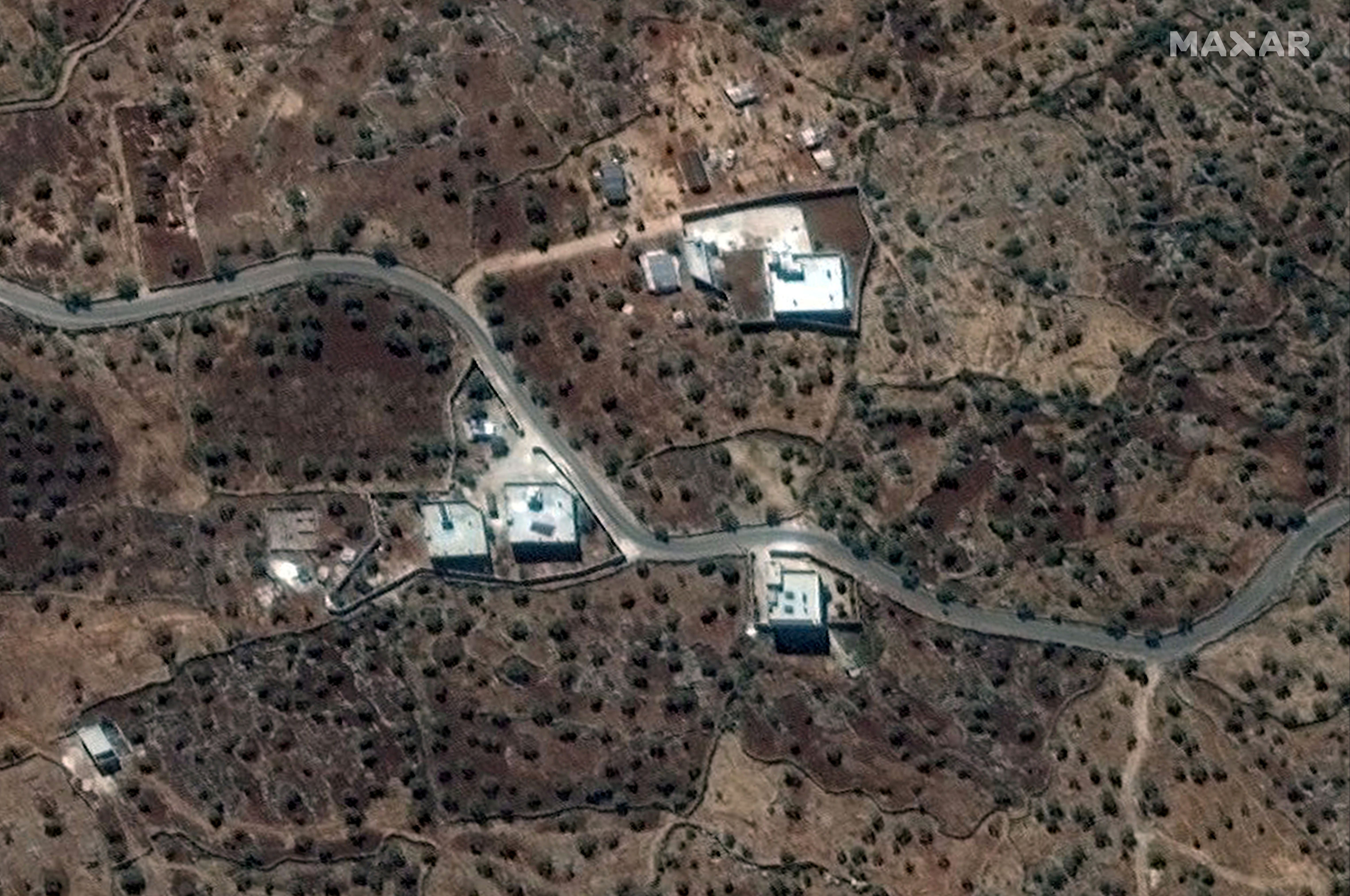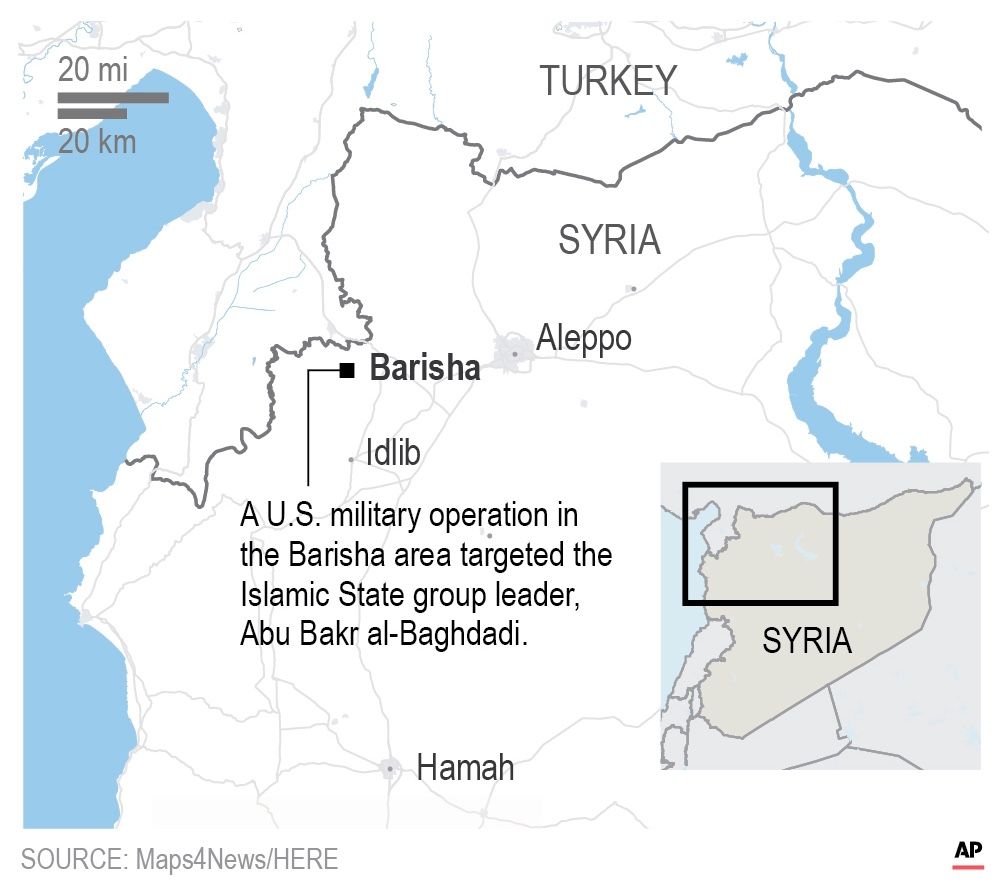 During a 48-minute White House appearance that was mostly Q&A (taking up most of the first hour of the Sunday shows), President Trump recounted the raid in what ABC's Terry Moran called "vivid and visceral and contemptuous detail":
"When we landed with eight helicopters, a large crew of brilliant fighters ran out of those helicopters and blew holes into the side of the building, not wanting to go through the main door because that was booby-trapped."
"This was the big one. ... Osama bin Laden was very big, but Osama bin Laden became big with the World Trade Center.  This is a man who built a whole, as he would like to call it, 'a country,' a caliphate, and was trying to do it again."
"He died after running into a dead-end tunnel, whimpering and crying and screaming all the way.  The compound had been cleared by this time, with people either surrendering or being shot and killed."
"He died like a dog. He died like a coward."
"I got to watch it, along with General Milley, Vice President Pence, others, in the Situation Room. And we watched it so clearly. ... I don't want to say how, but we had absolutely perfect — as though you were watching a movie."
"We were getting full reports on literally a minute-by-minute basis. 'Sir, we just broke in.' 'Sir, the wall is down.' ... 'Sir, two people are coming out right now. Hands up.'"
4. Pic du jour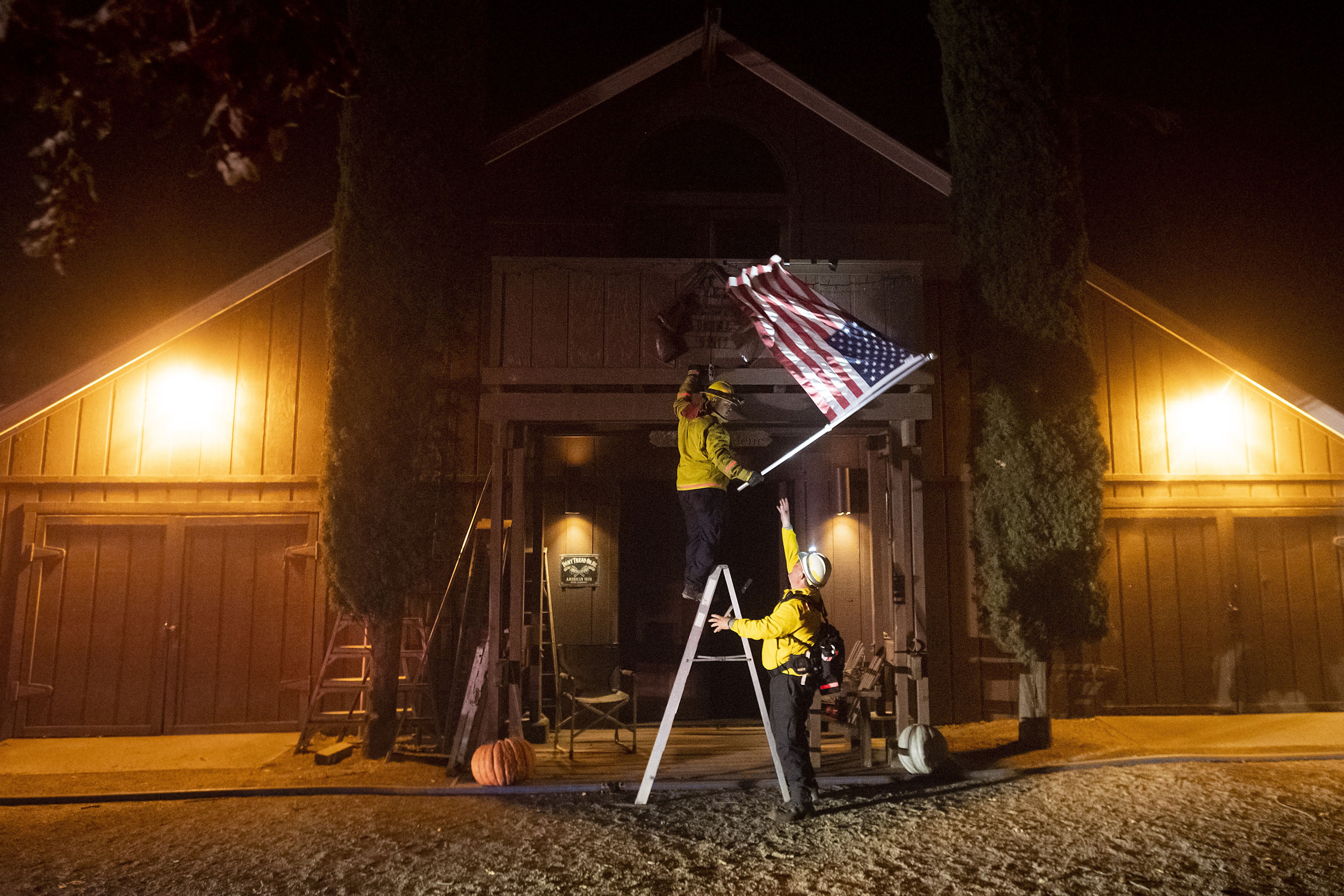 Firefighters from Dry Creek Rancheria in Sonoma County, Calif., remove an American flag as the Kincade Fire bears down yesterday.
Up to 2.8 million Californians, including 1.3 million in the Bay Area, "had no power [yesterday] as Pacific Gas and Electric Co. implemented its largest-ever blackout to prevent wildfires during a fierce windstorm." (S.F. Chronicle)
The surging wildfires across the state prompted Gov. Gavin Newsom to declare a state of emergency in order to deploy "every resource available" to fight the blazes. (L.A. Times)
5. Young Americans embrace socialism
By the numbers: 50% of millennials and 51% of Generation Z have a somewhat or very unfavorable view of capitalism, according to a new YouGov/Victims of Communism Memorial Foundation survey of more than 2,000 Americans 16 years and older, writes Axios' Stef Kight.
Why it matters: Nearly half of Gen Z and millennial respondents said they felt the U.S. economy worked against them — more than other generations.
They've grown up in a capitalist country where economic inequality has continued to climb.
6. Pay raises slow in weakening economy
Just one-fifth of the economists surveyed by the National Association for Business Economics said their companies have hired additional workers in the past three months, AP's Christopher Rugaber reports.
That is down from one-third in July.
A broad measure of job gains fell to its lowest level since October 2012.
💰 Perhaps because of concerns over a weakening economy, businesses are less likely to offer higher pay, even with unemployment at a 50-year low.
Just one-third of economists said their firms had lifted pay in the past three months, down from more than half a year ago.
7. Trouble for offshore wind boom
A massive planned offshore wind farm near Atlantic City, N.J., from Danish company Ørsted could power a half-million homes, but the project is delayed as the Trump administration conducts a broad review of the impacts of such proposals, writes Axios' Amy Harder in her "Harder Line" column.
Why it matters: With New England and Mid-Atlantic states enacting aggressive clean-energy policies, offshore wind in the United States promises to help combat climate change and create jobs.
Ørsted's U.S.-based CEO, Thomas Brostrøm, told Amy in an interview for "Axios on HBO" that the review is just a "speed bump," calling the overall project "too big to fail" given planned investments of $70 billion over the next decade.
8. 📦 Packages snarl NYC
Traffic is slowing and neighborhoods are being transformed to hold logistics hubs as New York City tries to cope with the daily delivery of 1.5 million packages, write the N.Y. Times' Matthew Haag and Winnie Hu.
Why it matters: "The immense changes in New York have been driven by tech giants, other private businesses and, increasingly, by independent couriers, often without the city's involvement, oversight or even its awareness."
9. Saluting John Conyers, longest serving black congressman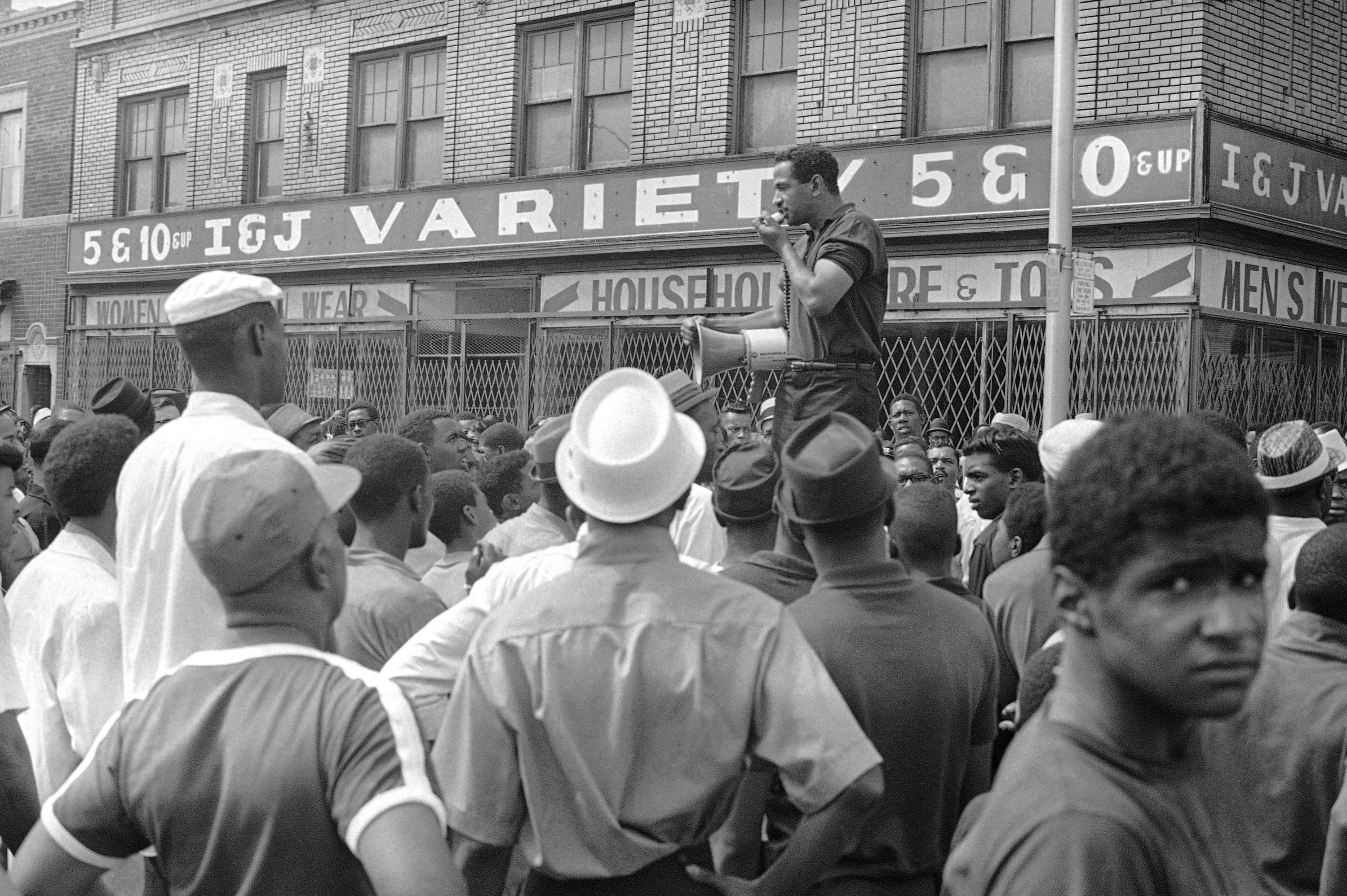 "Former U.S. Rep. John Conyers, a civil rights icon who during five decades in Congress co-founded the Congressional Black Caucus and pushed to establish a national holiday to honor the Rev. Martin Luther King Jr., died Sunday of natural causes at the age of 90," the Detroit Free Press reports.
Why it matters: "Conyers' tenure was a remarkable 53-year-run during which the lawmaker, the son of a well-known labor lawyer in Detroit, compiled a near-record legacy of civil rights activism, longevity and advocacy for the poor and underprivileged."
10. 1 ⚾ thing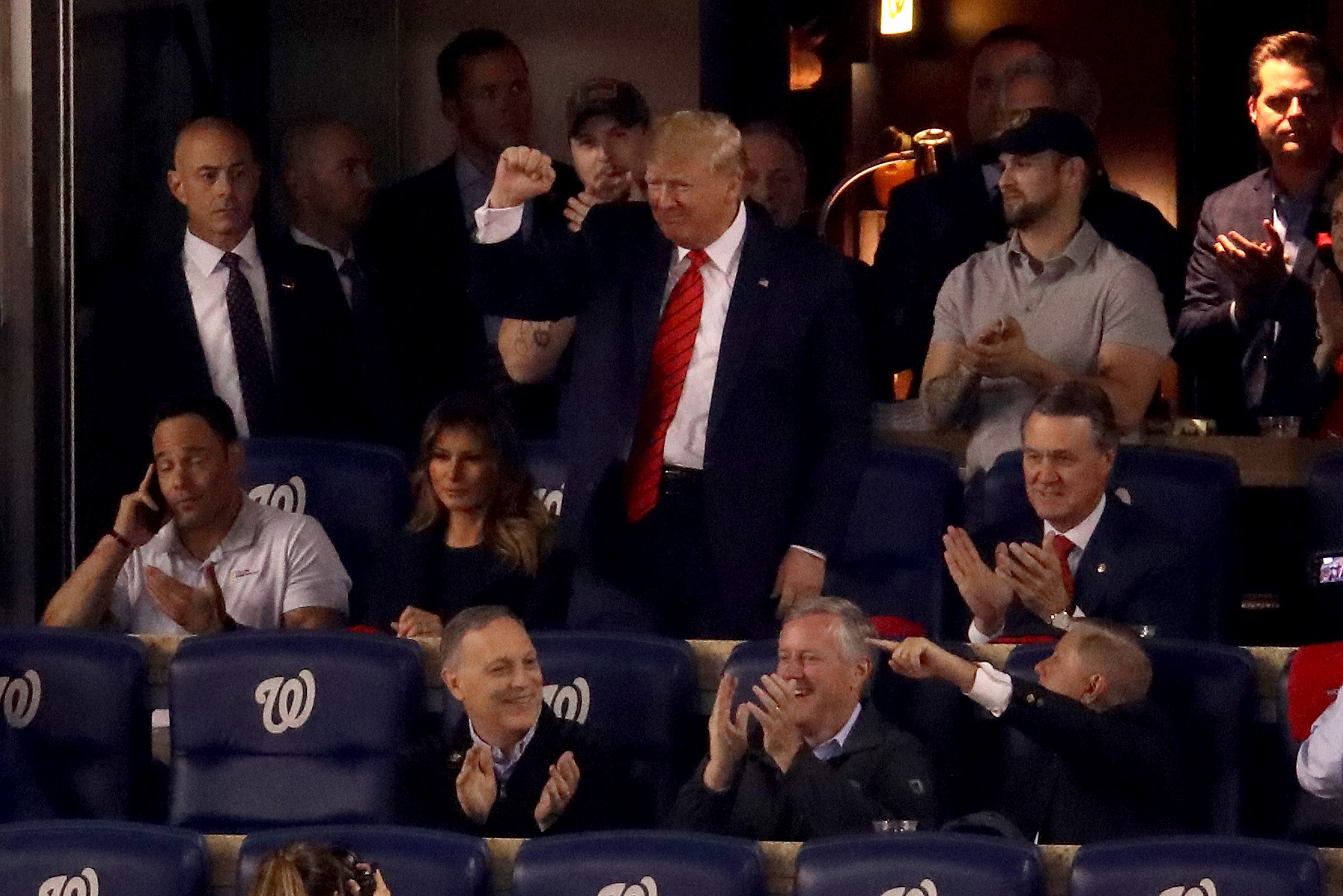 Boos and chants of "Lock him up!" greeted President Trump last night at Game 5 of the World Series at Nationals Park.
Below ... Chef, philanthropist and Trump critic José Andrés threw out the ceremonial first pitch.