https://www.axios.com/newsletters/axios-am-b11fe06c-38a9-4277-83e2-3f5ed6f7bae8.html?chunk=0#story0
1 big thing: Bannon plots Fox rival, global expansion
Unshaven and working from home in cargo shorts as he moves into "Bannon the Barbarian" mode, Steve Bannon is thinking bigger than Breitbart.
Axios' Jonathan Swan hears Bannon has told friends he sees a massive opening to the right of Fox News, raising the possibility that he's going to start a network.
Bannon's friends are speculating about whether it will be a standalone TV network, or online streaming only. Before his death in May, Roger Ailes had sent word to Bannon that he wanted to start a channel together.
Bannon loved the idea: He believes Fox is heading in a squishy, globalist direction as the Murdoch sons assume more power.
Now he has the means, motive and opportunity: His chief financial backer, Long Island hedge fund billionaire Bob Mercer, is ready to invest big in what's coming next, including a huge overseas expansion of Breitbart News.
On Day 1, Breitbart declared he's taking his West Wing infighting to the outside, telling Bloomberg Businessweek's Josh Green that he's "going to war for Trump against his opponents — on Capitol Hill, in the media, and in corporate America."
The reality is that Bannon will go nuclear on former colleagues he calls "West Wing Democrats": economic adviser Gary Cohn, Jared and Ivanka ("Javanka," as he calls them) and Deputy National Security Adviser Dina Powell.
The revved-up Breitbart operation is also likely to target Speaker Ryan, as it did before Trump.
Why it matters: The country's national political conversation is about to get even uglier, if you can imagine. It's going to be dark, and toxic, with a fight on the right that may be more bitter and personal than hostilities between Republicans and Democrats.
Bannon signaled his subtle approach in a for-the-ages Weekly Standard interview: "The Trump presidency that we fought for, and won, is over … I feel jacked up … Now I'm free. I've got my hands back on my weapons. … I am definitely going to crush the opposition. There's no doubt. I built a f***ing machine at Breitbart. And now … we're about to rev that machine up."
His restoration as executive chairman of Breitbart News was announced less than five hours after the White House confirmed his "mutually agreed" departure as chief strategist. (Translation: He was told he wasn't long for the West Wing.)
Bannon made a "conqueror's return" to a Breitbart editorial conference call last night, and laid out the battle ahead for the staff.
Josh Green — author of "Devil's Bargain," the book that helped get Bannon fired because Trump hates sharing the spotlight — tweeted: "Bannon sounded like he'd just consumed 40 Red Bulls … At least [he] didn't say he's leaving to spend more time with his family."
Around the corner: Expect Bannon to use Breitbart to engage aggressively in September's policy fights. Watch for Bannon to pressure Trump to veto any government funding bill that doesn't include money to fund the building of that big, beautiful wall he promised along the southern border with Mexico.
https://www.axios.com/newsletters/axios-am-b11fe06c-38a9-4277-83e2-3f5ed6f7bae8.html?chunk=1#story1
2. Bannon's final days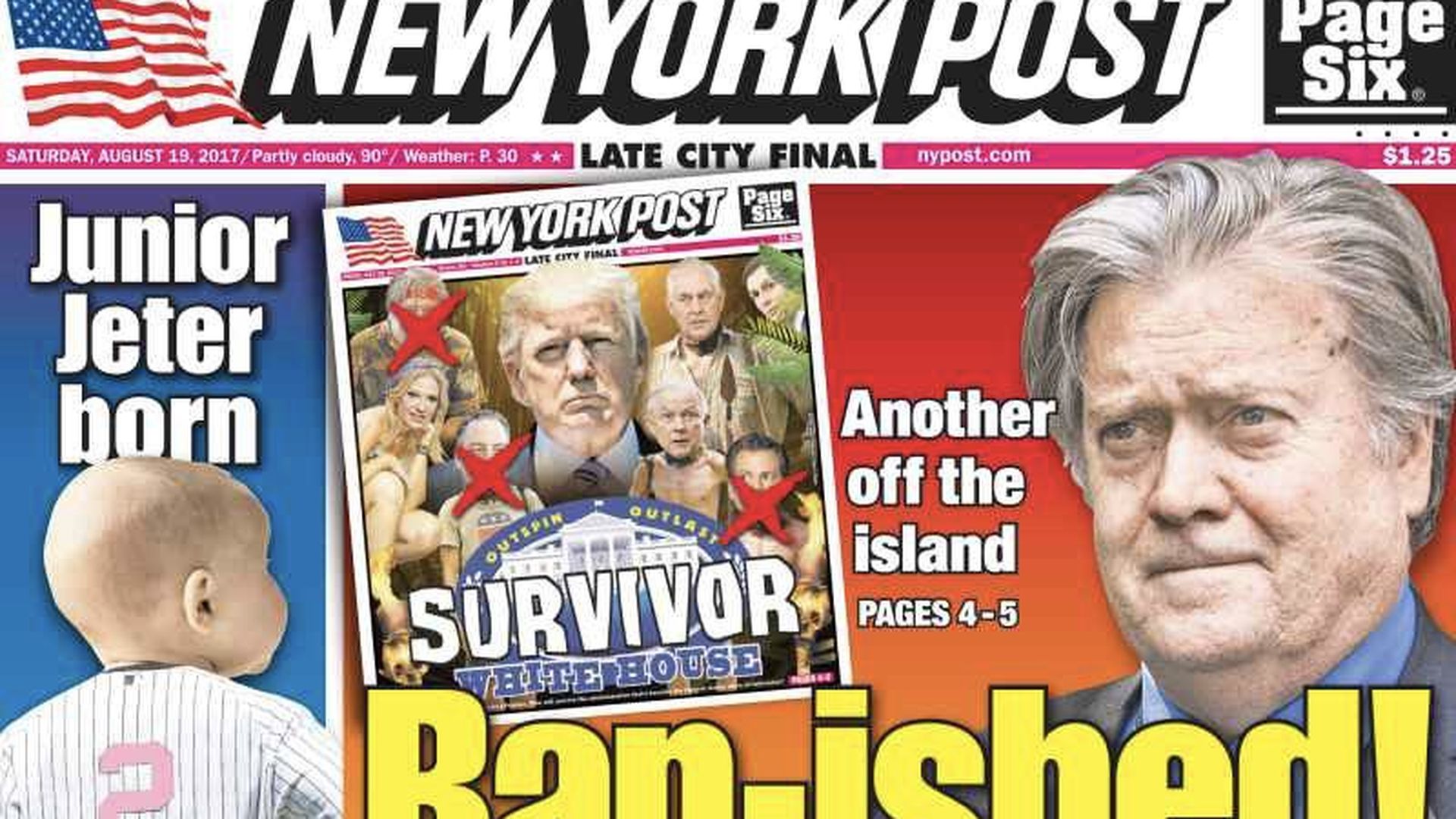 Bannon didn't bother to go to work yesterday. He knew it was over.
At the end, Trump was beyond fed up, viewing Bannon as a self-aggrandizer who had built a personal narrative as the grand puppetmaster.
"Who the f**k does this guy think he is?" Trump has said incredulously to associates.
Axios' Jonathan Swan tells me it's no surprise Trump didn't immediately issue a farewell message: The president can't stand Bannon at the moment.
This morning, Trump tweeted: "I want to thank Steve Bannon for his service. He came to the campaign during my run against Crooked Hillary Clinton - it was great! Thanks S."
Few people are ever really gone from Trumpworld, and we bet it won't be long before Bannon is regularly gossiping with Trump and counseling him.
That'll produce a huge tension: Bannon is more ideologically aligned with Trump than are the other members of the inner circle. So Bannon will be in his head and in his ear, while top advisers are counseling moderation.
A big irony: Bannon got personally crossways with the president at a time when nationalist policies were ascendant with POTUS. Trump agreed with Bannon's formula for confronting China on trade, although he later succumbed to the effort of other officials to dial that back. And Bannon egged on Trump with the view of Charlottesville that later drew such a backlash.
The post-Bannon presidency: West Wing sources expect that with Bannon gone, the administration will be less likely to use trade as a weapon, and more likely to flex military muscle against bad actors.
Be smart: A huge tension that'll unfold beginning this fall is that Trump is more ideologically aligned with Bannon than he is with the more moderate officials who now surround him in the West Wing.
So Steve Bannon will remain in the president's ear and in his head, telling Trump to be Trump. And that's a message this president has never been known to resist.
Swan dive ... "Bannon, backed by billionaire, prepares to go to war" ... "Bob Mercer and Bannon had a five-hour meeting Wednesday" ... "Conservative leaders ready to defend Dina Powell."
https://www.axios.com/newsletters/axios-am-b11fe06c-38a9-4277-83e2-3f5ed6f7bae8.html?chunk=2#story2
3. The Trump Show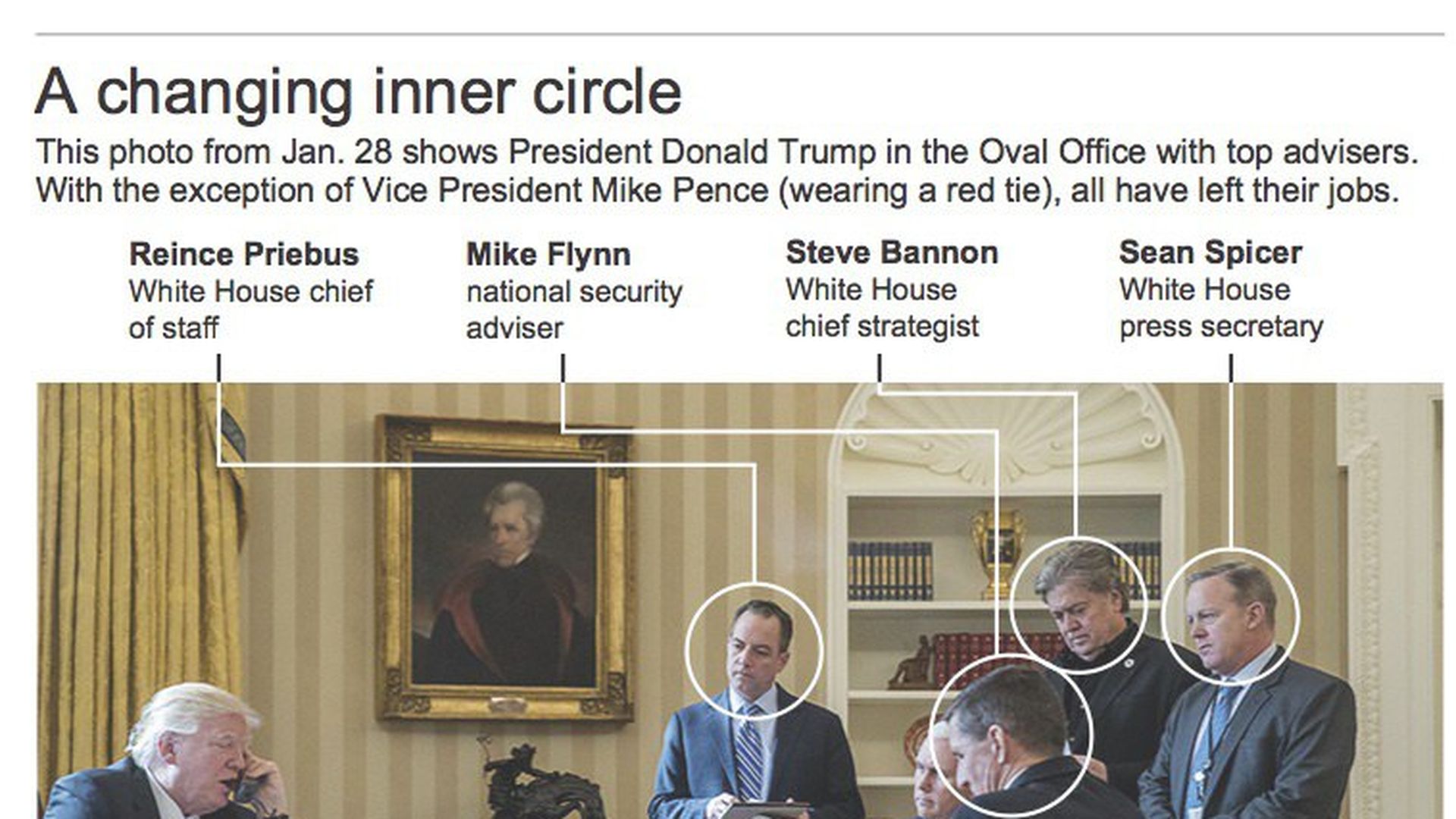 Going ... Bloomberg: "Billionaire investor Carl Icahn has ended his role as a special regulatory adviser to President Donald Trump after questions were raised about potential conflicts of interests with his business dealings. In a letter to Trump posted Friday on Icahn's website, he denied profiting from his advice-giving role -- a possibility raised by Democratic critic."
Staying ... "Trump's evangelical advisers sticking with him amid fallout," by AP Religion Writer Rachel Zoll: "Only one of Trump's evangelical advisers has quit the role ... The Rev. A.R. Bernard, pastor of the Christian Cultural Center in Brooklyn and one of the most influential clergymen in New York, announced his decision Friday night ... Trump won 80 percent of the white evangelical vote."
P.S. N.Y. Times Quote of the Day ... Chicago Mayor Rahm Emanuel, Obama's first chief of staff: "I'm going to nominate this White House for a Tony Award for the most drama. Not the best drama, but the most drama."
https://www.axios.com/newsletters/axios-am-b11fe06c-38a9-4277-83e2-3f5ed6f7bae8.html?chunk=3#story3
4. Mueller probe over by Thanksgiving?
"White House lawyer [Ty] Cobb predicts quick end to Mueller probe," by Reuters' Karen Freifeld:
Cobb to Reuters: "I'd be embarrassed if this is still haunting the White House by Thanksgiving and worse if it's still haunting him by year end ... I think the relevant areas of inquiry by the special counsel are narrow."
"Cobb [said] he talks to Trump on an almost daily basis and has been in contact with the team of Robert Mueller."
Understatement of the year: Cobb's "projected timeline ... suggests a speedier end to Mueller's probe than several outside experts believe is likely."
https://www.axios.com/newsletters/axios-am-b11fe06c-38a9-4277-83e2-3f5ed6f7bae8.html?chunk=4#story4
5. What Starbucks can teach Silicon Valley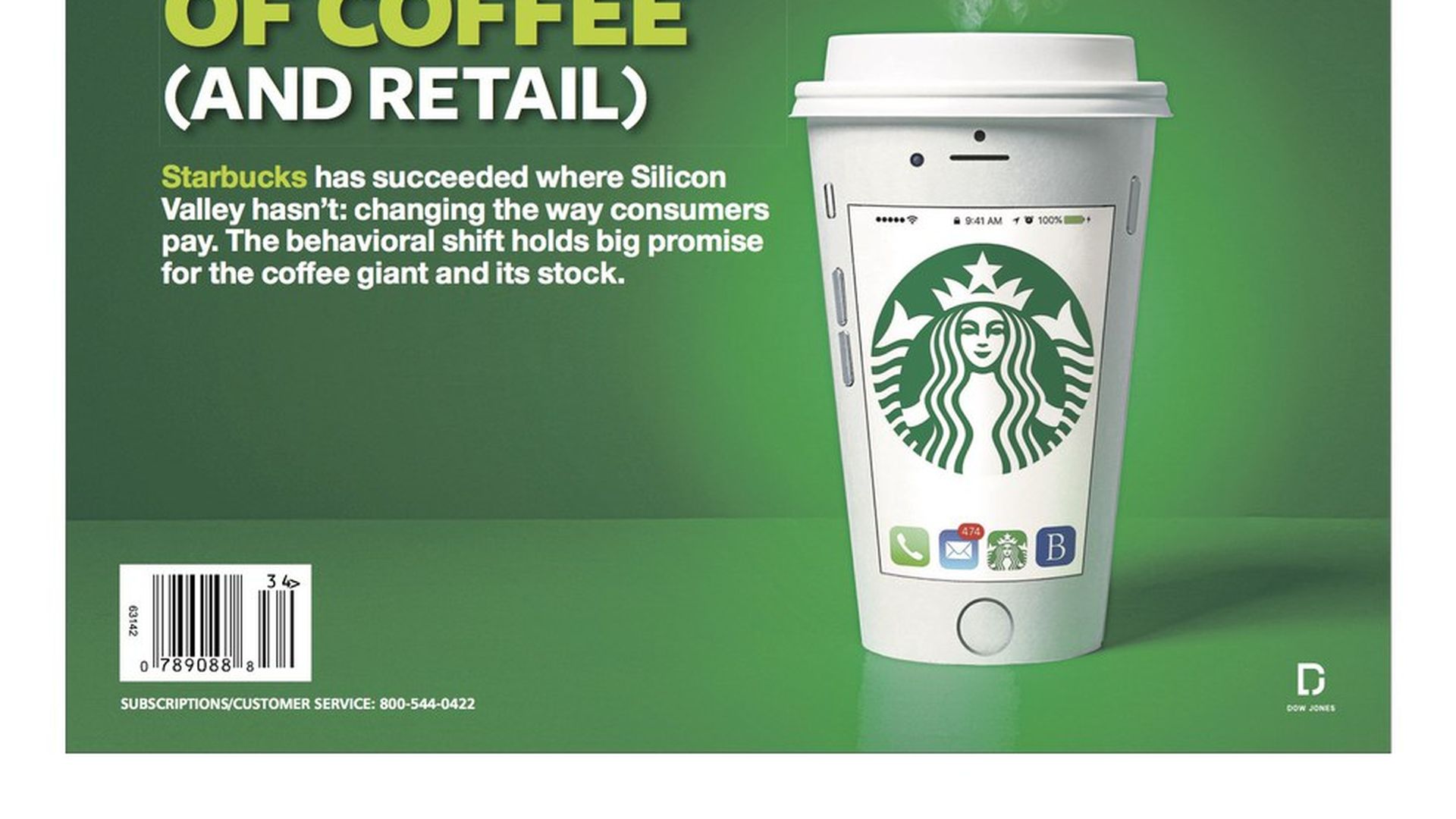 https://www.axios.com/newsletters/axios-am-b11fe06c-38a9-4277-83e2-3f5ed6f7bae8.html?chunk=5#story5
6. If you read only 1 thing
"My Life Lessons in Rust Belt Racism" ... Kim Kingsley — former Politico COO, Henry Crown Fellow at The Aspen Institute, media consultant, Penn State proud — writes about her native Scranton, Pa.:
Anyone who knows me would say I wear my blue-collar roots as a badge of honor. This very white, working-class town and my big Irish family taught me a whole lot. My now 90-year-old, World War II veteran grandfather worked three jobs at a time — a high school janitor by morning; a railroad worker by night; and a father of nine, 24 hours a day.
Anyone sitting on a branch of this family tree learned the importance of family, faith and friendships — what it means to be loyal, what it means to have work ethic, and how to fight for the little guy.
But it's also in this town, like many white working-class cities across the U.S., where racists are born.
https://www.axios.com/newsletters/axios-am-b11fe06c-38a9-4277-83e2-3f5ed6f7bae8.html?chunk=6#story6
7. Mapping a controversy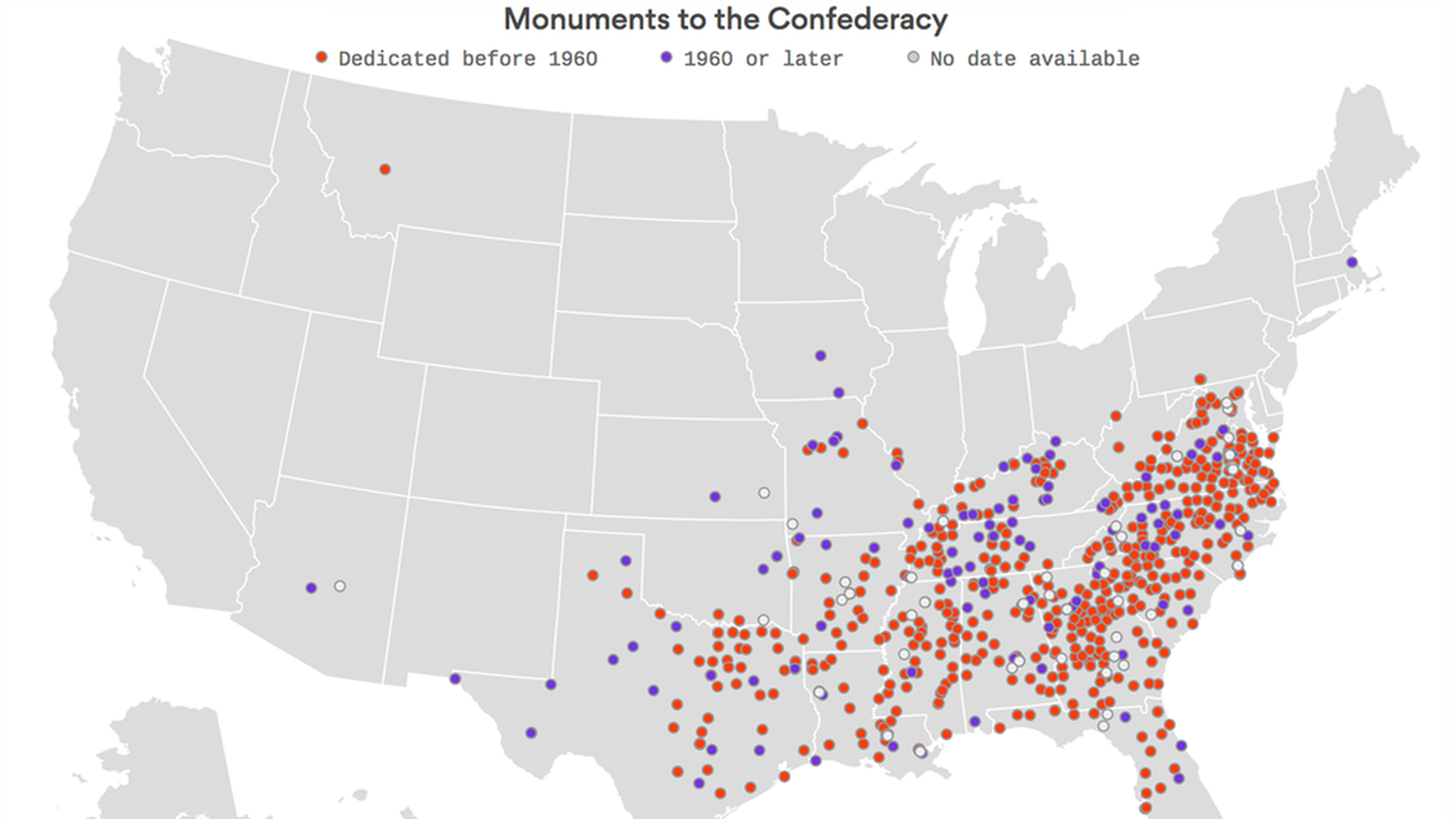 https://www.axios.com/newsletters/axios-am-b11fe06c-38a9-4277-83e2-3f5ed6f7bae8.html?chunk=7#story7
8. 2 years of terror in Europe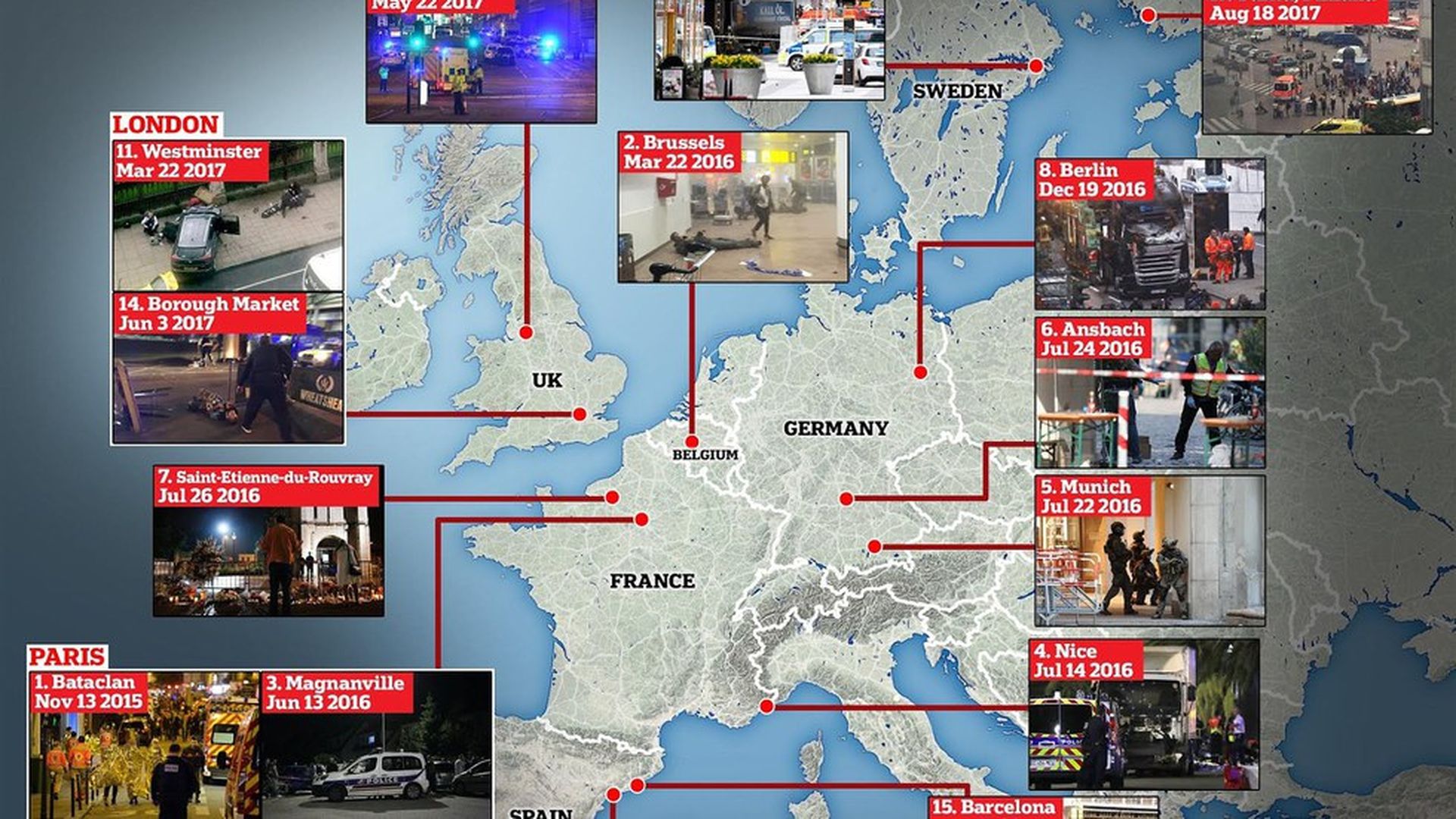 https://www.axios.com/newsletters/axios-am-b11fe06c-38a9-4277-83e2-3f5ed6f7bae8.html?chunk=8#story8
9. U.S. formally begins China probe
https://www.axios.com/newsletters/axios-am-b11fe06c-38a9-4277-83e2-3f5ed6f7bae8.html?chunk=9#story9
10. 1 fun thing