February 17, 2018
Good Saturday morning ...
1 big thing: We know nothing; Mueller knows all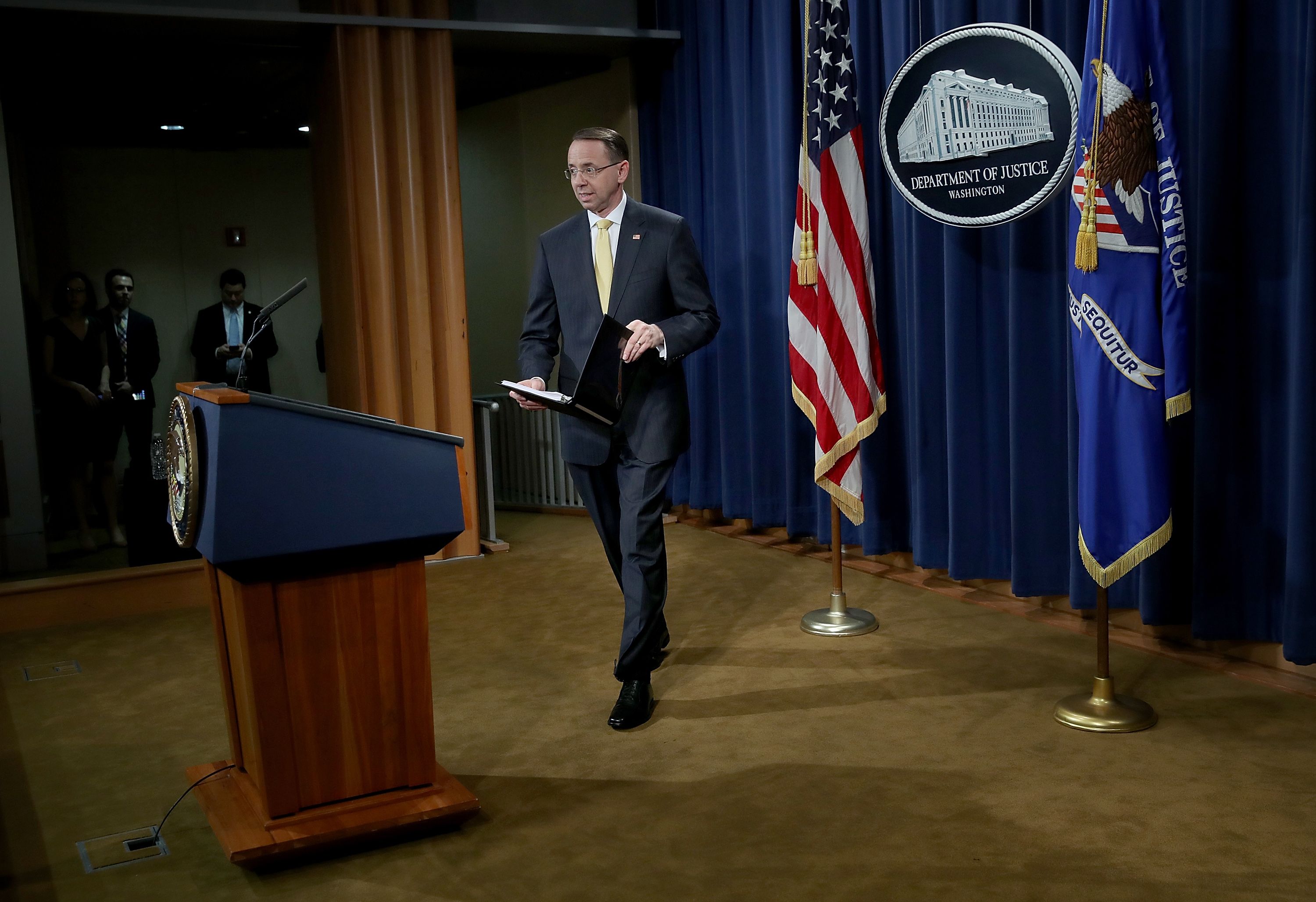 Robert Mueller's meaty indictment, accusing 13 Russians (including an oligarch known as "Putin's cook") of "information warfare against the United States of America," shows the special counsel has been doing deep, serious investigative work — totally under the radar, and with zero leaks.
Amazing that there was no hint of this in the media.
The gist: "The alleged scheme was run by the Internet Research Agency, a troll farm based in St. Petersburg, Russia, which used bogus social media postings and advertisements fraudulently purchased in the name of Americans to try to influence the White House race."
A powerful thought bubble from Axios' Jonathan Swan:
We've only been reading about [Mueller's] interviews with Trump associates and White House officials — because these are the folks that Washington reporters talk to.
But Mueller has been picking apart complicated, secretive and well-funded Russian networks that could only have originated from the Kremlin.
Mueller's indictments are not the work product of some frivolous fishing expedition to indict Trump, as some of Trump's conservative allies have claimed.
This shows that Trump was wrong when he said during a debate that the DNC hacker "could be somebody sitting on their bed that weighs 400 pounds." It's not fake news.
This shows Mueller has been doing consequential work, not just sniffing around the White House looking for an excuse to indict Trump. 
President Trump is either woefully ignorant, or deliberately lying, about the scope of Kremlin influence. This was a major Kremlin operation.
Why it matters:
It will now be even harder for Trump to fire Mueller. Capitol Hill already would have gone crazy if Trump tried that. But after Mueller has done such substantive work — even earning the lavish praise of Trump lawyer John Dowd — it's impossible to imagine Trump getting away with firing him. 
The fact that Deputy Attorney General Rod Rosenstein gave a press conference is significant. It was a major vote of confidence in the Mueller probe: This is Rosenstein saying he's proud of this work, and fully supports it.
It's also a notable show of independence by Rosenstein — a Heisman to the White House.
How it's playing ... Lead story of WashPost homepage: "Justice Dept. deals fatal blow to Trump's Russia 'hoax.'"
N.Y. Times Quote of the Day ... Deputy Attorney General Rod Rosenstein: "The nature of the scheme was the defendants took extraordinary steps to make it appear that they were ordinary American political activists."
2. Social manipulation — at scale
Tech was a big loser in Mueller's stunning narrative, which showed how easily the big platforms were gamed. Instagram, owned by Facebook, was a key tool:
The indictment "underscores how thoroughly social-media companies like Facebook and Twitter were played by Russian propagandists, AP Tech Writers Matt O'Brien and Mae Anderson write:
Why it matters: "[I]t's not clear if the companies have taken sufficient action to prevent something similar from happening again."
"The indictment ... underscores that the problem wasn't just 'bots' — i.e., automated social-media accounts — but human conspirators who fine-tuned propaganda and built online relationships with American activists."
"[P]rosecutors allege that Russian criminals used PayPal as a primary conduit to transfer money for general expenses and to buy Facebook ads aimed at influencing voters."
From the N.Y. Times: "In mid-October [2016], Woke Blacks, an Instagram account run by the Internet Research Agency, carried the message 'hatred for Trump is misleading the people and forcing Blacks to vote Killary. We cannot resort to the lesser of two devils. Then we'd surely be better off without voting AT ALL.'"
Statement from Joel Kaplan, Facebook's vice president of global public policy: "We know we have more to do to prevent against future attacks ... We're making significant investments, including increasing the number of people working on security from 10,000 to 20,000 this year."
An illuminating take on the indictment came from Michael McFaul of Stanford, who was ambassador to Russia under President Obama, talking to Nicolle Wallace from Munich on MSNBC:
"The Internet Research Agency is run by a close, personal friend of Vladimir Putin. They would have never undertaken ... this audacious operation without the blessing of the Kremlin. And nothing in Russia happens without Vladimir Putin being involved."
"[T]he indictment was careful. But, from my point of view, ... this was an operation orchestrated by Vladimir Putin."
The Justice Department clearly concluded that whatever sources and methods might have been exposed in the startlingly detailed indictment, it was worth it.
"[T]he first thing we should say is three cheers to the FBI and to ... Robert Mueller and to everybody that was involved in this — and probably more than just the FBI. This was an incredible achievement, and that will get people's attention ... That's an instance of deterrence."
"We were attacked. Our sovereignty was violated. Spies came into our country."
3. I wouldn't want to be this guy
[S]tarting in or around June 2016, Defendants and their co-conspirators, posing online as U.S. persons, communicated with a real U.S. person affiliated with a Texas-based grassroots organization. During the exchange, Defendants and their co-conspirators learned from the real U.S. person that they should focus their activities on 'purple states like Colorado, Virginia & Florida.' After that exchange, Defendants and their co-conspirators commonly referred to targeting 'purple states' in directing their efforts.
— From Mueller's
Russian indictment
Bonus: What POTUS is reading at Mar-a-Lago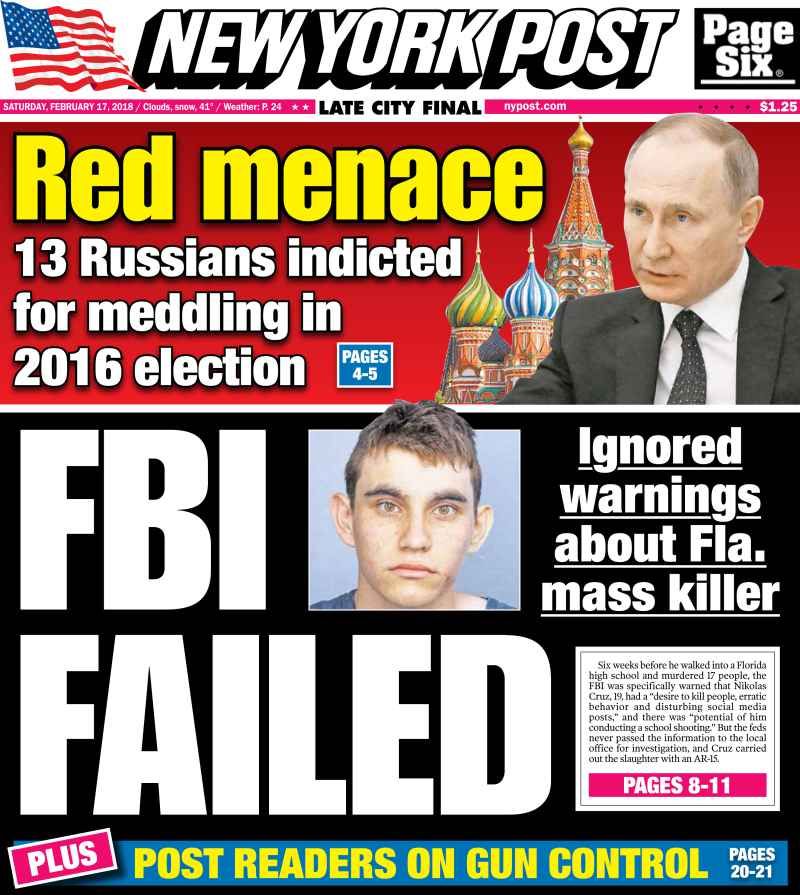 Think this'll give President Trump an idea for a tweet? I do.
4. Still don't believe it? How it worked
The Russian "information warfare" operation aimed at the U.S. ahead of the 2016 election had a Graphics Dept., a Data Analysis Dept., search-engine optimization, an IT Dept. — and a budget of millions of dollars. From Mueller's indictment:
"Defendant INTERNET RESEARCH AGENCY LLC (Агентство Интернет Исследований) is a Russian organization engaged in political and electoral interference operations."
"In or around July 2013, the ORGANIZATION registered with the Russian government as a Russian corporate entity. Beginning in or around June 2014, the ORGANIZATION obscured its conduct by operating through a number of Russian entities."
"Starting in or around 2014, the ORGANIZATION occupied an office at 55 Savushkina Street in St. Petersburg, Russia. That location became one of the ORGANIZATION's operational hubs from which Defendants and other co-conspirators carried out their activities to interfere in the U.S. political system, including the 2016 U.S. presidential election."
"The ORGANIZATION employed hundreds of individuals for its online operations, ranging from creators of fictitious personas to technical and administrative support. The ORGANIZATION's annual budget totaled the equivalent of millions of U.S. dollars."
"The ORGANIZATION was headed by a management group and organized into departments, including: a graphics department; a data analysis department; a search-engine optimization ("SEO") department; an information-technology ("IT") department to maintain the digital infrastructure used in the ORGANIZATION's operations; and a finance department to budget and allocate funding."
"The ORGANIZATION sought, in part, to conduct what it called ' information warfare against the United States of America' through fictitious U.S. personas on social media platforms and other Internet-based media."
"By ... around April 2014, the ORGANIZATION formed a department that went by various names but was at times referred to as the 'translator project.' This project focused on the U.S. population and conducted operations on social media platforms such as YouTube, Facebook, Instagram, and Twitter. By approximately July 2016, more than eighty ORGANIZATION employees were assigned to the translator project."
"By ... around May 2014, the ORGANIZATION's strategy included interfering with the 2016 U.S. presidential election, with the stated goal of 'spread[ing] distrust towards the candidates and the political system in general.'"
5. American scenes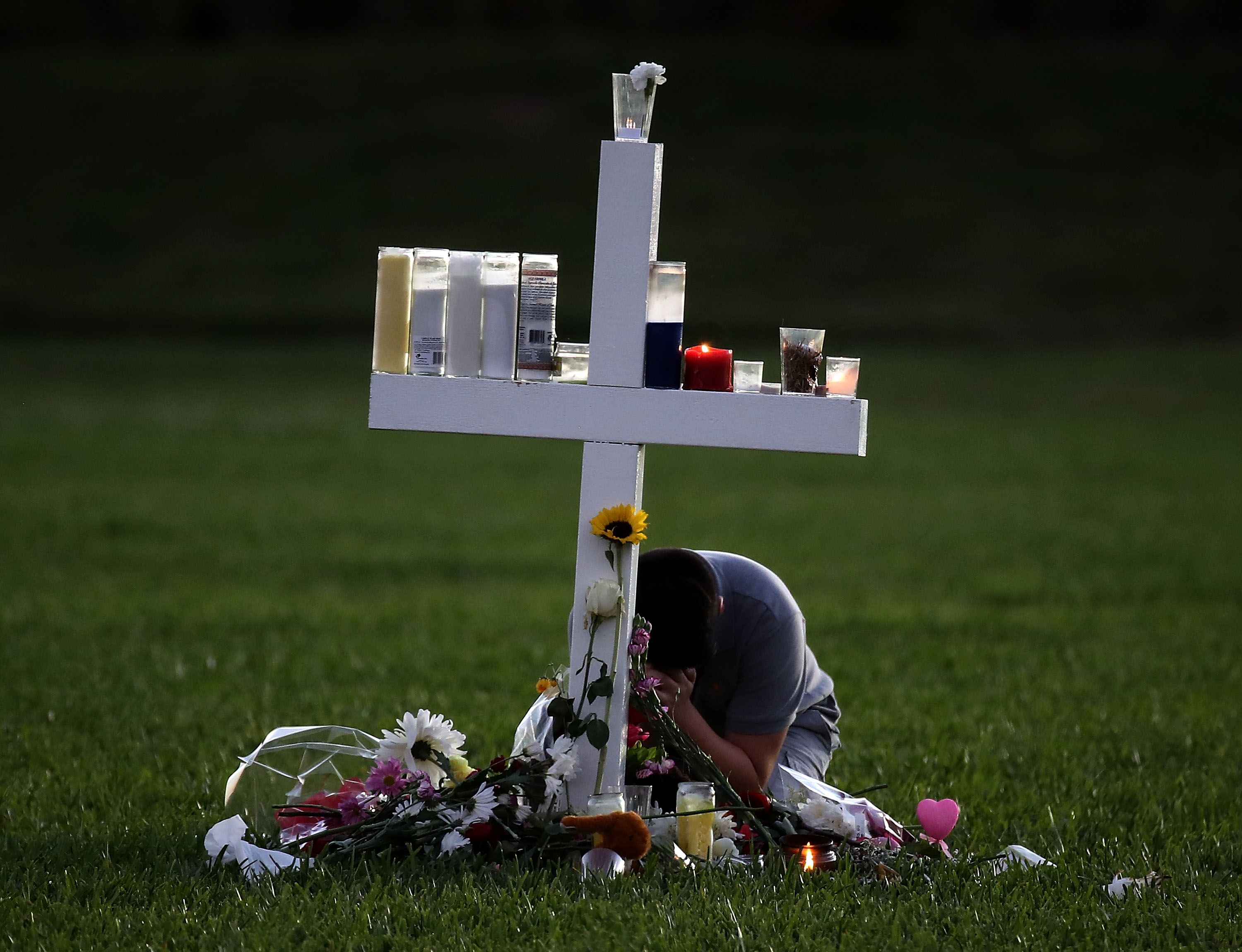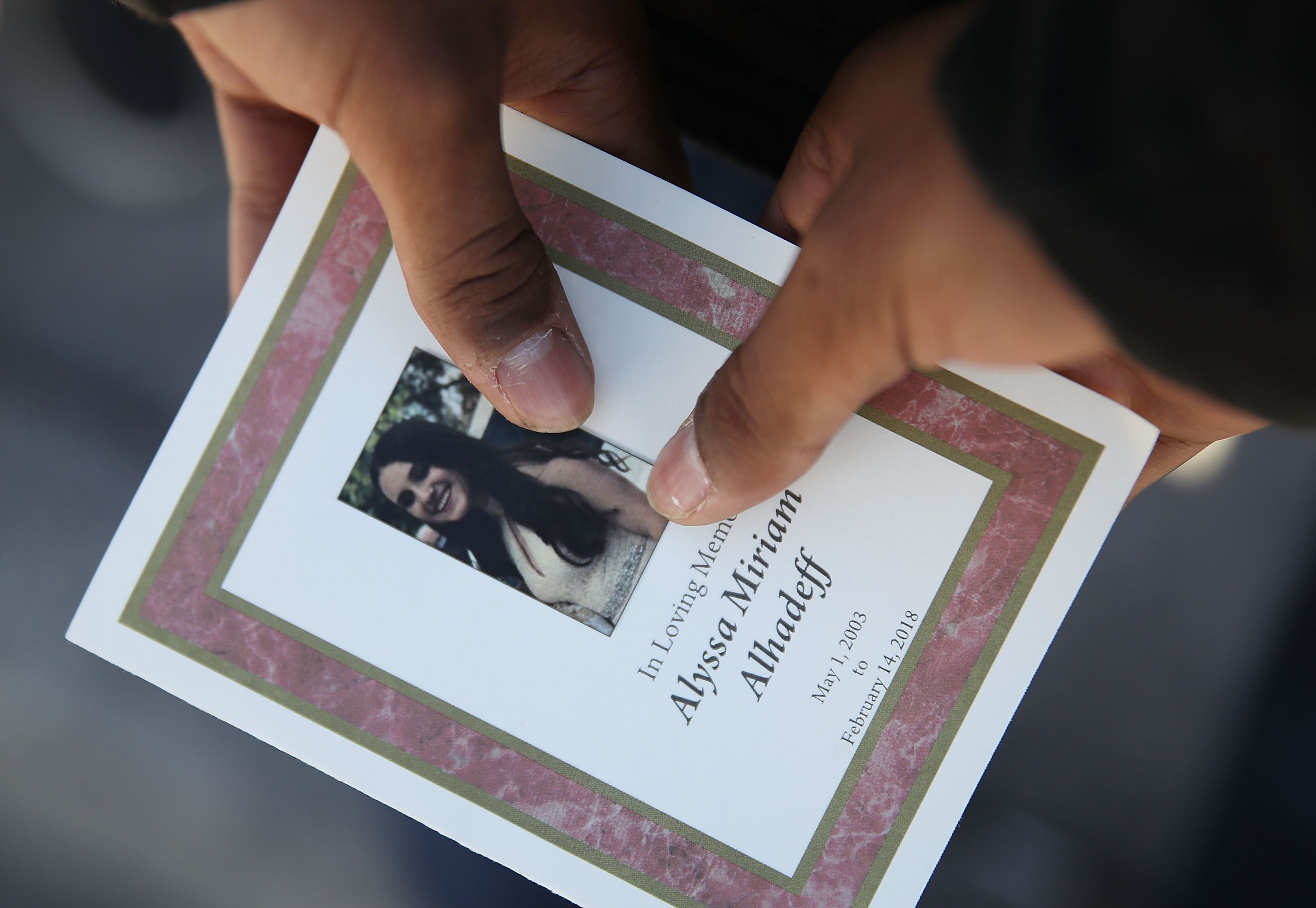 FBI fumbled tip:
"The F.B.I. received a tip last month from someone close to Nikolas Cruz that he owned a gun and had talked of committing

a school shooting

, the bureau revealed, ... but it acknowledged that it had failed to investigate," per N.Y. Times.
"The information should have been assessed and forwarded to the Miami F.B.I. field office, the bureau said. But that never happened."
How it's playing: N.Y. Times, top of A1, "Warned About Suspect, F.B.I. Didn't Act" ... WashPost: "Agency received call Jan. 5 about potential for school attack" ... Wall Street Journal: "FBI Didn't Follow Up Tip By Person Close to Shooter."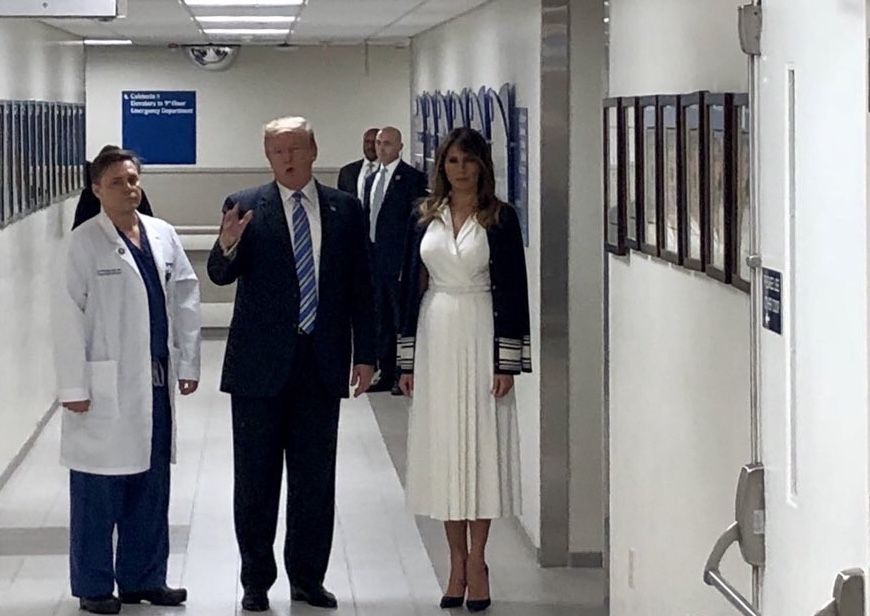 6. Imagine all the lives intertwined with these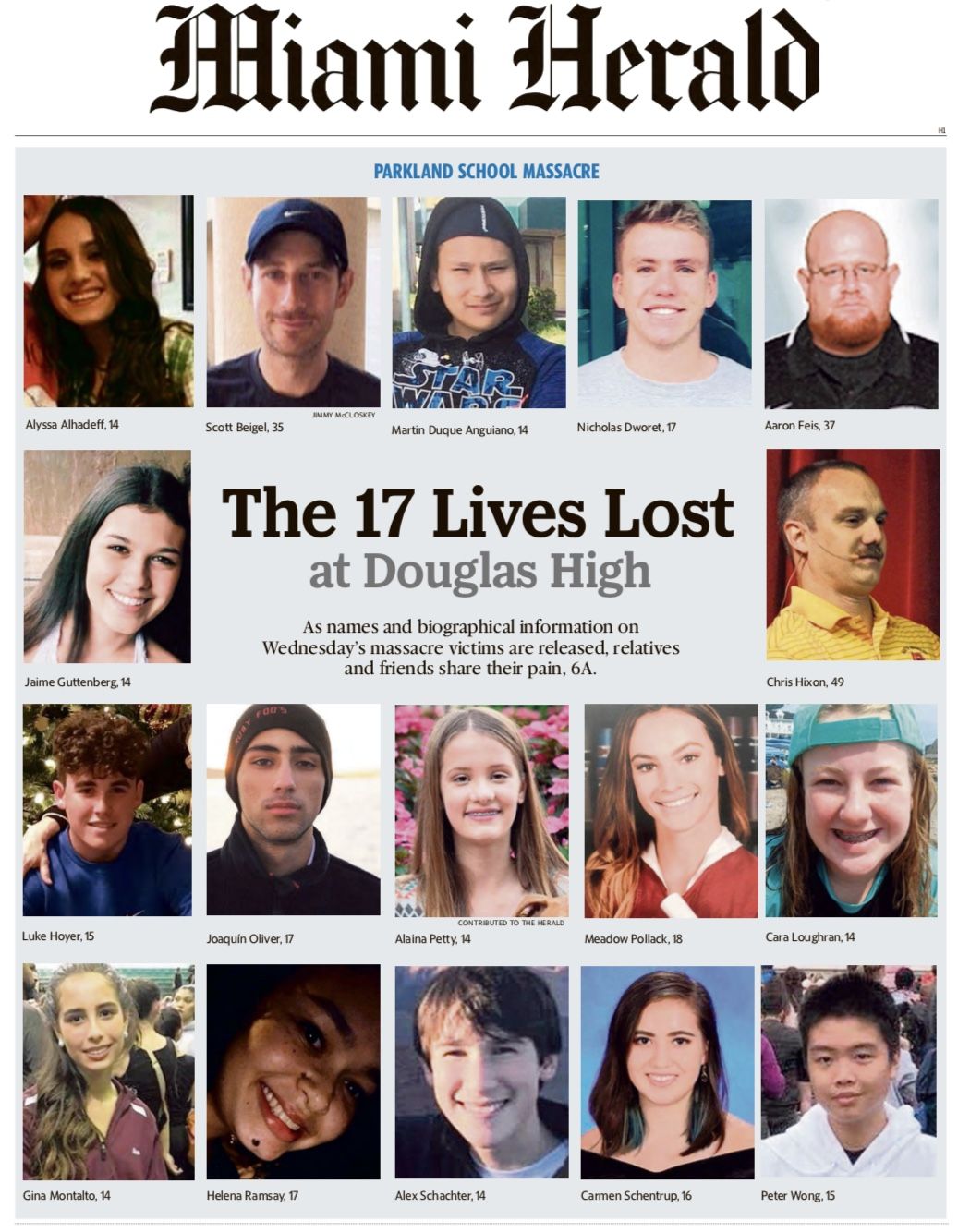 From the Fort Lauderdale Sun Sentinel:
"They were students, they were teachers. Athletes, dancers, coaches, musicians. The 17 who were lost in the senseless shooting on February 14 at Marjory Stoneman Douglas High School in Parkland, Florida, leave behind heartbroken family, friends, classmates and communities. These are their faces and their stories."
7. Washington not working
When I got home from working out at Solidcore yesterday morning, this was AP's dashboard ...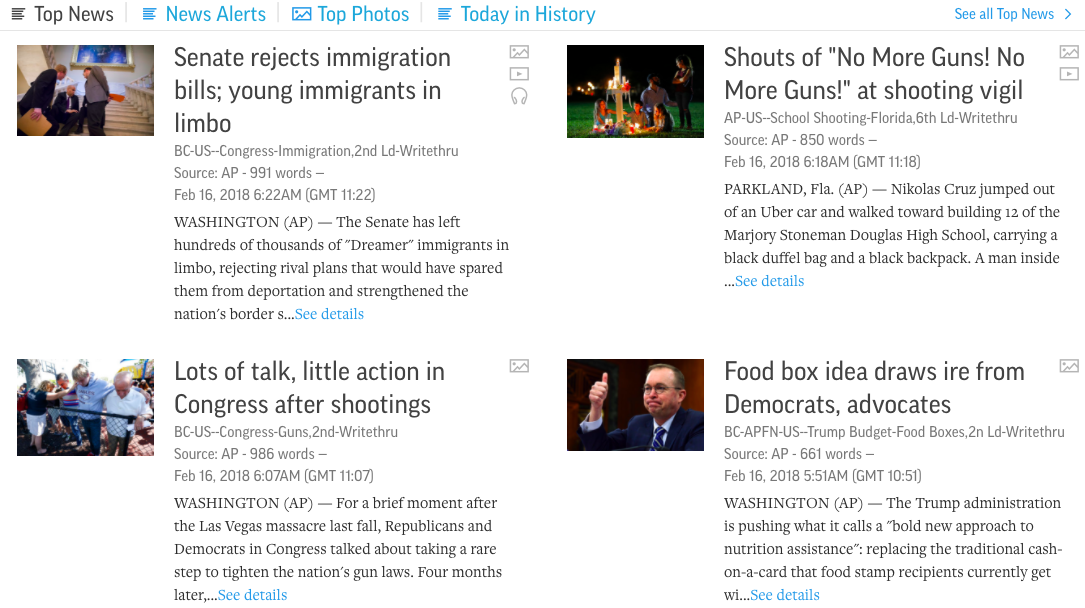 8. #MeToo finally hits Wall Street
"What the Point72 Lawsuit Says About Wall Street: Steve Cohen's firm is part of an industry in which swagger and jerkdom are conflated with trading aggression" — Barron's "Streetwise" column, by Mary Childs (subscription):
"People in finance, that great meritocracy, have been telling one another that they have been spared from #MeToo because they already went through all this in the 1980s and 1990s."
And yet. For an industry based on math, it doesn't add up. A Preqin study last year showed that women account for 26% of junior employees at hedge funds. That figure falls to 11% for senior positions.
"This past week, an employee at Steve Cohen's Point72 Asset Management sued the firm, alleging gender discrimination and pay disparity. "
"Executives 'refuse to hire women,' Lauren Bonner's complaint says, because 'their wives won't let them.'"
"A spokesman for Point72 said 'the hundreds of women at Point72 are vital members of every part of our organization' and that its female investment professional workforce exceeded 'published industry averages.'"
Why it matters: "Like the civil charge that finally stuck after years of government effort to prove his firm traded on insider information, Bonner's suit outlines a failure to supervise, a tolerance of bad behavior. That would be Cohen and Point72's responsibility, and yet it can't be pinned on them alone; they're part of a culture in which testosterone-laden swagger and jerkdom are conflated with trading aggression and market conviction."
9. Relaxios reading: A Russian roadtrip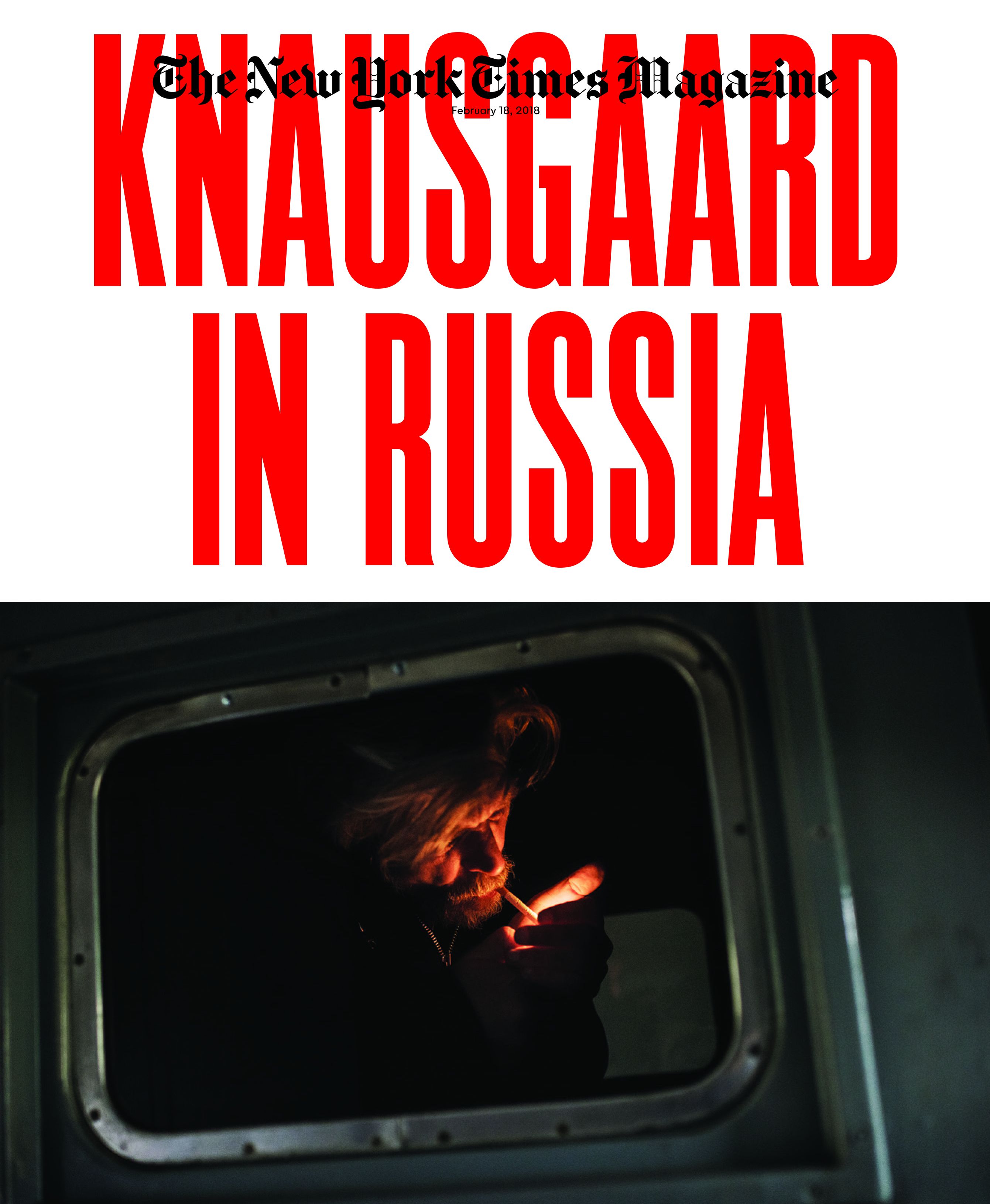 "A Literary Road Trip Into the Heart of Russia: In the land of Tolstoy, Turgenev and now Putin, what are the stories Russians are telling themselves?" Tomorrow's N.Y. Times Magazine cover:
"Norwegian writer Karl Knausgaard visits the heartland of Russia, stringing together his extensive knowledge of classical Russian Literature all the way to the arc of Russian authoritarianism under Vladimir Putin. The work is a mix of reflection on the rich history, culture and literature of Russia's past and how that reckons with modern life today."
About the cover ... N.Y. Times Magazine editor Jake Silverstein:
"Three years ago, we asked the Norwegian writer Karl Ove Knausgaard to undertake a literary journey across North America for an article that ended up on the cover with a photo of the author and the line 'Knausgaard in America.'"
"Though the cover designs are quite different, we appreciated the symmetry of presenting this week's article — about his peripatetic journey across Russia — in similar fashion."
10. 1 snow thing, 1 ice thing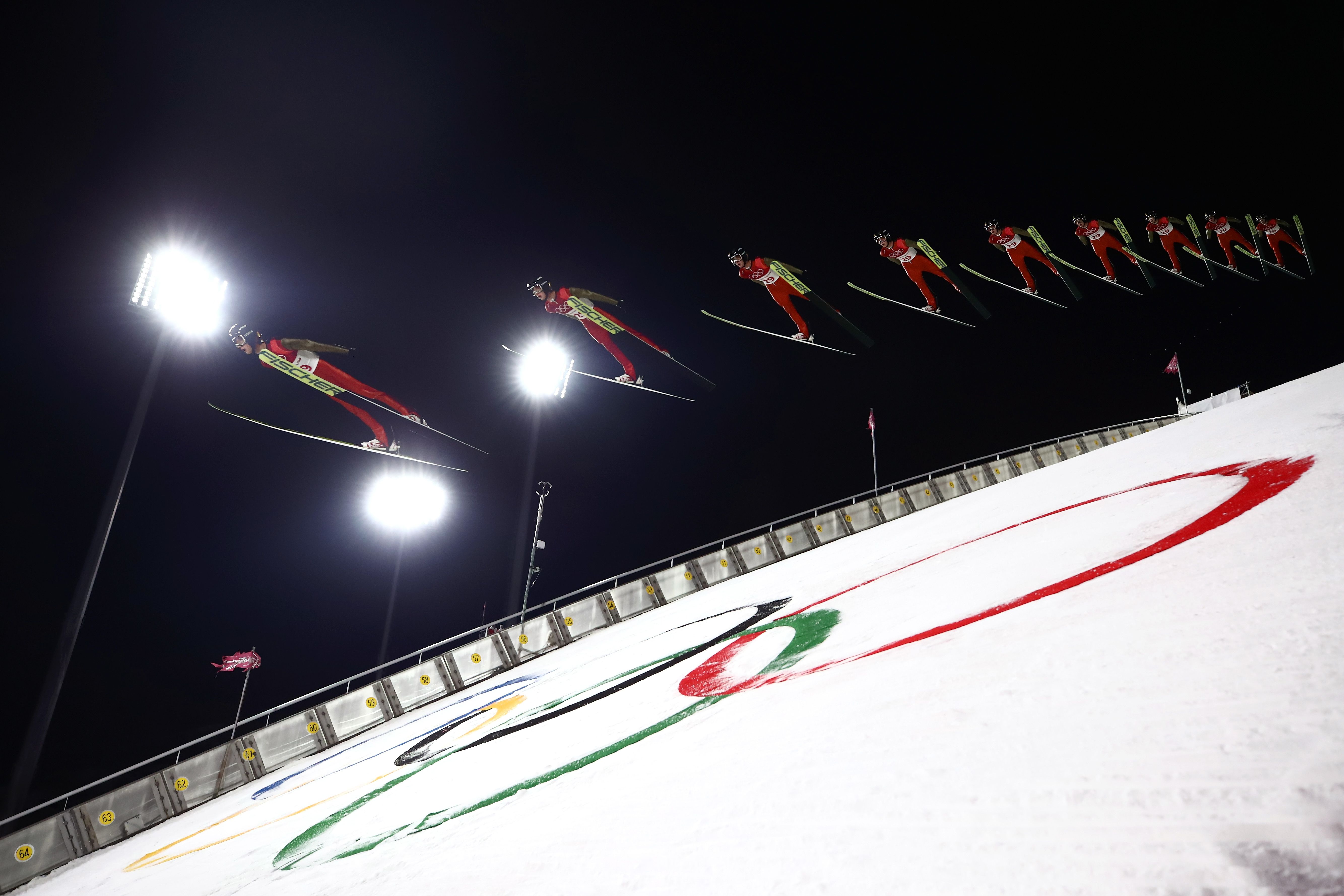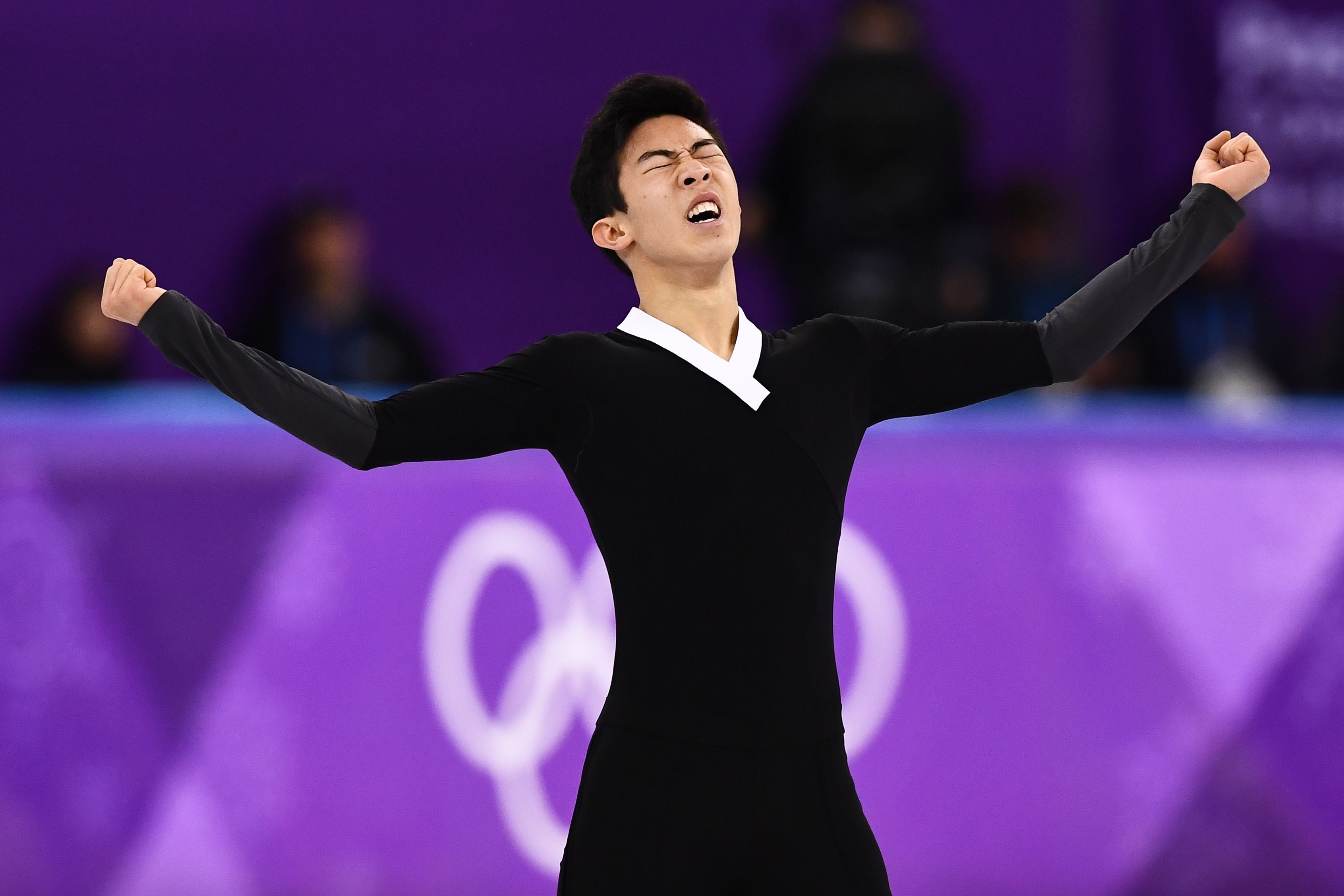 USA's Nathan Chen comes back, stuns crowd ... "[T]he 18-year-old quad king hit an unprecedented six of the four-revolution jumps [today] to win the free skate and soar into fifth place." (Video)
P.S. "Lindsey Vonn gets Twitter backlash after sixth-place finish in super-G":
"The skier said in an interview in December that she would 'absolutely not' visit the White House if the U.S. Olympic team received a traditional post-games invitation." (AP)
Thanks for reading. We'll have constant updates all holiday weekend on Axios.com ...