Axios AM
September 10, 2019
Happy Tuesday! Today's Smart Brevity count: 1,399 words ... 5½ minutes.
☕ You're invited! If you'll be in D.C. on Thursday, join me at 8 a.m. for breakfast and conversation with Samantha Power, former UN ambassador, who's out today with a memoir, "The Education of an Idealist" ... Ken Cuccinelli, acting director of U.S. Citizenship and Immigration Services ... and Rep. Adam Kinzinger of Illinois.
1 big thing: The Democrats' 3-way, 70-something race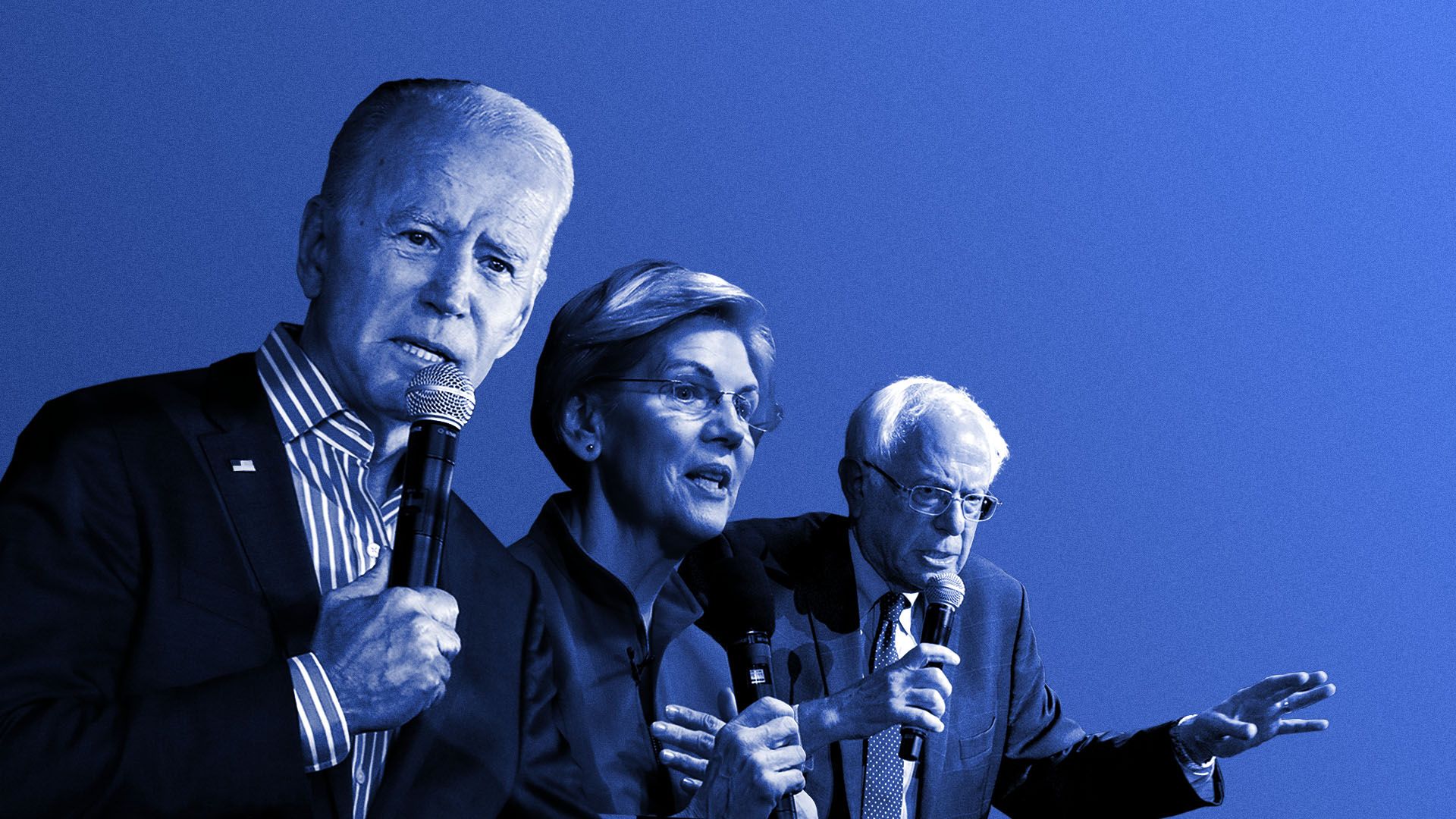 Every public poll shows a steady and indisputable trend: The Democratic 2020 race is a three-way brawl between 70-somethings who came to fame in the U.S. Senate.
Why it matters ... In this era of change, technology and disruption, Democrats seem content with three pre-Internet era throwbacks: Bernie Sanders, 78; Joe Biden, 76; and Elizabeth Warren, 70.
The Democratic nominee will run against 73-year-old President Trump.
The big picture: National and state polls show all three have consistent bases of political support, virtually assuring them the money and grassroots to grow or at least hold their top-tier position.
For all the hype, Pete Buttigieg 37, and Kamala Harris, 54, rarely crack double digits, and sometimes sink into the low single digits.
And age, of course, doesn't dictate sensibility: Warren was an early blogger, and is legendary on the selfies front.
Breaking a record? Reagan was 77 when he left office. Biden turns 77 in November.
Trump, at 70, was the oldest president at inauguration. (Reagan was 69.)
Reality check: An experienced Democratic adviser points out that a whole bunch of eventual nominees were in low single digits or very far behind at this point in the cycle — Jimmy Carter, Mike Dukakis, Bill Clinton, John Kerry.
The people paying attention now aren't representative of the mass of Dem primary voters. So things could shift when they start tuning in for real.
2. The new world of negative interest rates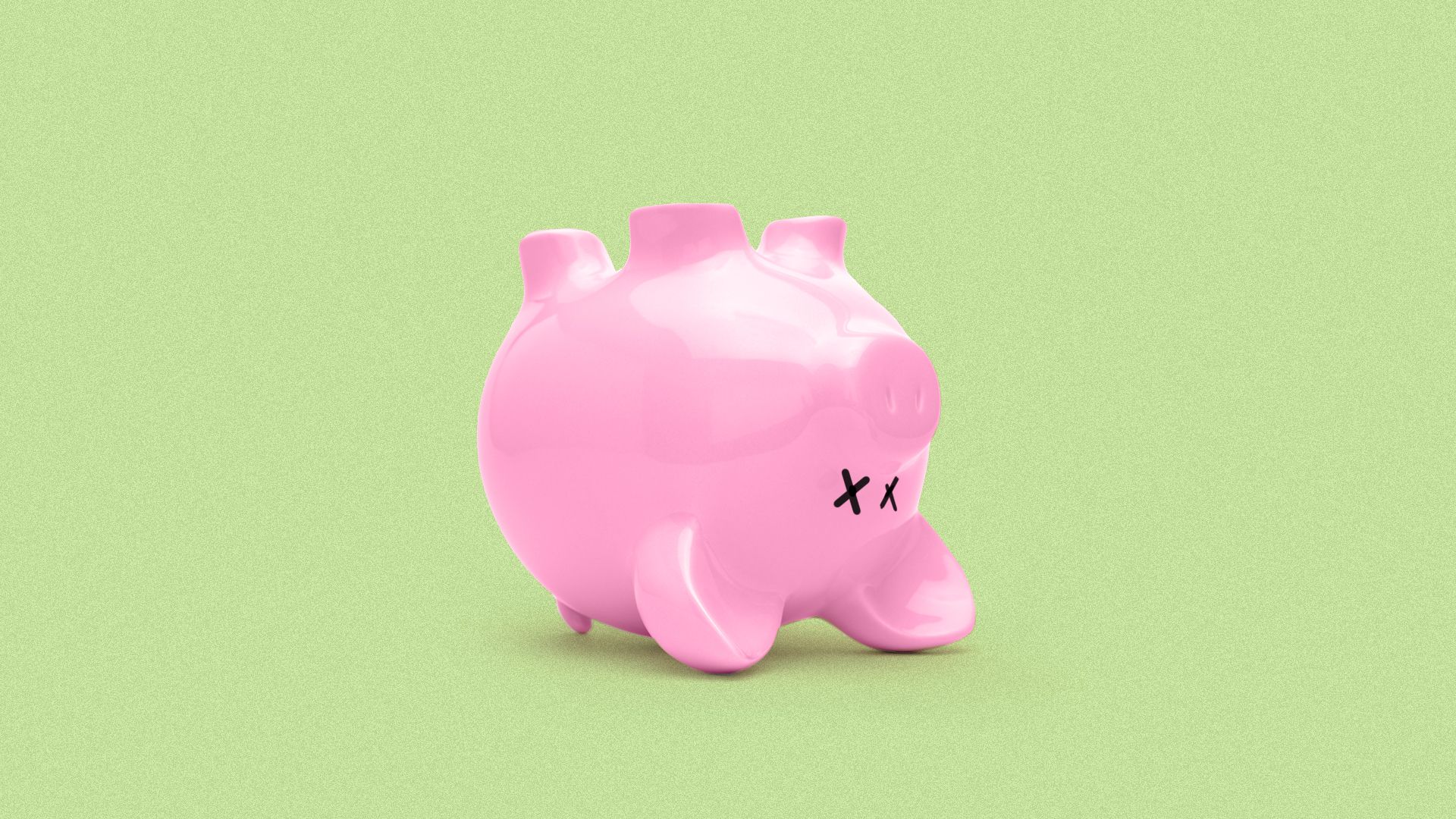 The basic principles of investment are being upended, perhaps irreversibly, as the world enters an era of ultra-low and even negative interest rates, Axios Markets editor Dion Rabouin writes.
What's happening: American consumers have seen the interest rates they're paid on savings accounts, bonds and CDs tumble this year, and central banks have set negative rates in Japan and the eurozone.
Negative interest rates mean depositors pay to save money in bank accounts.
The Federal Reserve is gearing up to cut interest rates for the second time this year when it meets later this month, and banks are already cutting rates on savings accounts.
Former Fed Chair Alan Greenspan said last week that it's "only a matter of time" before negative rates come to the U.S.
The big picture: The low-to-negative interest rate environment poses a major problem for people looking to save for retirement.
The traditional 60/40 portfolio (60% stocks and 40% bonds) that fund managers have used to craft retirement accounts for decades doesn't work in the long-term if bonds yield nothing or have negative rates.
"Young people ... are going to have to substantially increase their contributions" to retirement accounts if they hope to actually retire one day, Alicia Munnell, director of the Center for Retirement Research at Boston College, tells Axios.
Future retirees will also likely have to put more of their funds into stocks and other assets that are riskier and more likely to result in a loss of principal, meaning retirement assets will be less secure.
Between the lines: U.S. pension and retirement funds are currently underfunded by trillions of dollars, and states are already in a position where they're either going to have to raise taxes or cut benefits for future retirees — or both.
3. Milestone: Minority hires overtake white hires
"For the first time, most new hires of prime working age (25 to 54) are people of color, according to a Washington Post analysis of data the Labor Department began collecting in the 1970s."
Why it's happening: "Women are predominantly driving this trend."
"Minority women ... have begun to reshape the demographics of the U.S. workforce, especially because many white baby boomers have been retiring."
The key stat: "There are 5.2 million more people in the United States with jobs than at the end of 2016, and 4.5 million of them are minorities."
4. Jack Ma changes world, steps down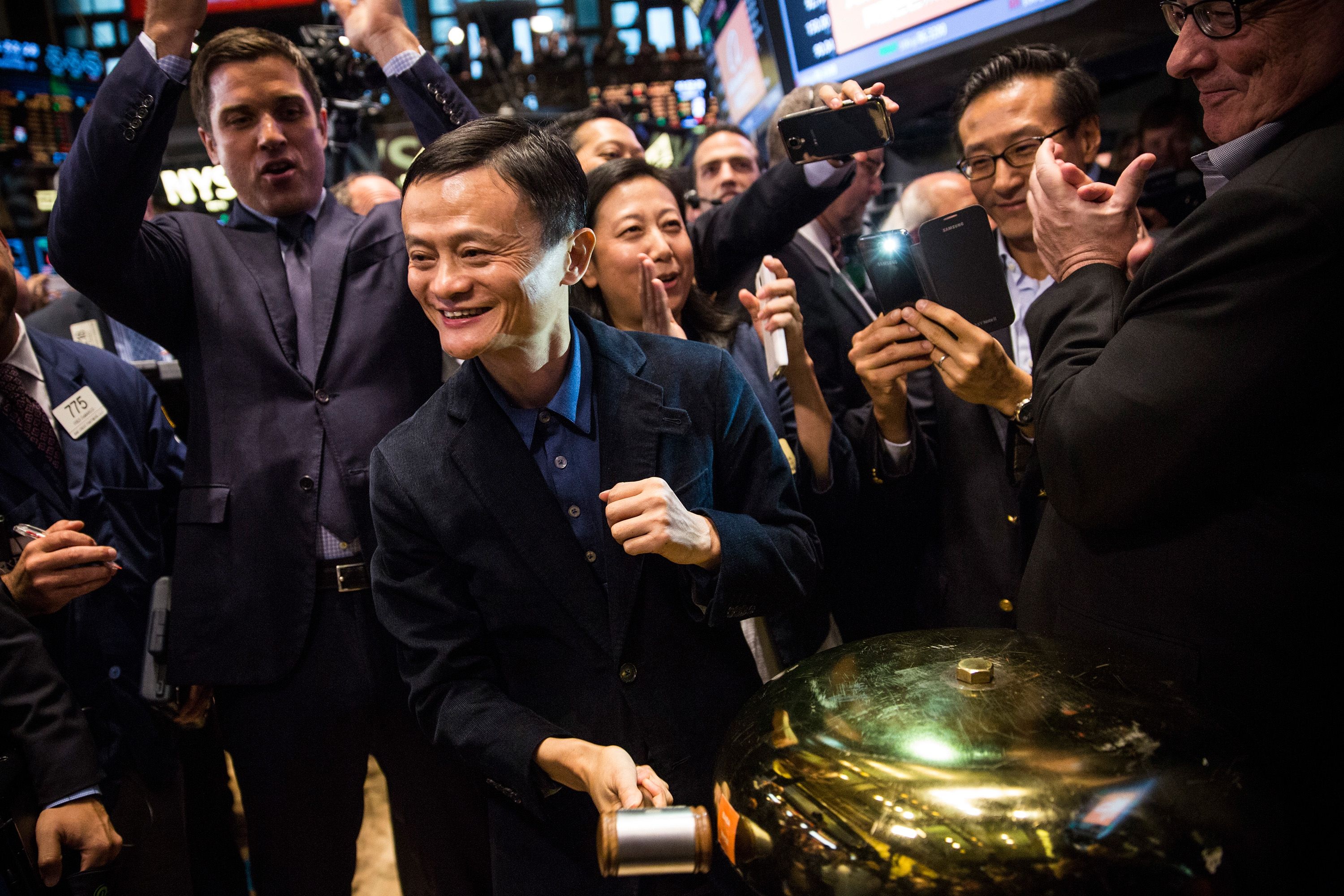 "Jack Ma is giving up the reins of Alibaba Group Holding Ltd. after presiding over one of the most spectacular creations of wealth the world has ever seen," Bloomberg's Venus Feng reports.
"The former English teacher steps down [today] as executive chairman of China's largest company on his 55th birthday after amassing a $41.8 billion fortune — a trove surpassed only by India's Mukesh Ambani in Asia, according to the Bloomberg Billionaires Index."
Why he matters: "His record-breaking rise from a bootstrapped entrepreneur working out of his apartment in 1999 to jet-setting e-commerce mogul is one for the history books, mirroring China's own evolution from technological backwater to world's No. 2 economy."
What's next: Ma's successor as chairman is CEO Daniel Zhang, a former accountant and 12-year veteran of Alibaba. (AP)
5. 👻 Snap's 2020 moves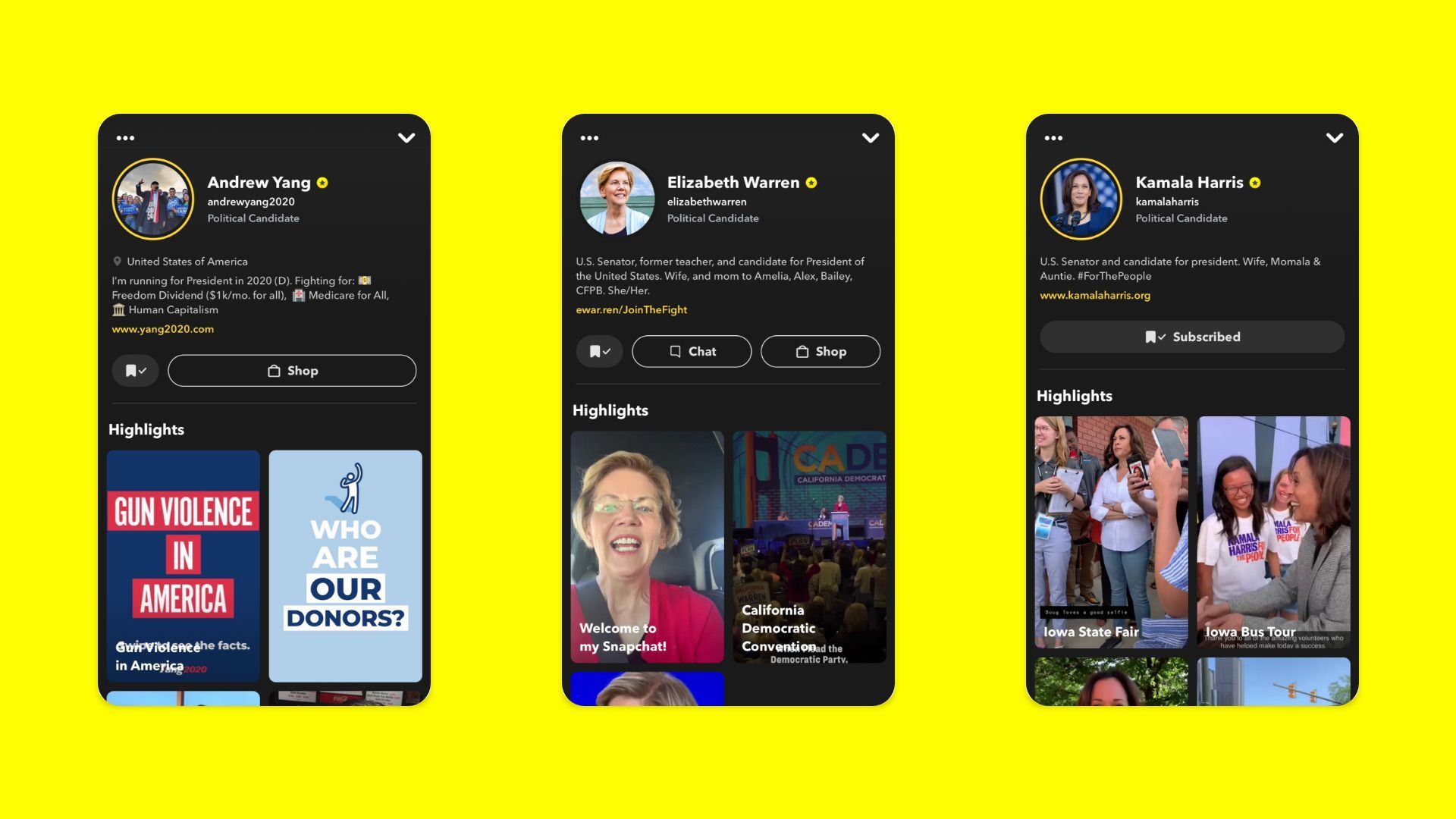 Snapchat is creating a dedicated news channel specifically for the 2020 debates, Axios media trends expert Sara Fischer writes.
The photo/camera app is also working with candidates to increase their visibility on Snapchat through efforts with augmented reality and even merchandise sales.
Why it matters: The company is trying to do more to increase civic and political engagement on its platform as it readies a more aggressive push into news.
80% of Snapchat users in the U.S. are voting age (18+), per Snapchat.
The curated Democratic Primary Debate Channel will be live on Thursday during the Houston debate, as well as the following morning, targeted to select users who are interested in news and political content.
The channel will live in Snapchat's content arm, Discover, and will feature updates from all the top candidates, as well as primary coverage from vetted news providers and some vetted user content.
Snapchat is also investing more in political news programming. It recently moved its political news show "Good Luck America," hosted by Peter Hamby, from weekly to daily, after seeing that political news consumption was becoming more of a daily habit of Snapchat users.
6. What Wall Street is reading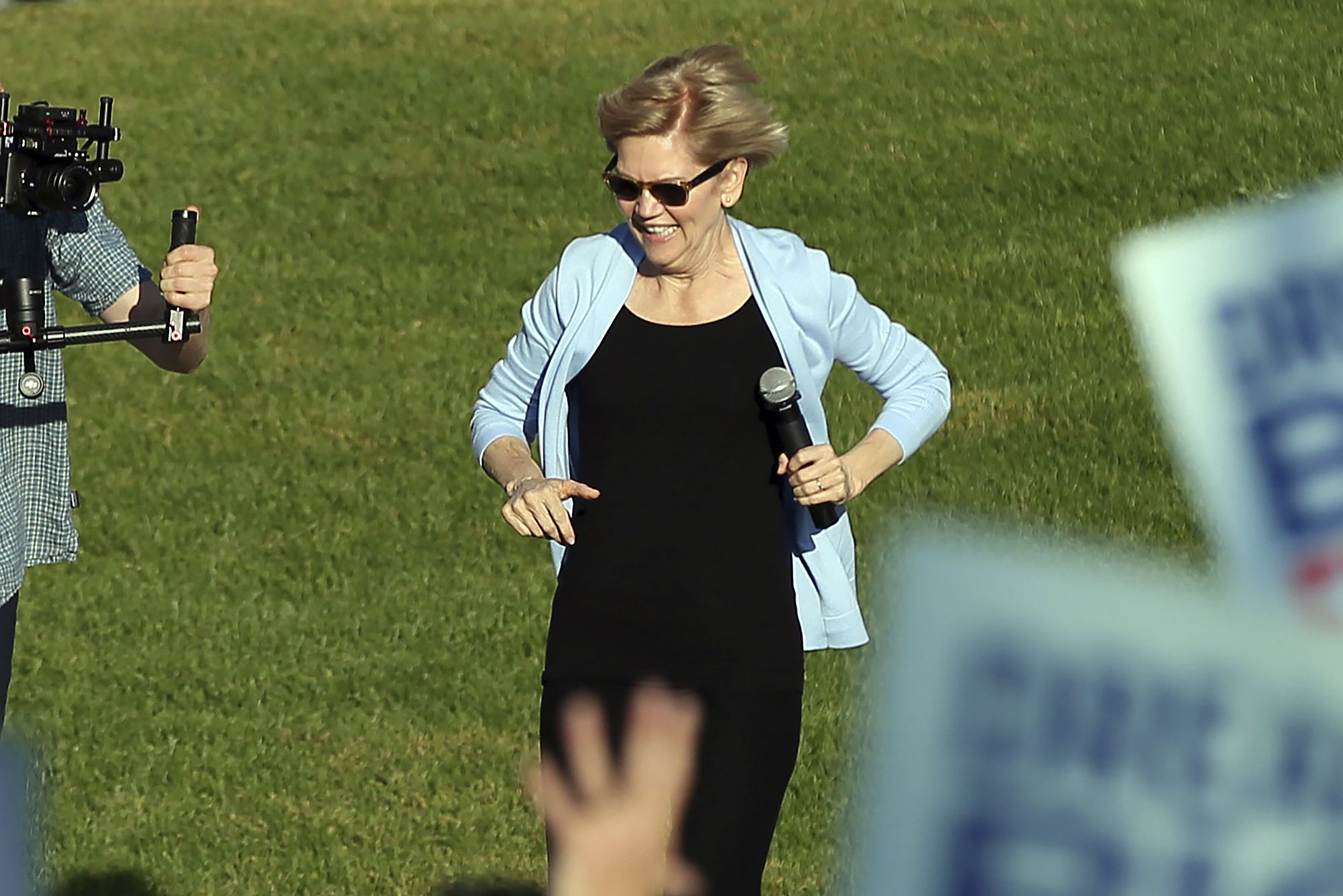 The top 15 richest Americans could have seen their net worth decline by more than half — hundreds of billions of dollars — had Elizabeth Warren's wealth tax plan been in place since 1982, Bloomberg reports.
That's according to calculations in a new paper by two French economists who helped her devise the proposed tax — Berkeley professors Emmanuel Saez and Gabriel Zucman.
"The authors' figures don't take into account any steps billionaires might have taken to reduce their exposure to the tax, including saving less or giving more money away."
7. Trail pic of the day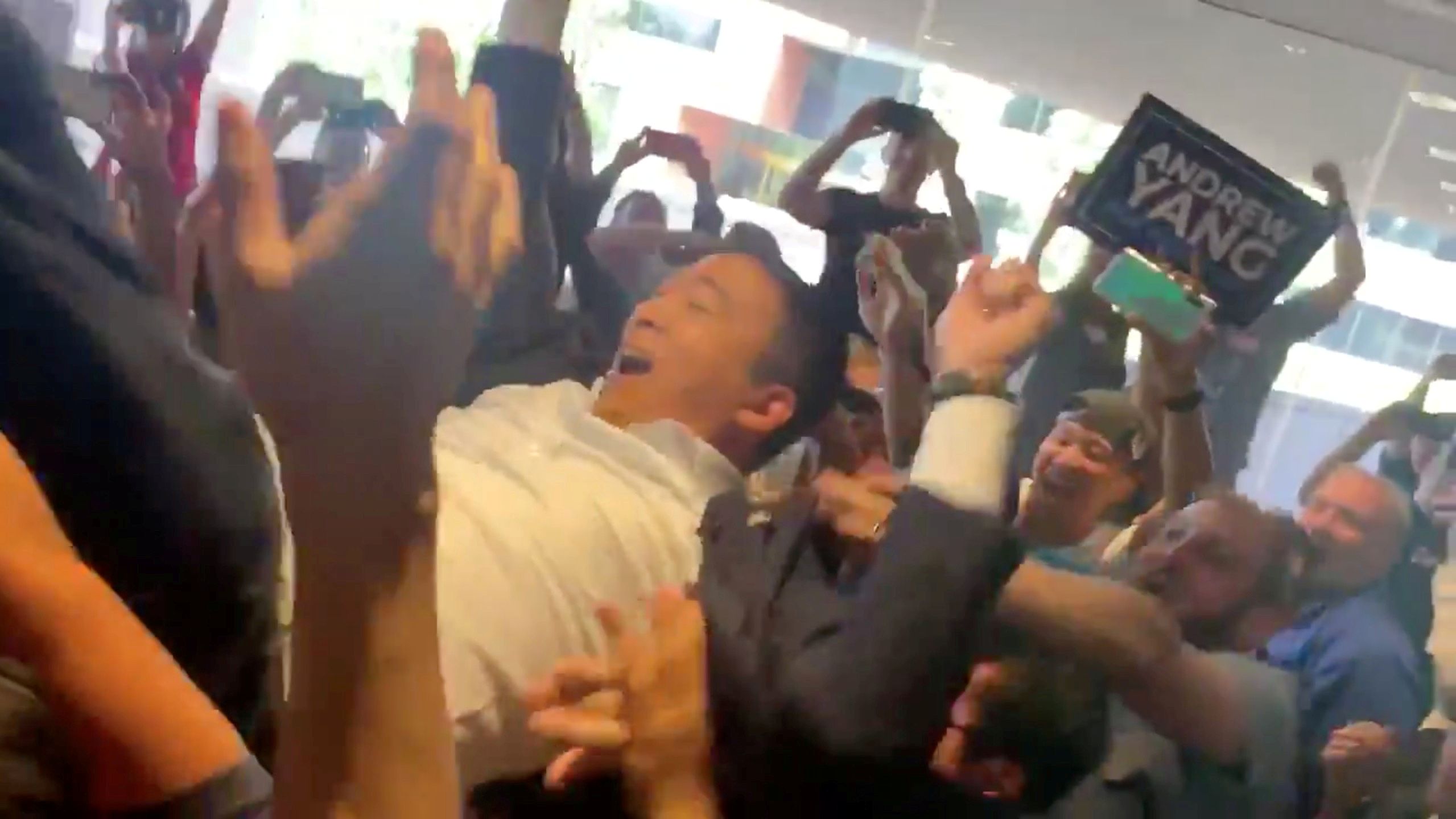 Andrew Yang rides a wave of support (as CNN Politics put it) on Sunday in Costa Mesa, Calif., at a forum organized by Asian American activist groups.
Yang tweeted: "Haven't crowdsurfed in a while #YangGang."
8. Brexit fracas shuts Parliament for 5 weeks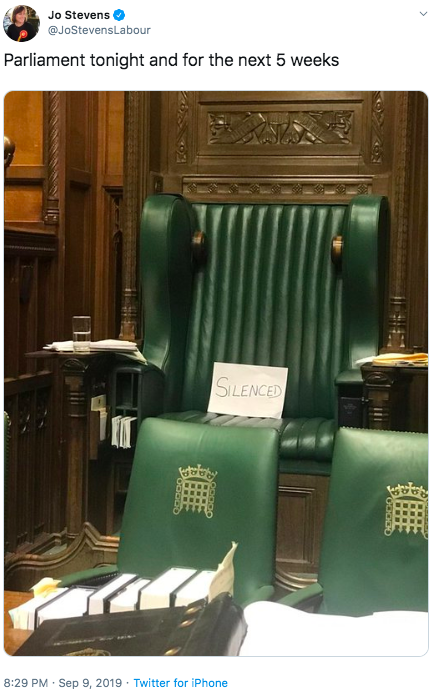 British Parliament was suspended until Oct. 14, sparking tense scenes in the House of Commons, where opposition lawmakers held signs reading "silenced" and yelled "shame on you" at Prime Minister Boris Johnson's ruling Conservatives, Reuters reports.
Why it matters: "Johnson appeared to have lost control of Britain's withdrawal from the European Union," with a deadline of Oct. 31.
🇬🇧 Late into the night, members of parliament "burst into song on the Commons benches, singing traditional Welsh and Scottish songs." (BBC)
9. 📚 What I'm reading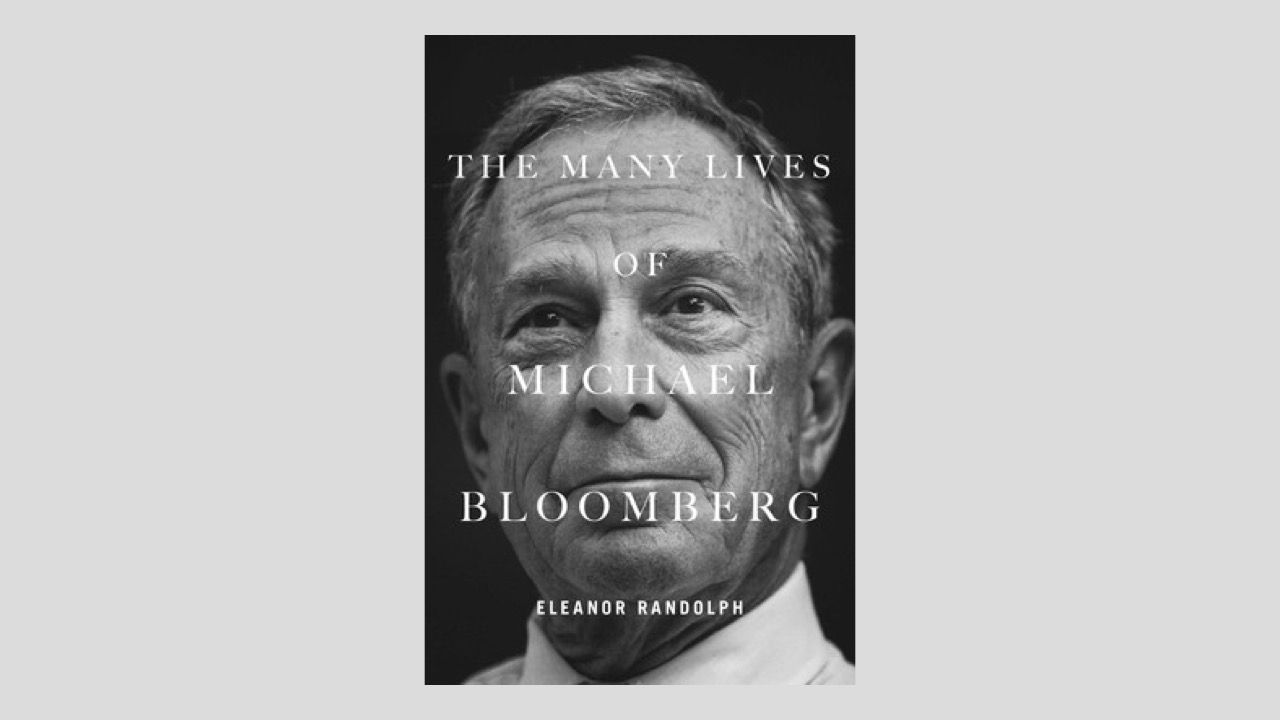 Out today ... "The Many Lives of Michael Bloomberg," by N.Y. Times veteran Eleanor Randolph, including this backstory on Bloomberg's Trump takedown speech at the 2016 Democratic National Convention:
The Democrats, realizing they needed independents like Bloomberg and maybe even some Republicans, asked if he would endorse Hillary Clinton in prime time — for 25 million people. They wouldn't even look at the speech in advance, they promised. The slot was all his. ...
Back at the Bloomberg offices in Manhattan, ... Frank Barry drafted the text. Howard Wolfson ... eyeballed it for political traps. Others took their turn, including Kevin Sheekey and Patti Harris. 
As he showered to get ready that night, Bloomberg realized he wanted one more line. The speech had already gone out, embargoed, to a few top journalists, his staff explained. But this line was going in. ...
"Trump says he wants to run the nation like he runs his business. God help us. ... I'm a New Yorker, and New Yorkers know a con when we see one."
Then Bloomberg added his line from the shower. "Let's elect a sane, competent person."
⚡ Posted overnight ... Bloomberg has a N.Y. Times op-ed with Matt Myers, president of the Campaign for Tobacco-Free Kids, "Ban Flavored E-Cigarettes to Protect Our Children."
10. 1 happy ending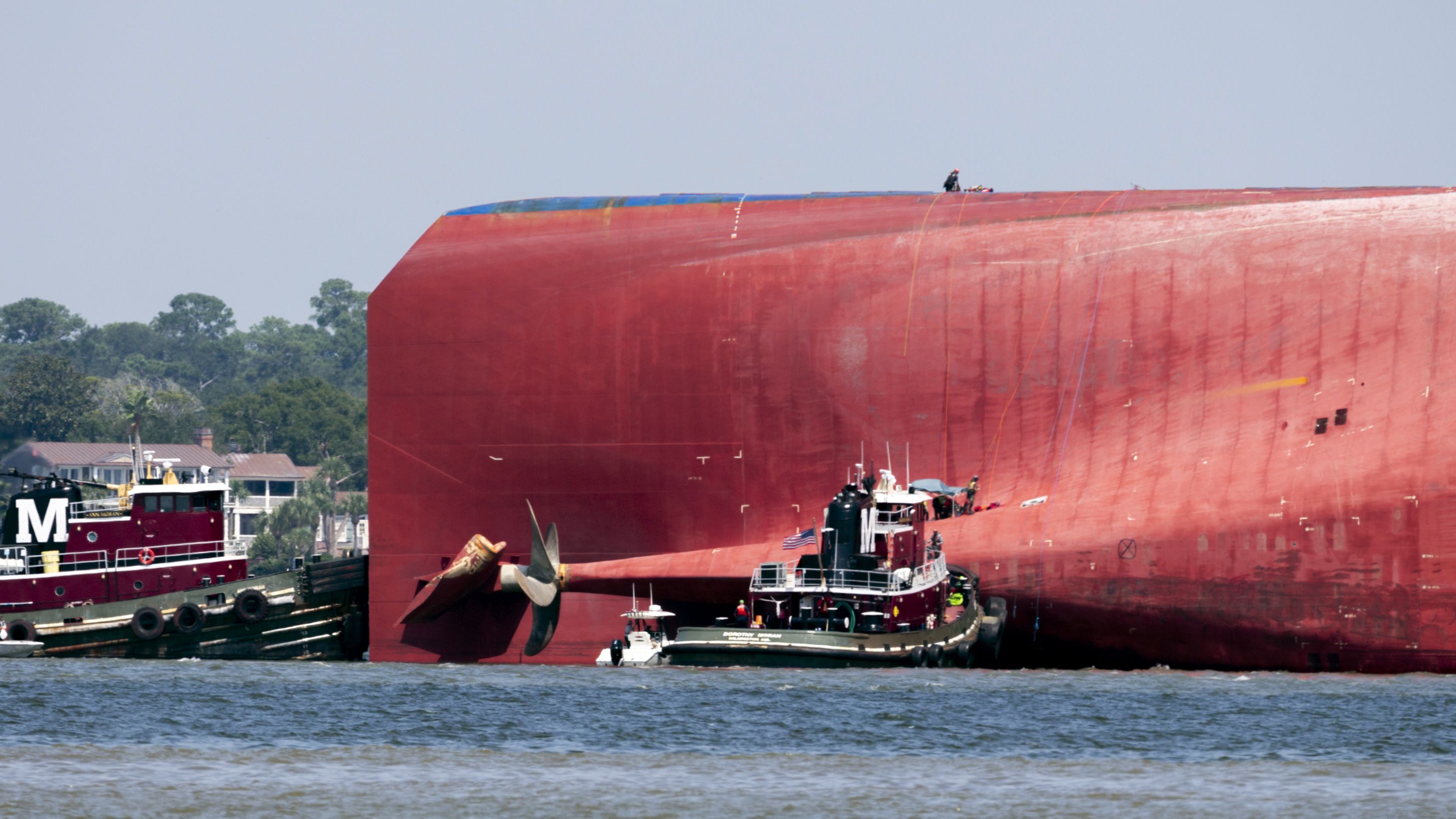 Coast Guard rescuers drilled into the hull's steel plates and pulled four trapped men alive from a cargo ship that had capsized a day earlier off Jekyll Island, Ga.
Rescuers clapped and cheered as the final man, wearing only shorts, climbed out of a hole in the hull and stood up. (AP)