January 14, 2018
Good Sunday morning. Situational awareness: "The Trump administration said Saturday that it would resume accepting renewal applications for the Deferred Action for Childhood Arrivals program, bowing for now to a federal court ruling that blocked an effort to end the Obama-era policy." (Wall Street Journal)
1 big thing: Trump's nightmare
Trump's day of reckoning ... The one thing that could dramatically diminish President Trump's chances of avoiding impeachment and chalking up legislative wins is Democrats winning the House.
And, thanks to series of recent developments, Trump knows this no longer just seems plausible, but probable.
Hill sources tell us that a House Democratic takeover is now likely.
One strategist close to Republican leaders believes that a loss of the House is "baked in," and said top Republicans don't see a way to avoid it.
It would take a flip of 24 seats for Dems to take over. The average loss for the president's party in his first midterm is about 32 seats, and we're hearing forecasts of 40+ losses.
You can't predict outcomes this far out, but these hard facts scare the hell out of Republicans: 
Eight House GOP chairs have retired: You don't climb to the top of power in Congress and leave unless you feel confident your reign will soon end. (Another factor: Chairmanships are term-limited from a Gingrich-era reform.)
Record retirements for GOP: Already, 29 GOP seats are open, a pace far exceeding the past two elections that saw power change hands. 
Democrats outperformed their norms in turnout, and in total votes, in all seven 2017 elections. This is a clear indicator of energy. 
Record number of Democratic women voting and considering running for office. This, more than anything, is a reaction to Trump and the #MeToo movement. 
In polls, voters prefer Democrats for Congress by a 10-point margin. There is no way to spin this: +10 is terrible in a 50/50 nation.
Be smart: Republicans typically hold a built-in advantage in House elections in modern politics. The reason: a combo of congressional districts designed for a GOP edge + the fact that old, white voters outperform in off-year elections because they actually vote. But Democratic momentum looks like it could drench the map. 
The takeaway: With a Democratic House, Trump faces not only a high risk of impeachment proceedings, but hostile chairs with subpoena power who can tie up the administration with hearings and document requests.
2. Hawaii debacle to speed changes to alerts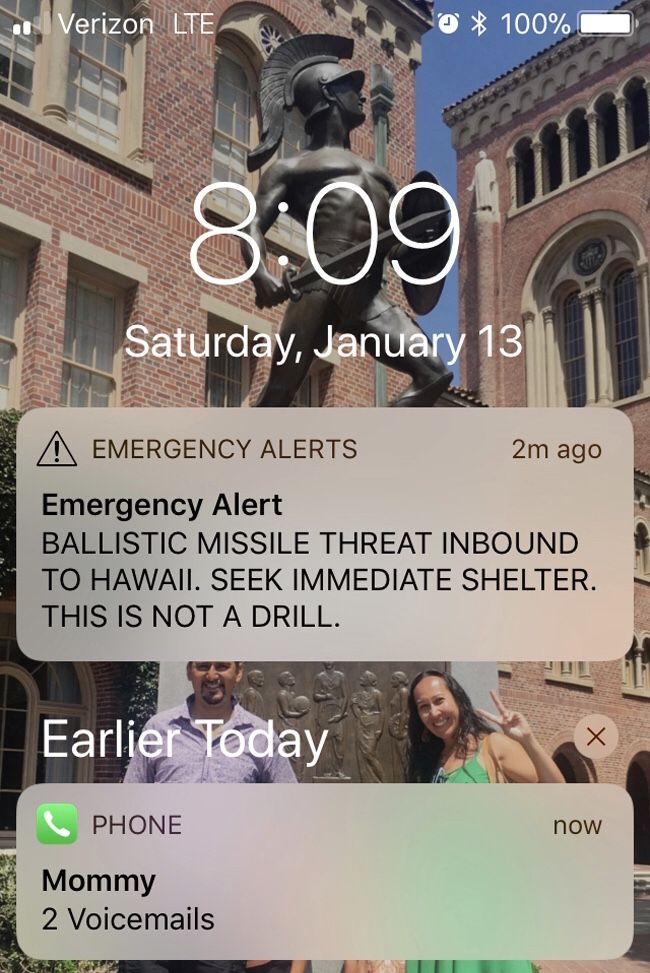 "A false alert sent to cellphones across Hawaii on Saturday warning of an incoming ballistic missile is calling attention to an emergency notification system that government officials at all levels say needs major improvements," per the N.Y. Times' Cecilia Kang:
"The Federal Communications Commission said it was opening a 'full investigation into what happened' when the Hawaii Emergency Management Agency sent the errant alert as a result of what Gov. David Y. Ige said was human error: a worker who 'pushed the wrong button' during a shift change at the state's emergency command post."
Why it matters: "The episode in Hawaii appeared to be the

Wireless Emergency Alerts

system's most serious misfire since it became operational in 2012 to [use alerts pushed to cellphones to] modernize America's decades-old approach of using television and radio to notify the public about impending weather, safety and other hazards."
What's next: "The system has come under growing scrutiny in recent months, with public safety officials complaining that it requires upgrades on several fronts. Critics say they are often sent too widely, sowing fear among people unlikely to be affected by the threat in question."
This is a great read ... Go deeper: "False Alarm Hints at Thin Line Between Mishap and War," by N.Y. Times' Max "The Interpreter" Fisher:
"Security experts called it a frightening warning of how a technical error could set off an unintended conflict with North Korea."
3. Virginia's new governor hits "shallow tweets"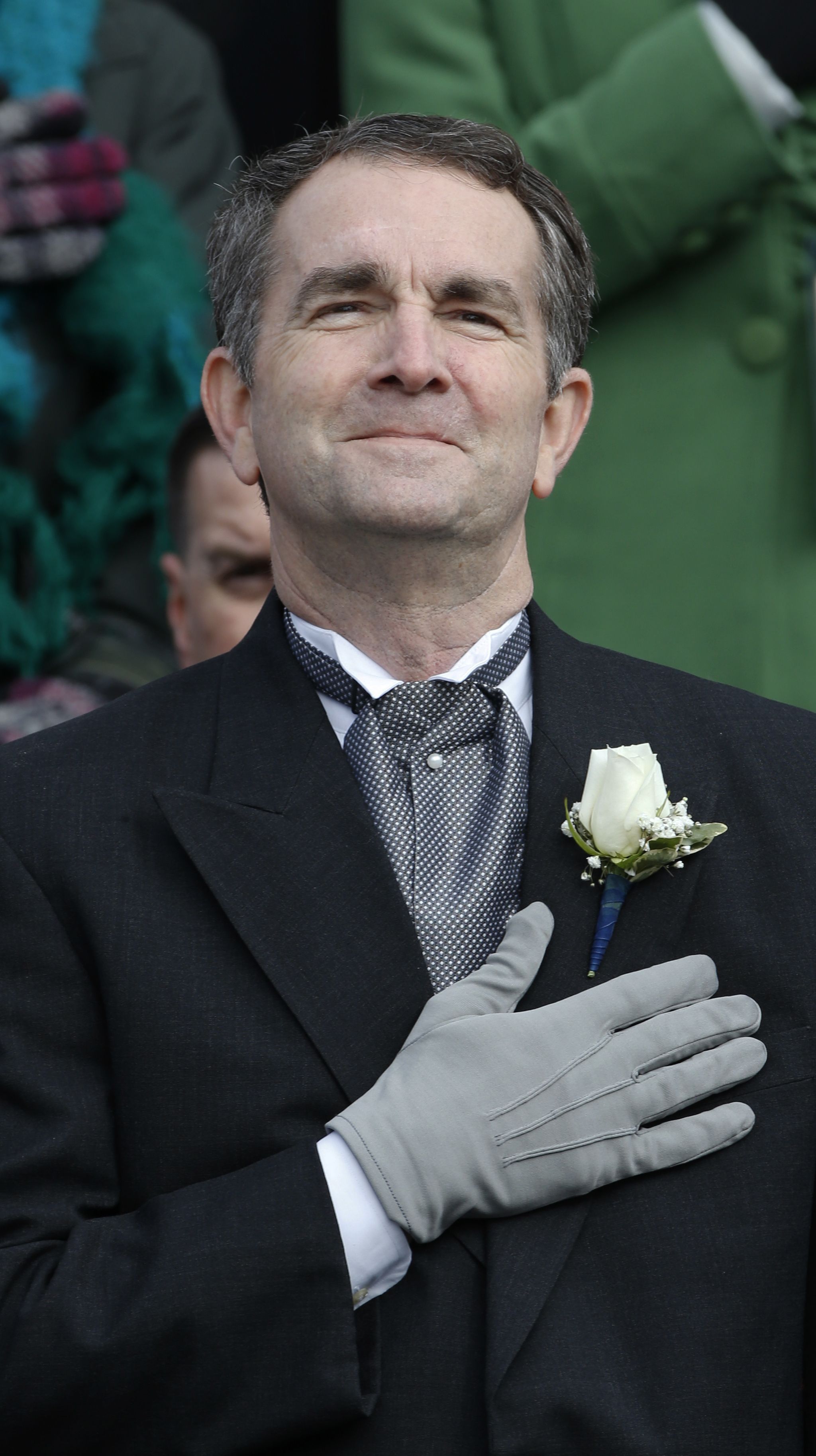 "Virginia Gov. Ralph Northam [D] took some veiled shots at President Donald Trump as he was sworn in as the 73rd governor of the commonwealth, ... telling a crowd gathered in Richmond, 'You don't have to be loud to lead," per CNN.
From Northam's inaugural address: "It can be hard to find our way in a time when there's so much shouting, when nasty, shallow tweets take the place of honest debate, and when scoring political points gets in the way of dealing with real problems."
"Virginia has told us to end the divisiveness, that we will not condone hatred and bigotry, and to end the politics that have torn this country apart."
4. A fight over a contraction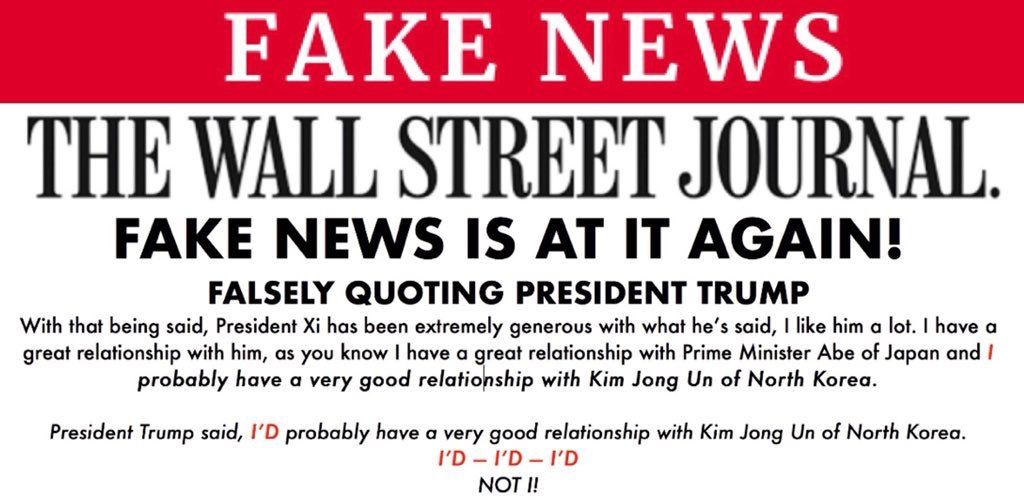 The Wall Street Journal got a lot of pickup from the lead quote of its interview with President Trump last week: "I probably have a very good relationship with Kim Jong Un of North Korea. I have relationships with people, I think you people are surprised."
The Journal instantly challenged the notion of a relationship: "Just to be clear, you haven't spoken to the North Korean leader, I mean when you say a relationship with Korea — "
Trump responded: "I don't want to comment on it — I don't want to comment, I'm not saying I have or I haven't."
Two days after the fact, the White House is disputing the quote, contending in a tweet from Press Secretary Sarah Sanders yesterday that Trump said "I'd probably have" instead of "I probably have."
5. "Wolff," "Bannon" reunited by SNL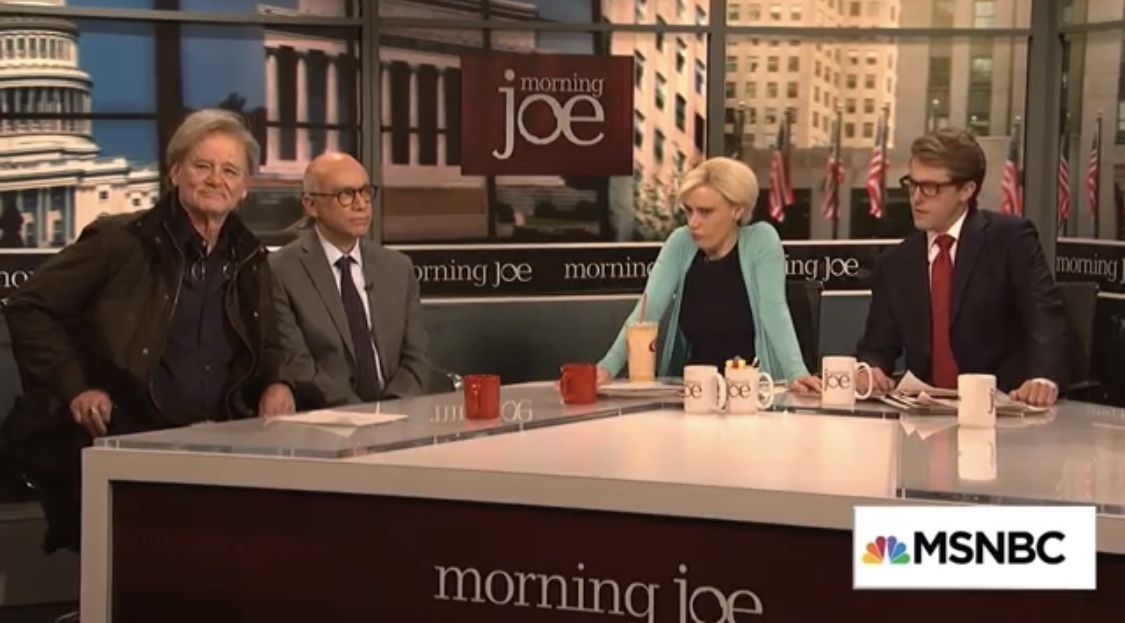 "Michael Wolff" joined the "Morning Joe" episode that was the cold open of last night's "Saturday Night Live":
Challenged on his accuracy, "Wolff" said: "Look, you read it, right? ... And you liked it? You had fun? ... Well, what's the problem? You got the gist, so shut up."
Then in a winking voice: "Even the stuff that's not true, it's true."
"Mika": "I knew it. I knew it was true. ... I can't!"
Then "Steve Bannon" dropped by: "Steve Bannon — the Bannon Cannon — [waves arms] magic, magic, magic, magic, magic magic. King of kingmakers! ... The Bannon dynasty is dawning."
What "Bannon" is up to now: "I'm working on a web series for Crackle. It's called 'Cucks in Cars Getting Coffee.' And I'm also coming out with a line of wrinkled barn jackets, called Frumpers for Guys. Springtime, skin-care line: Blotch!"
And there was a surprise remote guest (rhymes with "Oprah").
6. Mr. Amazon steps out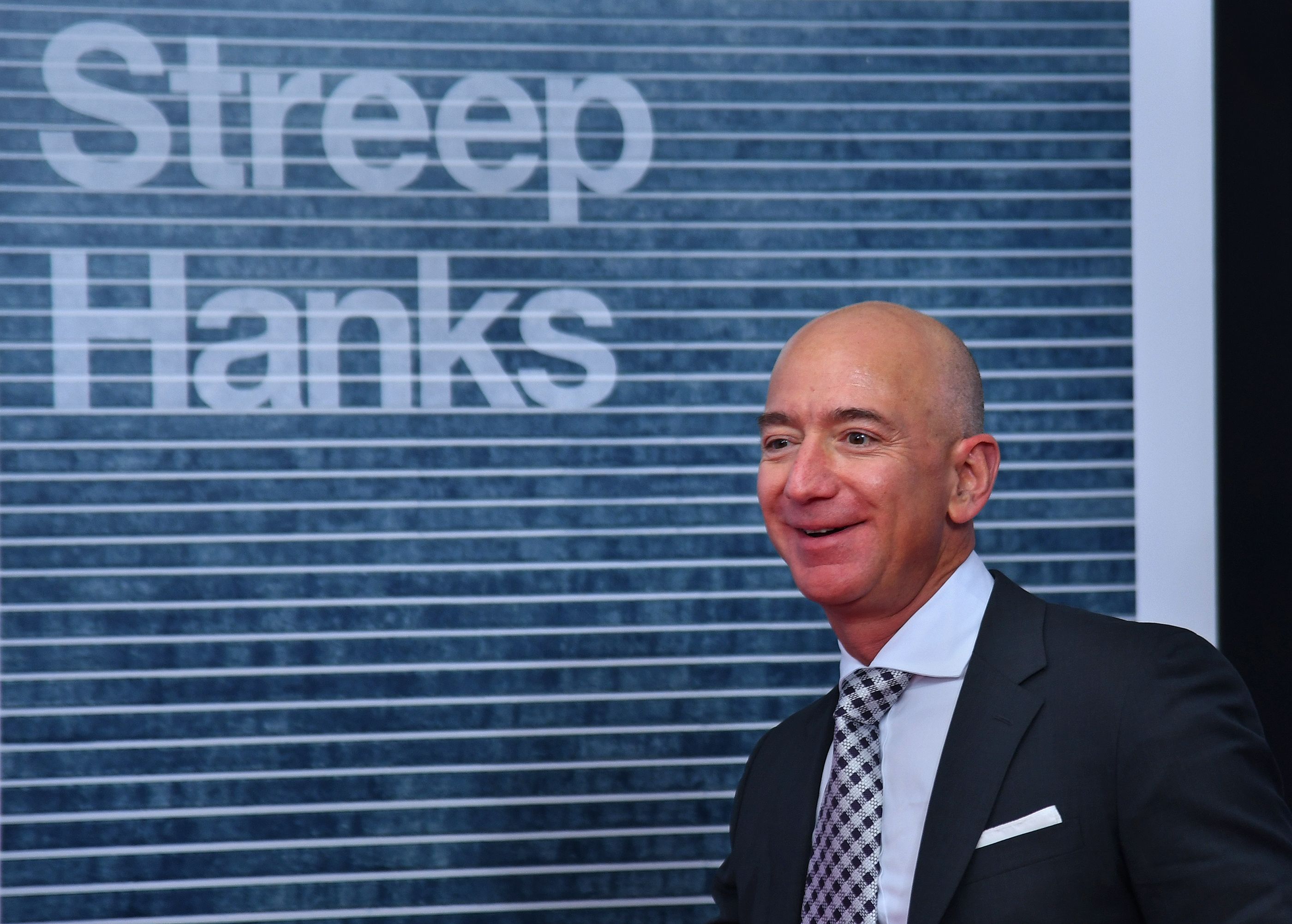 Jeff Bezos — with Amazon, The Washington Post and the Blue Origin space start-up — "is the world's richest person and can afford virtually any luxury. But obscurity is no longer among them," write the N.Y. Times' Nick Wingfield and Nellie Bowles:
"On Friday, Mr. Bezos and his wife, MacKenzie,

made public

their $33 million donation to a nonprofit that provides college scholarships to ... Dreamers ... In October, he

received an award

for a donation to a marriage equality campaign."
"As he was shaping Amazon into one of the world's most valuable companies, Mr. Bezos developed a reputation as a brilliant but mysterious and coldblooded corporate titan."
"Bezos — who at 54 [has]

a net worth of more than $100 billion

— ... has become a bête noire for President Trump, who repeatedly singles out him and Amazon for scorn on Twitter."
AOL co-founder Steve Case, who

recently started

an investment fund focused on start-ups in underserved areas, with Bezos among its contributors: "People are starting to get scared of Amazon ... If Jeff continues to hang out in Seattle, he's going to get a lot more incoming."
"In 2016, Mr. Bezos bought a $23 million home in Washington, one of the city's most expensive, which is undergoing extensive renovations to make it a suitable party spot for the city's political class."
What's next: "Bezos plans to host salon-style dinners at the house, drawing inspiration from the celebrated dinner parties thrown by Katharine Graham, the former publisher of The Post, for the city's movers and shakers from both parties. "
7. Entertainment pops on Wikipedia
Users of the English version of Wikipedia tend to focus their searches around their media consumption, according to an analysis of 2017's top pages by a group of the site's editors.
Why it matters, from Axios' Shane Savitsky: Wikipedia searches can give us an insight into what intrigues people most — and when. In 2017's tumultuous political climate, most English speakers wanted to learn about relaxingly banal matters, like their favorite show on Netflix.
See another chart, more trends.
8. "Whoa, Nellie!"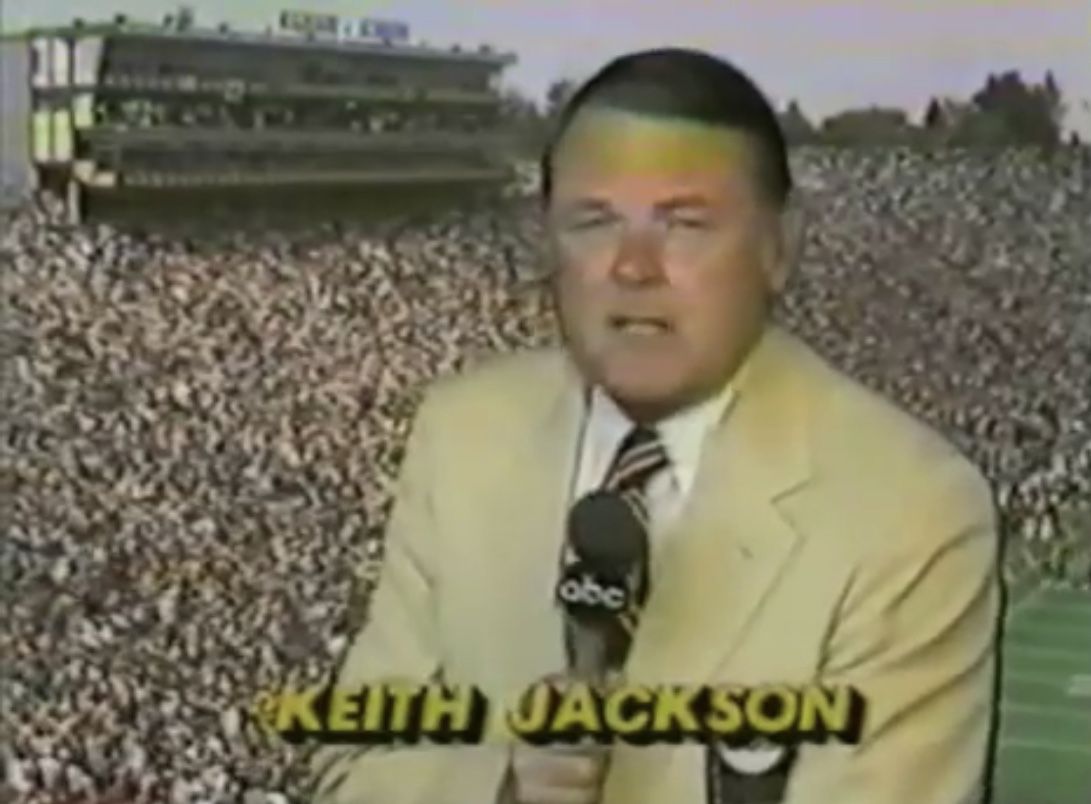 "The Voice of College Football, Keith Jackson Had a Visceral Effect on Fans," by Sports Illustrated's Andy Staples:
"It was probably on some lazy Saturday afternoon or evening in 1990 when the sound burned itself into my memory. I was in seventh grade, and a Notre Dame linebacker with a previously checkered career was in the midst of an All-America season."
"Keith Jackson was calling the game, and when that linebacker made a tackle, Jackson said … Miiichael Stooooonebreaker."
"Jackson flew to that big broadcast booth in the sky on Friday. He was 89. He left behind a wife, children and grandchildren. He also leaves behind millions of college football fans who consider his the definitive voice of the sport."
"Maybe it's Hello, Heisman ... Maybe it's He didn't make it ... Maybe it's Hoooooooold the phone, ... Jackson's way of reminding everyone that an official had thrown a flag .... Or maybe it's He's going for the cornerrrrrr. He's got it!"
Why he mattered: "Jackson guided an awful lot of us through our college football education."
"Jackson once said he pretended to call games while walking around the cornfield near his childhood home [in Georgia]. Years later, thousands of backyard football games would be narrated by a kid doing his best Jackson impression."
9. Think about this for a family trip
"Southern states that once fought to maintain racial segregation are now banding together to promote civil rights tourism at sites including the building where the Confederacy was born and the motel where Dr. Martin Luther King Jr. died," AP's Jay Reeves writes from Birmingham, Ala.:
"Fourteen states stretching from Kansas to Delaware, including all of the Deep South, are joining to promote the U.S. Civil Rights Trail, which will highlight about 130 sites linked to the modern civil rights movement. The joint effort is being unveiled as part of the MLK holiday weekend."
"Landmarks ... include churches, courthouses, schools, businesses and other sites that played a role in the civil rights movement in the 1950s and '60s, plus memorials and museums that document the period."
"The trail includes locations in Alabama, Arkansas, Delaware, Georgia, Kansas, Kentucky, Louisiana, Mississippi, Missouri, North Carolina, South Carolina, Tennessee, Virginia and West Virginia."
"It also features the District of Columbia, with attractions including the Lincoln Memorial, the National Museum of African American History and Culture, and the U.S. Supreme Court building."
10. 1 fun thing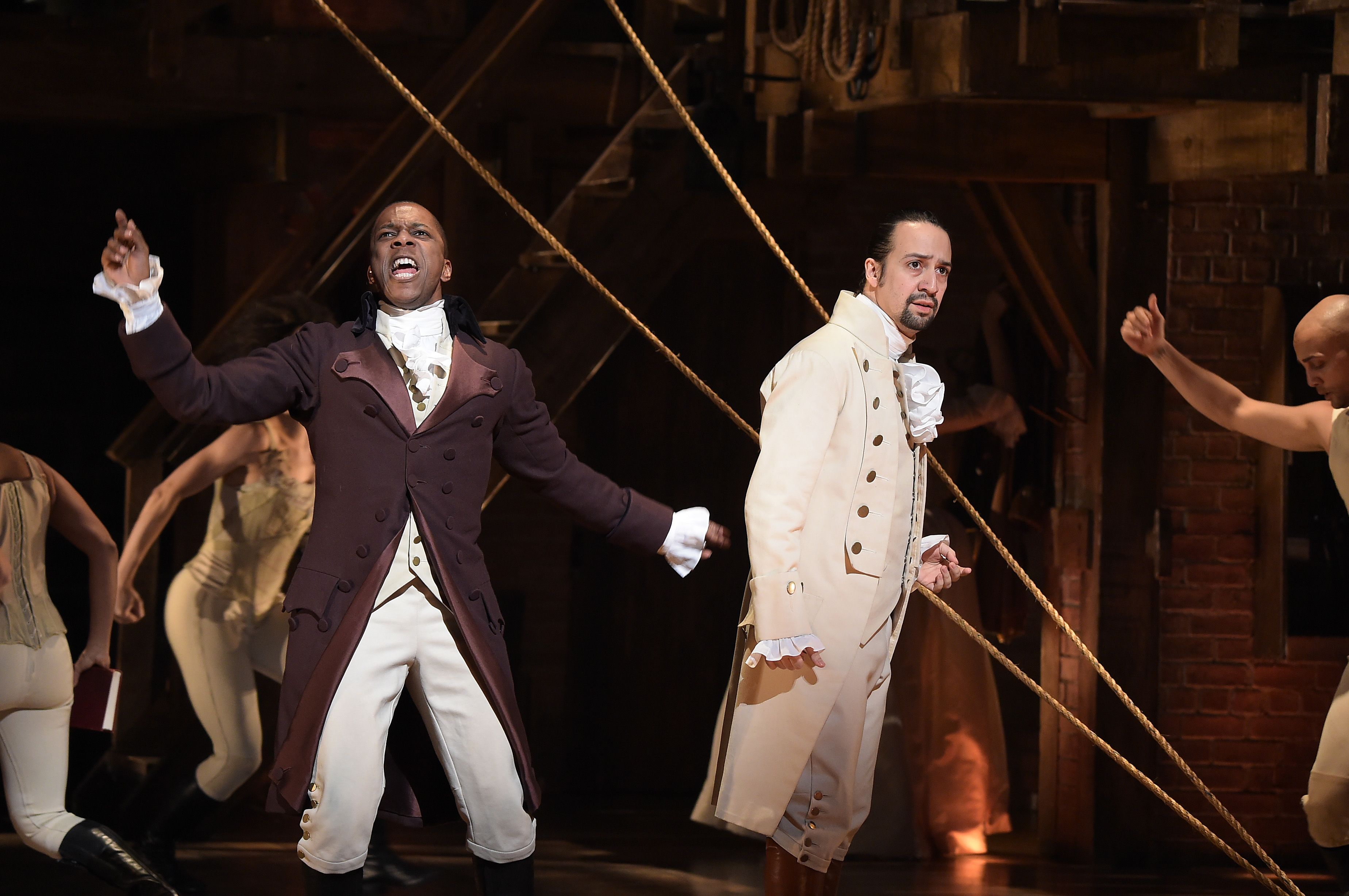 Leslie Odom Jr., known for his breakout role as Aaron Burr in Hamilton, will sing "America The Beautiful" during Super Bowl LII pregame festivities at U.S. Bank Stadium in Minneapolis on Sunday, Feb. 4, the NFL and NBC announced.
Odom "joins VICKI CARR (Super Bowl XI), RAY CHARLES (Super Bowl XXXV), MARY J. BLIGE & MARC ANTHONY (Super Bowl XXXVI), ALICIA KEYS (Super Bowl XXXIX), FAITH HILL (Super Bowl XLIII), QUEEN LATIFAH (Super Bowl XLIV & XLVIII), LEA MICHELE (Super Bowl XLVI) in singing 'America The Beautiful.'"
"P!NK will perform the National Anthem, ALEXANDRIA WAILES will sign the National Anthem and 'America The Beautiful' and JUSTIN TIMBERLAKE will headline the Pepsi Super Bowl LII Halftime Show."
Thank you for reading. See you all day in the Axios stream ...