https://www.axios.com/newsletters/axios-am-a850aa81-1a8f-4f5a-af3d-08f9904716f5.html?chunk=0#story0
1 big thing: Thin ice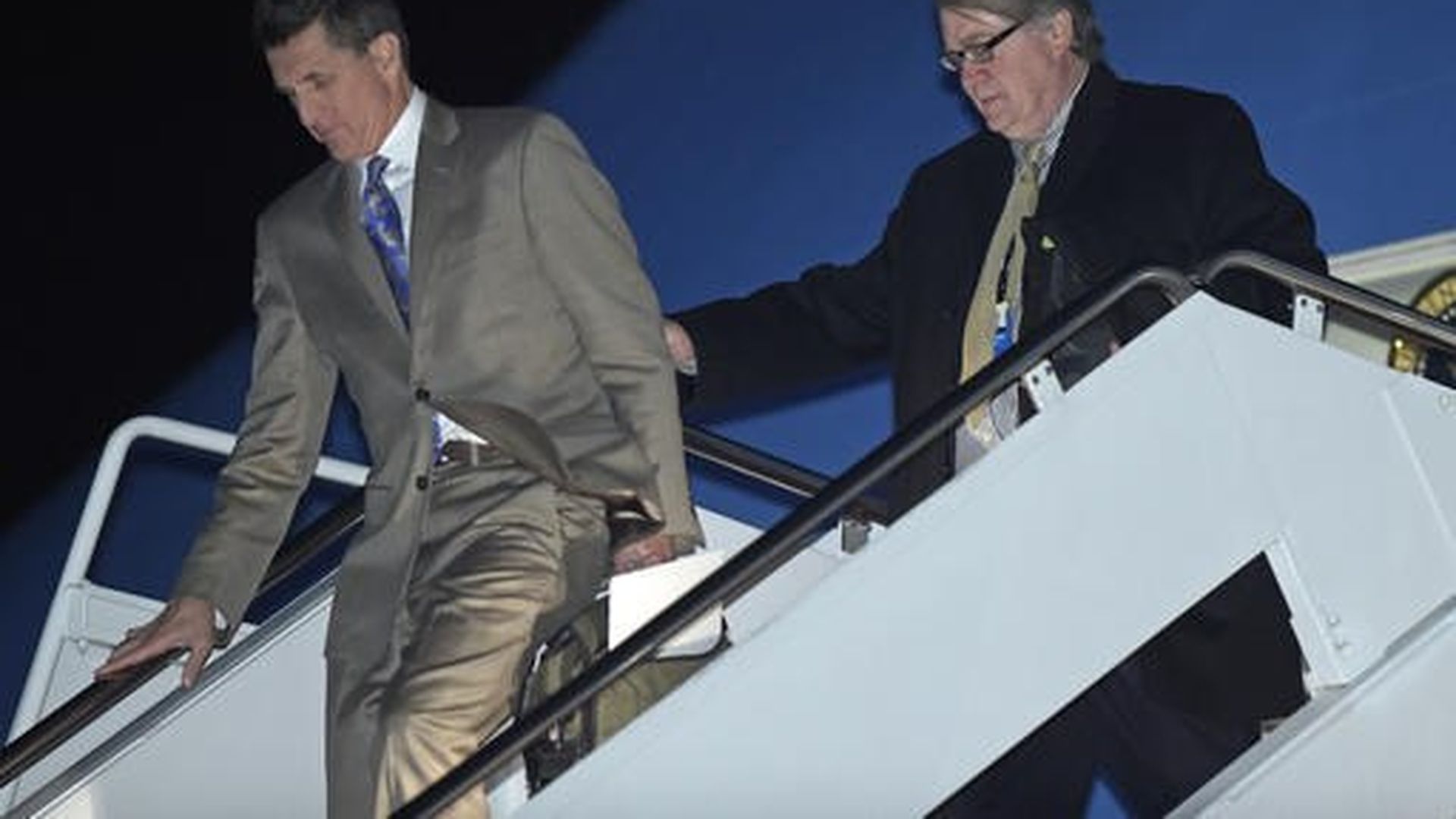 Imagine you're Reince Priebus. Every day, you hear speculation that your days as White House chief of staff are numbered. You wake up on a Sunday and read that colleague Kellyanne Conway's dream job is, well, yours.
Then, you flick on CNN to see Newsmax CEO Chris Ruddy -- a Trump pal of 10 years (and Mar-a-Lago member) who just spent time alone with him in Florida -- saying this on "Reliable Sources": "The White House is showing not the amount of order that we need to see. I think there's a lot of weakness coming out of the chief of staff."
After a pleading call from Priebus, Ruddy tweeted: "Reince just briefed me on new WH plans. Impressive! CNN today my personal view. Told him I have 'open mind' based on his results." Then Ruddy got another call: "Jared Kushner tells me COS Reince is doing 'amazing job.'"
Yikes! Not a reassuring end to your third week on the job! But this is a problem hardly confined to Priebus: After watching Trump clean house several times during the campaign, everyone feels on thin ice. This naturally breeds insecurity, ass-covering and endless leaking.
Those who don't fear for their hide are busy gaming out how they rise when someone falls. Trump feeds all of this. It's why an insider describes the White House hierarchy as "fragile."
"These people are insecure because Trump does not respect them," said a person in constant contact with the West Wing. "He does not because they have not made any money. He respects [Steve] Bannon and Gary Cohn because they are financially successful."
Trump has already consulted friends about his next chief of staff. I'm told that to avoid admitting error, Trump plans a smooth transition from Priebus, perhaps by making him a Cabinet secretary!
Ruddy told us in a phone interview: "Trump is trying to figure out who he should trust. This is totally new for him, so he's trying to figure out who the strong ones are and who the weak ones are."
Heather Nauert, the news anchor on "Fox & Friends," was spotted at the White House last week -- talking to Trump, we're told, about a communications job. Yesterday she tweeted that she's buying Ivanka Trump heels in solidarity after Nordstrom dropped the line, and will wear them on "Fox & Friends" this week.
That certainly doesn't make embattled West Wing officials feel any more secure as they try to put out what one called "400 fires a day."
Any purge will begin with national security adviser Mike Flynn, for lying to Vice President Pence about contacts with Russia on sanctions. In retrospect, that was clear as soon as Trump told reporters Friday evening on Air Force One that he didn't know about the story, which had been on the front page of that morning's Washington Post. It was a way for Trump to dodge showing support for Flynn.
"Spread the butter: He is toast," said a top source. "Lying to Pence damaged Pence's credibility and the administration's. That is an unpardonable sin."
NEW: Alerts from Axios! Choose from business, health care, politics, tech. Sign up here.
https://www.axios.com/newsletters/axios-am-a850aa81-1a8f-4f5a-af3d-08f9904716f5.html?chunk=1#story1
2. ​An audience of 1
Shot ... Trump policy guru Stephen Miller to John Dickerson on "Face the Nation": "The president of the United States has accomplished more in just a few weeks than many presidents accomplish in an entire administration."
Chaser ... Trump tweets: "Congratulations Stephen Miller- on representing me this morning on the various Sunday morning shows. Great job!"
Retweeted by ... Sean Spicer @PresSec.
https://www.axios.com/newsletters/axios-am-a850aa81-1a8f-4f5a-af3d-08f9904716f5.html?chunk=2#story2
3. Ivanka's rising role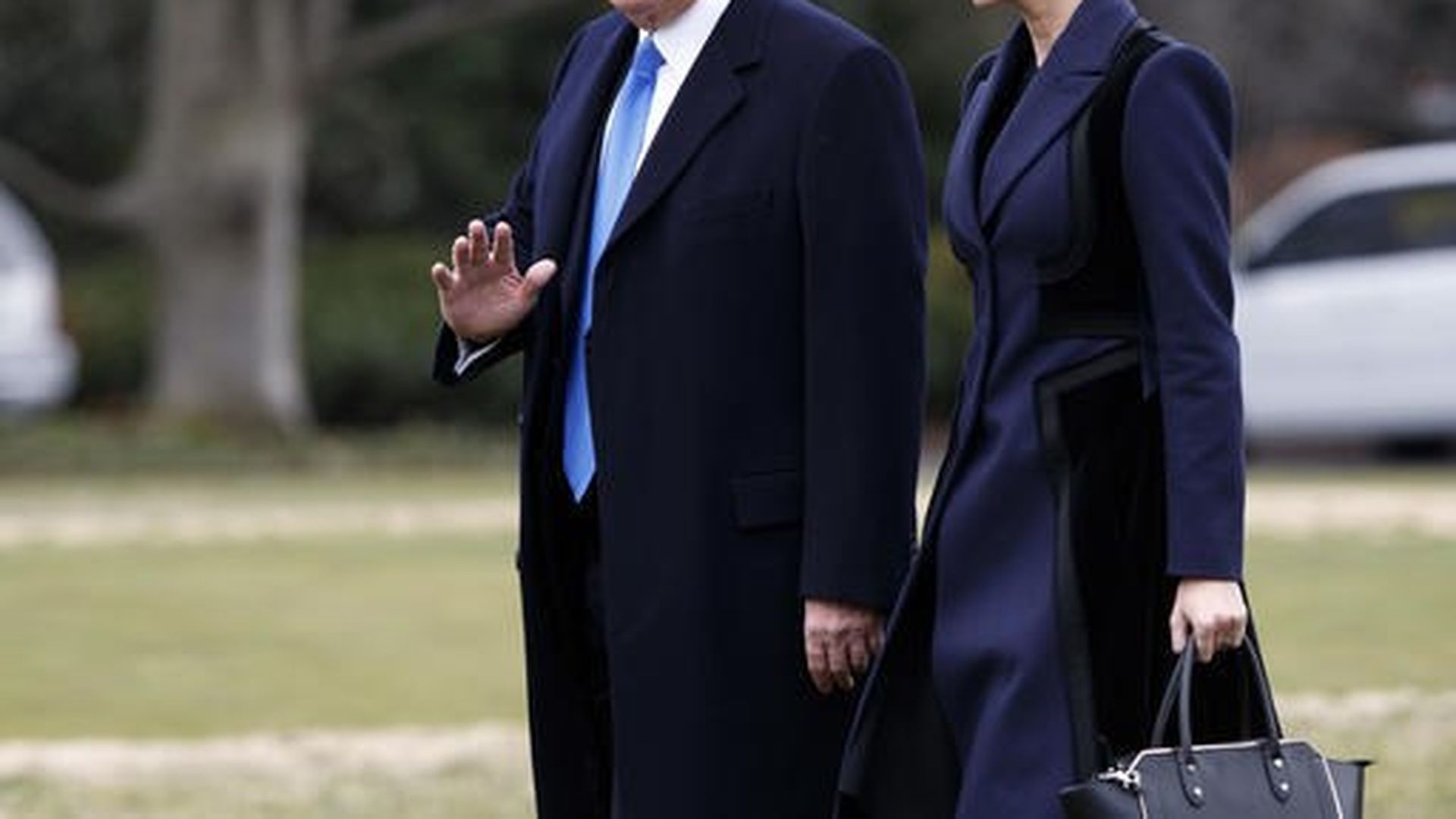 While forgoing an official title for now, Ivanka Trump is already proving to be a vital player in her father's West Wing. Today, she shows she'll play a critical role with the international economic agenda, as well as the domestic issues where she has long been active.
After an Oval Office meeting today with Canadian Prime Minister Justin Trudeau, POTUS and the prime minister will move into the Cabinet Room for an event engineered by Ivanka: a roundtable discussion on the advancement of women entrepreneurs and business leaders.
Participants include: Top female executives from the U.S. and Canada; Chrystia Freeland, the author and now foreign minister of Canada; and White House officials including Dina Powell and Hope Hicks.
A White House official: "This is a first: adding a high-level roundtable of female business leaders from both countries in a major bilateral visit with a critical ally. ... This issue of women in the workforce, and the role of women in the economy, will be a central theme in all discussions and forums focused on how to create jobs and growth in the U.S. and around the world."
Backstory, per AP's Catherine Lucy: "Ivanka Trump ... was involved in recruiting participants and setting the agenda ... Ivanka Trump stressed the importance of maternity leave and child care on the campaign trail, and has recently been meeting with business leaders to discuss those issues."
https://www.axios.com/newsletters/axios-am-a850aa81-1a8f-4f5a-af3d-08f9904716f5.html?chunk=3#story3
4. NSC aides "on edge"
CNN's Brian Stelter says this story reads like a cry for help" from NSC staffers. It's the two-column lead of the N.Y. Times, "Tensions and Chaos Rattle National Security Council: Foreign Policy Made via Twitter Tests Staff," by David Sanger, Eric Schmitt and Peter Baker, "based on conversations with more than two dozen current and former council staff members and others throughout the government." Top nuggets:
"K. T. McFarland, the deputy national security adviser, said that early meetings of the council were brisker, tighter and more decisive than in the past, but she acknowledged that career officials were on edge."
Sign of the times: "Two officials said that at one recent meeting, there was talk of feeding suggested Twitter posts to the president so the council's staff would have greater influence."
"Many [officials] who remain, who see themselves as apolitical civil servants, have been disturbed by displays of overt partisanship. At an all-hands meeting about two weeks into the new administration, Ms. McFarland told the group it needed to 'make America great again,' numerous staff members who were there said."
"New Trump appointees are carrying coffee mugs with that Trump campaign slogan into meetings with foreign counterparts, one staff member said."
"Nervous staff members recently met late at night at a bar a few blocks from the White House and talked about purging their social media accounts of any suggestion of anti-Trump sentiments."
https://www.axios.com/newsletters/axios-am-a850aa81-1a8f-4f5a-af3d-08f9904716f5.html?chunk=4#story4
5. Inside the NYT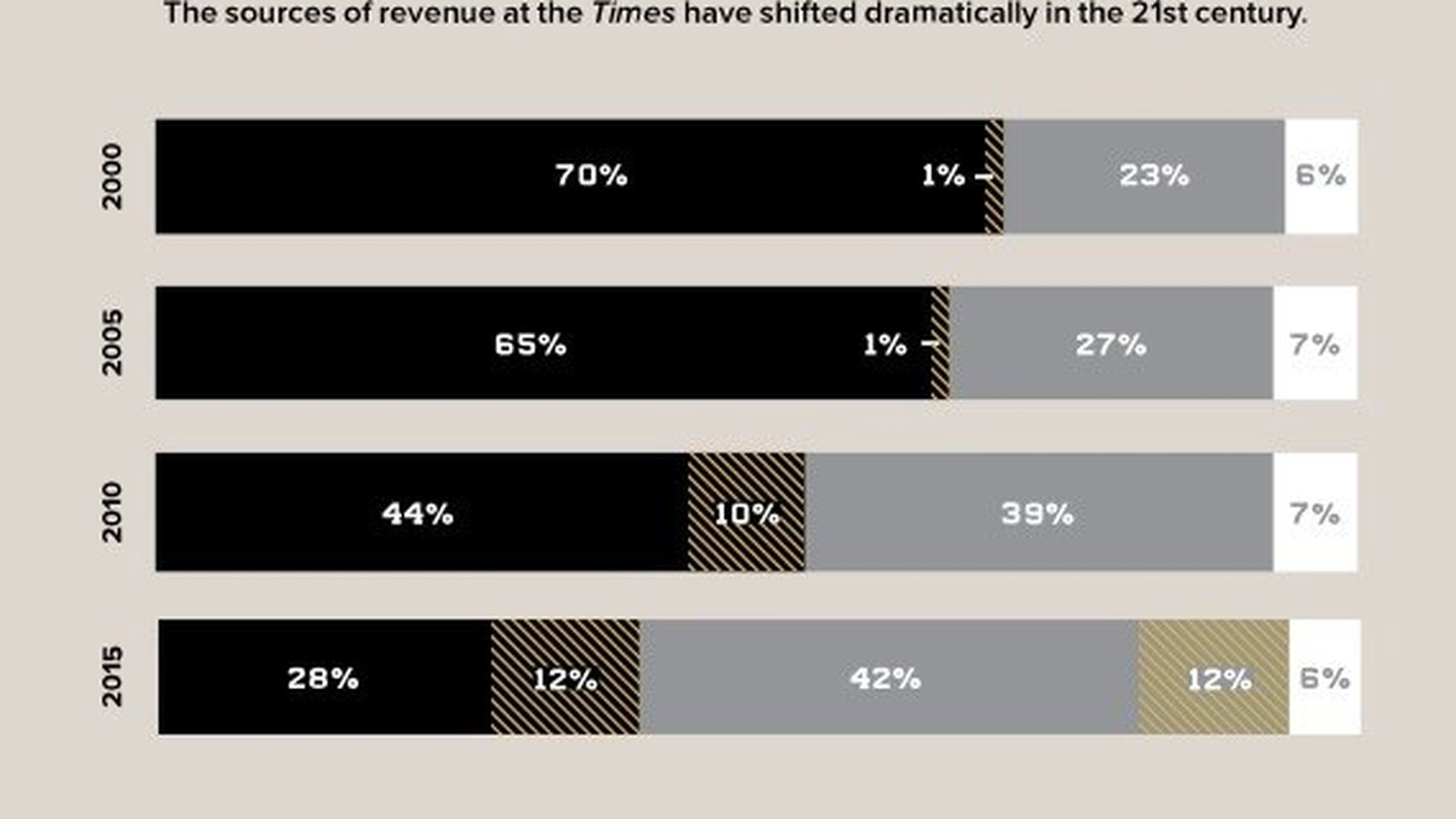 Future N.Y. Times publisher Arthur Gregg Sulzberger -- "who goes by Arthur but is known as A.G. around the Times" -- is on the cover of Wired's March issue for "The News [in NYT font] in Crisis ... How The New York Times Is Clawing Its Way Into the Future," by Brooklyn writer Gabriel Snyder. Le highlights:
"[T]he Times is embarking on an ambitious plan inspired by the strategies of Netflix, Spotify, and HBO: invest heavily in a core offering (which, for the Times, is journalism) while continuously adding new online services and features (from personalized fitness advice and interactive newsbots to virtual reality films)."
"How they reach those people, and how they make them pay, is now the work of hundreds of journalists, designers, engineers, data scientists, and product managers."
"No one on [the Beta Group, which has become a hub for most of the Times' digital initiatives] has an office; instead, each product is assigned its own conference room lined with whiteboards covered in colorful diagrams, design mock-ups, and Post-it notes where members of the team immerse themselves in what they are trying to build."
"In addition to Cooking and Crossword—two of the original Beta apps—the group is now working on Real Estate, an app for home listings; Well, a health and fitness blog the group wants to turn into a suite of personalized training and advice services; and Watching, a vertical dedicated to TV and movie recommendations."
"[T]here are some at the Times ... who chafe at these endless waves of experimentation. 'When we're told this is the new best practice, everyone marches in lockstep,' says one editor ... 'Facebook Live? Yep! Video? On it! The New York Times isn't a place where people say no, and we're flat-out exhausted.'"
"The Times has had more success at building its digital subscriber base than any other publication. Its nearly $500 million in digital revenue not only dwarfs what any print publication has managed online, it also far exceeds leading digital-only publishers. At The Washington Post, ... digital revenue was reported in 2016 to be in the neighborhood of $60 million."
The whole article is worth reading -- love the angst over what is "Timesian."
https://www.axios.com/newsletters/axios-am-a850aa81-1a8f-4f5a-af3d-08f9904716f5.html?chunk=5#story5
6. Inoculating against fake news
"The new civics course in schools: How to avoid fake news," by AP's Carolyn Thompson: "Teachers from elementary school through college are telling students how to distinguish between factual and fictional news — and why they should care that there's a difference."
Tips on distinguishing fake news from the real thing:
URL look odd?
Does it make you mad?
If it's real, other news sites are likely reporting it.
Caps lock and multiple exclamation points don't have a place in most real newsrooms.
It might be satire.
https://www.axios.com/newsletters/axios-am-a850aa81-1a8f-4f5a-af3d-08f9904716f5.html?chunk=6#story6
7. Trump 101: One thing he really believes
Trump's three unshakable beliefs on trade, per Axios' Jonathan Swan:
America sends the wrong people to negotiate.
Foreign countries rip off America.
American leaders should retaliate.
Why this matters: Trump will inevitably ditch or scale back some of his less realistic promises. But an aide tells us Trump's views on trade only sharpened on the campaign trail as he spent time meeting unemployed factory workers in Rust Belt towns.
https://www.axios.com/newsletters/axios-am-a850aa81-1a8f-4f5a-af3d-08f9904716f5.html?chunk=7#story7
8. Trump's next trade-war targets
Bloomberg's David Tweed, based in Hong Kong: "India, Indonesia, Malaysia and Vietnam have largely escaped ... Trump's glare on trade [which has focused on China, Japan, South Korea], but he may yet come looking. The U.S. runs trade deficits with all of them, in some cases quite big ones."
Asian economy most vulnerable to a trade attack by the U.S.: "After China and Japan, Vietnam is probably next."
Why these economies should be jittery: Higher levies could be imposed for U.S. imports from all of these countries.
The backstory: "Peter Navarro, the head of Trump's National Trade Council, and Commerce Secretary-nominee Wilbur Ross last year wrote a paper [for his campaign] where they pinpointed America's trade gaps as a cause for what they described as its 'slow growth plunge.'"
https://www.axios.com/newsletters/axios-am-a850aa81-1a8f-4f5a-af3d-08f9904716f5.html?chunk=8#story8
9. Reality bites
Wall Street Journal front-pager, "SPEED LIMITS AWAIT INFRASTRUCTURE SPREE," by David Harrison: "Environmental regulations and neighborhood opposition routinely bog down projects and will likely constrain the administration's plan to spend $1 trillion on 'highways, bridges, tunnels, airports.'"
What's ahead: "[L]ong, costly reviews and legal battles will likely confront Mr. Trump's efforts, just as they delayed much of President Barack Obama's 2009 economic-stimulus efforts."
Daunting timeline: "It can take decades to bring such investments to fruition. ... Completing the process took an average of almost 10 years for major highway projects that received their final review in 2015, up from about five years in 2005."
Why this matters: These hurdles make it more difficult for voters and consumers to see the benefits of the planned spending. Hence the temptation to go with "shovel-ready" projects -- projects that would have gone ahead anyway, or that are not -- in the words of the great Michael Grunwald -- "shovel-worthy."
https://www.axios.com/newsletters/axios-am-a850aa81-1a8f-4f5a-af3d-08f9904716f5.html?chunk=9#story9
10. 1 fun thing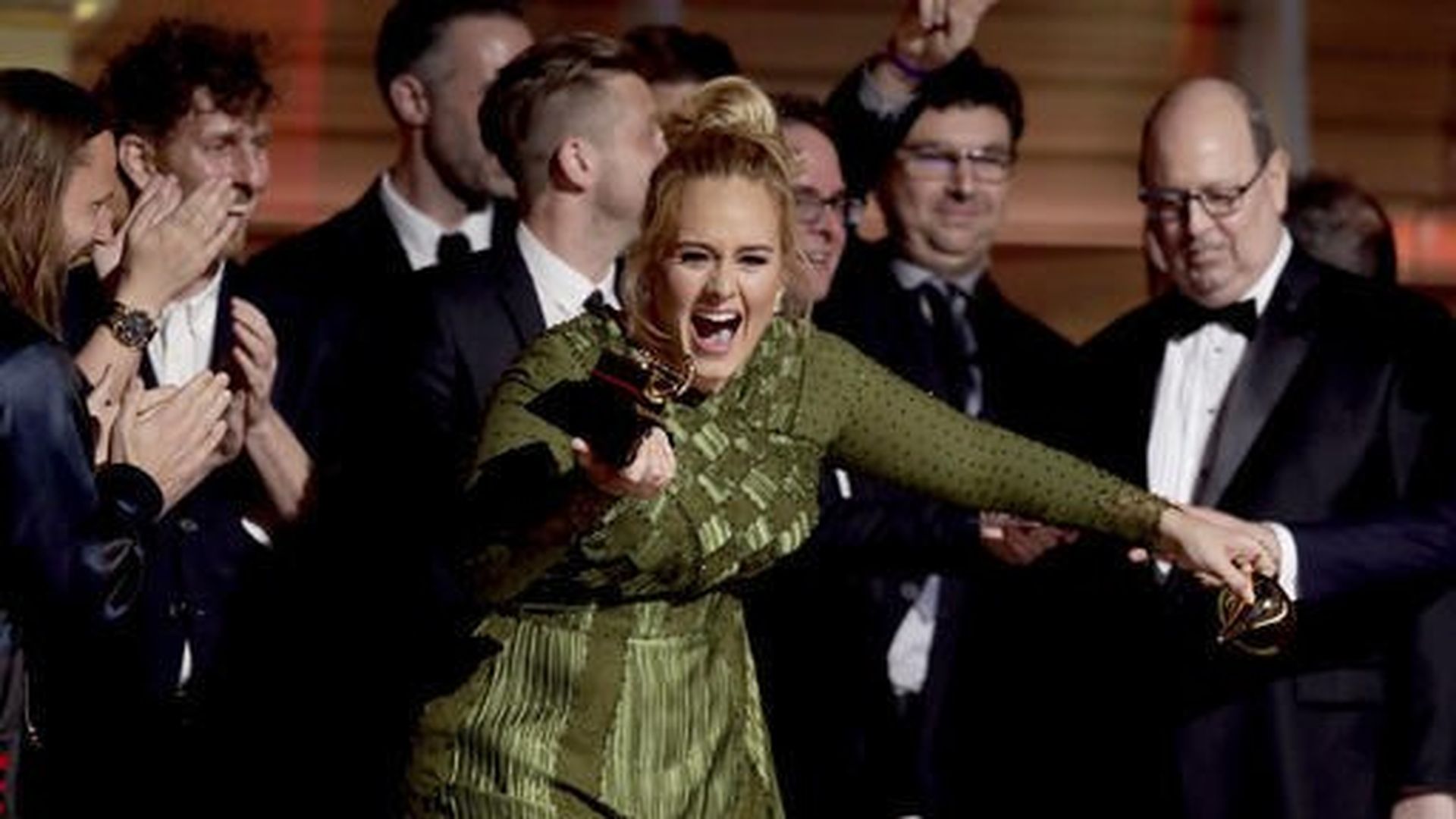 "Adele and David Bowie rack up wins as the Grammys struggle to keep up with the times" -- L.A. Times pop music writer Randy Lewis: "Adele, the English queen of pop heartbreak and redemption, scored a perfect five for five ... at the 59th Grammy Awards [in L.A. last night], sweeping the top categories of album, record and song of the year in a triumphant return to the spotlight following a long, trying hiatus."
"Not surprisingly given the mood of the country, the ceremony featured several moments of political commentary, ranging from calls for unity to blatant criticism ... [including a] call-out to 'President Agent Orange' from [Busta Rhymes for] hip-hop collective A Tribe Called Quest."
Beyoncé, pregnant with twins and "perhaps sensing it was her last chance," accepting award for Best Urban Contemporary Album, for "Lemonade": "It's important to me to show images to my children that reflect their beauty ... so they can grow up in a world where they look in the mirror, first through their own families, as well as the news, the Super Bowl, the Olympics, the White House and the Grammys, and see themselves. And have no doubt that they're beautiful, intelligent and capable."
"Adele ... pays tribute to Beyonce," by AP's David Bauder: "In an extraordinary moment between the music industry's top female artists, Adele beat Beyonce for three of the top Grammy Awards — then said her competitor deserved at least one of them."
Adele: "[M]y album of the year is 'Lemonade' ... It's her time to win ... My view is kind of what the (expletive) does she have to do to win album of the year? I felt this album showed another side to her that we haven't seen and I felt blessed to be brought into that situation.'"