January 11, 2020
1 big thing ... Exclusive: Trump's national security adviser claims Iran more likely to negotiate now
White House national security adviser Robert O'Brien tells Axios that despite predictions to the contrary, he's convinced Iran is more likely to return to the negotiating table since the U.S. killed Quds Force leader Qasem Soleimani.
The strike will "reset deterrence," O'Brien added.
O'Brien sat down with Margaret Talev, Jonathan Swan and Alayna Treene at the Eisenhower Executive Office Building yesterday to talk about Iran and other national security challenges at the start of a new year.
On the prospects for diplomacy with Iran, O'Brien told us: "I think the chances of sitting down with the Iranians and getting to a deal have improved significantly" because Soleimani's "off the battlefield."
We'll have more from the broader conversation on Sunday evening in Sneak Peek. (Sign up here.)
Between the lines: O'Brien's claim flies in the face of what the Iranian leadership and regional experts are saying.
Iran's UN ambassador described U.S. diplomatic overtures this week as "unbelievable," in light of the Trump administration killing Soleimani — which Iran's leaders view as an act of war. The Trump administration also added more sanctions against Iran yesterday.
O'Brien said he thinks "the Iranians have realized they don't want a military confrontation with the U.S. and that the maximum pressure campaign is not going to end."
"Soleimani's belief was he could end the maximum pressure campaign by going up an escalation ladder with the U.S., taking out drones, taking out Saudi refineries, taking ships and that sort of thing," O'Brien added.
"I think those plays are over now. ... I believe that the Iranians are standing down," O'Brien said.
After hotly denying it and blaming a mechanical problem, Iran today took responsibility for the fatal crash of a Ukrainian jet over Iran, saying it was an accident by the Revolutionary Guard.
O'Brien, speaking before that admission, said if it was a mistake by their armed forces, Iran must provide compensation to victims' families and allow a "full and impartial" investigation.
O'Brien described a president who was determined to project strength as he saw pro-Iranian crowds attack the U.S. Embassy in Baghdad.
At Trump's direction, O'Brien said, the U.S. brought in a Marine Corps company and Army infantry platoon: "We got air assets, Apaches, up in the air, very quickly so that the crowd understood that this embassy was not going to be overrun. We were not going to have Tehran 1979. We weren't going to have Benghazi."
"In the context of this, we received very strong intelligence that Soleimani was coming to the region to meet with his proxy allies, not just in Baghdad but Damascus and Beirut" to plan attacks against Americans.
"We believed that if we took him off the battlefield that we could disrupt the attacks that were being planned against the United States."
Gulf allies to the U.S. can feel assured, O'Brien said, that "the U.S. is there to deter" Iranian aggression and "the Iranians understand that we mean business" and they should "think very carefully about attacking the United States and its interests in the region."
He stopped short of any absolute guarantees, saying he wasn't going to negotiate defense treaties through an interview.
We asked O'Brien why the Trump administration publicly took credit for killing Soleimani, rather than killing him anonymously and leaving a "zone of deniability" — which some analysts have argued would have been more prudent because it would have been less humiliating to Iran's leaders. His response:
"There weren't too many countries with the capability of undertaking that attack."
Soleimani "was involved in plotting attacks against Americans at the time" and "we were going to disrupt those attacks. It would have become public."
"There was no reason not to own it."
2. Iran's 3 catastrophic mistakes
The Iranian regime has miscalculated in three disastrous ways, leaving the Supreme Leader in a weaker position than 11 days ago:
"Death to America" protests on Dec. 31 breached security at the fortress-like U.S. embassy in Baghdad, and Trump tweeted: "Iran will be held fully responsible." Three day later, Iranians lost their most powerful military leader when a U.S. drone took out Qasem Soleimani.
Iran promised "'forceful revenge." But ballistic missile strikes aimed at U.S. troops on two bases in Iraq killed no one. Trump then said: "Iran appears to be standing down."
Iran lied about the mass murder of 176 people because a trigger-happy idiot shot down a civilian Ukrainian plane taking off from Tehran. The regime looks like dishonest incompetents on the global stage.
Our thought bubble: Trump is taking a lot of flak globally and from Democrats. But at this moment, the Iranian regime is doing most of the suffering.
3. The deeply divided Democrats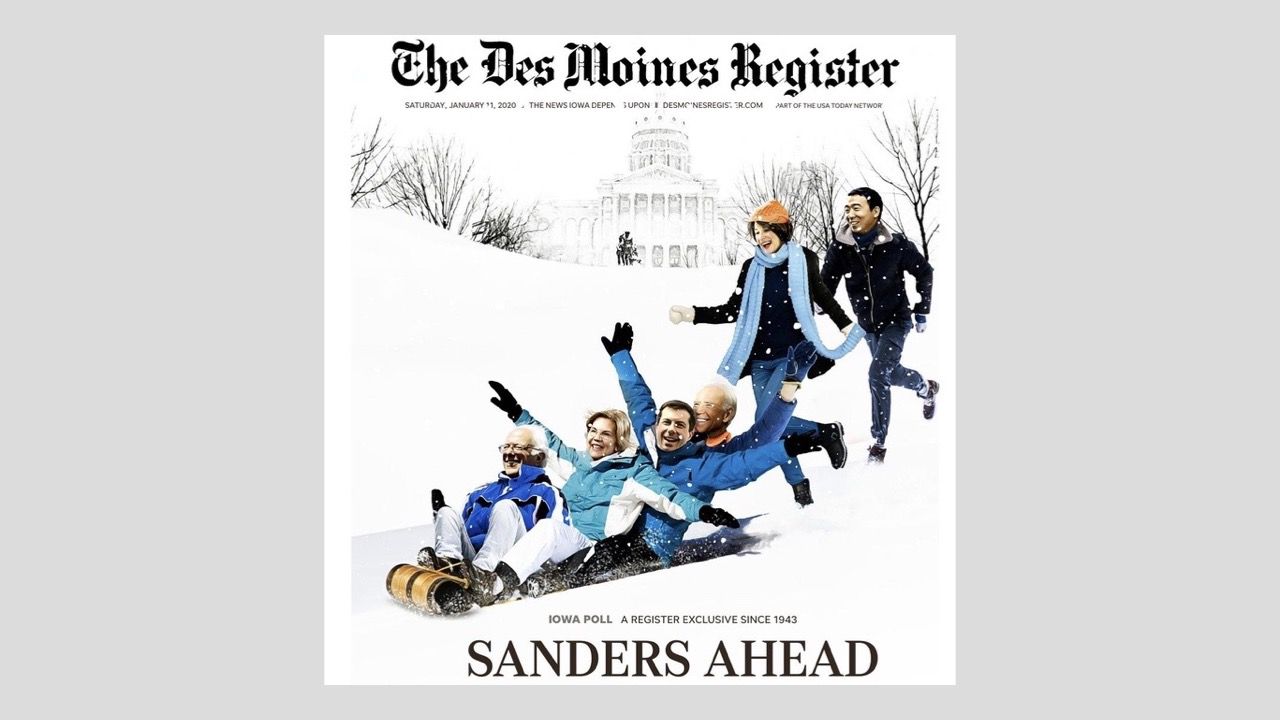 Democratic voters remain stubbornly divided on the top candidates in the four critical early states — and basically split in half between liberal and more centrist candidates.
Why it matters: A slew of new polls illuminates why many top Democrats think the 2020 race will be a long slog — and culminate with a fierce ideological battle between Sanders-style socialism and Biden-style tempered liberalism.
The data: New polls in Iowa, New Hampshire, Nevada and South Carolina show the tempered-liberalism trifecta of Joe Biden + Pete Buttigieg + Amy Klobuchar is getting, in total, roughly the same share as the unabashedly liberal wing of Bernie Sanders + Elizabeth Warren + Tom Steyer.
This dynamic has not changed much in recent months.
The latest: With three weeks until Caucus Day, Sanders leads the gold-standard Iowa Poll for the first time:
Sanders drew 20% of likely caucus-goers, with three rivals bunched right behind him: Warren (17%), Buttigieg (16%) and Biden (15%).
The Des Moines Register, which sponsors the poll with CNN and Mediacom, notes that each of the top four has led the poll at some point this cycle.
Other early states: In New Hampshire, a Monmouth University poll out Thursday had a statistical tie among Buttigieg, Biden, Sanders and Warren.
Fox News polls at the end of the week had Biden ahead by double digits in South Carolina, and vying with Sanders for the lead in Nevada.
Our thought bubble: Biden and Sanders are the nominal frontrunners for the first states — and nationally among black voters, according to new Washington Post-Ipsos poll.
Warren is stagnating; Buttigieg has a serious problem with black voters. 
4. 2020 Attention Tracker: Iran strike boosts Sanders' anti-war profile
Bernie Sanders' response to the Trump administration's strike that killed Iranian general Qasem Soleimani generated far more attention than his 2020 Democratic rivals, according to data from NewsWhip provided exclusively to Axios.
Why it matters: The numbers point to Sanders' elevated stature as an anti-interventionist voice in the race — one that has been sharpened nationally going back to his campaign against Hillary Clinton in 2016.
5. Trump's new danger: Witnesses
President Trump and other Republicans allies sound confident about his impeachment trial, but some key Republican senators plan to push for witnesses.
"There's a growing sense among senators ... that there will be some witnesses," the N.Y. Times reports.
Sen. Susan Collins (R-Maine) told reporters in Maine yesterday that she is working with a "fairly small group" of fellow GOP senators toward a goal of ensuring witnesses can be called, the Bangor Daily News reported.
6. 1 fun thing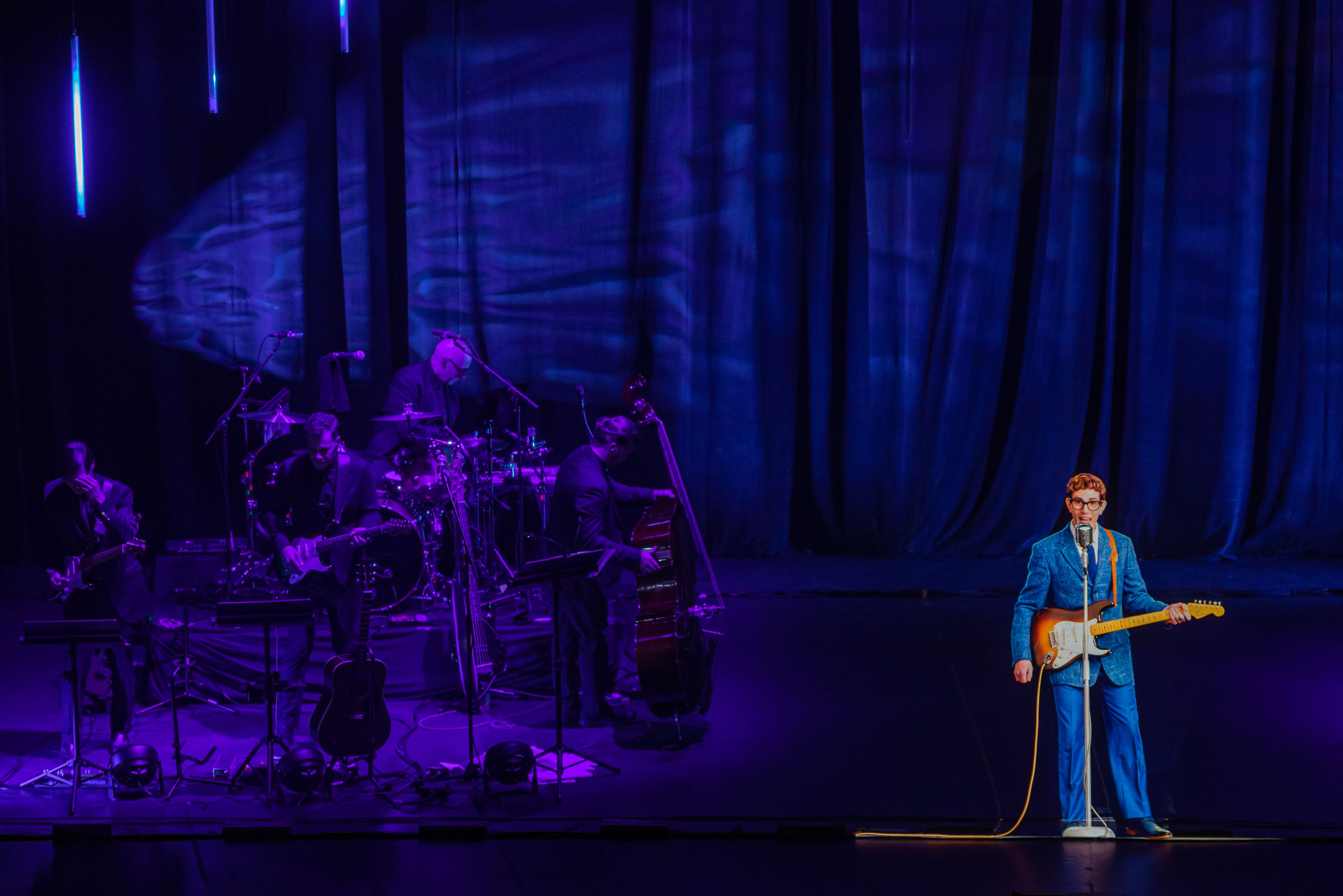 "Old Musicians Never Die. They Just Become Holograms,' Mark Binelli writes for the N.Y. Times Magazine:
"Companies are making plans to put droves of departed idols on tour — reanimating a live-music industry whose biggest earners will soon be dying off."
"Base Hologram ... started out by securing rights to produce holograms of Maria Callas and Roy Orbison," Binelli writes.
"In February, Base will unveil the dead-celebrity-hologram sector's biggest marquee name thus far ... Whitney Houston."