https://www.axios.com/newsletters/axios-am-a511fefb-670c-4a9b-9b5d-997d7fc3c043.html?chunk=0#story0
​1 big thing: Building walls — around Trump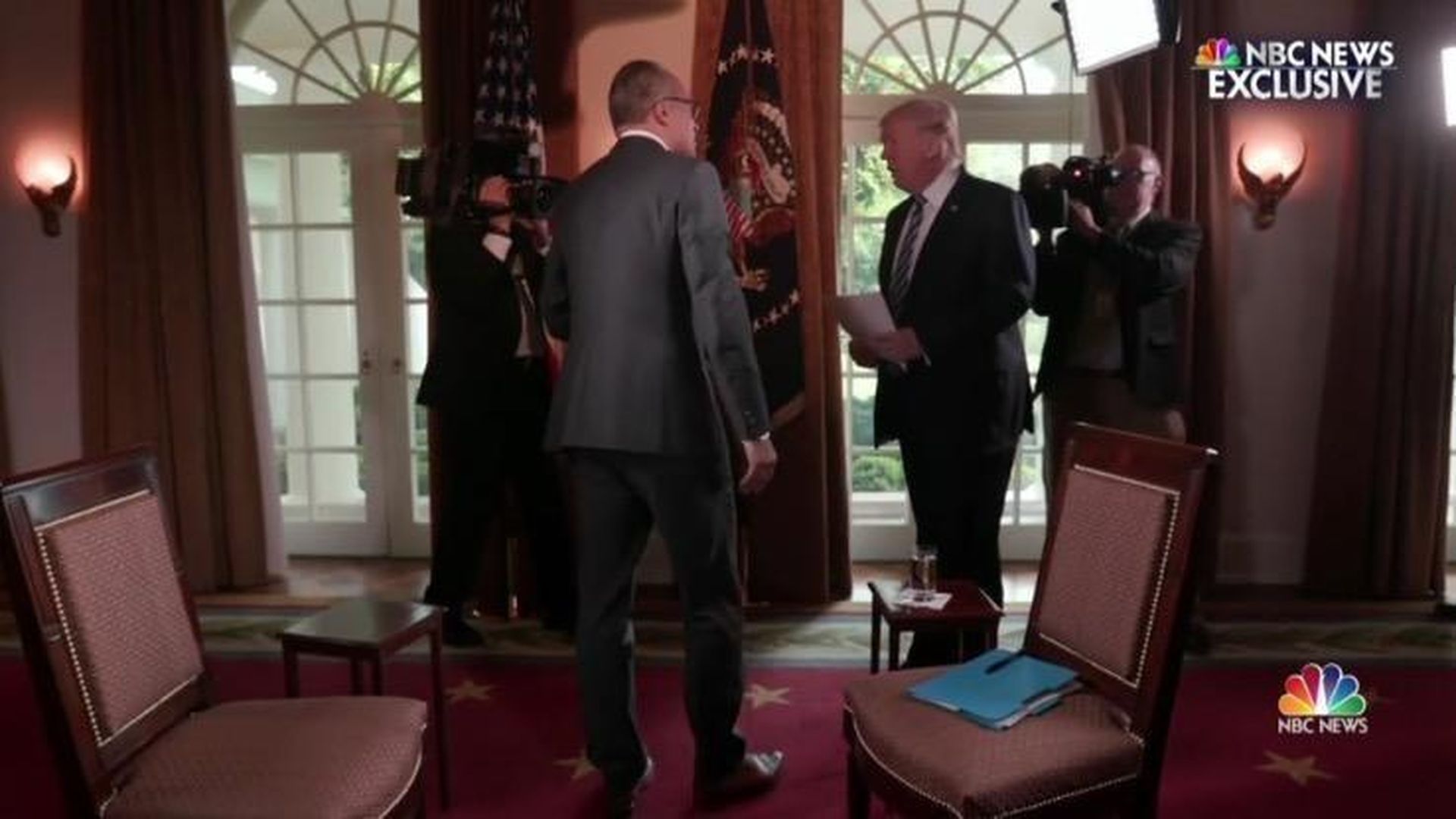 White House officials talk freely about putting "fences" around President Trump and his decision-making to protect him from his self-indulgent instincts.
The wall strategy has worked pretty well so far on national security. National Security Adviser H.R. McMaster demanded and got control of the National Security Council, and set up a process for keeping SecDef Mattis, SecState Tillerson and Homeland Security Secretary Kelly in the loop — and, as importantly, keeping others outside it.
Inside the defense wall, the principals work hard to present Trump with black-and-white options in brief, visual ways. The wall has successfully guarded against unforced international errors.
No such wall exists on the home front, which helps explain unexplainable mistakes like the handling of the Comey firing. So governing by grievance runs unimpeded. An overnight AP headline captures the madness: "Trump contradicts White House."
Sound smart: The one idea floating for tighter control on domestic policy is an even bigger role for the Jared/Ivanka/Gary Cohn wing. BUT Trump so far has resisted an internal push for more order.
https://www.axios.com/newsletters/axios-am-a511fefb-670c-4a9b-9b5d-997d7fc3c043.html?chunk=1#story1
2. Shoes dropping everywhere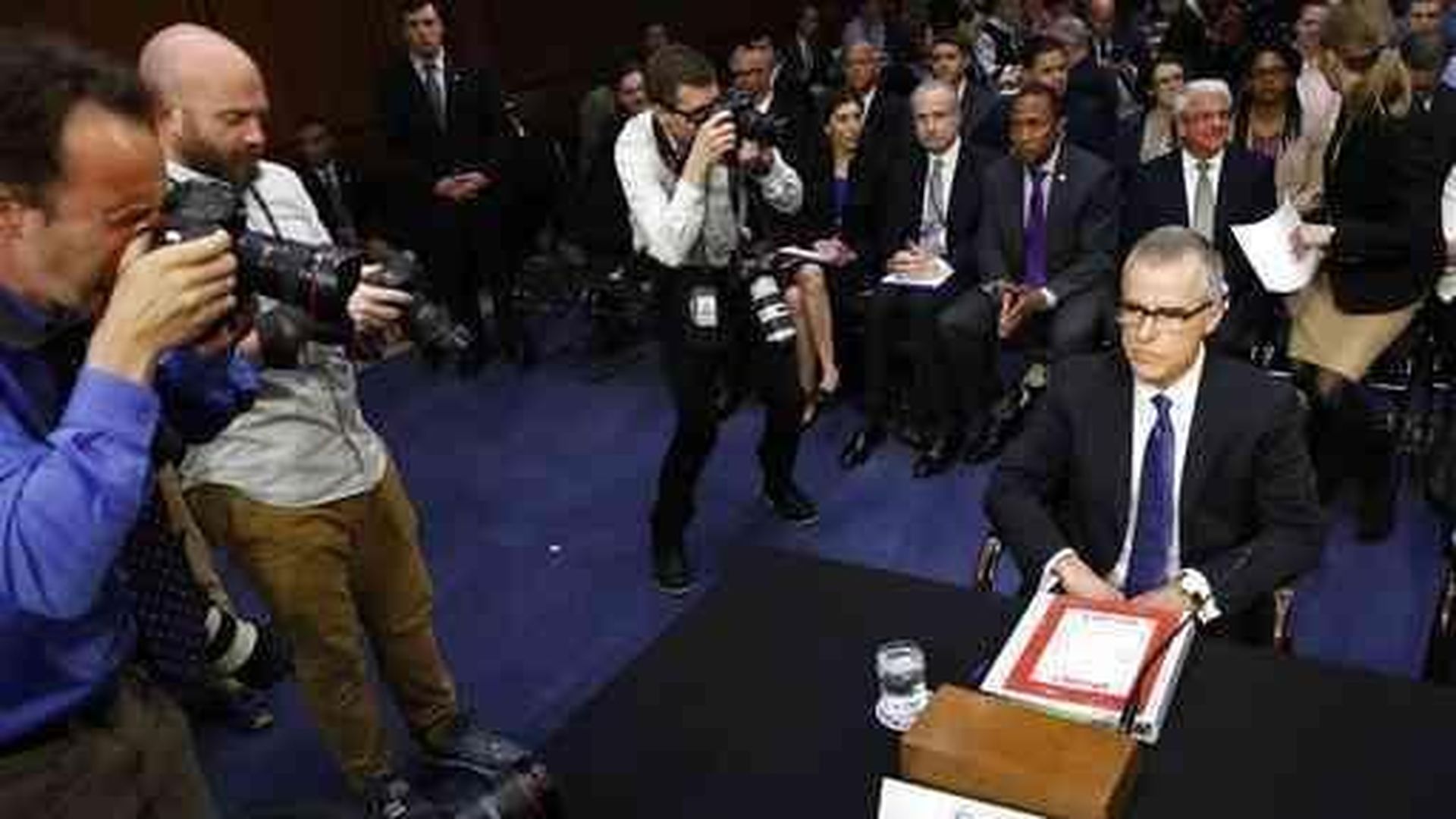 https://www.axios.com/newsletters/axios-am-a511fefb-670c-4a9b-9b5d-997d7fc3c043.html?chunk=2#story2
3. Zeitgeist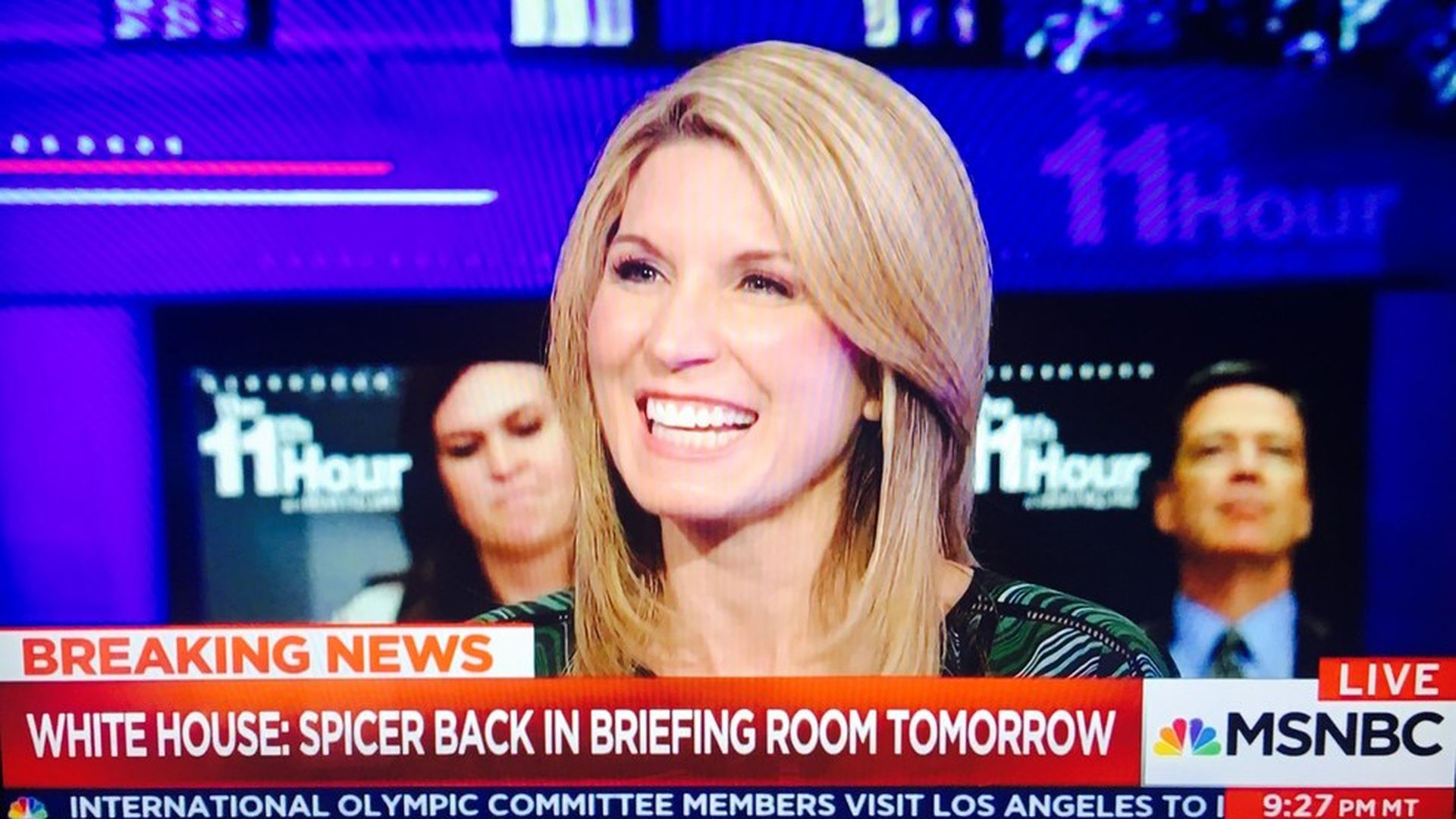 MSNBC host Nicolle Wallace, who was communications director to President George W. Bush, to Brian Willams on MSNBC's "11th Hour": "I was never sent out to lie. And if I had [been], I woulda quit."
David Axelrod to CNN's Don Lemon: "Had there not been a leak [to the WashPost], Michael Flynn might yet be the national security adviser ... It was only the leak that provoked the White House to finally get rid of Flynn, when they should have fired him as soon as Sally Yates reported on the information that she had."
Marc Thiessen, former speechwriter for President George W. Bush, to Fox's Martha MacCallum: "It is [supposedly] a political conspiracy to kill an investigation that he's not a target of. It makes no sense. ... There's no conspiracy here. ... When the president's pleasure ends, so does [Comey's] tenure."
Third Way's Matt Bennett to Fox's Martha MacCallum, on reports that Trump privately "badgered" Comey: "Imagine if Hillary Clinton, as president, had done that."
https://www.axios.com/newsletters/axios-am-a511fefb-670c-4a9b-9b5d-997d7fc3c043.html?chunk=3#story3
​4. Profile in courage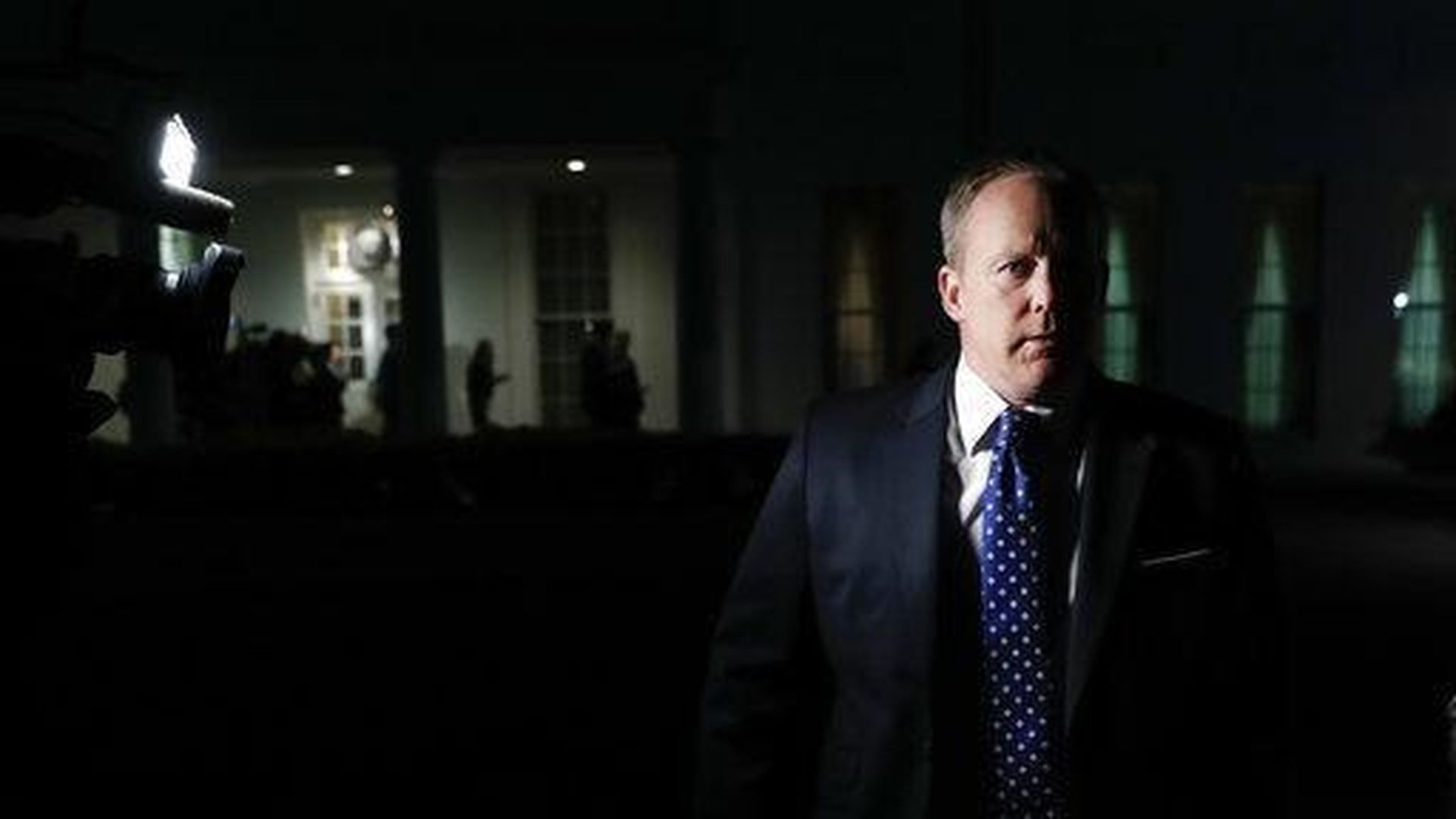 Numerous White House officials tell us Trump has been dumping on his press shop for a sluggish defense of the Comey canning. He has raised replacing Sean Spicer in several conversations with insiders and outsiders.
Full disclosure: Spicer and I haven't always seen eye to eye. But it was not Spicer or his team that decided when and how to fire Comey, or to mislead the public by saying it driven by the recommendation of the deputy A.G. That was all Trump.
Oval Office visitors tell me Trump often watches Spicer's briefing while he eats lunch in his private dining room. He shushes his visitor and turns up the volume when the briefing starts, and critiques the exchanges like it's "SportsCenter."
The obsession might be too much for anyone to bear. Imagine the pressure. And imagine knowing how easily your boss can be moved to throw you under the bus.
A key tenet of the Axios management principles is: "When shit happens, shine. It's easy to manage and lead in good times. But it takes exceptional strength and character when things go south. In turbulent times, be calm, show grace, think deeply and then act decisively, even when it hurts."
The reason for this is simple: it's not only the right thing to do — it's the only thing to do if you want to attract and keep good talent.
https://www.axios.com/newsletters/axios-am-a511fefb-670c-4a9b-9b5d-997d7fc3c043.html?chunk=4#story4
5. What Trump supporters are thinking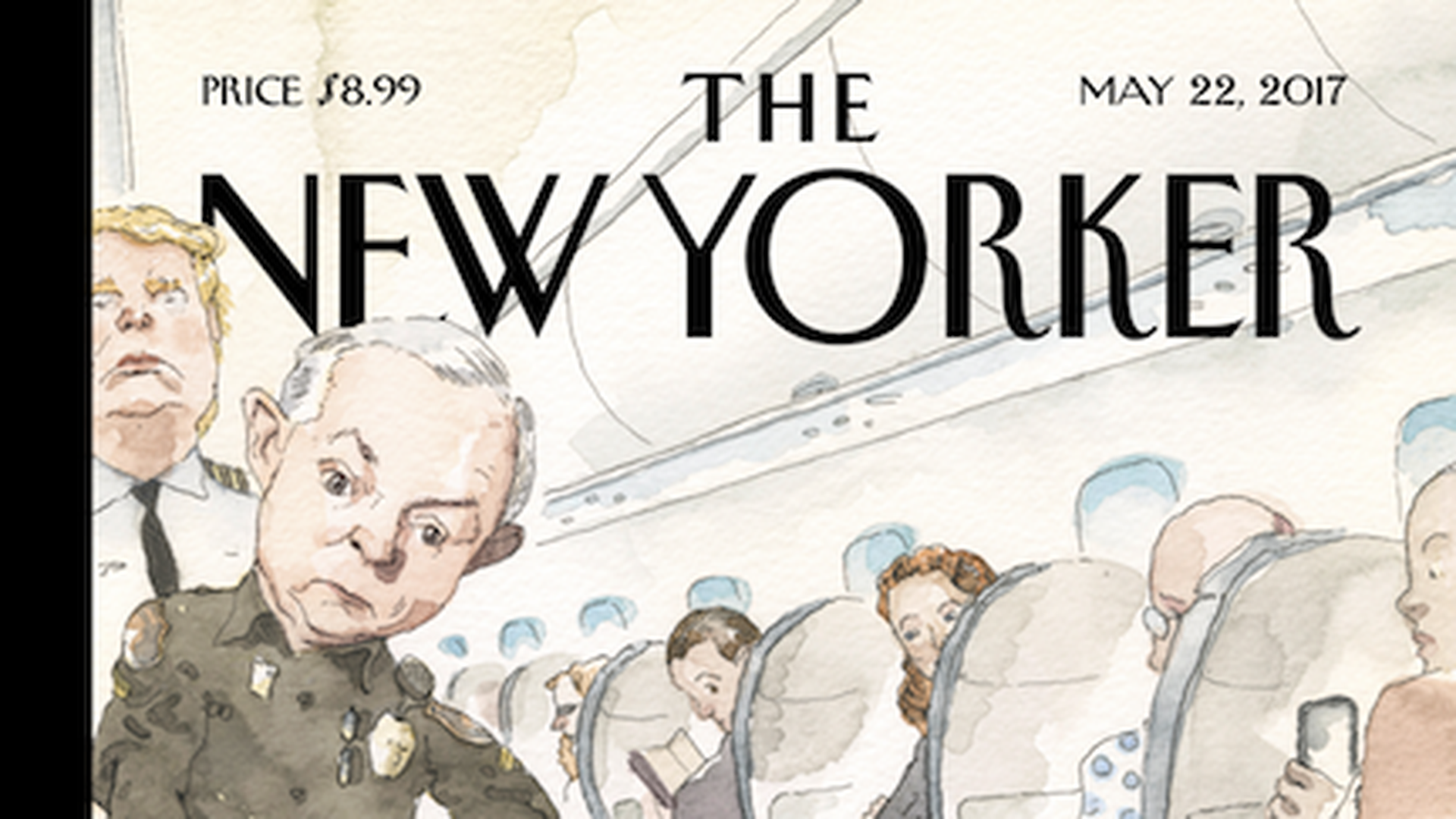 This rhymes with what's being said on Fox, and is worth reading ... Frank Luntz, the Republican consultant and pollster (who can channel Trump partisans, but has also been critical of him), is quoted in the N.Y. Times ("Quote of the Day"!) on how people who are sympathetic to Trump believe he is once again being held to an unfair standard:
"In a word, they see him as their voice. And when their voice is shouted down, disrespected or simply ignored, that is an attack on them, not just an attack on Trump."
Takeaways from the p. A17 article by Jeremy Peters, "Resentful of Criticism, Conservatives Dig In in Defense of the President" (online: "For Trump Supporters, the Real Outrage Is the Left's Uproar Over Comey"),
"More clearly than other recent Trump-induced uproars, the reaction to the Comey firing illustrated how many conservatives now justify their defense of the president as part of a fight against a rising tide of overreaction and manufactured hysteria by the left. Mr. Trump ... has helped stoke those resentments."
"On Facebook, Republicans shared the 1993 C-Span footage of Bill Clinton's announcement that he had fired William S. Sessions, the only other F.B.I. director to be dismissed ... [H]e had abused his federally funded travel privileges."
"Erick Erickson, the writer and radio host who has called for an independent investigation, ... called the cries of constitutional crisis 'hysterics': 'Russiaism is the new Birtherism.'"
"National Review, which ... sided against Mr. Trump [during the campaign, but has been friendlier since then], ... backed his decision to fire Mr. Comey."
https://www.axios.com/newsletters/axios-am-a511fefb-670c-4a9b-9b5d-997d7fc3c043.html?chunk=5#story5
6. Happening next week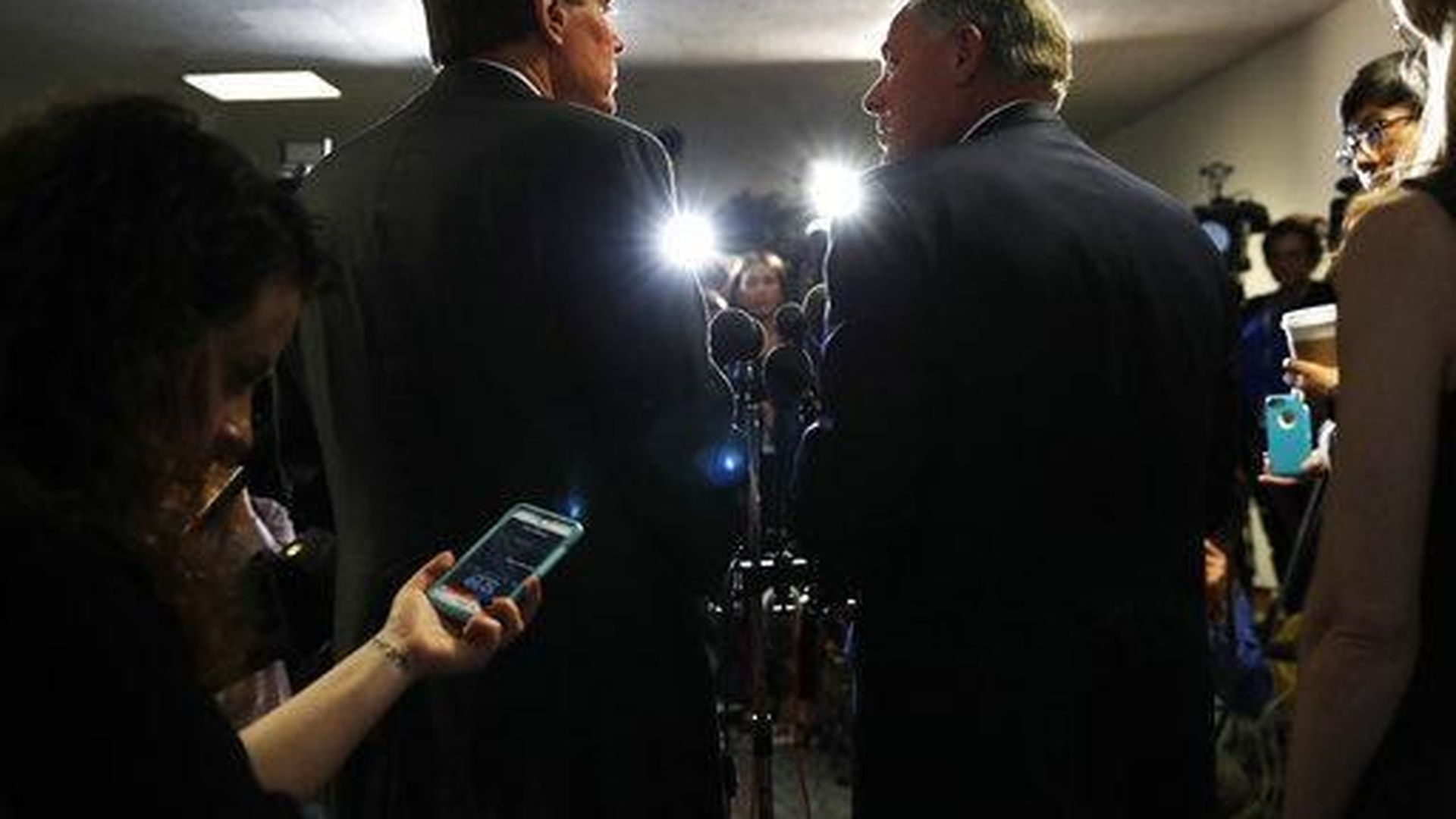 Senate Democratic Leader Chuck Schumer says Majority Leader Mitch McConnell has agreed to his request to invite Deputy Attorney General Rod Rosenstein to brief senators next week, AP reports:
"Schumer made the announcement on the Senate floor [yesterday]. He says he hopes the briefing will take place early next week."
"Democrats want to question Rosenstein about the memo he wrote criticizing Comey, which the White House has cited as justification for Trump's sudden firing."
"Schumer says Democrats also hope to hear from Attorney General Jeff Sessions."
https://www.axios.com/newsletters/axios-am-a511fefb-670c-4a9b-9b5d-997d7fc3c043.html?chunk=6#story6
7. Scoop: Coming attractions
We hear that House and Senate Republicans plan to begin work, probably next month, on a budget that will balance within 10 years — meaning it'll have to include entitlement reform and chop some favorite Dem projects.
The kicker: Trump plans an even more draconian budget that'll gut some popular domestic programs.
Be smart: A White House budget is always purely symbolic. But these two moves, taken together, will cheer up conservatives and fire up Democrats as they head into next year's midterm elections.
Tracking power ... With the memorable headline "The Economist Who Helped Write Trump's Tax Plan in Five Days," Bloomberg profiles one of the most powerful people in the White House who you may not have heard of ... Shahira Knight, Special Assistant to the President for Tax and Retirement Policy, and a key player in the tax-reform fight ahead. (White House bio)
https://www.axios.com/newsletters/axios-am-a511fefb-670c-4a9b-9b5d-997d7fc3c043.html?chunk=7#story7
8. Trump deal to boost China exports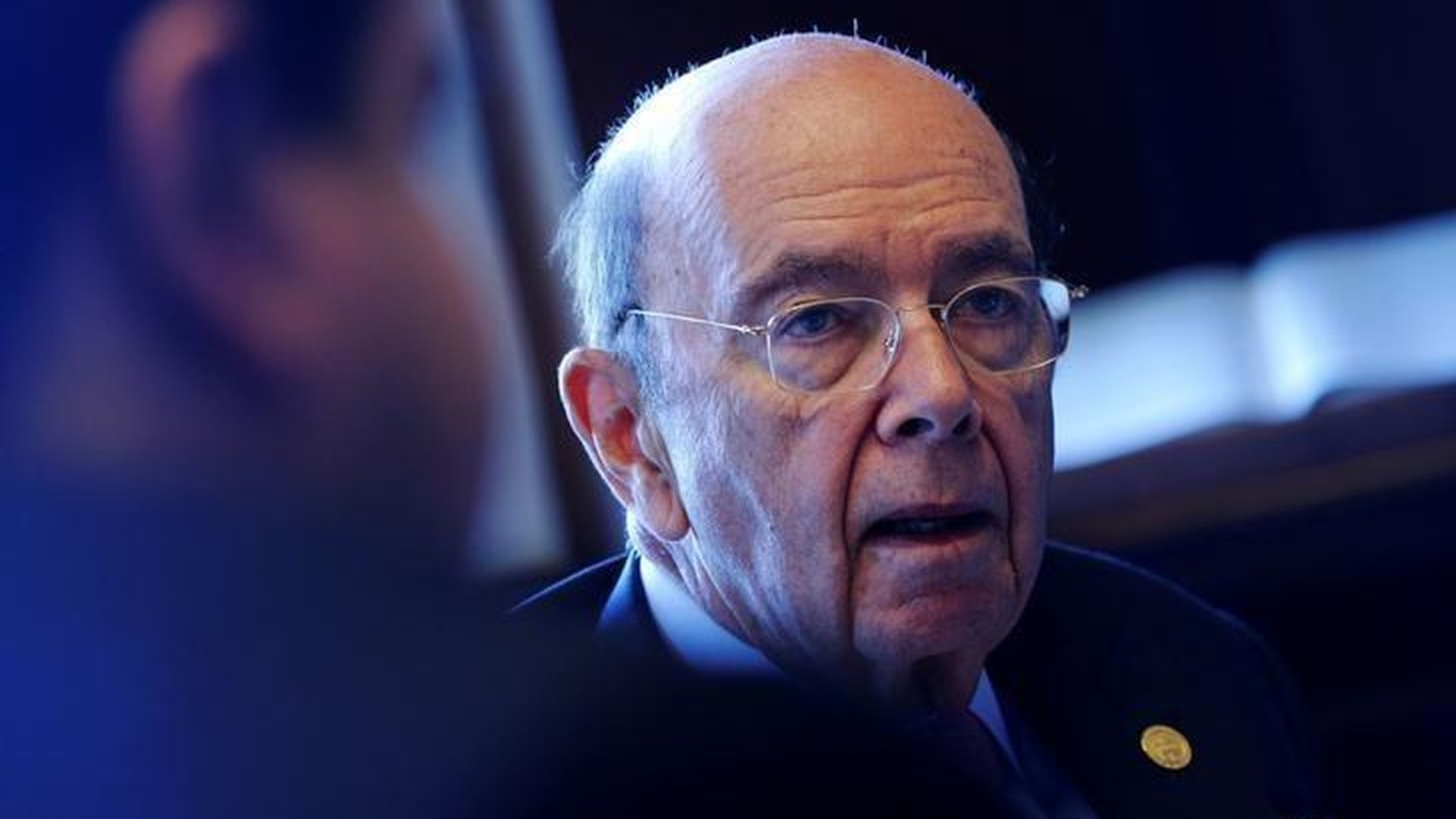 The 10-point plan was announced by Commerce Secretary Wilbur Ross at a 5 p.m. White House briefing, but reporters couldn't post until 11 p.m.
Per the Wall Street Journal: "After months of bashing China for its trade practices, the Trump administration said it had agreed with Beijing on a broad range of measures aimed at improving the access of American beef producers, electronic-payments providers and natural-gas exporters, among others, to the world's second-largest economy."
Ross: "U.S.-China relationships are now hitting a new high especially in trade."
"One factor that appeared to be driving the timing of the announcement was [Chinese President Xi Jinping's] upcoming 'One Belt One Road' summit, which is aimed at reviving the Silk Road trading route."
Be smart, from Axios' Shannon Vavra: The agreement is "underwhelming" and "mostly aspirational," an international trade expert tells Axios — note the language: the U.S. "welcomes China," China "may proceed," the U.S. "recognizes," the U.S. "remains committed," and so on. This leaves a lot of questions as to what weight this agreement will ultimately hold.
https://www.axios.com/newsletters/axios-am-a511fefb-670c-4a9b-9b5d-997d7fc3c043.html?chunk=8#story8
9. Dem enthusiasm "off the charts"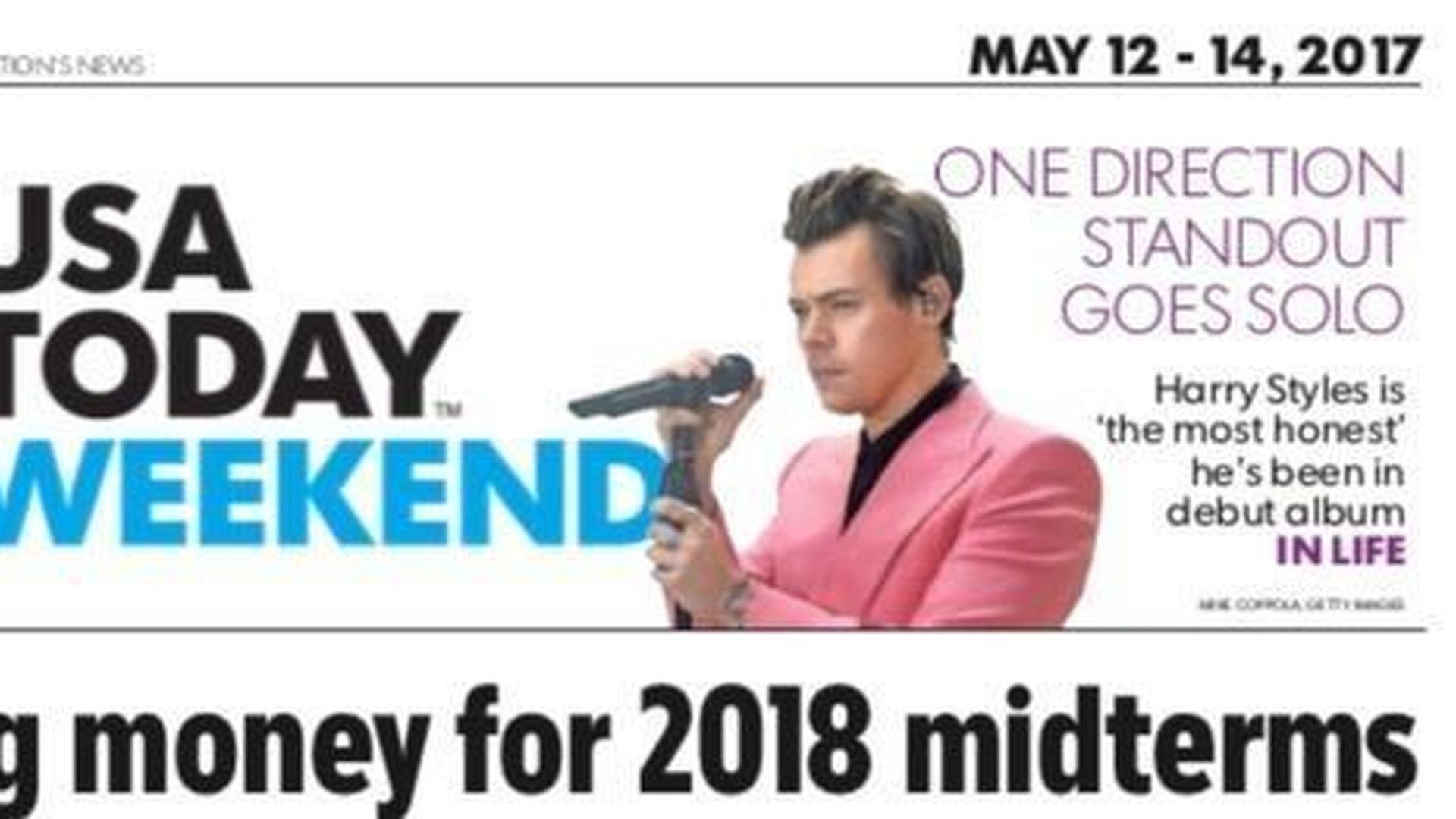 Political parties and independent groups have unleashed more than $20 million in federal races so far this year, an early preview of massive midterm spending, Fredreka Schouten writes in USA Today's lead story.
The biggest spender: "The Congressional Leadership Fund, a super PAC affiliated with House Speaker Paul Ryan, ... has reported already spending more than $5 million to protect Republican-held House seats in three [special] elections this year."
#2: National Republican Congressional Committee, $4 million.
#3: Democratic Congressional Campaign Committee, $2 million.
https://www.axios.com/newsletters/axios-am-a511fefb-670c-4a9b-9b5d-997d7fc3c043.html?chunk=9#story9
10. 1 fun thing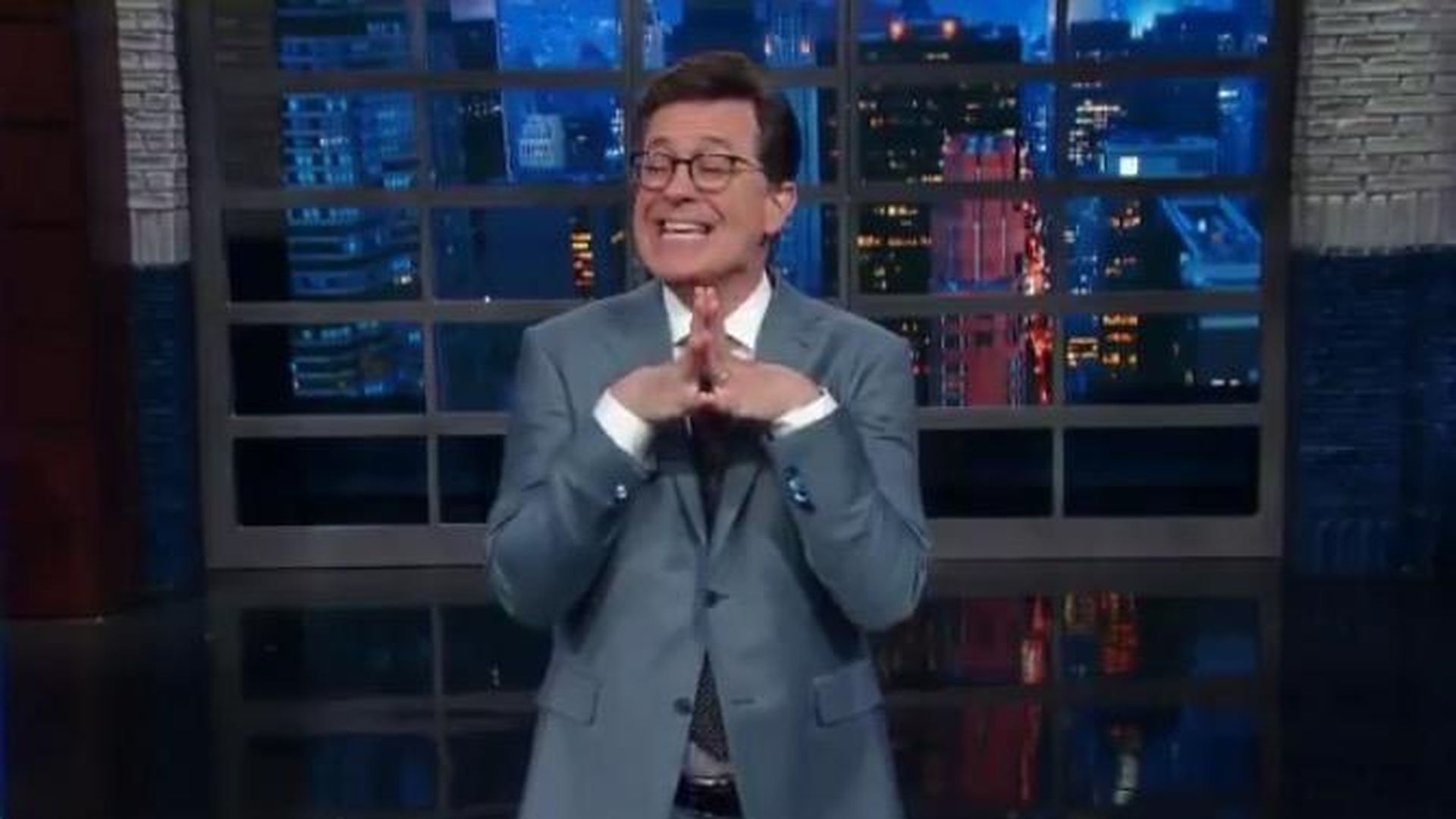 Shot ... Trump to TIME: "You see a no-talent guy like Colbert. There's nothing funny about what he says. And what he says is filthy. And you have kids watching. And it only builds up my base. It only helps me, people like him. The guy was dying. By the way they were going to take him off television, then he started attacking me and he started doing better. But his show was dying. I've done his show. … But when I did his show, which by the way was very highly rated. It was high — highest rating. The highest rating he's ever had."
Chaser ... Stephen Colbert on last night's show: "The President of the United States has personally come after me and my show. And there's only one thing to say: He-he-he-he! Yaaaay! Yaaaay!" Audience applauds, chants: "Ste-phen! Ste-phen!"
"Mr. Trump, there's a lot you don't understand. But I never thought one of those things would be show business. Don't you know? I've been trying for a year to get you to say my name. ... I won!" (Video)
Bonus fun thing ... Today's N.Y. Times' crossword is a collaboration between former President Bill Clinton and the Arkansas district court judge Victor Fleming of Little Rock. A Times release: "[T]his is the first time any U.S. president is known to have had a crossword published and for the special puzzle, the usual crossword paywall has been lifted." Celebrity collaborations will continue periodically through the year.
Will Shortz, crossword editor, in a Times Insider piece: "The president wrote most of the clues. When the judge proposed tweaks to certain clues, Mr. Clinton objected: 'Too easy and boring. Might as well print the answers in the puzzle.'"
1 sad thing ... "The Title of Saddest Sports Town Now Goes to Washington," by N.Y. Times sports columnist Juliet Macur, on the Caps' postseason loss: "This feeling of doom, that the home team will always do something to mess up a good season, is not unique to Washington, of course. Boston overcame it. Chicago did, too. But it seems to be spreading in this city, with baseball's Washington Nationals seemingly borrowing from the Capitals' story line, turning excellent regular seasons into playoff fiascoes."