Good Monday morning, and welcome to Day 270 of President Trump — 1,191 left in this term. Situational awareness ... AP finds an environmental catastrophe in Puerto Rico: "Raw sewage ... flowing into ... rivers and reservoirs ... Toxic waste ... going straight to landfills that are overflowing and had already been ordered closed ... [M]old ... growing in homes throughout the island."
https://www.axios.com/newsletters/axios-am-a40c3dee-6d1a-42a1-92c0-88cadaaaacc0.html?chunk=0#story0
1 big thing: The next CIA director?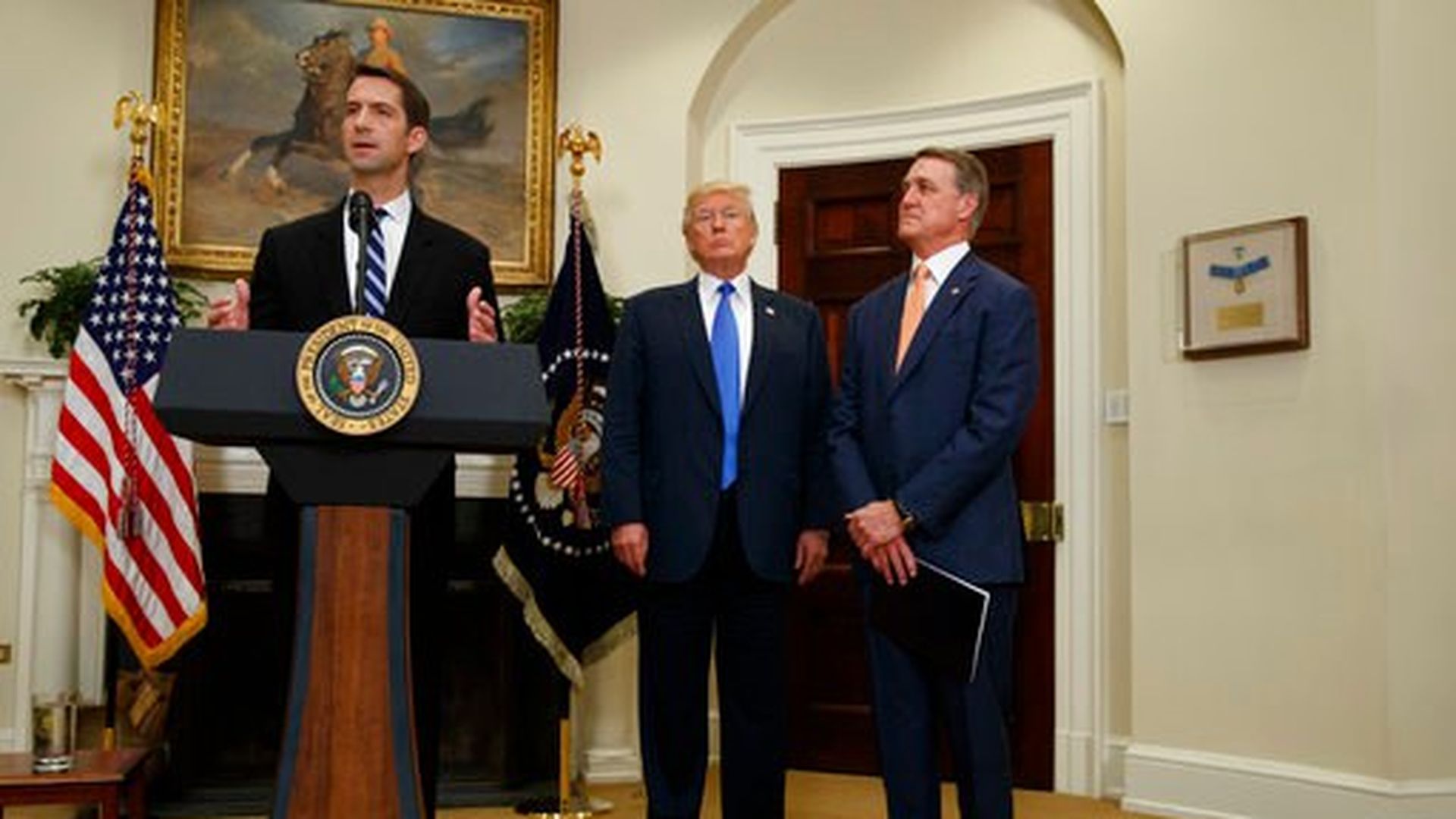 We told you about internal administration conversations about sliding CIA Director Mike Pompeo over to replace SecState Rex Tillerson, whenever he heads back to Texas.
Now we're hearing about a top possibility for the next chess move: Sen. Tom Cotton (R-Ark.) was considered for CIA director (and SecDef) during the transition, and is a candidate for CIA again:
Why he's being considered: Cotton is one of the few senators with an easy relationship with Trump, talking to him a few times a week, giving him advice about top jobs (that Trump has taken), and planting the seed for the Iran policy announced Friday.
Who he is: Cotton, 40, is a "double Harvard" (undergraduate and law); served in the Army's 101st Airborne, with combat tours in Iraq and Afghanistan (Bronze Star); then was a McKinsey & Co. consultant and served a term in the House.
Why it matters: MSNBC and conservative radio host Hugh Hewitt — who talks frequently to Cotton on and off the air, and first floated the idea of Cotton for CIA — told me that Pompeo, Cotton, SecDef Mattis and Chief of Staff Kelly would be "a quartet of serious intellectuals and warriors in the 'big four' jobs." And you could add National Security Adviser H.R. McMaster as a fifth.
Hewitt says both Cotton and Pompeo "like and listen to the president" and "accept his realism in foreign affairs."
A longtime friend of Cotton, asked if he'd take the CIA job, said: "This guy quit his fancy law firm to serve his country in the wake of 9/11. He does his duty when the country calls."
Fun fact: Cotton is interesting enough that Jeffrey Toobin has been working on a New Yorker profile, including D.C. interviews and a trip to Cotton's parents' cattle farm in Yell County, Ark.
Be smart: The Tillerson situation doesn't seem tenable to insiders: Pressed by CNN's Jake Tapper yesterday, he again refused to say he hadn't called Trump a moron. Trump treats people like comfort food — he likes advisers he's used to, and vice versa. Pompeo and Cotton fit the bill.
P.S. Top of the new in-box ... Cyber-arms race with North Korea, per N.Y. Times lead story: "At a recent meeting of American strategists, ... some participants expressed concerns that the escalating cyberwar could actually tempt the North to use its weapons — both nuclear and cyber — very quickly in any conflict, for fear that the United States has secret ways to shut the country down."
https://www.axios.com/newsletters/axios-am-a40c3dee-6d1a-42a1-92c0-88cadaaaacc0.html?chunk=1#story1
2. Why Russia doesn't need U.S. help to disrupt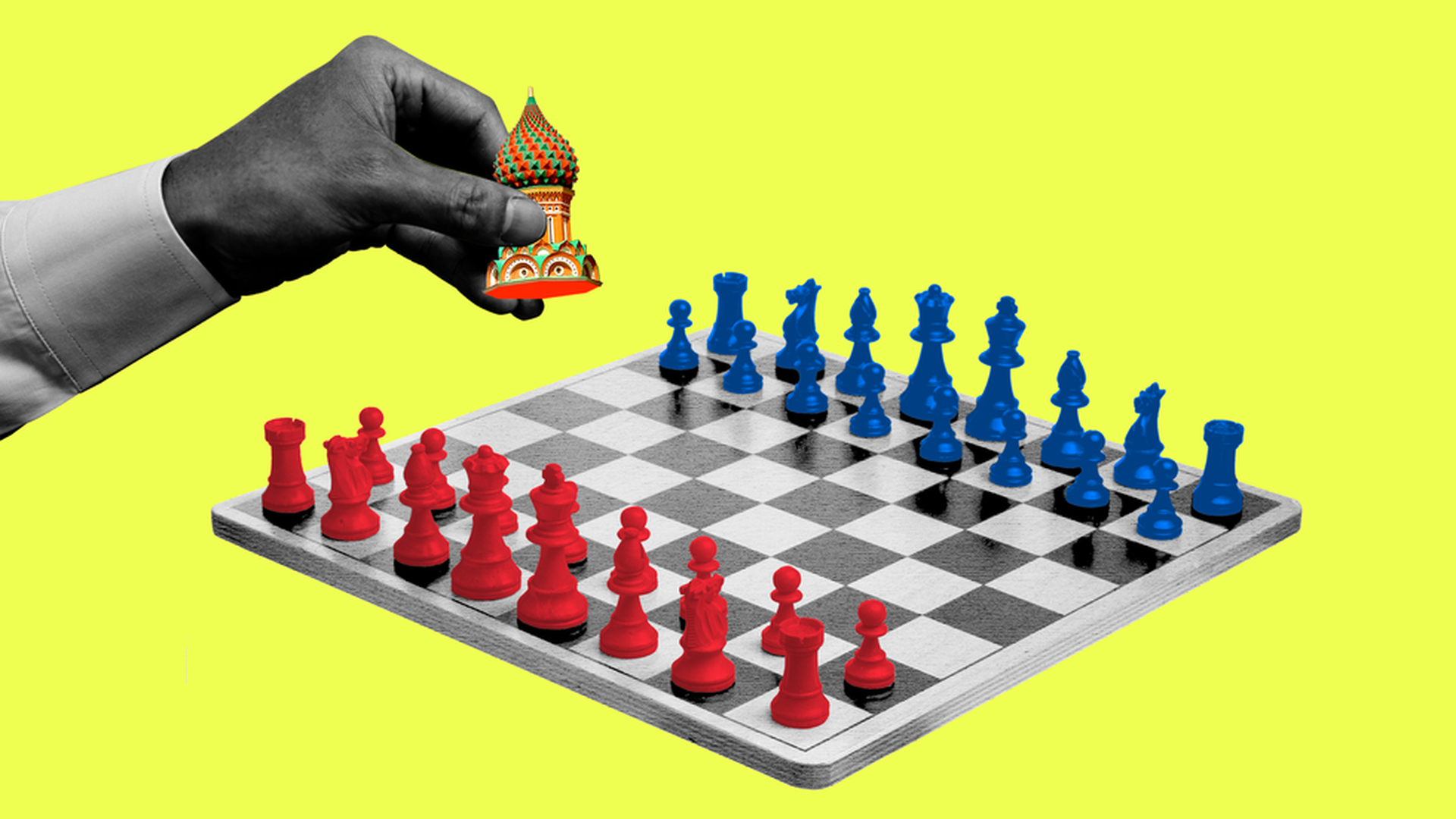 U.S. investigators are probing whether Russia relied on clandestine American help to identify political soft spots and pressure points in its campaign to disrupt the 2016 election. But experts tell Axios Future editor Steve LeVine that, even without local assistance, Russia's own history of exploiting animosities and jealousies across its empire gave it unusual know-how to stir up existing American tensions:
What happened: Russia targeted America's soft underbelly. Data collated by Columbia University's Jonathan Albright shows a Russian social media campaign apparently designed to inflame some of America's greatest national sensitivities.
The hot buttons: Facebook pages that turned into hundreds of millions of interactions combined the subjects of nationalism, Trump, illegal immigration, and law.
See what Russia experts told Steve.
P.S. The Trump campaign "spent more than $1.1 million on legal fees over the last three months — a sharp increase that coincided with the escalation of investigations into Russian interference in the 2016 election." (N.Y. Times)
https://www.axios.com/newsletters/axios-am-a40c3dee-6d1a-42a1-92c0-88cadaaaacc0.html?chunk=2#story2
3. "A devotional gaze rarely seen since ... Nancy Reagan"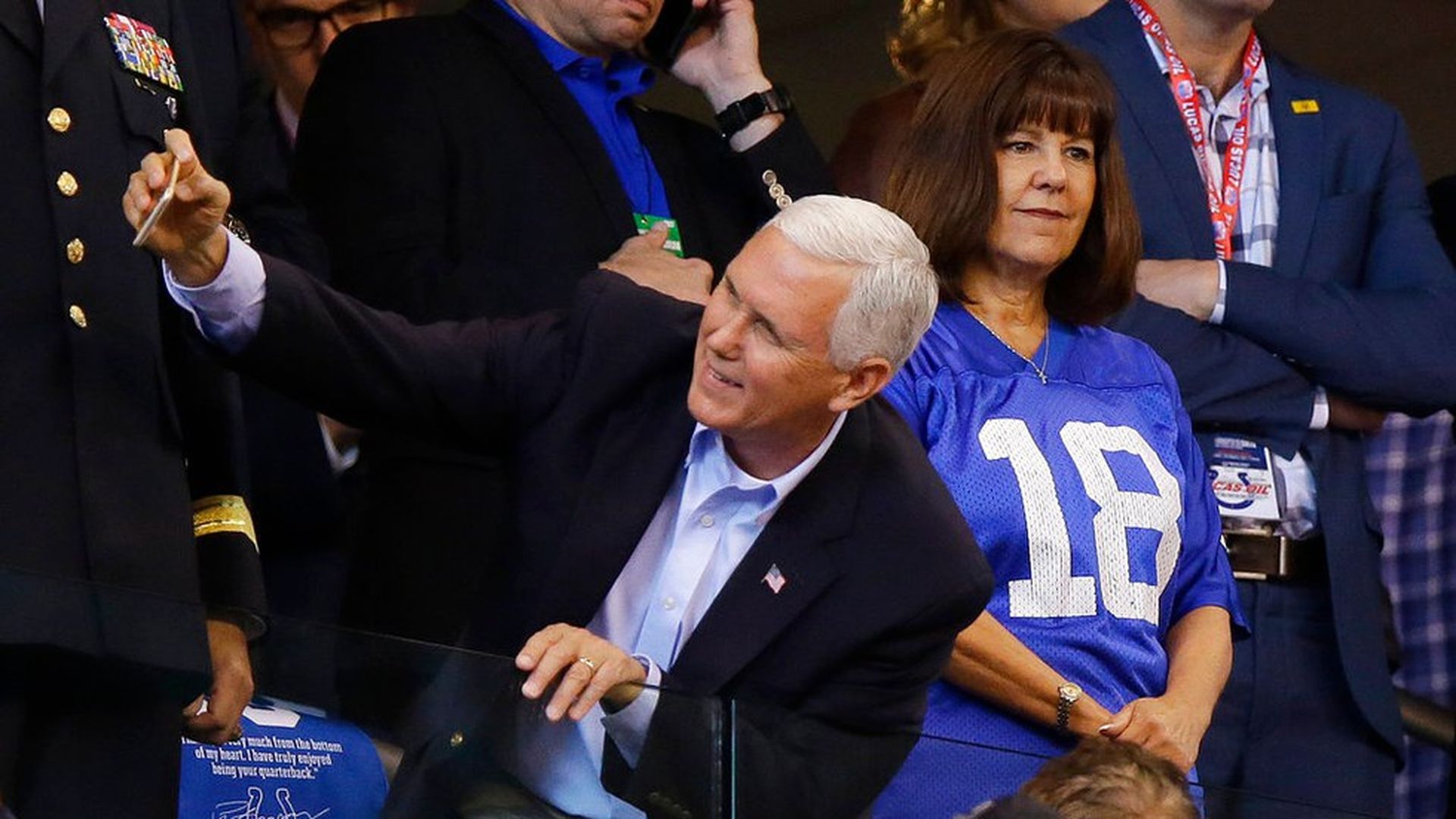 A New Yorker profile of Vice President Pence by Jane Mayer gets 16 pages in the new issue ... "The Danger of President Pence: Trump's critics yearn for his exit. But Mike Pence ... poses his own risks":
"Two sources ... recalled Trump needling Pence about his views on abortion and homosexuality. During a meeting, ... [a] legal scholar had said that, if the Supreme Court did so, many states would likely legalize abortion on their own. 'You see?' Trump asked Pence. 'You've wasted all this time and energy on it, and it's not going to end abortion anyway.'"
"When the conversation turned to gay rights, Trump motioned toward Pence and joked, 'Don't ask that guy — he wants to hang them all!'"
"Marc Short, the head of legislative affairs in the Trump White House, credits Pence for the Kochs' rapprochement with Trump. 'The Kochs were very excited about the Vice-Presidential pick,' Short told me. 'There are areas where they differ from the Administration, but now there are many areas they're partnering with us on.'"
Over the fireplace in the Vice-President's residence, he has hung a plaque with a passage from the Bible: "'For I know the plans I have for you,' declares the Lord, 'Plans to prosper you and not to harm you, plans to give you hope and a future.'"
https://www.axios.com/newsletters/axios-am-a40c3dee-6d1a-42a1-92c0-88cadaaaacc0.html?chunk=3#story3
Bonus: How subway riders have changed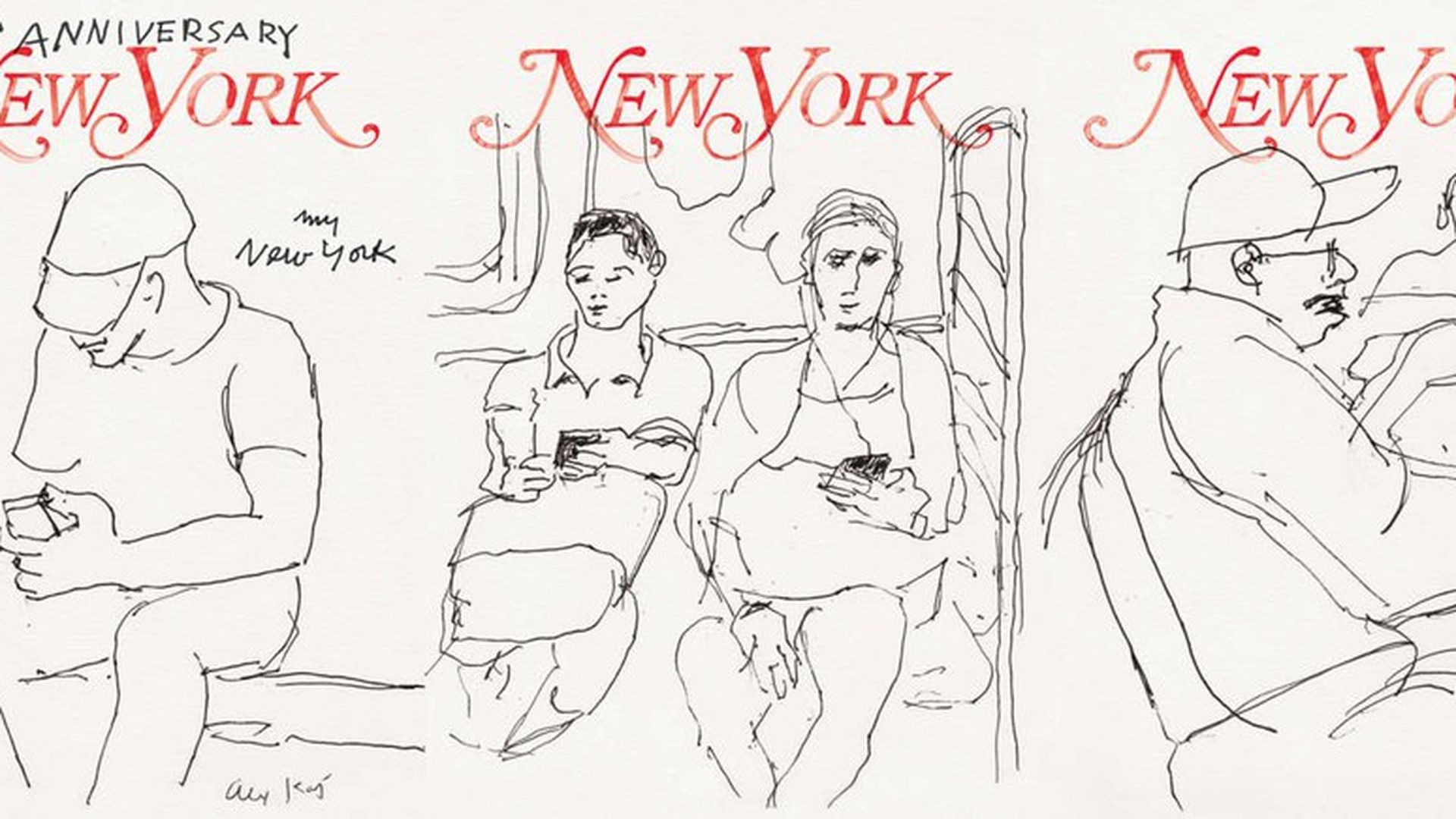 The cover of New York Magazine's 50th anniversary issue, "My New York," features drawings of people on the subway by 90-year-old artist Alex Katz, who sketched riders in the '40s when he was a student on his way to Cooper Union, the magazine's Aude White writes:
"Katz ... agreed to revisit the project for the first time since the '40s. On Monday, October 9, Katz took the C uptown and the B back downtown."
Why it matters: "In his drawings from the '40s, a lot of people are reading books or magazines, whereas now they're almost all on their phones."
https://www.axios.com/newsletters/axios-am-a40c3dee-6d1a-42a1-92c0-88cadaaaacc0.html?chunk=4#story4
4. World's youngest national leader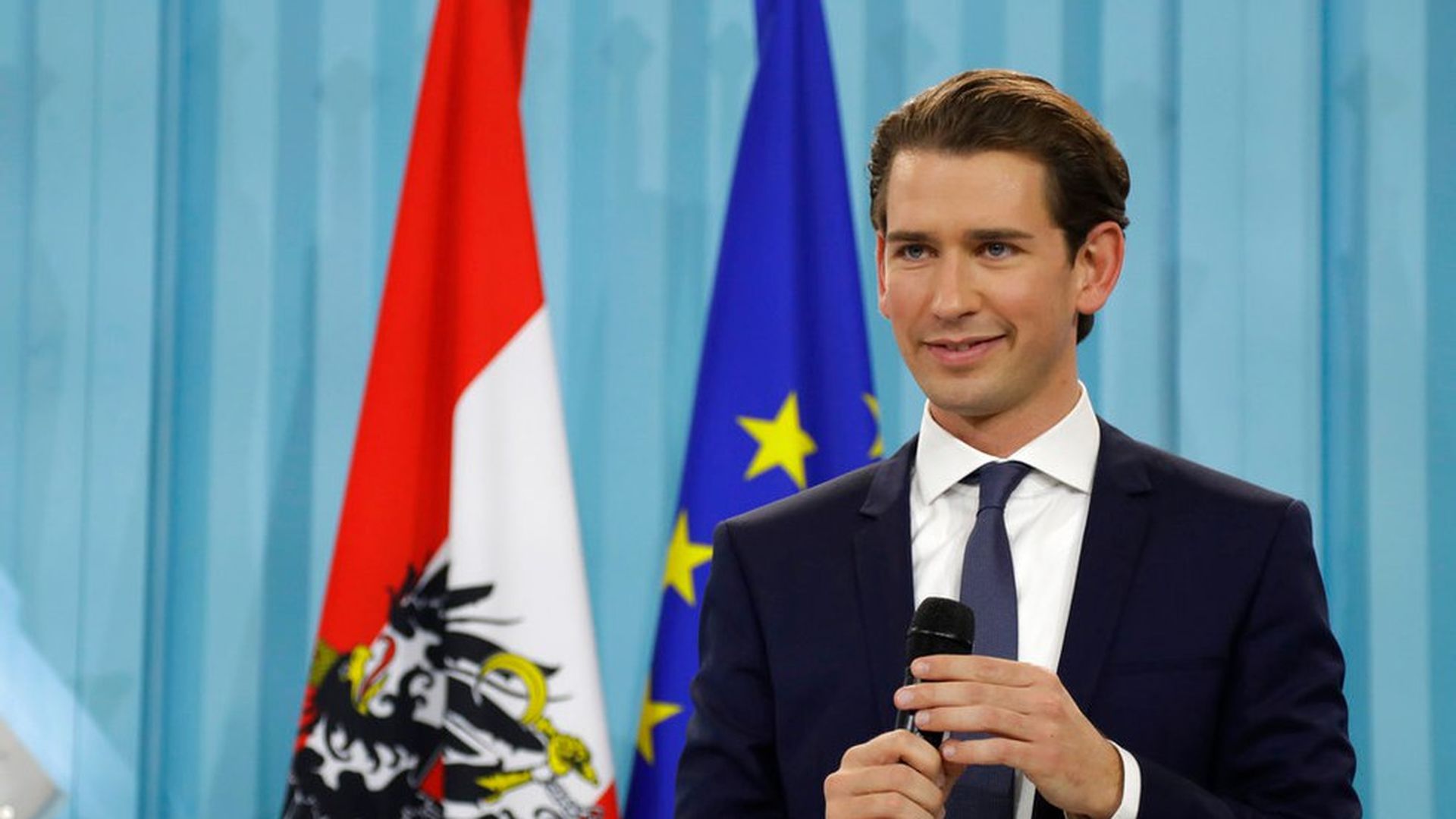 Big win for right in Europe: Nationalist wave rolls on ... "Austria's conservative People's Party [center-right, though shifted right on immigration in recent months], led by 31-year-old Sebastian Kurz, is set to win the country's general election, [which would make him] the world's youngest national leader," BBC reports:
Who he is: "Kurz served as Europe's youngest-ever foreign minister, after he was appointed in 2013 aged just 27. ... Nicknamed 'Wunderwuzzi' (very roughly translated as 'wonder hotshot'), he has been compared to the young leaders of France and Canada, Emmanuel Macron and Justin Trudeau."
The main issue: "Immigration ... Kurz moved his party to the right in the wake of Europe's 2015 refugee crisis. ... He [pledged] to shut down migrant routes to Europe, cap benefit payments to refugees, and bar immigrants from receiving benefits until they have lived in Austria for five years."
Why it matters: This continues the global tide that produced Brexit and President Trump, and was seen just last month in Germany, with an electoral breakthrough by the far right that stunned Merkel.
https://www.axios.com/newsletters/axios-am-a40c3dee-6d1a-42a1-92c0-88cadaaaacc0.html?chunk=5#story5
5. "Drug dealers in lab coats"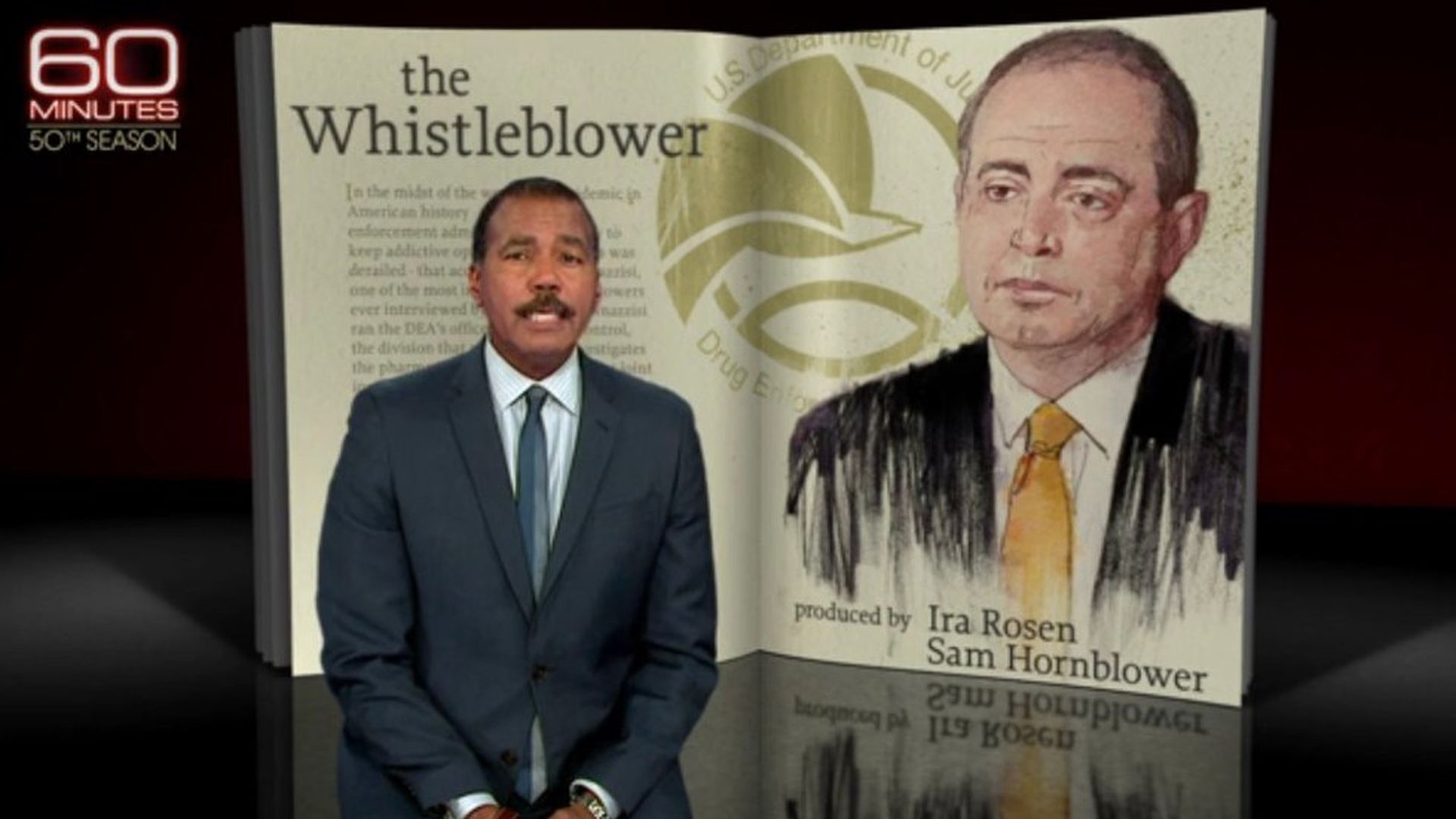 CBS' Bill Whitaker says the star of this "60 Minutes" segment, a joint investigation with the WashPost DEA/opioids project we told you about yesterday, is "one of the most important whistleblowers ever interviewed by '60 Minutes'":
"Joe Rannazzisi ... ran the DEA's Office of Diversion Control, the division that regulates and investigates the pharmaceutical industry. Rannazzisi ... says ... the opioid crisis was allowed to spread -- aided by Congress, lobbyists, and a drug distribution industry that shipped, almost unchecked, hundreds of millions of pills to rogue pharmacies and pain clinics."
Why it matters: "With the help of members of Congress, the drug industry began to quietly pave the way for legislation that essentially would strip the DEA of its most potent tool in fighting the spread of dangerous narcotics. ... Obama signed it into law without ceremony."
The kicker: Rep. Tom Marino (R-Pa.), the bill's chief advocate, is Trump's nominee for drug czar. (New WashPost story)
https://www.axios.com/newsletters/axios-am-a40c3dee-6d1a-42a1-92c0-88cadaaaacc0.html?chunk=6#story6
6. America's Chinese solar dilemma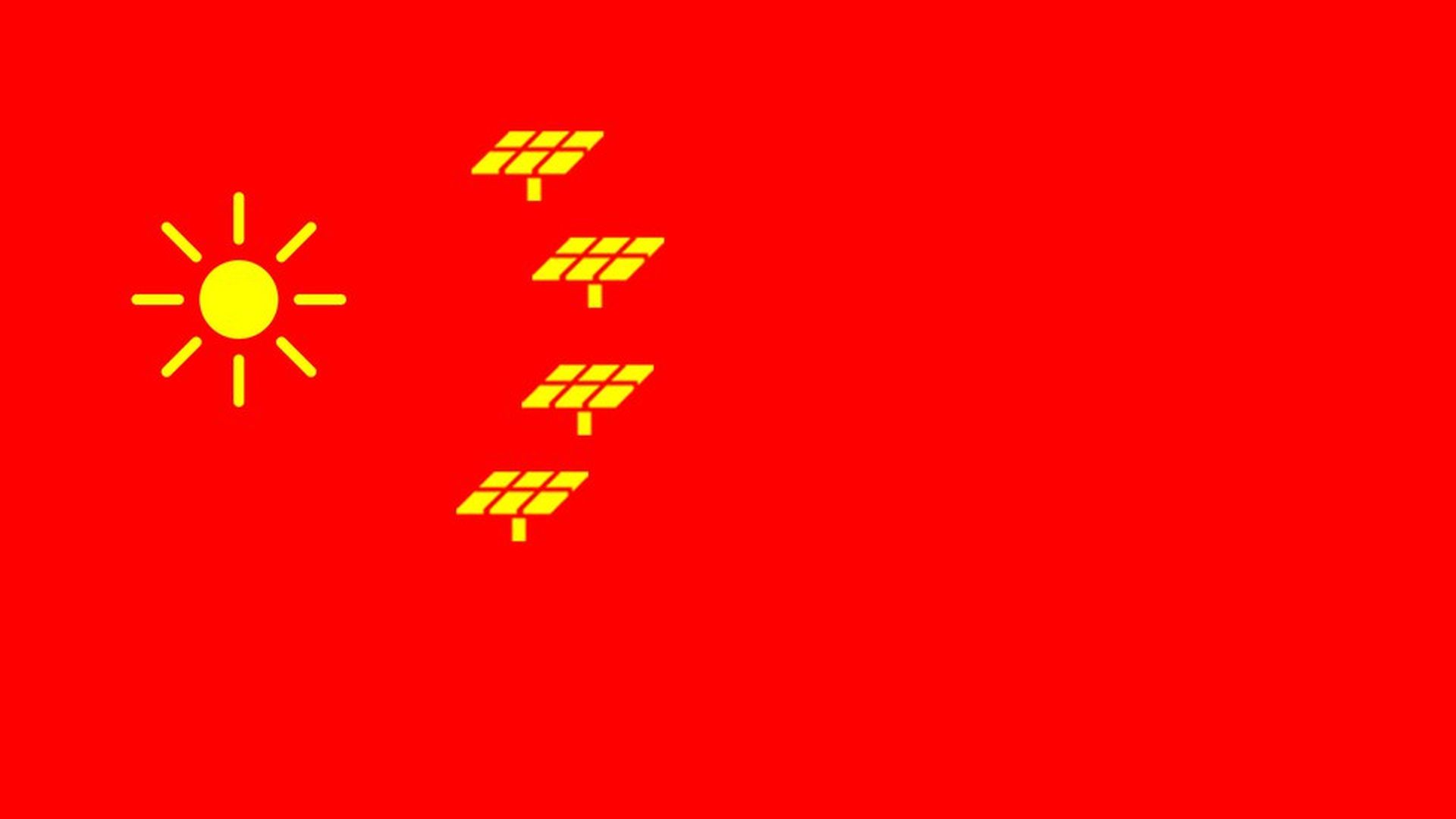 America has built a booming solar industry thanks largely to cheap Chinese solar panels, helping to create jobs and cleaner energy. But U.S.-based manufacturers have been decimated by the overseas competition, Axios' Amy Harder writes in her weekly "Harder Line" energy column:
Why it matters: Protectionist measures by themselves are unlikely to alter decades-long policies pushed by politicians from both parties that have driven manufacturing of all kinds out of the U.S.
https://www.axios.com/newsletters/axios-am-a40c3dee-6d1a-42a1-92c0-88cadaaaacc0.html?chunk=7#story7
7. Collision of business, tech
"Barbarians Open Their Gates as Blackstone, Others Seek Retail Cash: Blackstone aiming to attract more investors with $1 million to $5 million," by the Wall Street Journal's Miriam Gottfried, on A1:
What's new: The private-equity firm, which became "a Wall Street juggernaut by catering to institutions and the ultrarich, is targeting investors with $5 million or less for its next leg of growth. ... Carlyle Group LP plans to announce it will join with OppenheimerFunds on private-credit investments for high-net-worth customers."
Why it matters: Blackstone is "betting it can raise as much from them over the long term as it does from the pension funds and other institutions that form the main source of its $371 billion of assets."
The logic: "There were 7½ times more U.S. households with $1 million to $5 million in assets at the end of 2016 than there were households with $5 million to $25 million."
P.S. "Amazon Lobbyists Ramp Up Their Charm Offensive in D.C.," by N.Y. Times' Cecilia Kang, on the Business front:
"Facing greater skepticism about its growing power over retail, including from President Trump, Amazon is following the well-worn path of oil, pharmaceutical and even other large tech companies."
"Amazon is sweeping the nation's capitol with a branding campaign of jobs creation and support for small businesses, promoting the upsides of its major expansion in media, groceries and transportation."
Why it matters: "This year, Amazon has increased its lobbying staff to 83 members from 60, making it one of the biggest corporate lobbying shops in town."
https://www.axios.com/newsletters/axios-am-a40c3dee-6d1a-42a1-92c0-88cadaaaacc0.html?chunk=8#story8
8. New muscle for "Dreamers"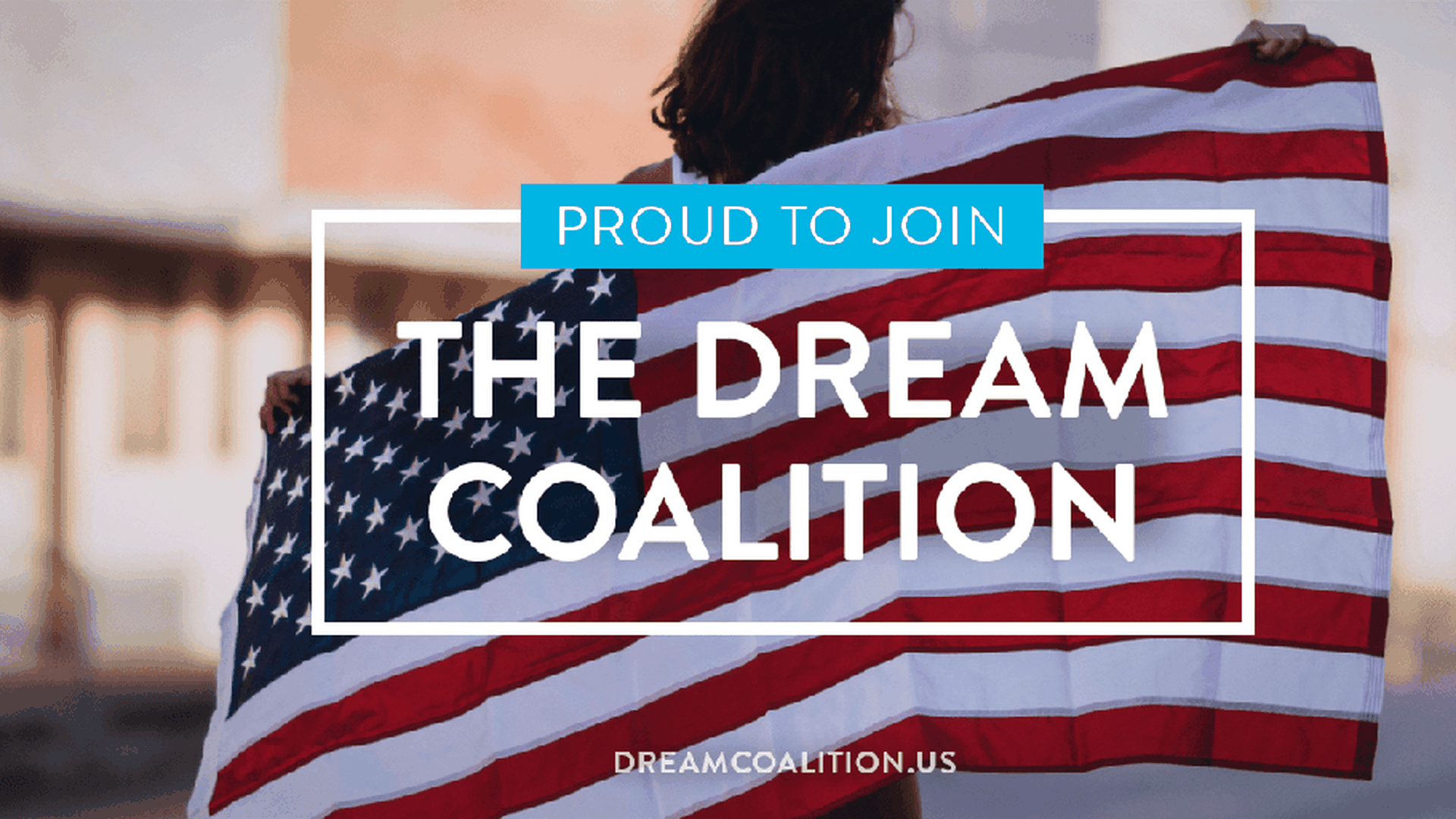 Apple CEO Tim Cook, Leon Panetta, Madeleine Albright, Univision CEO Randy Falco, Chicago Mayor Rahm Emanuel, New York Mayor Bill de Blasio and Harvard President Drew Faust are among the founders of the Dream Coalition, urging Congress to protect immigrants who came here as children.
The bipartisan group — including mayors, governors, national security and military officials, educators, and community leaders — will be launched today by Laurene Powell Jobs, president of the Emerson Collective (an investor in Axios).
Why it matters: Speaker Ryan has said he wants to protect "Dreamers," who face uncertainty under the Trump administration. But Congress tends to spin its wheels, and this formidable roster could help prod action.
Other founding members: Georgetown President John DeGioia; L.A. Mayor Eric Garcetti; Atlanta Mayor Kasim Reed; Boston Mayor Marty Walsh; D.C. Mayor Muriel Bowser; Ron Conway, founder of SV Angel, a San Francisco-based seed fund; and the governors of Colorado, North Carolina, Rhode Island and Washington.
https://www.axios.com/newsletters/axios-am-a40c3dee-6d1a-42a1-92c0-88cadaaaacc0.html?chunk=9#story9
9. Axios on the road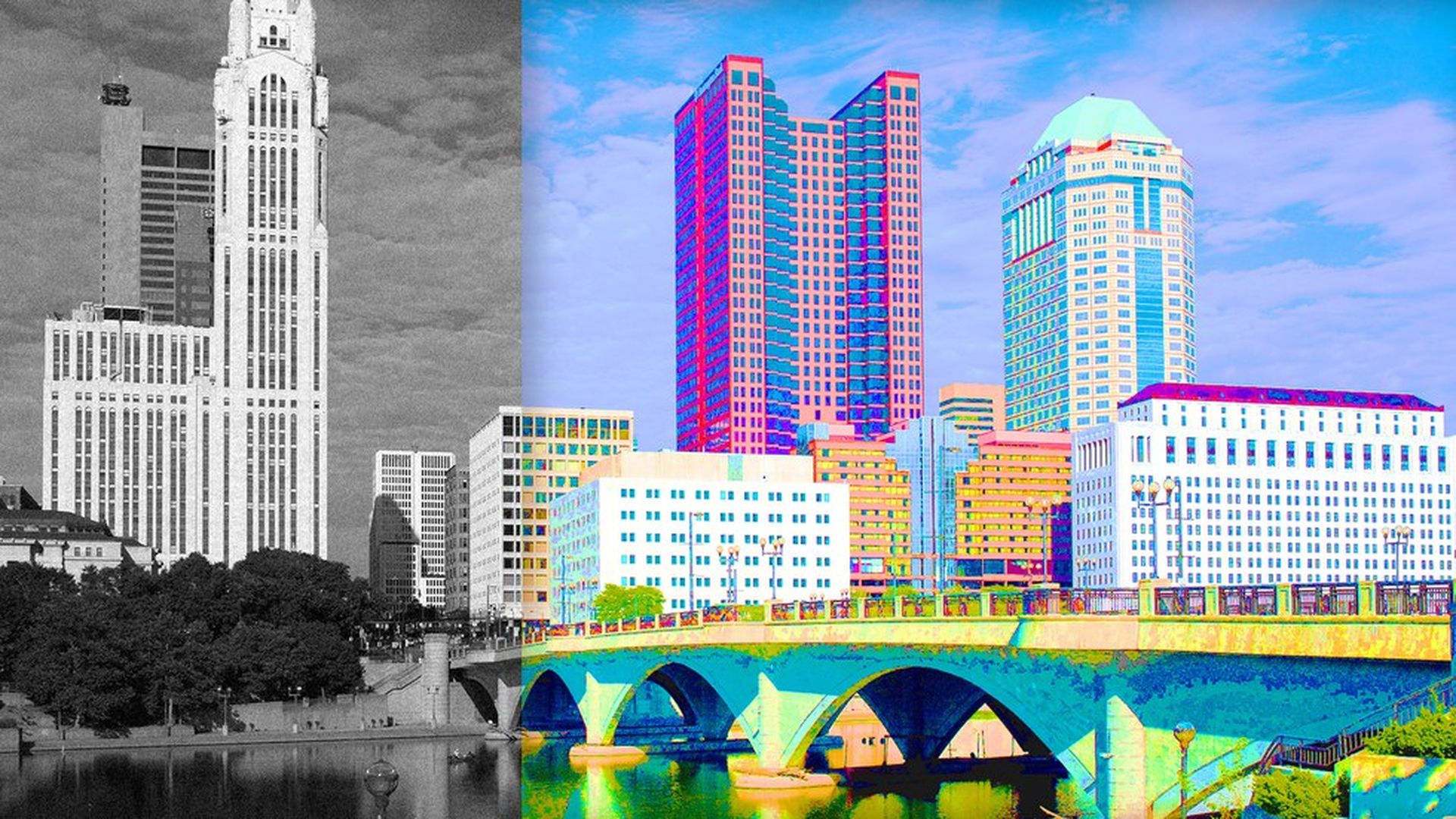 Columbus, hit hard by the recession, is still figuring out how to position itself for the digital economy, and areas around the Ohio capital have been hit hard by the opioid epidemic, Axios' Kim Hart writes:
But the city's biggest asset may be something that many tech scenes, particularly in the Midwest, lack: diversity.
Columbus was a stop on the tail end of AOL co-founder and Revolution CEO Steve Case's "Rise of the Rest" tour of Midwestern cities, which focused on the successful ecosystems in areas that are largely overlooked by venture capitalists.
What Columbus has going for it: High density of a younger-than-average workforce, thanks to The Ohio State University and other local colleges.
https://www.axios.com/newsletters/axios-am-a40c3dee-6d1a-42a1-92c0-88cadaaaacc0.html?chunk=10#story10
10. 1 food thing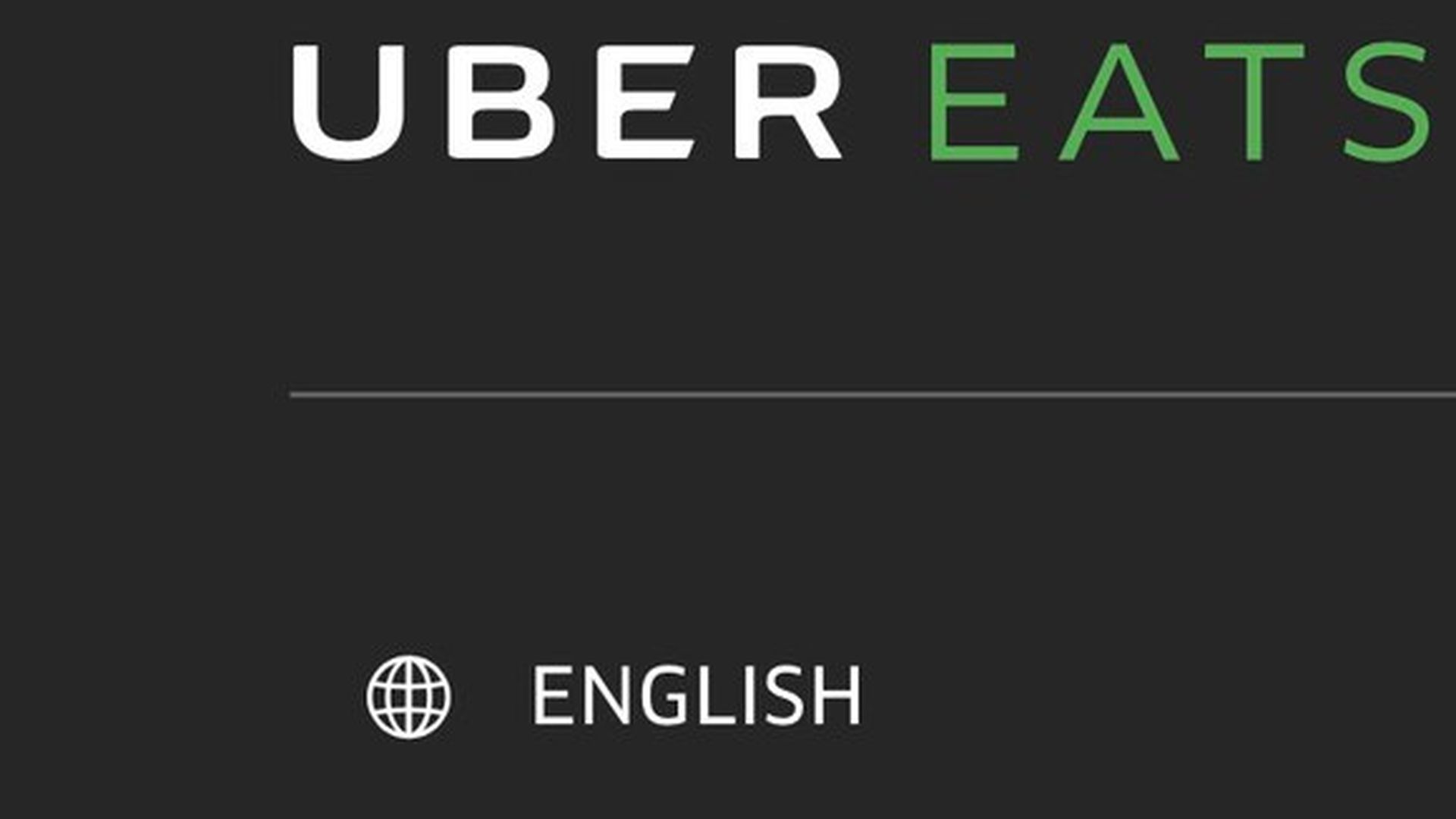 A bright spot for Uber ... "Uber's fast-growing food delivery service accounted for nearly a tenth of the company's global gross bookings in the second quarter, ... a level that implies the unit is on track to exceed $3bn in gross sales this year," the Financial Times' Leslie Hook dishes from S.F. (subscription):
"UberEats [with a presence in 29 countries] has been growing faster than the core business. ... The previously unreported numbers underscore how rapidly UberEats has grown since its launch two years ago as a standalone app."
During Q2, "UberEats accounted for 8-10 per cent of global gross bookings [including food cost], which implies $700m-$870m of gross turnover for the unit. Uber's total gross bookings were $8.7bn."
"By comparison, GrubHub, the US food delivery company valued at $4.1bn, reported $880m of gross food sales" in Q2.
The problem: UberEats "is still unprofitable in most places, and like other delivery services it faces the prospect of low margins and high competition."
Grub boom: "Last week, Facebook launched a food delivery service in the US. Amazon's restaurant delivery service, launched two years ago, has been expanding, while smaller rivals such as Postmates, Deliveroo and DoorDash are also fighting for market share."