Good Friday morning, happy Inauguration Day, and happy 50th to Kellyanne Conway. Beginning at 9:40 a.m., we'll witness one of the more romantic rituals in our democracy: The soon-to-be 45th president, who slept across the street at Blair House, will go to the White House for coffee with his predecessor. Then the two men will be driven to the Capitol together in The Beast, which in just hours will be Donald John Trump's ride. Then the Obama family will fly to Palm Springs.
From 10:15 to 10:45 a.m. ET, live from the "Morning Joe" set on Capitol Hill, join us at this Facebook Live link for an inauguration pregame event co-hosted by NBC and Axios. The conversation will be moderated by Joe Scarborough, Mika Brzezinksi, Jim VandeHei and me.
Spotted last night at Bar Dupont in Dupont Circle: Huma Abedin, who'll be at the ceremony today.
Keep checking the Axios STREAM to instantly get smart about this hectic, historic day.
https://www.axios.com/newsletters/axios-am-a3b4cce0-eb68-4208-98ec-3cfd158be0d3.html?chunk=0#story0
​1 big thing: Speech sneak peek
A hot parlor game in D.C. is speculating whether or not President Trump goes off-script in his inaugural address. In the speech, we'll see the tension between Trump's impulsive, improvisational style and the intellectual architecture his top aides are trying to build around it.
We're told the speech will be on the short side: More JFK length (1,366 words) than Clinton (2,155 at his second inaugural).
A top Trump source tells Axios' Jonathan Swan three big ideas behind the words:
"The speech is an attempt to address the deep structural problems facing American society. … We're talking here about decades-long problems."
The speech is "not ideological": "It's a rejection of ideological thinking. Ideological thinking is always looking at the world through a strictly dogmatic prism. It's having a set of beliefs that are uncompromising."
The speech will convey "that a nation and its people and its affairs are like a family and you need to take care of them."
https://www.axios.com/newsletters/axios-am-a3b4cce0-eb68-4208-98ec-3cfd158be0d3.html?chunk=1#story1
​2. Trump's new tweeter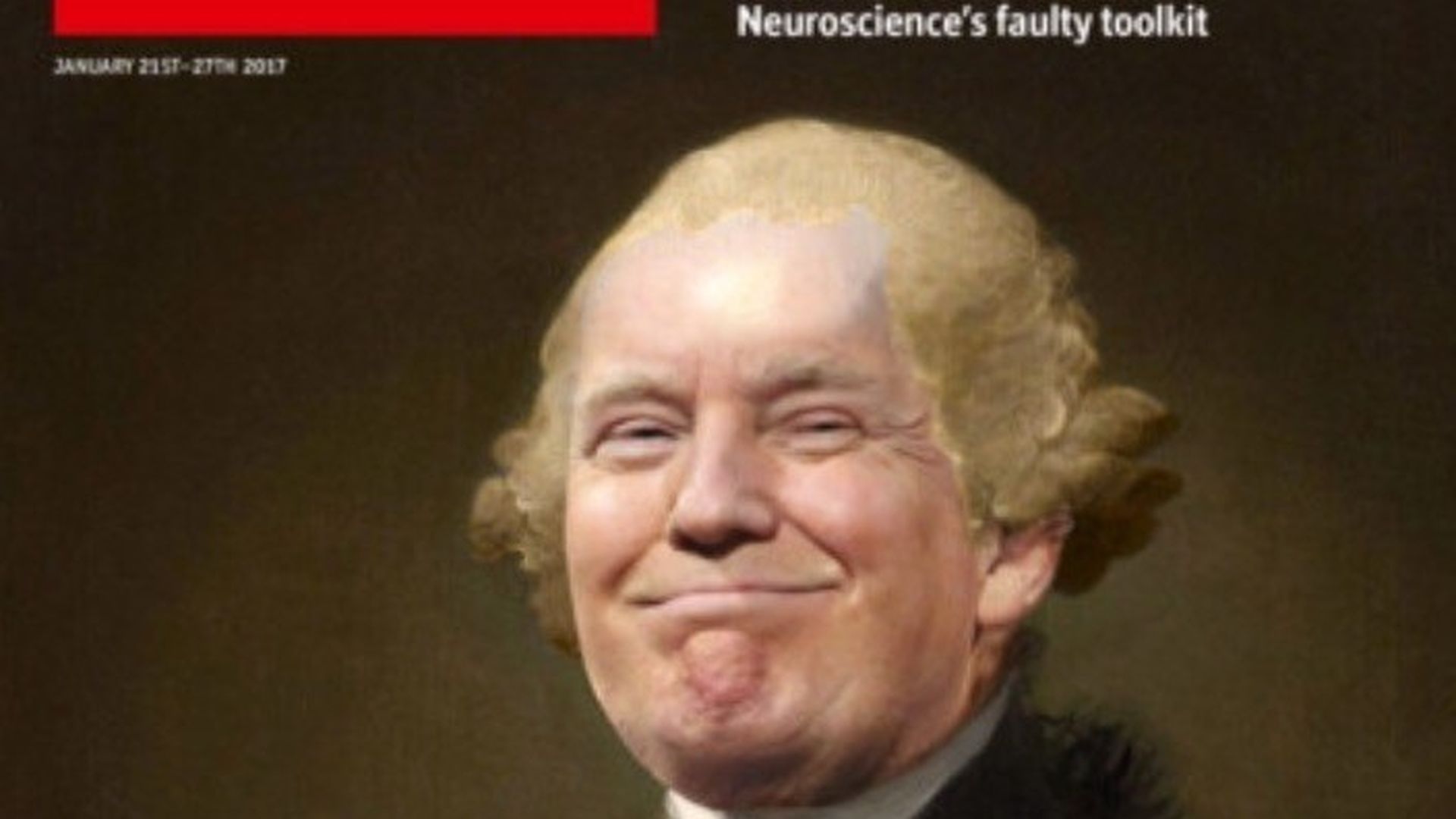 Per Maggie and Glenn: "This week, … traded in his Android phone for a secure, encrypted device approved by the Secret Service with a new number that few people possess.The official rationale was security. But some of Mr. Trump's new aides, who have often been blindsided when a reporter, outside adviser or officeseeker dialed the president-elect directly, expressed relief."
Fun fact: Trump told us he sometimes sends tweets himself but often dictates them to a staffer.
https://www.axios.com/newsletters/axios-am-a3b4cce0-eb68-4208-98ec-3cfd158be0d3.html?chunk=2#story2
​3. Citizen Trump's last blast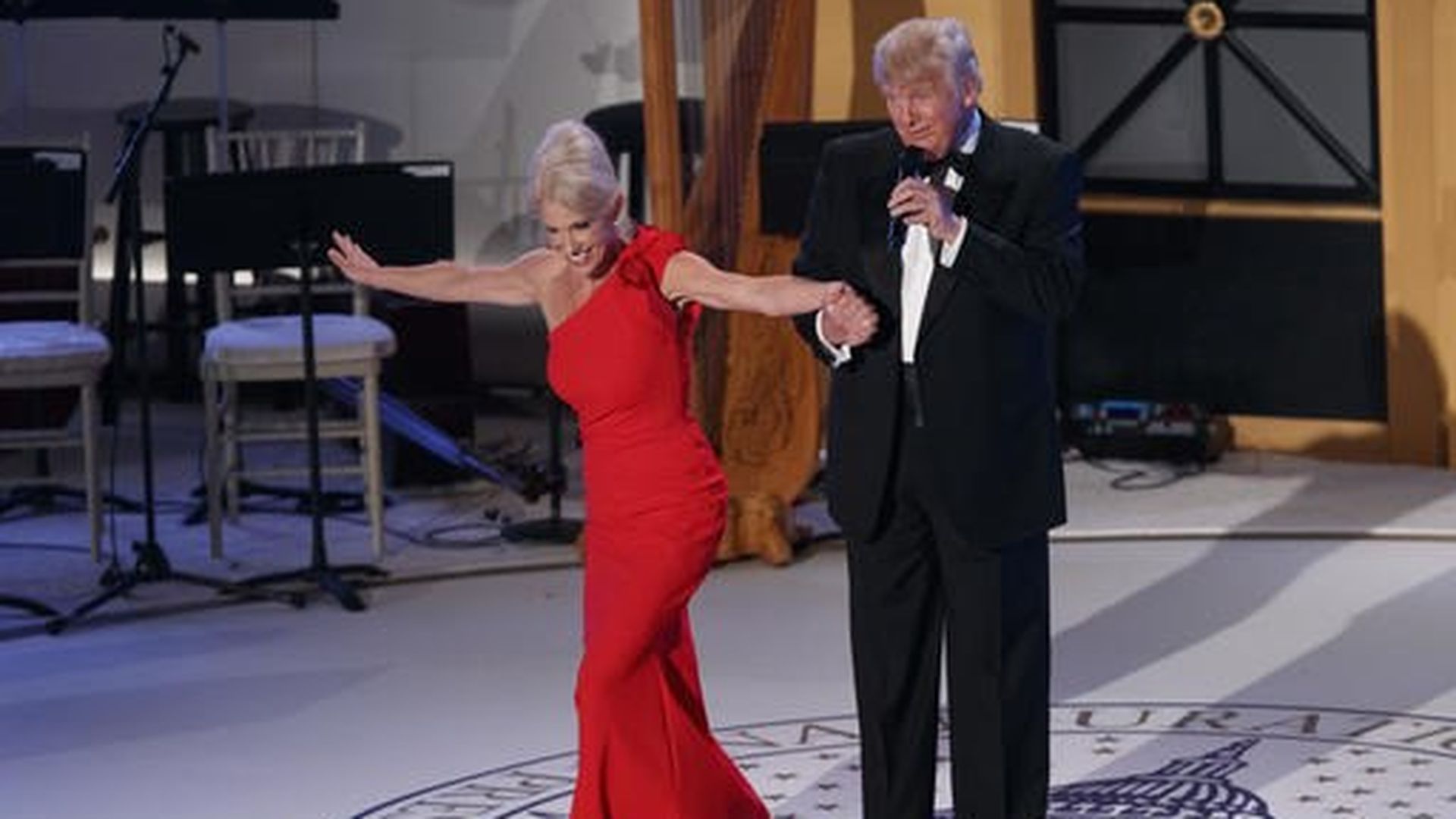 Trump paid tribute to Kellyanne last night at black-tie, candlelight dinner at Union Station: "There is no den she will not go into. When my men are petrified to go on a certain network I say, 'Kellyanne, will you go?' Then she gets on and she just destroys them. So anyway, thank you, baby. Thank you. Thank you. [As she walked down the stairs:] Be careful."
In a puzzling aside, Trump vowed to win reelection in 2020 "the old-fashioned way," which I guess is a reference to the popular vote: "We're going to win because we did so well because it was so overwhelming the thing that we did, because it was so beautiful how great our cabinet – all of whom are here tonight – how great our cabinet has performed … There's not a pick that I don't love."
The president-elect said Reince has "a crazy name" and said Fox "has treated us very well, I have to say. Very well. Very well. Very well. And when I say 'well,' I mean FAIRLY."
Rough reviews: On "CNN Tonight," David Gergen called Trump's remarks "unhinged." Douglas Brinkley said: "He can't help himself." (hat tip: Reliable Sources newsletter)
Earlier, the Daily Beast called Trump's Inauguration Welcome Concert at the Lincoln Memorial "a Total Disaster": "The 'Make America Great Again!' concert struggled to book any act willing to play for Trump. The resulting show, led by 3 Doors Down, was a nightmare. … certainly the worst concert the poor statue of Abraham Lincoln was ever forced to attend."
https://www.axios.com/newsletters/axios-am-a3b4cce0-eb68-4208-98ec-3cfd158be0d3.html?chunk=3#story3
4. Obama's post-presidency staff
Anita Breckenridge, White House deputy chief of staff for operations, will be Obama's chief of staff when he leaves office. Anita began working for Obama in Illinois in 2003, when he first ran for U.S. Senate, and later became his downstate director.
Three other staff members were announced yesterday: "White House principal deputy press secretary Eric Schultz [will] be a senior adviser. Schultz is starting his own public affairs practice but will focus on managing Obama's transition to ex-president. He'll work to help Obama defend his legacy, promote his public image and engage with lawmakers, former staffers and political groups.
"Obama has hired Justice Department official and former White House spokesman Kevin Lewis to be his spokesman. And first lady Michelle Obama has hired Caroline Adler Morales as her communications director. Morales also held that title for Mrs. Obama in the White House. Lewis and Morales will work in the Obamas' personal office."
The Wilderness … David Brock on Huffington Post: "Our battle is no longer about Hillary. The stakes even go beyond preserving the Obama legacy. They go beyond stopping Donald Trump. … These next four years call for the type of resistance we haven't seen in generations"
https://www.axios.com/newsletters/axios-am-a3b4cce0-eb68-4208-98ec-3cfd158be0d3.html?chunk=4#story4
​​5. Trump's reelection slogan
A priceless moment from Karen Tumulty's story for today's WashPost special inauguration section, about the genesis of Trump's "Make America Great Again" slogan: "Halfway through his interview, … Trump shared a bit of news: He already has decided on his slogan for a reelection bid in 2020.'Are you ready?' he said. '"Keep America Great," exclamation point. Get me my lawyer!' the president-elect shouted.
"Two minutes later, one arrived. 'Will you trademark and register, if you would, if you like it — I think I like it, right? Do this: "Keep America Great," with an exclamation point. With and without an exclamation. "Keep America Great."' 'Got it,' the lawyer replied."
https://www.axios.com/newsletters/axios-am-a3b4cce0-eb68-4208-98ec-3cfd158be0d3.html?chunk=5#story5
​6. "Is Trump Stronger Than He Seems?"
Upshot's Nate Cohn digs under the data showing that Trump enters as an unprecedentedly unpopular president: Perhaps Trump is, indeed, "a historically weak political figure who benefited from historically weak opposition. The other possibility is that there's something about Mr. Trump's appeal that's not captured in the traditional approval ratings or the character questions.
"One piece of evidence seems consistent with this possibility: the seeming optimism about his presidency … [T]he most recent CNN poll says that just 40 percent of adults approve of his performance, but … 61 percent say that he'll bring back well-paying jobs to economically depressed areas."
Sound smart: Applying traditional metrics to Trump means we haven't learned anything in the past 19 months. What those numbers tell me is that voters are pessimistic about Trump's ability/willingness to do the job, but more bullish about his big themes. That's easier for him to fix than if it were the other way around. He has a low bar to clear to be seen as competent in the job, and lots of room for surprise to the upside.
https://www.axios.com/newsletters/axios-am-a3b4cce0-eb68-4208-98ec-3cfd158be0d3.html?chunk=6#story6
​7. Today's timeline
PREGAME: 8:30 a.m.: Donald and Melania Trump attend service at St. John's Church … 9:40 a.m.: President Obama and Michelle Obama welcome the Trumps to the White House … 9:45 a.m.: Obamas host a coffee and tea reception for the Trumps … 10:30 a.m.: Trumps, Obamas leave White House for Capitol.
AT THE CAPITOL: 11:16 a.m.: Sen. Roy Blunt, Inaugural Committee chairman, delivers opening remarks … 11:21 a.m.: Timothy Michael Cardinal Dolan, Rev. Dr. Samuel Rodriguez and Pastor Paula White-Cain deliver invocations … 11:30 a.m.: Senate Minority Leader Chuck Schumer delivers remarks … 11:35 a.m.: Vice Presidential oath administered by Associate Justice Clarence Thomas …
11:47 a.m.: Presidential oath is administered by Chief Justice John Roberts … 11:51 a.m.: President Trump delivers inaugural address … 12:12 p.m.: Rabbi Marvin Hier, Rev. Franklin Graham and Bishop Wayne T. Jackson deliver benedictions … 12:18 p.m.: Jackie Evancho performs the National Anthem.
POSTGAME: 12:30 p.m.: Obama departs by helicopter from East Front … 12:54 p.m.: President's Room signing ceremony … 1:08 p.m.: Luncheon … 2:35 p.m.: Review of the troops … 3 p.m.: Parade from Capitol to White House … 7 p.m.: Inaugural balls.
https://www.axios.com/newsletters/axios-am-a3b4cce0-eb68-4208-98ec-3cfd158be0d3.html?chunk=7#story7
​8. Mnuchin survives a big boo-boo
Steve Mnuchin was the Cabinet nominee the Trump team was most worried about, but Politico's Ben White says Dems "barely laid a glove on him" at yesterday's five-hour hearing.
There was some buzz at Café Milano last night about positions Mnuchin had taken that were counter to Trump, but they probably helped his confirmation chances.
Per WSJ: "Mnuchin adopted several positions that sounded closer to the outgoing administration, including urging Congress to quickly raise the nation's borrowing limit after a current suspension of the ceiling expires in March. He reaffirmed the strength of the U.S. dollar, appearing to temper recent comments by Mr. Trump, who complained that it is 'too strong.' And he called for a staff increase at the Internal Revenue Service, where ranks have thinned partly due to spending cuts driven by congressional Republicans."
Mnuchin's $100-million paperwork error, via NYT: "Mnuchin … failed to disclose nearly $100 million of his assets on Senate Finance Committee disclosure documents and forgot to mention his role as a director of an investment fund located in a tax haven … And he belatedly disclosed that his children own nearly $1 million in artwork. … Mnuchin described [the omissions] as a simple mistake made amid a mountain of bureaucracy."
The Chorus: Big money pours into advocacy campaign for Trump confirmations. The 45Committee — backed by the Ricketts family, and Sheldon and Miriam Adelson — uses this video to kick off a major effort to support the Trump administration.
https://www.axios.com/newsletters/axios-am-a3b4cce0-eb68-4208-98ec-3cfd158be0d3.html?chunk=8#story8
​9. Davos dope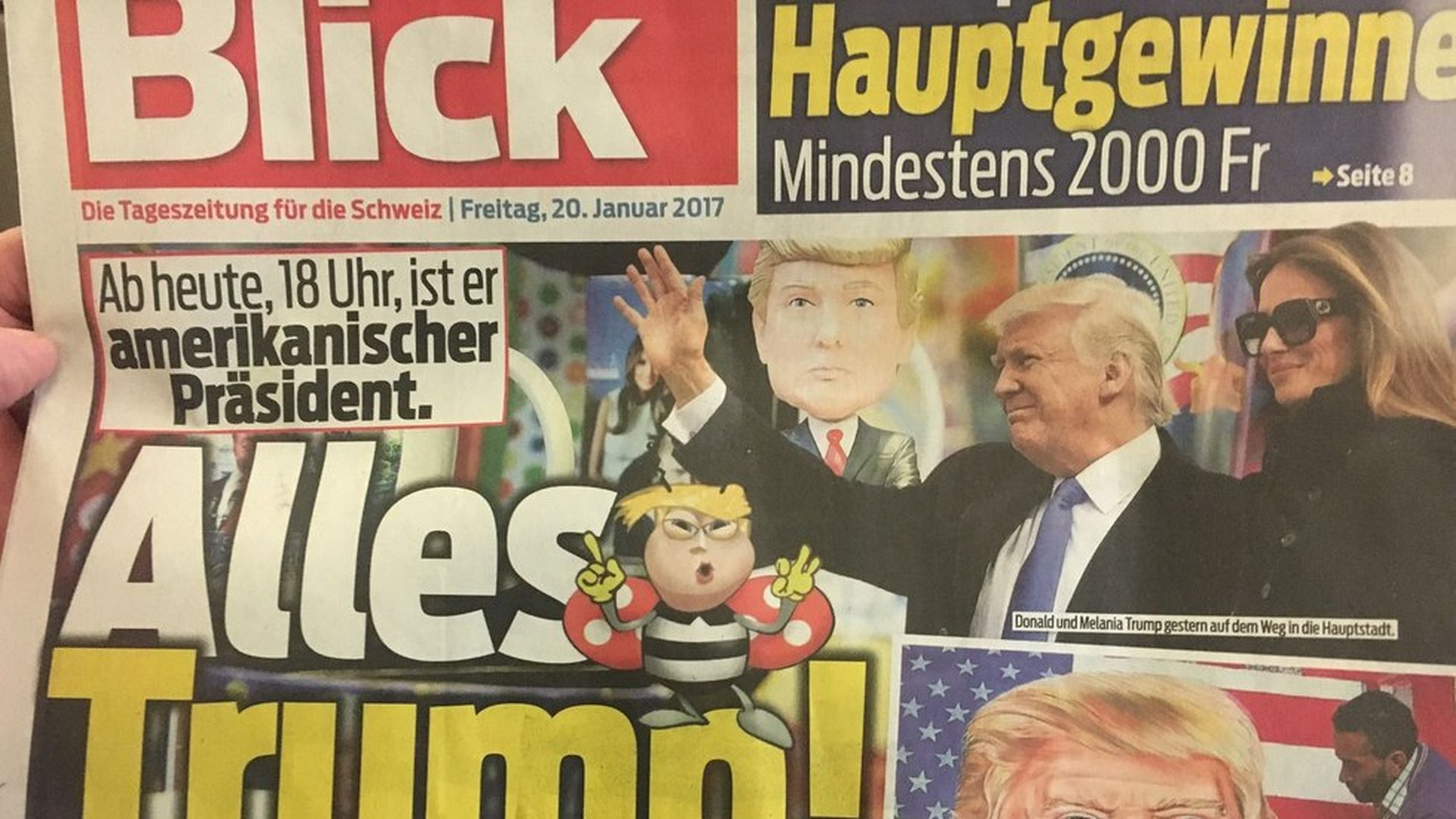 The masters of the universe have found something to love about Trump, per Bloomberg: "At [Davos] coffee bars and cocktail parties, … conversation has often turned to how money can be made from the rise of a populist firebrand. Amid all the panel-talk of reducing inequality and re-invigorating the middle class, the Davos set is hard at work looking for ways to safeguard and expand its wealth even as anti-establishment movements roil global politics …
"Optimism about money-making opportunities under the Trump administration goes well beyond the markets.The real estate mogul is stocking his cabinet with finance-friendly figures … And Trump's promise to reinvigorate infrastructure spending, with the co-operation of a Republican-dominated Congress that will be eager to involve private firms, opens potentially huge business opportunities."
https://www.axios.com/newsletters/axios-am-a3b4cce0-eb68-4208-98ec-3cfd158be0d3.html?chunk=9#story9
​10. 1 fun thing
Some liberals are fleeing town but only want to Airbnb their homes to protesters, not Trumpers: "In keeping with D.C.'s voting tendencies, the vast majority of politically specific ads seemed to be targeted toward those on the left."