Axios AM
April 12, 2017
1 big thing: Trump kneecaps Bannon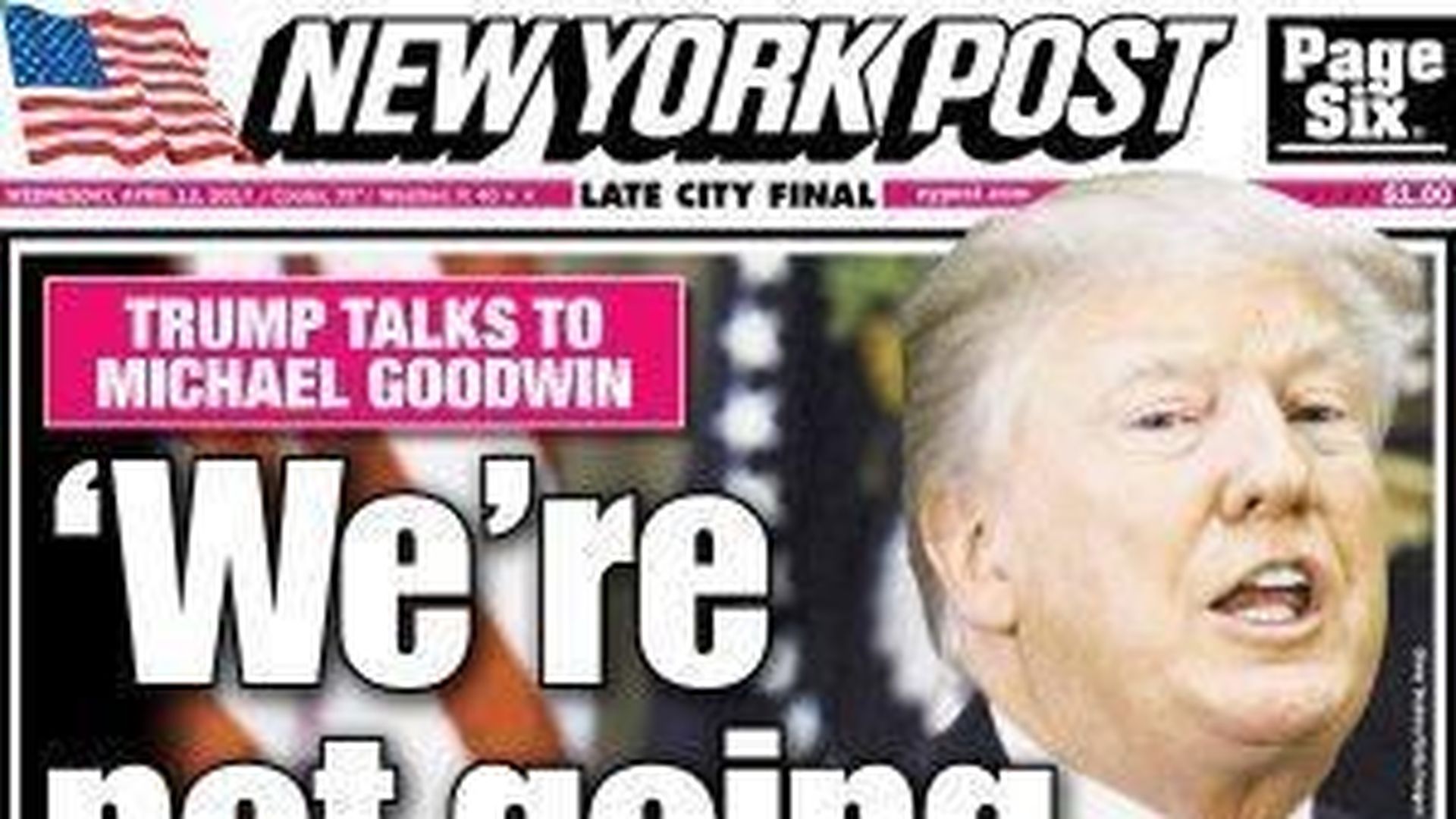 Allies of Steve Bannon fear the White House chief strategist is about to be pushed out, following the posting last night of an ominous interview with Trump by Michael Goodwin, a New York Post columnist and someone the president has been comfortable with over many years.
The brutal headline: "Trump won't definitively say he still backs Bannon."
What Trump said: "I like Steve, but you have to remember he was not involved in my campaign until very late ... I had already beaten all the senators and all the governors, and I didn't know Steve. I'm my own strategist and it wasn't like I was going to change strategies because I was facing crooked Hillary. ... Steve is a good guy, but I told them to straighten it out or I will."
The instant fallout: Axios' Jonathan Swan hears Bannon allies inside and outside the White House were taken by surprise when Goodwin's column posted, and are distraught. Bannon allies are bitter about the role they believe economic adviser Gary Cohn has played in undercutting their guy to POTUS. In private conversations, they call him "Globalist Gary." In text messages, the shorthand is CTC (Carbon Tax Cohn) or one simple emoji: 🌎.
What got Bannon in trouble: Axios AM is told that President Trump didn't like the stories about Bannon as the Svengali, or leaks against Jared and Ivanka, or planted stories that he blamed Bannon for. It was less than 10 weeks ago that Bannon appeared on the cover of TIME as "THE GREAT MANIPULATOR," with the inside story asking if he was "the Second Most Powerful Man in the World."
Bannon's mistake: He did little to build alliances and a personal retinue within the White House, while his rivals did the opposite. So he wound up isolated in "West Wing Survivor.'
The huge risk for Trump: The base (including Breitbart) remains very attached to Bannon, and would go crazy if he were axed. And does the president lose his psychic connection to the issue palette that helped put him in power?
What it means: Swan points out that if Bannon goes, there's no one of similar status in the White House to push the nationalist agenda to Trump – and more centrist figures are already ascendant (Jivanka, Gary Cohn). Without Bannon's voice, this becomes a much more conventional White House. It would be an acute normalizing of the staff, although no one can normalize Trump.
2. Tweet du jour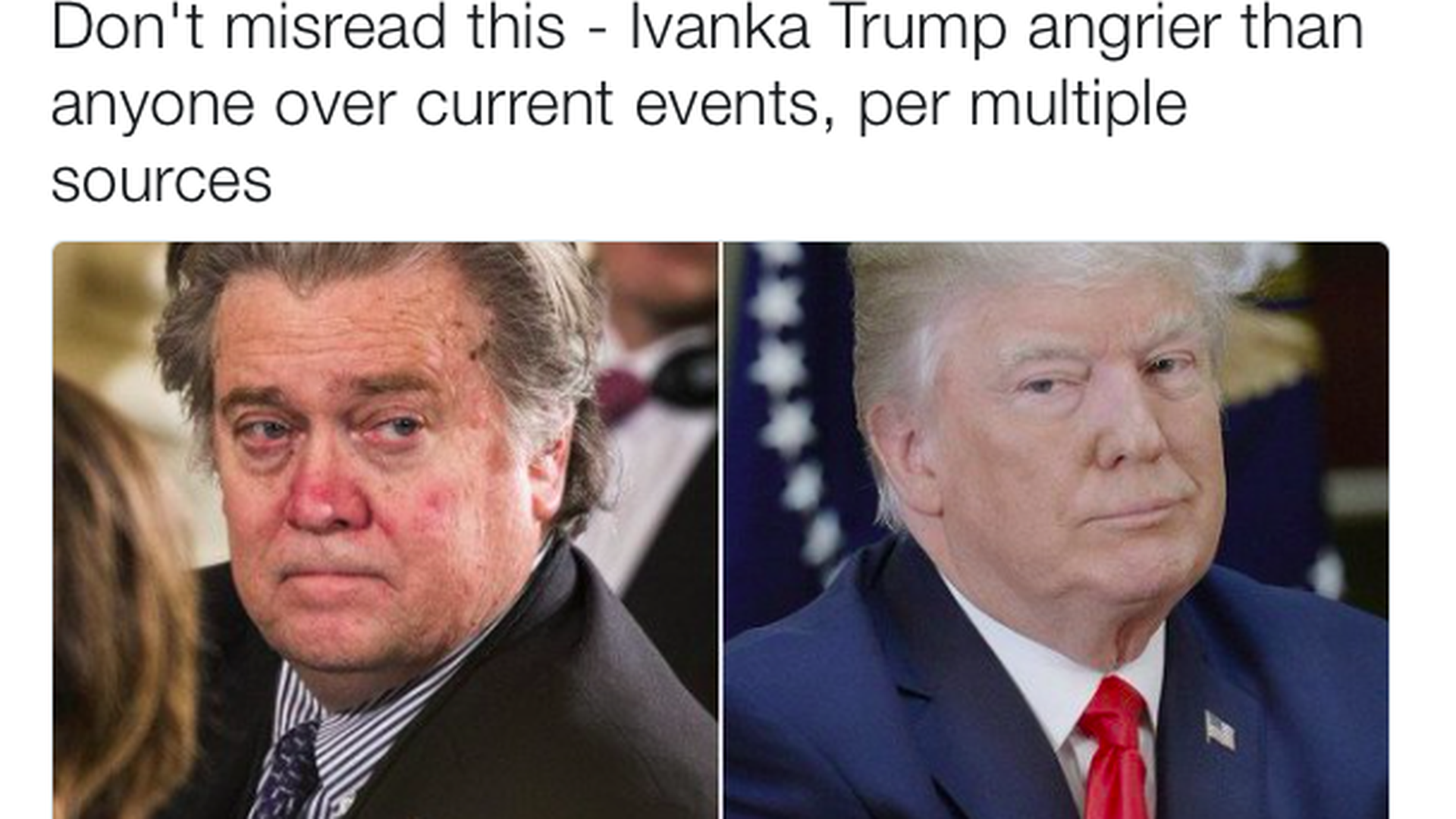 Maggie later added: "Trump loves the shiny new object, whether it's a thing or a person. Right now that shiny new object is Cohn."
3. A chance for Putin, Tillerson diplomacy in Moscow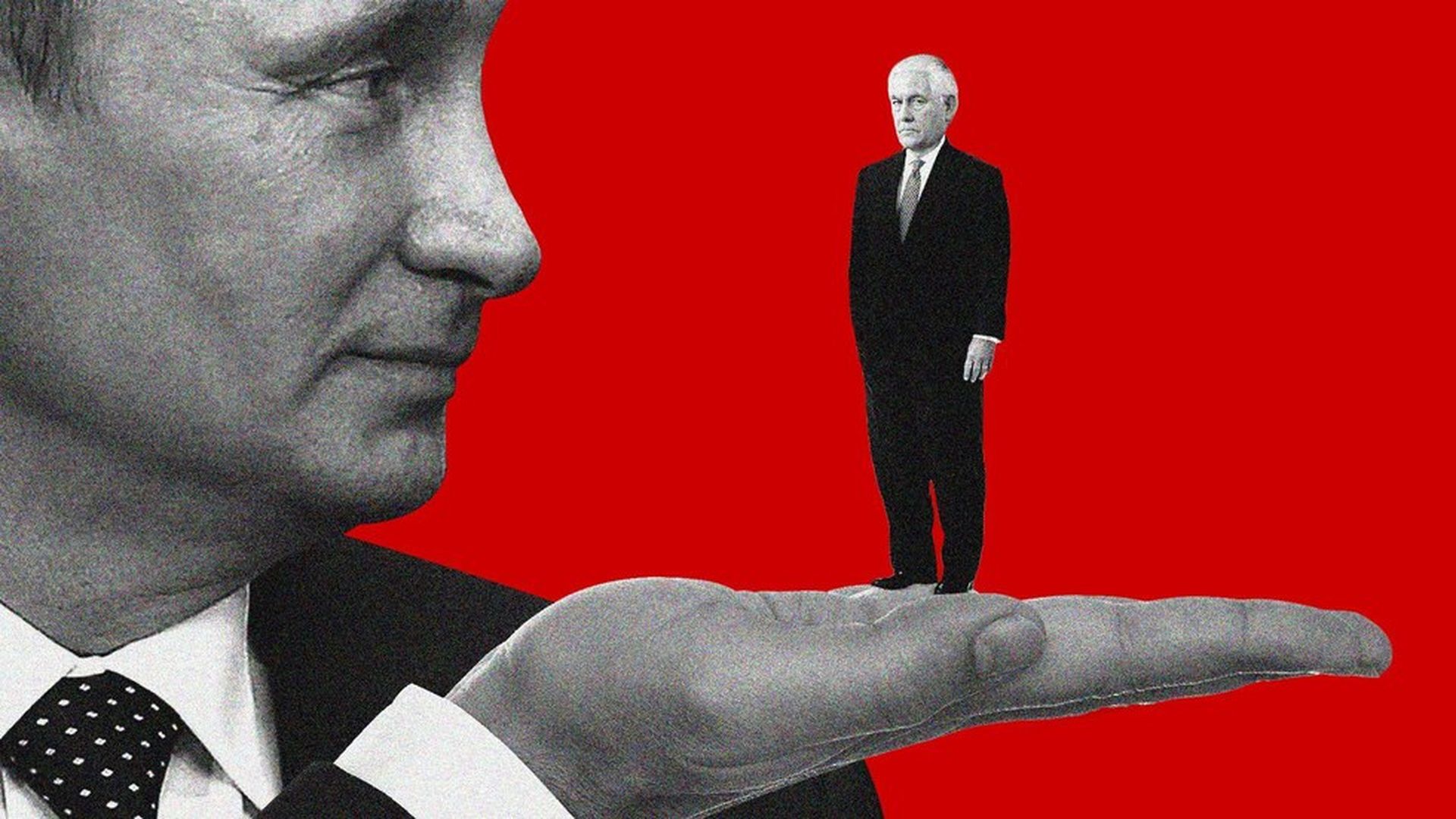 Steve LeVine, a former foreign correspondent who joined Axios from Quartz this week, writes: "Putin knows that he has a problem in Syria — he wants to retain Russia's military presence there, but is not wedded to President Bashar al-Assad. Therefore, he will be looking for a face-saving way out of the current crisis."
Get smart: Both presidents have extremely sober-minded senior aides who understand that the harsh exchange of rhetoric between the countries could escalate out of control.
Same lead story in all Big 3 papers ... N.Y. Times: "White House Says Russia Is Engaged in Covering Up Syrians' Chemical Attack" ... WSJ: "U.S. Accuses Russia of Cover-Up" ... WashPost: "U.S. disputes Russia's claims."
4. Trump's talk big, act small White House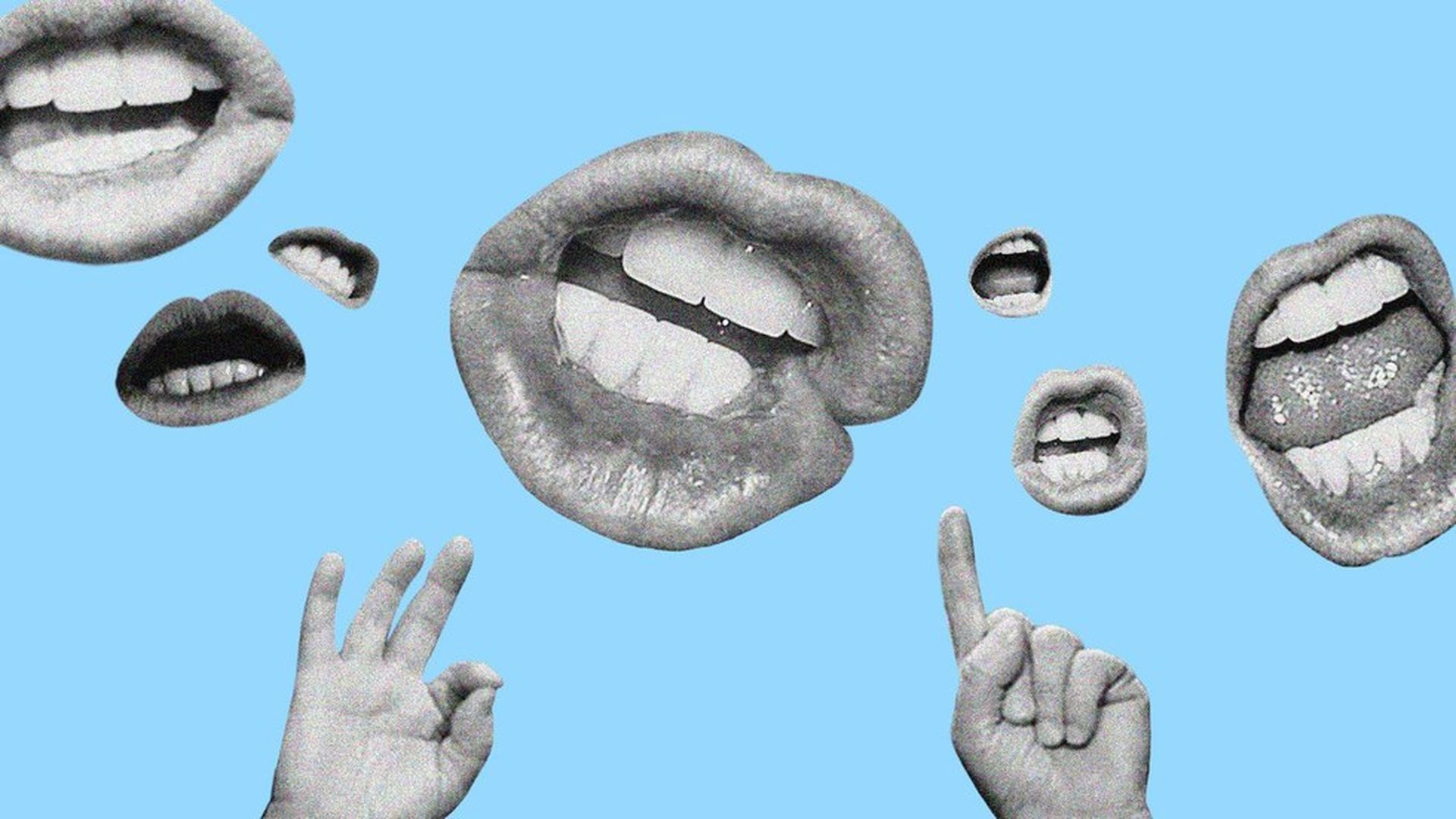 Visitors to Steve Bannon's West Wing office are often taken by his whiteboard, covered with promises from the campaign trail. Trump's chief strategist checks off tasks when they're accomplished, but there are some pledges on Bannon's whiteboard that nobody believes will be met — not in the first 100 days, and in some conspicuous cases, not ever.
Read Axios' Jonathan Swan on "Trump's rhetoric vs reality": "The reality looks much smaller, and, as much as Trump would hate to admit it — conventional.
Cowen's Chris Krueger raises possibility tax reform delayed to next year: "Base case remains tax relief in late Q4, though potential delay to Q1 18. Will need FY18 Budget to move taxes. So back to Square One on process, policy, and politics. Q1 17 a policy zero."
Department of Close Calls ... Kansas City Star: "Republican Ron Estes will be the next congressman from the state of Kansas, but his victory Tuesday night did not come as easily as many expected in the deep-red state. GOP strategists warned in recent days that Democrat James Thompson, a civil rights attorney, was in striking distance ... in the special election to replace Mike Pompeo."
5. How Spicer's afternoon unraveled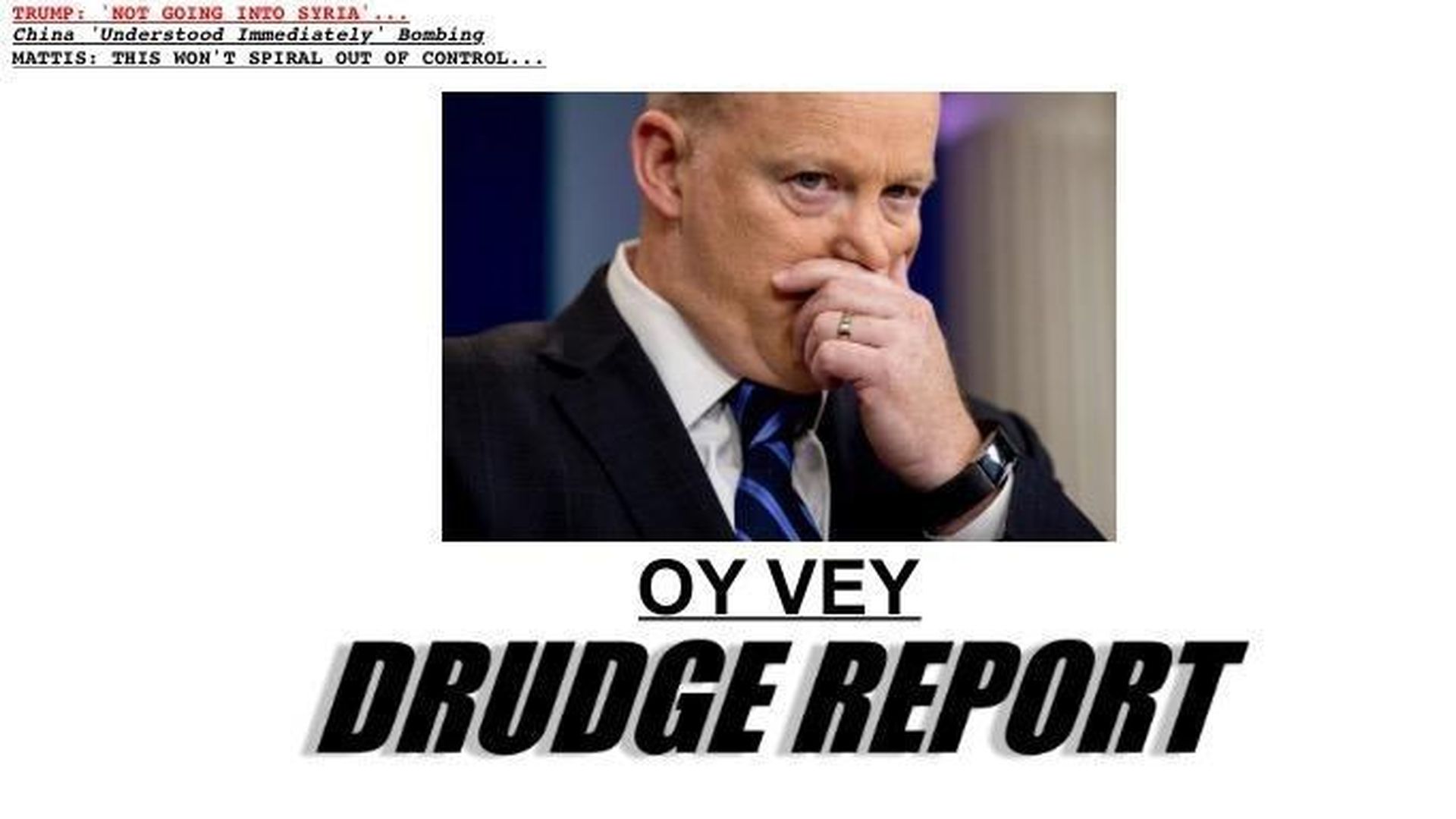 Sean Spicer at yesterday's briefing: "You had someone as despicable as Hitler who didn't even sink to using chemical weapons. So you have to, if you're Russia, ask yourself is this a country that you and a regime that you want to align yourself with? "
Later question: "Sean, thanks. I just want to give you an opportunity to clarify something you said that seems to be gaining some traction right now. 'Hitler didn't even sink to the level of using chemical weapons.' What did you mean by that?"
Spicer: "I think when you come to sarin gas, there was no — he was not using the gas on his own people the same way that Assad is doing, I mean, there was clearly — I understand your point, thank you.
Q: "I'm just getting — "
Spicer: "Thank you, I appreciate that. There was not — he brought them into the Holocaust center, I understand that. But I'm saying in the way that Assad used them, where he went into towns, dropped them down to innocent — into the middle of towns. It was brought —so the use of it — I appreciate the clarification there. That was not the intent."
Emailed statement to the pool, 40 minutes later, "Clarification on statement from Press Briefing": "In no way was I trying to lessen the horrendous nature of the Holocaust. I was trying to draw a distinction of the tactic of using airplanes to drop chemical weapons on population centers. Any attack on innocent people is reprehensible and inexcusable."
Spicer, a few hours later, to CNN's Wolf Blitzer: "I was obviously trying to make a point about the heinous acts that Assad had made against his own people last week, using chemical weapons and gas. Frankly, I mistakenly made an inappropriate and insensitive reference to the Holocaust, for which, frankly, there is no comparison. And for that, I apologize. It was a mistake to do that."
Spicer's job security! @NancyPelosi tweets: "@realDonaldTrump, it's time to fire @PressSec Sean Spicer."
6. The long view on Trump
Rick Perlstein — who has written books on Goldwater, Nixon and Reagan — in N.Y. Times Magazine, "I Thought I Understood the American Right. Trump Proved Me Wrong. A historian of conservatism looks back at how he and his peers failed to anticipate the rise of the president":
The 1960s and '70s New York in which Donald Trump came of age, as much as Klan-ridden Indiana in the 1920s or Barry Goldwater's Arizona in the 1950s, was at conservatism's cutting edge, setting the emotional tone for a politics of rage. ...
The often-cynical negotiation between populist electioneering and plutocratic governance on the right has long been not so much a matter of policy as it has been a matter of show business. ... [T]he producers of "The Apprentice" carefully crafted a Trump character who was the quintessence of steely resolve and all-knowing mastery.
7. Drip, drip ...
AP break at 5 a.m. ... "Records match some Ukraine ledger payments to ex-Trump aide," by Jack Gillum, Chad Day and Jeff Horowitz: "Last August, a handwritten ledger surfaced in Ukraine with dollar amounts and dates next to the name of Paul Manafort, who was then Donald Trump's campaign chairman. Ukrainian investigators called it evidence of off-the-books payments from a pro-Russian political party."
"Now, financial records ... confirm that at least $1.2 million in payments listed in the ledger next to Manafort's name were actually received by his consulting firm in the United States. They include payments in 2007 and 2009, providing the first evidence that Manafort's firm received at least some money listed in the so-called Black Ledger."
Why it matters: "Manafort and his spokesman, Jason Maloni, have maintained the ledger was fabricated and said no public evidence existed that Manafort or others received payments recorded in it."
8. Re-accommodating United's image, stock price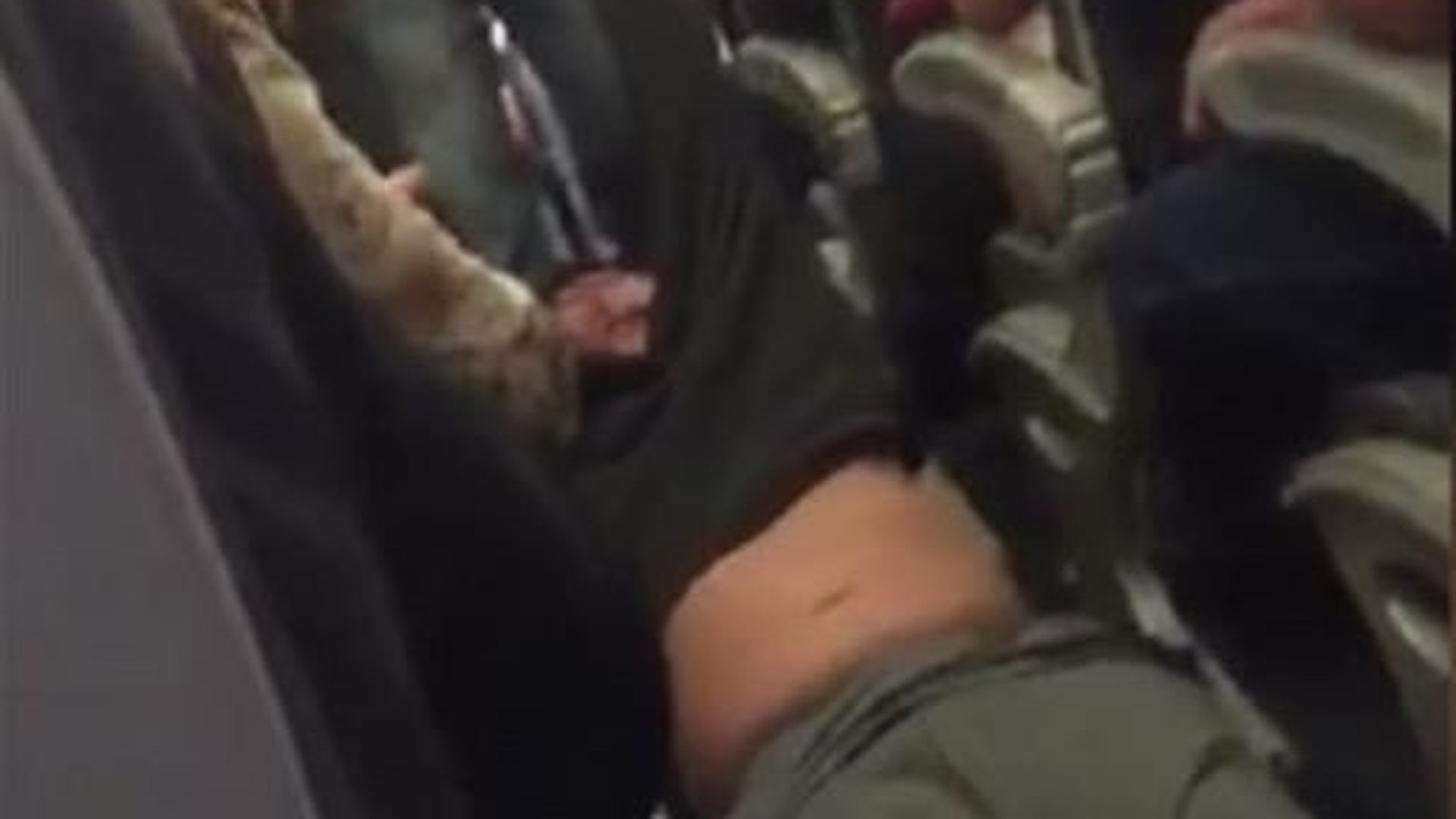 "United faces more questions as dragged passenger hires high-powered attorney" — Chicago Tribune: "David Dao, the passenger at the center of the growing imbroglio, retained a high-powered Chicago personal injury lawyer, Thomas Demetrio. Dao was in a Chicago hospital undergoing treatment for his injuries ... [F]our [U.S.] senators sent several questions about the 'very disturbing' incident."
Why it matters ... N.Y. Times front-pager, "Dragging of Passenger Sets Off a Crisis at United": "[T]he videos had already cast an unwelcome light not just on United, but on the airline industry's efforts to maximize profits. As companies push to make money from baggage fees, seat reservations and other services that were once included with a basic plane ticket, the videos added the potential for an even harsher indignity: sitting in a seat with a ticket and getting physically ejected from the airplane."
9. Will he be back?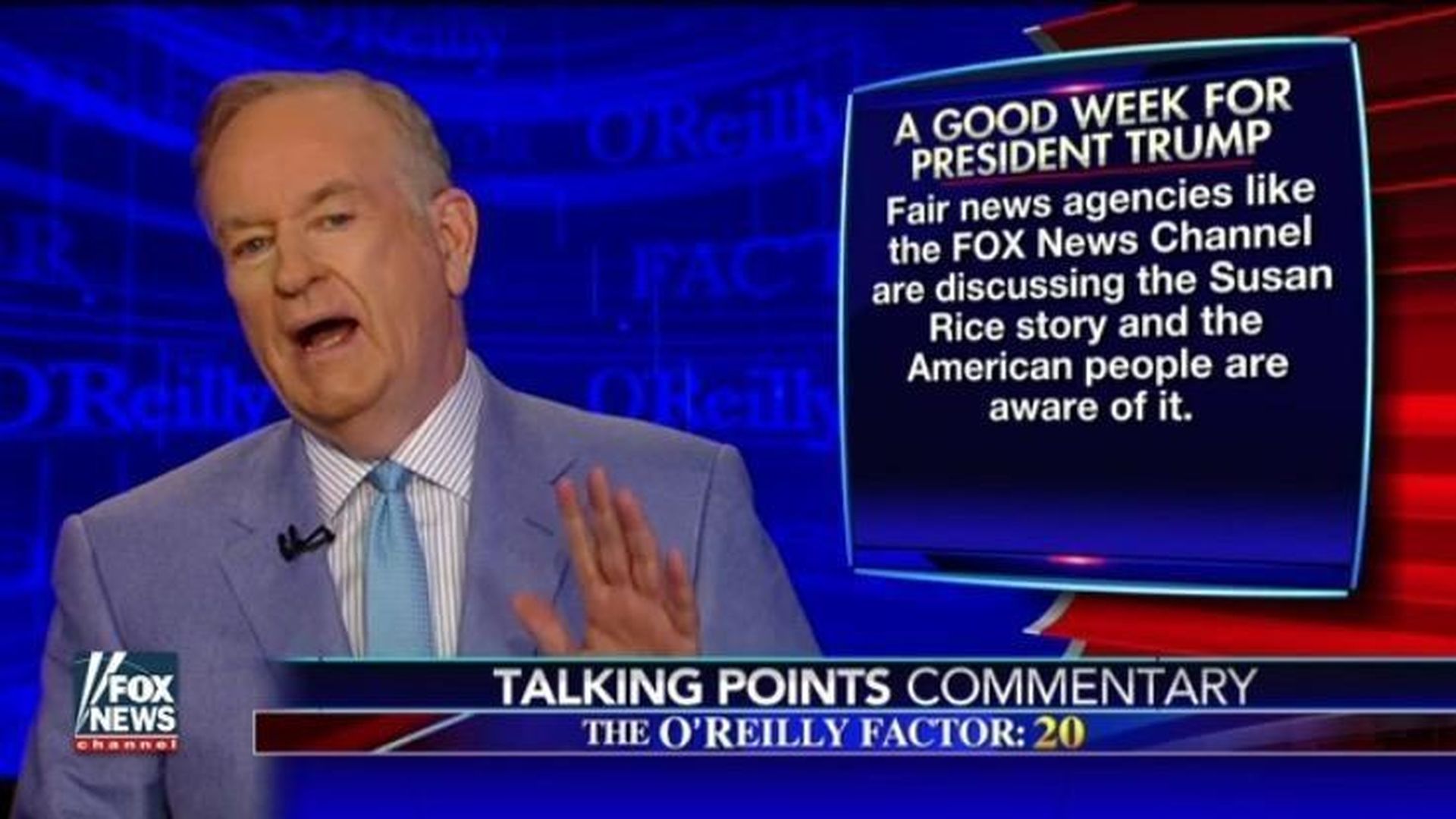 Amid an advertiser backlash prompted by accusations of harassment, Bill O'Reilly announced on last night's show that he's taking a vacation. A Fox News spokesperson confirmed to Axios AM that "O'Reilly is on a pre-planned vacation and he will return on April 24th."
CNN's Dylan Byers says that per "O'Reilly spokesperson Mark Fabiani," the vacation is a family trip that was planned in October, including airline and hotel reservations.
Dana Perino is scheduled to fill in for O'Reilly tonight, we're told.
Gabe Sherman in New York mag: "Two highly-placed Fox News sources say 21st Century Fox CEO James Murdoch would like O'Reilly to be permanently taken off the air, while his father Rupert and older brother Lachlan are more inclined to keep him."
This news from Monday's Times looks worrisome for Reilly: "21st Century Fox has enlisted the law firm Paul, Weiss, Rifkind, Wharton & Garrison to investigate at least one accusation of sexual harassment against the Fox News host Bill O'Reilly. ... Wendy Walsh, a former guest on Mr. O'Reilly's show, ... called 21st Century Fox's anonymous hotline last week, prompting the investigation."
Why it matters: "Paul Weiss is the same law firm that conducted an internal investigation into Roger Ailes."
10. 1 fast thing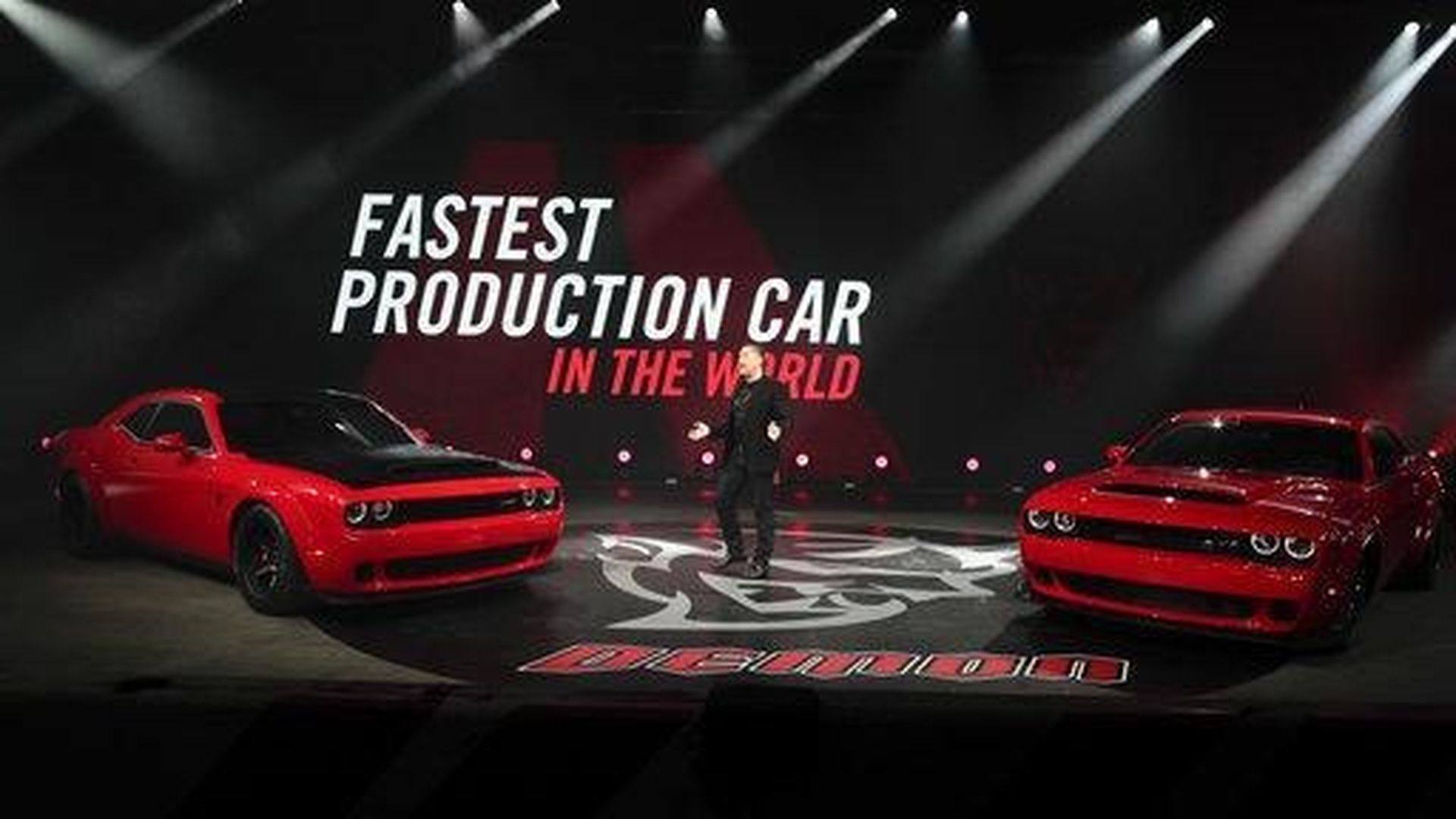 "Freaky Fast: Dodge Demon Challenger lays claim to fastest production car":
Fiat Chrysler's Dodge brand ... says its Demon Challenger can go from zero to 60 ... in 2.3 seconds. That beats the Tesla Model S P100D sedan, which hits 60 in 2.5 seconds.
Dodge used explosions, burnouts and a small drag strip to roll out the car Tuesday just ahead of the New York International Auto Show press days. The company even brought in Fast and Furious star Vin Diesel for effect.
The street-legal Demon also can hit 140 mph while running a quarter mile in 9.65 seconds, about two seconds faster than a typical muscle car. It's available in the fall.