https://www.axios.com/newsletters/axios-am-a0ccf16f-bedb-4788-90f0-4829914a7a2d.html?chunk=0#story0
1 big thing: What Trump is thinking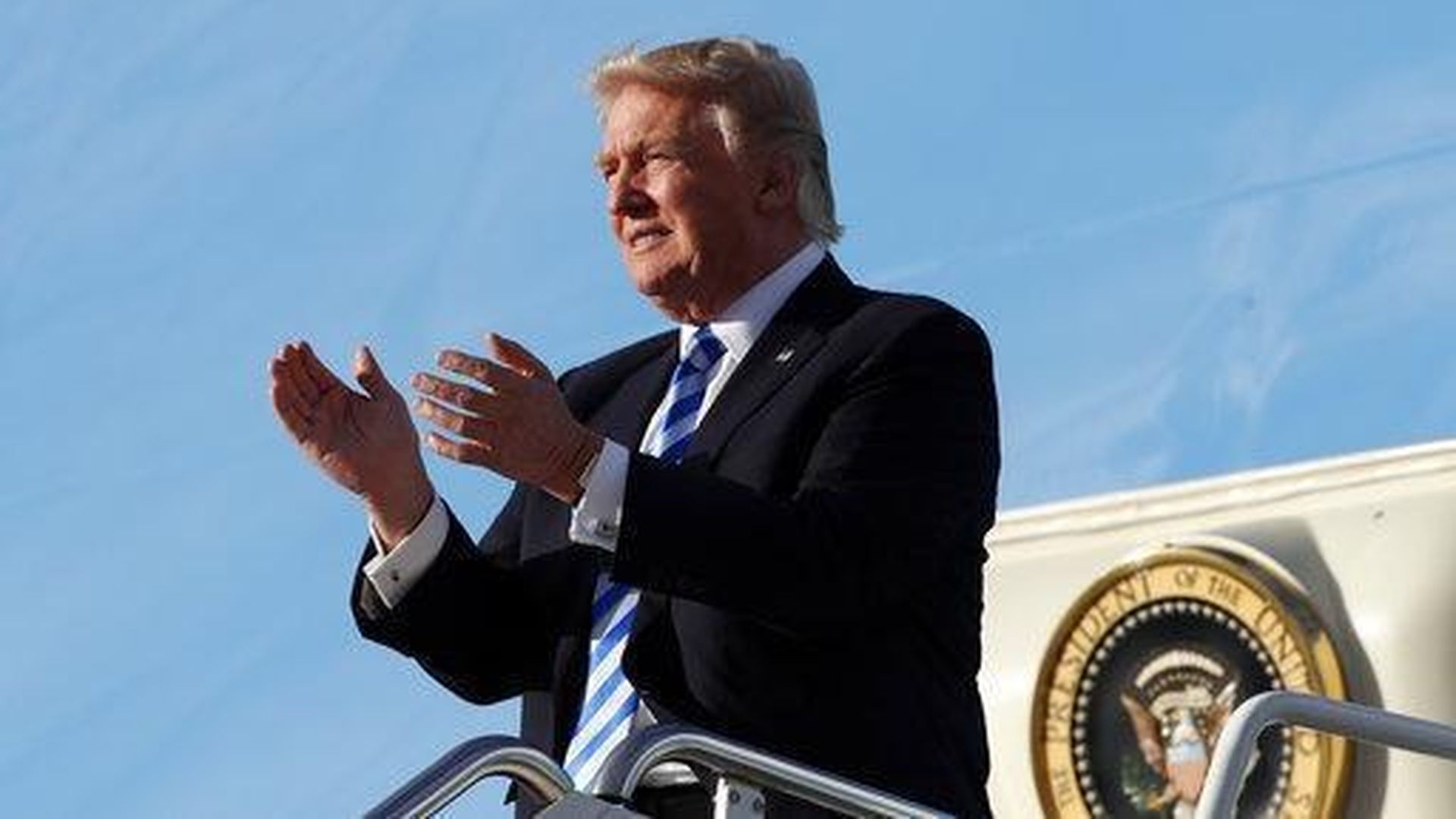 Today is Day 85 ... When President Trump 2.0 emerged this week with a slew of more conventional Republican positions, a big question was: How long will it last? Trump insiders promise this is more than a mood: It's the result of Trump's instinctive desire to win, after a series of dropped balls.
"We're seeing the working out of his improvisational personality, based on new and immediate inputs," a West Wing confidant said.
Those inputs include both the more moderate advisers who are ascendent, and the new understanding of the world that comes from the Situation Room.
"Which is 'America First': currency manipulation, or a bunch of missiles in California [from North Korea]?" a West Wing adviser said. "If I'm going to be 'America First,' I need to be for security."
Trump is restless, and still asks friends for their opinions of his staff. He made it clear to a recent visitor that Steve Bannon on the cover of TIME two months ago still sticks in his craw. Friends say Bannon is stubborn and a survivor, and plans to fight to stay.
The rest of April and May is a critical stretch on Capitol Hill — a chance for Trump's team to resuscitate health reform, keep the government open, pass a budget, and get started on tax reform.
"They've got to produce," a Trump friend said.
The West Wing adviser added: "When you pass a few things, then you've pivoted."
https://www.axios.com/newsletters/axios-am-a0ccf16f-bedb-4788-90f0-4829914a7a2d.html?chunk=1#story1
2. Bite of the day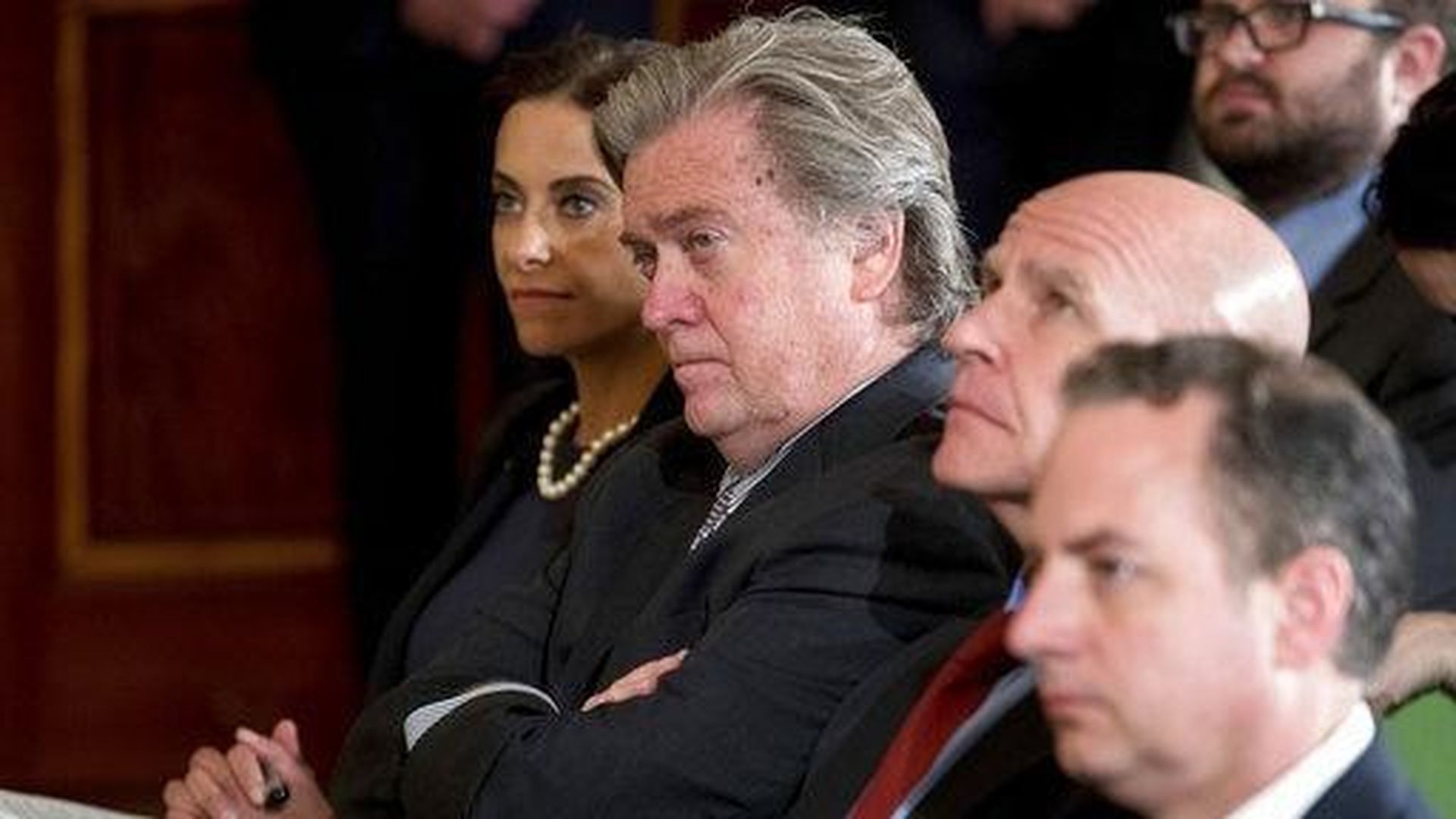 Roger Stone, veteran Trump adviser, to Chuck Todd on MSNBC's "MTP Daily":
I think Steve made an error by not spending any of his political capital to bring other Trumpites and non-globalists into the White House circle. ... And so therefore now he's alone and he's surrounded.
https://www.axios.com/newsletters/axios-am-a0ccf16f-bedb-4788-90f0-4829914a7a2d.html?chunk=2#story2
3. Tweet du jour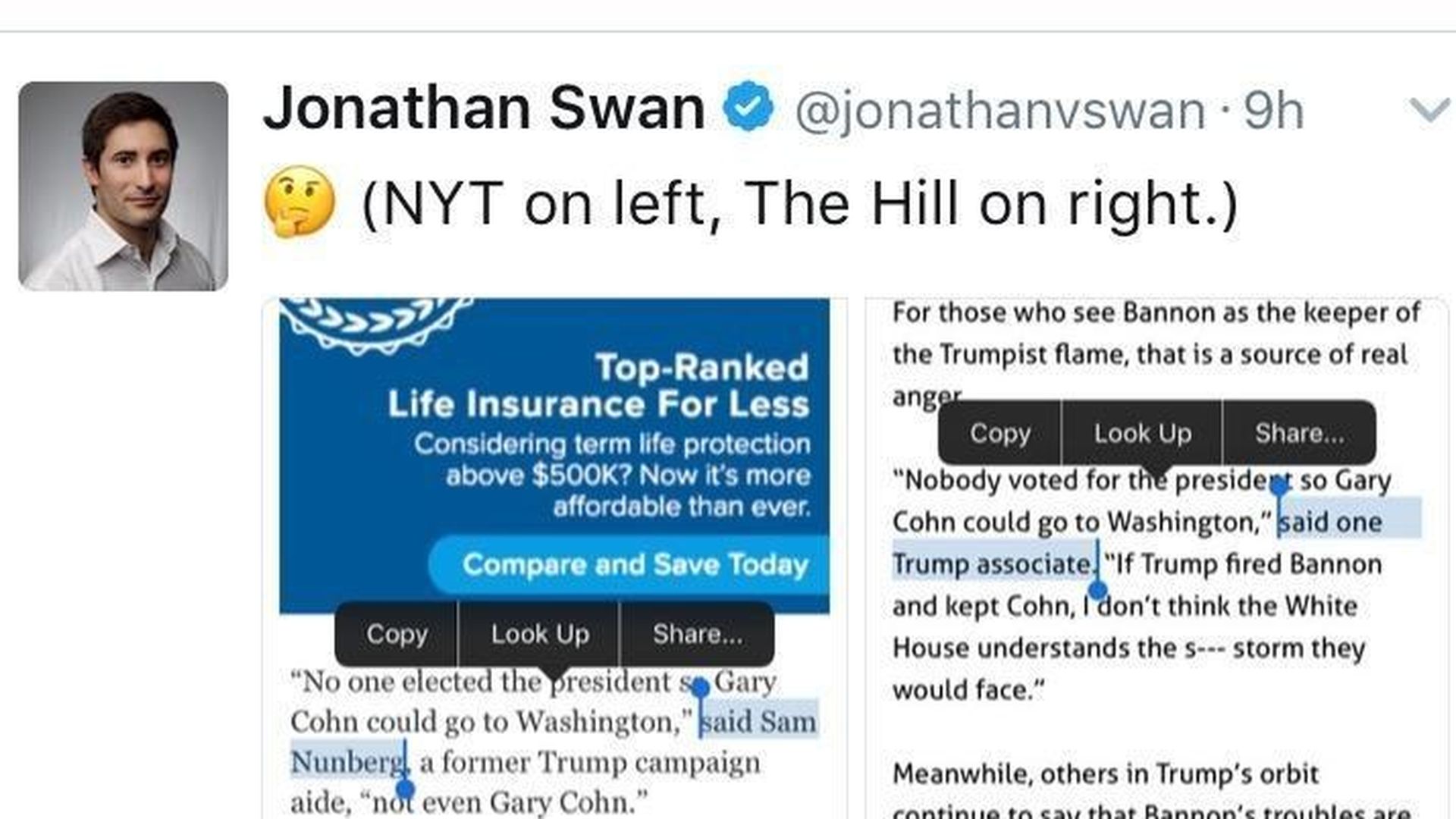 Your Axios AM Decoder Ring ...
https://www.axios.com/newsletters/axios-am-a0ccf16f-bedb-4788-90f0-4829914a7a2d.html?chunk=3#story3
4. West Wing players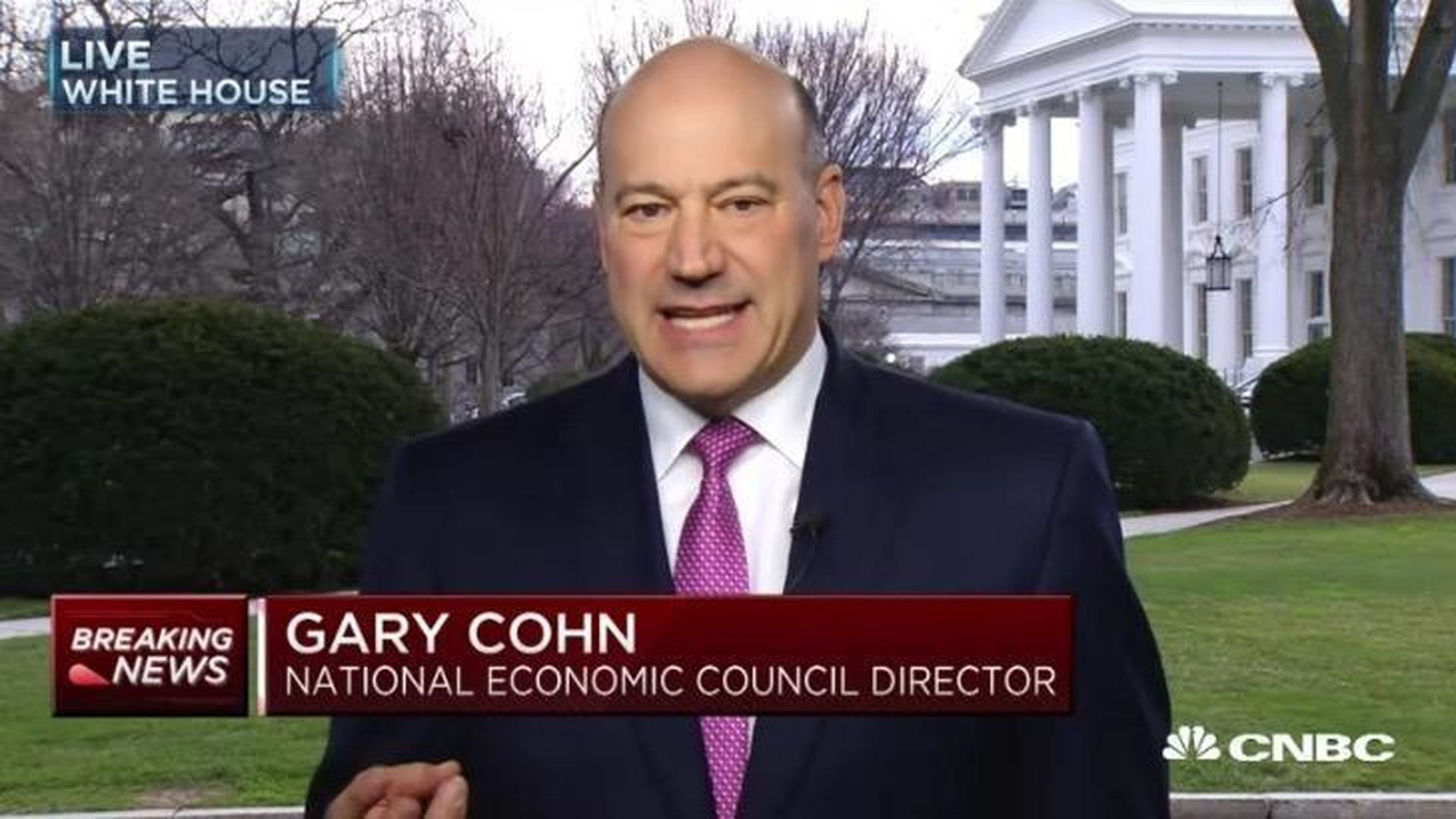 A Gary Cohn profile is atop column 1 of the WashPost, "Goldman vet gains sway with Trump," by Damian Paletta (online: "Within Trump's inner circle, a moderate voice captures the president's ear"):
In a White House short on experienced personnel, Cohn has found an edge by hiring two dozen policy experts, most with government experience. ...
White House aides say Cohn has done well because Trump sees him, more than anything else, as a dealmaker. Cohn represents a bloc of White House officials who are working harder than before to court Democratic support for key parts of Trump's agenda, having seen the Republican Party splinter during the health-care debate.
"I'm not a Democrat, and I'm not a Republican," Cohn often says in meetings with business executives, according to two people familiar with his exchanges. "I just want to get things done."
https://www.axios.com/newsletters/axios-am-a0ccf16f-bedb-4788-90f0-4829914a7a2d.html?chunk=4#story4
5. If you only click 1 thing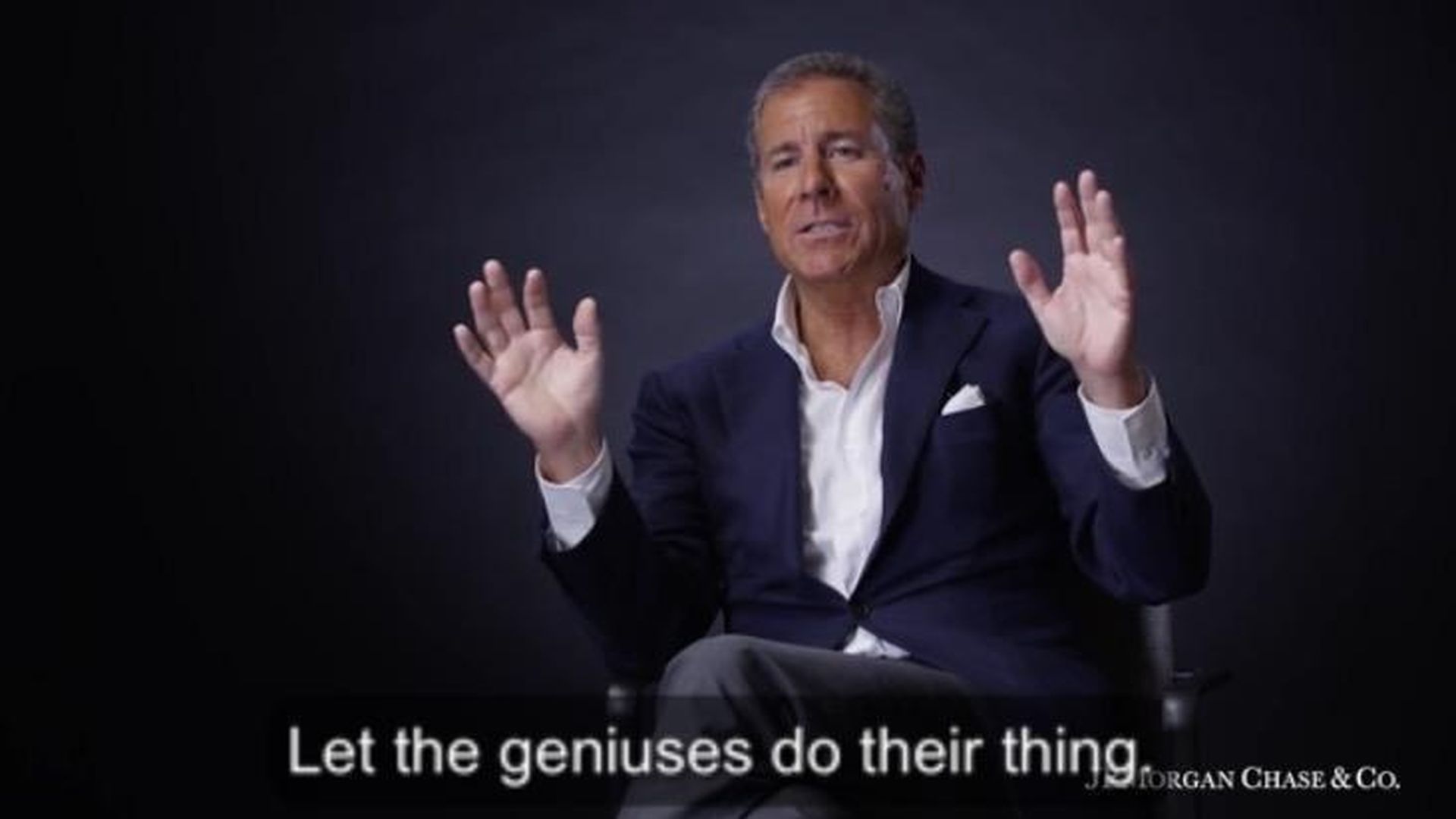 https://www.axios.com/newsletters/axios-am-a0ccf16f-bedb-4788-90f0-4829914a7a2d.html?chunk=5#story5
6. Sneak peek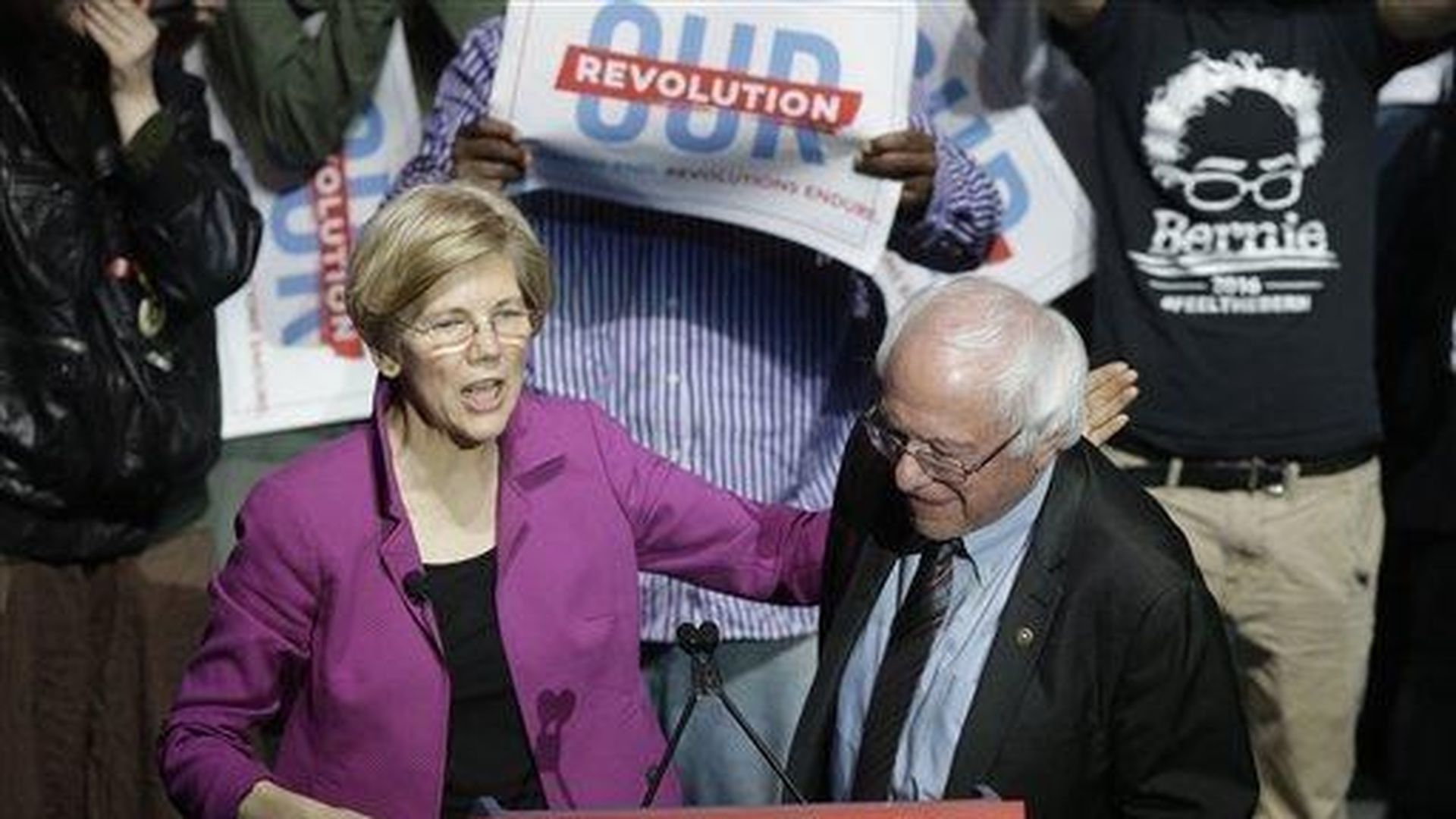 Sen. Elizabeth Warren makes it clear in her new book, "This Fight Is Our Fight: The Battle to Save America's Middle Class" (out Tuesday) that she wants to remain central to the Democrats' conversation as they look toward 2020.
We got our mitts on a signed copy. At times, Warren takes the breezily dismissive approach to Trump that may be the key to rankling him in his reelection race, referring at one point to "the hot-air balloon known as @RealDonaldTrump:
"Trump slammed back at me repeatedly [on Twitter], hitting me over and over with his lame nicknames [Goofy, Pocahontas]. But he couldn't seem to come up with much more than that. (Sad!)"
[T]hose tweetstorms and Facebook posts causes millions of people to tune in -- at one point, about forty-six million people were following these exchanges."
"Trump had figured out early on that every over-the-top tweet became a news story. Now there was a fresh story line: someone had found a way to get under Donald Trump's skin and fight back."
"We've ... got to be prepared to lose some battles. Without control of Congress or the White House, we will often come up short."
"The day after the inauguration, "I was back home in Cambridge, back in my own bed. As I woke up I thought, 'One day into his presidency and at least Donald Trump hasn't blown up the world yet. Only 1,460 days to go.'"
From the Acknowledgments: "One again, Bob Barnett served as a thoughtful adviser, always ready with wise counsel or a deliciously funny barb."
https://www.axios.com/newsletters/axios-am-a0ccf16f-bedb-4788-90f0-4829914a7a2d.html?chunk=6#story6
7. How to help friends weather pain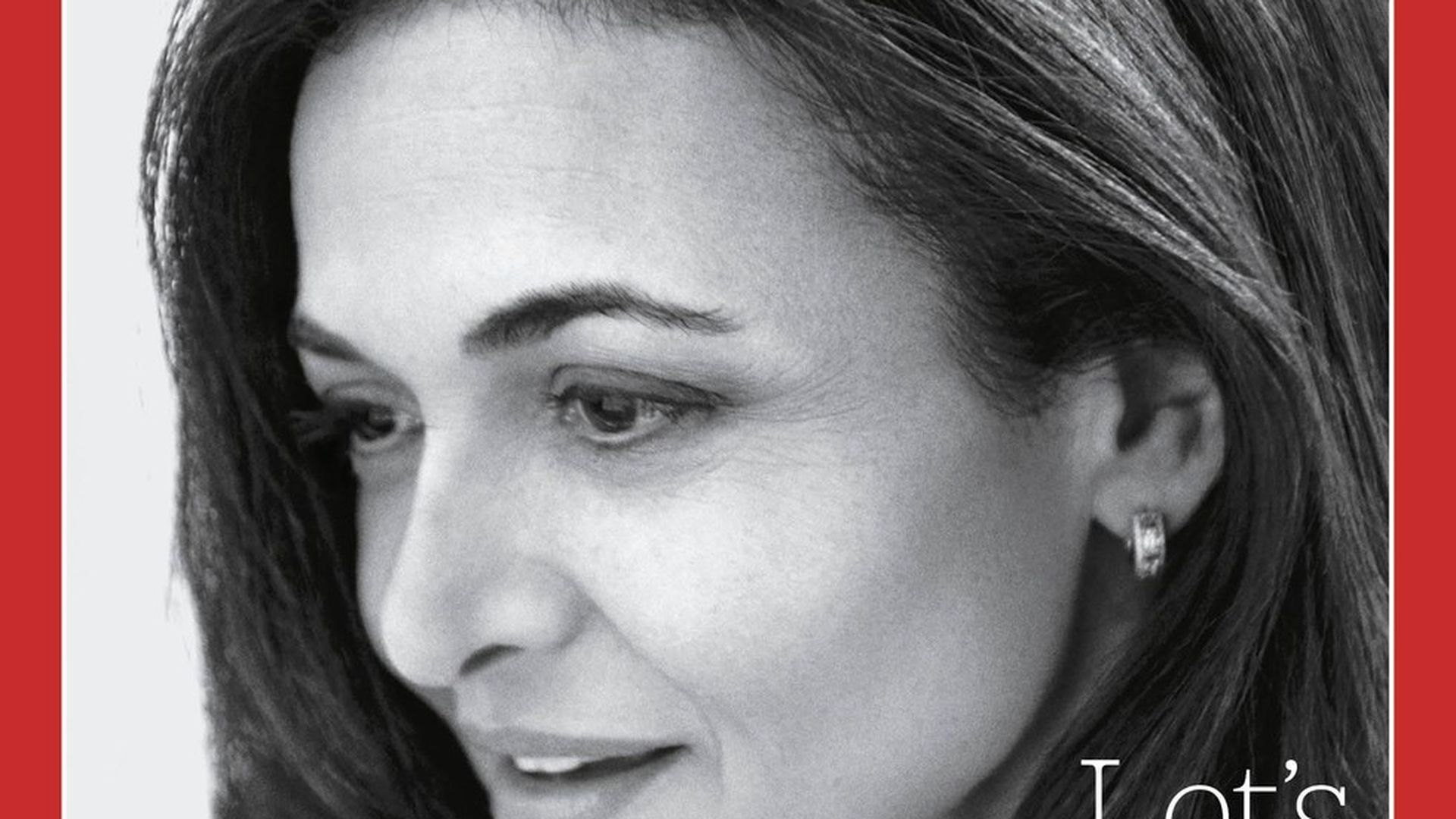 Facebook COO Sheryl Sanderberg talks with TIME's Belinda Luscombe about her book, "Option B: Facing Adversity, Building Resilience, and Finding Joy" (with Adam Grant, author of "Originals"), out April 24:
When she lost her husband, Sheryl Sandberg also lost her bearings. Now she wants to help others find a way through grief ... What Sandberg learned ... was that there are three myths people cling to that make it harder to spring back from adversity. The first is that they're somehow responsible for what happened to them. The second is that sadness must carpet their lives from wall to wall. And the third is that they will never feel any better. Ever the communicator, Sandberg calls these mistakes the three p's: thinking about adversity as personal, pervasive and permanent.
Her OptionB.org is live.
https://www.axios.com/newsletters/axios-am-a0ccf16f-bedb-4788-90f0-4829914a7a2d.html?chunk=7#story7
8. Being Facebook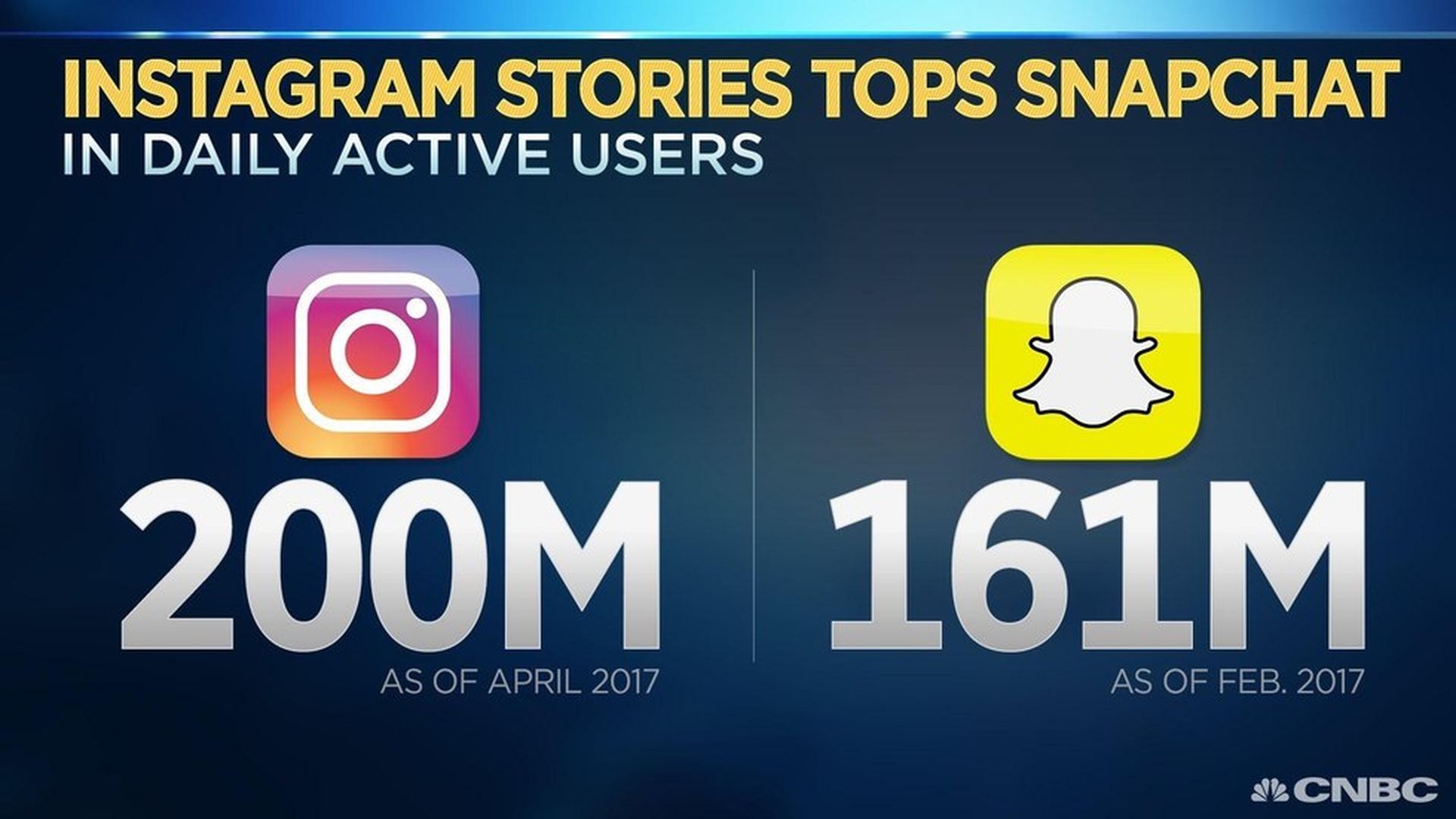 Facebook announced yesterday that it was beating Snapchat at its own game: Instagram Stories finally exceeded rival Snapchat in the number of daily active users, Axios' Sara Fischer writes:
Facebook also admitted "human error" failed to remove child pornography and terrorist content from its site after being flagged, and reports spread that it broadcast a teen who accidentally killed himself live on Instagram. What should have been a great day for Facebook was overshadowed by controversy.
Why it matters: Facebook has been trying to clean up the content on its site, but the moves are continually overshadowed by new controversies, allowing a mounting narrative to build in the advertising community against running automated ads on their platforms. Several ad executives told Axios they're advising clients to consider buying more ads from publishers directly.
Our thought bubble: Advertisers know Facebook, Google and other platforms face these problems regularly, and that they are better off buying from publishers directly to protect their brands. But that's easier said than done. Facebook's platform makes it really easy and efficient to buy cheap, targeted ads and see a good return on investment, so the risk is sometimes worth it.
https://www.axios.com/newsletters/axios-am-a0ccf16f-bedb-4788-90f0-4829914a7a2d.html?chunk=8#story8
9. Tesla bulls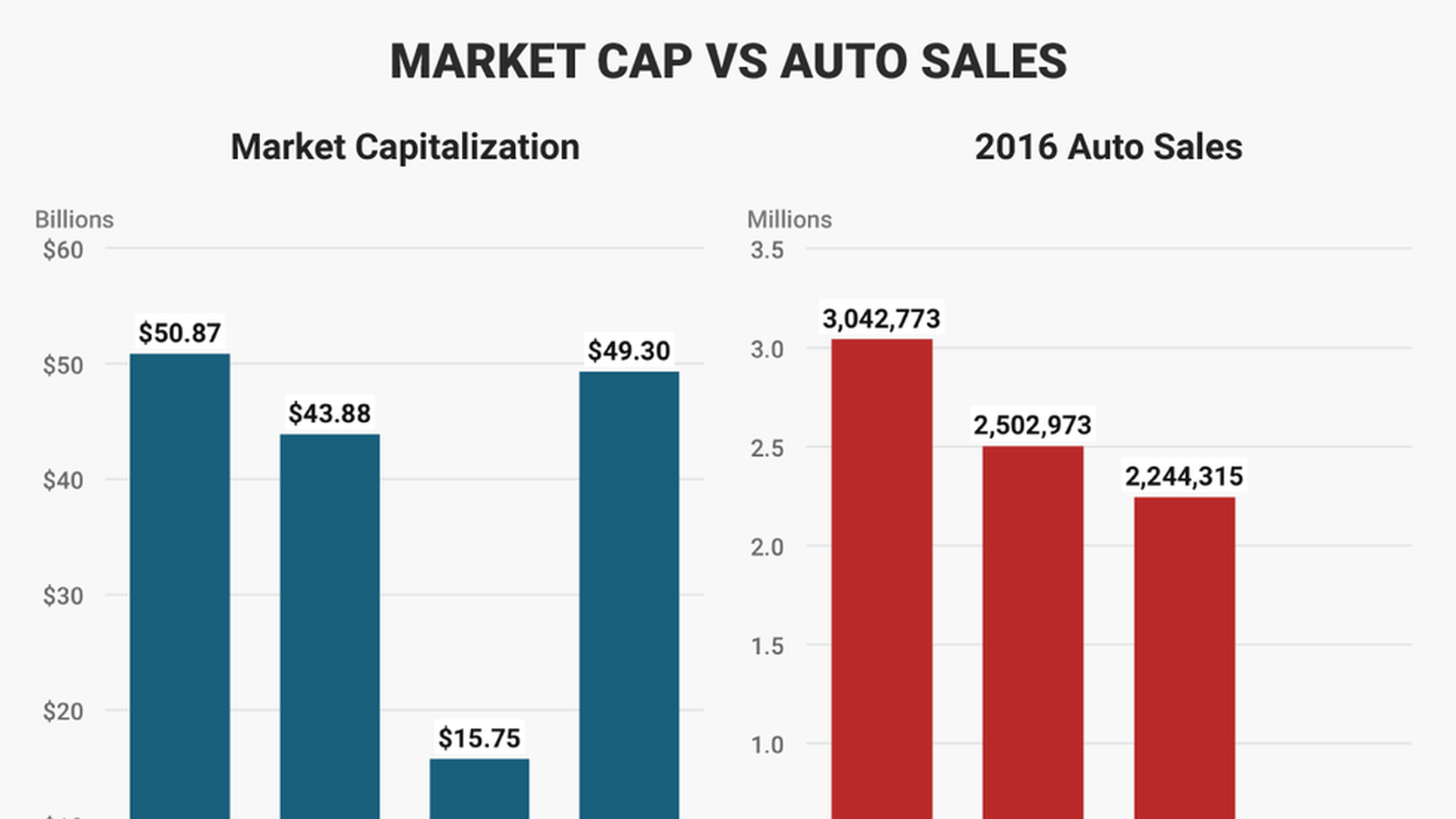 "This chart explains why Tesla's stock price is entering insane territory," by Business Insider's Matthew DeBord and Andy Kiersz: "[W]ith a total value of $48 billion, versus $51 billion for GM, Tesla is still considered by Wall Street the number two US automaker — Ford is at $44 billion.
The takeaway: "When it comes to the whole massive-market-cap-thing, however, we have been reminded that Tesla sells a remarkably small number of vehicles, relative to the traditional US Big Three: GM, Ford, and Fiat Chrysler Automobiles."
Get smart fast: "Tesla bulls argue that Elon Musk's enterprise will be legitimately bigger than GM's and Ford's in the future because electric transportation will displace gas-powered mobility over the next few decades and Tesla has the best brand and largest head start.
Why it matters: "[A] market cap at Tesla's level signals an immense level of investor confidence in Tesla's future execution."
https://www.axios.com/newsletters/axios-am-a0ccf16f-bedb-4788-90f0-4829914a7a2d.html?chunk=9#story9
10. 1 fun thing: The Quest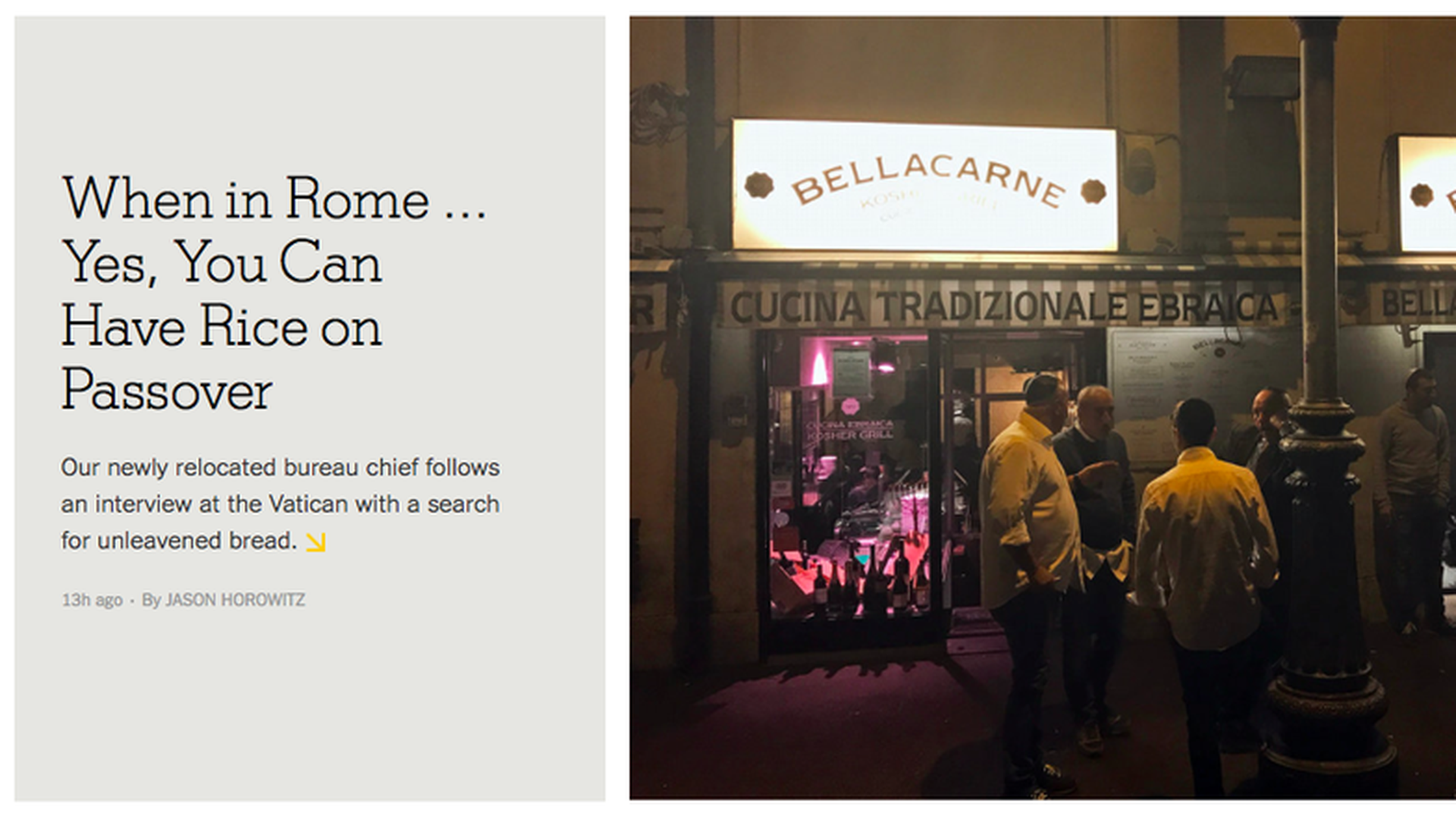 Jason Horowitz, the N.Y. Times' Rome bureau chief ("RTs = niente. Dammi uno dritta"), was prepared for a lonely Passover:
I spent the hours before sundown in an ornate Vatican sitting room, interviewing a prelate about Petrine succession and magisterium. We shared nary a word about where I maybe could find some matzo, and he provided precisely zero tips on how on earth I could survive the Passover holiday without eating leavened bread in a city rife with bakeries like Il Forno, Antico Forno Roscioli and Pizzarium.
As evening fell and the holiday came, ... I took the way through Rome's historic Jewish ghetto ... I walked into a packed place called Bella Carne ... The restaurant's owner, Alberto Ouazana — who turned out, per his business card, to be an Assessor of the Jewish Community of Rome — ... supplied me with a yarmulke and an entirely Hebrew Haggadah.
Illiterate in the language, I pretended to read it as I sat there alone, between the wall and a display case of macaroons, looking at medieval illustrations of the 10 plagues. ...
After some auction-level Hebrew speed-reading and the singing of an Italian version of the Chad Gadya round, the Seder ended at 12:30 a.m.