Axios AM
July 19, 2017
1 big thing: An epic, overlooked new reality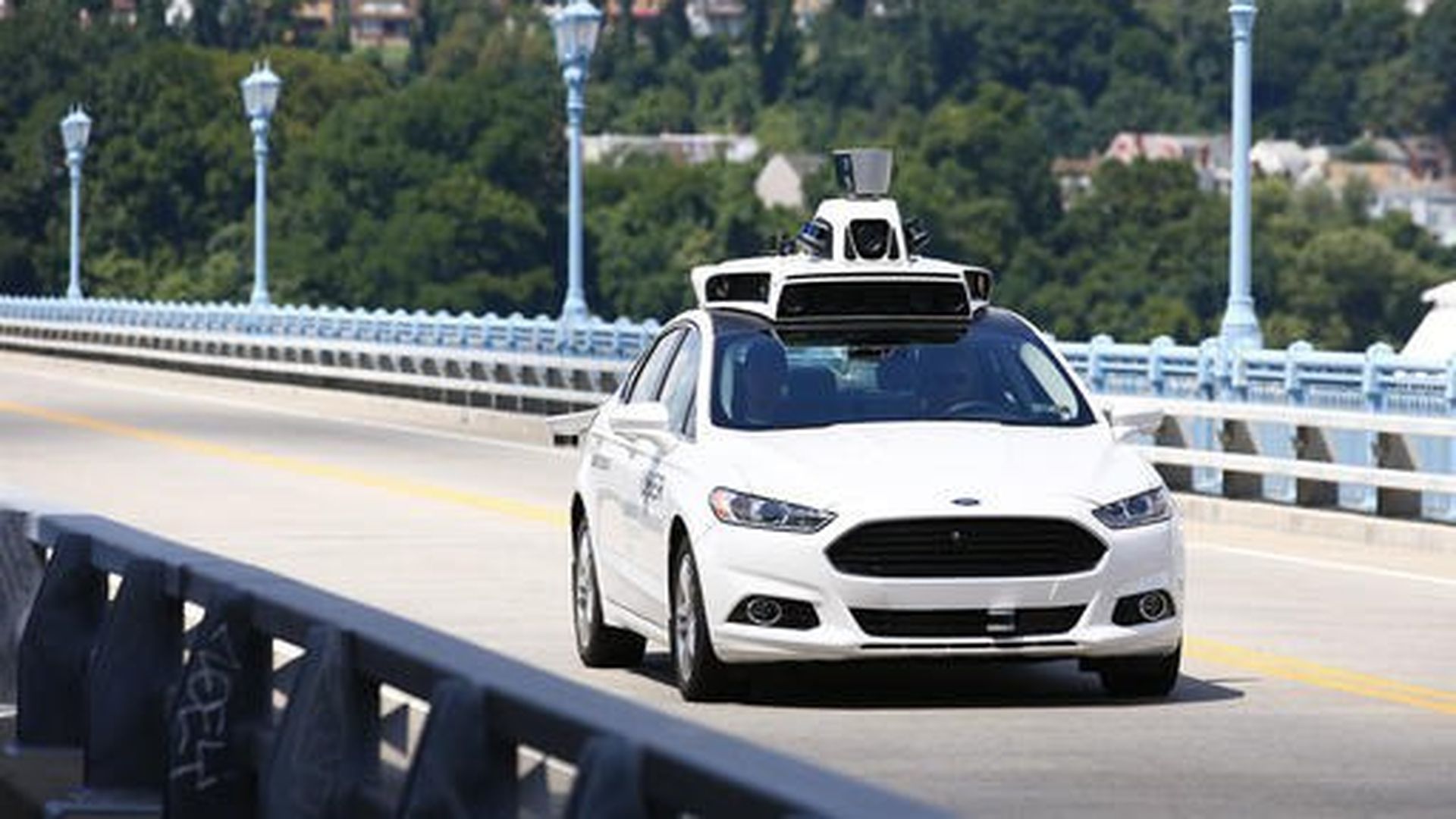 D.C. races to catch the self-driving car ... Drones and autonomous vehicles are among the technologies running way ahead of the appetite and ability of a dysfunctional federal government to regulate them.
This collision of technology and regulation is one of the new realities for Washington.
Soon, drones will be dropping off packages, robots will make and deliver pizzas, and cars without drivers will cart us around time while we watch "Thrones" on our HBO in-car TV app.
California highway officials plan to start laying down thicker lane lines (from 4 inches to 6) that'll be easier for self-driving cars to follow.
In a belated effort to catch up, a House Energy and Commerce subcommittee this morning will hold an unheralded but consequential hearing on a bill designed to both regulate and encourage the deployment of driverless cars ("highly automated vehicles," to Congress).
Rep. Debbie Dingell — a Michigan Democrat whose district includes Ford HQ in Dearborn, plus auto plants, suppliers and R&D labs — says this is a rare issue bipartisan where you can protect consumers but also encourage innovation.
"Like it or not, this is coming," she told me. "It's exploding faster than we can promulgate regulations."
The Highly Automated Vehicle Testing and Deployment Act of 2017 (full text here) would govern how to safely test the driving technologies that manufacturers have been developing, and covers cybersecurity and how to deploy the vehicles.
Why it matters: Government, especially one divided and gridlocked, is incapable of setting the rules and parameters for technologies that will transform our lives along these big trends. This is the rare bill that both parties support and could easily be signed into law by President Trump this year — unless zero-sum politics intervenes.
2. Freestyling with Putin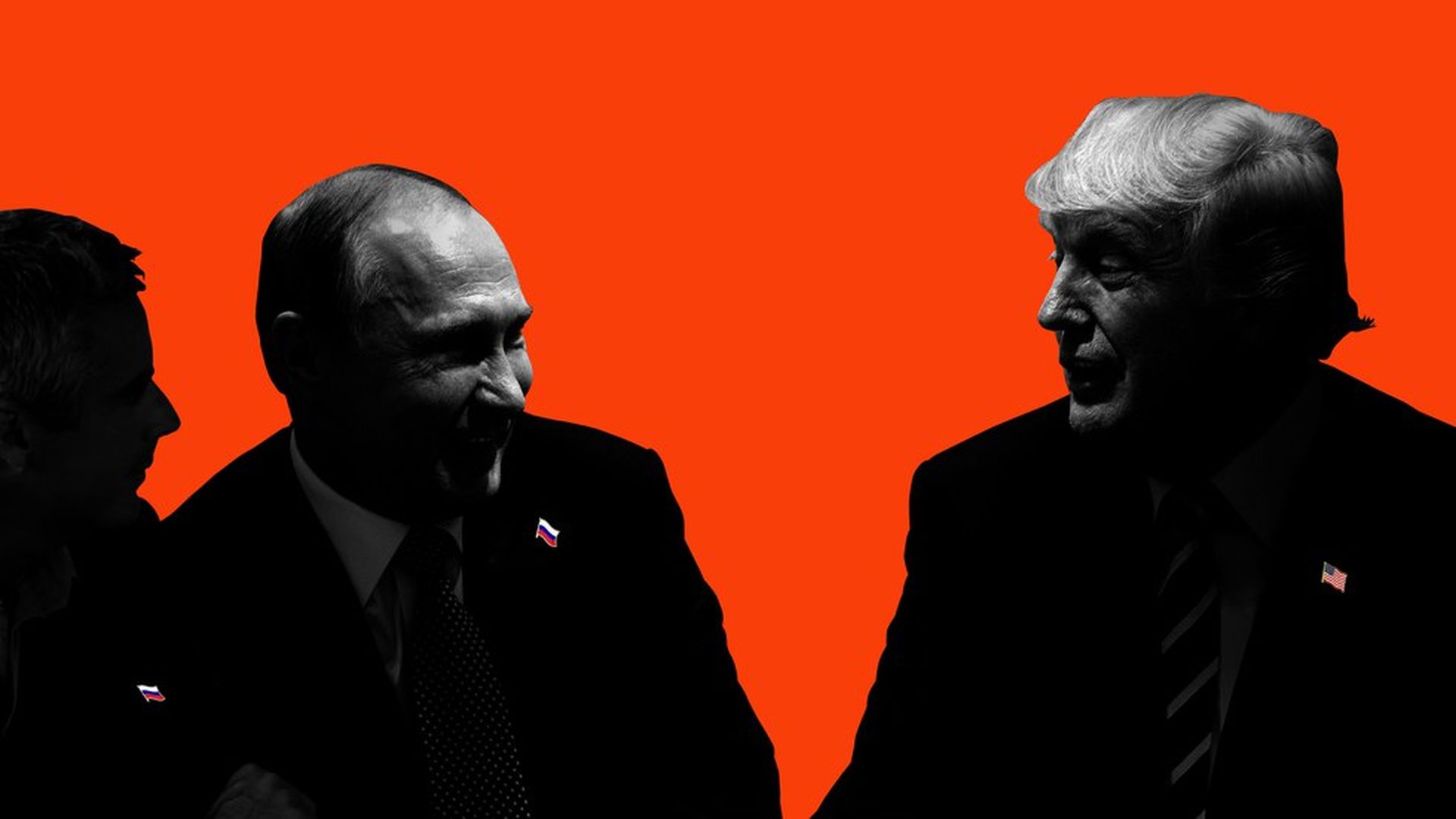 After word leaked out 10 days after the fact, the White House confirmed in a six-paragraph statement that after their highly publicized sit-down, President Trump and Russian President Vladimir Putin talked again privately at a dinner during the G-20 meeting in Germany.It happened during a dinner for heads of state, when Trump got up and moved to sit with Putin and the Russian's translator.Why this matters: It breaks national-security protocol for a U.S. president to meet with a Russian counterpart with only Russian staff present: The Russian translator could misinterpret Trump's words to Putin. And the U.S. has no real-time record of what was said. Putin, with more experience, owns the meeting.Stanford's Michael McFaul, a U.S. ambassador to Russia under President Obama, told MSNBC's Lawrence O'Donnell that holding such a conversation without talking points is "very difficult — very dangerous, I would say."Trump tweeted: "Fake News story of secret dinner with Putin is 'sick.' All G 20 leaders, and spouses, were invited by the Chancellor of Germany. Press knew! ... The Fake News is becoming more and more dishonest! Even a dinner arranged for top 20 leaders in Germany is made to look sinister!"From the White House statement: "Mrs. Trump was seated next to President Putin. ... As the dinner was concluding, President Trump went over to Mrs. Trump, where he spoke briefly with President Putin. Each couple was allowed one translator."The American translator accompanying President Trump spoke Japanese. When President Trump spoke to President Putin, the two leaders used the Russian translator, since the American translator did not speak Russian. There was no 'second meeting' between President Trump and President Putin, just a brief conversation at the end of a dinner."P.S. Reuters' Steve Holland: "Trump will nominate Jon Huntsman, an envoy to China under former Democratic President Barack Obama, as U.S. ambassador to Russia."
3. "Ruthless family culture"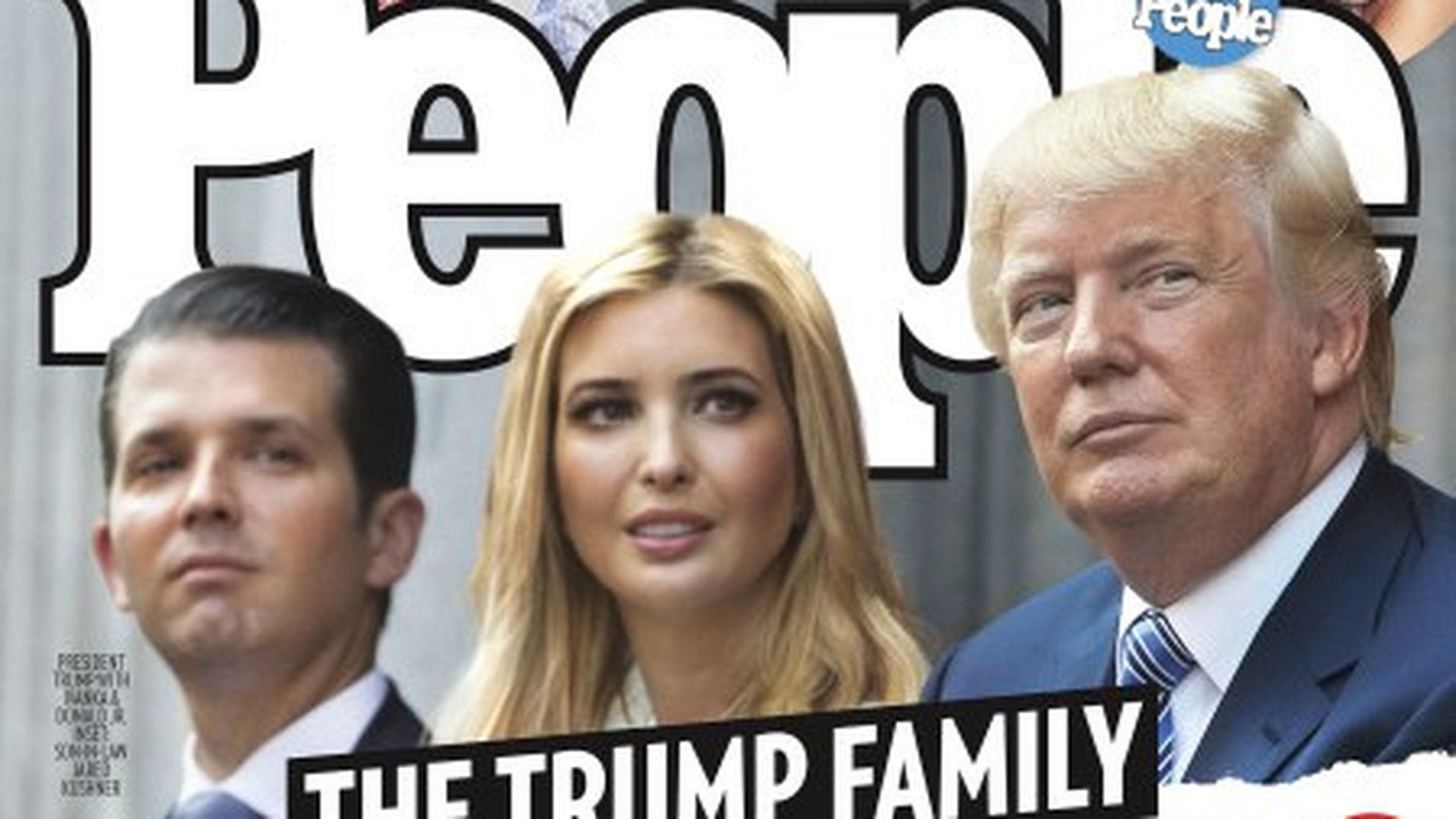 "Those who know and have studied Donald Trump Sr. and the grown children running his empire while he's president — Don Jr., Ivanka and Eric — say the family is guided by their father's creed of winning at all costs and never admitting mistakes," according to PEOPLE's Sandra Sobieraj Westfall and Tierney McAfee.
A source who has had business dealings with President Trump: "He doesn't like failure and mistakes, and he doesn't accept them ... You have to justify your existence to be in his realm."
"For all his campaign rallies last year and bellicose tweets this year, Trump Jr., who along with his brother Eric, 33, remained in N.Y.C. to run the family business, still relishes the quiet of his lifelong loves of hunting and fishing. Most weekends, he escapes Trump Tower Manhattan to a rustic cabin upstate with his wife, Vanessa, and their five children."
A source in the Trump brothers' circle: "Don [Jr.] can't do any deals, because he'll be overly scrutinized. He just goes to work every day and is miserable. ... You can't bite the hand that feeds you, but he [Don Jr.] can't wait for these four years to be over."
P.S. WashPost front page, "8th person identified in meeting at Trump Tower," by Roz Helderman and Tom Hamburger: "Ike Kaveladze attended the meeting as a representative of Aras and Emin Agalarov, the father-and-son Russian developers who hosted the Trump-owned Miss Universe pageant in Moscow in 2013, according to Scott Balber, an attorney for the Agalarovs who said he also represents Kaveladze."
"Balber said ... he had received a phone call over the weekend from a representative of special counsel Robert S. Mueller III asking whether Kaveladze would agree to be interviewed. Balber said his client would cooperate. [It's] the first public indication that Mueller's team is investigating the meeting."
4. The "strange theater" of Trump's war with the media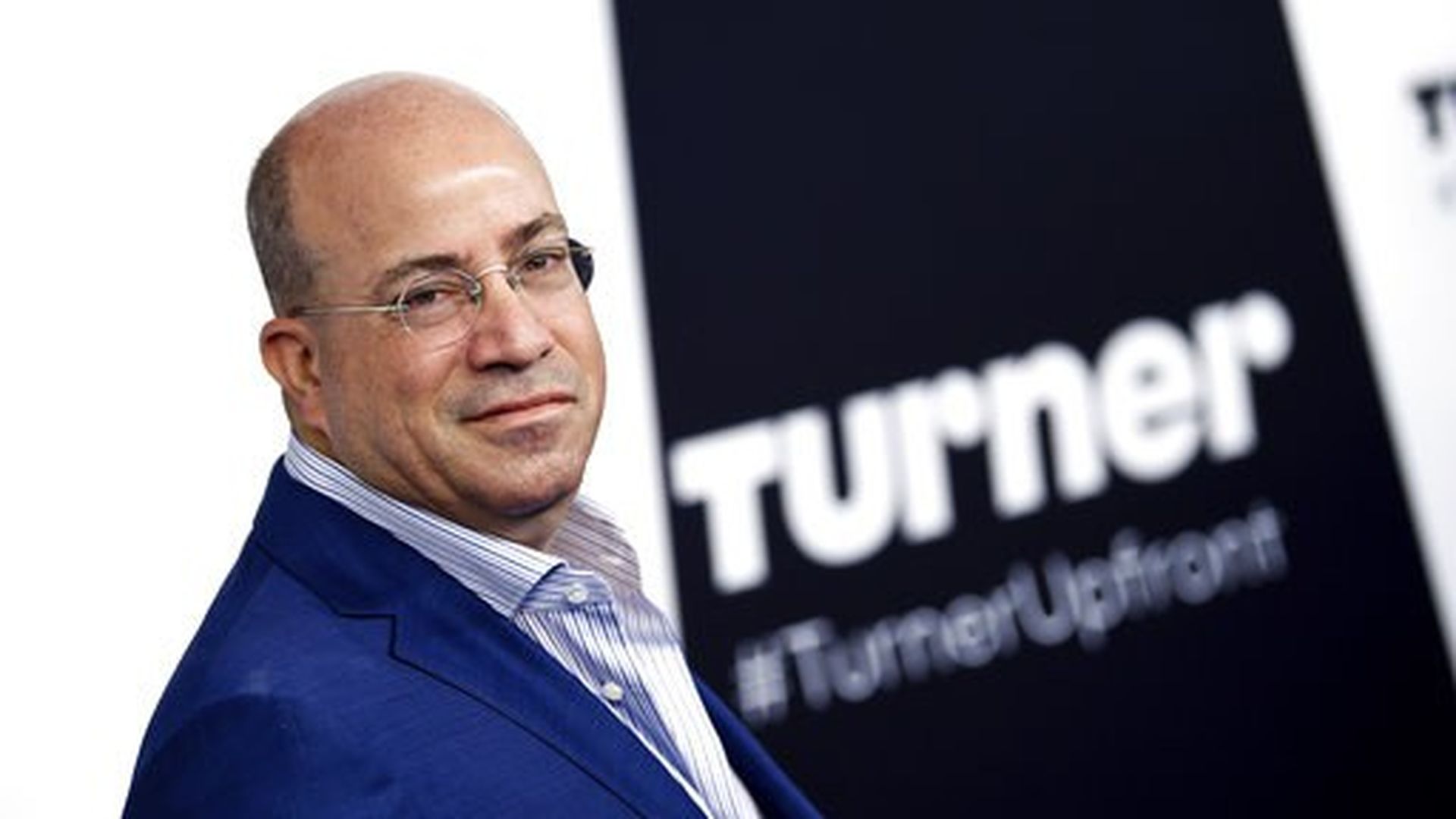 For CNN Worldwide President Jeff Zucker and his network, "the circus is already having dangerous consequences," according to Vanity Fair's Sarah Ellison:
"Trump is good at one thing: throwing people off their game. His war with the media has kept him afloat politically while he and his family have been dogged by increasingly damaging information about their connections to Russia. ...
"He rewards surrogates, such as [Dr. Seb] Gorka and [Kellyanne] Conway, who denigrate CNN on its own airways, even as the network pays other Trump surrogates, such as Jeffrey Lord and Kayleigh McEnany, to defend the administration's talking points."
5. Trump & Friends
N.Y. Times TV Critic James Poniewozik, "Watching 'Fox & Friends,' Trump Sees a Two-Way Mirror":
"'Fox & Friends,' the three-hour wake-up program on Fox News, is an interactive magic mirror for Donald J. Trump. President Trump is the show's subject, its programmer, its publicist and its virtual fourth host. The stars offer him flattery, encouragement and advice.
"When he tweets, his words and image appear on a giant video wall. It's the illusion of children's TV — that your favorite show is as aware of you as you are of it — except that for Mr. Trump, it's real."
6. What happens to health care now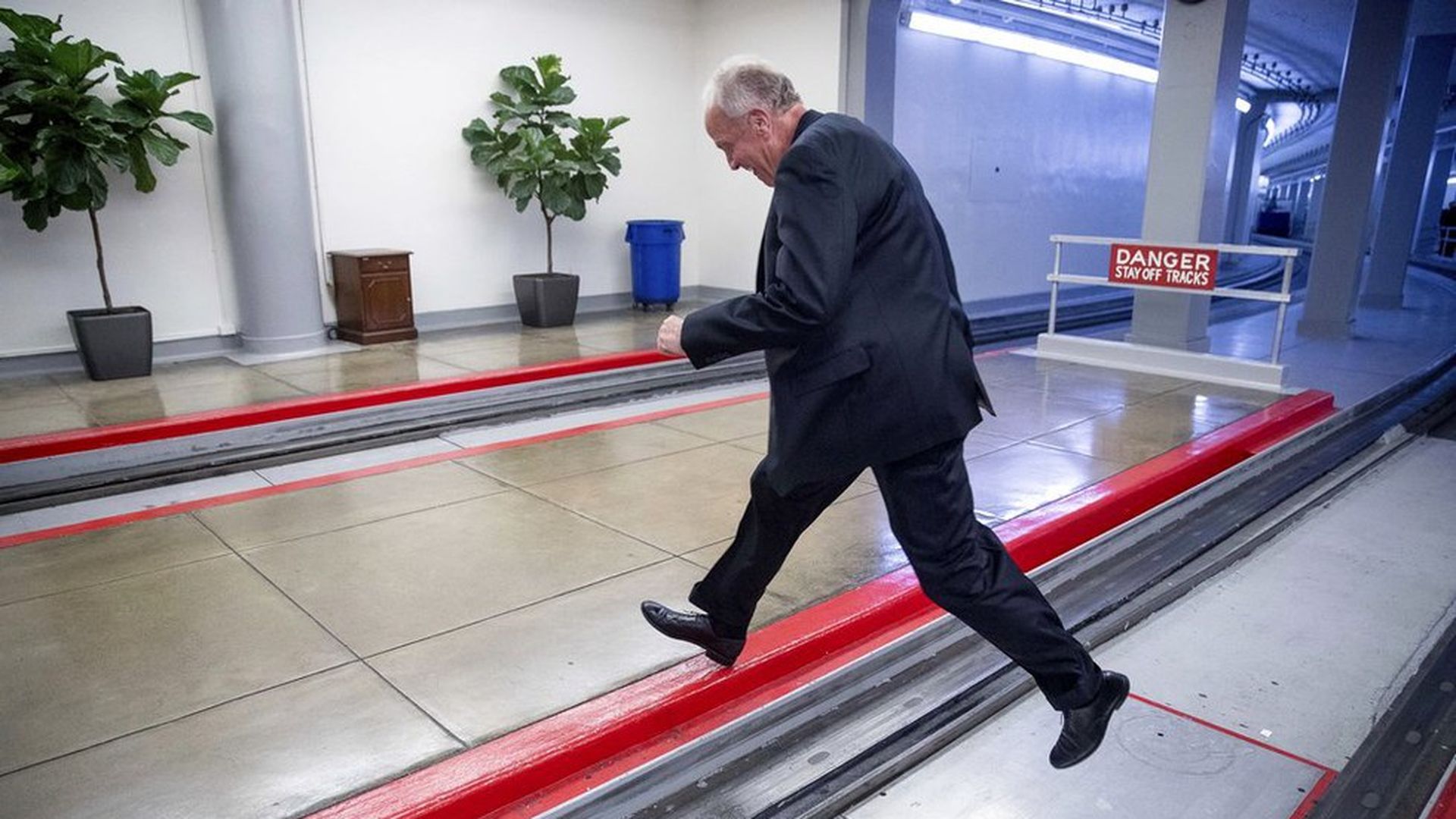 With Senate Republicans' repeal-only effort already sunk by too many opponents, the Trump administration — including the president himself, the IRS and the Department of Health and Human Services — has some tough decisions to make, Axios' Sam Baker writes:
Trump clearly prefers to torpedo the Affordable Care Act, but the career staff at HHS and the IRS have been doing this work for years now. It's not realistic to expect everything to grind to a halt.
Congress will turn to a smaller-scale but still critically important debate over piecemeal efforts to stabilize states' insurance markets.
But first ... The Senate will vote early next week on a procedural motion to begin debate on the health care bill. At least three Republicans — Shelley Moore Capito, Susan Collins and Lisa Murkowski — have said they'd oppose the latest vehicle. That means the vote would fail even with Sen. John McCain in town.
7. What the President is reading right now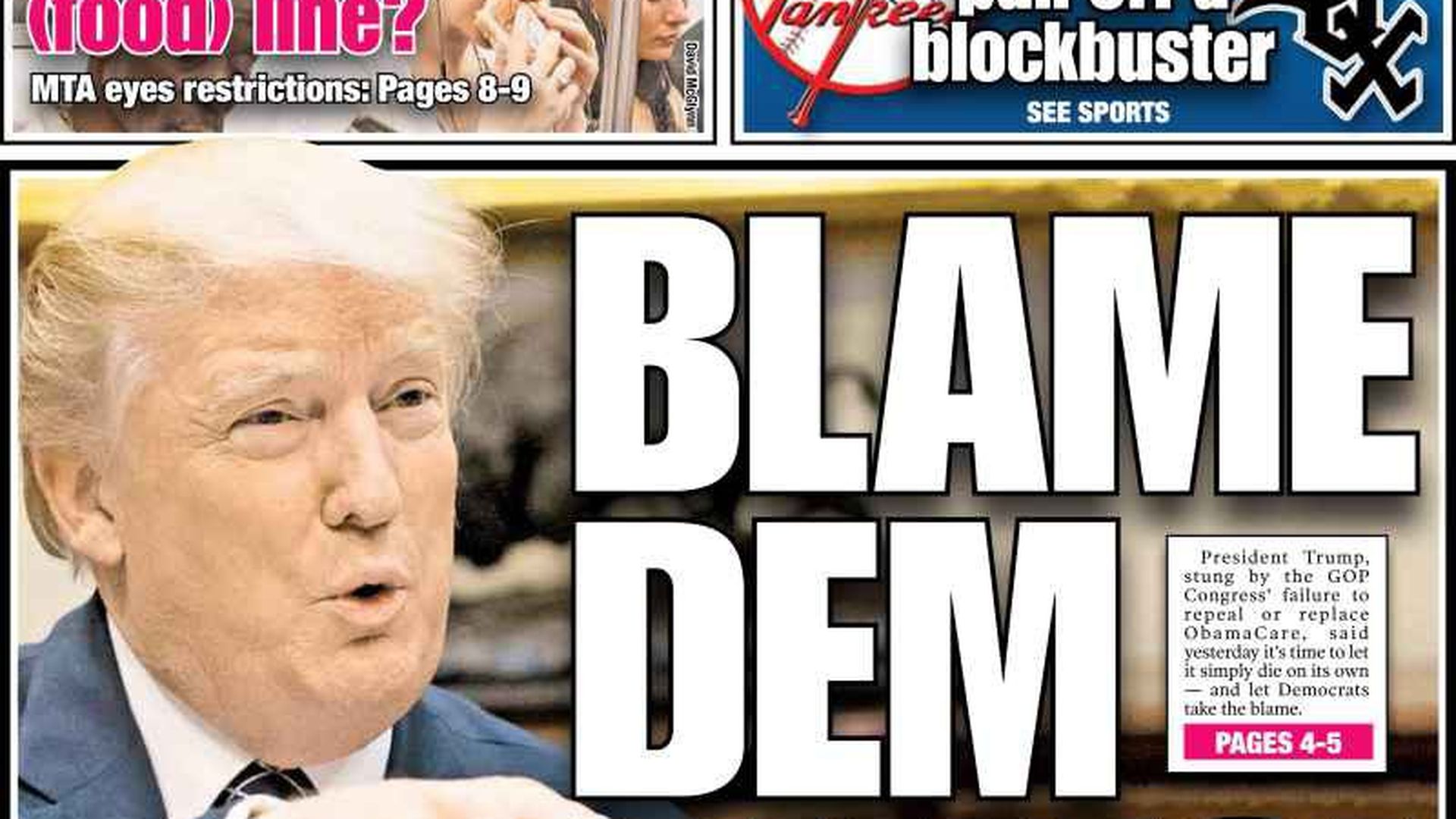 8. GOP may not be punished if it botches repeal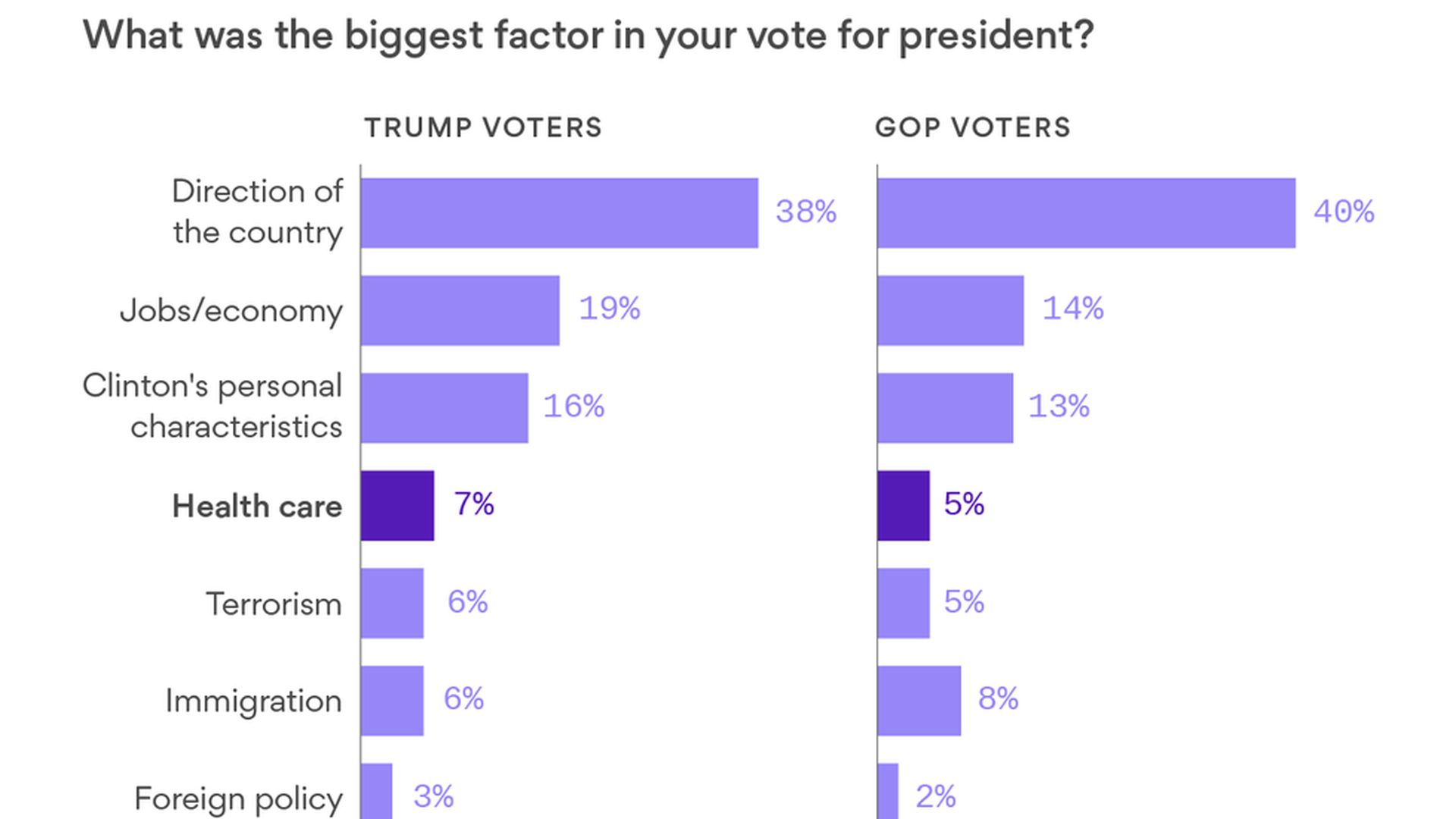 Column for Axios by Drew Altman, president and CEO of the Henry J. Kaiser Family Foundation:
"When you look at the polling, the idea that the base will rise up and punish Republicans if they don't repeal the ACA appears be exaggerated, and possibly even a political fiction."
9. Dadbot: A son makes a chatbot of his dying dad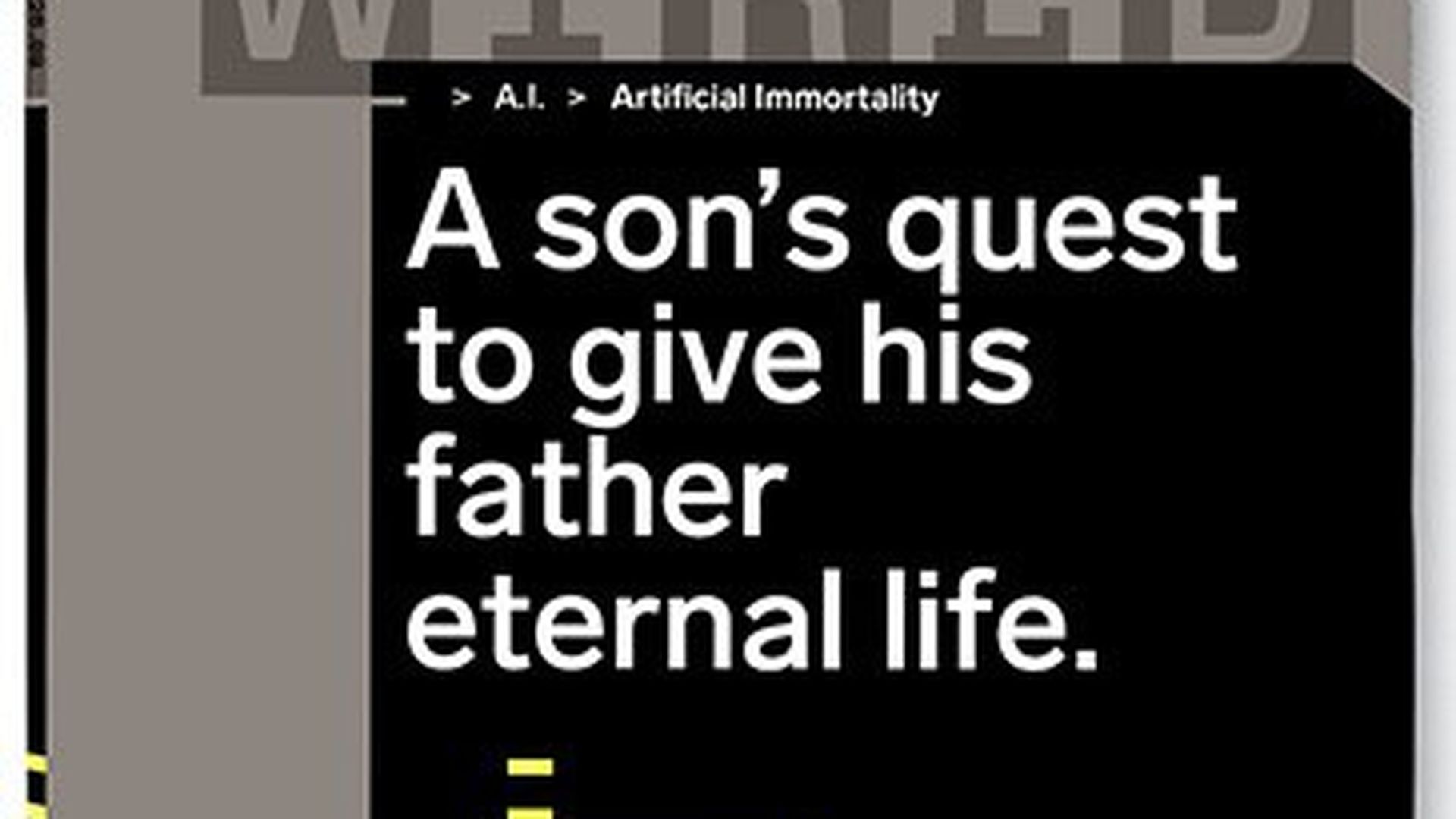 WIRED's August cover story is the personal account of writer James Vlahos' quest to give his dying father eternal life by creating a chatbot of him, per a release:
"Vlahos has long been interested in conversational computing. Even as an 11-year-old, he was fascinated with an early chatbot prototype that ran on a Commodore PET computer at his local library. He's also currently at work on a book about conversational computing.'
"[W]hen Vlahos' father received a cancer diagnosis in April 2016, the idea of creating a chatbot of his father popped into his mind almost immediately."
He writes: "I dream of creating a Dadbot — a chatbot that emulates not a children's toy but the very real man who is my father. And I have already begun gathering the raw materials: those 91,970 words [in a binder] that are destined for my bookshelf."
"The story follows Vlahos through the last few months of his now-deceased father's life, while [the writer] learns how to code for the decision-tree responses of a chatbot and navigates the moral and emotional responses of his mother, siblings, wife and sons, as he creates Dadbot."
10. 1 fun thing: Broken records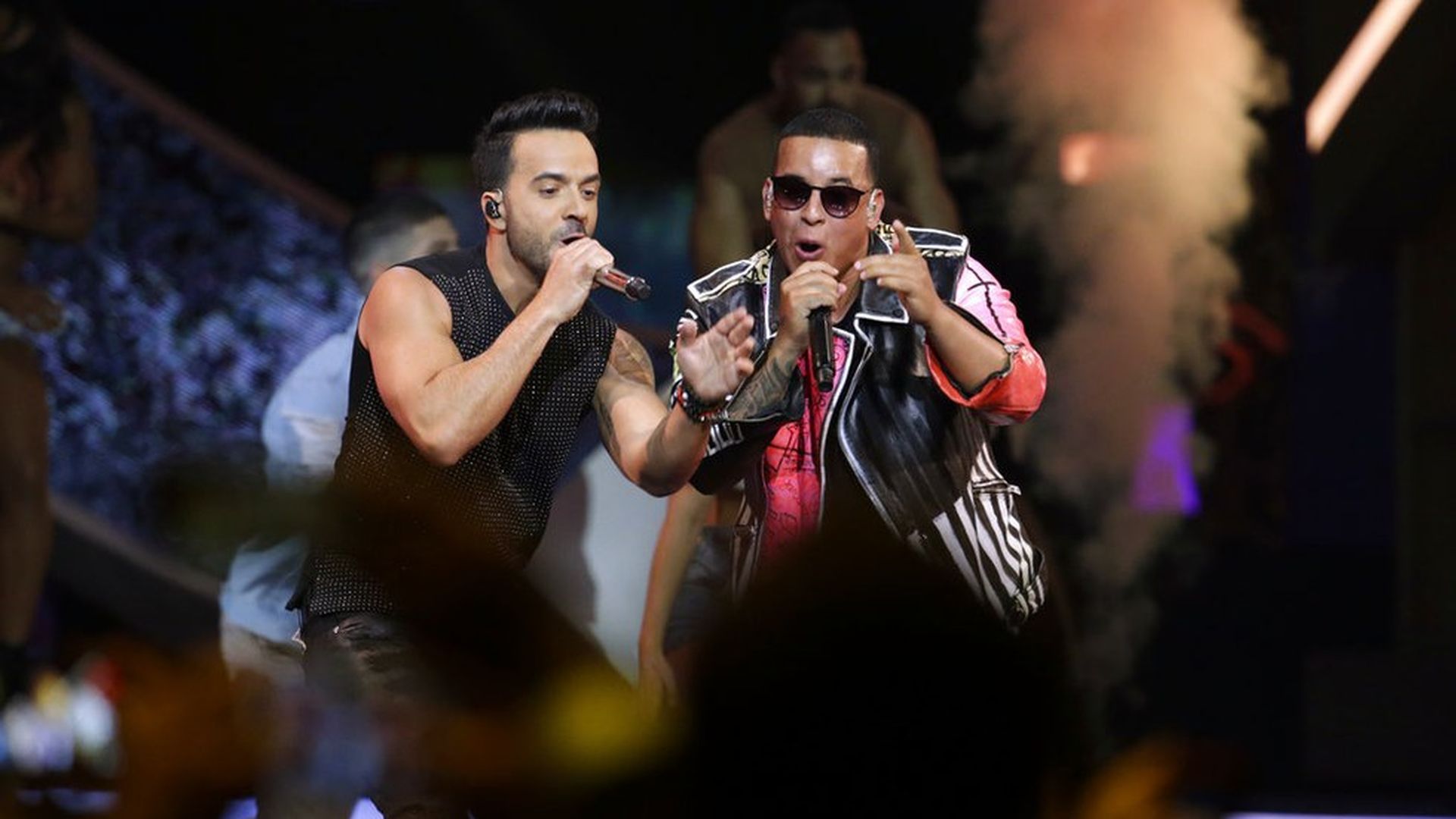 "Despacito" has become the most streamed track of all time, with more than 4.6 billion plays across streaming platforms, per AP:
"Universal Music Latin Entertainment announced the song by Puerto Rican artists Luis Fonsi and Daddy Yankee, and the accompanying remix featuring pop star Justin Bieber, had surpassed the previous record holder — Bieber's 2015 hit song "Sorry," which has 4.38 billion plays."
"Game of Thrones" Season 7 debut on Sunday draws record 10.1 million viewers, AP's Lynn Elber writes:
"That eclipsed previous top-rated 'Game of Thrones' episodes, including the 8.11 million who watched the season five finale in 2015 and the 8 million who tuned in to that year's opener."
Quick catch-up: "As the new season opened, Cersei Lannister (Lena Headey) is atop the Iron Throne as queen of Westeros; Daenerys Targaryen (Emilia Clarke) commands an extensive army, and Arya Stark (Maisie Williams) is exacting revenge for Red Wedding family deaths."
"Viewer fascination clearly is building as the fantasy saga based on George R.R. Martin's books draws toward its end. After this penultimate season of seven episodes, fewer than the usual 10, HBO has said there will be one more with an expected eight episodes."
"The channel previously announced that four scripts are in development for possible [spinoffs], and Martin disclosed in May that a fifth project is in the mix."
"Martin said that each of the concepts under development is a prequel rather than a sequel, and may not even be set on the mythical continent of Westeros. Rather than ... 'spinoff' or 'prequel,' Martin said he prefers 'successor show.'"