Good Saturday morning.
Situational awareness: "Rachel Maddow, Andrea Mitchell, Maria Shriver [Stephanie Ruhle, Kristen Welker] Kelly O'Donnell and more than 60 other women [signed a letter voicing] support for Tom Brokaw in the wake of sexual harassment allegations." (Variety)
https://www.axios.com/newsletters/axios-am-9f36108b-f721-41f3-bb2b-ad07d1ef48ec.html?chunk=0#story0
1 big thing: New pressure on Trump's summit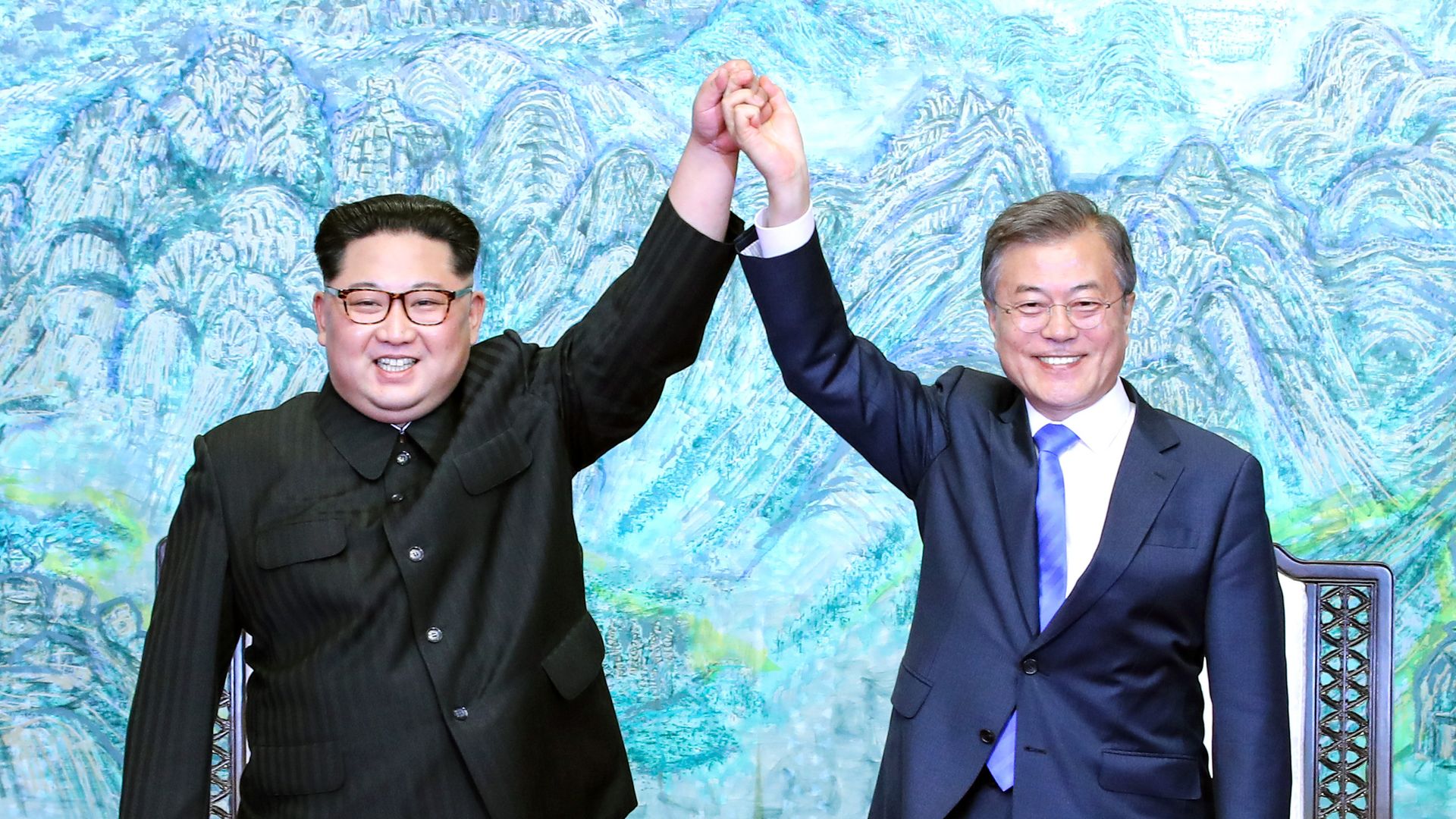 The two Koreas' "new era of peace" raises the bar for President Trump's summit with North Korea: He'll go in with credit and momentum, but now will want an even splashier accomplishment than yesterday's path to officially ending the Korean War.
Trump's summit with Kim Jong-un is expected within weeks, at a location still being negotiated.
AP's Pyongyang bureau chief, Eric Talmadge, writes that the Koreans' pledge to work together "could complicate matters for Trump, who has raised expectations of a deal with Kim to abandon his nuclear weapons."
Victor Cha — Korea chair at the Center for Strategic and International Studies, and Trump's original choice to be ambassador to South Korea — told me the president "gets credit [for yesterday's denuclearization announcement] in the sense that the sanctions campaign has put enough pressure on the Kim regime to seek diplomacy as a way to relieve the pressure."
"DJT's threats of war over the past year probably motivated both Koreas to declare peace today."
"You can't fault the Koreans for wanting peace. They didn't ask to be divided in 1945 by the U.S. and Soviets at the start of the Cold War."
"But still, the key to this all being more than just nice-talk is whether the North really will abandon all nuclear weapons and programs."
Why it matters: "This Korea summit sets the baseline — no war — and puts it on DJT and the summit with [Kim Jong-un] to pry the weapons out of the [North Korean] leader's hands."
"Not an easy task, but the President has set himself up for this truly monumental negotiation."
https://www.axios.com/newsletters/axios-am-9f36108b-f721-41f3-bb2b-ad07d1ef48ec.html?chunk=1#story1
2. Big picture: How Trump is remaking diplomacy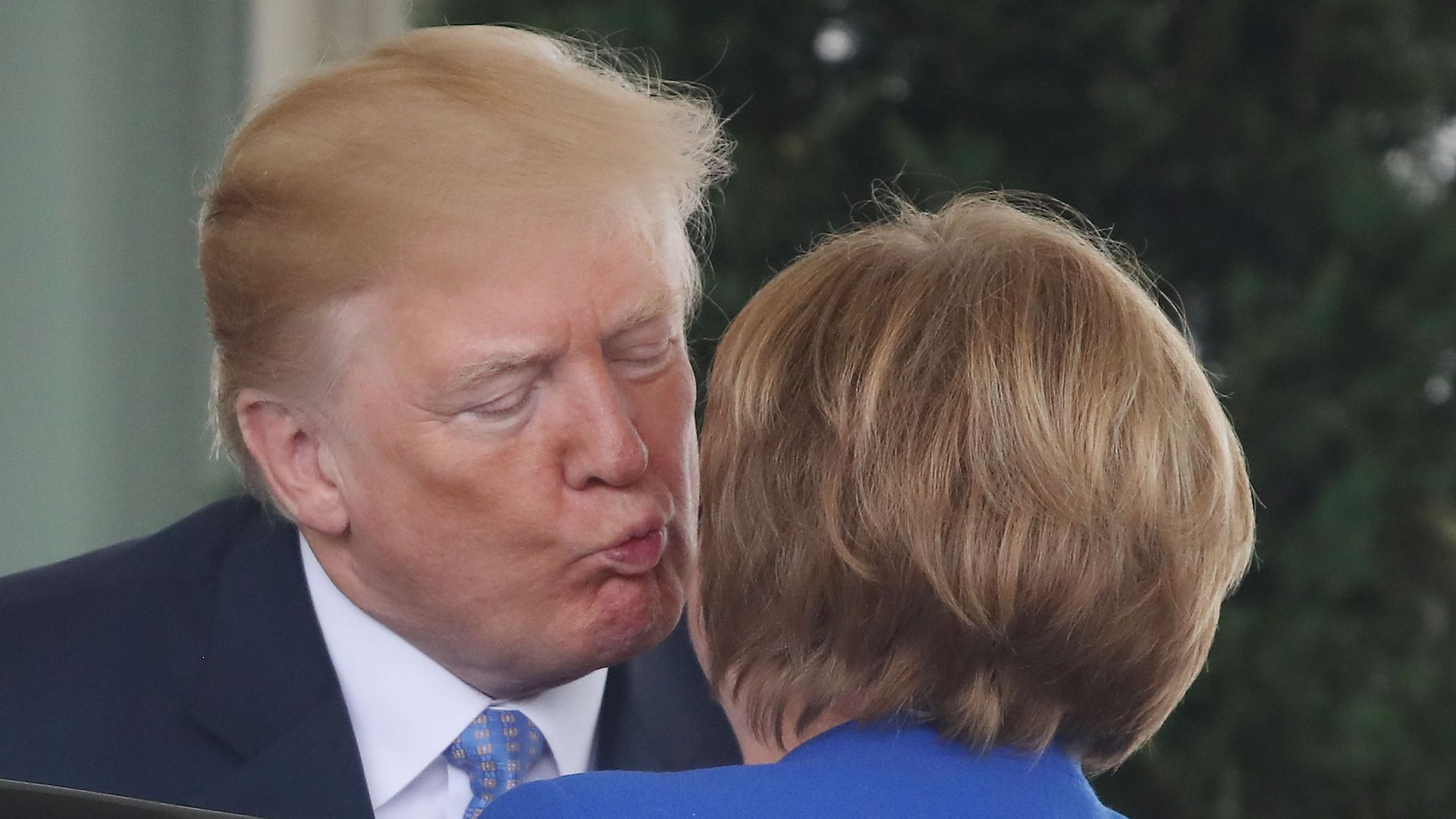 This is a worthy freeze-frame after a remarkable week in diplomatic history ... "Diplomatic norms undergo a rebranding: Trump makes himself the axis on which events in Asia, Europe spin," by WashPost's Anne Gearan:
"The dramatic turn of events on the Korean Peninsula was the capstone to a week that crystallized the ways Trump has established his foreign policy approach as one that rests largely on the pride he takes in busting the old conventions of diplomatic negotiations and remaking them in his image."
Why it matters: "The world is adjusting."
"French President Emmanuel Macron and German Chancellor Angela Merkel visited the White House this week hoping to convince Trump not to abandon the Iran nuclear deal and to back off his protectionist trade policies."
"But by the time they left, both leaders had largely given up trying to convince Trump he was wrong and instead focused on how to work around their differences."
https://www.axios.com/newsletters/axios-am-9f36108b-f721-41f3-bb2b-ad07d1ef48ec.html?chunk=2#story2
3. Shot/chaser
Shot ... "GOP finds no proof Trump 'colluded'" — WashPost: "House Intelligence Committee Republicans ... released a redacted version of their final report from a year-long probe of Russia's 'multifaceted' influence operation, generally clearing President Trump and his associates of wrongdoing."
The report accuses "the intelligence community and the FBI of failures in how they assessed and responded to the Kremlin's interference in the 2016 election."
Chaser ... CNBC: "Russian lawyer Natalia Veselnitskaya, who met with Trump campaign officials at Trump Tower in 2016 on the premise of gathering dirt on Hillary Clinton, was more deeply connected to the Kremlin than previously known, NBC News reported."
Emails "appear to show a correspondence between Veselnitskaya and an official in Russia's state prosecutor's office coordinating a response to a case brought forward by the U.S. Department of Justice."
Why it matters: "The newly discovered communications ... indicate that the lawyer held a level of influence within the Kremlin, undercutting her long-held insistence that she was merely a private attorney."
https://www.axios.com/newsletters/axios-am-9f36108b-f721-41f3-bb2b-ad07d1ef48ec.html?chunk=3#story3
Bonus: Pic du jour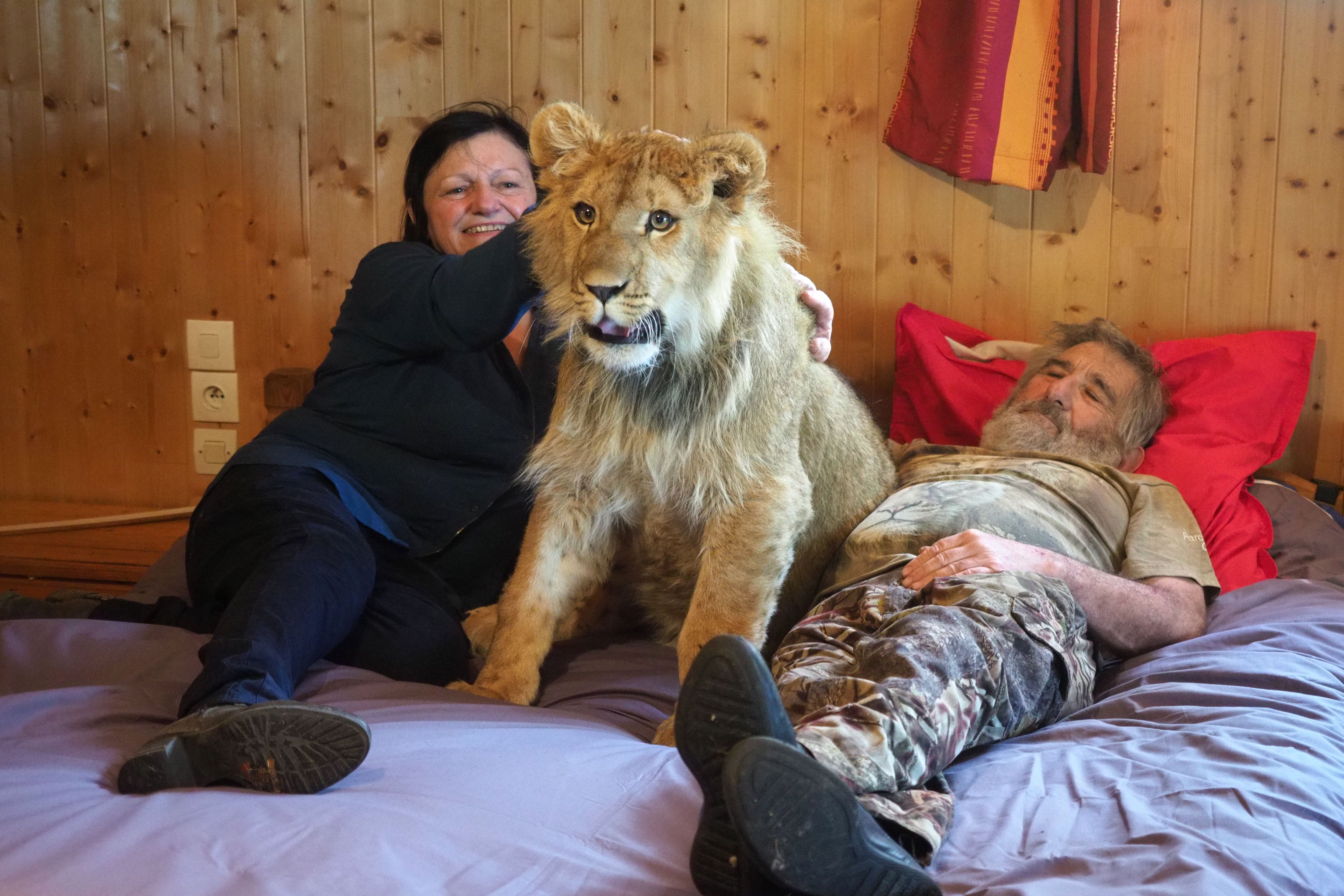 Raymond Roig/AFP/Getty Images
Simba, a nine-month old lion, kicks back with Dominique and Juliette Cases, owners of a small private zoo in Casteil, southwestern France, yesterday.
The lion has been living with the Cases family after his mother tried to eat him.
Simba will return to his enclosure when he's an adult.
https://www.axios.com/newsletters/axios-am-9f36108b-f721-41f3-bb2b-ad07d1ef48ec.html?chunk=4#story4
4. Cord-cutting picks up speed
"More customers are dropping cable TV as they turn toward streaming services like Netflix Inc., a fundamental shift in consumer behavior that was on display this week in painful earnings reports from cable and telecommunications companies," The Wall Street Journal's Shalini Ramachandran writes on A1 (subscription):
"As viewers flee traditional TV for streaming-video services, Netflix has arguably been the biggest winner, adding subscribers at home and abroad at a clip that has outpaced Wall Street's expectations."
"Other tech companies are also angling to capitalize on consumers' changing habits. Amazon.com Inc. now has more than 100 million customers for its Prime subscription service, which includes a video offering the company has been pouring money into, including a deal on Thursday to keep streaming NFL games."
"Google Inc. is ramping up its YouTube TV streaming service, an online bundle of cable channels that competes with the likes of Hulu Live and Sony PlayStation Vue."
"And Facebook Inc. and Apple Inc. have each set aside as much as $1 billion for original programming meant to lure more viewers away from traditional TV."
Amazing stat: "The upheaval in the pay-TV economy is stark. From the beginning of 2015 through the end of last year, nine million Americans have either cut the cord or chosen not to buy a traditional cable package when moving into new households, according to estimates from MoffettNathanson."
https://www.axios.com/newsletters/axios-am-9f36108b-f721-41f3-bb2b-ad07d1ef48ec.html?chunk=5#story5
5. Big Oil back to making billions
"The world's largest oil companies this week posted some of their best earnings in years as they control costs and ride rising oil prices that are nearing $70 a barrel," the Houston Chronicle's Jordan Blum writes on the front page:
"Chevron [yesterday] said its first quarter profit surged by 36 percent from a year ago to $3.6 billion, its best report since the peak of the last oil boom in the summer of 2014."
"To get a sense of the newfound strength of the industry, consider this: analysts and investors were deeply disappointed by the earnings of Exxon Mobil, which said it profits rose 16 percent to nearly $4.7 billion in the first three months of the year. Flat or falling earnings from refining and chemicals profits kept Exxon from generating even more extravagant returns."
Why it happened: "The strong profits are largely a product of higher oil prices, which are nearly $20 a barrel higher than a year ago and more than $40 above the low point of the recent oil bust — $26 a barrel in early 2016."
Why it matters: "The improved earnings are another sign that the energy industry recovery is gaining momentum. U.S. oil production and exports are at record highs, and both Exxon and Chevron are investing billions of dollars to develop their holdings in the Permian Basin in West Texas."
"The majors also are exploring again. Chevron, Exxon Mobil, Shell, the British company BP and the French company Total have all announced significant offshore discoveries in recent months, in the Gulf of Mexico and North Sea, and off the coast of Guyana."
https://www.axios.com/newsletters/axios-am-9f36108b-f721-41f3-bb2b-ad07d1ef48ec.html?chunk=6#story6
6. 1 Bob thing
Next month, Bob Dylan, 76, and a partner "will introduce Heaven's Door, a collection of three whiskeys — a straight rye, a straight bourbon and a 'double-barreled' whiskey," the N.Y. Times' Ben Sisario writes on the Sunday Business cover:
"They are Mr. Dylan's entry into the booming celebrity-branded spirits market, the latest career twist for an artist who has spent five decades confounding expectations."
"Dylan is not simply licensing his name. He is a full partner in the business, Heaven's Door Spirits, which [partner Marc] Bushala said had raised $35 million from investors."
"Heaven's Door is meant to conjure a broader idea of Mr. Dylan that is part Renaissance man, part nighthawk. The label design is derived from his ironwork sculptures, with rural iconography — crows, wagon wheels — in silhouette."
"[I]n promotional photos lighted like classic movie stills, a tuxedo-clad Mr. Dylan, 76, gazes off in a dark cocktail lounge or lonely diner, glass in hand."
"Like his recent albums of standards, they portray Mr. Dylan as an urbane but still gritty crooner — one who might well wind down his day with a glass of bourbon."
Heaven's Door executives recalled that Dylan tasted a sample of the double-barreled whiskey and said that something was missing: "It should feel like being in a wood structure."