https://www.axios.com/newsletters/axios-am-9e3dc412-0405-468e-8fff-844007200d24.html?chunk=0#story0
1 big thing: ​Confrontation v. conformists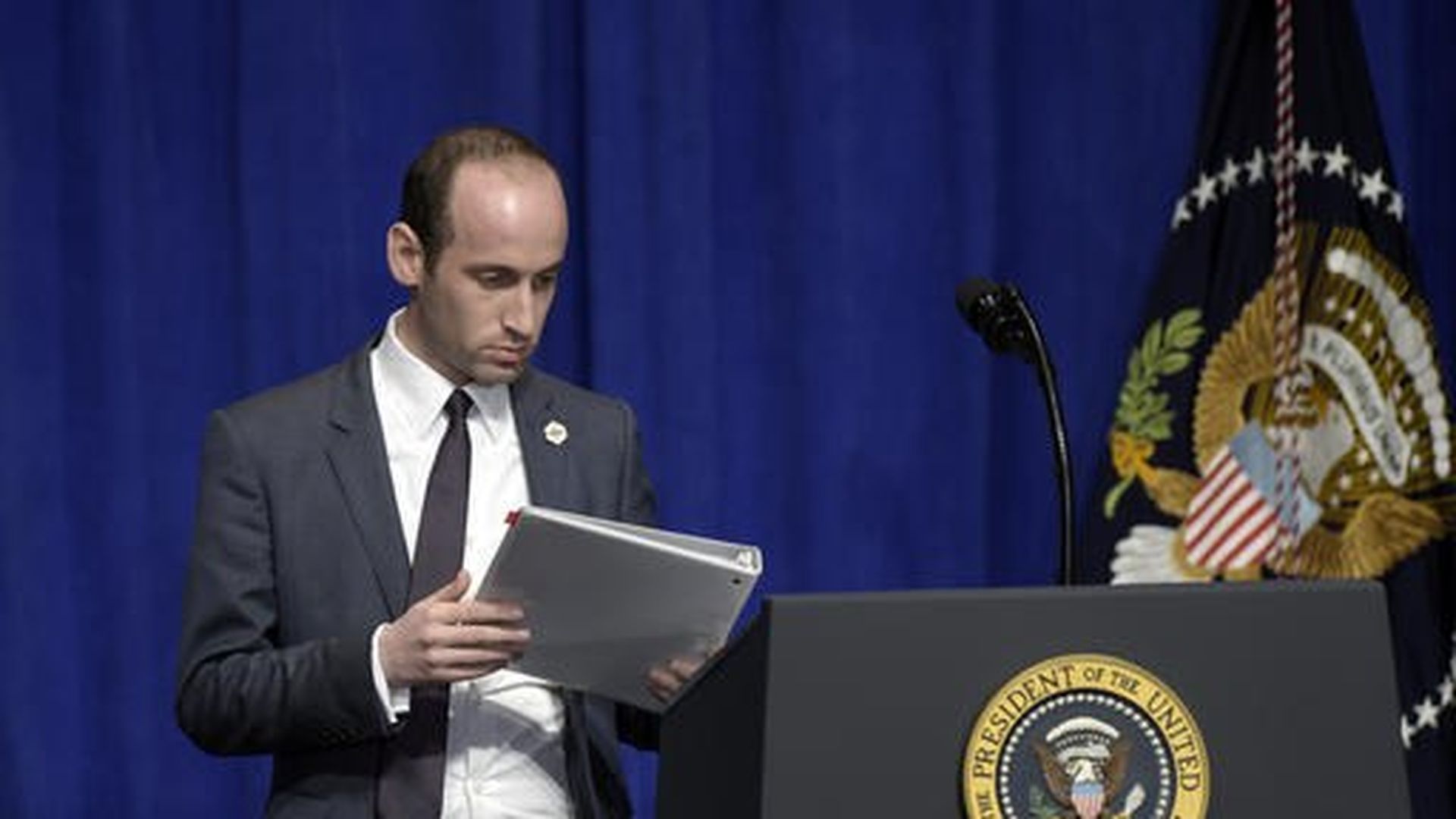 A big reason the first three weeks of the Trump presidency have been such a rollercoaster: the intense, daily competition between two very different world views in the West Wing -- those who want radical confrontation at home and abroad, versus those who want to conform better to Washington and international norms.
Hence, the wild swings from confrontation over a "One China" policy to total accommodation, or a full-court fight over extreme vetting to growing momentum to simply fix it.
The confrontationalists -- Steve Bannon, Stephen Miller, Kellyanne Conway, Attorney General Jeff Sessions, et al. -- do not underestimate how much sway they have with Trump, even when they recede from the headlines for a few days. There is a reason Miller is on four Sunday shows defending the executive order, even though many of his colleagues feel he gives the administration too dogmatic and inflexible of a face.
The confrontationalists elected Trump and earned his loyalty, and often capture the president's "guy" impulse, especially on tough talk overseas or tough action on immigration.
The conformists -- Ivanka Trump, Jared Kushner, Chief of Staff Reince Priebus, economic adviser Gary Cohn, General Mattis, Secretary Tillerson -- would simply call themselves the realists. They think needless confrontation is killing the president's standing overseas and on Capitol Hill. This group is not as tight with each other, so its collective imprint waxes and wanes.
But Jared and Ivanka will outlast everyone. Many Republicans think the two will recognize the damage to Trump's brand and their own -- and help engineer a return to a more conventional West Wing.
What to watch for: Trump is often torn between the world views -- and hates being the bad guy, or the laughingstock. Whoever can help Trump find middle ground will rise quickly.
https://www.axios.com/newsletters/axios-am-9e3dc412-0405-468e-8fff-844007200d24.html?chunk=1#story1
2. Flynn looks gone
President Trump had one person representing him on the Sunday shows today: senior policy adviser Stephen Miller. On NBC's Meet the Press, moderator Chuck Todd asked Miller whether the president still had confidence in his national security adviser, Gen. Michael Flynn:
Miller: "That's the question that I think you should ask the president, the question you should ask Reince, the chief of staff ... General Flynn has served his country admirably."
Todd: "So the White House did not give you anything to say other than — "
Miller: "They did not give me anything to say ... It's not for me to answer hypothetical. It wouldn't be responsible. It's a sensitive matter."
Why this matters, per Axios' Jonathan Swan: Todd cut to the heart of the matter. Flynn sent Vice President Pence out on national T.V. with the categorical assurance that he'd never discussed sanctions with the Russian ambassador. We now know that is false. He sent the V.P. out in public with a falsehood, and we know that the VP is not happy about this.
What's next: It was utterly predictable that Miller would face questions on this subject. That he wasn't sent out with a full-throated defense of Flynn is telling. It's appropriate, now, to question the general's future in Trump's White House.
https://www.axios.com/newsletters/axios-am-9e3dc412-0405-468e-8fff-844007200d24.html?chunk=2#story2
3. Trump tested
https://www.axios.com/newsletters/axios-am-9e3dc412-0405-468e-8fff-844007200d24.html?chunk=3#story3
4. Trump's bottom-line guy
Gary Cohn, the former Goldman Sachs #2 who runs economic policy in the White House, is getting star treatment this weekend. The New York Times, and Wall Street Journal an hour later, yesterday popped highly choreographed pieces on Cohn's rise.
The best nuggets:
WSJ: "At Donald Trump's first meeting with Gary Cohn in late November, he appeared so impressed with the then-president of Goldman Sachs Group Inc. that he joked about offering him the post of Treasury secretary, said a person who recalled the moment. Sitting nearby was the odds-on favorite for the job, Steven Mnuchin, who got the nod."
NYT: "People with knowledge of his new role said that Mr. Cohn, a Democrat, is summoned to the Oval Office for impromptu meetings with the president up to five times a day — and that he reaches out to the president on other occasions. Mr. Trump, said one of these people, is oriented toward the bottom line when it comes to shaping policy, often asking Mr. Cohn, 'What do you want to do?'"
NYT: "Cohn collaborates frequently with Mr. Kushner ... Along with Mr. Kushner and ... Ivanka Trump, Mr. Cohn recently helped persuade the president not to pursue an executive order that would have rolled back rights for gay, lesbian, bisexual and transgender people."
Why this matters: Cohn is a smart, ambitious guy with vast experience thriving in the cutthroat Goldman culture. He was given broad say over economic policy and has a number of close allies, especially those close to Ivanka and Kushner. Some Trump officials say he would be a candidate for chief of staff if the president ever orders a shake-up.
https://www.axios.com/newsletters/axios-am-9e3dc412-0405-468e-8fff-844007200d24.html?chunk=4#story4
5. What no Sunday host wants to hear
Stephen Miller to John Dickerson on "Face the Nation," about next steps in the court fight on the travel ban: "There are so many things we can do. ... I don't have any news today to make on it."
Miller, on whether the West Wing staff is in control: "I think to say we're in control would be a substantial understatement."
https://www.axios.com/newsletters/axios-am-9e3dc412-0405-468e-8fff-844007200d24.html?chunk=5#story5
6. Inside Trump's team
A pair of top-of-front-page profiles today focus on two of the few West Wing officials with routine, direct access to Trump:
Jared Kushner, senior adviser ... "Kushner and Israel: A Personal Bond: Shaping Mideast Policy, Adviser Fuels Hope and Skepticism," by N.Y. Times' Jodi Kantor: "His grandmother survived the Holocaust by crawling through a homemade tunnel in Poland. His grandfather escaped the massacres by hiding in a hole for years. An Orthodox Jew, Mr. Kushner was instructed to protect Israel, remember the genocide and assure the survival of the Jewish people."
"His family used its real estate fortune to donate millions of dollars to American Jewish and Israeli hospitals, schools and other institutions ... In his classes [in Jewish schools], Palestinians were regarded at a distance, in part as security threats who committed acts of terrorism ... When Mr. Trump ran for president, his son-in-law's stances on Israel helped shape the campaign."
Stephen Miller, senior adviser for policy ... "A key engineer for Trump's agenda: Miller, 31, began building a conservative foundation in liberal California," by WashPost's Roz Helderman: "Starting as a teenager, with his frequent calls to the nationally syndicated 'Larry Elder Show,' Miller made a name for himself in conservative media circles for his willingness to take controversial stands and act as a champion for those on the right who felt maligned by a culture of political correctness."
"MSNBC's Joe Scarborough ... recently blasted Miller as a 'very young person in the White House on a power trip thinking that you can just write executive orders and tell all of your Cabinet agencies to go to hell.'"
"15 facts about Steve Bannon," by Axios' Stef Kight.
https://www.axios.com/newsletters/axios-am-9e3dc412-0405-468e-8fff-844007200d24.html?chunk=6#story6
7. Stat of the day
Percentage of older women working doubles, from NYT Upshot's Claire Cain Miller: "Nearly 30 percent of women 65 to 69 are working, up from 15 percent in the late 1980s ... Eighteen percent of women 70 to 74 work, up from 8 percent."
Most by choice, not circumstance, it appears: "Many of these women report that they do it because they enjoy it."
Why it matters: "The data adds a bright chapter to the narrative of women's progress in the world of work."
https://www.axios.com/newsletters/axios-am-9e3dc412-0405-468e-8fff-844007200d24.html?chunk=7#story7
8. Trending in media: Jake Tapper en fuego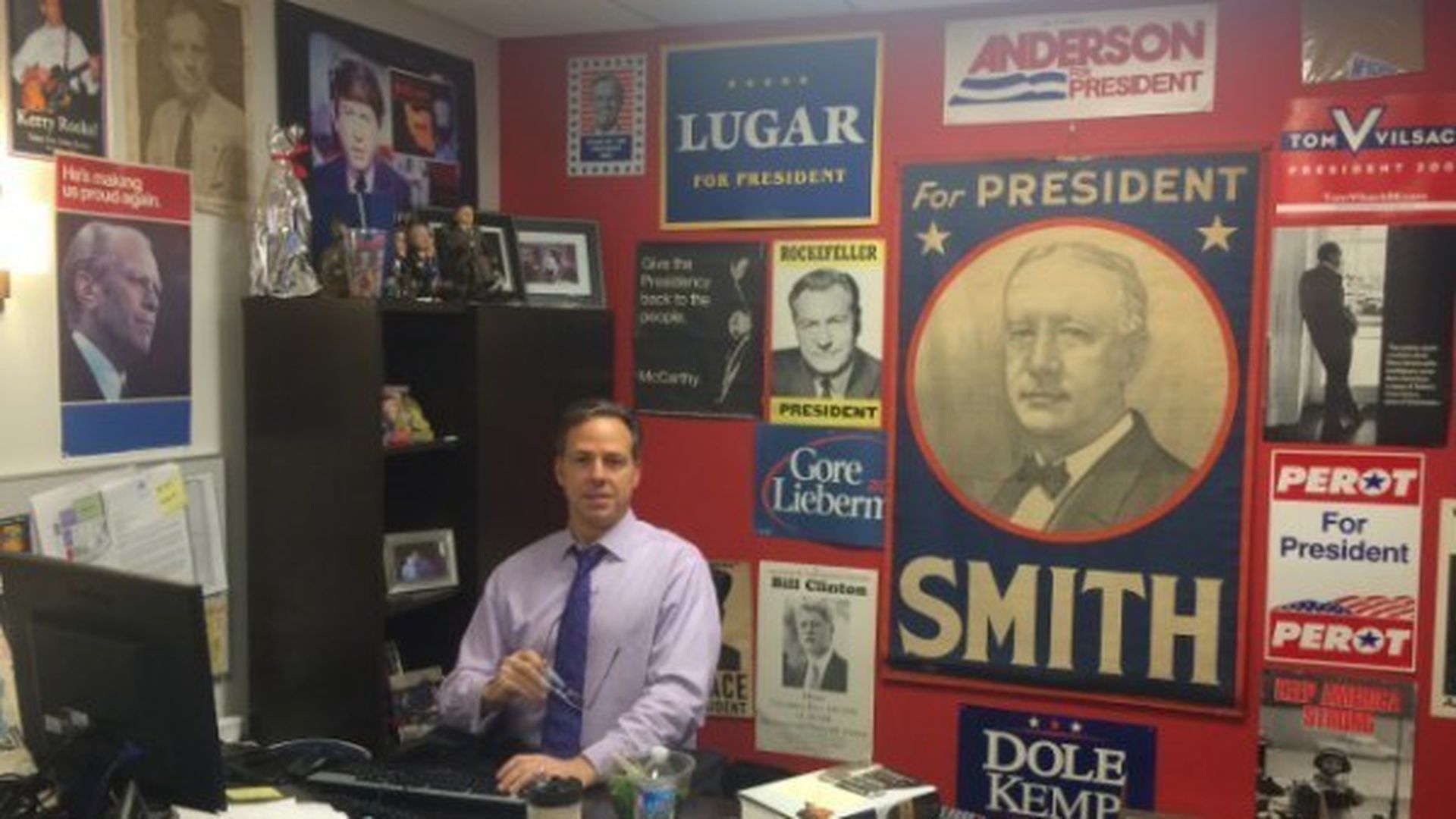 Slate TV critic Willa Paskin on "How Jake Tapper became the ideal newsman for our age": "[S]ince Trump's election, Tapper's fiery but establishment-entrenched objectivity has morphed into a kind of radicalism, as the establishment, or at least the president, cuts ties with the truth."
"To maintain his air of authority, Tapper doesn't just tenaciously question politicians or assess Trump's actions; he calls out Democratic hypocrisy whenever he can. It's like tossing a wet blanket on liberal adoration that only makes that adoration smolder further."
https://www.axios.com/newsletters/axios-am-9e3dc412-0405-468e-8fff-844007200d24.html?chunk=8#story8
9. Tops in tech: Tim Cook on fake news
Tech companies and governments need to lead the charge against fake news, Apple CEO Tim Cook said in an interview with The Daily Telegraph:
"We are going through this period of time right here where unfortunately some of the people that are winning are the people that spend their time trying to get the most clicks, not tell the most truth."
He called on tech companies to try to "squeeze" the fake news phenomenon: "Too many of us are just in the complain category right now and haven't figured out what to do."
https://www.axios.com/newsletters/axios-am-9e3dc412-0405-468e-8fff-844007200d24.html?chunk=9#story9
10. 1 fun thing: Spicey's back!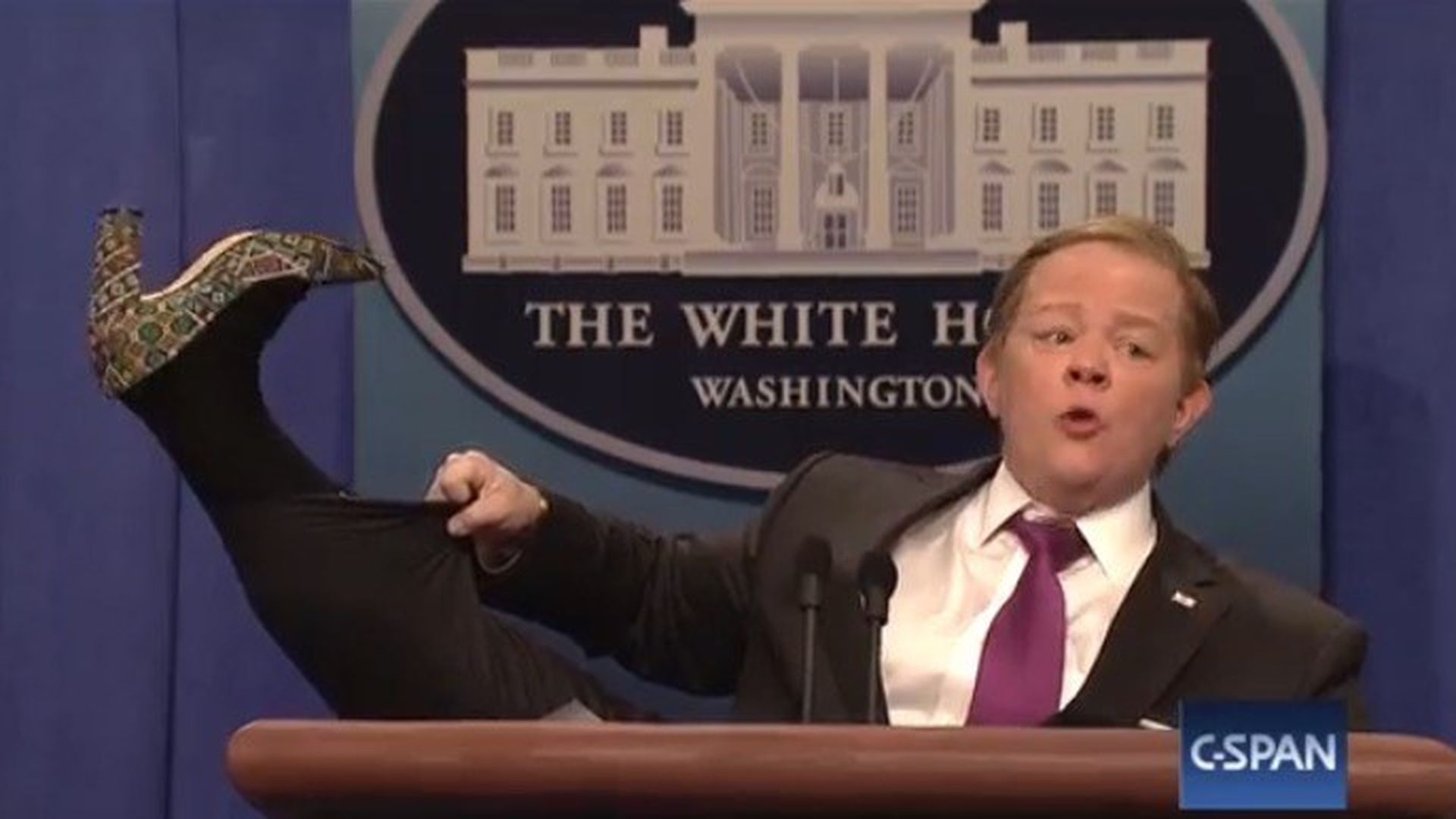 Melissa McCarthy returns in the "Saturday Night Live" cold open as Sean Spicer, who busts out a leaf blower and blasts the reporter when he doesn't like a question: "You know what that was? It was me blowing away their dishonesty?"
"Spicy" lists terrorist "incidents that you're not reporting on," including "the night they drove Old Dixie down."
"And then there was some light terrorism this week when Nordstorm's [turns thumb down] decided to stop selling Ivanka Trump's line of clothing and accessories. OK? And that's Nordstrom's loss.
"Because these are high, high quality products. In fact, I'm wearing one of her bangles right now. It's beautiful, it's shimmery, it's elegant, and at $39.99?!, it is ... unbelievably affordable. OK? And don't even get me started on her shoes. Because these babies -- a real head-turner."
"Now I'm gonna open it up for questions, and I'm gonna probably freak if you start asking stupid ones. Speaking of freaks and stupid ones, Glenn Thrush, New York Times -- stupid hat! Go! ... It is REAL Glenn. Don't eff with me, Glenn."
Other sketches:
A knife-wielding Kellyanne Conway breaks into Jake Tapper's apartment, in a "Fatal Attraction" spoof, to try to get him to put her back on TV: "Kellyanne, no! We can't have you on TV if you're just gonna keep lying!"
"I don't do this for me. I do this for you. You need me! You need to press me. ... You need to reach inside me and you need to pull out the truth."
Alec Baldwin is back as Trump, defending his travel ban in "People's Court" against three appeals-court judges, with Putin as a character witness.
Announcer: "He's asking for broad, unchecked power. Will he get it? ... They're accused of letting bad hombres pour into this country."