Axios AM
October 12, 2018
Bulletin: Pope accepts resignation of Washington Archbishop Donald Wuerl amid scandals over his handling of sexual abuse claims. (Washington Post)
Vatican statement: "The Holy Father Francis accepted the renunciation of the pastoral government of the archdiocese of Washington (U.S.), presented by the Most Important Card. Donald W. Wuerl."
🤘 Hook 'em! I'm in Austin, where Axios is bringing the Smarter Faster Revolution to the University of Texas, with a lunchtime lineup that includes American Airlines chairman and CEO Doug Parker and former NBA star Chris Bosh. RSVP here.
The event includes an Instagram-friendly activation of big ideas students submitted to us. A favorite of our events team: Emily Nguyen's plan for a drive-through pasta bar, since "we all like pasta but we all hate the wait." And "profit margins are great"!
1 big thing: Trump, TV merge
President Trump is finally fully merging his presidency with television, relishing the mounting amount of time that he's devoting to filling the airwaves — while also ravenously consuming his productions, Jonathan Swan reports.
Trump holds forth for an hour or more (much of it ad-libbed) at multiple campaign rallies each week, has added pregame and postgame shows with Fox News hosts to his repertoire, is blitzing Fox News more and more, and staged a "private Oval Office press conference" for New York Magazine.
Yesterday, Trump reached peak TV with a wild, 47-minute call-in to "Fox & Friends," followed hours later by a raucous 25 minutes in the Oval Office with rapper Kanye West, who wore a red "Make America Great Again" cap.
In this freewheeling phase, Trump has held more press conference in the past month than in the previous year.
On Sunday, Trump will be on "60 Minutes," CNN's Brian Stelter reports.
Even Fox News has had its fill, cutting back on its previous marathon live coverage of Trump's campaign rallies. That may account for part of the reason he's amped up his engagement.
When Anthony Scaramucci joined the White House for an epic 10 days as communications director, he said he wanted to produce a daily show from the White House lawn.
The White House is getting closer to that with his ever wilder and increasingly frequent free-for-alls with reporters.
Why it matters: Trump has told plenty of associates about his single-minded fixation on the visual. He doesn't know details about policy, and doesn't pretend to.
Trump's top aides see the White House the most valuable stage set in the world. Bill Shine, the former Fox News executive who this summer became deputy chief of staff for communications, wants to make better use of different elements of it — for instance, with more use of outdoor settings.
The Trump team is out-Deavering the late Michael Deaver, the longtime aide to President Ronald Reagan who specialized in TV-friendly backdrops, including — as noted in the third paragraph of Deaver's New York Times obituary — staging the former actor "atop the Great Wall of China, at the cliffs of Normandy and filling sandbags to show concern after a Louisiana flood."
West Wing aides have become extras in The Trump Show, with reporters pouncing on them with question as they arrive at the West Wing (unheard of in previous administrations), and cable news carrying the spectacle live.
One of Trump's favorite moments as president, according to a source close to him, was the day in February when he invited TV cameras into the Roosevelt Room to capture him negotiating about gun control for 64 minutes with Democratic and Republican lawmakers.
The key question for reporters: What things that actually matter are being ignored as our attention is monopolized by visits to the White House by Kim Kardashian, Kanye West and Kid Rock? Here are just a few of those issues:
The allegation that Saudi officials murdered Washington Post opinion writer Jamal Khashoggi. Trump has said little. Jared Kushner, who burnished the image of Saudi Crown Prince Mohammed bin Salman, has remained silent.
Large legal clouds, including the Mueller investigation.
Midterms that could radically change life inside the White House.
Mounting national debts, and no prospect of the White House working with Congress to reverse them.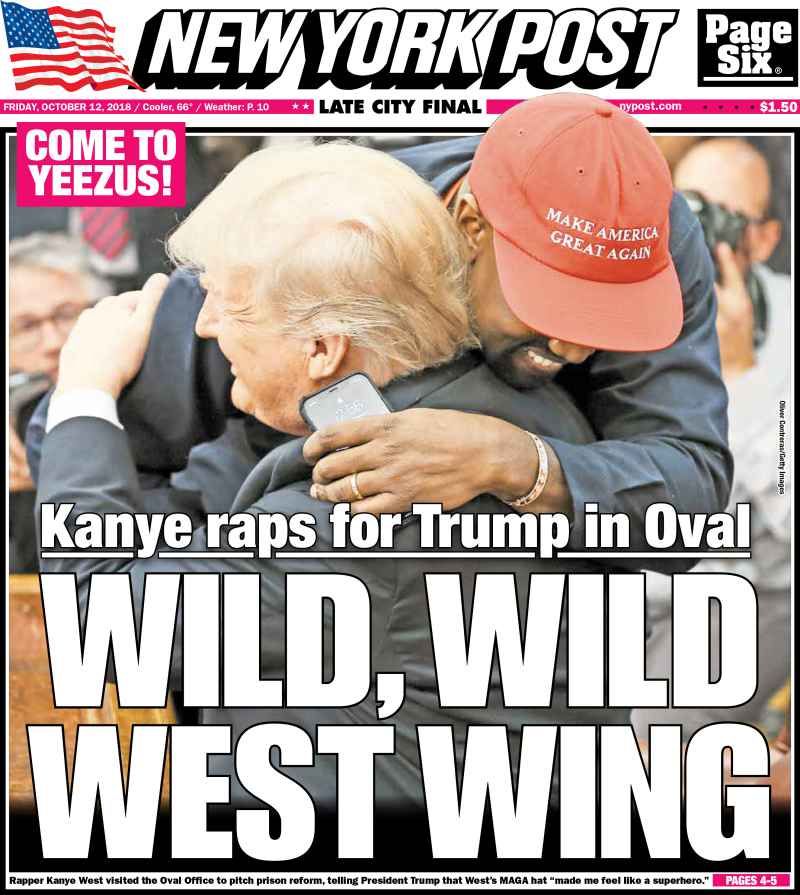 2. Unimaginable damage from Michael's rampage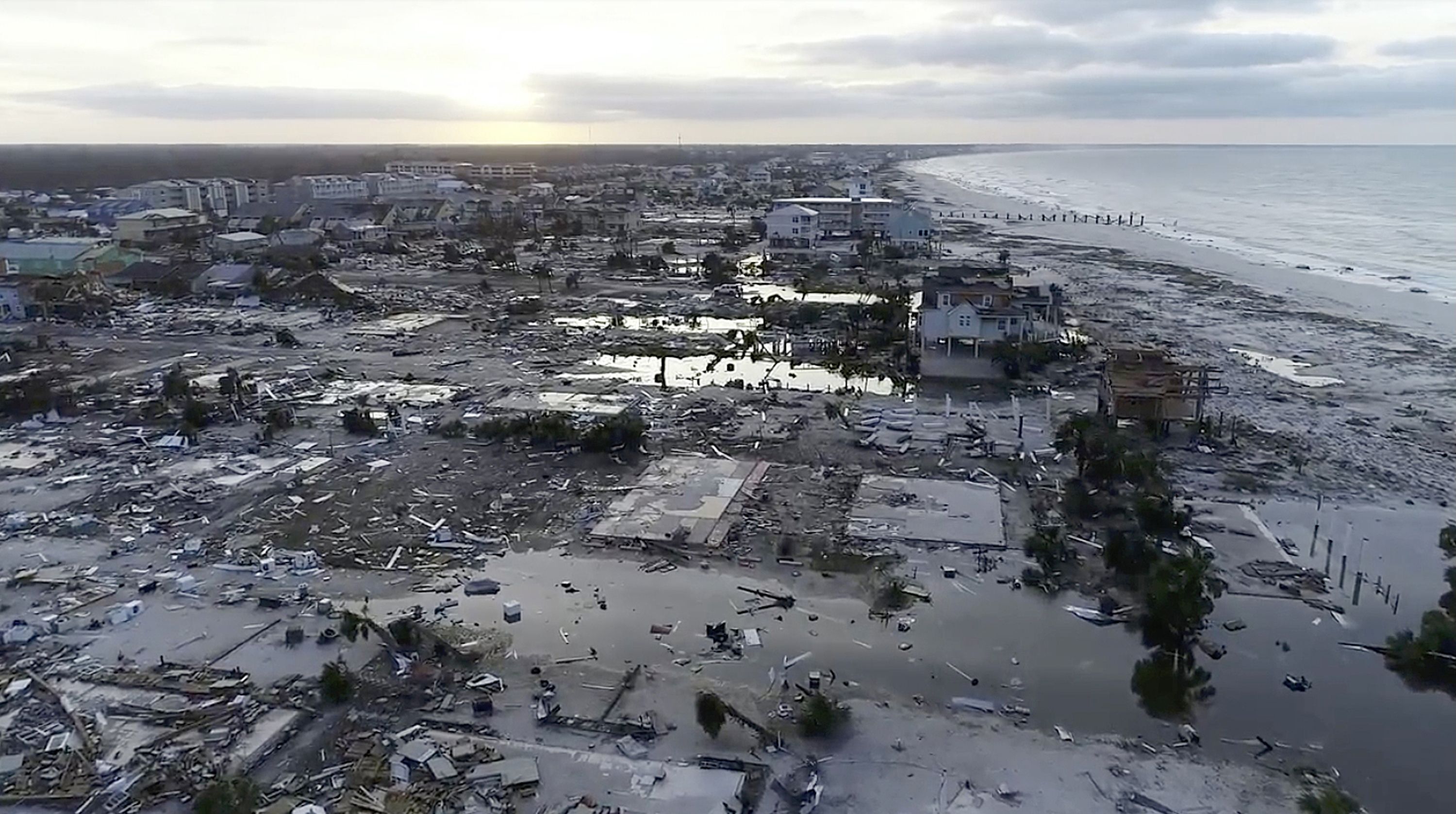 This was Mexico Beach, Florida.
Row after row of beachfront homes were so obliterated by the Category 4 Hurricane Michael's surging seas and howling winds that only slabs of concrete in the sand remain, AP reports.
The destruction of communities dotting the white-sand beaches is being called catastrophic — and they'll need billions of dollars to rebuild.
More than 900,000 homes and businesses in Florida, Alabama, Georgia and the Carolinas were without power.
Below, Amanda Logsdon begins the process of trying to clean up her home in Panama City, Fla., after Michael blew the roof off.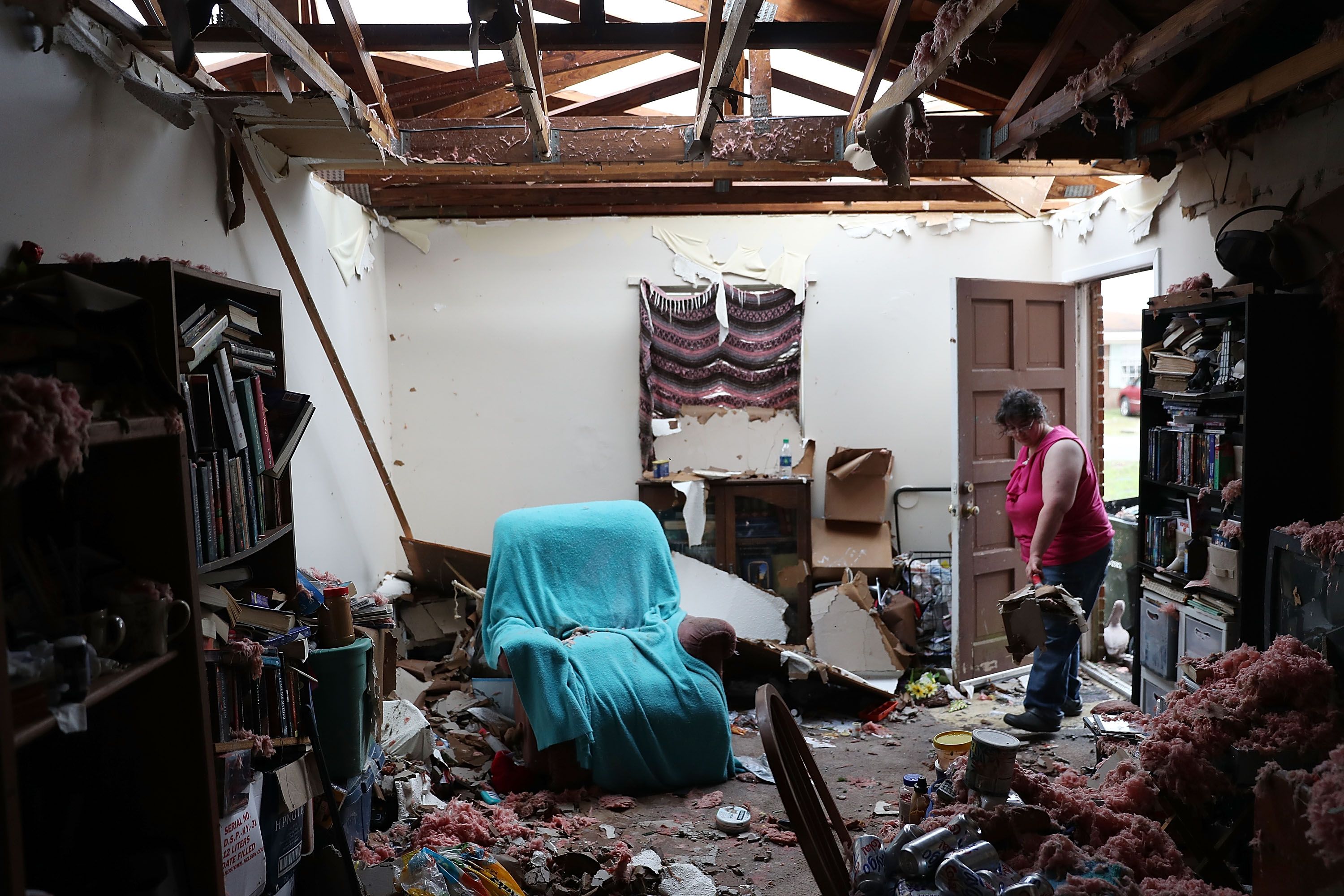 3. Recordings show journalist's killing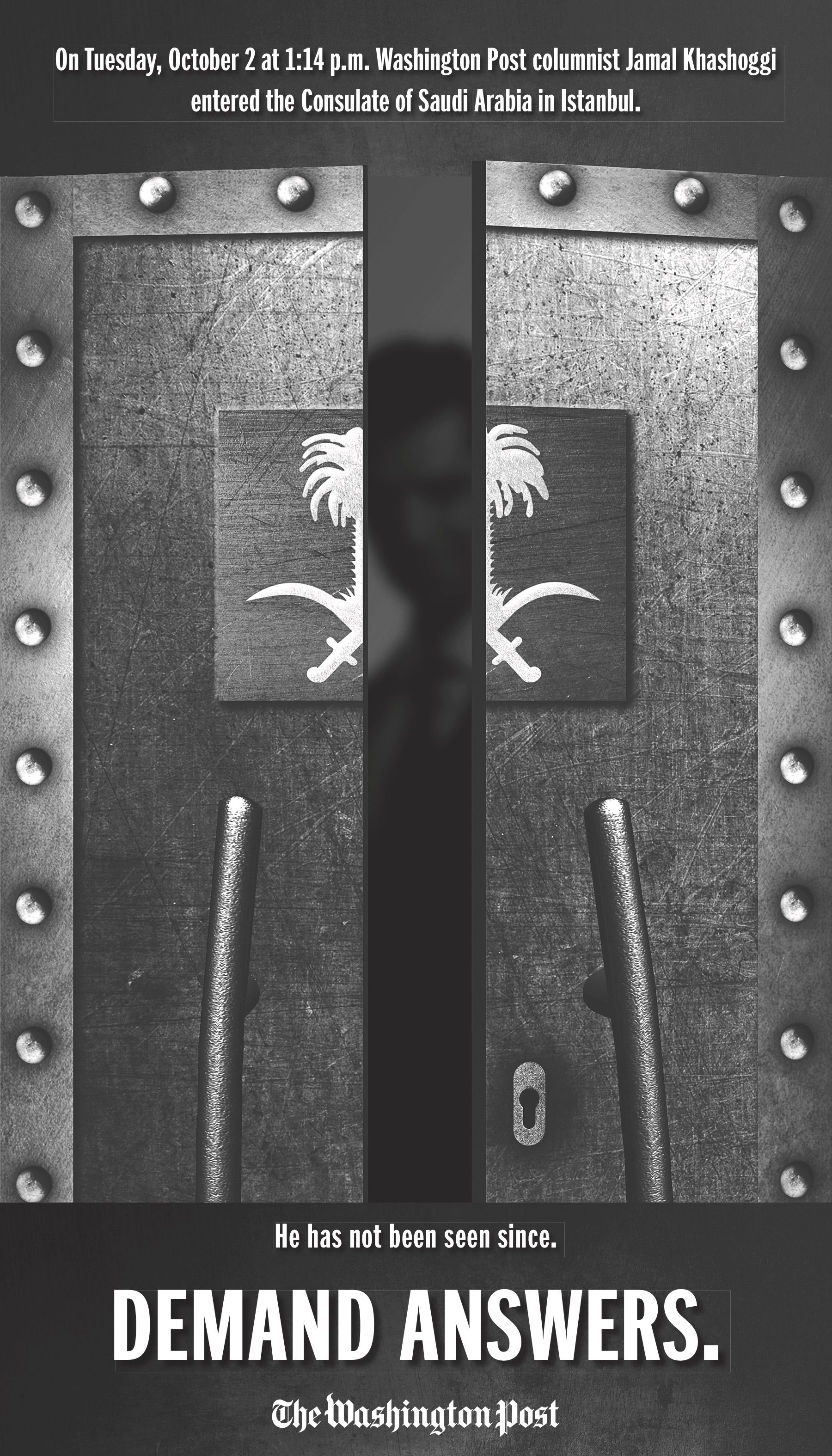 "The Turkish government has told U.S. officials that it has audio and video recordings that prove Washington Post columnist Jamal Khashoggi was killed inside the Saudi Consulate in Istanbul this month," the WashPost reports.
"The recordings show that a Saudi security team detained Khashoggi in the consulate after he walked in ... to obtain an official document before his upcoming wedding, then killed him and dismembered his body."
A person with knowledge of the audio recording said: "You can hear his voice and the voices of men speaking Arabic ... You can hear how he was interrogated, tortured and then murdered."
"A second person briefed on the recording said men could be heard beating Khashoggi."
Key point: 'Turkish officials are wary of releasing the recordings, fearing they could divulge how the Turks spy on foreign entities in their country."
4. Dina Powell out of running for U.N.
Dina Powell is out of the running to replace Nikki Haley as ambassador to the UN.
Powell, a Goldman Sachs partner who was a high-profile aide in the first year of President Trump's administration, told him yesterday that she was honored to be considered but wanted to withdraw from consideration, according to sources close to her.
Powell, who had been the favorite for the job, told friends the time wasn't right for her family or Goldman Sachs.
Powell's candidacy faced considerable internal opposition, although she was favored by Ivanka Trump and Jared Kushner, and was the first recommendation of Haley herself.
A source close to Powell said she and Trump remain close.
She told him she would remain a strong supporter.
One name being floated for the job: Kay Bailey Hutchison, U.S. ambassador to NATO, and former U.S. senator from Texas.
The White House reached out to Nancy Brinker, founder of the Susan G. Komen Foundation, to ask if she would consider the job, CNN reported.
P.S. The Wall Street Journal reports that, on the assumption Attorney General Jeff Sessions will be out by the end of the year, Trump is considering as many as five candidates to replace him:
HHS Secretary Alex Azar, Transportation Department general counsel Steven Bradbury, former Attorney General Bill Barr, Deputy Secretary of State John Sullivan and retired judge Janice Rogers Brown.
5. Health care is sign of Dems' move left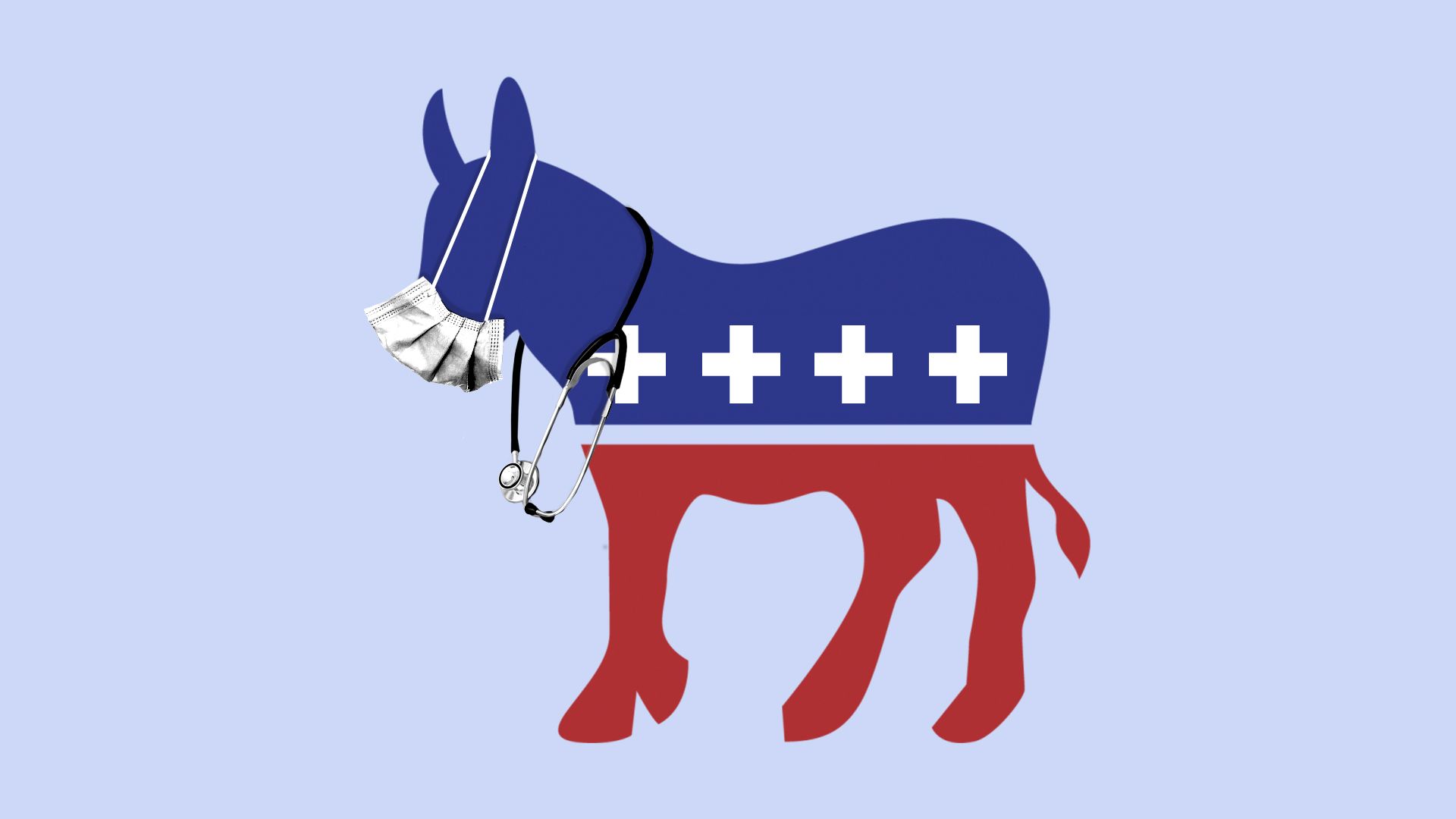 Most Democrats running in competitive House races are supporting or at least leaving the door open to some form of "Medicare for All," Axios' Caitlin Owens reports.
Why it matters: The party is indisputably shifting leftward, and health care is a critical part of that change. Regardless of which specific policies these candidates support, it's clear that they see a greater federal role in health care as a winning campaign message.
What they're saying: Some explicitly say they support "Medicare for All." Others say they support a pathway to Medicare for All, a Medicare option for all, or a Medicare buy-in. Some simply say they support a "public option."
A handful of candidates have specifically said they do not support Sen. Bernie Sanders' Medicare for All bill, or any single-payer health care system. But most haven't drawn a hard line.
P.S. Triage: "Republican Party leaders ... have begun to pull millions of dollars away from Republican candidates who have fallen substantially behind in once-competitive races," the N.Y. Times reports.
6. Is this economy as good as it gets?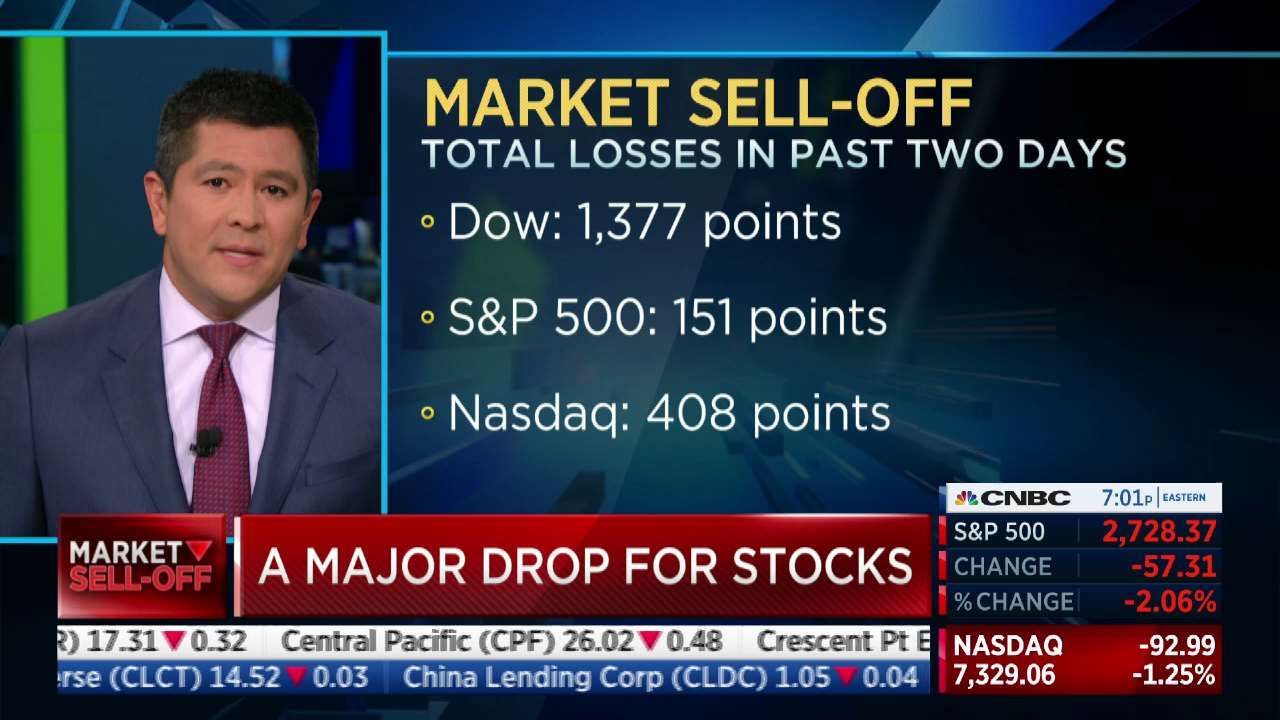 Breaking: Stocks in Europe and Asia staged a robust recovery today as strong trade data from China buoyed markets after a two-day rout. (Bloomberg)
The U.S. stock market tumbled 2% yesterday, after 3% on Wednesday, for its biggest losing streak of Trump's presidency. (Financial Times)
"The sell-off was broad and painful."
Blame the machines! "Investors searching for perpetrators and victims in this week's U.S. stock market selloff pointed to a familiar source: number-crunching fund managers and machines," per Reuters.
7. "Time could be short"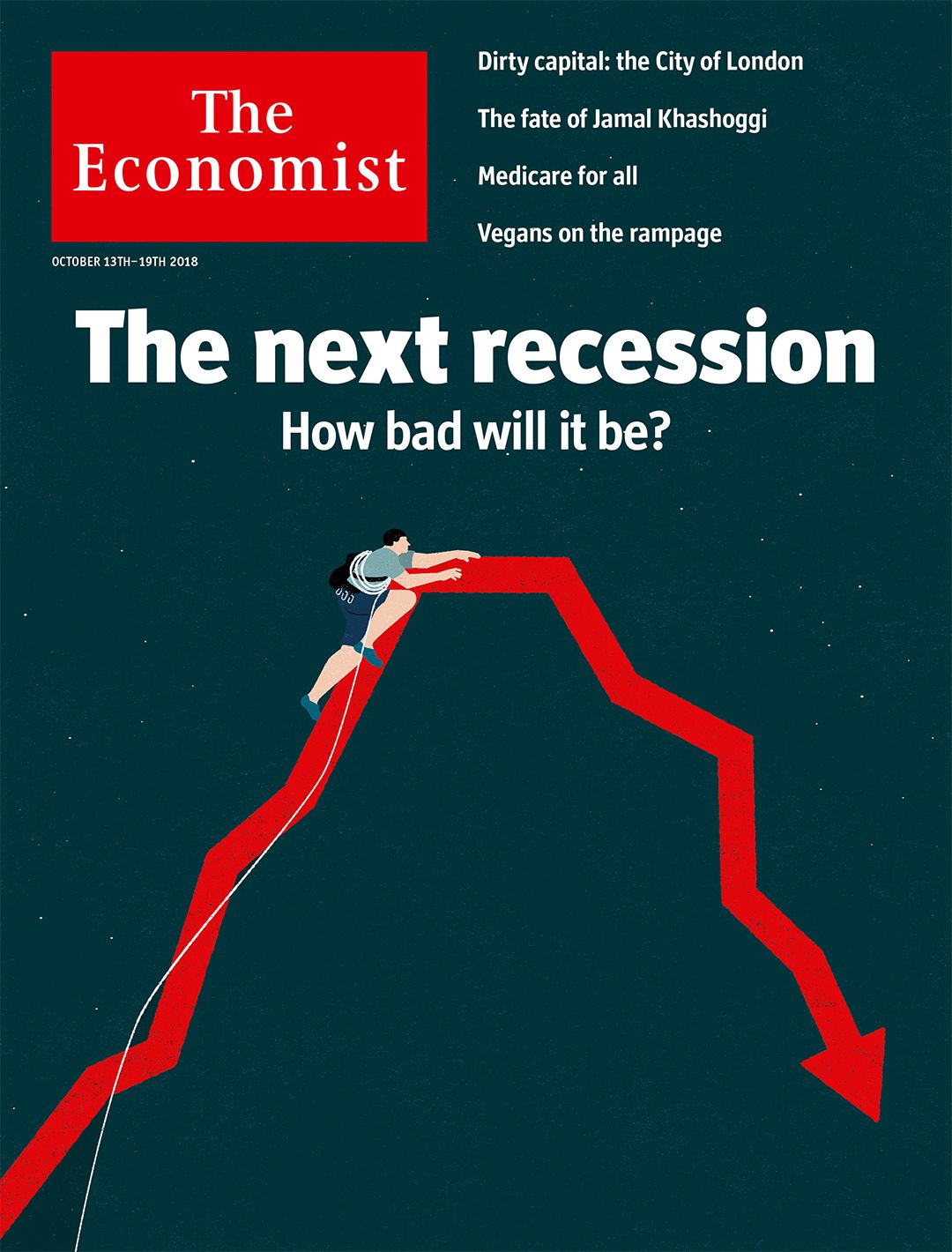 "The world economy's problem in 2018 has been uneven momentum," The Economist's lead editorial says:
"[T]he rich world in particular is ill-prepared to deal with even a mild recession. That is partly because the policy arsenal is still depleted from fighting the last downturn. In the past half-century, the Fed has typically cut interest rates by five or so percentage points in a downturn. Today it has less than half that room before it reaches zero."
"Politics is an even greater obstacle to international action. Unprecedented cross-border co-operation was needed to fend off the crisis in 2008. But the rise of populists will complicate the task of working together."
8. Stat du jour
"In Silicon Valley, even the shoes are now worth more than $1 billion," per The Wall Street Journal's Rob Copeland (subscription).
"Trendy footwear startup Allbirds Inc. ... has sold a stake to investors at a valuation of $1.4 billion."
9. Video: Why childbirth in U.S. is so expensive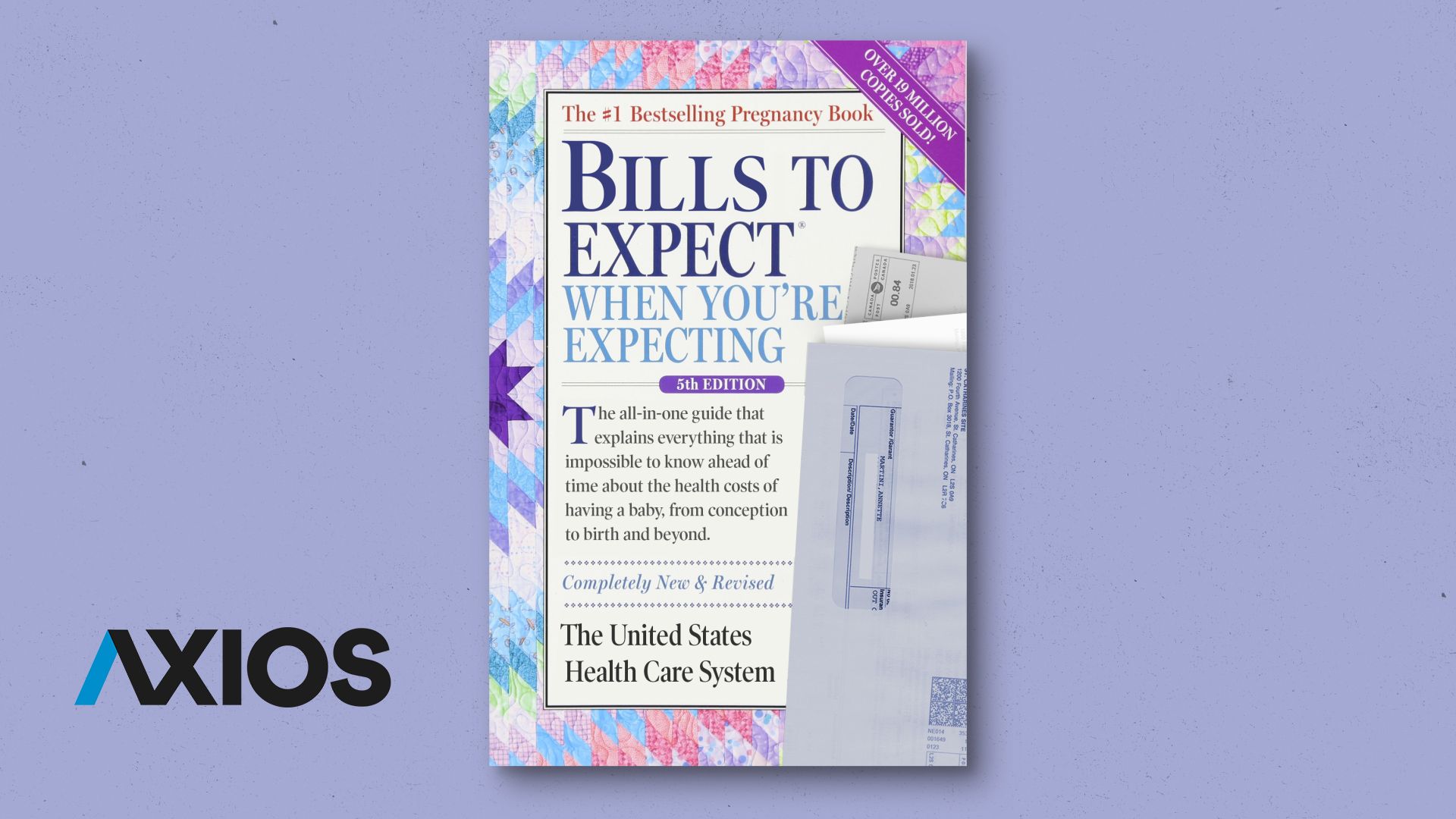 The U.S. is the most expensive country in the world to give birth:
But most hospitals won't tell patients how much delivery and care costs until after the baby is born.
Why it matters: The average sticker price for childbirth in the U.S. is $32,093.
10. 1 fun thing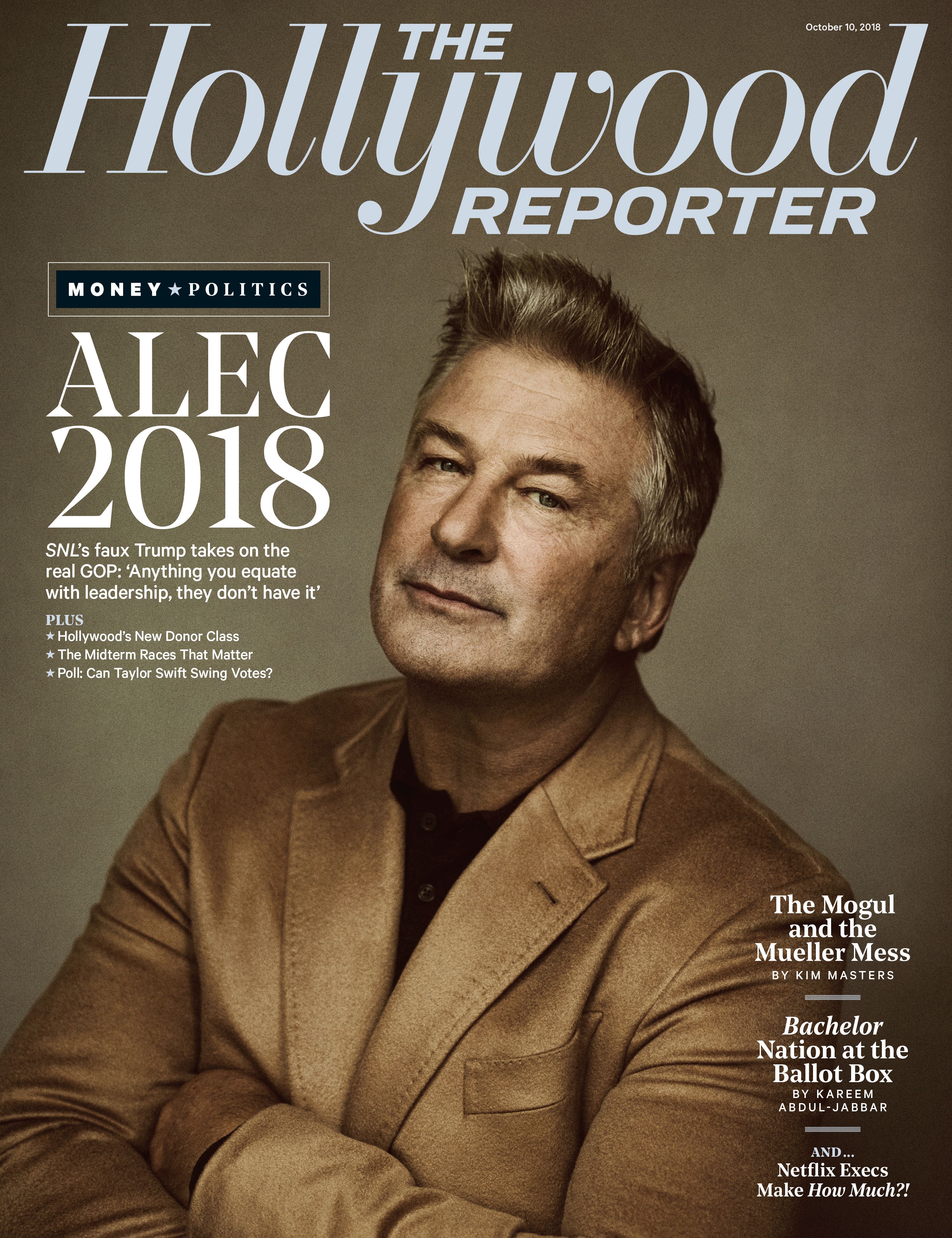 "'I don't want to get this wrong …' Alec Baldwin begins many of his sentences this way, signaling that he's about to dive into trouble ... At 60, the actor, author, emcee and faux president has never been busier," Lacey Rose writes in a Hollywood Reporter cover story:
"I don't know how to say this and I don't want to get it wrong either, because everything is a minefield of bombs going off, but ... ever since I played Trump, black people love me. They love me. Everywhere I go, black people go crazy. I think it's because they're most afraid of Trump. I'm not going to paint every African-American person with the same brush, but a significant number of them are sitting there going, 'This is going to be bad for black folks.'"
"[H]eading into the congressional midterms, he'll be backing a number of Democratic challengers, including Perry Gershon, who's running in the eastern Long Island district that covers the Hamptons, where the Baldwins keep a second home; and Liuba Grechen Shirley, who's gunning for GOP heavyweight Peter King's seat in the part of Long Island where Baldwin grew up."