https://www.axios.com/newsletters/axios-am-9c0802a6-412b-4ec3-ad6c-b4eff086d10c.html?chunk=0#story0
1 big thing: ​The Donald's Democratic surge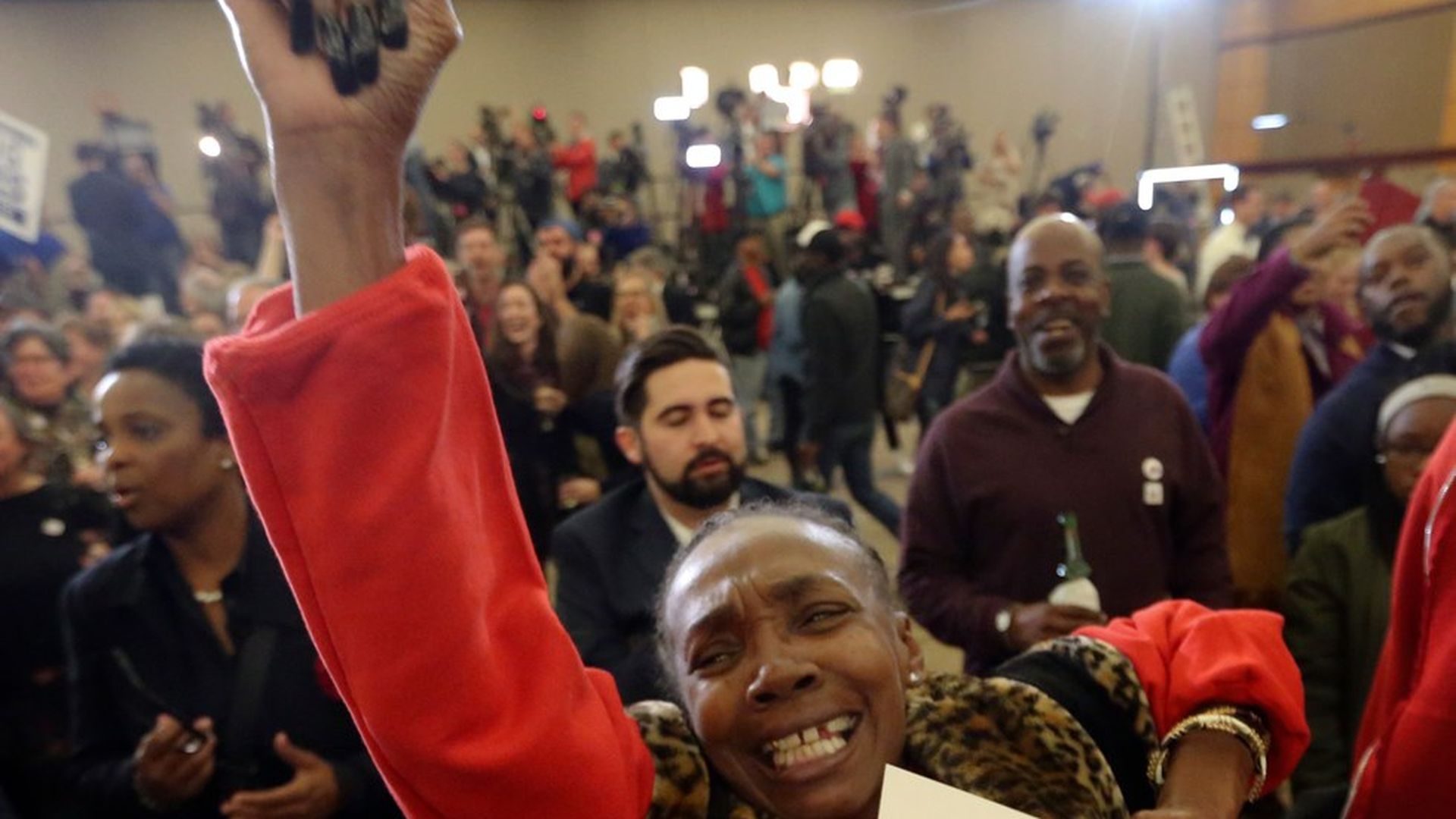 President Trump is slowly but surely giving Democrats an increasing shot at winning the House and Senate in 2018. If this happened, the House would surely move to impeach him.
The numbers — not just in Alabama, but for the totality of elections in 2017 — have top Republicans rattled:
Dems outperforming in every off-year race: "There have been more than 70 special elections for state and federal legislative seats in 2017," according to FiveThirtyEight's Harry Enten. "The Democratic margin has been 12 percentage points better, on average, than the partisan lean in each race."
Republicans have "lost five Senate races since 2010 because of nominees who were far outside the political mainstream, including two before Mr. Moore who were defeated after making damaging comments about rape." (NYT)
Julian Zelizer, a history and public affairs professor at Princeton University: "This is the first real evidence that a political backlash might be brewing to Trump-ian Republican politics." (USA Today)
Democrats, flat as could be after 2016, suddenly see the makings of a 2018 comeback:
But Dems still face a tough path to either majority, as this AP math shows:
"Democrats need to flip 24 seats for a House majority. National Democrats have a target list of about 90 seats, including the 23 Republican-held districts that Trump lost to Hillary Clinton."
"In the Senate, Democrats must defend 10 seats in states where Trump won. With Jones' upset of Moore, they need to net a two-seat gain, and see opportunities in Nevada, where Trump lost, and Arizona, which could be a toss-up."
And a reminder of how idiosyncratic the Alabama race was: "More than 22,000 write-in votes were cast Tuesday, more than the margin of difference between the winner and loser."
Be smart: Ed Gillespie, a former Republican National Committee chairman who lost the Virginia governor's race last month in a surprising blowout, told David Axelrod in an "Axe Files" podcast for CNN that he wouldn't recommend any R run in this environment.
"Seared by a campaign in which he was buffeted by Trump and harsh media coverage of ads Gillespie ran that seemed calculated to seize on some of the divisive issues that had propelled the President to office, he took a long pause when asked if he would counsel others to run for office. 'I don't think I would.'"
https://www.axios.com/newsletters/axios-am-9c0802a6-412b-4ec3-ad6c-b4eff086d10c.html?chunk=1#story1
2. It doesn't sound like ...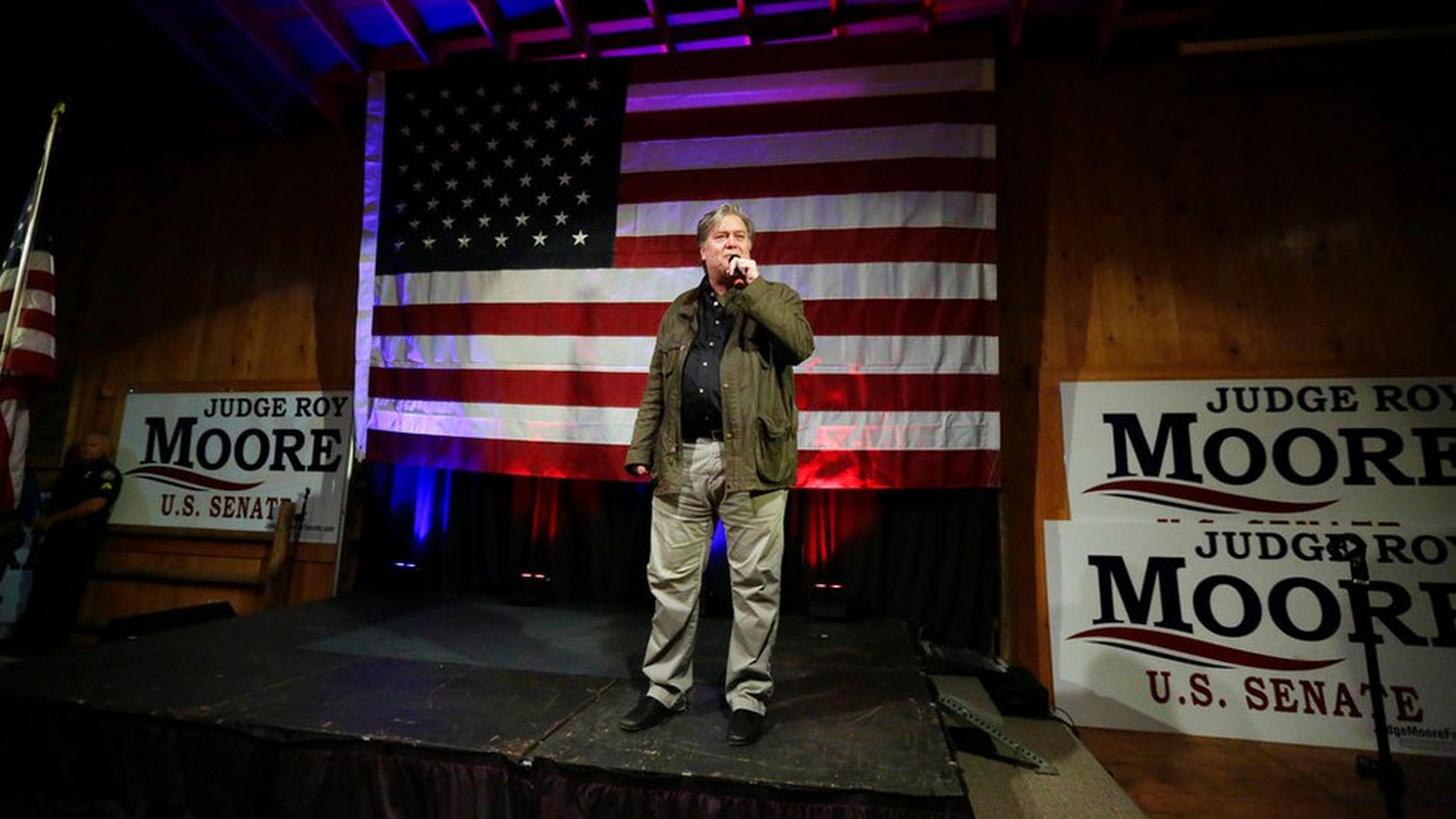 ... Steve Bannon is abashed. A person quite familiar with his thinking emails that the Alabama loss is "McConnell's Pyrrhic Victory":
"This is a long war, and McConnell showed the entire party he would rather have a Democrat than a conservative."
Shot ... A top establishment Republican emails me the other view: "My hope is that it's a wake-up call for this President and what is currently a non-functioning WH political office."
Chaser ... Ross Douthat's N.Y. Times column: "No, there will be no course correction — only the Trump we've seen so far, the Trump who would rather have the G.O.P. fall in ruins around him than give up on his feuds and insults and absurd behavior, the Trump who made Senator Doug Jones our strange reality, and the Trump who is also responsible for the larger wave that's building, building, for next fall."
https://www.axios.com/newsletters/axios-am-9c0802a6-412b-4ec3-ad6c-b4eff086d10c.html?chunk=2#story2
3. GOP agrees on final tax bill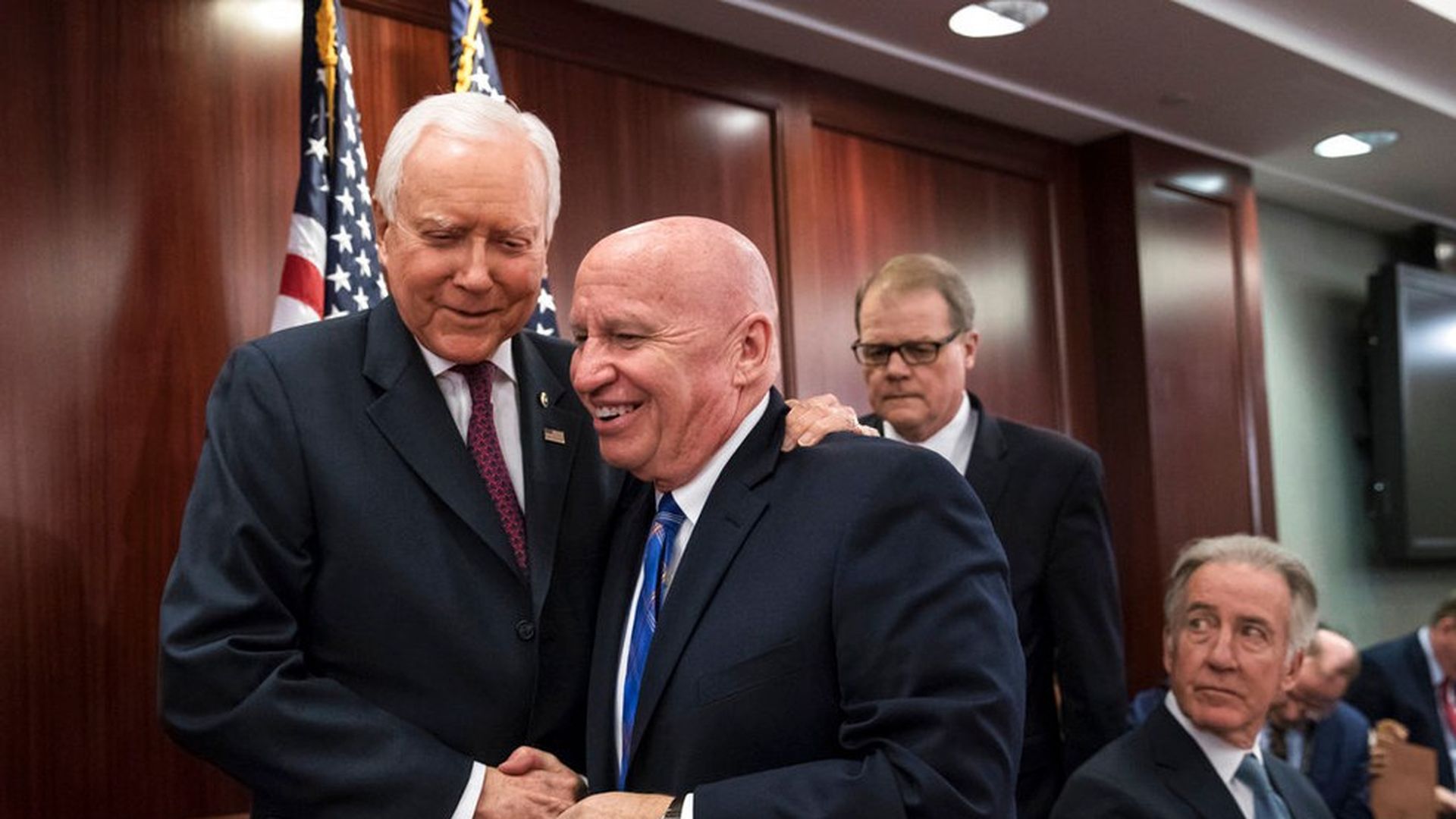 "Deal Clears Way for Vote Next Week," per N.Y. Times 4-column lead story:
"In the end, more of the Senate bill appeared to be included in the final version."
"The changes included a slightly higher corporate tax rate of 21 percent, rather than the 20 percent in the legislation that passed both chambers, and a lower top individual tax rate of 37 percent for the wealthiest Americans, who currently pay 39.6 percent."
"Also included ... is the Senate's repeal of the Affordable Care Act requirement that most Americans have health insurance or pay a penalty."
https://www.axios.com/newsletters/axios-am-9c0802a6-412b-4ec3-ad6c-b4eff086d10c.html?chunk=3#story3
Bonus: Pic du jour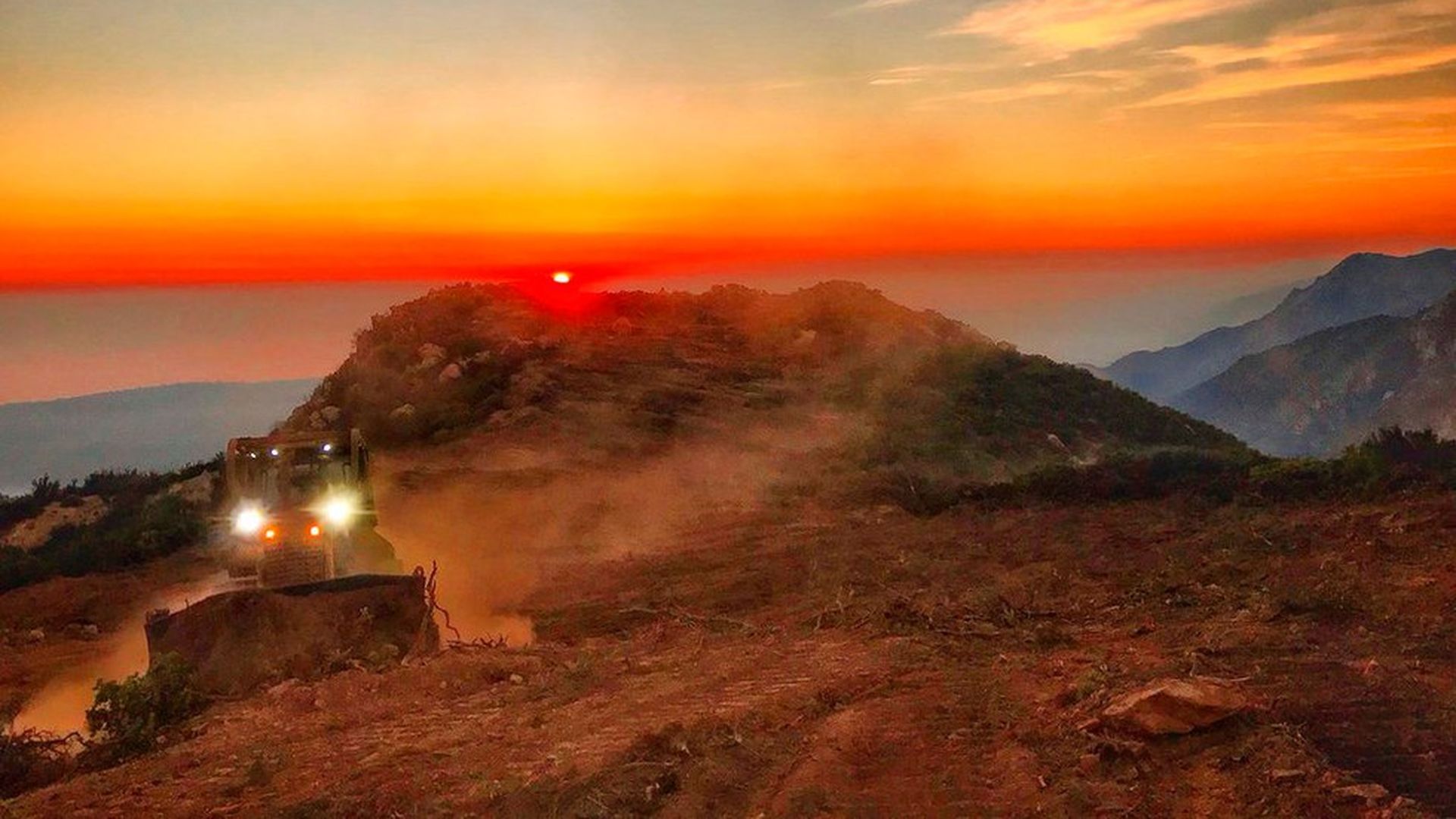 A dozer from the Santa Barbara County Fire Department clears a fire break across a canyon from atop Camino Cielo in the Santa Ynez Mountains, to make a stand in case the fire moves in that direction.
https://www.axios.com/newsletters/axios-am-9c0802a6-412b-4ec3-ad6c-b4eff086d10c.html?chunk=4#story4
4. Trump's front page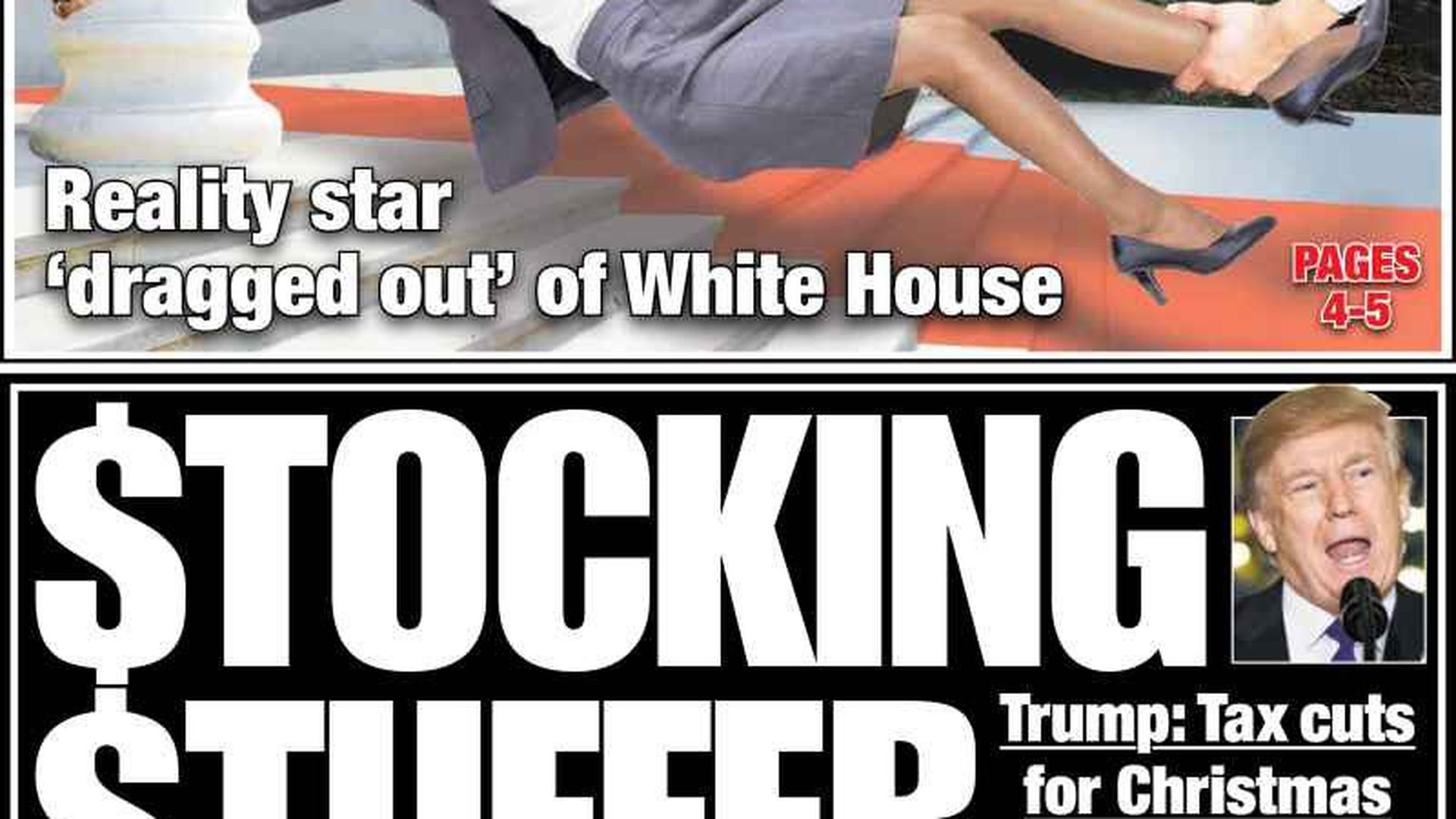 President Trump tweeted best wishes to Omarosa Manigault Newman, the former Apprentice and Celebrity Apprentice contestant turned White House aide, who is stepping down, NPR reports:
The White House said she resigned "to pursue other opportunities. Her departure will not be effective until January 20."
"Known as Omarosa from her TV days, Newman was White House director of communications for the Office of Public Liaison — although what her job actually entailed was less than clear."
Why she matters: "She was the highest-ranking African-American in the White House."
The Secret Service tweeted: "Reporting regarding Secret Service personnel physically removing Omarosa Manigault Newman from the @WhiteHouse complex is incorrect."
"The Secret Service was not involved in the termination process of Ms Manigault Newman or the escort off of the complex. Our only involvement in this matter was to deactivate the individual's pass which grants access to the complex."
https://www.axios.com/newsletters/axios-am-9c0802a6-412b-4ec3-ad6c-b4eff086d10c.html?chunk=5#story5
5. Disney-Fox deal to be announced today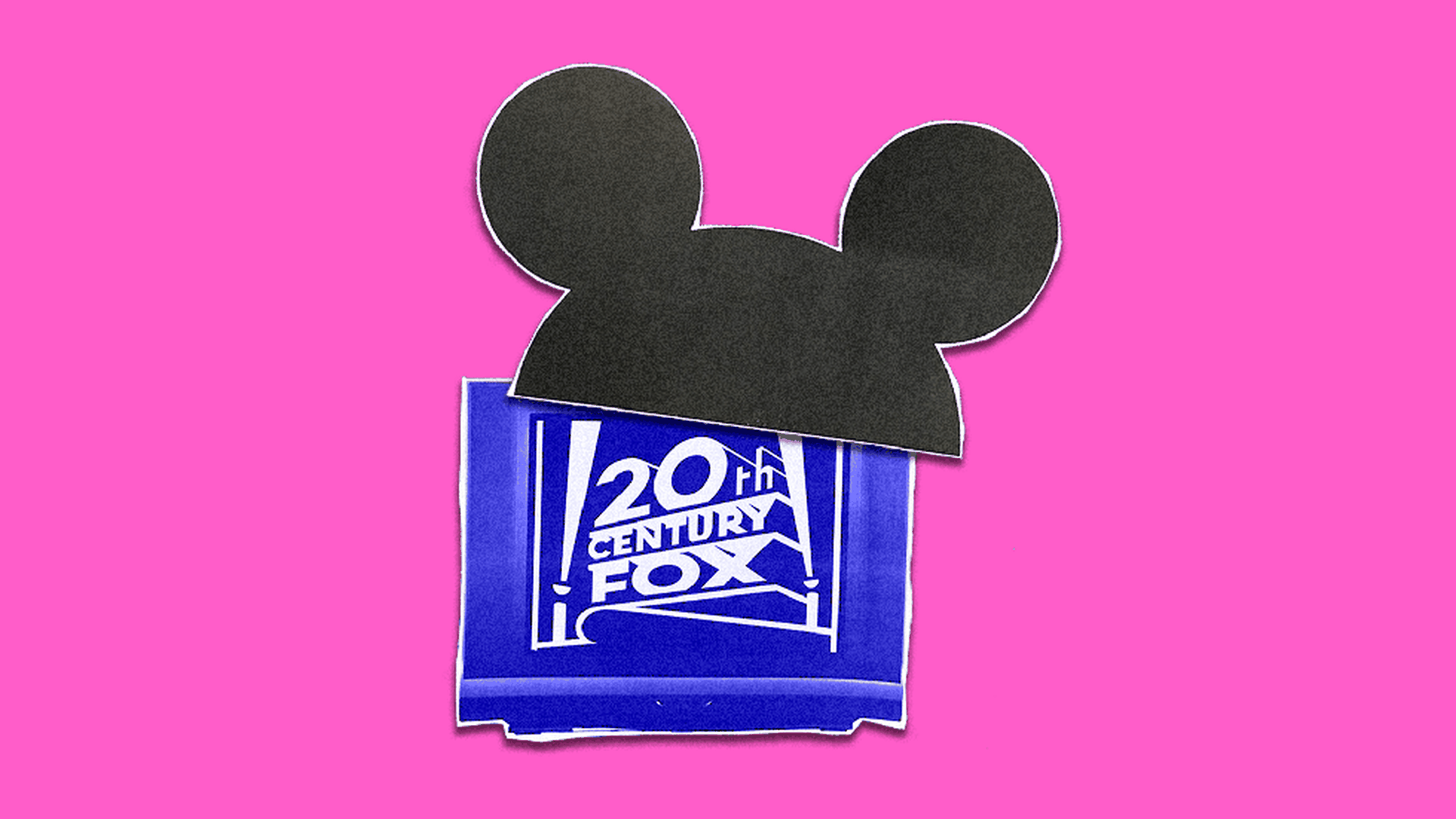 "Walt Disney Co. is close to a deal to acquire a large piece of 21st Century Fox Inc., ... in a pact that could help the entertainment giant accelerate its ambitions in streaming media, shore up its television business and grab hold of lucrative movie franchises," according to the Wall Street Journal.
Why it matters: "Most of the assets Disney is buying would be put to use in Chief Executive Robert Iger's quest to transform his company into a streaming-video giant that can go head-to-head with rivals such as Netflix."
"He wants Disney to have its own relationships with consumers and a broad array of content to offer them online."
P.S. Layoffs likely in Disney-Fox deal," per an L.A. Times A1 teaser: "Substantial job cuts in Southern California could result."
"[T]he companies have many overlapping departments and Disney would look to wring savings."
https://www.axios.com/newsletters/axios-am-9c0802a6-412b-4ec3-ad6c-b4eff086d10c.html?chunk=6#story6
6. A sad, shocking stat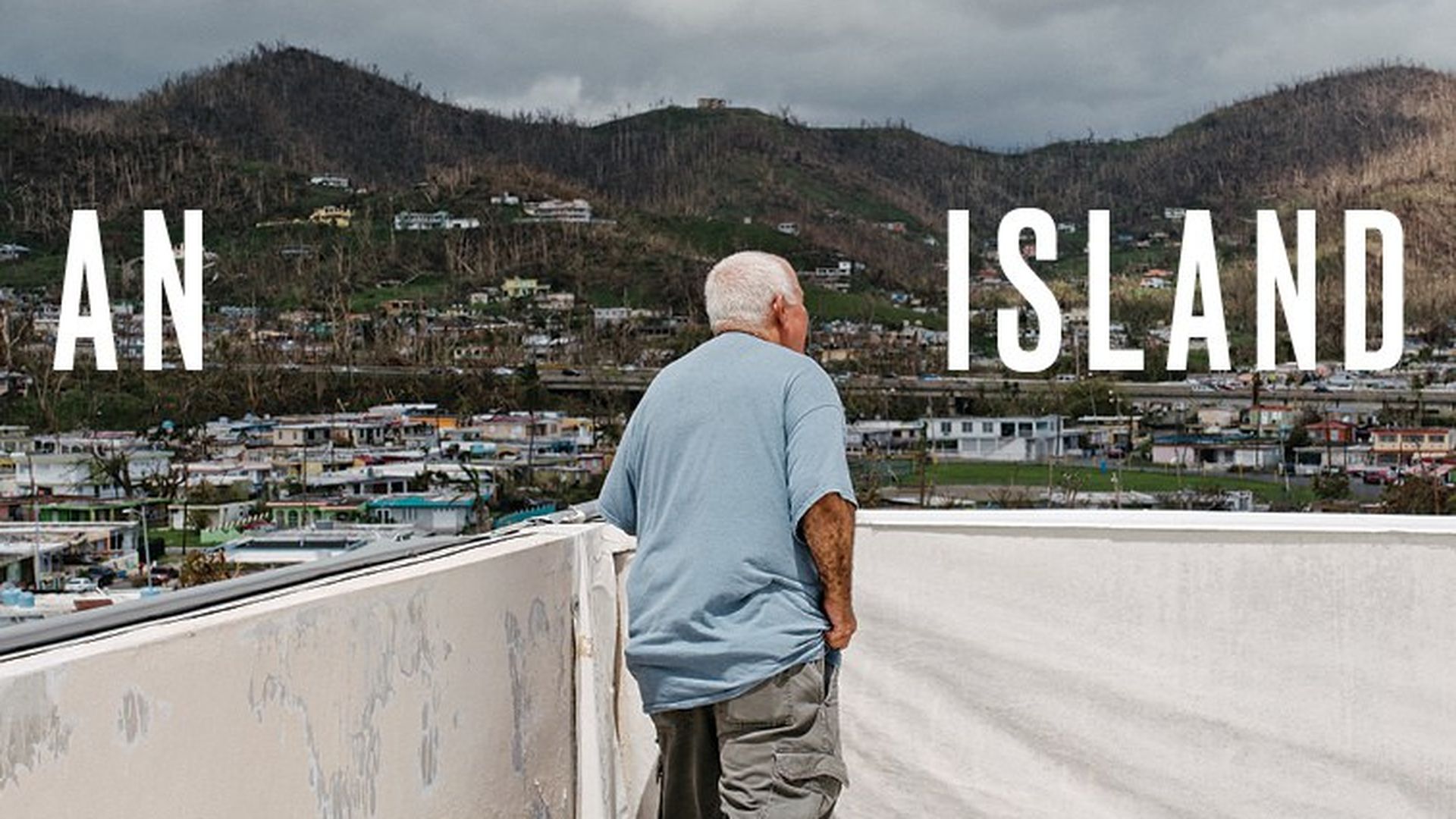 "Today, nearly three months after Hurricane Maria., more than one-third of Puerto Rico is still without power and thousands of businesses remain closed," Bloomberg Businessweek reports.
Why it matters: "For a decade, Puerto Rico has experienced a steady erosion of economic opportunity, and now there's a fear that the storm has convinced too many residents, a critical mass, to pursue new livelihoods elsewhere."
https://www.axios.com/newsletters/axios-am-9c0802a6-412b-4ec3-ad6c-b4eff086d10c.html?chunk=7#story7
7. 10th anniversary of the Great Recession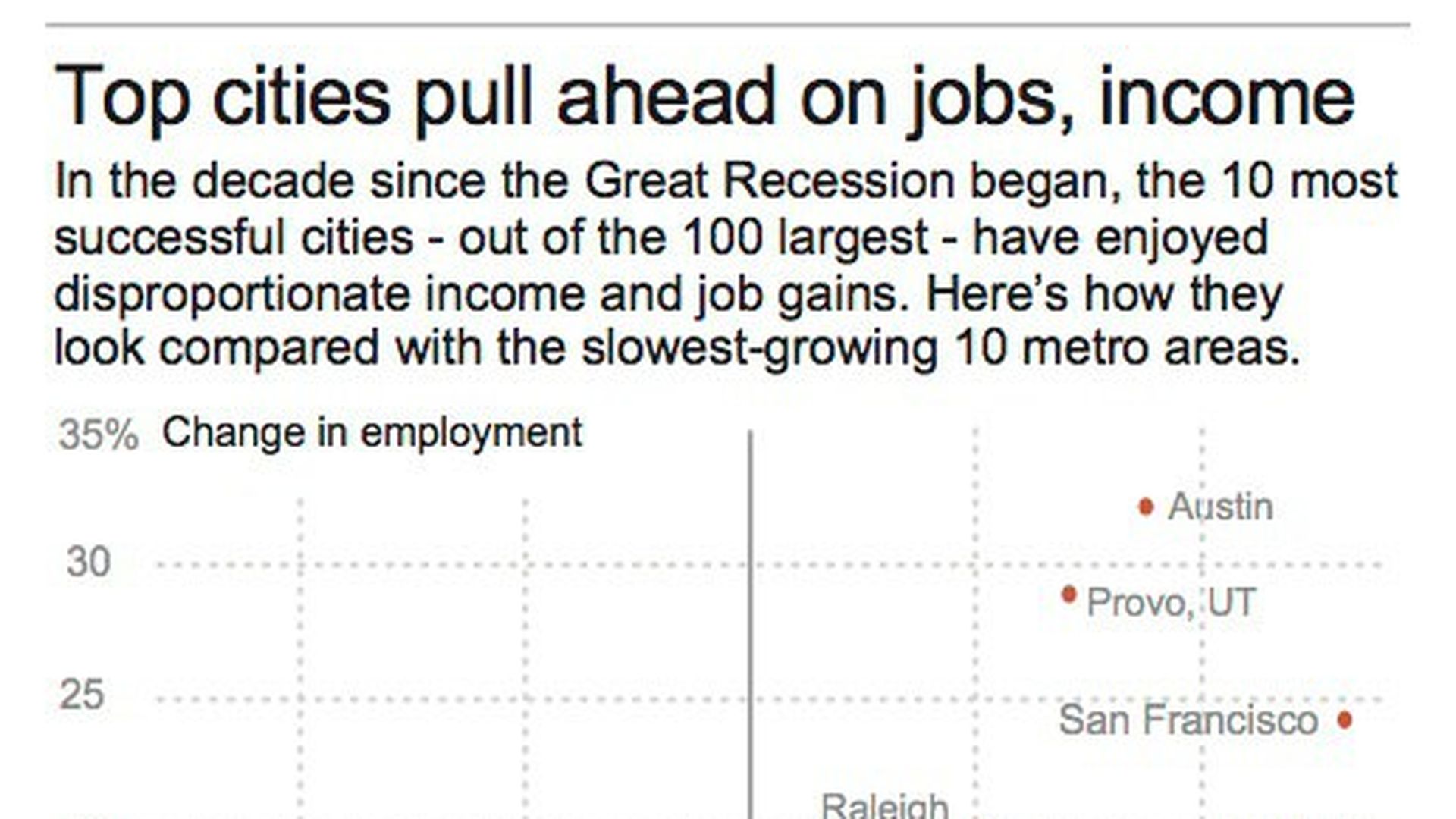 "Seattle is among a fistful of cities that have flourished in the 10 years since the Great Recession officially began in December 2007, even while most other large cities — and sizable swaths of rural America — have managed only modest recoveries," per AP Economics Writer Christopher Rugaber:
Why it matters: The rebound has "failed to narrow the country's deep regional economic disparities and in fact has worsened them."
"A few cities have grown much richer, thanks to their grip on an outsize share of lucrative tech jobs and soaring home prices. Others have thrived because of surging oil and gas production."
"In Las Vegas, half-finished housing developments, relics of the housing boom, pockmark the surrounding desert. Families there earn nearly 20 percent less, adjusted for inflation, than in 2007."
"[M]any Southern and Midwestern cities — from Greensboro, North Carolina, to Janesville, Wisconsin — have yet to recover from the loss of manufacturing jobs that have been automated out of existence or lost to competition from China."
https://www.axios.com/newsletters/axios-am-9c0802a6-412b-4ec3-ad6c-b4eff086d10c.html?chunk=8#story8
8. Sandy Hook families, 5 years later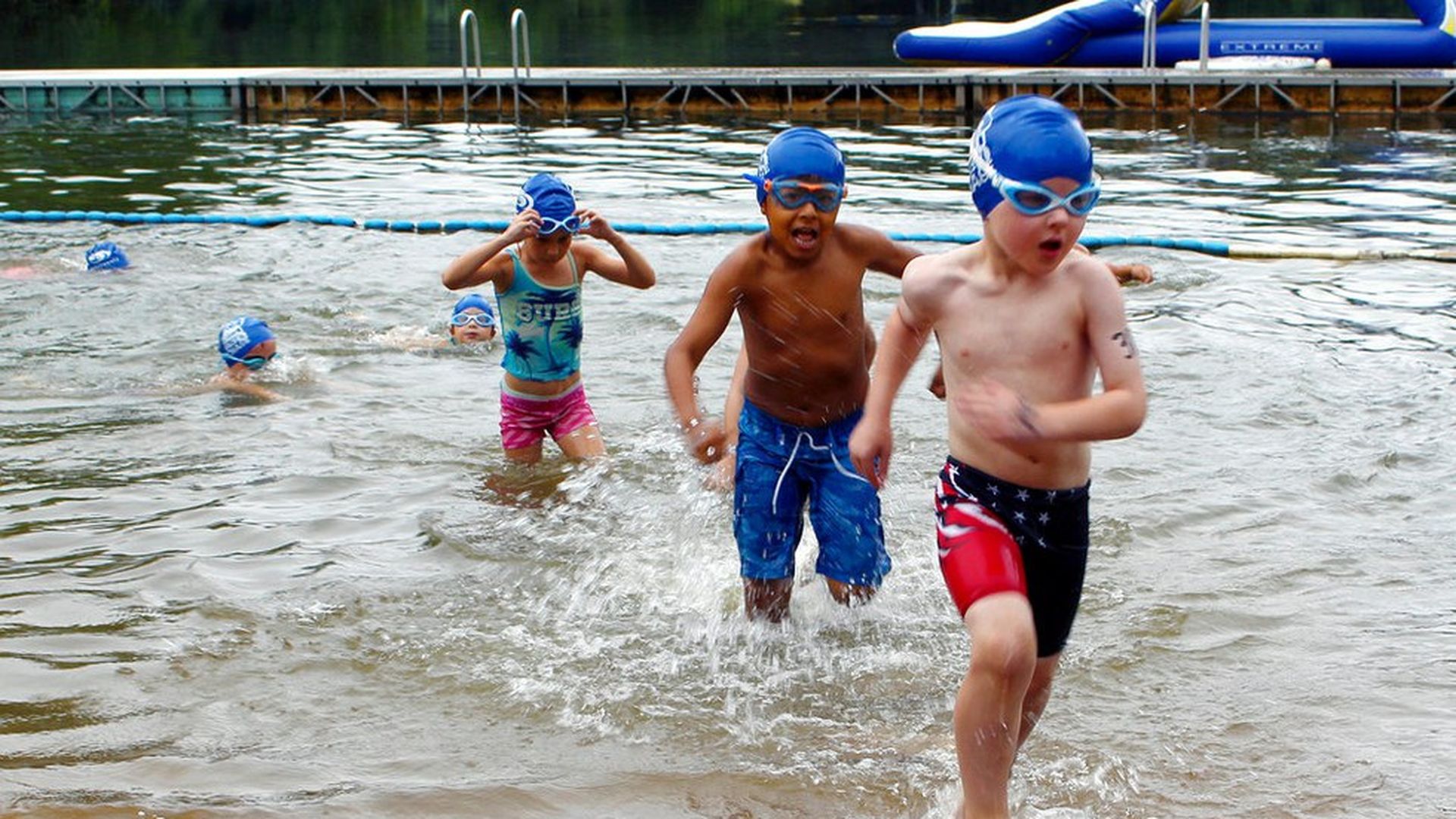 "Many relatives of the 26 children and educators killed five years ago [today] at Sandy Hook Elementary School [in Newtown, Conn.] have dedicated themselves to charity, activism and other efforts to channel their grief and, in many cases, to help prevent violence," AP's Pat Eaton-Robb writes:
"Others have jumped into the policy fray to lobby for gun control or improved mental health care. In some cases, they have traveled the country, and even the world, as recognized experts in their fields, such as Jeremy Richman, a scientist whose Avielle Foundation for the study of brain health is named for his slain daughter.
"The Sandy Hook families have created a website to share each of their stories and information about the various projects they have started in memory of their family members."
https://www.axios.com/newsletters/axios-am-9c0802a6-412b-4ec3-ad6c-b4eff086d10c.html?chunk=9#story9
9. An epic year: 12 of 30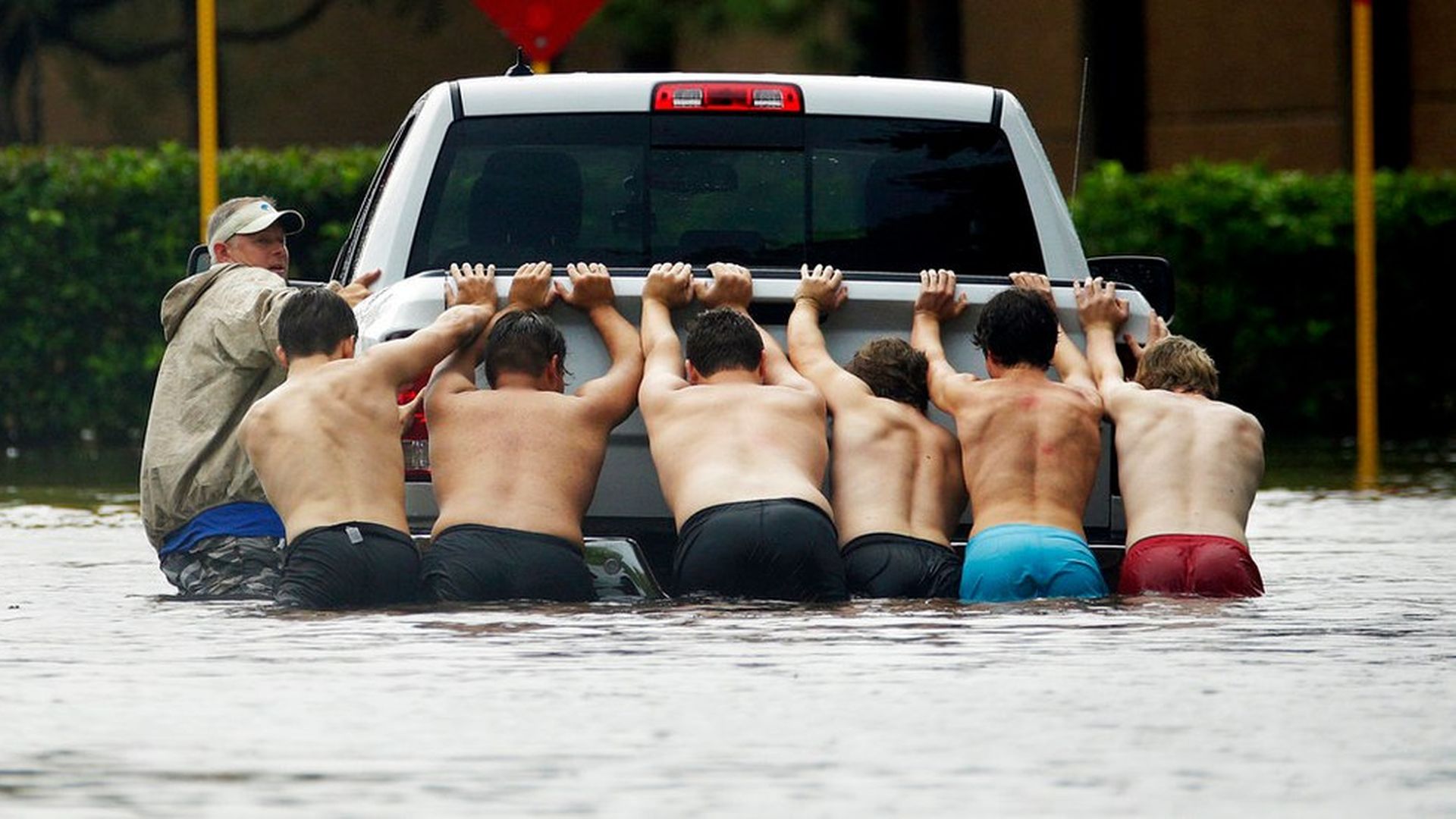 Reliving 2017 in 30 images ... Americans help each other: Men push a stalled pickup through a flooded street in Houston in August, after Tropical Storm Harvey dumped heavy rains.
WashPost front page today, "Global warming boosted Hurricane Harvey's rainfall by at least 15 percent, studies find."
https://www.axios.com/newsletters/axios-am-9c0802a6-412b-4ec3-ad6c-b4eff086d10c.html?chunk=10#story10
10. 1 rock thing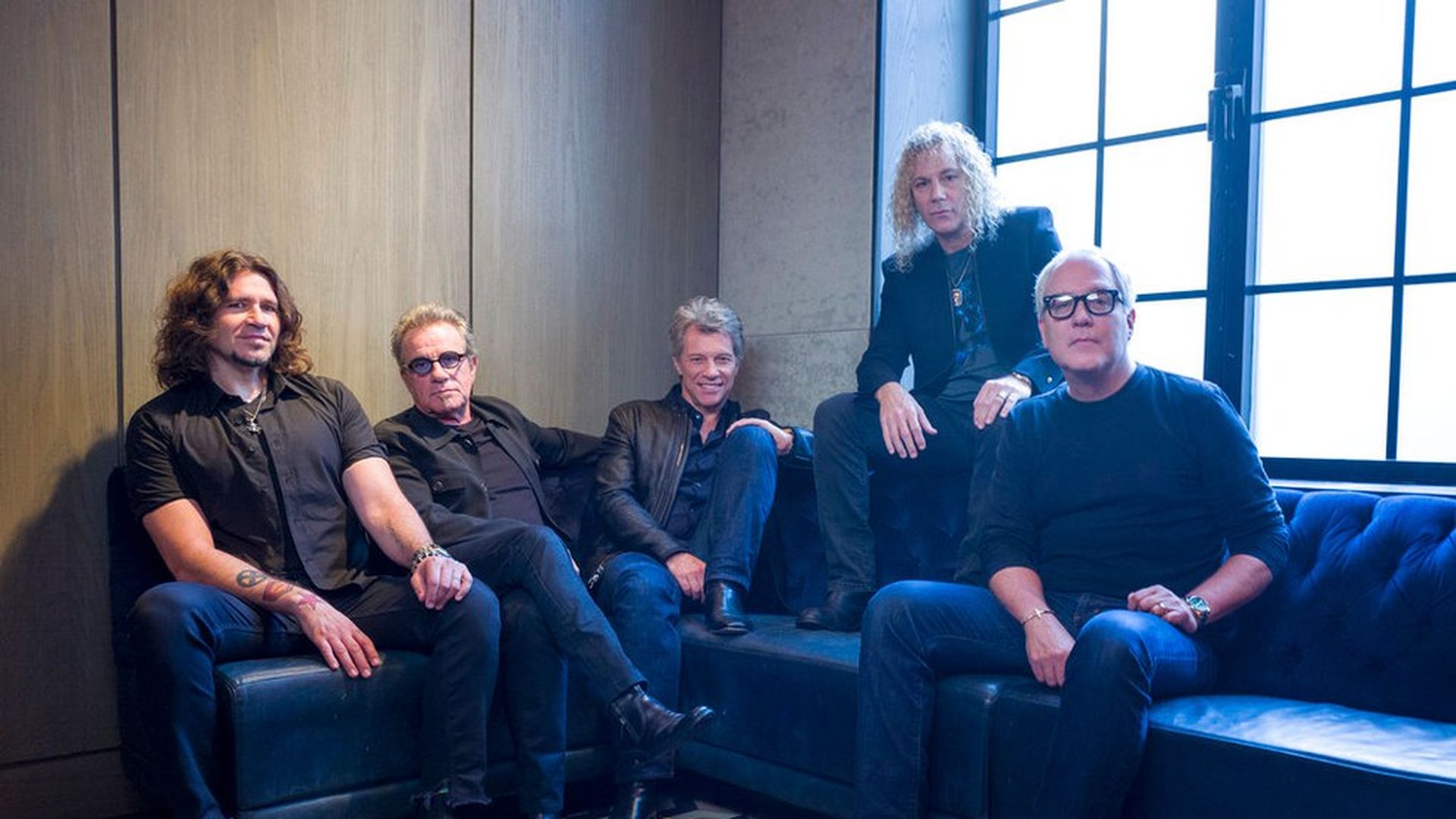 Rock & Roll Hall of Fame 2018 inductees (April 14 in Cleveland): Nina Simone, New Jersey rockers Bon Jovi, The Cars, Dire Straits, The Moody Blues and Sister Rosetta Tharpe.
AP Music Writer Mesfin Fekadu:
"Radiohead [was] expected to enter in the Rock Hall in their first year of eligibility, but didn't make it."
Sister Rosetta Tharpe, "a pioneering guitarist who performed gospel music and was known to some as 'the godmother of rock 'n' roll,' will be inducted with the 'Award for Early Influence.' She died in 1973. The other five acts will be inducted as performers."
"Bon Jovi ... sold more than 120 million albums and launched No. 1 hits with 'Livin' on a Prayer,' 'You Give Love a Bad Name,' 'Bad Medicine' and 'I'll Be There for You.'"
Jon Bon Jovi tells AP: "I didn't know how long things would last because I never envisioned 35 years later. I could have never dreamt of that."
"He will be inducted alongside current bandmates David Bryan and Tico Torres, as well as former members Richie Sambora and Alec John Such. Sambora left in 2013; Such left in 1994."
"The frontman said he and the other current members haven't spoken to Sambora since he left the group four years ago, but said he invites the performer, along with Such, to be part of the Rock Hall festivities."
Sambora said in an interview that he accepts Bon Jovi's offer: "Sure, of course. There's a lot to have gratitude for. There's no malice."