Axios AM
September 07, 2017
1 big thing: GOP leaders furious at Trump
Inside Trump's head-scratching deal ... Senate Majority Leader Mitch McConnell is perplexed, with no idea what President Trump thinks he was gaining.
In fact, McConnell rather doubts the president has a strategy, a close source tells me.
House Speaker Paul Ryan is furious, according to a person very close to him.
Both felt blindsided by Trump's stunning decision yesterday to abruptly side with "Chuck and Nancy," as he chummily called the Democratic leaders, in a deal to avert a government shutdown Sept. 30 — at the price of reviving the politically painful issue right before the 2018 elections.
Soak this in: It's now possible that Trump's biggest legislative wins this year will be more spending and raising the debt cap — the exact opposite of what Tea Party Republicans came to D.C. to do.
Trump "brazenly rolled his own party's leaders," as AP put it. Plus his own Treasury secretary, Steve Mnuchin — in front of leaders of both parties.
Why it matters: Tax reform is now less likely, with trust ruptured between Trump and Republican Hill leaders. Democrats are more likely to flip the House in 2018: Republicans have less than ever to show their voters.
A Democratic source tells us: "[T]he sequence was GOP pushing for 18-month debt [limit increase], then 12, then 6, then Trump cutting them off and agreeing with us on 3. ... The Oval Office spins fast in Trump's White House."
The details, per the N.Y. Times lead story: "The agreement would avert a fiscal showdown later this month without the bloody, partisan battle that many had anticipated by combining a debt ceiling increase and stopgap spending measure with relief aid to Texas and other areas devastated by Hurricane Harvey. But without addressing the fundamental underlying issues, it set up the prospect for an even bigger clash at the end of the year."
How it went down, as reconstructed by Axios' Jonathan Swan:
In an Oval Office meeting that went over an hour, Republicans and Democrats in the room argued their competing cases: Rs for a longer debt ceiling extension and Ds for a three-month stopgap.
Ivanka Trump memorably dropped by to make her case to Senate Democratic Leader Chuck Schumer and House Democratic Leader Nancy Pelosi for her child tax credit plan.
Mnuchin made a pitch for a debt-ceiling extension that would take the issue off Congress' back for the next year and a half (a position supported by Ryan and McConnell.)
Schumer, who has known Trump since the president's New York days, made his pitch.
After they'd been round and round, Trump said they had a deal — and shook hands with Schumer!
Be smart: This was a seminal moment for Republican congressional leaders. They left the Oval having watched the titular leader of their party side with Dems, right in front of them. They watched their carefully laid plans — using Harvey funding as leverage to push through a long-term debt ceiling extension — blow up in their faces.
The hostility that Republicans on the Hill feel towards Trump deepened.
One senior GOP official, summing up the day: "He f----d us."
A prominent Midwestern GOP operative emails me: "Democrats got more done in a single Oval Office visit in one afternoon than the congressional Republicans have achieved all years."
2. A pic for history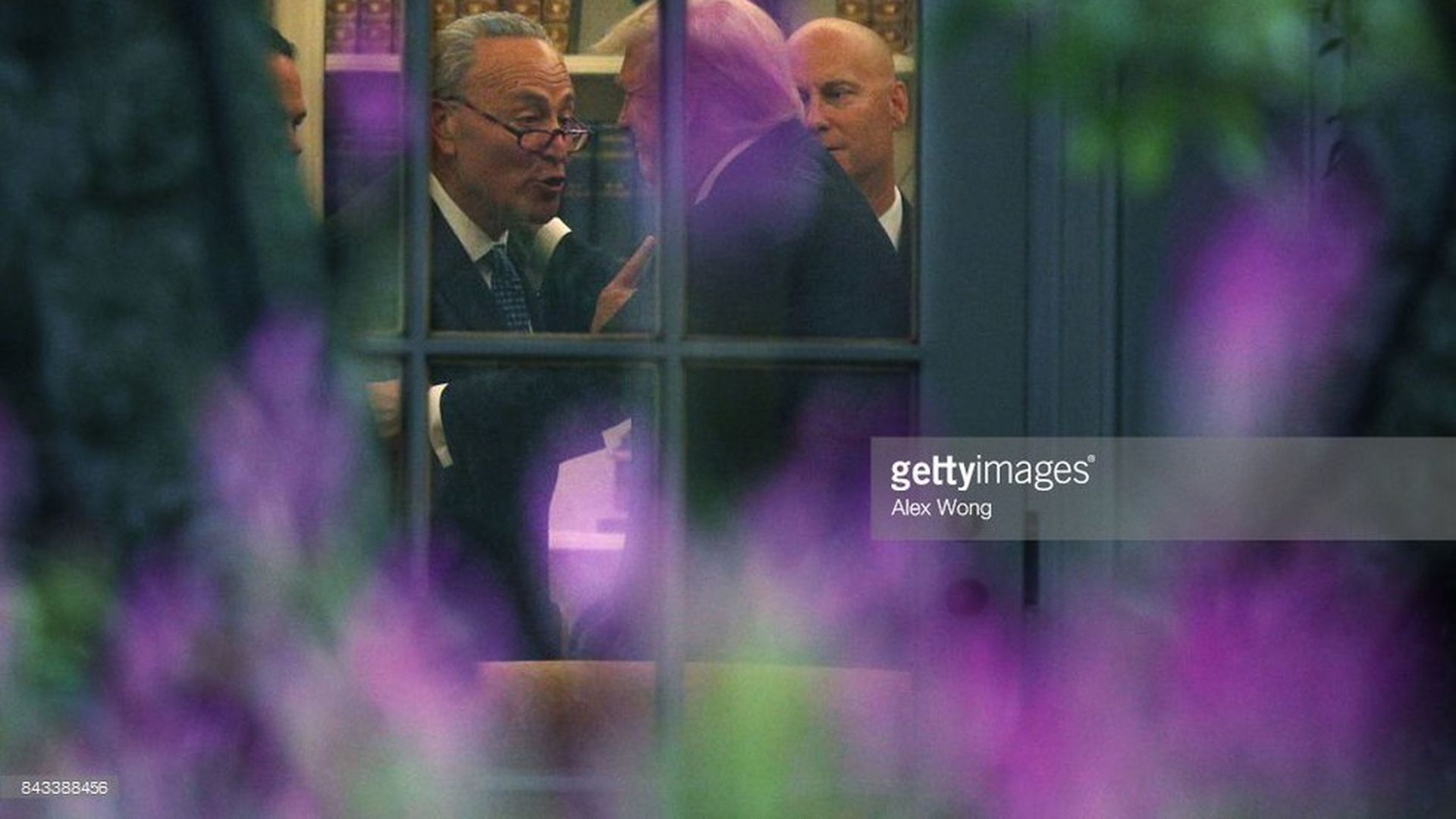 With LBJ-like closeness, Senate Democratic Leader Chuck Schumer makes an emphatic point to President Trump as Marc Short, Trump's director of legislative affairs, listens.
The conversation ... E.J. Dionne column in WashPost, "A president who believes nothing": "The improvised character of the Trump presidency owes to his inclination to see politics as entirely about public performance. He cares above all about the reactions he arouses day to day and even hour to hour."
3. Miami preps for direct hit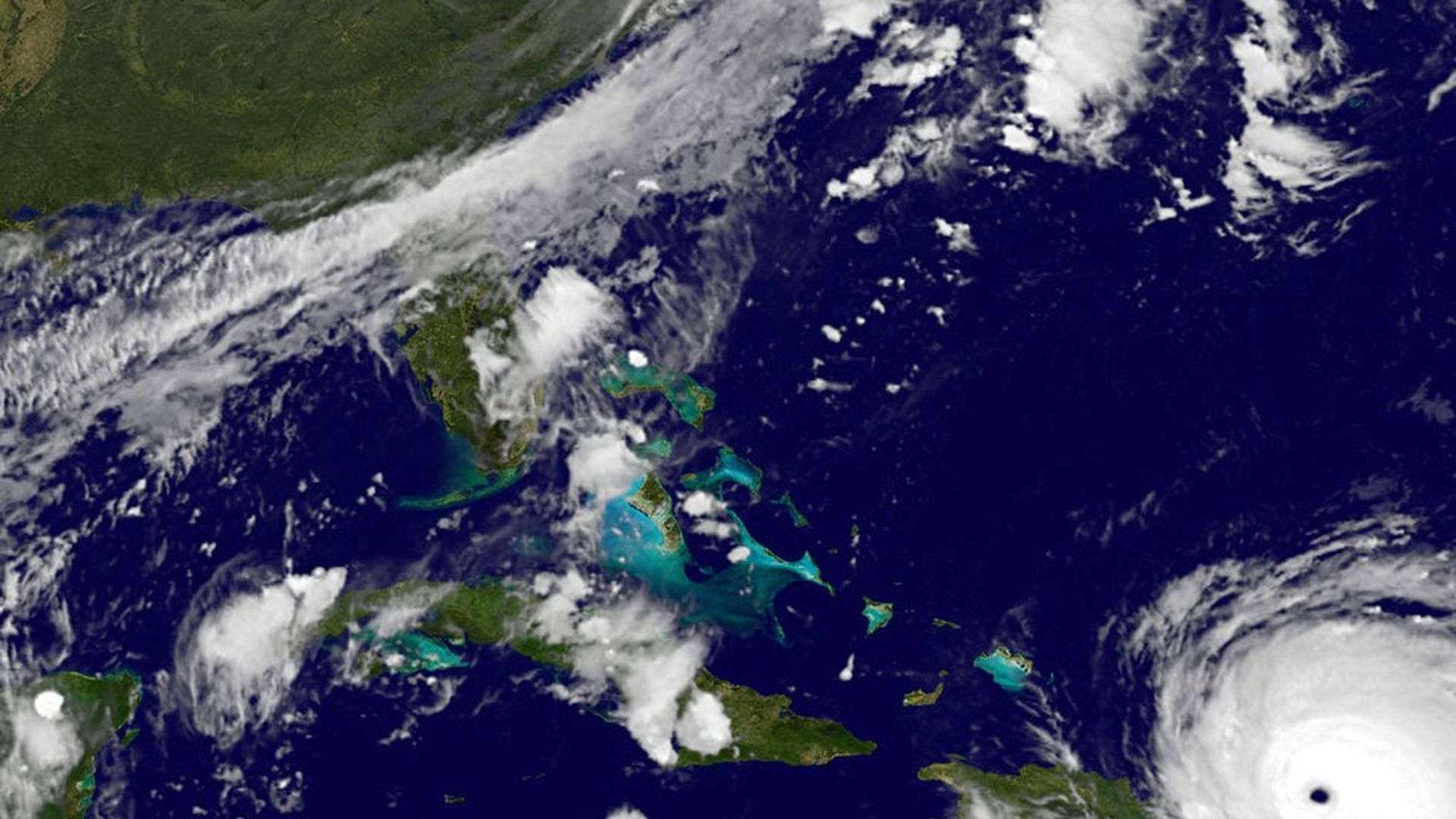 Irma's U.S. threat grows, per Weather Channel: "Irma is increasingly likely to target parts of the Florida peninsula as a dangerous hurricane this weekend."
"Parts of Georgia and the Carolinas could then be struck by Irma early next week."
Most Florida flood zone property not insured, per AP: "In just five years, the state's total number of federal flood insurance policies has fallen by 15 percent."
"With 1,350 miles of coastline, the most in the continental United States, Florida has roughly 2.5 million homes in hazard zones, more than three times that of any other state, FEMA estimates. And yet, across Florida's 38 coastal counties, just 42 percent of these homes are covered."
N.Y. Times Quote of the Day ... José Pérez, director of emergency management on the Puerto Rican island of Culebra, who took shelter with 65 others in a high school as Hurricane Irma passed nearby: "I was 13 and I obviously remember Hurricane Hugo, but this is something incomparable. This is something terrible, an experience out of this world."
Epic graphic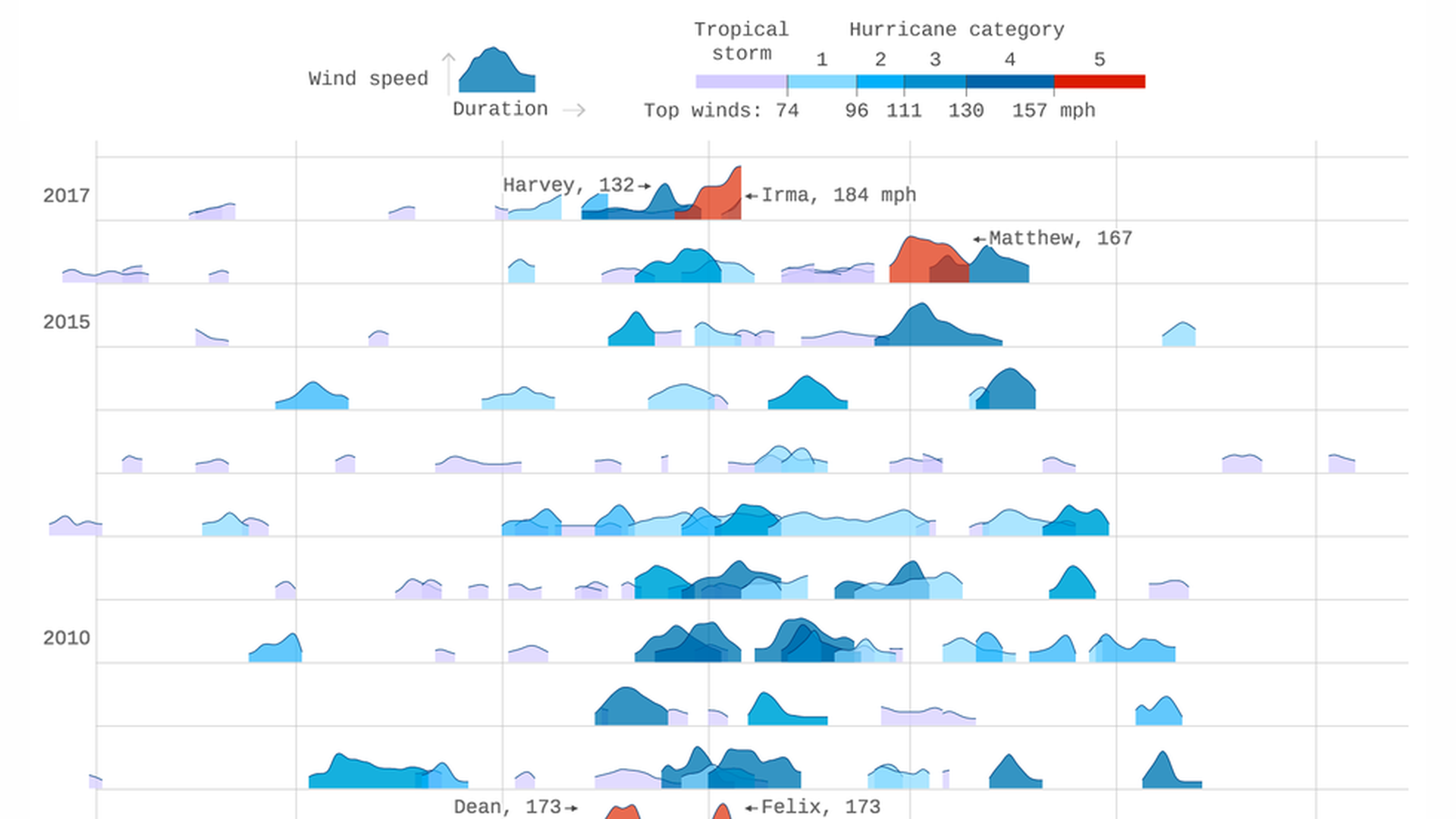 Bonus: Places to give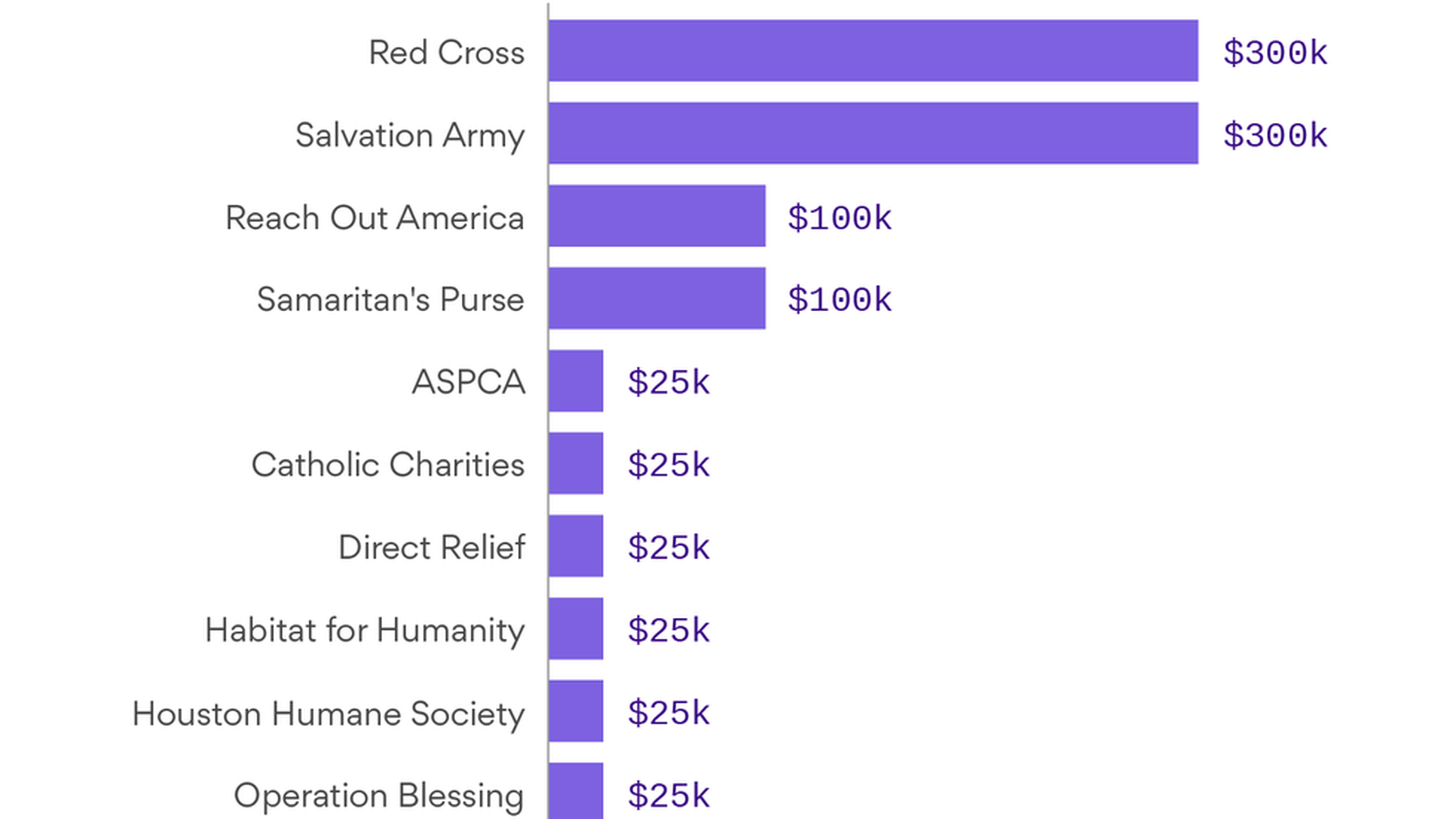 4. Most likely new Fed chair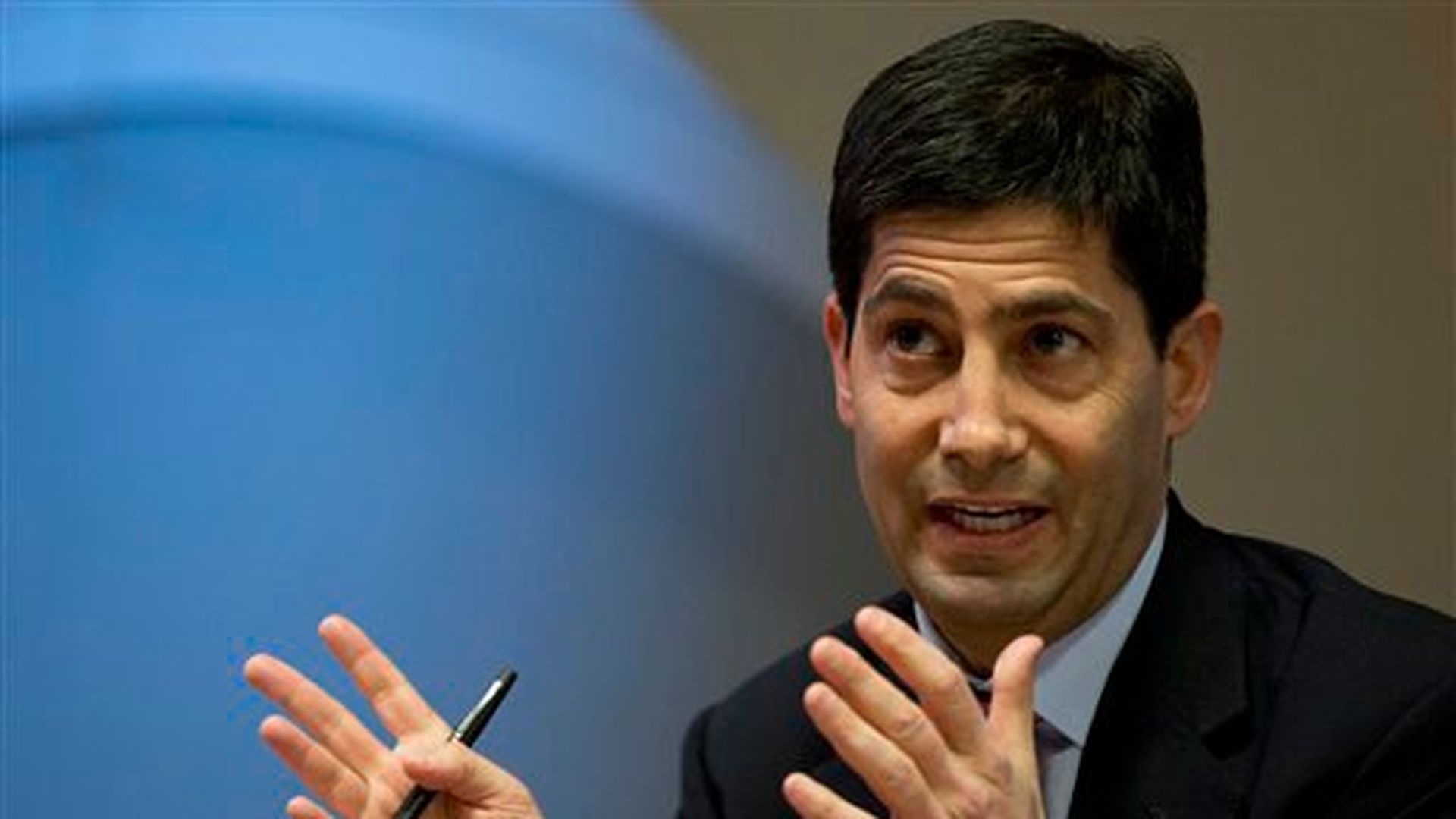 Possible nominees to top Fed posts, per the Wall Street Journal, "include former governors Lawrence Lindsey and Kevin Warsh, former BB&T Bank chief executive John Allison, and Stanford University economist John Taylor."
The front-page article is headlined "Cohn Now Seen as Unlikely Pick to Be Fed Chairman," which the Journal says is largely because of Cohn's public criticism of Trump's response to Charlottesville.
What's new: "Fed Vice Chairman Stanley Fischer said Wednesday he will resign in mid-October for personal reasons, adding another vacancy to the three others on the powerful seven-member Fed board of governors."
Why it matters: "His departure accelerates Mr. Trump's opportunity to put his stamp on the central bank."
Scenarios: "The White House has been considering nominating Marvin Goodfriend, a former research director at the Richmond Fed who is a professor at Carnegie Mellon University, to the Fed's board."
"One possibility would be to nominate an incoming board member, such as Mr. Goodfriend, or a current board member, such as Fed governor Jerome Powell, to the vice-chair post."
Be smart: Since Cohn criticized Trump in a Financial Times article, White House insiders have been telling us the favorite for Fed chair is Kevin Warsh, an economic official in the George W. Bush White House, and member of the Fed board from 2006 until 2011.
Worthy of your time ... Greg Ip column in Wall Street Journal, "Comfortably numb ... Why the U.S. Economy Shrugs Off Politics": "Federal default or nuclear war fall in the category of unprecedented and unthinkable. Faced with such risks, the usual reaction is to assume they won't happen. Yet that assumption becomes a risk in itself: It alleviates the pressure to prepare for either and multiplies the damage if they do occur."
5. Fortune "Change the World" list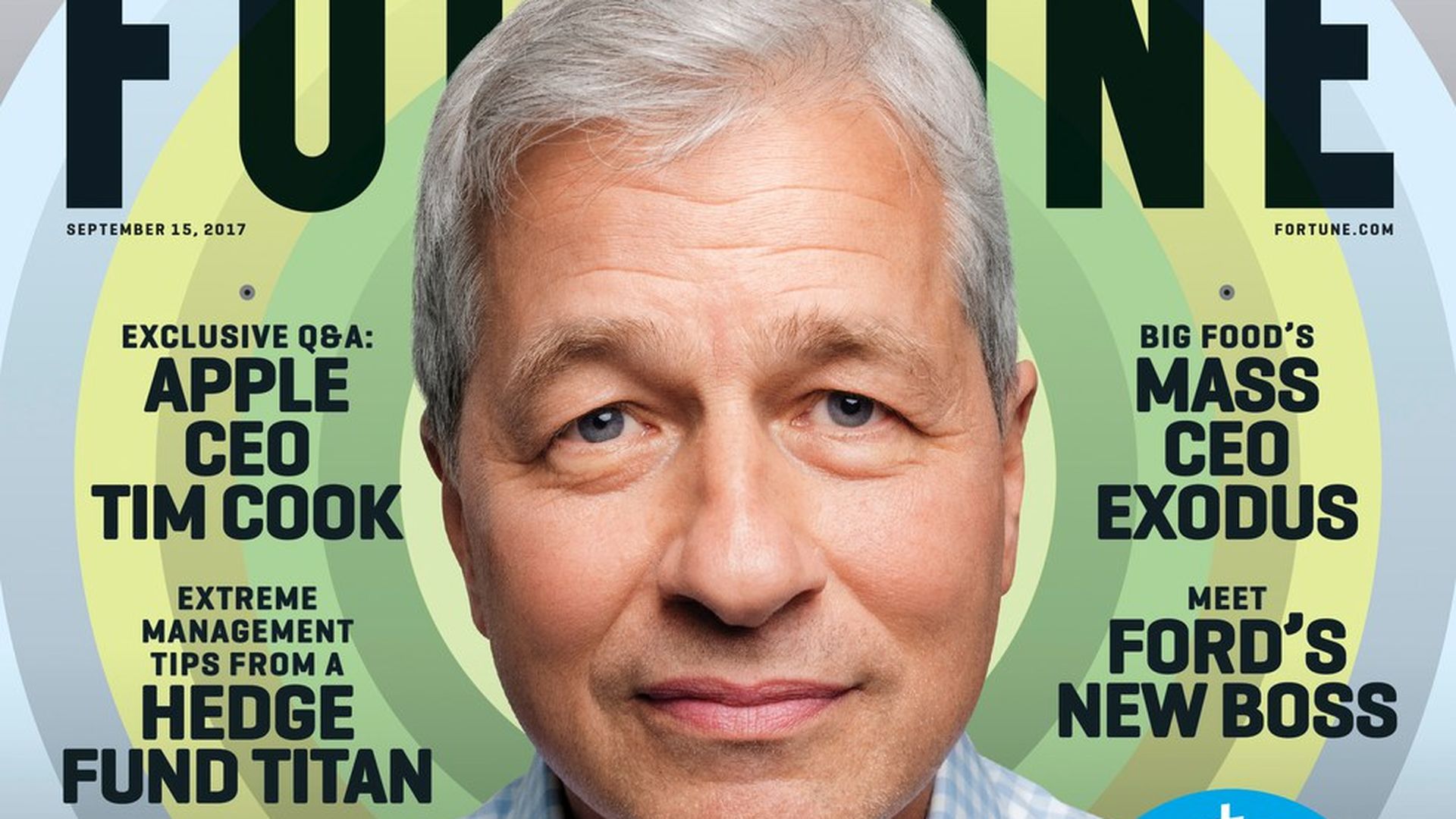 FORTUNE unveils its third-annual "Change the World" list of "companies that have made an important social or environmental impact through their profit-making strategy and operations.
JPMorgan Chase
DSM
Apple
Novartis
LeapFrog Investments
Ant Financial
Walmart
Toyota
Johnson & Johnson
Yara
6. Tweet du jour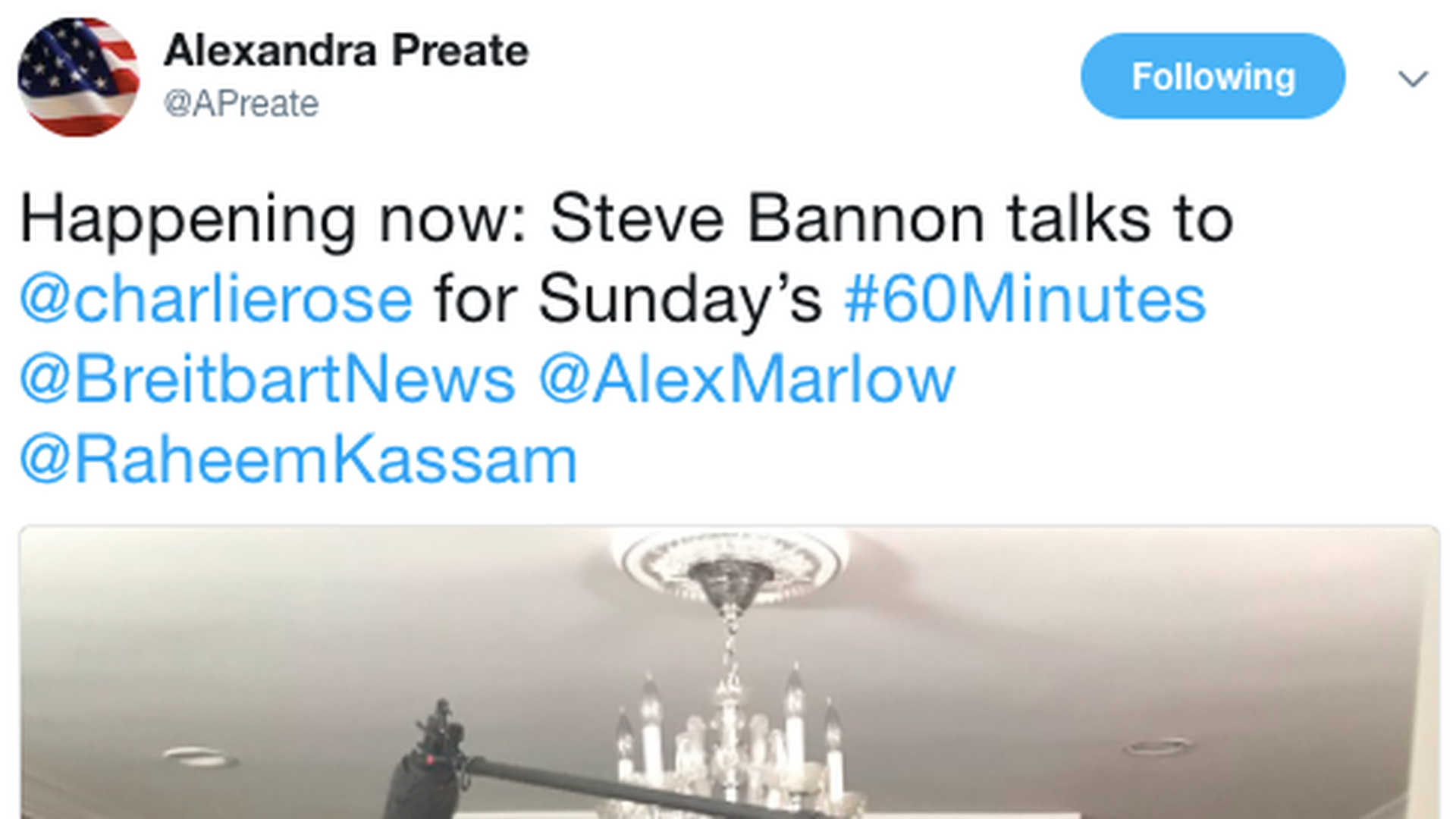 Steve Bannon gave what an associate called "an epic, biggest, baddest defense" of President Trump in yesterday's "60 Minutes" interview with Charlie Rose. which ran several hours.
The associate: "Steve puts Republicans on notice that they better support the president or there'll be consequences."
Bannon's hot quote: Trump's predecessors left him Vietnam in Afghanistan, the Cuban Missile Crisis in North Korea and the Bay of Pigs in Venezuela.
7. "Profound warning" for future elections
Both the N.Y. Times and WashPost have front-page stories about Facebook telling congressional investigators that it sold $100,000 in ads during the 2016 campaign to what the Post calls "a Russian 'troll farm' with a history of pushing pro-Kremlin propaganda":
"Most of the [3,000] ads, according to a blog post ... by Facebook's chief security officer, Alex Stamos, 'appeared to focus on amplifying divisive social and political messages across the ideological spectrum — touching on topics from LGBT matters to race issues to immigration to gun rights.'"
Why it matters: "[T]he report ... is likely to fuel pointed questions from investigators about whether the Russians received guidance from people in the United States."
"Rep. Adam B. Schiff (Calif.), the senior Democrat on the House Intelligence Committee, said ... the disclosure ... serves as a 'profound warning to us and others about future elections.'"
Our thought bubble, from Axios media trends reporter Sara Fischer: This is a very small amount of ad spend, and that amount likely had very little affect on actually swaying the election or opinions.
More Sara ... One of the biggest political ad firms I work with estimates you need to hit someone with at least 7 to 10 impressions over the course of a two- to four-week period to even begin to driving intent or action. $100k probably wouldn't serve more than a few million impressions and that's over nearly two years, with different messages targeted to different people.
8. Lobbyists golf near POTUS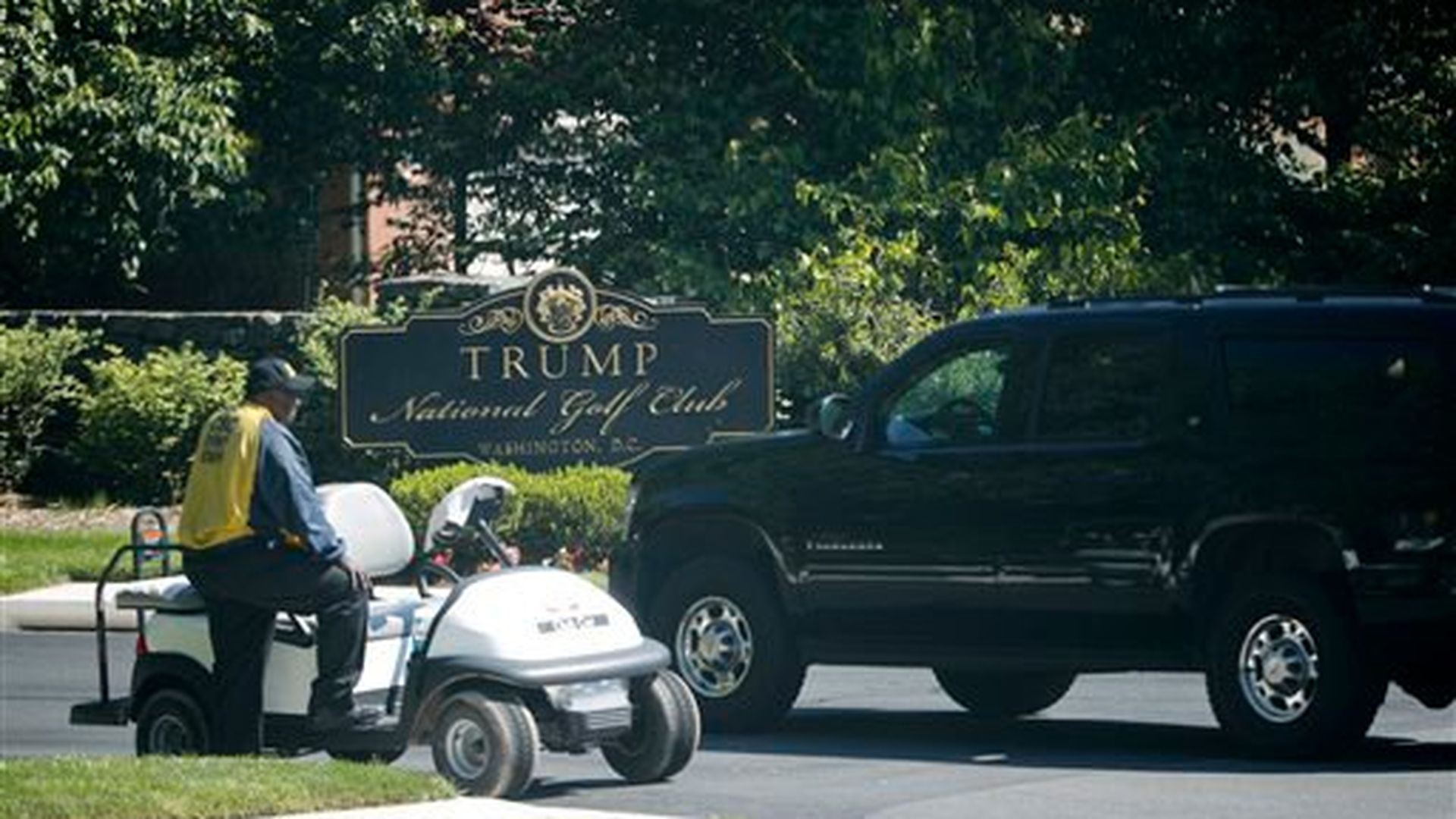 "Trump gets millions from golfers who get access," per USA Today cover story:
"Dozens of lobbyists, contractors and others who make their living influencing the government pay President Trump's companies for membership in his private golf clubs, a status that can put them in close contact with the president.
"Members of the clubs Trump has visited most often as president — in Florida, New Jersey and Virginia — include at least 50 executives whose companies hold federal contracts and 21 lobbyists and trade group officials."
"Two-thirds played on one of the 58 days the president was there, according to scores they posted online."
Why it matters: "[F]or the first time in U.S. history, wealthy people with interests before the government have a chance for close and confidential access to the president as a result of payments that enrich him personally. It is a view of the president available to few other Americans."
9. TV is 90 today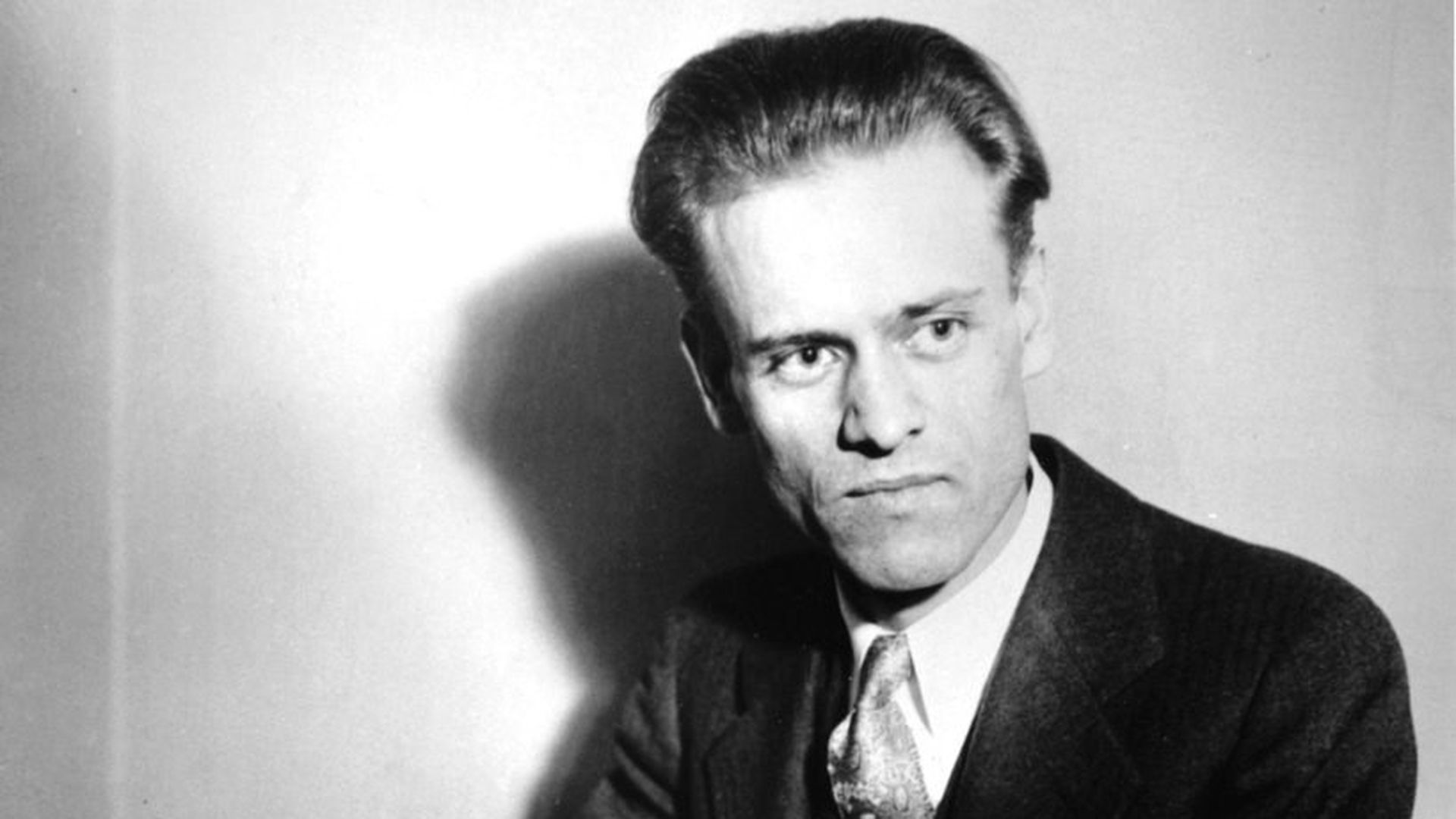 A live webcast today will celebrate the transmission of the first electronic TV signal on Sept. 7, 1927, and the man behind it, Philo T. Farnsworth, per AP:
The webcast (here) is set for 6 p.m. ET from the original location of Farnsworth's San Francisco lab. It'll be repeated at 9 p.m. and midnight.
Veteran producer Phil Savenick created the site to detail the medium's history and the contributions of Farnsworth and other TV pioneers.
The website includes a "virtual museum" of photos, videos and stories.
In the 1930s, Farnsworth waged a successful legal battle to be recognized as the inventor of electronic television.
The largely unsung scientist, a Utah native, died in 1971 at age 64.
10. 1 snackable thing
Some top passages from Hillary Clinton's new memoir — "What Happened," out Tuesday — as posted by CNN's Dan Merica and Kevin Liptak, from a copy purchased in a Jacksonville, Fla., bookstore:
"You can blame the data, blame the message, blame anything you want — but I was the candidate."
"I was running a traditional presidential campaign with carefully thought-out policies and painstakingly built coalitions, while Trump was running a reality TV show that expertly and relentlessly stoked Americans' anger and resentment."
On Bill Clinton: "I heard it again on the 2016 campaign ... it's just a marriage on paper now ... (he is reading this over my shoulder in our kitchen with our dogs underfoot and in a minute he will reorganize our bookshelves for the millionth time ... but I don't mind because he really loves to organize those bookshelves)."
"There's nothing I was looking forward to more than showing Putin that his efforts to influence our election and install a friendly puppet had failed ... I know he must be enjoying everything that's happened instead. But he hasn't had the last laugh yet."
On plans to remain in public life: "There were plenty of people hoping that I ... would just disappear ... But here I am."