Happy Saturday, and welcome to April — a harmonic convergence of April Fool's Day, and the day of the week when President Trump is most likely to fire off a believe-it-or-not tweet. Will POTUS prank us?
https://www.axios.com/newsletters/axios-am-97796c83-2cca-457a-b236-4d5adfa0eeb1.html?chunk=0#story0
1 big thing: No good days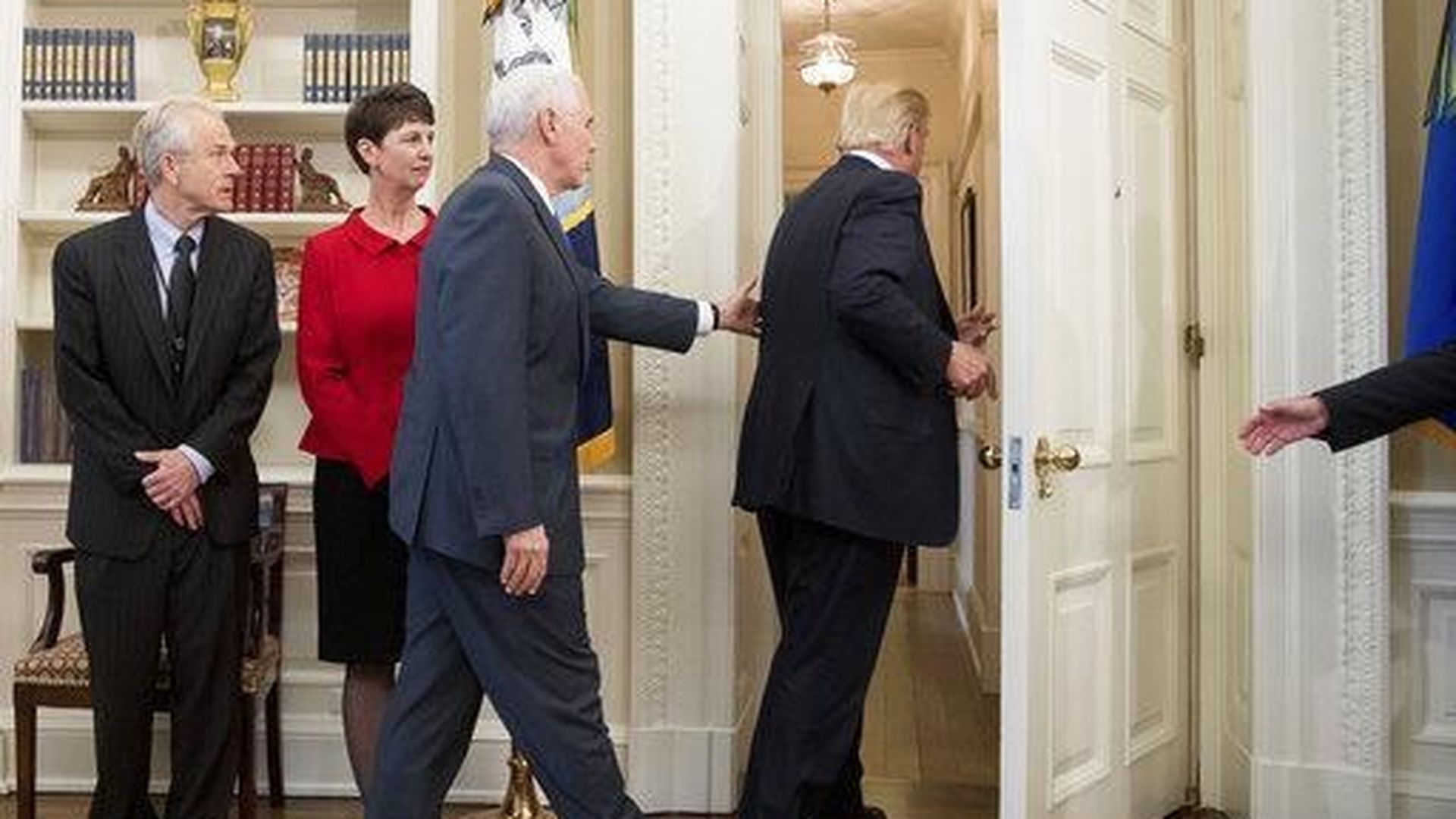 It's Day 72 of President Trump, and he hasn't had a good day since his address to Congress. That was over a month ago, on Feb. 28.
Many Republicans who were giving him the benefit of the doubt are beginning to despair. Astonishingly, almost all his wounds are self-inflicted.
"This is becoming The Gang That Couldn't Shoot Straight," said an outside adviser to the West Wing. "It's starting to remind people of the Carter administration."
The Mar-a-Lago summit with China's President Xi next week is a chance to look statesmanlike. But D.C. looks bleak, with the Russia brouhaha robbing Trump of potentially triumphant moments like this week's announcement of his Energy Independence Policy, and the creation of a Commission on Combating Drug Addiction and the Opioid Crisis.
Week 10 was the second disastrous week in a row, following the health-care implosion.
David Gergen told CNN's Anderson Cooper: "We've ... never, ever had a president in the first hundred days whose White House is so embroiled in controversies that are increasingly suspicious. ... [T]he Flynn story says there is a fire."
https://www.axios.com/newsletters/axios-am-97796c83-2cca-457a-b236-4d5adfa0eeb1.html?chunk=1#story1
​2. Will Trump go left?
Of all the dramas inside the White House, none touches in intensity and consequence the growing belief that moderate, cosmopolitan, former Democrats are hijacking the America First boss.
You see this in the daily flow of two kinds of highly orchestrated stories:
The first are leaks about how Jared Kushner, Ivanka Trump and Gary Cohn, the central players in the centrist cabal, are opposed to controversial policies championed by the America First gang, led by Steve Bannon. Hence, all the glowing stories about Jared's calm demeanor and growing influence and Ivanka'a focus on women issues.
The second are the endless string of anonymous staffers smack-talking the other side in the media. Cue this morning's Politico story, "Kushner's privileged status stokes resentment in White House." It can be summed up with one sentence: "[P]eople ... say Kushner can be a shrewd self promoter, knowing how to take credit — and shirk blame — whenever it suits him."
Sound smart: Trump remains torn, but most believe family bonds bind too tight to break. It's no coincidence that in the past week alone, these four things happened:
Ivanka took official White House role.
Jared expanded his portfolio to basically include the entire government.
Reince Priebus' deputy resigned.
Trump started calling more Democrats.
Maggie Habmerman tweeted yesterday ... " The NY wing vs national wing matters less as chronic infighting and more as a ... death battle over who can move the president in a game of inches."
https://www.axios.com/newsletters/axios-am-97796c83-2cca-457a-b236-4d5adfa0eeb1.html?chunk=2#story2
3. Picking up the pieces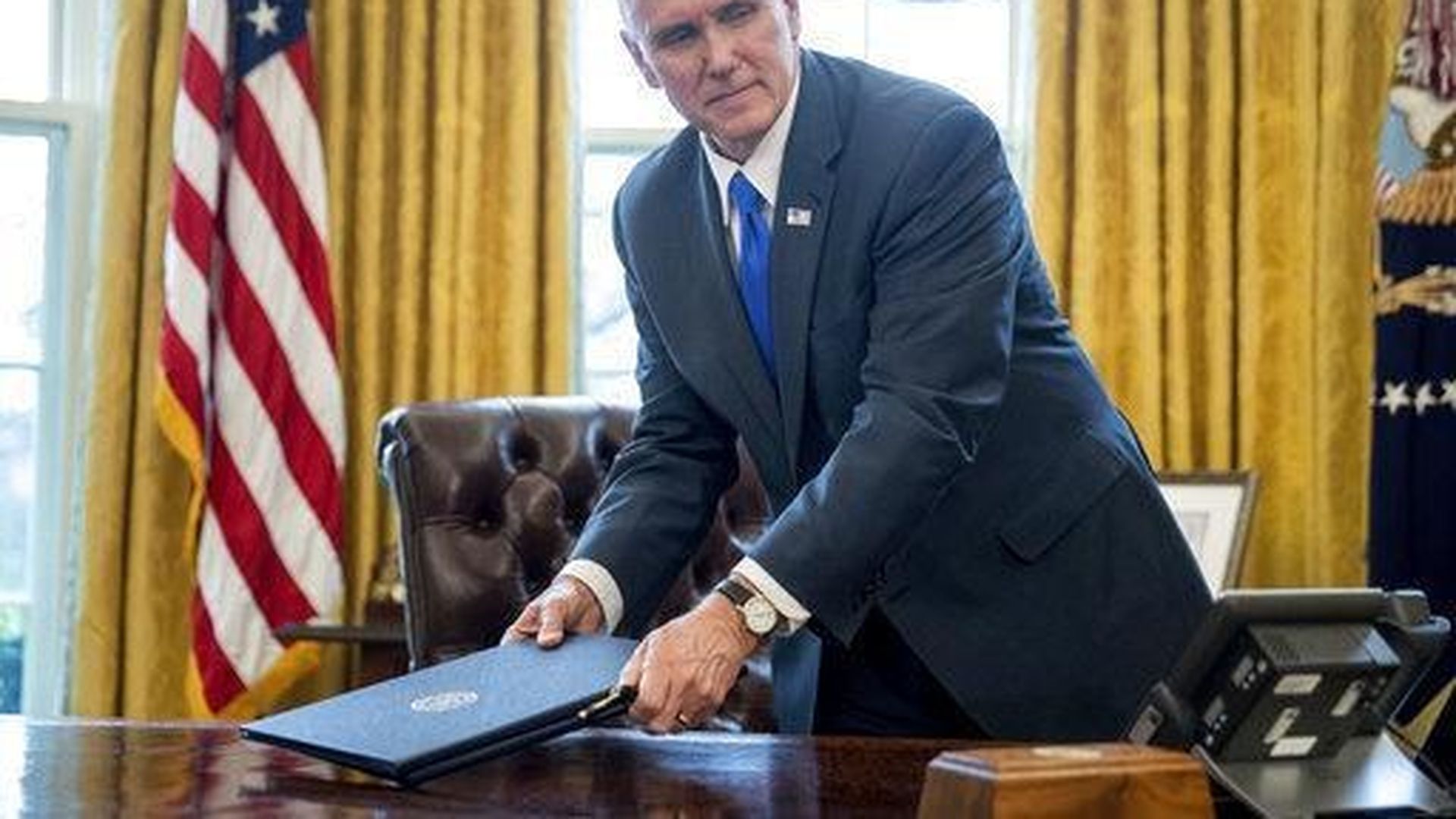 Vice President Pence retrieves a folder from the Oval Office desk after POTUS departed with a thumbs-up following remarks about signing two executive orders on trade — but apparently forgetting to sign them.
As Trump walked out, CBS' Major Garrett asked him about Flynn and immunity. Video shows Pence touching Trump's back to stop him, and conferring for a split second. But the president seemed to signal Pence to bring him the folder, and didn't return.
From the pool report by the Financial Times' Sam Fleming: "A WH official says they were signed subsequently." (43-second video)
https://www.axios.com/newsletters/axios-am-97796c83-2cca-457a-b236-4d5adfa0eeb1.html?chunk=3#story3
4. Most important word of the week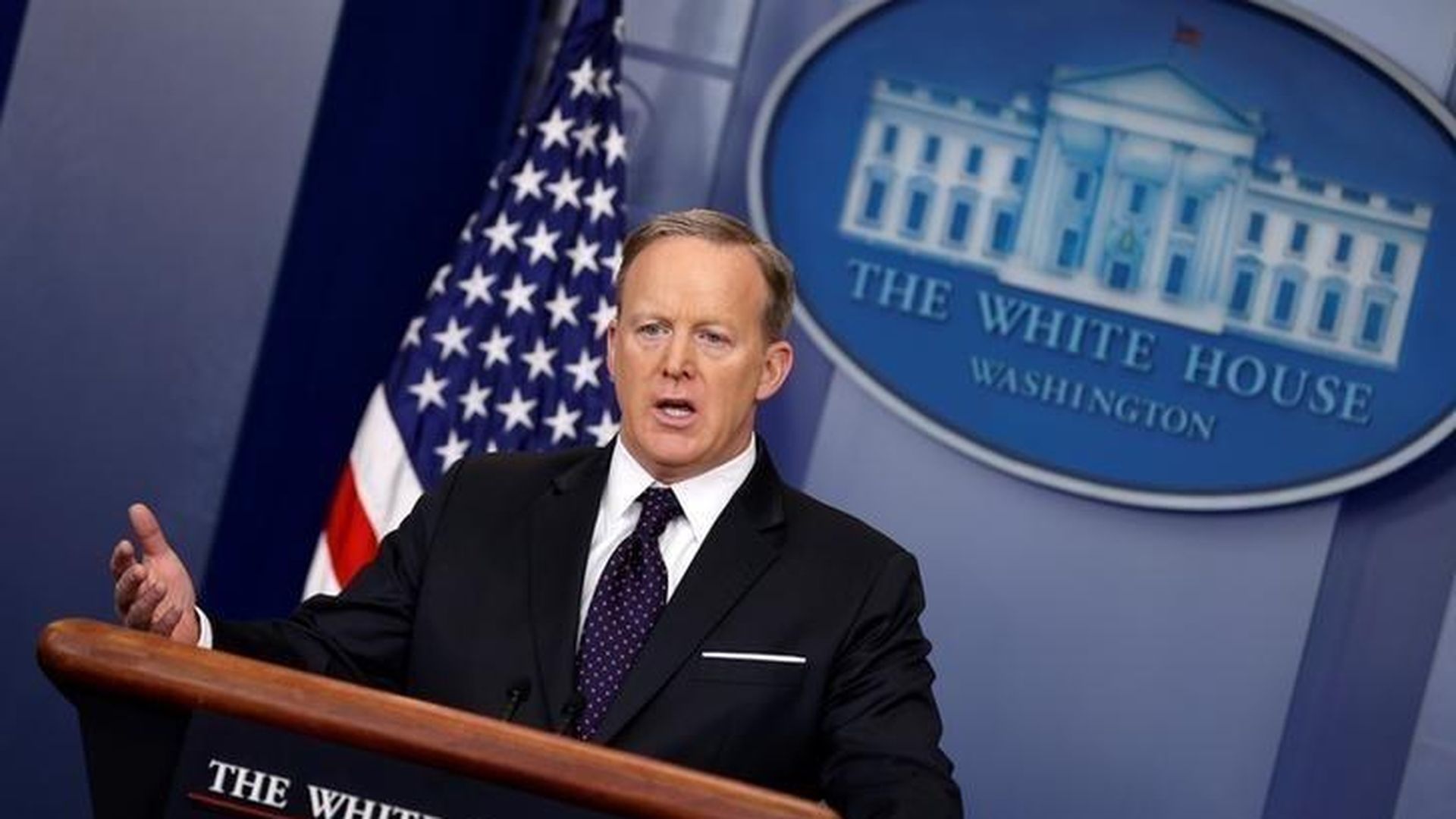 "Nope."
— Sean Spicer, at yesterday's briefing, when asked: "General Flynn's attorney said that his client has a 'story to tell.' Is the White House concerned that General Flynn has damaging information about the President, his aides, his associates about what occurred during the campaign with respect to Russia?"
Maggie Haberman tweeted: "This is the most SNL yet of these briefings."
https://www.axios.com/newsletters/axios-am-97796c83-2cca-457a-b236-4d5adfa0eeb1.html?chunk=4#story4
5. The staff's stuff
Headlines from financial disclosures from White House staff, released last night:
Includes two Bannon interviews ... "Bannon, Trump's architect of anti-globalist policies, got rich as a global capitalist."
https://www.axios.com/newsletters/axios-am-97796c83-2cca-457a-b236-4d5adfa0eeb1.html?chunk=5#story5
6. Covering Trump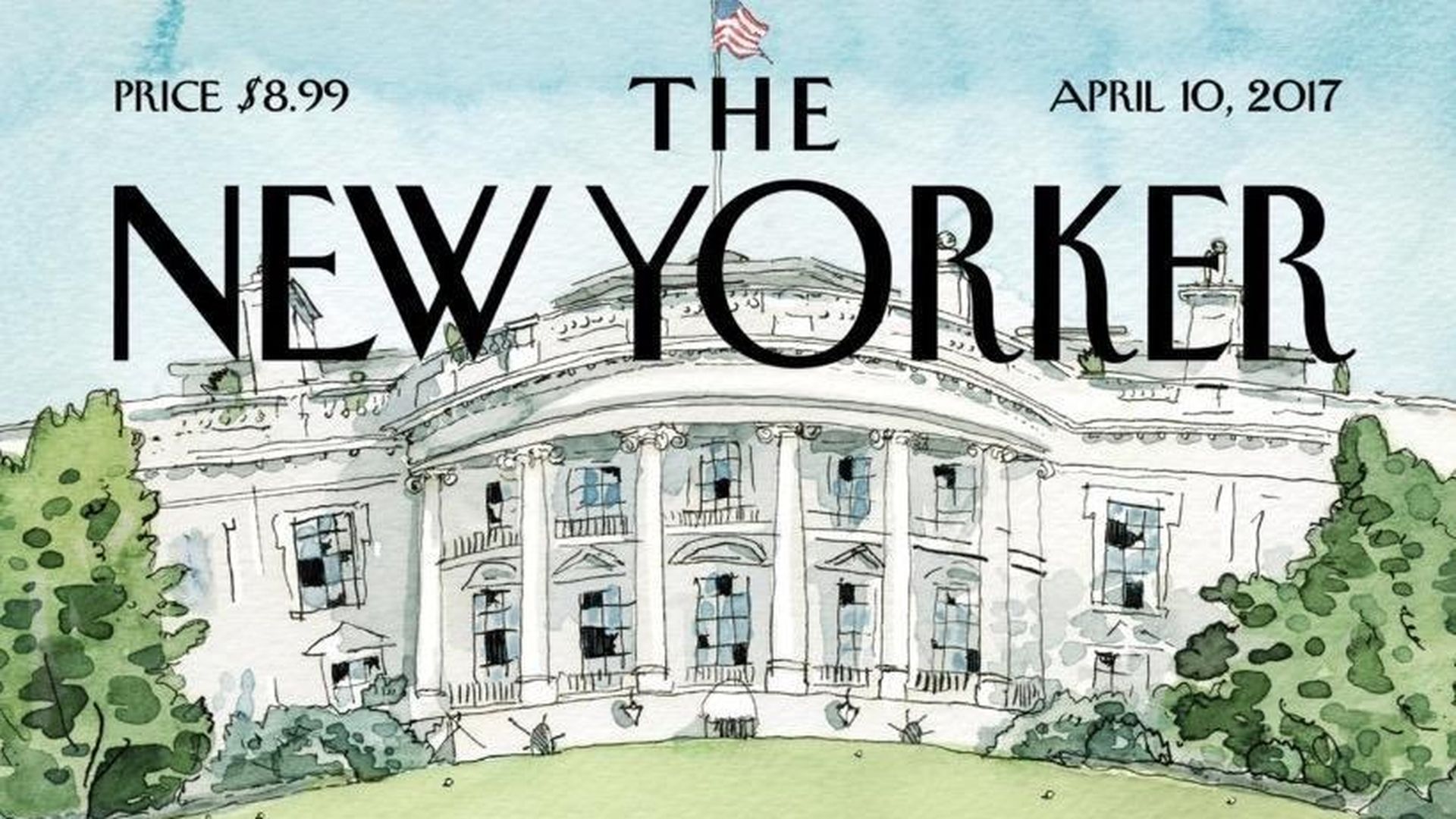 Worth the click ... Axios' award-winning Stef Kight, "5 ways to make a winning Trump magazine cover," including "put 'im with Putin" and "supernatural face manipulation." See 'em all.
New Yorker "Cover Story" ... "I see that the word 'duffer' is defined as 'a person inexperienced at something, especially at playing golf,'" Barry Blitt says, about his cover for the upcoming issue. "That's the word that comes to mind as I watch President Trump plowing one drive after another through the glass windows of American politics."
https://www.axios.com/newsletters/axios-am-97796c83-2cca-457a-b236-4d5adfa0eeb1.html?chunk=6#story6
7. What they're saying
Dan Balz "The Take" column, for Sunday's WashPost:: "[T]he investigations are months and months away from completion. And what is now known has not only deeply compromised the House Intelligence Committee's investigation into the Russia affair, but also raised questions that White House officials seem unable or unwilling to answer — but which investigators will eventually have to answer."
"[T]he cascade of questions for the White House are important and legitimate. Having created this new front in the expanding controversy, the president and his aides will now be forced to endure continued and justifiable scrutiny over what they have done to add to the mystery."
"Mistakes, He's Made a Few Too Many" — Peggy Noonan column in Wall Street Journal: "[O]ur country is stressed to the point of fracture culturally, economically, politically, spiritually. We find it hard to hold together on a peaceful day, never mind a violent one. And so right now we must institute as much good feeling and cooperation in Washington as we can. The nation longs for examples of constructiveness and capability. We've got to keep the long view in mind."
"There's too much gravitational pull to the president's accumulated mistakes. ... Crisis reveals the character, the essential nature of a White House. Seventy days in, that is my worry."
The WashPost's two-column lead story, "Trump's agenda getting upstaged," by David Nakamura and Ashley Parker, includes both the half-full and half-empty views of the West Wing chaos:
Shot ... "Trump aides have expressed growing frustration at their inability to gain control of Washington's narrative."
Chaser ... "In many ways, the first weeks of the Trump White House have resembled a chaotic tech start-up. ... [E]each new crisis and mishap ... has been viewed as a learning opportunity."
https://www.axios.com/newsletters/axios-am-97796c83-2cca-457a-b236-4d5adfa0eeb1.html?chunk=7#story7
8. Futurecast: "Out of road"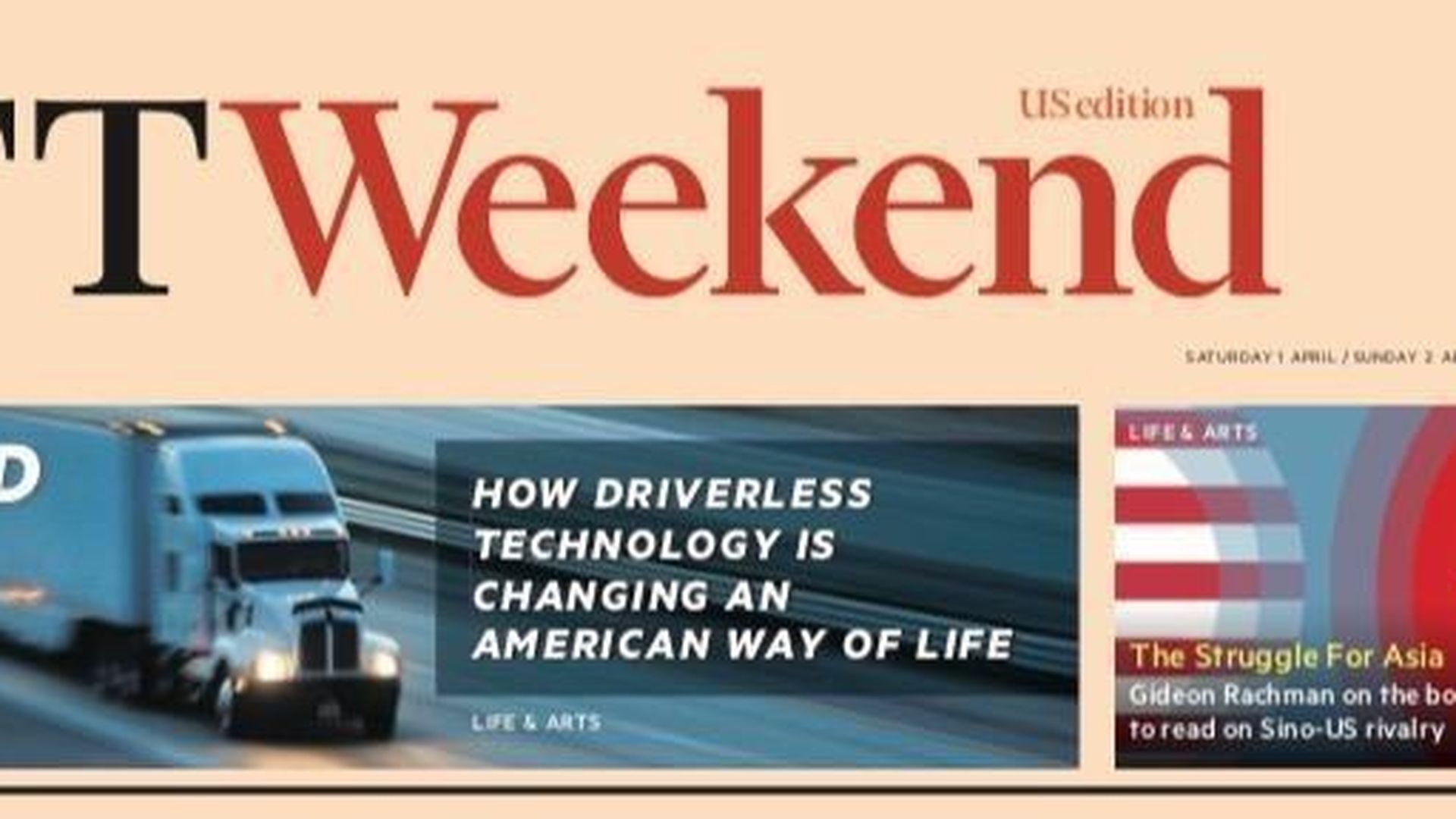 From Financial Times Magazine, "[D]riverless vehicles and the end of the trucker: New self-driving technology threatens an American way of life," by Leslie Hook:
All over Silicon Valley, one start-up after another is making a similar bet. Not all of them are trying to take human drivers out of the truck completely, ... but everyone agrees this will be the outcome of their technologies in the long run. Investors are pouring in. ...
For trucking start-ups, a turning point came last August, when Uber announced it was buying a six-month-old start-up, Otto, for a price tag of more than $600m in equity. After that, other trucking start-ups found it much easier to raise money. ...
"[Y]ou have a much more perfect system, because you don't have humans making mistakes." This kind of thinking is setting Silicon Valley up for a clash with the rest of the country, where those "humans making mistakes" represent millions of jobs under threat from automation.
https://www.axios.com/newsletters/axios-am-97796c83-2cca-457a-b236-4d5adfa0eeb1.html?chunk=8#story8
9. Worthy of your time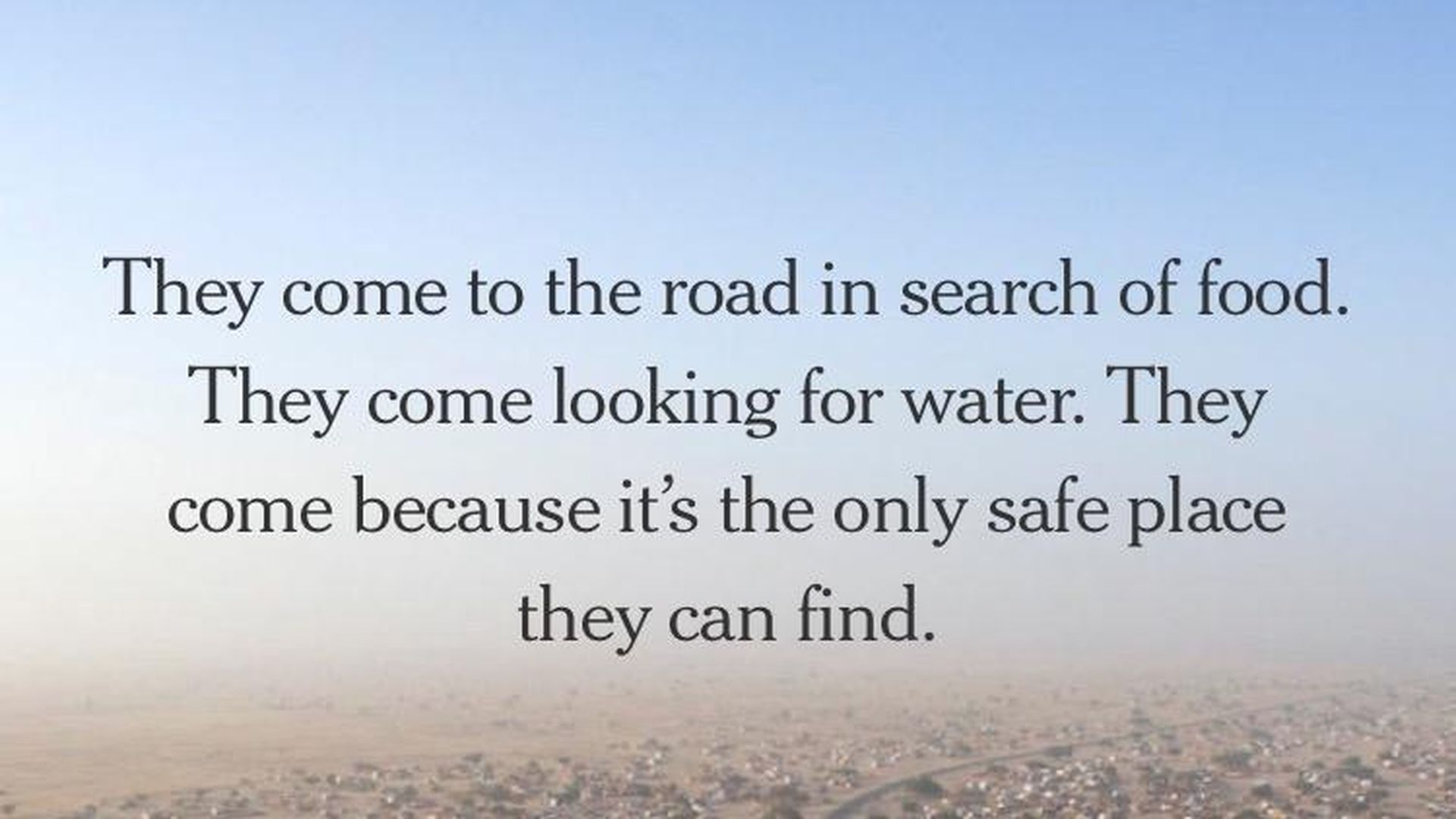 Sobering narrative, arresting images, cool tech (a group photo that lets you hover to read an individual story) ... In Sunday's N.Y. Times, a special section on the migrant crisis in landlocked Niger, in the hump of Africa, "The Road to Nowhere," by Dionne Secrecy, West Africa bureau chief:
More than 130,000 people have amassed along this desert highway outside Diffa, Niger — National Route 1. They now call its barren, sandy shoulders home.All of them have been chased from their villages by Boko Haram, the Islamist militant group that kidnaps and kills indiscriminately in a campaign of violence that has lasted eight years. The New York Times spent weeks documenting the stories of people living along this road, interviewing more than 100 residents. ...
Fewer than half of the 137,000 children estimated to be living in the region are in school. ... Unicef has set up 27 small schools along the road. In one, students from Niger, whose national language is French, are being taught in English.
https://www.axios.com/newsletters/axios-am-97796c83-2cca-457a-b236-4d5adfa0eeb1.html?chunk=9#story9
10. 1 fun thing
"Let Me Pay! I Have 29 Credit Cards: Millennials hoard plastic to rack up rewards points" — Wall Street Journal A-Hed by Rob Copeland (online: "If You Have 29 Credit Cards, You're Probably a Millennial"): "
Rewards fanatics are one reason new credit-card sign-ups in the third quarter of last year were 14% higher than in the year-earlier period ... Some cardholders move on to a fresh card as soon as they charge enough to earn their sign-up bonus on one.