Axios AM
August 16, 2017
1 big thing: Two nations, under Trump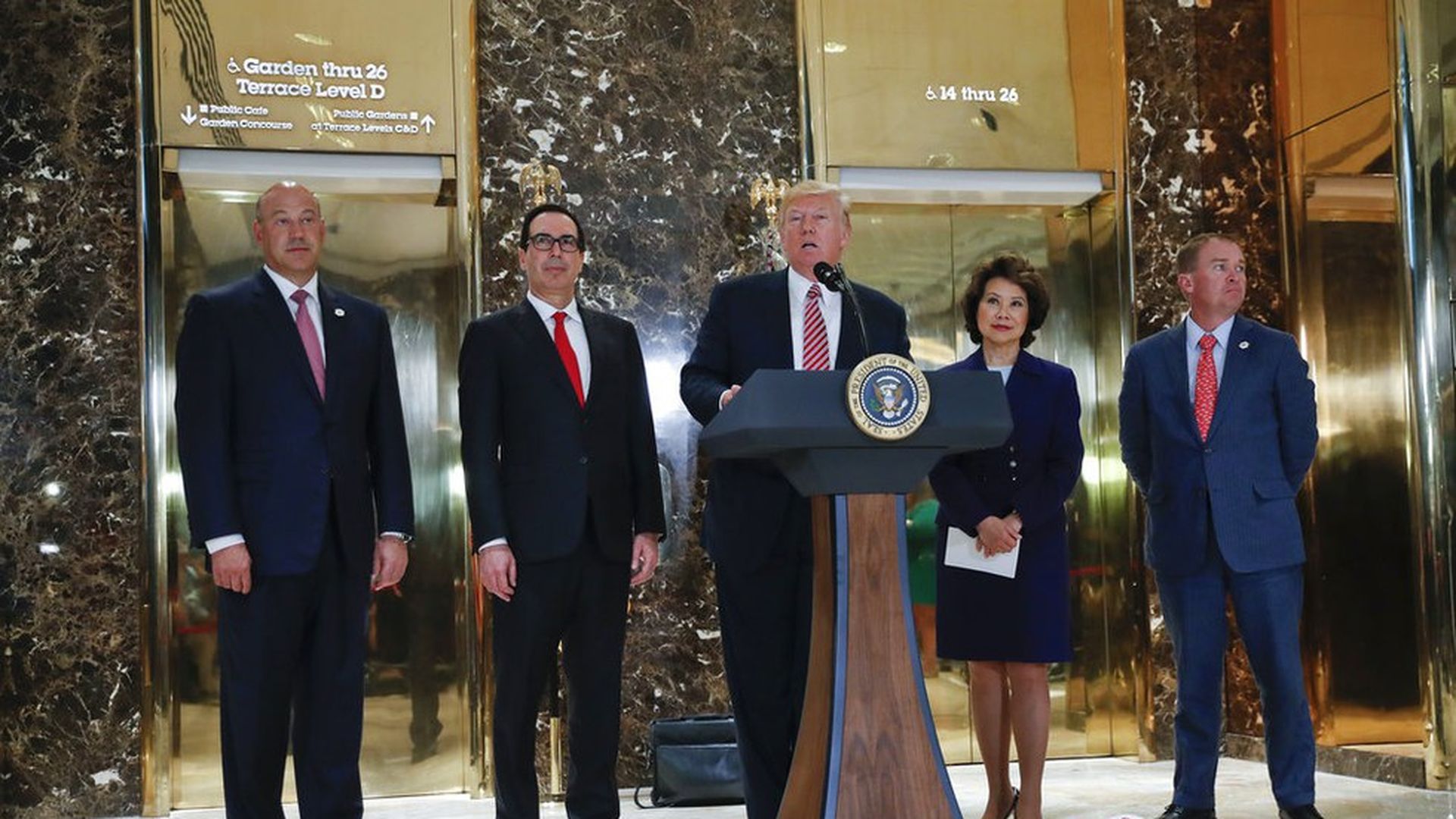 It started with the dog-whistle presidential campaign: constant plays — some subtle, some blaring — on racial fears.
But it wasn't until the past five days — in a fight over a Southern statue narrowly, and the stain of slavery broadly — that President Trump officially and indelibly divided the nation over race: setting us back decades, at least for now, in our common purpose of healing old, awful wounds:
Yesterday's unplanned press conference — with Trump's declaration that "I think there's blame on both sides" for the violence of Charlottesville, and his searing question: "What about the alt-left?" — was praised by David Duke and alt-right hotbed Breitbart.
Let's be honest with ourselves: A huge chunk of Trump's base lapped it up, too. That's what Steve Bannon thought would unfold, and what the president knows instinctively.
It was a green light for more hatred, and probably more violence — because now the president has put white supremacy on the same level as angry people reacting harshly to it.
Anthony Mason, anchor of the "CBS Evening News," which devoted the full half hour to the aftermath of Charlottesville, said at the top: "There was no script this time. ... President Trump said what he really believes happened in Charlottesville."
USA Today: "Divisions escalate between red states and blue cities."
White House aides say Trump lashed out because he felt that the barrage of media criticism for his Saturday remarks was unfair and wrong — that he was fighting back, campaign style.
A veteran of several Republican White Houses told me: "His imprecise and inarticulate speech worked in the campaign. It isn't working as president. It didn't matter until today. Now, it really matters."
Top Republicans, including West Wing sources, tell Axios' Jonathan Swan and me that Trump can expect to pay a huge price for his self-indulgence, which came at at an event that was supposed to promote his infrastructure plan:
It was a tipping point for repulsed establishment Republicans, with Speaker Ryan, Sen. Marco Rubio (R-Fla.) and many others tweeting their dismay. GOP members and senators used Twitter last night to create real distance from the president.
It puts Trump's tortured staff in a bigger jam: How do they look their African American friends in the eye, and rationalize their support of Trump?
We're told close aides aren't shocked, but mainly dispirited.
Economic adviser Gary Cohn, the longtime #2 at Goldman Sachs, was standing next to Trump in anticipation of questions about infrastructure legislation. We're told Cohn was somewhere between appalled and furious.
A West Wing confidant tells us: "The danger for Trump now is that one senior resignation will start a run on the bank" — as soon as one top staffer quits, several others could follow.
White House Chief of Staff John Kelly, exhausted and dismayed, was shown in iconic TV shots with his head hanging during Trump's blast. He's building a more rigorous system for the staff, but it's not taking with the president.
Trump's legislative agenda will suffer: He doesn't have a single real friend in the Senate — 0 for 100. His lack of moral authority, and low approval ratings, will make everything harder.
Be smart: It's not just not normal. It's just wrong.
2. Thought for the day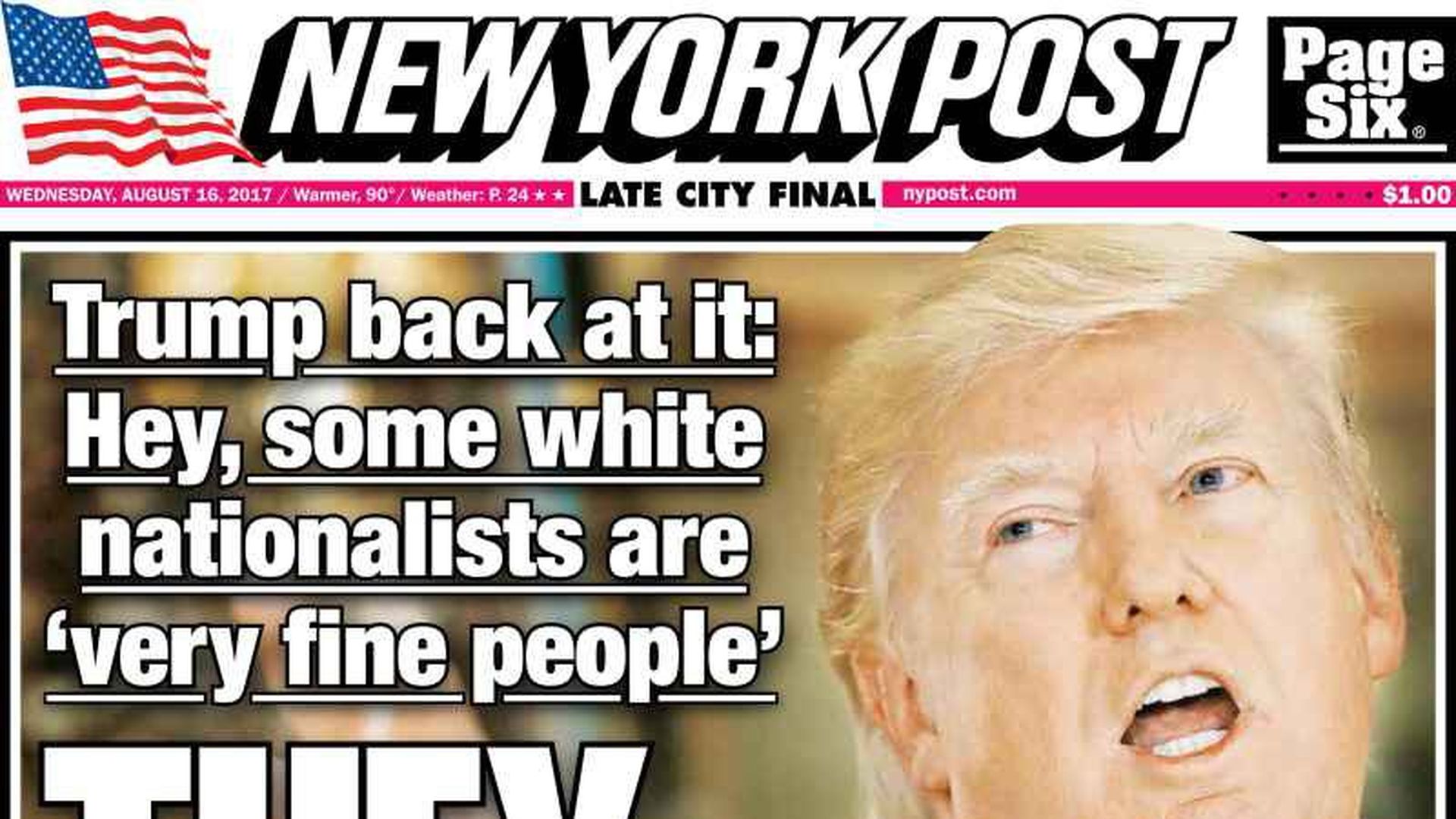 Remember Russia? Or North Korea?
Be smart: A lesson from yesterday for Bob Mueller and Kim Jong-un: President Trump likes to fight when cornered, even if it doesn't seem to be in his interest.
3. If you read only 1 thing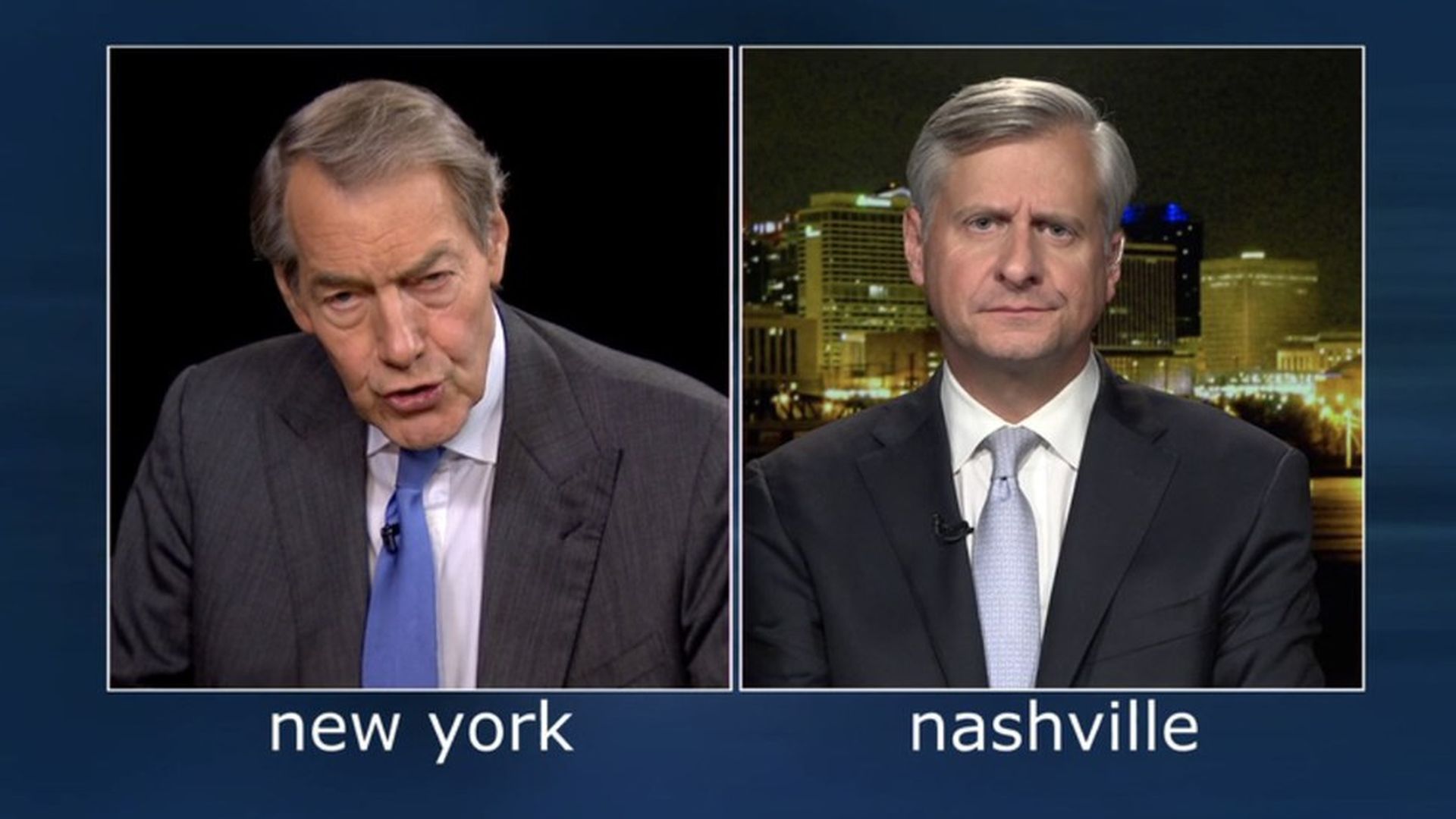 Historian Jon Meacham to Charlie Rose:
The fires of hate burn the brightest when there are moments of economic and social stress. Reconstruction was that kind of moment. The beginning of the institution of Jim Crow into the 1890s. ... You have these moments when some part of the white population, frankly, feels alienated and dispossessed. And the reality of 2017 is ... globalization and its discontents. The changing demography of the country. The changing idea that Information Age brains matter more than Manufacturing Age brawn. ... That's part of the reason Donald Trump is president ...
And so on the racial question, with all respect and affection to my friend [and fellow panelist], Reverend [Al] Sharpton, it is not a dog whistle if everybody can hear it. And I think that's where we are right now. ... I think that you have these moments where the extremes — the hate, the people who are giving Nazi salutes after we have spent so much blood and treasure trying to liberate the world from the form of tyranny — ... it's an extreme manifestation of an underlying reality.
4. A national moment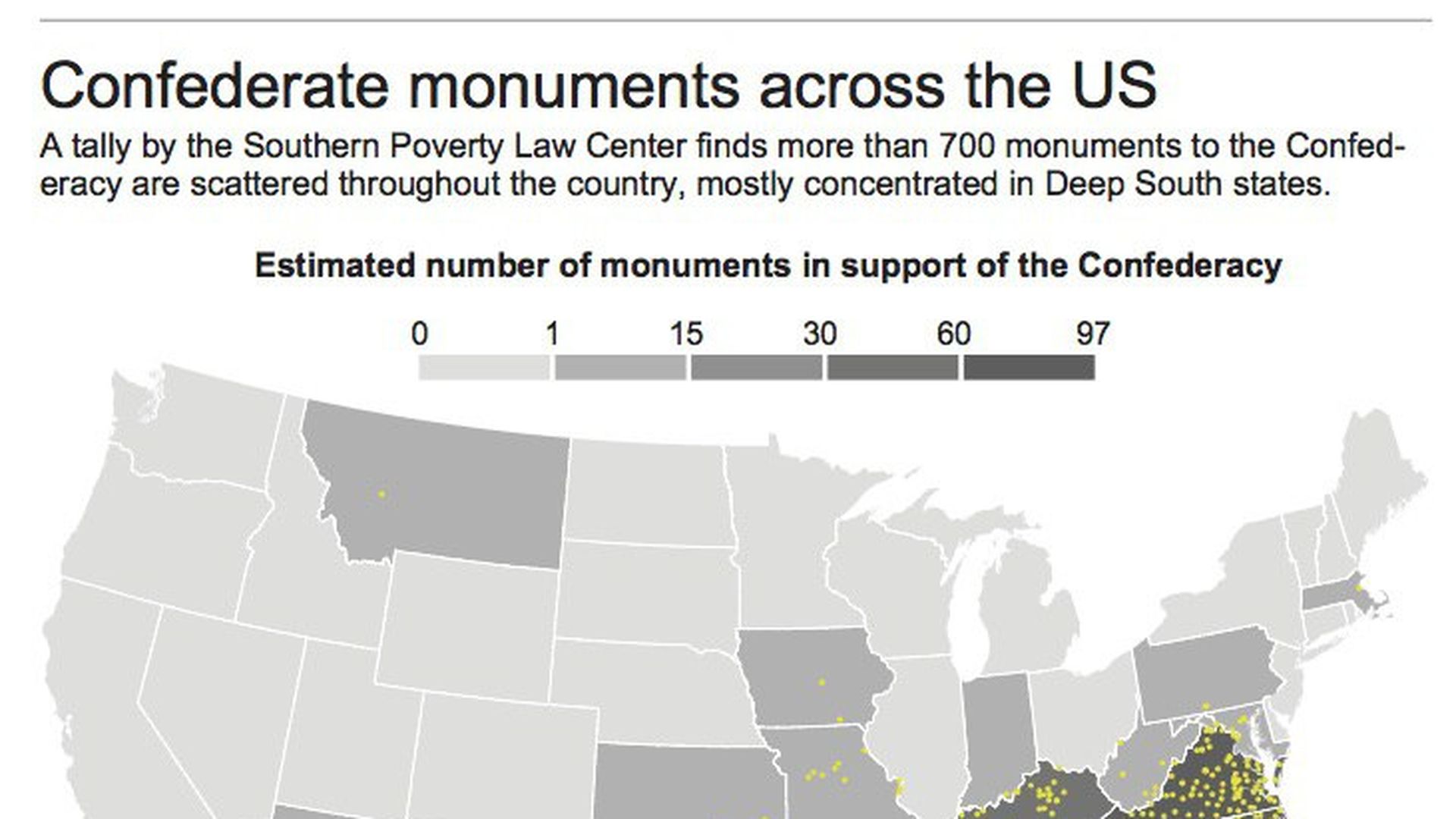 "Cities and states accelerated their plans to remove Confederate monuments from public property Tuesday as the violence over a Robert E. Lee statue in Charlottesville, Virginia, moved leaders across the country to plan to wipe away much of the remaining Old South imagery," AP's Jesse Holland reports:
"Many local and state governments announced that they would remove statues and other imagery from public land, or consider doing so."
"All around the country, Republican and Democratic officials at the state and local levels moved swiftly to begin a process to remove the statues."
"A law professor and director of the Center for Terrorism Law at St. Mary's University in San Antonio [Jeffrey F. Addicott] called removal a 'slippery slope,' saying judging historical figures through a modern lens can be difficult."
5. New Twitter record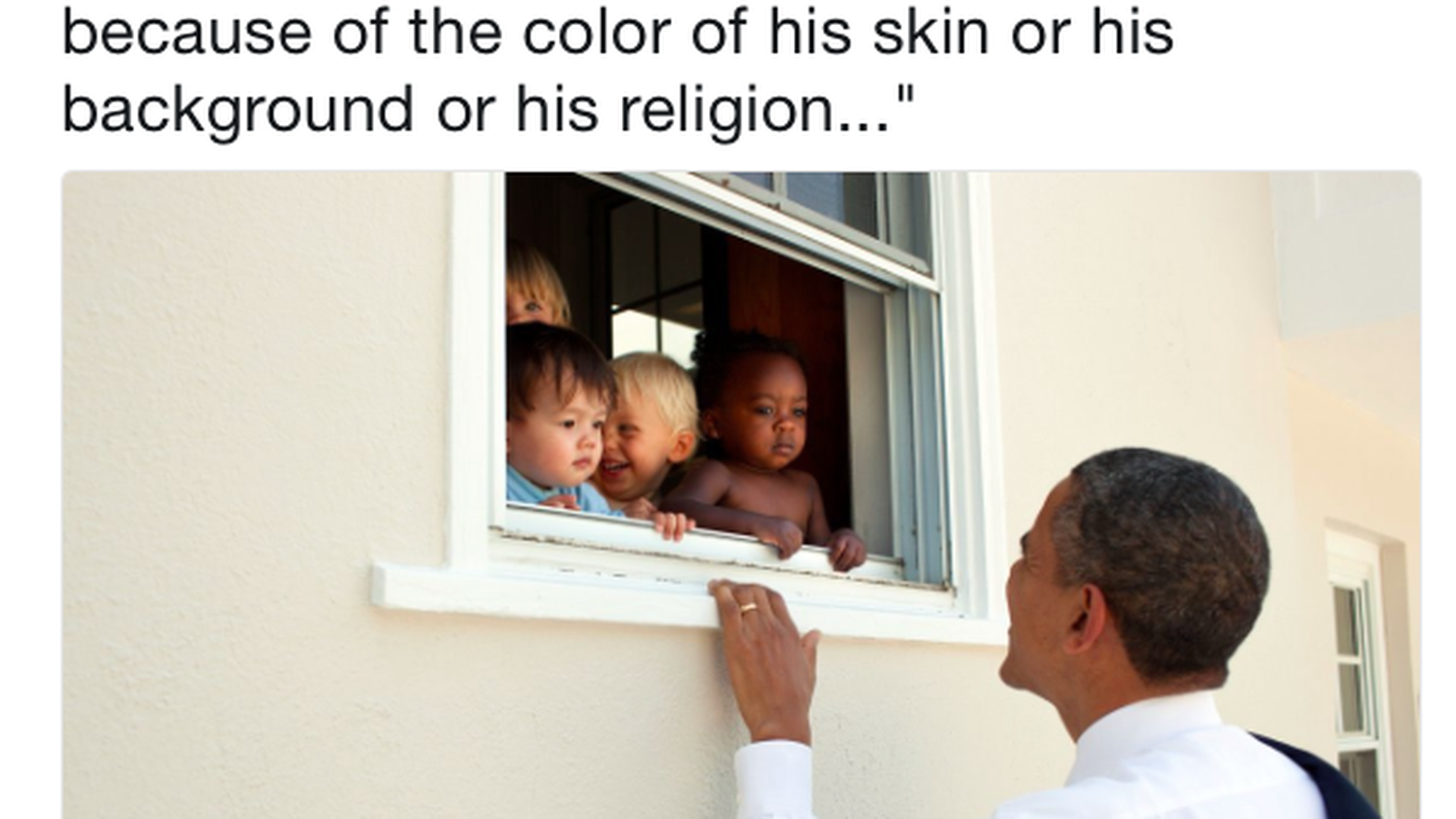 The above tweet by @BarackObama — from Saturday, amid the hate of Charlottesville — became the most "liked" tweet ever last night, at 10:07 p.m. ET, according to a Twitter spokesman.
It's the fifth most-retweeted Tweet ever.
6. Factory workers quitting in droves
"At a time when the Trump administration argues that creating manufacturing jobs is a critical national goal ... many factory workers are making a surprising decision: They're quitting," the WashPost's Danielle Paquette writes from Indianapolis in this front-pager:
"Government data shows workers in the sector are giving up their jobs at the fastest pace in a decade. That's a powerful sign, economists say, that workers think they can find work elsewhere."
"Since Trump declared his candidacy, more factory workers have left their jobs than have been laid off or fired ... In June, ... 194,000 factory workers quit their jobs, while 29,000 retired and 101,000 were dismissed."
"Part of this confidence stems from the nation's 4.3 percent unemployment rate, a 16-year low. But [workers] say they also fear robots zapping jobs in the future, while many workers have tucked away savings from union-championed raises and retirement benefits."
Why it matters: "[T]he increase of people departing reflects a healthy adjustment in an industry that is likely to shrink as technology advances."
Bonus: Hot shot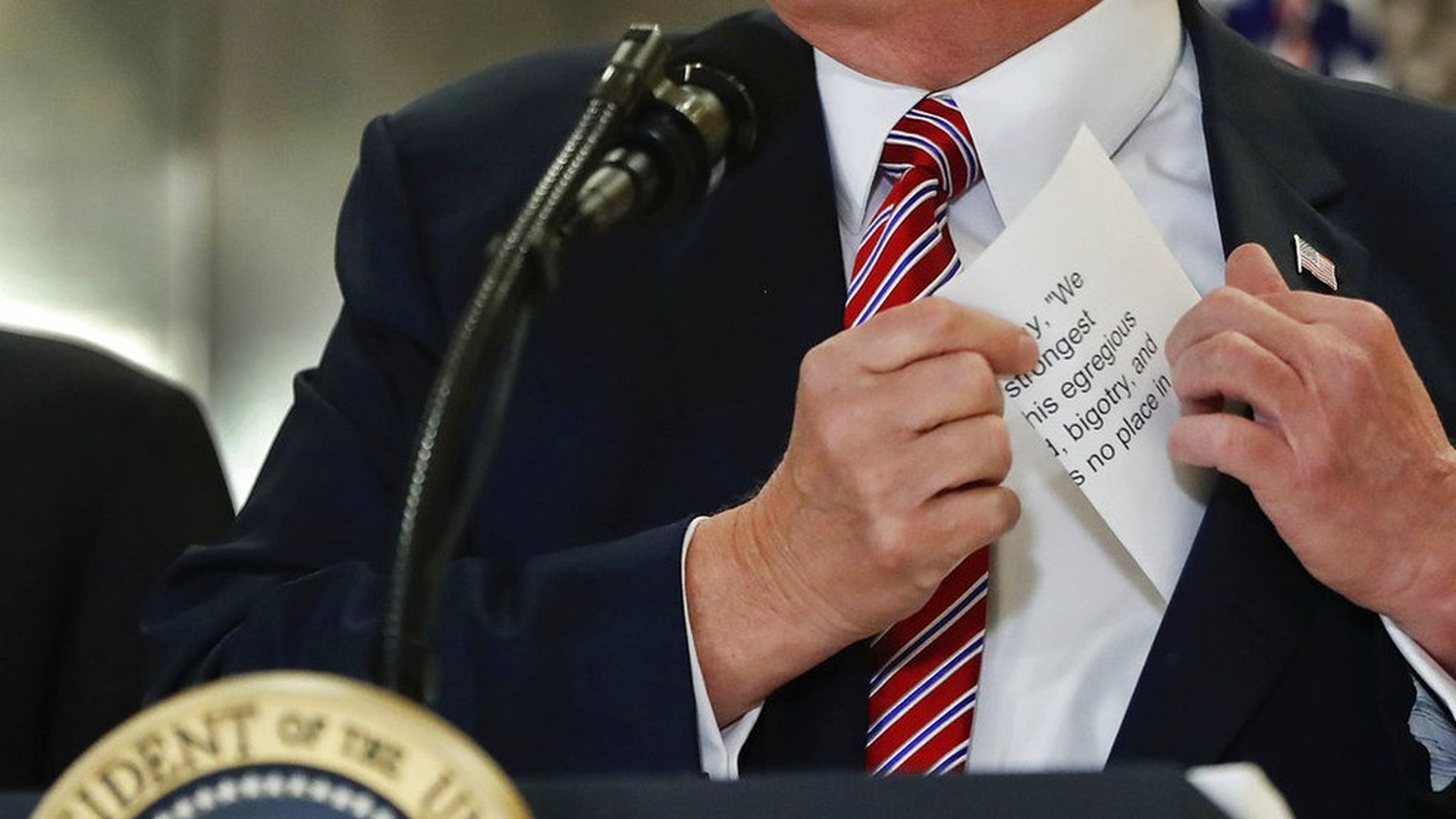 During his Trump Tower tirade, President Trump reaches into his suit jacket for a piece of paper with his quote from Saturday about Charlottesville.
7. Behind the curtain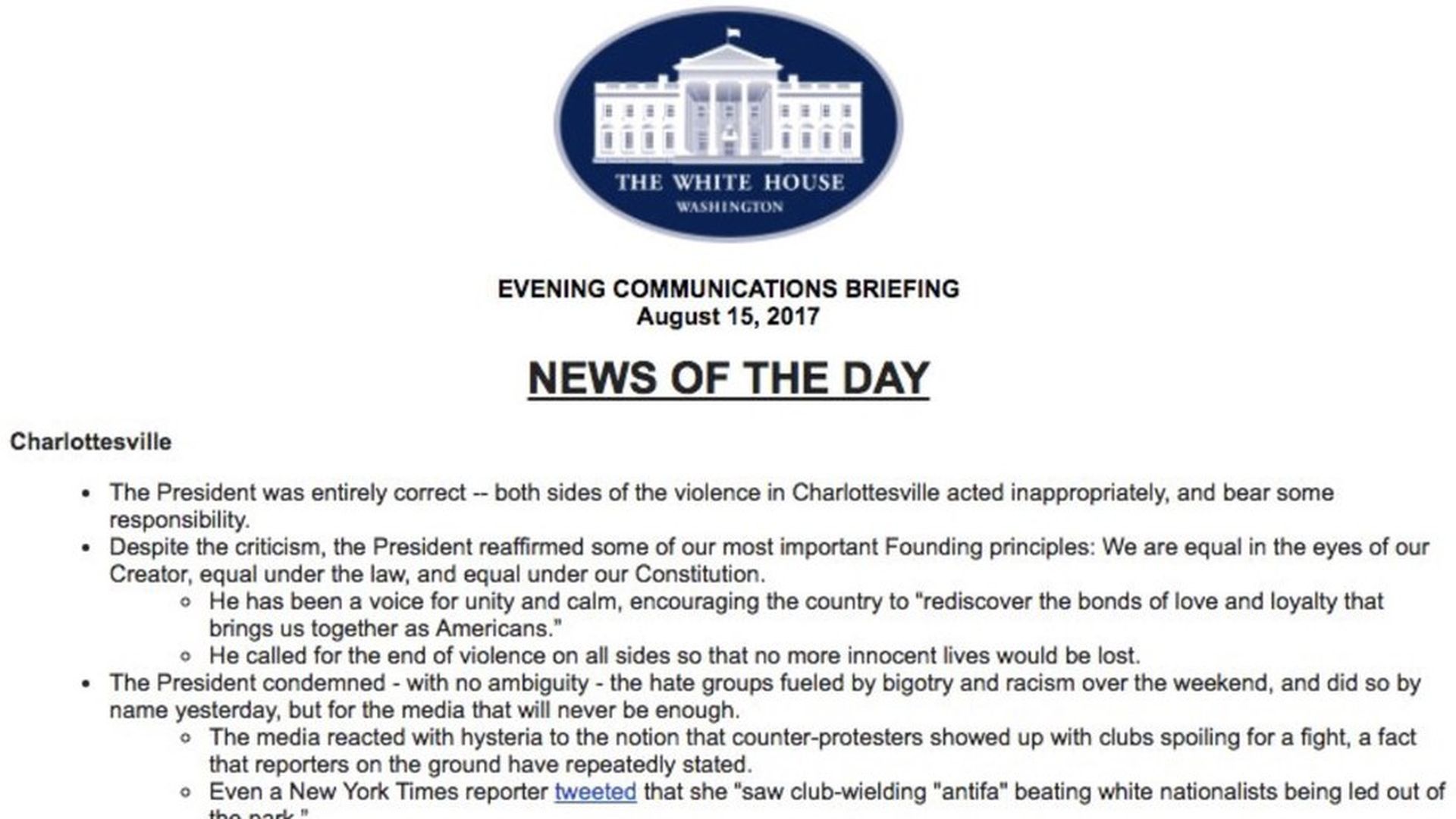 How the White House spun the meltdown: The Atlantic's Molly Ball tweeted these talking points sent to Republicans on the Hill.
8. When that friendly developer was an FBI agent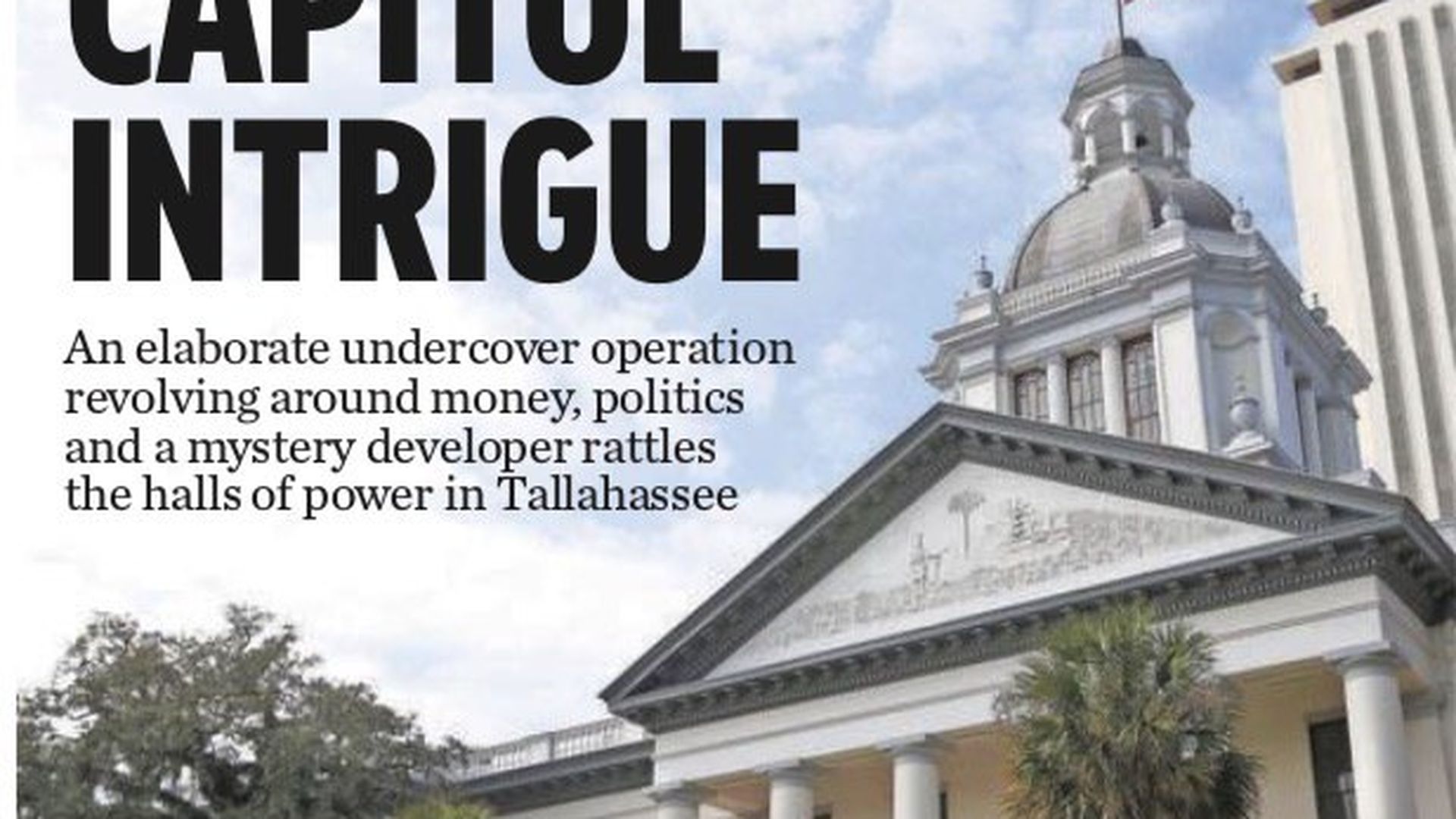 USA Today cover story ... "FBI agents went undercover in Florida's capital for the 'biggest investigation in years,'" by Sean Rossman in Tallahassee:
Buff, bearded and handsome, Atlanta developer Mike Miller sat sipping a cocktail one afternoon last summer outside the spiffy Power Plant Cafe in the city's new central park, ... spinning his grand plans to redevelop a not-yet-gentrified block in the shadow of Florida's Capitol.
The meeting was one of many Miller had with local elected officials and hot-shot developers, beginning in 2015, when he rolled into the steamy, Spanish-moss draped seat of Florida state government. ... Tallahassee was hungry for the likes of Miller, an out-of-towner willing to spend millions to revitalize downtown as the capital city ached to rebrand itself as a place open for business.
But Miller was not what he appeared. After spending nearly two years infiltrating the burgeoning ranks of up-and-coming entrepreneurs and wooing the town's politicians over wine and tapas, he vanished. ... Miller ... was an undercover FBI agent, ... the linchpin in an elaborate scheme to ferret out public corruption, which could lead to huge political shake-ups.
9. "Down the Breitbart Hole"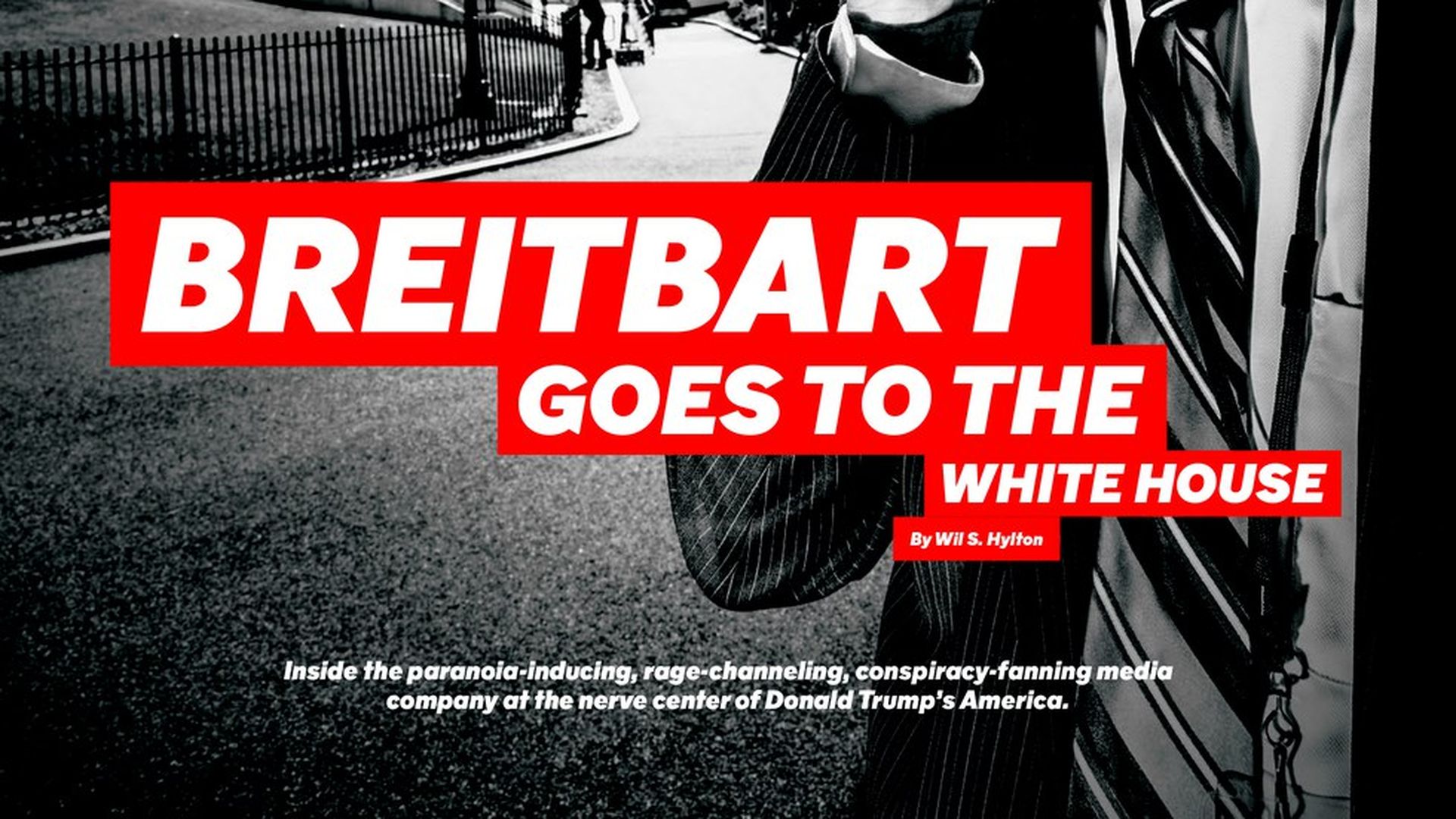 N.Y. Times Magazine cover story by Wil S. Hylton ... "Steve Bannon once said it was the platform for the alt-right. Its current editors disagree. Is the incendiary media company at the nerve center of Donald Trump's America simply provocative — or dangerous?":
Harvard law professor Yochai Benkler and MIT's Ethan Zuckerman "decided to build a colossal database called Media Cloud and spend the next decade hoovering up websites to see how information travels."
"Among liberals, the largest circles were CNN and The New York Times, each shaded pale blue to indicate a center-left association."
"But the other side of the image showed just one big red circle: Breitbart. It was three times the size of Fox News and maybe a dozen times larger than any other news source on the right."
"If you wanted to know who was driving the Republican agenda in 2016, you didn't need to look much farther than the massive crimson orb."
10. 1 fun thing: 'Thrones' and economics
For an audio and text series, "Wealth of Westeros," AP's economics team is digging into market lessons embedded in "Game of Thrones." Today's episode: "What you don't know could get you killed," by Josh Boak, Paul Wiseman and Christopher Rugaber:
"The imbalance in knowledge is what economists call 'asymmetric information' — when one party in a transaction knows more than the other and can exploit the advantage. It can be bad for economies. And it's certainly bad for the people of Westeros as the threat of Whitewalkers drew closer in the seventh season's fifth episode, Eastwatch."
"The episode ended with Jon Snow leading six others beyond the Wall. They're on a possible suicide mission to capture a wight — a re-animated corpse controlled by the Whitewalkers."
"Why? Because of the imbalance of the knowledge, the group hopes to prove that the threat is real to Queen Cersei in order to unite Westeros' warring factions against a common and demonic enemy. Little do they know that Cersei is already prepared to call a truce, providing only more evidence about the challenges caused by asymmetric information."
"Storytellers have relied on dramatic irony since Ancient Greece. But Game of Thrones is really detailing a fundamental challenge that markets are struggling to address — what to do when information is far from perfect and carefully guarded instead of shared."