Good Friday morning. Situational awareness: Oxford Dictionaries' word of the year is "youthquake": "a significant cultural, political, or social change arising from the actions or influence of young people."
https://www.axios.com/newsletters/axios-am-928cbcf5-f6f6-4742-96bd-212f822a7317.html?chunk=0#story0
1 big thing: "Personal insecurities" as foreign policy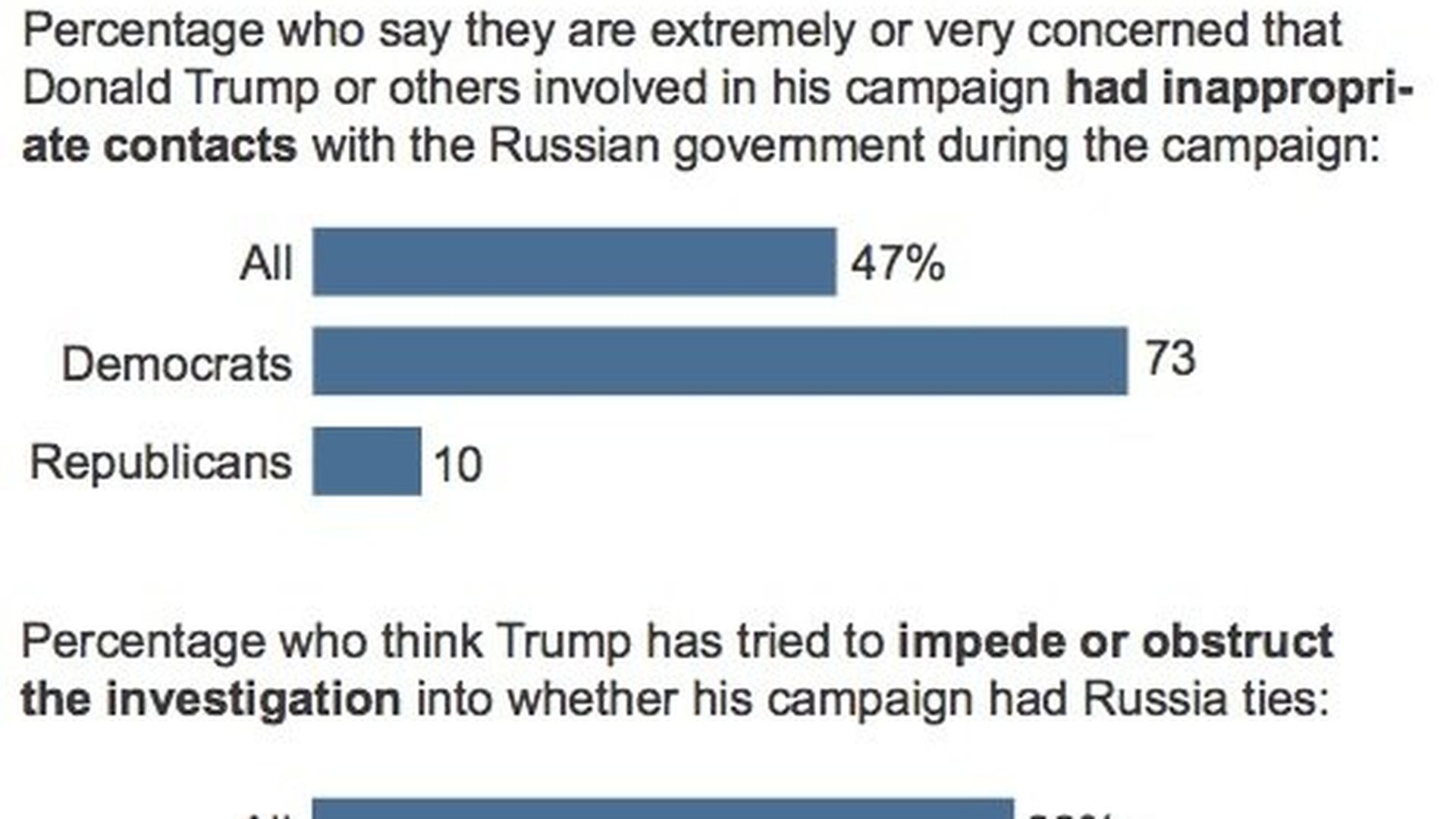 We constantly have to remind ourselves how not-normal these times are, and The Washington Post today finds a fresh way illuminate how anomalous and inexplicable President Trump's views on Russia are:
"Nearly a year into his presidency, Trump continues to reject the evidence that Russia waged an assault on a pillar of American democracy and supported his run for the White House," The Post's Greg Miller, Greg Jaffe and Phil Rucker write on the front page.
"Trump has never convened a Cabinet-level meeting on Russian interference or what to do about it."
Why it matters: "The result is without obvious parallel in U.S. history, a situation in which the personal insecurities of the president — and his refusal to accept what even many in his administration regard as objective reality — have impaired the government's response to a national security threat. The repercussions radiate across the government."
"Rather than search for ways to deter Kremlin attacks or safeguard U.S. elections, Trump has waged his own campaign to discredit the case that Russia poses any threat and he has resisted or attempted to roll back efforts to hold Moscow to account.
Be smart: "His position has alienated close American allies and often undercut members of his Cabinet ... against the backdrop of a criminal probe into possible ties between [his] campaign and the Kremlin."
P.S. White House readout of Trump-Putin call yesterday: "President Trump thanked President Putin for acknowledging America's strong economic performance in his annual press conference. The two presidents also discussed working together to resolve the very dangerous situation in North Korea."
https://www.axios.com/newsletters/axios-am-928cbcf5-f6f6-4742-96bd-212f822a7317.html?chunk=1#story1
2. Tax bill may cost more than it looks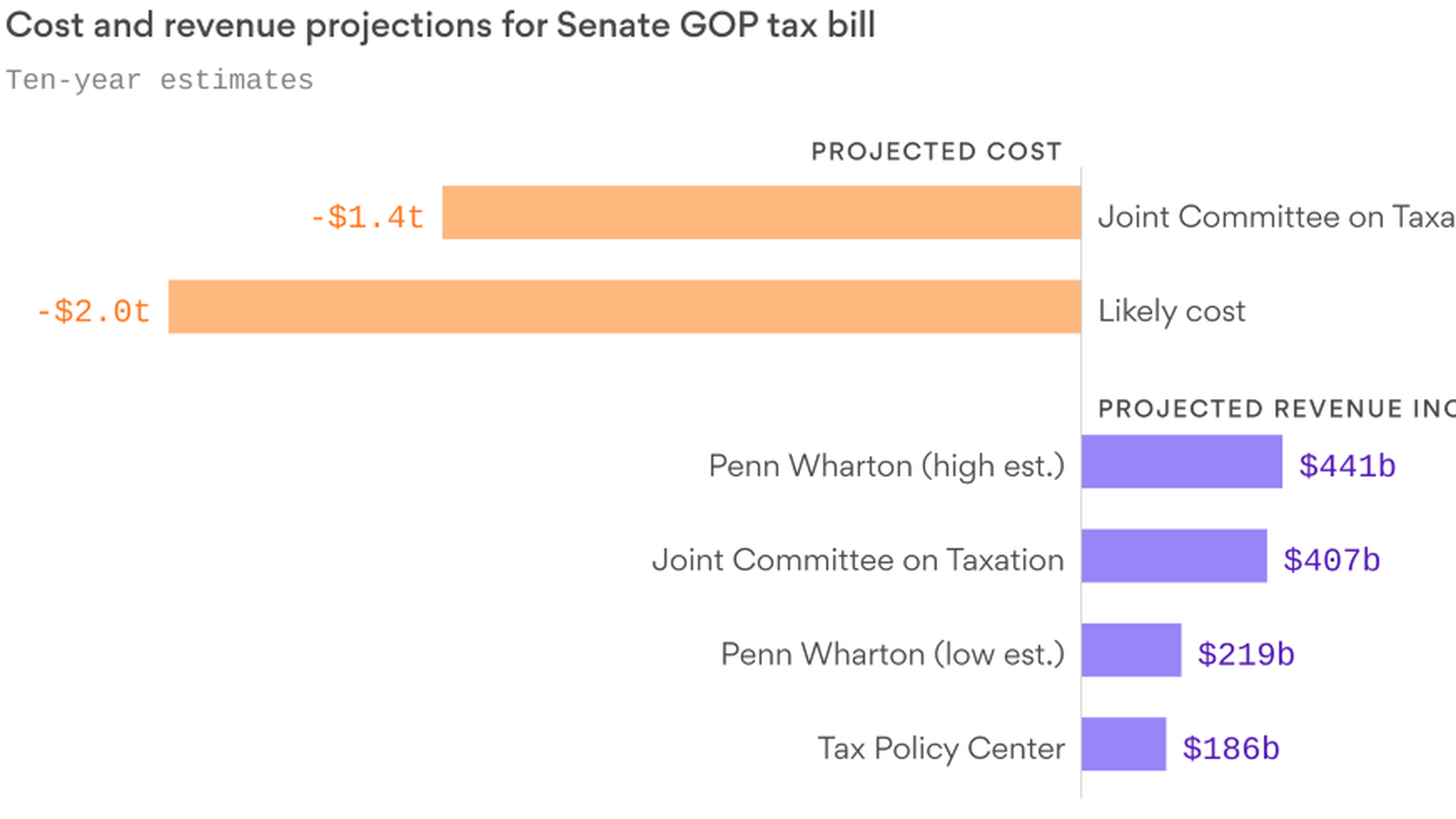 The Senate Republican tax bill is built on shaky assumptions, such as sunsets of the individual tax provisions that the GOP argues will never actually happen, Axios' Caitlin Owens writes:
So the actual cost could be well above the official estimate of around $1.4 trillion.
Credible analyses of the bill estimate that the additional revenue it creates through economic growth won't come close to offsetting that cost.
P.S. "Possible Rubio defection puts tax bill closer to the brink," per a WashPost front-pager: "Sen. Marco Rubio (R-Fla.) threatened to vote against [the tax bill] unless it further expands a child tax credit to millions of working families."
Why it matters 1: Opposition from Rubio and perhaps Sen. Mike Lee (R-Utah) — who has not yet announced whether he'll support the bill — "could delay or derail the tax effort."
Why it matters 2: "The change Rubio is seeking would add tens of billions of dollars in new tax breaks for millions of low-income and working-class families."
https://www.axios.com/newsletters/axios-am-928cbcf5-f6f6-4742-96bd-212f822a7317.html?chunk=2#story2
3. "The backbone of the Democratic Party"
Black women, having voted 98% for Senator-elect Doug Jones in Alabama, now wonder whether the Democratic Party will return the favor by sharing some of the party's political power, handing over places at the negotiating table and pushing legislation that speaks to their unique issues, per AP's Jesse Holland:
"Tuesday's election continued the trend of black women over-performing for Democratic candidates": In Virginia, 91% of black women voted for Gov.-elect Ralph Northam (D). In New Jersey, 94% voted for Gov.-elect Phil Murphy (D).
DNC Chair Tom Perez: "We won in Alabama and Virginia because #BlackWomen led us to victory. ... Black women are the backbone of the Democratic Party, and we can't take that for granted."
Why it matters: "While black men also turned out in high numbers for Democrats, black women historically have been the backbone of the vote-mobilization efforts, but they rarely get the credit, said LaTosha Brown, a Selma, Alabama, native and co-founder of the Black Voters Matter Fund."
https://www.axios.com/newsletters/axios-am-928cbcf5-f6f6-4742-96bd-212f822a7317.html?chunk=3#story3
Bonus: A movie for our times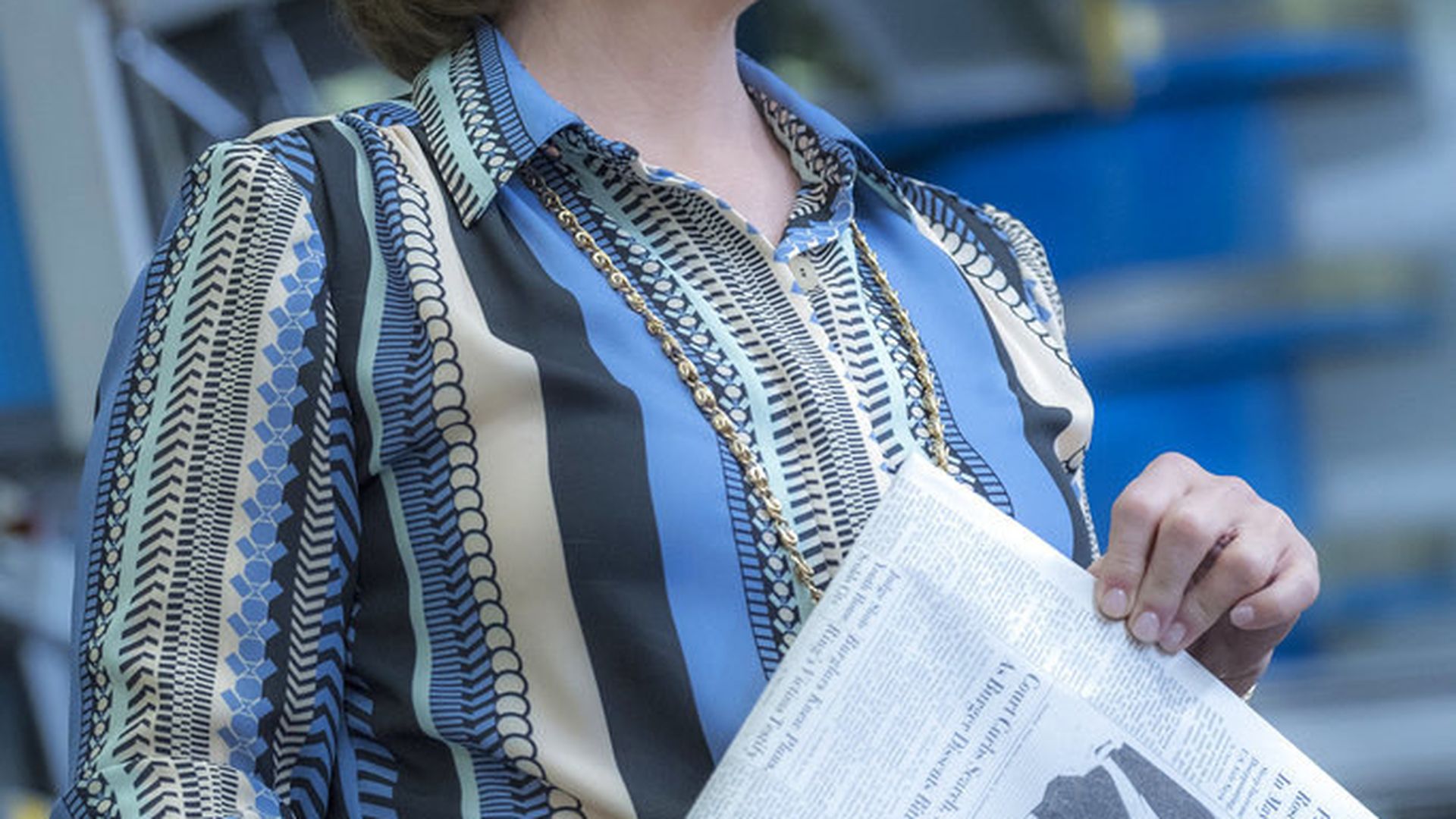 At last night's world premiere of "The Post," a movie about the Pentagon Papers case of 1971, the Washington audience burst into applause when Washington Post publisher Katharine Graham, played by Meryl Streep, made her epic decision to challenge the Nixon White House on years of lies about Vietnam:
"Let's go. Let's do it. ... Let's publish."
The plot, via WashPost movie critic Ann Hornaday: "Although [Graham and editor Ben Bradlee, played by Tom Hanks] enjoyed a warm working relationship, it would be thrown into a crucible in the summer of '71 with the publication of the Pentagon Papers after the New York Times, which first broke the story, had been ordered to cease doing so by a court injunction.
"That bravado that would send The Post into an epic legal and existential battle just as Graham was preparing to take her family's media company public — a deal that could easily be scuttled by her potential imprisonment and a Supreme Court fight, not to mention the vindictive administration of president Richard M. Nixon."
Steven Spielberg — director of the movie, in theaters Dec. 22 — appeared at the Newseum before the screening and said: "[T]his was a story that had to be made right now because it resonated right now."
Spielberg saluted the audience's generations of Washington Post royalty, including the current owner, Jeff Bezos: "Every week, the men and women of The Washington Post, Jeff, do you proud."
Spielberg added: "'The Post' is mainly about The Post, but, in truth, it has two institutional protagonists: The Washington Post and The New York Times. This is a story about competition, and it's also about cooperation. Everyone in your business wants the scoop, but in our story, as well as today, newspapers are working together to achieve their most important aim" — the pursuit of objective truth through hard work.
Others in the audience included Bob Woodward and Carl Bernstein; Sally Quinn, Bradlee's wife, and their son, Quinn Bradlee; former Post publisher Don Graham and Lally Weymouth, both children of Katharine Graham; and Warren Buffett, longtime board member of the Washington Post Co.
https://www.axios.com/newsletters/axios-am-928cbcf5-f6f6-4742-96bd-212f822a7317.html?chunk=4#story4
4. Net neutrality's end may cost consumers
"The repeal of Obama-era net neutrality rules [yesterday] wipes from the books regulations that prevented Internet service providers from blocking or slowing some websites, and charging more for others to run faster," USA Today writes in the lead story of its print edition:
"The new regulations, passed by the Republican-controlled Federal Communications Commission's 3-2 vote, instead require companies like Verizon and Comcast to disclose if they block sites or give priority to their own content more than others — say by allowing Comcast unit NBCUniversal's sites to run at a faster clip than Time Warner's CNN.com."
Why it matters: "The onus shifts to the public to flag any signs these Internet gatekeepers are playing favorites including with their own properties — and report them to the Federal Trade Commission if it looks like the provider is trying to suppress a competitor."
The other side: "The big Internet and cable providers, who lobbied hard for repeal, say they won't stop or slow any legal content."
What's next: "The replacement rules are slated to go into effect as soon as next month. But expect a noisy fight online and in the courts before then — and after."
https://www.axios.com/newsletters/axios-am-928cbcf5-f6f6-4742-96bd-212f822a7317.html?chunk=5#story5
5. Disney's strategy to counter Silicon Valley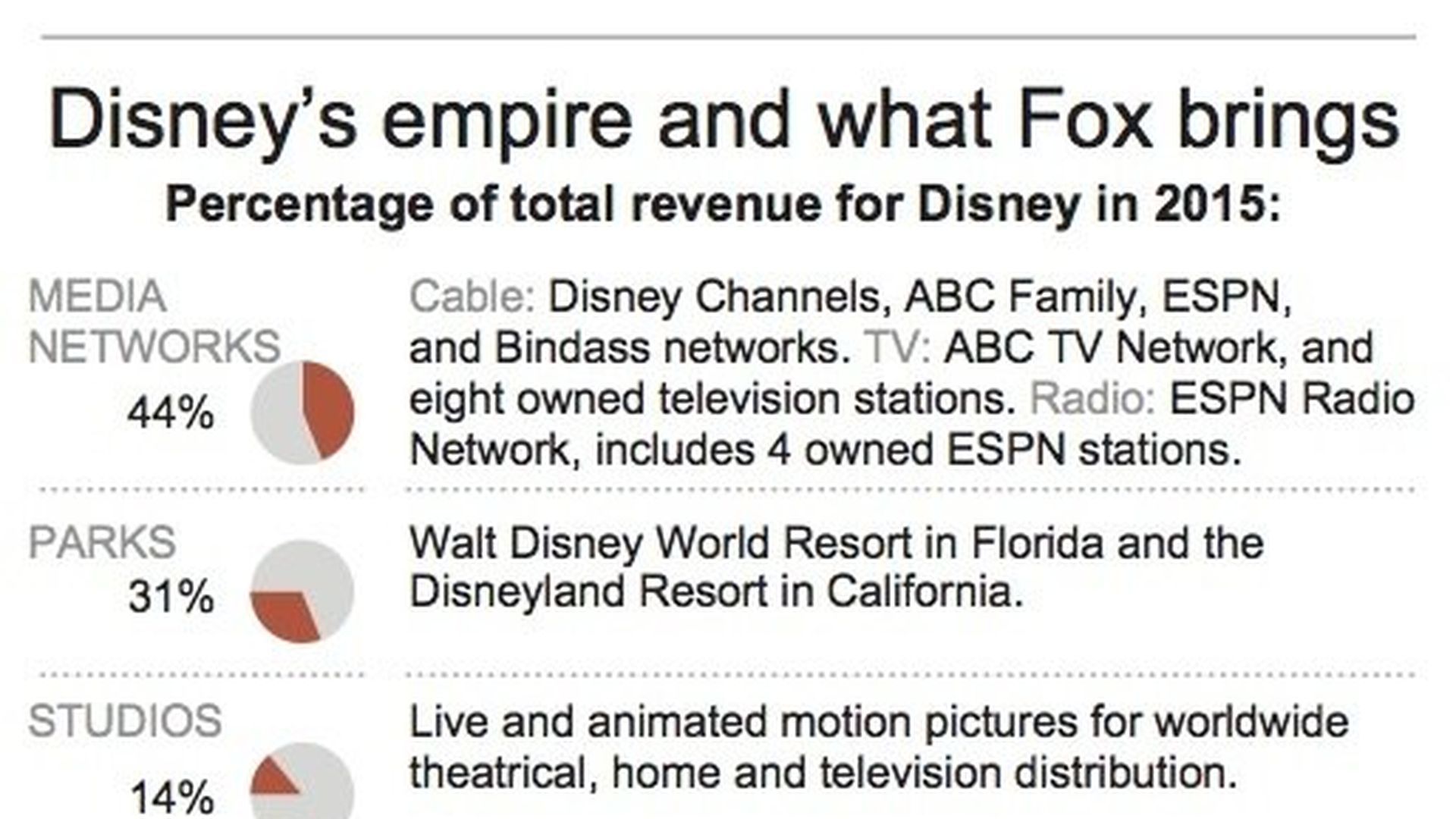 Disney-Fox deal will reshape Hollywood ... Disney now dominates movies, sports ... "Seismic Shift for Hollywood's Studio System," per Hollywood Reporter:
"The $52.4 billion deal would be the first time in modern history that a major Hollywood studio has gobbled up another major, throwing the fate of Fox's film and television operations into question."
The L.A. Times calls it "a clear warning shot to technology juggernauts like Netflix, Amazon and Google. ... Legacy media — or at least Disney, the king of them all — isn't going down without a fight."
N.Y. Times Quote of the Day ... Disney CEO and chairman Bob Iger, on how shifts in viewing habits led to his company's decision to buy most of 21st Century Fox: "The pace of disruption has only hastened."
Go deeper ... "Here's what the new Disney/Fox merger looks like," by Axios' Sara Fischer and Dan Primack.
https://www.axios.com/newsletters/axios-am-928cbcf5-f6f6-4742-96bd-212f822a7317.html?chunk=6#story6
6. Pic du jour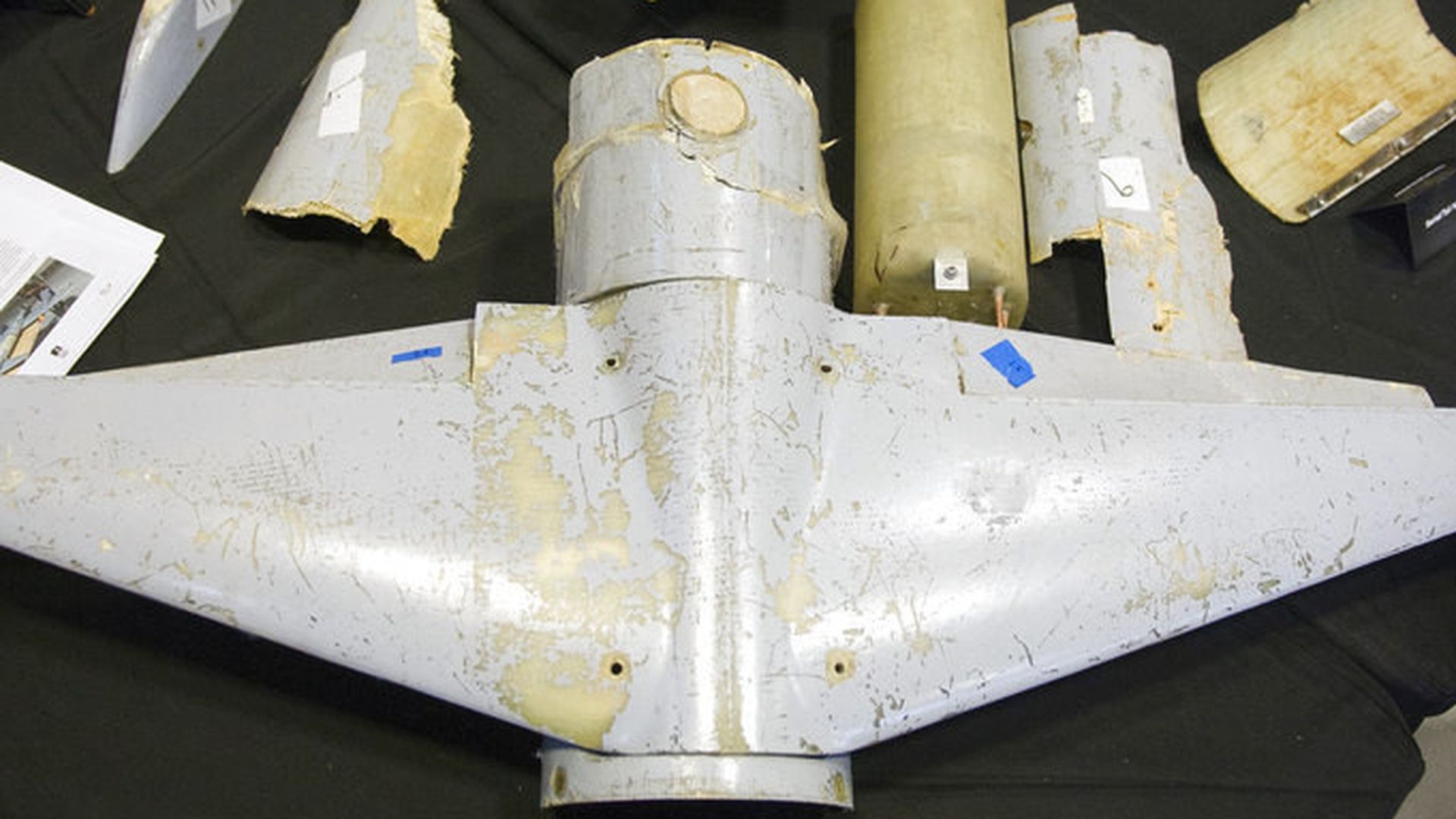 U.N. Ambassador Nikki Haley unveiled recently declassified evidence, including these remains of an Iranian Qasef-1 unmanned aerial vehicle, as "undeniable" evidence that Iran is violating international law by funneling missiles to Houthi rebels in Yemen.
This UAV, fired by Yemen into Saudi Arabia, carries explosives in its nose cone to ram into targets.
https://www.axios.com/newsletters/axios-am-928cbcf5-f6f6-4742-96bd-212f822a7317.html?chunk=7#story7
7. Future conflicts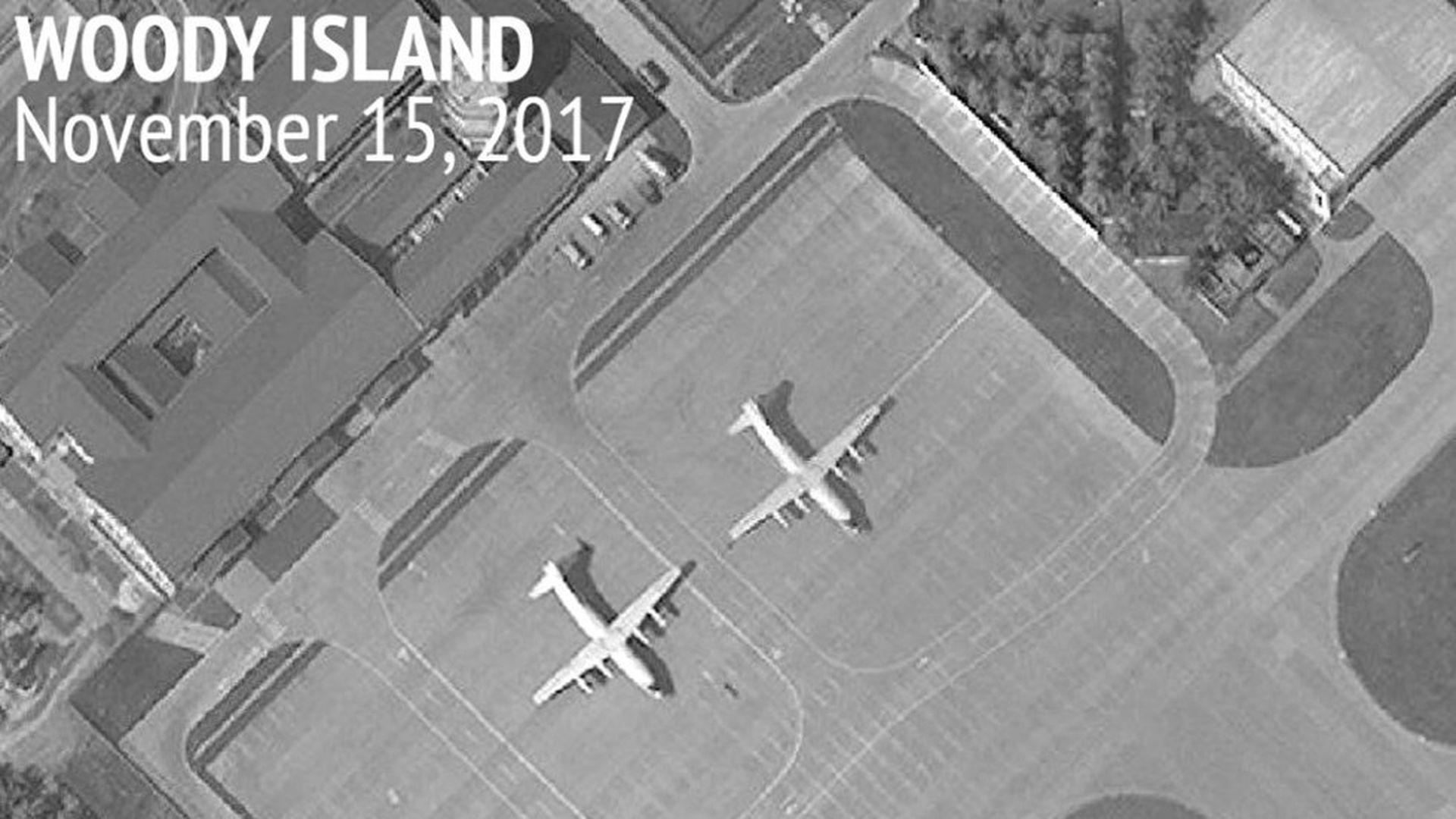 "While attention in Asia has been distracted by the North Korean nuclear crisis in the past year, China has continued to install high-frequency radar and other facilities that can be used for military purposes on its man-made islands in the South China Sea," Reuters reports from D.C.:
"Chinese activity has involved work on facilities covering 72 acres ... of the Spratly and Paracel islands, territory contested with several other Asian nations, according to the Asia Maritime Transparency Initiative of Washington's Center for Strategic and International Studies."
Why it matters: "The United States and its allies oppose China's building of artificial islands in the South China Sea and their militarization, given concerns Beijing plans to use them to deny access to strategic routes."
https://www.axios.com/newsletters/axios-am-928cbcf5-f6f6-4742-96bd-212f822a7317.html?chunk=8#story8
8. Sunlight vs. subversion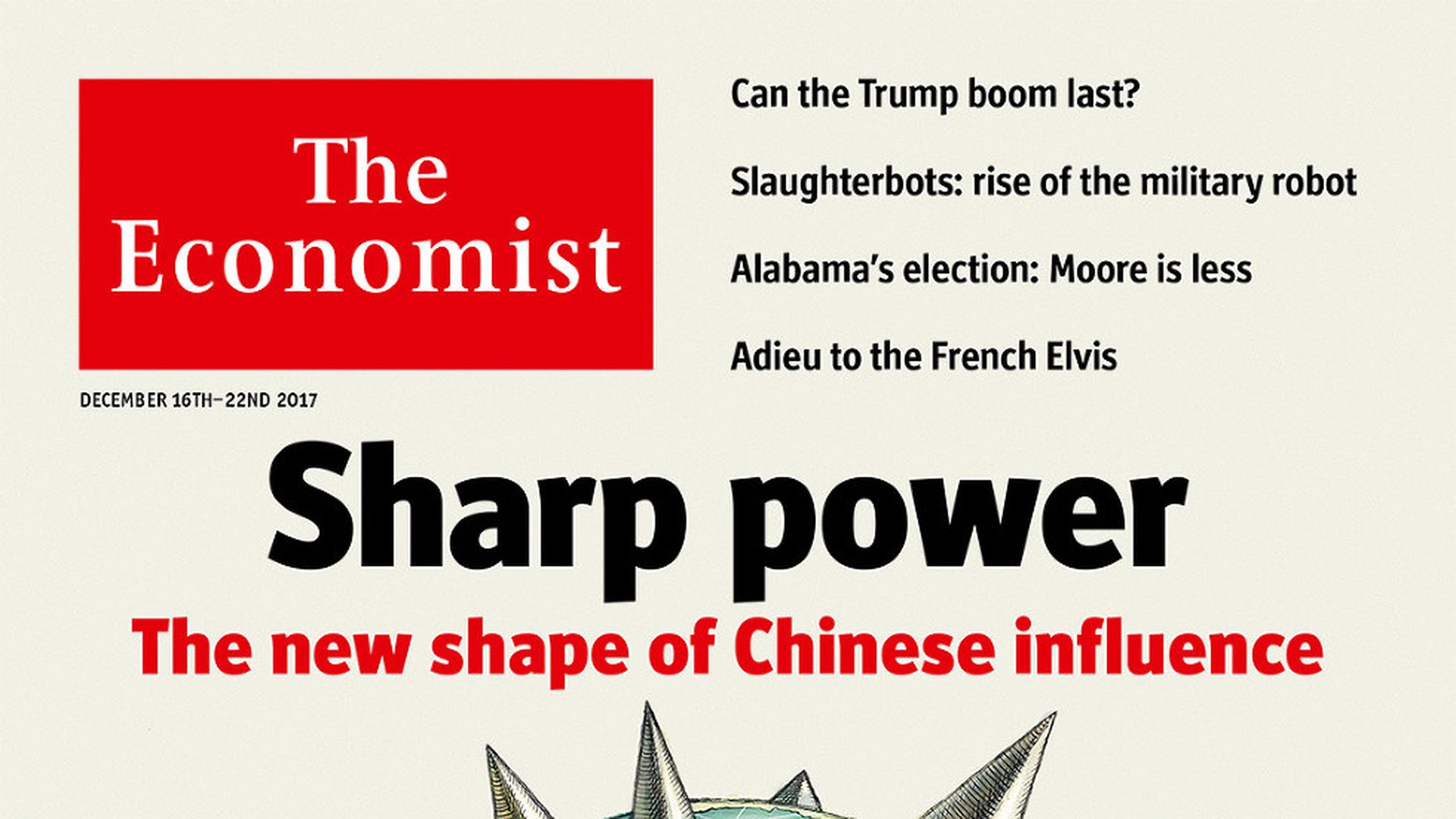 "China is manipulating decision-makers in Western democracies," The Economist writes in its cover editorial:
Lingo: "Soft power" harnesses the allure of culture and values to add to a country's strength; sharp power helps authoritarian regimes coerce and manipulate opinion abroad.
What's new: "In Australia and New Zealand, Chinese money is alleged to have bought influence in politics, with party donations or payments to individual politicians."
"German intelligence said that China was using the LinkedIn business network to ensnare politicians and government officials, by having people posing as recruiters and think-tankers and offering free trips."
Why it matters: "When a rising power challenges an incumbent one, war often follows. That prospect, known as the Thucydides trap after the Greek historian who first described it, looms over relations between China and the West, particularly America."
https://www.axios.com/newsletters/axios-am-928cbcf5-f6f6-4742-96bd-212f822a7317.html?chunk=9#story9
9. An epic year: 13 of 30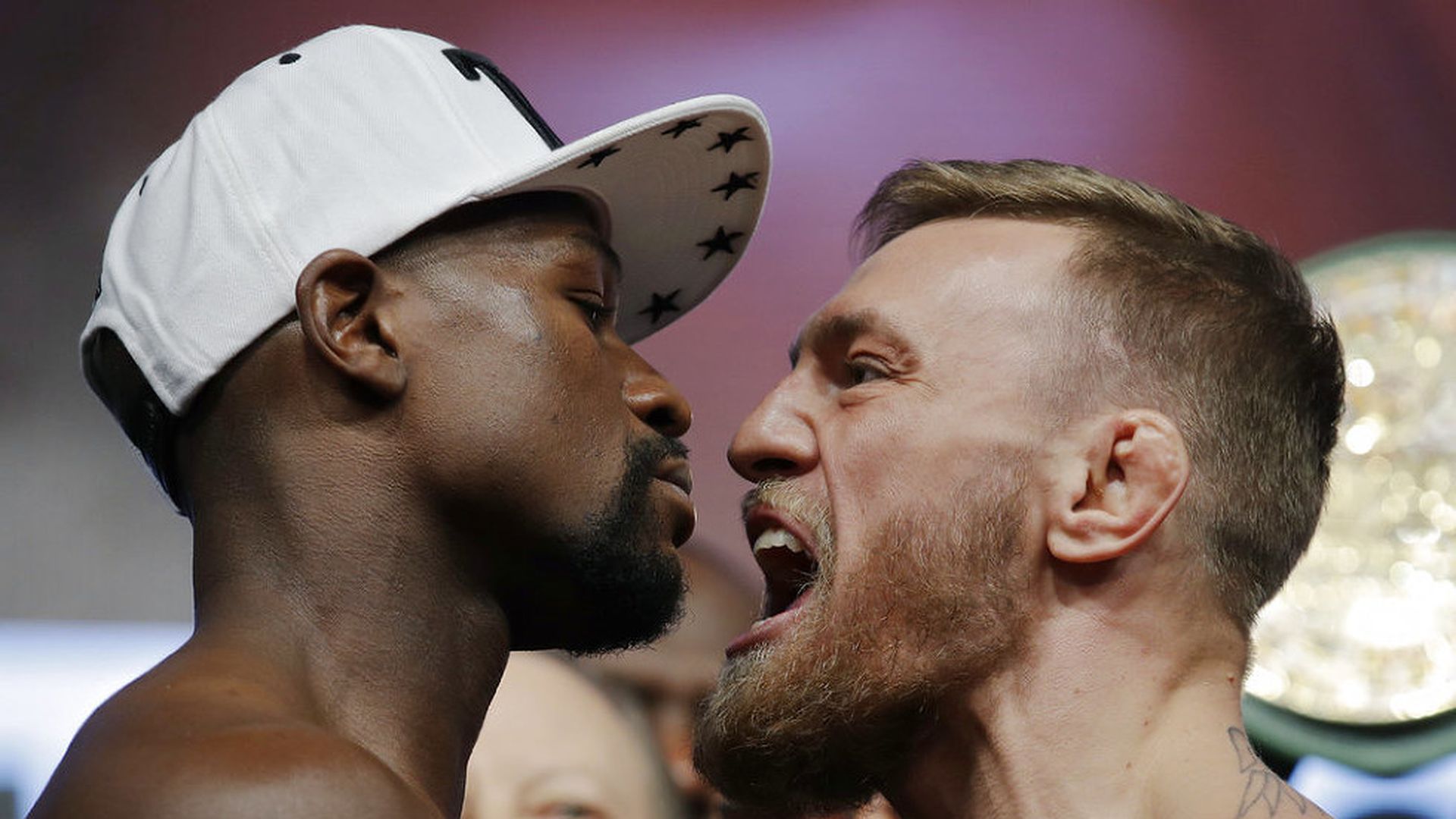 Reliving 2017 in 30 images ... Floyd Mayweather Jr. (left, the eventual victor) and Conor McGregor face off during weigh-in before the Vegas fight that was the second biggest pay-per-view of all time (4.3 million buys in North America — second to Mayweather's 2015 bout with Manny Pacquiao, 4.6 million buys).
https://www.axios.com/newsletters/axios-am-928cbcf5-f6f6-4742-96bd-212f822a7317.html?chunk=10#story10
10. 1 tweet thing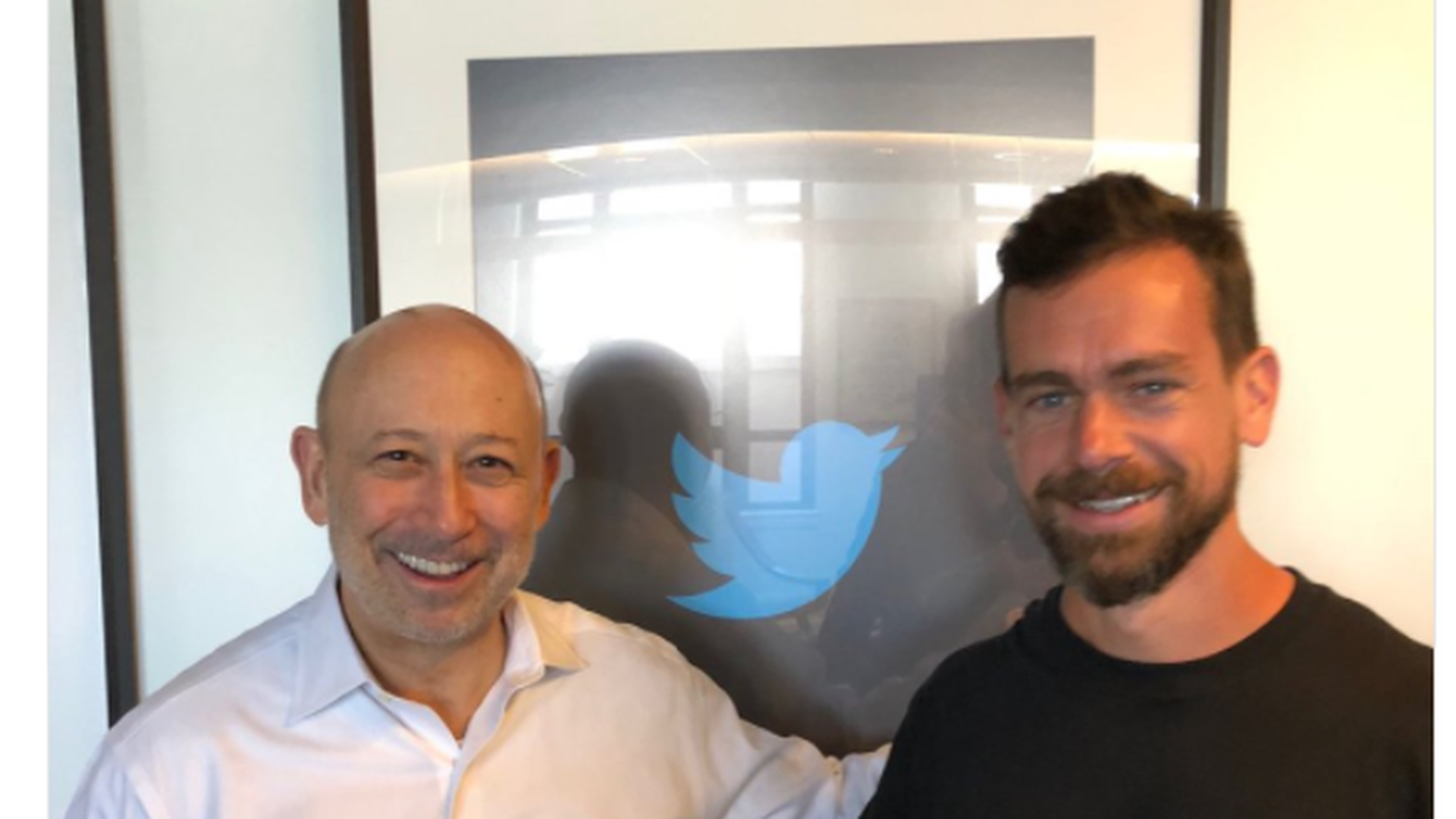 Twitter shares soared yesterday, a day after Goldman Sachs CEO Lloyd Blankfein tweeted a photo of himself with Twitter CEO Jack Dorsey at the tech company's HQ in San Francisco, Bloomberg reports:
Blankfein was cited by several traders as a factor in the stock's rally, amid rekindled merger speculation on the day Walt Disney Co. announced its Fox deal. Twitter, which has struggled as a business despite its hold on the culture, rose as much as 7.3%, reaching the highest in more than a year.
Why it matters: "Disney had explored the possibility of buying Twitter when the company considered selling itself last year ... Goldman Sachs was said to have advised Twitter in those discussions."
"Blankfein was at the social network's offices as part of an ongoing question-and-answer series with well-known users."