Good Wednesday morning.
Situational awareness ... "White nationalists plan rally in Washington," per USA Today: "Jason Kessler, who organized [last year's Charlottesville event,] ... was denied a permit ... in Charlottesville this year ... In Washington, Kessler's ... application for a rally Aug. 12 received initial approval" from the National Park Service, per WUSA.
1 big thing ... Scoop: Trump fears Biden, losing Pennsylvania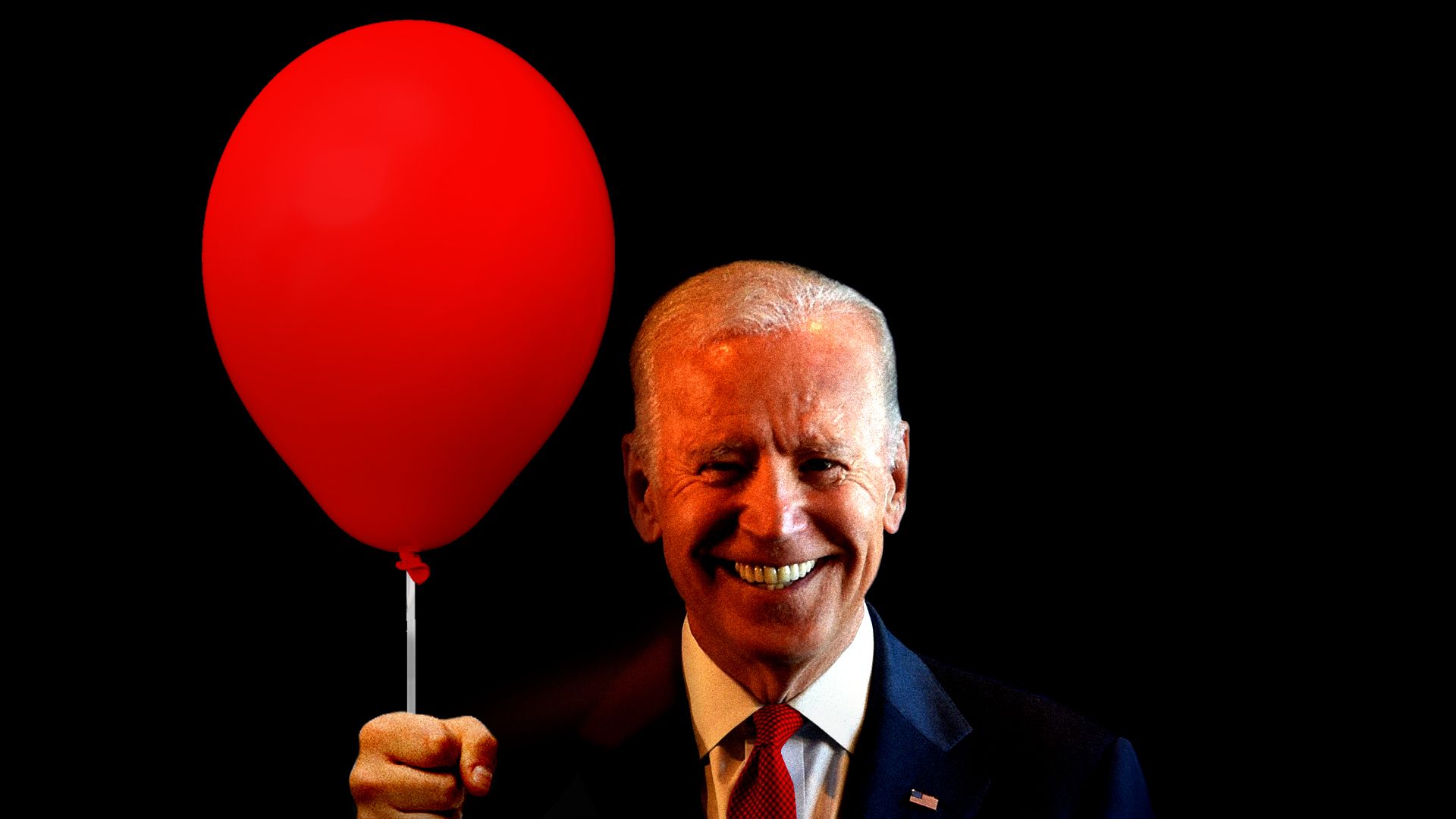 Advisers to President Trump say Joe Biden is the Democrat he most fears running against, and that Pennsylvania is the state he worries most about flipping against him.
Trump's calculation is based partly on how weak he sees other Democratic possibilities, including Bernie Sanders or Elizabeth Warren, and partly on who's capable of appealing to his base of working class whites.
Biden, sources tell me, doesn't think Trump is morally or politically fit for the Oval Office.
The former vice president, who at 75 is three years older than Trump, pines to run and will test the waters this fall.
But family considerations could prevent him from ultimately pulling the trigger. Biden sees the same opening Trump does with working class voters, especially in Democratic states like Pennsylvania that Trump won.
Trump advisers say says Biden, like the president, conveys authenticity, is comfortable in his own skin, can work a crowd, and relishes throwing and returning punches.
Biden could — and would — needle Trump, and get under his skin, with a brio that few other big-name Democrats could muster.
He has kept his connection to his birthplace — Scranton, Pa., emblematic of the working-class, Rust Belt territory that joined Trump Country in 2016.
A Democratic source close to Biden said he'd be strong with "Obama-Trump voters" in states like Pennsylvania, Michigan and Wisconsin where "the blue wall became the red threat" — Obama won them twice, then they flipped narrowly to Trump.
These are white, working-class voters who aren't college graduates (or have some college) and are anti-Washington. They voted for the anti-establishment candidate (Obama) in 2008 and again in 2016.
Biden allies say he'd be a strong candidate partly because he has nothing to lose — his last run would give him a sense of liberation.
This fall, Biden will build up chits with Democrats by traveling every week to appear with candidates for House, Senate, governor and state legislature, and will make a slew of endorsements. In between, he'll work on the Biden Cancer Initiative, the Biden Institute and the Biden Foundation.
Republican sources tell me Pennsylvania, where Trump campaigned frequently and fervently in 2016, will be the toughest to hold of all the battleground states that put him in office.
"There's a reason Pennsylvania had eluded Republican presidential candidates as long as it did," said GOP operative Josh Holmes, president of the Cavalry LLC issue management firm. "You need a combination of a really effective campaign, a perfect message and a good environment."
To make up for how badly Republican candidates do in urban Pittsburgh and Philadelphia, they need almost unattainable margins in the Philly suburbs or in the state's rural areas — the Trump route.
Be smart: Trump told "CBS Evening News" anchor Jeff Glor just after the Singapore summit: "I dream about Biden. That's a dream. ... I'd love to have it be Biden." What Trump meant was "wouldn't."
2. Lanny Davis tells me: "There's more to come"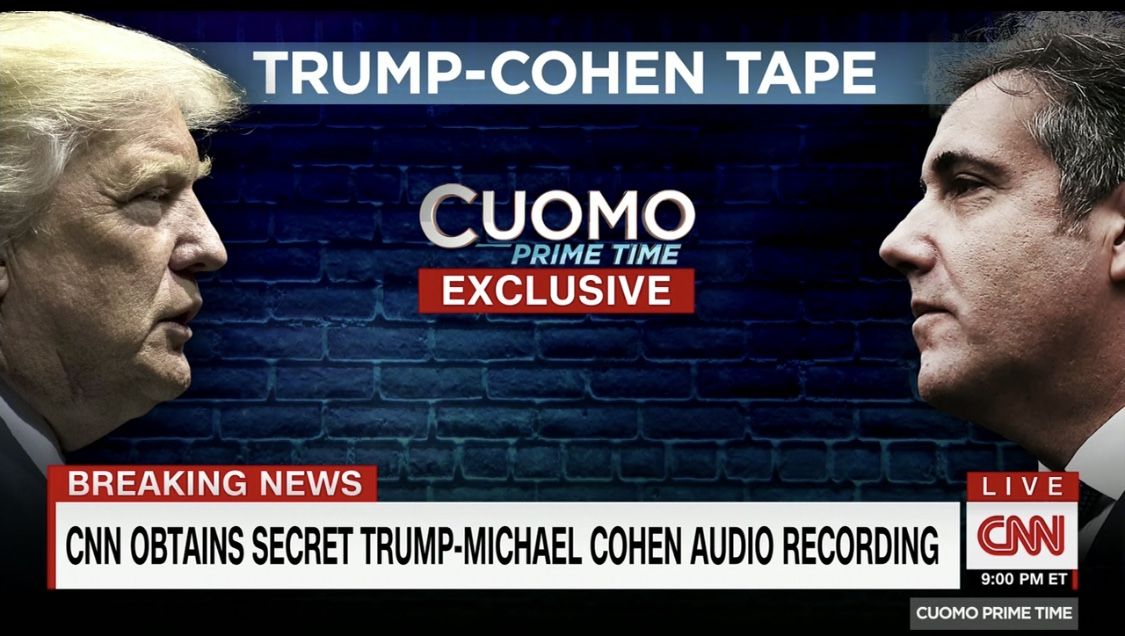 Screenshot from CNN
Lanny Davis — a lawyer for Michael Cohen, President Trump's former lawyer and fixer — said following last night's release of a secret Trump-Cohen recording that we'll soon learn more "about what Michael Cohen saw and heard."
In an astounding spectacle, Davis released to CNN a tape of Cohen talking with Trump, who was apparently being taped without his knowledge, about buying the rights to a Playboy model's story about an alleged affair.
"When Cohen tells Trump, 'We'll have to pay,' Trump is heard saying 'pay with cash' but the audio is muddled and it's unclear whether he suggests paying with cash or not paying," CNN reports.
CNN debuted the audio in prime time last night, and soon MSNBC was also playing the tape.
The FBI seized the tape in a raid on Cohen's office in April. Cohen cooperating with special counsel Robert Mueller is one of the scenarios Trump advisers fear most.
Davis, a damage-control maestro going back to the Clinton administration, told me: "Michael Cohen has made a turn. This is on the record — Michael and I talked about it."
"Michael is going to tell the truth to the powers that be, and let the chips fall where they may."
"I've used this line too many times, but who talks about cash like that besides drug dealers and mobsters?"
Davis said that the tape's release sends the message: "I am no longer the previous Michael Cohen that you knew — taking a bullet for Donald Trump, saying anything to defend him, being a good soldier. ... That is over."
Davis said he was unable to say what Cohen's next move is: "I'm not saying there are more tapes as telling as [this] one, ... but there are more tapes. ... There is more to come."
Rudy Giuliani, a Trump lawyer, told Fox News' Laura Ingraham that the tape is exculpatory for the president.
Rudy: "I agree with you the tape is a little bit hard to hear. But I assure you that we listened to it numerous, numerous times. And the transcript makes it quite clear ... that President Trump says 'don't pay with cash.'"
Lanny Davis said that response amounts to: "Don't believe your lying ears."
3. "Willing to weaponize the information"
Why it matters ... Jonathan Swan's quick take on the tape:
What it illuminates about Trump: the shadiness of his dealings, especially those facilitated by Cohen. And his lies about not knowing anything about these payments. This did not sound like a conversation between two men inexperienced in such dealings.
What it illuminates about Cohen: The leaking of the tape is, in some ways, more important than the contents of the tape itself. On Saturday, I reported that Cohen has been privately telling friends he has real concerns about Trump's fitness to be president. Cohen has totally turned against Trump and appears willing to weaponize the information, and secret recordings, he has at his disposal. We're now beginning to learn why Trump was so agitated, according to aides, when investigators raided Cohen's office. 
Bonus: Pic du jour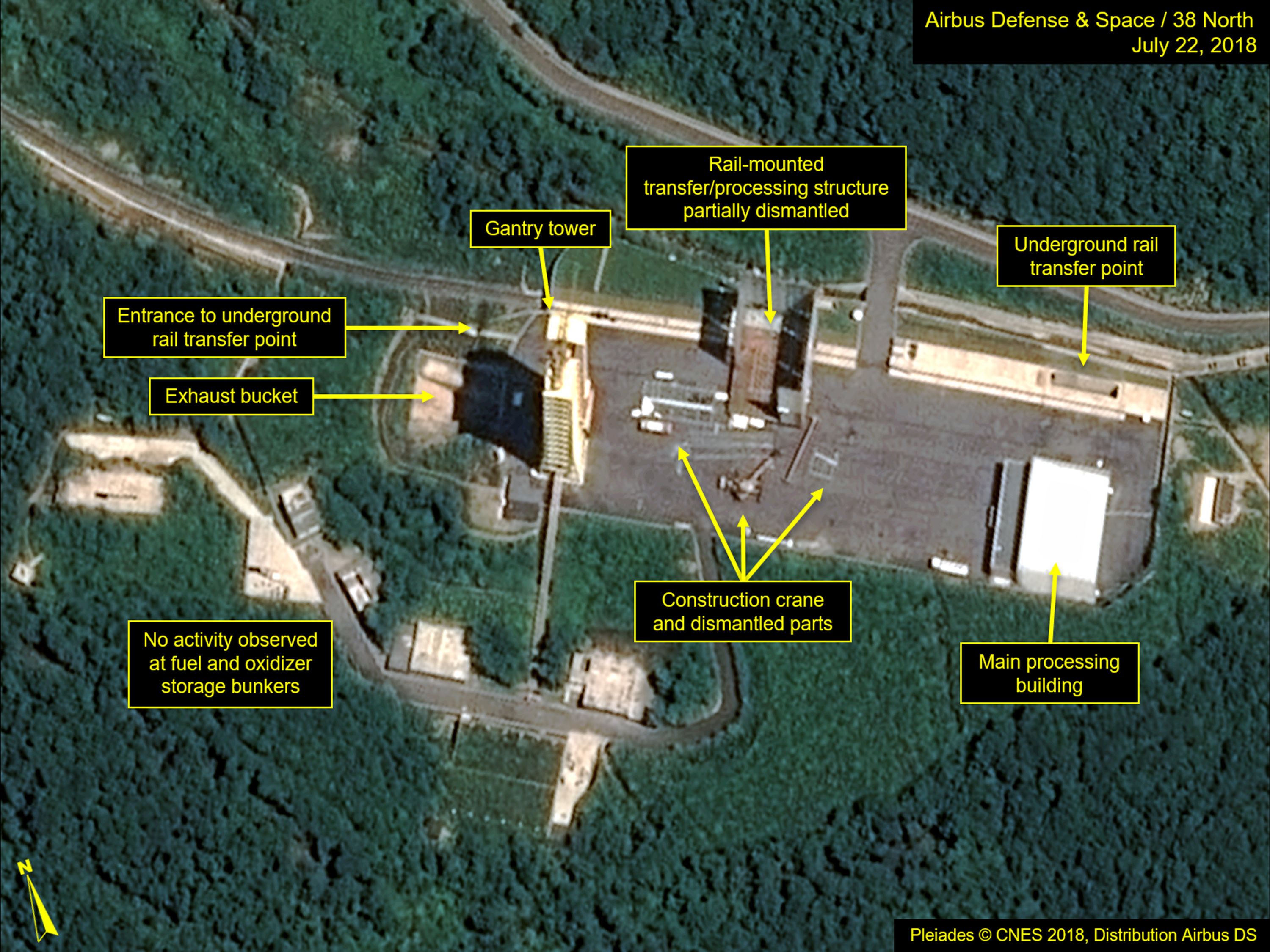 Airbus Defense & Space/38 North via AP
"This July 22 satellite image released ... and annotated by 38 North shows what the U.S. research group says is the partial dismantling of the rail-mounted transfer structure, at center, at the Sohae launch site in North Korea," per AP.
Why it matters: "38 North said North Korea has started dismantling key facilities ... in what appears to be a step toward fulfilling a commitment made by leader Kim Jong-n at his summit with President Trump."
4. DIY "ghost guns": age of the downloadable gun
A story on page 2 of USA Today's "Money" section carries the astonishing subhead: "Starting Aug. 1, you can print an AR-15 at home."
Wait! What? Josh Hafner reports:
"Americans will soon be able to make 3D-printed guns from their homes, widening the door to do-it-yourself versions of firearms."
"The choices will include the AR-15, [often used] in American mass shootings."
Why it matters: "All 3D-printed guns will be untraceable, and since you can make them yourself, no background check is required."
"A settlement earlier this year between the State Department and Texas-based Defense Distributed will let the nonprofit release blueprints for guns online starting Aug. 1, a development hailed by the group as the death of gun control in the United States."
"Assembling guns at home isn't new. It is legal provided the made-at-home gun isn't sold":
"The printers needed to make the guns can cost from $5,000 to $600,000, according to Vice News. The quality of plastic matters, too: An early design printed by federal agents shattered after one shot. A second gun, made from a higher grade resin, stayed intact."
Be smart: "The plans being made freely available next month put firearms a few computer key clicks away from anyone with the right machine and materials. That reality has startled gun control advocates, who say it makes untraceable firearms all the more available."
5. How 5G may widen rural-urban digital divide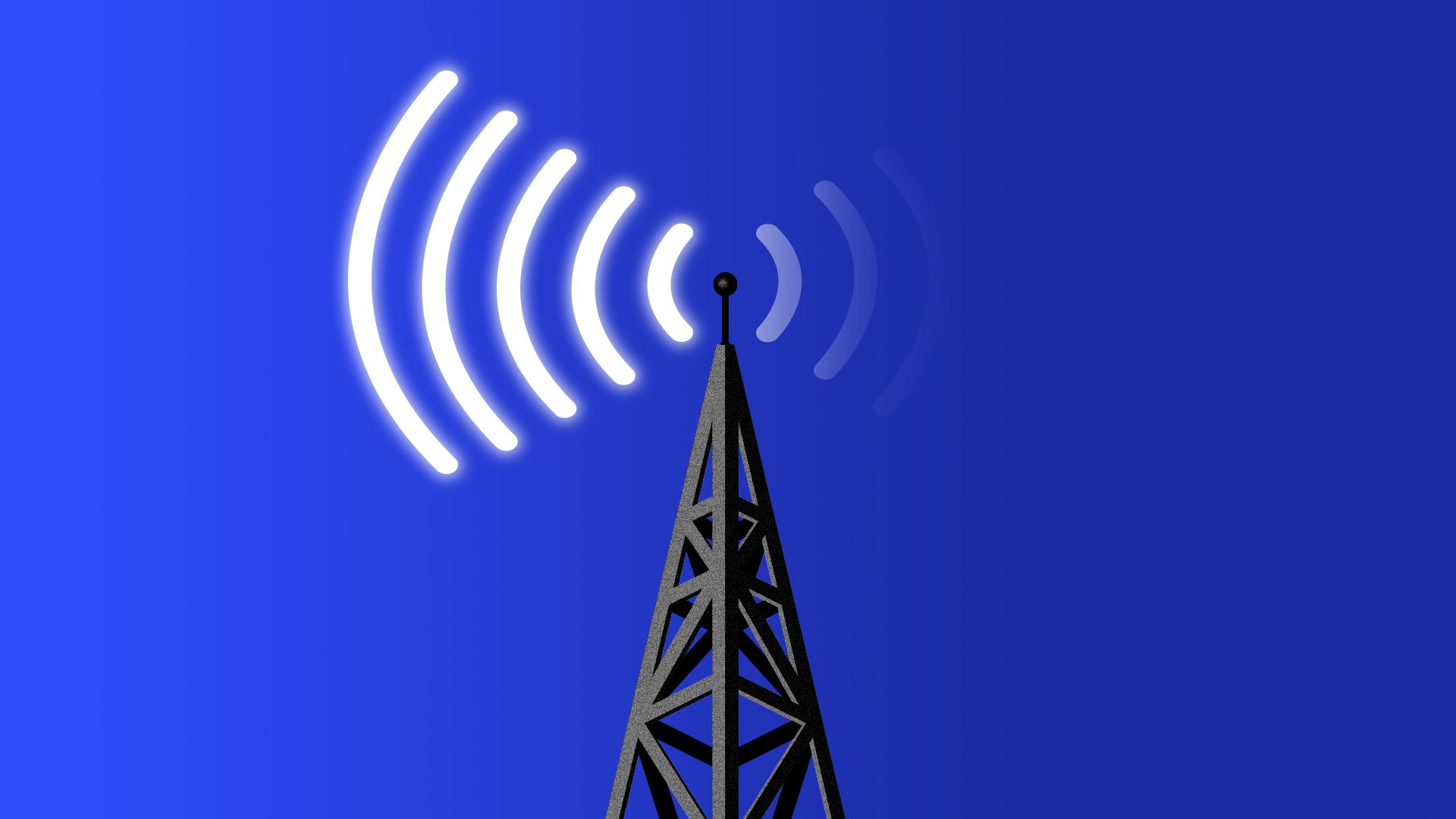 New 5G networks are expected to supercharge wireless speeds and trigger an explosion of new services — but they also may exacerbate the digital divide and leave out wide swaths of rural Americans, Axios managing editor Kim Hart writes.
Why it matters: According to FCC data, 31% of rural residents don't have fixed broadband service, compared to 2% of city residents. Despite the hype around 5G, there's still little financial incentive for the major telecom firms to spend the billions of dollars necessary to serve rural communities.
6. Trump quotes du jour
"And just remember: What you're seeing and what you're reading is not what's happening."
— President Trump,
speaking
yesterday to the Veterans of Foreign Wars national convention in Kansas City, Mo.
7. Trump insulating from outside world
"On the first couple's recent trip overseas, Melania Trump's television aboard Air Force One was tuned to CNN. President Trump was not pleased," the N.Y. Times' Katie Rogers and Maggie Haberman report.
"He raged at his staff for violating a rule that the White House entourage should begin each trip tuned to Fox ... and caused 'a bit of a stir' aboard Air Force One."
An email "exchange between officials in the White House Military Office and the White House Communications Agency ... called for the ordering of two additional televisions to support Beam, a TiVo-like streaming device, to make sure the president and first lady could both watch TV in their separate hotel rooms when they travel."
"At the end of the email chain, officials confirmed that tuning the TVs to Fox would be standard operating procedure going forward."
Why it matters: "The channel-flipping flap was the latest example of how Mr. Trump, at a pivotal moment in his presidency, is increasingly living in a world of selected information and bending the truth to his own narrative."
"[H]is aides work to keep him insulated from the outside world."
8. Bite du jour
Sen. Ben Sasse (R-Neb.), on the Trump administration plan to provide $12 billion in emergency relief for American farmers slammed by trade disputes:
"This trade war is cutting the legs out from under farmers and White House's 'plan' is to spend $12 billion on gold crutches. ... This administration's tariffs and bailouts aren't going to make America great again, they're just going to make it 1929 again."
9. Business bullish despite tumult
"Potential perils are in plain sight: An intense and unpredictable tariff battle ... The annual federal deficit is heading toward $1 trillion. Credit card debt is soaring. And the synchronous wave that lifted every world economy at the year's start has dissipated," the N.Y. Times' Patricia Cohen writes:
"Such risks have done little to puncture the exuberant optimism that is encouraging American businesses to ramp up hiring and consider new investment."
Why it matters: "The confidence is rooted only partly in hard-nosed data."
"Business leaders who complained that they sometimes felt vilified as engineers of inequality — or greedy exploiters — now say they are pleased to be viewed as part of the solution, creating jobs and wealth."
10. 1 West thing
Growing up in the L.A. area, I loved how New York Times headlines (sadly, I got the The Times in the mail during high school) referred to California as "The West."
There was something grand and mysterious, if a bit outdated, about the reference. (California passed New York to become the most populous state in 1964.)
Lynda Richardson and Steve Reddicliffe, editors on the Travel desk, yesterday posted a mea culpa for not "getting" L.A. in a story coming in Sunday's paper, "L.A. Reverential":
"Our Travel cover feature about retreats and sanctuaries in and around Los Angeles has received numerous complaints from readers who found the piece dismissive of Latino culture and clichéd in its portrayal of the city. We want to assure readers that was absolutely not our intention."
"The writer, ... [novelist] Reif Larsen, apologized for causing offense. ... 'I travel to learn about new cultures, experiences and ways of seeing the world, and my learning continues here.'"
"Your concerns are being heard, and the issues you raise make us aware that we need to do a better job capturing the true Los Angeles, which did not come across in this piece."
Thank you for reading. Updates all day on Axios.com.