Good Thursday morning. Situational awareness: Today marks six months of President Trump ... O.J. Simpson goes before the Nevada Parole Board (1 p.m. ET; live coverage on ESPN and elsewhere) in hopes of being released from medium-security prison.
https://www.axios.com/newsletters/axios-am-8ed4fb8b-0d9c-4952-9da7-d21b7e60d460.html?chunk=0#story0
1 big thing: How Trump lost confidence in his A.G.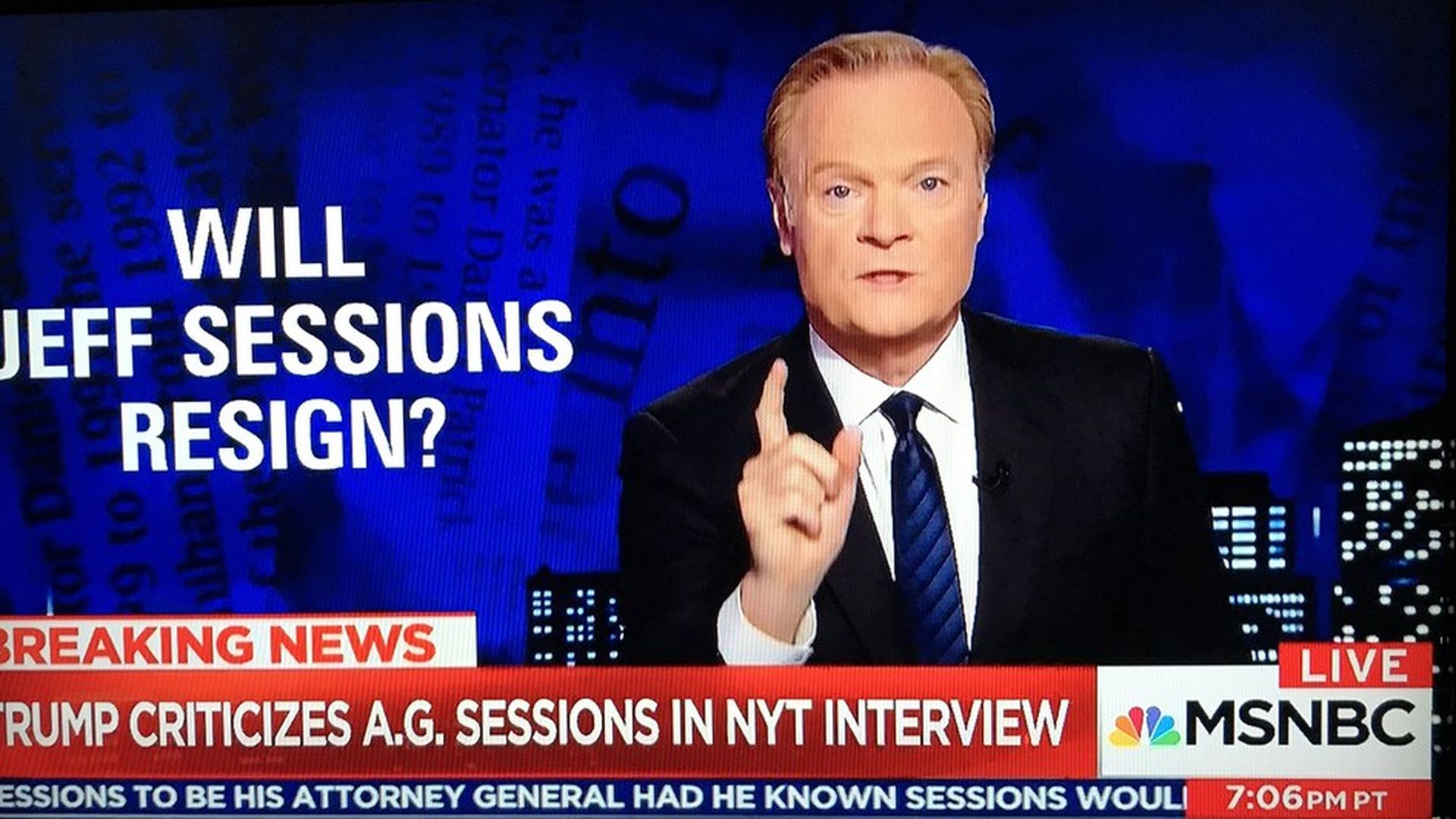 For weeks, President Trump has been privately expressing frustration with Attorney General Jeff Sessions, and has even told aides he regretted appointing him:
Trump views Sessions' decision to recuse himself from the Russia investigation as an act of weakness that made the situation exponentially worse for the White House.
POTUS has mused that he could have named Sessions — a crucial early backer of his campaign — to be Secretary of Homeland Security instead. (Although he's very pleased with his choice there, Gen. John Kelly.)
Yesterday, Trump went public with his beef, telling the N.Y. Times in a stunning 50-minute interview in the Oval Office: "Sessions should have never recused himself, and if he was going to recuse himself he should have told me before he took the job and I would have picked somebody else."
The declaration of no-confidence led to instant speculation in Republican circles that Sessions would resign: How can he go to work this morning?
Axios' Jonathan Swan says the latest outburst has unnerved Sessions' allies, but didn't come as a huge surprise. They know the relationship is irreparably broken, but they're banking on his love for the job will overwhelm what would be a natural urge to resign. Trump's aides also say he likes to ritually humiliates people he's mad at — Exhibit A: Steve Bannon — but doesn't fire them.
We have no indication Trump wants Sessions to resign.
Sessions has told friends how much he loves the job, and how much fun he's having — locking up bad guys, supporting law enforcement, cracking down on sanctuary cities, etc.
DJT loves all that stuff, too. So on policy, they couldn't be more in lockstep. If it wasn't for Russia, they'd be as close as ever.
Sources also point out that if Sessions resigned, the acting head of the Justice Department would be Deputy Attorney General Rod Rosenstein, with whom Trump has no vibe. (In the interview, Trump said of Rosenstein: "Who is he? ... He's from Baltimore ... There are very few Republicans in Baltimore, if any.")
This rift sure sounds permanent, though. And remember that Sessions offered to resign before, saying that he serves at the pleasure of the President and was willing to step aside if POTUS would feel better served. Trump declined.
What Trump is thinking: It's the president's view that Sessions' decision to recuse himself from the Russia investigation — which may have been unavoidable, given the pressures at the time — empowered Democratic critics.
Inexcusable, POTUS thinks. Trump would have felt safer with his man Sessions in charge, but now must endure the wholly unpredictable and uncontrollable probe by special counsel Bob Mueller.
Be smart: Trump's blast shows that no lawyer or aide has convinced him to rein in his remarks in Russia, and makes a public spectacle of the kind of internal West Wing war that in most administrations might be concealed or gossiped about, but never proven in real time.
https://www.axios.com/newsletters/axios-am-8ed4fb8b-0d9c-4952-9da7-d21b7e60d460.html?chunk=1#story1
2. Trump warns Mueller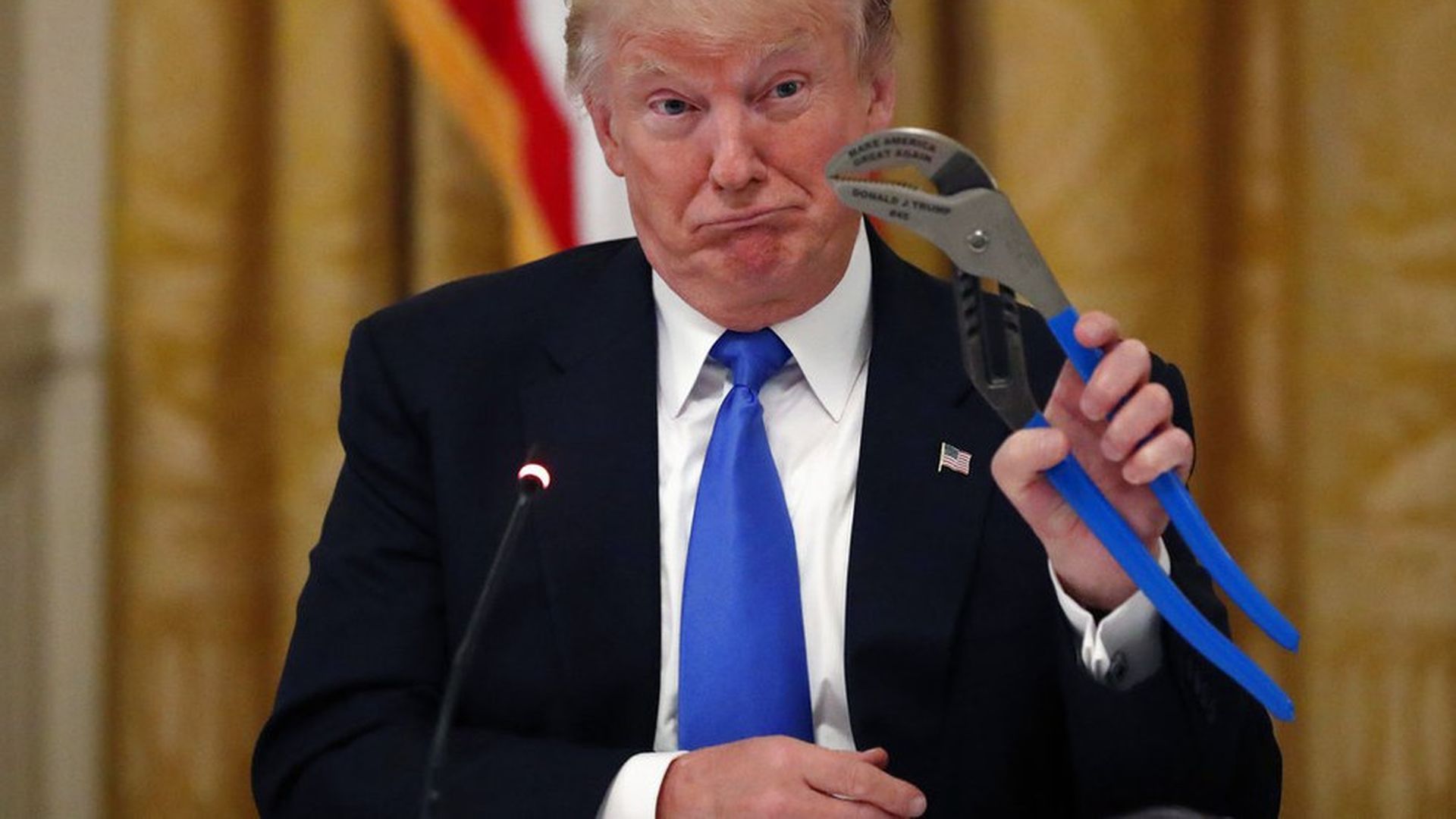 In excerpts posted by The Times, Trump makes comments about special counsel Bob Mueller that are at least a warning, and were taken by some commentators as a "Sopranos"-style threat:
Trump: "I have done nothing wrong. A special counsel should never have been appointed in this case." ...
Times: "[I]f Mueller was looking at your finances and your family finances, unrelated to Russia — is that a red line? ... Would that be a breach of what his actual charge is?"
Trump: "I would say yes. By the way, I would say, I don't — I don't — I mean, it's possible there's a condo or something, so, you know, I sell a lot of condo units, and somebody from Russia buys a condo, who knows? I don't make money from Russia." ...
Times: "But if he was outside that lane, would that mean he'd have to go?" ...
Trump: "I think that's a violation. Look, this is about Russia. So I think if he wants to go, my finances are extremely good, my company is an unbelievably successful company. ... I have no income from Russia. I don't do business with Russia."
Times: "Would you fire Mueller if he went outside of certain parameters of what his charge is?"
Trump: "I can't answer that question because I don't think it's going to happen."
https://www.axios.com/newsletters/axios-am-8ed4fb8b-0d9c-4952-9da7-d21b7e60d460.html?chunk=2#story2
3. New fight for the bravest Senator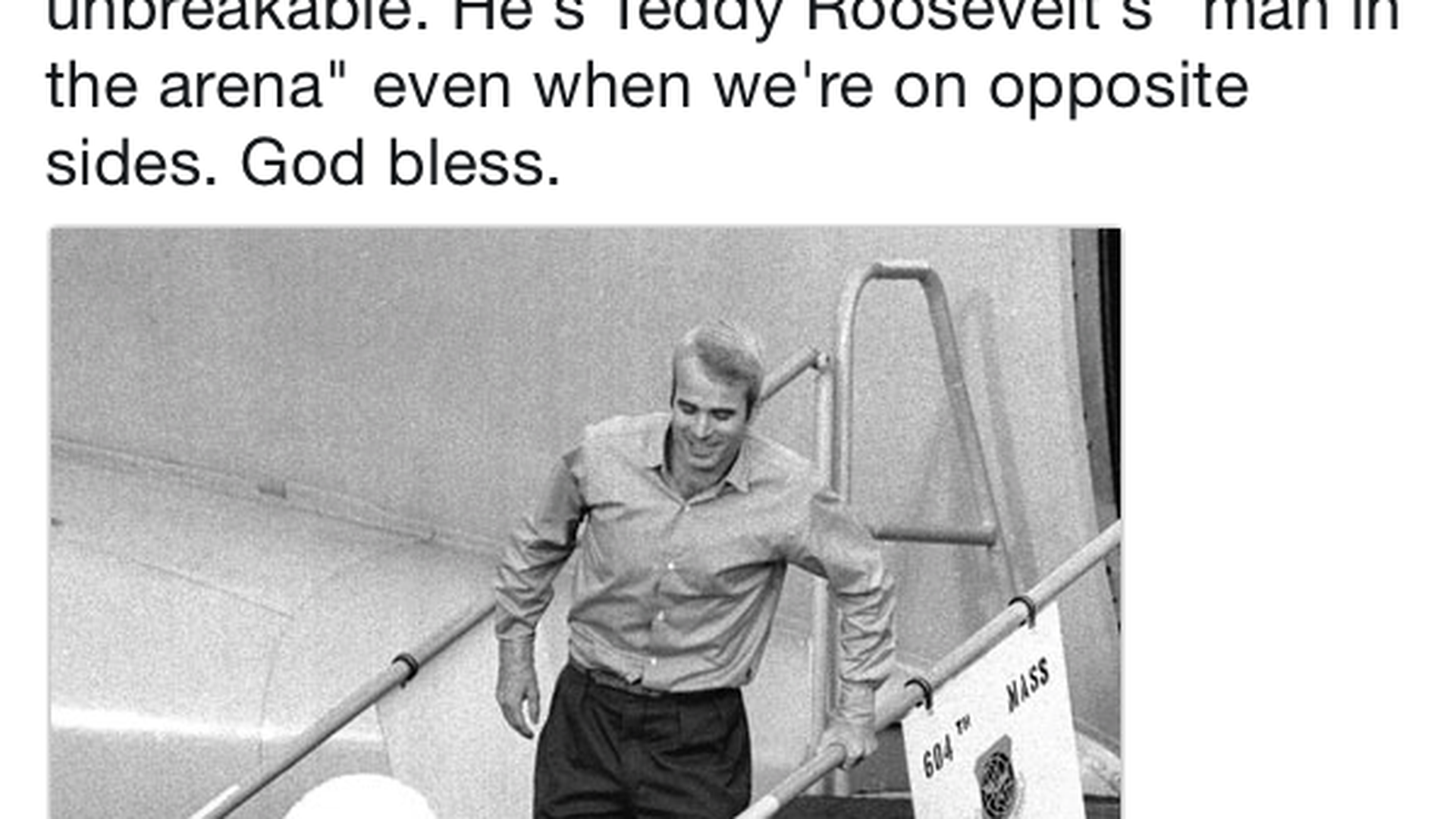 The capital was stunned last night by news that Sen. John McCain (R-Ariz.) — age 80, the former Vietnam prisoner of war who was sidelined this week with a blood clot — has a hard-to-treat brain tumor:
https://www.axios.com/newsletters/axios-am-8ed4fb8b-0d9c-4952-9da7-d21b7e60d460.html?chunk=3#story3
4. "Deep divisions" in White House over Russia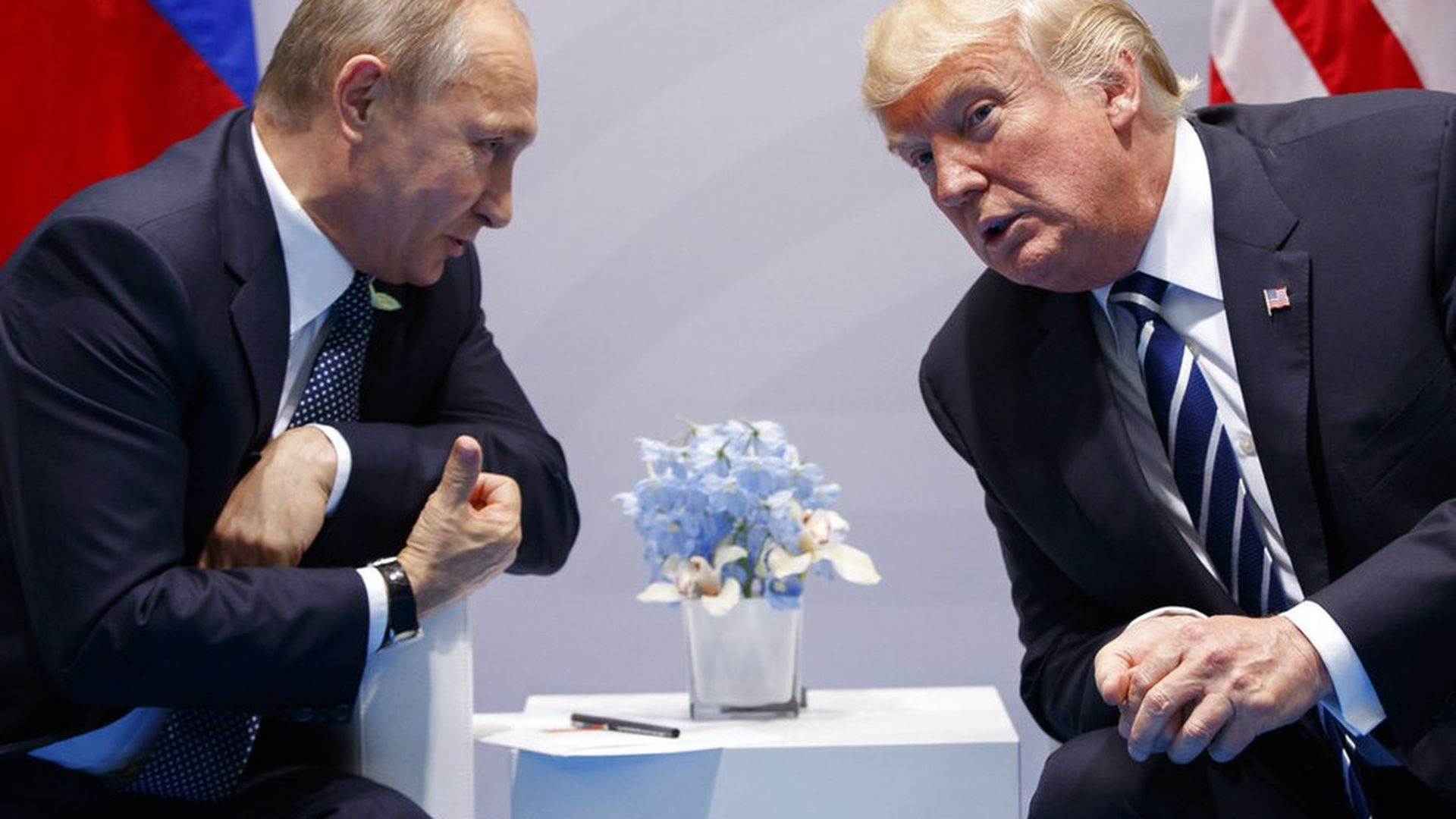 An astonishing story ... "Trump's embrace of Russia making top advisers wary," by AP's Vivian Salama:
"Trump's persistent overtures toward Russia are placing him increasingly at odds with his national security and foreign policy advisers, who have long urged a more cautious approach."
"[A]n extended dinner conversation between Trump and ... Putin ... raised red flags with advisers already concerned by the president's tendency to shun protocol and press ahead with outreach toward Russia."
"Deep divisions are increasingly apparent within the administration on the best way to approach Moscow ...[S]ome top aides, including National Security Adviser Gen. H.R. McMaster, have been warning that Putin is not to be trusted."
Wow: "Foreign and U.S. officials said the Russians recommended that a note taker be present in the bare-bones official bilateral meeting. But Trump, who has repeatedly expressed concern over leaks, refused, instead relying on [SecState] Tillerson to document the meeting."
P.S. WashPost lead story, "Trump ends CIA program in Syria," by Greg Jaffe and Adam Entous: "Trump has decided to end the CIA's covert program to arm and train moderate Syrian rebels battling the government of Bashar al-Assad, a move long sought by Russia."
https://www.axios.com/newsletters/axios-am-8ed4fb8b-0d9c-4952-9da7-d21b7e60d460.html?chunk=4#story4
5. Trump's honeymoon with China ends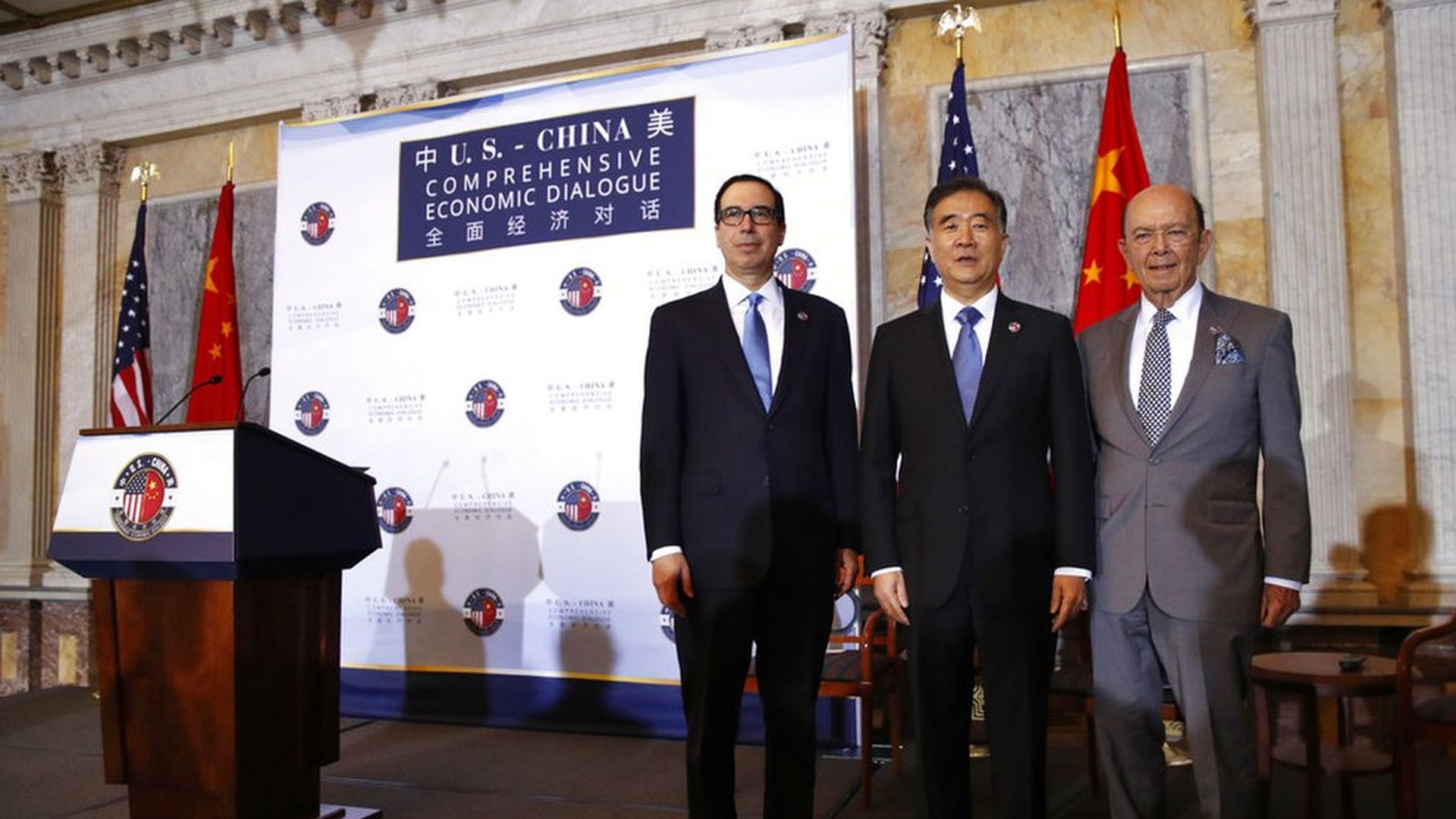 "The brief honeymoon between the world's two largest economies appears to be over," per Bloomberg's Andrew Mayeda and Saleha Mohsin:
"High-level economic talks in Washington broke up Wednesday with the two superpowers unable to produce a joint statement. Commerce Secretary Wilbur Ross scolded China over its trade imbalance with the U.S. in his opening remarks, and then both sides canceled a planned closing news conference."
"Ross complained about the trade gap with China in unusually blunt terms."
Why it matters: "While confronting the Chinese ... will play well politically in America, it's not a good strategy for making progress with Chinese leaders, who are under their own political pressures."
P.S. "China clamping down on use of VPNs to evade Great Firewall" — AP/Beijing: "China is tightening control over foreign companies' internet use in a move some worry might disrupt their operations or jeopardize trade secrets."
https://www.axios.com/newsletters/axios-am-8ed4fb8b-0d9c-4952-9da7-d21b7e60d460.html?chunk=5#story5
6. Hot on the Hill: Kushner, Don Jr., Manafort
Next week will be a big one for Senate committees investigating connections between Trump associates and Russia:
Jared Kushner will be testifying in a closed session before the Senate Intelligence Committee on Monday, while Don Jr. and Paul Manafort are scheduled to appear in front of the Senate Judiciary Committee on Wednesday morning.
Why it matters, from Axios' Shane Savitsky: Expect wall-to-wall coverage for the open Trump Jr./Manafort hearing.
The buzz: One adviser to the West Wing says anticipation of the initial round of testimony has been "like waiting for a kidney stone to pass."
https://www.axios.com/newsletters/axios-am-8ed4fb8b-0d9c-4952-9da7-d21b7e60d460.html?chunk=6#story6
7. White House flip-flops: Health strategy in flux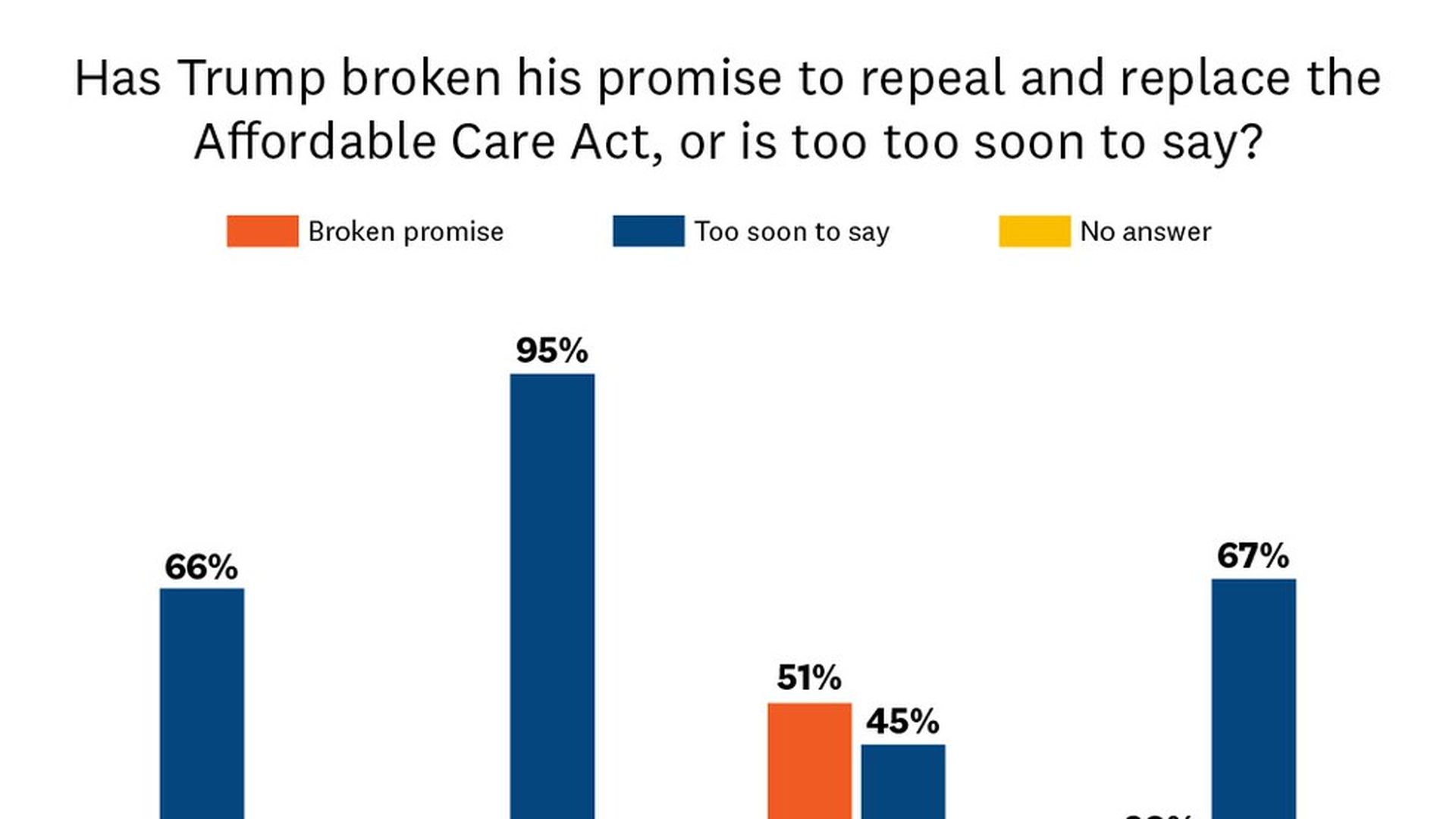 Axios' Caitlin Owens: "Shortly after Trump told Senate Republicans at a lunch meeting ... that his preference is to repeal and replace the law at the same time, Paul Teller, a White House legislative affairs aide, sent out an e-mail asking recipients to support a 2015 bill that would only repeal the law."
What's next: "McConnell announced to senators that the plan was to vote as early as [today] to begin debate on the bill."
Awkward: "Seated next to Nevada Sen. Dean Heller, who is vulnerable in next year's midterm elections, Trump remarked: 'He wants to remain a senator, doesn't he?' as Heller gave a strained grin." (AP)
Republican senators met late into the night with no signs of progress on strategy, including whether to hold a vote next week that they'd be likely to lose. (Reuters)
https://www.axios.com/newsletters/axios-am-8ed4fb8b-0d9c-4952-9da7-d21b7e60d460.html?chunk=7#story7
8. If you read only 1 thing
"Fat matters: How gaining weight kills," by Axios' Eileen Drage O'Reilly, citing a Harvard study published in JAMA:
For every 11 pounds gained after 18 years old for women and 21 for men, there is:
a 5% greater chance of dying prematurely (if you've never smoked)
a 30% increased risk of Type 2 diabetes
a 14% greater risk of hypertension
an 8% higher risk of cardiovascular disease
a 6% increased risk of obesity-related cancer.
https://www.axios.com/newsletters/axios-am-8ed4fb8b-0d9c-4952-9da7-d21b7e60d460.html?chunk=8#story8
9. Gore 2020?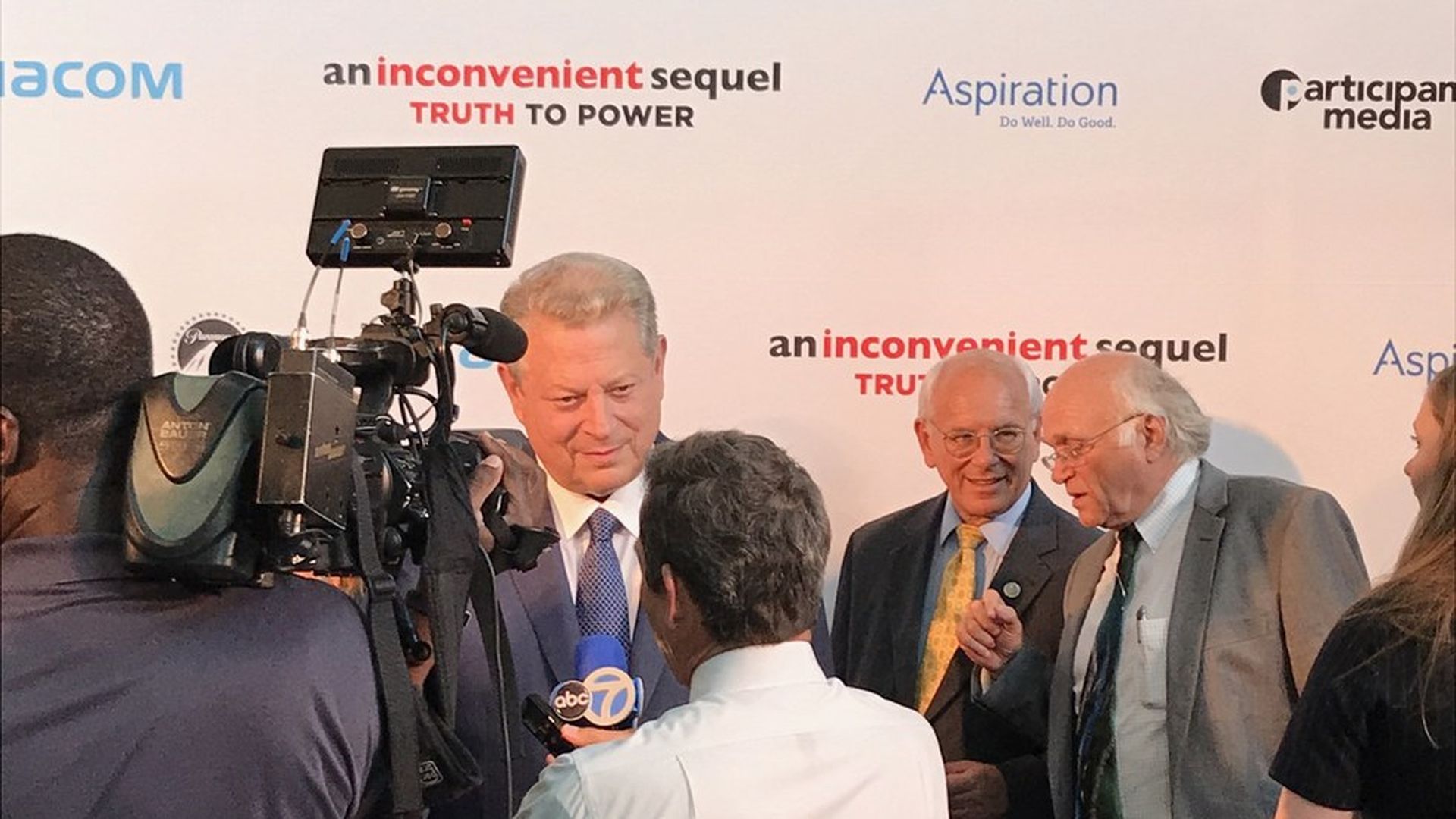 Lots of hubbub about Al Gore running for president in 2020, from the overflow crowd at last night's D.C. screening of his new documentary, "An Inconvenient Sequel: Truth to Power" (select theaters July 28; nationwide Aug. 4; from Paramount Pictures and Participant Media). #BeInconvenient ...
Being there ... "Gore's climate movie sequel ignores political reality," by Axios energy correspondent Amy Harder: "As one attendee told me after the film's Wednesday night premiere in D.C.: 'The film was an unusual combination of electoral self-deprecation and climate narcissism.'"
Why it matters: "The film, and its Washington premiere, showed how much of the climate movement is out of touch with political reality right now — Republicans control Congress and the White House is run by a president who doesn't acknowledge climate change is real, let alone a problem worthy of addressing."
"[T]he film had a few jokes about how Gore didn't win the presidential election in 2000, and whether he plans to run again for the highest office. ('I'm a recovering politician,' Gore says in the film, indicating but not expressly saying no.)"
"Before the film, someone in the audience shouted he should run for president in 2020, Gore replied: "I'll answer that in the movie."
https://www.axios.com/newsletters/axios-am-8ed4fb8b-0d9c-4952-9da7-d21b7e60d460.html?chunk=9#story9
10. 1 useful tip: Don't eat on planes
Melissa Biggs Bradley, founder of luxury travel firm Indagare, to Bloomberg Pursuits' Mark Ellwood:
"I eat nothing on flights. I've talked to a lot of stewardesses about it, and it's a stewardess secret. ... [A]t superhigh altitude, your digestive system shuts down completely. Someone said to me it's like being under anesthesia. So when you get off the plane, everything restarts and [your digestive system] has so much more work to do and so it makes you more tired.
"Most people overeat because it's a diversion, or a way to pass the time; but even the best plane food is oversalted and preserved so it can be microwaved. So I have something to eat a couple hours before getting on the plane, but otherwise it's nothing but lots and lots of water. ...
"I flew to Paris last week, ... and I got off the plane at maybe 10 a.m., and when I landed I went for a fabulous lunch, which I didn't feel guilty about in the slightest."