Good Tuesday morning. Situational awareness: Trump is moving toward acting alone on North Korea, according to the Wall Street Journal's lead story: tightening sanctions, targeting Chinese companies/banks that help regime ... Trump state visit to the U.K. will take place next year, senior London sources tell Sky News. But the President, who owns two golf courses in Scotland, may make an unofficial visit before then.
https://www.axios.com/newsletters/axios-am-8b03f28b-3a12-4a59-8144-246ed106abd7.html?chunk=0#story0
1 big thing: No denial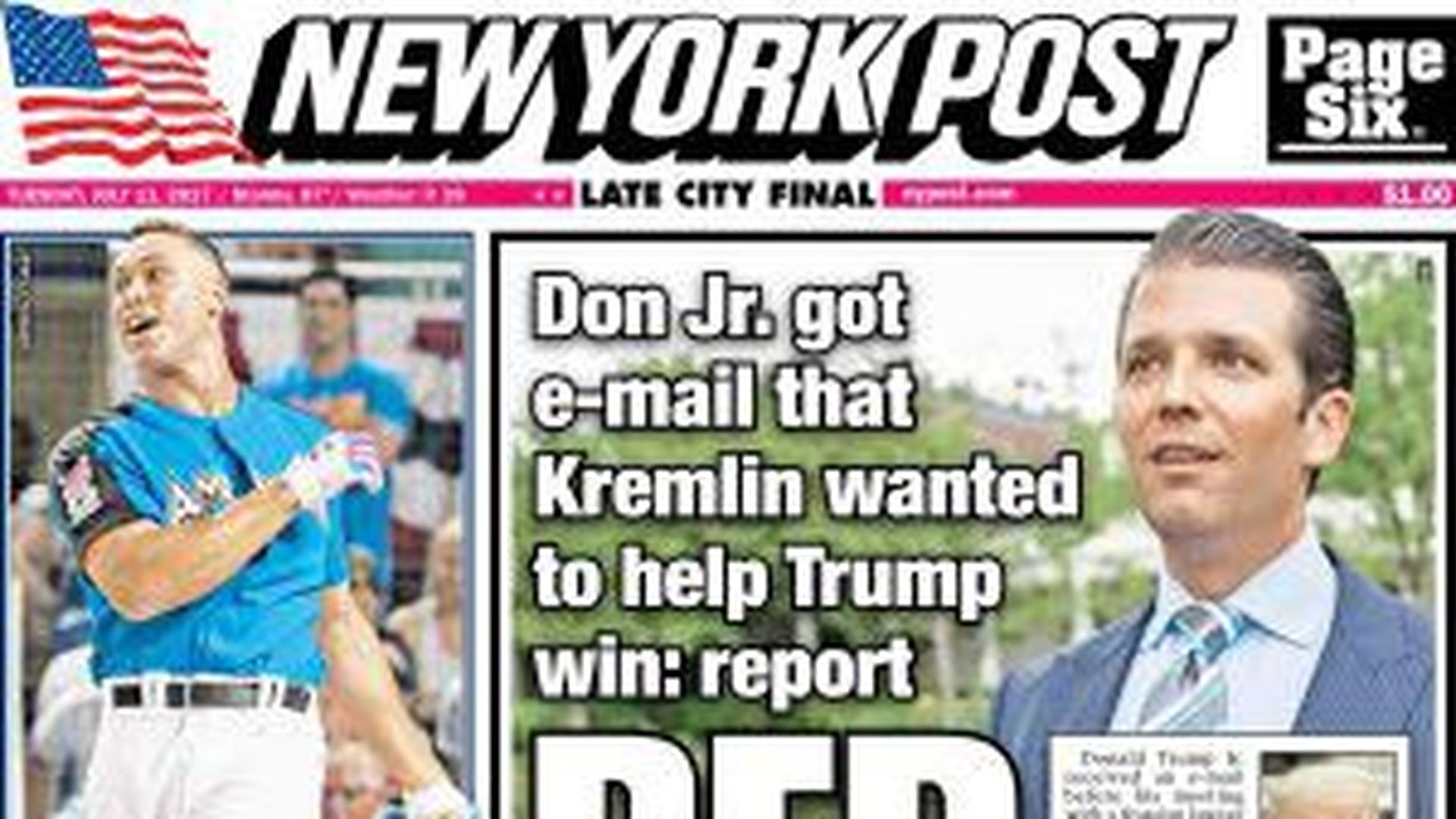 There's no denial in the West Wing: Top aides acknowledge that the three consecutive days of baffling, brutal disclosures about Don Jr.'s Russia meeting during the campaign is a story that will stick, with potentially momentous political and legal consequences.
Thought for the day: If The New York Times knows all this, imagine what Bob Mueller knows.
The dang emails ... Last night's detonation, leading the paper with a 2-column headline, "Trump's Son Heard of Link To Moscow Before Meeting":
"Before arranging a meeting with a Kremlin-connected Russian lawyer he believed would offer him compromising information about Hillary Clinton, Donald Trump Jr. was informed in an email that the material was part of a Russian government effort to aid his father's candidacy."
"The email to the younger Mr. Trump was sent by Rob Goldstone, a publicist and former British tabloid reporter who helped broker the June 2016 meeting."
"Goldstone's message ... indicates that the Russian government was the source of the potentially damaging information."
The internal mood, per The Times: "News of the meeting involving the younger Mr. Trump, Mr. Kushner and Mr. Manafort blunted whatever good feeling the president's team had after his trip to Europe for the Group of 20 economic summit meeting."
"The president was frustrated by the news of the meeting ... — less over the fact that it had happened, and more because it was yet another story about Russia that had swamped the news cycle."
Be smart: A consequence of these stories is that no blanket denial of anything by this White House will be believable. So the President and his team can expect to be nibbled by ducks as long as they're in office.
P.S. "Kushner Cos. Sought Qatar Funds as Jared Advised Trump," by Bloomberg's David Kocieniewski: "A few months before President Donald Trump encouraged Saudi Arabia and others to blockade Qatar, the real estate business owned by the family of his son-in-law, Jared Kushner, sought a substantial investment from one of the Gulf State country's wealthiest and most politically influential figures."
https://www.axios.com/newsletters/axios-am-8b03f28b-3a12-4a59-8144-246ed106abd7.html?chunk=1#story1
2. The conversation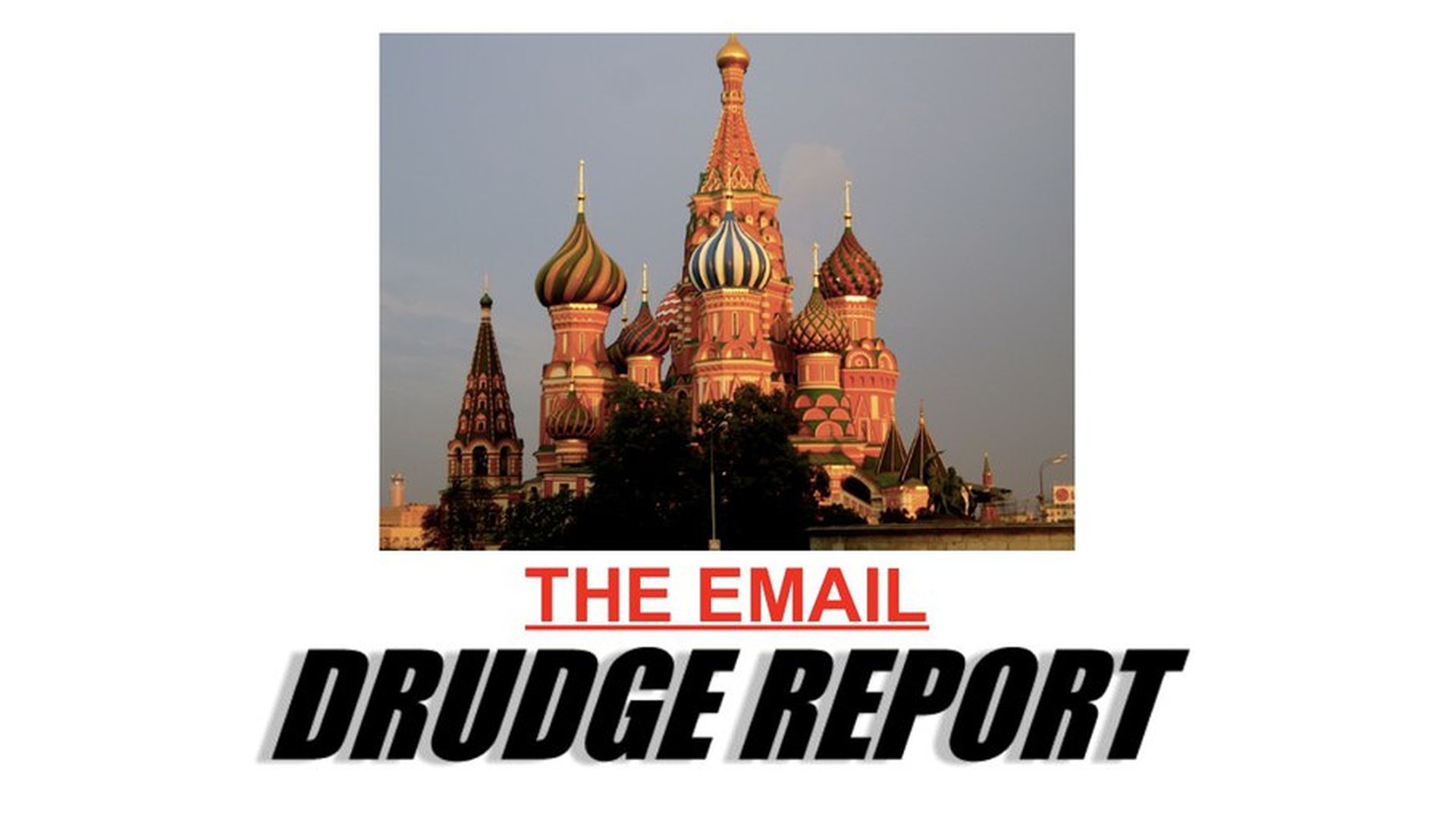 "Would Americans beyond the Beltway rather hear about jobs or health care?" asks a WashPost column by Gene Robinson, "Trump Jr.'s meeting is a game-changer."
"Perhaps so. But the questions that should be concentrating the minds of the president's inner circle are legal, not political — and Mueller's high-powered team of lawyers is experienced at connecting dots."
https://www.axios.com/newsletters/axios-am-8b03f28b-3a12-4a59-8144-246ed106abd7.html?chunk=2#story2
3. Trumplandia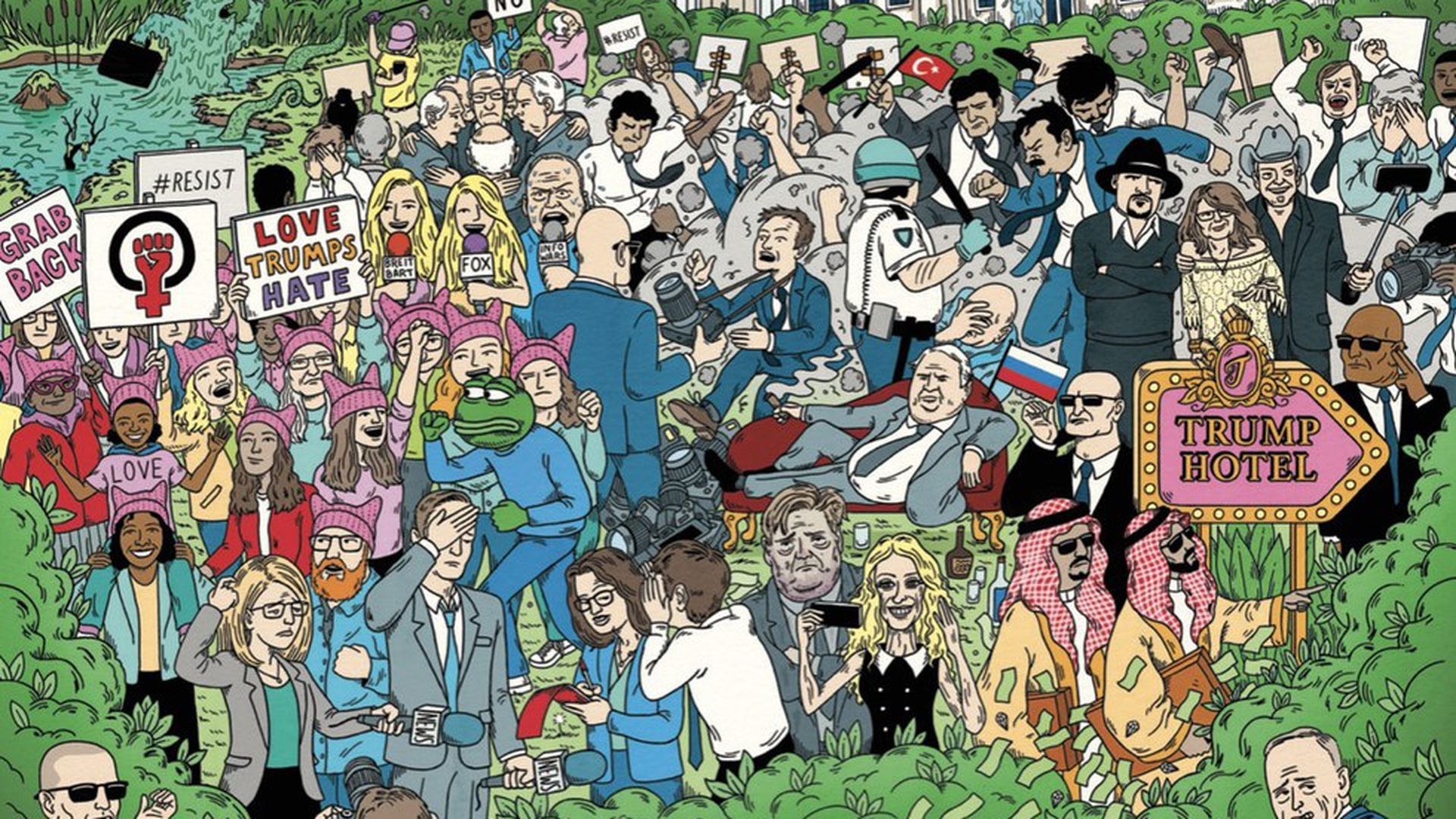 Mark Leibovich's cover story in the forthcoming New York Times Magazine, "This Town Melts Down":
"The president was sitting alone in a small dining room just off the Oval Office at a wooden table covered with papers. His cheeks were the color of coral, not the usual glowing orange we see when he's framed by a screen. Trump half-stood, said hello and shook my hand. I hadn't seen him since the election, and I congratulated him on his victory. He thanked me and pointed out that 'you treated me very badly' during the campaign, and that the 'failing New York Times' had been 'so unfair' to him, but he was perfectly pleasant about it."
"Trump also mentioned that his popularity with his base was 'looking great' and that he had 'inherited a mess.'"
"It was 12:30, but the president was not eating lunch. He was watching a recording of 'Fox and Friends' from about four hours earlier on a large TV mounted on the wall."
'"[L]ike most reporters, I found his tweets far more illuminating than anything the White House press office could ever disgorge. I urged him to keep it up."
"Trump assured me that he would keep tweeting. 'It's my voice,' Trump said, ... enumerating how many millions of followers he had. 'They want to take away my voice ... They're not going to take away my social media.'"
"Sean Spicer ... cuts an oddly compelling profile in that he represents a crossover player, someone who comfortably inhabited the old Tokyo-on-the-Potomac before Godzilla was elected and put him to work. He also seems to embody a particular neurosis of Trump-era Washington, where the lizard-brain logic of making a name for yourself is colliding with the imperative of survival in the shadow of a capricious force."
https://www.axios.com/newsletters/axios-am-8b03f28b-3a12-4a59-8144-246ed106abd7.html?chunk=3#story3
4. Senate health-care vote planned next week
"What's next if the Senate health bill fails," from Axios health care editor David Nather:
The bottom line: The health care storyline won't end. It will be like a season finale — with the next season beginning the next day.
Conservatives will push for a repeal-only bill.
The Affordable Care Act will be run by an administration that hates it.
Any bipartisan talks will be small ball. Even if moderate Democrats agree to start negotiating a "repair bill" with Republicans, the only ideas they've mentioned so far are relatively narrow.
https://www.axios.com/newsletters/axios-am-8b03f28b-3a12-4a59-8144-246ed106abd7.html?chunk=4#story4
5. Stat du jour
"The percentage of U.S. adults without health insurance grew in the second quarter of 2017 to 11.7%," according to Gallup:
That translates into nearly 2 million Americans who became uninsured.
The rate, measured by the Gallup-Sharecare Well-Being Index, hit a record low of 10.9% last year.
The current rate is still 6 points lower than it was at its peak of 18% in 2013, just before the health insurance exchanges opened.
Why it's happening: "Rising insurance premiums could be causing some Americans to forgo insurance, especially those who fail to qualify for federal subsidies. ... [S]ome insurance companies are leaving the ACA marketplace, and the lack of competition could be driving up the cost of plans for consumers."
Why it matters: "The nonpartisan Congressional Budget Office estimated that 22 to 23 million Americans could lose health coverage under the House and Senate proposals."
https://www.axios.com/newsletters/axios-am-8b03f28b-3a12-4a59-8144-246ed106abd7.html?chunk=5#story5
6. 16 Americans serving us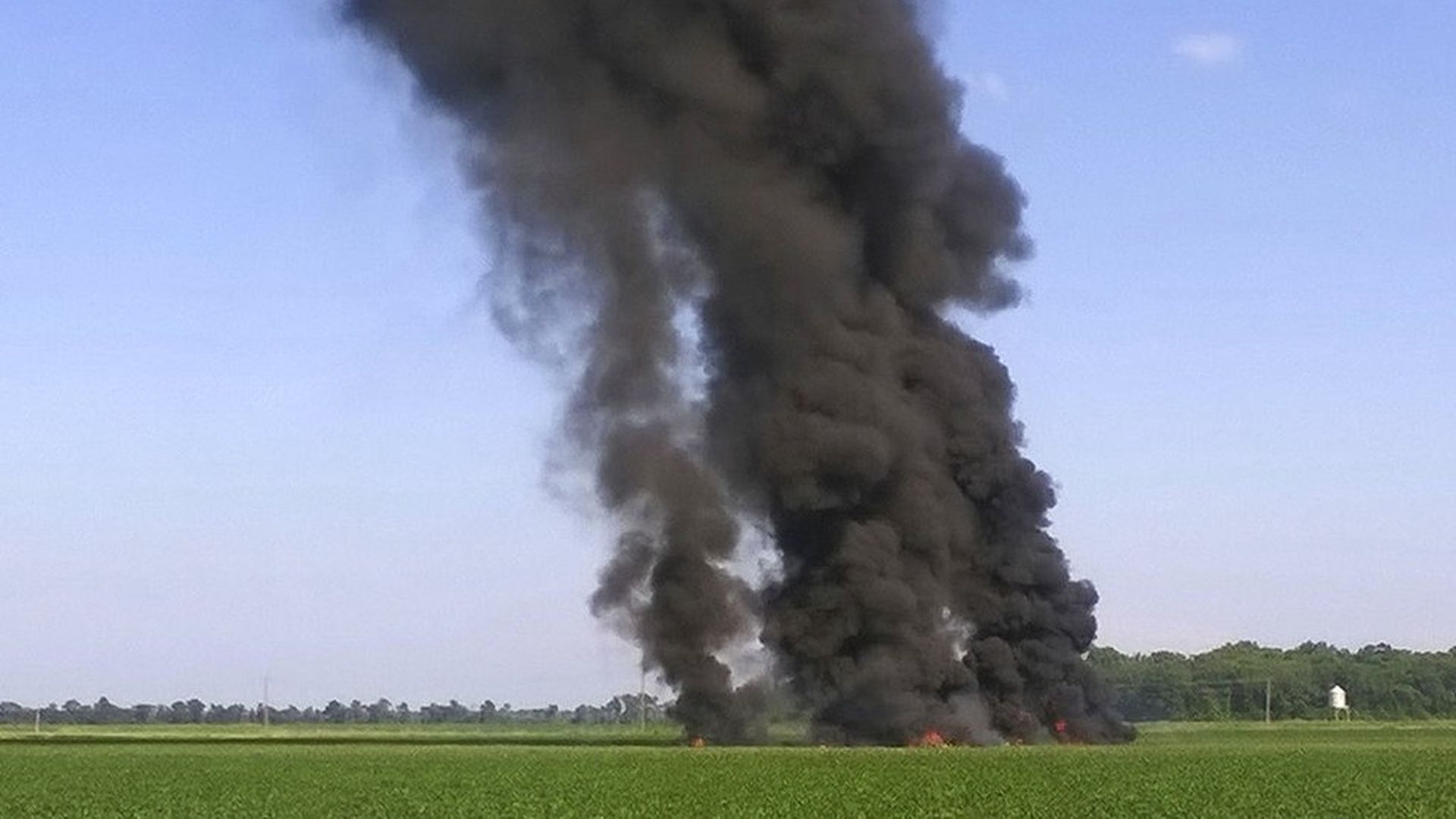 A Marine Corps refueling tanker crashed into a field in rural Mississippi, killing at least 16 people aboard, AP reports from Itta Bena, Miss.:
"[T]he KC-130 spiraled into the ground about 85 miles ... north of Jackson in the Mississippi Delta."
"Andy Jones said he was working on his family's catfish farm ... when he heard a boom and looked up to see the plane corkscrewing downward with one engine smoking."
"Jones said the plane hit the ground behind some trees in a soybean field ... The force of the crash nearly flattened the plane."
https://www.axios.com/newsletters/axios-am-8b03f28b-3a12-4a59-8144-246ed106abd7.html?chunk=6#story6
7. If you read only 1 thing: "Doomsday"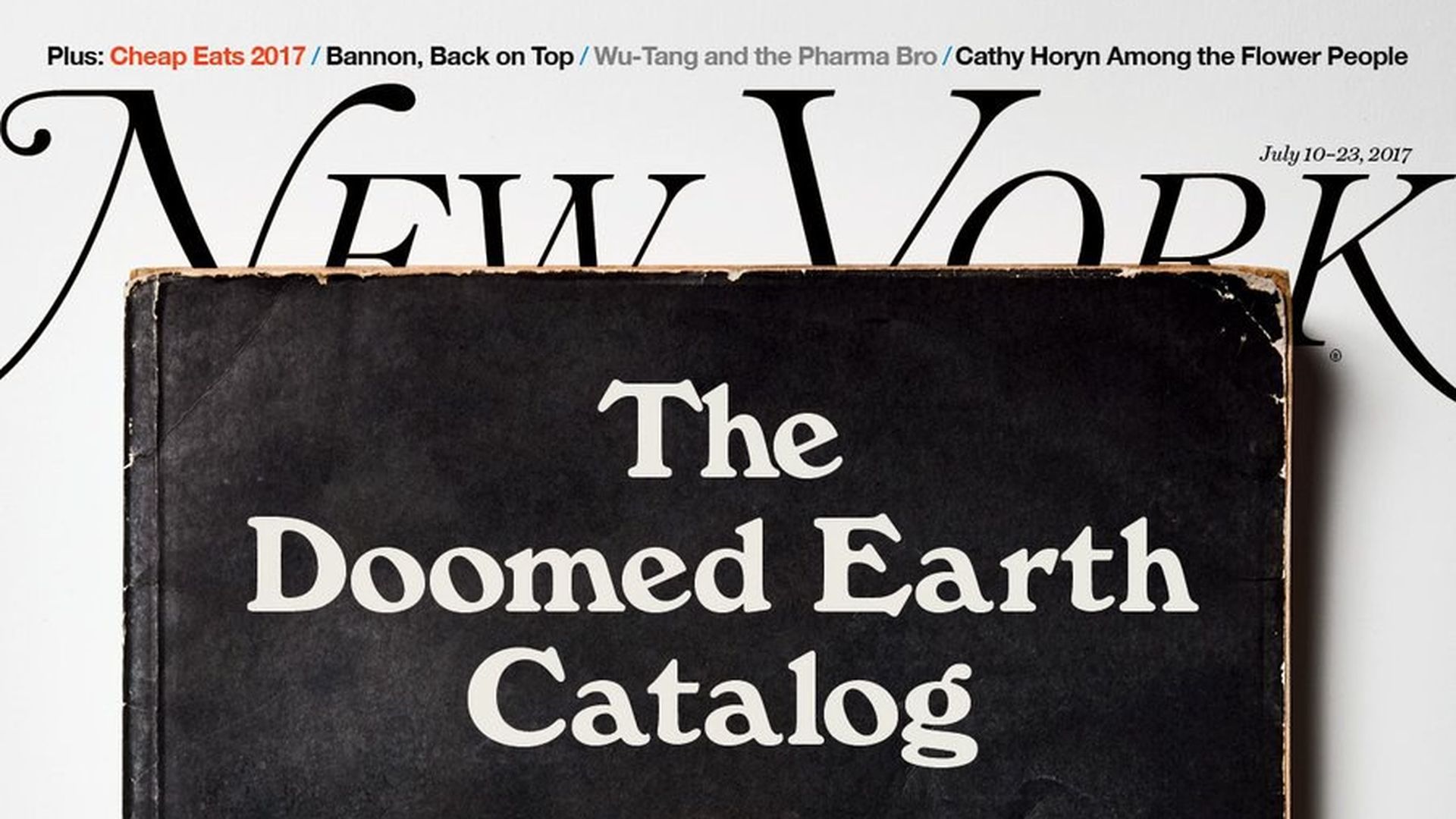 New York magazine's cover story blew up online yesterday, with its argument that we're screwed now, no matter what we do ... "The Uninhabitable Earth: Famine, economic collapse, a sun that cooks us: What climate change could wreak — sooner than you think," by David Wallace-Wells:
"It is, I promise, worse than you think. If your anxiety about global warming is dominated by fears of sea-level rise, you are barely scratching the surface of what terrors are possible, even within the lifetime of a teenager today. And yet the swelling seas — and the cities they will drown — have so dominated the picture of global warming, and so overwhelmed our capacity for climate panic, that they have occluded our perception of other threats, many much closer at hand.
"Rising oceans are bad, ... but fleeing the coastline will not be enough. Indeed, absent a significant adjustment to how billions of humans conduct their lives, parts of the Earth will likely become close to uninhabitable, and other parts horrifically inhospitable, as soon as the end of this century."
I only say this about once a week: Read the whole thing!
But, but, but ... The Atlantic's Robinson Meyer has a rebuttal arguing we're less doomed: "Consider the world that climate scientists say is more realistic: a place where sea levels cause mass migration within and without the developed world; where the economy is never great but isn't in shambles either."
https://www.axios.com/newsletters/axios-am-8b03f28b-3a12-4a59-8144-246ed106abd7.html?chunk=7#story7
8. Axios insights: The disappearing startup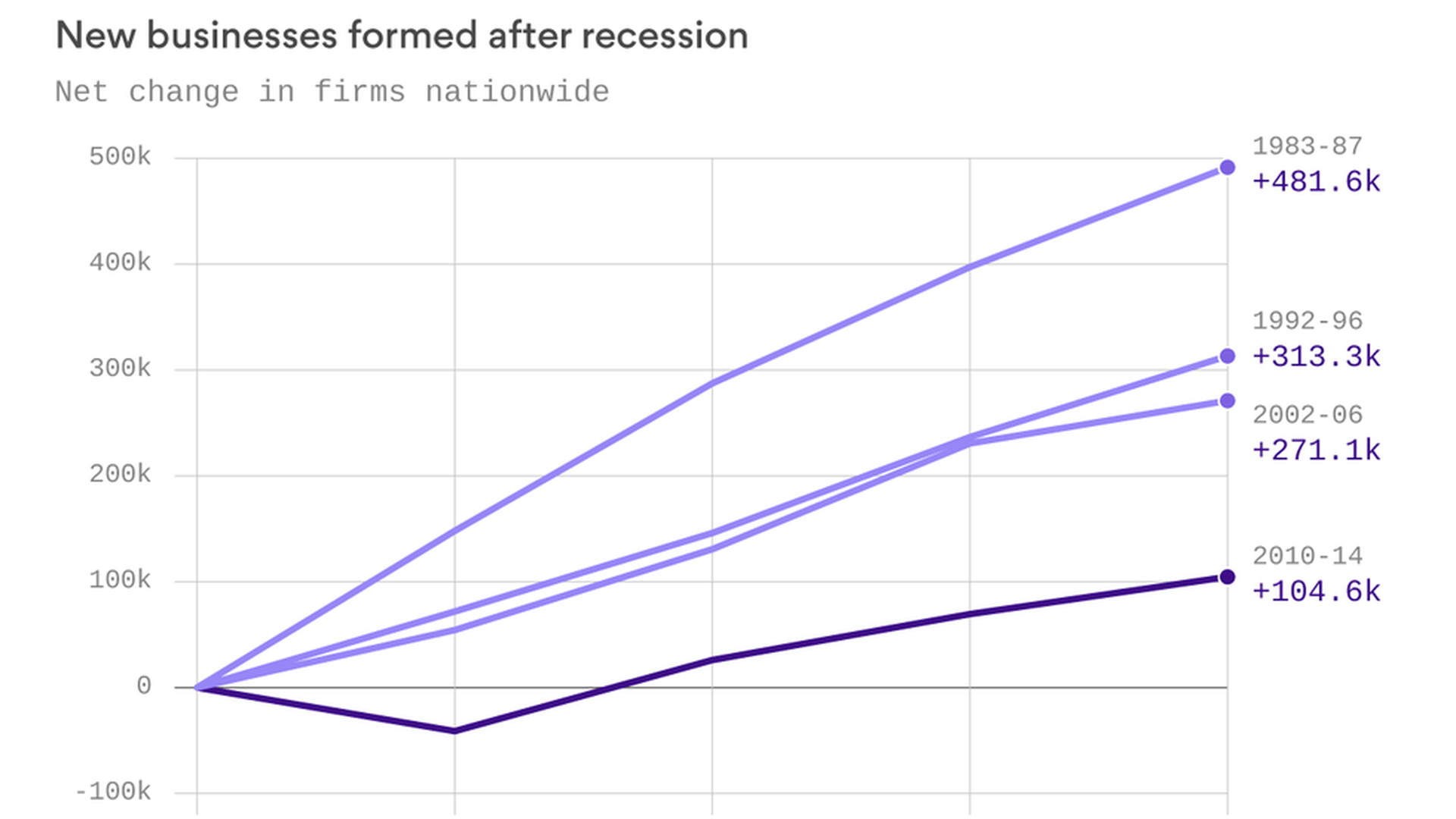 For the first time on record, U.S. companies are dying at a faster rate than they're being born, according to an analysis by the Economic Innovation Group, a non-profit research and advocacy organization.
Why it matters, from Axios Tech Editor Kim Hart: The slow rate of business starts means the U.S. economy is powered by a narrowing segment of companies, people and geographies — making the overall economy less resilient than it was after previous recessions.
When fewer new companies are being born, it's less likely that the companies and jobs that are disappearing will be replaced by better ones. And without competitive pressures from upstarts, big companies are able to grow bigger faster, increasing industry consolidation.
https://www.axios.com/newsletters/axios-am-8b03f28b-3a12-4a59-8144-246ed106abd7.html?chunk=8#story8
9. "Mika Brzezinski lands mega 3-book deal"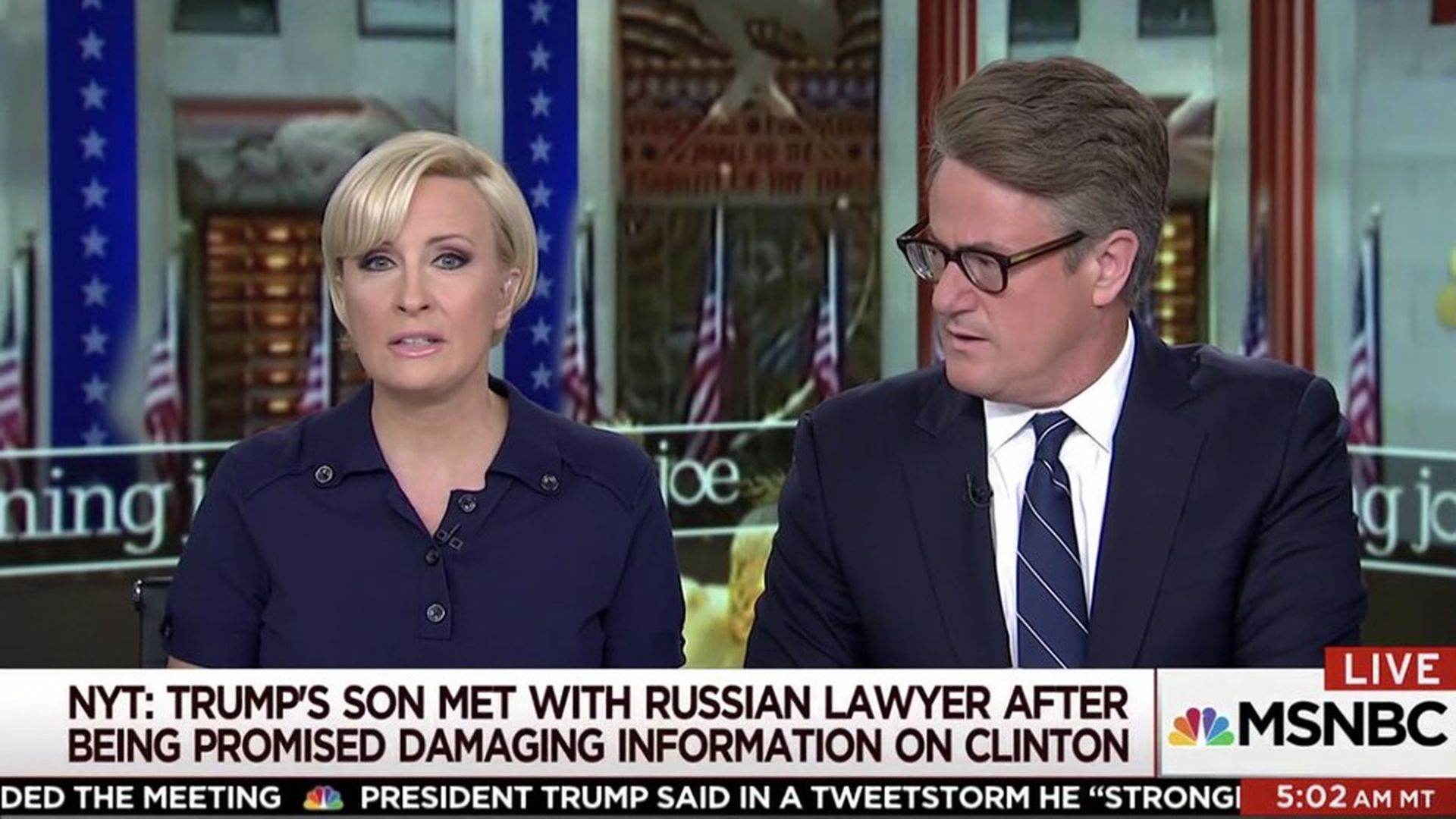 "Mika Brzezinski has landed ... a three-book deal with Weinstein Books, which published her 2011 book "Knowing Your Value," per Emily Smith of N.Y. Post "Page Six":
"The 'Morning Joe' anchor has signed a deal with Harvey and Bob Weinstein's publishing imprint said to be worth 'in the high six figures.'"
"The newly closed deal will include a revised edition of 'Knowing Your Value: Women, Money, and Getting What You're Worth,' which will be released next spring with fresh interviews from female trailblazers about getting recognition in the business space and in personal relationships."
"The updated book will also tie into Brzezinski's 2018 'Know Your Value' conference series for career-oriented women."
"Brzezinski plans to follow up with two more books in fall 2018, one titled 'Comeback Careers' and a currently untitled book for millennials entering the job market."
https://www.axios.com/newsletters/axios-am-8b03f28b-3a12-4a59-8144-246ed106abd7.html?chunk=9#story9
10. 1 fun thing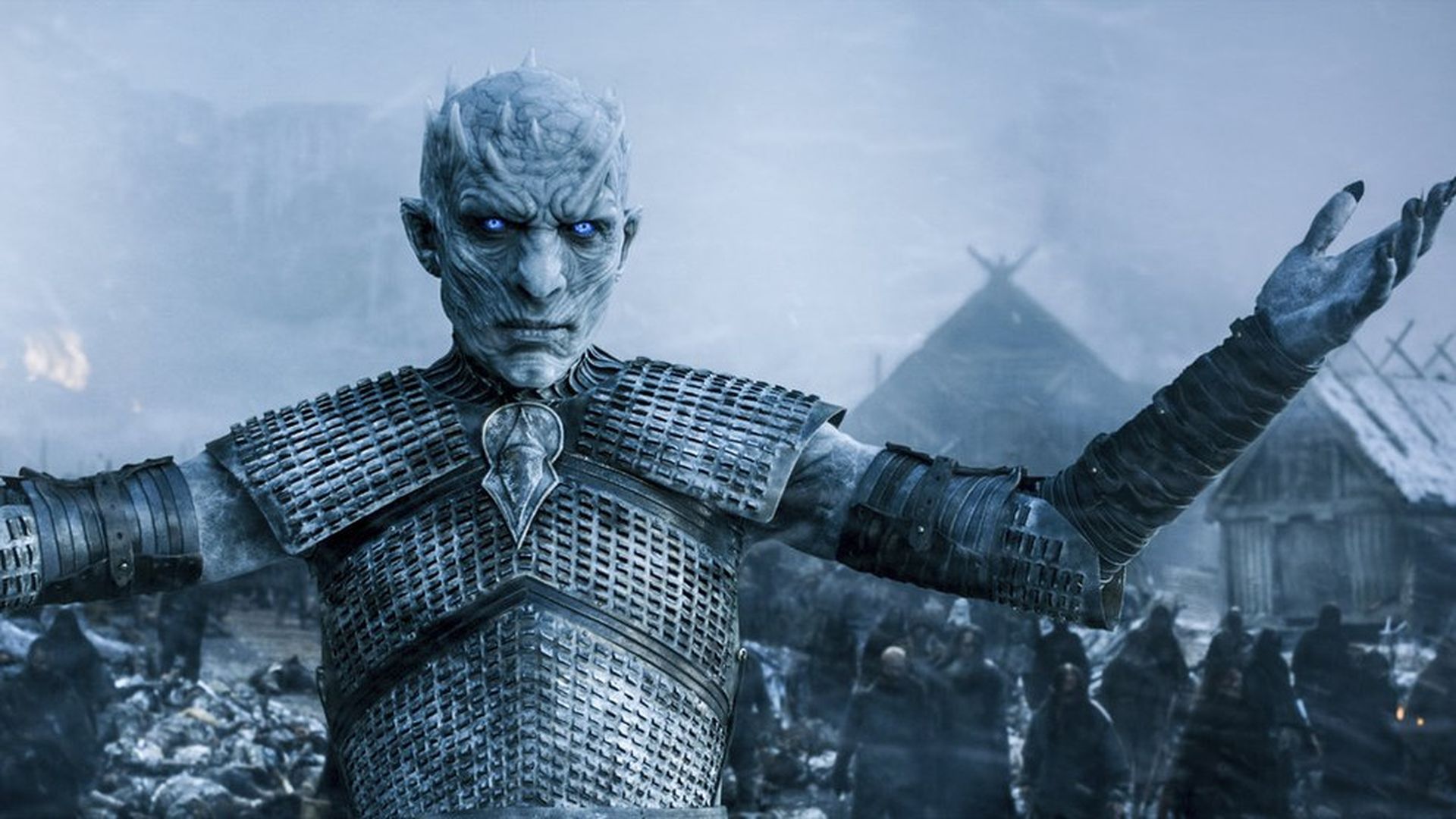 "Winter is always coming for economy on Game of Thrones," by AP's Christopher Rugaber, Paul Wiseman and Josh Boak:
"The world of Game of Thrones [returns for seventh season Sunday at 9 p.m. on HBO] may not sound much like our own. But after watching HBO's hit series for six seasons, we've found some striking similarities. The lords, ladies and common folk of Westeros are confronting some familiar-sounding problems":
"Only the wealthy seem [to] stay afloat financially, no matter how reckless they are."
"Gridlock, infighting and incompetence define the government."
"Many in power turn a blind eye to the existential threat of climate change."
"Stagnant economies were the norm for centuries."
"Where violence occurs, growth slows."
Listen to AP's new weekly online audio series, "The Wealth of Westeros."