Axios AM
July 03, 2019
⚡ Breaking ... TEHRAN, Iran (AP) — Iran's president warns that Tehran will increase its uranium enrichment to "any amount we want," beginning this weekend.
Happy getaway day! Today's Smart Brevity count: 1,156 words ... < 5 minutes.
Was this email forwarded to you? Get your own! Sign up here.
1 big thing: Why the 2020 campaigns are vulnerable to deepfakes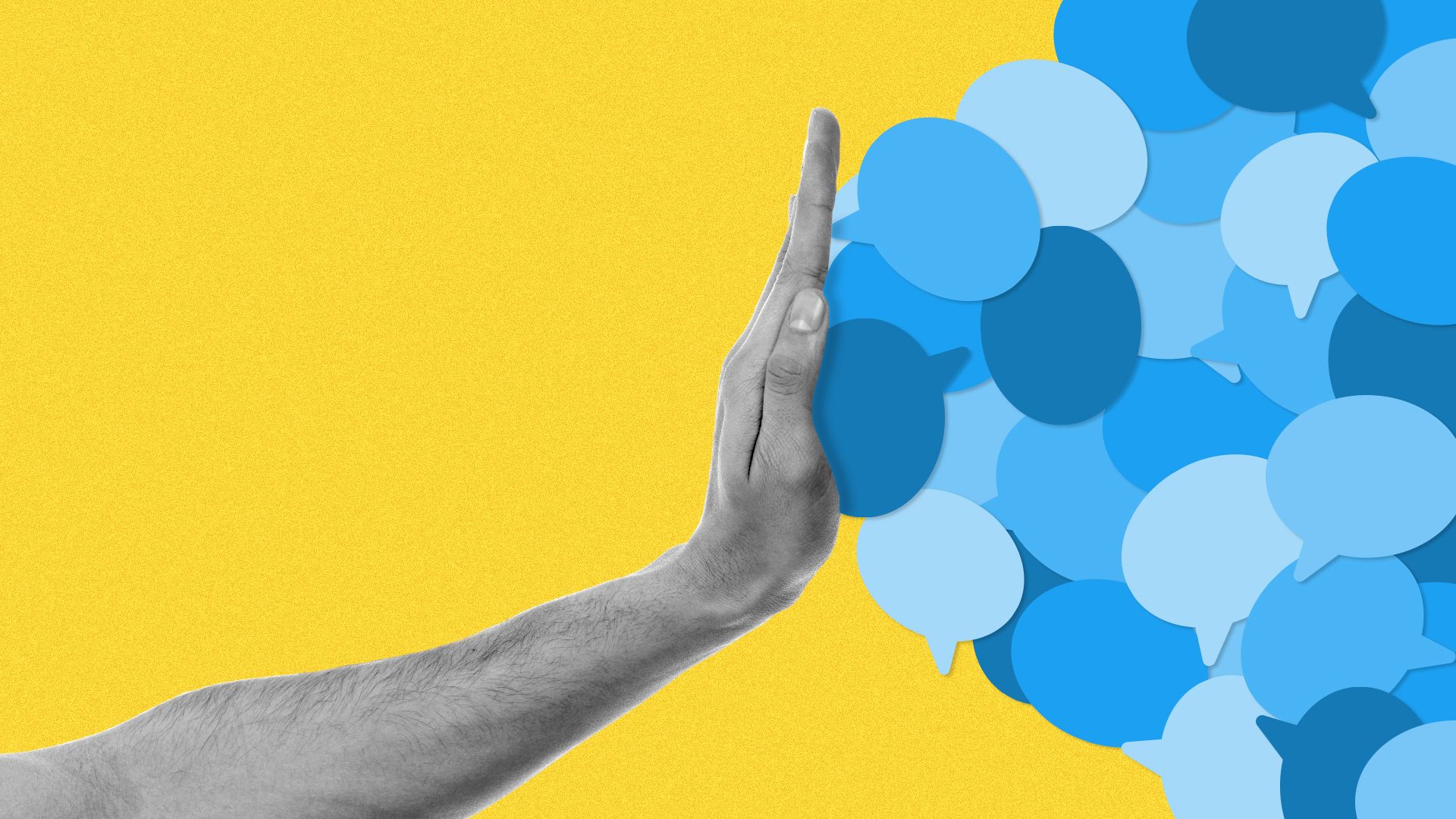 Most of the presidential campaigns are badly unprepared to fight online disinformation, partly because they face a dizzying array of options at prices that can be too costly, Axios emerging tech reporter Kaveh Waddell writes.
Why it matters: Deepfake techniques can be used against companies, communities and individuals, so this disturbing trend is worthy of your attention — beyond the political theater.
Another rising risk: Coordinated social media campaigns that make it seem like a fringe view is broadly held.
Experts say these attacks are more likely to come from domestic political adversaries than from the foreign meddlers of 2016.
But what campaigns should do about the coming chaos is still hazy.
Rushing into the breach is a cadre of consultants — big-name firms and individual operatives alike — who claim to have the secret sauce to detecting brewing disinformation and countering it.
Some offer basic monitoring software — the kind that fact-checkers use to see what rumors are swirling online.
Others promise to sniff out disinformation and work with campaigns to develop full communications strategies to counter it.
Where it stands: Campaigns, operating with limited funds, are being inundated with a jumble of products.
"There are a lot of people offering snake oil, so it's hard for campaigns to make decisions on what to invest in," says Jiore Craig, a vice president at GQR Research, who advises Democratic campaigns on disinformation.
The bottom line: It can be hard to make room for such services in campaign budgets, which historically don't have a line item for battling online mobs.
2. A problem the U.S. and China share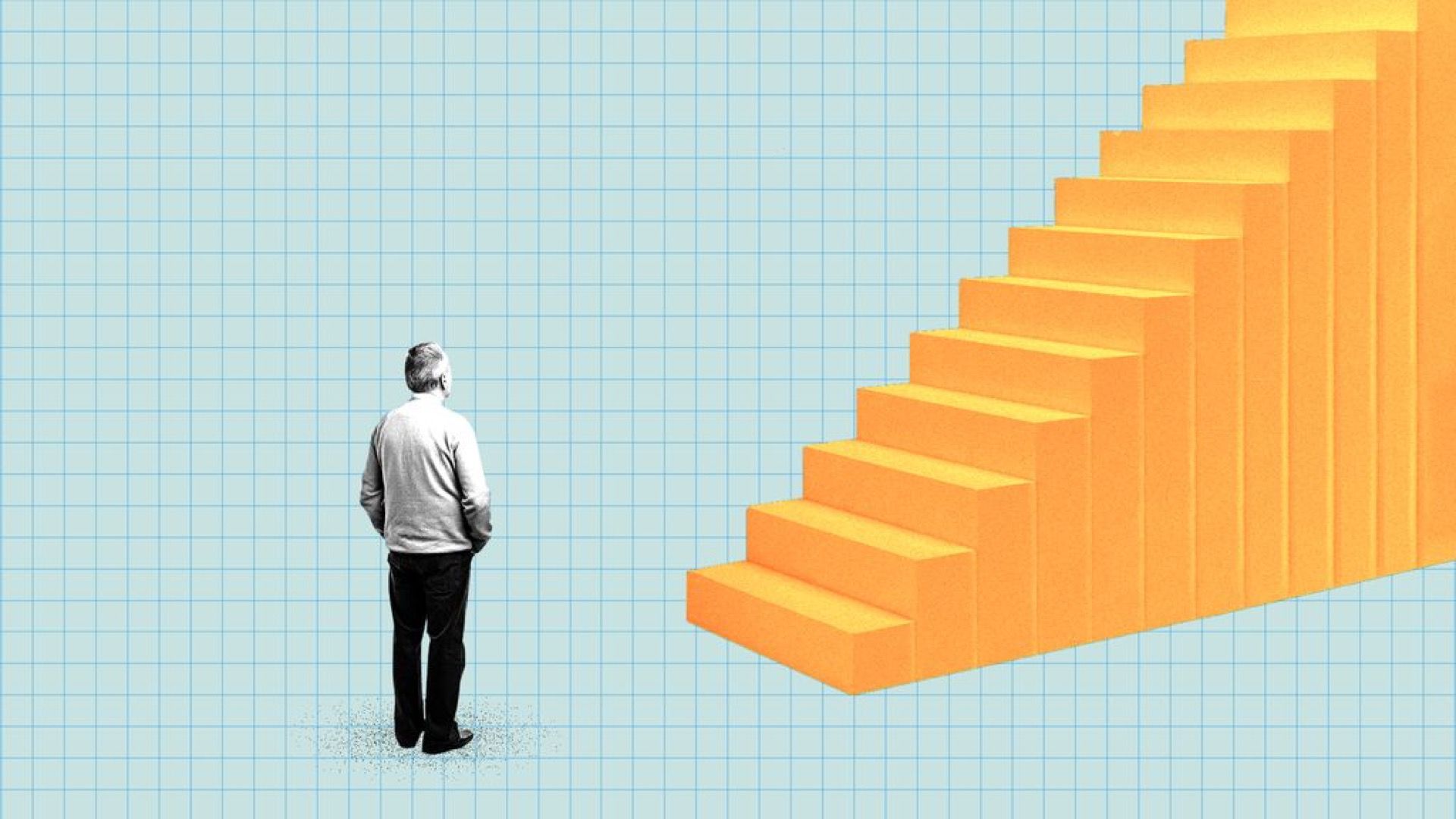 The U.S. and China are both battling a largely invisible force, a global demographic shift toward an aging and shrinking population that could sap their economic vitality, writes Axios Future editor Steve LeVine.
China's one-child policy, now increased to two, has baked in a dire mid-century future for the nation. By 2050, 487 million people — a third of its population — will be over 60 and in need of public support as its working-age population simultaneously plummets.
The U.S. faces similar trends, including a low fertility rate, but its historic openness to immigration provides a fix that China lacks.
The bottom line: The trends will overwhelm the Chinese economy, according to Nicholas Eberstadt, a demographic expert at the American Enterprise Institute. "The age of heroic economic growth is over."
3. Trump's tanks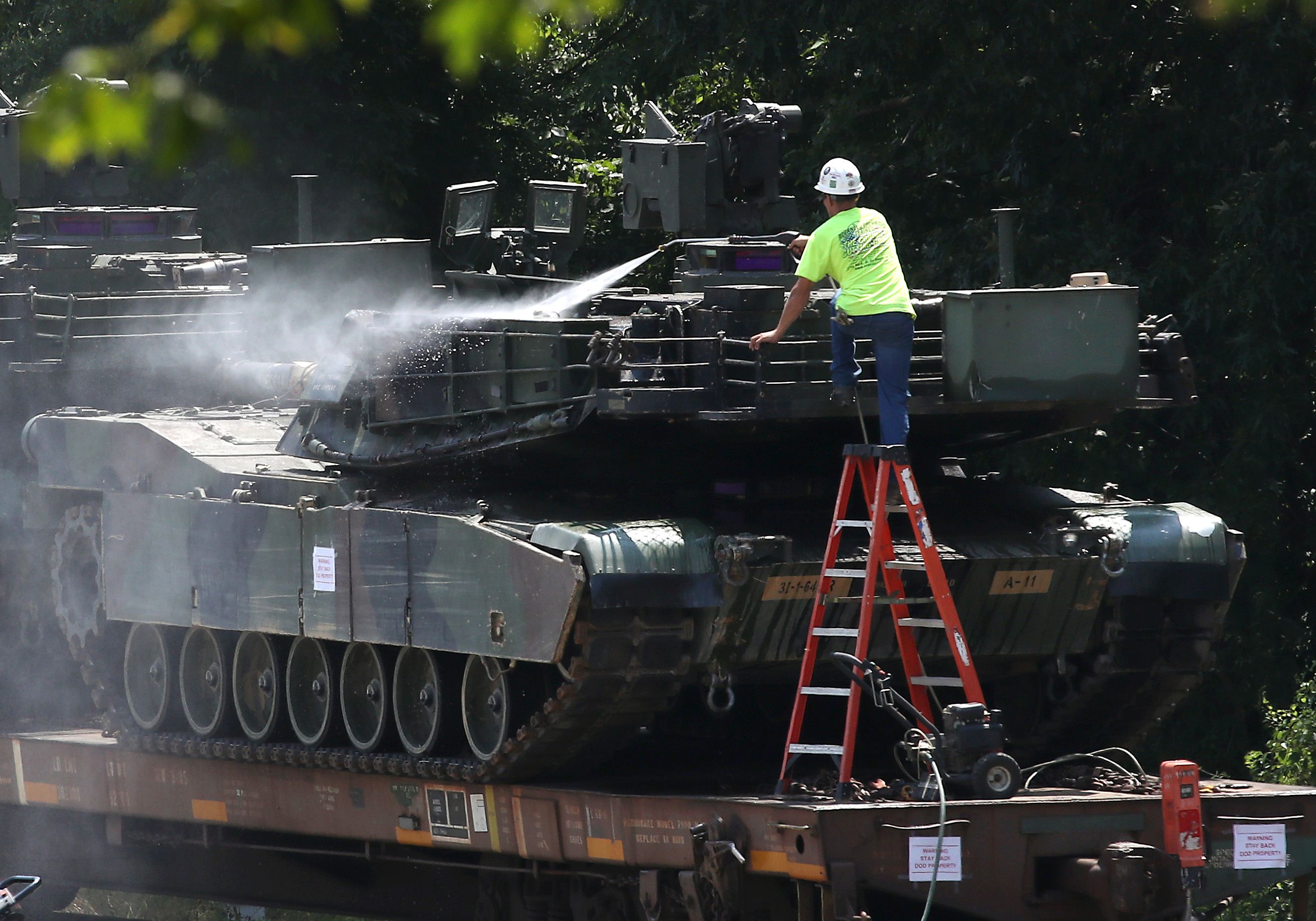 "The National Park Service is diverting nearly $2.5 million in entrance and recreation fees primarily intended to improve parks ... to cover costs associated with President Trump's Independence Day celebration Thursday on the Mall," the WashPost reports.
"The diverted park fees represent just a fraction of the extra costs the government faces" from the event, which will include Air Force One and Marine One flyovers, and the deployment of tanks on the Mall.
The Park Service says "the entire Fourth of July celebration on the Mall typically costs the agency about $2 million."
Other flyovers will include a B-2 stealth bomber and F-22 fighter jet. (CNN)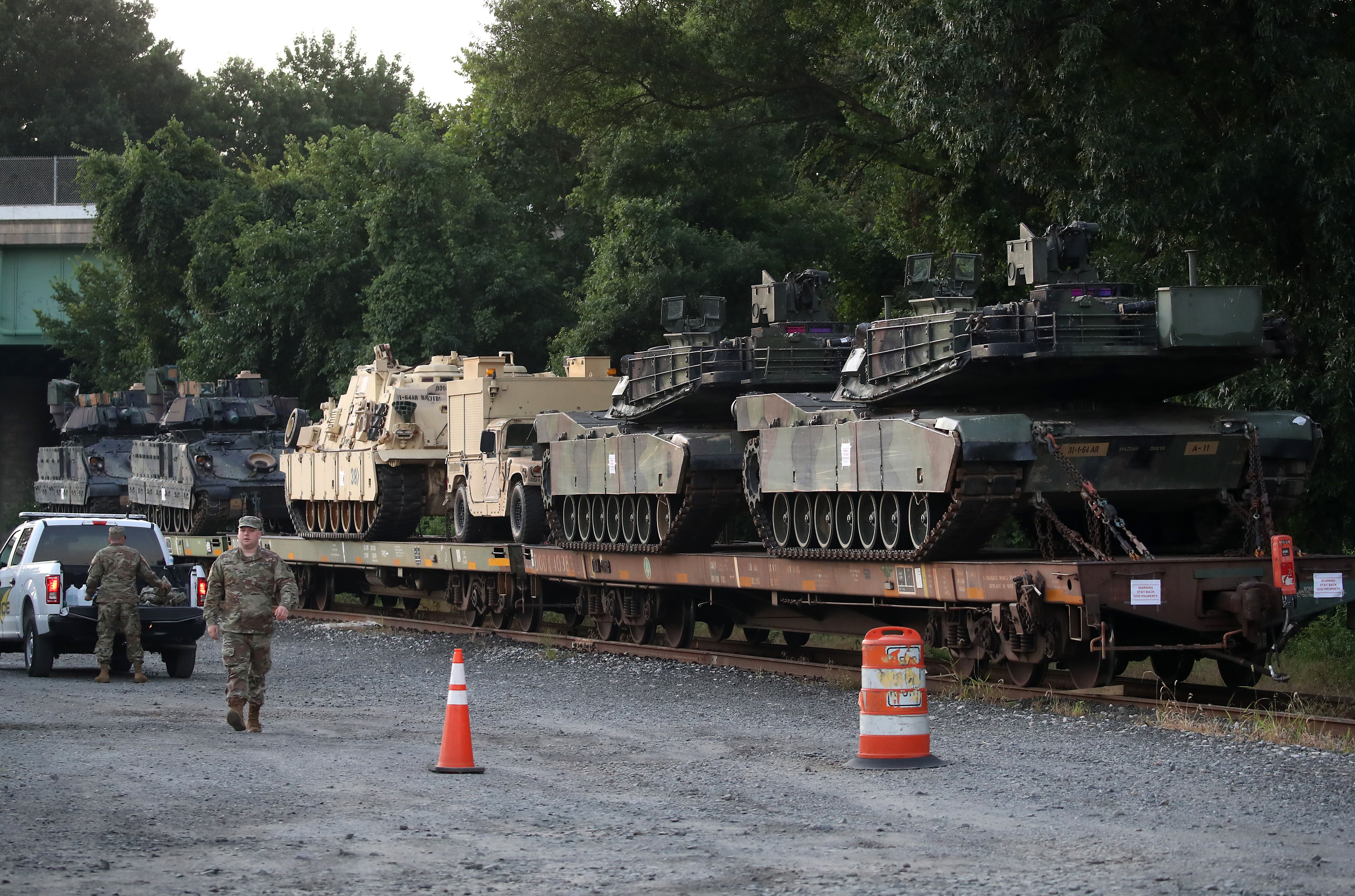 4. Pics du jour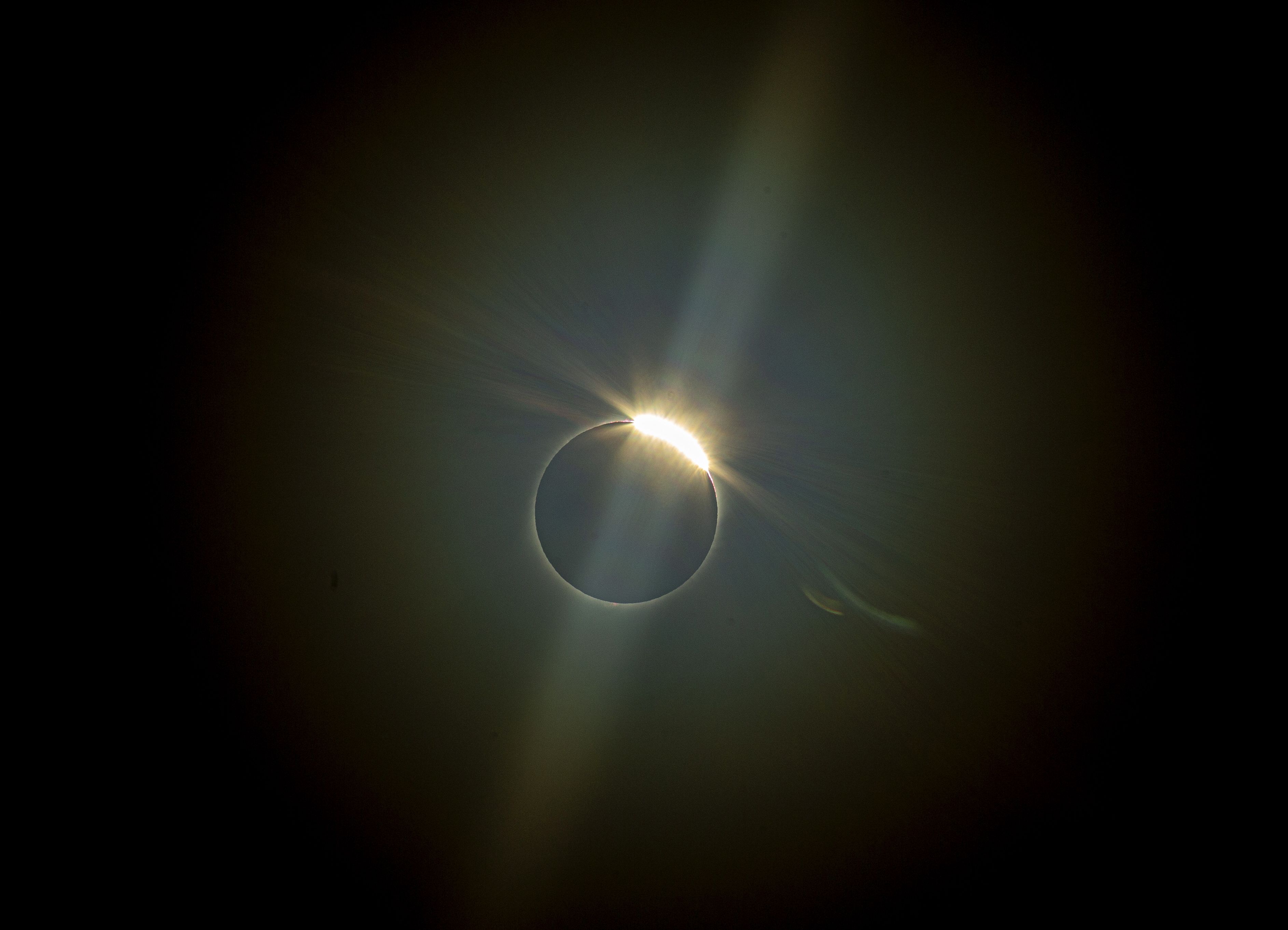 Tourists from around the world flocked to South America yesterday as a total eclipse of the sun darkened the heavens over Chile and Argentina. (AP)
Above, the moon blocks the sun in La Higuera, Chile.
Below, the moon passes in front of the setting sun in Buenos Aires, Argentina.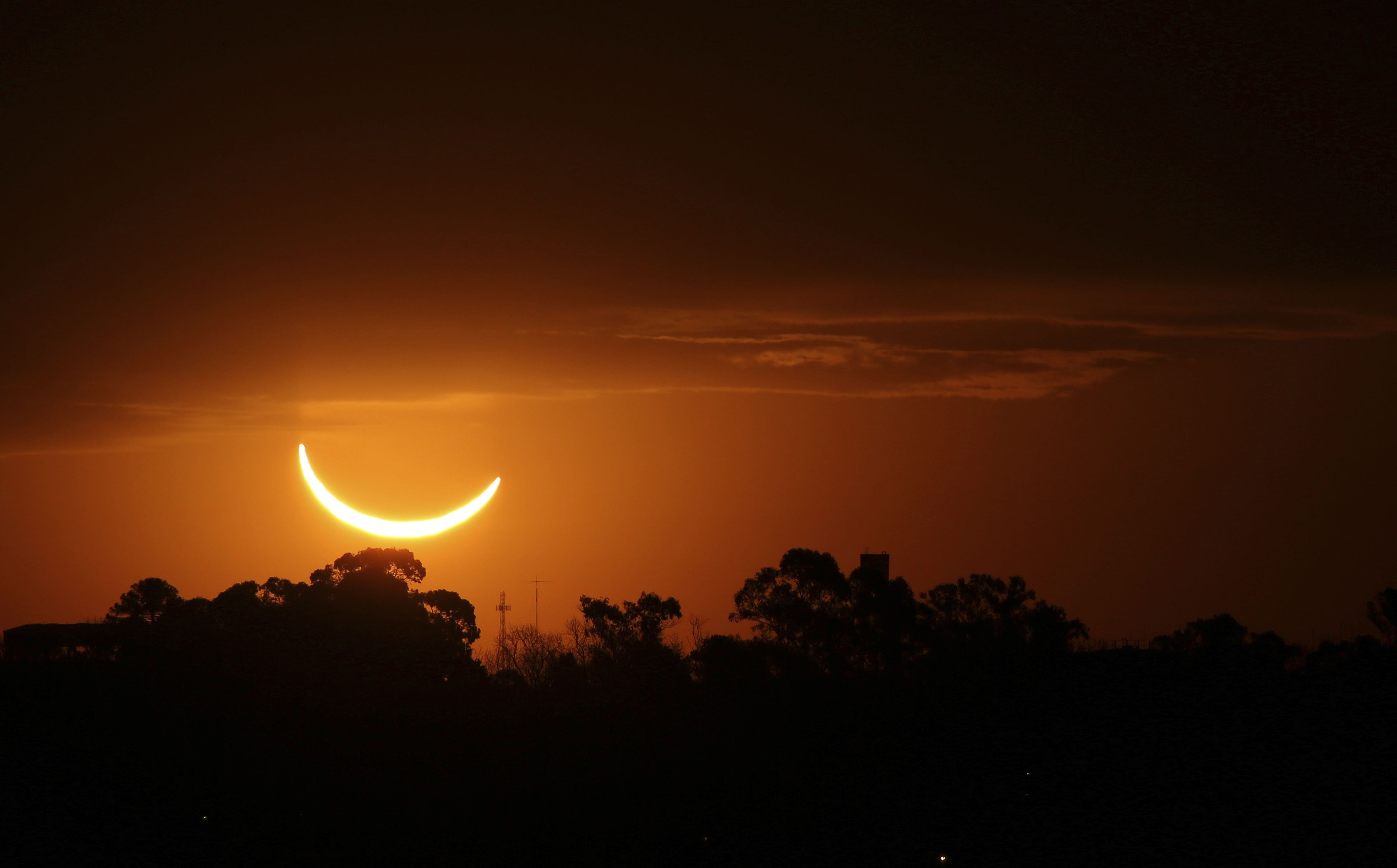 5. What we actually remember from debates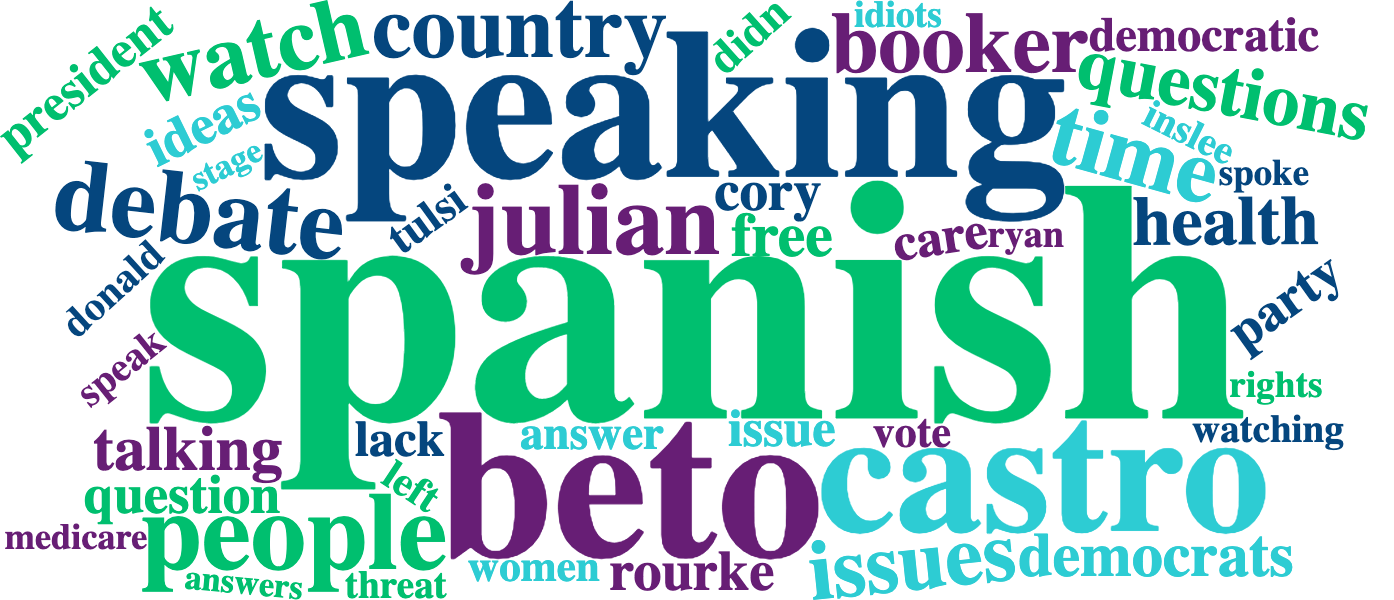 These word clouds (Debate 1 above, and Debate 2 below) depict one-word descriptions of the most memorable moments, according to 1,000 viewers of each debate who were interviewed online by SurveyMonkey.
"Sometimes the focus is on the one-liners," said Jon Cohen, SurveyMonkey chief research officer, "with several voters highlighting Sen. Klobuchar's 'all foam and no beer' from the first night, or Rep. Swalwell's 'pass the torch' jab at former Vice President Biden the second night."
"Other times, voters' answers are about substance, whether 'free college' or 'the conversation around gun laws.' Perhaps more lasting are impressions about the way the candidates appear on stage, such as Sen. 'Warren thrusting her hand up with conviction' or Sen. Harris 'being an absolute boss.'"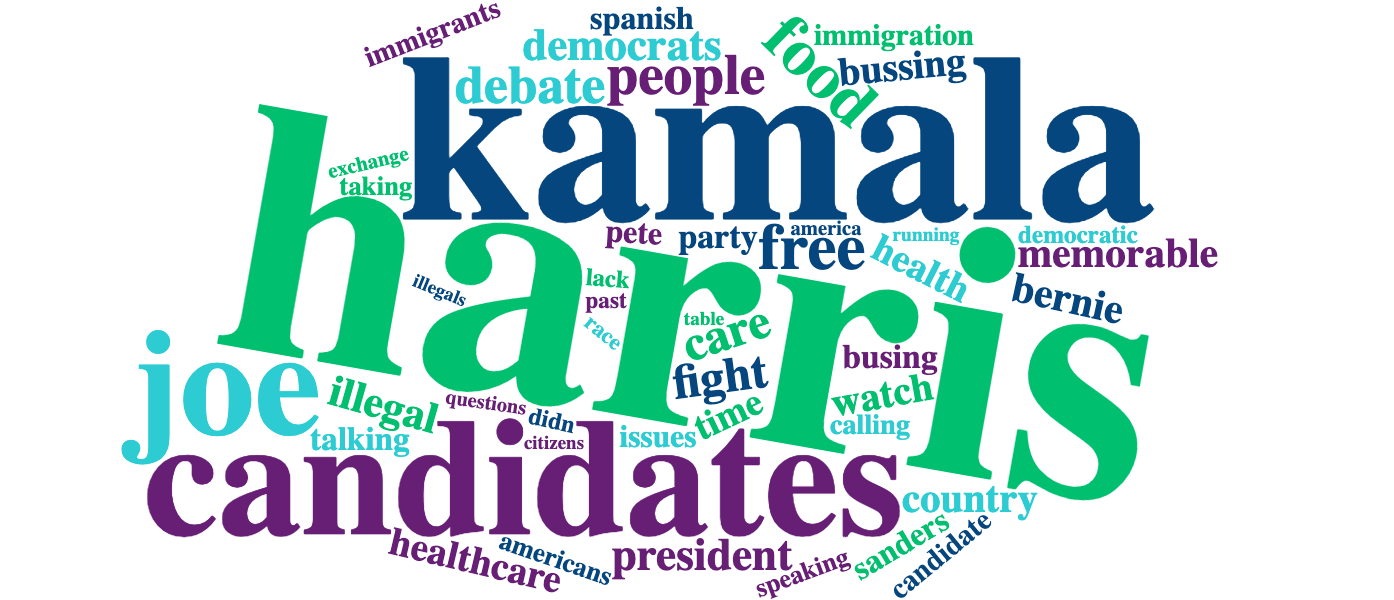 6. Sneak peek ... Trump says George W. Bush caused "tremendous death"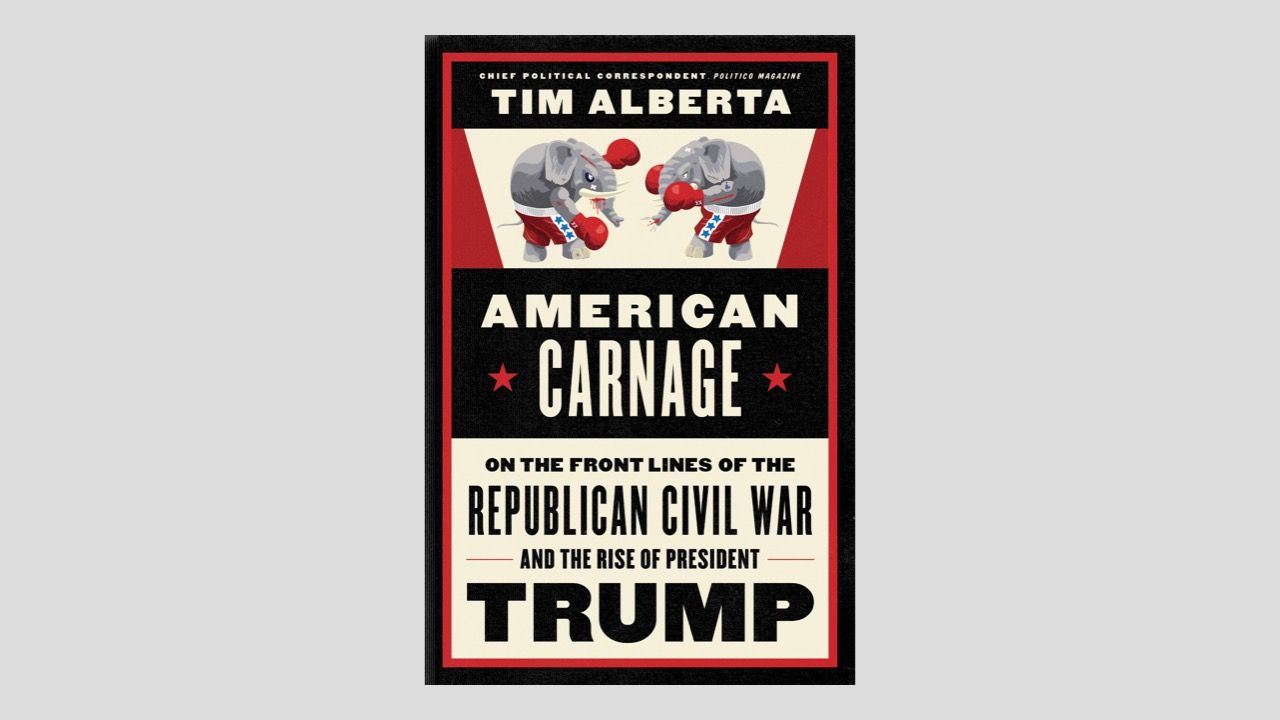 Tim Alberta, Politico Magazine's chief political correspondent, interviewed 300 people for his "American Carnage: On the Front Lines of the Republican Civil War and the Rise of President Trump," out July 16 from Harper.
Alberta argues that Trump won the presidency by channeling anxious Americans' indignation and darker impulses.
Trump's challenge now, Alberta writes, is to turn a "freakish if not fluky" victory into a transformational redefinition of the GOP.
"Nobody gave them hope," Trump tells Alberta in an Oval Office interview. "I gave them hope."
"The Republican Party was in big trouble," Trump adds. "I brought the party back. The Republican Party is strong. The Republican Party is strong."
"They've got to remain faithful," he added. "And loyal."
Trump gleefully trashes his predecessors, including President George W. Bush:
Bush, he said, "caused tremendous division ... tremendous death, and tremendous monetary loss" by focusing on nation-building abroad instead of fortifying a wobbly domestic economy.
Trump told Alberta that the late Sen. John McCain screwed up his '08 campaign by telling laid-off Midwesterners that some of their jobs wouldn't be back.
"I gave him money — believe it or not, because I wasn't a huge fan, then or now, but I raised money for him," Trump said of McCain. "And then he just gave up on an entire section of the country."
7. "Gay rights is a Republican value"
"A group of three dozen current and former Republicans is urging the Supreme Court to declare that the Civil Rights Act of 1964 explicitly prohibits discrimination against gay men, lesbians and transgender people in the workplace," reports the N.Y. Times' Jeremy Peters.
"[T]hey have tailored their arguments to resonate with a seemingly unlikely bloc on the court: its five conservatives."
Former RNC Chair Ken Mehlman, now a partner at Kohlberg Kravis Roberts, argues that "gay rights is a Republican value" in a Times op-ed:
"Our party should support people's ability to reap the rewards of their labor — to earn a fair and honest living, and to work where they want to work. We are the party of economic freedom, personal liberty and limited governmental interference."
8. Bad news about campaign spam: It works
"One unfortunate side effect of a race bursting with two dozen Democrats seeking to challenge President Trump is the spam-level volume of fundraising email it has produced," writes Julie Bykowicz in a Wall Street Journal A-hed (subscription).
By the numbers: "Since April 1, candidates have sent a combined 1,730 messages, more than 19 a day, to supporters."
Bad news: According to professional email consultants, "there is no such thing as too much. And the more cringeworthy the content, the more likely you are to click and give money."
9. The face of American cars
"Father of the Mustang, midwife to the minivan, rescuer of Chrysler Corp., restorer of the Statue of Liberty," former Chrysler Chairman and Ford President Lee Iacocca died yesterday at 94, writes the Detroit Free Press.
"He was one of those unique personalities that America's auto industry sometimes produces — a larger-than-life presence who changed the course of automotive history."
10. 1 ⚽ thing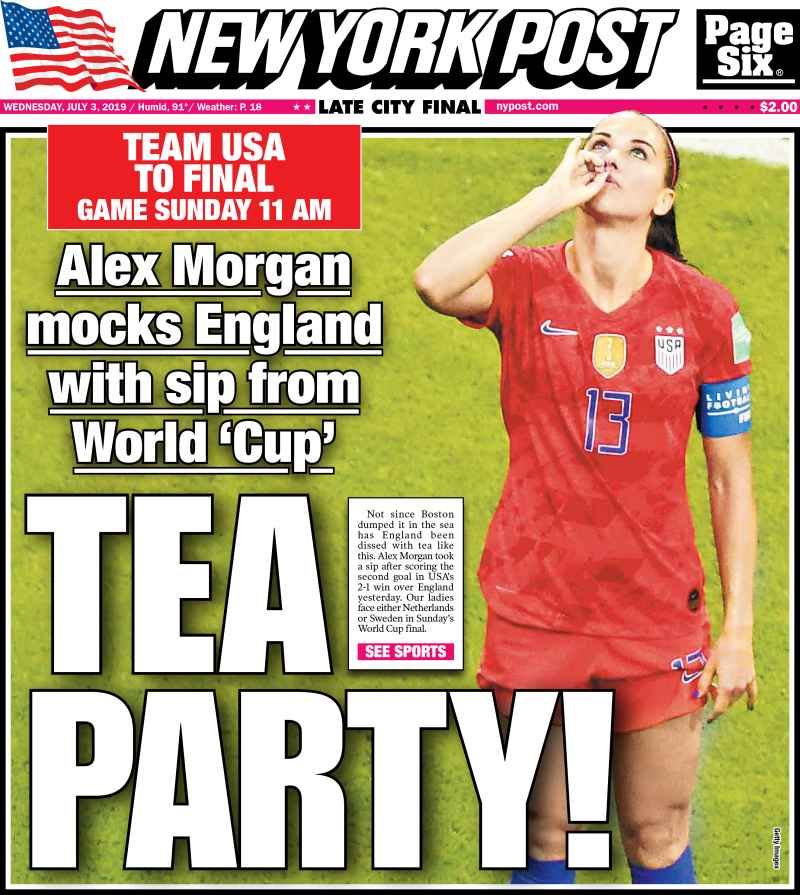 The U.S. women's national team stormed their way into the Women's World Cup final with a 2-1 victory over England — without tournament star Megan Rapinoe, who had a hamstring injury, writes ESPN.
"For the fifth time, the United States will play for the World Cup title. For the first time, it has a chance to win back-to-back titles."
What's next: The U.S. will take on either Sweden or the Netherlands in Sunday's final at 11 a.m. ET.
📱 Thanks for reading Axios AM. Invite your friends, relatives, co-workers to sign up here.