February 27, 2018
☕️ Good Tuesday morning. D.C.-ers, you're invited ... to join me at 8 a.m. tomorrow for breakfast and a trio of conversations on how 5G will change self-driving cars. RSVP here. 
Situational awareness ... DACA reprieve: "The Supreme Court handed President Trump a significant defeat, ... turning down the administration's plea for a quick ruling that would have upheld the president's power to end special protections for so-called Dreamers." (L.A. Times)
1 big thing: The Tortoise and The Hair
A culture clash between the two ends of Pennsylvania Avenue that Jonathan Swan and I detected during our conversations with the Hill and White House:
Senate Majority Leader Mitch McConnell (R-Ky.) plans to focus this year on
steady work like confirming judges, while the White House and some younger senators would like him to be more aggressive up taking up new legislation.
A senior administration official tells Swan: "The American people elected President Trump to come to Washington to get things done, so we do not want a minimalist approach to what can be done in the House and Senate."
A senior GOP official involved in the conversations: "It's a generational divide. Old bulls v. young turks."
The impatient folks' rationale: Who knows what's going to happen in November, and who knows how much longer the Republican Party holds the House, Senate and White House?
Many of the younger senators, including the freshman class of 2014, want McConnell to keep the Senate open longer — including working weekends and shortening or eliminating in some cases, recess breaks.  
Sen. Ted Cruz (R-Texas) has been telling colleagues that he wants to use the time before November to push an aggressive legislative agenda, including taking another crack at repealing more of Obamacare and trying for serious regulatory reform.
Sen. Marco Rubio (R-Fla.) also is focused on using his time in the Senate for action. An aide tells us: "worth noting Marco's interest in paid family leave following his child tax credit win and the success of tax reform. Another example of him broadening the party's appeal by working toward solutions for what are typically perceived as Dem issues."
Sen. Ben Sasse (R-Neb.), in his first term, has complained from Day 1 that Washington doesn't act more urgently. He continues to be frustrated at Republican leadership, including McConnell, according to people who've spoken with him. 
A McConnell aide blasts back: "Confirming judges to lifetime appointments, passing big legislation like the Crapo Dodd/Frank reform bill, or important measures like the Portman anti-trafficking bill (both are in the pipeline), is not a 'minimalist approach.' No one is advocating a 'minimalist approach.'"
"Lots of members have ideas on how best to use floor time. And if they can convince their colleagues of their opinion, we'll see."
"Our Conference wants to use this opportunity to accomplish, not to take a bunch of failed votes. Does anyone think our political standing was improved when Obamacare repeal failed? Does anyone doubt that our political standing improved after successfully passing tax reform?"
Be smart: Mitch McConnell's memoir, published in 2016, is called "The Long Game." Presidents come and go, but he remains.
How does he do it? An associate tells us: "McConnell always reads the last page of the book first. ... You can make a law, or you can make a point."
2. Hillary v. Facebook: Call for fast fixes
Hillary Clinton tweeted yesterday:
"We should all care about how social media platforms play a part in our democratic process. Because unless it's addressed it will happen again. The midterms are in 8 months. We owe it to our democracy to get this right, and fast."
Brad Parscale, the Trump campaign's digital director, had tweeted: "We had CPMs [cost per thousand impressions] that were pennies in some cases. This is why @realDonaldTrump was a perfect candidate for FaceBook."
Clinton was responding to a tweet about Parscale: "I can't believe this tweet isn't going viral. Do people not really care that Facebook may have systematically charged the Clinton campaign an order of magnitude or two more than it was charging Trump to reach American voters?"
3. Congress shies away from gun action
The Hill's confusion and lack of a clear direction on guns mirrors the White House, Axios' Caitlin Owens writes:
President Trump has been all over the place since the Parkland shooting, and congressional Republicans are either not taking him seriously or unwilling to embrace many of the gun control policies he's floated.
A senior Senate GOP aide: "I don't really consider this a solvable problem in the current environment."
P.S. Trump says he would have stormed in to stop school shooter ... In remarks to the nation's governors at the White House yesterday.
"You know, I really believe — you don't know until you test it — but I really believe I'd run in there, even if I didn't had a weapon.  And I think most of the people in this room would have done that, too, because I know most of you." 
Fort Lauderdale Sun Sentinel: "The school deputy who drew national condemnation for failing to confront the Stoneman Douglas shooter fought back [through his lawyer], arguing that his decision to not enter the building was made not out of cowardice but from his best assessment of the situation."
Bonus: Pic du jour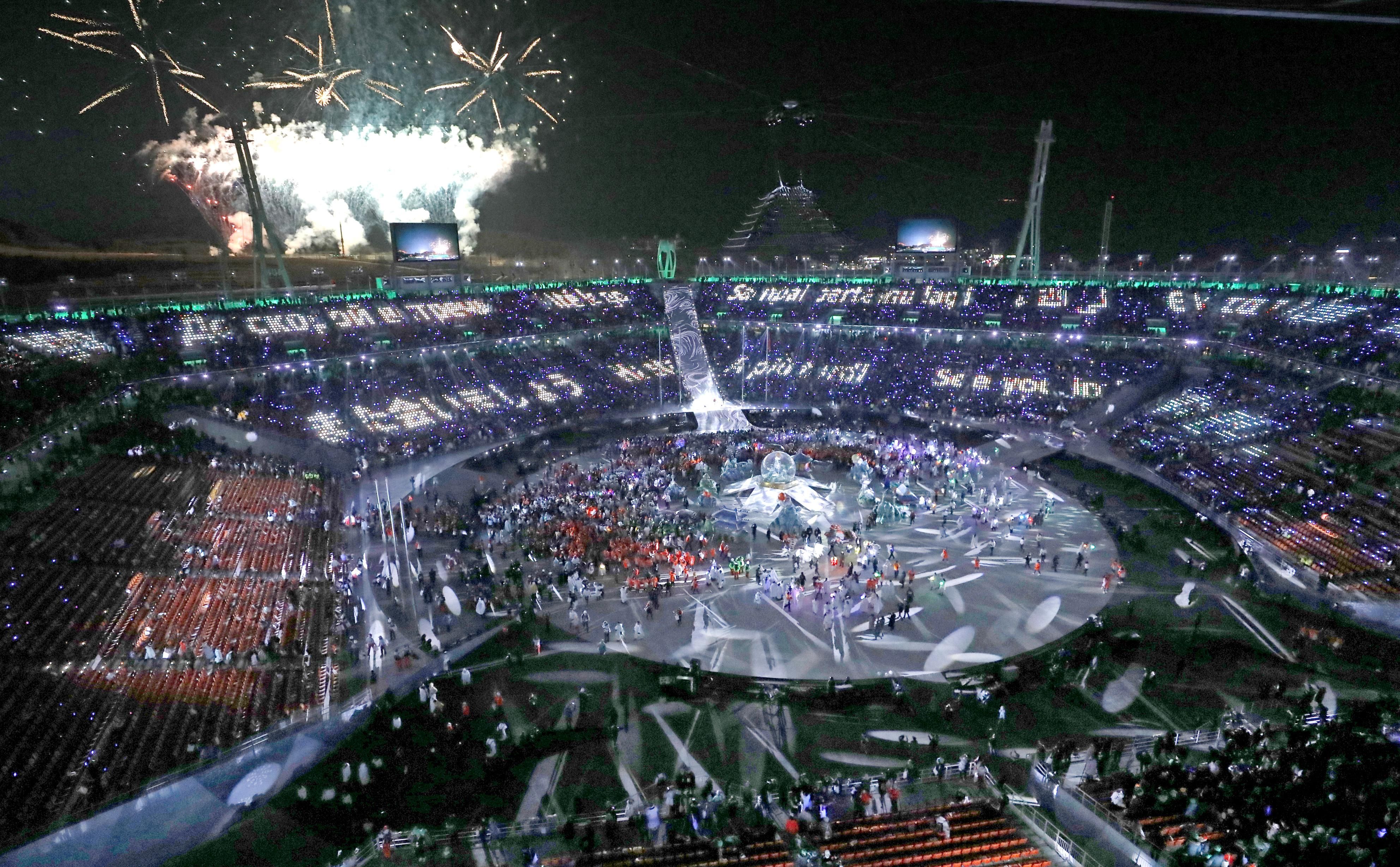 Fireworks light the sky and a message saying "See you again" in different languages is displayed in the stands during the Winter Olympics Closing Ceremony in Pyeongchang, South Korea.
4. If you read only 1 thing: Snap out of it
Behind the curtain ... David Brooks, Axios CEO Jim VandeHei and I had a worthy email exchange last night about David's column in today's New York Times, "A Generation Emerging From The Wreckage":
"I've been going around to campuses asking undergraduate and graduate students how they see the world. Most of the students I've met with so far are at super-competitive schools — Harvard, Yale, the University of Chicago and Davidson — so this is a tiny slice of the rising generation. Still, their comments are striking."
"The first thing to say is that this is a generation with diminished expectations. Their lived experience includes the Iraq war, the financial crisis, police brutality and Donald Trump — a series of moments when the big institutions failed to provide basic security, competence and accountability."
"I found little faith in large organizations. ... It's not that the students are hopeless. They are dedicating their lives to social change. It's just that they have trouble naming institutions that work."
VandeHei, a father of two, read the column on a flight, and batted out this response on his iPhone while we were landing:
"These kids are growing up with incomprehensible access to people, ideas and information, and [are] armed with immeasurable and invaluable skills and tech/social media savvy, giving them the power to do much more and much earlier in life than those before them."
"They rightly lament the failure of institutions and elites. But for all the hand-wringing, all the hangdog moods, all the whining, all the misguided wars and mismanaged entities, these students will enter the workforce chapter of their American experience better positioned to dream, think, do big things than almost any other students in any other country at any other point of time."
"I truly hope these kids and all of us snap out of it, play to our insane collective strengths, and direct our energy to fixing shit, beating China and perfecting in our imperfect way the American experiment."
Brooks almost instantly wrote back, and kindly gave me permission to share his thoughts:
"Don't blame the messenger! I more or less agree. At each of these sessions I was usually there with a faculty member and we tried to pump some optimism into the students, with moderating degrees of success. Though I think the students are absolutely right to sense that institutions are not working and the relationships between Americans are not as thick as they once were."
"I left the exercise thinking that the way we teach American history in public schools is one of the really destructive forces in national life.
"To my mind the U.S. has been on balance an enormous force for good in the world, and we are the lucky inheritors of an awesome legacy, from men and women who were much wiser than we are a lot of the time."
"But this isn't communicated much today. Instead, an education that is designed to right historic wrongs only ends up demoralizing and fragmenting people. I never paid much attention to civic education, but I will now!"
5. Facebook, papers becoming frenemies
The newspaper industry is working with Facebook to launch a new project to help local newspapers beef up their digital subscription efforts, Axios' Sara Fischer has learned:
But that doesn't mean they've made peace. In fact, the News Media Alliance — a newspaper trade group that's working with Facebook on the subscription project — is simultaneously launching a political action committee to help reward members of Congress for elevating the group's goals.
That includes an antitrust safe harbor to better compete against Facebook and Google for audience and ad dollars.
Why it matters: While the News Media Alliance wants to work with Facebook to bolster subscriptions through the new project — to be called the Local News Subscriptions Accelerator — its president, David Chavern, argues that Facebook (and Google) has a long way to go before presenting a sustainable model for news on platforms.
6. Bite of the day
The Rev. Franklin Graham, Billy Graham's eldest son, explains his unstinting support of President Trump in a New York Times front-pager, "Partisanship From the Pulpit Splits Evangelicals":
"That doesn't mean he is the greatest example of the Christian faith, and neither am I, but he defends the faith. There's a difference between defending the faith and living the faith."
7. Trump's first state dinner
President Trump will host the first state dinner of his presidency on April 24, with French President Emmanuel Macron (AP pronouncer: eh-mahn-yoo-EHL' mah-KROHN').
Why it matters, from AP: Trump was the first U.S. president in decades to close his first year in office without welcoming a fellow world leader for a state visit.
Reuters: "The French presidency said in a brief statement Macron's visit would take place on April 23-25 and include a joint news conference."
8. First Vanity Fair issue ...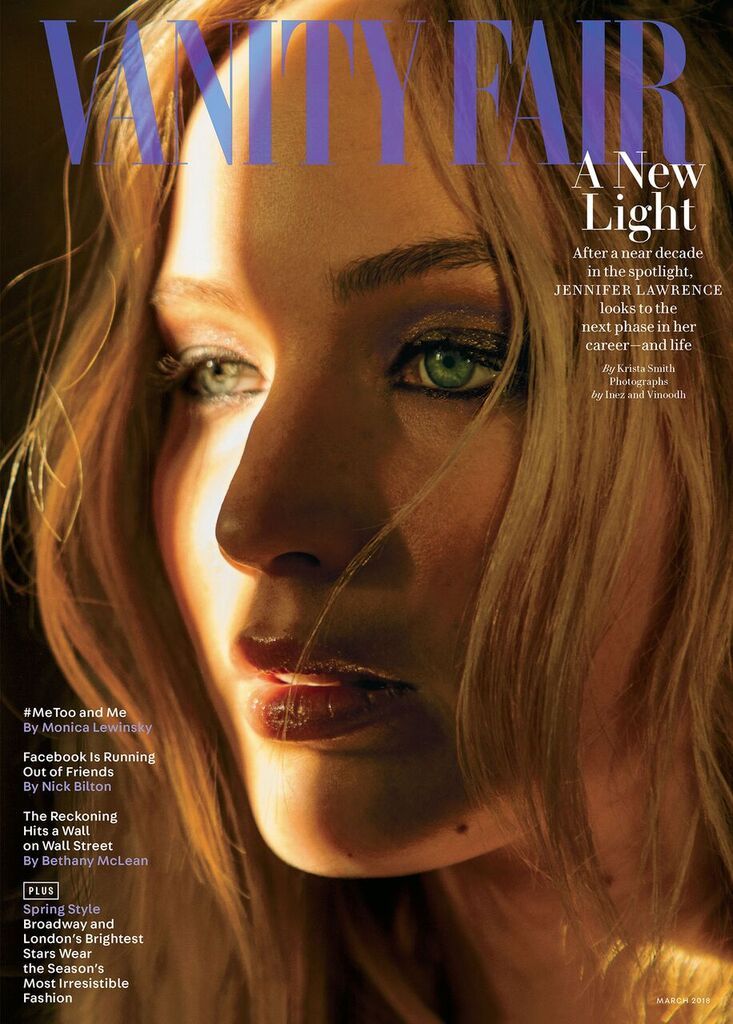 ... under editor Radhika Jones, formerly a books editor at the N.Y. Times, following Graydon Carter's 25-year run.
"Vanity Fair executive West Coast editor Krista Smith sits down for a home-cooked meal prepared by Jennifer Lawrence (the highest-paid actress in the world, as well as the youngest four-time Oscar nominee), who opens up about her turbulent year—including her  initial reluctance to filming her first nude scene."
"Over dinner, Lawrence ... opens up to Smith about the terrifying experience that sent her into therapy for the first time to combat the post-traumatic stress she was dealing with: in June a private plane she was flying on, from Kentucky to New York, at 31,000 feet suffered double engine failure and was forced to make an emergency landing. (No one was injured.)"
"In the aftermath, every time she boarded a plane, she watched Disney movies on rotation to soothe her nerves. 'Thank you, Emma Watson, for Beauty and the Beast,' she says. 'I've seen it six or seven times. If anybody has any questions about it, come to me.'
The issue will be available on newsstands in New York and L.A., and on the iPhone, Kindle, and other devices, on Thursday, and on newsstands nationally on Tuesday, March 6.
9. 50 years ago today ...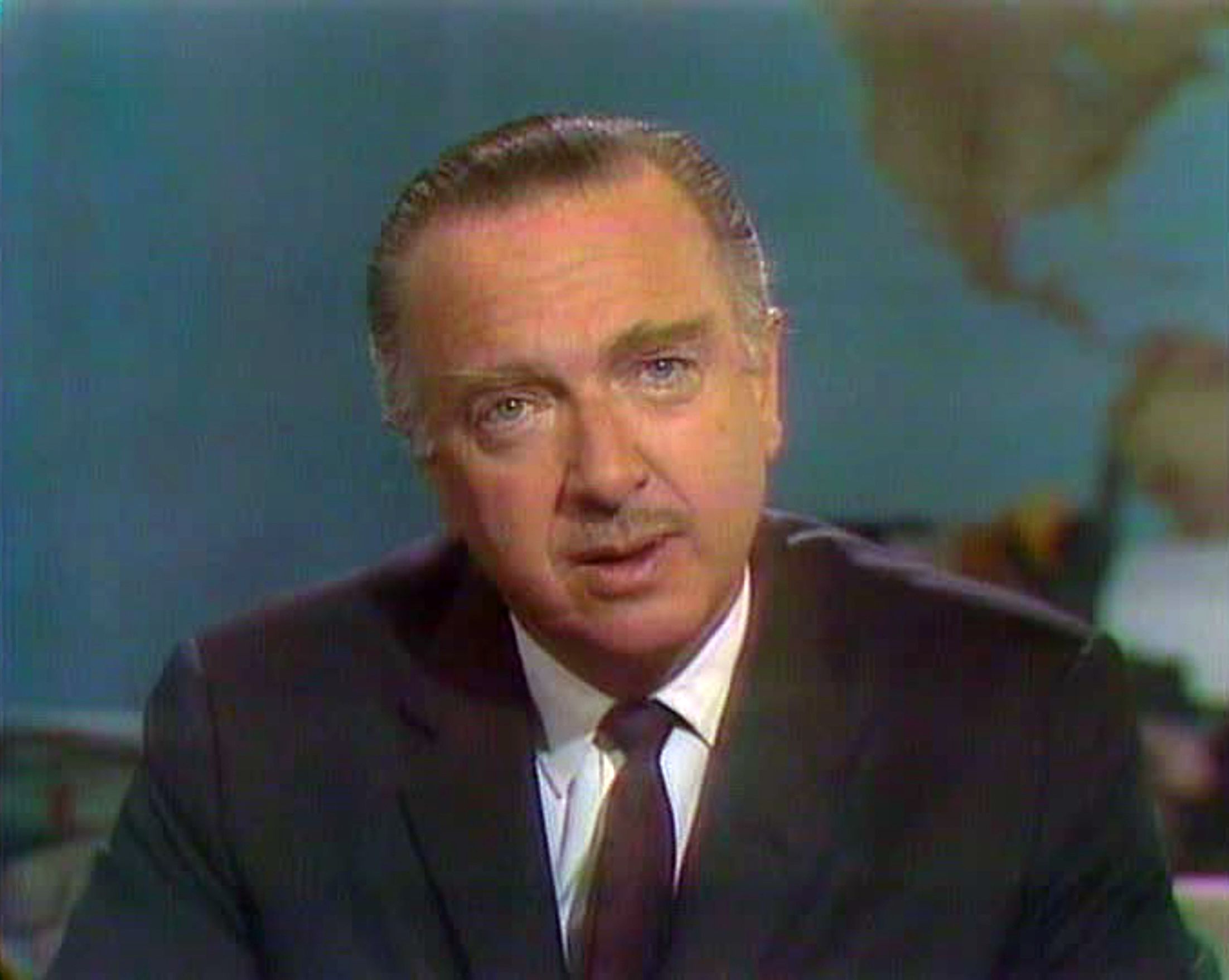 ... on Feb. 27, 1968, Walter Cronkite — anchorman of the "CBS Evening News," and known as "the most trusted man in America — delivered an analysis, at the end of a special broadcast on the Tet Offensive, that changed America's perception of the Vietnam War:
"It is increasingly clear to this reporter that the only rational way out ... will be to negotiate not as victors, but as an honorable people who lived up to their pledge to defend democracy, and did the best they could."
Mark Bowden, author of "Black Hawk Down" and "Hue 1968," writes in a New York Times Op-Ed, "Cronkite's 'Stalemate'":
"Those who argue today that the press, and Cronkite, lost the war are correct in only one sense. Reporters in Vietnam were not perfect. They were not completely unbiased — the horror of the war repelled many."
"But they told the truth more consistently than American officials, and it was the truth that ultimately turned America against the war. An authoritarian government can wage a foolish, losing war indefinitely, but not a democracy."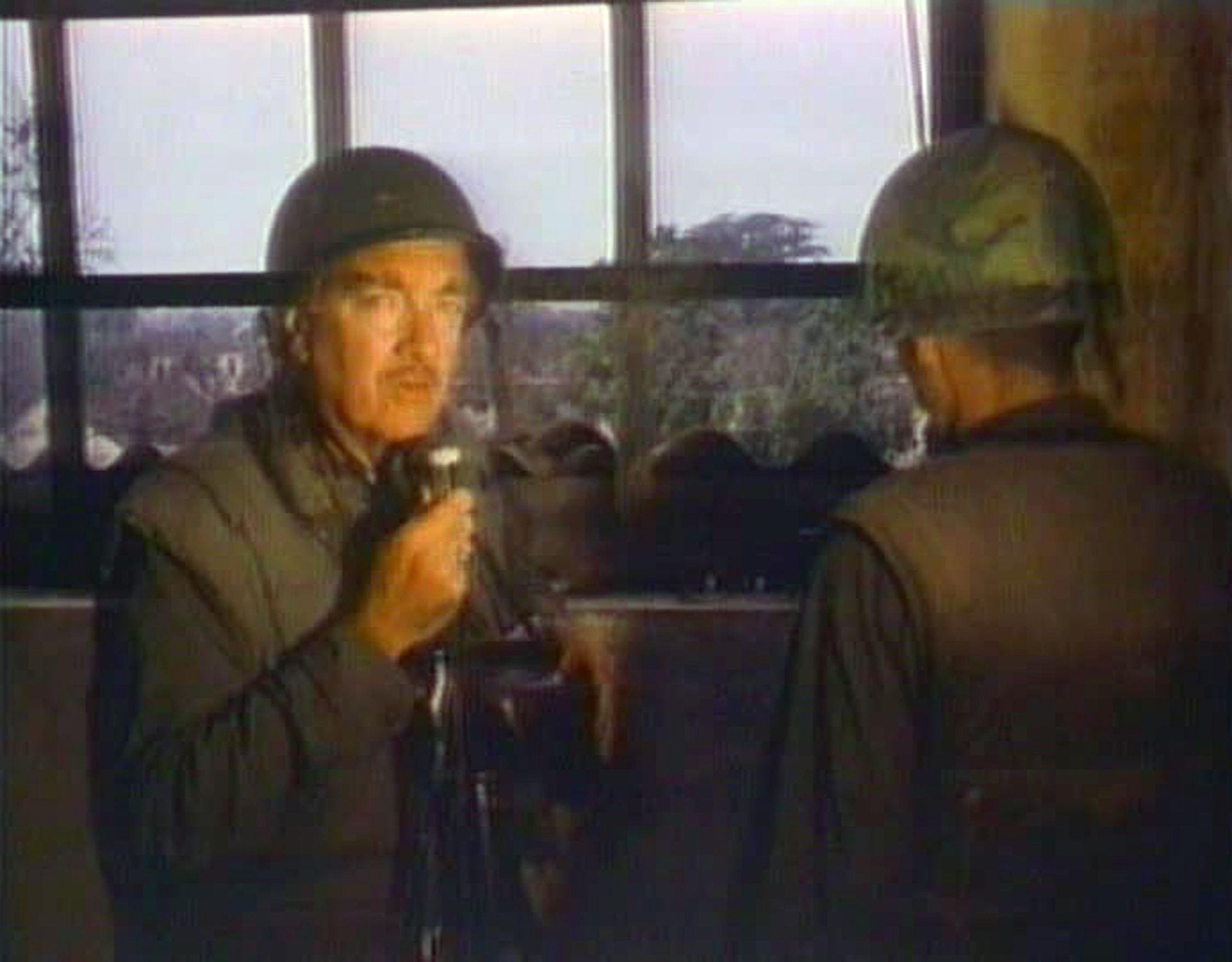 10. 🏀 1 hoop thing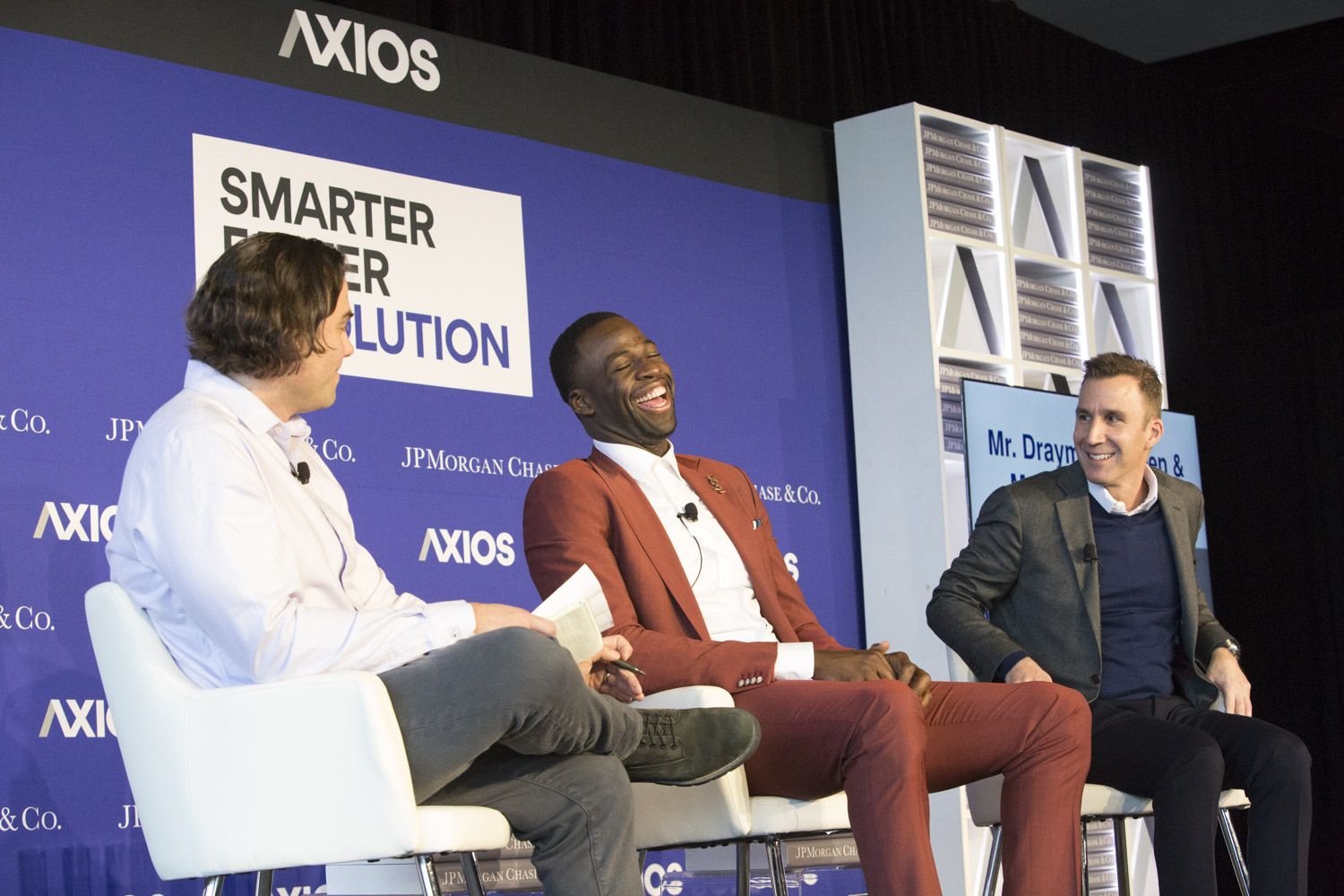 Dan Primack tweeted after interviewing Draymond Green of the Golden State Warriors yesterday at our Smarter Faster Revolution event in Manhattan:
"Asked @Money23Green at Axios

#

smarterfaster for his all time starting 5 (no warriors allowed): Jordan, Shaq, Kobe, Magic and Dirk."
P.S. NBA champs skipping Trump visit, per AP: "The Golden State Warriors are heading to Washington, just not to the White House."
"The traditional champions' invitation was never granted from President Trump — and it appeared the Warriors might have declined it, anyway. So they plan to spend their day in the city [today] with local children."
Thanks for reading. See you all day on Axios.com ...