Axios AM
December 09, 2017
Good Saturday morning. Check out a special Axios stream on "The gun conversation" — 10 cards showing where we agree and disagree, how guns cross state lines, the % of U.S. households with firearms, and the human toll of mass shootings. Click here.
1 big thing: Mueller weaponizes Word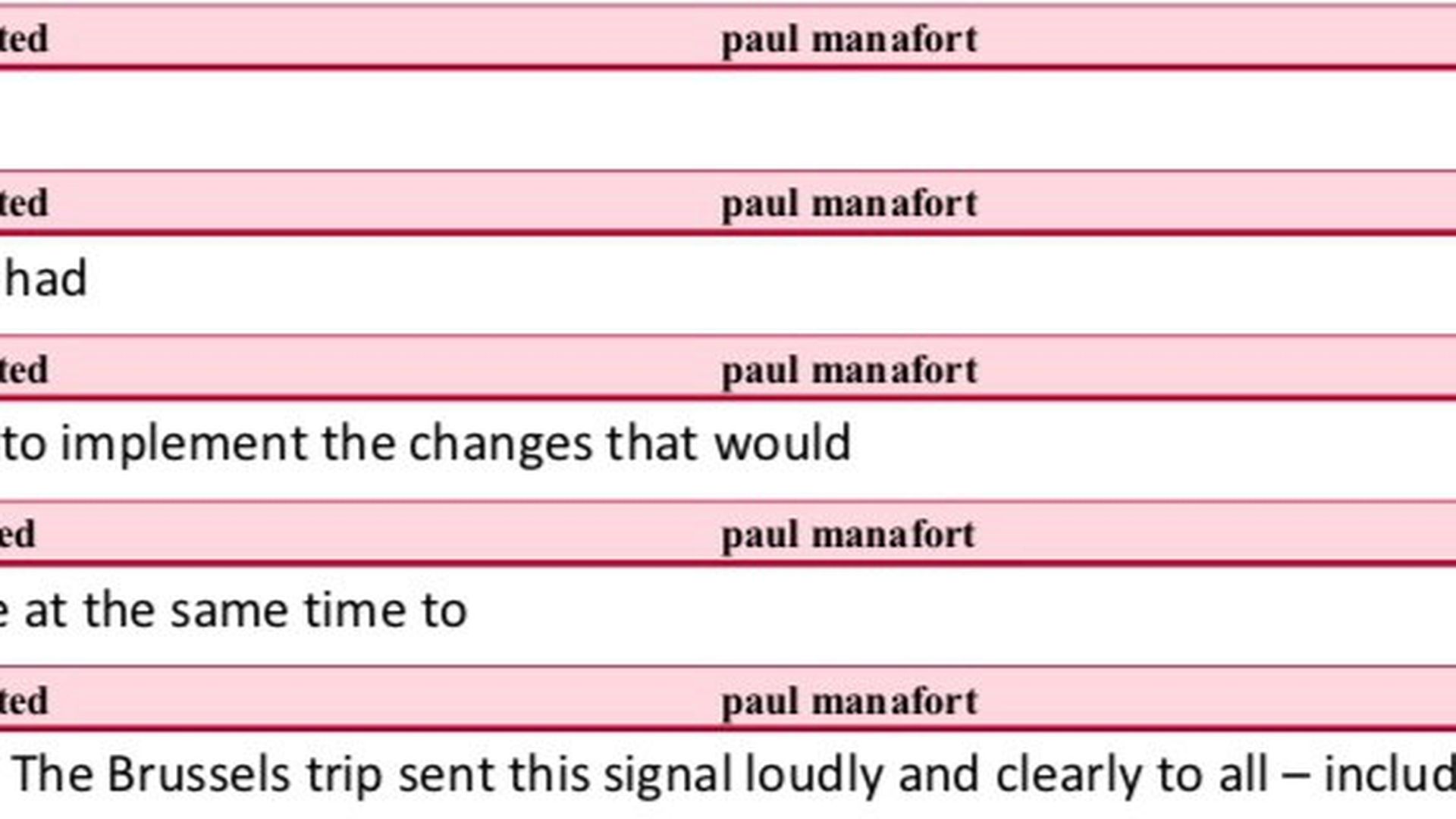 Bob Mueller used the "Track Changes" function in Microsoft Word for Mac to make new accusations against Paul Manafort in a court filing yesterday — a new sign of the special counsel's creative, unsparing approach:
Key quote from the 41-page filing: "Manafort's conduct ... raises serious concerns about his trustworthiness that warrant denial of the motion to release Manafort from home confinement."
The backstory, via AP: Prosecutors for the special counsel argued that the former Trump campaign chairman is attempting "to mount a public relations campaign to defend himself while under house arrest."
Mueller discovered Manafort "was heavily involved in the drafting of an opinion piece about his involvement in Ukrainian politics. ... Mueller's office had accused Manafort of ghostwriting the op-ed with a colleague who they said had ties to Russian intelligence."
The response: "Manafort's attorneys had argued that Manafort had only edited the piece after receiving it from a former Ukrainian public official whom he knew through his consulting work in Ukraine. They also said Manafort hadn't violated the judge's order and was exercising his free speech rights to defend himself."
But now — with the filing of page after page of "Track Changes" notations from a document that was "Last saved by paul manafort" — "prosecutors revealed that they knew nearly every detail of that editing process."
Be smart: This is a rough message by Mueller to witnesses and targets that they can be tracked and recorded even when they don't realize it. Every signal Mueller sends — with his early-morning raid on Manafort, his hires of Enron and Mafia prosecutors, and his quick flips — is that he is playing ruthlessly.
P.S. N.Y. Times, on introductory emails to Hope Hicks from Russian government addresses during the transition:
"In some ways, the Russian outreach to Ms. Hicks undercuts the idea that the Russian government had established deep ties to the Trump campaign before the election. If it had, Russian officials might have found a better entrée to the White House than unprompted emails to Ms. Hicks."
2. Trump attacks media for corrections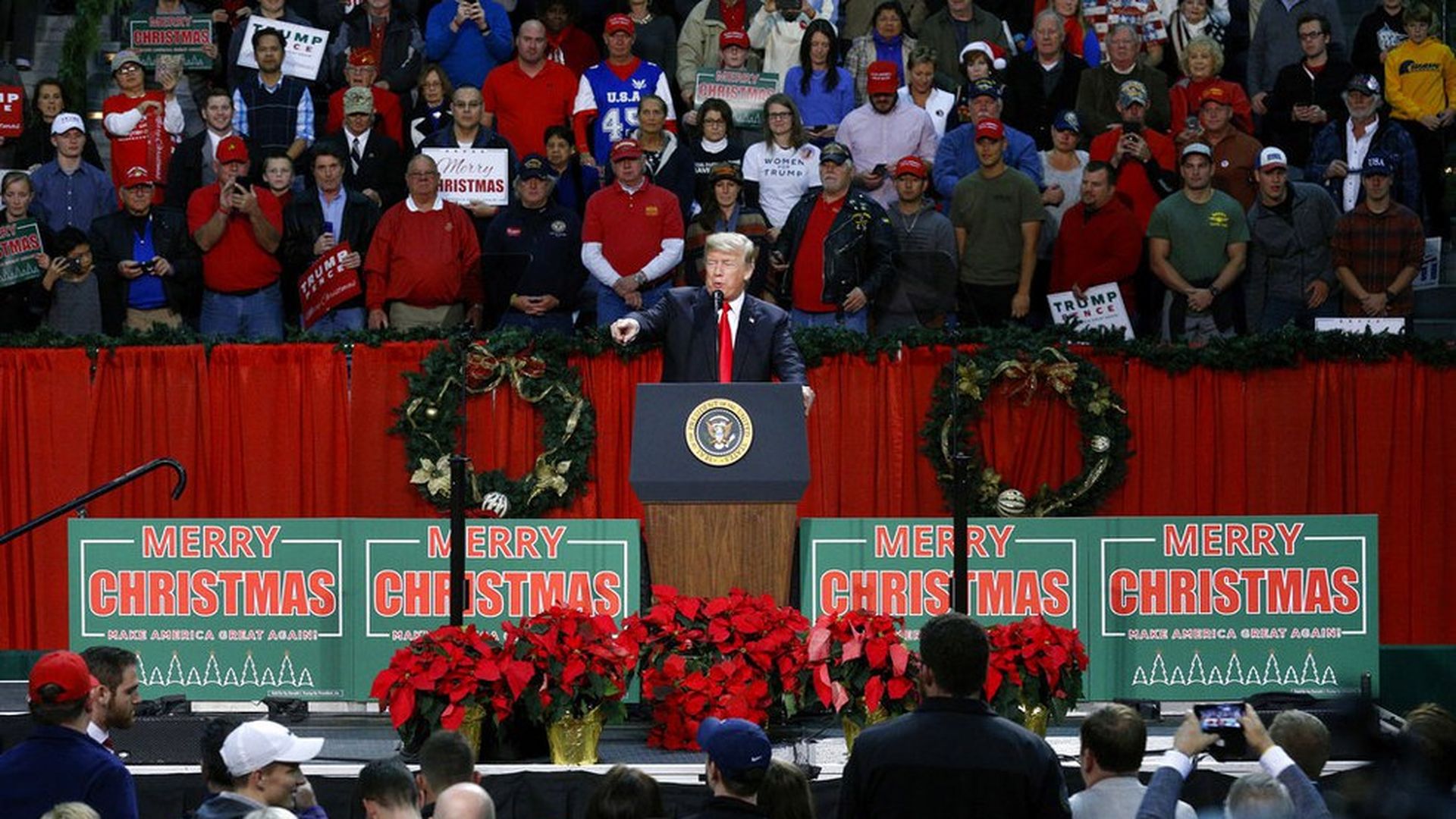 Trump, speaking last night at his Make America Great Again political rally in Pensacola, Fla., capitalized on a string of media mistakes about Russia-related investigations:
"[T]onight, we're going to speak straight to the American people and cut right through the fake news media right here. Right through them. ... And by the way, did you see all the corrections the media has been making?"
"They're saying sorry – they've been doing that all year. They never apologize. ... They've been apologizing left and right. They took this fraudster from ABC – they suspended him for a month [chief investigative correspondent Brian Ross]. They should have fired him for what he wrote."
"He drove the stock market down 350 points in minutes ... And you know what he cost people? And I said to everybody: 'Get yourself a lawyer and sue ABC news. Sue them.'"
"CNN apologized just a little while ago. They apologized – oh, thank you, CNN. Thank you so much. You should've been apologizing for the last two years. True. True. (APPLAUSE) What a group."
What bothers Trump ... Referring to Hillary strategists as a "bunch of dummies," Trump said:
"I don't get credit for one thing. It always bothered me. I spent a tiny fraction of what she spent and we won. You know, the old days, if you spend less and you win, that's a good thing. Over here, you don't get any credit for it."
P.S. Trump on Hillary: "She lost the election in a landslide."
Hardly true, as FactCheck.org pointed out after Trump tweeted during the transition: "In addition to winning the Electoral College in a landslide, I won the popular vote if you deduct the millions of people who voted illegally."
3. Female lobbyists constantly deflect creeps
"Part of a frequently disparaged profession, female lobbyists have emerged as especially vulnerable in legislatures and in Congress because, unlike government employees, they often have no avenue to report complaints and receive due process," the N.Y. Times' Trip Gabriel and Julie Bosman write on A1:
Why it matters: "Lobbyists who have been harassed are essentially powerless in their workplaces, all-dependent on access to mostly male lawmakers for meetings and influence to advance legislation and earn their living."
"Female lobbyists from Arizona to Virginia described statehouse cultures that were throwbacks ... Long working days flow into alcohol-fueled socializing with male lawmakers, often bunked in hotels in isolated small towns for the few months of a state legislative session."
"Seasoned lobbyists said that smoothly deflecting a lawmaker's physical advance was a job skill as essential as winning support for a bill."
Stranger and stranger ... "A former aide to Republican Rep. Trent Franks [R-Ariz.] told The Associated Press the congressman repeatedly pressed her to carry his child, at one point offering her $5 million to act as a surrogate mother."
The eight-term lawmaker abruptly resigned yesterday, bowing to an ultimatum from Speaker Ryan.
P.S. L.A. Times, top of col. 1, "#METOO FELLS A SECOND STATE LEADER: Matt Dababneh says his resignation from California Assembly isn't an admission of sexual impropriety."
Bonus: Pic du jour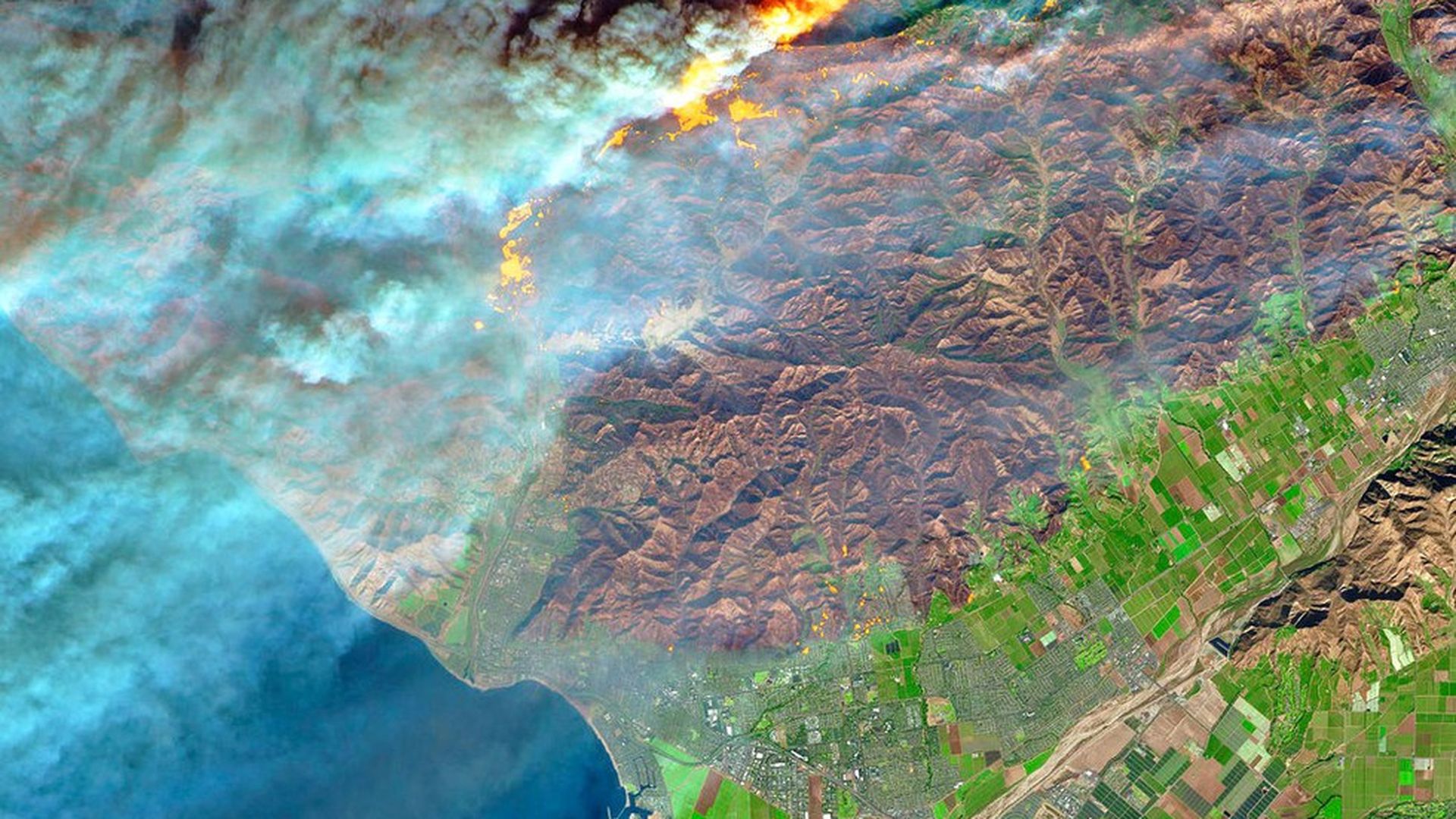 This false-color image from the European Space Agency's Sentinel-2 satellite on Thursday shows a brown burn scar from the Thomas fire north of Ventura, Calif., at bottom center.
The flames stand out starkly as smoke billows toward the Pacific Ocean. Untouched areas of vegetation appear in bright shades of green.
4. "Eyes wide with fear"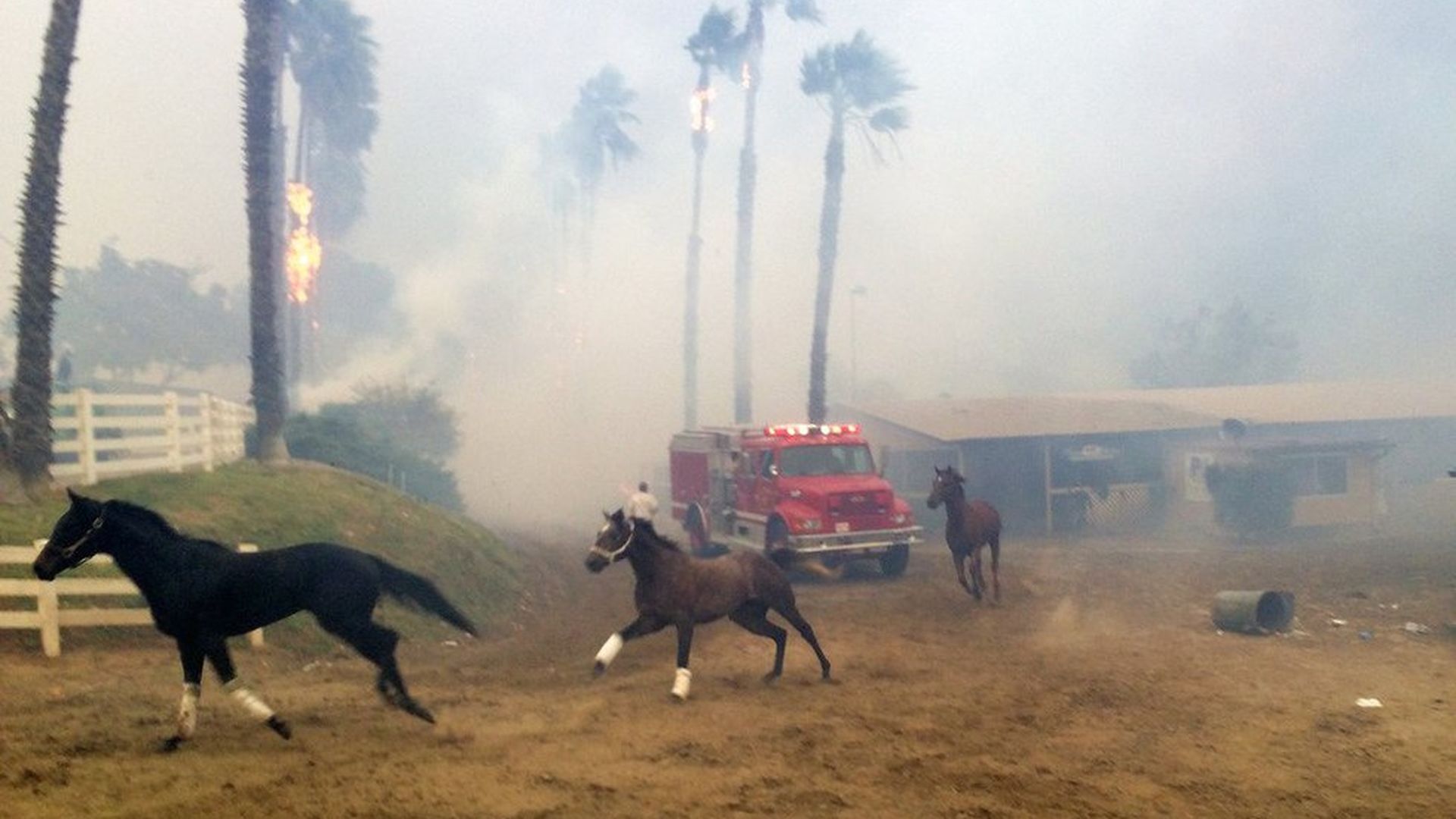 "A routine day at an elite training center for racehorses transformed into terror and chaos in minutes, with hundreds of thoroughbreds stampeding out of their stalls in a desperate attempt to flee a Southern California wildfire that set their barns ablaze," AP reports from Bonsall, Calif.:
"Turned loose by their trainers in a last-ditch effort to save their lives, the huge, muscular animals, their eyes wide with fear, charged through thick smoke and past dancing flames."
"While hundreds made it to the safety of a nearby racetrack, others galloped in circles, unsure which way to run. Still others, too frightened to leave their paddocks, stayed there and died."
"Workers at San Luis Rey Downs said an estimated 30 to 40 horses perished Thursday in the wildfire still raging out of control north of San Diego."
Trainers "tried to turn back the flames with hoses and fire extinguishers before firefighters arrived. But when embers from burning palm trees began igniting the roofs of barns, they realized they had no other alternative than to turn loose the approximately 450 horses stabled there."
"At one of the center's many barns, video showed a group of trainers frantically tearing down a wooden fence and shouting at their horses to run."
"One large black horse ... bolted toward safety. But then, spooked by the burning palm trees, [it] turned and fled back toward its stable. Scores of others charged through thick smoke to safety."
5. Choose your news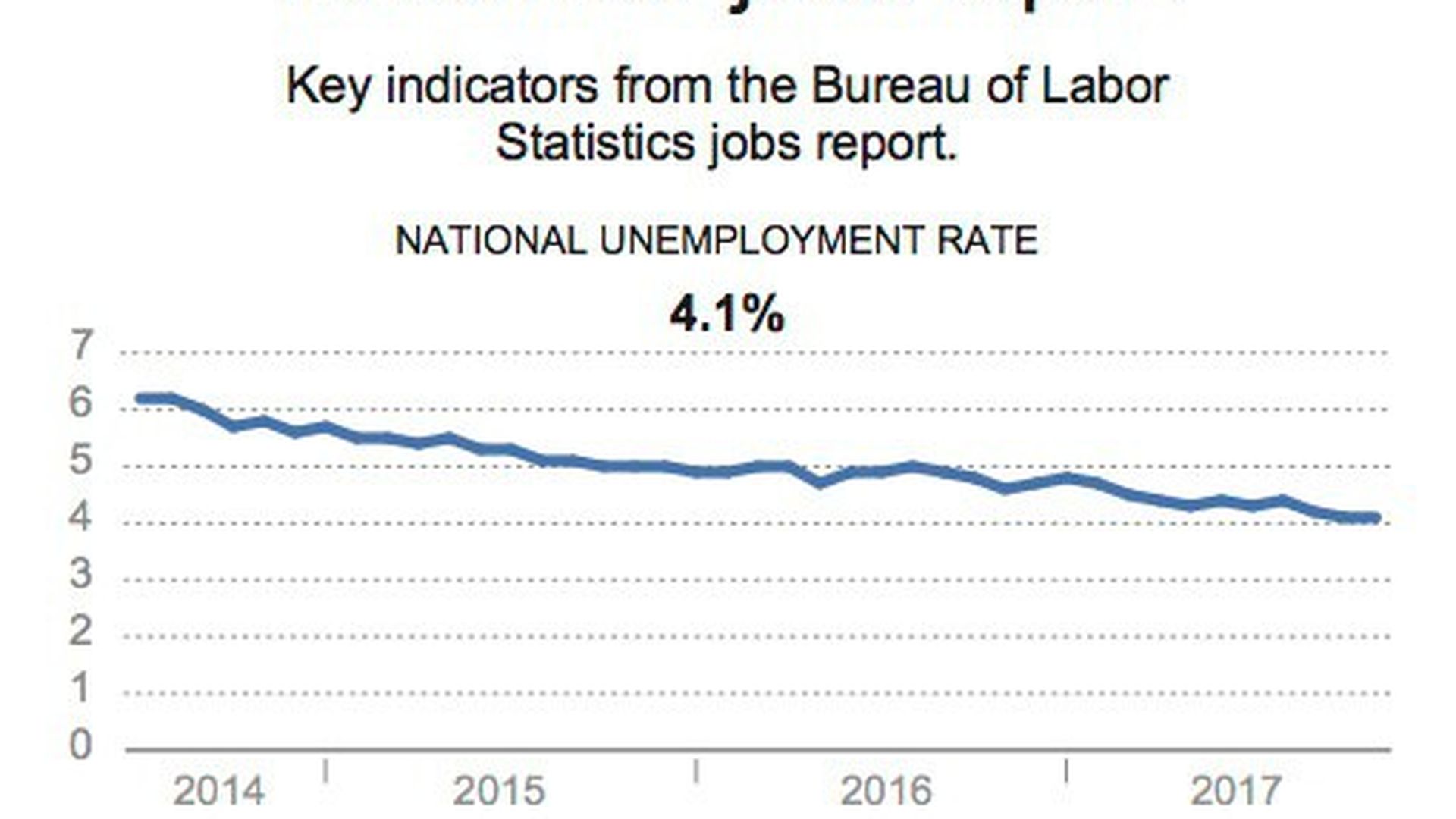 Wall Street Journal lead story, "Hiring Growth Powers Economy" ... "The U.S. economy is hitting milestones not seen in more than a decade, marked by robust hiring that has led to low unemployment and a sustained pickup in output."
"Labor Department data ... showed nonfarm payrolls rose a seasonally adjusted 228,000 in November—the record 86th straight month of expansion."
N.Y. Times lead story, "SIZZLING ECONOMY HEIGHTENS FEAR OF OVERHEATING" ... "The economy's vital signs are stronger than they have been in years. ... That strength could also pose challenges, particularly in light of the $1.5 trillion tax cut that Congress could pass as early as this month."
"With unemployment so low and the economy fundamentally healthy, a tax cut could lead the economy to grow too quickly, pushing up inflation and forcing the Federal Reserve to raise interest rates."Joseph Song, an economist at Bank of America: "It's a very poorly timed fiscal stimulus ... It kind of raises the risk of a boom-bust cycle.""For now, however, the figures present a political opportunity for President Trump."
6. Trump's "raft of calls" before Jerusalem speech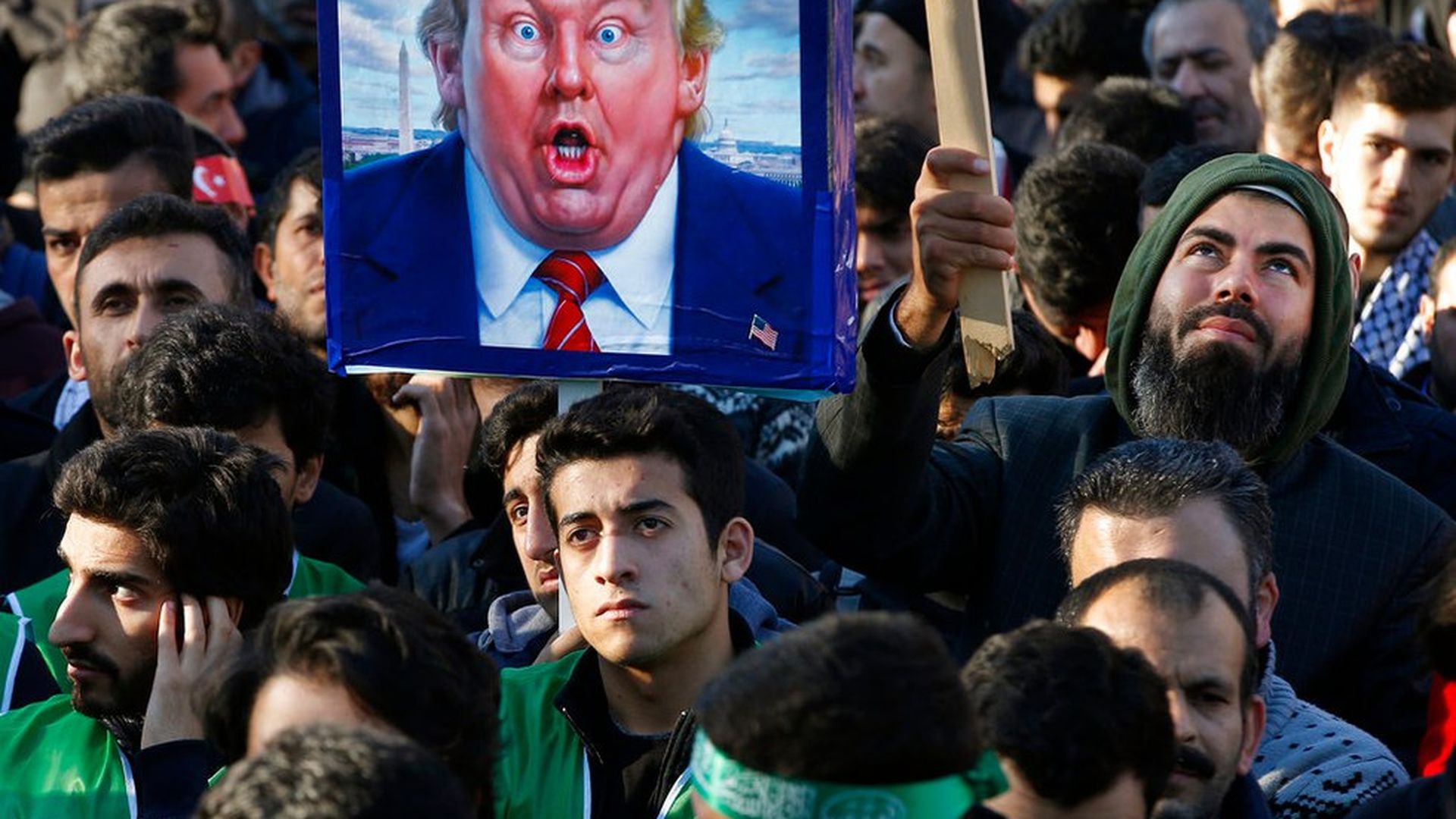 Barak Ravid of Israel's Channel 10 News, an Axios contributor, uncovered new details President Trump's calls to the region before recognizing Jerusalem as the capital of Israel:
Israeli and U.S. officials say Israeli President Benjamin Netanyahu and Trump spoke by phone at least twice in the 10 days before Wednesday's announcement.
Israeli officials say Netanyahu told Trump in their last phone call, on Tuesday, that by taking this step "he is making history." The officials added that Netanyahu gave Trump his commitment not to make any change in the status quo in the holy places in Jerusalem, mainly the Temple Mount, or Haram Al-Sharif.
A White House official said that conversation was part of "a raft of calls to regional leaders" on Tuesday, including four Arab leaders, to "get reaction ... and keep regional partners informed."
Mahmoud Abbas, the president of the Palestinian Authority, is supposed to arrive in the U.S. in the next few weeks for a medical procedure. Trump wants to use this opportunity to see him and try to defuse the crisis, and invited Abbas to the White House. Officials said the invitation was general, and no date was set.
P.S. A senior Palestinian official in Abbas's ruling Fatah party told Haaretz that Vice President Pence, due to visit the region later this month, "is unwelcome in Palestine."
7. ⚓️ 1 Navy thing: Messaging in new waters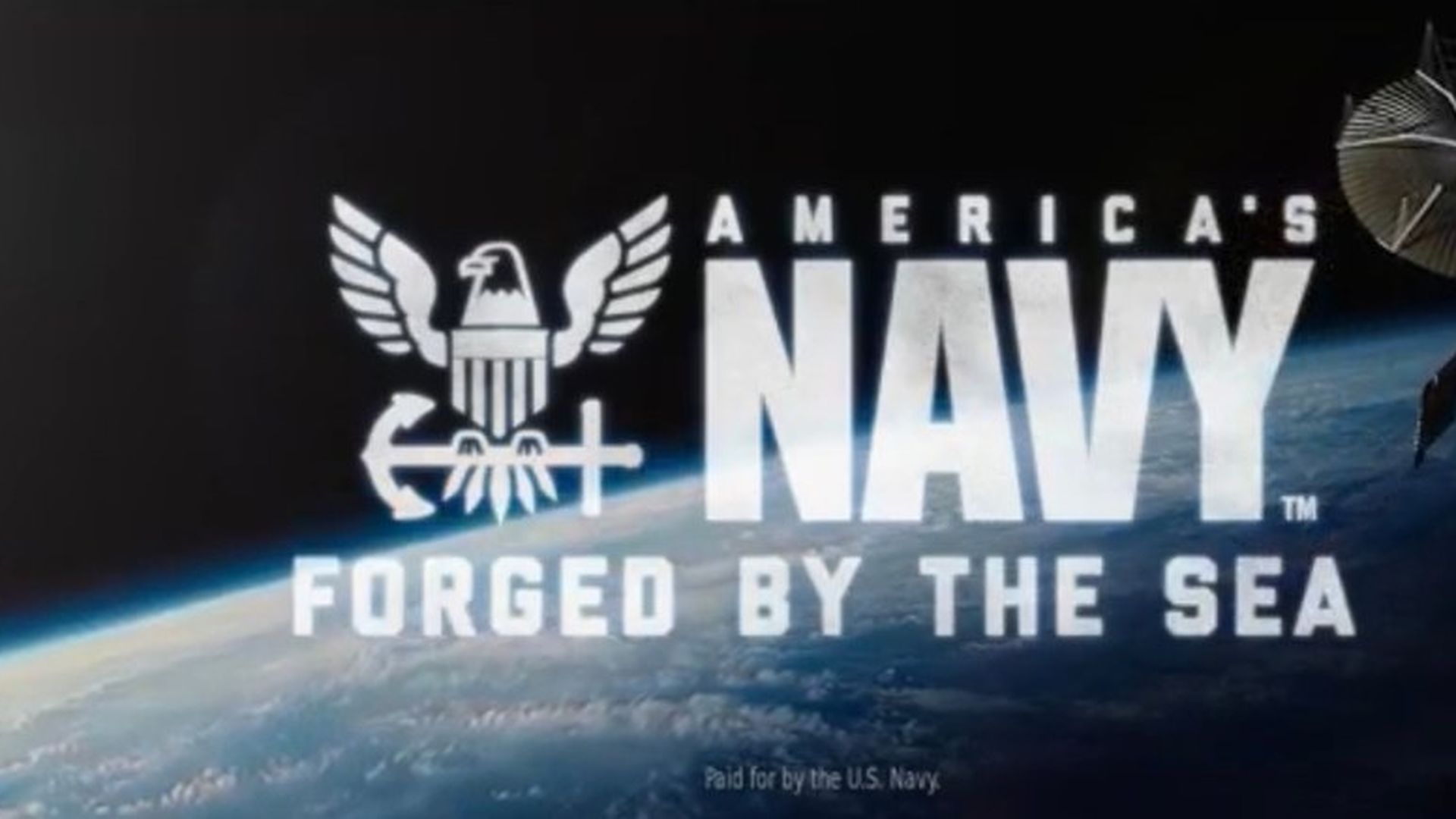 The U.S. Navy today will debut a new recruiting campaign, "Forged by the Sea," and a revamped branding strategy aimed at a new generation of recruits — the so-called centennials, born beginning around 2000.
The first ad, "Sea to Stars," will today air on CBS during the second quarter of the Army-Navy football game in Philadelphia. A second ad, "Game," air in-stadium.
This campaign won't focus on TV, but instead is aimed at a generation that consumes media differently.
Targeted digital marketing on social media platforms allows the delivery of more tailored messages to potential recruits. And ads are relatively inexpensive on platforms most popular with 17-to-21-year-olds.
8. Patagonia v. Trump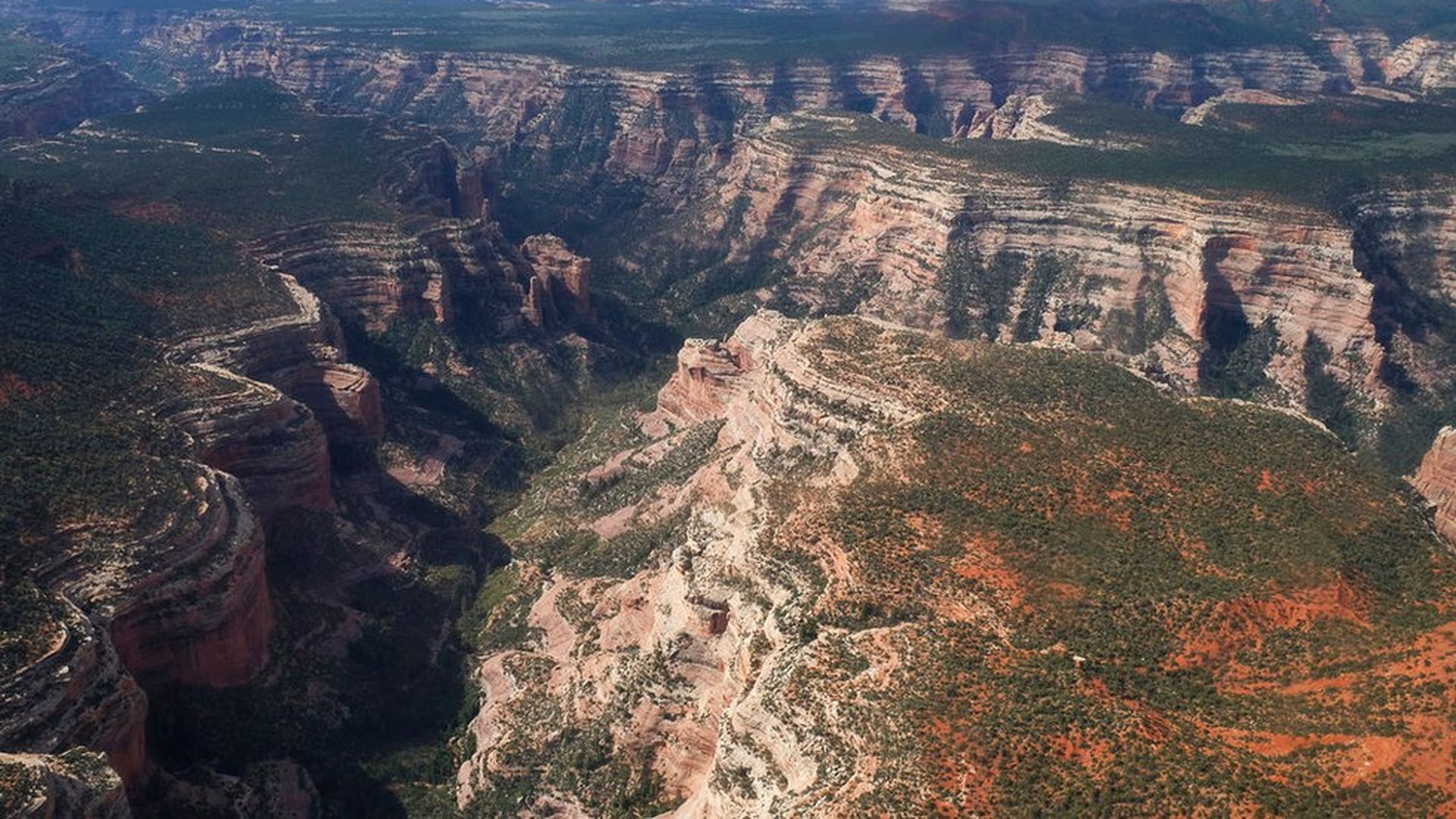 "Outdoor clothing giant Patagonia and other retailers have jumped into a legal and political battle over President Trump's plan to shrink two sprawling Utah national monuments," AP's Michelle Price reports from Salt Lake City:
Why it matters: The fight would scare off most companies, but galvanizes customers of outdoor brands who value environmental activism."
"Patagonia filed a lawsuit ... over Trump's announcement this week cutting Bears Ears National Monument by 85%."
"Patagonia's legal move followed a spat on Tuesday with Interior Secretary Ryan Zinke, who accused the company of lying when it replaced its usual home page with a black screen and stark message: 'The President Stole Your Land.'"
This was new to me: "The privately-held [Patagonia, based in Ventura, Calif.] in 2012 became one of the first businesses licensed under a California law that allows corporations to pursue social and environmental advocacy as part of their missions. The classification shields Patagonia from potential claims that company advocacy expenses are hurting profits."
Be smart ... This is one of the year's huge business trends: CEOs and corporations — prodded by shareholders, millennial customers and their own workforces — are increasingly vocal on political issues.
Many younger consumers look beyond a product or service, and scrutinize the values of brands they support.
9. An epic year: 7 of 30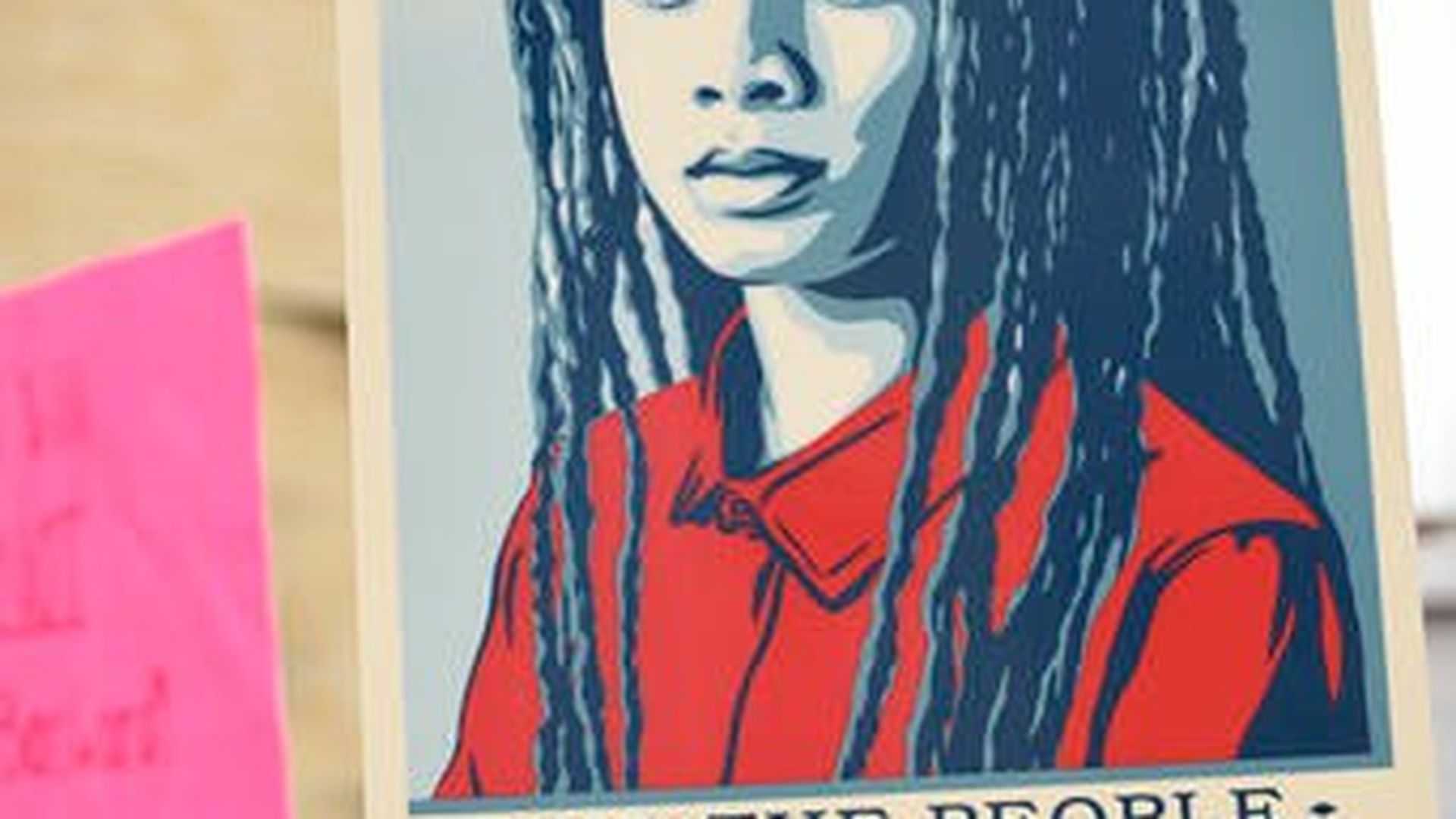 Remembering 2017 in 30 images ... Anna Maria Evans of Durham, N.C., attends the Women's March on Washington on Independence Avenue on Saturday, Jan. 21 — the first full day of the Trump presidency.
10. 1 fun thing: Sarah Sanders' list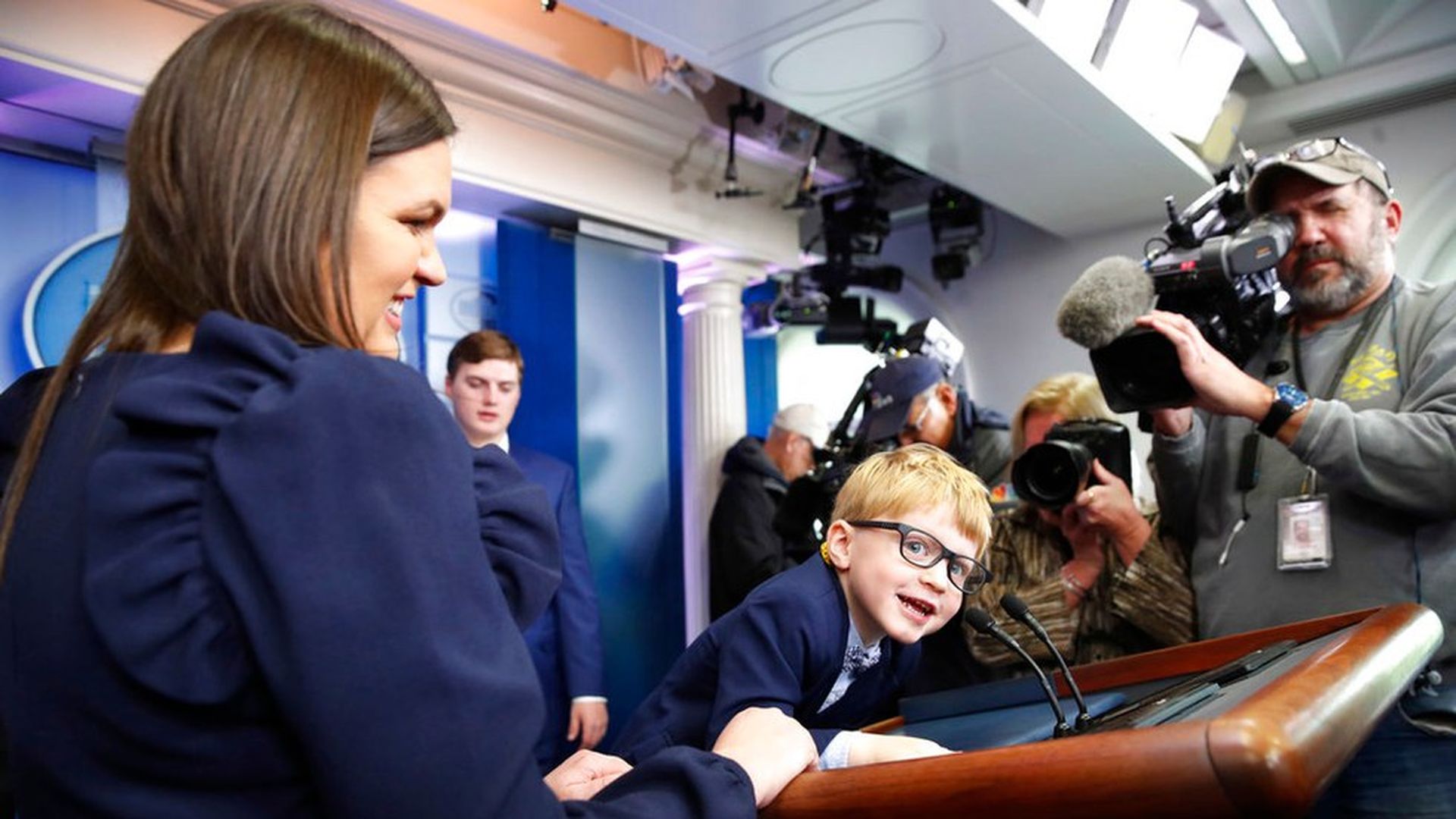 Sarah Sanders' "Top 10[ish] titles that could have come from the first year of the Trump administration," as read by the White House press secretary at the White House Correspondents' Association holiday reception on Thursday night at the J.W. Marriott, which drew several West Wing officials:
"Off the Record," by Anthony Scaramucci
"An Insider's guide on the Hatch Act," by Kellyanne Conway, with foreword by Walter Shaub
"Please Call on Me," by Brian Kareem
"Covfefe: The True Meaning," by Everyone That Needs to Know
"The Great Refrigerator Heist," by Sean Spicer
"Fifty Shades of Gray," by John Roberts
"Moving Markets," by Brian Ross
"The Lizzas and the Scaramuccis: A Generational History"
"Gaggling with Gidley," with a foreword by Justin Sink
"The Joy of Baking," co-authored by Sarah Sanders and April Ryan
"Selling Out," by Carol Lee, Mike Memoli and Vivian Salama, who all joined NBC News in a single staff memo.
"Oval Office Art," by Zeke Miller
"How I overcame Cosmopolitan Bias," by Jim Acosta.