Axios AM
July 05, 2018
Good Thursday morning, and welcome back.
Situational awareness: "Special Counsel Robert Mueller is tapping additional Justice Department resources for help with new legal battles," per Bloomberg's Chris Strohm.
"[H]e's making more use of career prosecutors from the offices of U.S. attorneys and from Justice Department headquarters, as well as FBI agents — a sign that he may be laying the groundwork to hand off parts of his investigation eventually."
"Mueller and his team of 17 federal prosecutors are coping with a higher-[than]-expected volume of court challenges that has added complexity in recent months, but there's no political appetite ... to increase the size of his staff."
1 big thing: Trump's huge blind spot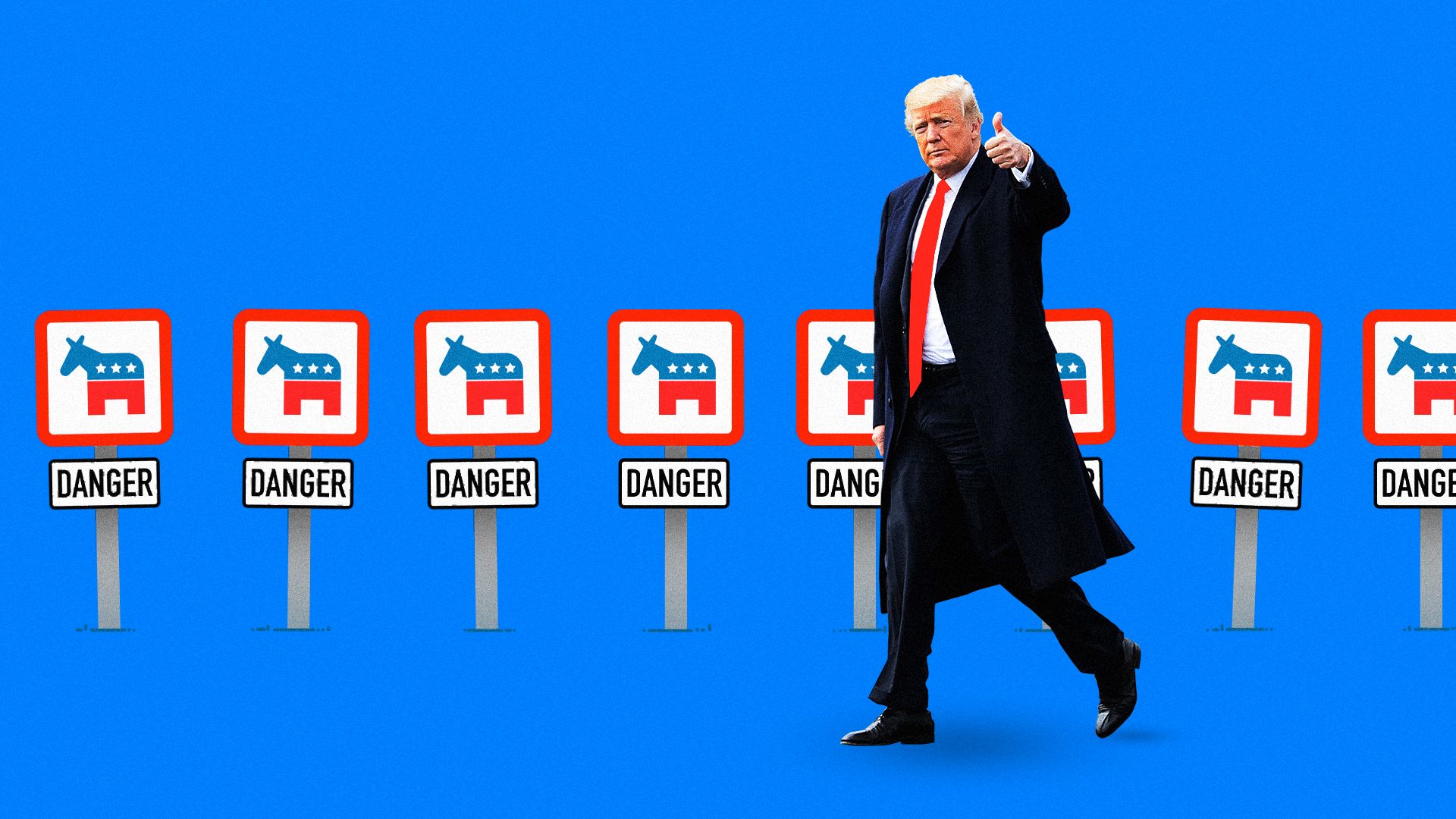 Alumni of President George W. Bush's second term are getting flashbacks: Democrats are favored to take over the House, spelling a raft of headaches for a Republican president.
What's true today was also true in 2006.
Bush 43 aides were certain that winter was coming — and they were right: Voters, driven by discontent over the Iraq war, ended 12 years of Republican rule in the House, giving Speaker Pelosi the gavel in January 2007.
So top Bush West Wing officials formed a secret "Oh Sh@# Group" to get ready.
"You have to plan for a war footing, but you can't give any external signs that you've lost confidence," a member of the OSG told me. "They'll still be putting up a fight, so you can't have the press or people around town saying: 'The White House is planning for their party to lose.'"
The planning began as soon as Josh Bolten was sworn in as White House chief of staff in April 2006, when it was already clear that losing one or both chambers was a real possibility. Throughout the summer and fall, the OSG met regularly in Bolten's office.
Despite bearish signs about November, the current White House has no OSG — in part, I'm told, because President Trump and some West Wing officials believe Republicans will hold on.
Trump is already holding frequent rallies in key areas for the midterms, and will travel even more after Labor Day. He relishes the fight, and loves the idea that he'll save the House for Republicans.
Nevertheless, Jonathan Swan says that many administration officials he talks to are downbeat about November. Those with experience in more than one campaign are likely to see saving the House as a 50-50 proposition, at best.
In this time of political sea change, the White House has done little contingency planning.
Few people in the West Wing believe Chief of Staff John Kelly will still be around in January. And Kelly and the West Wing staff spend much of their time in reactive mode, putting out fires and responding to Trump's latest whims.
A Trump aide told me: "Prepare for something six months from now? We don't prepare for something that's right in front of us."
Sources close to the Republican congressional leadership said officials have tried to convince Trump that he needs to get ready, but they don't believe the message has gotten through.
The White House's addition in May of Emmet Flood, President Clinton's lawyer during impeachment, could help with high-stakes fights over subpoenas from a Democratic House. But for now, Flood has his hands full with the Mueller investigation.
OSG alumni had this advice for the Trump White House about prepping for Democratic rule:
Democrats now will have subpoena power: "Oversight committees are going to bombard you with calls for testimony and documents," requiring massive West Wing legal bandwidth.
Democratic chairs can suddenly go after your spending, your email, your calendars, your notes.
"Things that might get a pass — or be one-day stories, or wiped under the rug — when you have the same party can suddenly became major stories. Every single thread, happening anywhere in the government, gets pulled."
Democrats are likely to pick "weak members of the herd" — vulnerable Cabinet members — and go after them from all directions.
"Clear the decks now of anyone you think is going to cause more pain and embarrassment than you're willing to spend."
"The confrontational footing is a huge distraction. You have to structurally prepare for how you're going to deal with ongoing battles where suddenly you're not setting the agenda."
"Figure out which issues you're going to fight on, and which Democratic issues you can try to co-opt and make progress on."
Be smart ... Thinking ahead to the mayhem of a Democratic House, an alumnus of the Bush 43 White House told me: "Our current president might welcome the turbulence and distraction."
2. Courting Trump: How he'll make his pick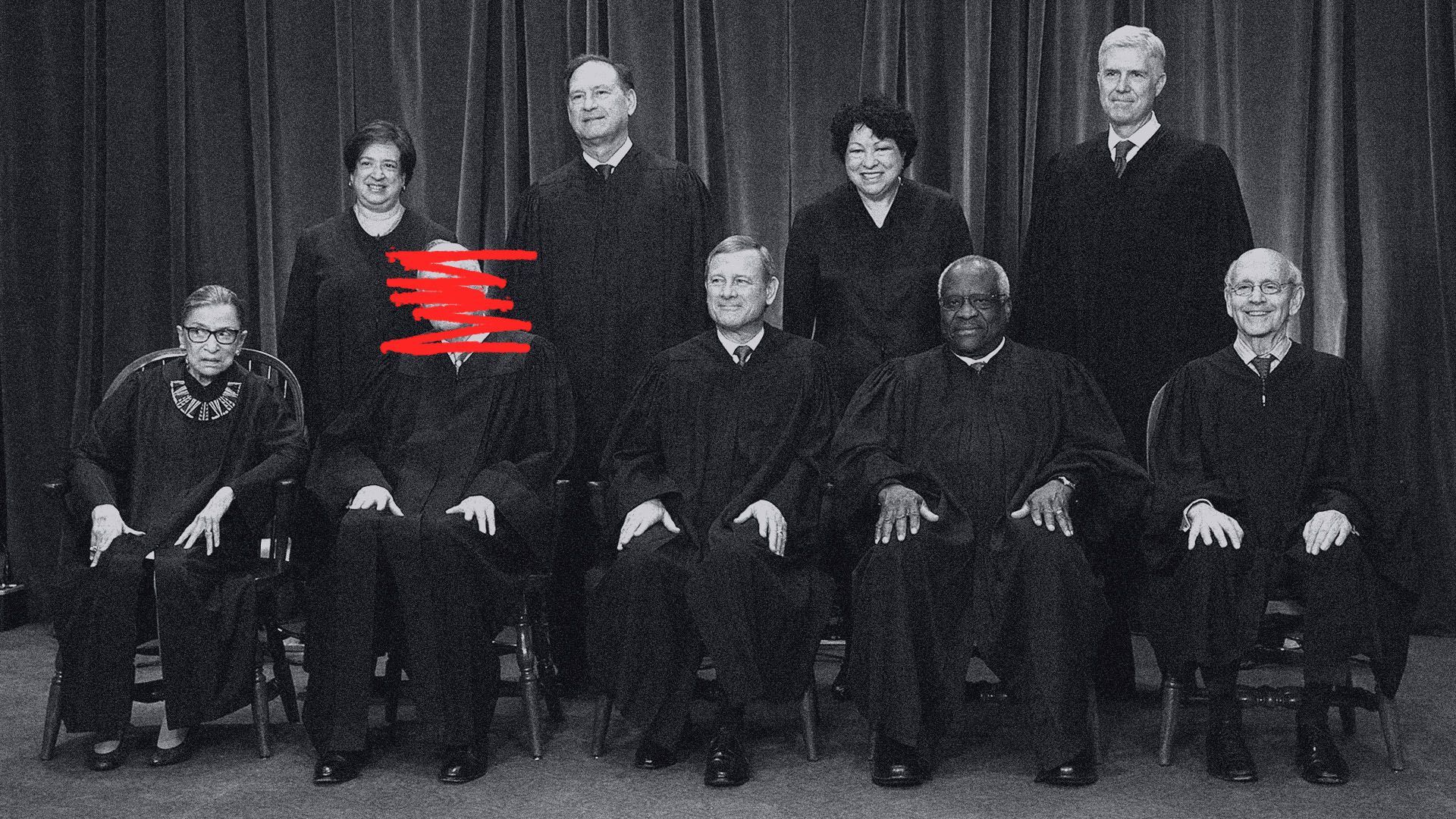 It'll be more about personality than pedigree.
A White House official involved in the vetting process tells me that President Trump's Supreme Court pick will come down to "who he feels most comfortable with in a personal setting."
The personal touch is how Trump makes most big decisions, whether it's picking top staff or deciding how to treat other world leaders.
Even some aides recognize that may not be the best way to pick a Supreme Court justice.
But Trump is Trump. "It's not going to be an analysis of Pennsylvania politics" or some other convoluted, bank-shot logic, the official said.
Trump has said his announcement will be Monday, but aides wouldn't be surprised if he jumped the gun and appeared with his nominee in the next few days.
"When the president has made up his mind, he wants to go," an aide said.
But Monday would be a more natural time because some senators can be invited to the announcement, and more people will be tuned in after the holiday.
Aides are prepared to try to persuade him that he'd get more coverage by waiting — an argument that worked with him when he suddenly wanted to start the summit with Kim Jong-un a day early, according to the WashPost.
So aides hope the unveiling won't be till Monday. But with Trump, ya never know.
P.S. Vice President Pence has met with some of the contenders for the Supreme Court vacancy. (AP)
3. Now our TVs are watching us
"How Smart TVs in Millions of U.S. Homes Track More Than What's on Tonight," by N.Y. Times' Sapna Maheshwari:
"[D]ata companies have harnessed new technology to immediately identify what people are watching on internet-connected TVs, then using that information to send targeted advertisements to other devices in their homes."
"Samba TV has struck deals with roughly a dozen TV brands — including Sony, Sharp, TCL and Philips — to place its software on certain sets."
"When people set up their TVs, a screen urges them to enable a service called Samba Interactive TV, saying it recommends shows and provides special offers 'by cleverly recognizing onscreen content.' But the screen, which contains the enable button, does not detail how much information Samba TV collects to make those recommendations."
"Samba TV ... said at the end of 2016 that more than 90 percent of people opted in."
"Once enabled, Samba TV can track nearly everything that appears on the TV on a second-by-second basis, essentially reading pixels to identify network shows and ads, as well as programs on Netflix and HBO and even video games played on the TV."
Why it matters: "Samba TV has even offered advertisers the ability to base their targeting on whether people watch conservative or liberal media outlets and which party's presidential debate[s] they watched."
4. Pics du jour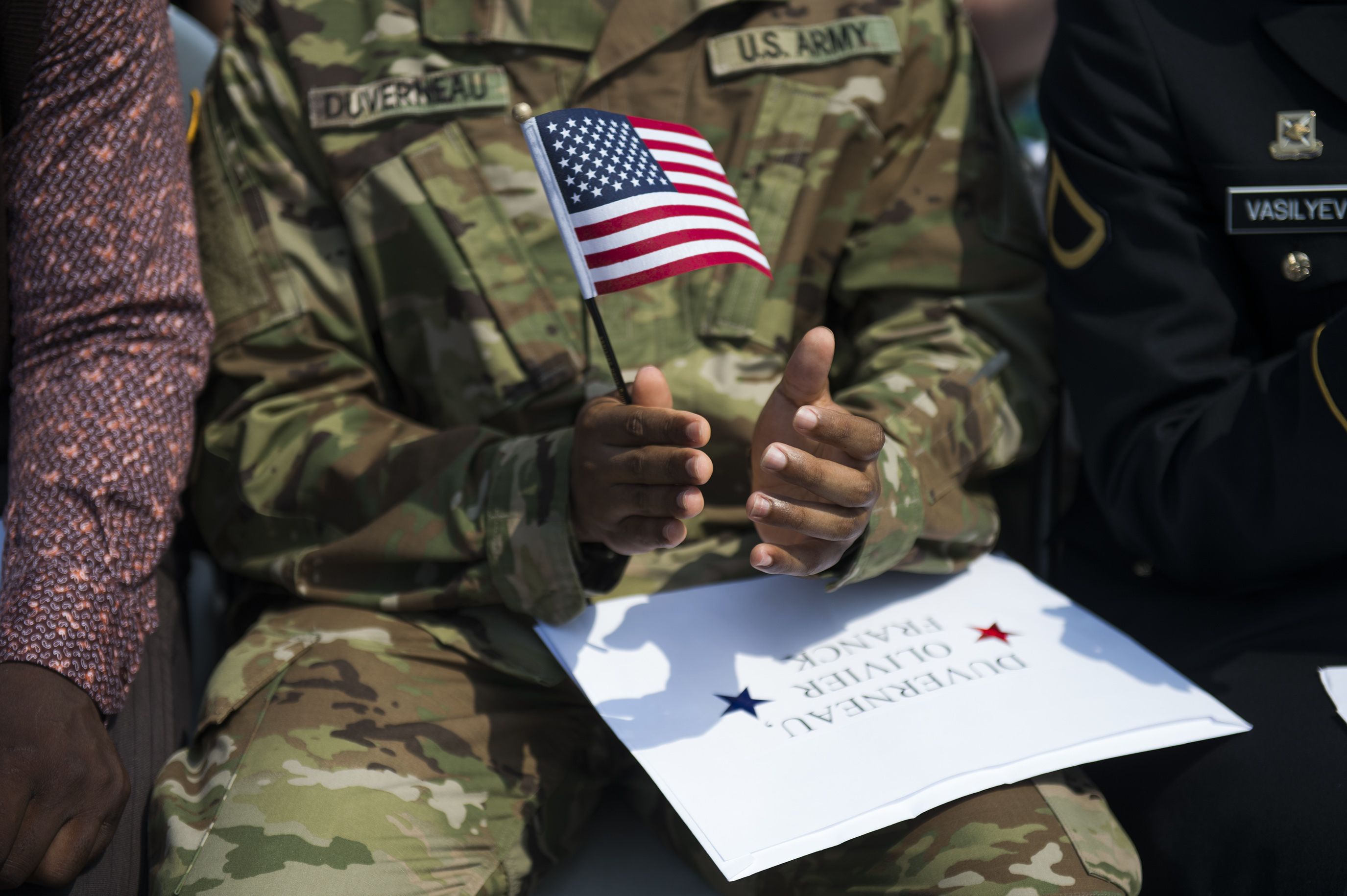 Olivier Duverneau becomes a citizen yesterday during a naturalization ceremony aboard the USS New Jersey in Camden, N.J.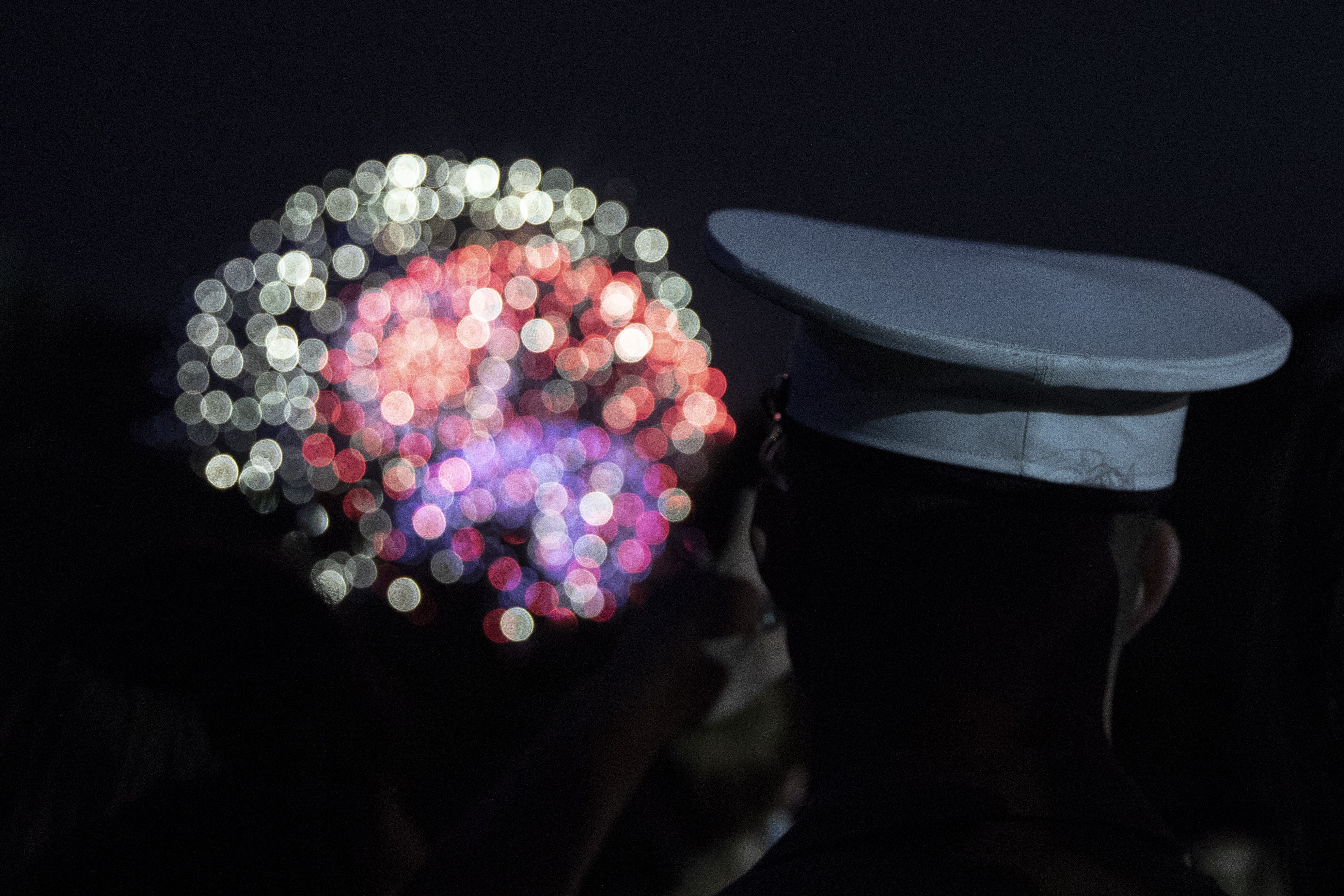 A Marine views fireworks from the South Lawn of the White House.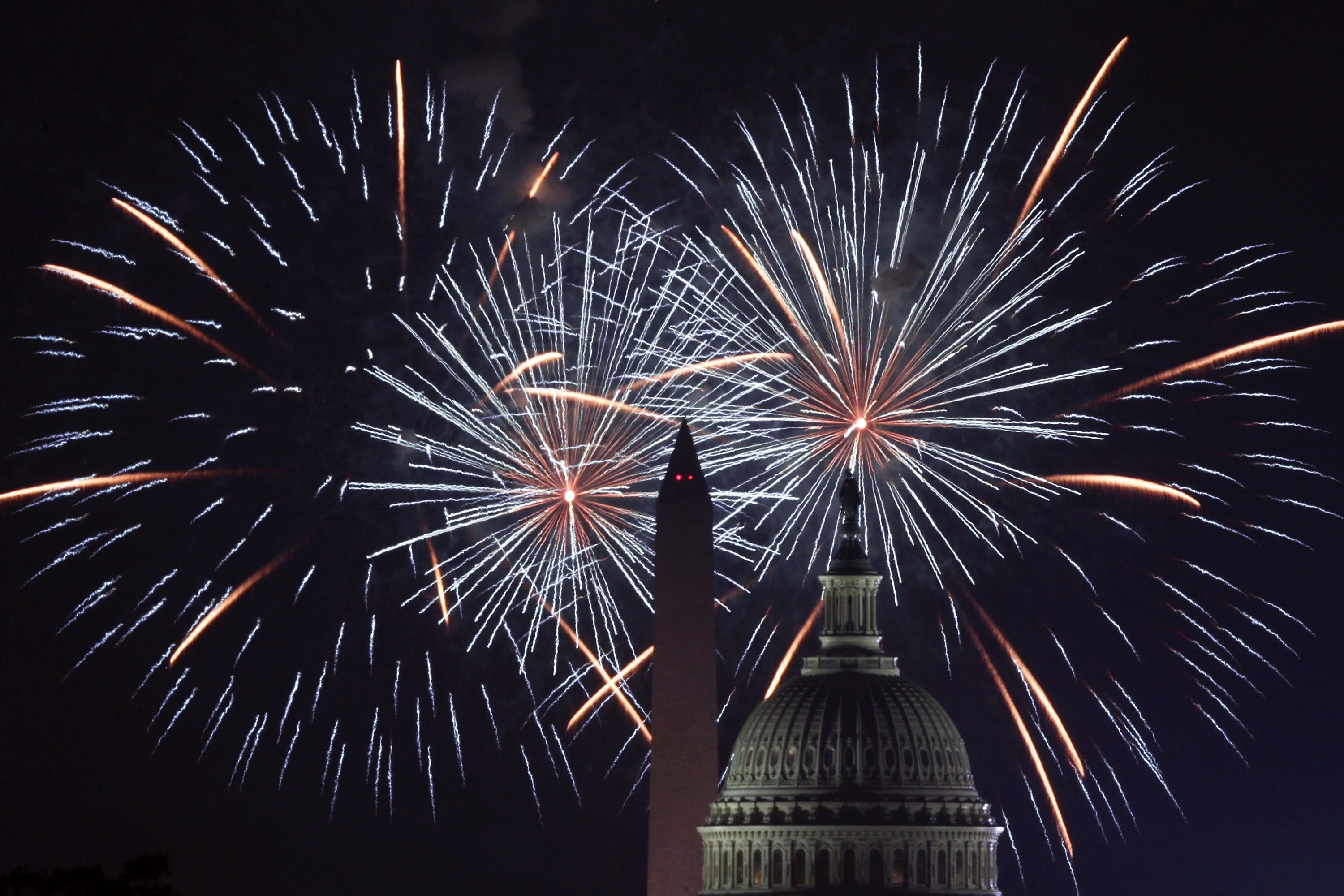 Last night in America ...
5. Tweet du jour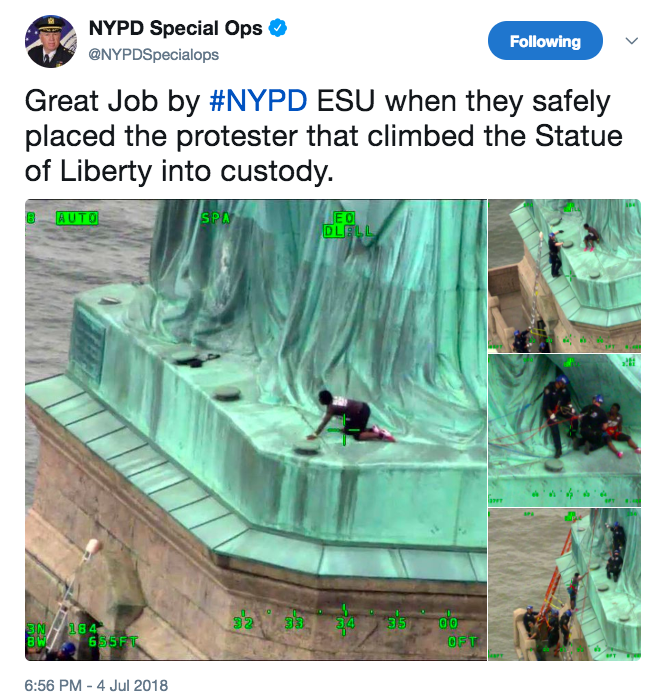 Sources tell the N.Y. Post: "Therese Patricia Okoumou — a 44-year-old immigrant from the Democratic Republic of the Congo ...[who] lives in the St. George neighborhood of Staten Island and is currently in federal custody — climbed up to the feet of Lady Liberty to protest President Trump's zero-tolerance policy on immigration and the separation of families at the border."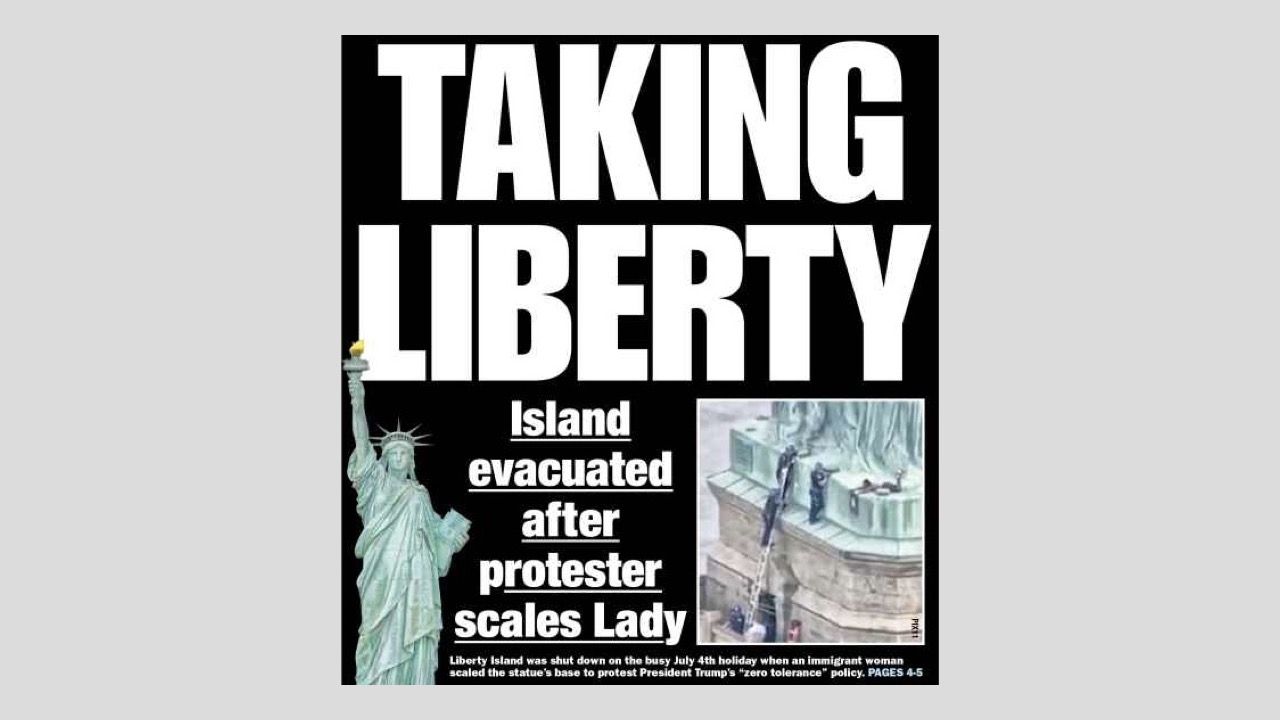 6. "A Hedge-Fund Star Dims, and Investors Flee"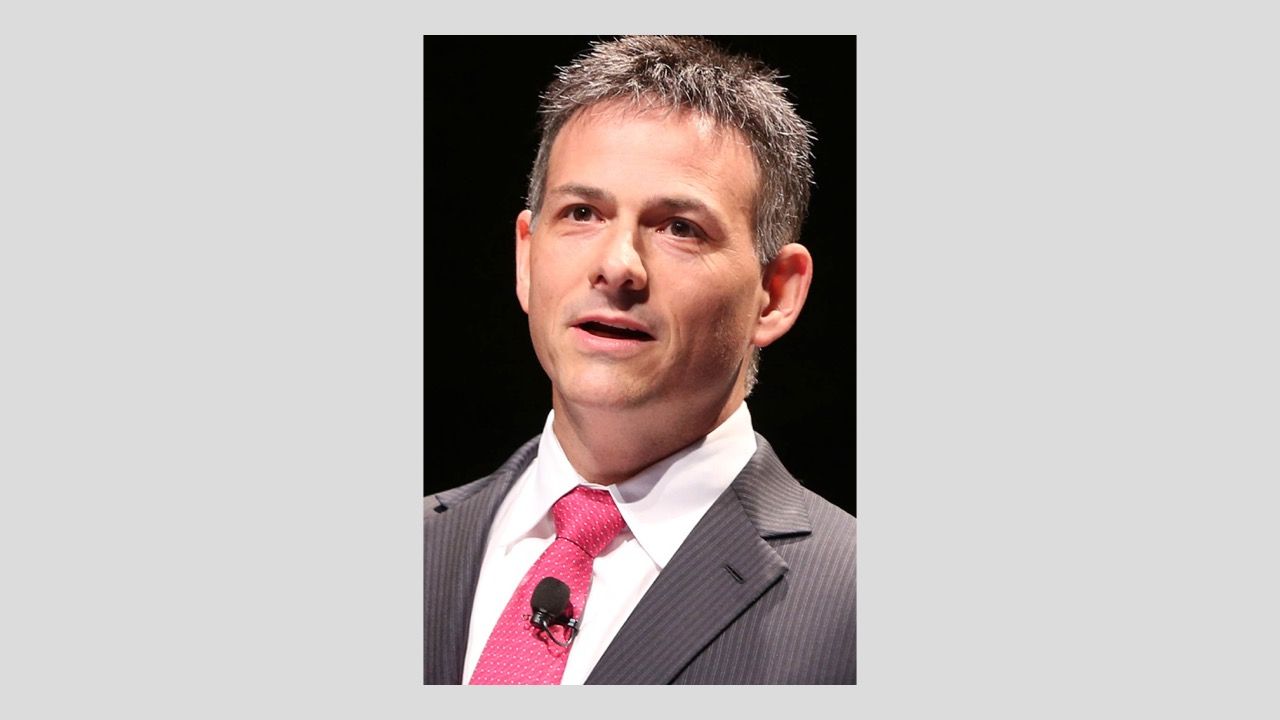 "Returns so rich, investors called him King David, and didn't mind the all-nighters in Vegas and on the New York City club scene. But David Einhorn's Greenlight Capital fell into a slump. It lost billions, and is now losing investors," by The Wall Street Journal's Gregory Zuckerman (subscription):
"Einhorn, 49, hasn't clearly explained the losses, sometimes pointing to the market's shift away from the less expensive value stocks he favors — those considered inexpensive relative to earnings and other metrics."
"People familiar with the fund attribute Mr. Einhorn's troubles in part to his unconventional ways — sticking to value stocks, for example, and keeping clients at a distance — which he hasn't changed even as investors bolt."
"Supporters point to Greenlight's stellar annual returns since inception: 15% versus 8.7% for the S&P 500 and 7.5% for the average stock-focused hedge fund."
"Einhorn started Greenlight in 1996 with a reported $900,000 — the name came from the green light his wife gave him to open the fund — focusing on undervalued stocks. Early results were strong, and the fund attracted wealthy investors."
"Greenlight could be difficult to deal with, some current and former investors said. While most hedge funds let clients withdraw money once a quarter, Greenlight in 2005 began requiring a three-year commitment with one chance a year to withdraw after that."
"When clients asked Mr. Einhorn for his views on investments, he often chafed."
"With the media, Mr. Einhorn was soft-spoken and generous with his time. Behind closed doors, he sometimes showed a darker side. At 'idea dinners,' where he and other hedge-fund managers regularly met to debate stocks, he could be insulting to those who questioned him."
7. Coming attraction?
David Cay Johnston, who won a Pulitzer covering taxes for the N.Y. Times and is the author of "The Making of Donald Trump," in a N.Y. Times Op-Ed:
"A state or county criminal investigation that begins with abuse of the Donald J. Trump Foundation need not be limited to violations of charity and election law. It can also examine his personal and business tax filings and, in the process, lawfully put his tax returns in the public record."
8. 2020 watch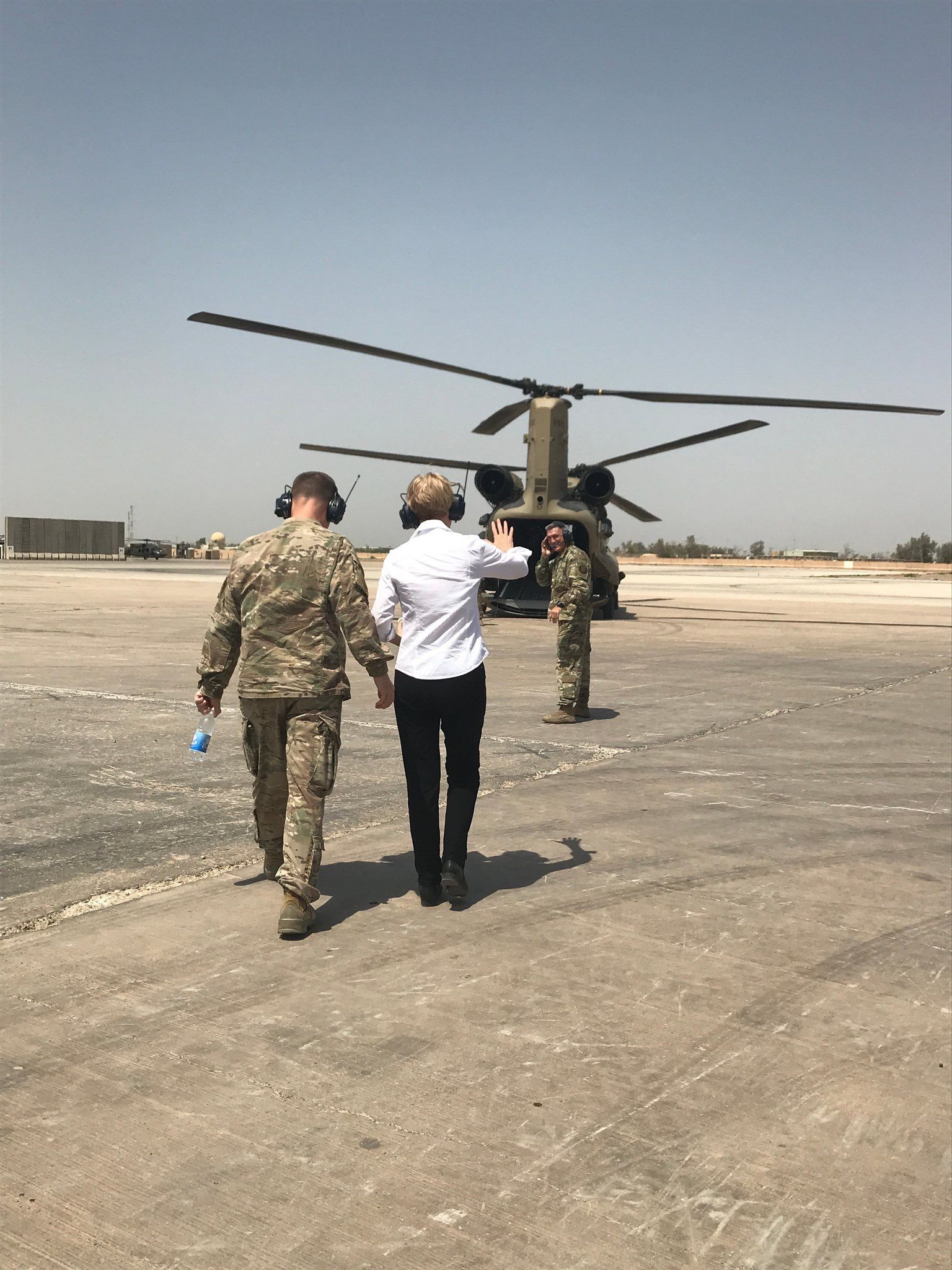 "On Mideast trip, Elizabeth Warren polishes her credentials," by Boston Globe's Matt Viser and Liz Goodwin:
"Warren stopped in Kuwait for breakfast at Camp Arifjan with about 25 troops from a Reading-based unit of the Massachusetts Army National Guard, and then traveled to Iraq, where she joined Senator Lindsey Graham, the South Carolina Republican."
Why it matters: "For Warren, the trip is bound to raise further talk about her 2020 plans, as the Massachusetts Democrat and former Harvard Law professor continues trying to bolster her foreign policy credentials, which to date have been a weaker point in her resume. When asked, she says that she is running for the US Senate this year and not for president."
9. How Trump's pick could shape decades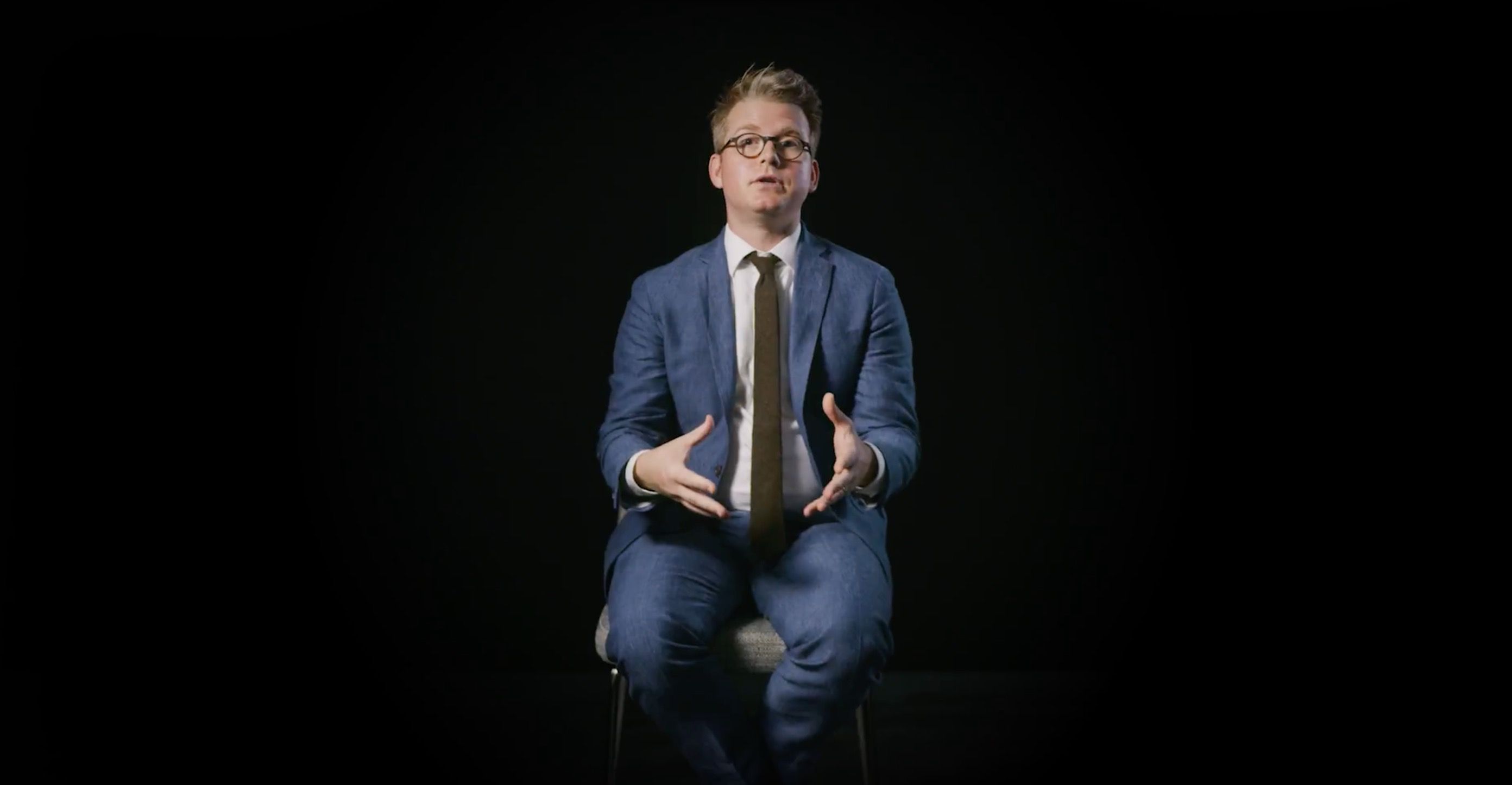 From Axios Video ... Sam Baker says that with President Trump's new nominee on the Supreme Court, there may not be many 5-4 decisions that liberals will win.
10. 1 dog thing
"The Secret Price of Pets ... The care and feeding of America's 'fur babies' has grown increasingly baroque," by N.Y. Times' Peter Haldeman:
"Stop by Urth Caffe in West Hollywood, Calif., or Barking Dog Restaurant in New York on any given afternoon and you'll find the place crawling with strollers that hold not mewling infants but yapping Havanese and drooling doodles."
"Petplan, an insurance company, estimates that pet parents dropped

$62 million in 2011

on plastic surgery for their little angels. Popular procedures include tummy tucks, nose jobs and eyebrow and chin lifts."
"Dogs are having their tresses colored, straightened, curled and waved. They're getting mohawks and fauxhawks, lion cuts and teddy bear cuts. They're volumizing with feathers and accessorizing with beads."
"The food aisles at the local pet store look more and more like those at the nearest Whole Foods: locally sourced produce; cage-free poultry; grain-free, pesticide-free, gluten-free everything else."
Why it matters: "Last year Americans spent $69.5 billion on their pets, according to the American Pet Products Association."
Thanks for reading. See you all day on Axios.com.