https://www.axios.com/newsletters/axios-am-81f9a232-32bb-4fe3-917a-fd4061433c9b.html?chunk=0#story0
1 big thing: Trump's war room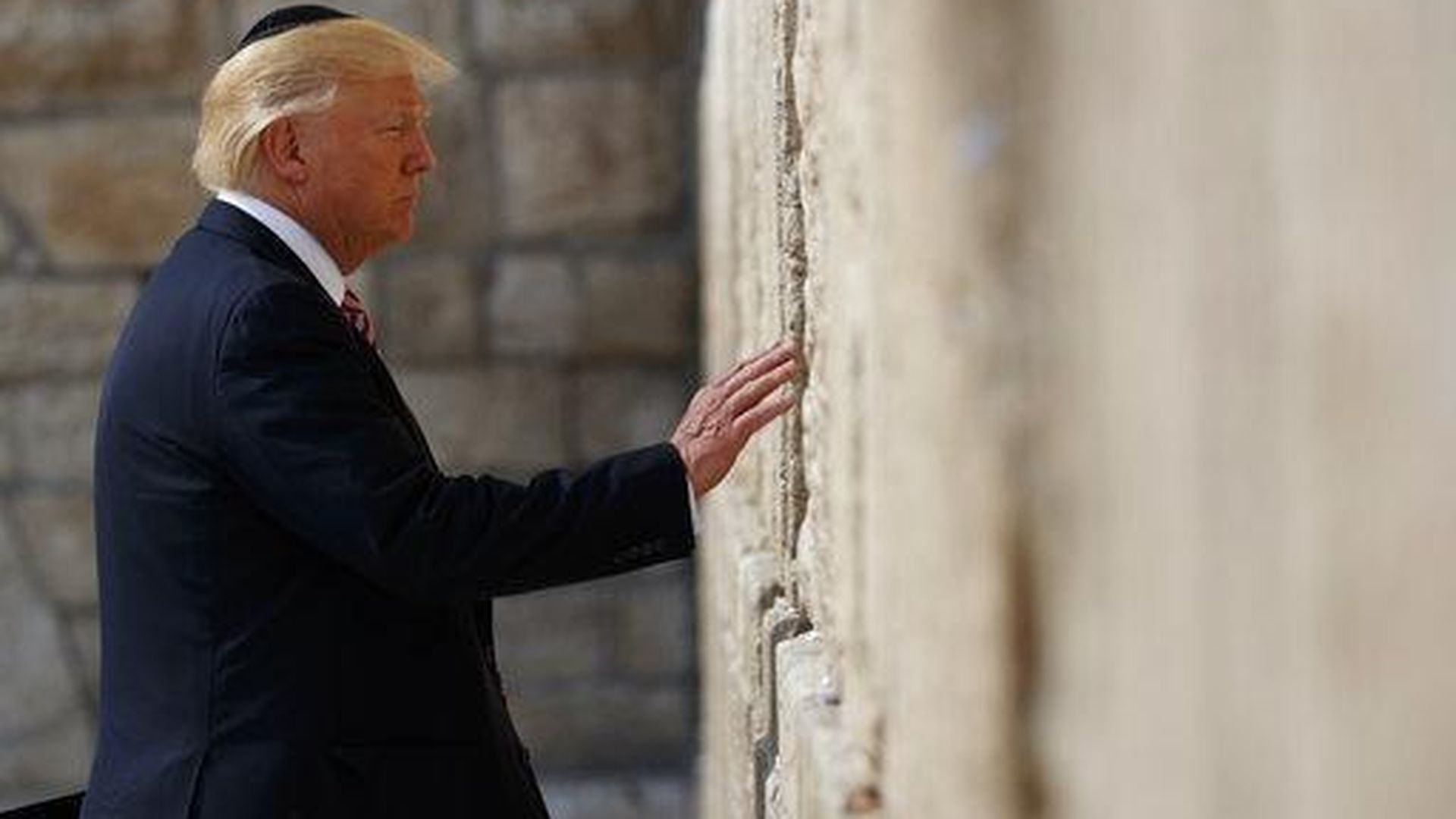 Day 124 ... White House officials tell me they're gearing up for months, and likely years, of Russia defense. Trump and his inner circle are belatedly scrambling to install war-room-like mechanisms designed to prevent the drama and threat from consuming the entire West Wing, and derailing everything else.
Trump aides have studied precedents, including the Reagan White House's handling of Iran-Contra and President Clinton's scandal machinery.
The West Wing appears to be absorbing key lessons from its predecessors, although even Trump allies tell me he's just beginning to take steps to wall off the controversy that should be begun on Day 1:
Trump aides recognize the Russia defense will be essentially permanent, and are finally planning structures to reflect that.
A key takeaway from past administrations is to designate one office or official to handle all the legal and communications issues, so there's a consistent response and everyone else isn't constantly sucked in.
In "Trump looking at outside counsel for Russia probe," the WashPost's Bob Costa and Ashley Parker report: "[A]ttorneys who have spoken to the White House and who are seen as the finalists are Marc E. Kasowitz; Robert J. Giuffra Jr.; Reid H. Weingarten; and Theodore B. Olson."
"Two other attorneys who were originally viewed as contenders but have since drifted away from the mix ... are Brendan V. Sullivan Jr. ... and A.B. Culvahouse Jr."
"Kasowitz, who has known Trump for decades, is expected to take a leading role."
Separately, Trump "personally reached out to two of his former campaign aides — his first campaign manager, Corey Lewandowski, and his deputy campaign manager, David Bossie — to sound them out about working with the administration as crisis managers," per Politico's Eliana Johnson and Josh Dawsey.
What could go wrong? One Trump ally said the list of legal eagles is encouraging: "These guys know how to fight a war."
Be smart: Both Republican and Democratic lawyers tell me the legal "Team of Rivals" could replicate some of the West Wing's dysfunction, forcing lawyers who are used to being in charge to compete for Trump's ear.
https://www.axios.com/newsletters/axios-am-81f9a232-32bb-4fe3-917a-fd4061433c9b.html?chunk=1#story1
https://www.axios.com/newsletters/axios-am-81f9a232-32bb-4fe3-917a-fd4061433c9b.html?chunk=2#story2
2. Trump in the Holy Land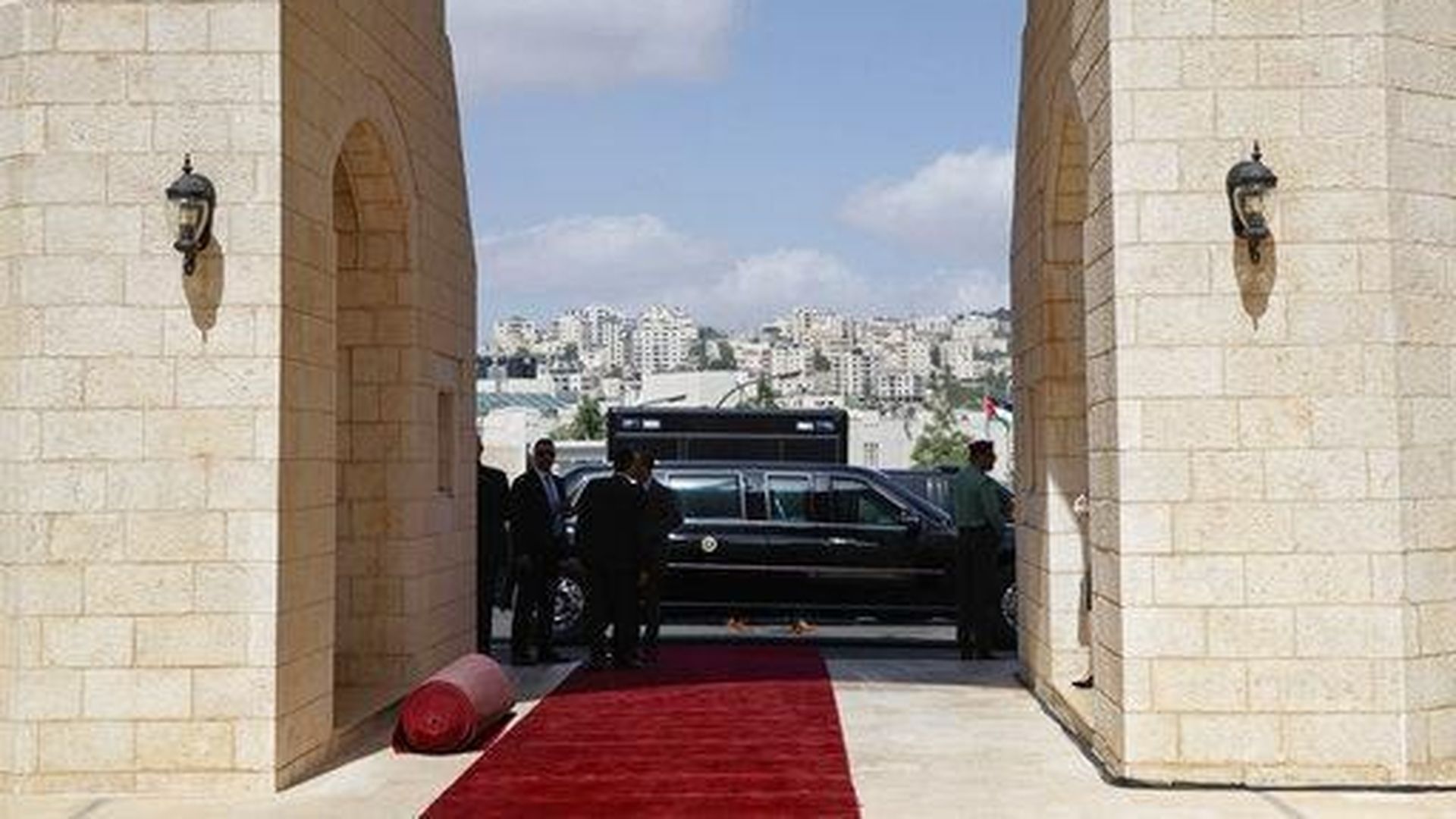 Breaking ... "Trump plays up Middle East peace hopes after talks with Palestinian president," by Reuters' Jeff Mason in Bethlehem, West Bank: Trump said "he believed both sides were committed to an historic deal, but he offered no concrete proposals on how to get there."
Trump: "I am committed to trying to achieve a peace agreement between the Israelis and the Palestinians and I intend to do everything I can to help them achieve that goal."
"The last talks between the Israelis and Palestinians, led by former U.S. secretary of state John Kerry, broke down in April 2014 after around a year of largely fruitless discussion."
Trip "peppered with symbolism" ... Wall Street Journal front page, at fold, "Trump, Netanyahu Unite on Iran," by Carol Lee and Rory Jones in Jerusalem: "Trump is focusing on pressing Israeli and Palestinian leaders to negotiate in good faith. White House officials say leaders from both sides have agreed in principle to direct talks, though it is unclear whether or when those would begin."
Back at the ranch ... WashPost lead story, "President asked intelligence chiefs to deny collusion": "Trump made separate appeals to the director of national intelligence, Daniel Coats, and to Adm. Michael S. Rogers, the director of the National Security Agency. ... Coats and Rogers refused to comply with the requests, which they both deemed to be inappropriate."
Flynn takes the Fifth with Senate Intelligence Committee. N.Y. Times notes: "His decision ... puts him at risk of being held in contempt of Congress, which can also result in a criminal charge."
https://www.axios.com/newsletters/axios-am-81f9a232-32bb-4fe3-917a-fd4061433c9b.html?chunk=3#story3
3. "Taxpayer-first" budget out at 11 a.m.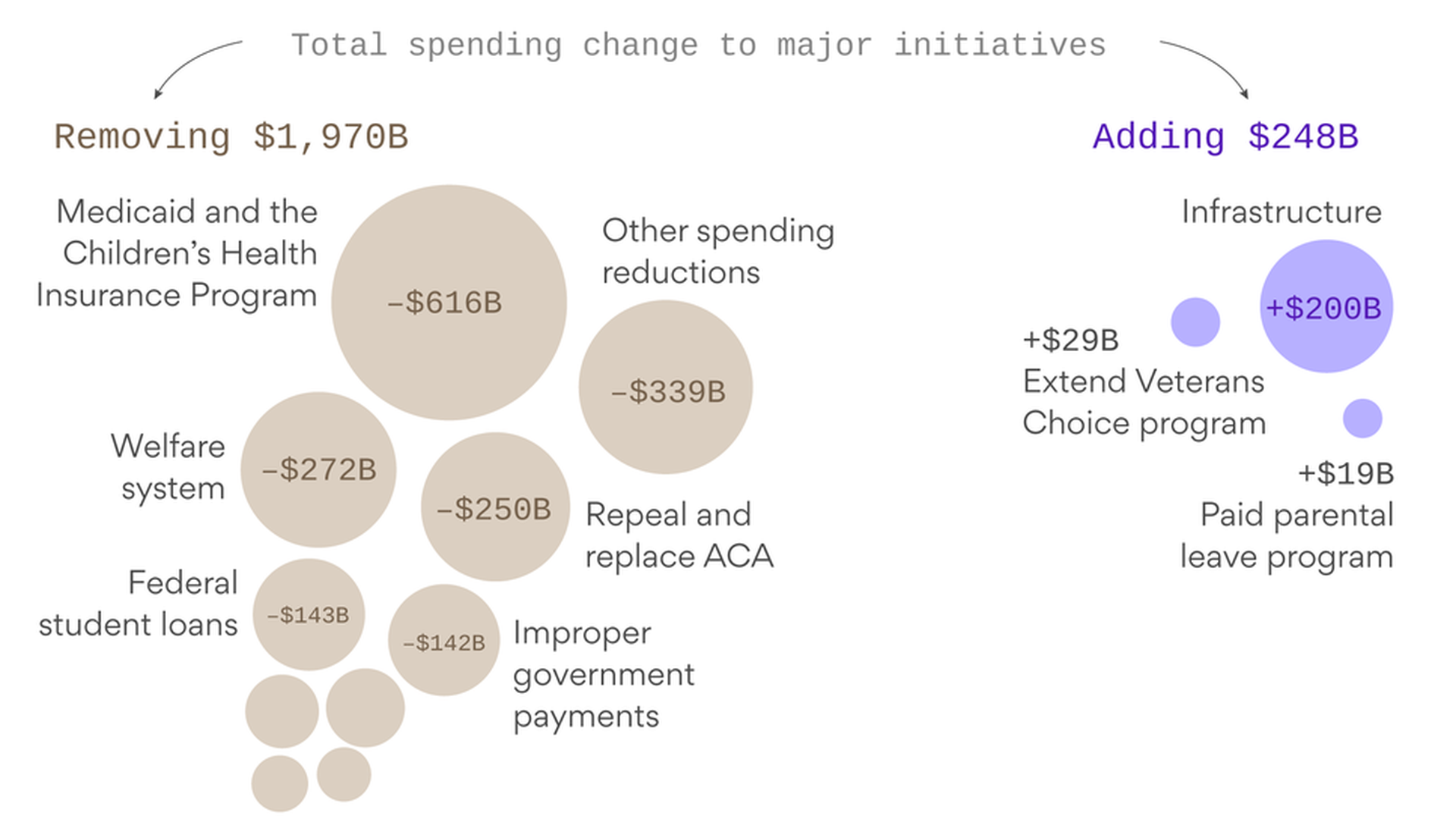 Thought bubble from Axios' Jonathan Swan and David Nather: "Presidential budgets are aspirational political documents. None of these cuts (or increases) will happen without Congress. Democrats will go along with none of this and Republicans are already wary. Congress is going to write its own budget, but realistically, they're not going to start completely from scratch either. They have to take the administration's priorities into account."
Takeaway from briefing by White House budget director Mick Mulvaney: The Trump administration wants to redefine what "compassion" means. Mulvaney says it should no longer be measured based on how many programs are in effect or how many people are receiving the benefit. He wants "compassion" to be broadened to include whether the government is ripping off taxpayers.
The budget balances in 10 years, but relies on some very sketchy assumptions.
Safety-net programs cut significantly: No Social Security (retirement payments) or Medicare cuts. But many will argue that cuts to Social Security Disability Insurance (SSDI) would break his promise not to cut SS.
Massive cuts to non-defense discretionary spending. Hardest hit: EPA (31.4% off budget in first year), State (-29.1%), Ag (-20.5%), Labor (-19.8%), HHS (-16.2%).
Boosts: military ... border security ... vets ... paid parental leave ($19 billion over 10 years).
P.S. "Trump Proposes Selling Off Half the U.S. Strategic Oil Reserve," by Bloomberg's Catherine Traywick and Jennifer Dlouhy: "Trump's first complete budget proposal ... would raise $500 million in fiscal year 2018 by draining the Strategic Petroleum Reserve, and as much $16.6 billion in oil sales over the next decade."
https://www.axios.com/newsletters/axios-am-81f9a232-32bb-4fe3-917a-fd4061433c9b.html?chunk=4#story4
4. Trump slams "evil losers" for concert carnage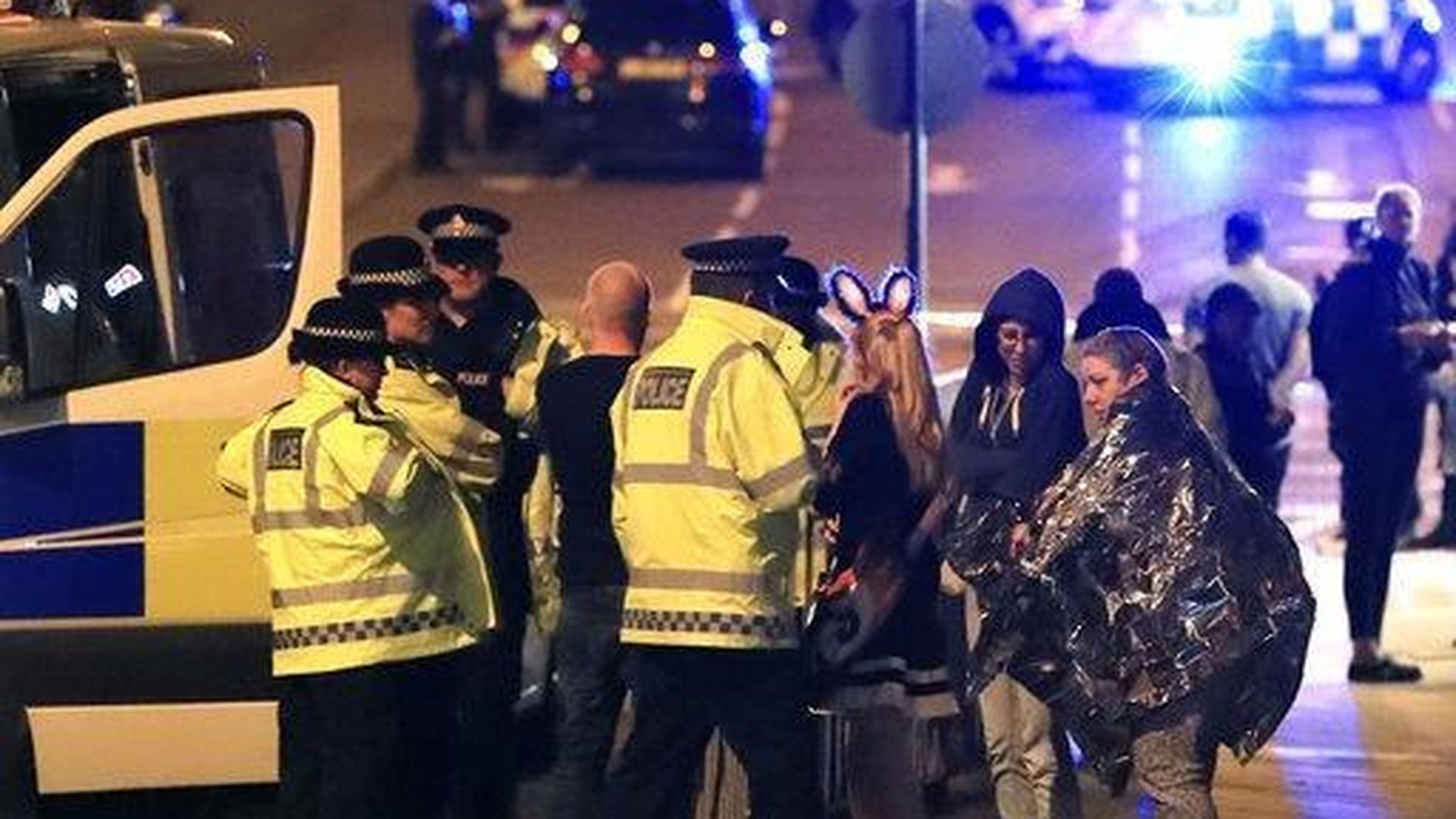 President Trump in Bethlehem, West Bank, on the suicide attack on a concert in Manchester, England, that killed 22 (including children) and injured about 50: "So many young beautiful innocent people living and enjoying their lives, murdered by evil losers in life.
"I won't call them 'monsters,' because they would like that term. They would think that's a great name. I will call them, from now on, 'losers," because that's what they are. They're losers, and we'll have more of them. But they're losers, just remember that."
BBC latest: Prime Minister Theresa May calls it a "callous terrorist attack."
"The blast happened in the foyer [of Manchester Arena] ... at the end of a concert by US singer Ariana Grande. Police said the lone male attacker, who died in the blast, detonated a homemade bomb."
"It may not have been at the level of complexity seen in Paris in 2015, ... but it will still have required planning. ... The explosion happened shortly after Ariana Grande left the stage as concert-goers began heading to the exits."
Ariana Grande tweets: "broken. from the bottom of my heart, i am so so sorry. i don't have words."
https://www.axios.com/newsletters/axios-am-81f9a232-32bb-4fe3-917a-fd4061433c9b.html?chunk=5#story5
5. Axios interview: Ford's new CEO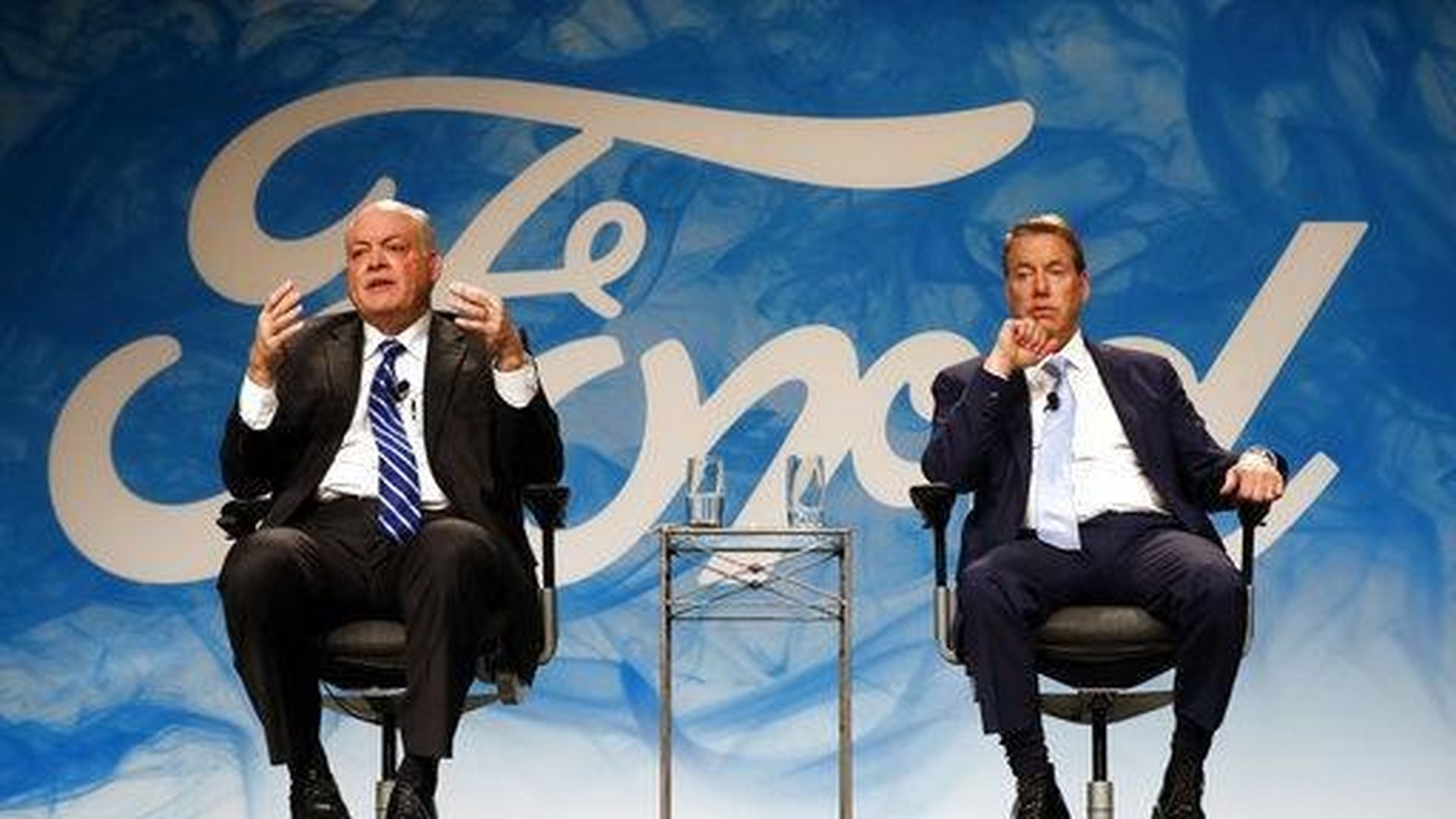 Jim Hackett, who yesterday was named Ford Motor Company president and CEO, told me in a phone interview that he hopes to transform the carmaker in part through a ferocious focus on competitive technologies like self-driving cars, where Detroit has been losing to Silicon Valley.
Hackett: "All-emergent technologies go through a lot of phases, and so we've got a huge opportunity there and are very optimistic about it. It would be wrong for anybody to believe that there's a leader that's got a guarantee there."
On culture, Hackett stresses "servant leadership": "We care about our people. We care about what they're going through more than we do ourselves, and you really have to live that."
Why he was picked: A key reason for the choice of Hackett, who succeeds the retiring Mark Fields, is that he was the first head of Ford's Smart Mobility subsidiary, which is designed to compete like a startup.
A book he recommends: "Creative Confidence," by Tom and David Kelley.
Executive Chairman Bill Ford, Hackett's boss, told me in the same interview that with "all the competitors that are coming into our space," quicker decision-making is one of the biggest changes he wants for the mammoth company: "The clock speed just keeps getting faster and faster."
https://www.axios.com/newsletters/axios-am-81f9a232-32bb-4fe3-917a-fd4061433c9b.html?chunk=6#story6
6. Article of the day
One of the best postmortems yet on the secret-sauce elements of Trump's upset victory ... From the June 8 issue of The New York Review of Books, "How He Used Facebook to Win," by Sue Halpern, a regular contributor to The Review and a scholar-in-residence at Middlebury:
The big idea: "Trump is our first Facebook president. His team figured out how to use all the marketing tools of Facebook, as well as Google, the two biggest advertising platforms in the world, to successfully sell a candidate that the majority of Americans did not want."
"They understood that some numbers matter more than others — in this case the number of angry, largely rural, disenfranchised potential Trump voters — and that Facebook, especially, offered effective methods for pursuing and capturing them."
Why it matters: "While this is clearly the future of campaigns, ... it also appears to be Trump's approach to governing."
How they did it: "In the early phase of the primaries, [Trump campaign digital director Brad] Parscale launched Trump's digital operation by buying $2 million in Facebook ads — his entire budget at the time. He then uploaded all known Trump supporters into the Facebook advertising platform and, using a Facebook tool called Custom Audiences from Customer Lists, matched actual supporters with their virtual doppelgangers and then ... parsed them by race, ethnicity, gender, location."
"[T]he Trump campaign used Facebook's vast reach, relatively low cost, and rapid turnaround to test tens of thousands and sometimes hundreds of thousands of different campaign ads."
The takeaway: "What our Facebook president has discovered is that it actually pays only to please some of the people some of the time."
The whole article, which includes a look at the online chorus that "sent a river of pro-Trump and anti-Clinton messages coursing into cyberspace, giving the Trump campaign a continually self-reinforcing narrative," is worthy of your time.
If you worked on the campaign and have critiques of the article (points that were missed, or assertions that are mythology), just hit "reply" on this email, or drop me a line at mike@axios.com.
https://www.axios.com/newsletters/axios-am-81f9a232-32bb-4fe3-917a-fd4061433c9b.html?chunk=7#story7
7. "We lie if honesty won't work"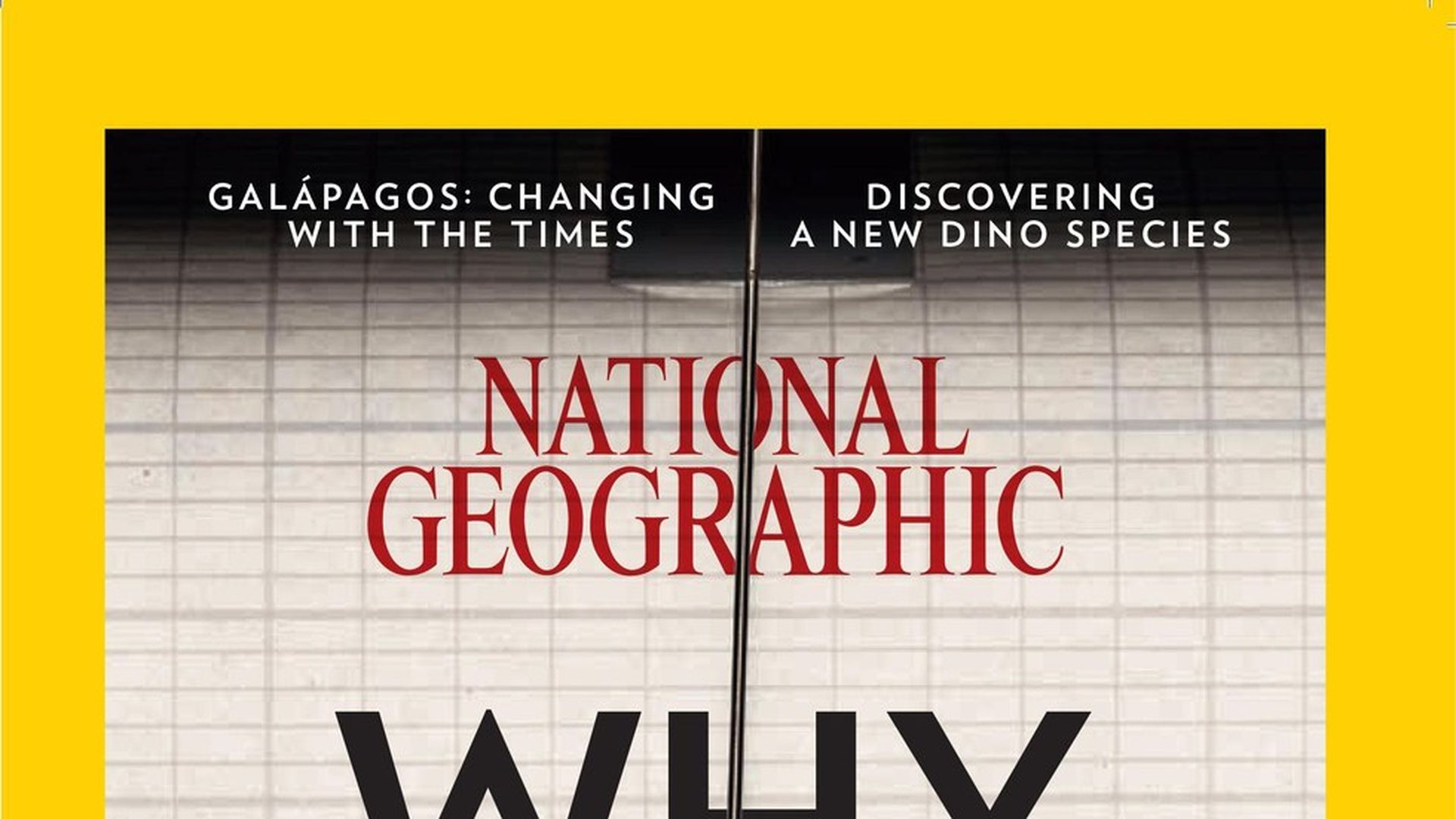 National Geographic cover story, "Why We Lie ... scheming and dishonesty are part of what makes us human," by Yudhijit Bhattacharjee:
"Our capacity for dishonesty is as fundamental to us as our need to trust others, which ironically makes us terrible at detecting lies. Being deceitful is woven into our very fabric, so much so that it would be truthful to say that to lie is human."
"Researchers speculate that lying as a behavior arose not long after the emergence of language. The ability to manipulate others without using physical force likely conferred an advantage in the competition for resources and mates, akin to the evolution of deceptive strategies in the animal kingdom, such as camouflage."
Why it matters: "[O]ur proclivity for deceiving others, and our vulnerability to being deceived, are especially consequential in the age of social media. Our ability as a society to separate truth from lies is under unprecedented threat."
https://www.axios.com/newsletters/axios-am-81f9a232-32bb-4fe3-917a-fd4061433c9b.html?chunk=8#story8
8. Top-eds
David Leonardt in N.Y. Times, "The Senate's Health Care Strategy: Shhh!" (online: "It's Time to Worry about Health Care in the Senate"): Senators "shouldn't be tinkering around the edges of a bill that would hurt the middle class and the poor, the sick and elderly, children and the disabled. They won't get credit for making it marginally less cruel."
Monica Lewinsky, "an anti-cyberbullying advocate and a contributing editor at Vanity Fair," in N.Y. Times, "Roger Ailes's Dream Was My Nightmare": Just as television news was devolving into a modern coliseum, the internet came along and compounded this culture of shame and vitriol."
"Trump's house of betrayal" ... Michael Gerson, top Bush 43 adviser, in WashPost, "The leaks aren't making us safer": "Public officials should not respond to the fraying of democratic norms by further unraveling them. ... [T]he proper response ... is not to leak but to resign."
https://www.axios.com/newsletters/axios-am-81f9a232-32bb-4fe3-917a-fd4061433c9b.html?chunk=9#story9
9. For your radar
Carrier Corp., Trump's Exhibit A for corporate patriotism, released a timeline for eliminating 632 jobs at the company's Indianapolis factory — work that will be outsourced to Mexico, AP reports:
"Company officials said in a letter released [yesterday] that 338 jobs would be cut by July 20. Another 290 will be out of work by Dec. 22. ... The company is also closing a sister plant in Huntington."
"United Steelworkers Local 1999 Vice President Robert James says it's 'cold' to put people out of work just days before Christmas."
Why it matters: "Trump made the plight of 1,400 Carrier workers a major campaign theme. Under pressure from Trump, Carrier announced last November that it would keep some operations in Indianapolis, sparing about 800 workers."
https://www.axios.com/newsletters/axios-am-81f9a232-32bb-4fe3-917a-fd4061433c9b.html?chunk=10#story10
10. 1 stat for the road
From Harvard Crimson's "Graduating Class of 2017 by the numbers":
"While two-thirds of seniors surveyed identify as liberal, they appeared to have become more liberal and more politically polarized during their time at Harvard.
"When surveyed as freshmen, 15 percent the members of the Class of 2017 identified as conservative. ... Now, just nine percent of seniors surveyed identify as conservative. Two percent of seniors surveyed identified as 'very conservative.'"