https://www.axios.com/newsletters/axios-am-7d6b3963-9f20-4d40-b75d-aff470b48891.html?chunk=0#story0
1 big thing: Impossible to process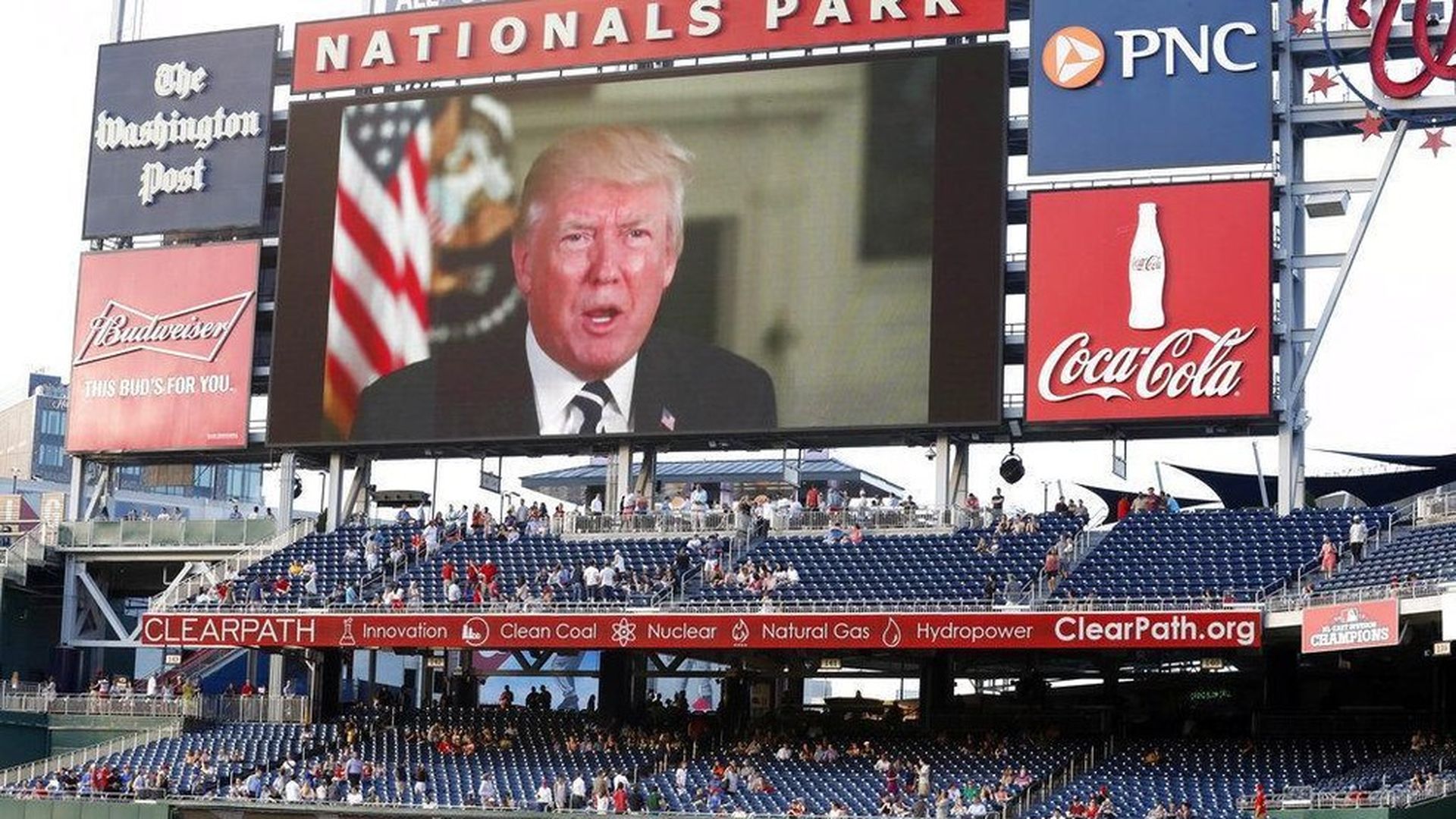 In the moment, it's impossible to process how consequential, historic and bizarre these dribs and drabs are that we're being barraged with all day.
Less than 24 hours after a mass shooting that critically wounded a member of Congress, the President of the United States issued official statements via Twitter that said:
"They made up a phony collusion with the Russians story, found zero proof, so now they go for obstruction of justice on the phony story. Nice ... You are witnessing the single greatest WITCH HUNT in American political history - led by some very bad and conflicted people!"
Axios' Jonathan Swan pointed out that White House allies, over the past 10 days, have taken cues from Trump and begun hitting Mueller on the air, in social media and in conversations with reporters.
History note by Blake Hounshell: "Bob Mueller has a Bronze Star with Valor, two Navy medals, a Purple Heart, and the Vietnamese Cross of Gallantry."
Then at 9:21 last night, following two nights of revelations by the WashPost about the Mueller investigation, Deputy Attorney General Rod Rosenstein released a statement saying:
"Americans should exercise caution before accepting as true any stories attributed to anonymous 'officials,' particularly when they do not identify the country – let alone the branch or agency of government – with which the alleged sources supposedly are affiliated. Americans should be skeptical about anonymous allegations. The Department of Justice has a long-established policy to neither confirm nor deny such allegations."
And, if all that weren't enough for one day, we learn that Vice President Pence has lawyered up.
Statement from an aide: "[T]he Vice President has retained Richard Cullen of McGuire Woods [in Richmond] to assist him in responding to inquiries by the special counsel. The Vice President is focused entirely on his duties and promoting the President's agenda and looks forward to a swift conclusion of this matter."
The backdrop: Amid all this, Republicans are trying to pass a health-care plan that, even in states Trump won, is one of the most unpopular pieces of legislation a majority party has pushed in a long time.
Sound smart: Please just reread that last sentence.
P.S. N.Y. Times Quote of the Day ... Philip Allen LaCovara, a former Watergate prosecutor, on a push by President Trump and his allies to question Mueller's impartiality: "It's early in the game to begin to impugn the prosecutors."
https://www.axios.com/newsletters/axios-am-7d6b3963-9f20-4d40-b75d-aff470b48891.html?chunk=1#story1
2. Pic of the week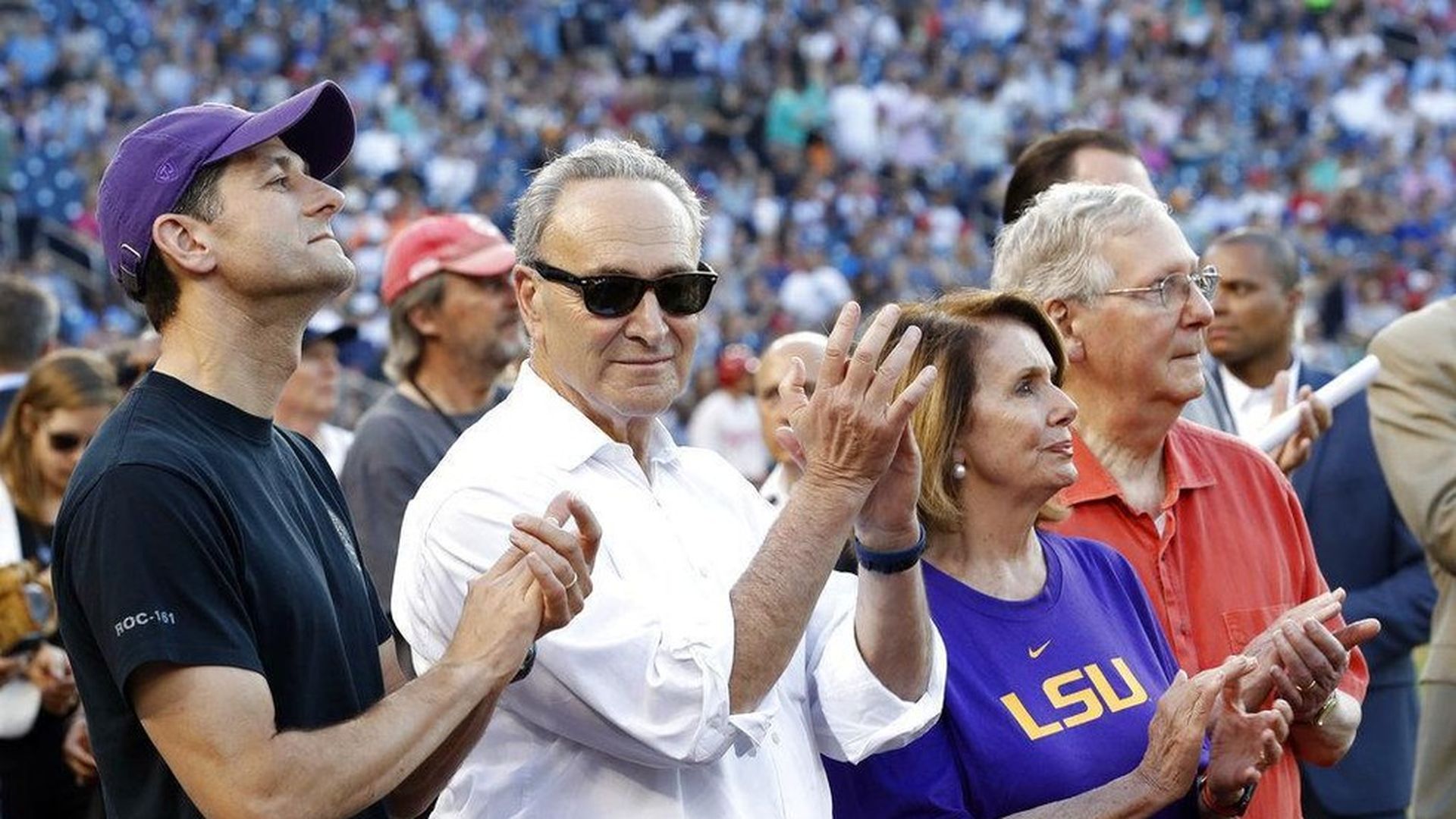 Chants of "U-S-A!" on a night of unity ... "Democrats easily defeated Republicans 11-2 in the 2017 Congressional Baseball Game ... [W]hen Democratic manager Pennsylvania Rep. Mike Doyle was presented the winning trophy, he called Republican manager Texas Rep. Joe Barton to join him. Doyle gave the winning trophy back to the Republicans to put in Scalise's office."
Trump's video message: "By playing tonight, you are showing the world that we will not be intimidated by threats, acts of violence, or assaults on our democracy. The game will go on."
"So on this special night, I leave you with three great American words that for generations have torn down barriers, built bridges of unity, and defied those who have sought to pull us apart. Ladies and gentlemen: Let's play ball!"
Chaser ... N.Y. Times 2-col. lead, "Partisan Relations Sink From Cold to Deep Freeze: Democrats and Republicans Have Lowest Regard of Each Other in Decades," by Emily Badger of Upshot and Niraj Chokshi:
"Surveys over time have used a 100-point thermometer scale to rate how voters feel toward each other, from cold to warm. ... By 2008, the average rating for members of the other party was barely above 30. .. By 2016, that average dropped by about five more percentage points, dragged down in part by a new phenomenon: For the first time, the most common answer given was zero."
https://www.axios.com/newsletters/axios-am-7d6b3963-9f20-4d40-b75d-aff470b48891.html?chunk=2#story2
3. Between the lines
No surprise, but still a problem ... WashPost front-pager, "Transactions by Kushner, others under investigation," by Sari Horwitz, Matt Zapotosky and Adam Entous: "Mueller ... is investigating the finances and business dealings of Jared Kushner."
"FBI agents and federal prosecutors have also been examining the financial dealings of other Trump associates, including former national security adviser Michael Flynn, former campaign chairman Paul Manafort and Carter Page, who was listed as a foreign-policy adviser for the campaign."
If you feel like you're read this before ... WashPost on May 25 (with bylines who include the same three reporters), "Jared Kushner now a focus in Russia investigation": "Investigators are continuing to look aggressively into the dealings of Flynn, and a grand jury in Alexandria, Va., recently issued a subpoenas for records related to Flynn's businesses and finances."
Statement from Jamie Gorelick, attorney for Jared Kushner: "We do not know what this report refers to. It would be standard practice for the Special Counsel to examine financial records to look for anything related to Russia. Mr. Kushner previously volunteered to share with Congress what he knows about Russia-related matters. He will do the same if he is contacted in connection with any other inquiry."
This is legalese for: "No duh."
Be smart: Even though it's obvious that Mueller will delve into the Trump and Kushner family businesses, nothing worries Trump allies more than a fishing expedition into Trump Inc.
https://www.axios.com/newsletters/axios-am-7d6b3963-9f20-4d40-b75d-aff470b48891.html?chunk=3#story3
4. Mueller's machine
Key nuggets from a New York Times front-pager, "Mueller, Once Above the Fray, Is Now Pulled In," that includes an update on the Mueller machinery:
"Peter Carr, a spokesman for Mr. Mueller, said his office had imposed 'stringent controls to prohibit unauthorized disclosures that deal severely with any member who engages in this conduct.'"
"Mueller has now hired 12 lawyers, and several more are in the pipeline.
"A former federal prosecutor said Mr. Mueller was hiring rank-and-file prosecutors to fill out his office staff, and has been prospecting for detailees from several prominent United States attorney offices, including the Southern District of New York," in Manhattan.
"[P]rospective hires thinking about joining Mr. Mueller's team are watching those who have signed up come under intense scrutiny of the sort that ordinary prosecutors and corporate lawyers rarely experience, as Mr. Trump's supporters seek to discredit the investigation."
"Hires so far include three current Justice Department or F.B.I. officials: Andrew Weissmann, who had led the fraud section of the department's Criminal Division, served as general counsel to the F.B.I. when Mr. Mueller was its director, and previously led the Enron task force; Michael R. Dreeben, a deputy solicitor general who specializes in appellate issues involving criminal law; and Lisa C. Page, an F.B.I. lawyer who was a trial lawyer in the Criminal Division's organized crime section.
"[W]hen Mr. Mueller left WilmerHale, the law firm where he worked after stepping down from the F.B.I. in 2013 until he became a special counsel last month, [Mueller] took three partners with him: James L. Quarles III, a veteran litigator who was an assistant special prosecutor in the Watergate investigation early in his career; Jeannie Rhee, another experienced white-collar criminal litigator who was a public-corruption prosecutor and then worked in the Justice Department's Office of Legal Counsel; and Aaron Zebley, who was Mr. Mueller's chief of staff at the F.B.I."
https://www.axios.com/newsletters/axios-am-7d6b3963-9f20-4d40-b75d-aff470b48891.html?chunk=4#story4
5. Trump at war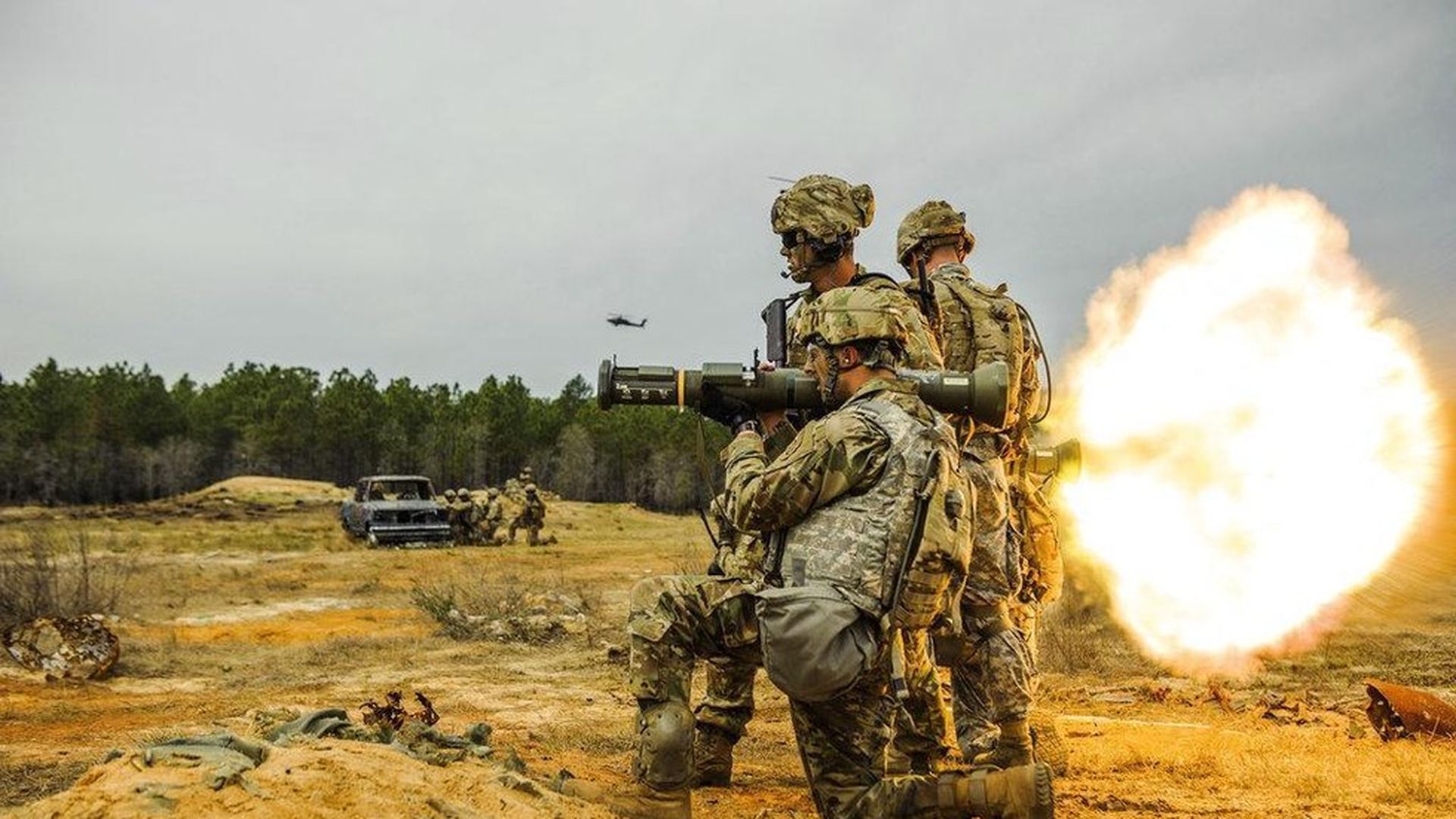 "About 4,000 more US troops to go to Afghanistan," by AP's Lita Baldor and Robert Burns: "The decision by Defense Secretary Jim Mattis could be announced as early as next week."
"The bulk of the additional troops will train and advise Afghan forces ... A smaller number would be assigned to counterterror operations against the Taliban and IS."
"Trump has barely spoken about Afghanistan as a candidate or president, concentrating instead on crushing the Islamic State group in Syria and Iraq. His predecessors both had hoped to win the war."
"Mattis' deployment of more troops will be far smaller than Obama's."
Why it matters: "Although Trump has delegated authority for U.S. troop numbers in Afghanistan, the responsibility for America's wars and the men and women who fight in them rests on his shoulders. Trump has inherited America's longest conflict with no clear endpoint or a defined strategy for American success."
https://www.axios.com/newsletters/axios-am-7d6b3963-9f20-4d40-b75d-aff470b48891.html?chunk=5#story5
6. Trump teases job, factory plans by "very big names"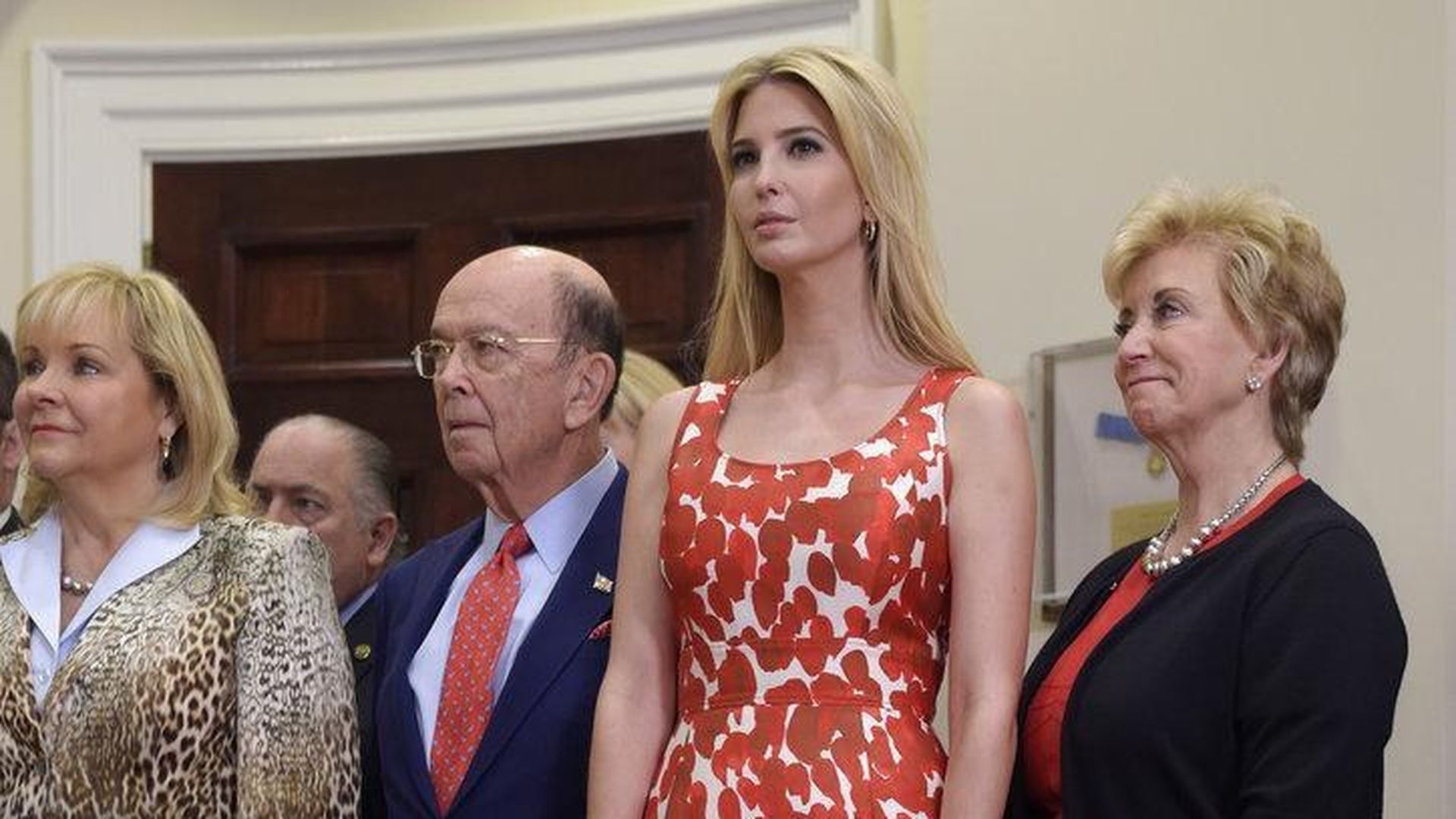 President Trump, signing an executive order to expand apprenticeships and vocational training, in the Roosevelt Room yesterday: "I want to thank my daughter Ivanka and her leadership. She has worked so hard on this. ... And we're here today to celebrate the dignity of work — it's really a good term: 'dignity of work' — and the greatness of the American worker, which I've been celebrating for a long time."
"Probably wouldn't be here if it weren't for the American worker. And the American worker sees what's happening in Michigan and in Ohio and in a lot of places that we've had a huge impact on just in a short period of time ... We have a lot of companies moving in, a lot of plants are going to be built.
"A lot of plants are being expanded, and big ones are going to be announced very soon. You're going to hear some very big names that I can't tell you about now. We want to get them signed on the dotted line. We don't want to talk too quickly. It's called 'sign them on the dotted line,' right? (Laughter.)"
https://www.axios.com/newsletters/axios-am-7d6b3963-9f20-4d40-b75d-aff470b48891.html?chunk=6#story6
7. Trump's Cuba plans
The Cuba policy Trump will announce in Miami today says he intends to limit Americans' travel to Cuba and limit American companies from doing business with Cuban military enterprises, U.S. officials who have seen the draft of the plan told Reuters.
Trump will be making good on a campaign promise to partially reverse Obama's policy of detente with Cuba. Axios' Shannon Vavra points out:
The contradiction: Trump is imposing these limits due to human rights concerns but his administration has previously said it won't discuss other countries' human rights issues publicly.
What he won't touch: Trump will leave in place U.S.-Cuba commercial flights and will not close embassies or break diplomatic relations.
https://www.axios.com/newsletters/axios-am-7d6b3963-9f20-4d40-b75d-aff470b48891.html?chunk=7#story7
8. The talk of tech
Uber board member Arianna Huffington is taking a prominent role in efforts to steady the company, the WashPost's Craig Timberg and Brian Fung write on the front page:
"As the crisis at Uber reached a critical moment this week, a familiar voice filled the company's San Francisco headquarters. ... Huffington — the onetime pundit and digital publisher with a distinctive Greek accent — addressed employees, emerging as the most visible leader of a company trying to recover from months of self-inflicted wounds.
"But where many saw a company that exemplified the worst of the tech industry's male-dominated 'bro' culture, Huffington had concluded that there was an additional reason for the rampant sexual harassment and other unprofessional conduct reported at the company: a work-life balance gone disastrously awry.
"She had publicly warned of the dangers of coddling 'brilliant jerks' at Uber, but she also worried that Uber — and Silicon Valley generally — had developed what she called a 'workplace culture fueled by burnout.'"
https://www.axios.com/newsletters/axios-am-7d6b3963-9f20-4d40-b75d-aff470b48891.html?chunk=8#story8
9. Kay Graham at 100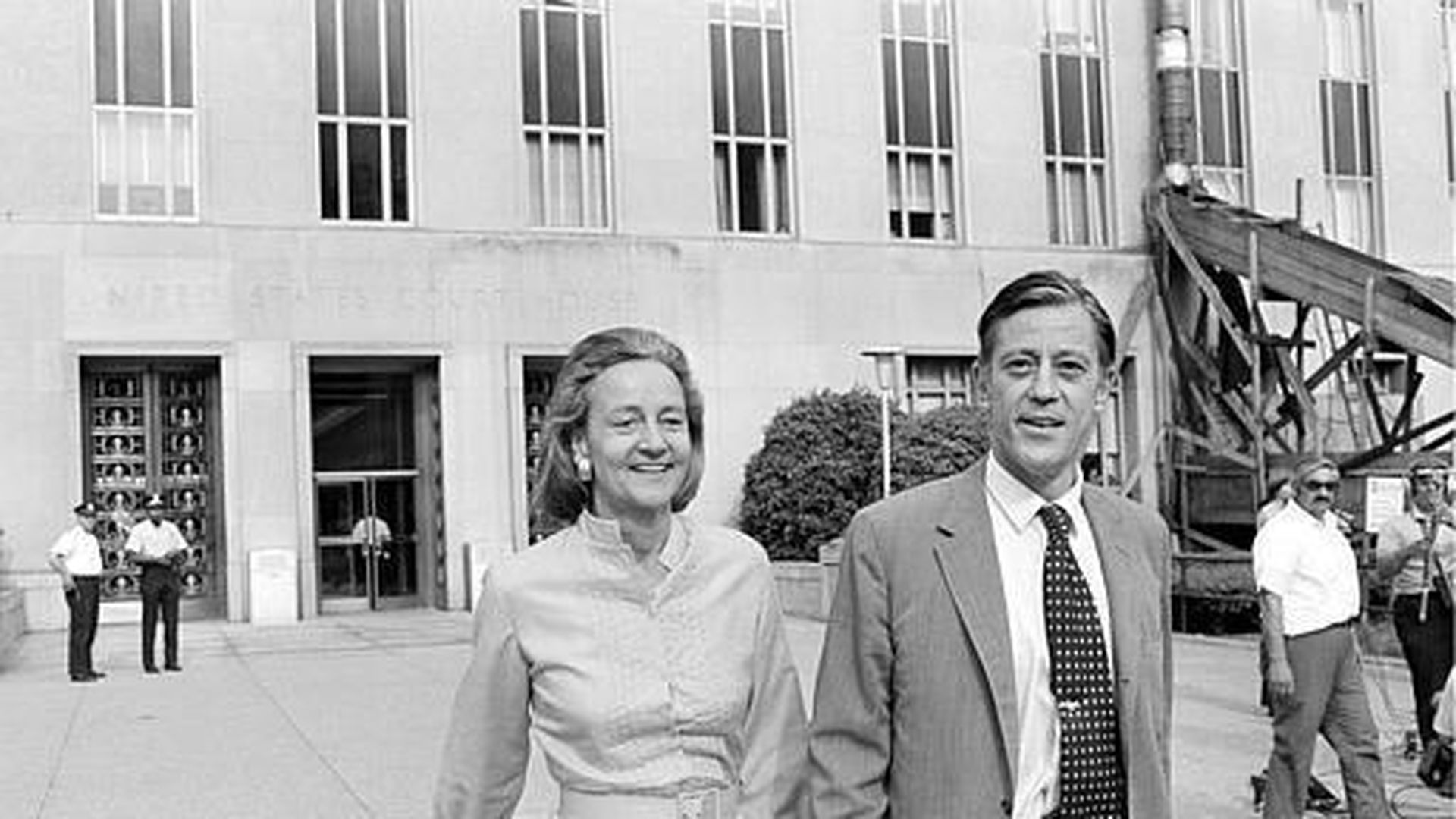 Katharine Graham — legendary Washington Post publisher, who died in 2001 — was born 100 years ago today in New York City. Her paper pays tribute ...
Publisher Fred Ryan writes on the op-ed page, "Katharine Graham's legacy: Fearlessness": "Mrs. Graham's role as the first lady of American journalism was never preordained, but today ... her legacy is inseparable from The Post."
"In her first decade as publisher, working with Executive Editor Ben Bradlee, Mrs. Graham faced some of the most severe threats to an independent press in U.S. history. In 1971, she had the courage to publish the Pentagon Papers, a secret history of the Vietnam War ... even though The Post Co. was going public the same week, and despite threats to its licenses to operate television stations.
"She continued to face the specter of retaliation by the Nixon administration — including one now-famous threat involving 'a big fat wringer' — as The Post published Bob Woodward and Carl Bernstein's reporting on the 1972 Watergate break-in and its ultimate ties to the White House."
Style section lead by Evelyn Small, who worked with Graham on her memoir, "Personal History," which won a Pulitzer: In preparing for the book, Graham "interviewed old friends from grade school and high school, men and women on the production side of the paper, reporters and editors, Washington Post Co. people from The Post as well as Newsweek and the company's television stations around the country, dignitaries, diplomats, government officials, friends from all periods of her life, and colleagues throughout the media."
"She even dared interview people she had fired, discovering that time heals lots of wounds — but not all."
https://www.axios.com/newsletters/axios-am-7d6b3963-9f20-4d40-b75d-aff470b48891.html?chunk=9#story9
10. 1 thing to tell your kids
"The end of the valedictorian? Schools rethink class rankings," by AP's Carolyn Thompson in Lancaster, N.Y.:
"The ranking of students from No. 1 on down, based on grade-point averages, has been fading steadily for about the past decade. In its place are honors that recognize everyone who scores at a certain threshold — using Latin honors, for example. This year, one school in Tennessee had 48 valedictorians."
"About half of schools no longer report class rank, according to the National Association of Secondary School Principals."
"Administrators worry about the college prospects of students separated by large differences in class rank despite small differences in their GPAs, and view rankings as obsolete in an era of high expectations for every student"
"There are also concerns about intense, potentially unhealthy competition and students letting worries about rank drive their course selections."