Axios AM
April 06, 2017
1 big thing: Normalizing Trump (or at least Trumpland)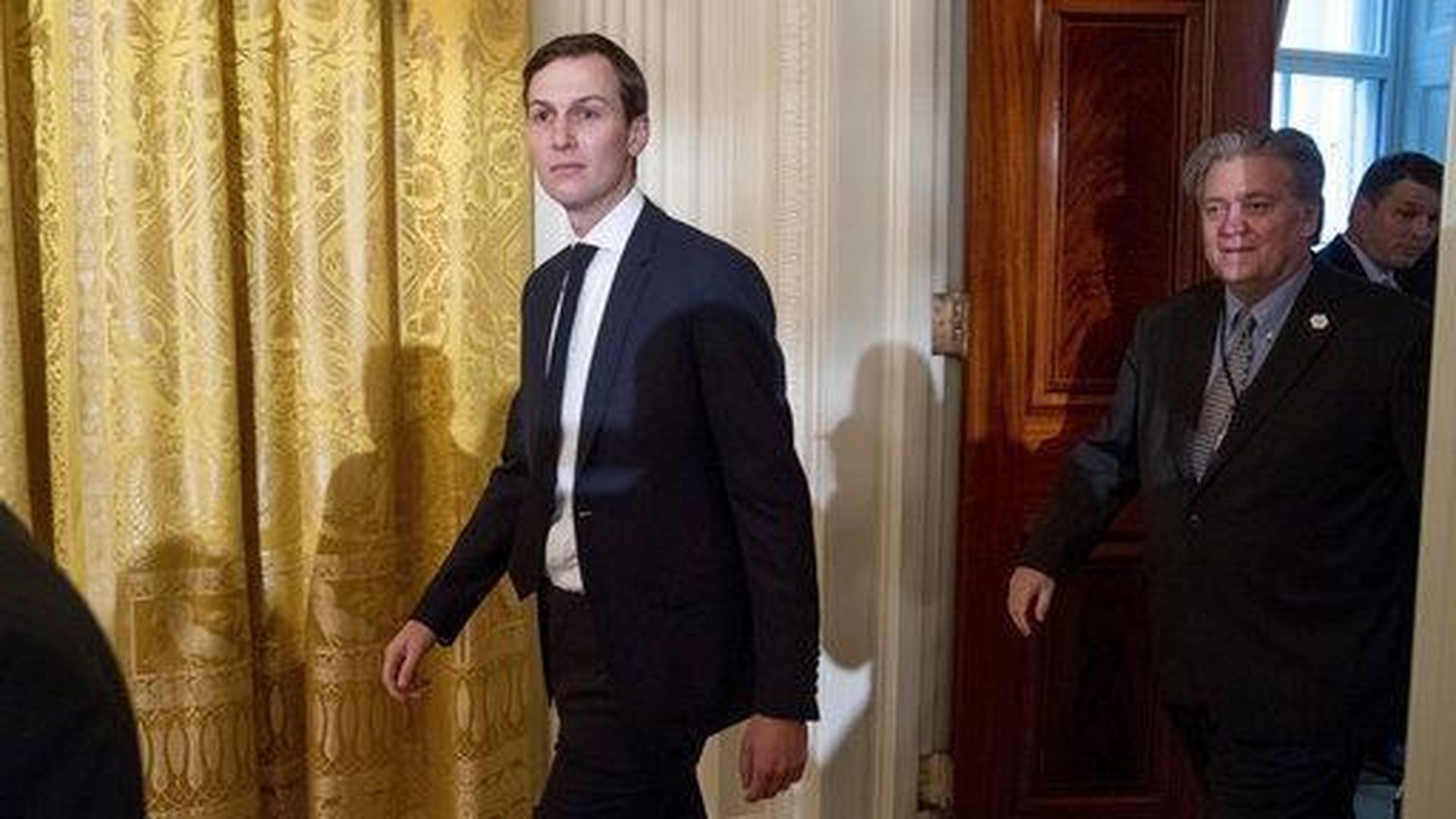 Operation Normal — the steady, loud accumulation of power by Jared Kushner and his allies, at the expense of the more ideological force hardline ideologues, led by Steve Bannon — keeps winning.
Bannon's departure from the National Security Council was covered as a demotion and therefore cost him juice. Drudge bannered: "BANNON LOSES POWER IN WHITE HOUSE SHAKEUP."
Bannon associates told Axios' Jonathan Swan that he was only on the NSC to "babysit" the now-ousted Mike Flynn, and never attended an NSC meeting.
The N.Y. Times reports that Bannon resisted the move, even threatening to resign. And Politico's Alex Isenstadt and Andrew Restuccia detail an escalating "civil war between Donald Trump loyalists and establishment-minded Republicans."
At the same time, the Jared/Ivanka/Cohn wing of the White House squirrels away territory in its push to take over Trumpland:
Jared Kushner seizes control over structuring government at home and America's public face aboard.
Ivanka Trump adviser Dina Powell is named Deputy National Security Adviser, and keeps her portfolio as senior counselor for economic initiatives.
The NSC is normal(ish) after Flynn is dumped and Bannon sidelined. The other Deputy National Security Adviser, K.T. McFarland, a former Reagan-administration official and Fox News analyst, has been offered ambassador to Singapore, per CNN — making Dina Powell the clear No. 2.
Economic adviser Gary Cohn's flexes muscle over tax reform, the coming monster on the agenda, at the expense of Treasury Secretary Steve Mnuchin.
What all this means:
For all the talk of radical change, Trump is taking fairly conventional approaches to trade, health care, tax reform, China and foreign policy. Score this a big win for the Jared wing.
Sound smart: Bannon's friends worry he locked arms too tight with White House Chief of Staff Reince Priebus and finds himself more isolated from Jared/Ivanka/Cohn - and therefore with the boss.
Sound even smarter: Trump himself remains very frustrated and not sure who to blame or who can truly help turn things around. Jared is filling the void as aggressively as Bannon did during the early days.
2. Another big thing: Governing from 1 building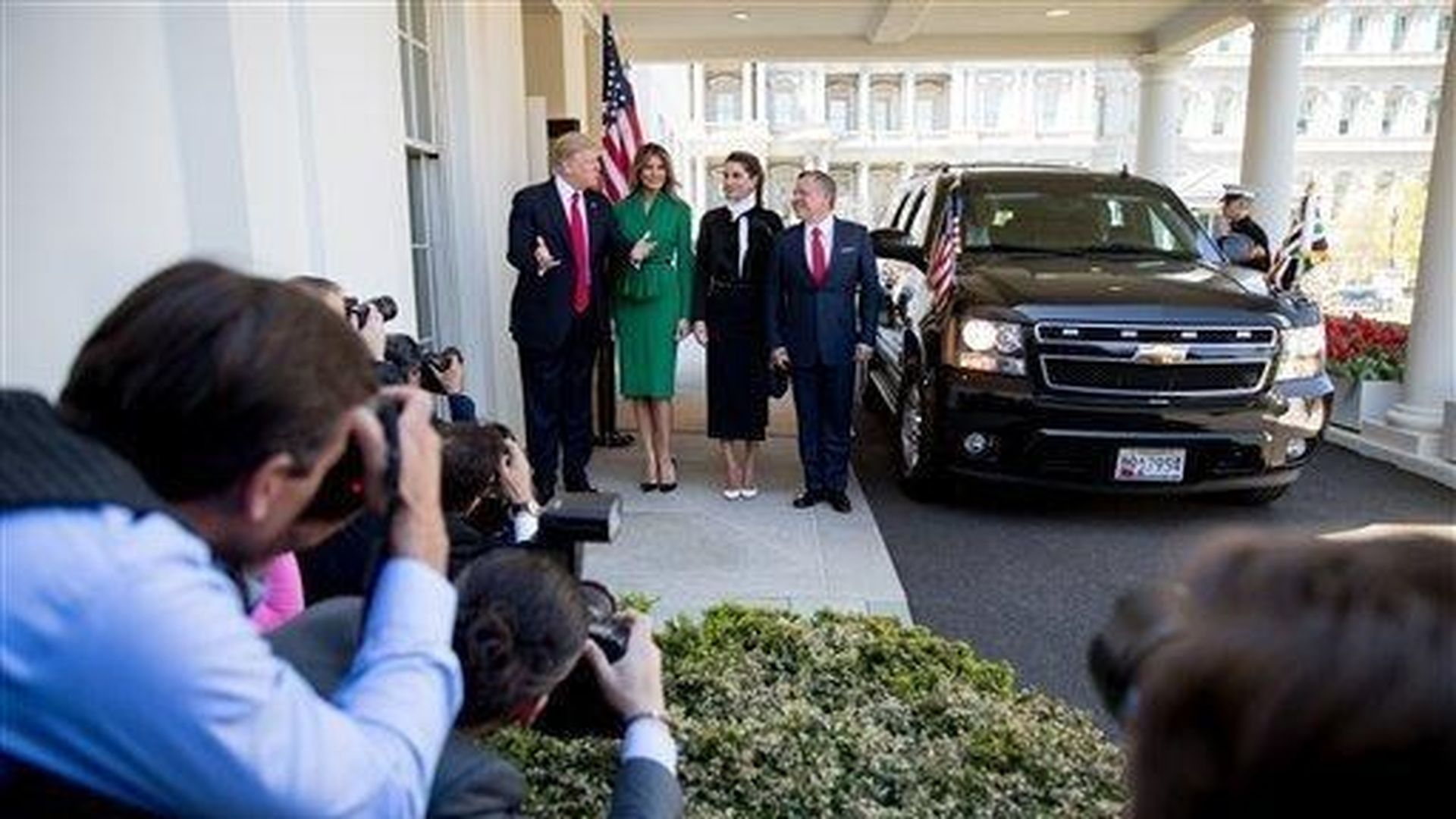 The huge number of vacancies throughout the top ranks of government is concentrating power in the West Wing — to Jared's benefit, and with the effect of balls getting dropped.
"Too few people are doing too much, and it's keeping the Cabinet weak," said one outside adviser to the West Wing. "In a Cabinet of people who are used to being superstars, no one has been able to negotiate to get a high-powered team in."
"Bannon will tell you: We're doing things differently — that's the way it used to be," said a veteran of past Republican White Houses. "But there are some actual functions of government that need to be carried out by these buildings."
The belittlement of the Cabinet is most apparent in the invisibility of SecState Rex Tillerson, a 65-year-old former corporate titan who's now operating in the shadow of 36-year-old Kushner.
"I don't know what Rex does every day," a friend said. "[SecDef] James Mattis is home alone."
According to the Political Appointee Tracker of the Partnership for Public Service, of 553 key positions in the Trump administration requiring Senate confirmation, 486 have no nominee, 24 are awaiting nomination, 21have been nominated and 22 confirmed.
The partnership shared the latest historical equivalents with Axios AM. As of today:
Trump: 21 nominations, 22 confirmed.
George H.W. Bush: 72 nominations, 27 confirmed.
Bill Clinton: 69 nominations, 44 confirmed.
George W. Bush: 65 nominations, 32 confirmed.
Obama: 120 nominations, 54 confirmed.
As Trump might tweet: Big difference!
3. Superpower summit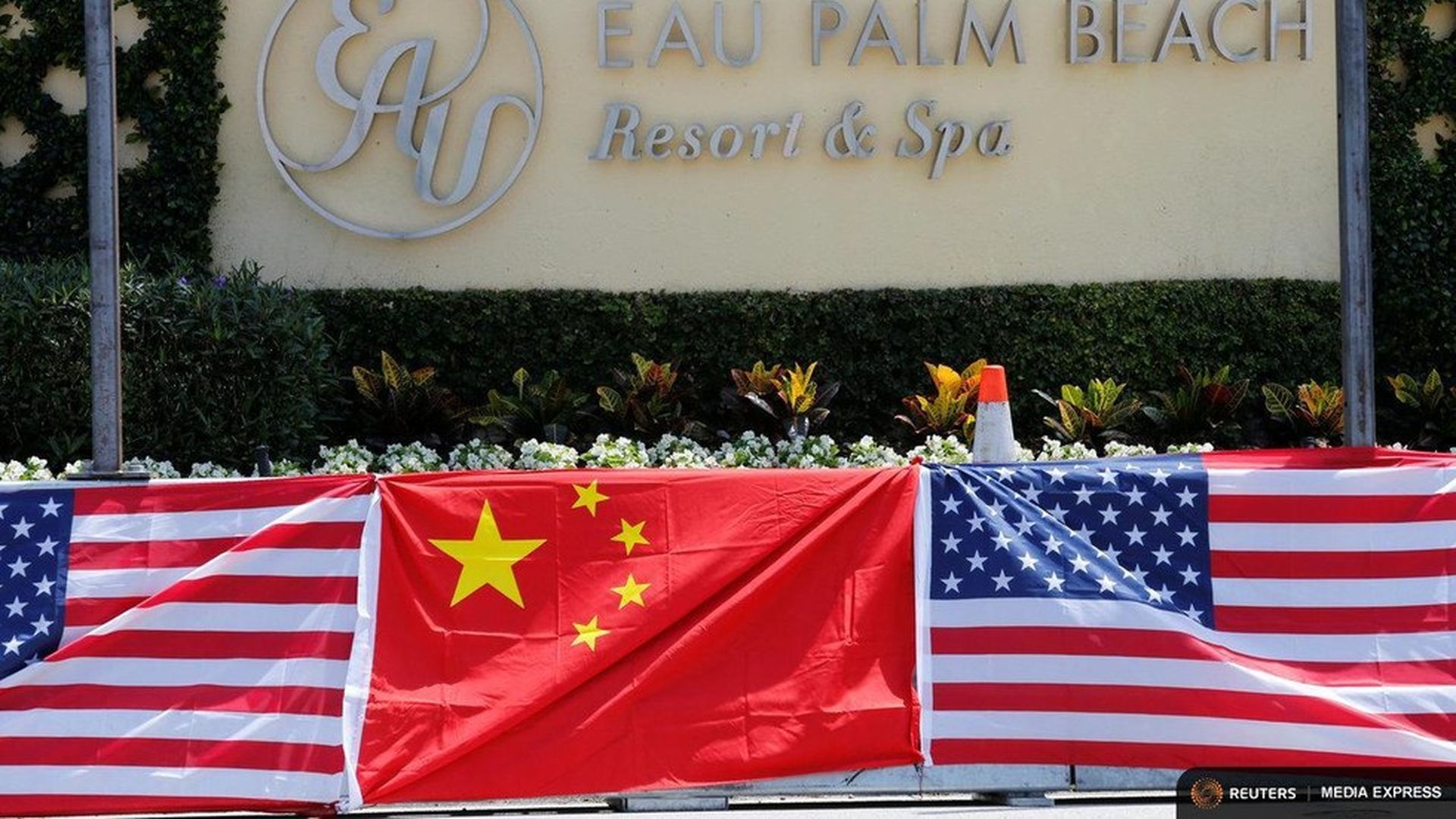 At noon, President Trump flies to Mar-a-Lago, where and Melania will have dinner at 6:30 with China President Xi Jinping and his first lady, Madame Peng Liyuan.
Reuters' Steve Holland reports that the setting took some persuasion: "Even after seeing images of Japanese Prime Minister Shinzo Abe's back-slapping sessions with Trump at Mar-a-Lago in February, Chinese officials thought the oceanfront, Spanish-style club in Palm Beach, Florida, lacked the symbolic significance of the White House itself."
"The entire visit will last less than 24 hours. ... The two leaders are not expected to make public appearances but there are likely to be occasions for a pool of the news media to see them. No joint news conference was expected."
4. Trump: "I do change"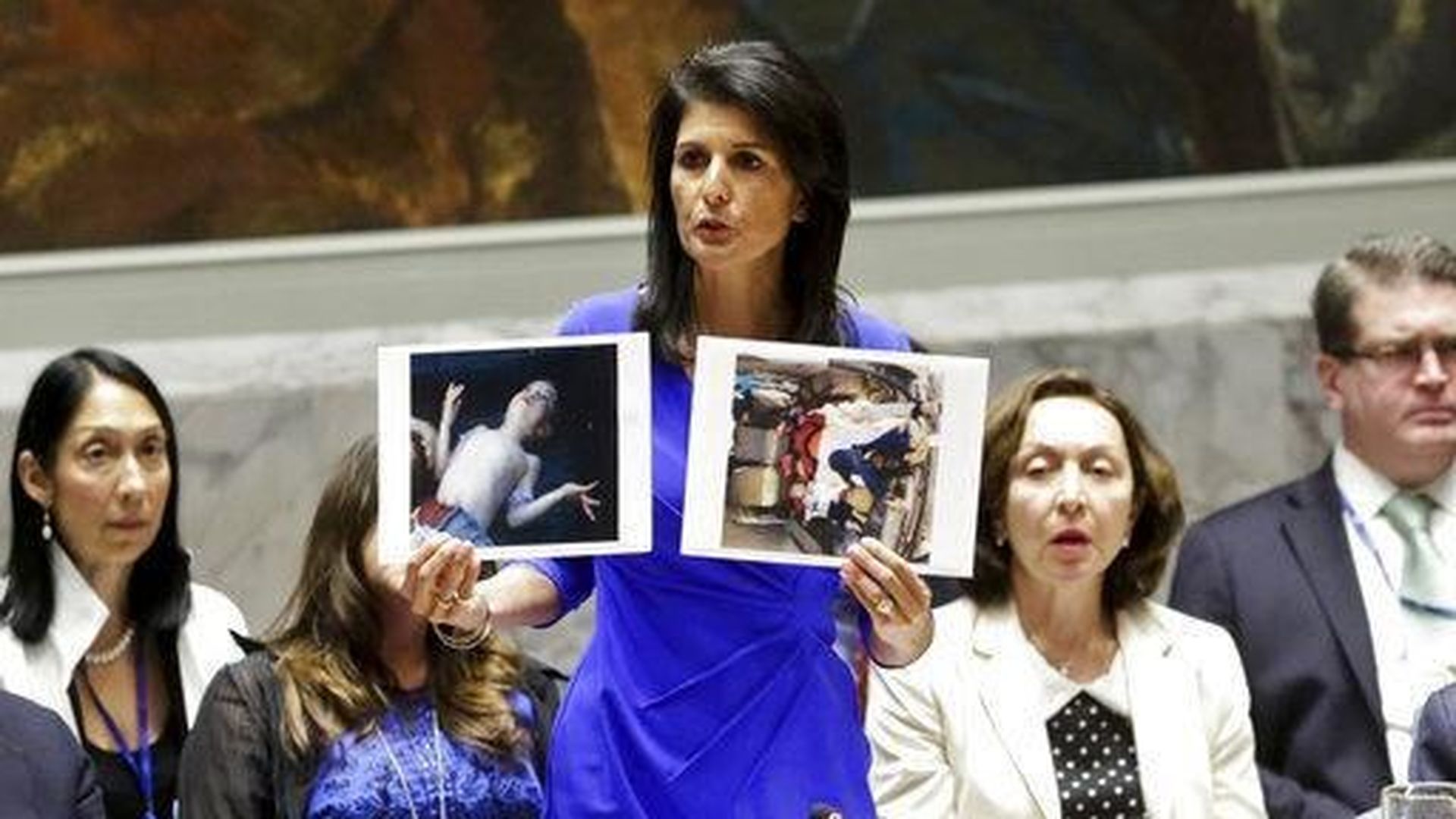 "For Trump, the weight of world's problems sink in," by AP's Julie Pace: "Standing in the sunny White House Rose Garden, the president said Wednesday that the gruesome chemical weapons attack in Syria had changed his views on the quagmire ... He mourned the deaths of the youngest victims — 'innocent children, innocent babies' — and said brutality had 'crossed a lot of lines for me. ... It is now my responsibility.'"
Trump's willingness to accept that he now bears some responsibility for a far-away conflict marked a significant moment for an "America First" president who has vowed to focus narrowly on U.S. interests. His comments also suggested a growing awareness that an American president — even an unconventional one like him — is looked to as defender of human rights and a barometer of when nations have violated international norms.
What Trump said: "I like to think of myself as a very flexible person. ... I do change and I am flexible, and I'm proud of that flexibility. And I will tell you, that attack on children yesterday had a big impact on me — big impact. That was a horrible, horrible thing. And I've been watching it and seeing it, and it doesn't get any worse than that."
5. "Trump is taking an immense gamble"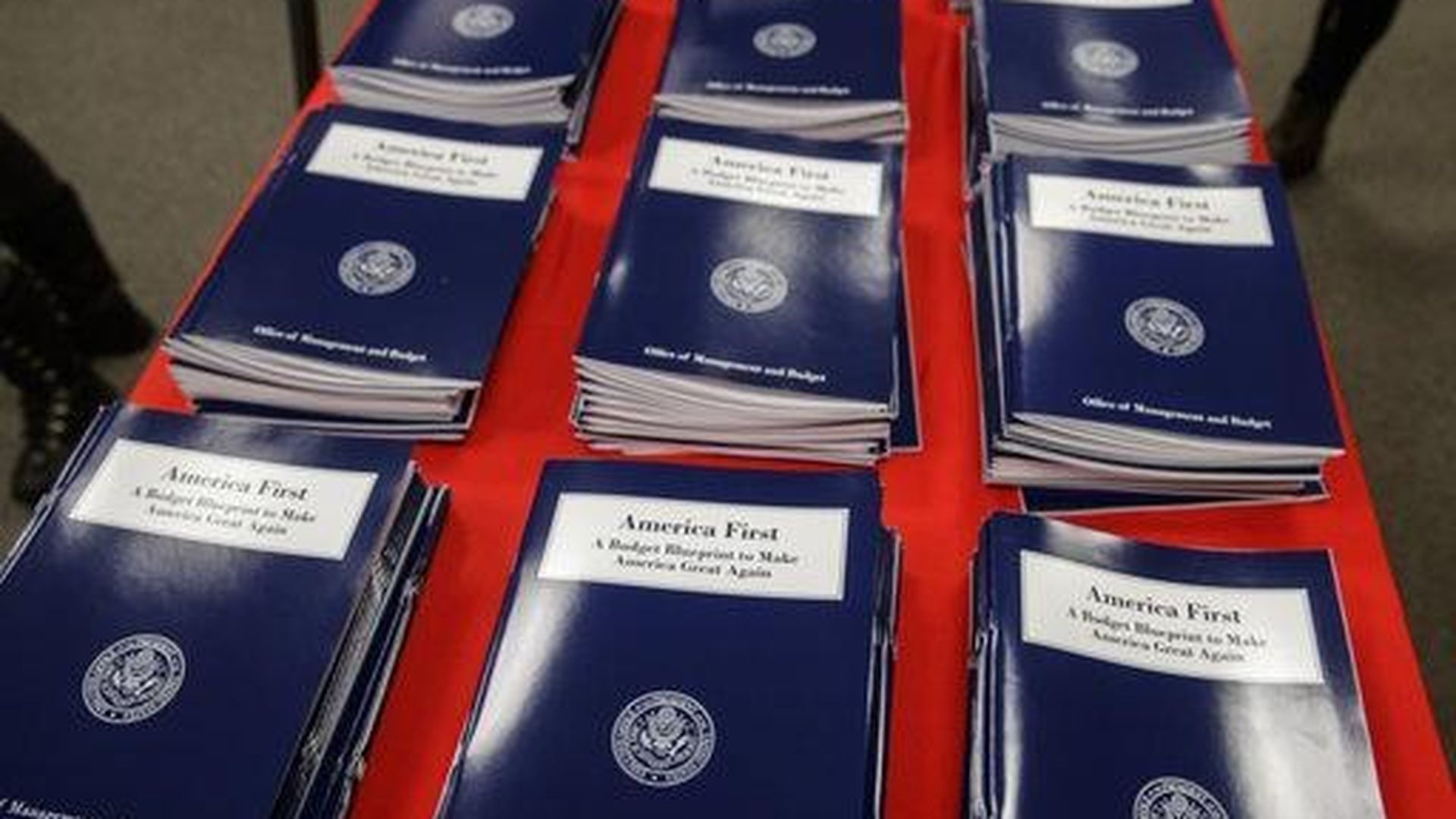 Every news outlet has run stories here and there about how health reform and the Trump budget will hurt economically stressed Trump voters, but it's still an underlooked factor in the D.C. debate. Tom Edsall, in an opinion piece the N.Y. Times posted early today, "Trump Bets the House," frames it memorably:
The administration's proposed spending plan ... appeases those who have long been determined to cut means-tested programs. But those same programs are crucial to keeping 6.2 million white working class voters out of poverty ... The number of whites dependent on safety net programs is far larger than the number of African Americans, at 2.8 million, or Hispanics, at 2.4 million. ...
Nate Cohn reported in The Times that Trump voters "have the most to lose in the G.O.P. repeal bill." The first major piece of legislation to be taken up after the election amounted to a kick in the teeth to Trump's populist base.
Sound smart: Trump's voters have given him a very long leash. But when you have a base that's by definition discontented, you'll always be vulnerable to whipsawing public opinion. This is why Trump continues to talk mostly to his followers, when smartypants commentators think he should be reaching out.
6. Capitol Hill in one graf
Chris Krueger of Cowen Washington Research Group: "One of the strangest and most baffling realities about the current legislative dumpster fire on Capitol Hill is that it was created, fostered, and fed entirely by Republicans who nominally control the House, Senate, and White House. We are now on our THIRD health care 'plan' in four months ... All week [Republicans] have been negotiating against themselves ... They are going in the wrong direction and spending down all their political capital."
7. "Not our finest day"
As Senate Republicans prepare to use the "nuclear option" to break a Democratic filibuster and confirm Judge Neil Gorsuch to the Supreme Court by tomorrow night, Yahoo's Jon Ward pauses to mourn:
Without the filibuster, the extreme polarization in American politics that has produced its demise will only worsen. Constraints that force both parties to work together will be reduced. The spinning top of American democracy, already wobbly, will be set to gyrate even more wildly.
8. Numbers of the day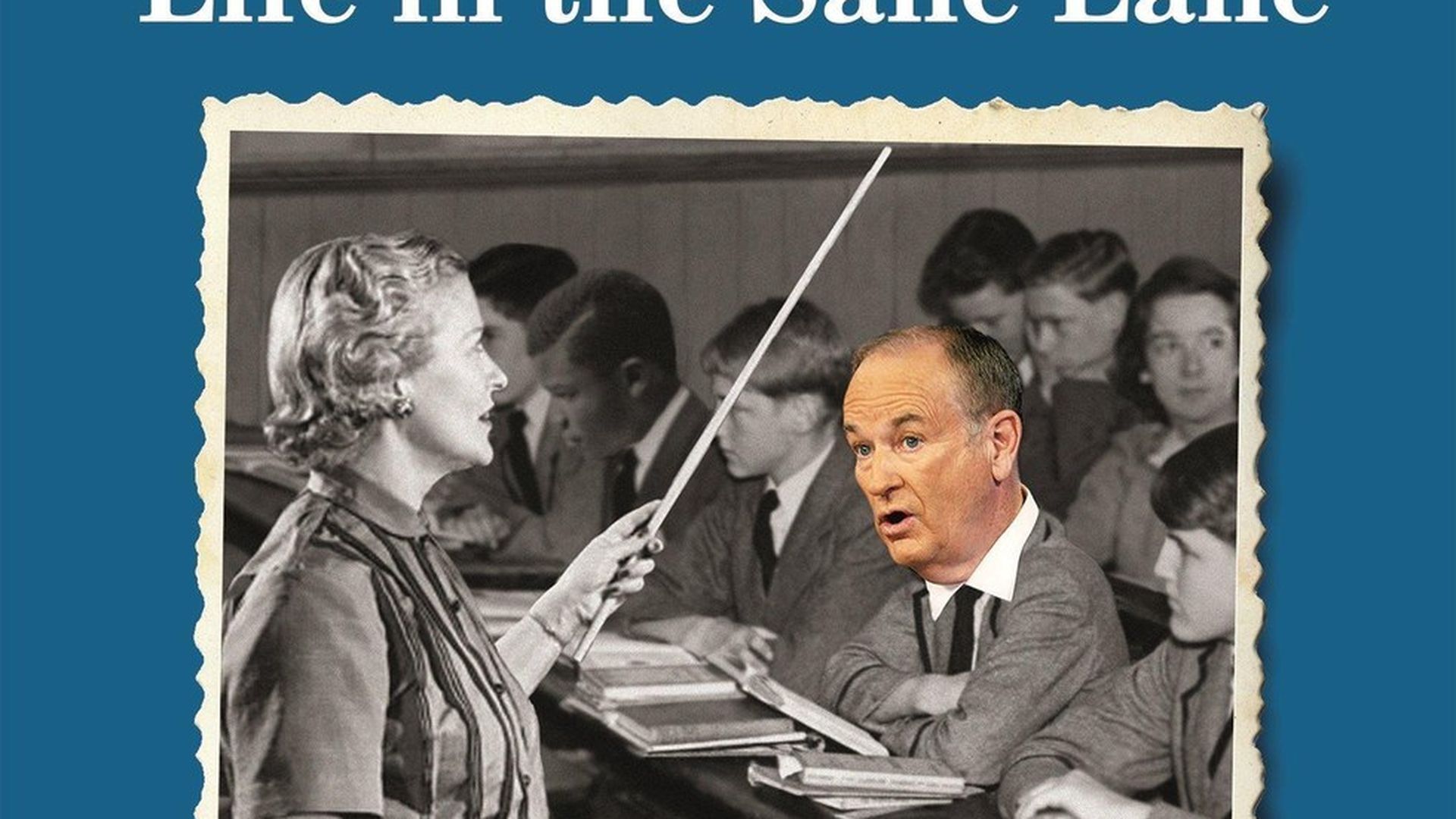 47: The number of advertisers boycotting Bill O'Reilly in "a rapidly growing exodus," per CNN.
1: O'Reilly's debut rank on the N.Y. Times bestseller list of April 16 for "OLD SCHOOL, by Bill O'Reilly and Bruce Feirstein. (Holt) A defense of 'old school' traditional values versus 'snowflakes.'"
Chaser ... President Trump re O'Reilly, in an interview yesterday with the N.Y. Times: "I think he's a person I know well. He's a good person. I think he may, you know, I think he shouldn't have settled, personally, I think he shouldn't have settled. ... Because you — should have taken it all the way. No, I know Bill. Bill's a good person."
9. Facebook exec: Robots won't seek world domination
Axios' Chris Matthews caught up with Yann LeCun, head of Facebook's artificial intelligence lab, backstage at the Future Labs AI Summit in New York yesterday (assist: Kia Kokalitcheva). LeCun is a giant in the field, whose contributions to AI have helped drive the technology behind self-driving cars.
Q: You said during your talk that we shouldn't worry about machines taking over the world, because that assumes that computers will have human failings, like greed or the tendency to become violent when threatened.
A: We have a lot of checks and balances built into society to prevent evil from having infinite power. ... It will be the same thing for AI. Learning to build AI systems that are safe — not because they're going to take over the world, but because you want them to work reliably — is going to take some time, similar to how long it took people to figure out how to build airplanes that don't crash. There is a group that I helped found called Partnership for AI that's a forum for companies like Google and Facebook, and other groups like the ACLU, to discuss the best way to deploy AI systems in such a way that they are safe and unbiased.
10. 1 fun thing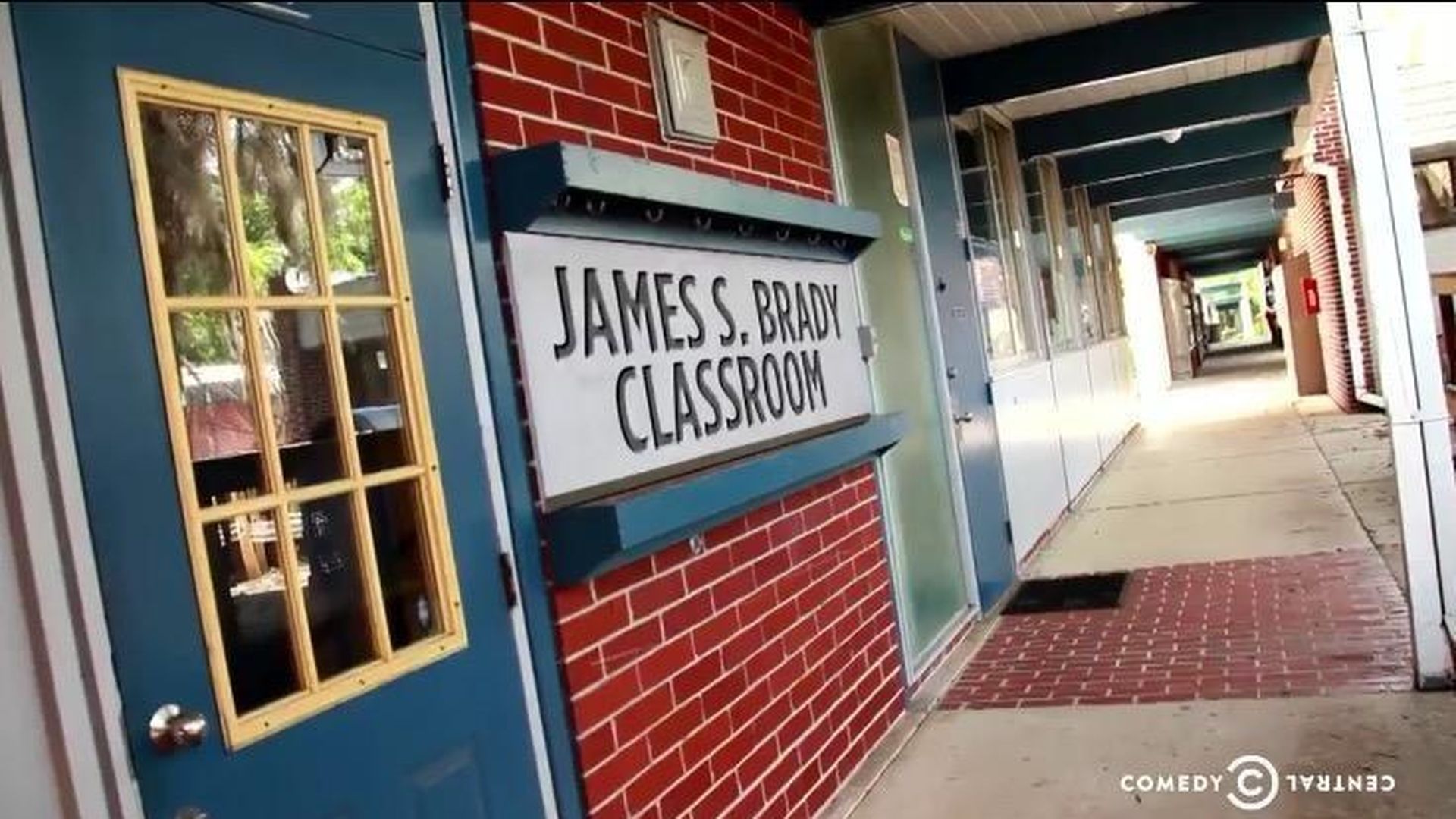 Trevor Noah's "The Daily Show" asks: "Does @SeanSpicer treat the press like a bunch of kindergarteners?"
Here's the video answer, with White House reporters played by squirmy, sing-songy up-and-comers.