December 04, 2018
☕️ Good Tuesday morning ...
1 big thing: Democratic women replacing men in leadership jobs
Democrats are moving women into leadership roles in key party organizations, including the campaign arms for national and state races — and even in the moderate Blue Dog coalition, which will be led by a woman of color for the first time in its 31-year history, Axios' Alexi McCammond reports.
Why it matters: It's a recognition of the importance of women in the Democratic coalition — especially the role women voters played in the House midterm election victory — and a nod to the growing diversity of the party's elected officials.
Republicans haven't made similar moves in their leadership ranks.
The big picture: This fits with the global women's liberation movement of the past year, driven by the #MeToo movement and the midterms' surge of women voters, candidates and donors.
An astonishing stat: Women won more than 60 percent of the House seats that Democrats flipped, per the N.Y. Times.
These positions carry tremendous influence in candidate recruitment, messaging, and securing donations in future elections.
Elevating more women addresses some of the concerns from the party's base and more progressive members who want fresh faces to lead the caucus.
They're also an important symbol of the impact of the 2018 midterms, which had a record number of women and people of color running mostly as Democrats.
The new leaders:
Illinois Rep. Cheri Bustos is replacing Rep. Ben Ray Lujan of New Mexico as chair of the Democratic Congressional Campaign Committee, which oversees House races. She represents a district that went for Donald Trump in 2016 after voting for Barack Obama by 17 points in 2012.
Nevada Sen. Catherine Cortez Masto is replacing Sen. Chris Van Hollen of Maryland as chair of the Democratic Senatorial Campaign Committee. She's the first Latina to lead this committee and only the second woman ever to serve as chair.
Florida Rep. Stephanie Murphy, 40, is replacing Rep. Jim Costa of California as the Blue Dog Coalition's co-chair for administration, the group's top leadership position. She's the first woman of color to lead the coalition, and only the second woman to serve as a co-chair since the Blue Dog's formation in 1987.
Rhode Island Gov. Gina Raimondo is replacing Washington Gov. Jay Inslee as Democratic Governors Association chair. She's only the second woman ever to chair the group.
California Rep. Barbara Lee will serve as the third co-chair of the House Steering and Policy Committee, which oversees Democrats' committee assignments. She lost the election for Democratic caucus chair to Rep. Hakeem Jeffries, the 48-year-old New Yorker who various Democrats on the Hill have told Axios could one day be the party's first black speaker.
P.S. New this morning ... "She votes. She leads":
"Female voters overwhelmingly believe that women, more than [men], possess the leadership qualities that Washington sorely needs," according to a survey for the Women & Politics Institute at American University's School of Public Affairs, conducted by the Benenson Strategy Group.
"This includes key qualities such as 'getting things done,' 'solving problems,' 'building a better future,' and 'fighting for ordinary Americans.'"
2. Slowing economy could pressure Big Tech
A potential recession, combined with increasing regulatory threats for some of the biggest tech companies, foreshadows a difficult 2019 for Silicon Valley, Axios' Sara Fischer, David McCabe and Courtenay Brown report.
Why it matters: The biggest tech companies have already raked in billions of dollars in profits and benefited from major tax cuts that aren't going to be repeated, so next year isn't likely to be better for them financially. They've also been dogged by scandals that have left many questioning their positive role in society, and if on top of that the economy starts to slip, 2019 could be worse.
Paul Gallant, an analyst with Cowen Washington Research Group:
"People look for scapegoats in a bad economy. And with Big Tech already on its heels, a downturn probably would feed arguments that the largest internet companies are too big and need to be reined in."
Big Tech is closing out a contentious year in Washington, and potential regulation will continue to haunt it well into 2019.
"The mood has changed. Investors are asking a lot more questions right now," says Larry Glazer, a managing partner at Mayflower Advisors, which manages $3 billion. "Momentum has faded on these names."
Adding to potential concern: Possible regulatory action could translate into higher costs, particularly for Google or Facebook.
3. Breaking: Macron caves on fuel tax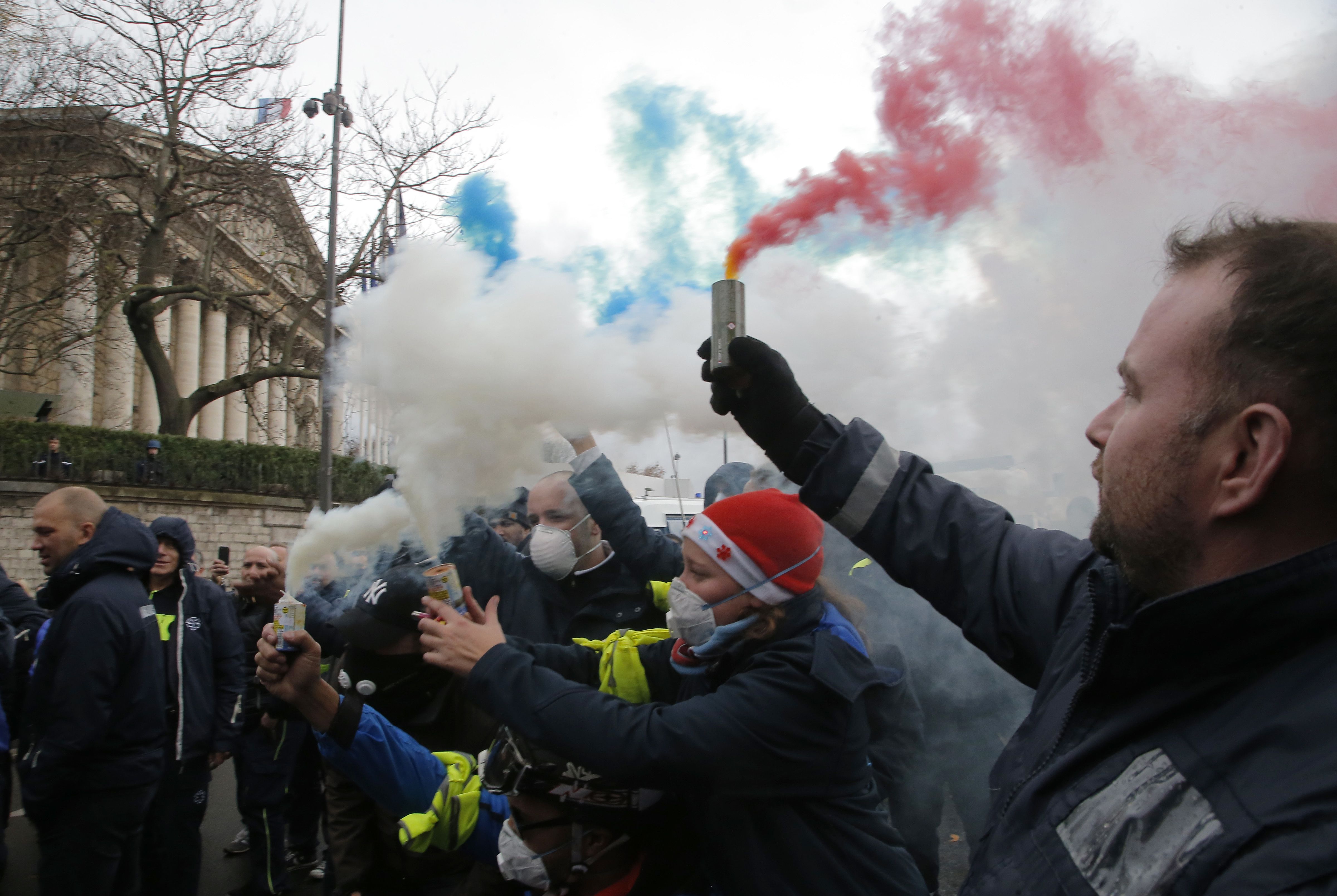 "The French government plans to announce [today] the suspension of fuel tax increases slated for January in a bid to quell the fierce protests which have ballooned into the deepest crisis of Emmanuel Macron's presidency," Agence France-Presse reports.
Why it matters, per AP: "A grassroots protest movement in France balloons and radicalizes, unleashing anger that devastated the heart of Paris in weekend riots and revealed a fracture in the country between the haves and have-nots."
"Tough talk by unpopular President Emmanuel Macron, who has been roundly blamed for the chaos, isn't likely to mend the growing sense of social injustice."
4. Mourners wear sassy socks to salute 41

In a nod to President George H.W. Bush's well-known sartorial tradition, Houston organizers encouraged residents to wear their boldest socks to a ceremony last night in front of City Hall, which was bathed in red, white, and blue light. (AP)
Below, members of the Bush family walk past as President Bush lies in state in the Capitol Rotunda yesterday.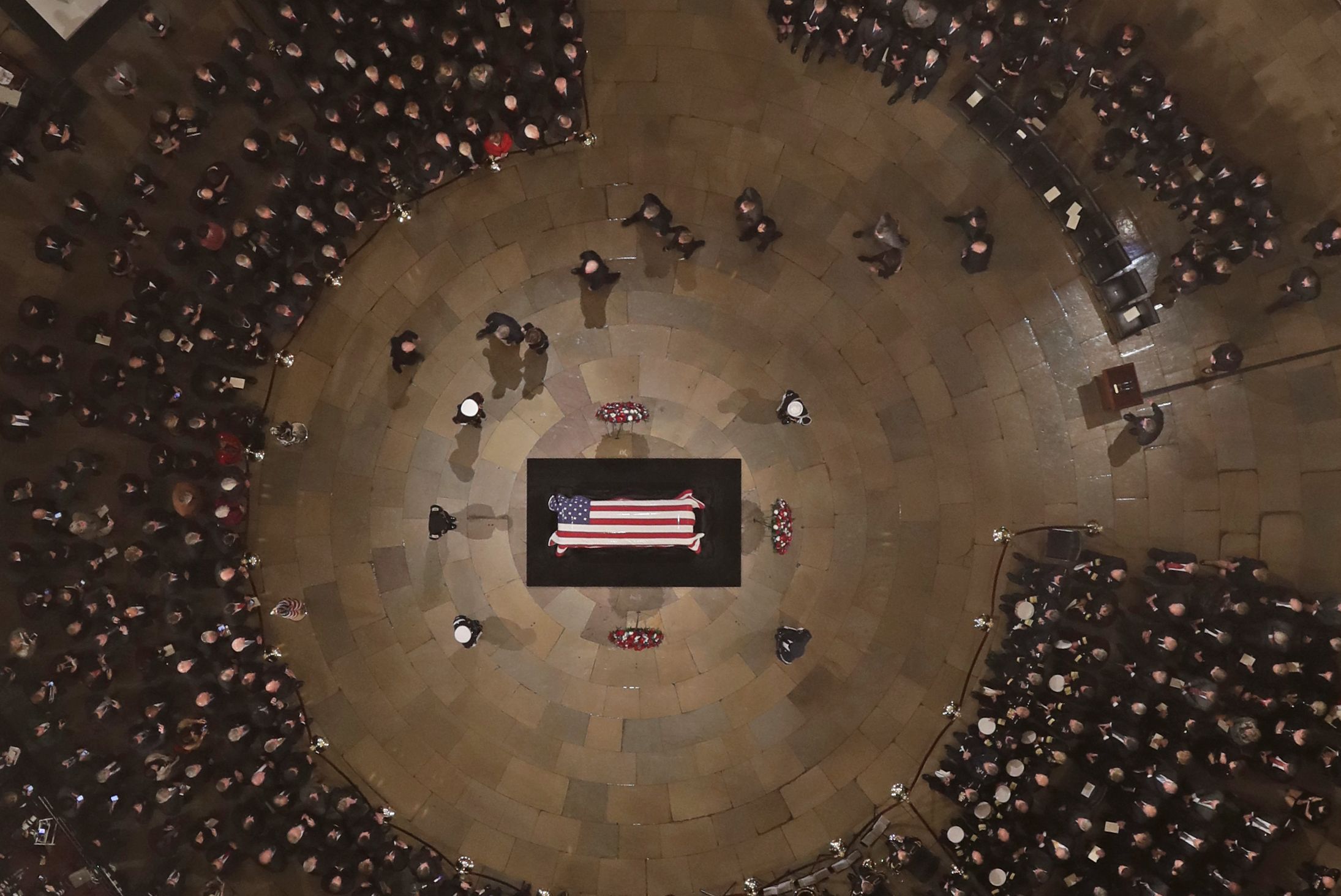 Below, former President George W. Bush is embraced by Democratic House Leader Nancy Pelosi during the arrival of the casket at the Capitol.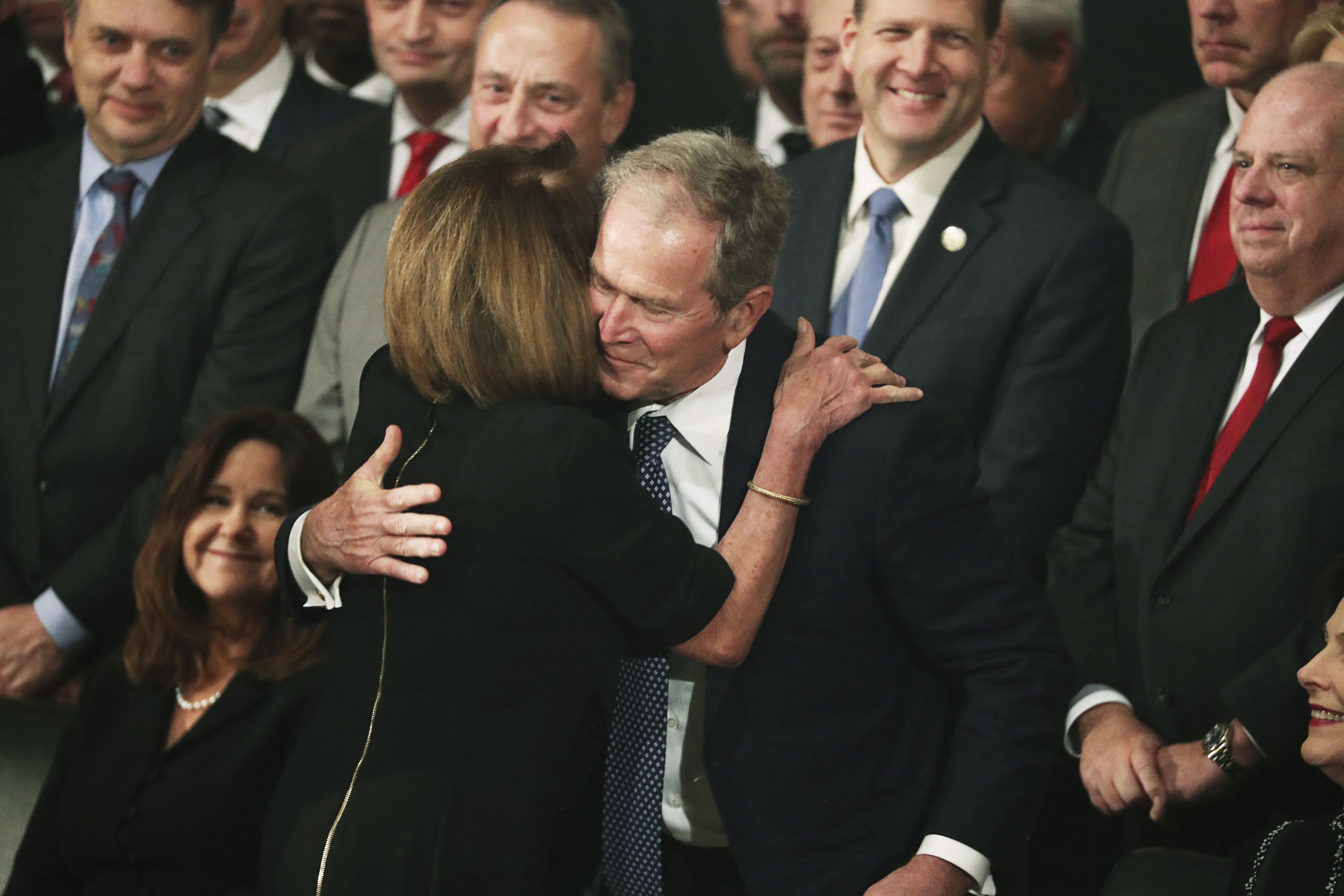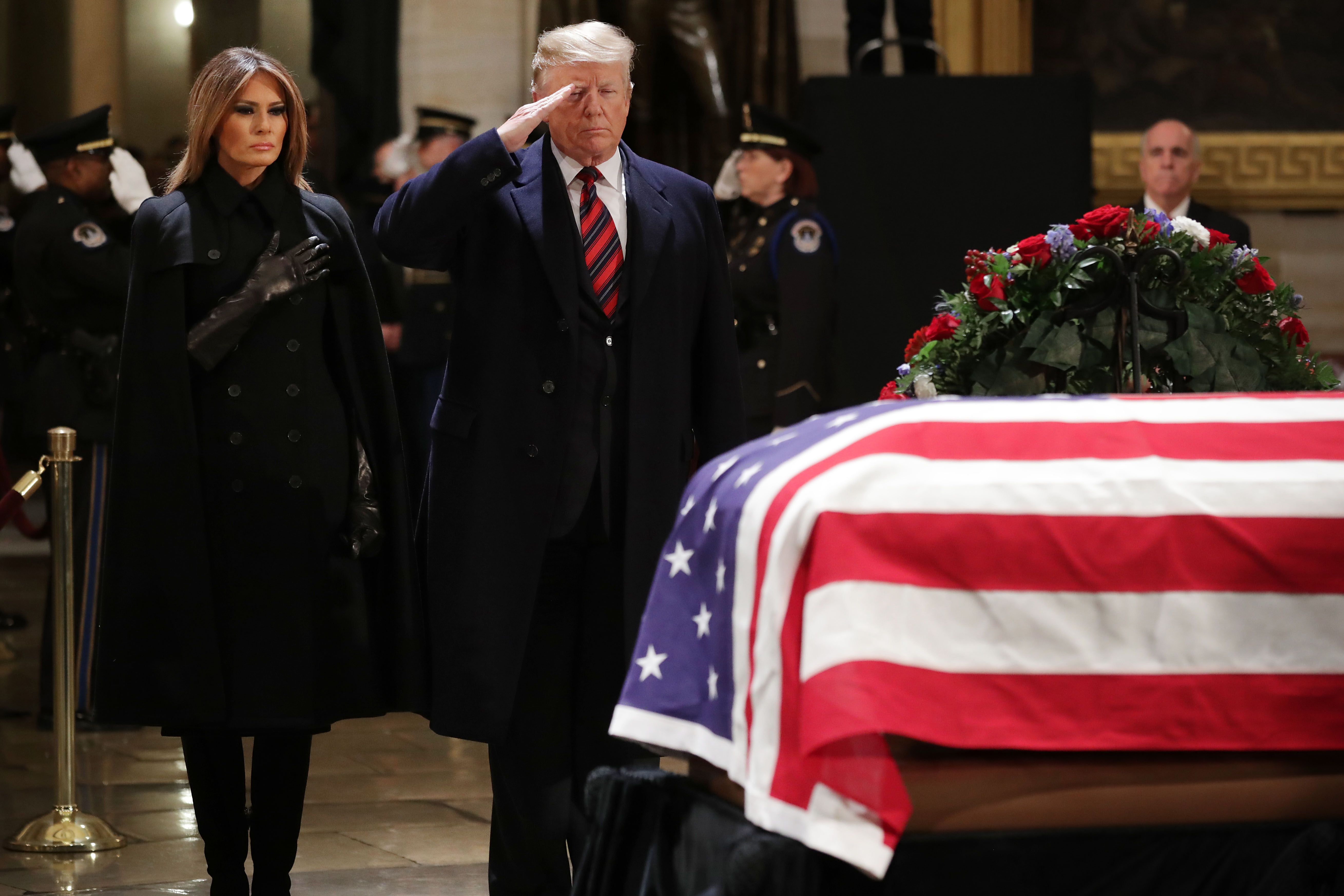 5. McConnell predicts no shutdown
"Senate Majority Leader Mitch McConnell predicted lawmakers would avert a government shutdown when a proposed stopgap measure expires later this month, saying neither party wants the political blame for a lapse in funding," The Wall Street Journal's Josh Jamerson reports (subscription):
"I don't think we'll get to that point," McConnell told The Wall Street Journal CEO Council.
"McConnell spoke hours after congressional leaders introduced a two-week spending bill to give lawmakers more time to avoid a partial shutdown; current government funding expires this weekend."
"[A]n extension quickly became more necessary because of former President George H.W. Bush's funeral proceedings in Washington."
Getting to yes: Democrats have balked at $5 billion in wall funding. But Senate Minority Leader Chuck Schumer said, "Senate Democrats would support $1.6 billion in border security that was included in a bipartisan Senate bill."
6. Quote du jour
President Trump is embracing Roger Stone, a former campaign adviser who stated that he won't testify against him as part of Robert Mueller's investigation, while calling for a "full and complete" prison sentence for his former lawyer, Michael Cohen, who is cooperating.
Trump tweeted that Stone, a Republican political operative and longtime Trump ally, has "guts" for saying that he "will never testify against Trump."
P.S. What Michael Cohen is thinking, via N.Y. Times' Benjamin Weiser:
"Cohen has concluded that his life has been utterly destroyed by his relationship with Mr. Trump and his own actions, and to begin anew he needed to speed up the legal process by quickly confessing his crimes and serving any sentence he receives."
7. Jeff Zucker's next act
"CNN president Jeff Zucker revealed to The Axe Files [podcast] host David Axelrod that he still wants to run for political office at some point," per the Hollywood Reporter.
"I still harbor somewhere in my gut that I'm still very interested in politics," he said. "It's something I would consider."
"Gimme a call if you're thinking about it," Axelrod said.
Zucker "also repeated twice during the 69-minute-long podcast that he'd love to run the Miami Dolphins football team."
8. What Netflix's "Roma" says about its big-screen strategy
"Alfonso Cuarón's critically acclaimed film 'Roma' — an intimate, black-and-white, Spanish-language feature about a middle-class Mexican family and their live-in nanny — seems an unlikely candidate for the role of Hollywood disrupter," report Ryan Faughnder and Josh Rottenberg for the L.A. Times.
The film "was released in theaters three weeks before it becomes available to Netflix subscribers Dec. 14, an unprecedented move for a company that has traditionally eschewed the idea of releasing movies in theaters before they are available to subscribers on its streaming platform."
Why it matters: "Facing rising competition from Walt Disney Co. and other media giants entering the streaming business, Netflix is increasingly eager to lure filmmakers who want their movies to be shown on a big screen and get awards recognition."
"Roma" is Netflix's best shot for its first Best Picture nomination at the Oscars, but theaters "argue that shortening the exclusive window from three months to three weeks devalues the theatrical experience and discourages people from leaving their homes to watch movies."
9. Tracking power
While many other executives shy away, Blackstone chairman, CEO and co-founder Steve Schwarzman continues to represent Trump administration interests around the world.
Along with Jared Kushner, Schwarzman "was awarded the Order of the Aztec Eagle, Mexico's highest honor for foreigners, for his work on behalf of the U.S. in support of the U.S.–Mexico–Canada Agreement." (@EPN via @Blackstone)
10. 1 🎵 thing
Drake is the most-streamed artist of 2018 on both Spotify and Apple Music, AP reports:
"Spotify announced ... that the rapper earned 8.2 billion streams in 2018. He also has the year's most-streamed album and song with 'Scorpion' and 'God's Plan.' Drake is also Spotify's most-streamed artist of all-time."
"Following Drake on the 2018 list of top artists are Post Malone, XXXTentacion, J Balvin and Ed Sheeran, who was Spotify's most-streamed artist last year."
"No women made the Top 5, but Ariana Grande ranks first among female artists globally on Spotify. She's followed by Dua Lipa, Cardi B, Taylor Swift and Camila Cabello."
Apple released its "Best of 2018" list Tuesday with Drake's "Scorpion" as the top album, while his hit "God's Plan" was the most popular single.
"The rapper's song 'Nice for What' came in second and 'In My Feelings' at No. 4."
"Post Malone's songs 'Rockstar' and 'Psycho' were in the top 5. His album 'Beerbongs & Bentleys' was the second-most streamed."