Good Monday morning. On Wednesday, Axios will visit the University of Michigan for the Midwest launch of our Smarter Faster Revolution, helping college students share news and information they can trust. The Michigan Daily is our host, and Editor in Chief Emma Kinery and I trade views on the future of media here. If you're in range of Ann Arbor, get details and RSVP here.
Breaking from NBC News: "Multiple sources say that during interviews, Mueller's investigators have asked witnesses, including White House Counsel Don McGahn and others who have worked in the West Wing, to go through each day that Flynn remained as national security adviser and describe in detail what they knew was happening inside the White House as it related to Flynn."
https://www.axios.com/newsletters/axios-am-760eb39d-1c6e-400e-8c2a-30b05201aa48.html?chunk=0#story0
1 big thing: Trump's #MeToo moment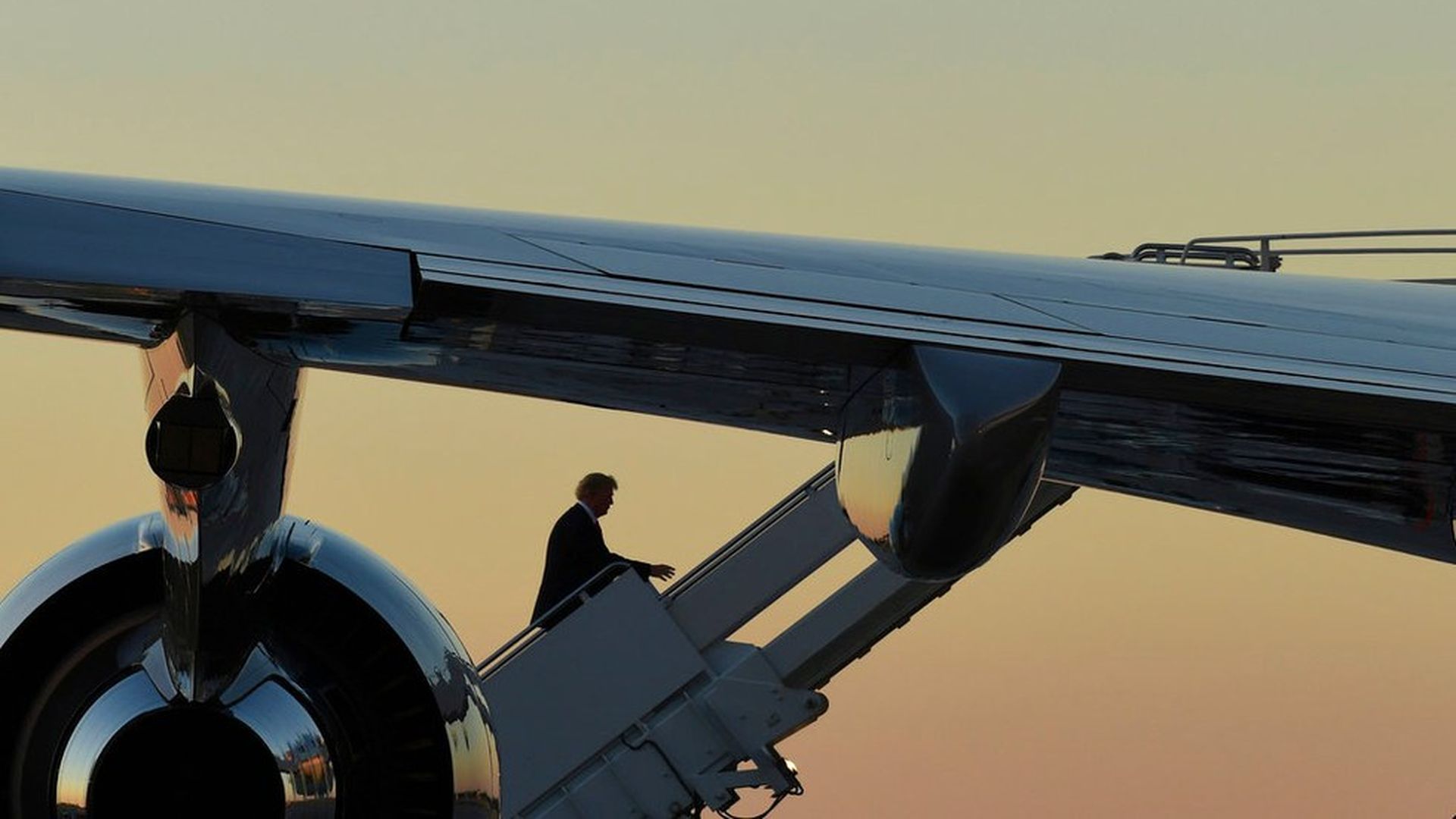 At 9 a.m. today on NBC, Megyn Kelly will conduct a live, sit-down interview with three women who have accused President Trump of sexual misconduct: Jessica Leeds, Samantha Holvey and Rachel Crooks.
A news release for "Megyn Kelly TODAY" say the women "will share their claims, which President Trump has denied, and stories together for the first time on television."
Trump is having a #MeToo moment. The accusers, whose stories got little attention in the fracas of the campaign, suddenly have more of a platform:
Yesterday, U.N. Ambassador Nikki Haley broke from the White House line and told CBS' John Dickerson on "Face the Nation": "[W]omen who accuse anyone should be heard. ... I know that he was elected, but women should always feel comfortable coming forward. And we should all be willing to listen to them."
Sen. Tim Scott (R-S.C.), asked about the accusers by NBC's Chuck Todd on "Meet the Press," said: "[T]he allegations or the accusations against the president were a part of the campaign. So most Americans ... had the information before the election. So for us to try to relitigate the election is impossible."
But Scott added: "Should people who have been victimized have an opportunity to have their day in court or their day presenting their information? I have no problem with that issue."
Trump could be called to testify in a lawsuit in New York state by Summer Zervos, a former "Apprentice" contestant who charges Trump groped her in 2007. Trump's lawyer is arguing for immunity, saying that a trial would improperly interfere with his duties as chief executive. The L.A. Times reported on Dec. 5:
"The suit could also jeopardize Trump in the way that a similar case by Paula Jones jeopardized then-President Clinton — by forcing him to answer questions under oath."
"Being required to testify under oath could be particularly dangerous for Trump, given his history of saying things that are untrue, said Naomi Mezey, a Georgetown University law professor."
The response ... During the White House briefing on Oct. 27, Sarah Sanders was asked: "At least 16 women accused the President of sexually harassing them throughout the course of the campaign. Last week, during a press conference in the Rose Garden, the President called these accusations 'fake news.' Is the official White House position that all of these women are lying?"
Sanders: "Yeah, we've been clear on that from the beginning, and the President has spoken on it."
Be smart: Sen. Al Franken said he will resign, based on charges by fewer women. Trump will brush it off, and virtually every elected Republican will have his back. But as the past hours show, these women won't go away silently.
https://www.axios.com/newsletters/axios-am-760eb39d-1c6e-400e-8c2a-30b05201aa48.html?chunk=1#story1
2. Bitcoin lands on Wall Street with a bang
Breaking ... "Futures on the world's most popular cryptocurrency surged as much as 26% in their debut session on Cboe Global Markets Inc.'s exchange, triggering two temporary trading halts designed to calm the market," per Bloomberg:
"Initial volumes exceeded dealers' expectations, while traffic on Cboe's website was so heavy that it caused delays and outages."
Why it matters: "The launch of futures on a regulated exchange is a watershed for bitcoin, whose surge this year has captivated everyone from mom-and-pop speculators to Wall Street trading firms. "
Be smart: "The new gold," or a tulip craze? Bloomberg View brings us Bitcoin in one sentence: "No one's in charge."
A quarter trillion dollars is at risk if bitcoin crashes — and that's just for starters, Axios future editor Steve Levine writes:
One day, the technology underlying bitcoin could trigger serious financial disruption. But that tech, called blockchain, is hindered by stubborn shortcomings. And one of the biggest potential bombshells — a shakeup of the $8 trillion-a-year credit card industry — may be a decade away, if it happens at all.
How it works: Invented in 2008, blockchain is a secure ledger where users can record transactions like payments, a chain of supply, a contract, and the origin of commodities like pork or diamonds.
Most of the money has gone into bitcoin, the most popular crypto-currency, whose face value has surged 15x this year. From about $960 in January, bitcoins are selling for more than $15,000.
https://www.axios.com/newsletters/axios-am-760eb39d-1c6e-400e-8c2a-30b05201aa48.html?chunk=2#story2
3. Growing North Korea bioweapons threat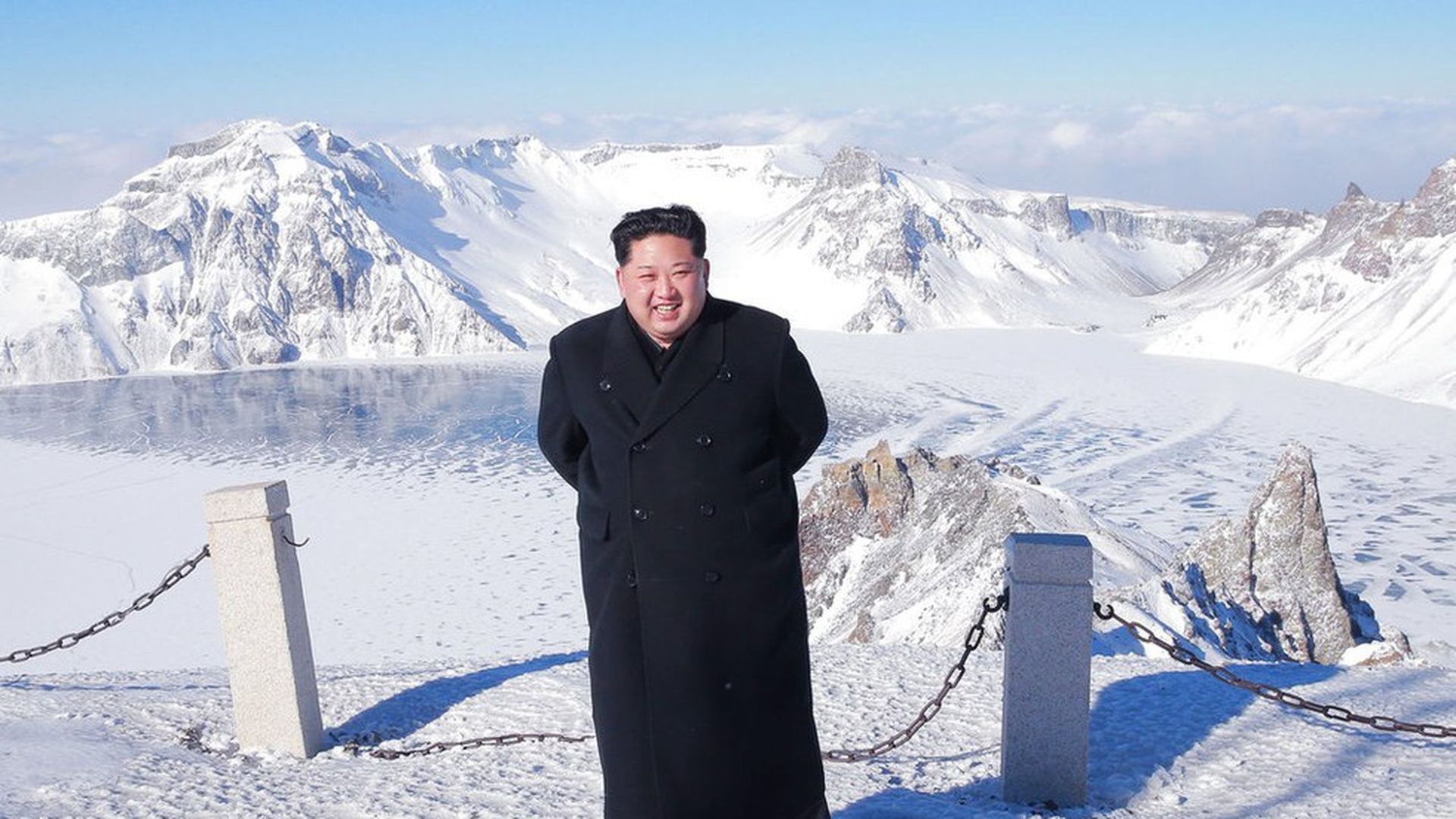 "North Korea is moving steadily to acquire the essential machinery that could potentially be used for an advanced bioweapons program," the WashPost's Joby Warrick reports atop column 1:
"Kim Jong Un's government also is dispatching its scientists abroad to seek advanced degrees in microbiology, while offering to sell biotechnology services to the developing world."
Why it matters: "The gains have alarmed U.S. analysts, who say North Korea — which has doggedly pursued weapons of mass destruction of every other variety — could quickly surge into industrial-scale production of biological pathogens if it chooses to do so."
The takeaway: "Such a move could give the regime yet another fearsome weapon with which to threaten neighbors or U.S. troops in a future conflict."
P.S. Weaponizing LinkedIn ... "Germany's intelligence service has published the details of social network profiles which it says are fronts faked by Chinese intelligence to gather personal information about German officials and politicians," Reuters reports:
"Chinese intelligence services are active on networks like LinkedIn and have been trying for a while to extract information and find intelligence sources ... including seeking data on users' habits, hobbies and political interests."
https://www.axios.com/newsletters/axios-am-760eb39d-1c6e-400e-8c2a-30b05201aa48.html?chunk=3#story3
Bonus: Cover du jour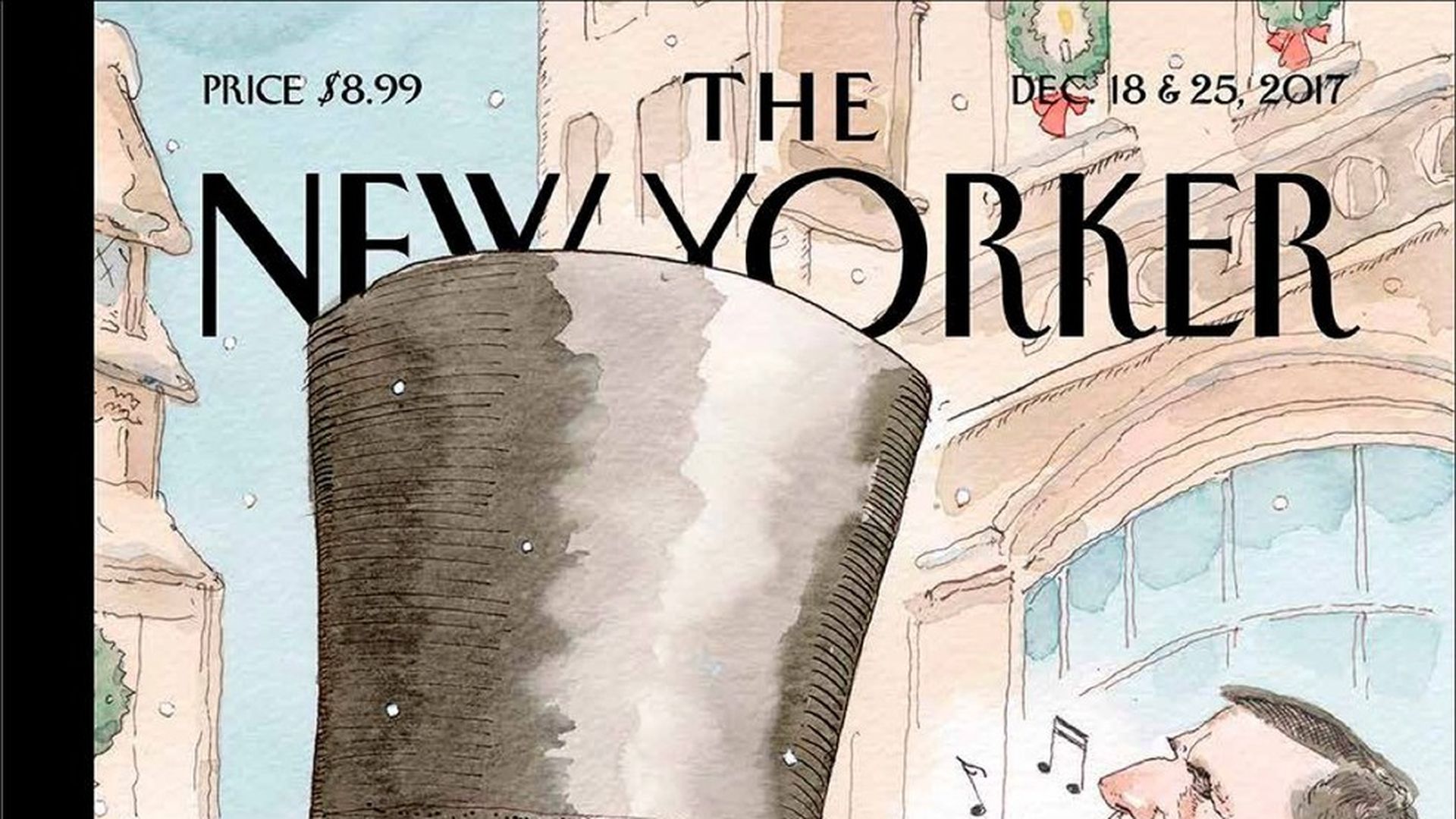 Cover of this week's double issue of The New Yorker ... Art editor Françoise Mouly brings us the "Cover Story":
"It's almost Christmas and Donald Trump's former national-security adviser Michael Flynn is singing for all to hear," the artist Barry Blitt says, about his cover for the World Changers issue. "But something tells me that the President is too Scrooge-like to enjoy the carolling."
https://www.axios.com/newsletters/axios-am-760eb39d-1c6e-400e-8c2a-30b05201aa48.html?chunk=4#story4
4. Why big oil is slowly turning green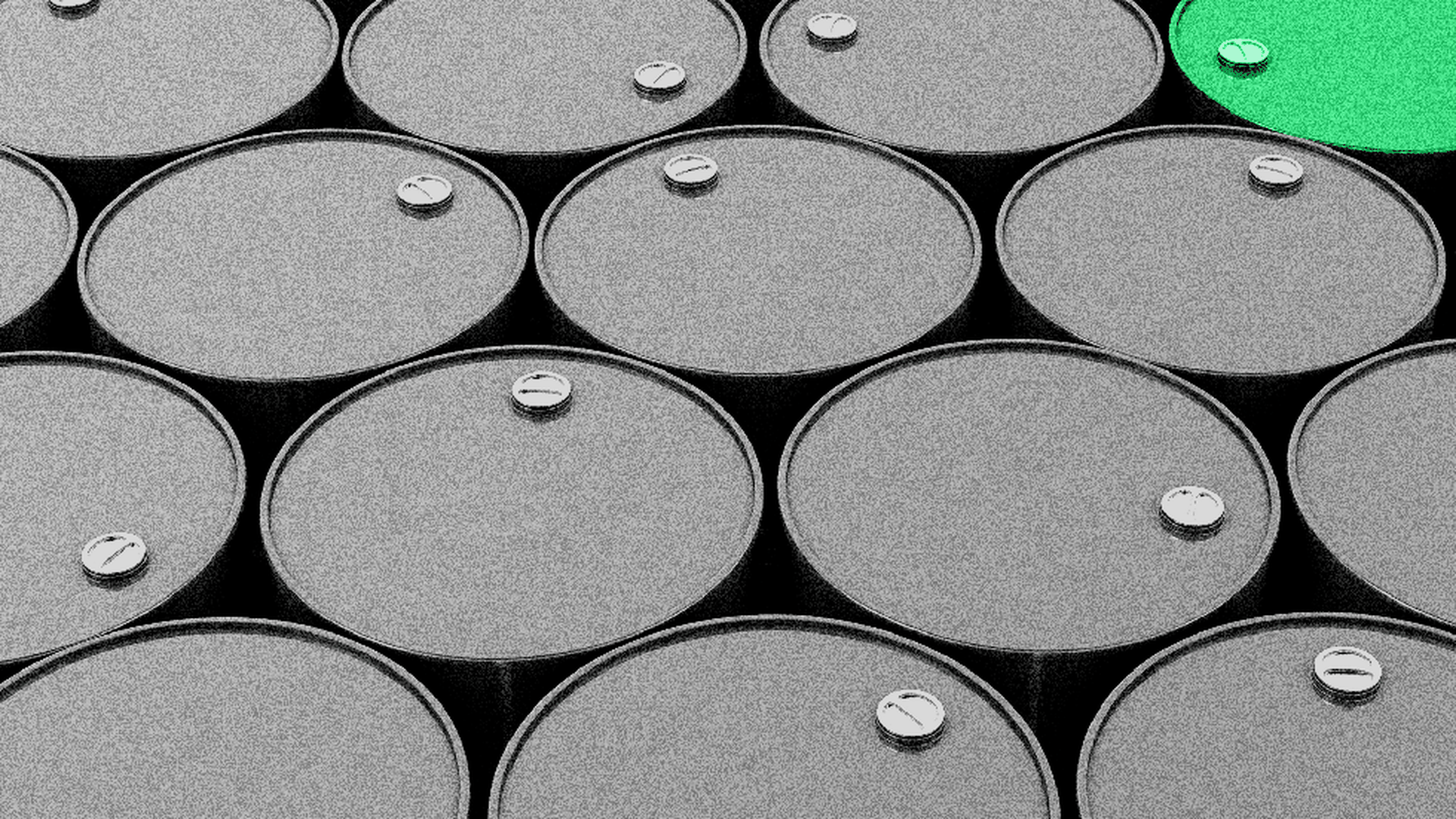 The world's biggest oil and natural gas companies are inching toward greener businesses, driven by a handful of market and policy trends, Axios' Amy Harder writes in her weekly "Harder Line" energy column:
Why it matters: The shift shows that global oil companies see cleaner energy technologies as sound investments, not merely greenwashing and public relation stunts.
The changes, underway at most international oil producers and particularly pronounced among European firms, are happening even as President Trump's policies are heading in the other direction.
See "What's Ahead."
https://www.axios.com/newsletters/axios-am-760eb39d-1c6e-400e-8c2a-30b05201aa48.html?chunk=5#story5
5. The real America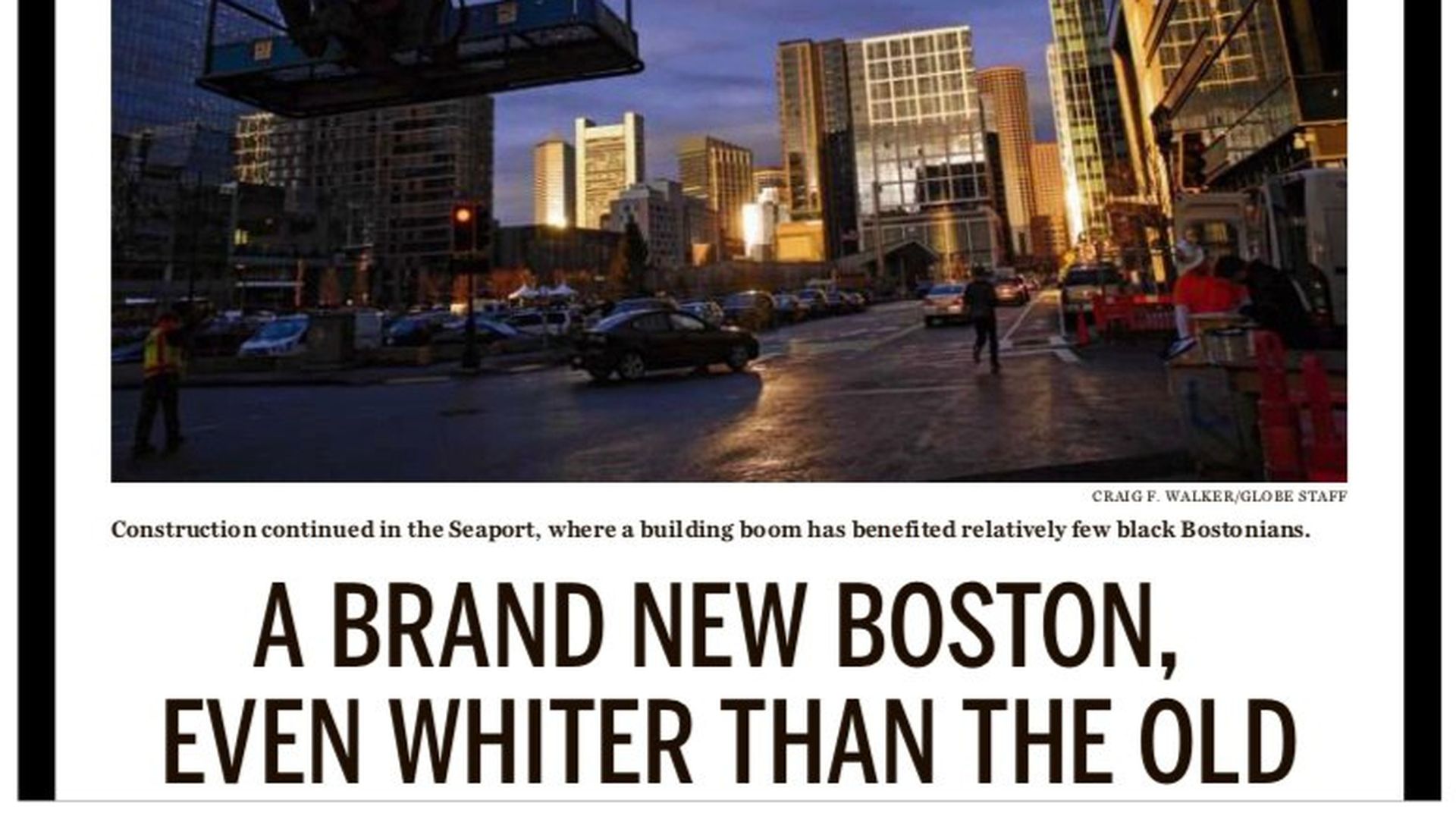 The Boston Globe Spotlight Team yesterday began a tough, week-long series on "the hardest question hurled our way: Is this a racist city?"
The takeaway: "[I]t is still far too hard to be black in Boston, with stark inequities in opportunity and power."
"Greater Boston has few neighborhoods where prosperous black residents can live with others like them ... Boston [has] just four such enclaves ... Forty-five other metropolitan areas have far more black enclaves than Boston, including ... New York, Washington, D.C., and Atlanta, each with more than 100."
See a map of middle- to upper-class black enclaves in U.S. cities.
Today's installment: "The hope was that Boston's newest neighborhood — the Seaport — would be for everyone; after all, some $18 billion in taxpayers' dollars were devoted to it. But look around and you will see a place that benefits largely the white and wealthy."
Go deeper: See which U.S. cities are most and least welcoming to people of color, based on a survey commissioned by the Globe.
https://www.axios.com/newsletters/axios-am-760eb39d-1c6e-400e-8c2a-30b05201aa48.html?chunk=6#story6
6. "E.P.A. ... Takes a Turn to Leniency"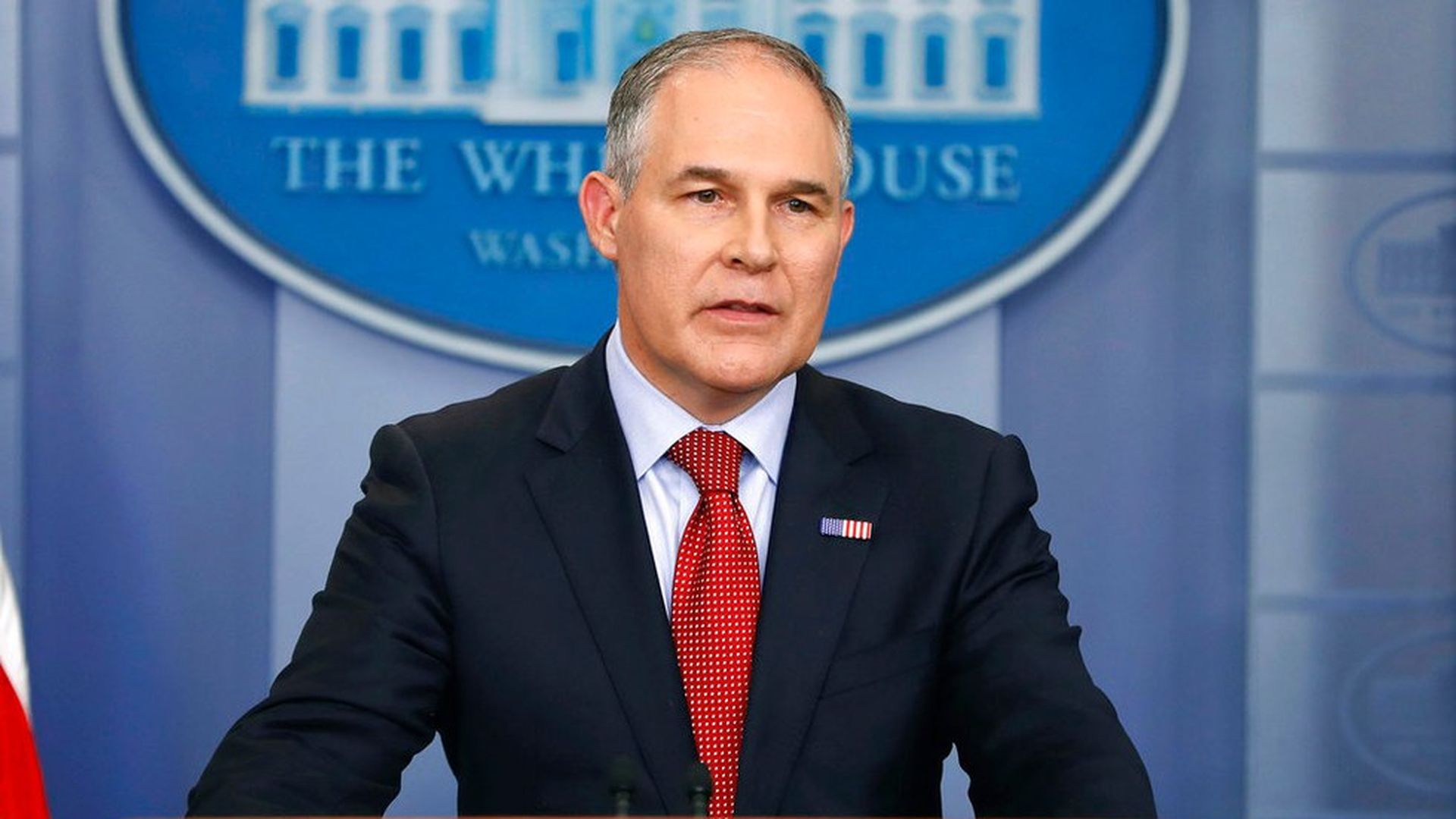 "An analysis of [EPA] enforcement data by The New York Times shows that the administration has adopted a more lenient approach than the previous two administrations — Democratic and Republican — toward polluters," Eric Lipton and Danielle Ivory write on the front page:
"The Times built a database of civil cases filed at the E.P.A. during the Trump, Obama and Bush administrations. During the first nine months under [Administrator Scott] Pruitt's leadership, the E.P.A. started about 1,900 cases, about one-third fewer than the number under President Barack Obama's first E.P.A. director and about one-quarter fewer than under President George W. Bush's over the same time period."
"[T]he agency sought civil penalties of about $50.4 million from polluters for cases initiated under Mr. Trump. Adjusted for inflation, that is about 39 percent of what the Obama administration sought and about 70 percent of what the Bush administration sought over the same time period."
"The E.P.A. ... can force companies to retrofit their factories to cut pollution. Under Mr. Trump, those demands have dropped sharply. The agency has demanded about $1.2 billion worth of ... injunctive relief ... in cases initiated during the nine-month period, which, adjusted for inflation, is about 12 percent of what was sought under Mr. Obama and 48 percent under Mr. Bush."
https://www.axios.com/newsletters/axios-am-760eb39d-1c6e-400e-8c2a-30b05201aa48.html?chunk=7#story7
7. Axios World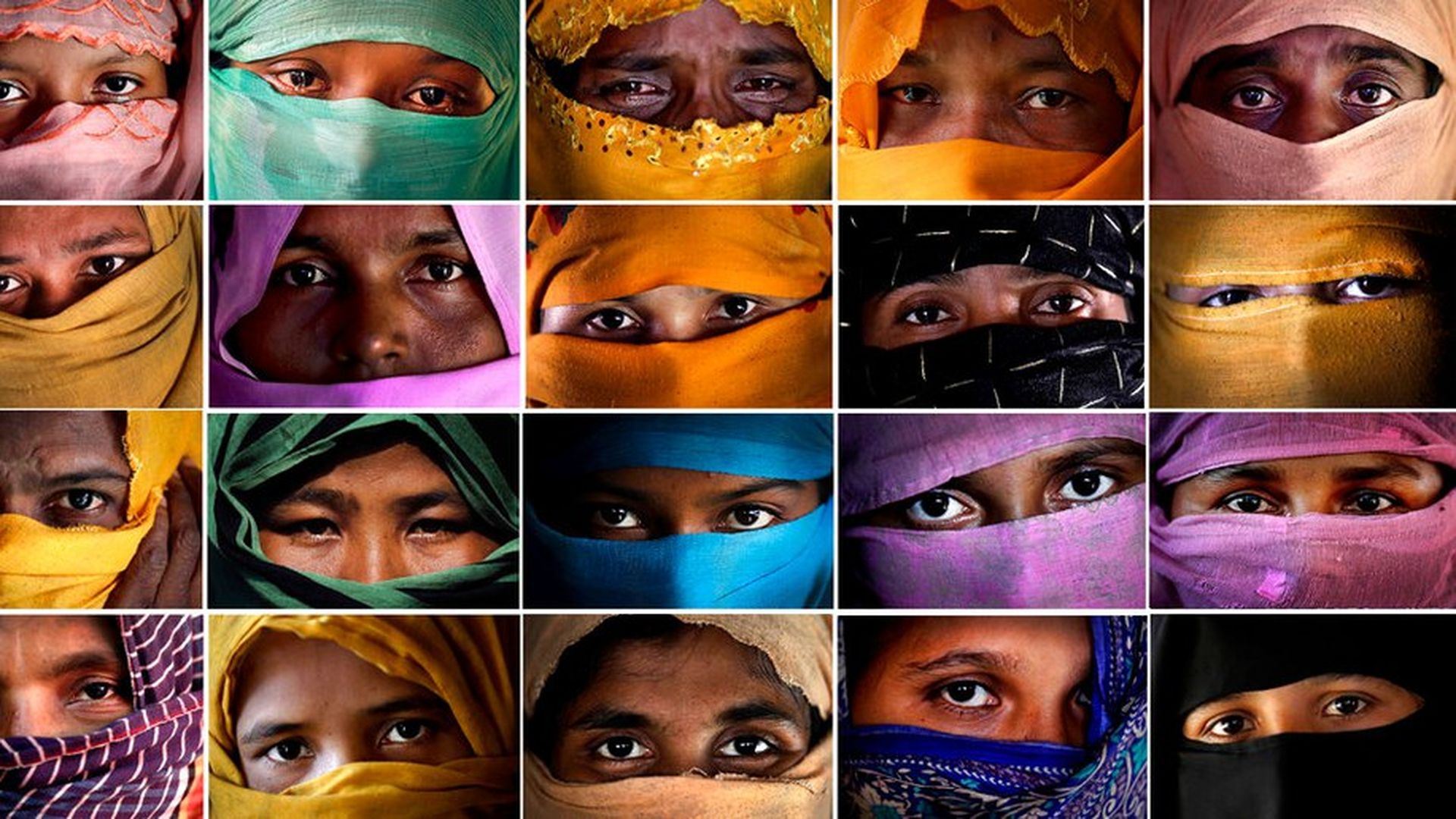 The use of rape by Myanmar's armed forces has been sweeping and methodical, AP found in interviews with 29 Rohingya Muslim women and girls now in Bangladesh.
AP's Kristen Gelineau reports from Ukhia, Bangladesh:
"They were interviewed separately, come from a variety of villages in Myanmar and now live spread across several refugee camps in Bangladesh. Yet their stories were hauntingly similar. The military has denied its soldiers raped any Rohingya women."
"Here are the accounts as told by 21 women and girls [ranging in age from 13 to 35]. They agreed to be identified in this story by their first initial only, out of fear the military will kill them or their families."
Why it matters: "The testimonies bolster the U.N.'s contention that Myanmar's armed forces are systematically employing rape as a 'calculated tool of terror' aimed at exterminating the Rohingya people."
https://www.axios.com/newsletters/axios-am-760eb39d-1c6e-400e-8c2a-30b05201aa48.html?chunk=8#story8
8. Data du jour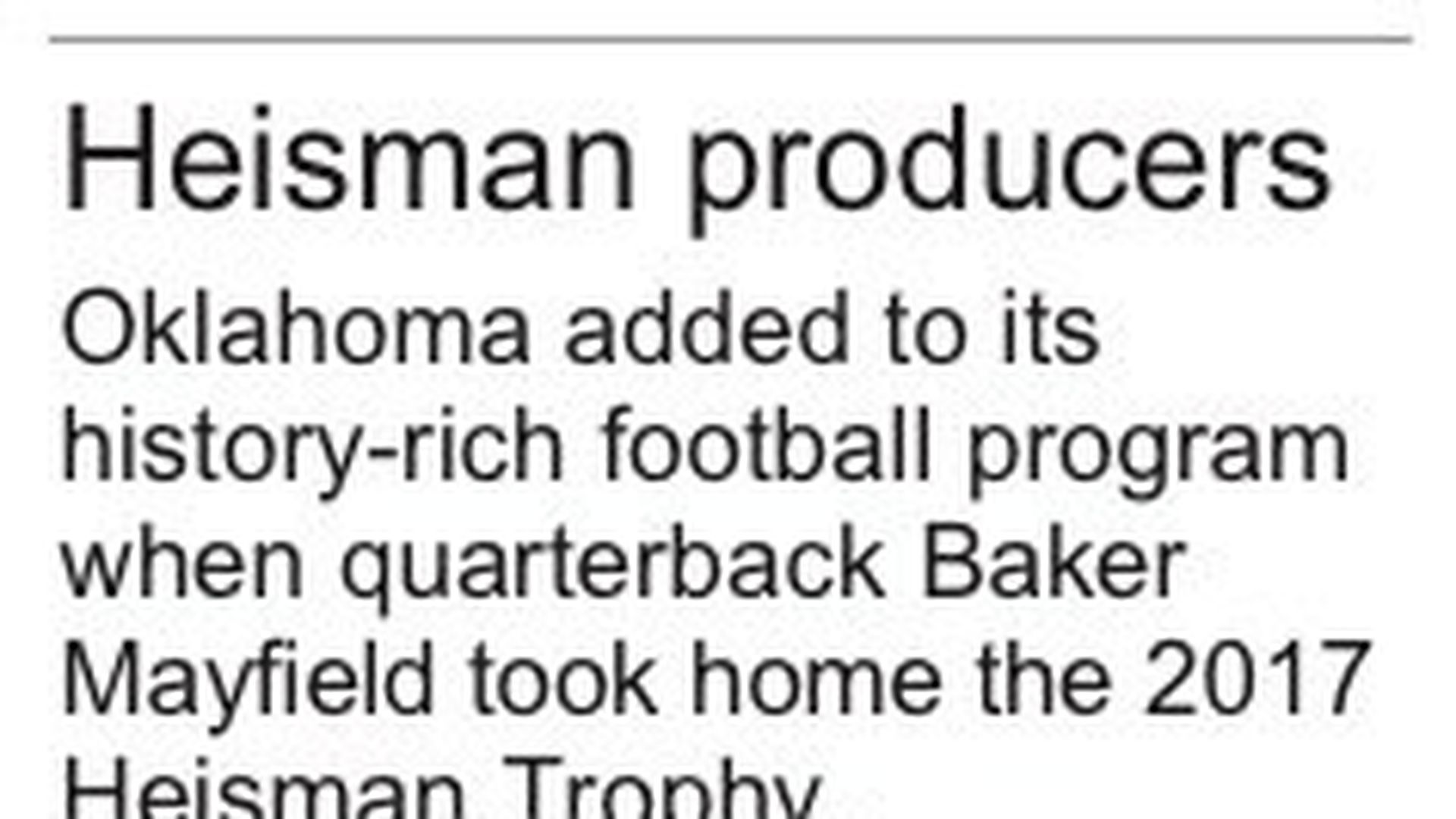 https://www.axios.com/newsletters/axios-am-760eb39d-1c6e-400e-8c2a-30b05201aa48.html?chunk=9#story9
9. An epic year: 9 of 30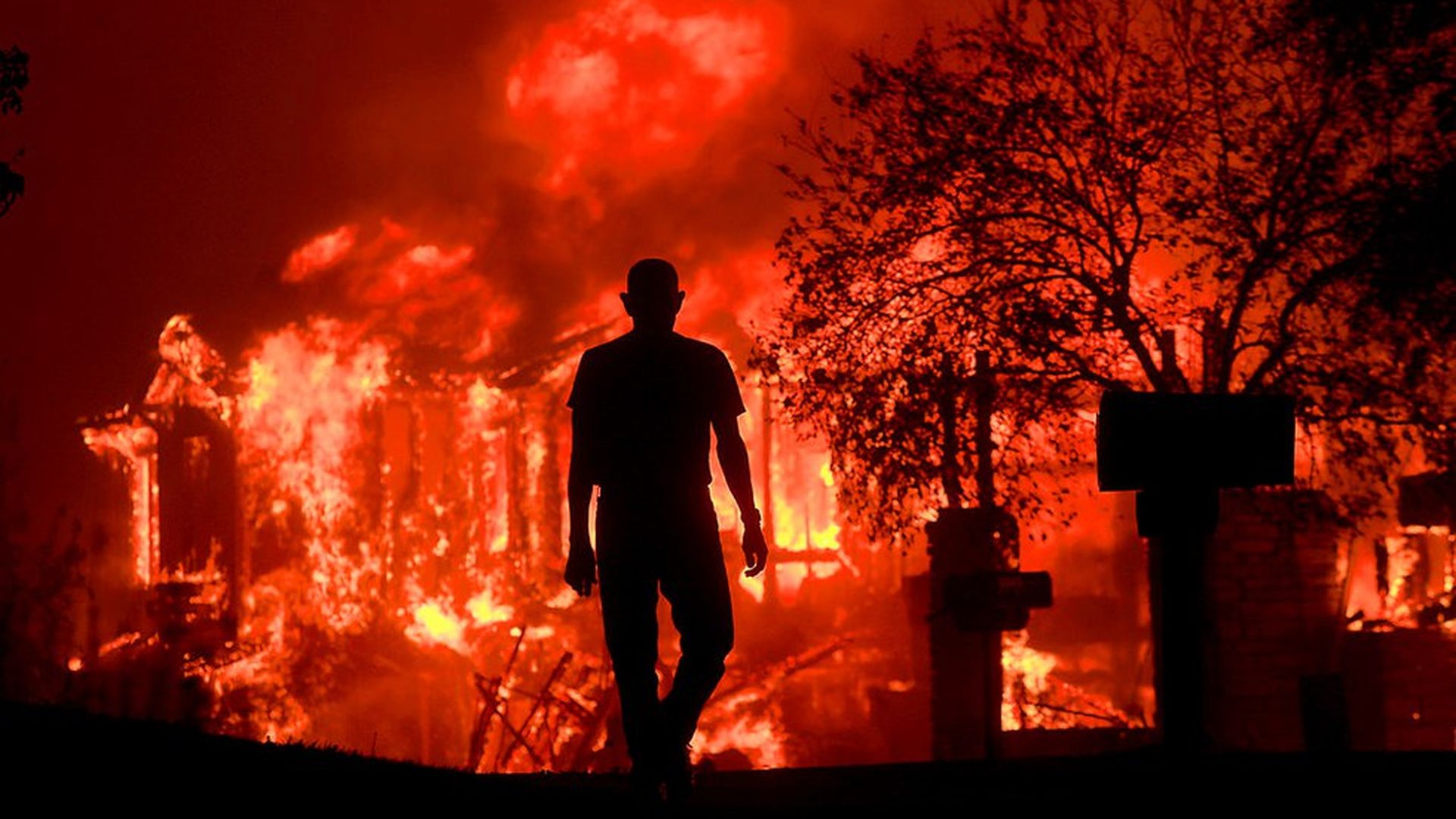 Reliving 2017 in 30 images ... The year ends with, sadly, a recurring disaster: wildfires in California. This is from October, when Jim Stites watched his neighborhood burn in Fountaingrove, Calif., as more than a dozen wildfires, whipped by powerful winds, burned though wine country.
https://www.axios.com/newsletters/axios-am-760eb39d-1c6e-400e-8c2a-30b05201aa48.html?chunk=10#story10
10. 1 feat thing: Governor Show-Off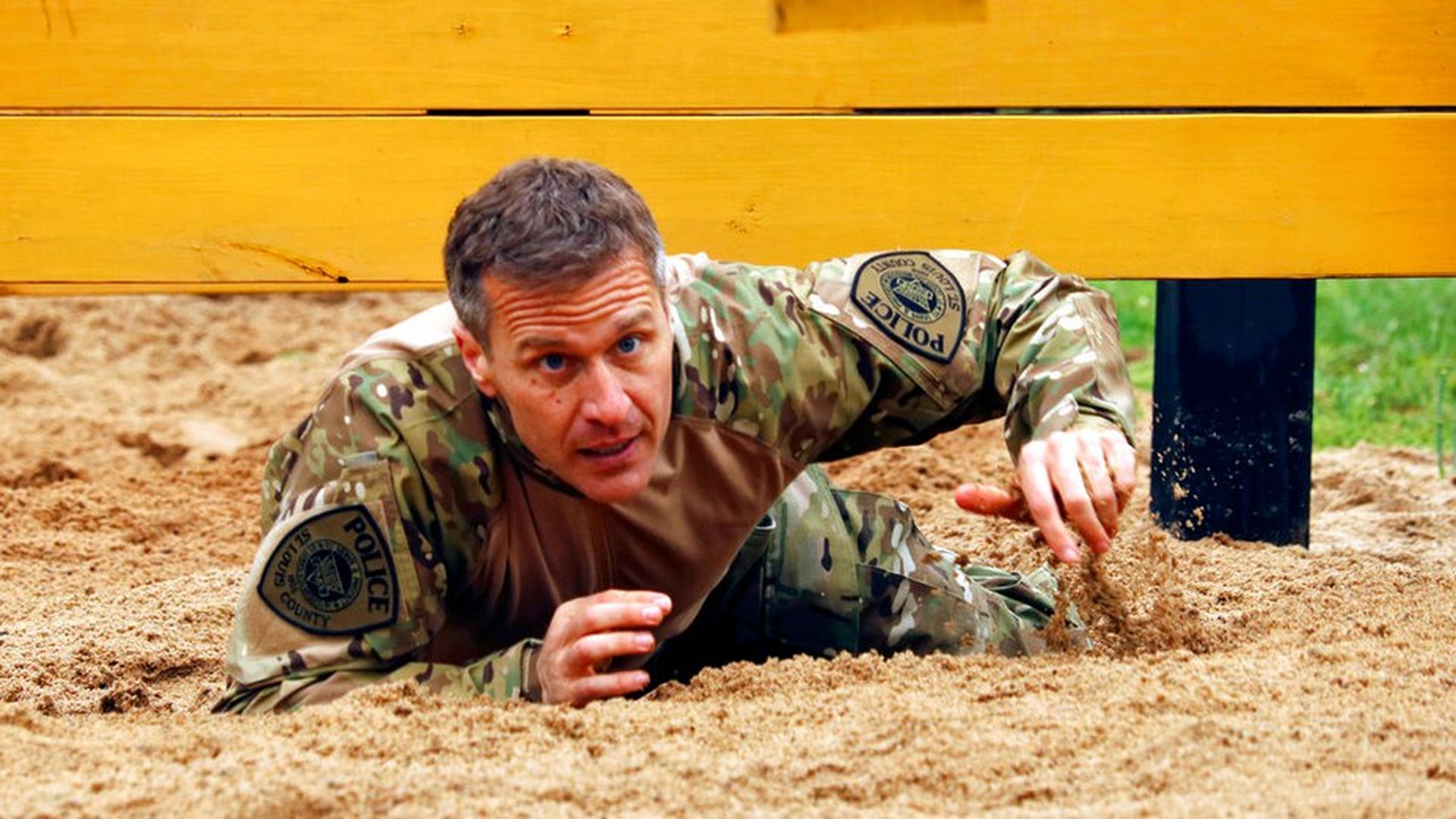 Missouri Gov. Eric Greitens (R), has rappelled into a bull-riding rodeo, crawled through dirt in an obstacle course and entered a burning building with firefighters, AP's Summer Ballentine and Margaret Stafford report:
"The 43-year-old Greitens — the nation's second-youngest state executive [New Hampshire's Chris Sununu is 7 months younger] — revels in the attention, posting videos of his action adventures on Facebook."
"In one feat of strength, Greitens visited an indoor rock climbing business and easily scaled two walls as media cameras rolled. Greitens was at the veteran-owned business to announce an initiative to eliminate all start-up business fees for veterans in Missouri."
"Other exploits include leading runs with military members [and] climbing 110 flights of stairs in memory of 9/11."
"He was a boxer in college and has a black belt in Taekwondo. A former Navy SEAL officer, he was once chlorine-gassed in a suicide bomb attack in Iraq. He returned to service three days later."
"Greitens was elected in 2016 with no prior experience in public office. He typically wakes up between 5 and 6 a.m. to run on local trails or do strength training at the Missouri State Highway Patrol gym."
Go deeper: St. Louis Post-Dispatch, "Greitens has cultivated a hard-charging persona in office, but his policy record is a mixed bag."