https://www.axios.com/newsletters/axios-am-730017fb-8f0a-4196-99c4-a27a2595239c.html?chunk=0#story0
1 big thing: Trump team's legal maneuvering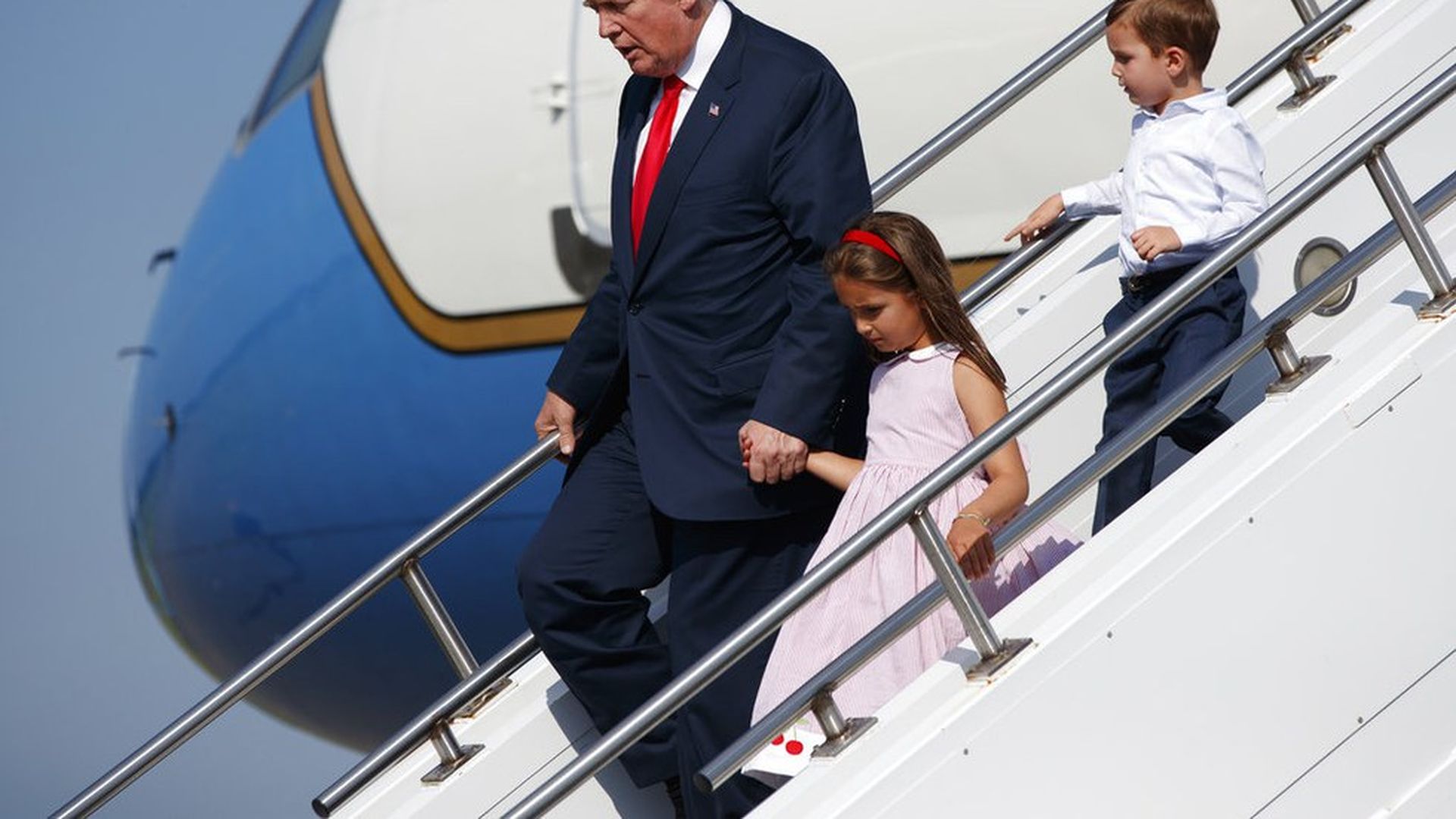 After a couple of months of bombast, lawyers and spokespeople for President Trump appear to be trying to lower the temperature on the Russia investigation — talking more respectfully about special counsel Bob Mueller, laying off Attorney General Sessions, and making noises about cooperation:
Lawyers watching the case closely found it a telling change of tone when the new White House special counsel, Ty Cobb, told Politico he has "a very respectful and professional relationship with Bob Mueller. I think very highly of him."
On one key Russia-related question, Trump's teams moved from outright denial to the more sustainable position that the president did nothing wrong.
Trump's reps went from saying he played no role in preparing Don Jr.'s misleading statement about the purpose of his Trump Tower meeting with a Russian lawyer, to saying that the president helped "as any father would" — but was acting on only "limited information."
Trump advisers contend that no one lied, and say their approach has always been to focus on what was "perfectly legal."
Jay Sekulow, a member of Trump's legal team, tells Axios: "There's no message change here. It's just as issues develop, we respond to them within the context of what you can discuss and what you can't. As an issue comes up, you examine that in the context of an overall inquiry."
Outside experts say the shift is both revealing and necessary:
Robert Bauer — a top Democratic lawyer who has written extensively about the Russia probe from his perch at NYU Law School, where he now teaches political law and splits time with his D.C. practice — said Trump lawyers are "in somewhat of a retreat following disclosures in the press."
Bauer: "First the line was that he knew nothing at all; now it is that he had limited knowledge. The former position did not hold under pressure and the latter only raises the question: 'What did he know and when did he know it?'"
Matt Miller, an MSNBC contributor and former Obama Justice Department official: "They have to tell the truth not just because it's the right legal strategy, ... but also because [lying] makes the legal situation worse."
Be smart: Whatever his lawyers and spokespeople say, what will matter is what Trump says — and he has shown he's willing to change course with any whim or tweet.
https://www.axios.com/newsletters/axios-am-730017fb-8f0a-4196-99c4-a27a2595239c.html?chunk=1#story1
2. Talker: Wall Street fines tumble
"Wall Street regulators have imposed far lower penalties in the first six months of Donald Trump's presidency than they did during the first six months of 2016," according to a Wall Street Journal front-pager sure to (rightfully so) become an instant talking point for Dems:
A more "business-friendly stance at regulatory agencies in the Trump administration is one of several reasons ... Other factors include delays resulting from the change in administrations and the winding down of cases from the financial crisis."
Why it matters: Regulators are "on track for the lowest annual level of fines since at least 2010."
"Penalties levied against firms and individuals by the Securities and Exchange Commission, the Commodity Futures Trading Commission and the Financial Industry Regulatory Authority in the first half of 2017 were down nearly two-thirds compared with the first half of 2016."
"Fines of $489 million in the first half of 2017 compared with $1.4 billion in the 2016 period."
P.S. Glass half full ... Lead story of Financial Times: "Financial institutions have paid more than $150bn in fines in the US relating to the credit crisis, passing a significant milestone a decade after it became clear American subprime woes had become a global problem." (Subscription)
https://www.axios.com/newsletters/axios-am-730017fb-8f0a-4196-99c4-a27a2595239c.html?chunk=2#story2
3. Consumer confidence declines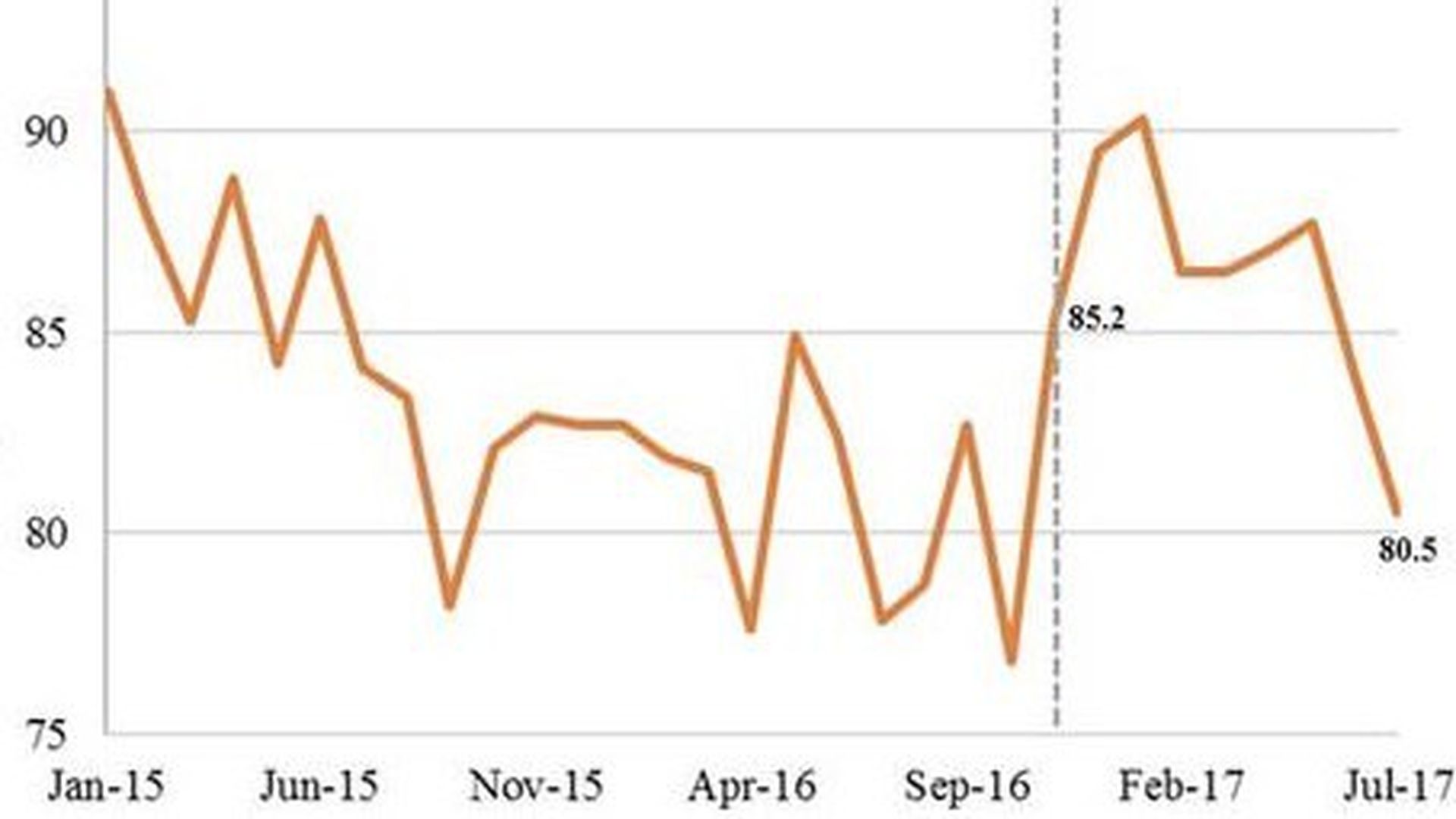 Steve Rattner puts Trump economic claims in context with a clicky series of his famous charts for MSNBC's "Morning Joe." This one caught our eye:
"Trump has talked a lot about a resurgence of confidence. And it's true that several measures of optimism – particularly among business, which would be the principal beneficiary of his policies — turned up after his election. But at least one key measure — consumer expectations — has been dropping since February (along with his public opinion approval ratings.)"
https://www.axios.com/newsletters/axios-am-730017fb-8f0a-4196-99c4-a27a2595239c.html?chunk=3#story3
4. Diversity debate divides Silicon Valley
"Despite a veneer of California cool, the sharp dichotomy between progressive and conservative voices nation-wide is just as present in Silicon Valley as anywhere else," USA Today's Elizabeth Weise and Jon Swartz write from S.F. in the paper's banner story:
"In an area where embracing diversity is seen as a social good, the debate often takes place offline or behind closed doors. But it crashed out into the open Saturday with the release of an online manifesto, 'Google's Ideological Echo Chamber,' [by] an unnamed male Google software engineer."
"The author contends women don't make up 50% of the company's tech and leadership positions because of differences in their preferences and abilities, not sexism."
Recode executive editor Kara Swisher has the full texts of Google's response and the original doc: "Google recently announced a new head of diversity, just as it has had to deal with a controversial 3,000-word internal memo sent across the company by an employee."
"It contains a series of what I can only describe as sexist twaddle, wrapped in the undeserved protection of free speech. (Hey bros who don't agree, that's just my opinion, so you'll have to take it because ... First Amendment and all!)"
https://www.axios.com/newsletters/axios-am-730017fb-8f0a-4196-99c4-a27a2595239c.html?chunk=4#story4
5. Inside Tesla 3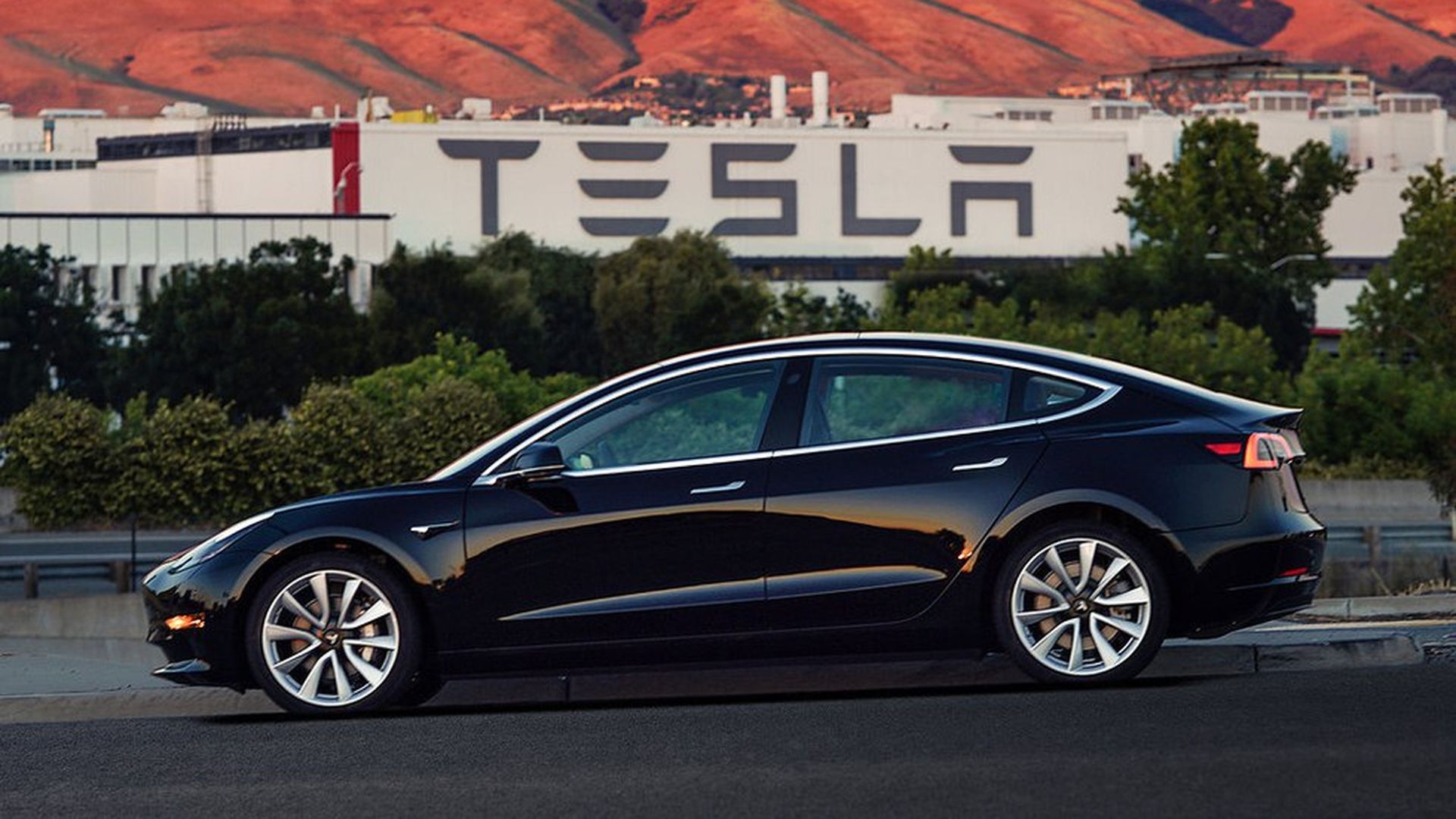 Tesla's mainstream electric Model 3 appears to be powered by a battery about 11% smaller than the tiniest offered for its showcase luxury Model S, according to Axios Future Editor Steve Levine, who wrote the book on the role of batteries in geopolitics ("Powerhouse: America, China, and the Great Battery War"):
At a time researchers around the world are attempting to discover a breakthrough super-battery to bring electric cars to the masses, there is unusual interest in every detail about the $35,000 Model 3, launched July 28.
Tesla and CEO Elon Musk have been all-but silent about the battery, the car's most important spec.
Why it matters: The smaller battery reduces the weight and price of the car, which is Musk's goal in attempting to create a big-selling mainstream electric.
https://www.axios.com/newsletters/axios-am-730017fb-8f0a-4196-99c4-a27a2595239c.html?chunk=5#story5
6. Quote/stat du jour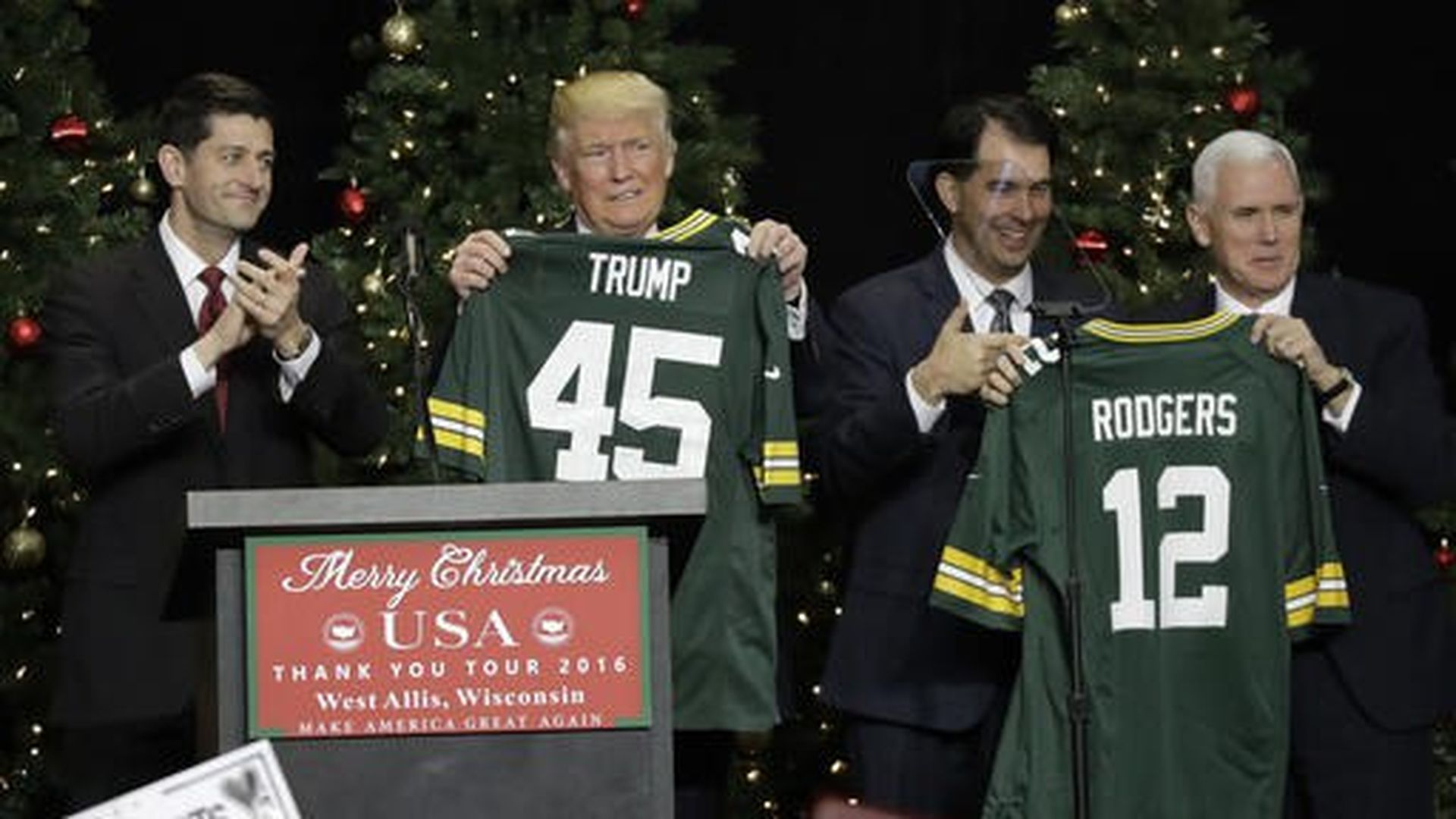 Speaker Paul Ryan, sensing angst back home in Wisconsin, to AP, re passing legislation, with tax reform as the top priority:
"This is the third time in 100 years we've had this alignment of government ... [W]e've got to get it done or else [I'm] really worried our country will continue down a bad path."
https://www.axios.com/newsletters/axios-am-730017fb-8f0a-4196-99c4-a27a2595239c.html?chunk=6#story6
7. "The world's most feared investor"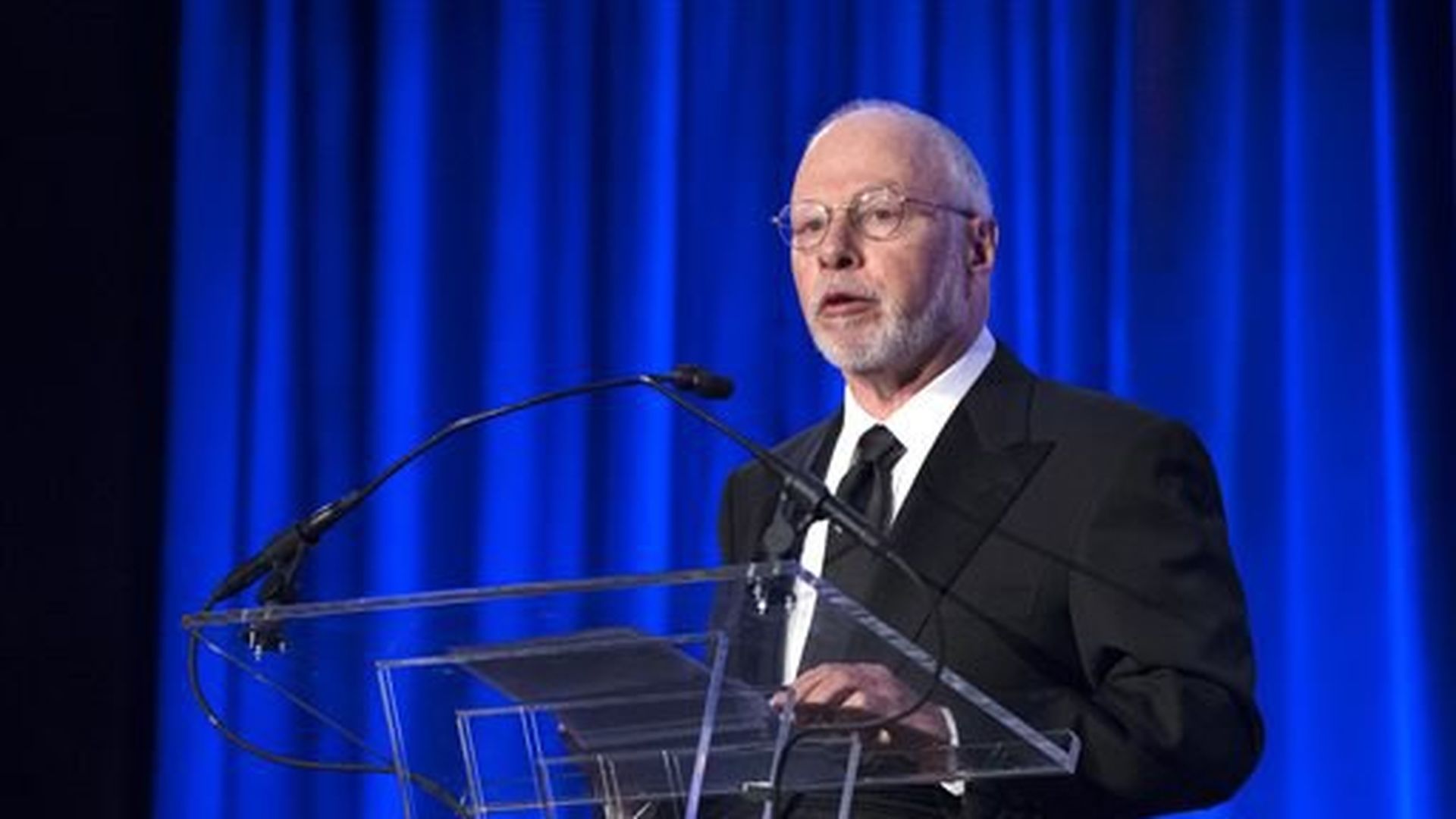 Bloomberg charts the rise of an activist investor who "doesn't worry about his tough reputation. He sees it as a selling point":
"Aggressive, tenacious and litigious, ... Paul Singer may be the most feared activist investor in the world — by hedge fund rivals, companies and even countries."
"Singer's Elliott Management Corp. ... has targeted the world's biggest mining company, taken on Warren Buffett in a battle for Texas's largest electricity distributor, ousted chief executive officers on both sides of the Atlantic and set off a chain of events that led to the impeachment of South Korea's president."
Why it matters: "He started with just $1.3 million from family and friends in 1977, and the fund's investments in equity and debt have since led to at least $93 billion in corporate asset sales and share buybacks."
https://www.axios.com/newsletters/axios-am-730017fb-8f0a-4196-99c4-a27a2595239c.html?chunk=7#story7
8. Gyrations ahead in "boring" market
"As central banks start to wean markets off the stimulus they've injected into the global economy, many money managers say they're preparing for a bumpier ride ahead," AP's Stan Choe writes in a story calling this the "most boring market in decades":
"Seemingly every day, stocks have drifted by just a few tenths of a percent in a lazy ascent to new heights."
"The last time stocks sailed through such an uneventful first seven months was ... 1972. Broaden the scope to include when the S&P 500 fell or rose by 1 percent in a day, and this could be the least volatile year for stocks since 1964."
"Stocks are pricier, which raises the risk. ... If central banks aren't the trigger to reawaken market volatility, analysts say it could be anything that comes as a big surprise to investors, such as a natural disaster, international conflict or unexpected drop in corporate profits."
Why it matters: "Investors fortunate enough to be in the market have enjoyed all the upside of owning stocks with almost none of the traditional downside."
https://www.axios.com/newsletters/axios-am-730017fb-8f0a-4196-99c4-a27a2595239c.html?chunk=8#story8
9. Remember Warsaw Pact?
The former alliance of Soviet satellites is name-checked in the fourth graf of this big-art story at the top of the N.Y. Times front page, "U.S. Army Dusts Off Cold War-Era Playbook," by Eric Schmitt at the Novo Selo Training Range, a major base in Bulgaria used by NATO nations:
"After more than a decade spent fighting Islamic insurgents in Iraq and Afghanistan, the United States Army is scrambling to relearn Cold War-era skills to confront potential threats from Russia here in Eastern Europe, territory formerly defended by the Soviet Army."
"A 10-day exercise last month involving 25,000 American and allied forces spread across three former Warsaw Pact countries — Hungary, Romania and Bulgaria — offered a window into how a generation of senior Army commanders are rehearsing updated tactics and strategies once used to counter Soviet troops, tanks and artillery, including nighttime aerial assaults by hundreds of paratroopers."
"The commanders are training a younger force that has mainly faced shadowy terrorist foes in the Middle East and Southwest Asia since the attacks on Sept. 11, 2001."
N.Y. Times Quote of the Day ... Lt. Gen. Frederick B. Hodges, head of United States Army forces in Europe, on Putin: "He's going to be around for a long time. He's coup-proof."
https://www.axios.com/newsletters/axios-am-730017fb-8f0a-4196-99c4-a27a2595239c.html?chunk=9#story9
10. 1 fun thing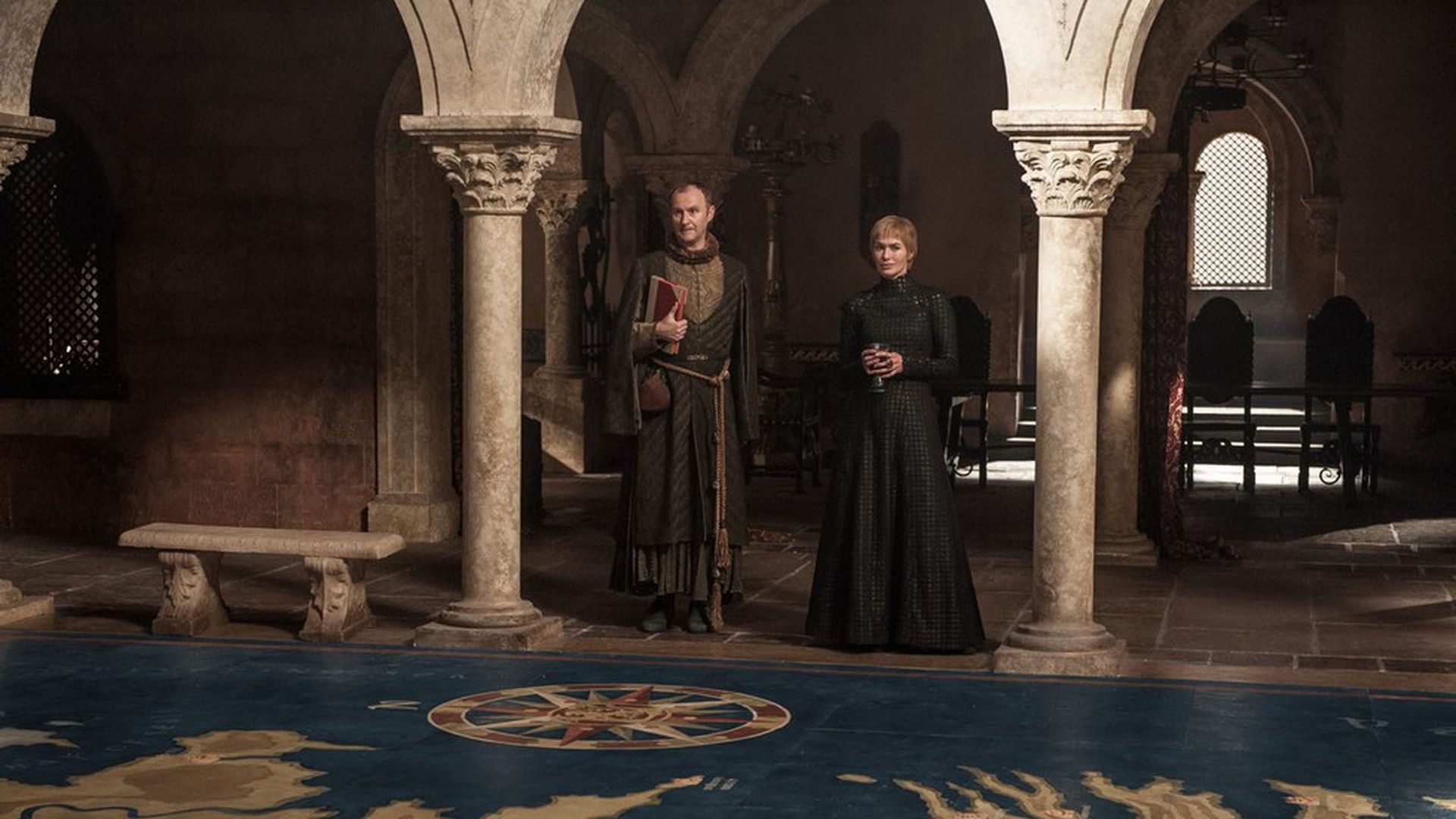 "Don't watch 'Game of Thrones'? Mondays can be irritating" — From WashPost Style front, by Maia Silber:
Many workers have long felt excluded when office chatter turns to sports they don't follow. But now it's the competition for the Iron Throne, not the Super Bowl ...
While popular TV shows are often topics of conversation in the workplace, "Game of Thrones" seems to hit a sweet spot: It has high ratings, the past two Emmys for best drama and a complex plot that inspires endless conspiracy theories, plus it airs in the summer, when there's not much else on. So with every conversation revolving around the goings-on of Westeros, those who don't watch "Game of Thrones" are left out of the loop. ...
Modupeh Jahamaliah wears headphones Monday mornings, when her colleagues at the D.C. public relations firm Kglobal rehash the previous night's plot twists. ... HBO's blockbuster series has shattered records — with 16.1 million viewers across platforms, this season's first episode was the most-watched season premiere in HBO history.
Get with it! Recap of last night's Season 7, Episode 4: "The Spoils of War."