December 30, 2018
😎 Good Sunday morning from Miami Beach. It's New Year's Eve eve.
🏈 The University of Alabama Crimson Tide will meet the Clemson Tigers of South Carolina in the college football championship Jan. 7 at Levi's Stadium in Santa Clara, in Silicon Valley.
1 big thing: Capitalism's comeuppance
One of the most important trends likely to drive the 2020 presidential race: A growing disillusion with capitalism as practiced, and a coming struggle over how to recast this pillar of the Western order, Axios future editor Steve LeVine writes.
You could hardly challenge a more basic part of who we are as Americans and Westerners. 
Polling shows a rising number of young Americans prefer socialism to capitalism.
Gallup found this summer: "Americans aged 18 to 29 are as positive about socialism (51%) as they are about capitalism (45%)."
That's "a 12-point decline in young adults' positive views of capitalism in just the past two years and a marked shift since 2010, when 68% viewed it positively."
Why it matters: The main messengers of this coming steamroller are nowhere near the fringe. They're mainstream thinkers with ideas like, "We must rethink the purpose of the corporation" and "The crisis of democratic capitalism" (both from Financial Times columnist Martin Wolf).
The thinking is captured in a clutch of must-read new books by Paul Collier, Jonathan Tepper and Oren Cass; and a growing body of academic papers in the U.S. and Europe. 
What they are mostly doing is connecting the dots of what we all realize by now: Flaws in the system — including forgetting about so much of society — are largely to blame for widespread disaffection with establishment institutions, leaders and answers. 
The evidence of something profoundly amiss is visible in: 
Almost four decades of largely flat wages for the vast majority of workers.
Four decades of meager productivity gains.
An anemic number of new startups, and relatively few IPOs.
If you remember one thing: All that bigness that you see around you — outsized cities, companies and individuals gobbling up most of the economic pie — is not normal.
For the economic system to become more inclusive, competitive, and deliver for more people, some or a lot of that bigness may have to be broken up. 
Axios' Felix Salmon notes: The past four decades have seen massive global increases in wealth and income and productivity, thanks almost entirely to capitalism. (Look where South Korea was 40 years ago!)
So flattened wages in the U.S. reflects the way the benefits of capitalism wound up getting spread across the globe, rather than being concentrated in the West.
This does, of course, explain the disaffection in the West.
What's next: In the U.S., look for this trend to be a primary battleground among Democratic presidential candidates in 2020. Each of the political parties is likely to promise that it can best reformulate the system to deliver for the vast number of Americans.   
Axios' Dan Primack points out that this could be the dividing line in the Democratic primary: A pretty hardcore group that believes that even Sen. Elizabeth Warren is too capitalist (because she wants to reform, not replace).
Be smart: Innovative Republican candidates will also reach for many of the same issues and solutions, rather than the GOP orthodoxy of old.
2. "To be honest, it's not a wall"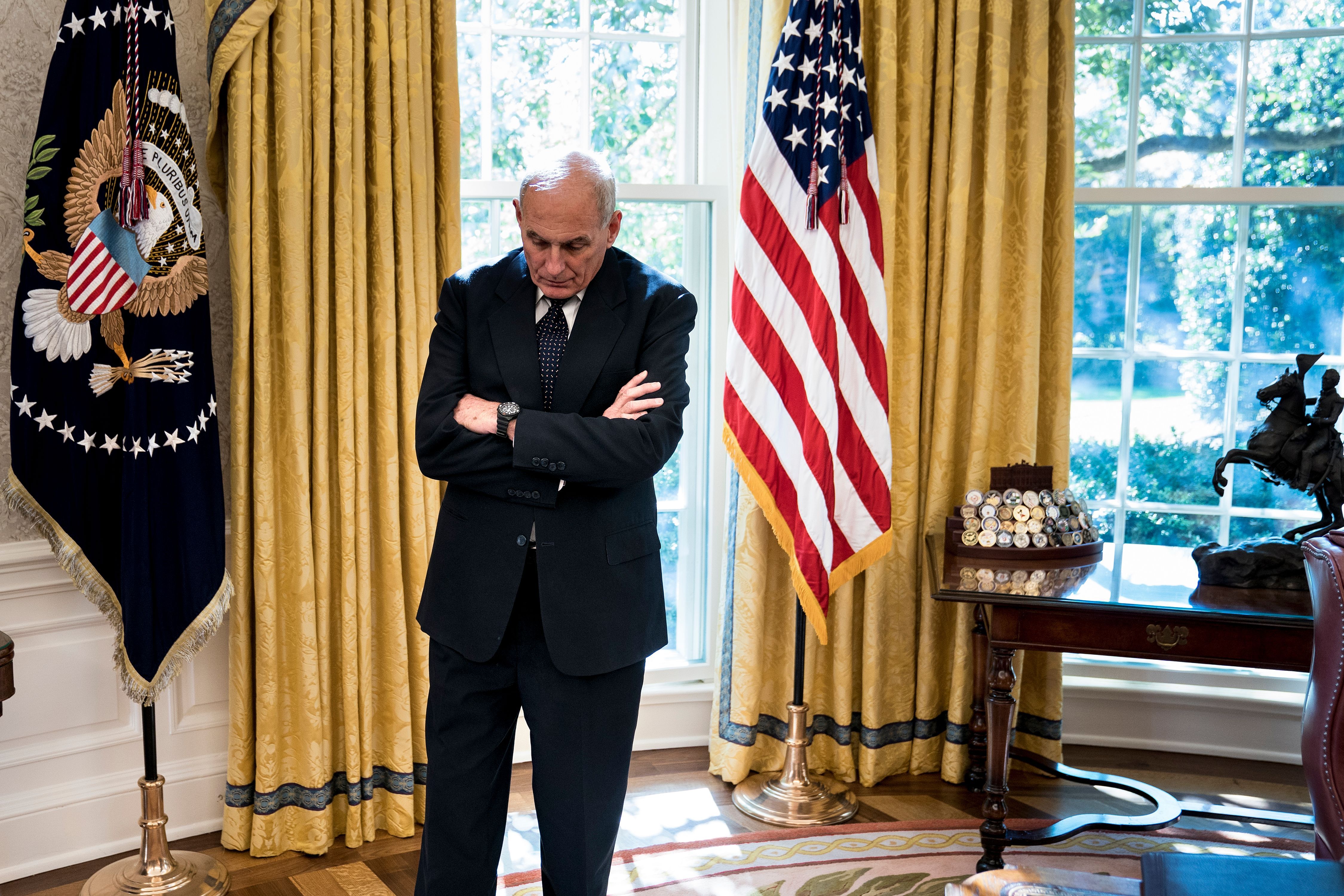 In an exit interview with the L.A. Times, White House chief of staff John Kelly argued that his tenure is "best measured by what the president did not do when Kelly was at his side," including a hasty withdrawal from Afghanistan, immigration and security reporter Molly O'Toole writes.
"Trump sometimes pressed his advisors on the limits of his authority under the law, often asking Kelly, 'Why can't we do it this way?' But Trump never ordered him to do anything illegal, Kelly stressed."
Kelly leaves Wednesday after 17 months in the West Wing.
And about that wall? "To be honest, it's not a wall," Kelly said.
"When Kelly [became] Homeland Security [secretary] in early 2017, one of his first steps was to seek advice from those who 'actually secure the border,' Customs and Border Protection agents who Kelly calls 'salt-of-the-earth, Joe-Six-Pack folks.'"
"They said, 'Well we need a physical barrier in certain places, we need technology across the board, and we need more people.'"
Kelly added: "The president still says 'wall' — [increasingly] he'll say 'barrier' or 'fencing,' now he's tended toward steel slats."
"But we [abandoned the idea of] a solid concrete wall early on in the administration, when we asked people what they needed and where they needed it."
"Asked if there is a security crisis at the Southern border, or whether Trump has drummed up fears of a migrant 'invasion' for political reasons, Kelly did not answer directly, but said, 'We do have an immigration problem.'"
3. Rabbit ears make comeback with cord-cutters
A "growing number of consumers ... are turning to over-the-air digital antennas — a one-time investment of as little as $20 — as a way to slash their monthly video subscription costs," the L.A. Times' Steve Battaglio writes:
"Research firms and electronics manufacturers say cord-cutting consumers ... have driven up TV antenna sales and usage in recent years."
"These 'value-conscious streamers,' as they are known in the industry, are willing to cobble together a mosaic of video sources to replace the traditional pay TV bundle, which now costs an average of $107 a month."
"This year, 8.1 million over-the-air TV antennas will be delivered to retailers in the U.S., up 2% from last year and 8% over 2016."
Bonus: Pics du jour
What a country ... Seagulls fly around the Statue of Liberty at sunrise yesterday, as seen from Liberty State Park in Jersey City, N.J.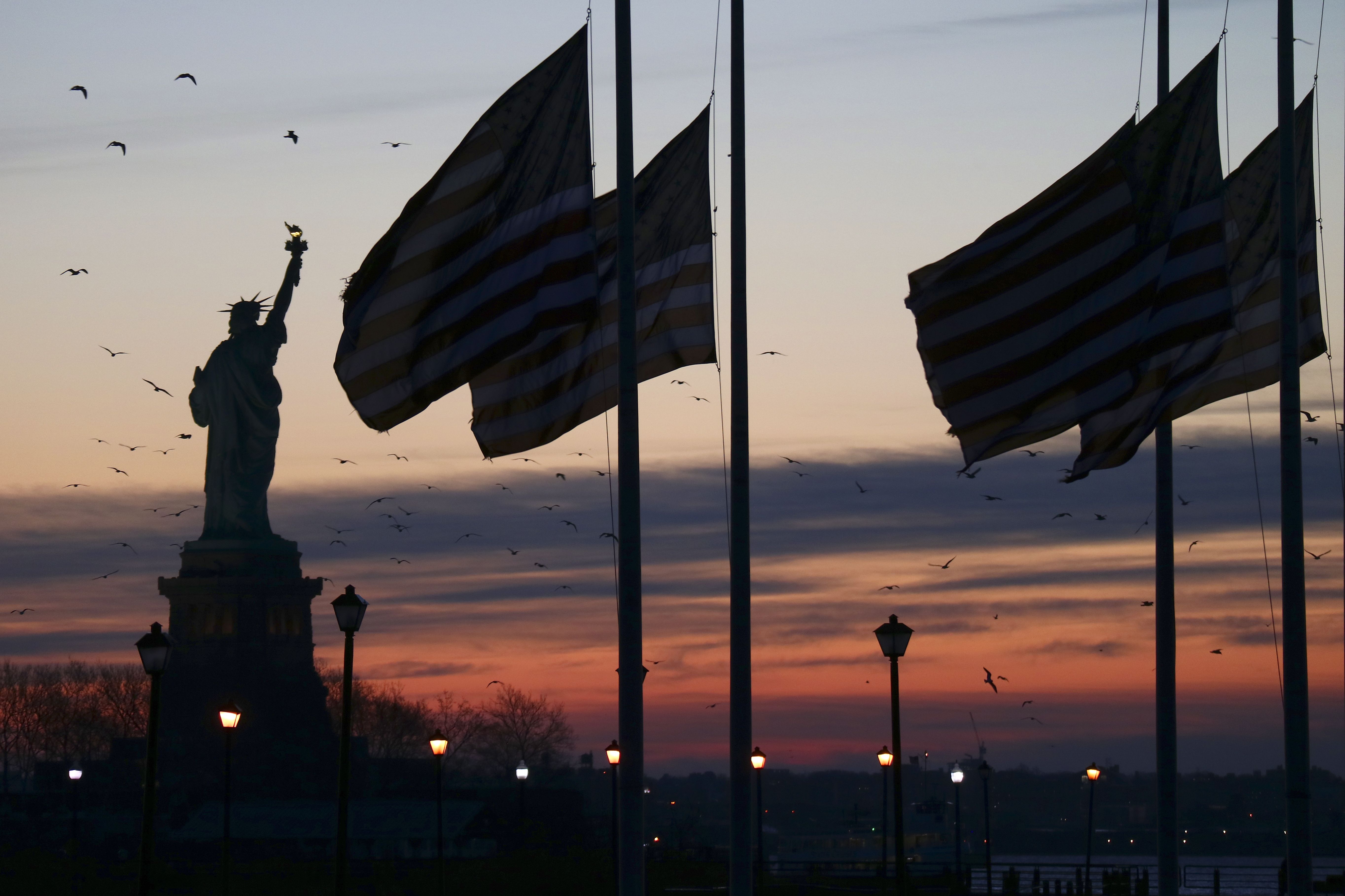 Below, the sun sets on the skyline of lower Manhattan and One World Trade Center yesterday, as seen from Hoboken, N.J.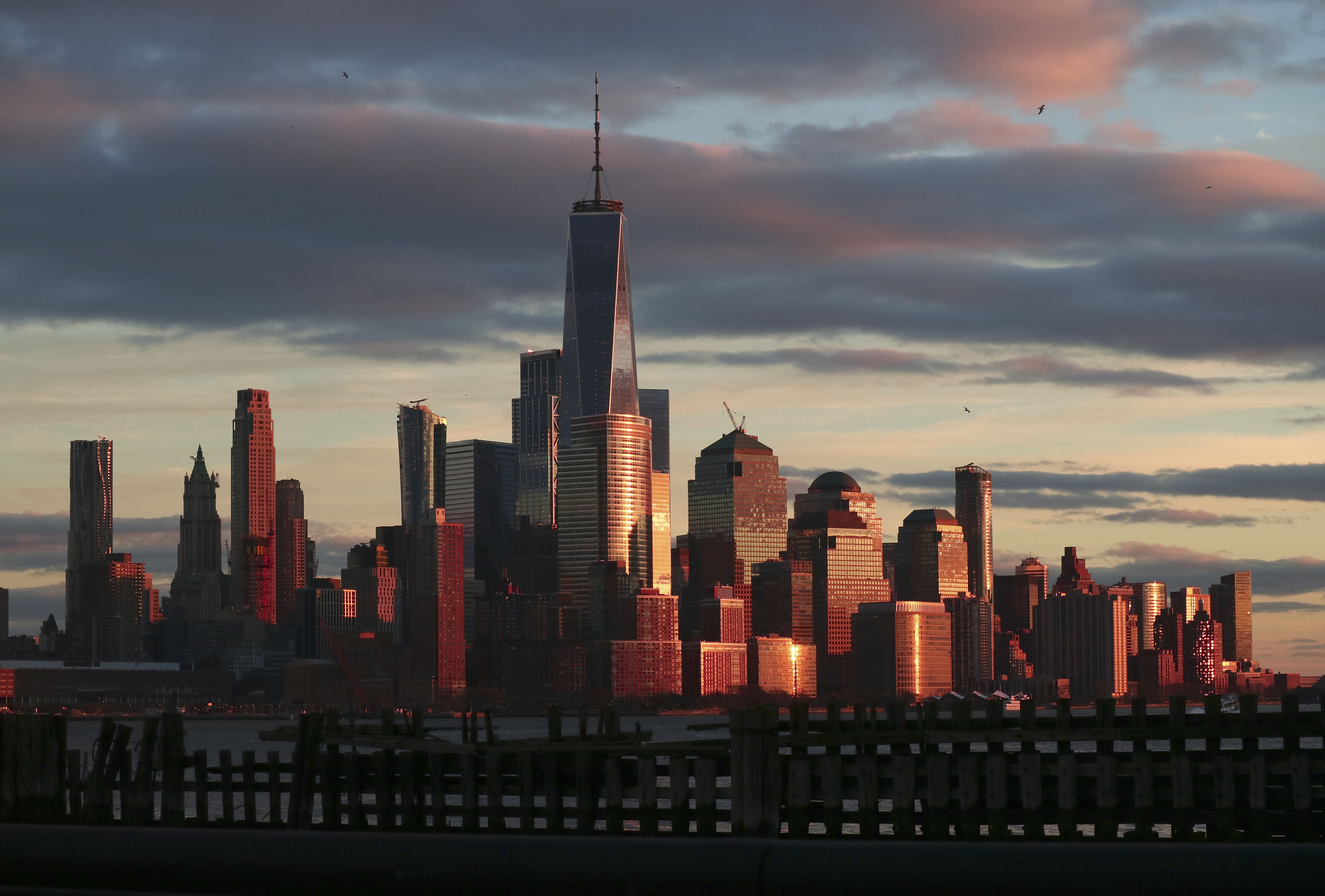 4. Sign of the times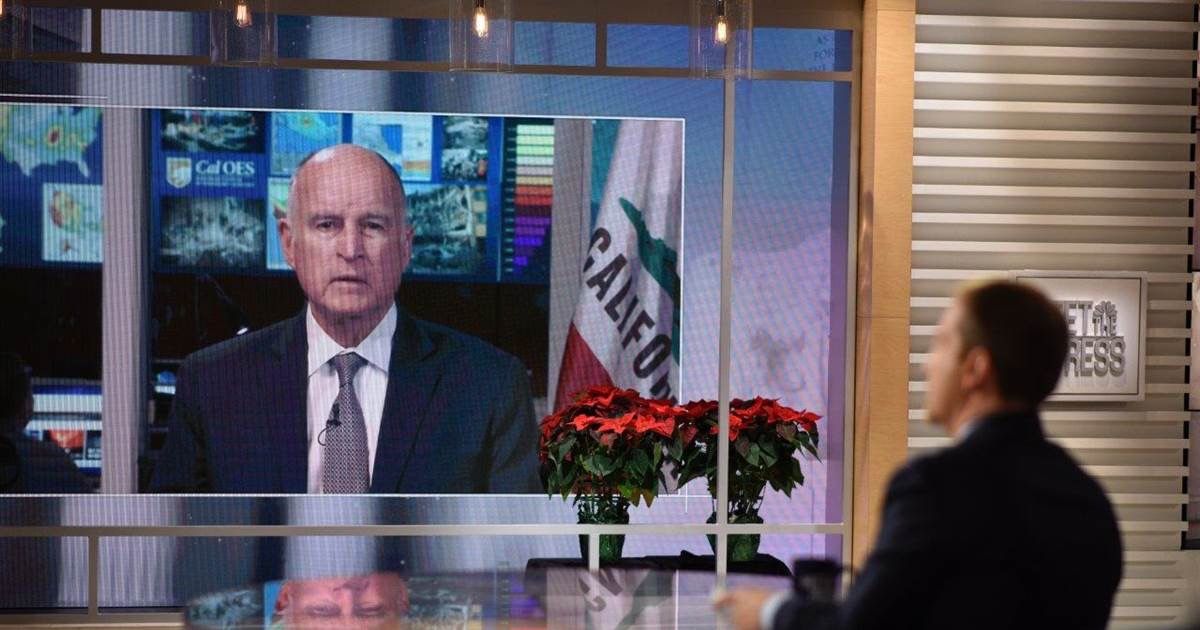 NBC devoted the full hour "Meet the Press" to climate change.
Why it matters, from Axios' Ben Geman: It's a rare star turn for climate change on the Sunday shows, and a sign of growing prominence for a topic that's typically a second-tier focus in national elections and on Capitol Hill.
Moderator Chuck Todd said in his opening:
"We're not going to debate climate change, the existence of it. The Earth is getting hotter. And human activity is a major cause, period. We're not going to give time to climate deniers. The science is settled, even if political opinion is not."
Disclosure: NBC is an investor in Axios.
⚡Breaking, from Amy Harder: "TerraPower, a nuclear-energy company founded by Bill Gates, is unlikely to follow through on building a demonstration reactor in China, due largely to the Trump administration's crackdown on the country.
In a year-end blog post, Gates said: "We had hoped to build a pilot project in China, but recent policy changes here in the U.S. have made that unlikely."
Why it matters: This is a blow to America's attempts to commercialize advanced, smaller scale nuclear technology.
5. Touché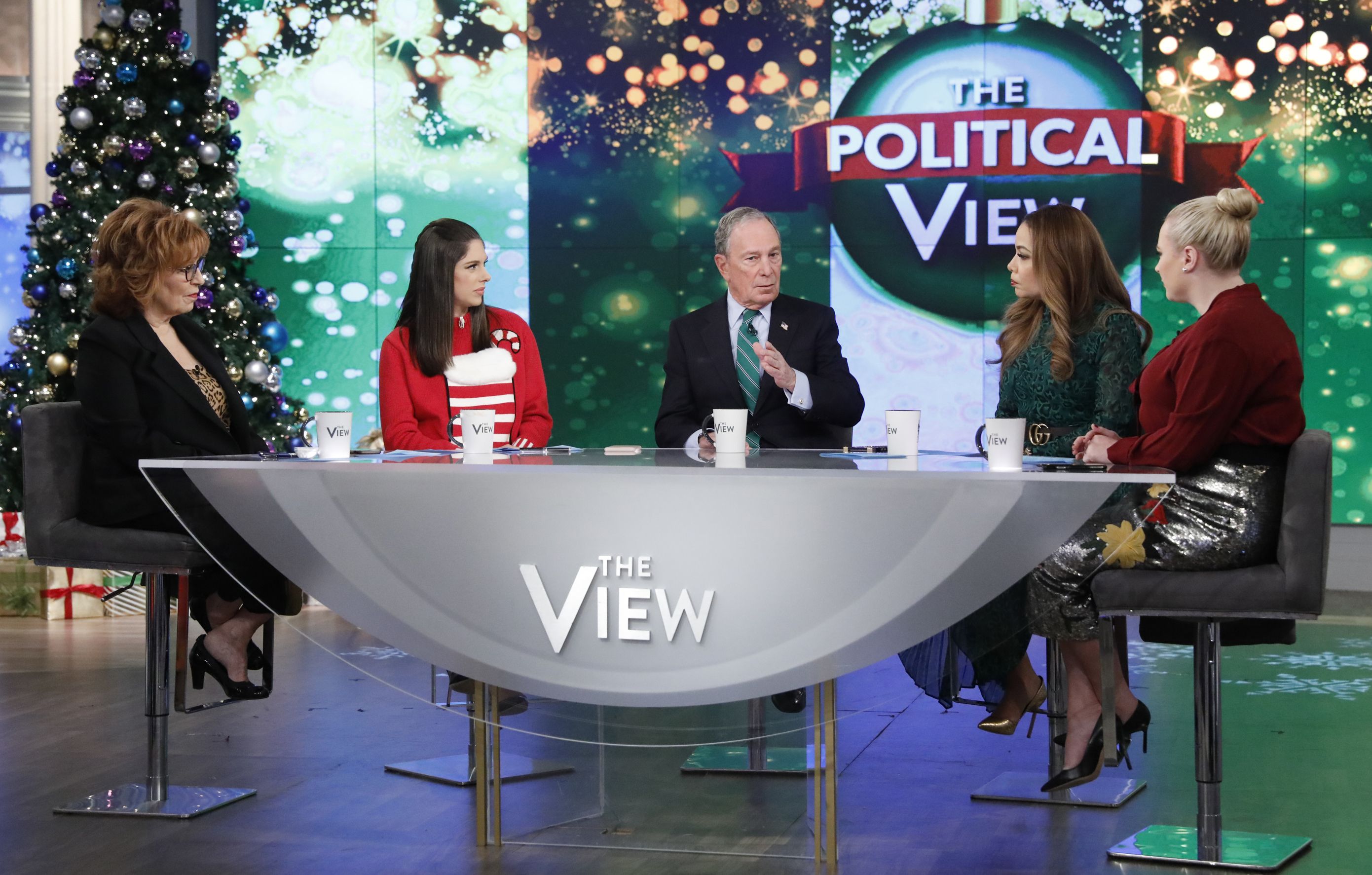 A Wall Street Journal editorial: "[O]ur choice for the most amusing [2020] headline so far comes from our friends at CNBC: ... 'Mike Bloomberg prepared to spend at least $100 million on a 2020 campaign for president if he decides to run.'"
"Is that all? Mr. Bloomberg spent more than $100 million on his last race for mayor of New York. He spent another $100 million or so trying to elect Democrats to Congress this year. He has a net worth in the tens of billions of dollars from his ownership of Bloomberg L.P., and $100 million could amount to his monthly income."
"Our guess is that, if he does run for the Democratic nomination, he is likely to spend closer to $500 million or perhaps $1 billion."
"If someone asks you to bet on how much Mr. Bloomberg will spend if he does run for President, take the over.
The body of the CNBC post said "well over" $100 million.
Howard Wolfson was quoted as saying: "Mike spent more than $100 million in his last mayor's race. Last time I looked NYC is a fraction of the size of the country as a whole."
6. 1 fun thing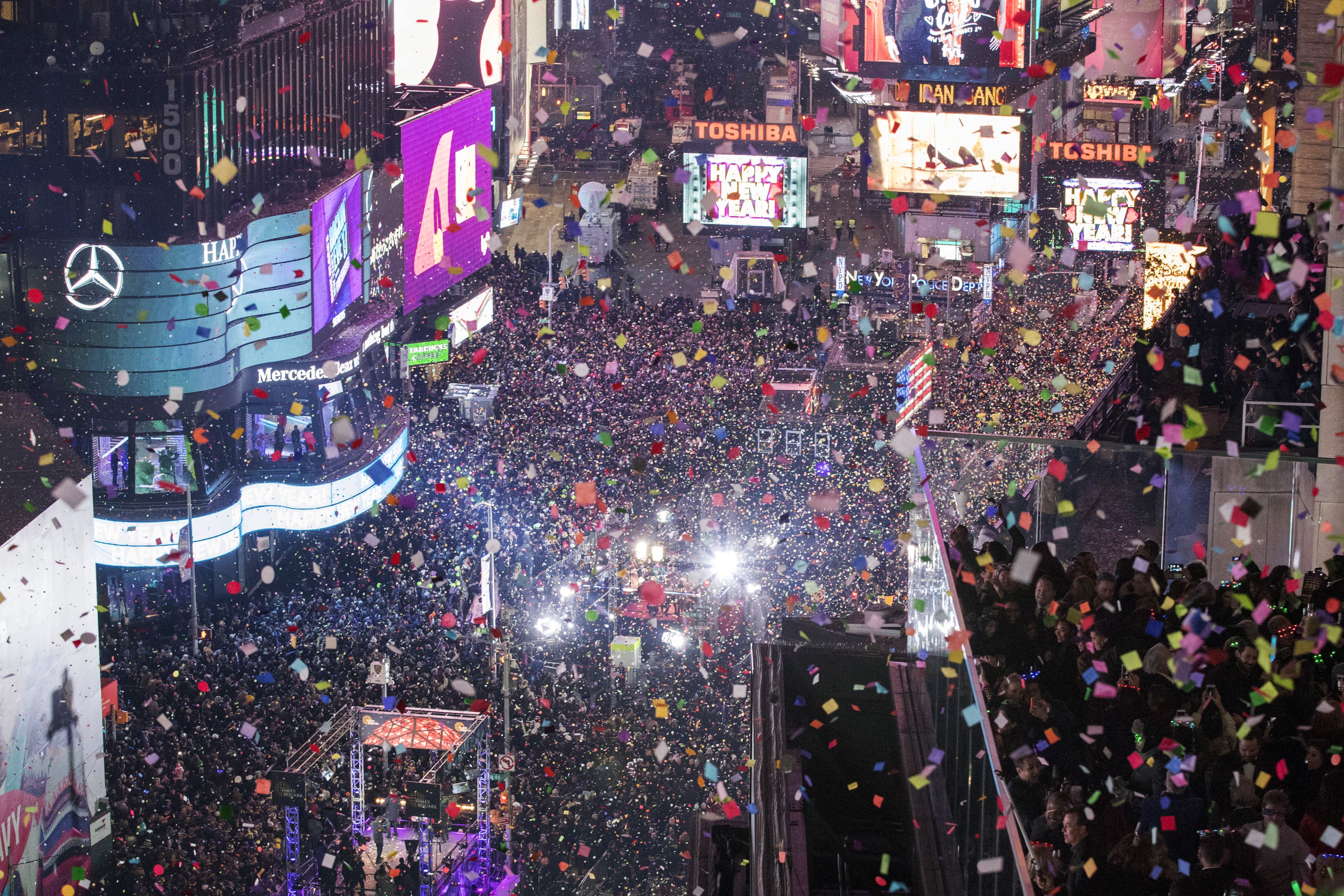 Crowd-size experts scoff at the mammoth estimates — 1 million or 2 million — for the number of people in Times Square on New Year's Eve that are floated annually by city officials and event organizers, AP's Mike Sisak reports:
Even if those people were really skinny.
"The real Times Square ball drop crowd likely has fewer than 100,000 people, crowd science professor G. Keith Still said.
"Generally, people are overestimating crowd sizes by 10- to 100-fold," said Still, who teaches crowd science at Manchester Metropolitan University in England and trains police departments on techniques to calculate crowd sizes."
In recent years, the NYPD estimated that 2 million people had packed into Times Square.
Mayor Bill de Blasio used a big number again Friday, saying the city expected "up to 2 million people in Times Square itself," a bow-tie-shaped zone running five blocks between Broadway and 7th Avenue.
"To actually fit 1 million revelers, the city would have to jam more than the equivalent of a sold-out Yankee Stadium on every block of 7th Avenue between Times Square and Central Park — which starts about 15 blocks to the north."
Where it started: "As late as 1998, the police department was estimating that roughly 500,000 people attended. But for the millennium bash at the close of 1999, Mayor Rudolph Giuliani predicted as many as 2 million."
New York manages the throngs well, funneling revelers into 65 penned off areas, so there's no opportunity for overcrowding.
P.S. Organizers of Times Square New Year's Eve announced that journalists representing the Committee to Protect Journalists will appear onstage to push the crystal button that signals the lowering of the Waterford crystal ball.
The manifest: Karen Attiah of The Washington Post, Rebecca Blumenstein of The New York Times, CNN's Alisyn Camerota, CBS's Vladimir Duthiers, TIME's Edward Felsenthal, NBC's Lester Holt, The Wall Street Journal's Matt Murray, ABC's Martha Raddatz, Maria Ressa of Rappler (social news network in the Philippines), Fox's Jon Scott and Bloomberg's Karen Toulon.