Axios AM
January 18, 2017
Welcome to Axios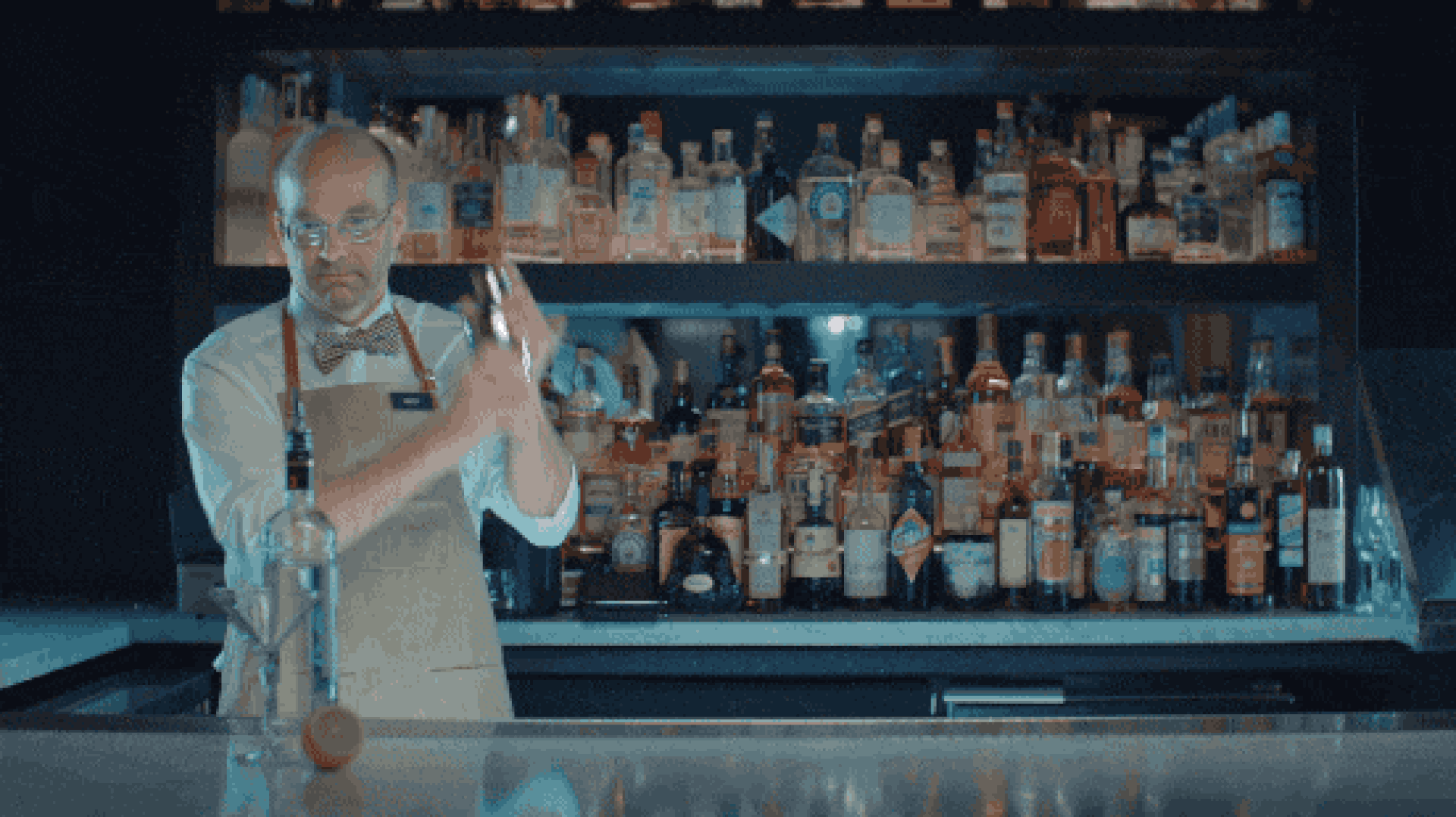 Good Wednesday morning, and welcome to Axios, the next great media company. That GIF is me — bartending in the old-fashioned way, then in the future. After months of quiet work as we built a staff of 50+, Axios — "worthy," in Greek — is live. Click over here to check out our STREAM — a clever, efficient, modern way to quickly get smart on business, tech, media trends and politics.
Everything in our stream is expressed in one screen, and we'll signal you when it's worthy of your time to go deeper. We've reinvented content delivery for the smartest readers, and we'll keep refining and expanding — CEO Jim VandeHei calls Axios "a rolling R&D lab."
And now each item in Axios AM can be shared and saved -- see the tools at the end of each entry. I'd love your thoughts: Just hit "reply" on this newsletter, or drop me a note here. This is the start of something big — thanks for being here on Day 1.
​1 big thing: Interviewing Trump
Jim and I interviewed Trump at the Tower yesterday, talking about everything from Syria to Facebook to whether it's ever OK to lie. Click over to the STREAM for our piece, "Reality bites: Trump's wake-up call."
What we learned: On Twitter and in public, Trump remains an uncompromising mix of bluster and bombast. Behind the scenes, he's confronting, and in some cases succumbing (slightly) to, the hard truths of governing and leading a world that hangs on his every word.
We expected the emphatic showman who was on display through the campaign, and as recently as last week's press conference. Instead, we found …
(At the same link, you'll learn how Trump likes to be briefed — and we finish with a Funny Moment.)
More Trump ...
"You know, I'm not really a divisive figure."
"I'm not asking you guys to admit it, but .. in the history of politics, there's nobody that has been treated worse by the press than I have."
"You know, I have always gotten more press than anybody. … I mean, before I ever did this, when I did 'The Apprentice,' when I was a real estate developer, you know, I've always, for whatever reason, gotten — not because I worked at it."
"My whole theme is — and you'll hear that on Friday: America first."
"Right now, Facebook is very powerful. … I have millions of followers on Facebook. …. I'll soon have 50 million between Facebook, Twitter, and--and Instagram and whatever else. … Now, I think that you'll probably have new Facebooks starting up. I'm all for that. You'll have people challenging, people coming up with new ideas."
​2. Inside the Tower
Scoop … Numerous sources tell us that Robert Kimmitt — who was deputy Treasury secretary for George W. Bush, and Under Secretary of State for Political Affairs for George H.W. Bush — is at the top of the list to be Rex Tillerson's deputy secretary of State.
Looks like Trump is adding to his Goldman cast, bringing the alumni total in the administration to six: Jim Donovan, a partner, is the front-runner to be Donald Trump's pick for undersecretary of domestic finance
More "reality bites" ... WSJ lead story, "Dollar Sinks As Trump Talks It Down": "The dollar tumbled to its lowest level in a month after Donald Trump suggested to The Wall Street Journal he favored a weaker dollar, breaking with decades of tradition … The president-elect … described the dollar as 'too strong.' … Trump's criticism in the Journal interview of part of the House Republicans' corporate-tax plan added fuel to the dollar's selloff."
Peter Baker "White House Memo" on N.Y. Times front page, "Trump Enters Office Unbent and Disliked: Lowest Rating Ever For a New President": "Two polls out on Tuesday [CNN, ABC/WP] found … just 40 percent [approval] … [S]hortly after their inaugurations, Mr. Obama was at 68 percent and Mr. Bush was at 57 percent. ... Trump has shown that he intends to lead more through force of personality than through the breadth of his coalition."
​3. Ryan warms to Trump
Speaker Paul Ryan — a skeptic of Trump throughout the campaign — now describes them as friends, albeit "very, very different people": "He used to call me a Boy Scout, which I actually personally took that as a compliment. I'm not sure he meant it that way, but it's something we joke about with each other every now and then."
Ryan told me in an interview this week that his New Year's resolution is "Deliver … I want to be the mailman. My job is to deliver on the reforms and the promises we made in 2016." That means making Trump a winner.
The backstory: Trump insiders tell us the president-elect has developed a better vibe with Ryan than with Senate Majority Leader Mitch McConnell. "I keep explaining to all who listen, the Senate works a little more slowly than the House," Ryan joked. "They use sun dials as watches over there."
​4. 800,000 …
… is the number expected in D.C. for the inauguration -- down from the estimated 1.8 million for Obama's 2009 inauguration. (Washington's destination marketing group, Destination D.C., is expecting 1 million people, when protesters are included.)
​5. How to reach Trump
A WashPost front-page feature, "Trump waits in his tower, isolated but seemingly everywhere," by Ashley Parker and Phil Rucker, notes that the president-elect "does not use email and rarely surfs the Internet, meaning that telephone calls, television appearances or physical proximity are the best ways to reach him": "[H]e answers his personal cellphone, something that acquaintances and colleagues speak of in almost reverential terms. … Trump is resisting his advisers' efforts to take away his cellphone or at least restrict his use of it …
"When Sen. Bob Corker (R-Tenn.) needs to reach Trump, the Foreign Relations Committee chairman does not have to go through an aide or schedule a meeting. He said he simply dials Trump's cellphone directly, and the president-elect answers, even though Corker's number registers as 'No Caller ID.'"
​6. Manning v. Assange
Obama's commutation for Chelsea (née Bradley) Manning — "the Army intelligence analyst convicted of a 2010 leak that revealed American military and diplomatic activities across the world … and brought global prominence to WikiLeaks" — was ironic given the damage Wikileaks later did to the campaign of Hillary Clinton. At a briefing last week, Josh Earnest maintained that Manning's crimes were very different, in scale and consequence, than those of Julian Assange, who's getting no presidential mercy.
Obama now holds the record for presidential commutations. AP's Josh Lederman points out that with his last-minute clemency for Manning and retired Gen. James Cartwright, "Obama appeared to be softening what has been a hard-line approach to prosecuting leakers."
​7. Tops in tech
A Bloomberg features asks, "Can Snapchat's Culture of Secrecy Survive an IPO?": "After Bloomberg News revealed specifics about Snap's offering size and target market valuation of at least $25 billion, Snap executives scolded the IPO's underwriters, assuming the bankers were responsible for the leaks … Snap management threatened to cut some underwriters' fees if confidential information continued to appear in the news without the company's blessing."
More on Snap's Evan-centric culture: "From broad strategy down to the shape of buttons, [CEO Evan] Spiegel has the final say on Snap's moves and will have the majority of the voting control, along with co-founder and Chief Technology Officer Bobby Murphy, after the offering. The company doesn't rely heavily on data to make its decisions, and Spiegel isn't a fan of hiring product managers who do user testing to figure out what will work, said employees."
​8. Davos dope
A WORTHY reality check from AFP, arguing that Davos darling Xi isn't practicing what he preaches: "Chinese experts say [his speech] was distinctly out of tune with an administration that is increasingly closed and hostile to the outside world. … [T]he Chinese president makes for an odd idol: far from welcoming the outside world, he has overseen a sprawling crackdown aimed at rooting out foreign influence in law, academia, civil society, and technology."
​9. Trending in business
Sound smart … From WSJ's "5 things to Watch" on Goldman earnings, out this a.m.: Goldman shares have flirted with an all-time high — $247.92 reached in October 2007 — since the presidential election as investors anticipate laxer financial regulation, lower taxes and pro-growth policies. http://blogs.wsj.com/briefly/2017/01/17/5-things-t...
A rundown from Axios' Christopher Matthews in NYC:
The Trump rally loses steam: The Dow closed at the lowest level of 2017, as investors are starting to lose confidence that the top priorities of the Trump administration are sure bets to boost corporate profits. With the Obamacare repeal taking center stage in Washington, chances of swift action on infrastructure spending and corporate tax reform have come down, along with some of the more optimistic valuations of America's biggest companies.
The Obama administration's last antitrust fight: The FEC said that it was suing Qualcomm, alleging that it unfairly uses its position as a dominant provider of a special type of processor, necessary for cellphone communications, to force its customers to pay higher licensing fees for technology patented by Qualcomm. The suit was filed the day before one of two Democratic appointees to the FTC was set to leave the commission.
10. 1 fun thing
"Is Megyn Kelly the next Matt Lauer?" by Sarah Ellison, on Vanity Fair's The Hive: "NBC is paying Kelly between $15 million and $17 million a year, … far less than the $25 million a year she was offered to stay at Fox News. (She will be eligible for other mechanisms that could increase her compensation) … [S]he will host a weekday show and a Sunday-night newsmagazine. …
"Kelly is still negotiating the timing of her departure from Fox News, … but she is expected to show up at NBC this spring to start work on a show that will likely air in the fall … [An industry insider] noted that Kelly probably makes more than everyone on CBS News's '60 Minutes' combined."
WHAT'D I MISS? Please just reply to this email with your links, rants and tips.