Good Sunday morning. Your phone fell back at 2 a.m. Thank you, phone.
Happiest 🎂 to Autumn Hanna VandeHei, one of the silent co-founders of Axios.
https://www.axios.com/newsletters/axios-am-6b9e00d9-238b-40f8-a81a-5b88a80b45fd.html?chunk=0#story0
1 big thing ... 1-year snapshot: Trump's 2 Americas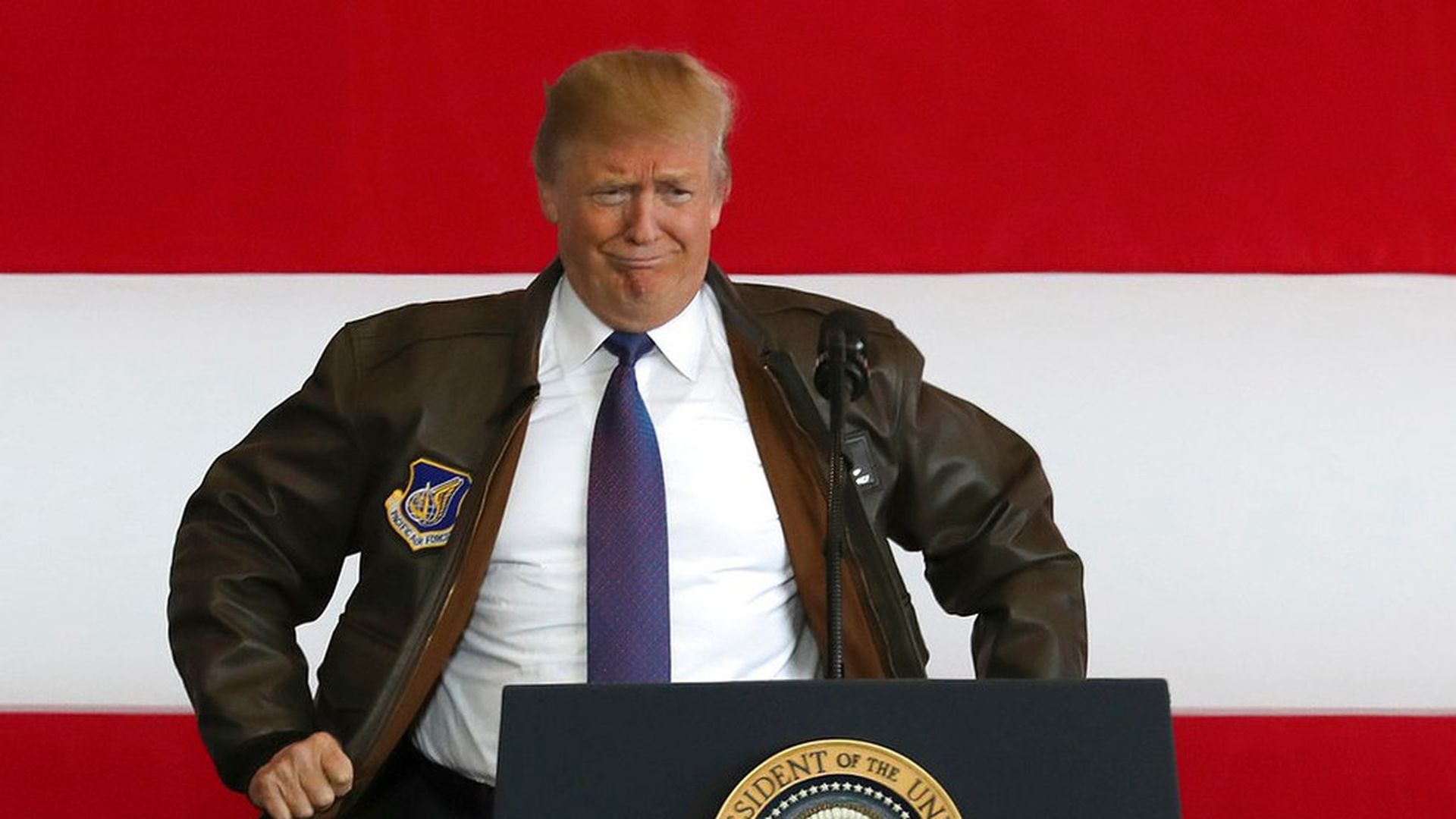 Let's pause to soak in how profoundly President Trump has split America, one year after winning office. Much is said/written about the America that dislikes/disapproves of Trump. Not enough is said/written about how Trump molded his party and nearly 40% of the country in his image.
A Washington Post-ABC News Poll out this morning provides the bleakest of report cards: 65% of Americans say Trump has accomplished "not much" or "little or nothing." This is up from 56% last spring. 43% give him the lowest possible rating, saying he has accomplished "little or nothing."Trump receives even lower ratings on race: Fewer than 3 in 10 say he has done a good job dealing with race relations, which is 12 points below the 40% who said in January they thought he would handle race issues effectively. Half of all Americans say they believe Trump is biased against black people and slightly more (55%) say he is biased against women. One-third say he is honest and trustworthy.So one year after getting elected: half of Americans think he's a racist and nearly two-thirds think he has accomplished little to nothing. This helps explain how, based on this poll, he wins — in a landslide — the race for least popular president one year in since polling began with Truman.WashPost: "He is the only president dating back to Harry S. Truman whose approval rating at this point in his presidency is net negative — by 22 points. The next worst recorded in that time was Bill Clinton, who had a net positive of 11 points by this time in his presidency."
And yet ... Trump has transformed the core beliefs of the GOP, making it his Republican Party in a way that the establishment didn't expect, even post-inauguration:
Republicans out of politics, or leaving politics, are the only ones publicly criticizing him: the Bushes, lots of Bush 43 staff, Corker, Flake, etc. But Republicans staying in politics are succumbing, even if reluctantly.
Ed Gillespie is showing how quickly the metamorphosis unfolds. The former Bush 43 counselor, a textbook establishment Republican, is sounding like Steve Bannon ahead of Tuesday's election for Virginia governor, warning of "dangerous" immigrants and mocking those who kneel at NFL games.
One flier: "You'd never take a knee ... So take a stand on election day"
If Gillespie wins, and probably even if he doesn't, he showed how the Trump America First impulse — laced with plays on racial fears — is not a bug but a feature of the new Trump GOP.
With little effort, Trump has turned Republicans and the Wall Street Journal editorial page into Trumpers on special counsel Bob Mueller in ways unimaginable in the Clinton days.
He has magically silenced a law-and-order party as he hectors Justice and the FBI.
Sound smart: The trend lines aren't promising, folks. Trump won't change and elected Rs — and those who want to be elected Rs — are morphing into him. On the other side, Democrats see full resistance as the only plausible response. Hard to believe, but we think polarization only intensifies.
https://www.axios.com/newsletters/axios-am-6b9e00d9-238b-40f8-a81a-5b88a80b45fd.html?chunk=1#story1
2. Brazile bites back
Donna Brazile — who led the Democratic National Committee during Hillary Clinton's presidential run, and will be out Tuesday with a book, "Hacks," lambasting the campaign — sent me this GIF of herself at the 2016 convention when I asked her response to a counterattack by top alumni of the campaign.
Brazile titled it "Private Dancer."
The message: She's living her best life now, unabashed by book blowback.
Brazile was responding to an "Open Letter" — posted on Medium yesterday, and signed by more than 100 alumni of the campaign's Brooklyn headquarters — portraying her as a traitor: "[W]e are pretty tired of people who were not part of our campaign telling the world what it was like to be on the inside of our campaign and how we felt about it. We loved our candidate and each other."
The letter was signed by campaign chairman John Podesta, campaign manager Robby Mook, Huma Abedin, Nick Merrill, Jennifer Palmieri, Ron Klain, Leslie Dach, Mandy Grunwald, Jim Margolis and scores more.
The letter was provoked by a Washington Post excerpt saying Brazile "details widespread dysfunction and dissension throughout the Democratic Party, including secret deliberations over using her powers as interim DNC chair to initiate the process of removing Clinton and running mate Sen. Tim Kaine (Va.) from the ticket after Clinton's Sept. 11, 2016, collapse in New York City."
"Brazile writes that she considered a dozen combinations to replace the nominees and settled on Biden and Sen. Cory Booker (N.J.)."
She recalls saying on a conference call with Brooklyn officials that she left like a slave: "I'm not Patsey the slave ... Y'all keep whipping me and whipping me and you never give me any money or any way to do my damn job."
The book includes chapters on the Russian hacking (with a timeline as an appendix). Memorable chapter titles include: "Gentlemen, Let's Put Our Dicks on the Table" ... "Bernie, I Found the Cancer but I Won't Kill the Patient" ... and "I Am Not Patsey the Slave."
Be smart: Top Democrats are furious at Brazile for reopening the wounds of 2016 when the party needs to be thinking about 2018 and 2020. Some even worry that the distraction may have endangered the party's candidate in Tuesday's governor's race in Virginia, Ralph Northam.
But Dems took the bait, making her book a bigger deal than it would have been if they had stayed silent.
P.S. Fox will love this ... Brazile's dedication includes a shout-out to Seth Rich, the DNC staffer who was fatally shot in D.C. in July 2016 — an unsolved case that has provoked right-wing conspiracy theories:
"In loving memory of my father, Lionel Brazile Sr.; my beloved sister, Sheila Brazile; my fearless uncles Nat, Floyd, and Douglas; Harlem's finest, my aunt Lucille; my friend and mentor, David Kaufmann; my DNC colleague and patriot, Seth Rich; and my beloved Pomeranian, Chip Joshua Marvin Brazile (Booty Wipes). I miss y'all."
https://www.axios.com/newsletters/axios-am-6b9e00d9-238b-40f8-a81a-5b88a80b45fd.html?chunk=2#story2
3. Quote of the day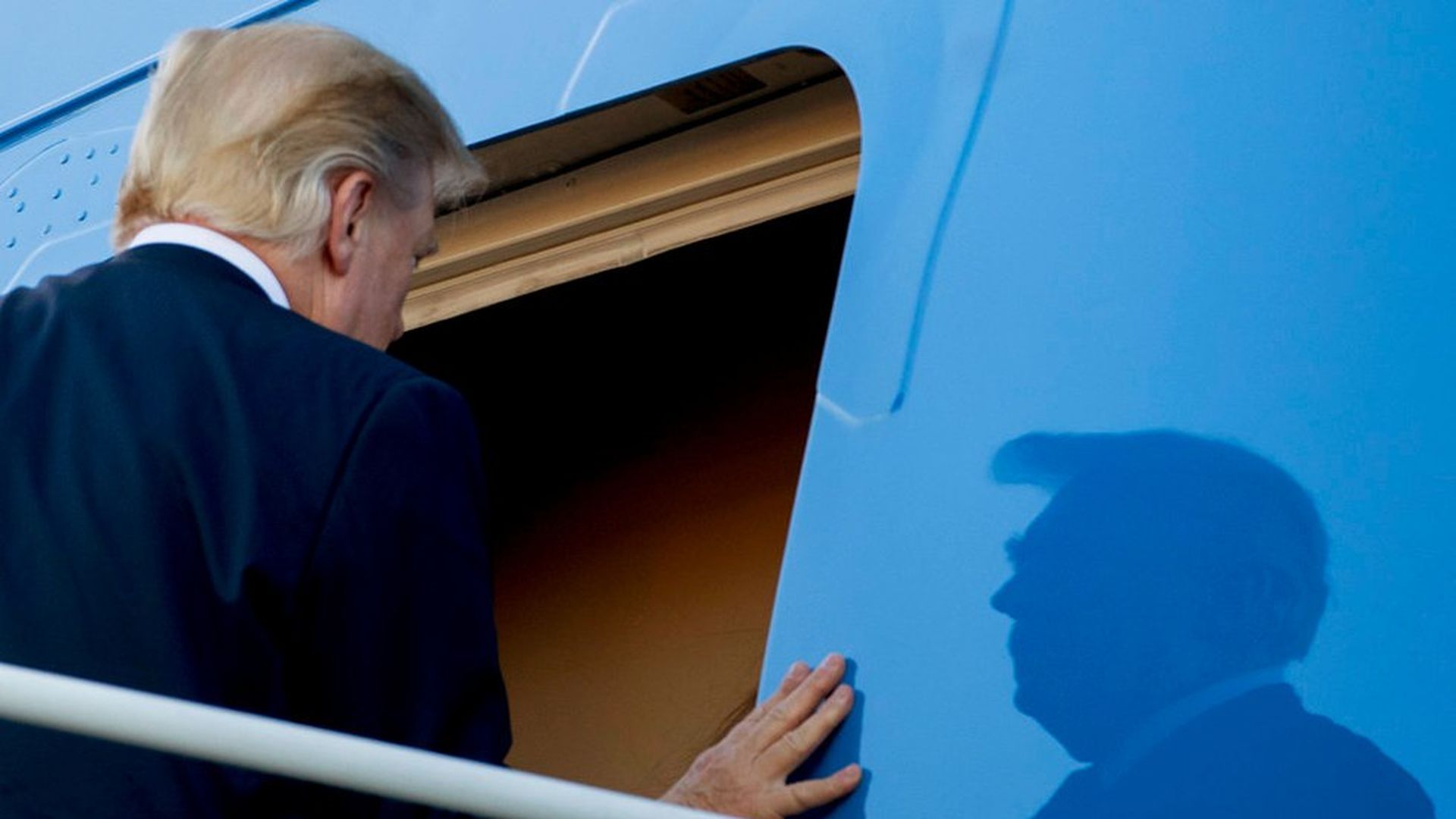 Trump to reporters aboard Air Force One, from Hawaii to Japan, via pooler Mike Bender of The Wall Street Journal:
"[T]he reason our stock market is so successful is because of me. I've always been great with money, I've always been great with jobs, that's what I do. And I've done it well, I've done it really well, much better than people understand and they understand I've done well. But we have a tremendous amount of strength because of what's happened. You know, think of it — $5.5 trillion worth of value."
https://www.axios.com/newsletters/axios-am-6b9e00d9-238b-40f8-a81a-5b88a80b45fd.html?chunk=3#story3
Bonus pics: "Meet the Press" at 70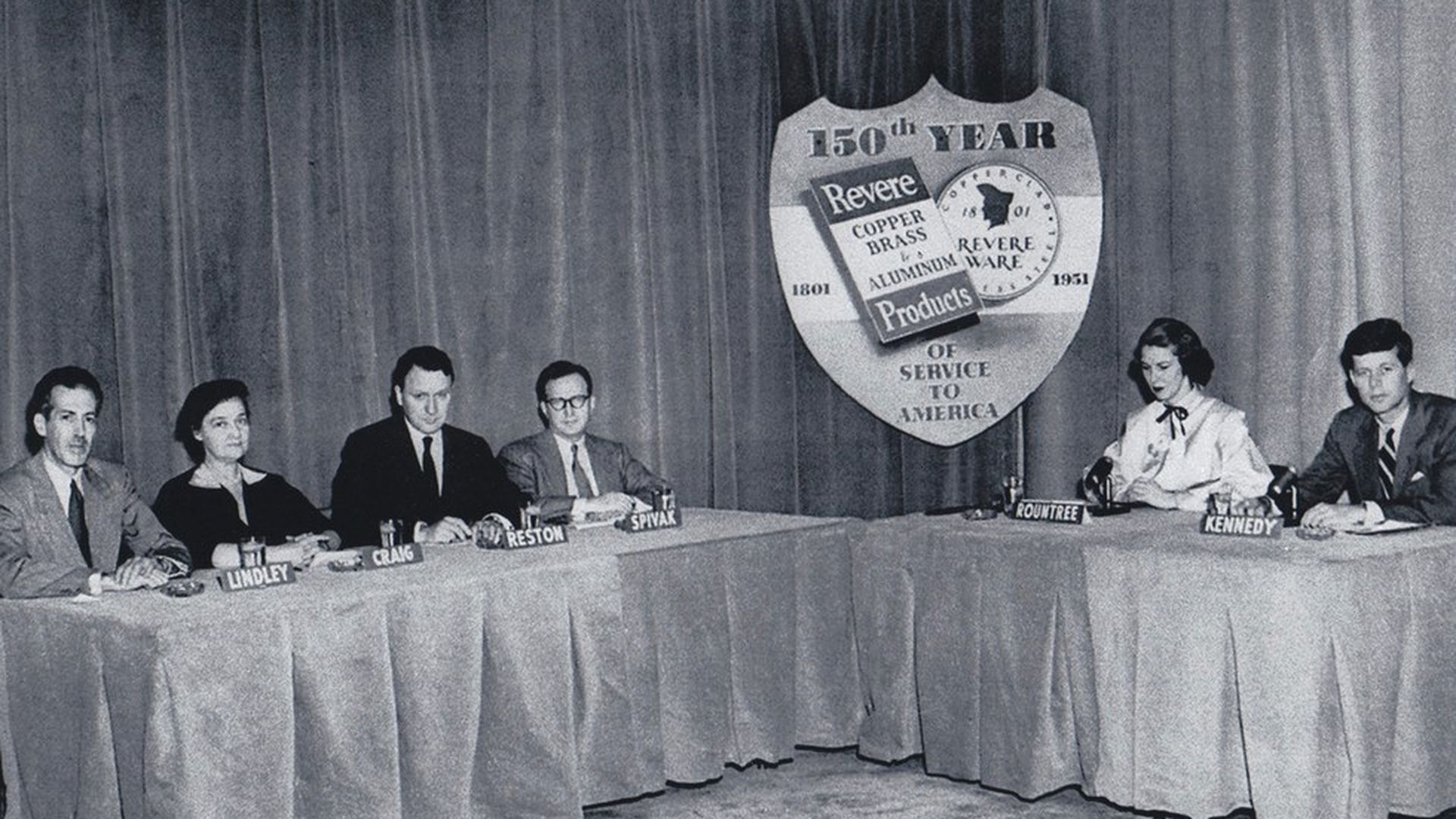 "Meet the Press," the longest-running show on television, celebrates its 70th anniversary tomorrow, and I thought you'd like these two old-school photos.
Moderator Chuck Todd says "MTP" is "where we explain Washington to America and America to Washington."
A reminder that NBC News is an investor in Axios.
https://www.axios.com/newsletters/axios-am-6b9e00d9-238b-40f8-a81a-5b88a80b45fd.html?chunk=4#story4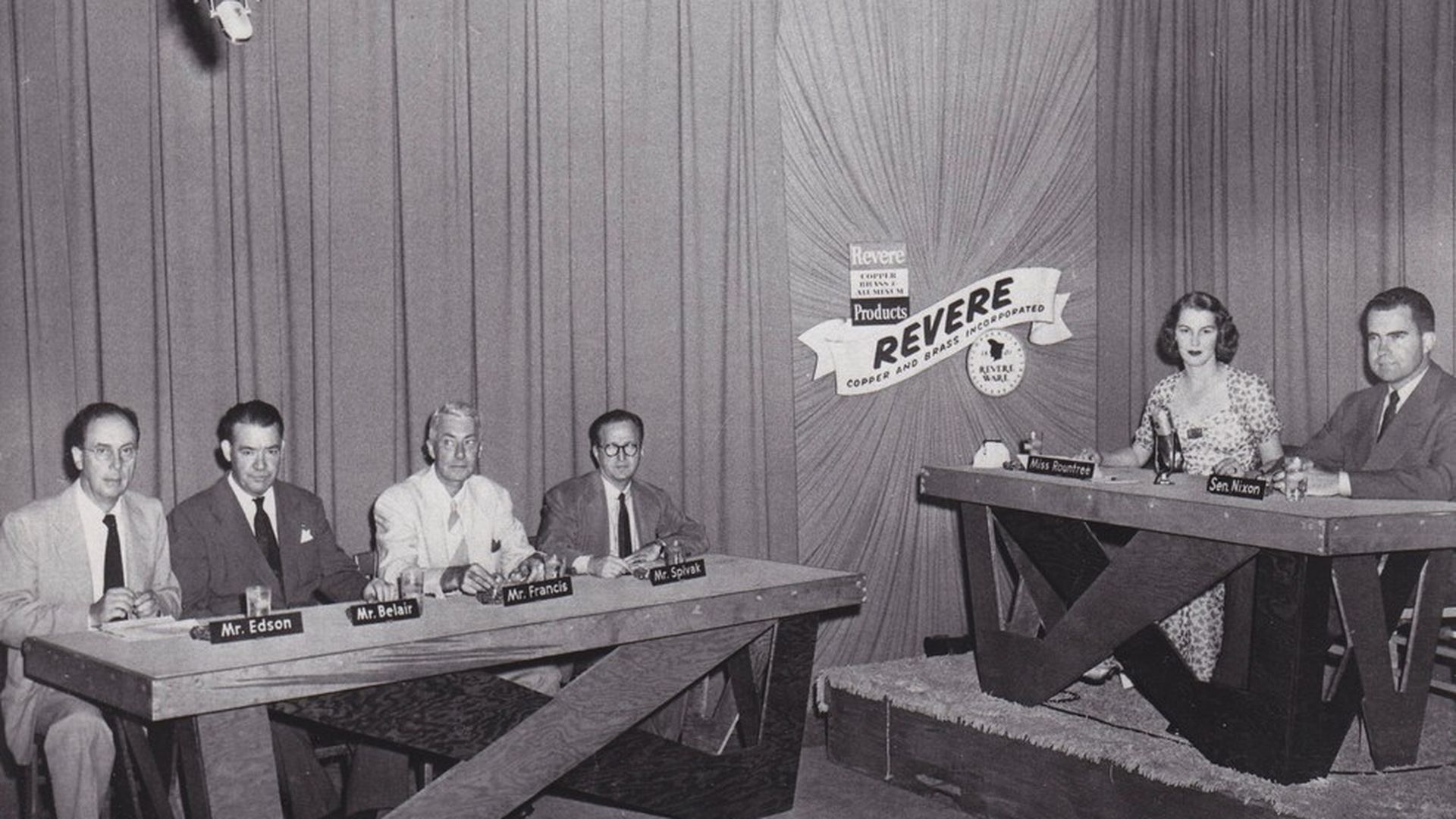 https://www.axios.com/newsletters/axios-am-6b9e00d9-238b-40f8-a81a-5b88a80b45fd.html?chunk=5#story5
4. The Ritz roundup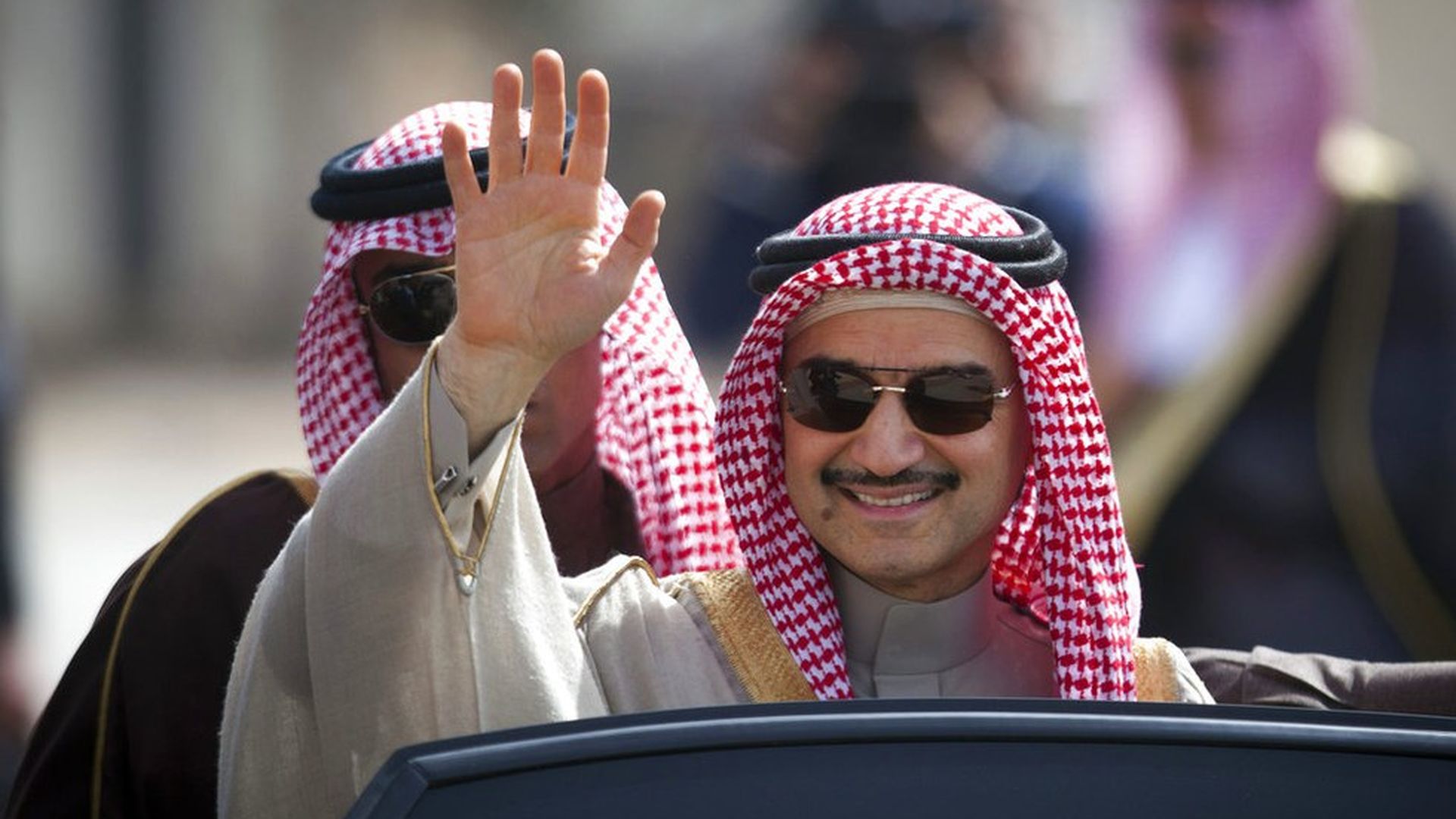 "Saudi authorities detained a billionaire global investor and the head of the National Guard as part of an anti-corruption purge that consolidates Crown Prince Mohammed bin Salman's hold on power," per Reuters:
"Prince Alwaleed bin Talal, who owns investment firm Kingdom Holding 4280.SE, was among 11 princes, four ministers and tens of former ministers detained."
Why it matters: "Analysts said the goal of the purge went beyond corruption and aimed to remove potential opposition to Prince Mohammed as he pushes an ambitious and controversial reform agenda."
The $ part: "Some detainees were believed to be held at the opulent Ritz-Carlton hotel in the diplomatic quarter of Riyadh ... The hotel and an adjacent facility were the site of an international conference promoting Saudi Arabia as an investment destination last month."
AP: "Phone lines to the hotel have been cut off since Sunday morning. ... Marriott International said in a statement that it is currently evaluating the situation at the Ritz-Carlton in Riyadh. 'As a matter of guest privacy, we do not discuss the guests or groups with whom we do business or may be visitors of the hotel."
https://www.axios.com/newsletters/axios-am-6b9e00d9-238b-40f8-a81a-5b88a80b45fd.html?chunk=6#story6
5. Another industry with a Weinstein problem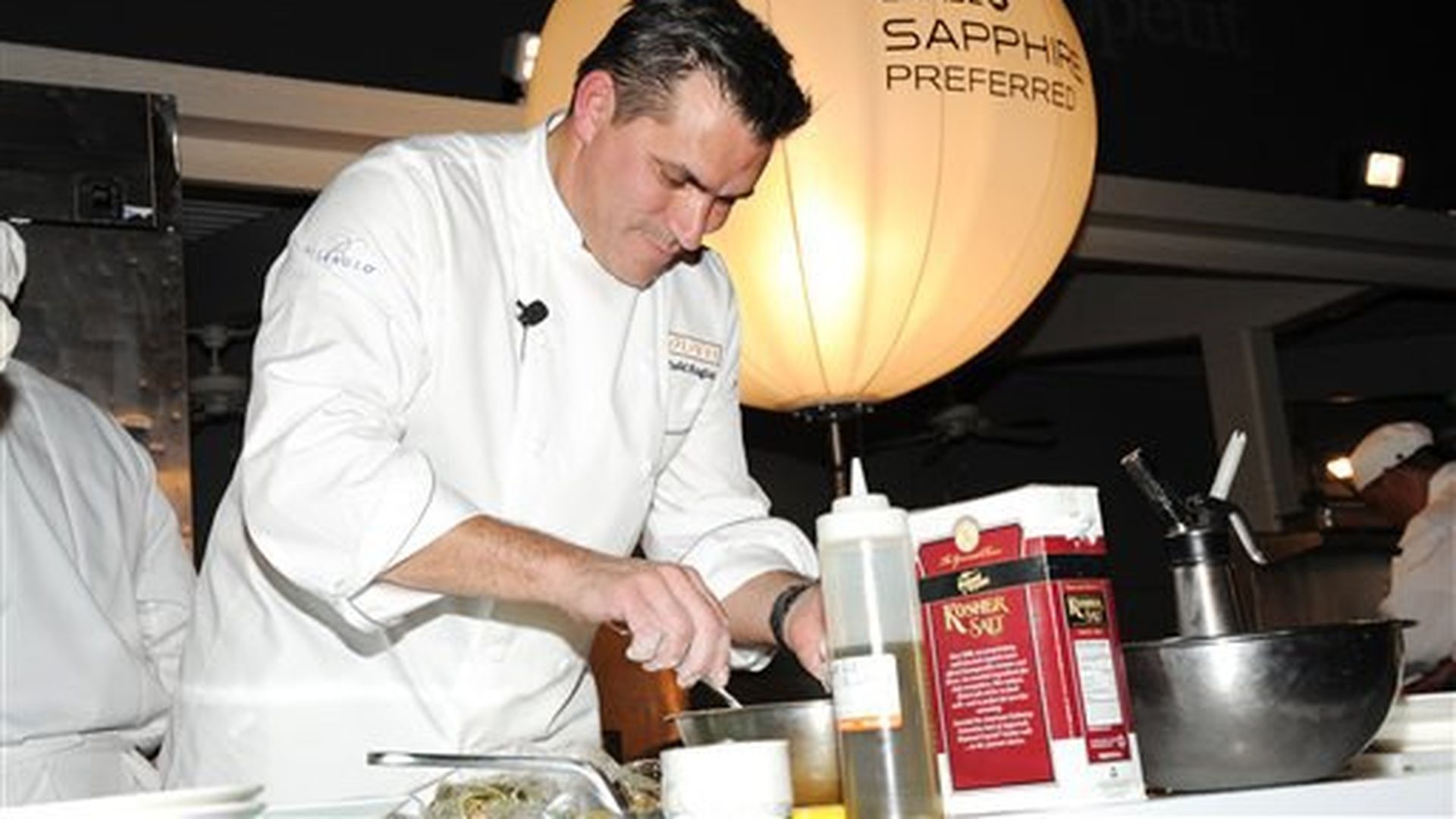 "Restaurants have long had a reputation for butt-grabbing antics, but it has rarely been talked about, and accusers' silence was often bought in the form of settlements," the N.Y. Post reports. "But now, with Hollywood heavyweight Weinstein being exposed ... the kitchen timer may finally be going off":
"A few weeks ago, ... Gabrielle Eubank claimed [in a sexual-harassment suit that] chef Todd English and members of his Plaza Hotel Food Hall staff sexually harassed her."
She alleged "that English — who has long been dogged by his womanizing behavior out of the kitchen — gave her unwanted hugs and repeatedly kissed her on the cheek."
"The restaurant world was rocked two weeks ago when 'Top Chef' and 'Food Network Challenge' judge John Besh stepped down from his New Orleans-based restaurant group after an eight-month investigation by the Times-Picayune newspaper uncovered a culture where 'vulgar and offensive comments, aggressive unwelcome touching and sexual advances were condoned."
"And here in New York City, plenty of ugliness is boiling over, even beyond English's kitchen."
Worthy of your time ... Elisabeth Donnelly, a writer and editor in New York, wrote a very interesting and detailed piece for BuzzFeed arguing that Matt Damon's slow reaction on the Weinstein revelations was the latest evidence that one of the highest-grossing stars of all time hasn't adapted to the social-media age:
"Damon's optics are faulty and ham-fisted. ... His struggles in the spotlight for the past couple of years are emblematic of how the self-styled good-guy Hollywood liberal has not caught up to the world we live in today."
"He's been persistently oblivious regarding the needs and voices of marginalized Hollywood, who can now call him out through the power of a public platform."
"It's easy to make mistakes on the internet — in fact, messing up one day doesn't necessarily make you a villain. It is possible to apologize. It is possible to take action. It's possible to use power in order to give other people opportunities."
"At a crucial moment in Hollywood, Damon has the opportunity to use his power to shift the balance for people whose experiences he's largely overlooked and call for meaningful structural changes.
https://www.axios.com/newsletters/axios-am-6b9e00d9-238b-40f8-a81a-5b88a80b45fd.html?chunk=7#story7
6. Jessica Alba's "My 6 Big Things"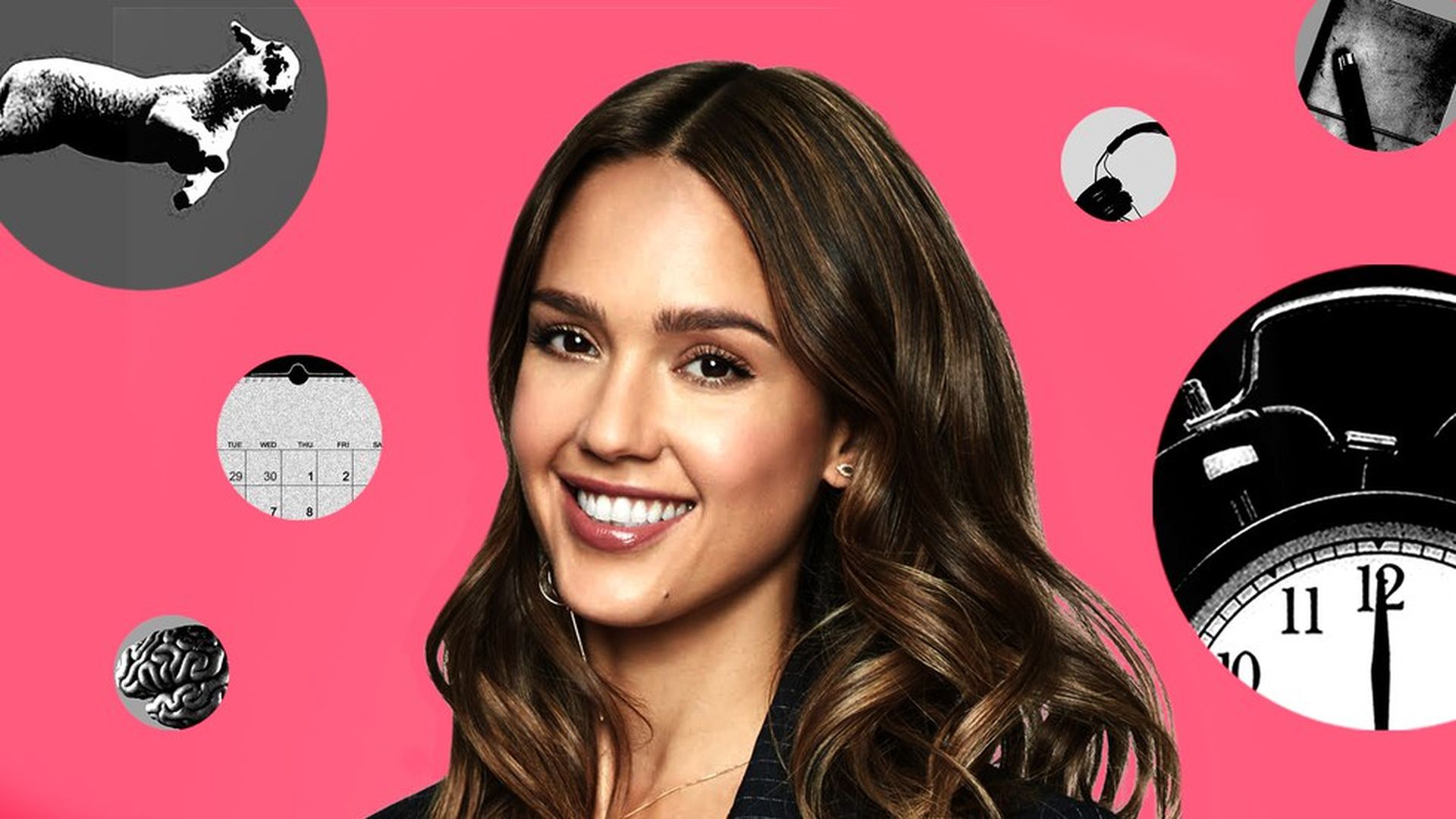 Jessica Alba, actress and entrepreneur, joins the Axios weekend feature, #My6BigThings, with a life hack, a bucket-list entry, and one thing she feels insecure about.