BULLETIN ... A Trump tweet this morning slaps one of the NBA's most popular players, after the Golden State Warriors' superstar said he doesn't want to go to the White House to celebrate the Oakland team's latest championship: "Going to the White House is considered a great honor for a championship team. Stephen Curry is hesitating,therefore invitation is withdrawn!"
https://www.axios.com/newsletters/axios-am-6b2fb7a3-cc33-4518-add2-a07c3dbdad17.html?chunk=0#story0
1 big thing: Trump dig at NFL triggers backlash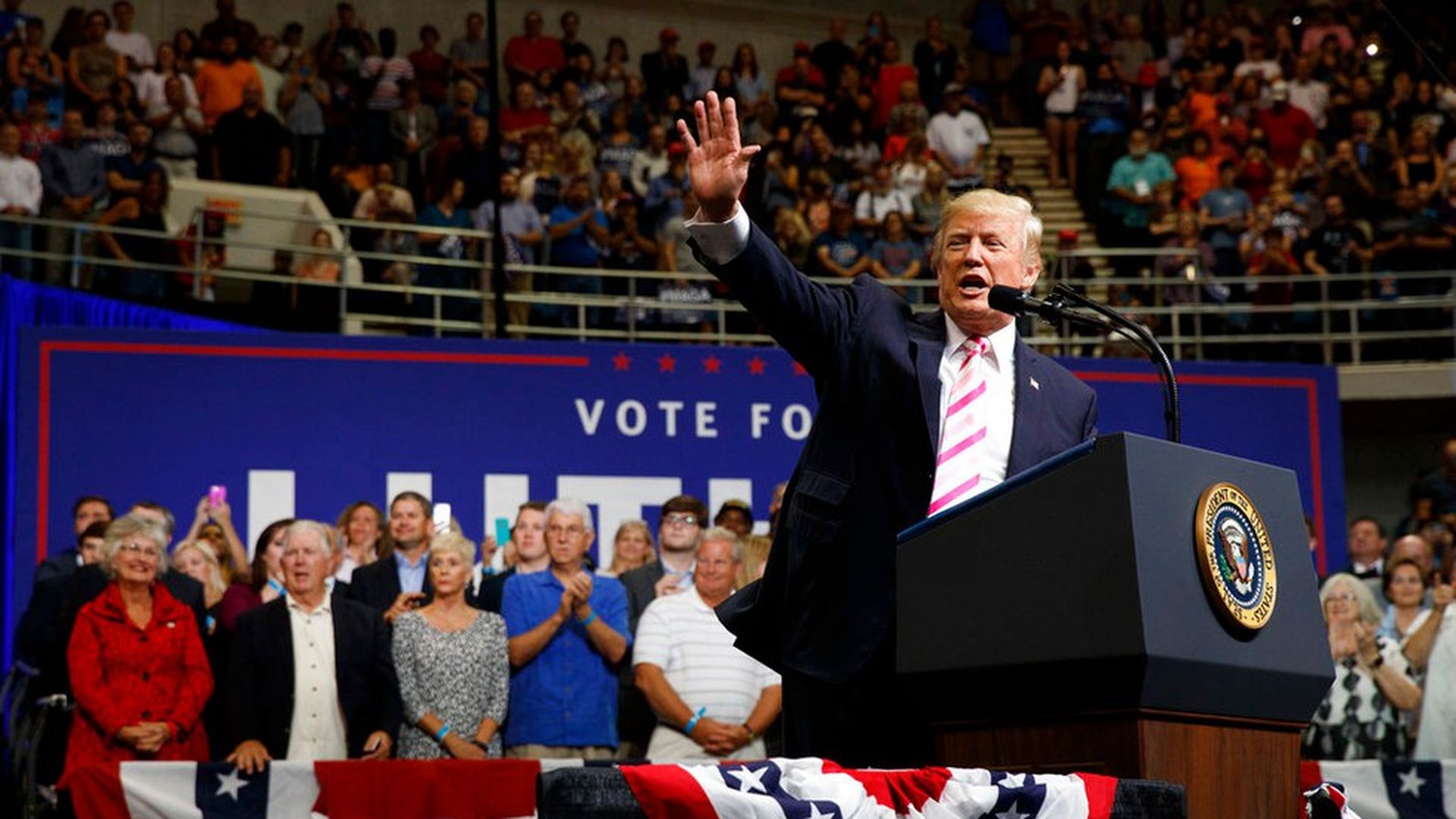 Commentators predicted a new wave of protests by athletes during the national anthem after President Trump used coarse language to tell a rally audience in Huntsville, Ala., last night that NFL players who take a knee should be fired.
"You know what's hurting the game? .... When people like yourselves turn on television, and you see those people taking the knee when they are playing our great national anthem." [Boos.]
"The only thing you could do better is if you see it, even if it's one player, leave the stadium, I guarantee things will stop. [Applause.] Things will stop. Just pick up and leave. Pick up and leave. Not the same game anymore, anyway."
"Wouldn't you love to see one of these NFL owners, when somebody disrespects our flag, to say, 'Get that son of a bitch off the field right now. Out. He's fired. He's fired!'"
The out-of-nowhere riff, which trigged an instant online backlash in support of athletes like Colin Kaepernick, was part of a 1 hour, 20 minute ramble by Trump. He was speaking in support of Sen. Luther Strange (R-Ala.), who's threatened by Breitbart-backed candidate, Roy Moore, in Tuesday's primary.
Why it matters: In appealing to a Deep South audience, Trump waded into culturally sensitive territory that could freshen opposition elsewhere, and ignite a debate wholly unrelated to anything he's trying to accomplish.
To address a largely white crowd as "people like yourselves," and refer to protesting athletes, often African American, as "those people," does nothing to heal the wounds of Charlottesville.
The reaction ... USA Today columnist Christine Brennan, on CNN: "I think we're going to see, potentially more NFL players taking a knee this weekend than we ever would have thought ... maybe even college players, too."
"My sense is that ... players are angry."
"There's a more important issue about the health of young, American athletes. And obviously the president wasn't too concerned about that tonight."
Trump also repeated a theme from a past rally in the South, about an NFL that's more aware of the danger of concussions:
"15 yards, throw him out of the game! They had that last week — I watched for a couple of minutes. And two guys — just really beautiful tackle. Boom: 15 yards! The referee gets on television, his wife is sitting at home, she's so proud of him — they're ruining the game." [Applause.]
"Right? They're ruining the game. Hey look, that's what they want to do. They want to hit, OK? They want to hit. But it is hurting the game."
Be smart: Trump's NFL comments were generationally based, with the president inviting portrayals as a 71-year-old unfamiliar with the latest medical research, rather than a leader in touch with the concerns of rising generations of doctors, athletes and fans.
Flashback ... Trump at a campaign rally in Lakeland, Fla., in October: "See, we don't go by these new and very much softer NFL rules. Concussion? Oh! Oh! Got a little ding on the head — no, no, you can't play for the rest of the season. Our people are tough!"
https://www.axios.com/newsletters/axios-am-6b2fb7a3-cc33-4518-add2-a07c3dbdad17.html?chunk=1#story1
2. State of the Trump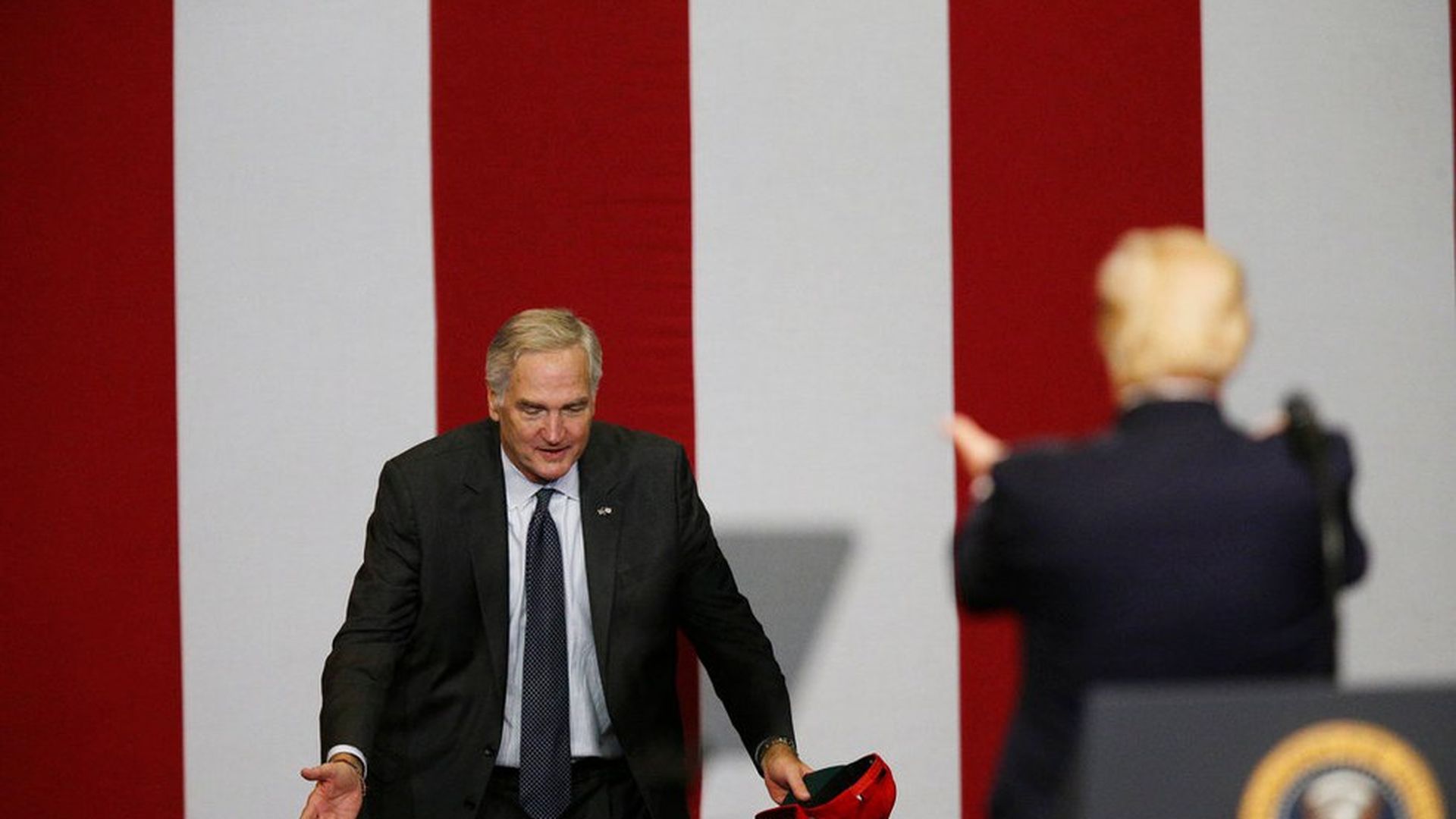 Trump last night referred to "Crooked Hillary" while talking about gun control, prompting the signature chant of his 2016 rallies: "Lock her up."
Trump: "You've got to speak to Jeff Sessions [former Alabama senator, now attorney general] about that."
Other keepers:
"I feel like I'm from Alabama, frankly."
"We're going to be like your football teams. We're going to win all the time."
Trump said he wants "a see-through wall" at the border, so citizens on the U.S. side can avoid falling sacks of drugs lobbed over by dealers' catapults.
"Russia did not help me ... I didn't see too many Russians in Pennsylvania."
He said "fake news" wouldn't show the crowd, as CNN and CNN International put him and the crowd in split screen.
Pointing to his brain, Trump said he's "very good up here — always."
P.S. "Staff chafes at Kelly's style," by Ashley Parker and Phil Rucker on WashPost A1: "[S]ome staffers complain that [the White House chief of staff] may be growing his mandate too far and that his [militaristic style] stifles the creativity and spontaneity that have been hallmarks of Trump's enterprises."
"As one of Kelly's subordinates put it, the chief of staff sometimes becomes 'a one-man choke point.'"
"Kelly has required that Ivanka Trump, the president's oldest daughter, go through him first when she wants to speak with her father about anything involving the administration, a requirement she has so far followed."
https://www.axios.com/newsletters/axios-am-6b2fb7a3-cc33-4518-add2-a07c3dbdad17.html?chunk=2#story2
3. "A new and dangerous phase"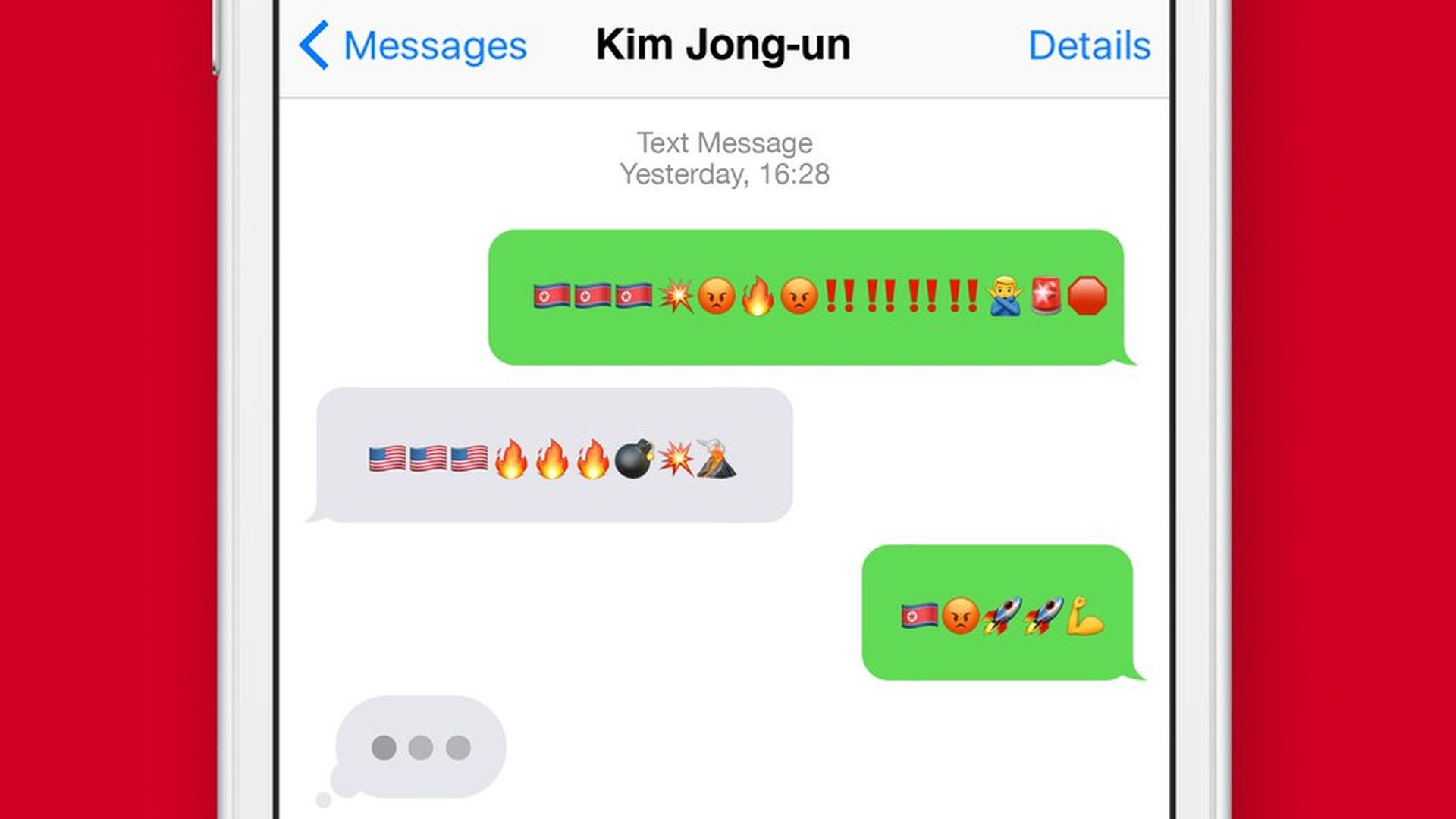 Trump last night referred to the North Korean leader as "Little Rocket Man" — adding a modifier to his earlier nickname, and further personalizing the verbal combat.
It's a sign of how much the conversation between the leaders has degenerated. The most interesting story in the papers today is the lead of the L.A. Times, "Aides urged Trump not to ridicule Kim," by Brian Bennett:
"Senior aides to President Trump repeatedly warned him not to deliver a personal attack on North Korea's leader at the United Nations this week, saying insulting the young despot in such a prominent venue could irreparably escalate tensions."
"Some of Trump's top aides, including national security advisor H.R. McMaster, had argued for months against making the attacks on North Korea's leader personal, warning it could backfire."
"But Trump, who relishes belittling his rivals and enemies with crude nicknames, felt compelled to make a dramatic splash in the global forum.
"A detailed CIA psychological profile of Kim, who is in his early 30s and took power in late 2011, assesses that Kim has a massive ego and reacts harshly and sometimes lethally to insults and perceived slights."
Why it matters, from Brian's story: "Some advisors now worry that the escalating war of words has pushed the impasse with North Korea into a new and dangerous phase that threatens to derail the months-long effort to squeeze Pyongyang's economy through sanctions to force Kim to the negotiating table."
N.Y. Times Quote of the Day ... Paik Hak-soon, longtime North Korea analyst at the Sejong Institute, a think tank outside Seoul: "The way North Korea's supreme leadership works, Kim Jong-un has to respond more assertively as its enemy gets more confrontational, like Trump has. There is no backing down in the North Korean rule book."
https://www.axios.com/newsletters/axios-am-6b2fb7a3-cc33-4518-add2-a07c3dbdad17.html?chunk=3#story3
Bonus: To show your kids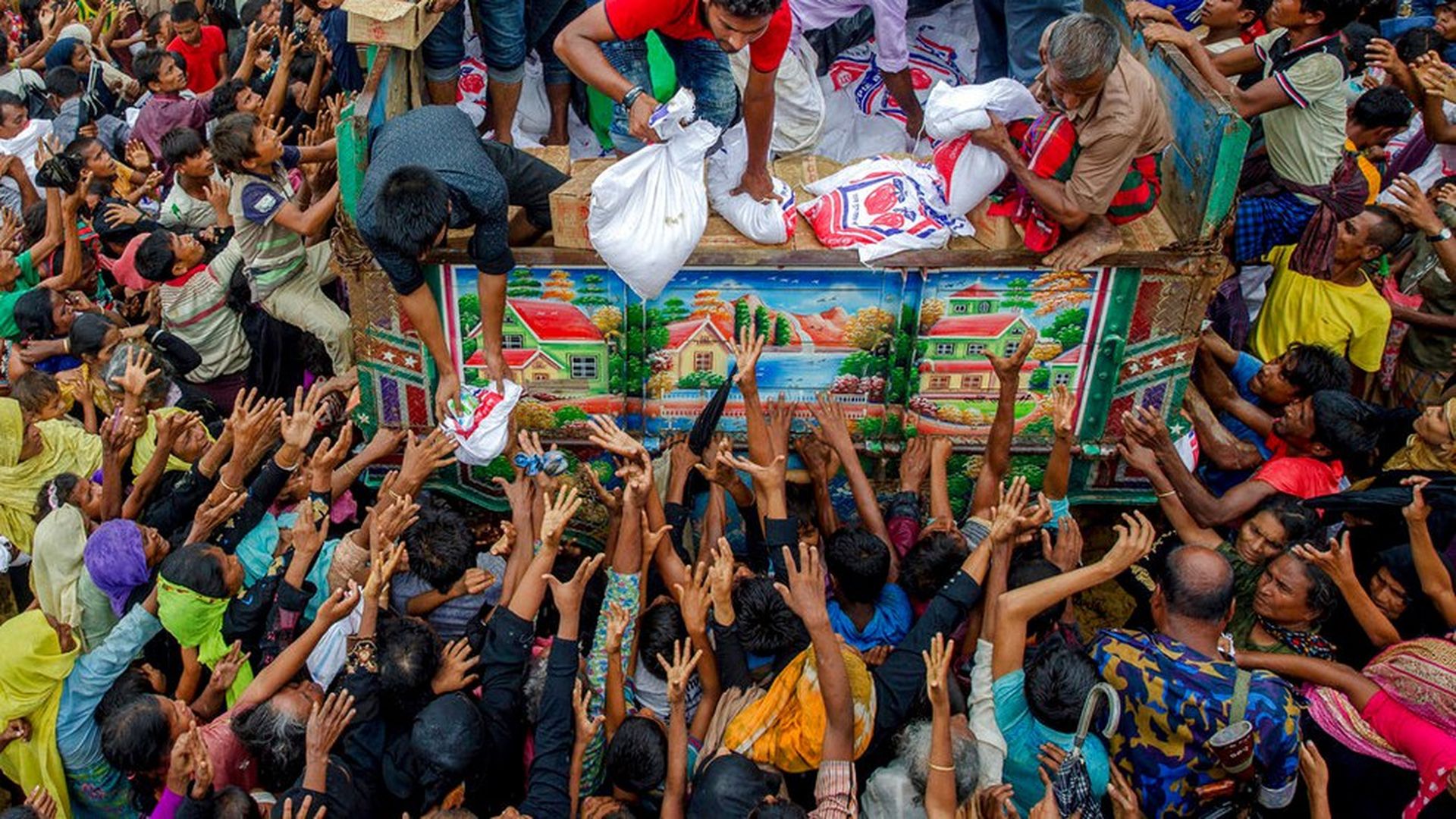 Rohingya Muslims, who travelled from Myanmar into Bangladesh, grasp for food being distributed by aid agencies near the Balukhali refugee camp in Bangladesh this week.
Bangladesh has been overwhelmed with more than 400,000 Rohingya who fled their homes in the last three weeks amid a crisis the U.N. describes as ethnic cleansing.
Refugee camps were already beyond capacity, and new arrivals were staying in schools or huddling in makeshift settlements.
Go deeper: "Rohingya Muslims are being wiped off Myanmar's map."
https://www.axios.com/newsletters/axios-am-6b2fb7a3-cc33-4518-add2-a07c3dbdad17.html?chunk=4#story4
4. "Ridiculously slapdash"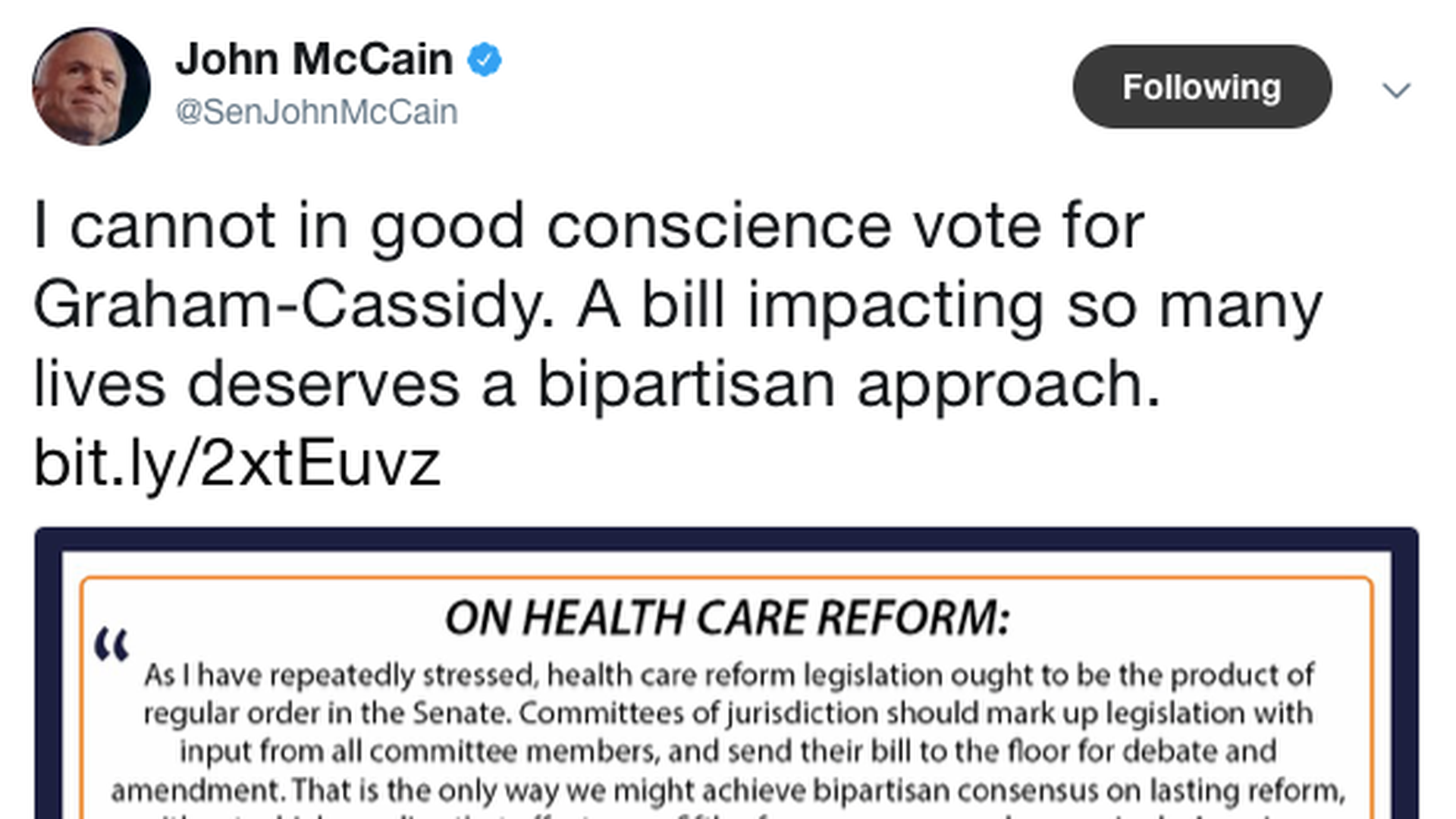 Although the opposition from Sen. John McCain likely killed Republicans' latest health-overhaul plan, President Trump tweeted this morning that there's still hope: "I know Rand Paul and I think he may find a way to get there for the good of the Party!"
Paul is counted as a solid "no," so flipping him could bring Graham-Cassidy back to life. That's unlikely, though, so Republicans expect the bill to be defeated Wednesday, if Senate Majority Leader Mitch McConnell goes ahead with the vote.
Trump also tweeted this morning: "John McCain never had any intention of voting for this Bill, which his Governor loves. He campaigned on Repeal & Replace. Let Arizona down!"
The most important sentence in McCain's statement is: "I believe we could do better working together, Republicans and Democrats, and have not yet really tried."
A close McConnell ally told me the process was "ridiculously slapdash," with little input or transparency.
Axios Caitlin Owens tweeted: "If the past month taught us anything, it's that not many Republicans took McCain's message to heart last time around."
Why did Senate Republicans decide to die on this hill again? The best explanation may come from the N.Y. Times' Carl Hulse:
"As more than 40 subdued Republican senators lunched on Chick-fil-A at a closed-door session last week, Senator Cory Gardner of Colorado painted a dire picture for his colleagues. Campaign fund-raising was drying up, he said, because of widespread disappointment among donors over the inability of the Republican Senate to repeal the Affordable Care Act or do much of anything else."
"Republicans say the fund-raising drop-off has been steep and across the board, from big donations to the small ones the party solicits online from the grass roots. They say the hostile views of both large and small donors are in unusual alignment."
Be smart: The vote that counted most may have been Jimmy Kimmel's. The ABC late-night host's passionate, detailed opposition — with fact checkers calling him correct about potentially unaffordable premiums for people in poor health — put Republicans in a hole they were ill-equipped to dig out of.
https://www.axios.com/newsletters/axios-am-6b2fb7a3-cc33-4518-add2-a07c3dbdad17.html?chunk=5#story5
5. One of the most exciting areas in biotechnology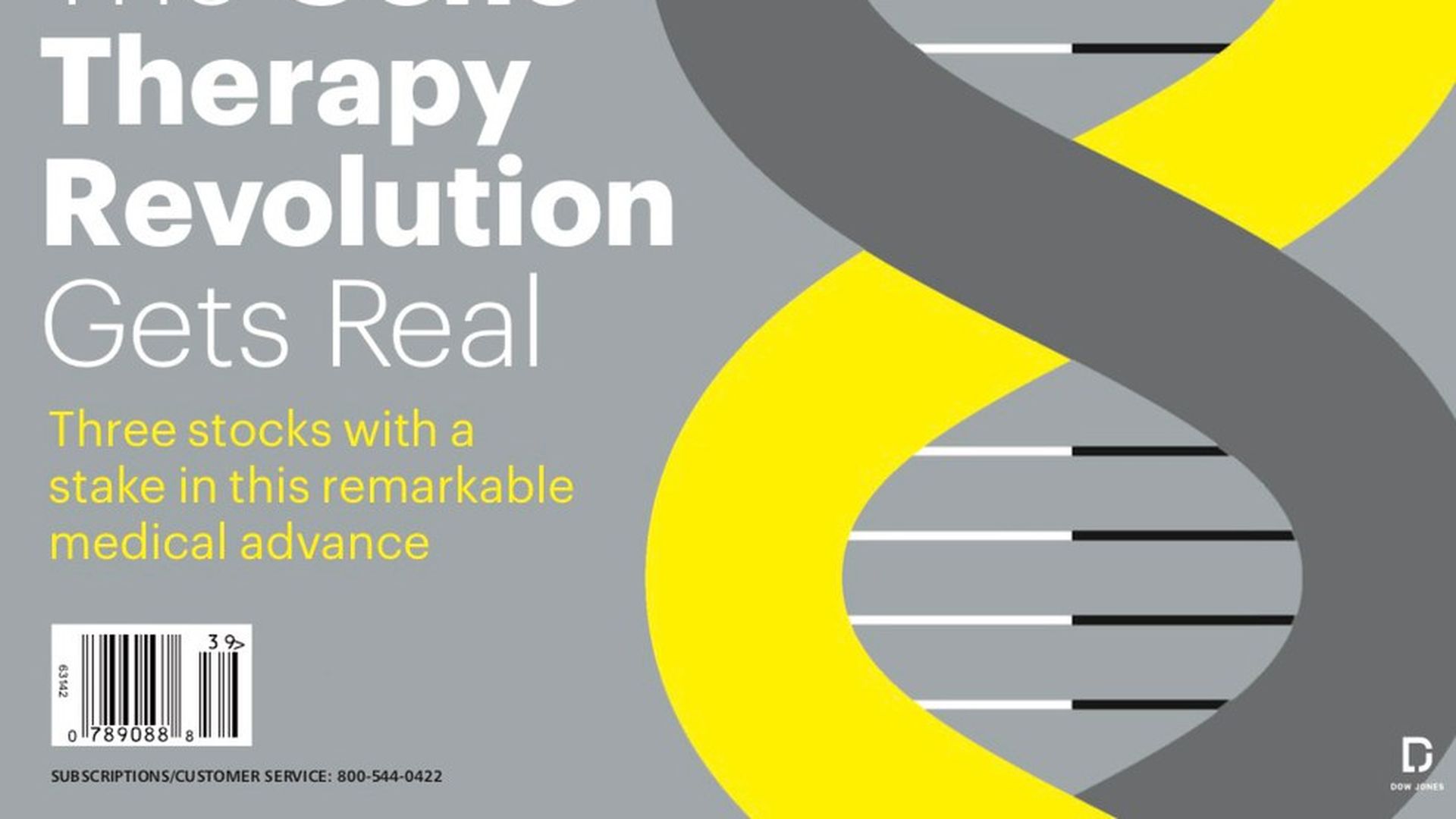 https://www.axios.com/newsletters/axios-am-6b2fb7a3-cc33-4518-add2-a07c3dbdad17.html?chunk=6#story6
6. 1 TV thing
"CBS' bold digital push: Pilot of 'Star Trek: Discovery' will air on TV. After that, it will be seen only on All Access," by L.A. Times' Meg James, on A1:
"When CBS Corp. launched a stand-alone streaming service three years ago, some analysts wondered why consumers would spend nearly $6 a month to watch a TV channel that they could get over the air for free."
"CBS soon will answer that question by making its big-budget bet, 'Star Trek: Discovery,' available exclusively on its CBS All Access streaming service."
"The pilot episode will air on the CBS broadcast network [tomorrow] night but after that, fans must sign up for the streaming service to see subsequent episodes."
CBS chairman and CEO Les Moonves: "Streaming is going to be a big part of our future — and the future of television."
Why it matters: "The gambit illustrates just how quickly the rules of television are shifting. If the experiment works, CBS could be at the forefront of a new trend, ... as Walt Disney Co. and others create their own streaming services to capture viewers who have been turning away from linear television in favor of Netflix and Amazon."