Axios AM
November 26, 2018
⚡ Breaking — First gene-edited babies? "A Chinese researcher claims that he helped make the world's first genetically edited babies — twin girls born this month whose DNA he said he altered with a powerful new tool capable of rewriting the very blueprint of life," AP reports from Hong Kong.
"If true, it would be a profound leap of science and ethics."
1 big thing ... Elon Musk: Humans must merge with machines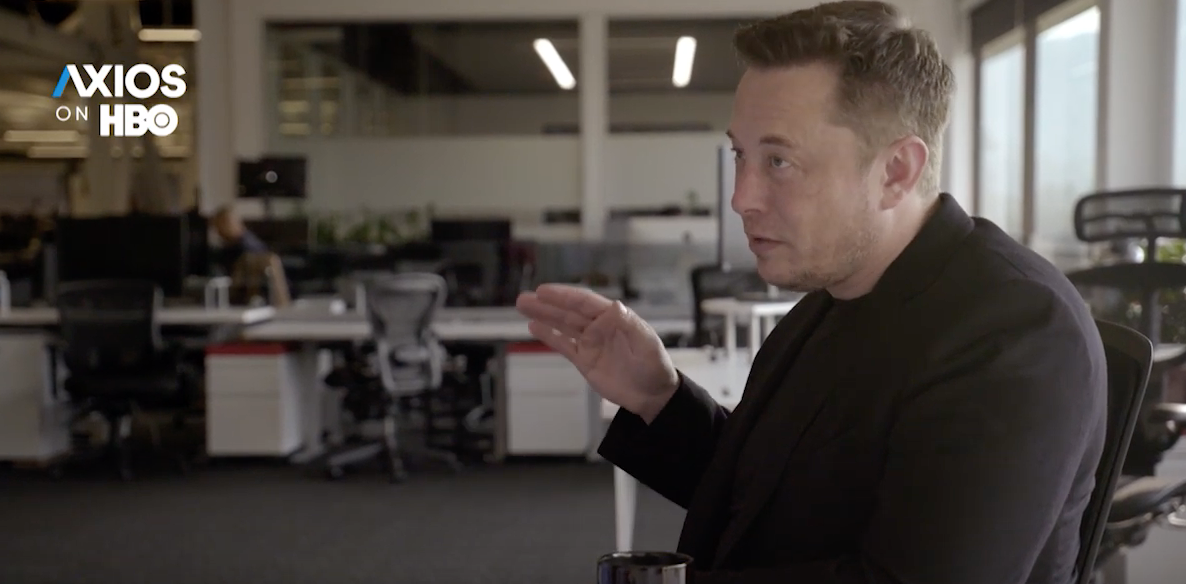 Elon Musk, the inventor and CEO of Tesla and SpaceX, told "Axios on HBO" that humans must merge with machines to overcome the "existential threat" of artificial intelligence. 
Musk said artificial intelligence is "just digital intelligence. And as the algorithms and the hardware improve, that digital intelligence will exceed biological intelligence by a substantial margin. It's obvious."
And he said we're way behind: "We're like children in a playground ... We're not paying attention. We worry more about ... what name somebody called someone else ... than whether AI will destroy humanity. That's insane."
Musk's bottom line: "My faith in humanity has been a little shaken this year. But I'm still pro-humanity."
Why it matters: Musk warned humans could go the way of monkeys, dismissed to small pockets of the earth. That could happen, he said, if we don't respond more urgently the dire and increasingly real threat of machines holding exponentially more knowledge than mankind. 
"When a species of primate, homo sapiens, became much smarter than other primates, it pushed all the other ones into a very small habitat," Musk continued.
"So there are very few mountain gorillas and orangutans and chimpanzees — monkeys in general."
"They occupy small corners of the world — cages. ... Zoos. Even the jungles that they're in are narrowly defined so they were sort of like big cages ... So, you know, that's one possible outcome for us."
Musk said his neuroscience company, Neuralink, has about 85 of "the highest per capita intelligence" group of engineers he has ever assembled — with the mission of building a hard drive for your brain. 
"The long-term aspiration with Neuralink would be to achieve a symbiosis with artificial intelligence."
Wait. What? "To achieve a sort of democratization of intelligence, such that it is not monopolistically held in a purely digital form by governments and large corporations."
Musk said he'll do that with an "electrode-to-neuron interface at a micro level" — "a chip and a bunch of tiny wires" that will be "implanted in your skull."
"I believe this can be done. ... It's probably on the order of a decade."
"And by the way, you kind of have this already in a weird way: You have a digital tertiary layer in the form of your phone, your computers, your watch. You basically have these computing devices that form a tertiary layer on your cognition already."
Musk said an immediate application could be spinal cord injuries:
"We already know how to do this: implant electrodes into the motor cortex of the brain, then bypass the severed section of the spine and have effectively local micro controllers near the muscle groups. It could restore full limb functionality."
"As people get older, they lose their memory — incredibly sad to have a mother forget her children, and that can be solved too."
And Musk said people don't appreciate the damage off-the-shelf AI presents today:
"You could make a swarm of assassin drones for very little money. By just taking the face I.D. chip that's used in cell phones, and having a small explosive charge and a standard drone, and just have it do a grid sweep of the building until they find the person they're looking for, ram into them and explode. You could do that right now. ... No new technology is needed."
But perhaps an even bigger threat, he said, is "incredibly effective propaganda ... influence the direction of society. Influence elections."
AI can hone a message by watching online feedback and reacting to news, then making the message "slightly better within milliseconds."
Musk said Washington is losing the war to control AI: "The way in which regulation is put in place is slow and linear. And we are facing an exponential threat. If you, if you have a linear response to an exponential threat, it's quite likely the exponential threat will win. That, in a nutshell, is the issue."
After a string of mind-stretchers, Musk added: "Maybe we're in a simulation."
"Are you joking?" we asked. "You're joking, right?"
Musk replied: "I'm not joking."
2. Musk: Tesla came "within single-digit weeks" of death
Tesla CEO Elon Musk says his electric car startup was close to death over the last year — within "single-digit weeks," he told "Axios on HBO" — during the troubled ramp-up of the mass market Model 3.
Musk has previously said that the company nearly went bankrupt in 2008, the year he took over as CEO, and that at the time Tesla had "less than a 10% likelihood to succeed."
Over the past year, he has called the Model 3 buildout "production hell," and watched as his own erratic behavior — including an ongoing scrape with federal authorities — contributed to a plunge in Tesla's share price. 
But after months of waving away critics who described him as a slipshod manager, Musk admitted that Tesla "faced a severe threat of death."
"Essentially the company was bleeding money like crazy," Musk said. "And just if we didn't solve these problems in a very short period time, we would die. And it was extremely difficult to solve them."
During the summer, Musk called the 230-mile range, $35,000 Model 3 a "bet the company" project. 
Asked how close to death Tesla came, Musk replied: "I would say within single-digit weeks."
Why it matters, from Axios future editor Steve LeVine: Musk's admission shows just how dire conditions became at a company that is synonymous with him, and that many regard as the key to a future electric car revolution.
Thought bubble from Axios' Felix Salmon: At worst, Tesla was single-digit weeks away from having to do a dilutive equity capital raise.
Musk said he spends about 70% of his time on Tesla — sometimes seven days a week, and sleeping in the factory.
"I was in the paint shop, body shop ... end of [the] line where we do final check out of vehicles," he said. "I personally redesigned the whole battery pack production line and ran it for three weeks. Pretty intense."
"I think what a lot of people don't understand is that I'm like the chief engineer like that. I actually do lead engineering of the rockets and lead the engineering of the vehicles and production. ... Ninety percent of my day is spent on engineering and production.
Asked what he does that no one should do, Musk answered: "No one should put this many hours into your work. This is not good. People should not work this hard."
"This is very painful," he said. "It hurts, it hurts my brain and my heart. It hurts. ... There were times when I was working literally 120 hours. This is not recommended for anyone."
"I just did it because if I didn't do it, then [there was a] good chance Tesla would die."
Go deeper with Axios autonomous vehicles expert Joann Muller ... And subscribe free to her newsletter, including our favorite feature: "What I'm Driving."
3. "Children screamed and coughed"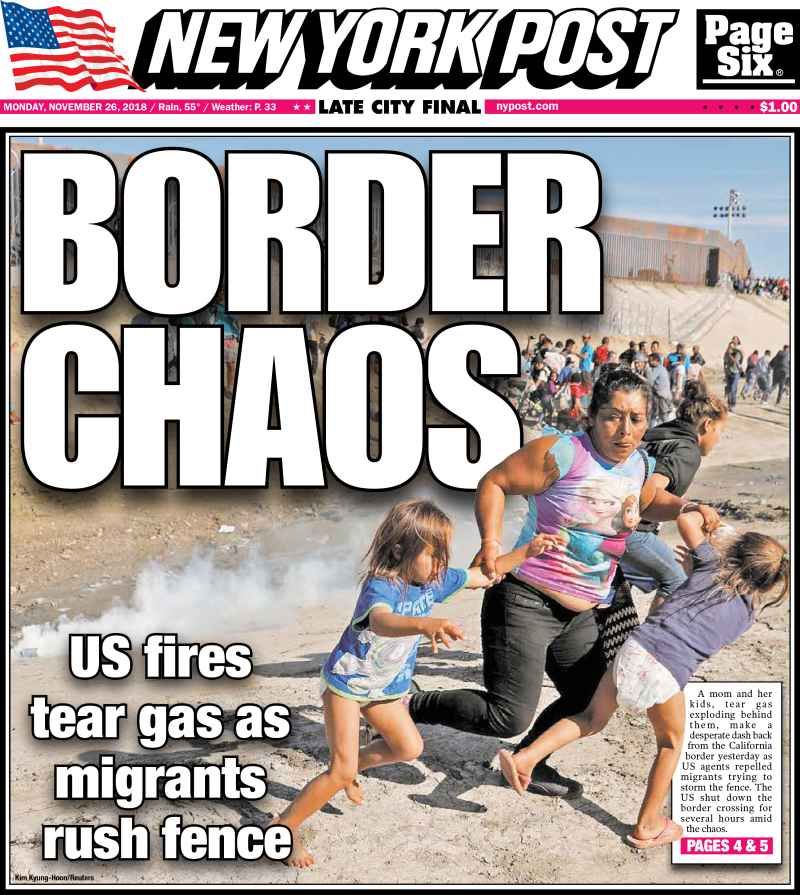 "U.S. border agents fired tear gas on hundreds of migrants protesting near the border with Mexico ... after some of them attempted to get through the fencing and wire separating the two countries," AP's Christopher Sherman reports from Tijuana, Mexico.
"An Associated Press reporter saw U.S. agents shoot several rounds of tear gas after some migrants attempted to penetrate several points along the border. Mexico's Milenio TV showed images of migrants climbing over fences and peeling back metal sheeting to enter."
"Children screamed and coughed. Fumes were carried by the wind toward people who were hundreds of feet away."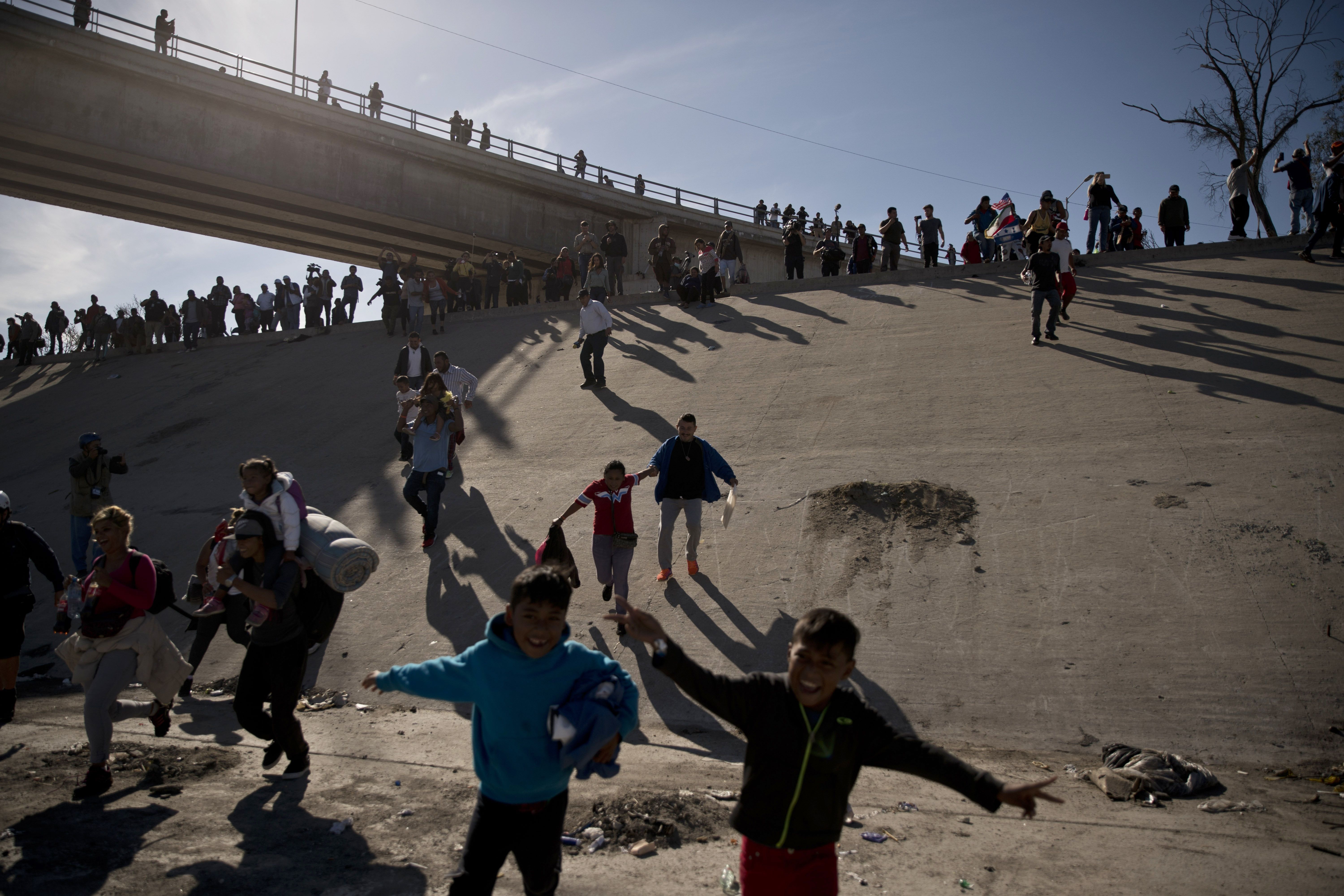 "American authorities [temporarily] shut down the nation's busiest border crossing from the city where thousands are waiting to apply for asylum."
"U.S. Customs and Border Protection helicopters flew overhead, while U.S. agents held vigil on foot beyond the wire fence in California."
"More than 5,000 migrants have been camped in and around a sports complex in Tijuana after making their way through Mexico in recent weeks via caravan."
"Many hope to apply for asylum in the U.S., but agents at the San Ysidro entry point are processing fewer than 100 asylum petitions a day."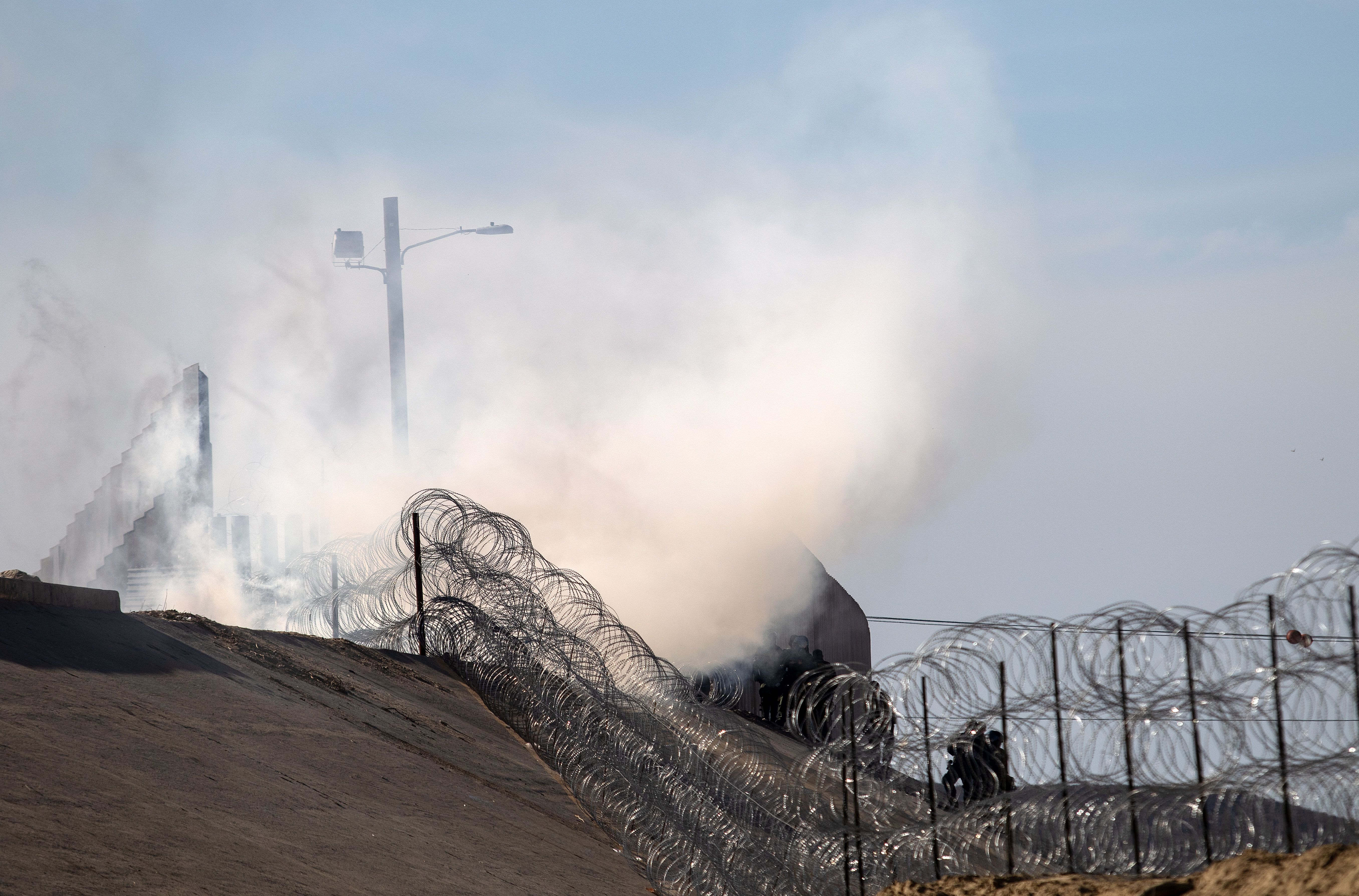 4. Pics du jour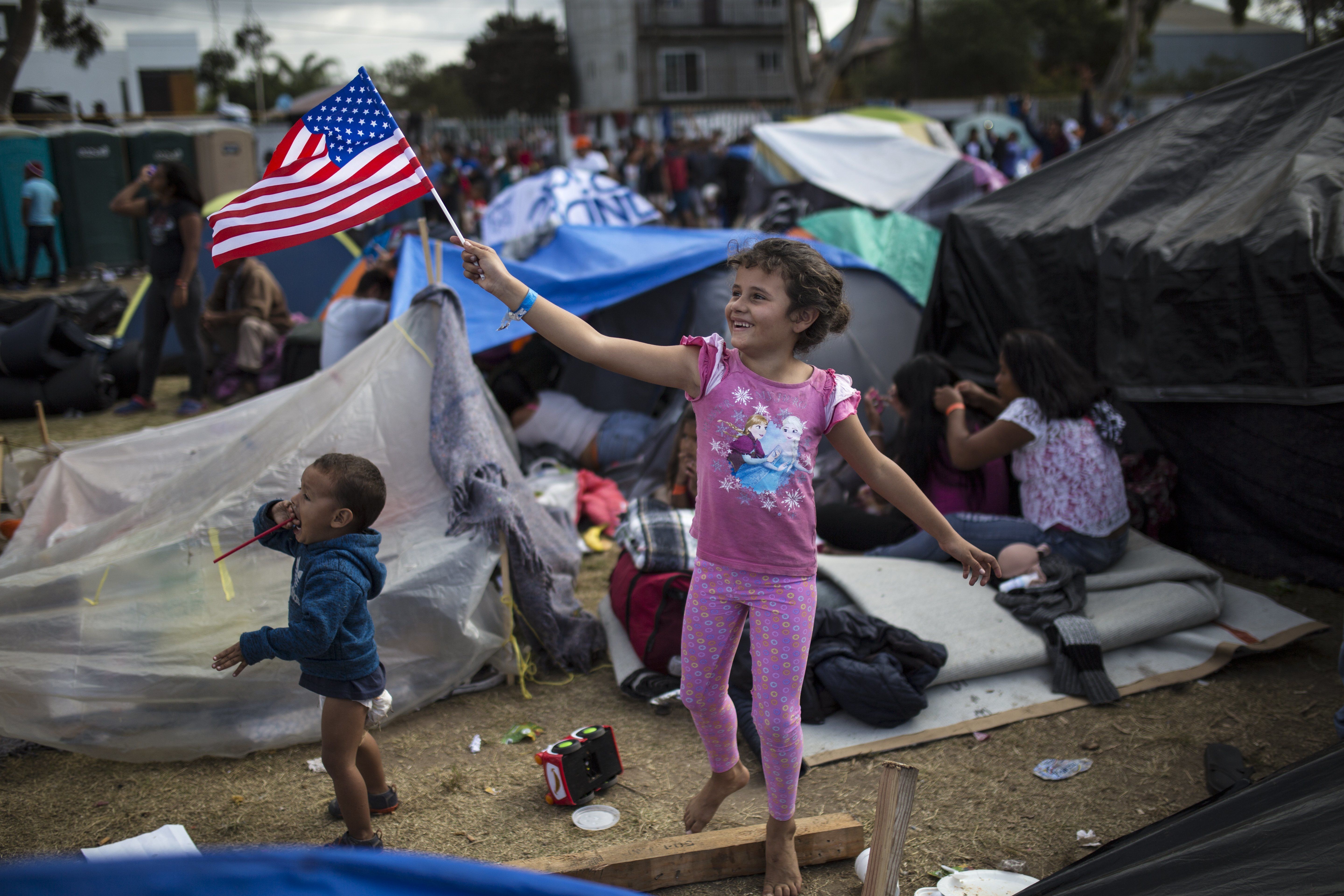 Genesis Belen Mejia Flores, a 7-year-old Honduran, waves an American flag at U.S. border control helicopters flying over the Benito Juarez Sports Center, a temporary shelter for Central American migrants in Tijuana, Mexico.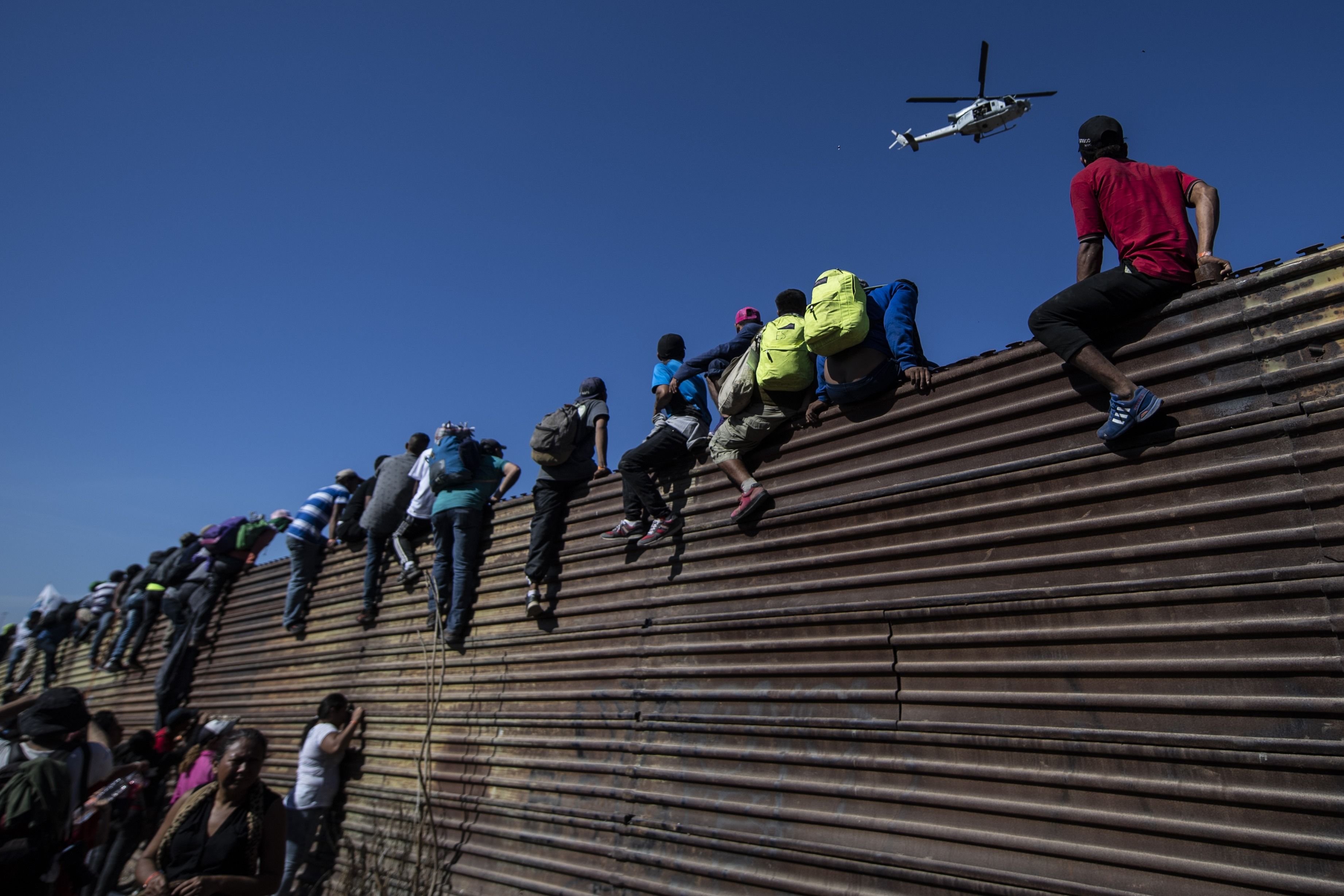 Central American migrants, mostly Hondurans, climb a metal barrier on the Mexico-U.S. border, near the El Chaparral border crossing in Tijuana.
An AFP photographer said the migrants broke away from a peaceful march at a border bridge and tried to climb into the United States.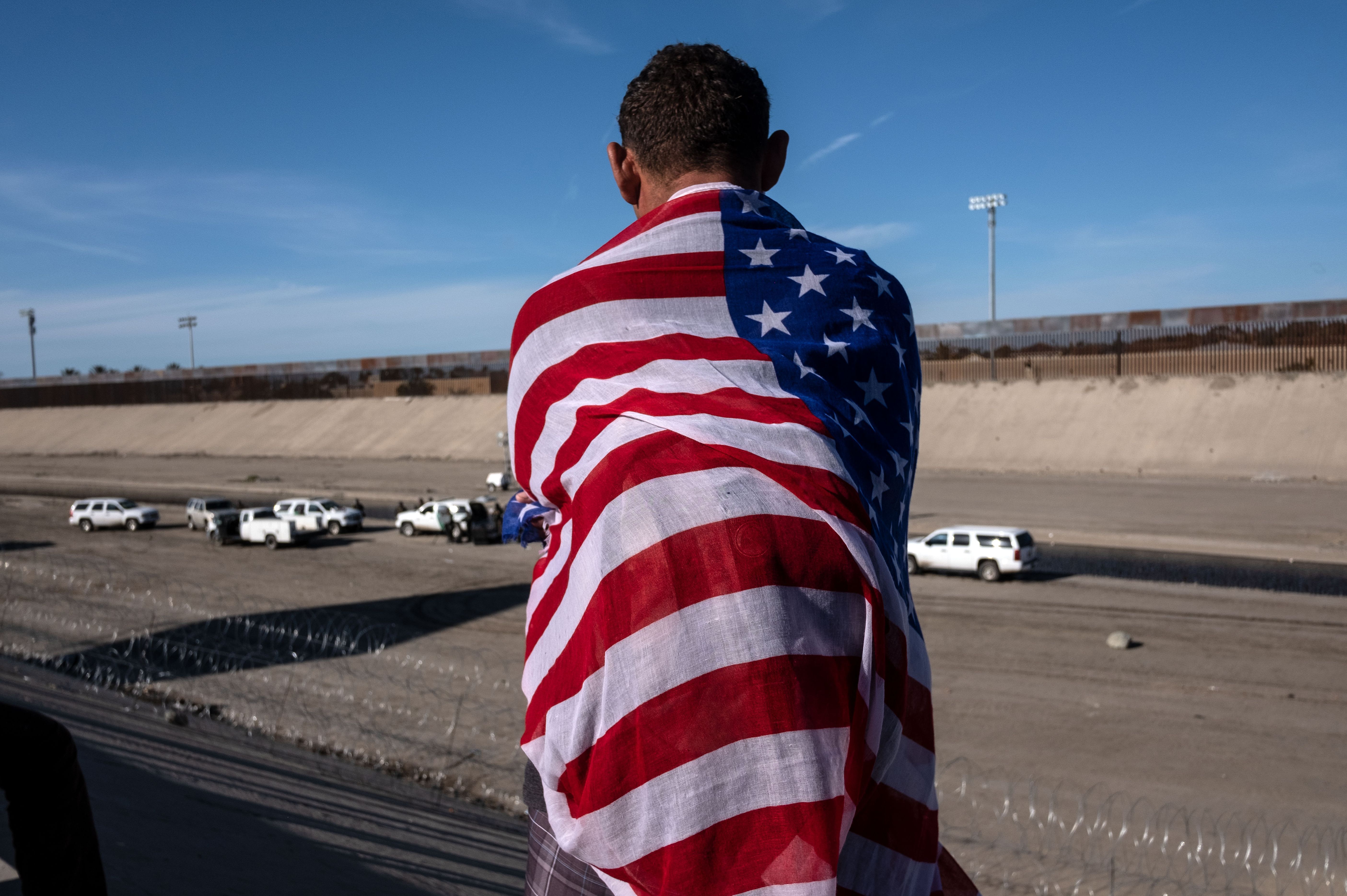 A Central American migrant looks at the almost dry riverbed of the Tijuana River, near the U.S.-Mexico border in Tijuana, Mexico.
5. Data du jour: Right-wing violence rising in U.S.
"Over the past decade, attackers motivated by right-wing political ideologies have committed dozens of shootings, bombings and other acts of violence, far more than any other category of domestic extremist, according to a Washington Post analysis of data on global terrorism," the WashPost's Wesley Lowery, Kimberly Kindy and Andrew Ba Tran report.
"While the data show a decades-long drop-off in violence by left-wing groups, violence by white supremacists and other far-right attackers has been on the rise since Barack Obama's presidency — and has surged since President Trump took office."
"Of 263 incidents of domestic terrorism between 2010 and the end of 2017, a third — 92 — were committed by right-wing attackers."
Why it matters: "[U]nlike the turbulent 1970s, when environmental, antiwar and other left-wing groups were responsible for historically high rates of terrorism in the United States, today's attackers are far more likely to have right-wing sympathies."
6. Bill Gates is sounding climate change alarm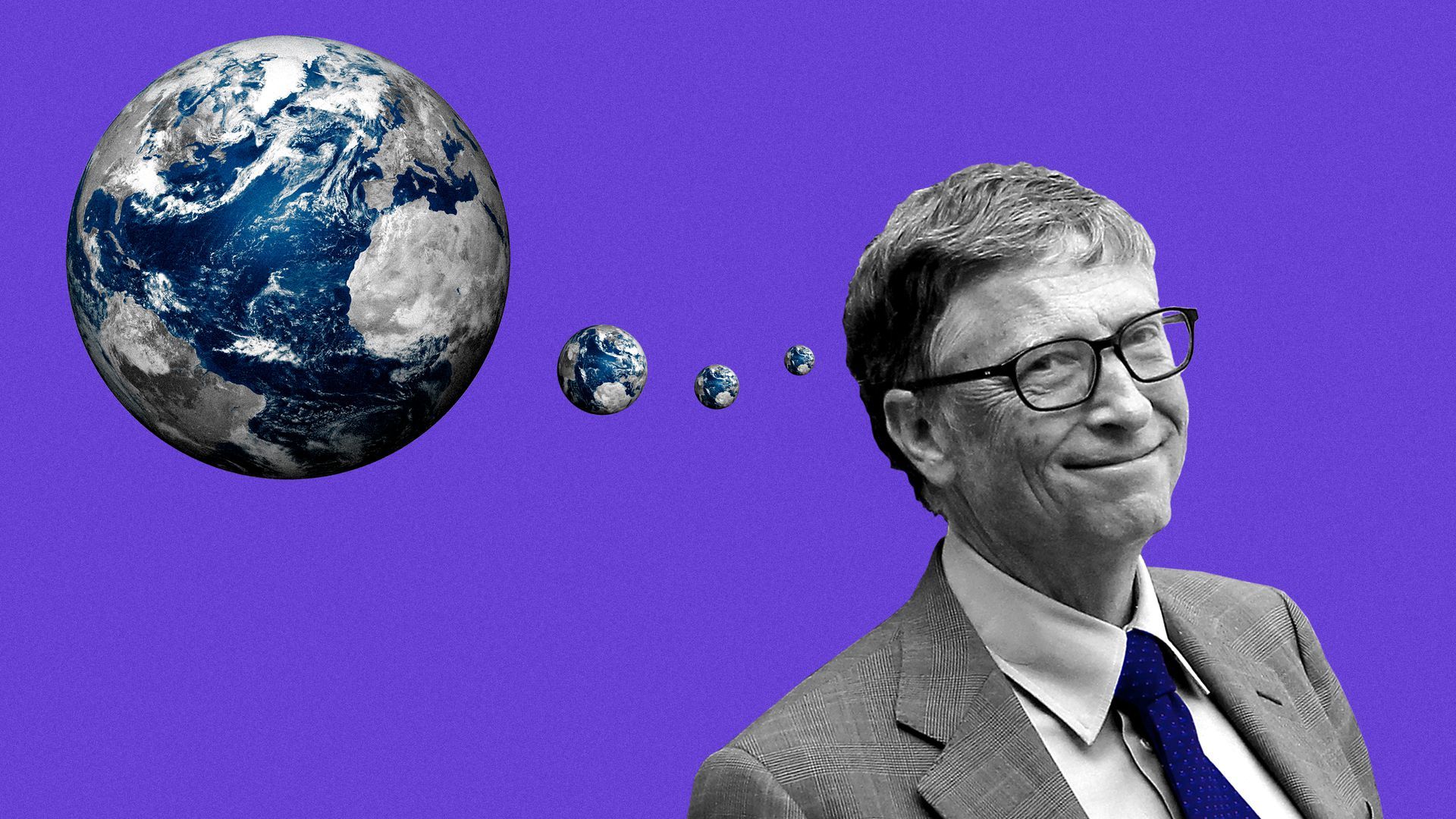 Microsoft co-founder Bill Gates has long worked on the issues of climate change and clean energy, but here's what's new for the tech visionary: he's increasingly worried not enough people understand the dimensions of the problem and that it's going to prevent progress, writes Amy Harder in her "Harder Line" column, which features her thoughts on her 40-minute interview with Gates, conducted with Ina Fried for "Axios on HBO."
What he's saying:
"On some issues, like should women be treated better, whatever isn't being done in the administration, the counter reaction is strong enough that I feel good that movement is stronger today, and I think it'll get stronger in the future."
"On climate change, it's hard because we'll get interested and then let's say the U.S. economy isn't as strong. You know, people's willingness to talk about something that's 40 years away is a lot higher when a lot of things are going well."
7. Obama alumni return to D.C. — as House freshmen
"Nearly a dozen members of the House's incoming class are ... experienced policymakers who have worked in previous presidential administrations — seven of them for former President Barack Obama," the N.Y. Times' Catie Edmondson and Sheryl Gay Stolberg report.
Why it matters: "Their return to Washington is, in part, a way to undo what they see as the unspooling of the values and legacy of the nation's 44th president."
"[I]n a freshman class where confrontation, not cooperation, could be most prized, it is not clear whether the Washington veterans will assume leadership roles or take a back seat to younger, brasher freshmen like Alexandria Ocasio-Cortez of New York and Ilhan Omar of Minnesota."
Among the Obama alumni:
Tom Malinowski of New Jersey was assistant secretary of state for democracy, human rights and labor.
Elissa Slotkin of Michigan, a former CIA officer who served three tours of duty in Iraq, was assistant secretary of defense. (She also served under George W. Bush.)
Haley Stevens of Michigan was once in charge of Obama's Senate confirmations and cabinet designations.
Lauren Underwood of Illinois was a senior adviser on health issues.
Andy Kim of New Jersey served on Obama's National Security Council.
Colin Allred of Texas was a special assistant to the general counsel of HUD.
"Joining them is a former Clinton health and human services secretary, Donna Shalala of Florida."
"Michael Waltz, Republican of Florida, is a former Green Beret officer who served as Vice President Dick Cheney's counterterrorism adviser and as the Pentagon's director for Afghanistan policy."
8. Trump gives himself a nickname
9. Americans are skeptical about new space race
Despite the aggressive timetables provided by SpaceX's Elon Musk and Blue Origin's Jeff Bezos, most Americans are not yet convinced that we'll be living on another planet anytime soon, according to an Axios survey conducted by SurveyMonkey for "Axios on HBO."
If it were free, 51% of respondents would take a trip to space tomorrow. Those most willing to grab a bag and launch are male millennials (57%) and men overall (42%). Women, on the other hand, were less enthusiastic about an immediate, albeit free, trip to space (27%).
Why it matters, according to Axios science editor Andrew Freedman: During the next decade, we're poised to see multiple deep space exploration missions move forward, from a return to the moon (NASA's plan) to human missions to Mars (SpaceX and, over the longer-term, NASA as well).
10. 1 Mars thing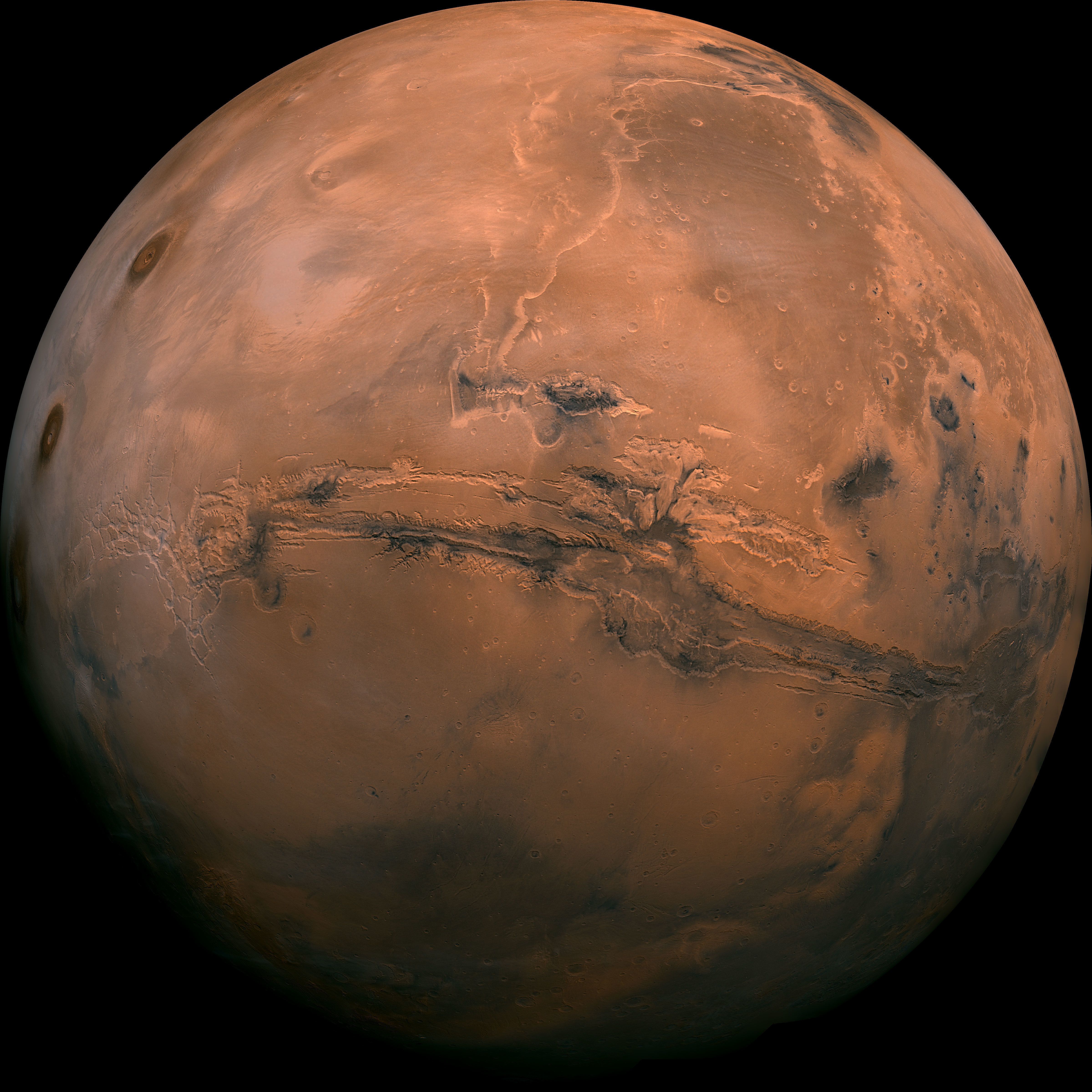 NASA's InSight spacecraft is aiming for a bull's-eye touchdown on Mars around 3 p.m. today, zooming in like an arrow with no turning back, AP's Marcia Dunn reports from Cape Canaveral, Fla.
After traveling six months and 300 million miles, the robotic geologist must go from 12,300 mph to zero in six minutes flat as it pierces the Martian atmosphere, pops out a parachute, fires its descent engines and, hopefully, lands on three legs.
This is NASA's first attempt to land on Mars in six years.
The U.S. has pulled off seven successful Mars landings in the past four decades, with only one failed touchdown.
"No other country has managed to set and operate a spacecraft on the dusty red surface."
Watch it live, from Axios science editor Andrew Freedman: