https://www.axios.com/newsletters/axios-am-6970fb22-9132-4043-acd5-345cf4f2ea3d.html?chunk=0#story0
1 big thing: Not fake news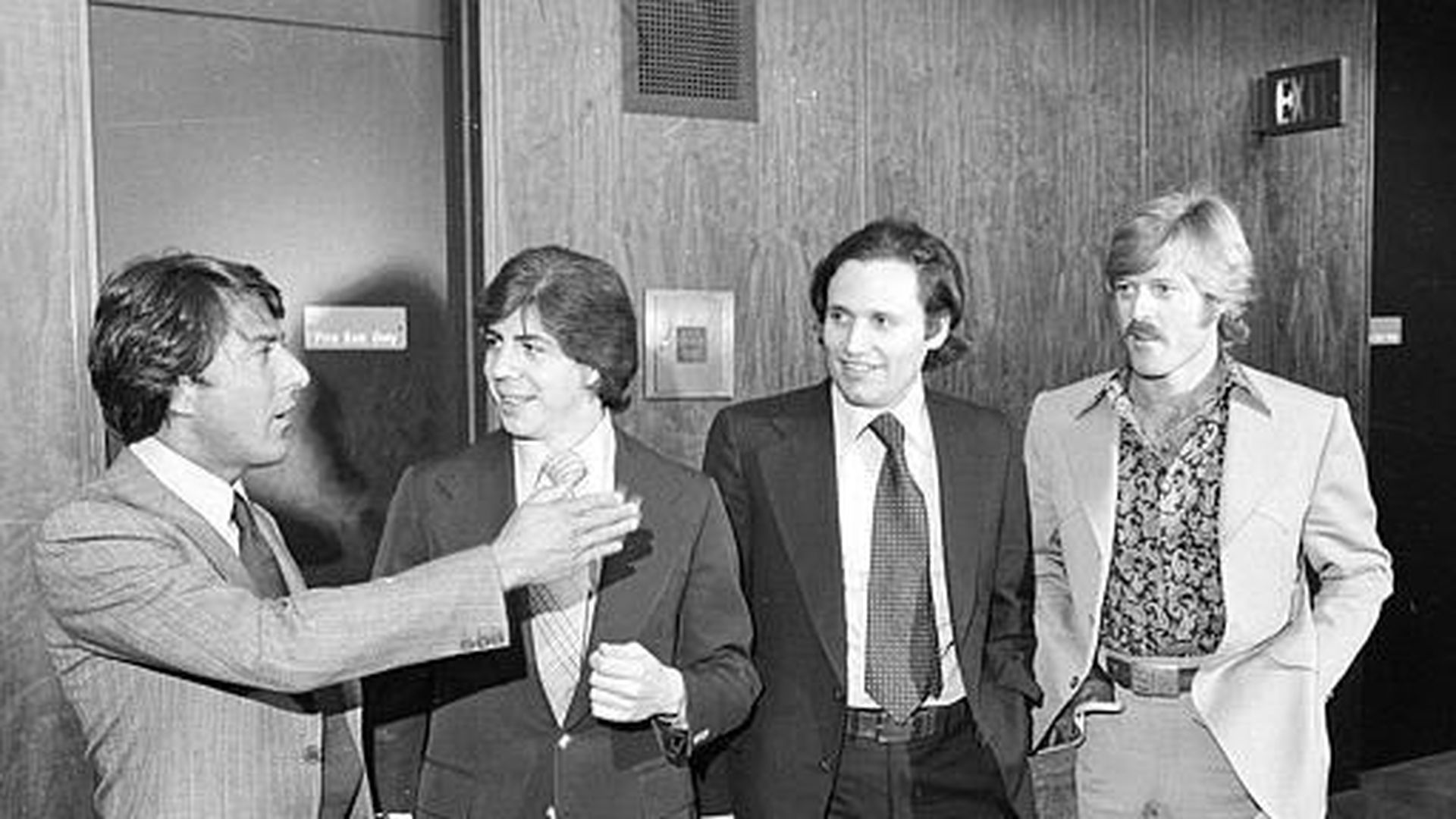 https://www.axios.com/newsletters/axios-am-6970fb22-9132-4043-acd5-345cf4f2ea3d.html?chunk=1#story1
2. Megatrend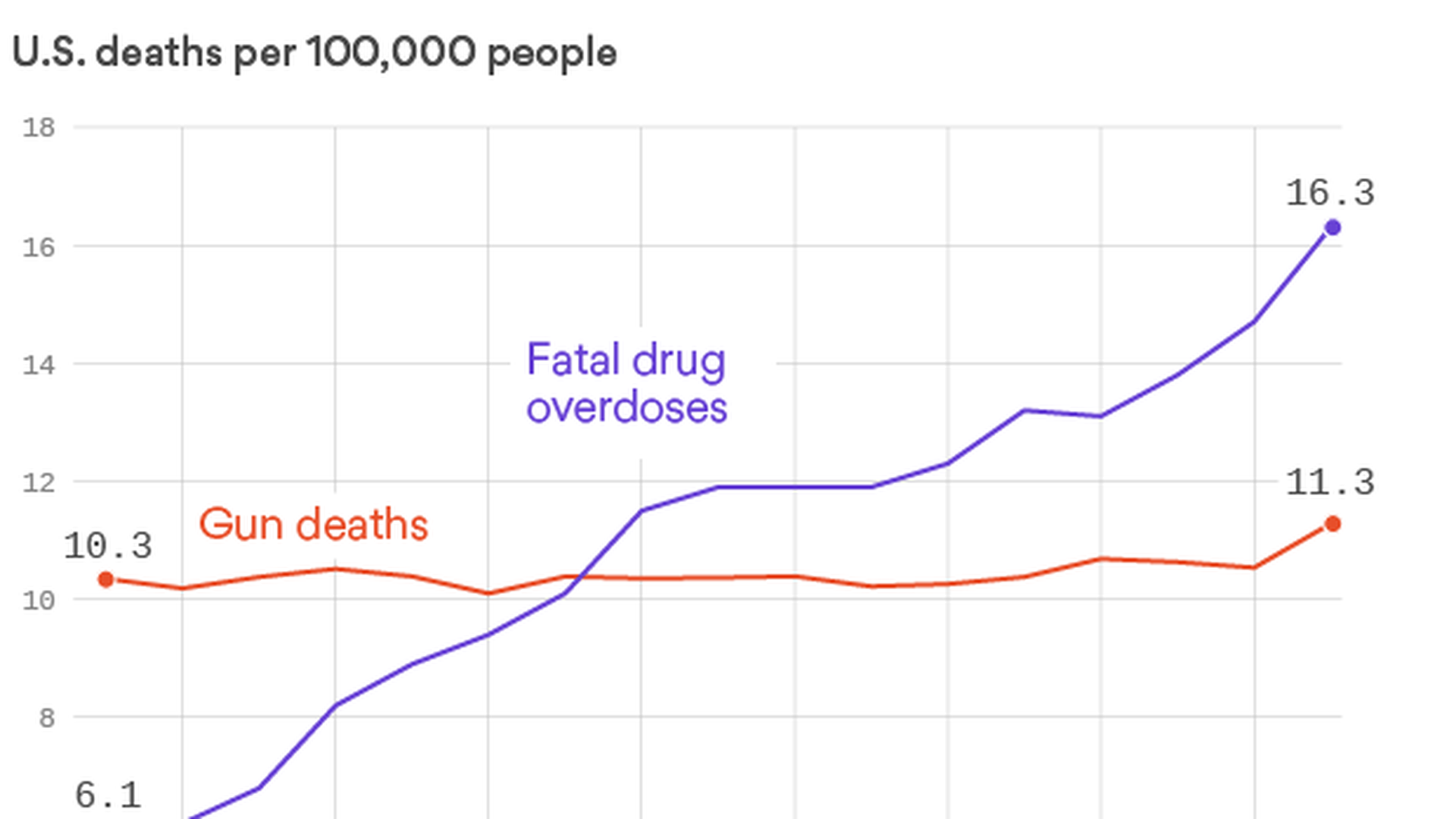 Why pols will be focusing more on the opiate epidemic ... Axios' Shannon Vavra plunges into a CDC report and discovers that the rate of drug-overdose fatalities is now higher than the rate for death by suicides, car accidents or guns.
Why this matters: Opioids killed more than 33,000 people in 2015 — more than ever before. Synthetic opioids can be 50 to 100 times more potent than heroin, which puts emergency rooms at risk of running out of antidotes to treat overdoses
Trump country hit hard: States that Trump won like West Virginia, Kentucky, and Ohio were hardest hit by fatal drug overdoses in 2015. Trump held a meeting in Feb. on how to respond to the opioid epidemic.
https://www.axios.com/newsletters/axios-am-6970fb22-9132-4043-acd5-345cf4f2ea3d.html?chunk=2#story2
3. Is screen time the new smoking?
Cover of WashPost Outlook, "You need to put your phone down. Here's why you can't" — A book review of "Irresistible: The Rise of Addictive Technology and the Business of Keeping Us Hooked," by Adam Alter, a professor of psychology and marketing at NYU — Review by Tim Wu, author of "The Attention Merchants":
"Thirty years ago, we accepted secondhand smoke, sugary sodas for kids and tanning salons as simple facts of life. What will we think is crazy 30 years from now? That we lived without enough sleep? Treated animals so badly? ... [T]he answer may be our use of addictive technologies."
The author "includes not just the more obvious addictive technologies such as slot machines and video games, but the whole sweep of social media, dating apps, online shopping and other binge-inducing programs. He takes in everything whose business model depends on being irresistible (which today is most things).
"If he's right, most of us are nursing at least a few minor 'behavioral addictions' and perhaps a major one ... [Y]ou may be convinced ... to seriously rethink the behavioral addictions in your life."
https://www.axios.com/newsletters/axios-am-6970fb22-9132-4043-acd5-345cf4f2ea3d.html?chunk=3#story3
4. Fun fact du jour
N.Y. Times Public Editor Liz Spayd, "The Declining Fortunes of Women at The Times":
"Maggie Haberman['s] byline, I'm told, drew more page views last year than any other reporter at The Times — an eye-popping 141 million."
https://www.axios.com/newsletters/axios-am-6970fb22-9132-4043-acd5-345cf4f2ea3d.html?chunk=4#story4
5. What Trump is reading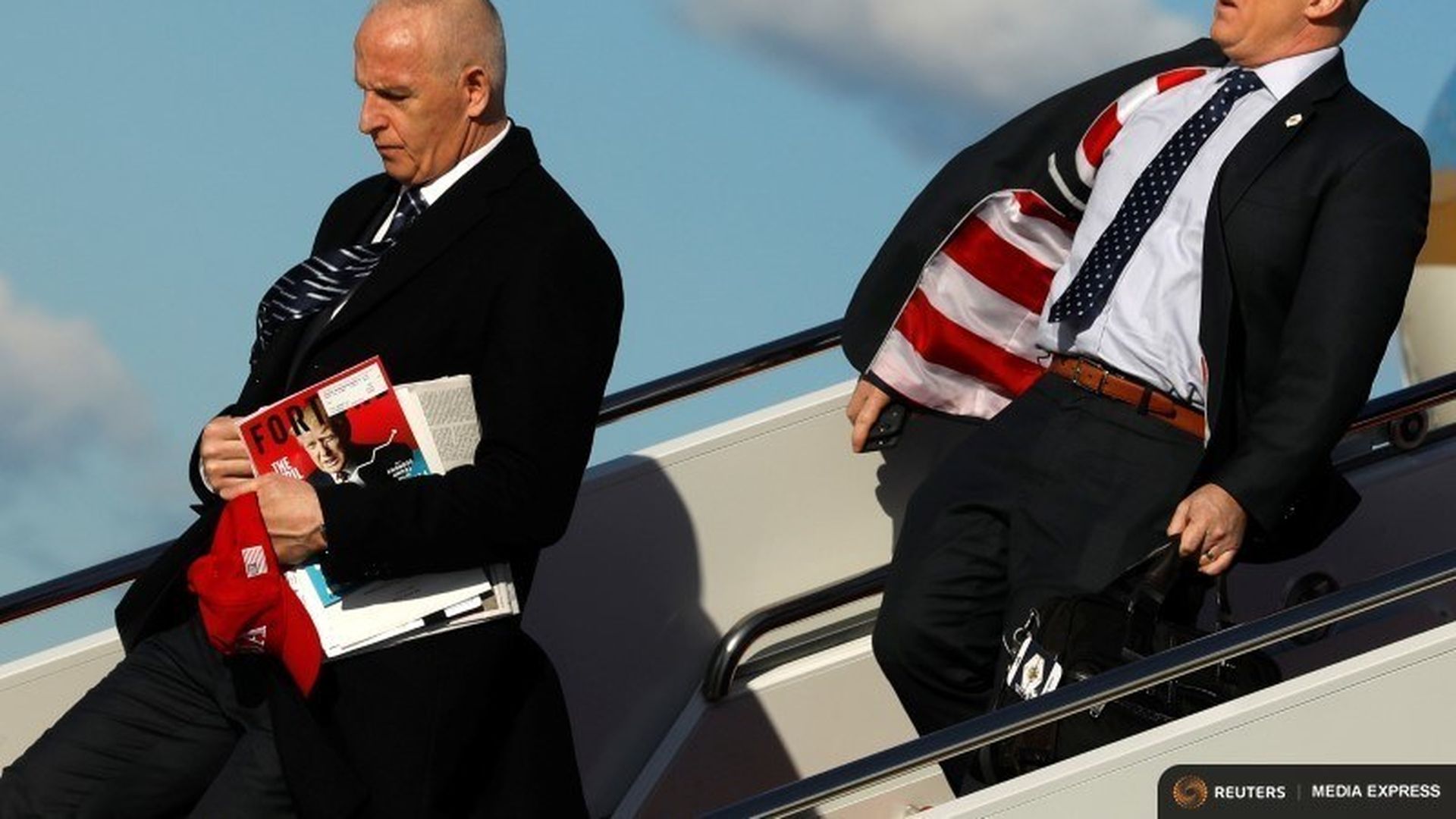 At Trump's office suite in Trump Tower, he loves to show visitors a conference table stacked with magazine covers of himself. As you walk into Mar-A-Lago, you see framed newsmag covers of Trump. Now, there's another one for the collection. This Reuters photo from Thursday shows Trump's longtime security director, Keith Schiller, now Director of Oval Office Operations, carrying a copy of Fortune with Trump on the cover as he deplanes Air Force One at Andrews with Sean Spicer. (Check the snazzy jacket lining.)
So what was Trump reading on the plane (if he got past the cover)? The cover of the March 1 issue features "THE PROMISE of the Trump Economy" and "THE PERIL of the Trump Economy," by Shawn Tully:
"The market rally assumes that the Trump administration can make good on its early promises to raise America's annual growth rate by gigantic proportions."
"The biggest risk is ... a global trade war."
"His harsh anti-­immigration stance is another downer for growth — with the potential to drive away or deport millions of workers who are the bedrock of the farming and construction industries, as well as to surrender the U.S.'s dominant position in the global talent wars by restricting visas for engineers and programmers who help power America's R&D."
https://www.axios.com/newsletters/axios-am-6970fb22-9132-4043-acd5-345cf4f2ea3d.html?chunk=5#story5
6. See and be seen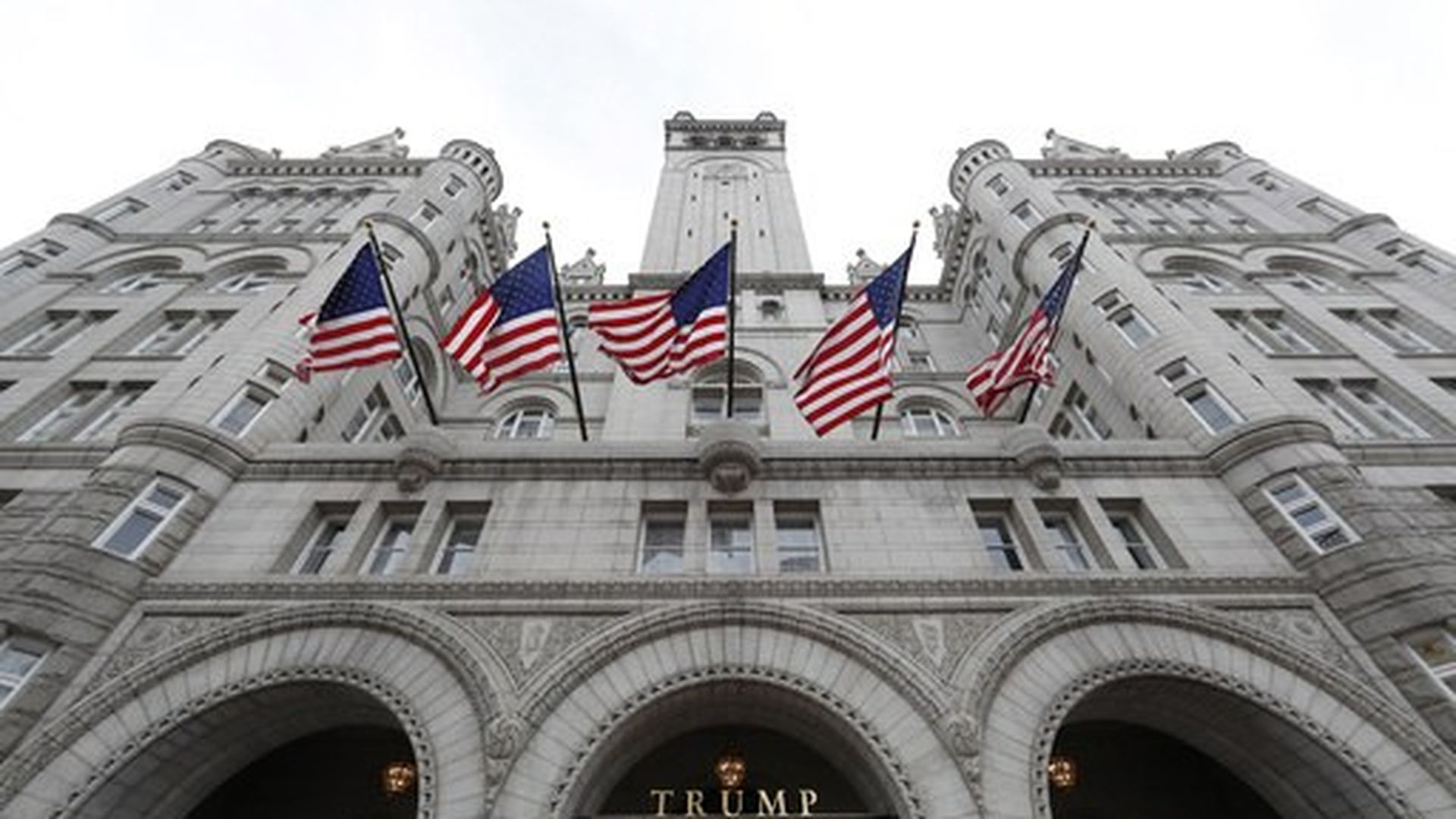 "Trump hotel may be political capital of the nation's capital," by AP's Julie Bykowicz:
"Trump can see his hotel from the White House. When a ["Fox & Friends"] interviewer mentioned that to him recently, Trump responded, 'Isn't that beautiful?' But while the interviewer pointed out that he can see the property from his desk in the Oval Office, Trump said, 'I'm so focused on what I'm doing here that I don't even think about it.'"
"[O]n a mid-February evening, you could bump into Trump television personality Katrina Pierson having cocktails with Lynne Patton, a former Trump Organization executive who's now working at [HUD]. Trump campaign and inauguration hands Tom Barrack, Boris Epshteyn, Nick Ayers and Rick Gates are among the many who have stayed there in recent weeks."
"Rooms start at above $500 most nights ... That's up hundreds of dollars from when the hotel first opened, not long before Election Day."
Treasury Secretary Steve "Mnuchin is one of the New Yorkers working in Washington who call it home during the week. White House economic adviser Gary Cohn is another. Linda McMahon, who heads the Small Business Administration, also has been staying there."
https://www.axios.com/newsletters/axios-am-6970fb22-9132-4043-acd5-345cf4f2ea3d.html?chunk=6#story6
7. A nation on edge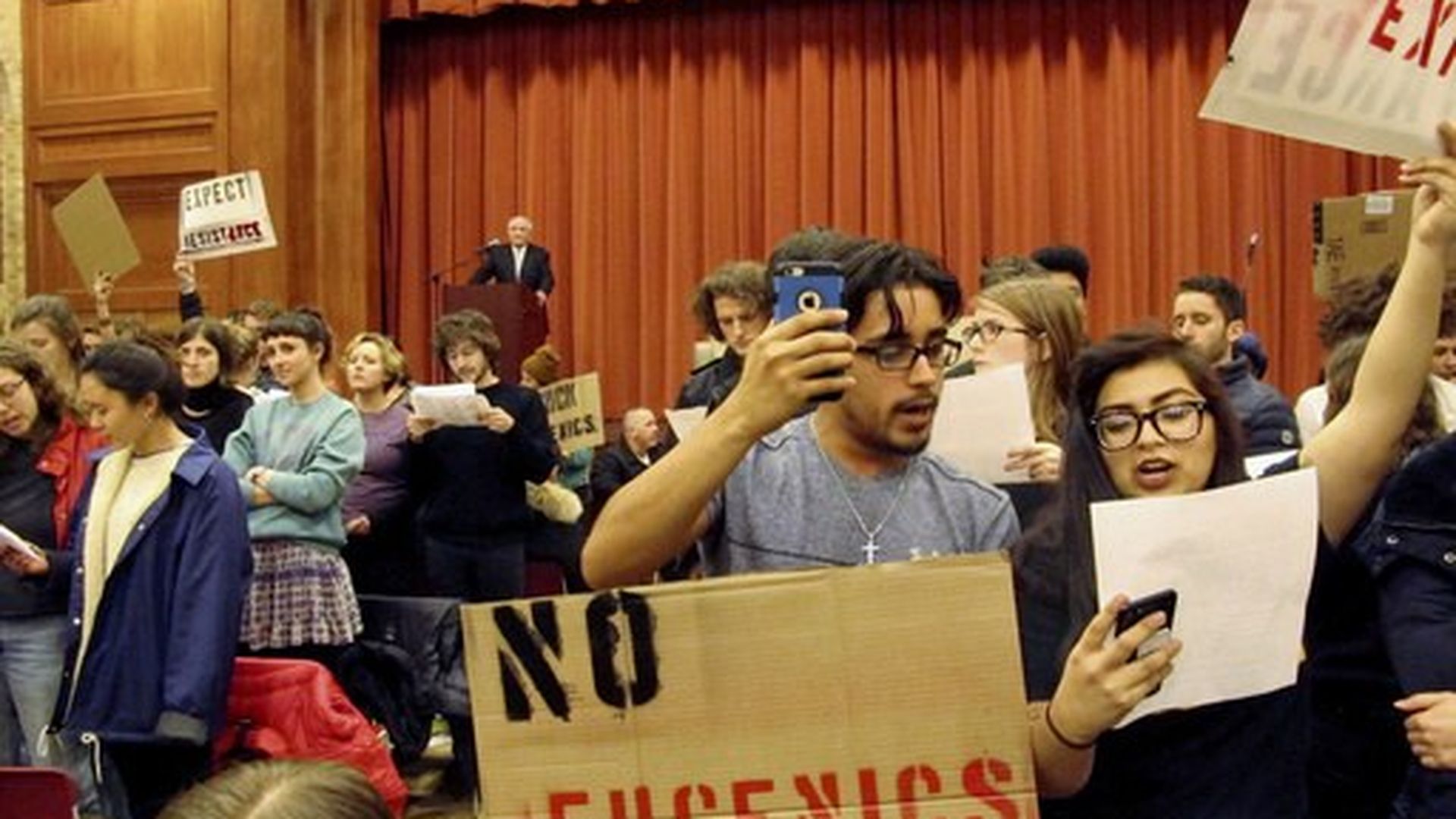 Boston Globe front page, "Middlebury College reels after attack on speaker: Menacing crowd harassed racial theorist Charles Murray," by Laura Krantz in Middlebury, Vt.: "Students and professors at Middlebury College were ashamed and embarrassed after an explosive protest Thursday night that has forced the school to reconsider what it means to embrace free speech."
Per AP: "Hundreds of college students ... protested the lecture, forcing the college to move his talk to an undisclosed campus location from which it was live-streamed to the original venue but couldn't be heard above protesters' chants, feet stamping and occasional smoke alarms."
Back to the Globe: "Many on campus, including the college president and leaders of the student organization who invited him, disagree vehemently with Murray's views on social welfare programs and race, but on Saturday they said the campus failed in its duty to exemplify how to debate unpopular ideas with civility."
"Trump's presidency formed the backdrop for the protest, students said. The election has made people on campus dig their heels in ideologically."
"Violence breaks out at pro-Trump rally in Berkeley," by L.A. Times' Peter King and Ruben Vives: "At least some of the counter-protesters appeared to be members of the so-called black bloc, a group that UC Berkeley officials blamed for many of the problems on campus last month. The self-described anarchists or anti-fascists have left school and law enforcement officials struggling to cope with their tactics."
https://www.axios.com/newsletters/axios-am-6970fb22-9132-4043-acd5-345cf4f2ea3d.html?chunk=7#story7
8. Hot companies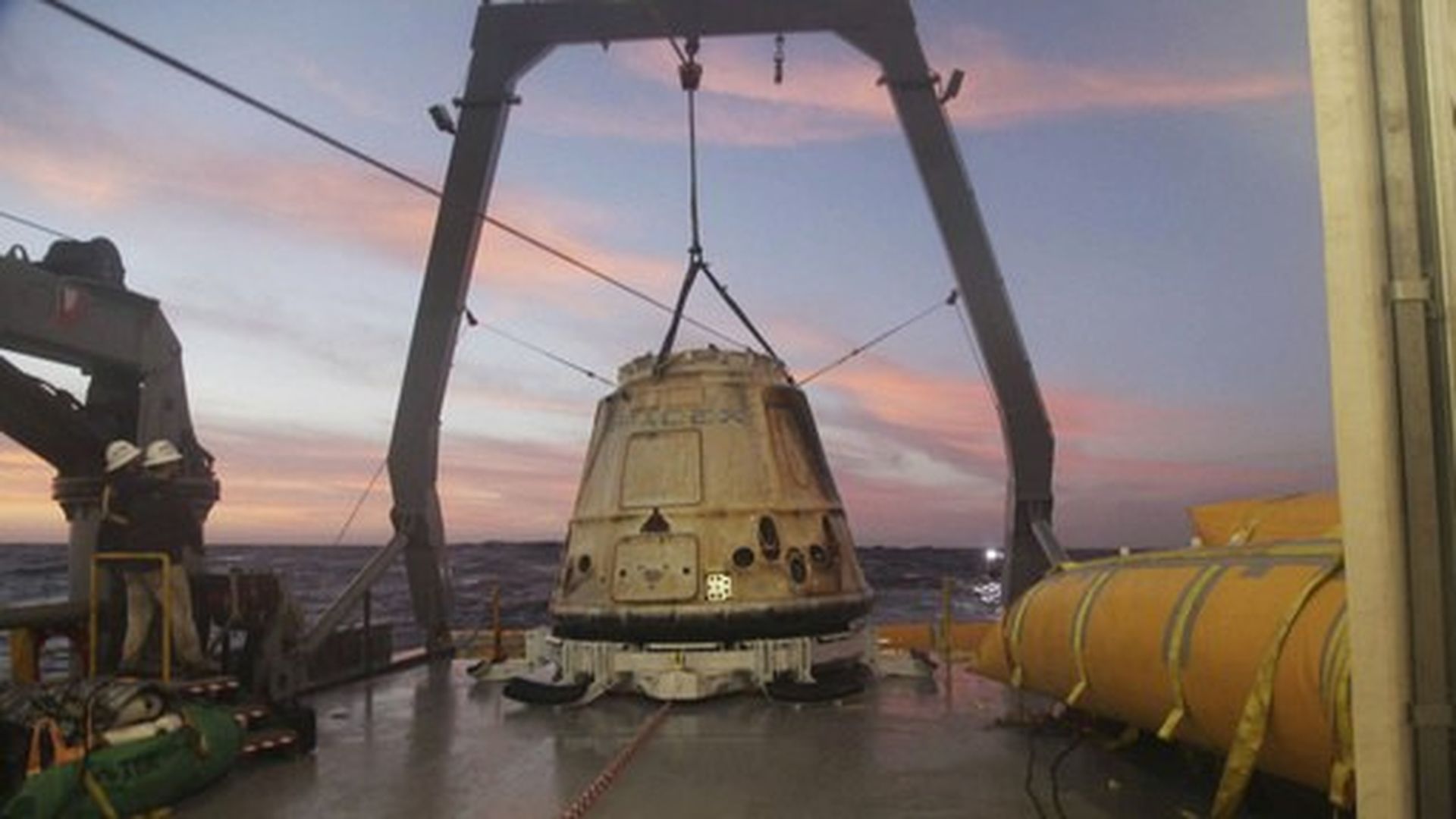 Houston Chronicle, top of front page, "SpaceX sends a message to NASA: Private company pushes limits with moonshot plan" (online: "Elon Musk's urgent moonshot"), by Mike Tolson and Kevin Diaz:
"Some will dismiss the private moonshot as a stunt, a wild hare of an idea from the mind of a man obsessed with colonizing Mars. ... [But t]here's a new president in town with a preference for the private sector, and patience is not his MO."
"Musk's announcement [that he has downpayments from two private individuals for a trip around the moon in 2018], coming a day before President Donald Trump's first address to a joint session of Congress, was widely seen as a shot across the bow of the old aerospace companies and the government agency that has helped keep them in business for decades."
"If SpaceX can demonstrate prowess as far away as the moon, and if it can do so cheaper than the competition, as it has with satellite launches, who's to rule out a new sort of space race in which aerospace behemoths and relative newcomers jockey for important assignments?"
Scoop by The Information ... "Uber CEO, Facing Multiple Controversies, Seeks No. 2 Exec," by Amir Efrati and Alfred Lee: "Uber CEO Travis Kalanick's ability to share power will be tested shortly, once the executive finds a number two executive to serve alongside him. The proposed appointment appears aimed at calming critics of the company, enmeshed in multiple controversies over its culture and business tactics."
https://www.axios.com/newsletters/axios-am-6970fb22-9132-4043-acd5-345cf4f2ea3d.html?chunk=8#story8
9. Wall Street trends
Bullish ... "Investors bet Trump-fueled tech rally far from over," by Reuters' Noel Randewich in S.F.: Investors are "expecting a wave of capital expenditures by U.S. corporations. Corporate tax cuts and reduced regulations planned by ... Trump will give companies reason to spend more on cloud computing, factory automation and smart connectivity."
"Doug Cote, chief market strategist at Voya Investment Management: "The tax cuts are going to promote business investment across all industries, and the business investment is largely going to be in technology."
"Strong performances from big names including Apple ... and Facebook ... have helped make technology the strongest S&P 500 sector ... this year, surging 10% compared to the broader index's 6% rise."
Bearish ... "U.S. energy stocks, darlings last year, stumble in 2017," by Jessica Resnick-Ault and Lewis Krauskopf in N.Y.: "[E]nergy shares have been weak after peaking in mid-December, and are the worst-performing of the Standard & Poor's 11 stock sectors in 2017."
"In 2017, energy is down 5%, compared with a 6% climb for the overall S&P 500."
Oil companies "may see profits rise as the economy strengthens and oil prices increase. Increased power demand and defense spending — the defense sector is a big energy consumer — could also propel demand."
https://www.axios.com/newsletters/axios-am-6970fb22-9132-4043-acd5-345cf4f2ea3d.html?chunk=9#story9
10. 1 fun thing: Best of last night's Gridiron dinner
Vice President Pence, wearing a black tow tie: "[T]he end of the week was a little embarrassingfor me. Not that I had a personal email account when I was Governor, [but] to have millions of Americans learn that I'm one of the few people in this country who still has an AOL account. I guess it was good for my image, though. Now America knows I'm not stuck in the 1950s — just the 1990s."
Strong ending, with a serious defense of a free press: "All kidding aside, thanks for being here tonight at the 2017 Gridiron Dinner. It's been good to be with you for this lighthearted tradition. Humor is the great unifier. The president and I support the freedom of the press, enshrined in the First Amendment. For my part, I've long been an advocate of a free and independent press — I worked as a commentator in the '90s; I co-founded the World Press Freedom Caucus with Congressman Adam Schiff, who's here tonight; and I authored the federal Media Shield statute.
"But let me say, respectfully: With freedom comes responsibility. In this day and age, of a breathless news cycle, we sure could use more responsible, considered journalism in America."
Sen. Joni Ernst (R-Iowa): "It's great to see the vice president here. Do you realize he is just a heartbeat away from being second in command to Steve Bannon? ... Hillary refused to come here. She must think this is Wisconsin. ... Nate Silver isn't here. He said there was a 92% chance I wouldn't say his name. Wrong again!"
Democratic Leader Nancy Pelosi: "Vice President Pence, it's good to see you this evening. Does the president know you're here, laughing it up with the enemies of the American people? It's OK, Mr. Vice President: People here can keep a secret. This isn't the White House."
"This White House has more drama among rich people than a Jane Austen novel. In fact, I'm told the Secret Service code names for President Trump and Bannon are 'Pride' and 'Prejudice.'"
"President Trump is considering a new plan for the First Amendment. It's called 'repeal and replace.'"