June 23, 2021
🐪 Good Wednesday morning. Smart Brevity™ count: 1,488 words ... 5½ minutes. Edited by Zachary Basu.
📱 At 12:30 p.m. ET today, please join Aja Whitaker-Moore and Hans Nichols for a 30-minute Axios virtual event on how businesses are pivoting in unprecedented times.
Guests: Senate Health, Education, Labor and Pensions Committee Chair Patty Murray and Catch22 Delivery founder Olga Sagan. Sign up here.
1 big thing: The Democrats' wake-up call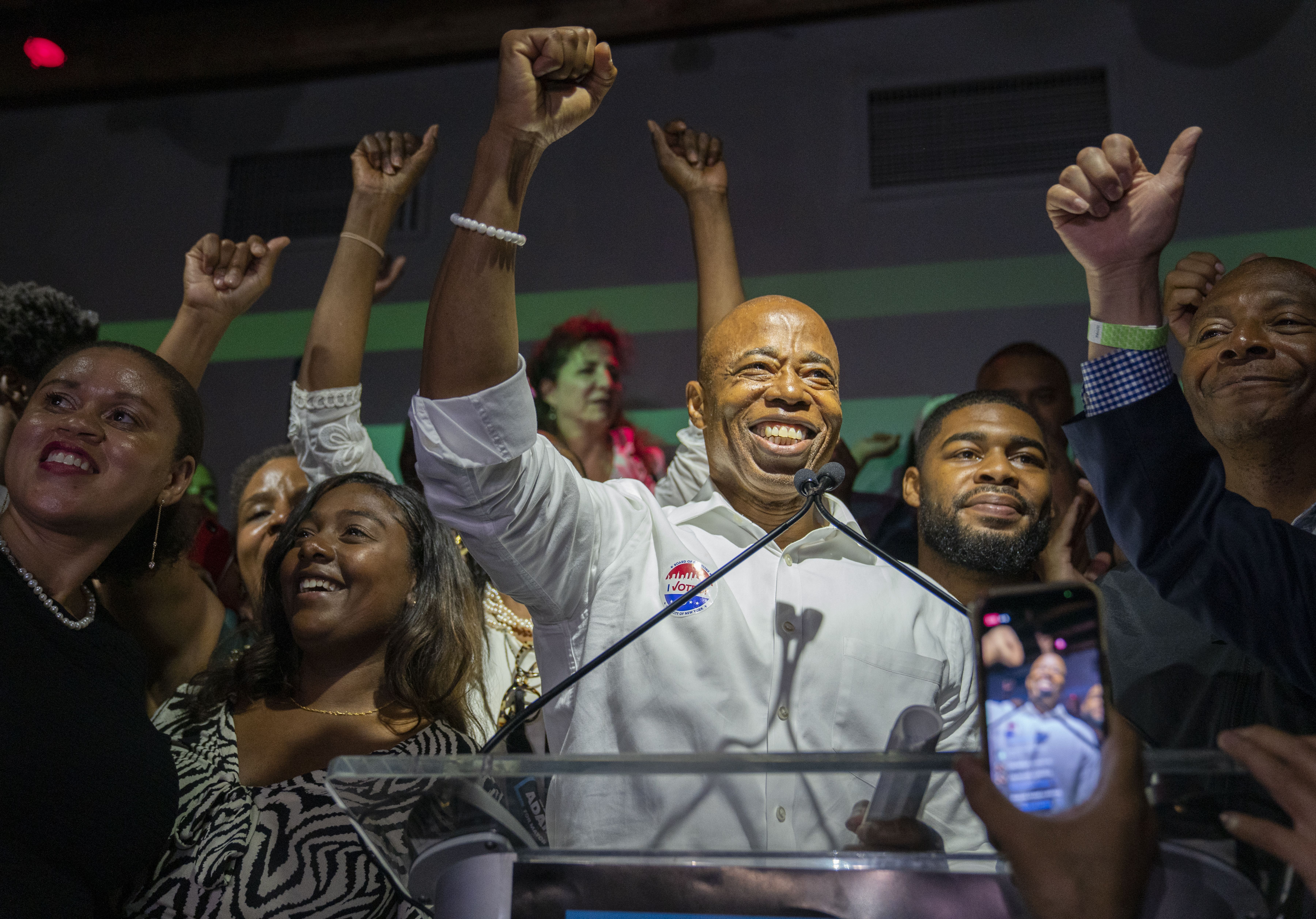 Democrats, in private and public, are warning that rising crime — and the old and new progressive calls to defund the police — represent the single biggest threat to their electoral chances in 2022.
Why it matters: There has been a big spike in big-city crime, a dynamic increasingly captured in local coverage and nationally on CNN and Fox News.
The latest: Democrats say it's no coincidence that Eric Adams, the leader in the New York City mayoral race, ran against defunding the police.
Adams, who retired as an NYPD captain after a 22-year law-enforcement career, held a lead in yesterday's Democratic mayoral primary. Final results could take weeks because of the election's complex ranked-choice voting. Andrew Yang conceded.
The big picture: Homicide rates in large cities — many of them run by Democrats — were "up more than 30 percent on average last year, and up another 24 percent for the beginning of this year," foreshadowing a violent summer, the N.Y. Times reported June 1.
President Biden sees this rising threat, and plans to roll out anti-crime plans at 3:30 p.m. ET today. (See next item).
The N.Y. Times' Tom Friedman, one of Biden's favorite columnists, writes today under the headline "Want to Get Trump Re-elected? Dismantle the Police":
"As for policing, this issue could really sink Democrats. For example, big swaths of my old hometown, Minneapolis, have been turned into a dangerous and dystopian ghost city, wracked by gun violence, since the police murder of George Floyd."
What's next: Republicans plan to use Dems' defund-the-police rhetoric as a major issue in next year's midterms.
2. Biden's plan for crime spike
President Biden's new strategies on gun violence include a plan to revoke licenses from gun dealers the first time they violate federal law, Axios' Shawna Chen reports.
Why it matters: The U.S. is experiencing mass shootings (at least four people shot) on a weekly basis this year, the Gun Violence Archive shows. Homicides jumped 30% in large cities in 2020.
Biden's proposals include:
Setting aside $350 billion of the COVID relief package's state and local funding to help community policing, including investing in new technologies and bolstering prosecutions of gun traffickers.
Expanding summer programs, employment opportunities and other services for young people so they are "productively engaged" and less likely to commit crime.
3. Small businesses boom
Small businesses may turn out to be one of the most unexpected pandemic winners, Axios' Felix Salmon writes.
The number of entrepreneurs starting a business easily hit a record high in 2020 despite the calamity, according to a new analysis by University of Maryland economist John Haltiwanger.
A Fed paper suggests that about 130,ooo firms went out of business in the first year of the pandemic — up between a quarter and a third from normal levels, but much lower than many economists feared.
What's happening: It's now much easier than it was in 2008 to start a small business selling goods or services online.
By far the largest single sector of new business formation is "nonstore retailers," who account for one of every three new businesses formed over the pandemic. They were helped by e-commerce platforms like Shopify and Stripe, founded in 2009.
Physical businesses have been booming too, but largely in states where rents are relatively low — Texas, Florida and Georgia.
Sectors seeing a lot of new openings include laundromats, trucking, and, surprisingly, restaurants.
4. Dems' losing hand on voting rights
The 50-50 Senate, GOP-controlled state legislatures, gerrymandering and a conservative Supreme Court are blunting Democrats' ability to fight back against historic efforts to restrict voting in states across the U.S.
Why it matters: Voting rights advocates say the moves could artificially prop up conservative, white power structures for a decade or longer, Axios' Stef Kight and David Nather write.
Senate Republicans yesterday stalled a sweeping federal voting rights bill — and Democrats don't have enough support in their own caucus to end the legislative filibuster.
What's next: Democrats' next best move may be to turn to state-by-state fights in Texas, Arizona, Florida, Georgia and beyond.
"Plan B looks a lot like the status quo, which is hand-to-hand combat," said Matt Miller, a DOJ official during the Obama administration.
5. States still stalked by COVID
Several states averaged seven or fewer new COVID cases per 100,000 people over the past week, while Missouri had 76 new cases per 100,000 people, Axios' Caitlin Owens writes.
For context: At peak COVID, South Dakota saw more than 160 new cases per 100,000 people each day. It logged 4 over the last week.
Between the lines: The wide variation in states' vaccination rates means that stark disparities in case rates will be America's norm.
6. Scoop: New book says Trump talked of COVID killing John Bolton
"Nightmare Scenario," a book out next week on President Trump's handling of COVID, reports that he said he hoped it would take out his former national security adviser, John Bolton, who had just written an explosive tell-all about his time in the White House.
Here's the passage by Washington Post journalist Yasmeen Abutaleb and Damian Paletta in "Nightmare Scenario," out Tuesday:
Trump had tried to joke about the virus for months, sometimes even mocking people who had become ill. ... At one meeting several months [before Trump got sick], NEC director Larry Kudlow had stifled a cough. The room had frozen.. ... Trump had waved his hands in front of his face, as if to jokingly ward off any flying virus particles, and then cracked a smile. "I was just kidding," he'd said. "Larry will never get COVID. He will defeat it with his optimism." ...
"John Bolton," he had said ... "Hopefully COVID takes out John."
🥊 When asked about the quote, Bolton gave Axios' Jonathan Swan this classic reply: "Fooled me — I thought he was relying on his lawyers."
7. First look: Trump book's secret title revealed
The Washington Post's Carol Leonnig and Philip Rucker will be out July 20 with "I Alone Can Fix It: Donald J. Trump's Catastrophic Final Year," Penguin Press announced.
Why it matters: With the swelter of Trump books that begins this summer, authors have been keeping their publishing plans secret. This publishing date puts Leonnig and Rucker a week ahead of the juggernaut Michael Wolff, whose "Landslide" is scheduled for July 27.
Leonnig and Rucker, both Pulitzer winners, are authors of a No. 1 bestseller on Trump, "A Very Stable Genius." Leonnig wrote the current bestseller "Zero Fail: The Rise and Fall of the Secret Service."
For the new book, the two interviewed Trump at Mar-a-Lago.
The book also goes deep on post-election/Jan. 6.
8. "Axios on HBO" interview becomes major issue in Pakistan
Pakistan Prime Minister Imran Khan faced growing criticism after his "Axios on HBO" interview with Jonathan Swan, where Khan seemingly blamed a rise in sexual violence on women wearing "very few clothes."
Khan's comments drew nationwide condemnation from human rights activists and the country's opposition, which sought an apology, AP reported from Islamabad.
"If a woman is wearing very few clothes it will have an impact, it will have an impact on the men, unless they're robots," said Khan, a former playboy cricket star. "I mean it's common sense."
Asked directly by Swan whether the way that women dress could provoke acts of sexual violence, Khan said: "It depends on which society you live in. If in a society where people haven't seen that sort of thing, it will have an impact on them."
Watch a clip. ... The "Axios on HBO' episode is available on HBO and HBO Max.
9. Hammer blow for Hong Kong's free press
Apple Daily — the pro-democracy Hong Kong newspaper founded by jailed media tycoon Jimmy Lai — will close this week, in print and online, after the government froze its assets.
Why it matters: It's a hammer blow to the city's free press, the Financial Times notes (subscription).
10. Tabletop computing returns
Axios' Ina Fried writes that she has been trying out the Infinity Game Table, a touchscreen tabletop PC dedicated to playing card and board games, including popular titles like Scrabble and Monopoly:
"One sign the game's makers are on to something: The only time my mother-in-law stops playing solitaire on it is when my son and I are playing a game of Sorry."
The Game Table will be available for preorder from Best Buy beginning July 17. Pricing hasn't been set. But when they were on Kickstarter, the 24-inch screen version cost $500 and the 32-inch model was $700.
It comes with several dozen included games, featuring Hasbro classics such as Monopoly, Trivial Pursuit, Scrabble, Sorry and Operation.
Share this story. ... Go deeper: Tabletop computing gets a fresh start.
📬 Thanks for reading! Please invite your friends, family, colleagues to sign up here for Axios AM and Axios PM.